Getting Married in Perth
Your wedding day is one of the most special days in your life and if you are considering getting married in Perth, Western Australia, then you are sure to be able to create your very own dream wedding. We are all unique individuals and we all have our own image of what will make our wedding day special. Living in Australia, and in particular, in Perth, we are blessed with beautiful surroundings.

Getting married in Perth means that you have a plethora of outdoor wedding venues to choose from, as well as options for a Registry Office wedding, and other wedding reception venues such as wineries, and waterfront venues.
This post will give you information on everything you need to know to get married in Perth. It includes how to get legally married, how to choose your Perth wedding celebrant, where to get married in Perth and local businesses that you can use to make your special day one to always remember.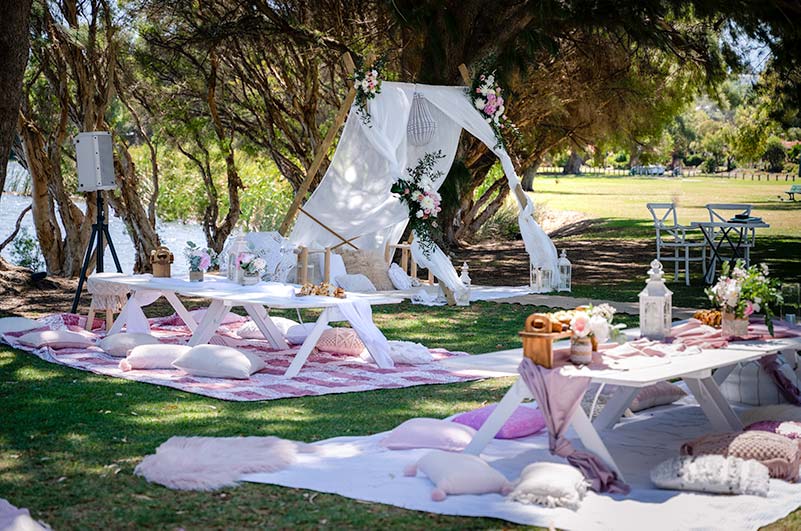 Getting married in Perth: Jackadder lake Wedding
How to Get Married in Perth Australia
There are a few decisions to make and legal documentation that you need to get in place when you are thinking of getting married in Perth, Western Australia. You will need to:
Choose your marriage celebrant
Lodge your Notice of Intended Marriage (NOIM)
Decide where to get married in Perth
Send out Wedding Invitations
Plan your Perth Wedding Ceremony
Organise your Wedding Day Requirements
Have a wedding Rehearsal
Arrange legal documentation after your wedding
Enjoy a Honeymoon
Steps to Take When Getting Married in Perth, Australia
1. Choose Your Perth Marriage Celebrant
First of all, you need to decide what type of wedding you would like, a religious ceremony, or a civil marriage.
Perth Religious Wedding Ceremony Celebrant/Minister
A list of Religious Marriage Celebrants can be found here or Ministers of Religion for various denominations, here.
Perth Civil Marriage Ceremony
If you would like to have a civil ceremony in Perth then you can either choose to get married at a Registry Office or choose an independent civil celebrant who can perform your wedding ceremony at a destination of your choice.
Choosing an Independent Civil Celebrant for your Perth wedding
It is important that you feel relaxed and comfortable with your chosen marriage celebrant. You will be working together to design your unique wedding ceremony, so you need to be happy that they will be taking your wishes into account and helping you craft the perfect day.
We can highly recommend our Perth wedding celebrant, Jill Kennedy.
74B Stockdale Crescent
WEMBLEY DOWNS WA, 6019,
Tel. 0407 174 570,  [email protected] 
or you can get a list of other registered civil marriage celebrants here.
Services that a Marriage Celebrant celebrant may provide include:
Lodging your Notice of Intended Marriage
Complete all the necessary legal paperwork
Helping you with regards to the type of ceremony you would like, readings, symbolic rituals and music.
Wedding Ceremony Rehearsal
Provide a sound system and microphone or the day
Providing a signing table and chairs
Perth Registry Marriage Options include:
Perth's main government Registry Office: 
Only available weekdays 9am-4pm. Wedding Rooms accommodate 20 -35 guests.
Level 10, Westralia Square, 141 St Georges Terrace, Perth (Tel. 1300 305 021)
The Perth Marriage office:
The Perth Marriage Office is open 7 days a week to perform wedding ceremonies. Prices vary depending on the number of guests. There are four different rooms and the largest can accommodate 50 guests. Visit their Website here. 
Level 1, 115 Francis Street, Perth, (Tel. 1300 024 024),
Dianella Marriage Office, Perth:  
Available 7 days a week and prices vary depending on your requirements
Level 1 /285 Alexander Drive, Dianella (08 6245 8412)
How much will a civil celebrant cost?
On average the cost of a simple registry office marriage is $400.
Independent Civil Celebrants are mainly individuals running a small business. There is no set fee, so it depends on the celebrant that you choose and the services that they provide. However, you can probably expect to pay $600 and upwards.
Our celebrant, Jill Kennedy,  wrote an individual ceremony script just for us – personally preparing it to suit our unique story. We had meetings and many emails back and forth as she guided us on our ceremony format options and choices of readings, music and vows.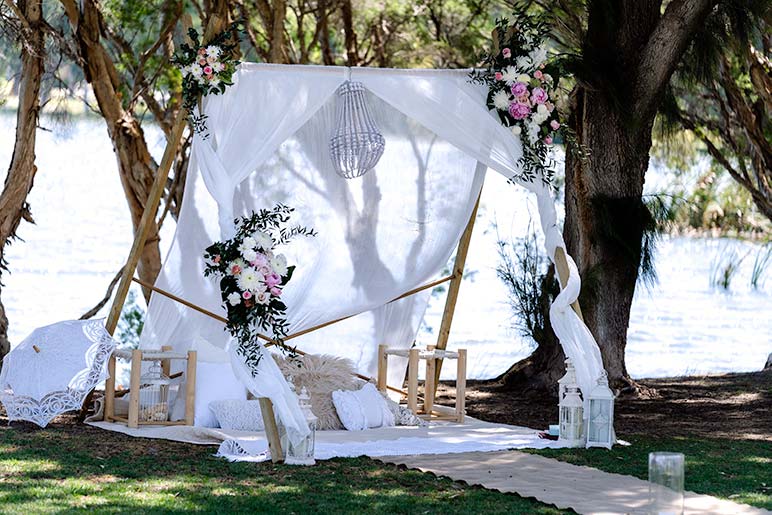 2. Lodge a Notice of Intended Marriage
Once you have chosen your celebrant you need to lodge your Notice of Intended Marriage (NOIM).
All couples must lodge a Notice of Intended Marriage form at least one month before getting married in Perth with your chosen Marriage Celebrant. This form needs to be signed in front of your celebrant or an official witness and lodged with your celebrant. Additionally, each party will need to show a Passport or original Birth Certificate as proof of ID and, if relevant, any Divorce/ Death Certificates, before the marriage takes place. The NOIM cannot be lodged more than 18 months before your intended marriage date.
Your NOIM can usually be lodged online, but you will still need to print it and get it witnessed by a police officer, doctor, lawyer or Justice of the Peace before returning it to your celebrant online. If you are overseas you will need to get the NOIM witnessed by a Notary Public.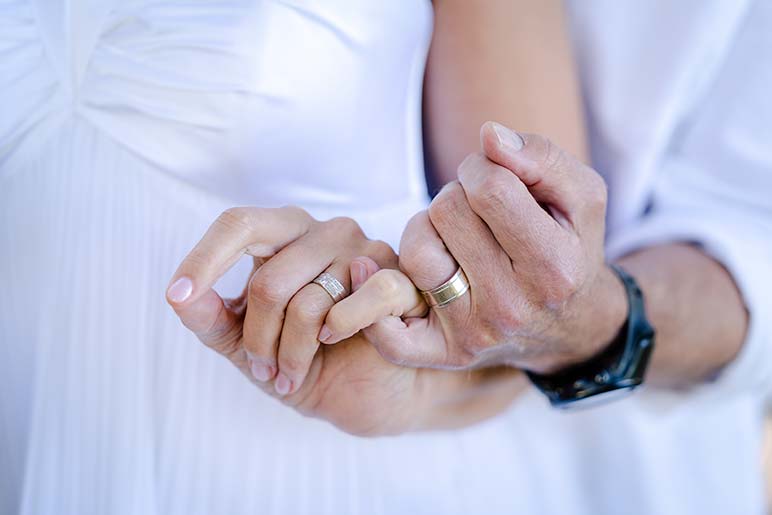 3. Decide Where to Get Married in Perth
Getting married in Perth means that you have so many beautiful locations to choose from. We are lucky because in Australia, you can get married almost anywhere. Popular locations include:
The beach
Private gardens
Public gardens/parks
Reception venues
Bushland settings
Riverside

Where can I get married in Perth?
You are just spoilt for choice when getting married in Perth. Popular outdoor park/garden/beach locations that are chosen for Perth wedding venues are:
Most parks, gardens and beaches need to be booked and a booking fee is charged. Prices vary, but the most popular tend to be the most expensive. An exception to this rule includes the parks and beaches in Fremantle. Fremantle council doesn't charge for its parks or beaches but they do have certain limitations and you are not able to ensure that there will not be another public or private event happening at the same time as you are getting married.
For more wedding venue ideas check out Visit Perth's highlights and Easyweddings top ten Perth wedding venues.
We chose to get married at Jackadder Lake, Woodlands, Perth.  This is a beautiful lakeside park full of birdlife. We opted for a very simple relaxed picnic wedding and the local council rate was only $30 per hour.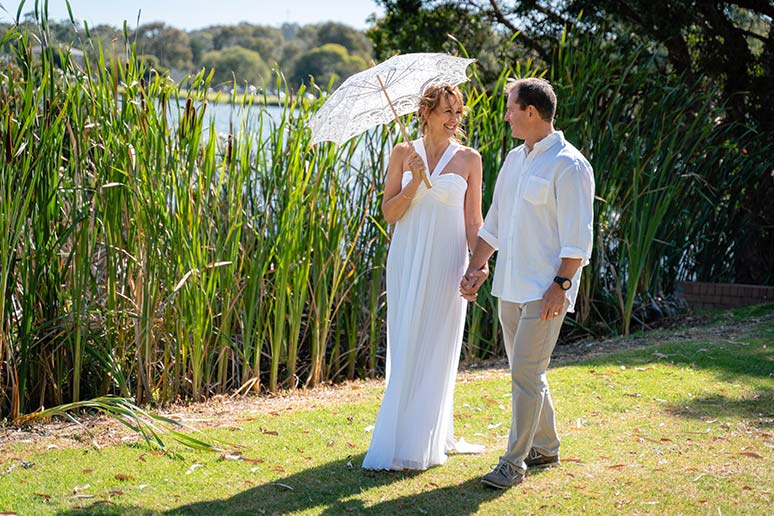 Getting married in Perth at Jackadder Lake, Woodlands
4. Send out Wedding Invitations
Again, how you decide to do this is a personal choice. We bucked tradition and made use of social media apps and email to send our invitations which meant that it cost us absolutely nothing.
However, there are plenty of beautiful stationery options to choose from if your budget allows.
Here are the two invites we sent out, one for a save the date, and another with further details once we knew them. Both were easily and quickly made using the free version of Canva.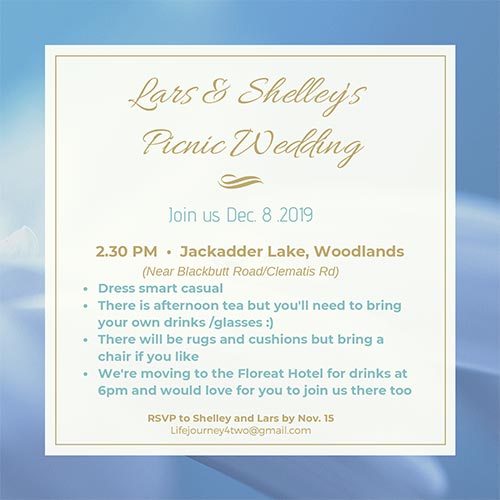 5. Plan Your Perth Wedding Ceremony
This is based on planning a civil marriage ceremony – a religious ceremony will have its own rules and regulations.
The Ceremony
There are certain legal requirements that must be included in a marriage ceremony, which your celebrant will advise on,  but you can then add any other inclusions that you wish. For example, you can write your own vows, add a symbolic ritual and choose your own music. You don't even have to exchange rings if you don't want to.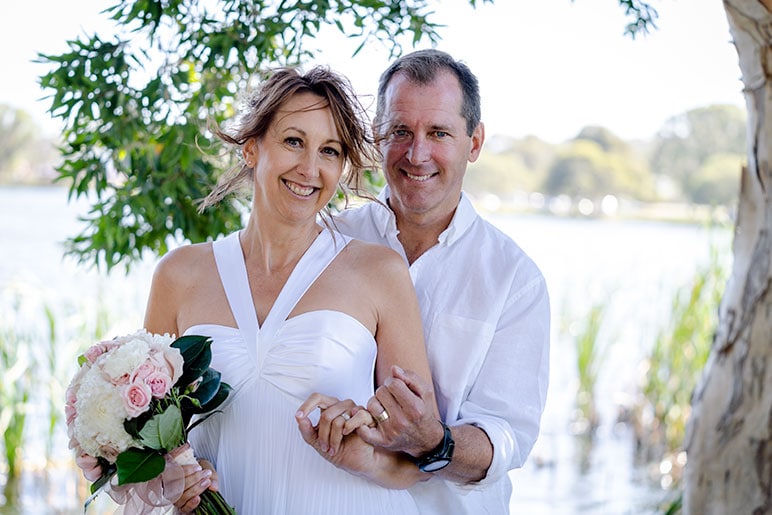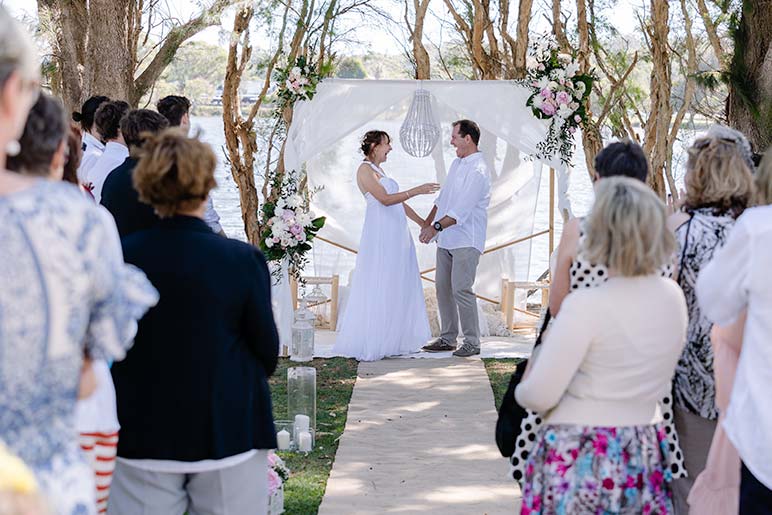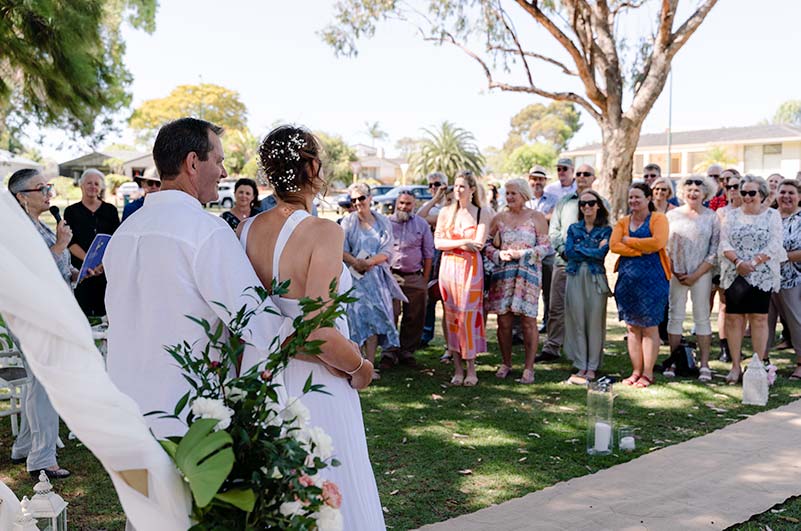 Your Wedding Vows
In addition to the legal script that you must say;
"I call upon the persons here present to witness that I, (Name), take thee, (partners name) to be my lawful wedded wife (or husband, or spouse )",
You can make your own vows so that your words really reflect who you are and your relationship. We tried to include a little bit of humour too. Here are our vows to give you an idea. 
Your sparkling spirit lights up my life,
I love your beautiful soul, your warming smile,
Your ability to see the good, in all things,
Your positivity and dependability,
And your unconditional love for me.
You're my soulmate and my best friend,
My trusted navigator,
Helping us steer the byways and highways,
And even though you don't like to cook, iron or get out of bed before 9,
… I wouldn't have it any other way,
I love being in love with you and
I can't wait to continue life's journey,
with you as my wife.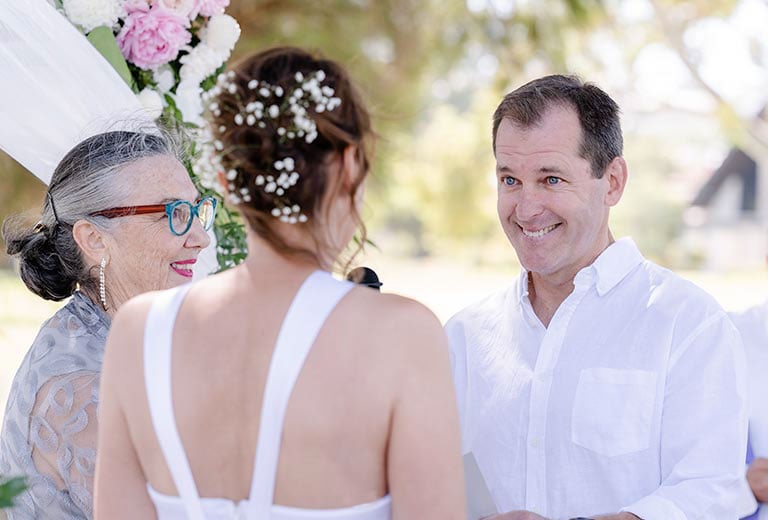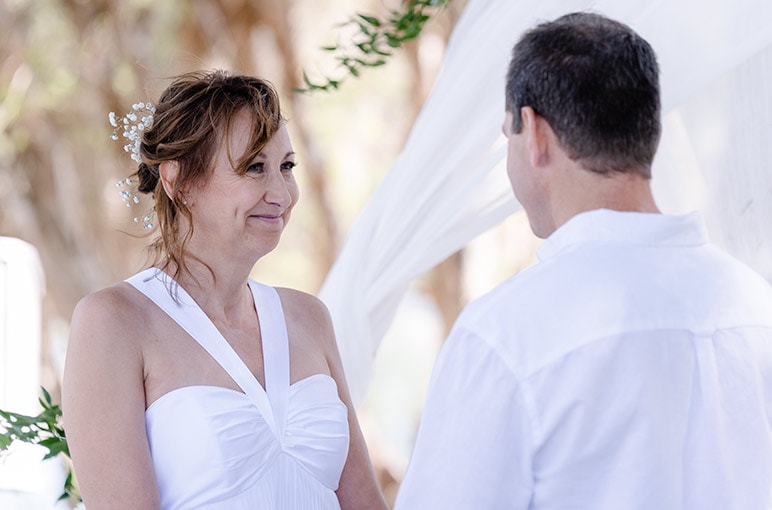 I love how you love me unconditionally.
How you bring me tea in bed and always hold the door open for me
I love that you put me on a pedestal even though I'm far from perfect.
I love your good-heartedness, your tenacity and your sense of adventure. You are always the first to jump to the aid of a stranger in need and I am often in awe of your dogged determination.
 I love that even though on our first date I told you I hate to cook; you have still chosen to make me your wife. I love how you always like a full fridge and think about what is for dinner at breakfast time.
Your love, kindness and devotion makes life just so much easier.
We have been with each other for over four years now, with over two of those, spent in each other's company 24/7. I think the fact that we are stood here today and haven't strangled each other yet, means that we are a pretty special team.
I promise to love you, support you and guide you in the right direction – especially when the GPS sends you down the wrong track.
I love this life adventure I am on but what makes it even more special, is that I am on it with my soulmate, my lover and my best friend.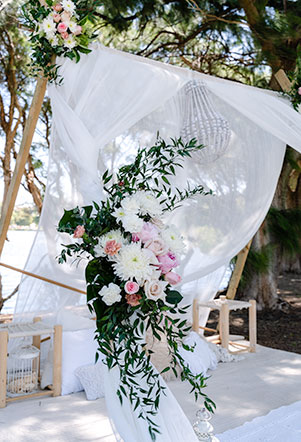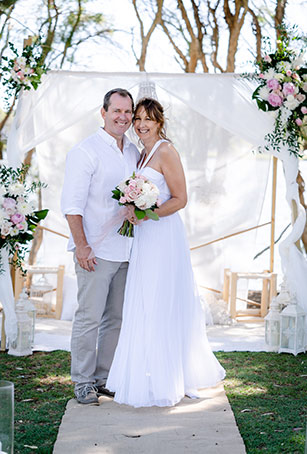 Wedding Readings/Poems
We chose to use an excerpt from "Oh the Places You'll Go", by Dr. Seuss. We altered some of the words to fit with our own story.
Many couples choose their favourite verses or poems and again, a quick look online will offer up plenty of suggestions that you may like.
Here is the excerpt – with alterations that we used.
Extract from Oh The Places You'll Go, Dr Seuss.
Congratulations!
Today is your day.
You're off to Great Places!
You're off and away!
You have brains in your head.
You have feet in your shoes.
You can steer yourself
any direction you choose.
You're a great team and you know what you know.
And YOU are the couple who will decide where to go.
Out there things can happen
and frequently do
to people as brainy
and footsy as you.
OH! THE PLACES YOU'LL GO!
You'll be off on your way!
You'll be seeing great sights!
You'll climb all the mountains
and hike to great heights!
You won't lag behind, because you'll have all the speed
You'll be all prepared, and you'll soon take the lead
Wherever you fly you'll be best of the best.
Wherever you go, you will top all the rest.
Except when you don't.
Because sometimes, you won't.
I'm sorry to say so
but, sadly, it's true
that Bang-ups
and Hang-ups
can happen to you.
You can get so confused
that you'll start in to race
down long wiggled roads at a break-necking pace
and grind on for miles cross weirdish wild space,
headed, I fear, toward a most useless place.
The Waiting Place…
Waiting for the fish to bite
or waiting for the wind to fly a kite
or waiting around for Friday night
or waiting, perhaps, for their Uncle Jake
or a pot to boil, or a Better Break
or a string of pearls, or a pair of pants
or a wig with curls, or Another Chance.
Everyone is just waiting.
NO!
That's not for you!
You two will escape
all that waiting and staying
You'll find the bright places
where wildlife are playing.
With banner flip-flapping,
You'll keep riding through!
Ready for anything life throws at you.
Ready because you're Lifejourney4two!
So be sure when you step.
Step with great care and great tact
and remember that Life's a Great Balancing Act.
Just never forget to be dexterous and deft.
And never mix up your right foot with your left.
So, be your name… Lars, Parker or Smelly
Or Lady P, Michelle or Shelley
You're off to great places!
Today is your day!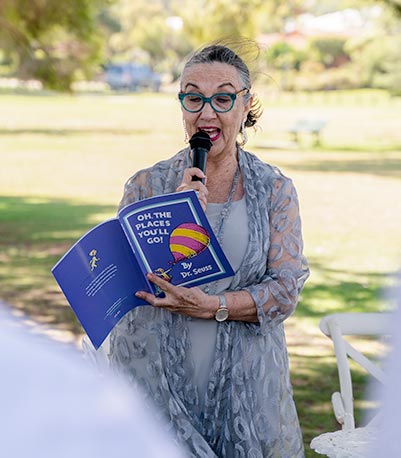 Wedding Music
We chose to have the following music:
Processional music (arrival of the bride) – Here Comes the Sun (Beatles)
Register Signing Music – Africa (Toto)
Music after we were announced, husband and wife –  Walking on Sunshine (Katrina and the Waves)
Choose tunes that mean something to you and you can be as traditional or non-traditional as you like.
Just google 'wedding music' and you'll have lots of ideas to choose from.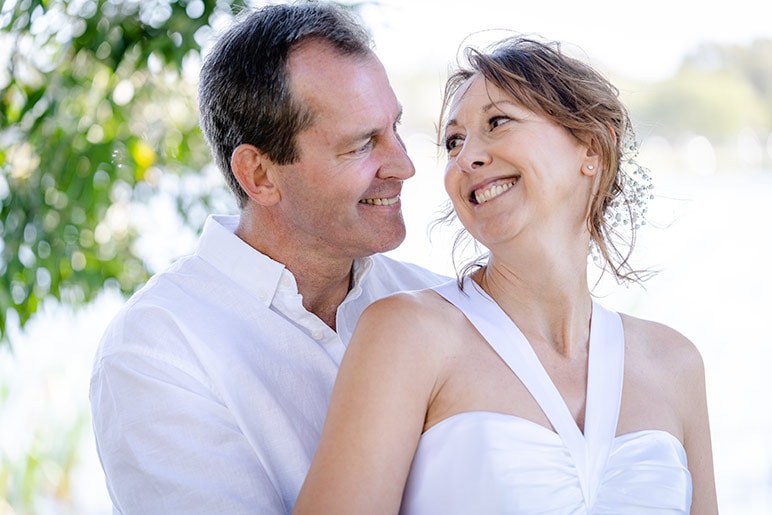 6. Organise your Perth Wedding Day Requirements
Whether you want a simple, budget-friendly or no expense spared wedding, getting married in Perth offers you a multitude of options.
We wanted a relaxed Perth wedding. And, as we are road tripping around the world, we were on a tight budget. Therefore we chose to do away with some wedding traditions that we didn't feel were important to us.
We had a simple afternoon tea picnic wedding and asked guests to bring their own drinks. We didn't have official speeches or a wedding cake. We did have a beautiful afternoon surrounded by family and friends, relaxing in an absolutely gorgeous setting. For us … it was perfect. Whatever wedding day you plan, make sure it is the kind of day that is going to be special for you.
Whatever you decide, make your day about you two and focus on the things that will make your day special to you.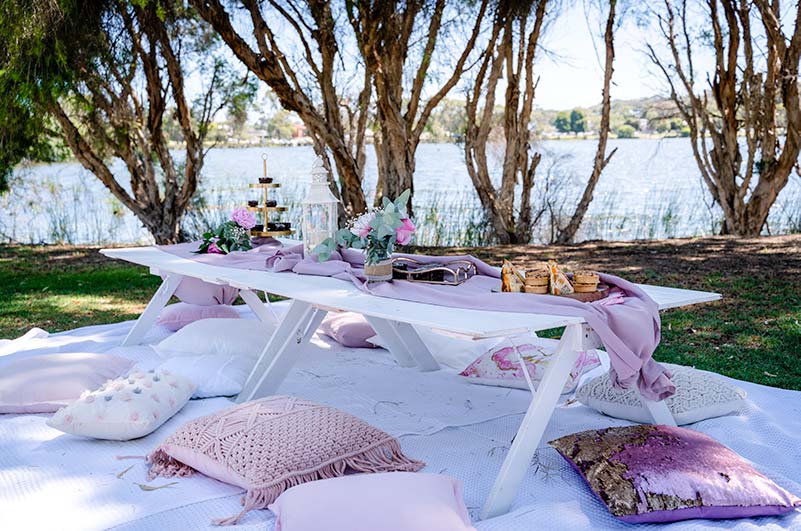 Picnic Wedding in Perth, Jackadder Lake
Local Business Recommendations for Getting Married in Perth
We used local businesses for our Perth Picnic wedding, and we can highly recommend all of the businesses mentioned.
Note: We are NOT affiliated to any of them and we paid for all of their services.    
Planning Your Travels?
These are travel resources we use when planning our trip and can recommend: