Some posts on this site contain affiliate links, meaning if you book or buy something through one of these links then we may earn a small commission. Read our Disclosure Policy here.
Icelandic Landscapes
Seeing is believing. Icelandic landscapes have a wild beauty like no other. Having survived the merciless pounding from Atlantic storms, centuries of fiery volcanic wrath and freezing Arctic winter temperatures, Iceland emerged as one of nature's greatest triumphs.
Boasting fairytale-like waterfalls, spectacular geysers, boiling mud pools and glacier lagoons, Iceland is a mecca for both landscape enthusiasts and photographers alike.
We visited Iceland in September, and our timing was just perfect. We beat the tourist rush, enjoyed great weather and captured early-season sightings of the Northern Lights.
Our two-week Iceland road trip led us around the fringes of Iceland. We drove the famous ring road and had amazing opportunities to photograph the wondrous landscapes that Iceland is renowned for.
Here, we share our Icelandic images that invoked our most memorable moments in this stunning country.
Many of our Icelandic landscapes are for sale in our Etsy store … Take a look here.
Landscapes of Iceland in Photos
---
1. Detifoss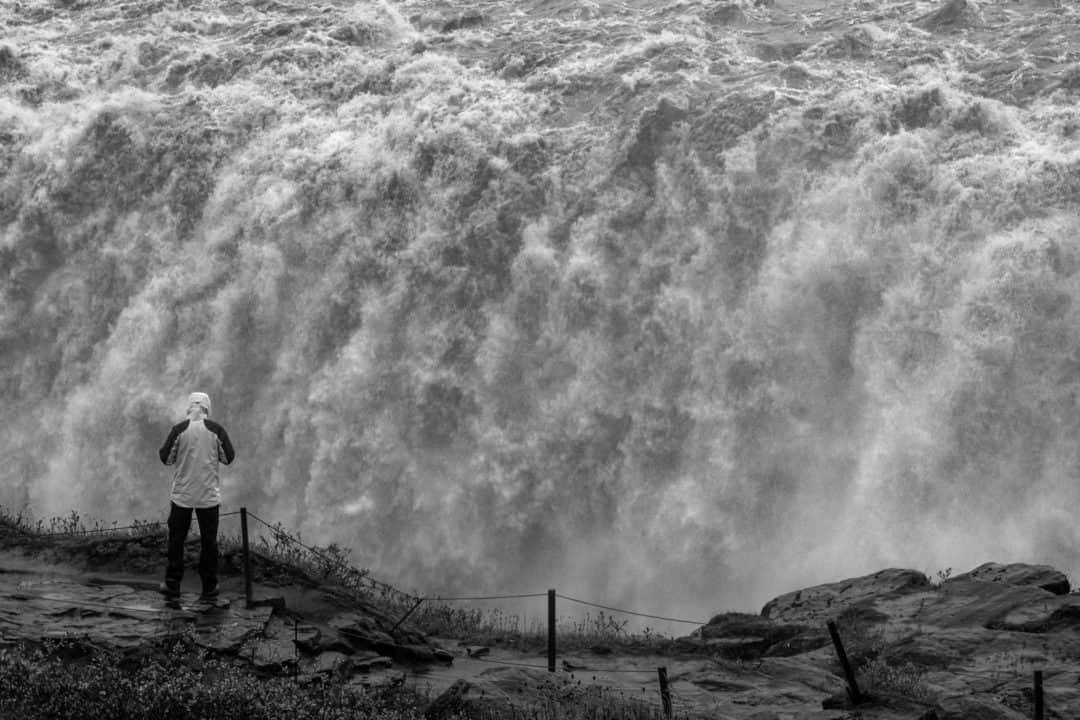 Glacial melts produce huge volumes of water which feed the magnificent waterfalls you can see all around Iceland. Some of the popular waterfalls in Iceland are:
Detifoss,
Selfoss,
Skógafoss,
Svartifoss and
Goðafoss.
And yes, you probably have guessed, 'foss' means waterfall.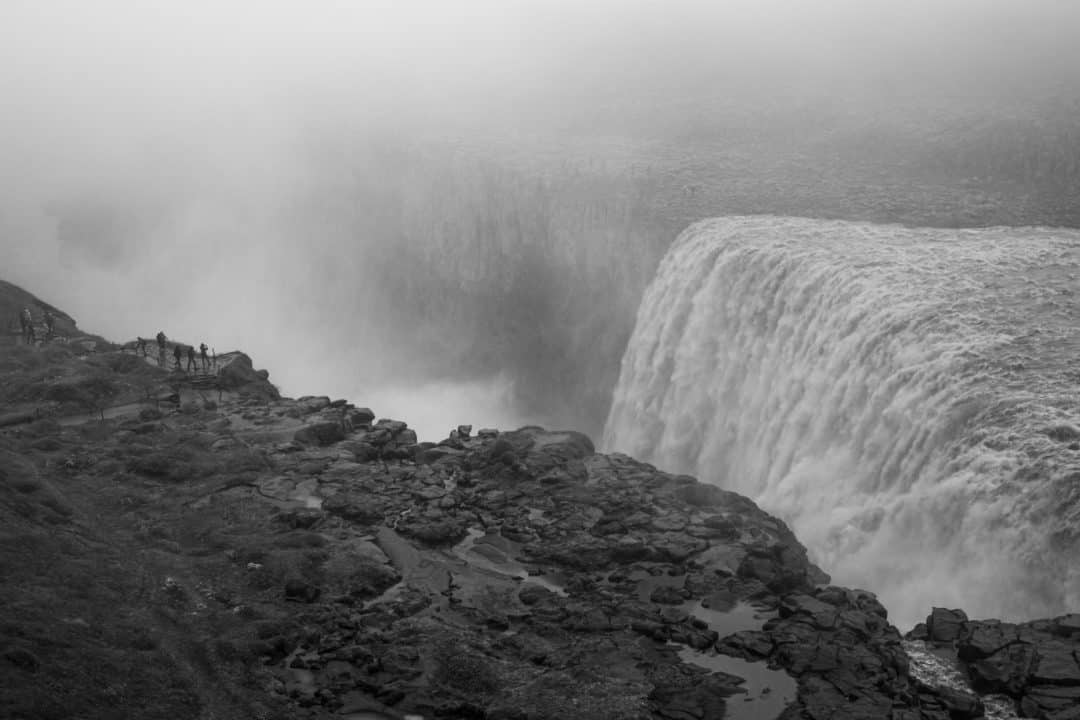 Detifoss …100m wide, has a drop of 44m and pumps out 193 cubic metres (193 tonnes) of water per second. Now that's an impressive set of statistics!
2. Northern Lights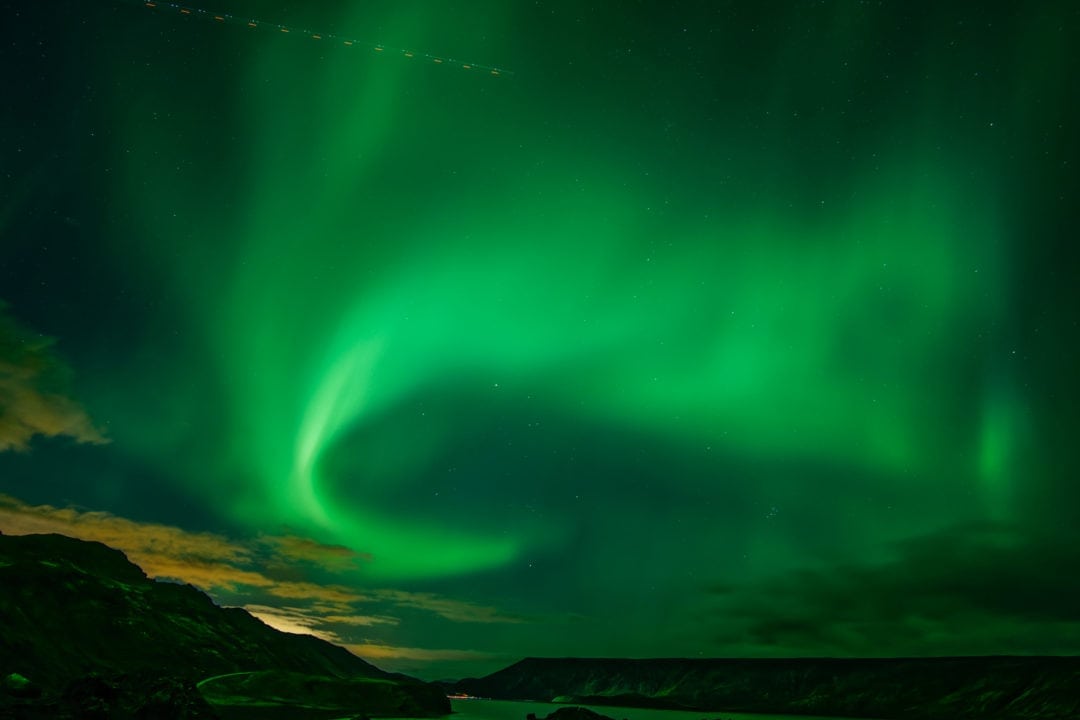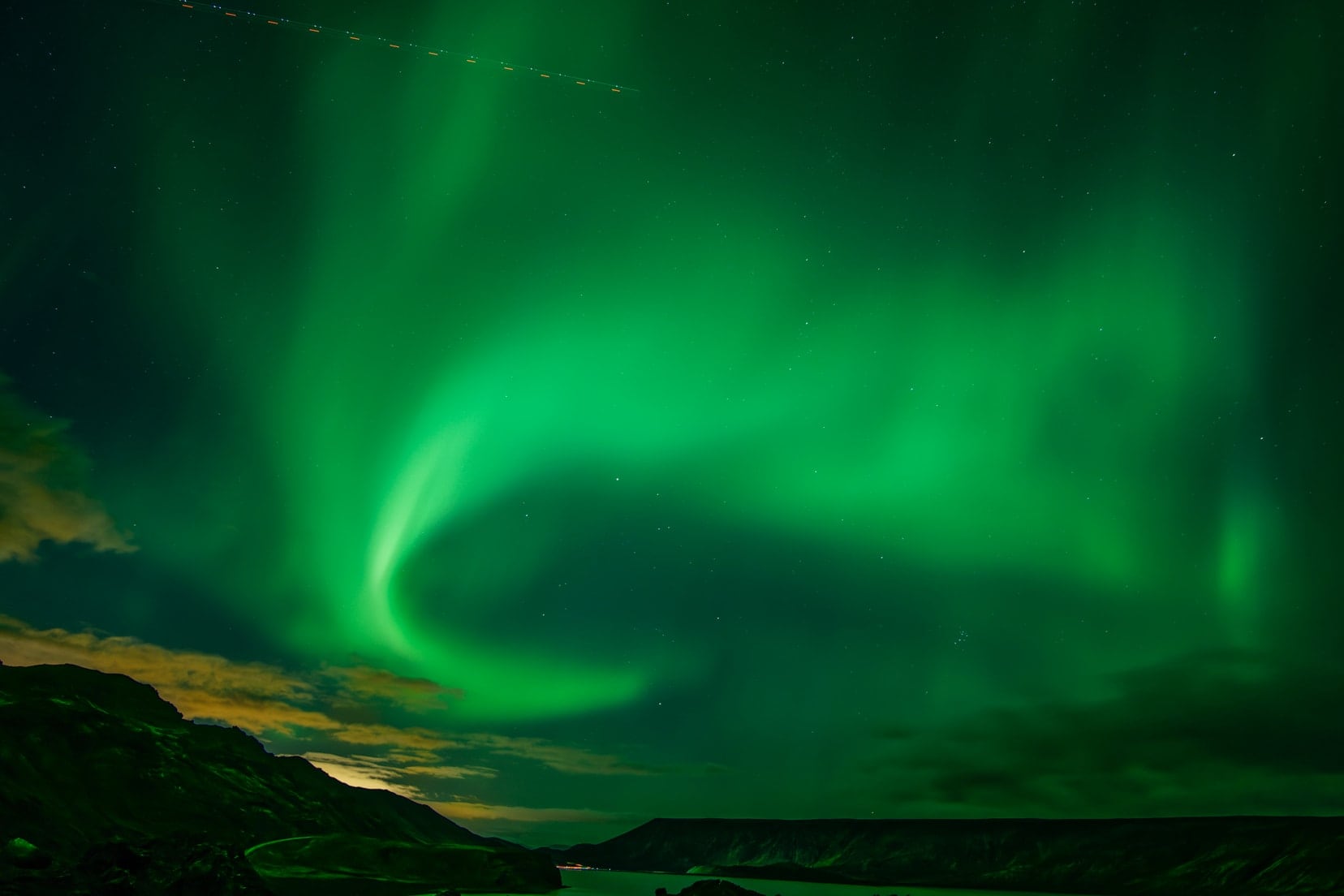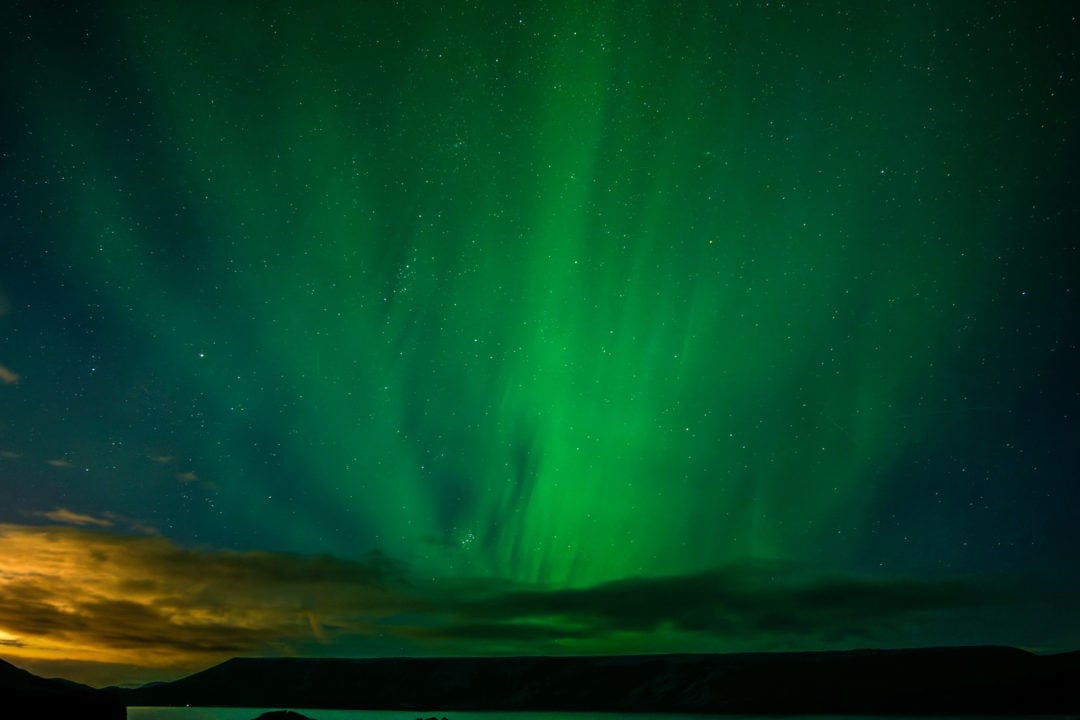 Who doesn't yearn to see the Northern Lights? Surely one of nature's marvels.
Generally, for the optimum chance of seeing the Northern Lights in Iceland, visit from some time from late August to April, and hope your visit coincides with a period of solar activity.
My camera equipment used to take this shot was a Sony a7III with a Sony 24-105mm f/4.0 lens. At the time, the Northern Lights lights were reasonably static so I was able to keep my exposure times to around 4 to 5 seconds.
I had already decided before arriving in Iceland that I wanted to photograph the Northern Lights. So, with my trusty tripod in tow, I was able to provide that steady platform that is essential for those long exposure frames.
3. Voyager Sculpture, Reykjavik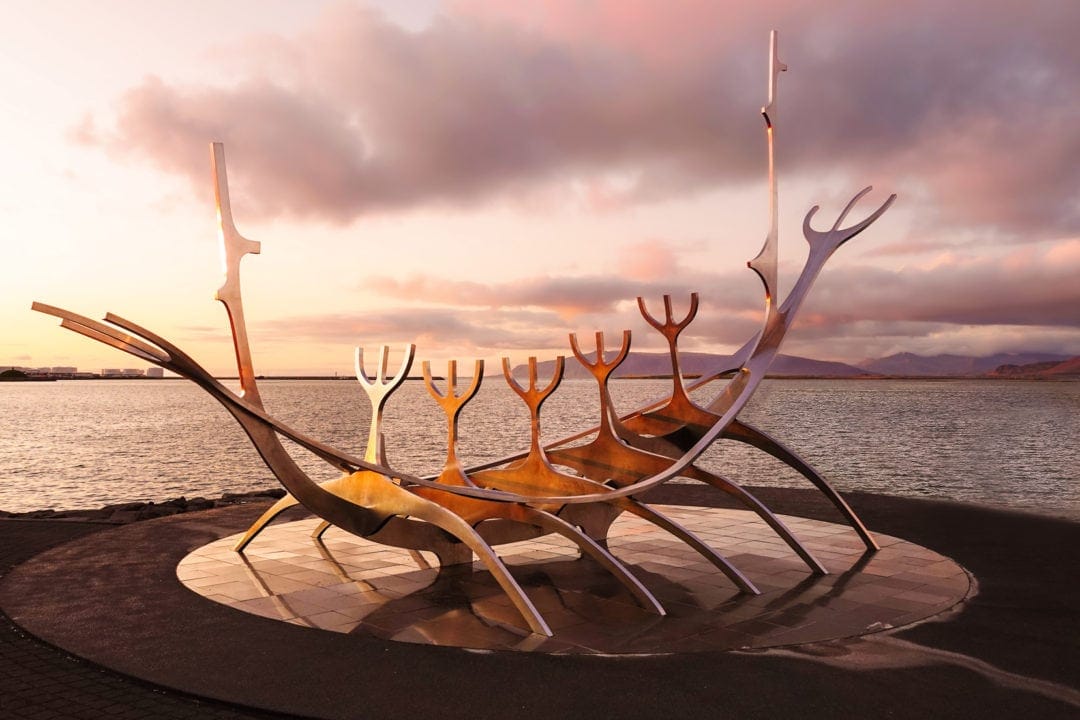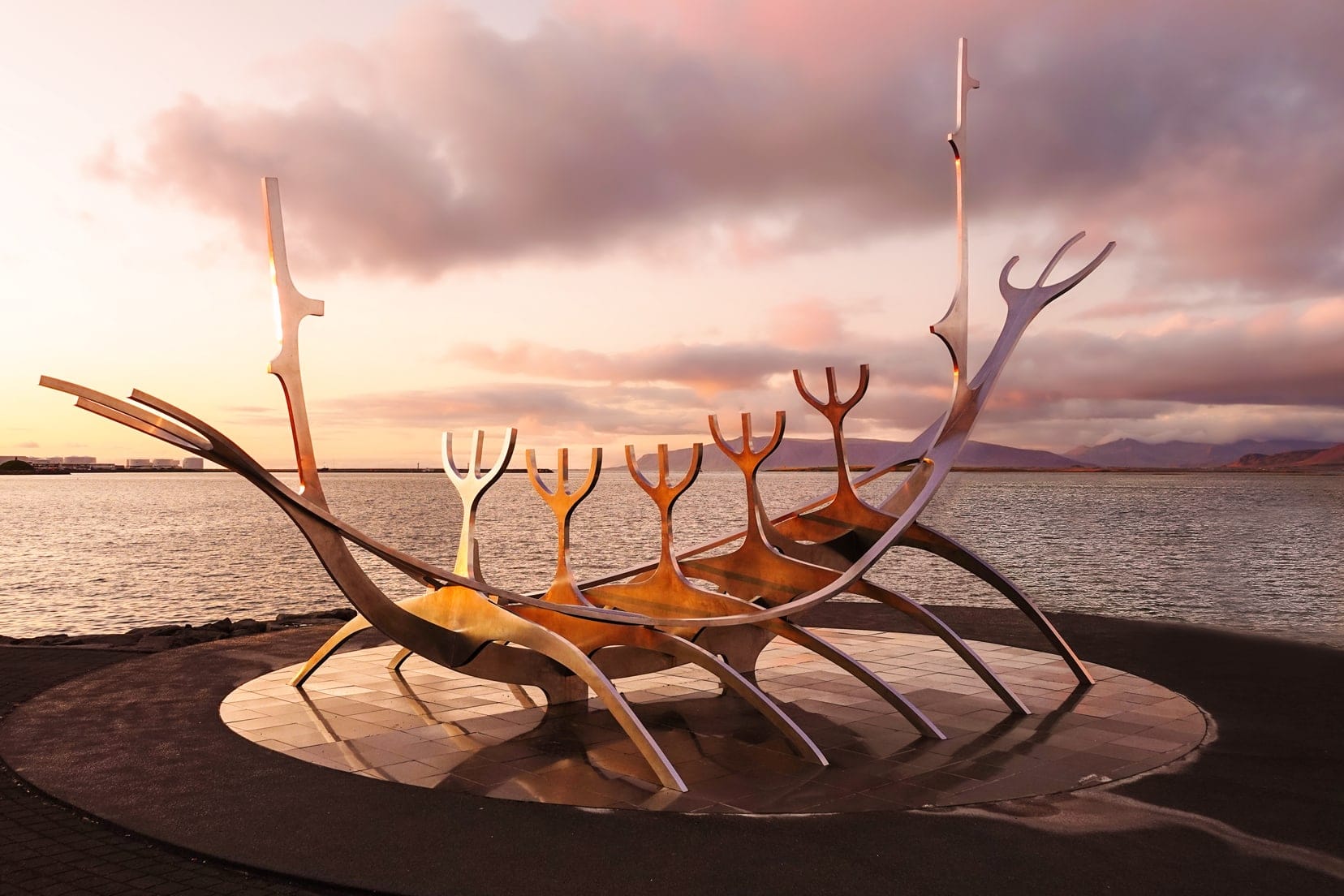 This exquisite architectural masterpiece, in Reykjavik, depicts a Viking longboat. It is particularly photogenic at sunset and is one of the most recognised Icelandic landscapes.
4. Jökulsárlón Glacial Lagoon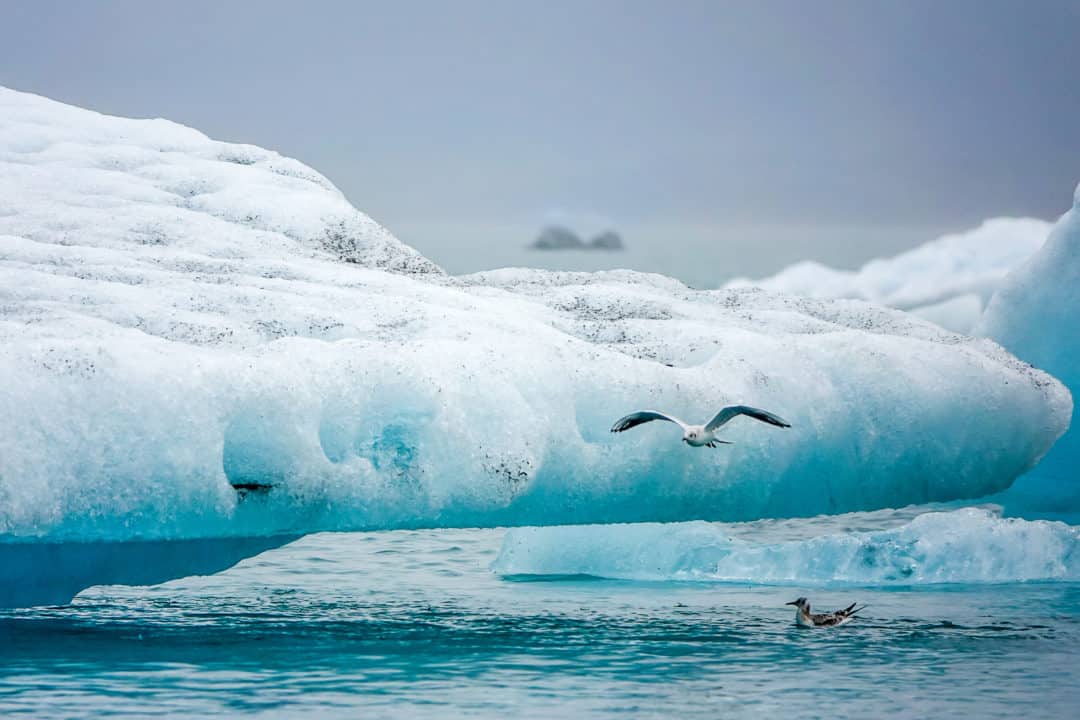 Jökulsárlón glacial lagoon
Jökulsárlón glacial lagoon is filled with varying bluish-hued icebergs and is a haven for both sea and seabirds. The lagoon forms a part of the Vatnajökull National Park which is classified as a protected area.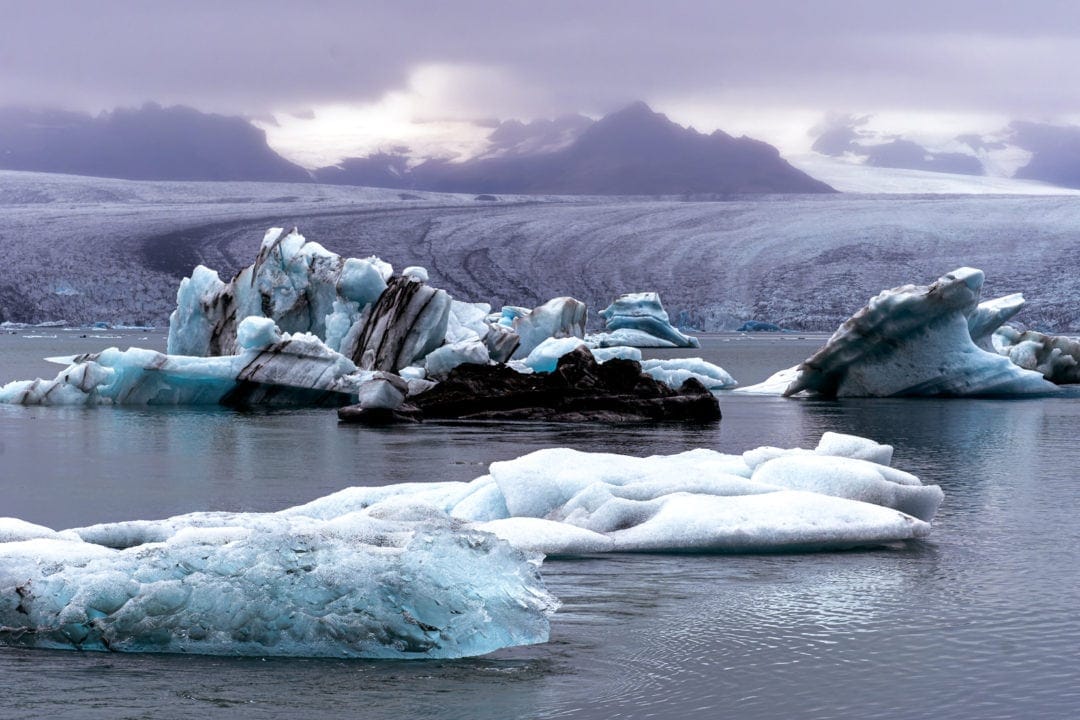 Jökulsárlón Glacial Lagoon
The dark arcs of the moraine with the blue-hued icebergs and turquoise lagoon waters make for some great photographs.
The mesmerising Jökulsárlón Glacial Lagoon formed around 1935 due to the rising temperatures causing the melt of Breiðamerkurjökull (a tongue of the Vatnajökull glacier.
The lagoon's surface area has doubled over the last half of its life. This concerning trend continues today and it is expected that the lagoon will eventually become a deep fjord.
5. Vatnajökull Glacier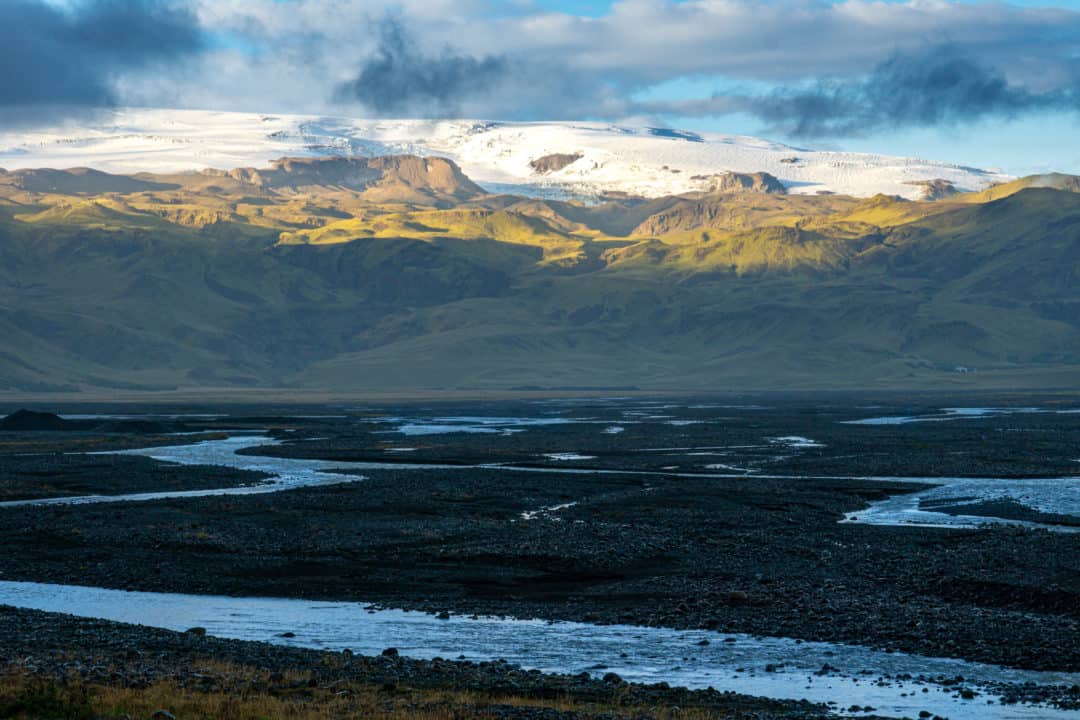 Vatnajökull glacier viewed over the black lava fields
Vatnajökull glacier, in eastern Iceland, is the largest ice cap in Iceland with the largest thickness of ice being around 950m in depth, but on average is about half of this.
6. Selfoss Waterfall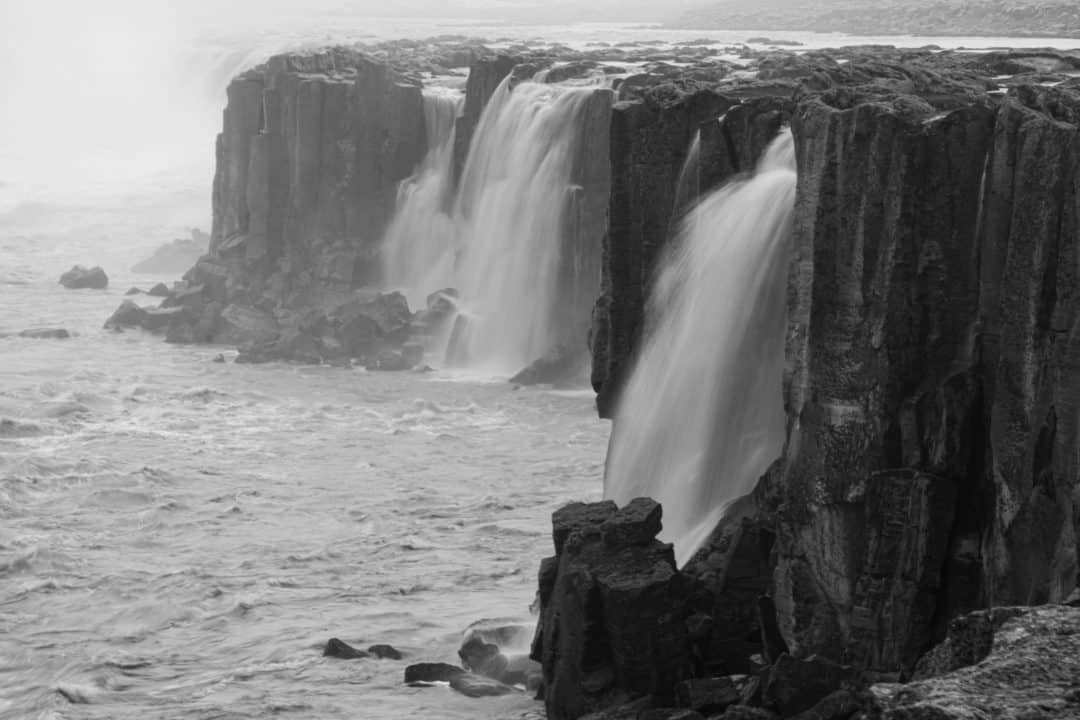 Cascading waterfalls of Selfoss
Did I mention a fairy-tale scene of waterfalls?
Selfoss is this magical place. Gaze up the canyon and wonder at the myriad number of waterfalls that give this place such a mythical feel. This is definitely a memorable Icelandic landscape experience.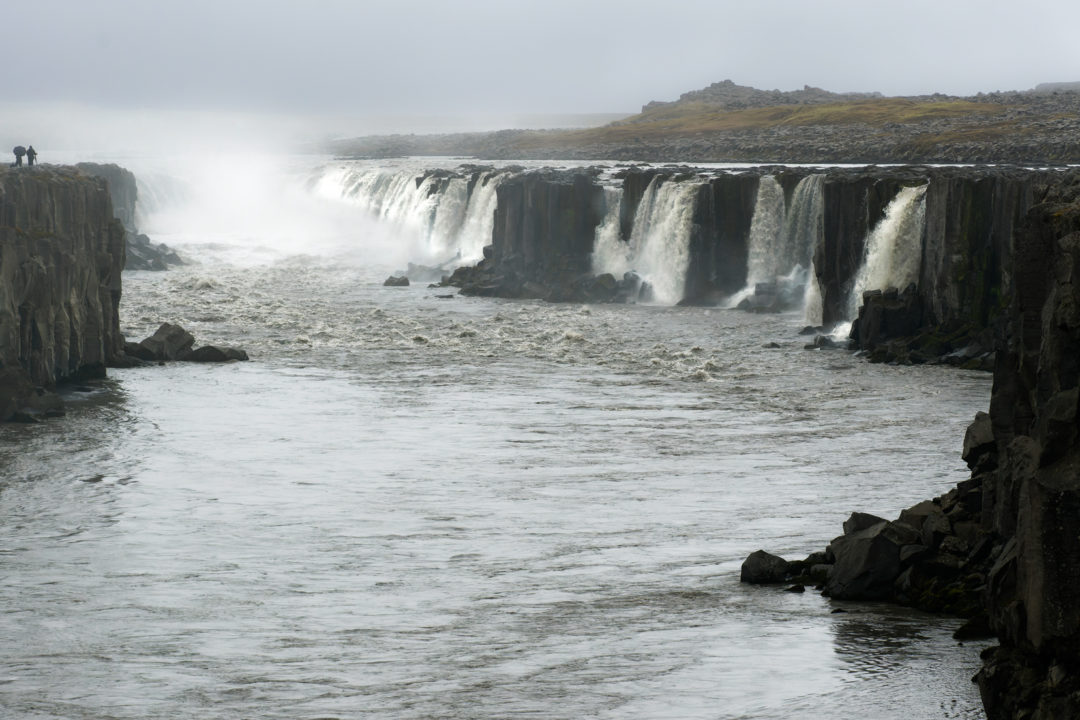 Selfoss' fairytale-like waterfalls
7. Hafnarnes Lighthouse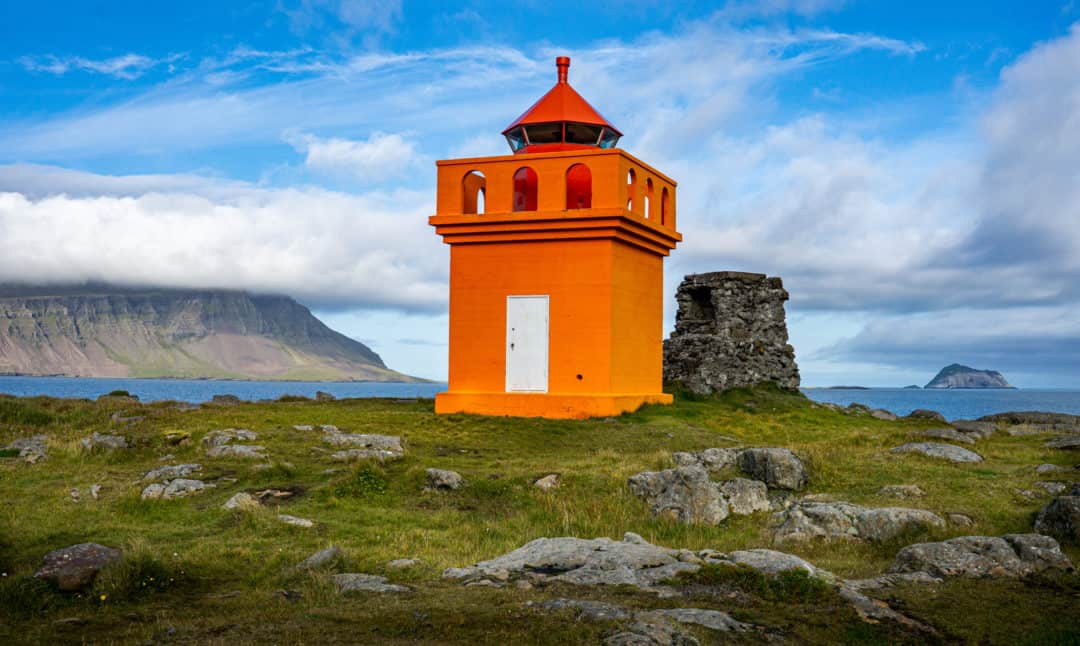 Hafnarnes Lighthouse
Many of the lighthouses in Iceland are a vivid orange colour contrasting beautifully against the blue waters and dark volcanic earth.
Something worth mentioning, we geocached our way around Iceland which added a really fun element to the trip.
8. Hvalnes Beach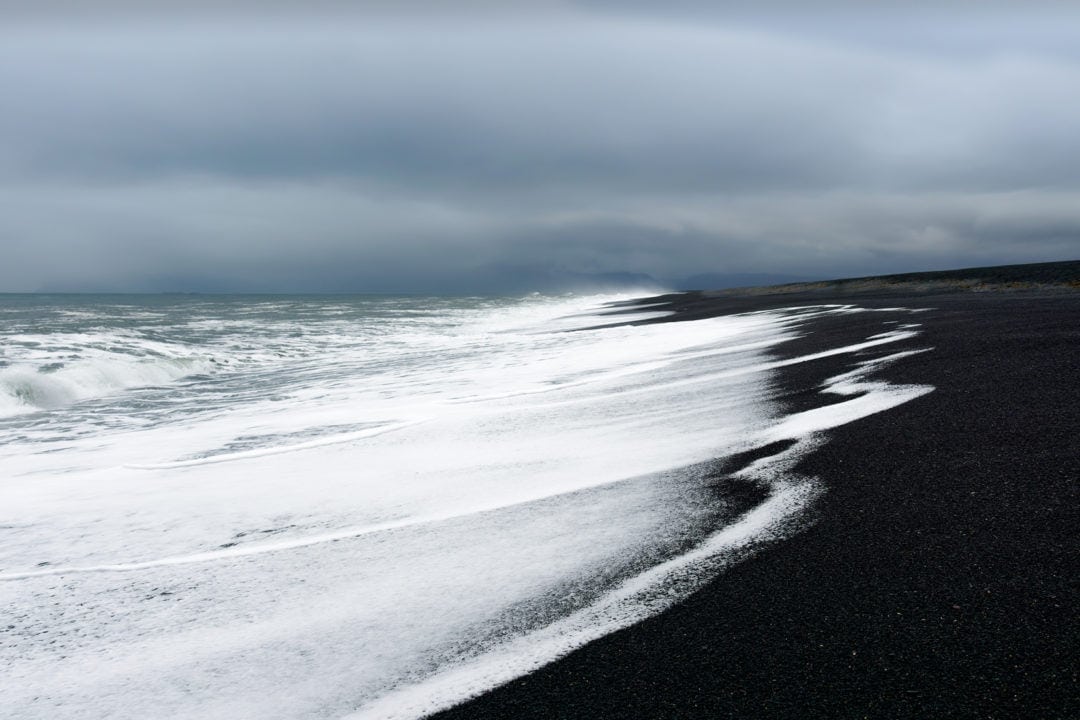 Miles of black sand beaches pounded by the Atlantic ocean make Hvalnes Beach seem a desolate and lonely place.
9. Hverir Mud Pools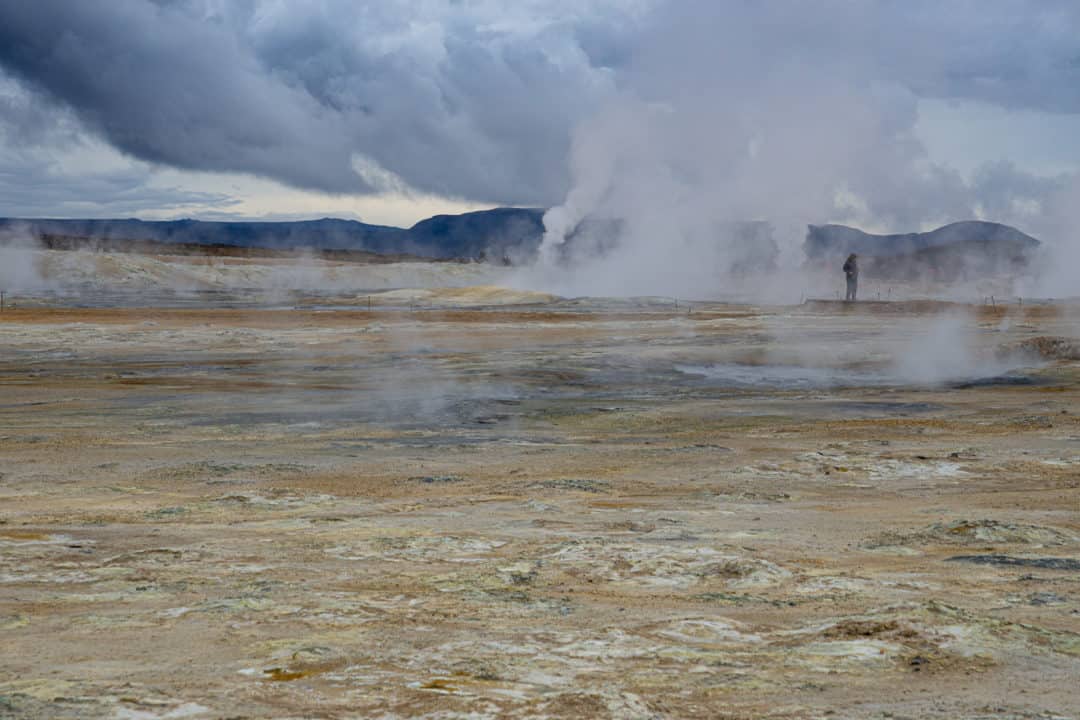 Hverir Mud Pools
As with Iceland's ever-changing landscapes, the Hverir mud pools were yet another one of the country's unique natural wonders.
If you want to visit here you'll need to make your way to the northern part of Iceland.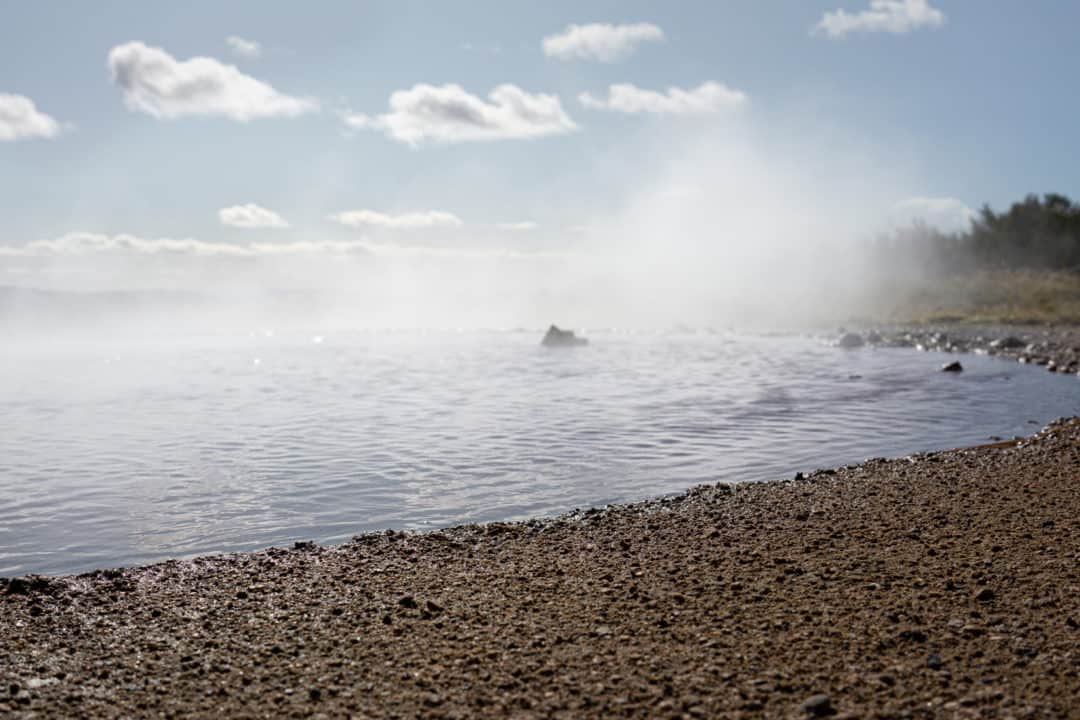 Hverir boiling mud pool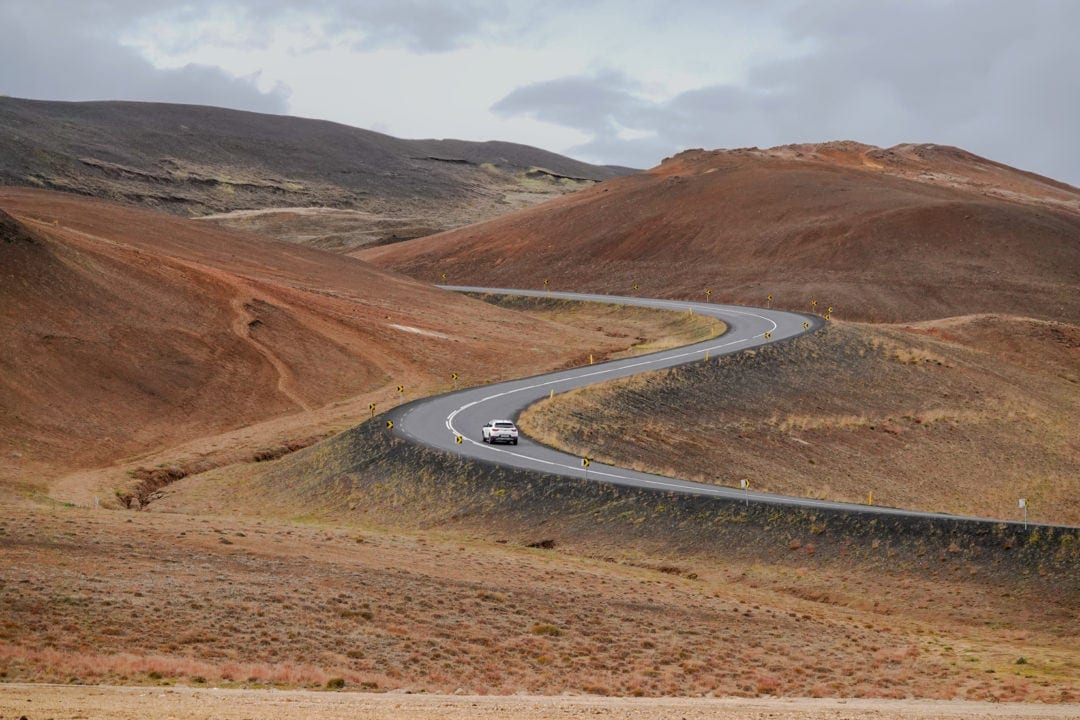 The landscape around the Hverir Mud Pools
10. Reynisfjara Beach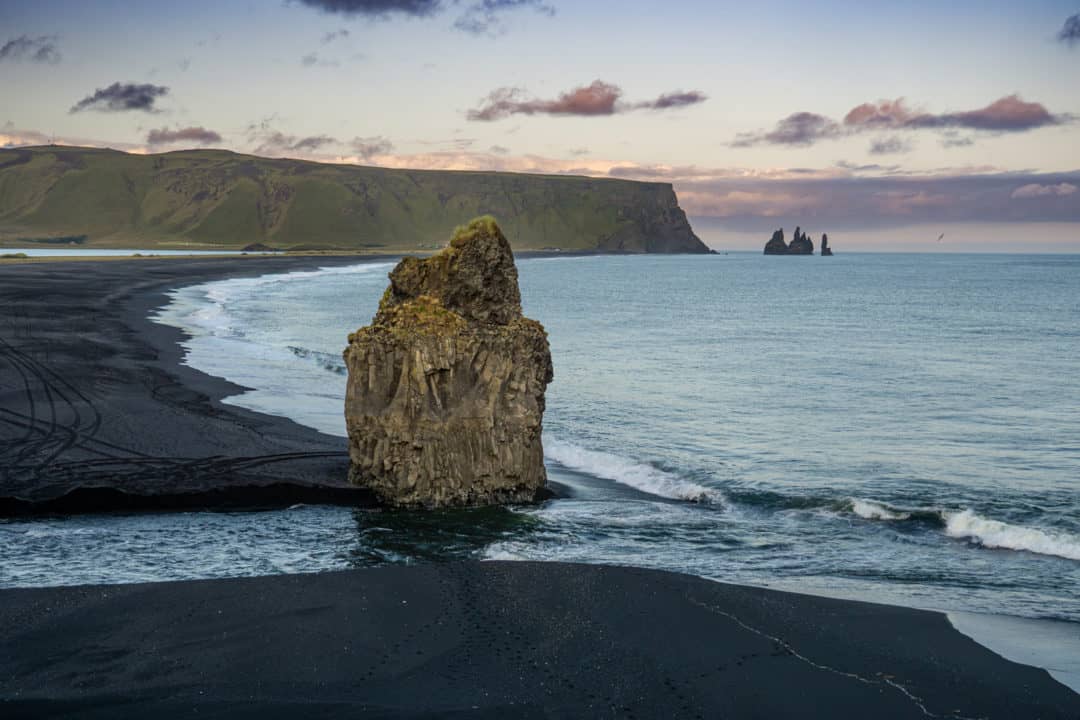 Reynisfjara Beach
The long sweeping Reynisfjara Beach, in Eastern Iceland, consists of black lava sands, is a popular spot for Iceland landscape photography.
11. Icelandic Sheep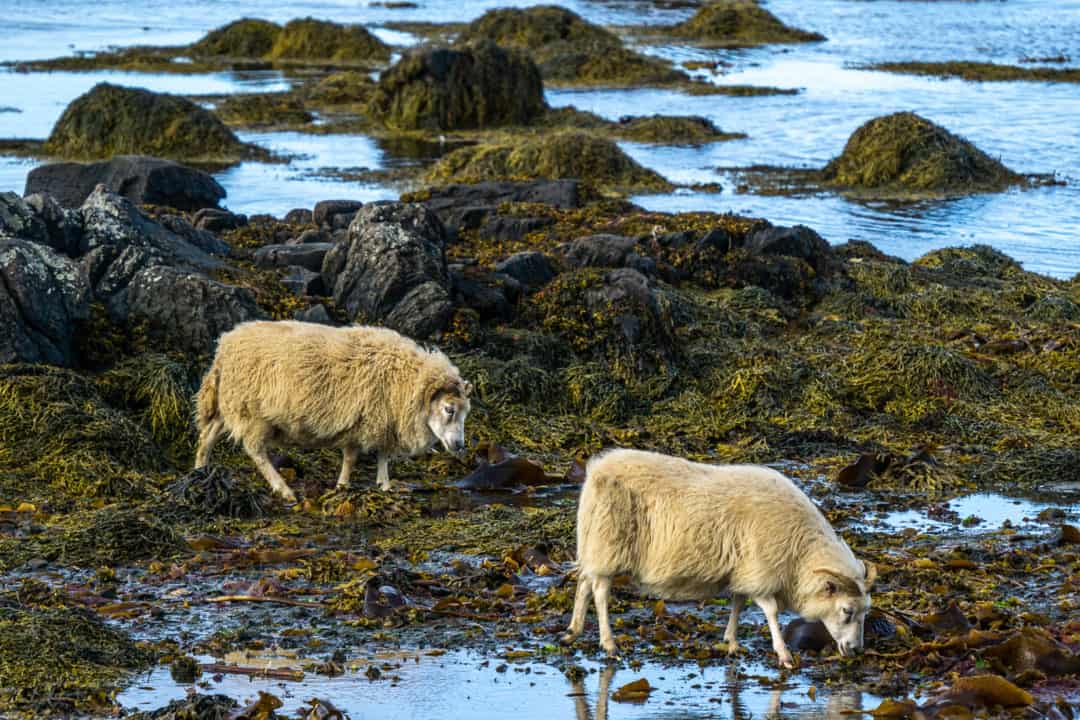 Icelandic sheep grazing amongst the seaweed
And let's not forget about our four-footed friends. We found these sheep happy foraging amongst the seaweed.
Once a year, the 'Rettir' occurs. This involves the herding of sheep down from the highlands to a wooden enclosure. Here, the sheep are separated into smaller pens assigned to their respective owners.
Finally, the sheep are then taken to shelters, keeping them safe from Iceland's frigid winter.
12. Saurbæjarkirkya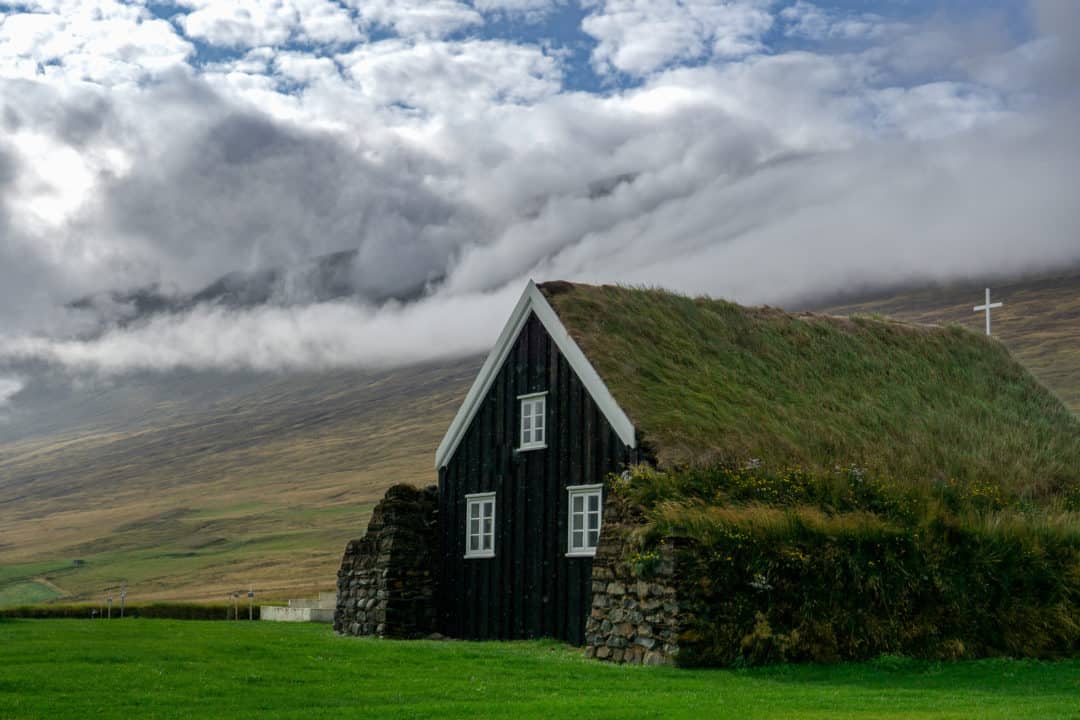 Saurbæjarkirkya
Saurbæjarkirkya is one of only six remaining turf-covered stone churches in Iceland. Trees are used as the framework, with turf covering the remainder of the structure giving it a unique appeal. The turf churches in Iceland are preserved as historical monuments.
13. Hallgrímur Church, Reykjavik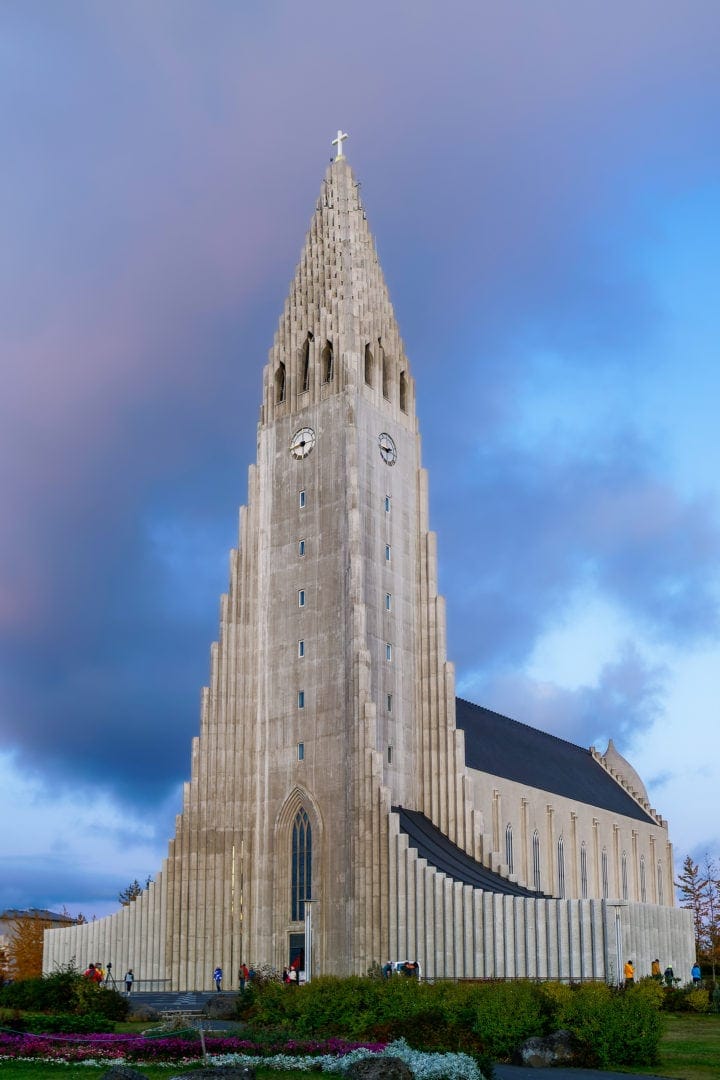 Overlooking Reykjavik, Hallgrímur Church is a Lutheran church. It took over 40 years to construct and stands at 74.5m in height. A lift ascends the church spire to a viewing deck giving views over Reykjavik.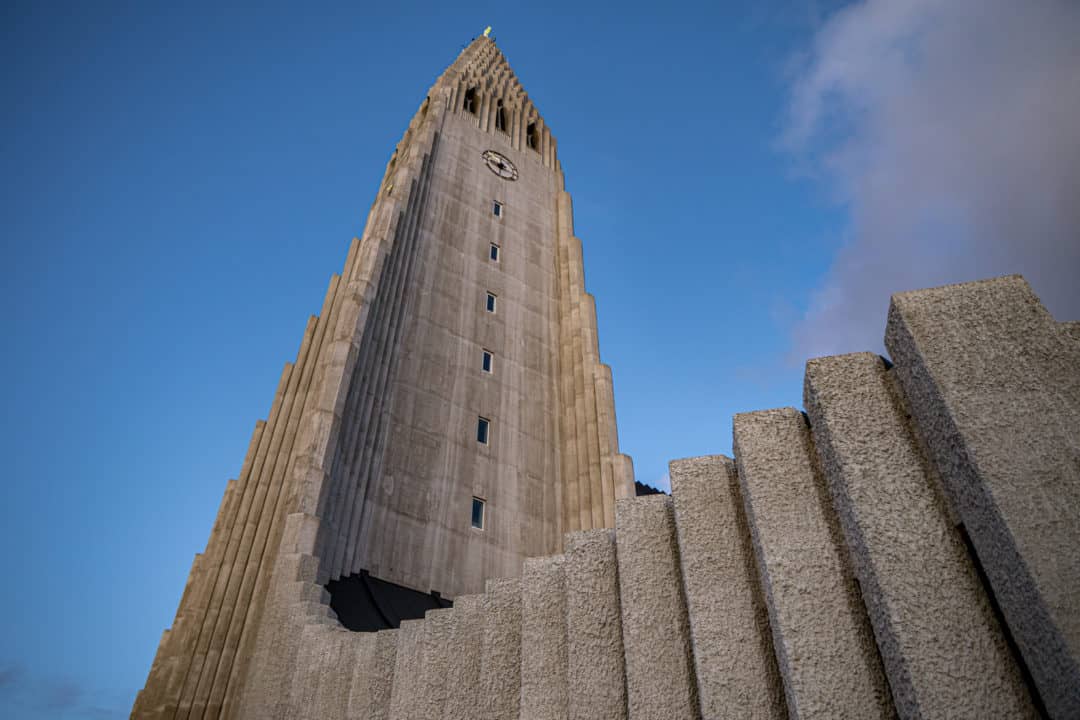 Hallgrímur Church's sweeping architecture is meant to resemble lava cooling into basalt stone
14. Iceland's Black Volcanic Landscapes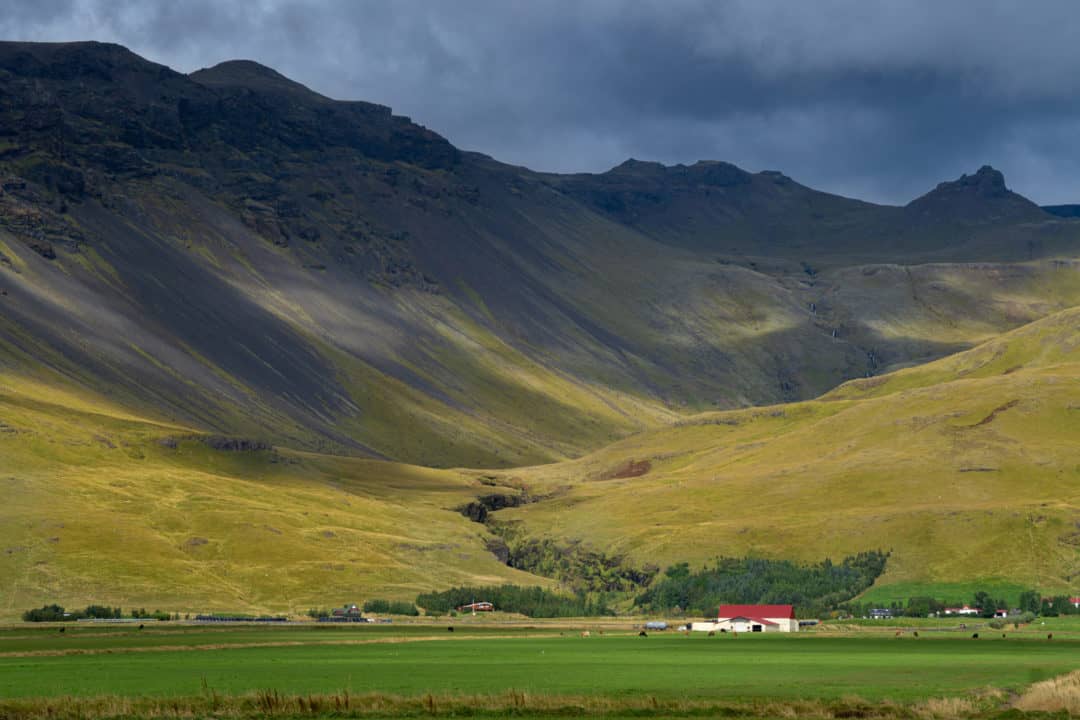 Black volcanic mountain slopes
Reminders of Iceland's volcanic past are everywhere. Currently, there are 30 active volcanoes which come as no surprise, as the island sits on two tectonic plates which are drifting apart at a pretty rapid rate of around two centimetres per year.
15. Búðakirkja church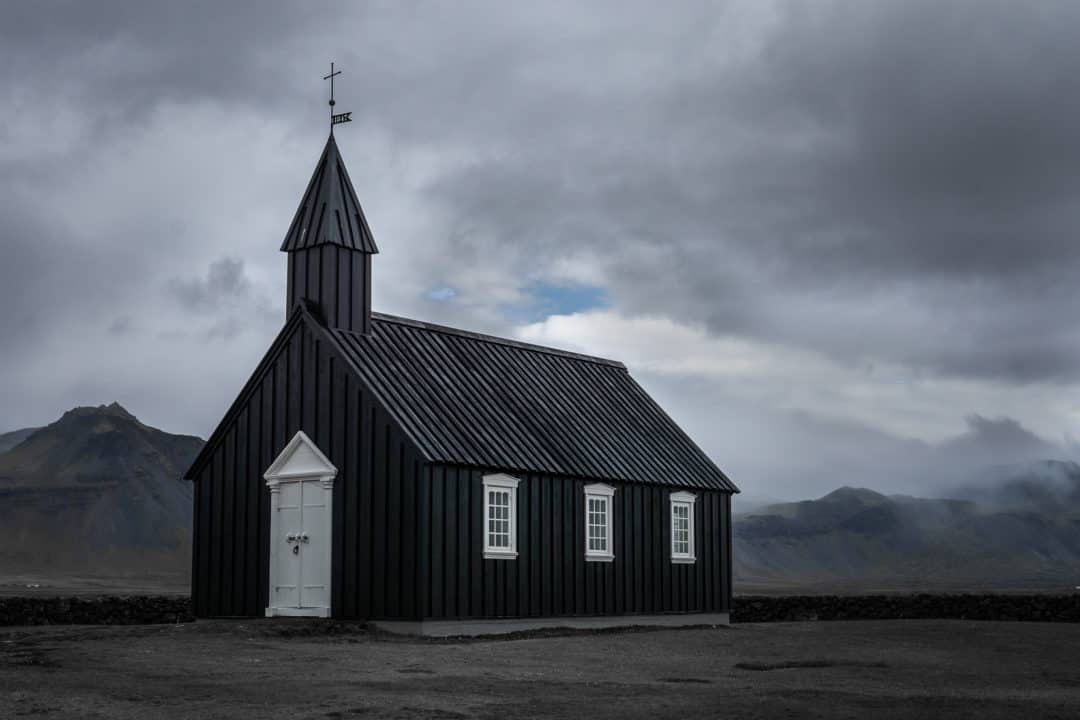 Búðakirkja church
At this western Iceland location, it's just you, the Búðakirkja Church and nature. It is a popular photographic location.
16. Icelandic Horses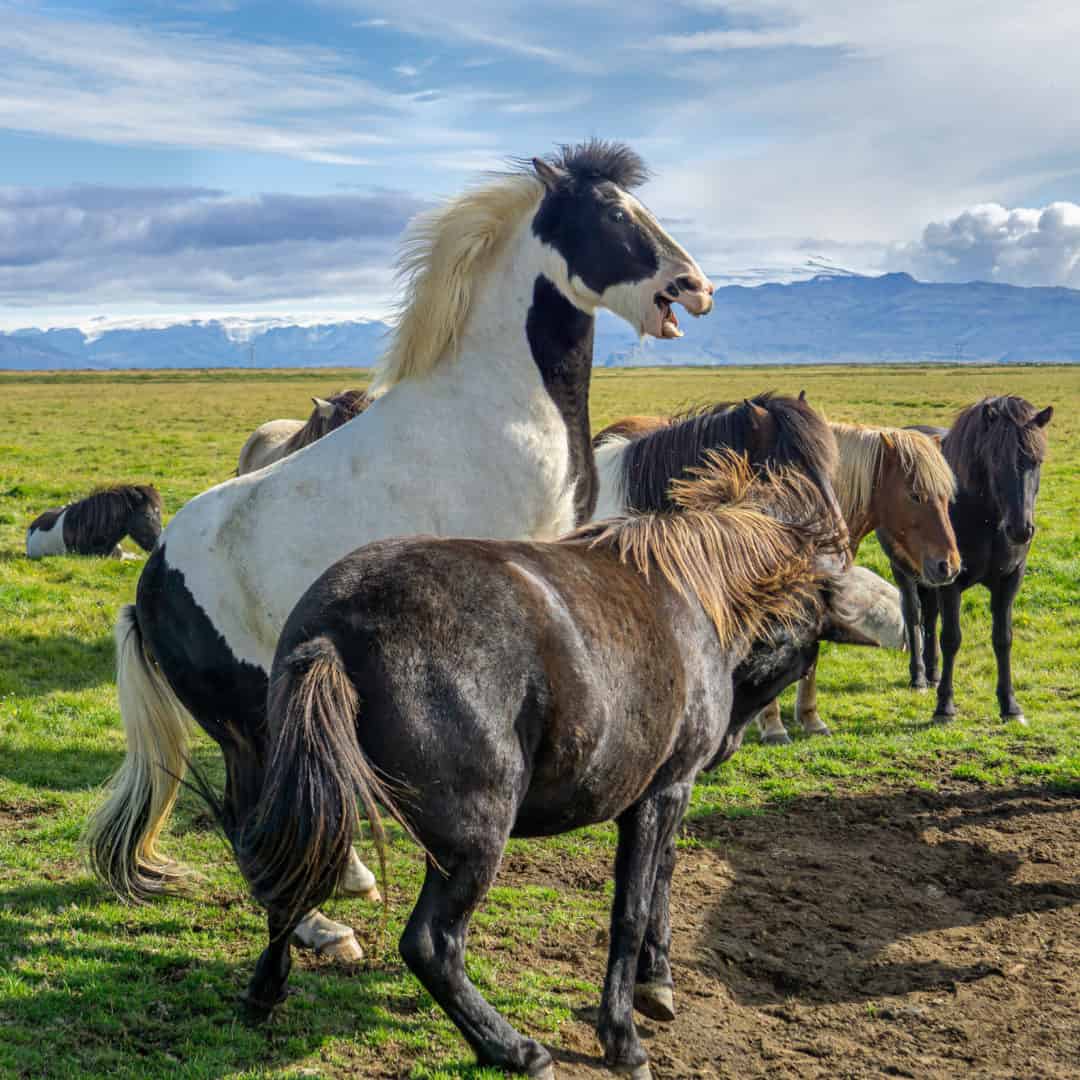 Icelandic Horses
What's Iceland without charismatic Icelandic horses? Super friendly, they quickly won our hearts.
Did you know that when Icelandic horses are sold overseas they can never return to the country?
This is to ensure that Icelandic horses remain disease-free. All horses are prohibited from import, thereby ensuring that Icelandic bloodlines are preserved.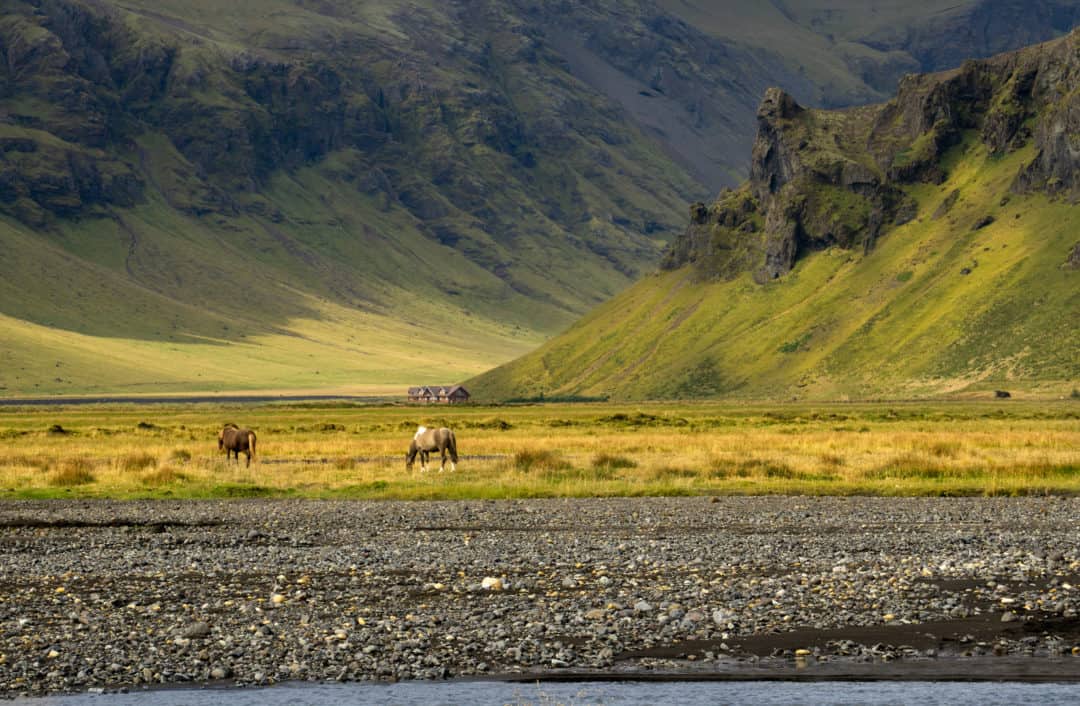 Icelandic horses grazing on the black lava fields
17. Diamond Beach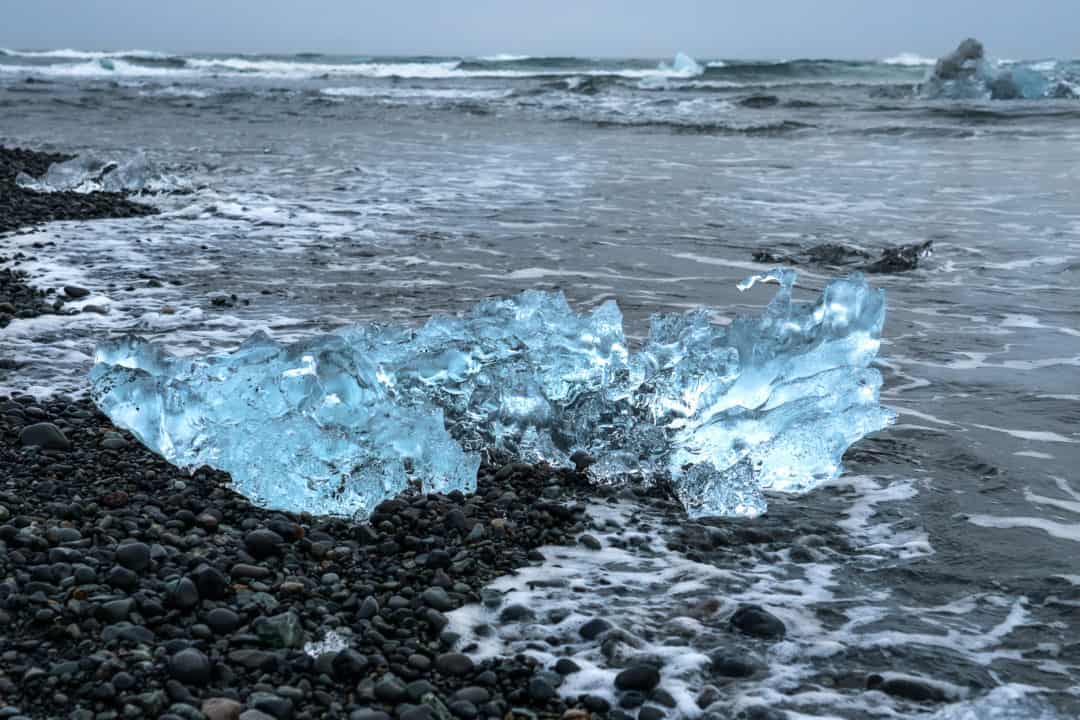 Diamond Beach
Diamond Beach is littered with fragments of icebergs that have flowed from the Jökulsarlon Glacier lagoon down towards the sea to be washed up on the black lava sandy beach.
It's quite a sight and you see that Diamond Beach is aptly named.
18. Black Lava Cliffs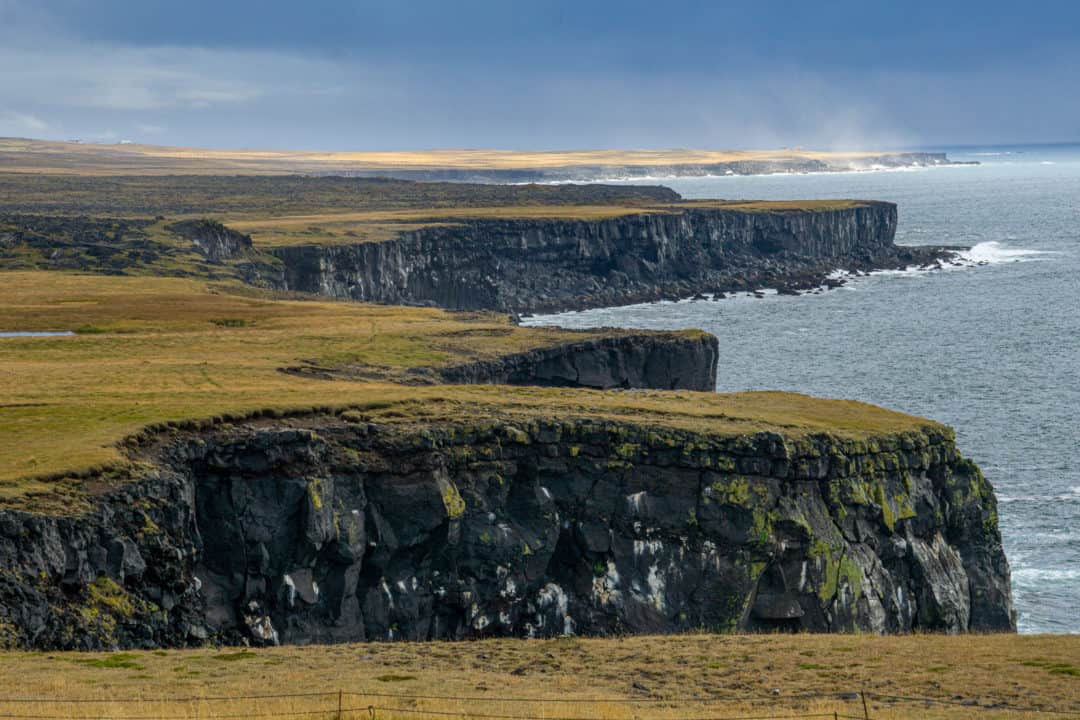 Iceland's black lava western cliffs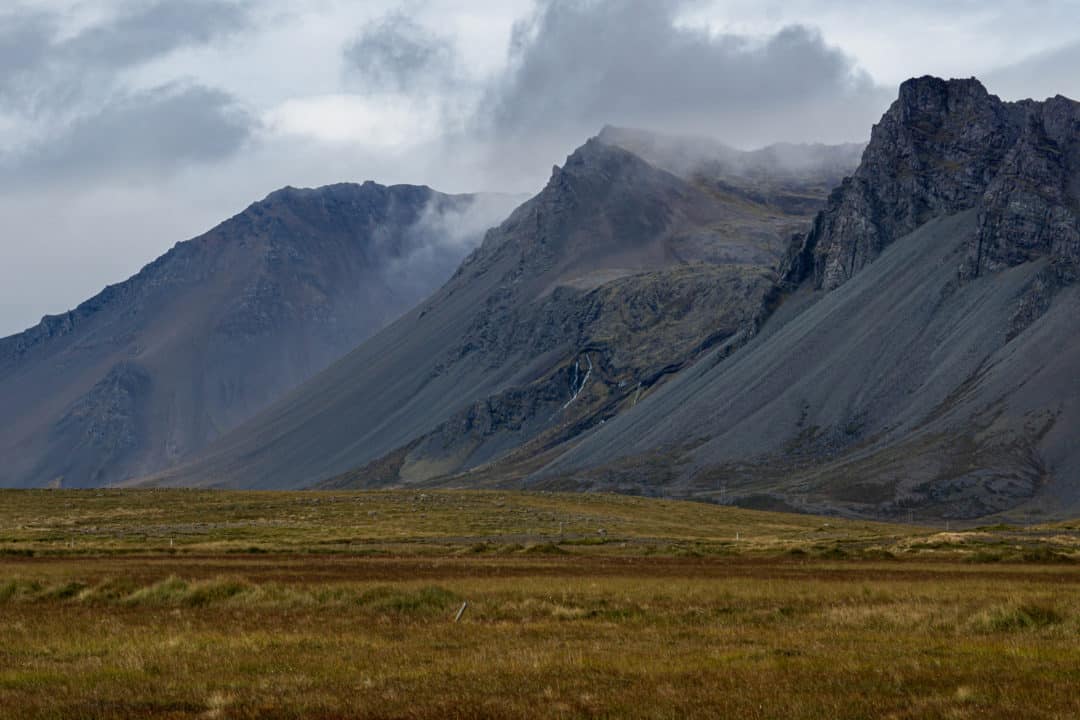 Black lava mountainous slopes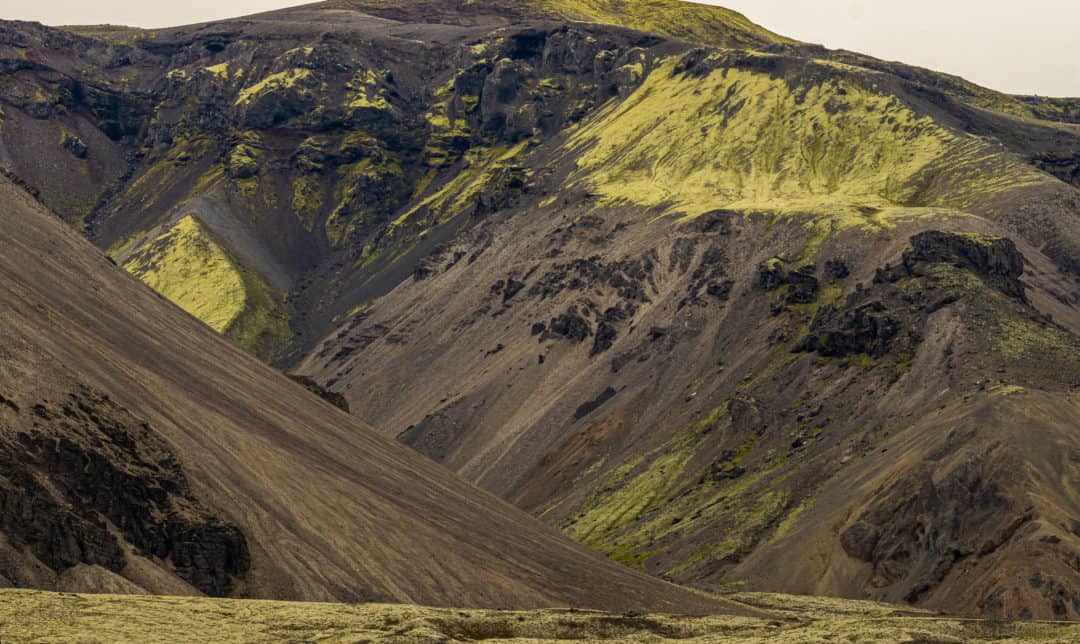 Iceland's colourful but barren landscapes
19. Sólheimasandur DC3 Wreck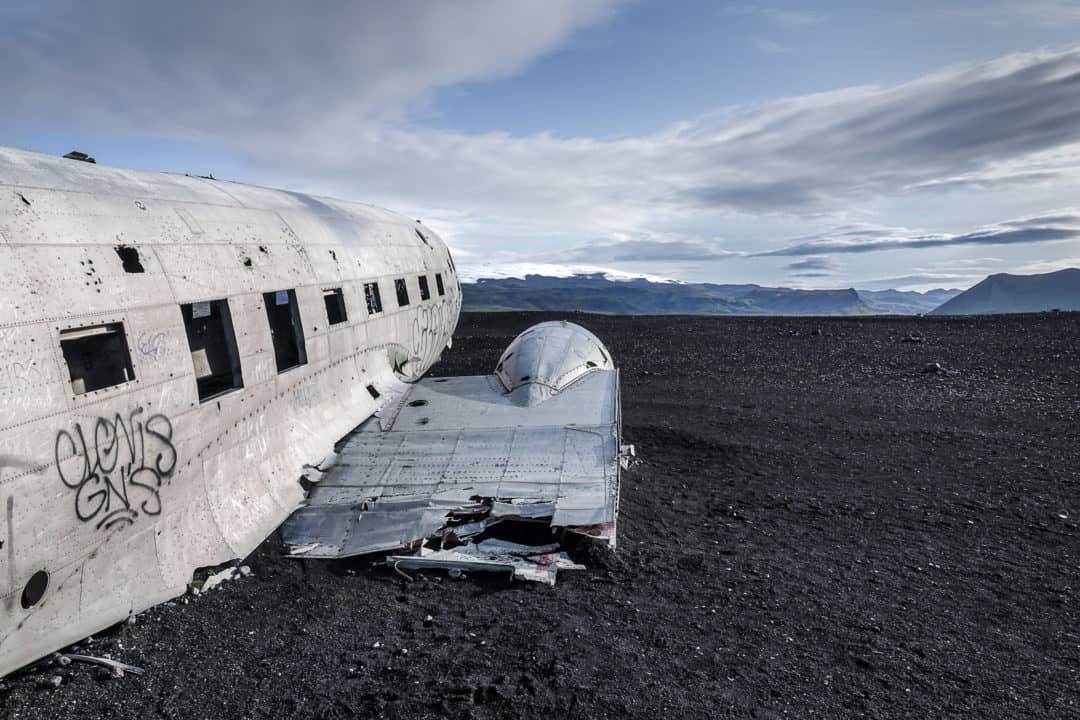 Sólheimasandur DC3 Wreck
In 1973, this US navy DC3 crash-landed due to unknown factors, but luckily without any loss of life. Its final resting place is within Sólheimasandur, a vast area of black volcanic sands, and a most lonely and desolate spot.
20. Seyðisfjörður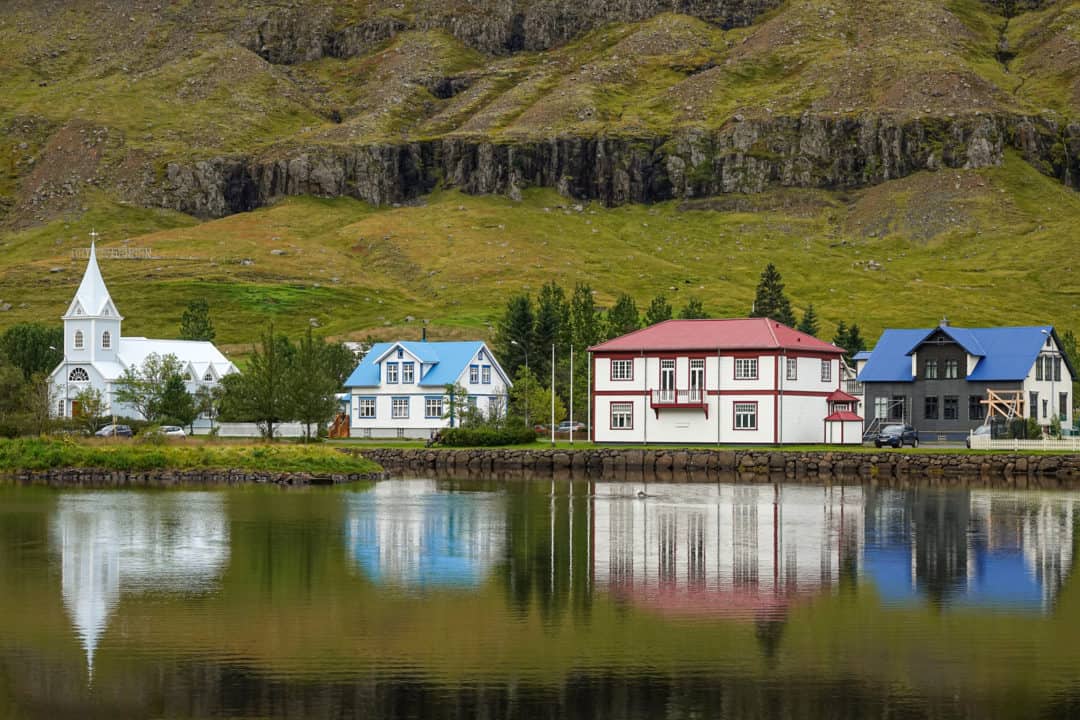 Seyðisfjörður, enveloped by mountain ranges
A steep drive over the Fjarðarheiði pass brings you to the colourful town ofSeyðisfjörður, tucked away in the fjords. The town has a healthy cultural scene and interesting street art, making it a popular stopover for cruise ships.
Icelandic Landscapes – That's a Wrap
If you're a lover of landscapes then Iceland is definitely worth adding to your bucket list.
Iceland's landscapes are diverse, and what made the trip really worthwhile was that most places were accessible when self-driving a two-wheel drive car.
Our two weeks spent driving Iceland's famous Ring Road ensured we had the right amount of time to see what we wanted. Although, with all the magnificent Icelandic landscapes beckoning, we could have easily driven the Ring Road a second time.
Is Iceland on your bucket list? If you've visited Iceland before, what was your favourite sight?
Pin and Save for Later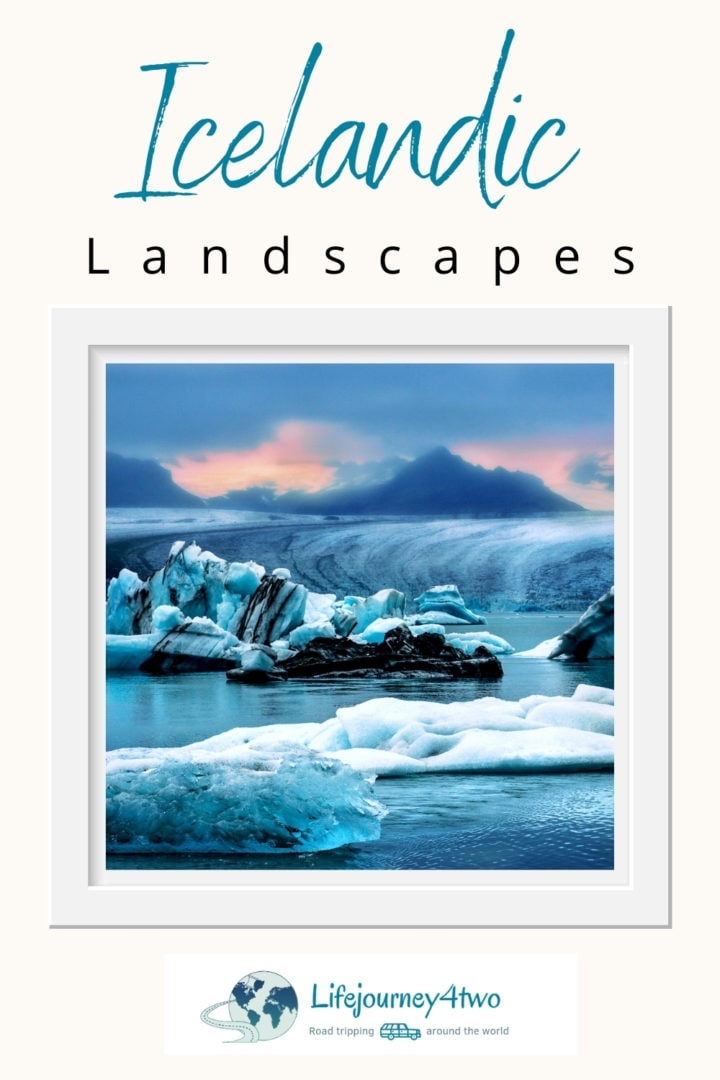 If you enjoyed this article, you may like these FREE RESOURCES:
Are you following us? You can find all our videos on YouTube here and you can also find us on, Facebook, Instagram, and Pinterest
READ MORE:
PLANNING YOUR TRAVELS?
These are some of the travel resources we use when planning our trips.
For a more thorough list visit our Travel Resources page here.