PLAN YOUR ONE-DAY IN DUBAI ITINERARY
Find out here, how best to spend one day in Dubai. Whether you are looking for things to do while on a one-day Dubai stopover or as part of a longer stay, you are sure to find experiences and places to visit that suit your itinerary.
I lived in Dubai for a year and have also stopped there for a one-day layover in Dubai, as well as on a long stopover between flights.
We've included some recommended tours in the article below – but if you are in a hurry, here's a quick peek at Dubai tours that might catch your interest:
🚁 Helicopter ride over Dubai | ⏰ 17/25 mins | Ratings: ⭐️ 4.7 / 5 Star Reviews | Book Here
🏍 🐪 Desert safari Tour| ⏰ 6 hours | Ratings: ⭐️ 4.7 / 5 Star Reviews | Book Here
🫖 Old Town Walking Tour | ⏰ 3 Hours | Ratings: ⭐️ 4.9 / 5 Star Reviews| Book Here
🛥 Dubai Marina Yacht Tour | ⏰ 4-7 hours | Ratings: ⭐️ 4.7 / 5 Star Reviews | Book Here
💥 Zip Line across Dubai Marina | Ratings: ⭐️ 4.9 / 5 Star Reviews| Book Here
As travellers, Shelley and I live on a tight budget and are always looking for things to do for free. So we've also included lots here for your Dubai visit, as well as paid options.
The information you'll find here will help in the planning of your one-day in Dubai itinerary and finding things to do in this futuristic city, (the most famous of the seven emirates within the United Arab Emirates).
Whether you want to sightsee, take a day trip, or simply wander around in downtown Dubai, we've got you covered.
All of the Dubai activities we've suggested are within one hour drive of the Dubai International Airport.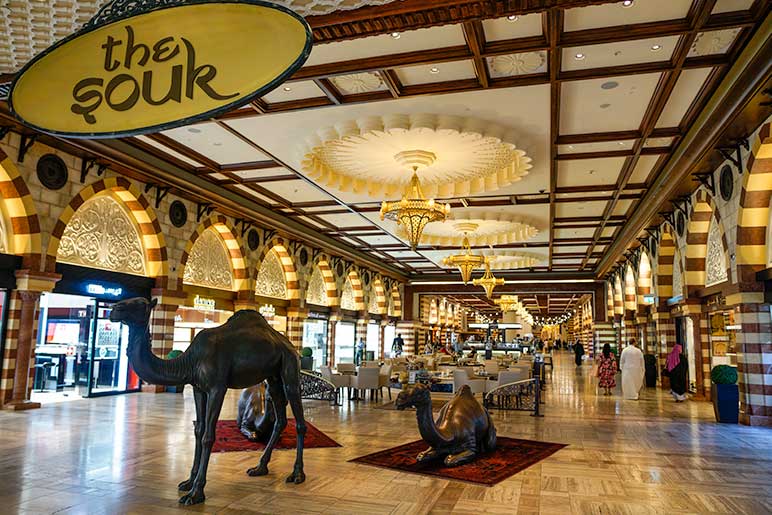 Planning a Trip to Dubai?
ONE DAY IN DUBAI: OVERVIEW
These suggestions, for your 1 day in Dubai, will help you see the best of Dubai and give you a diverse variety of options.
ONE DAY IN DUBAI MAP
THINGS TO DO IN DUBAI IN ONE DAY
Here, we've included some of the best places in Dubai to include on your itinerary. You obviously won't see all of Dubai in a day, but this list will help you choose how to make the most of your time.
1. DUBAI MALL
Why not start the day with a visit to one of the largest shopping centres in the world, the Dubai Mall?
If arriving here by Metro, you can find yourself within this huge complex within minutes.
The Burj Khalifa / Dubai Mall Metro station is the closest Metro stop and even has an air-conditioned covered walkway with travelators connecting the two locations.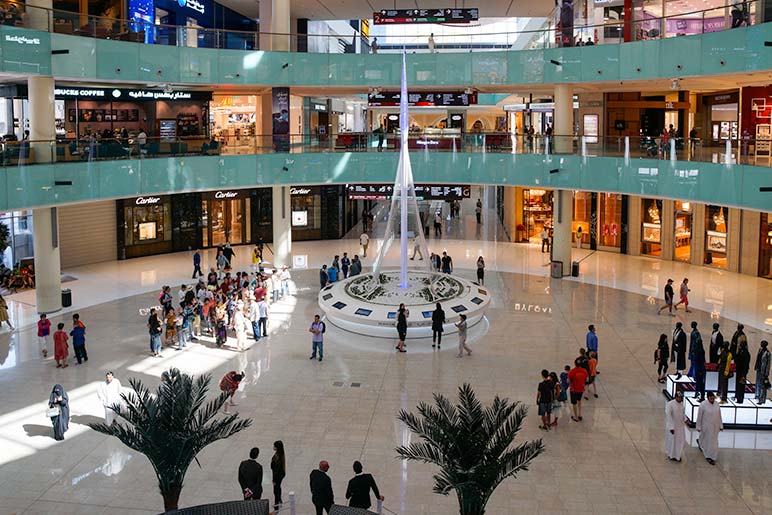 This place is HUGE!
The sheer variety and splendour of the colourful shop facades are something to behold. There's something for everyone here and is a shopper's dream come true.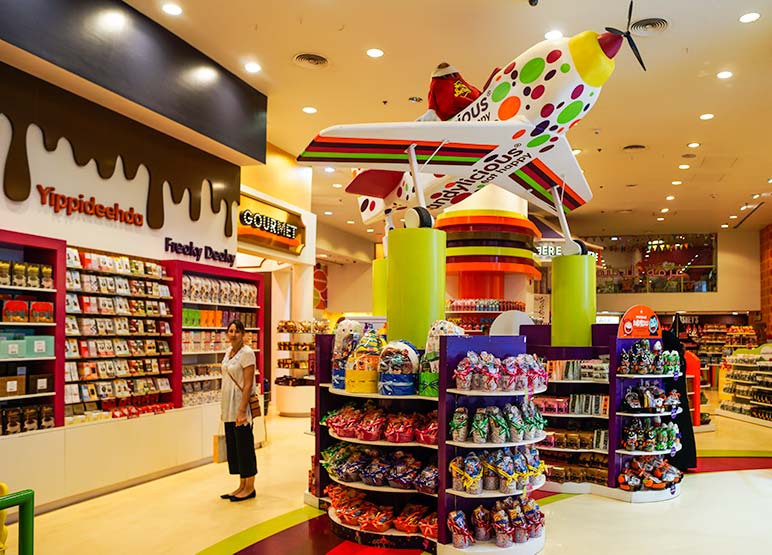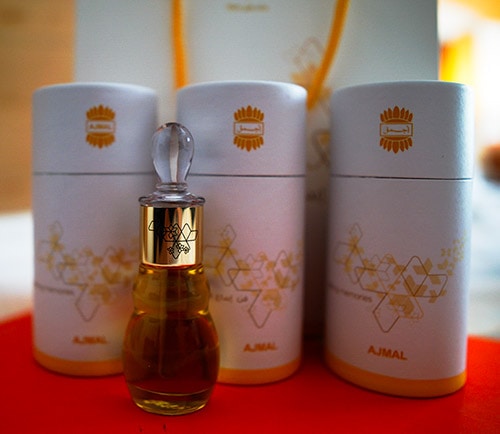 Dubai Mall Opening Times:
10 am – 11 pm Monday to Thursday
10 am – 12 am Friday to Sunday
2. DUBAI AQUARIUM
Also at the Dubai Mall, you'll find the largest suspended aquarium in the world. The Dubai Aquarium, with over 10 million litres of water is home to more than 140 aquatic species, including sharks and rays.
There are many additional paid activities like walking through the glass tunnel of the 51m long aquarium or you may like the idea of the glass bottom boat ride.
🐠 Dubai Aquarium and Underwater Zoo Ticket – Find out more and Book Online Here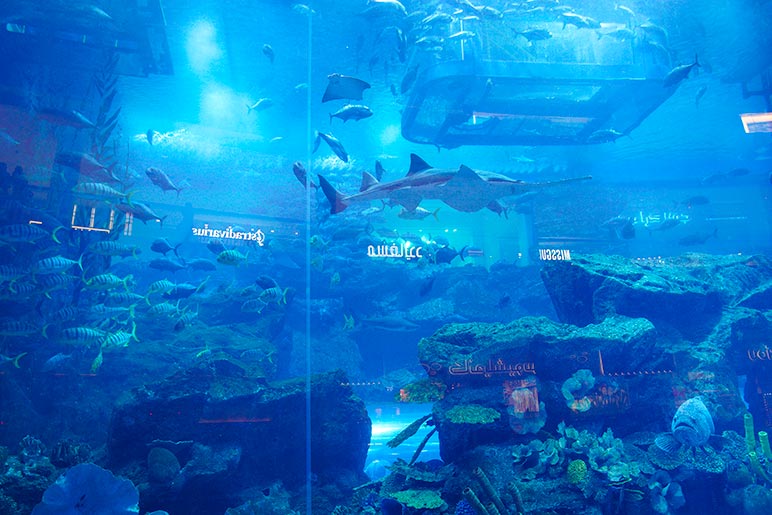 While you're here, check out the electronic display (above the aquarium). This display is the current Guinness World Record holder for the highest resolution video, at a mammoth 17 billion pixels! Yes, I did say billion.
3. DUBAI MALL SELFIE WALL and SCULPTURES
Near the Dubai Aquarium is what we named the Selfie Wall. Here's a chance to pose for a couple of photos on a funky background. There are actually two spots close to each other so you can take your pick.
If selfies aren't your thing then keep your eye out for some of the amazing sculptures and architecture within the mall.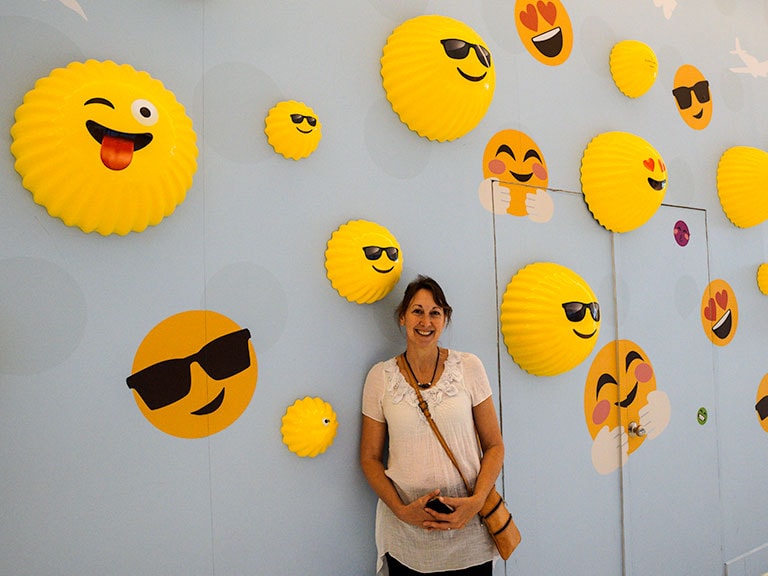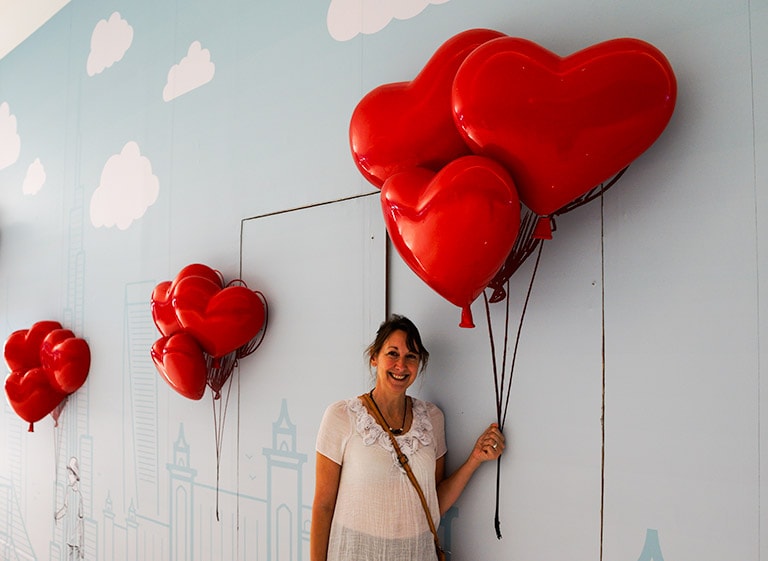 Dubai Mall selfie opportunities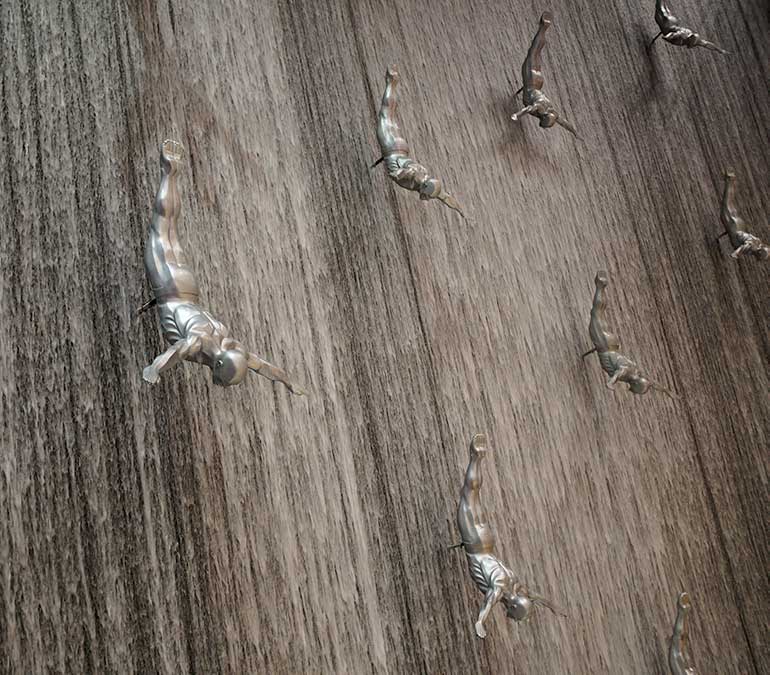 4. EAT OUT AT THE DUBAI MALL
The toughest obstacle while eating out, will not be finding a restaurant, but deciding from the myriad of restaurants to choose from.
Almost every type of cuisine can be found here; Italian, American, British, Chinese, Japanese, French, Indian and Middle Eastern.
We ate at the Texas Roadhouse and The Cheesecake Factory (which offers all sorts of meals besides just exquisite cheesecake).
Some of the cafes and restaurants open at 9 am for breakfast, but most are open from 10 am, as well as the Food Courts. They stay open until 12 am Monday to Thursday and 1 am Friday to Sunday.
The Waterfront and Promenade restaurants open at 10 am and close at 2 am.
5. DUBAI FOUNTAIN
Situated beside the Dubai Mall is the Dubai Fountain. Here, you have a chance of seeing the world's largest choreographed fountain show. The waters come to life and dance to the sound of music.
We absolutely loved watching it and would say that it's one of the things definitely not to miss while you are in Dubai.
The fountain choreography and music are different at each show, so try to hang around and watch at least a couple of them. Lasting just a few minutes, it is definitely eye-catching viewing.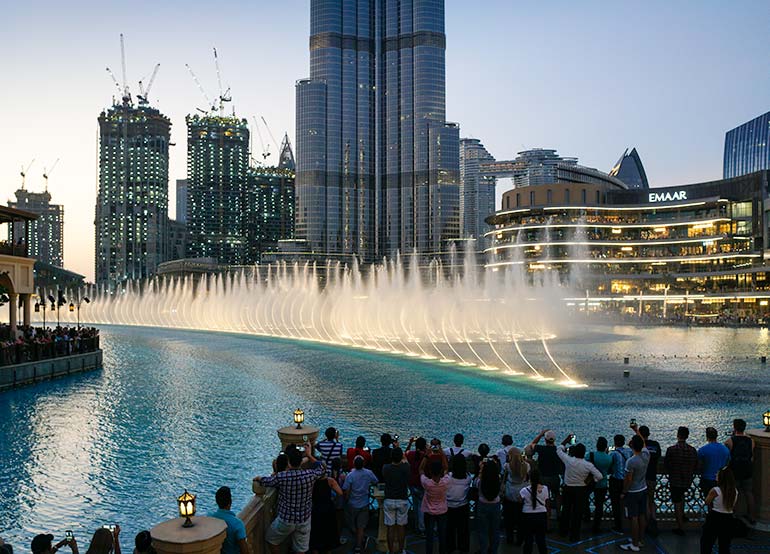 The Dubai Fountain shows times:
Daily (except Friday): 1 pm and 1.30 pm, 6 pm to 11 pm each night, every 30 minutes
Friday: 1.30 pm and 2 pm, 6 pm to 11 pm each night, every 30 minutes
The show is free to watch from the surrounding areas, but you can also buy tickets and watch from a traditional abra on Burj Lake, or from the 'Boardwalk' which is a 272-metre floating boardwalk, which is only about 10 metres from the fountain.
For a spectacular experience watching the world's largest musical fountain from the lake – book a ride on a traditional wooden abra and get up close and personal to this amazing sight.
💫 Watch the Musical Fountain from the Lake | ⭐️ 4.5/5 Star Reviews| ⏰ 30 mins | Find out more and Book Here
With over 7000 great reviews, comments include:
" … a must-do in Dubai,"
"It is worth the money as you see the fountain show up close."
"The atmosphere was lovely and really recommend it! "
Sunset is a particularly spectacular time to watch the display, and if you can find a spot on the bridge over the eastern part of Burj Khalifa Lake, then you're in for a double treat. The Burj Khalifa lights up over the fountain.
Check the times and specific days so you don't miss out on this spectacular water show.
DUBAI FOUNTAIN VIDEO
And just in case you are still undecided on whether to see the fountains, here's a short taster that doesn't give too much away!
6. BURJ KHALIFA
In case you've somehow missed the tallest building in the world, then don't worry, you can basically look up from just about any location around Dubai and see this masterpiece.
If you're the type that doesn't mind heights then you can take the elevator to the upper floors and get a great view of Dubai. Prices increase the higher up you go.
We were happy to keep our feet on terra firma, but if you're keen to gain some altitude then there are different tickets and pricing options.
Burj Khalifa Ticket Options
1. Burj Khalifa's observation deck on the 124th and 125th floors
Experience one of the fastest elevators in the world that takes you to the top of the Burj Khalifa within a few seconds. Enjoy breathtaking views of Dubai's skyline, desert, and ocean through the floor-to-ceiling glass walls.
💫 Burj Khalifa 124th and 125th Floors | ⭐️ 4/5 Star Reviews| ⏰ 1 Hour | Find out more and Book Here
2. Book a VIP experience – Floors 152, 153 and 154 The Lounge and Observation deck
The VIP experience includes The Lounge, which is the newest attraction to open in the Burj Khalifa on floors 152, 153 and 154.
Enjoy an assortment of fresh bakes and delicate desserts, alongside a selection of fine teas and coffee. Includes a tour of the outdoor terrace.
Burj Khalifa VIP Experience @ The Lounge | ⭐️ 4/5 Star Reviews| ⏰ 2 Hours | Find out more and Book Here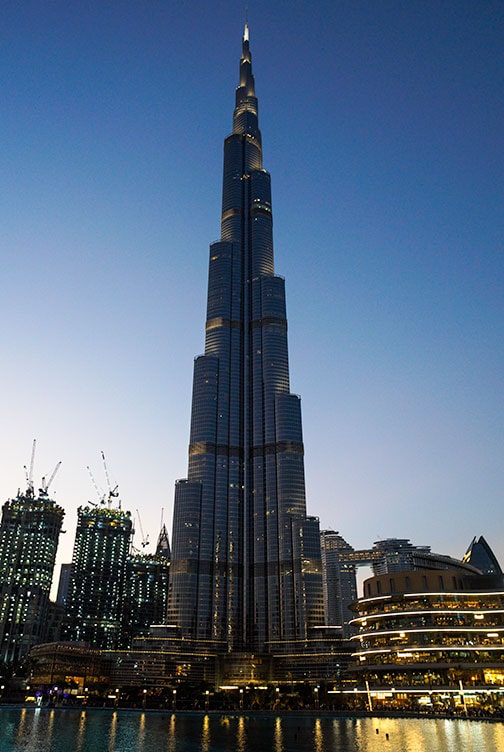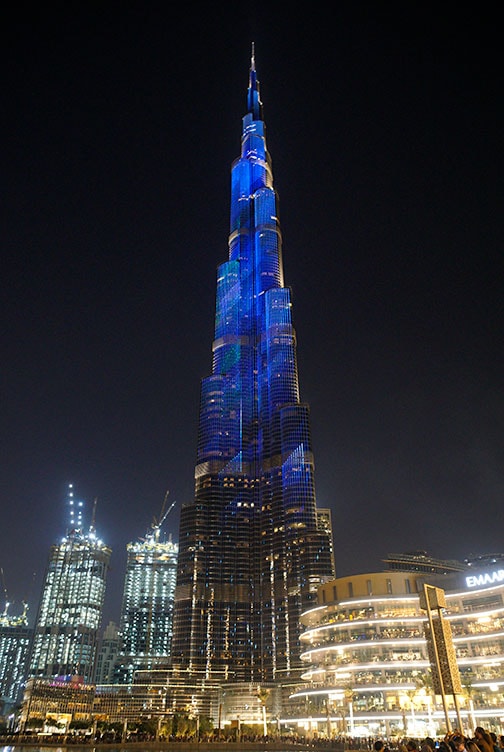 7. FLAMINGOS OF THE RAS AL KHOR WILDLIFE SANCTUARY
Situated within view of the Dubai high rises and only 8 kilometres from the Dubai Mall, is the Ras Al Khor Wildlife Sanctuary.
Its most famous residents are the pink greater flamingos, although you'll find other varieties of birds here too, but in fewer numbers.
Feeding of the flamingos occurs twice a day when they are fed special pellets. The feeding times aren't set in stone, but usually, the morning feedings are anytime between 9 am and 11 am, and the afternoon feeding times are between 4 pm and 5 pm.
Make sure to visit the Flamingo Hide 2 as this is where the feeding takes place and has the highest concentration of flamingos.
A feeding times flamingos from other parts of the sanctuary fly in for the feast, so this is a perfect opportunity to capture great photos of the flamingos in flight.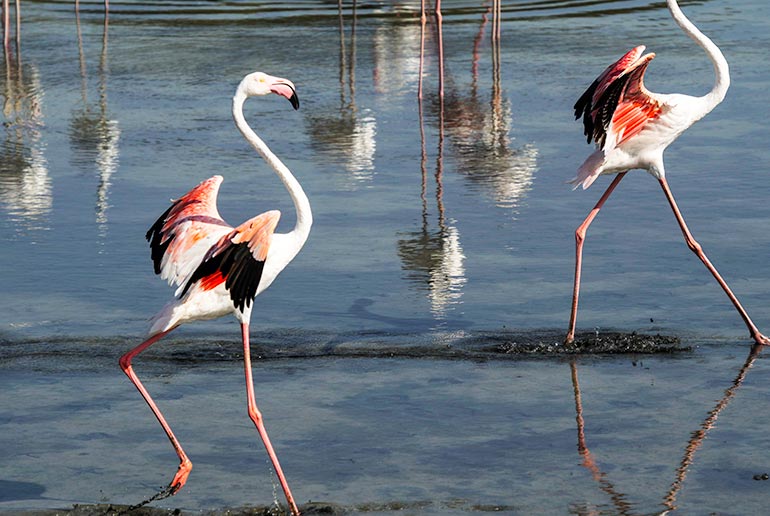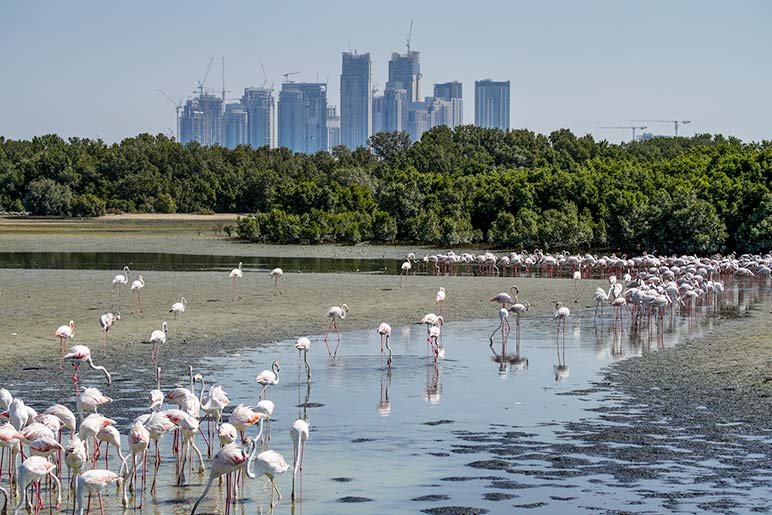 VIDEO: FEEDING TIME AT RAS AL KHOR, DUBAI
You won't have to swelter at the Ras Al Khor Wildlife Sanctuary, because you sit in an air-conditioned, sheltered observation hut.
There is also an attendant on hand who will happily answer any questions. Additionally, there are also many information boards within the hut itself.
Also at the sanctuary, at the entry point to the No. 2 Flamingo Hide by the road, you'll find immaculately clean air-conditioned toilets — another place worth a visit!
Hailing a cab is the best way to get transport back into the city. Just wave your arm — the cab drivers know what you want. We waited about 5 minutes for our ride.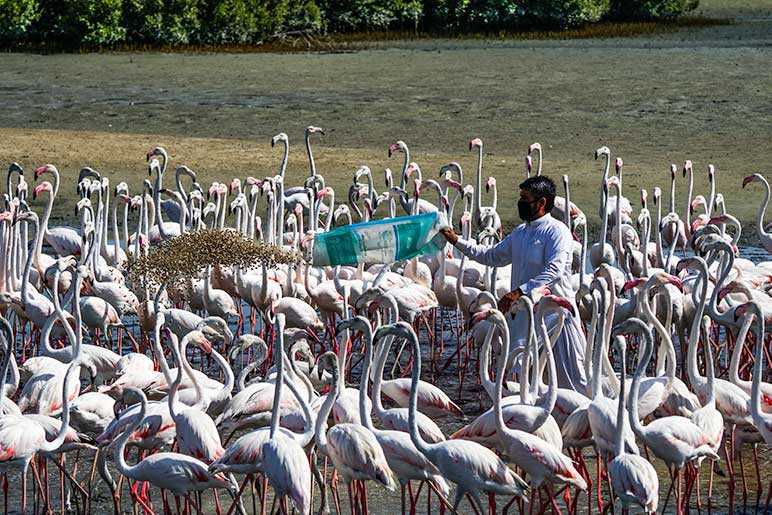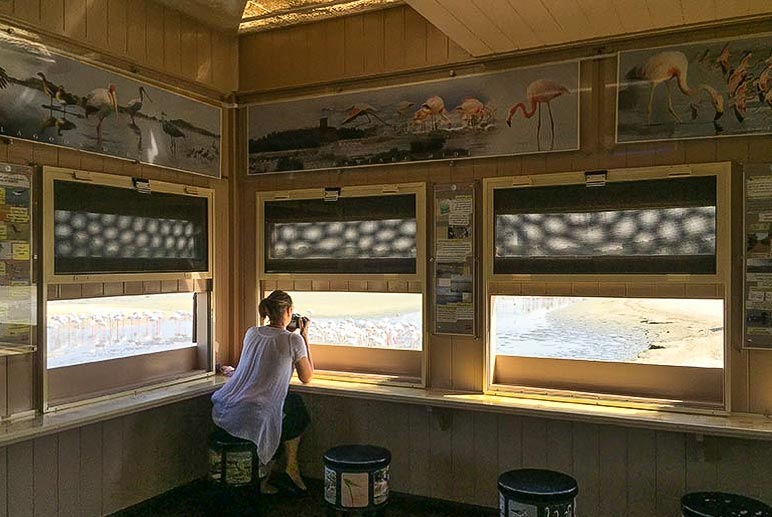 8. Take a Desert Safari
Here in Dubai, you're in the perfect location for a desert safari. Choose how long you want your desert safari to last based on your available time — there's even an option just for a desert evening dinner.
Here is one of the most popular, with over 11,000 5-star reviews from Visitors – Premium Red Dunes, Camels, Stargazing & 5* BBQ at Al Khayma Camp
Included in this tour:
Pick-up and drop-off at your selected hotel/ location
Transportation by 4WD air-conditioned Vehicle
English-speaking licensed driver
Dune bashing (30-45 minutes)
Sandboarding
Sunset view photo stop
Gaymat (sweets), Gahwa (coffee) & Dates
Henna painting for ladies' " Tattoo"
Falcon experience " Photos"
Camel ride experience (can be repeated)
Shisha pipe (hubble bubble flavour) in the Shisha Area
Al Khayma Desert Camp visit ( Shared camp )
🏆 Desert Safari Experience | ⭐️ 5/ 5 Star Reviews| ⏰ 7 Hours | Find out more and Book Here
9. SUNSET SWIM AT JUMEIRAH BEACH
Invigorate your body with a sunset swim in the warm waters at the public access, Jumeirah Beach.
Lifeguards are positioned at approximately 50-metre intervals and the swimming area also has nets.
Close by, are a number of restaurants, so you are sure to find something that tickles the palate.
You can even spy the Burj Khalifa from here, keeping an ever-watchful eye over this bustling metropolis.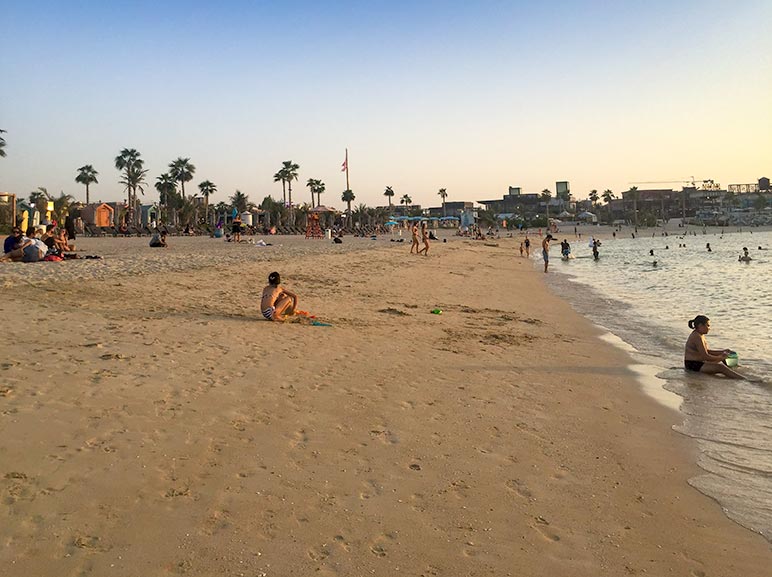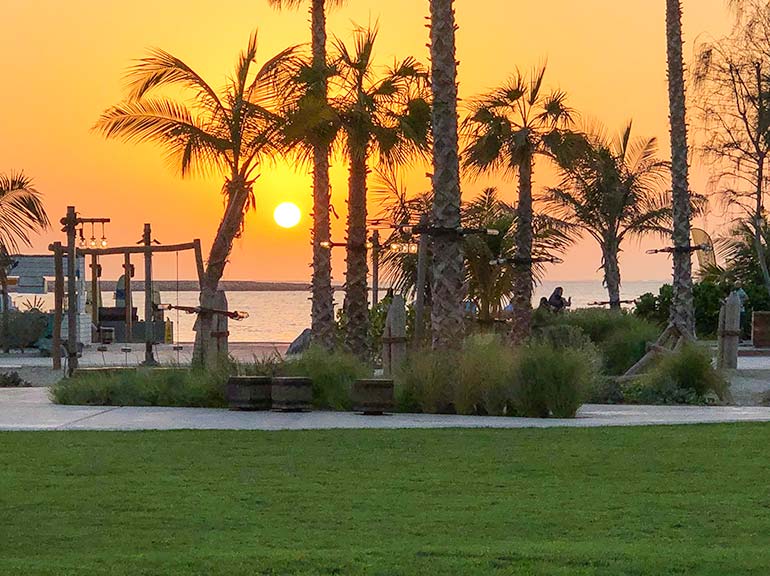 10. Dubai Waterparks
It can be extremely hot in Dubai, so you might like to cool down in some of the best waterparks in Dubai, such as Dubai Aquaventure, the World's largest aquapark with over 100 slides and experiences.
It holds the Guinness World record for the most waterslides in a waterpark.
This ticket to the park includes:
Admission to the Aquaventure Waterpark and Aquaventure Beach
Tower of Poseidon attraction
Aquaconda water tunnel
Ziggurat attraction
Leap of Faith waterslide
Access to the private beach
Access to Splashers Kids water playground
Dubai Aquaventure | ⭐️ 4.5 / 5 Star Reviews| ⏰ All Day | Find out more and Book Here
11. Ride Quad Bikes in the Desert
For the more adventurous of you, you might like to head into the desert for a quad bike safari.
This Badge of Excellence Tour, has you zipping through the dunes on a quad bike, hopping off to admire the views from the highest point, and having a go at sandboarding and camel riding along the way.
Desert Quad Biking | ⭐️ 5/ 5 Star Reviews| ⏰ 3-4 Hours | Find out more and Book Here
12. Visit Palm Jumeirah
Visit the tree-shaped Palm Jumeirah with a walk along the boulevard with close-up views of the eye-catching Burj Al Arab Jumeirah Hotel, which has been voted the world's most luxurious hotel more than once.
You may remember that Tiger Woods famously hit golf balls off the helipad and Roger Federer has played tennis here too.
Palm Jumeirah offers plenty of high-class restaurants, spas and infinity pools.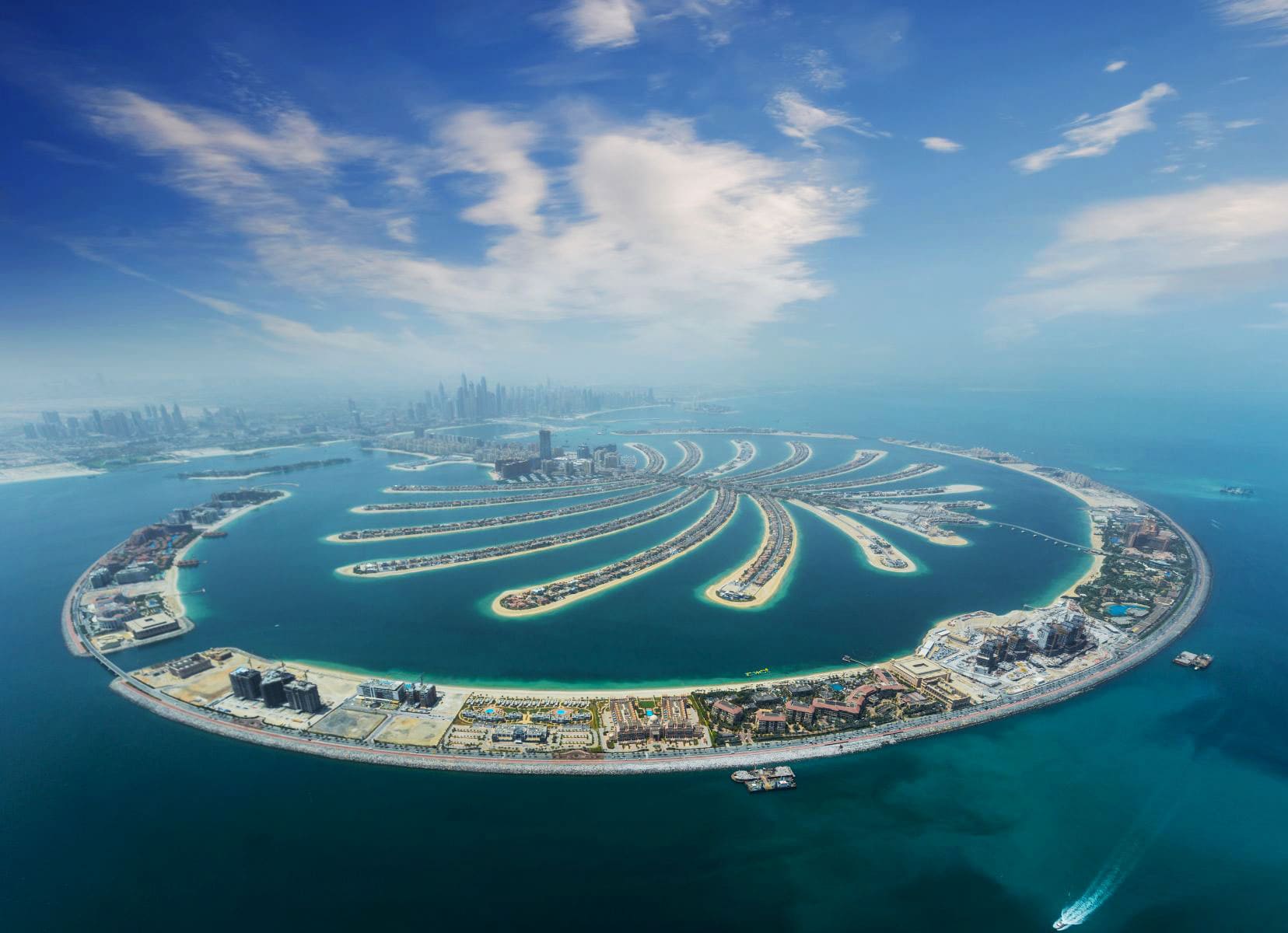 13. Wander Around Deira Old Souks
Check out the Dubai Spice Souk (otherwise known as the Old Souk) located in Deira (right by Dubai Creek). It is also conveniently located right by the Gold Souk.
Wander the alleyways, and chat with the friendly vendors, but expect some vigorous haggling on the price. This is normal and just a part of the culture of old Dubai.
14. Take a Guided Tour of Dubai
If you aren't on a strict budget, then one of the best ways to see Dubai in one day is by taking a guided tour. You can maximise your time and can also learn a lot about the places you visit.
Here are a few of the most popular and well-reviewed guided tours of Dubai that you could include in a one-day itinerary.
1. Dubai City Tour inc Dubai Creek, Souks, Blue Mosque, and the famous Burj Al Arab
Highlights of this Dubai City Tour include:
A rare opportunity to visit Burj Al Arab, an iconic luxury hotel
Enjoy the grandeur of the 18-story hotel atrium, which is inaccessible otherwise
Relish an exclusive visit to the royal suite, the most expensive room in the hotel
Admire the architectural beauty and cultural importance of the Blue Mosque
Learn about the Emirati lifestyle and cuisine at Al Khayama Heritage House … and lots more.
🚌 City Tour with Creek, Souks, Mosque, and Burj Al Arab | Ratings: ⭐️ 4.8 / 5 Star Reviews| ⏰ 6 Hours | Find out more and Book Here
2. Half-Day City Tour with Palm Jumeirah, Blue Mosque, Creek and Souks
Highlights of this tour include:
Visit some of the city's world-renowned attractions
Stop by The Pointe, Palm Jumeirah, to view the Atlantis.
Admire the architectural beauty of the Blue Mosque.
Shop at the well-known Gold and Spice Souks.
Explore the traditional charm of Al Khayma Heritage House.
🚌 City Tour with Palm Jumeirah, Blue Mosque, Creek and Souks | Ratings: ⭐️ 4.8 / 5 Star Reviews| ⏰ 4-4.5 Hours | Find out more and Book Here
3. Old Town, Walking Tour, Souks, Museum & Street Food
For a more low key, and more budget-friendly, walking tour with a local, you may be interested in this tour which includes:
Hotel pickup (if the option is selected)
Dubai Museum entrance
Coins Museum entrance
Traditional Abra boat ride
Street food samples
Tea and juices
Camel milk chocolate
☕️ Old Town, Walking Tour, Souks, Museum & Street Food | Ratings: ⭐️ 4.9 / 5 Star Reviews| ⏰ 3 Hours | Find out more and Book Here
Other Dubai Tours Include:
🚁 This 17- or 25-minute helicopter tour soars over iconic sights like Atlantis, the Palm, Burj Al Arab, and the Golden Mile |Ratings: ⭐️ 4.7 / 5 Star Reviews | Book Here
Visit the Floral Miracle Garden and Dubai Butterfly Garden
For nature lovers, we'd suggest a visit to the Miracle Garden and the Dubai Butterfly Garden.
The Butterfly Garden has ten custom-built domes filled with thousands of beautiful butterflies and is open from 9 am to 6 pm Saturday to Friday. Get your online ticket here.
The Miracle Garden, with over 150 million flowers, is only open in the winter season (from November) but you can buy your combo ticket for both the Butterfly Garden and Miracle Garden here.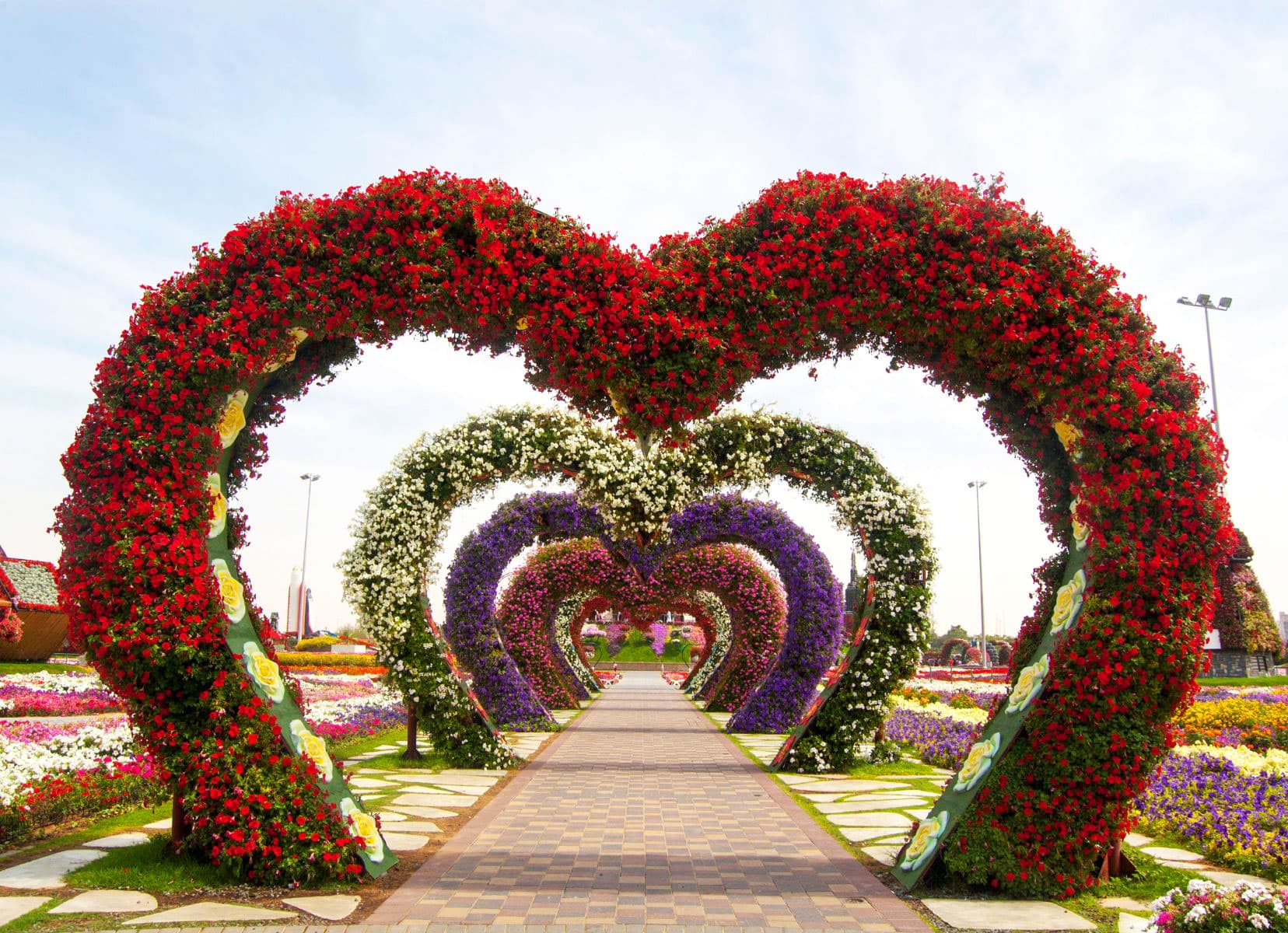 DUBAI ACCOMMODATION OPTIONS
If you are staying in Dubai and going to be sleeping overnight then consider the below hotel options.
However, if you are going to be checking in and need to sleep in the hotel before the normal check-in times of 1 – 2 pm then we found the best option was to book into the Holiday Inn Express, near the airport.
Need Early Checkin on Your Stopover?
🏨 We chose the Holiday Inn Express (which offers early check-in times), on our 48-hour flight from Botswana to Australia. With an 18-hour ✈️ stopover, because we arrived in Dubai at 5 am and knew we would be exhausted.
We were able to check in at 7.30 am and get the included breakfast right away. We then slept most of the day before checking out at around 10.30 pm that night. This saved us from having to book two nights at a hotel rather than just the one that we paid for at the Holiday Inn Express.
It's a fantastic service and after searching around it was the most economical but still comfortable way to do it.
The hotel also has a FREE Shuttle from the airport every thirty minutes.
Find out more or book the Holiday Inn Express near Dubai Airport here
Budget Option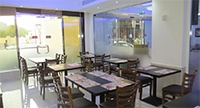 ---
Mid-Range Option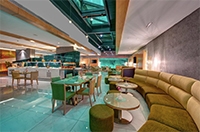 Al Khoory Executive Hotel, Al Wasl: This property has excellent reviews and a fantastic buffet breakfast. It is where we stayed when we had 24 hours in Dubai and is great value for money.
---
Luxury Option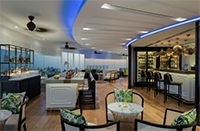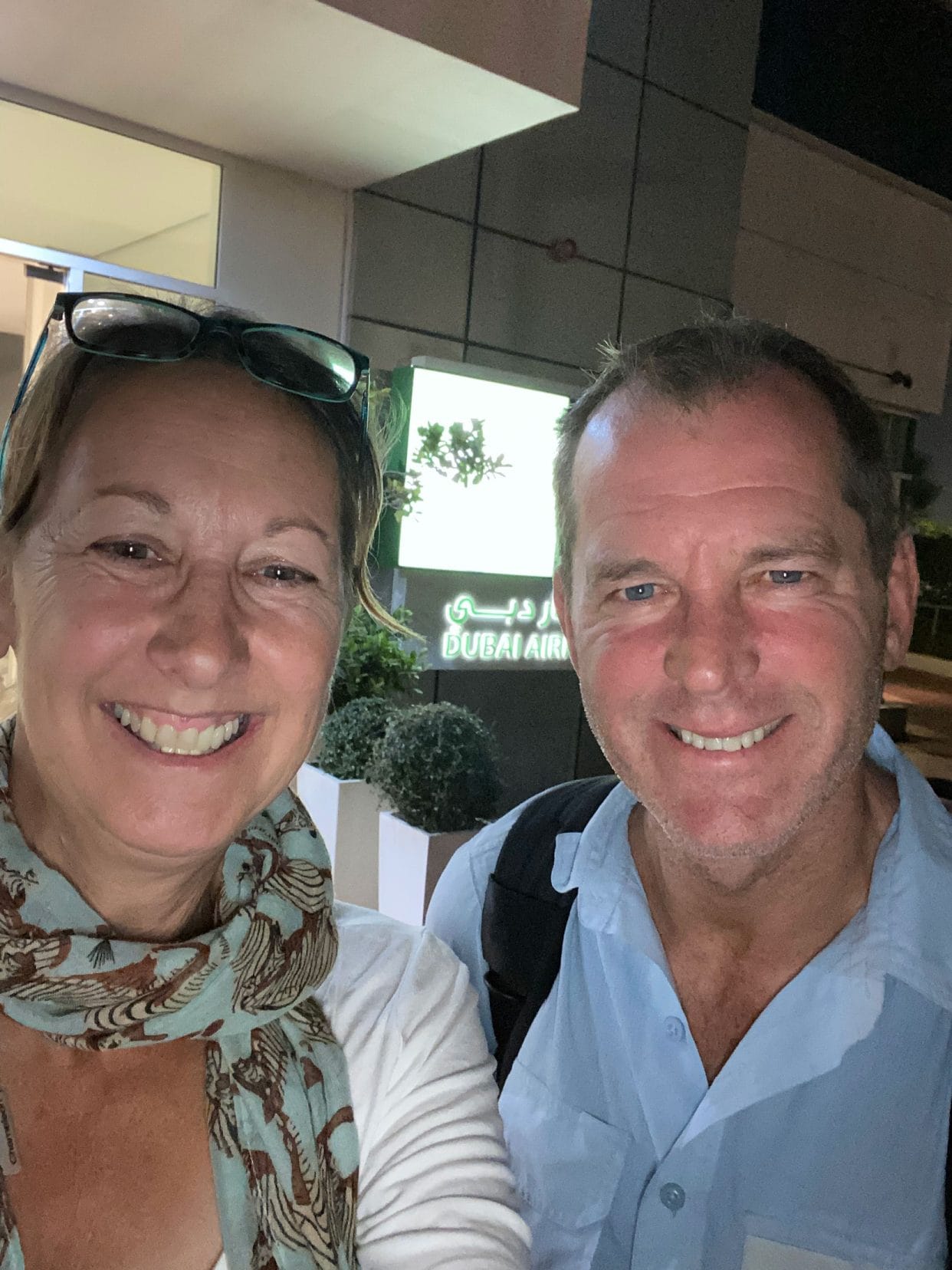 Great Option for a Long Flight Layover at Dubai Airport
If you don't want to leave Dubai Airport or want to wait for your next flight in relative luxury then consider booking a stay in the International Airport Departures Premium Lounge.
You can book a 3 or 6-hour stay in the lounge and includes:
Entry to Plaza Premium Lounge Dubai (T3 Departures)
Shower facilities
Selection of food and drinks
Comfortable seating area
Smoking room
WiFi
Charging stations
International TV channels, newspapers, and magazines
Flight information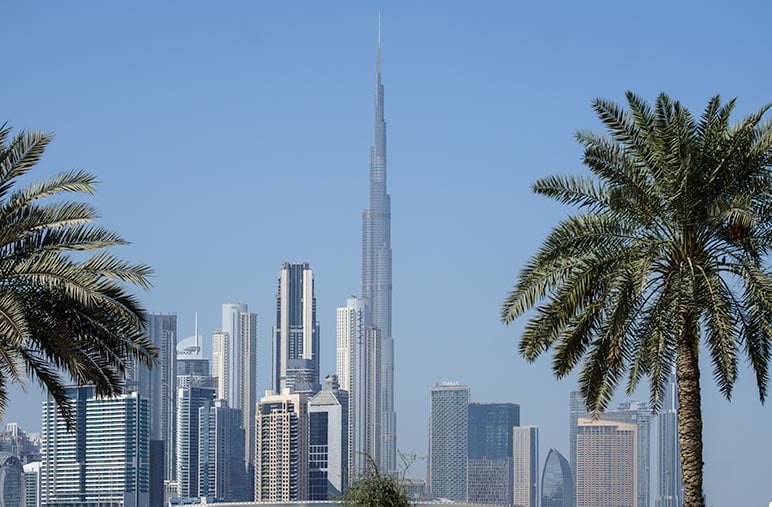 ONE DAY IN DUBAI: GOOD TO KNOW
The Dubai Metro is a rapid transit rail network that makes it easy to get around Dubai and is the most economical way to travel, at a cost of roughly half that of taxis. The Metro Red line runs from the airport into the city – see the Metro routes here.


Dubai Visa requirements vary but you can check what you need here – As Australians, we are able to get a free 30-day visa on arrival.


Although most taxis accept credit cards, some taxis are cash payments only.


English is widely spoken throughout Dubai but Arabic is the official language.


Shops open late (from 10 or 11 am) and close late (10 pm to midnight).


Dubai is a Muslim country and strict in both its moral and ethical code – your own country's Department of Foreign Affairs or similar will offer specific information on this.


Check your own country's government-issued foreign travel advice for the UAE (the United Arab Emirates of which Dubai makes up one of the 7 emirates)


The weekend in Dubai is officially Friday and Saturday


Pick your preferred season to travel: the cooler season falls around December with temperatures ranging from 15 to 25 DegC whereas Summer strikes mid-year with sweltering figures ranging from 30 to 40++ DegC.


The currency of the United Arab Emirates is the Dirham which is a shortened version of AED (Arab Emirate Dirham) sometimes abbreviated as Dhs or DH. You can check out currency conversion rates here.
Dubai in One Day FAQs
1. What are the best things to do in Dubai in one day?
If you are visiting and only have one day in Dubai, then the best things to do include a visit to the iconic Burj Khalifa, experience the Dubai Fountain show, explore Dubai Mall, visit the Dubai Aquarium, take a stroll at Dubai Marina, and if you have time, go on a desert safari tour.
2. What is the best way to see Dubai in one day?
The best way to see Dubai in one day is by taking a guided tour that covers all the main sights and includes transport. That way, you are maximising your time and getting all the information about each place first-hand. If you are on a budget, then research the best places in Dubai that interest you and use the Dubai Metro or taxis to get around.
3. Can I visit Burj Khalifa in one day?
Yes, you can visit the Burj Khalifa in one day. It can have long queues in peak times so you may want to pre-book a ticket. Allow 1-2 hours to explore the observation decks.
4. What is the best time to visit Dubai Fountain?
The best time to visit Dubai Fountain is in the evening, between 6 pm and 11 pm. The musical fountain shows are at 30-minute intervals, and each show lasts around five minutes. You can watch the fountain from any of the surrounding restaurants or cafes, or from the promenade near the Dubai Mall.
5. What can I do during a layover in Dubai?
If you have a layover in Dubai, you can explore some of the top attractions in the city, such as the Burj Khalifa, Dubai Fountain, and Dubai Mall. Or, if you are a nature lover, you may like to see the Flamingos at Ras Al Khor Wildlife Sanctuary, or butterflies at the Dubai Butterfly Garden. There are also plenty of tours you could take while on a stopover in Dubai.
DUBAI IN ONE DAY… THAT'S A WRAP
There is absolutely no shortage of activities to fill your one-day Dubai itinerary. If you travel on a budget, the free options certainly do help to keep fun at a maximum and expenditure at a minimum.
But if you have more cash to spare, there are plenty of options to keep you busy for one day in Dubai.
We hope that whatever you plan when in you're in Dubai for a day, you have a great time.
Happy Travels.
Pin and Save for later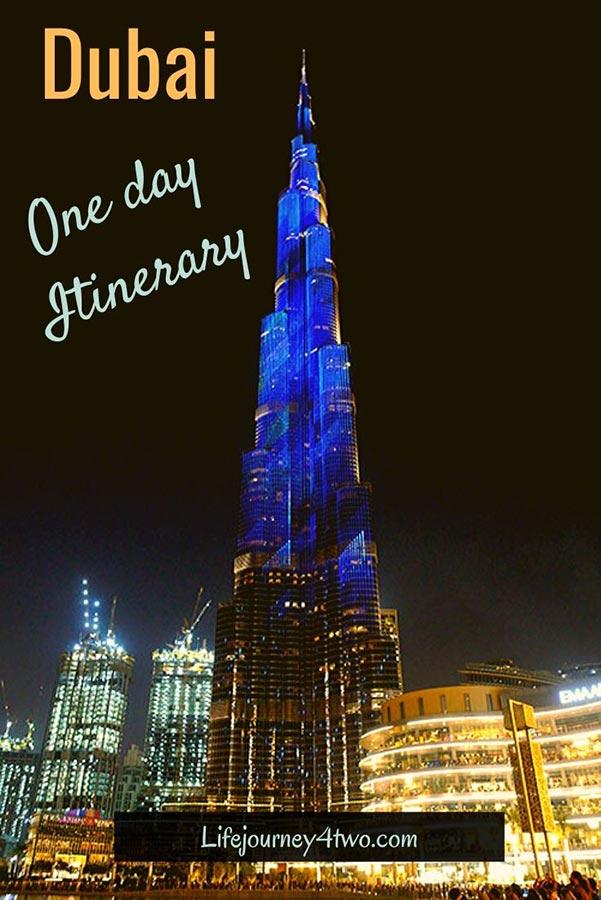 OTHER ARTICLES YOU MAY BE INTERESTED IN
PLANNING YOUR TRAVELS?
These are some of the travel resources we use when planning our trips.
For a more thorough list visit our Travel Resources page here.