Some posts on this site contain affiliate links meaning if you book or buy something through one of these links, we may earn a small commission. Read our Disclosure Policy here.
PLAN YOUR DUBAI ONE-DAY ITINERARY
Find out here, how best to spend one day in Dubai. Whether you are looking for things to do while on a one-day Dubai stopover or as part of a longer stay, you are sure to find experiences and places to visit that suit your itinerary.
I lived in Dubai for a year and have also visited for a one-day layover in Dubai, whilst on a flight from Uzbekistan to Australia.
As travellers, Shelley and I live on a tight budget and are always looking for free options of things to do. So we've also included lots here as well as paid options for you to consider.
Planning your Dubai one-day itinerary or looking for things to do in this futuristic city, (the most famous of the seven emirates within the United Arab Emirates), will be made much easier by this article.
All of the activities we've suggested for one day in Dubai are within one hour drive of the Dubai International Airport.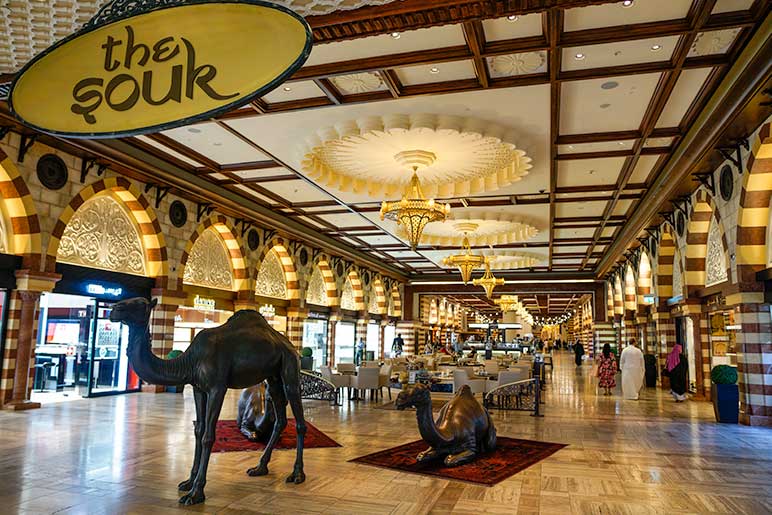 ONE DAY IN DUBAI: OVERVIEW
These Dubai one-day itinerary suggestions include visits to:
Dubai Mall (the second-largest mall in the world by total land area) where you can see: the Dubai Aquarium and Underwater Zoo, Selfie Walls and the amazing shop facades
Dubai Aquarium
Dubai Mall Sculptures and Selfie Wall
Lunch at Dubai Mall
Dubai Fountain Show (the world's largest choreographed fountain system)
Burj Khalifa (the world's tallest building topping out at 829.8m)
Flamingos of the Dubai Wildlife Sanctuary
Sunset swim at Jumeirah Beach, Dubai's renowned pristine, white sandy beach
Dubai Waterparks
Dubai Motorsports
Jumeirah Palm Islands
Deira Old Souks
Dubai Desert Safari
ONE DAY IN DUBAI MAP
DUBAI 1 DAY ITINERARY: GOOD TO KNOW
The Metro is a rapid transit rail network and the most economical way to travel at a cost of roughly half that of taxis. The Metro Red line runs from the airport into the city – see the Metro routes here

Visa requirements vary but you can check what you need here

Although most taxis accept credit cards, some taxis are cash payment only

English is widely spoken throughout Dubai but Arabic is the official language

Shops open late (from 10 or 11 am) and close late (10 pm to midnight)

Dubai is a Muslim country and strict in both its moral and ethical code – your own country's Department of Foreign Affairs or similar will offer specific information on this

Check your own country's government-issued foreign travel advice for the UAE (the United Arab Emirates of which Dubai makes up one of the 7 emirates)

The weekend is officially Friday and Saturday

Pick your preferred season to travel: the cooler season falls around December with temperatures ranging from 15 to 25 DegC whereas Summer strikes mid-year with sweltering figures ranging from 30 to 40++ DegC.

The currency of the United Arab Emirates is the Dirham which is a shortened version of AED (Arab Emirate Dirham) sometimes abbreviated as Dhs or DH. You can check out currency conversion rates here.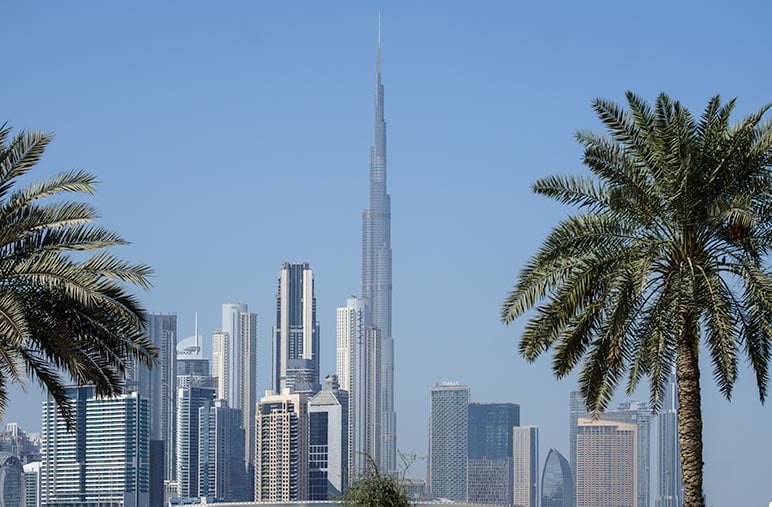 DUBAI ONE DAY ITINERARY
---
1. DUBAI MALL
(Dubai Aquarium, Selfie Wall, Perfumed Oils, Where We Ate)
Why not start the day with a visit to one of the largest shopping centres in the world, the Dubai Mall?
If arriving here by Metro, you can find yourself within this huge complex within minutes. The Burj Khalifa / Dubai Mall Metro station is the closest Metro stop and even has an air-conditioned covered walkway with travelators connecting the two locations.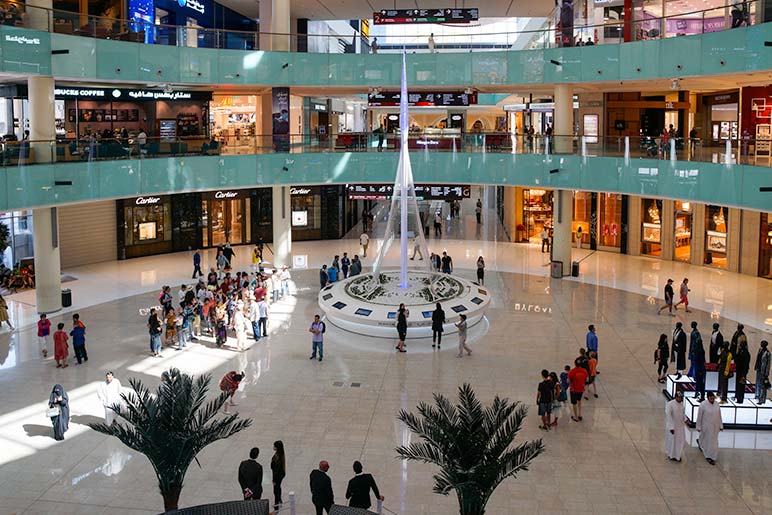 This place is HUGE!
The sheer variety and splendour of the colourful shop facades are something to behold. There's something for everyone here —and a shopper's dream come true.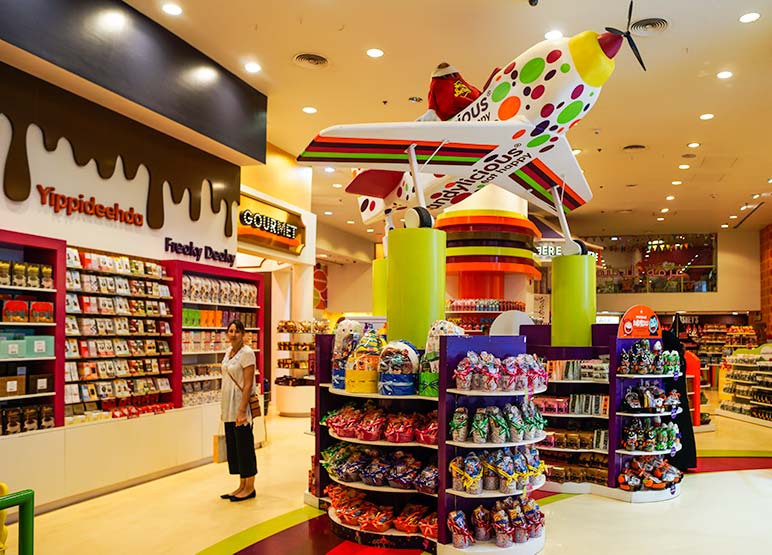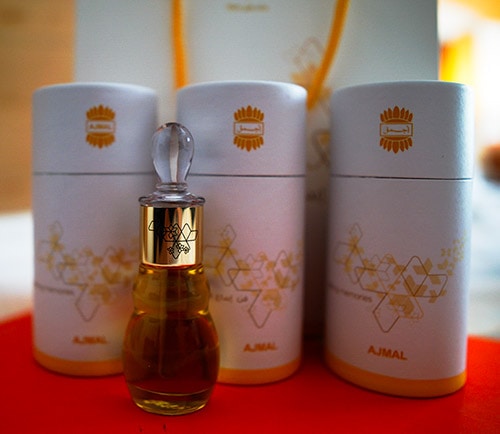 2. DUBAI AQUARIUM
Also at the mall, you'll find the largest suspended aquarium in the world. The Dubai Aquarium, with over 10 million litres of water is home to more than 140 aquatic species, including sharks and rays.
There are many additional paid activities like walking through the glass tunnel of the 51m long aquarium or you may like the idea of the glass bottom boat ride. The various Aquarium options can be found here.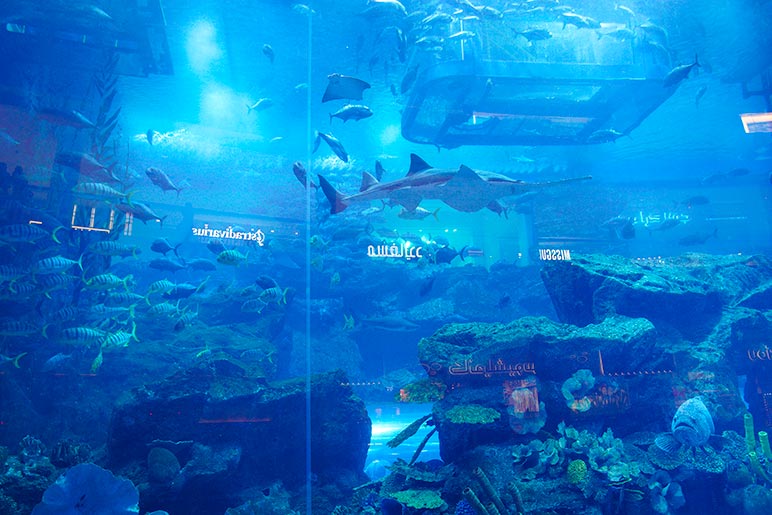 While you're here, check out the electronic display (above the aquarium). This display is the current Guinness World Record holder for the highest resolution video, at a mammoth 17 billion pixels! Yes, I did say billion.
3. DUBAI MALL SELFIE WALL and SCULPTURES
Nearby the Dubai Aquarium is what we named the Selfie Wall. Here's a chance to pose for a couple of photos on a funky background. There are actually two spots close by each other so you can take your pick.
If selfies aren't your thing then keep your eye out for some of the amazing sculptures and architecture within the mall.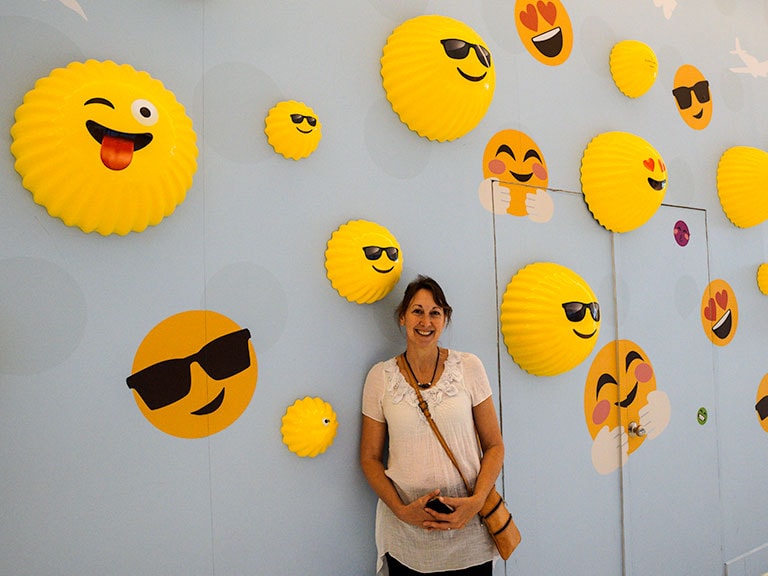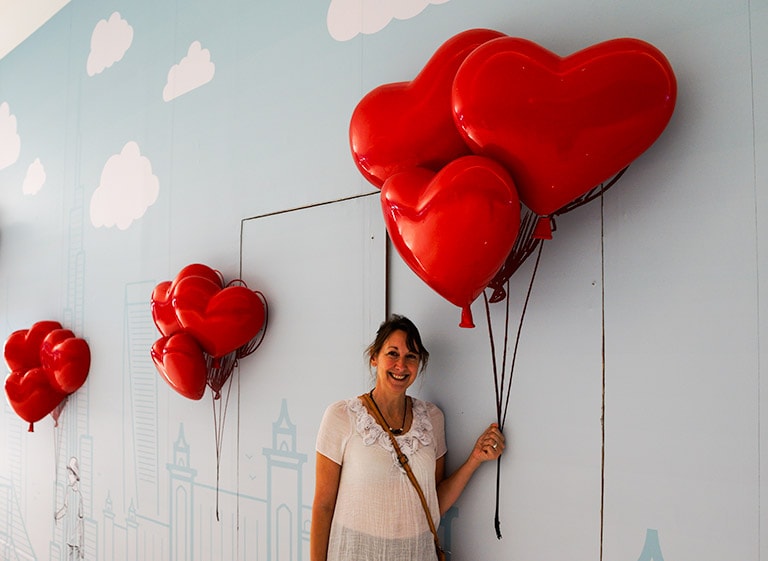 Dubai Mall selfie opportunities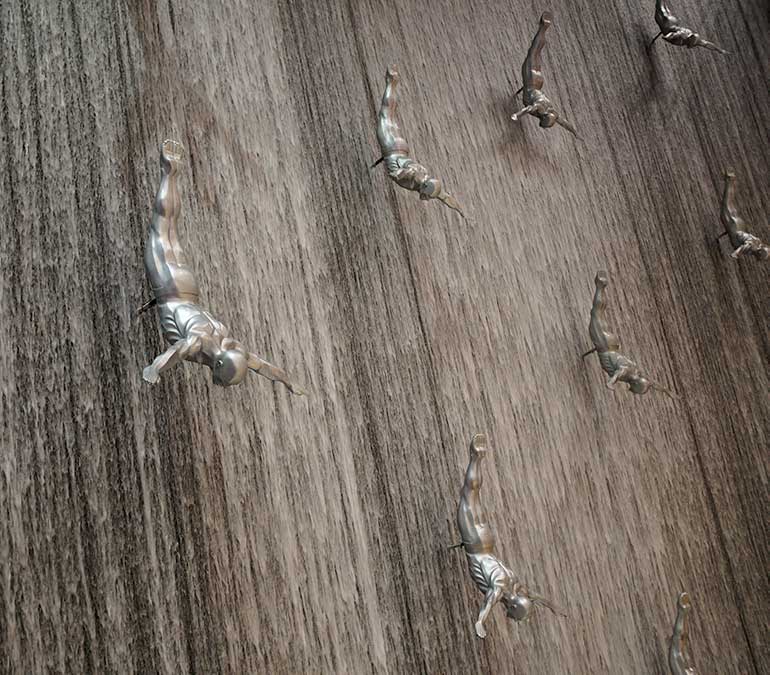 4. STOP FOR LUNCH IN THE DUBAI MALL
The toughest obstacle will not be finding a restaurant, but deciding from the myriad of restaurants to choose from.
We ate at the Texas Roadhouse and The Cheesecake Factory (which offers all sorts of meals besides just exquisite cheesecake).
You can get fast food, middle eastern food, Indian food, Italian food and all other varieties you can think of.
5. DUBAI FOUNTAIN
Situated beside the Dubai Mall is the Dubai Fountain. Here, you have a chance of seeing the world's largest choreographed fountain show. The waters come to life and dance to the sound of music.
The fountain choreography and music are different at each show so try to hang around and watch at least a couple of them. Lasting just a few minutes, it is definitely eye-catching viewing. Check the times and specific days so you don't miss out on this spectacular water show.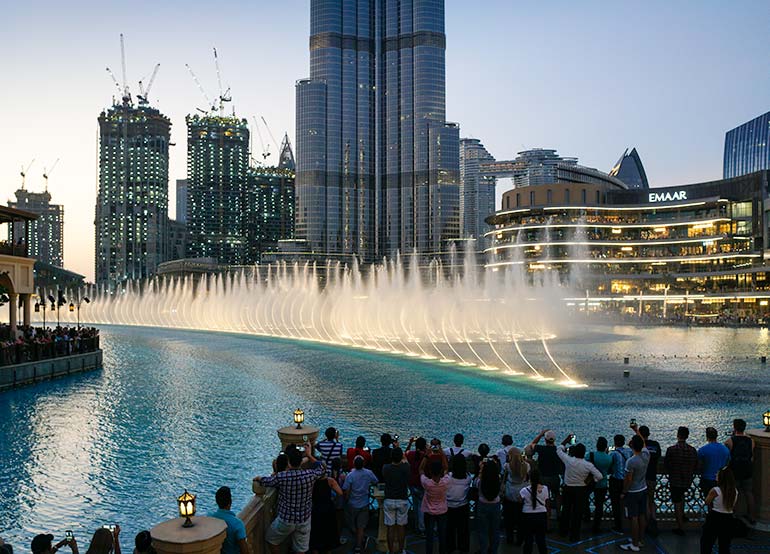 Sunset is a particularly spectacular time to watch the display, and if you can find a spot on the bridge over the eastern part of Burj Khalifa Lake, then you're in for a double treat. The Burj Khalifa lights up over the fountain.
Or, for a different view of the Dubai Fountains, try a boat ride around the Burj Khalifa Lake which promises you a front-row seat for the show.
DUBAI FOUNTAIN VIDEO
And just in case you are still undecided on whether to see the fountains, here's a short taster that doesn't give too much away!
6. BURJ KHALIFA
In case you've somehow missed the tallest building in the world, then don't worry, you can basically look up from just about any location around Dubai and see this masterpiece.
If you're the type that doesn't mind heights then you can take the elevator to the upper floors. Prices increase the higher up you go.
We were happy to keep our feet on terra firma, but if you're keen to gain some altitude then the different tickets and pricing options can be found here.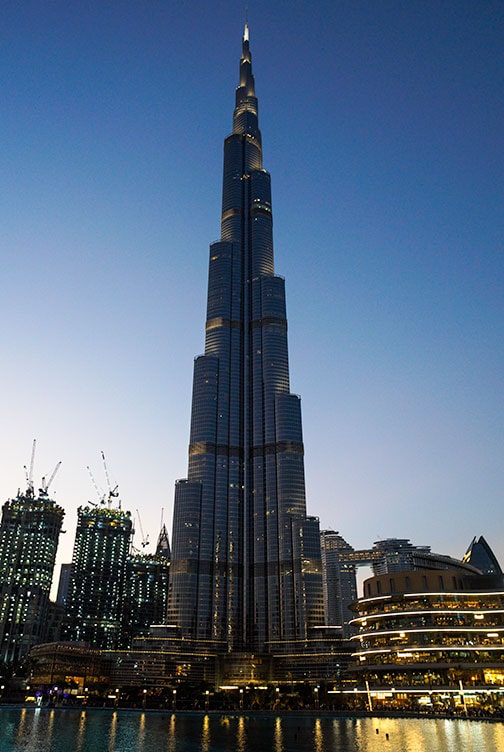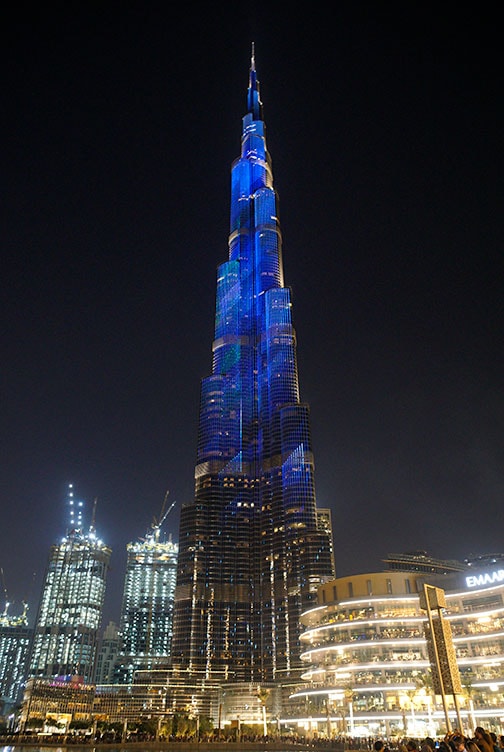 7. FLAMINGOS OF THE RAS AL KHOR WILDLIFE SANCTUARY
Situated within view of the Dubai high rises and only 8 kilometres from the Dubai Mall, is the Ras Al Khor Wildlife Sanctuary.
Its most famous residents are the pink greater flamingos, although you'll find other varieties of birds here too, but in fewer numbers.
Feeding of the flamingos occurs twice a day when they are fed special pellets. The feeding times aren't set in stone, but usually, the morning feedings are anytime between 9 am and 11 am, and the afternoon feeding times are between 4 pm and 5 pm.
Make sure to visit the Flamingo Hide 2 as this is where the feeding takes place and has the highest concentration of flamingos.
A feeding times flamingos from other parts of the sanctuary fly in for the feast, so this is a perfect opportunity to capture great photos of the flamingos in flight.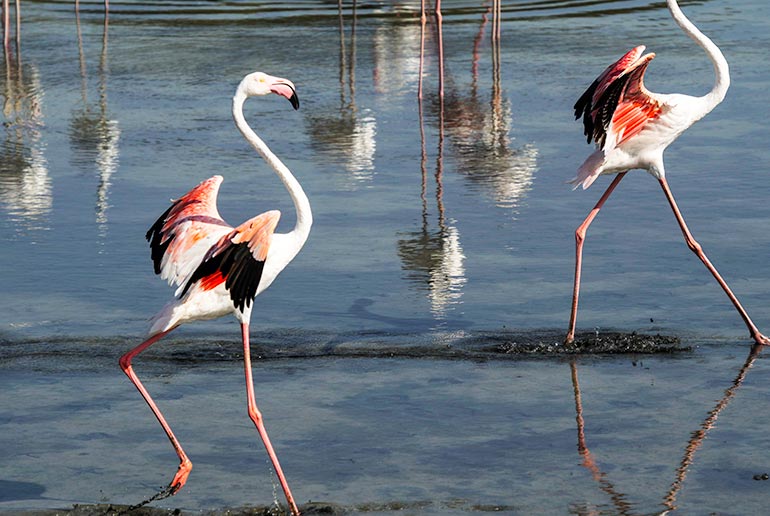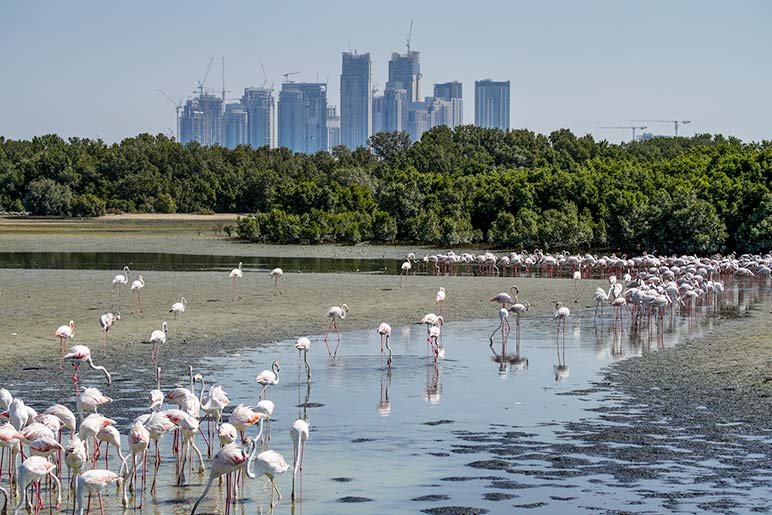 VIDEO: FEEDING TIME AT RAS AL KHOR, DUBAI
You won't have to swelter at the Ras Al Khor Wildlife Sanctuary, because you sit in an air-conditioned, sheltered observation hut. There is also an attendant on hand who will happily answer any questions. Additionally, there are also many information boards within the hut itself.
Also at the sanctuary, at the entry point to the No. 2 Flamingo Hide by the road, you'll find immaculately clean air-conditioned toilets — another place worth a visit!
Hailing a cab is the best way to get transport back into the city. Just wave your arm — the cab drivers know what you want. We waited about 5 minutes for our ride.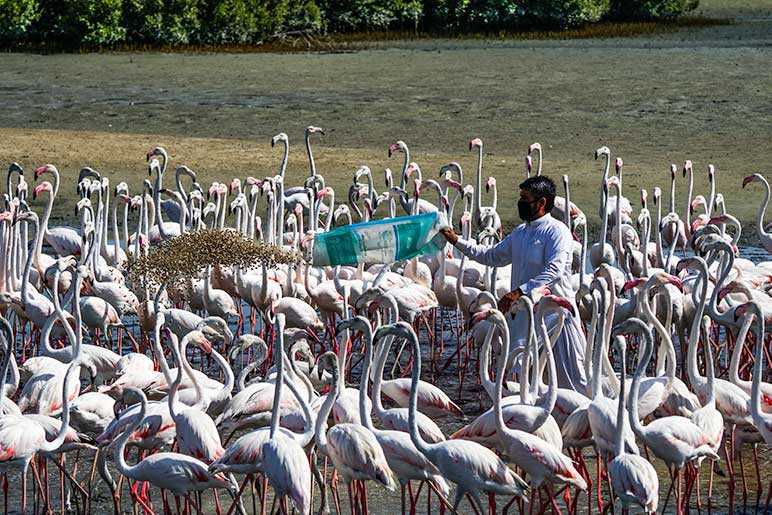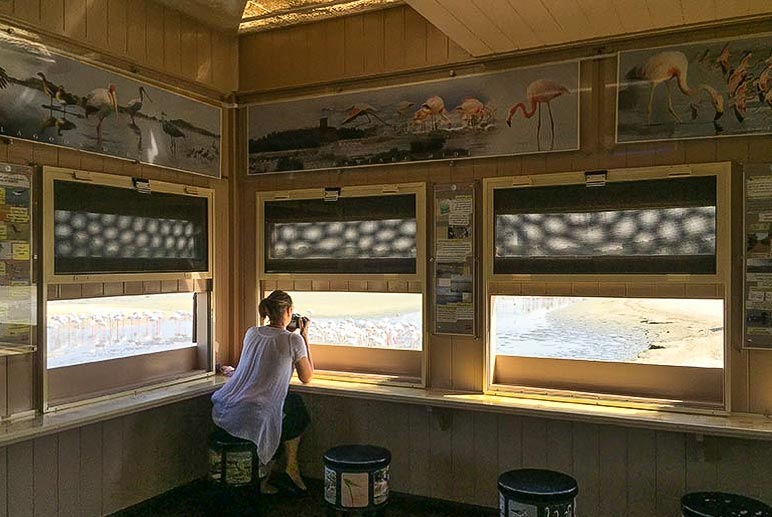 8. SUNSET SWIM AT JUMEIRAH BEACH
Invigorate your body with a sunset swim in the warm waters at the public access, Jumeirah Beach.
Lifeguards are positioned at approximately 50-metre intervals and the swimming area also has nets.
Close by, are a number of restaurants, so you are sure to find something that tickles the palate. You can even spy the Burj Khalifa from here, keeping an ever-watchful eye over this bustling metropolis.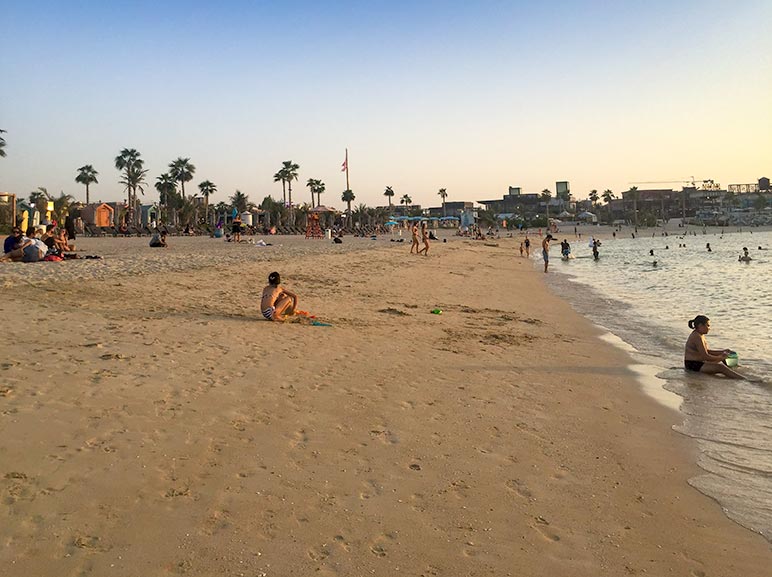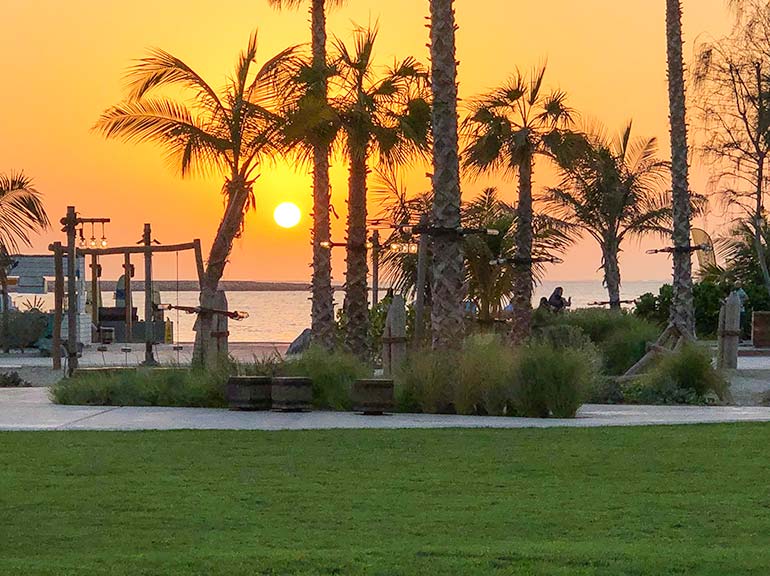 9. Dubai Waterparks
It can be extremely hot in Dubai, so you might like to cool down in some of the best waterparks in Dubai, such as Dubai Aquaventure
10. Dubai Motorsports
If you are more of a wide-open spaces type of person, then you might prefer powering a motorbike through the Dubai sand dunes with Crazy Camel Motorsports. Talk to James or Dan. They offer motorbike rally training and tours. They'll cater for other options to suit your needs either for the day or longer (Not an affiliate link).
11. Palm Jumeirah
Visit the tree-shaped Palm Jumeirah with a walk along the boulevard with close-up views of the eye-catching Burj Al Arab Jumeirah hotel, which has been voted the world's most luxurious hotel more than once. You may remember that Tiger Woods famously hit golf balls off the helipad. Roger Federer has played tennis here too. Palm Jumeirah offers plenty of high-class restaurants, spas and infinity pools.
12. Deira Old Souks
Check out the Dubai Spice Souk (otherwise known as the Old Souk) located in Deira (right by Dubai Creek) and is conveniently located adjacent to the Gold Souk. A two-for-one visit. Wander the alleyways, and chat with the friendly vendors but expect some vigorous bargaining on the sales. This is normal and just a part of the culture of old Dubai.
13. Desert Safari
Here in Dubai, you're in the perfect location for a desert safari. Choose how long you want your desert safari to last based on your available time. There's even an option just for a desert evening dinner.
DUBAI ACCOMMODATION OPTIONS
Budget Option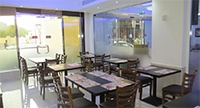 ---
Mid-Range Option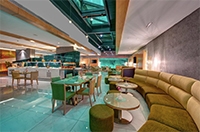 ---
Luxury Option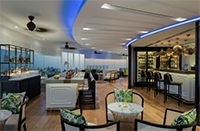 DUBAI IN ONE DAY… THAT'S A WRAP
There is absolutely no shortage of activities to fill your one-day Dubai itinerary. If you travel on a budget, the free options certainly do help to keep fun at a maximum and expenditure at a minimum. But if you have more cash to spare, there are plenty of options to keep you busy.
We hope that whatever you plan for your Dubai one-day itinerary, you have a great time in Dubai.
Pin and Save for later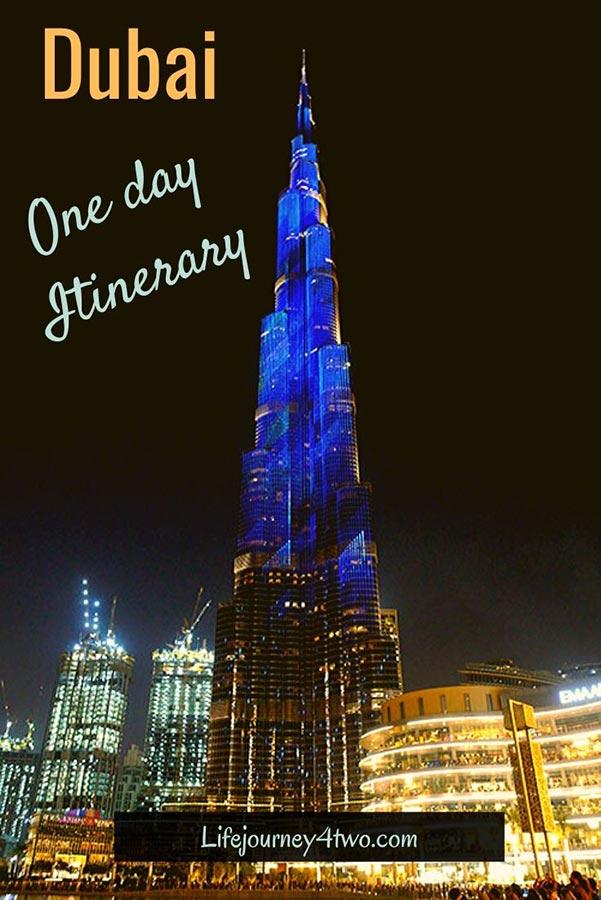 OTHER ARTICLES YOU MAY BE INTERESTED IN
PLANNING YOUR TRAVELS?
These are some of the travel resources we use when planning our trips.
For a more thorough list visit our Travel Resources page here.