One Day in Dubai
This post will give you plenty of options of how to spend one day in Dubai. Whether you are looking for things to do while on a Dubai stopover or as part of a longer stay, you are sure to find experiences and places to visit that suit your itinerary.
I lived in Dubai for a year a few years ago and we recently spent a couple of days there on a stopover whilst on our flight from Uzbekistan to Australia. We always look for the free options as we live on a tight budget, but we've also included paid options for you to consider.
If you are planning one day in Dubai or looking for things to do in this futuristic city, (the most famous of the seven emirates within the United Arab Emirates), then this one day Dubai itinerary will definitely help you. All of these activities are within one hour drive of the Dubai International Airport.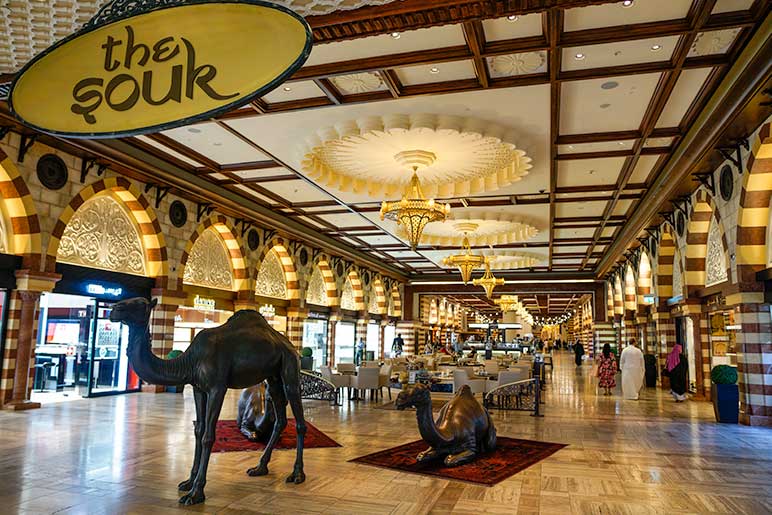 The Dubai Mall Souk is rather sumptuous
One Day in Dubai: Overview
This one-day itinerary includes visits to:
 Dubai Mall (the

second-largest mall in the world by total land area) where you can see: the Dubai Aquarium and Underwater Zoo, Selfie Walls and the amazing shop facades

Dubai Fountain Show (the world's largest choreographed fountain system)
Burj Khalifa (the world's tallest building topping out at 829.8m) 
Flamingos of the Dubai Wildlife Sanctuary
Sunset swim at Jumeirah Beach, Dubai's renowned pristine, white sandy beach
You will have the choice to include additional paid activities for some of the above, with these options discussed further below. Some alternative options to these stops are also included.
Dubai: Good to Know
The Metro is a rapid transit rail network and the most economical way to travel at a cost of roughly half that of taxis. The Metro Red line runs from the airport into the city – see the Metro routes here
Visa requirements vary but you can check what you need here
Although most taxis accept credit cards, some taxis are cash payment only
English is widely spoken throughout Dubai but Arabic is the official language
Shops open late (from 10 or 11 am) and close late (10 pm to midnight)
Dubai is a Muslim country and strict in both it's moral and ethical code – your own country's Department of Foreign Affairs or similar will offer specific information on this
Check your own country's government issued foreign travel advice for the UAE (United Arab Emirates of which Dubai makes up one of the 7 emirates)
The weekend is officially Friday and Saturday
Pick your preferred season to travel: the cooler season falls around December with temperatures ranging from 15 to 25 DegC whereas Summer strikes mid-year with sweltering figures ranging from 30 to 40++ DegC.
The currency of the United Arab Emirates is the Dirham which is a shortened version of AED (Arab Emirate Dirham) sometimes abbreviated as Dhs or DH. You can check out currency conversion rates here.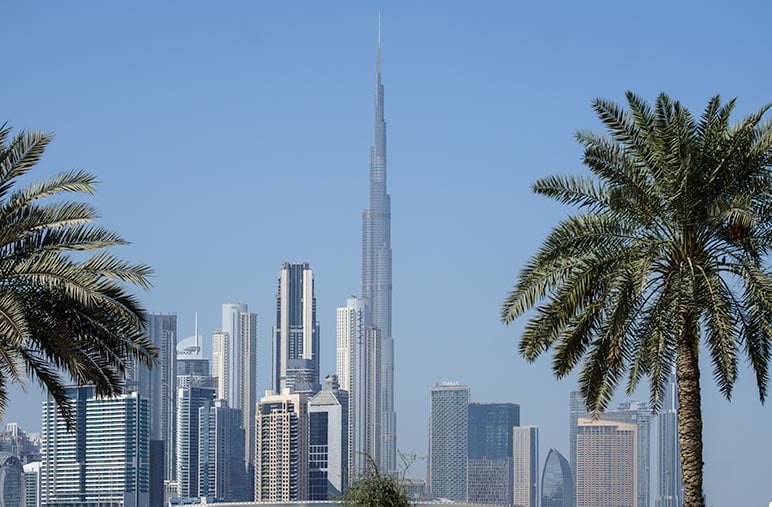 Dubai Skyline with Burj Khalifa Centrepiece
1 – Dubai Mall
(Dubai Aquarium, Selfie Wall, Perfumed Oils, Where We Ate)
Why not start the day with a visit to one of the largest shopping centres in the world, the Dubai Mall. If arriving here by Metro, you can find yourself within this huge complex within minutes. The 'Burj Khalifa / Dubai Mall' Metro station is the closest Metro stop and even has an air-conditioned covered walkway with travelators connecting the two locations. How good is that!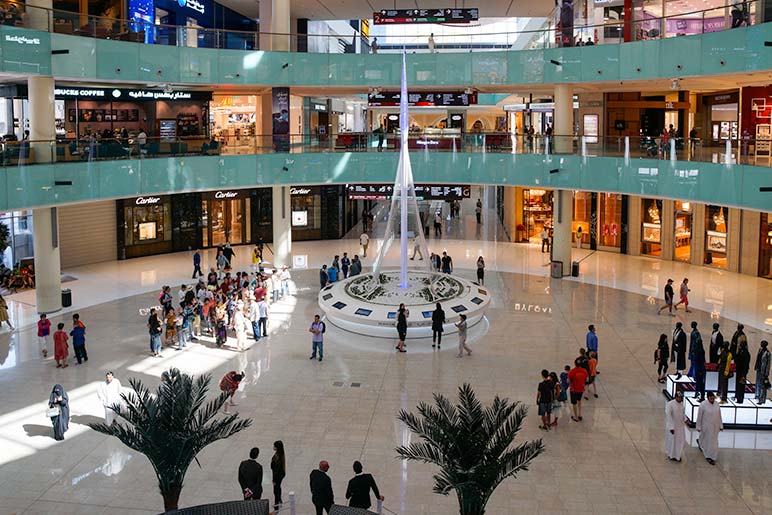 This place is HUGE! The sheer variety and splendor of the colorful shop facades is something to behold. It really is a modern day disneyland. There's something for everyone here – basically, it's a shoppers dream come true.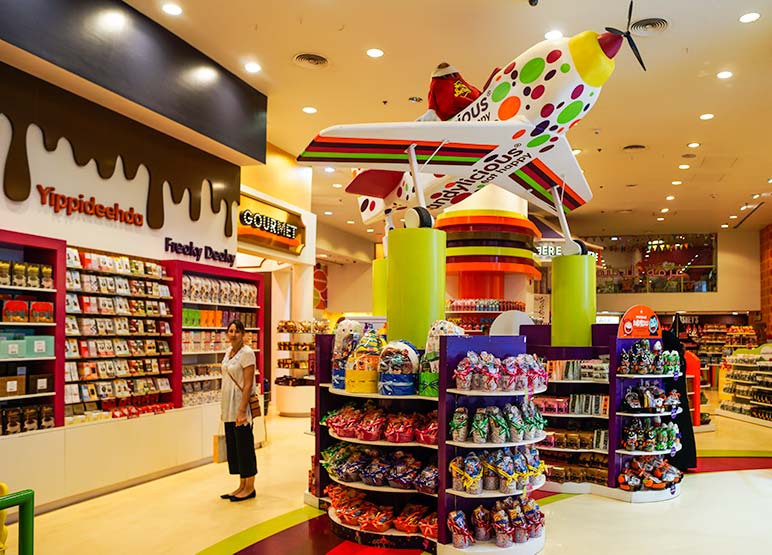 The dazzling colourful Dubai Mall shops
Dubai Aquarium
When you tire of shopping, then check out the Dubai Aquarium. It's the largest suspended aquarium in the world. The 10 million litres of water is home to more than 140 aquatic species including sharks and rays. There are many additional paid activities like walking the through the glass tunnel of the 51m long aquarium or you may like the idea of the glass bottom boat ride. Some different options can be found here.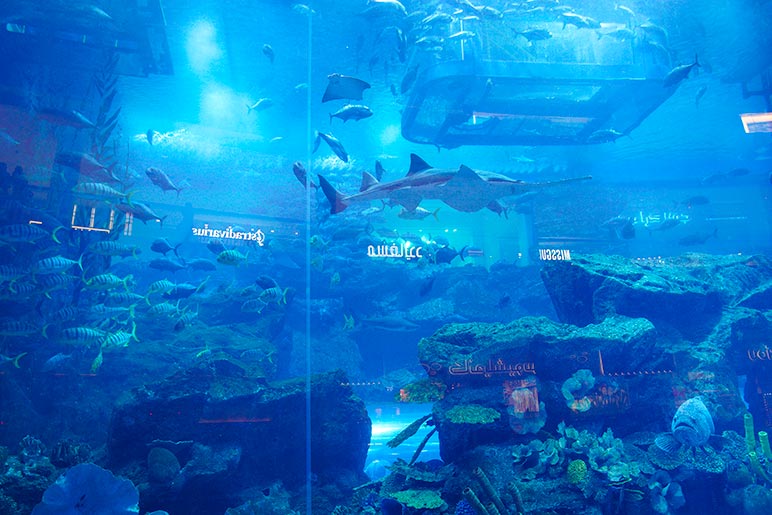 The Dubai Aquarium is mesmerising
While you're here, check out  the electronic display (above the aquarium), which is the current Guinness World Record holder for the highest resolution video at a mammoth 17 billion pixels! Yes, I did say billion.
Dubai Mall Selfie Wall
Nearby the Dubai Aquarium is what we named as the Selfie Wall. Here's a chance to pose for a couple of photos on a funky background. There are actually two spots close by each other so you can take your pick or duck from one to the other. If selfies aren't your thing then keep your eye out for some of the amazing sculptures and architecture within the mall. There's plenty to keep you occupied.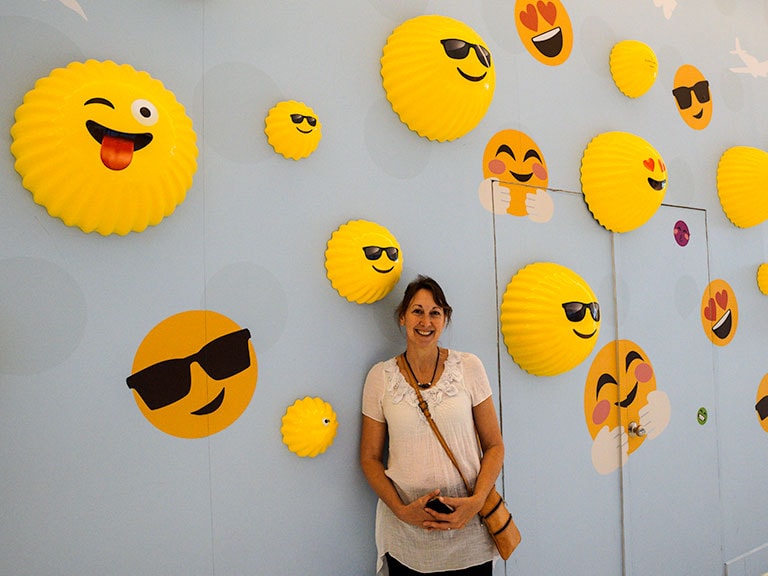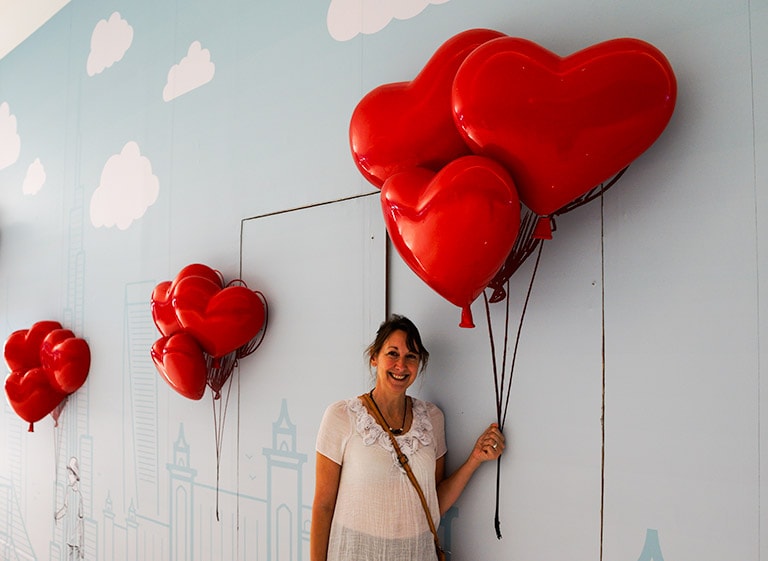 Dubai Mall selfie opportunities!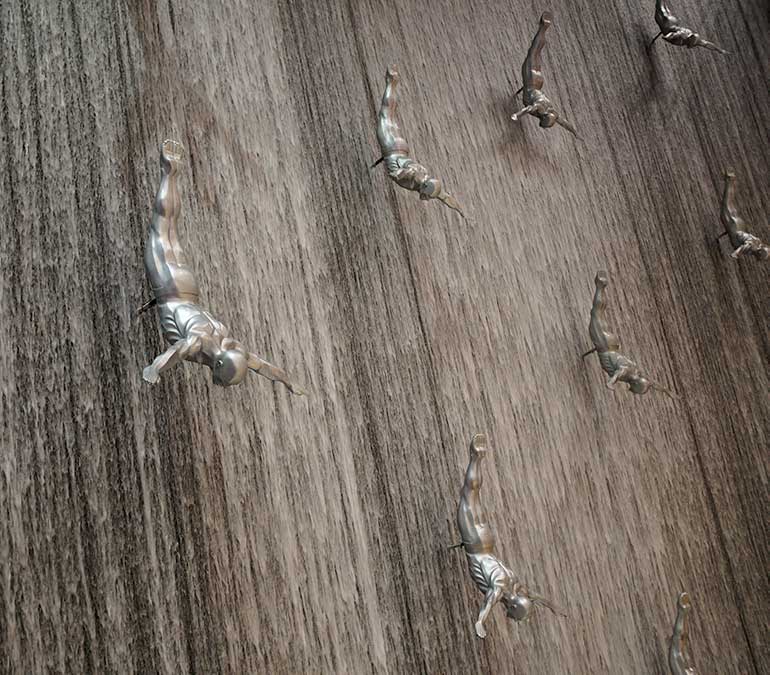 Diving sculptures inside Dubai Mall
Perfumed Oils
Haven't tried perfumed oils before? Here's your chance. It won't be hard to find the shop as you'll probably smell the heavily scented perfumed air before you even see the place. Some stores offer set packages of particular oils but we bought from the shop named 'Ajmal' where different mixes could be bought individually. Ok, it's not cheap but these are concentrated products.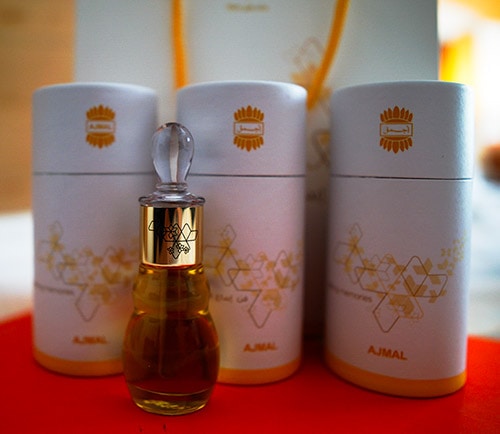 Dubai Mall offers a wide selection of fragrant oils
Feeling Peckish? Where We Ate
Then the toughest obstacle will not be finding a restaurant but deciding on which of the myriad number of restaurants to choose from. We ate at and can personally recommend both The Cheesecake Factory (which offers all sorts of meals besides just exquisite cheesecake) and the Texas Roadhouse for some great steak.
 2 – Dubai Fountain
Situated within the grounds of the Dubai Mall is the Dubai Fountain. You can't pass up a chance at seeing the world's largest choreographed fountain show. The waters come to life and dance to the sound of music.
The fountain choreography and music is different at each show so try to hang around and watch at least a couple of them. Lasting just a few minutes, it is definitely eye-catching viewing. Check the times and specific days so you don't miss out on this spectacular water show.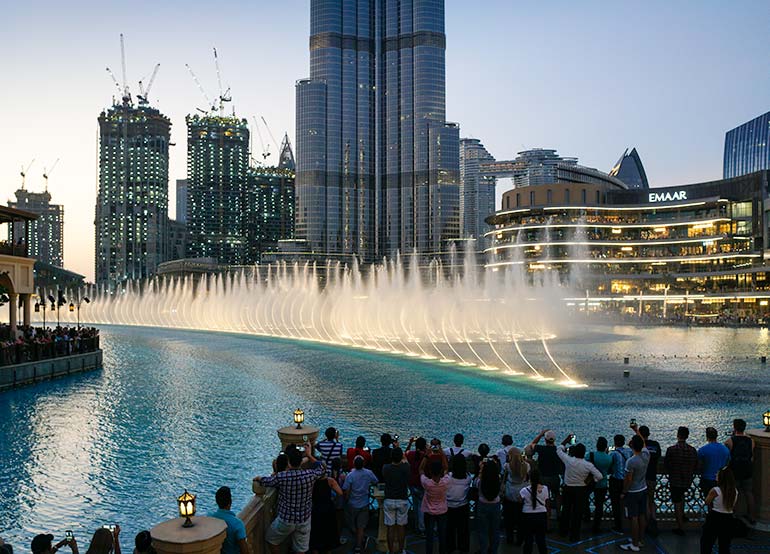 The Dubai Fountain in full swing close to sunset
Sunset is a particularly spectacular time to watch the display and if you can site yourself on the bridge over the eastern part of Burj Khalifa lake then you're in for a double treat. The Burj Khalifa lights up and complements the fountains perfectly. Or for a different view of the Dubai Fountains, try a
boat ride around the Burj Khalifa Lake
 which promises you a front-row seat for the show.
Dubai Fountain Video
And just in case you are still undecided on whether to see the fountains, here's a short taster that doesn't give too much away!
 3 – Burj Khalifa
In case you've somehow missed the tallest building in the world then don't worry, you can basically look up just about any location around Dubai and see this masterpiece. If you're the type that doesn't mind heights then you can take the elevator to the upper floors. Prices increase the higher you go.
We were happy to keep our feet on terra firma but if you're keen to gain some altitude then the different tickets and pricing options can be found here.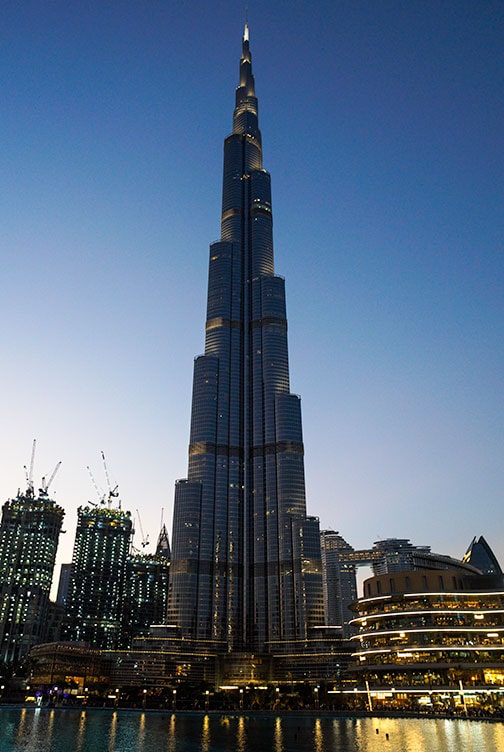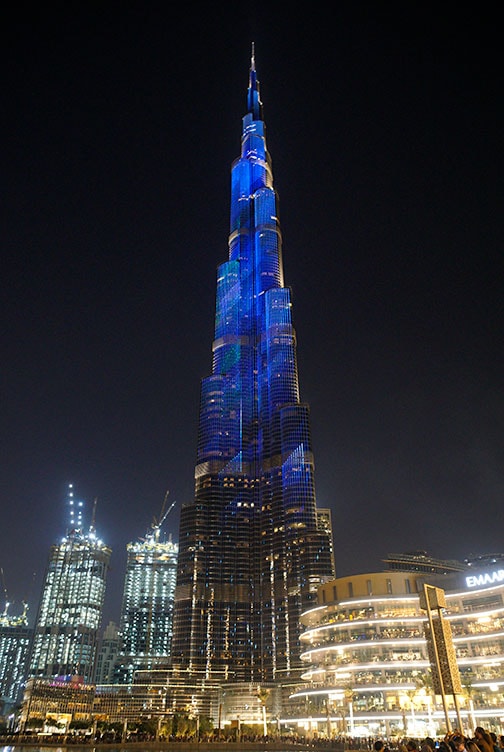 The different faces of Burj Khalifa, the world's tallest building.
 4 – Flamingos of the Ras Al Khor Wildlife Sanctuary
Situated within eye-sight of the Dubai high rises and a mere 8 kilometres from the Dubai Mall lies the Ras Al Khor Wildlife Sanctuary. Its most famous residents are the pink Greater Flamingos, although you'll find other varieties of birds here too but in much lesser numbers.
Twice a day these Dubai flamingos are fed special pellets. The feeding times are not set in stone, but usually, the morning feedings are anytime between 9 am and 11 am and the afternoon feeding times between 4 pm and 5 pm. Make sure to visit the Flamingo Hide 2 as this is where the feeding takes place and has the highest concentration of flamingos.
You'll find at feeding time that flamingos from other parts of the sanctuary fly in for the feast, so you can grab some great photos of birds in flight.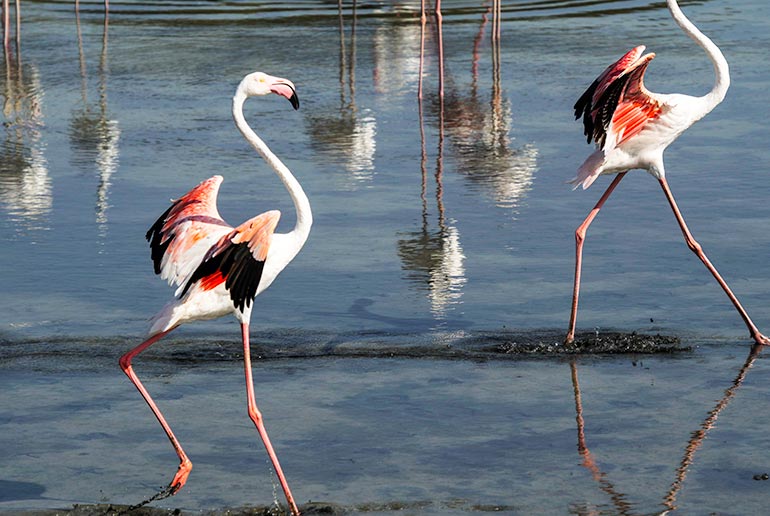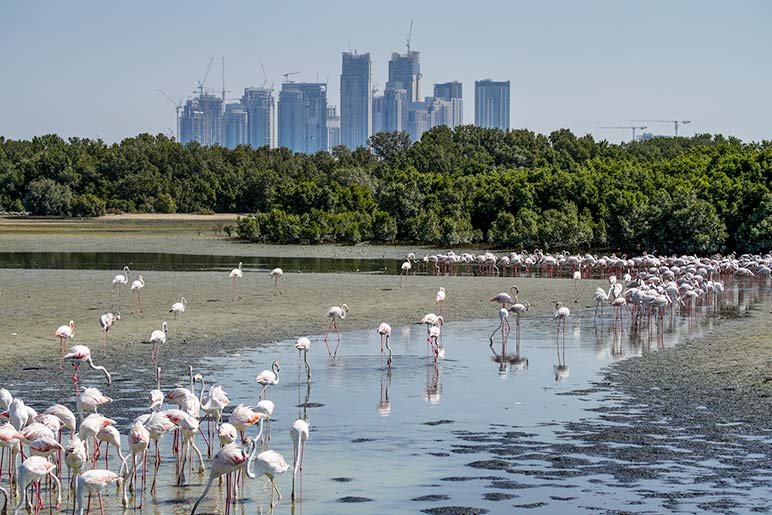 The Greater Flamingos have bright pink legs and wings
Video: Feeding time at Ras Al Khor, Dubai
You won't have to swelter, as you sit in an air-conditioned, sheltered observation hut with an attendant nearby who will happily answer any questions. You'll also find many information boards within the hut itself.
In addition, at the entry point to the No. 2 Flamingo Hide, by the road, you'll find immaculately clean air-conditioned toilets – it was worth the visit! Hailing a cab is the best way to get transport back into the city. Just wave your arm – the cab drivers know what you want. We waited about 5 minutes before we grabbed our ride.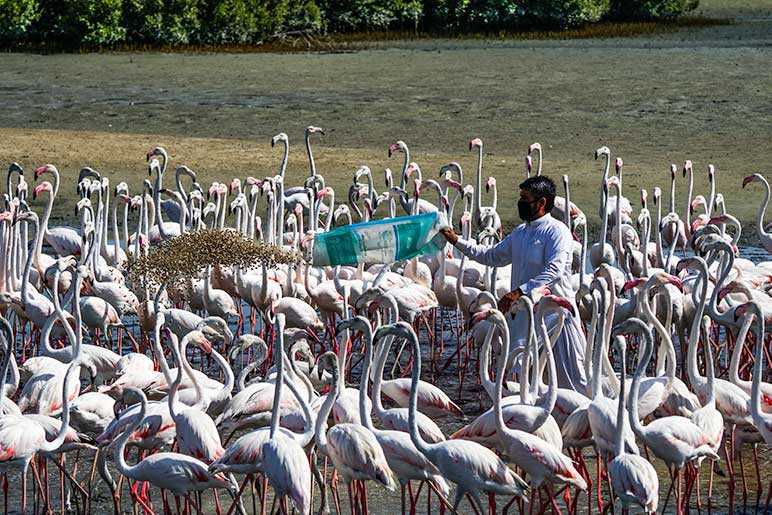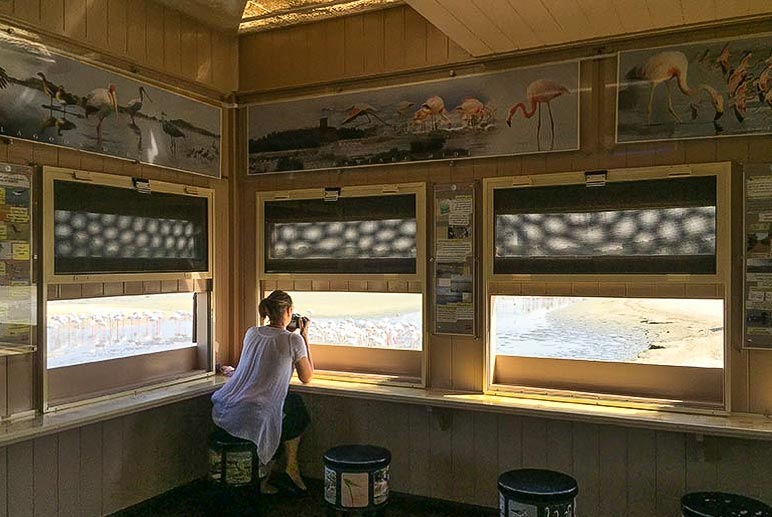 Feeding time at Ras Al Khor is the best time to see the flamingos en-masse
 5 – Sunset Swim at Jumeirah Beach
Invigorate your body with a sunset swim in the warm soothing waters at the public accessed Jumeirah Beach. For those who are a little timid of the water, don't worry, there are no crashing waves and you can enjoy the water gently caressing your body whilst drawing out life's stressors.
Lifeguards are positioned at approximately 50-metre intervals and the swimming area also has nets. Close by, are a myriad number of restaurants so you are sure to find something that tickles the palate. You can even spy the Burj Khalifa keeping an ever-watchful eye over this bustling metropolis.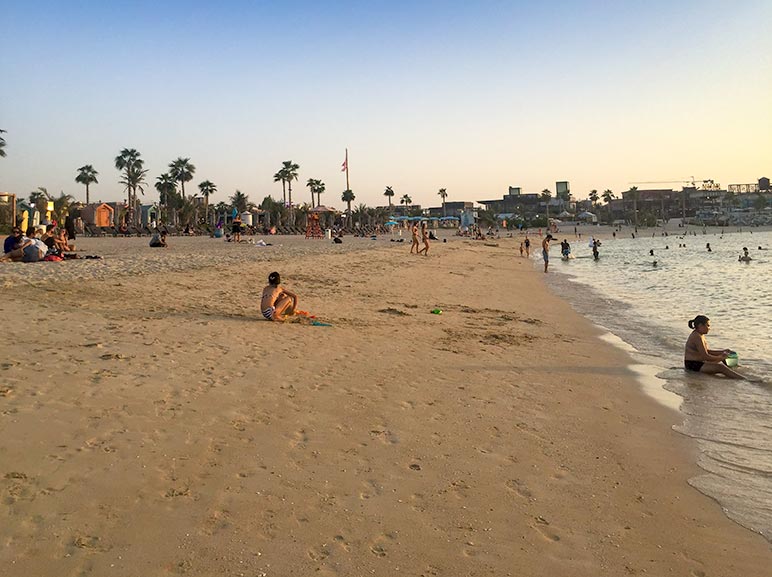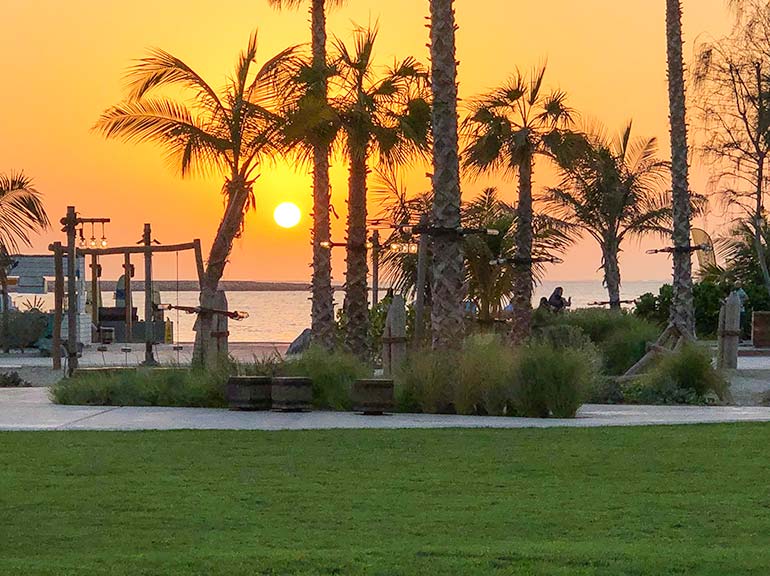 Jumeirah Beach, Dubai – what's not to like!
Time for More? Options to Add to this One Day in Dubai Itinerary
You may like to consider including some of these options:
Dubai Accommodation Options 
One Day in Dubai Wrap Up
There is absolutely no shortage of activities to fill your one day Dubai itinerary. These free options certainly do help to keep fun at a maximum and expenditure at a minimum.
We hope that whatever you plan, you have a great time in Dubai. 
Please leave a comment if you've found some other free activities in Dubai that we can add to continue to spread the smiles. What's your favourite place to visit in this amazing city?
This post may contain affiliate links. This means that we may earn a small commission from purchases you make through our links, at no extra cost to you. Thank you for supporting us. For more info, read our Disclosure Policy.
Other Articles You Maybe Interested in
Arrange Your Travel Insurance
Get a quote from World Nomads – one of the best options for travellers. Find out why here.
Book Your Accommodation
We use Booking.com as we can find a variety of cheap and budget accommodation such as local guesthouses and cheap hotels.
We also use Airbnb – Get up to €46 credit for your first Airbnb stay when you use our Airbnb link 
Travel Gear and Accessories
We've been on the road for almost three years now and have added useful items to  our Lifejourney4two page on Amazon  
Car Hire
We use  Rentalcars.com to find the best car rental deals.
Motorhome/Van Rentals
if you are looking for a motorhome or van rental – we highly recommend the Motorhome Republic who can find the best deals worldwide.
Finding Activites to do
We use Get Your Guide and Viator to get ideas of what to do in a place – sometimes it's best to get tickets online and jump the queues.
Flexible Accommodation Options/ Or Finding someone to look after your pets
We often use house/petsitting as it really makes our travels much more affordable – as accommodation is FREE
Get 25% off  Trusted House Sitters by using our link here: Join Trusted House Sitters either as a house sitter or if you want to find a house sitter.
Photography Prints and Products
Shop our ETSY store for digital downloads of our best photos and our unique travel designed products.