Looking for the best Christmas markets in Switzerland?
If so, you've come to the right place.
Join us, as we whisk you away to a realm of twinkling lights, the scent of gingerbread, and the cozy embrace of winter's charm.
We have personally visited the Zurich Christmas Markets and we also approached other travel bloggers to tell us their preferred Swiss Christmas Markets that they have been to.
The remainder have been researched thoroughly, to bring you this detailed information on the best Switzerland Christmas markets.
From the bigger cities like Zurich and Basel to the smaller towns of Thun and Spiez, you'll find magical Christmas markets spreading their Christmas spirit, throughout Switzerland.
So dive in here for some winter wonderland magic and discover the many beautiful Christmas markets in Switzerland in 2023.
Switzerland Christmas Markets Map
1. Zurich Christmas Market
If you're looking for the ultimate yuletide experience, let me spill the cocoa beans about the fantastic Christmas Markets in Switzerland, especially those in Zurich.
Zurich is like a giant snow globe of festive magic, bursting with some of the most amazing Christmas Markets you'll lay your merry eyes on. We loved exploring all the different markets — each with its unique festive feel.
Niederdorf Quarter
First up on this sleigh ride of holiday delights is Zurich's historic Niederdorf quarter, where the iconic Weihnacht Market comes to life. This charming corner of the Old Town, on the banks of Lake Zurich, transforms into a festive maze of stalls.
💝🍫 If you're visiting Zurich at Christmastime, you'll likely want to indulge in some Swiss chocolate — a quintessential part of a Swiss experience. You can combine a sightseeing tour with a visit to the Lindt Home of Chocolate and enjoy unlimited chocolate tasting.
Christkindlimarkt – Zurich Train Station
But hold onto your Santa hats, because the real dazzle is waiting for you at the heart of Zurich – the Central Train Station. There, a colossal 50-foot Christmas tree, bedazzled with thousands of shimmering Swarovski crystals, steals the show.
This isn't just any tree, it's the sparkling masterpiece of one of the largest indoor Christmas markets in Europe.
Wienachtsdorf Christmas Village
If you're all about outdoor charm, the Sechseläutenplatz is the place to be. Over 100 Xmas stalls pop up right in front of Zurich's Opera House, ready to tempt you with all things Christmas.
From hearty mulled wine to mouthwatering culinary delights and traditional Swiss treats, it's an array of festive indulgences. And that's not all – they even have an ice rink to complete the festive extravaganza.
Weihnachtsmart Christmas Market at Werdmühleplatz
But, that's not all. Zurich has yet another Christmas market that's bound to make your heart sing. The 'Singing Christmas Tree' at the Werdmuhleplatz Market.
Just a short stroll from the train station, this hidden gem unveils a tiered podium shaped like a Christmas tree. And guess what? It's not just a tree; it's a stage for local choirs to sing Christmas carols and festive tunes.
With all these incredible Christmas Markets scattered around Zurich, your holiday cheer meter will be off the charts.
Where to stay in Zurich
We recommend the Storchen Zurich Hotel with superb reviews and only 500 metres from the centre of Zurich.
2. Basel Christmas Market
Basel Christmas Market: Contributed by Gemma from The Travelling Tedaldi
Often named the best Christmas market in Europe, Basel Weihnacht is truly magical to experience.
There are three main market locations; at Barfüsserplatz and Münsterplatz in the Altstadt, and Adväntsgass im Glaibasel along the Rheingasse in Kleinbasel.
There are over 150 wooden chalets filled with local and regional produce, gifts and seasonal food and drinks to enjoy.
If you eat anything at the Basel Christmas Markets then make it a Chäsbängel, a bread roll that is hollowed out and then filled with gooey fondue cheese.
This is one of the best ways to get a taste of Swiss fondue, (without the price tag) while wandering the market stalls. Be prepared to queue for this though as the Swiss locals love a good Chäsbängel as much as the tourists.
Depending on the dates you visit, you may also come across the Basel Harley Niggi-Näggi, where the local Harley Davidson community comes together to raise money for charity. They dress as Santa and ride their fairy-light-covered motorcycles through the city centre.
Look out for Weihnachts-Drämmli (Christmas Tram), where a tram is festively decorated and takes those lucky enough to have a ticket on a festive trip around the city.
Where to stay in Basel
Gemma would recommend staying at the Movenpick Hotel Basel near the Basel SBB railway station, as not only is it very central but it has great access to all the trams that run through the city.
3. Bern Christmas Markets
Waisenhausplatz Christmas Market
Bern's Christmas market on Orphanage Square (Waisenhausplatz Christmas Market) in Bern's city centre, has been a tradition for over 20 years.
Explore artisanal stalls offering caramelised almonds, star-shaped Christmas baubles, cookie cutters and many other gift ideas and souvenirs. And Bernese breweries and Christmas wine stalls add to the festive cheer.
Berner Sternenmarkt
The Berner Sternenmarkt (Bern Star Market), a newer addition to Bern's Christmas Markets, has ever-changing exhibitors showcasing unique designs.
Situated next to Bern's Parliament building, this market offers a picturesque view of the Alps. Alongside traditional Christmas stall chalets, food trucks also provide a variety of culinary delights.
The little ones will be delighted by the Bernese children's village, complete with a merry-go-round and entertainment. Additionally, a cozy Gstaad fondue chalet with 200 seats is available for cheese lovers, serving delicious specialties.
Note: All the market stalls here are cashless – only payable by card.
Christmas Market Münsterplatz
Another Christmas Market in Bern is in front of Bern Cathedral in Munsterplatz. The historic charm of the Bern Cathedral and the market's lively atmosphere create a unique blend of old-world charm and modern celebration.
Bern Christmas Markets Dates:
Waisenhausplatz: 1 – 24 & 27 – 29 Dec 2023
Bernese Star Market: 23 November – 29 December 2023
Christmas Market Münsterplatz: 1 – 24 December 2023
Where to stay in Bern
We recommend Hotel Landhaus with superb reviews and guests commenting on the ideal central location, delicious breakfast and super friendly and helpful staff.
4. Chur Christmas Market
Chur Christmas Market: Contributed by Sophie from Solo Sophie
Chur is a charming town, best known for being the departure point of the Bernina Express, a magical train ride that runs between Italy and Switzerland, crossing through the Swiss Engadin Alps.
Each year, a Christmas Market is held in the town for around a month, which is known as Chur Christkindlimarkt in German. Thanks to Chur's position amongst snow-capped peaks, it makes for a pretty romantic place to visit.
The Christmas market itself places a particular focus on handcrafted goods and foodie treats, meaning that it's a special place to visit if you're in search of some last-minute Christmas gifts.
In terms of the food to eat at the market, all of the usual goodies are available: Glühwein (mulled wine), raclette (melted cheese), and hot chocolate.
Just like with many other towns and cities in Switzerland, the entire city is illuminated with festive lighting come nightfall.
Other highlights of Chur include a handful of museums, medieval fortifications and the Würth Sculpture Park. Chur also happens to be the oldest town in Switzerland and has a history spanning over 5000 years.
Where to stay in Chur
Sophie suggests that one of the best places to stay in Chur is Hotel Franziskaner, which has clean and comfortable rooms and is in the heart of the old town.
5. Einsiedeln Christmas Market
Nestled against the breathtaking backdrop of the commanding Benedictine monastery, the Einsiedeln Christmas Village beckons to all with its festive allure.
This market stretches along the main street, enticing visitors with a delightful spectacle. As daylight fades, the market comes to life with its stalls adorned in captivating decorations, and sparkling Christmas illuminations.
A centrepiece of wonder, the towering Christmas tree captures the spirit of the season.
Beyond the market's magical ambience, a treasure trove of shopping opportunities awaits, offering an array of unique and diverse items.
The Einsiedeln Christmas market provides an enchanting experience for all who venture to Klosterplatz, Einsiedeln, Switzerland.
Dates: December 1st to the 10th, 2023
Where to stay in Einsiedeln
We recommend Hotel Drei Könige with very good reviews. It overlooks the Einsiedeln Christmas Market and is opposite the beautiful Einsiedeln Abbey.
6. Geneva Christmas Market
The city of Geneva turns into a glittering winter paradise, with Rue du Marché showcasing some of the most impressive Christmas displays around. And don't miss the elegant Christmas windows in the upscale shops of Rue de Rive – they're a class apart.
Genève Marché International de Noel
Geneva's international flair shines through in the Genève Marché International de Noel at Place de la Fusterie. This market effortlessly blends global exhibitors with traditional seasonal treats from different countries, embodying the city's cosmopolitan vibe.
Noël au Jardin Market
The highlight, of course, is the Noël au Jardin market – the 'Christmas in the Garden' extravaganza. Set against the picturesque backdrop of Geneva's English Garden (Jardin Anglais), it boasts ever-changing vendors and a delectable array of street food.
This Christmas Market is known for; The Fondue Chalet, Ferris Wheel, Carousel, and Children's Yurt.
Geneva's Christmas markets offer a historical touch too, with the Fête de l'Escalade celebrations.
Where to stay in Geneva
We recommend Hotel Bristol, with fabulous reviews and guests loving it for its central location to the lake, train station and shopping areas.
7. Grindelwald Christmas Market
Grindelwald Christmas Market: Contributed by Adriana from Wanderlicious
Grindelwald is one of my favourite places in all of Switzerland, and no, not to be confused with the Harry Potter franchise's evil villain in the Fantastic Beasts trilogy.
It is a stunningly beautiful town tucked away in the Swiss mountains, perfectly quaint and picturesque. Christmas is generally busy, but it's also festive too, turning this beautiful resort village into something quite magical.
The Swiss hospitality is renowned for its peaceful retreats, quaint wooden chalets covered in thick snow, warm mugs of hot chocolate, and of course, mulled wine. Cosy up by a warm, crackling fire, buy a few roasted marshmallows, and watch the night light up with stars scattered across the sky.
Make sure you try the vendors selling cheese fondue or try some of the famous raclette dinners made with Swiss Alpine cheese and red wine; it's delicious.

It is also perfect for some adventure sports; snowshoeing, skiing, snowboarding, cliff walking, and sledding. They have specific sections of the slope dedicated to each form of adventure sport, ensuring that the mountain can be enjoyed by all visitors safely and is perfect for all ages!
Where to Stay in Grindelwald
Adriana recommends booking a hotel with an outdoor hot tub, there's nothing quite like admiring the mountain views in your swimsuit. She suggests the Hotel Kirchbühl or Apartments Kirchbühl.
8. Gruyeres Christmas Markets
Over two weekends in December, around 40 artisans display their handmade items. The streets come alive with festive lights, the air filled with the delightful scents of the season, and the sounds of cheerful music fill the medieval city.
Take a sneak peek at the type of things to expect here in this Gruyeres Christmas Market video).
You might also like to visit the Christmas Markets in nearby towns, Bulle and Jaun.
Dates: Weekends of December 8-10 and December 15-17, 2023.
Where to Stay in Gruyeres
Gruyère Rooms are rated excellent for their location, with immaculate and charming rooms. Gruyère Castle is just 50 metres away, and the studios and superior rooms provide views of the surrounding mountains.
9. Interlaken Christmas Markets
There isn't a Christmas Market in the actual town of Interlaken, so-called because it sits between Lake Thun (Thunersee) and Lake Brienz (Brienzersee).
Thuner Weichnachts Markt
However, in nearby Thun, you'll find the Thuner Weichnachts Markt. This Christmas market, in the centre of Thun, has 40 stands full of Christmassy goodies.
While taking a leisurely walk around the small wooden cabins at the Thun Christmas market, guests will have the opportunity to explore locally made goods, and handmade crafts and have a go at candle making.
Dates: 6/12/2023 – 23/12/2023 Opening Times: 11 am – 8 pm, except Sundays, 11 am – 6 pm
Brienz & Spiez Christmas Markets
🎄 There are also several pop-up Christmas markets in the surrounding towns: Brienz on the 2nd and 3rd of December 2023 and Spiez on the 2nd of December 2023. (Note: You can travel by boat from Interlaken to Brienz)
Where to stay in Interlaken
We recommend Hotel Krone Thun, for its perfect location in the centre of the old town, and is also close to the river and train station.
10. Lausanne Christmas Market
The Lausanne Christmas Market, also known as Bô Noël, has various markets sprinkled throughout the city, but all within walking distance.
One of the main ones is the undercover market in Place Saint-François in the heart of Lausanne, Switzerland. Visitors remark that the vibe in Lausanne at Christmas time is more modern than many of Switzerland's Xmas markets.
Wandering around the various markets is a wonderful opportunity to stroll through the charming streets, experience the holiday ambience, and discover unique treasures while immersing yourself in the warmth of the Lausanne holiday spirit.
Dates: Nov 17 – Dec 31, 2023.
Where to stay in Lausanne
Lausanne Palace not only has fabulous ratings but is part of Lausanne's historical heritage. It's in the heart of the Lausanne shopping district and has panoramic views of the city, Lake Geneva, and the Alps.
11. Lucerne Christmas Market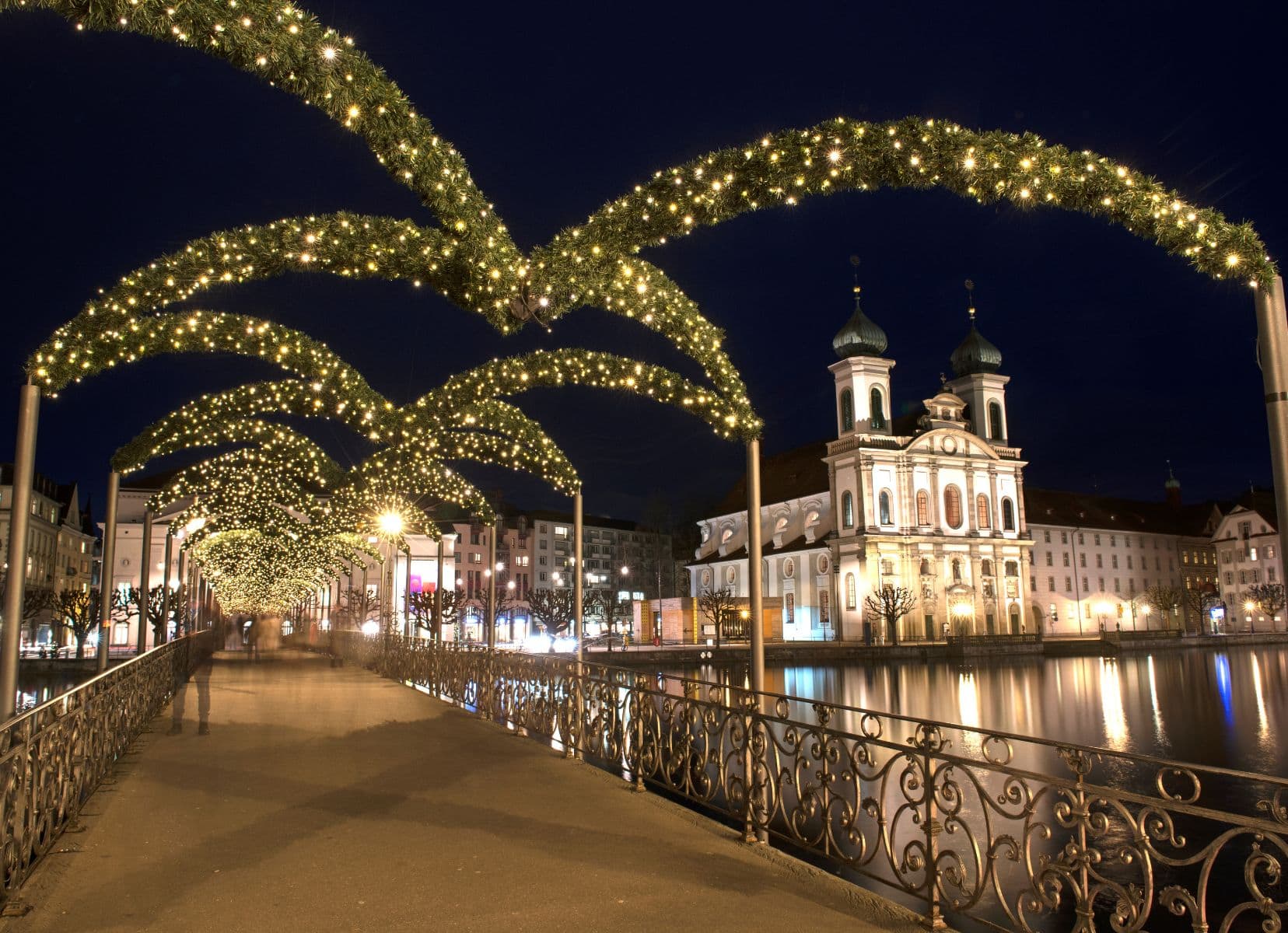 Lucerne itself is known for its stunning beauty, nestled among mountains and along the shores of Lake Lucerne. The backdrop of snow-covered peaks and the lake's tranquil waters adds to the magical ambience of the Christmas Market.
Old Town at Franziskanerplatz
The market is located in Lucerne's Old Town at Franziskanerplatz. It features charming wooden houses and creates a unique, peaceful atmosphere away from the bustling shopping areas.
At the heart of the market is a large Advent wreath on the Franziskaner fountain, measuring over three meters in diameter. This wreath is beautifully adorned with lights, ornaments, and four-meter-tall candles, making it a distinctive centrepiece.
Dates: November 17 to December 23, 2023
Lucerne Christmas Craft Market
Explore the Lucerne Craft Market at the Wine Market in the historic Old Town. Artisans showcase their homemade products including art, craft, design items, handmade jewellery, accessories, paper goods, phone bags, and gifts.
Dates: December 2, 8, 9, 10, 16, and 17, 2023
Rudolph's Christmas Spectacle
And last but not least don't miss Rudolph's Christmas Spectacle in the beautiful Inseli Park with a view of Lake Lucerne. Enjoy a selection of food options and pre-Christmas gift shopping from different design and craft vendors.
There's also a cozy fondue chalet where you can enjoy a variety of cheese dishes and spend a warm time with loved ones.
Dates: November 17 to December 23, 2023
Where to stay in Lucerne
Located in Franziskaner Platz, the Boutique Hotel Schlüssel seit 1545 overlooks the Christmas festivities in the square, so makes for the perfect Christmas Market place to stay.
12. Lugano Christmas Market
Lugano Christmas Market: Contributed by Zoe from Together In Switzerland
With all the pretty Christmas markets already shared in Switzerland, consider your next trip during the festive season to Lugano.
It's a special place for the season with its car-free city streets. Once you arrive, you will pleasantly enjoy the charming Christmas lights and festive atmosphere of the city. From the first weekend of December in Lugano there is also live music, which instantly gets you in the cosy Xmas shopping mood.
Lugano's Christmas market, usually consisting of at least 50 cute wooden stands, is located through the main city streets as well as at the Piazza Riforma around the Lugano Christmas tree.
The markets sell many Swiss items, such as homemade decorations and winter clothing, and the most delicious local Swiss delicacies. These include Ticino-made wine, honey, cheeses, meats and sausages. Additionally freshly made crepes, gluhwein and warm food choices like polenta (must-try!) and filled breads.
Where to stay in Lugano
Zoe recommends staying at the International au Lac Historic Lakeside Hotel.
It's right on the lakeside in the city centre. It has peaceful rooms and although a little dated, it has quite the charm.
13. Montreux Christmas Market
Montreux Christmas Market in Switzerland is where holiday magic comes alive. Here are just a few of the things you'll find at Montreux Noel:
Candle Workshop: Get creative at the candle workshop and make your own special candles.
Santa Claus Show: Don't miss the Santa Claus and flying sleigh show happening daily at 5 pm, 6 pm, and 7 pm, with extra shows at 4 pm on weekends.
Ferris Wheel: Enjoy stunning views of the lake and mountains from the Ferris wheel on Market Place.
Chalet Stalls: Explore 150 stalls filled with crafts, local treats, mulled wine, and gift ideas.
🎅🎁 Santa's House: Visit Santa's house on Rochers-de-Naye mountain, accessible by the Santa Claus train. The mountain ride itself is worth it.
Chillon Castle: Discover activities, shows, and workshops for all ages at Chillon Castle.
Where to stay in Montreux
The Hotel Victoria Glion sits above Montreux (connected by funicular) with breathtaking views of Lake Geneva and the Swiss Alps. Guests rave about the location, views and food.
Savour the Flavours of Swiss Christmas Delights
When it comes to Christmas in Switzerland, the culinary scene takes a delicious turn. From cheesy comfort to sweet traditions, here's a list of classic Swiss foods that'll warm your heart and delight your taste buds during the holiday season:
1. Fondue Fun
Gather around the bubbling pot of gooey goodness! Swiss fondue is a group experience where you dip chunks of crusty bread into a velvety blend of melted cheese. It's a social tradition that warms you up from the inside out.
2. Raclette Reunion
Imagine melting cheese over just about anything – that's raclette. Melted cheese scraped onto potatoes, veggies, and meats creates a hearty meal perfect for festive gatherings.
3. Zimtsterne Bliss
These star-shaped wonders are a cookie lover's dream. Zimtsterne, or cinnamon stars, are made from almond and cinnamon-spiced dough, and topped with a sugary glaze. Sweet and nutty, and oh-so-moreish.
4. Leckerli Love
Leckerli, a Swiss gingerbread-like treat, brings a burst of flavour. Filled with nuts, candied peel, and spices, these chewy delights are often found in festive gift tins.
5. Basler Läckerli
A gem from Basel, these square-shaped cookies are a blend of almonds, candied peel, and Kirsch (cherry brandy). They've been delighting Swiss palates for over a century.
6. Nusstorte Indulgence
The Engadine nut tart is a nut lover's paradise. Made with caramelized nuts, honey, and a buttery crust, it's a sticky-sweet slice of Swiss heaven.
7. Christstollen Comfort
This Swiss version of the famous German Christmas bread is a dense, fruity, and spiced delight. Filled with raisins, almonds, and candied peel, it's a festive favourite.
8. Hot Chocolate Heaven
Swiss hot chocolate is legendary. Rich, velvety, and topped with a dollop of whipped cream, it's the ultimate way to warm up after a chilly day of exploring Christmas markets.
9. Roesti Revival
While not exclusively a Christmas treat, roesti is a comfort food staple during the holidays. These crispy potato pancakes are the Swiss version of comfort food, perfect for any festive feast.
10. Mandelbärli Magic
These "almond bears" are a nutty treat that's as adorable as it is delicious. Almonds, sugar, and a touch of almond extract make for a great snack.
From the irresistible aromas of melted cheese to the sweet comfort of spiced cookies, Swiss Christmas cuisine is a journey for your taste buds. So, don't miss the chance to savour these classic delights and make your holiday season even more scrumptious.
When do the Christmas Markets Start in Switzerland?
The Christmas markets in Switzerland typically start in late November to early December, aligning with the Advent season. The exact dates can vary from city to city and market to market, so it's recommended to check the specific schedules for the locations you're interested in visiting.
Larger Cities Christmas Market Times
In larger cities like Zurich, Geneva, and Basel, you can generally expect the Christmas markets to kick off in late November.
These markets often run through the month of December, providing ample time for you to experience the festive atmosphere, shop for unique gifts, savour seasonal treats, and immerse yourself in holiday cheer.
Smaller Towns and Villages Christmas Market Times
In Switzerland's smaller towns and villages, the timing might vary slightly, with some markets starting a bit later in December or only happening on a few weekends.
These markets often capture a more intimate and traditional ambience, offering a different perspective on the Swiss Christmas experience.
❄️❄️❄️
To get the most accurate and up-to-date information, it's a good idea to keep an eye on official city websites, tourism boards, and event calendars.
This way, you can plan your visit to Switzerland's Christmas markets with the confidence of knowing exactly when they'll begin to sparkle and shine.
Winter Activities in Switzerland
Switzerland offers a plethora of winter activities for visitors to enjoy its stunning snowy landscapes. Here are some popular winter activities you can partake in:
Skiing and Snowboarding 🏂⛷

Switzerland is famous for its world-class ski resorts. Whether you're a beginner or an experienced skier/snowboarder, there are slopes suitable for all skill levels.
We spent a glorious Christmas skiing in Bettmeralp which was really family-friendly, but there are also the more famous ski resorts like Zermatt, St. Moritz, and Verbier, renowned for their excellent skiing opportunities.
Cross-country skiing⛷ or Sledging
Explore scenic trails and enjoy a different perspective of the Swiss winter wonderland through cross-country skiing. Many resorts and regions offer well-maintained tracks for this activity.
Sledging down snow-covered hills is a thrilling activity for all ages. Resorts often have dedicated sledging tracks that are perfect for some downhill fun.
Snowshoeing and Winter Hiking 🥾
Don't miss out on exploring Switzerland's winter landscapes on foot. Many hiking trails are maintained for winter use, allowing you to enjoy the beauty of snow-covered mountains and forests.
If the paths are snow-laden, snowshoeing lets you venture off the beaten path and explore pristine snow-covered landscapes. Many areas have designated trails, and it's a beautiful way to immerse yourself in nature.
Ice Skating ⛸
Many Swiss cities and towns set up temporary ice skating rinks during the winter months.
Enjoy gliding on the ice in iconic locations such as Zurich's Dolder Ice Complex which, at Christmas time, hosts a towering Christmas tree in its centre. Big flaming torches also light up the ice on Friday and Saturday evenings to really get you in the mood for Christmas.
Thermal Baths and Spas
After a day in the cold, unwind in one of Switzerland's luxurious thermal baths or spas. The warm waters offer relaxation and rejuvenation.
Many hotels have spa and hot tub facilities.
Cable Car Rides 🚠
Even if you're not skiing, you can still enjoy the breathtaking alpine views by taking a cable car or gondola ride to elevated viewpoints, such as the Matterhorn Glacier Paradise Cable car or a day trip to Chamonix with cable car and train ride.
Glacier Exploration🏔
Spend a day at Mount Titlis with your private tour guide, on this breathtaking Mount Titlis Glacier excursion or explore the Swiss Alps in the Matterhorn Glacier Paradise Cable car.
Winter Festivals ❄️☃️
Many Swiss towns and cities host winter festivals with cultural performances, traditional food, and winter-themed events. The Fête de l'Escalade in Geneva is a notable example.
Helicopter Tours 🚁
For a truly unique experience, consider a helicopter tour over the Swiss Alps, providing stunning panoramic views of snow-covered peaks.
Remember that the availability of activities might vary based on the region and weather conditions, so it's a good idea to check in advance and plan accordingly.
Whether you're seeking adventure, relaxation, or a blend of both, Switzerland's winter offerings have something for everyone
Best Winter Tours in Switzerland
If you're visiting Switzerland at Christmastime, you'll likely want to indulge in some Swiss chocolate — a quintessential part of a Swiss experience.
As the largest city in Switzerland, Zurich is home to numerous prestigious chocolatiers with a long tradition of crafting exceptional chocolates. You can combine a sightseeing tour with a visit to the Lindt Home of Chocolate and enjoy unlimited chocolate tasting.
If you are in Basel, then how about a cheese, chocolate and local pastries tasting tour?
"A terrific and tasty Tour! "| "Awesome guide" | "Delicious chocolate"| read more reviews
▶️ Check price and availability here 💝🍫
"Highlight of the trip" | "Worth the price" | "Great tour" | read more reviews
▶️ Check price and availability here 🇨🇭📍
Christmas Market in Switzerland FAQ
1. What are the most popular Christmas markets in Switzerland?
The most popular Christmas markets in Switzerland are in Zürich, Basel and Montreux.
2. What can I expect to find at a Swiss Christmas market?
Swiss Christmas markets offer a wide range of festive attractions and activities. You can find beautifully decorated stalls selling handicrafts, Christmas decorations, local products, and delicious Swiss food and drinks. Additionally, there are often live performances, carol singing, ice skating rinks, and other entertainment options.
3. When do the Christmas markets in Switzerland usually open?
Most Swiss Christmas markets open in late November or early December and run until Christmas Eve. However, specific opening dates and hours may vary for each market, so it's best to check the official websites or local tourist information for the most up-to-date information.
4. Are Swiss Christmas markets free to enter?
Yes, most Swiss Christmas markets are free to enter. However, there might be certain paid attractions or activities within the market grounds. Additionally, you would need to pay for any purchases you make at the stalls.
5. Can I find traditional Swiss crafts and products at the Christmas markets?
Absolutely! Swiss Christmas markets are known for showcasing traditional crafts and locally-made products. You can find items like wooden carvings, ceramics, textiles, handmade toys, and Swiss chocolates. These make for wonderful souvenirs or gifts.
6. Do the Christmas markets in Switzerland have food stalls?
Yes, Swiss Christmas markets are famous for their food stalls. You can try traditional Swiss cuisine such as fondue, raclette, roasted chestnuts, and gingerbread cookies. Don't forget to warm up with a cup of hot mulled wine or hot chocolate!
7. Are the Christmas markets in Switzerland suitable for children?
Yes! Swiss Christmas markets are family-friendly and often have special activities for children. There may be a Santa's grotto, Christmas carousel rides, face painting, and even puppet shows to keep the little ones entertained.
8. Can I visit more than one Christmas market in Switzerland?
Definitely! Many visitors choose to explore multiple Christmas markets during their visit to Switzerland. As the markets are often located in different cities or regions, it allows you to experience various traditions and local specialties.
Switzerland's Charming Christmas Markets … That's a Wrap
If you love Christmas, then these many Christmas markets weave a tapestry of Christmas magic that enchants visitors of all ages.
Whether you find yourself in the bustling streets of Zurich, the historic charm of Lucerne, or the lakeside beauty of Montreux, each market offers a unique experience that embodies the essence of Christmas.
So, as you wrap up your journey through these delightful markets, the only decision to make now is which ones to choose.
Not an easy choice but our top three picks would be Zurich, Montreux and Basel.
Pin and save for later