Some posts on this site contain affiliate links, meaning if you book or buy something through one of these links then we may earn a small commission. Read our Disclosure Policy here.
BETTMERALP SKIING: CHRISTMAS IN THE SWISS ALPS
Christmas in Switzerland, in the Swiss Alps, is as festive as it sounds. There are so many winter destinations in Switzerland but for our Christmas skiing holiday, we chose a resort in the clouds— Bettmeralp.
At an altitude of 2000 metres, some days it's hard to tell where the snow ends, and the white fluffy clouds begin.
It turned out to be the most enchanting, captivating and extraordinary Swiss ski resort.
The fact it was Christmas, while skiing in Bettmeralp, made it even more magical.
BETTMERALP SWITZERLAND
Bettmeralp is in the Valais region of Switzerland and looks across to the famous high peak of the Matterhorn. Given its high altitude, if there is snow in Switzerland, then Bettmeralp will be one of the first places to get it.
Bettmeralp village is car-free and can only be reached by cable car from Betten Tall Station in the valley. The closest village is Riederalp, just a 30-minute walk away and it is also car-free.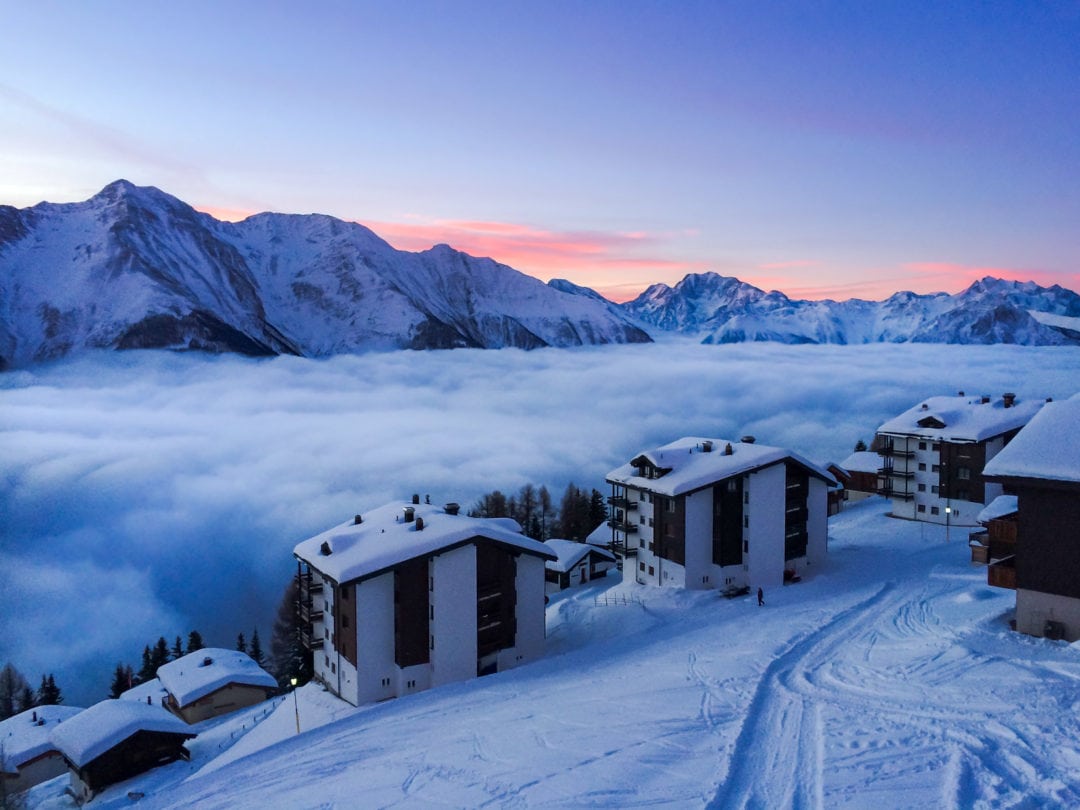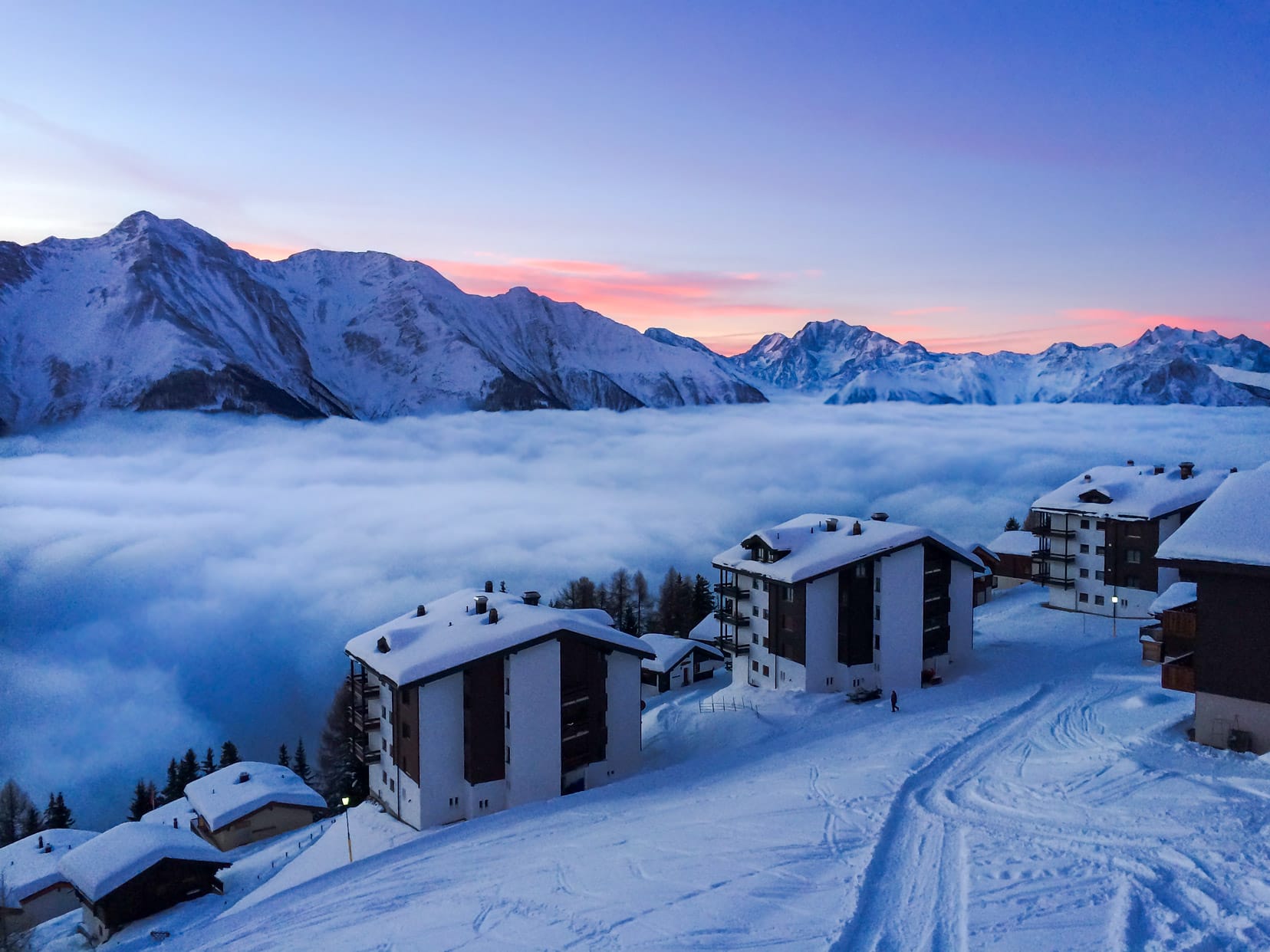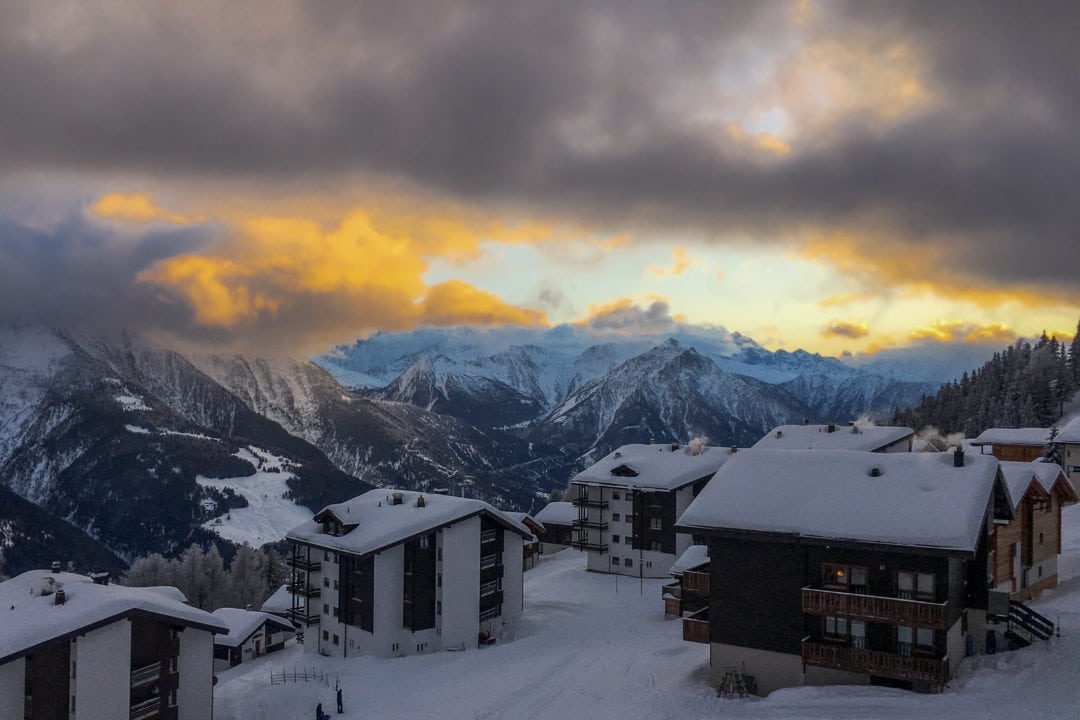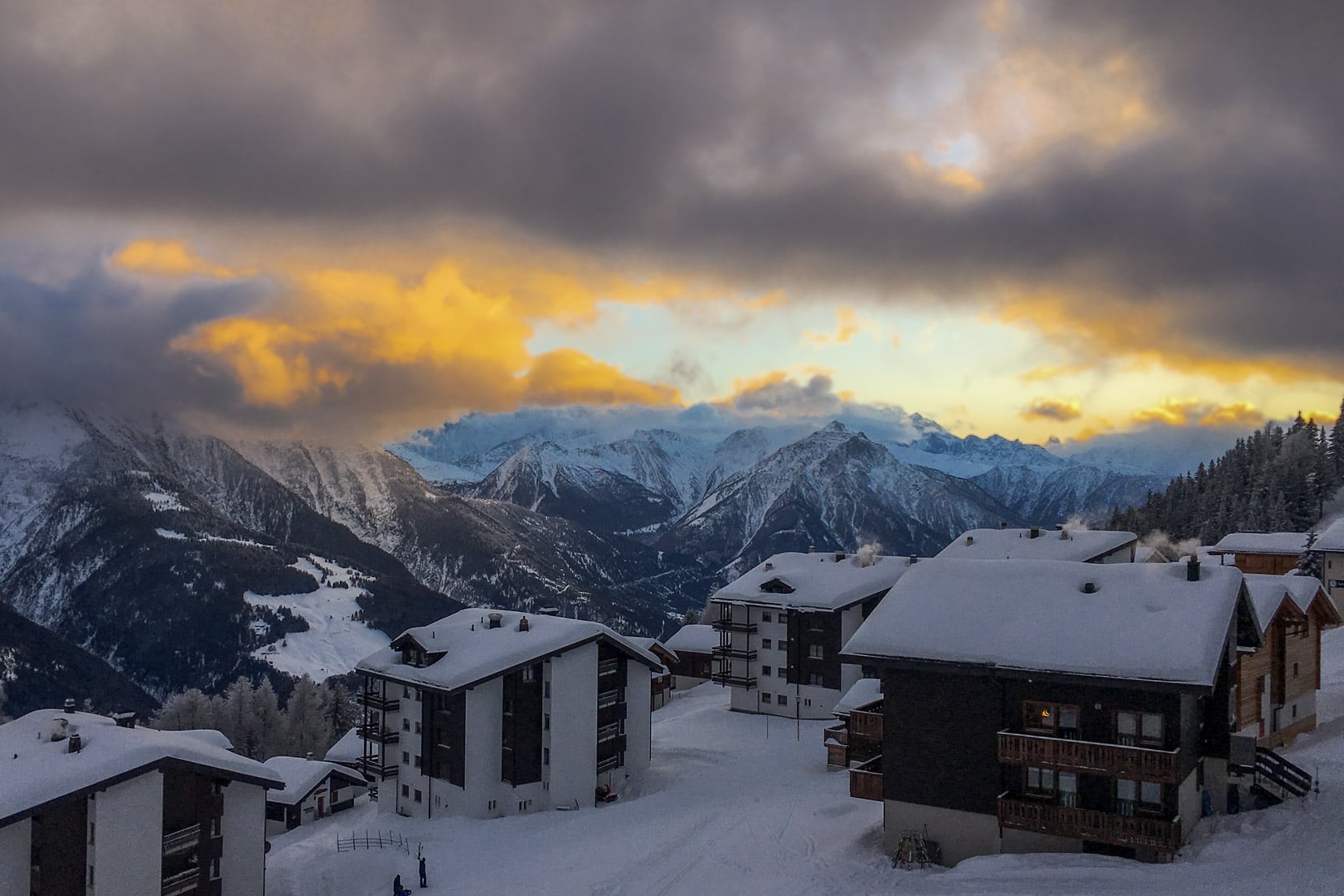 Bettmeralp is part of the Swiss Alps Jungfrau-Aletsch region, one of the first Alpine UNESCO World Natural Heritage sites. Part of the UNESCO site is the Great Aletsch Glacier which at 23 Kilometres long is the largest in the Alps.
Fun fact: If the Aletsch Glacier melted, it could supply every single person on the Earth with a litre of water every day for 4.5 years.
Bettmeralp is just on the fringe of the Jungfrau Region, a fabulous winter holiday destination and the perfect spot to explore the beauty of the Swiss Alps — for skiers and non-skiers alike.
The nearest main airport to Bettmeralp is Zurich.
We arranged a night's stopover when we arrived in Zurich and explored the Zurich Christmas Markets en route to Bettmeralp.
BETTMERALP SKIING – FUN FOR ALL THE FAMILY
Bettmeralp ski resort is particularly special at Christmas when the whole village comes alive with festivities and fun. The ski season starts just before Christmas, with plenty of winter sports available for both young and old.
We chose our Bettmeralp skiing holiday because we were meeting up with my three sons, (all flying in from different countries), for Christmas and this was the perfect holiday to keep everyone entertained.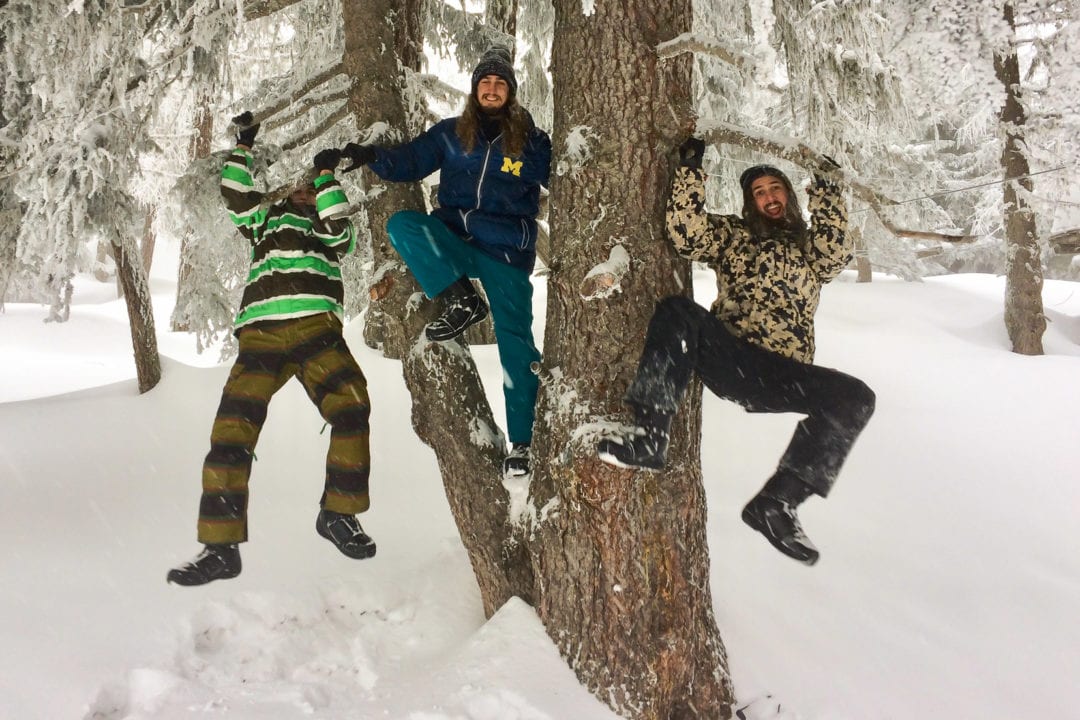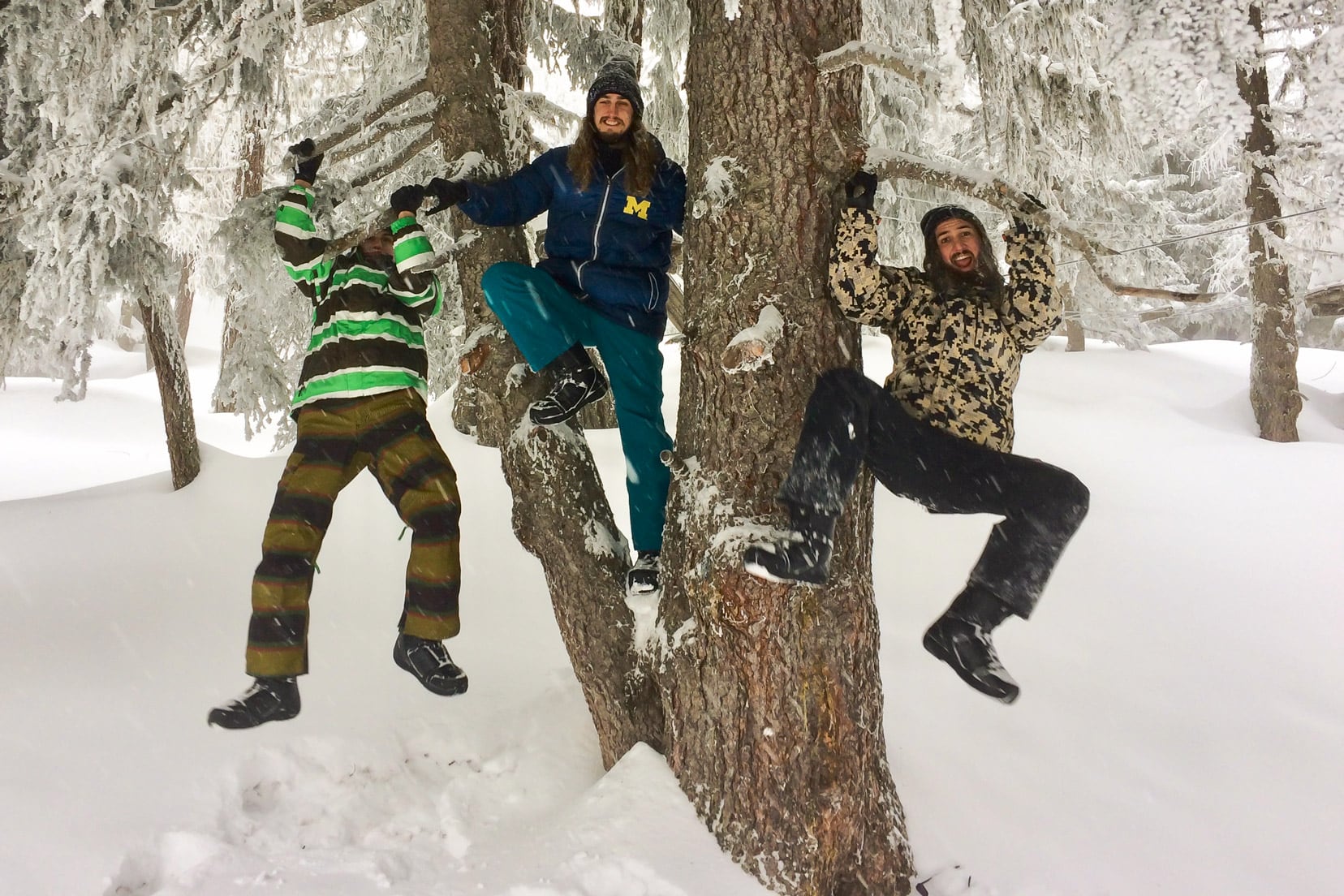 Although I have older boys the resort is equally suitable for younger children. As Bettmeralp is car-free, the resort is family-friendly, so no worrying about cars and traffic.
There are special kiddy slopes and activities just for the little ones as well. Checking the available facilities for your younger children is always important if booking your first skiing trip with your toddler.
There's not only skiing in Bettmeralp. You can also snowboard, snowshoe, cross-country ski, or just enjoy the ambience and beauty of nature in the Swiss Alps.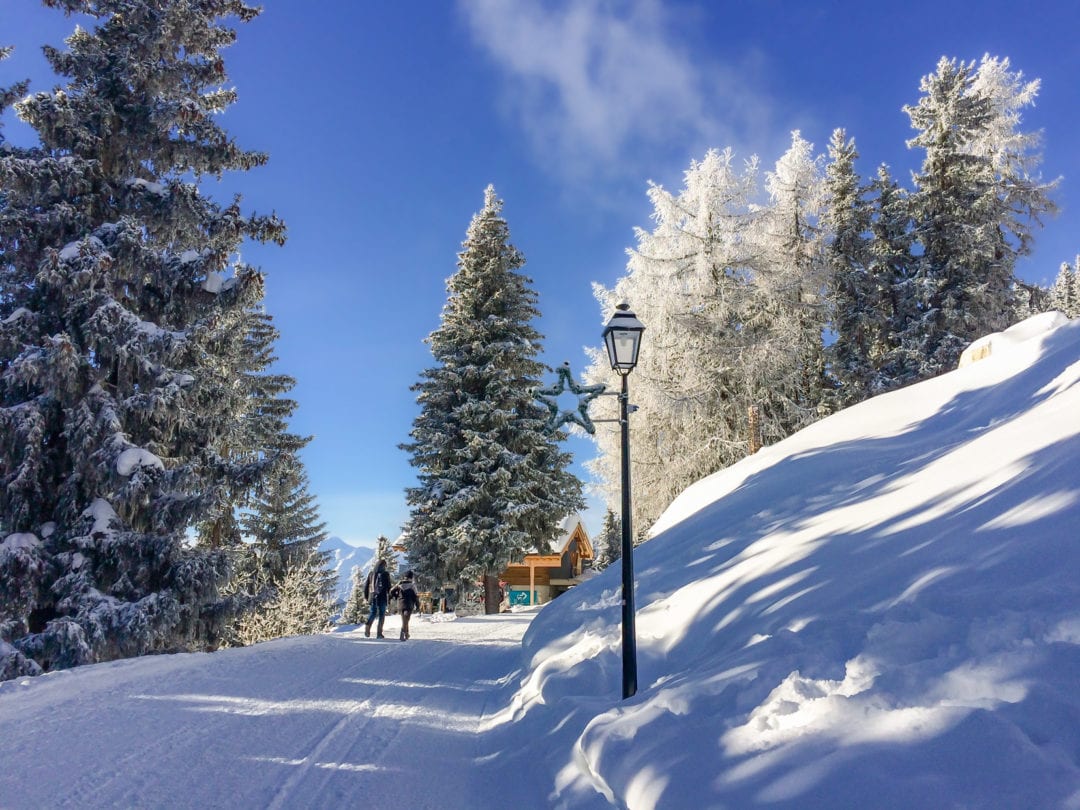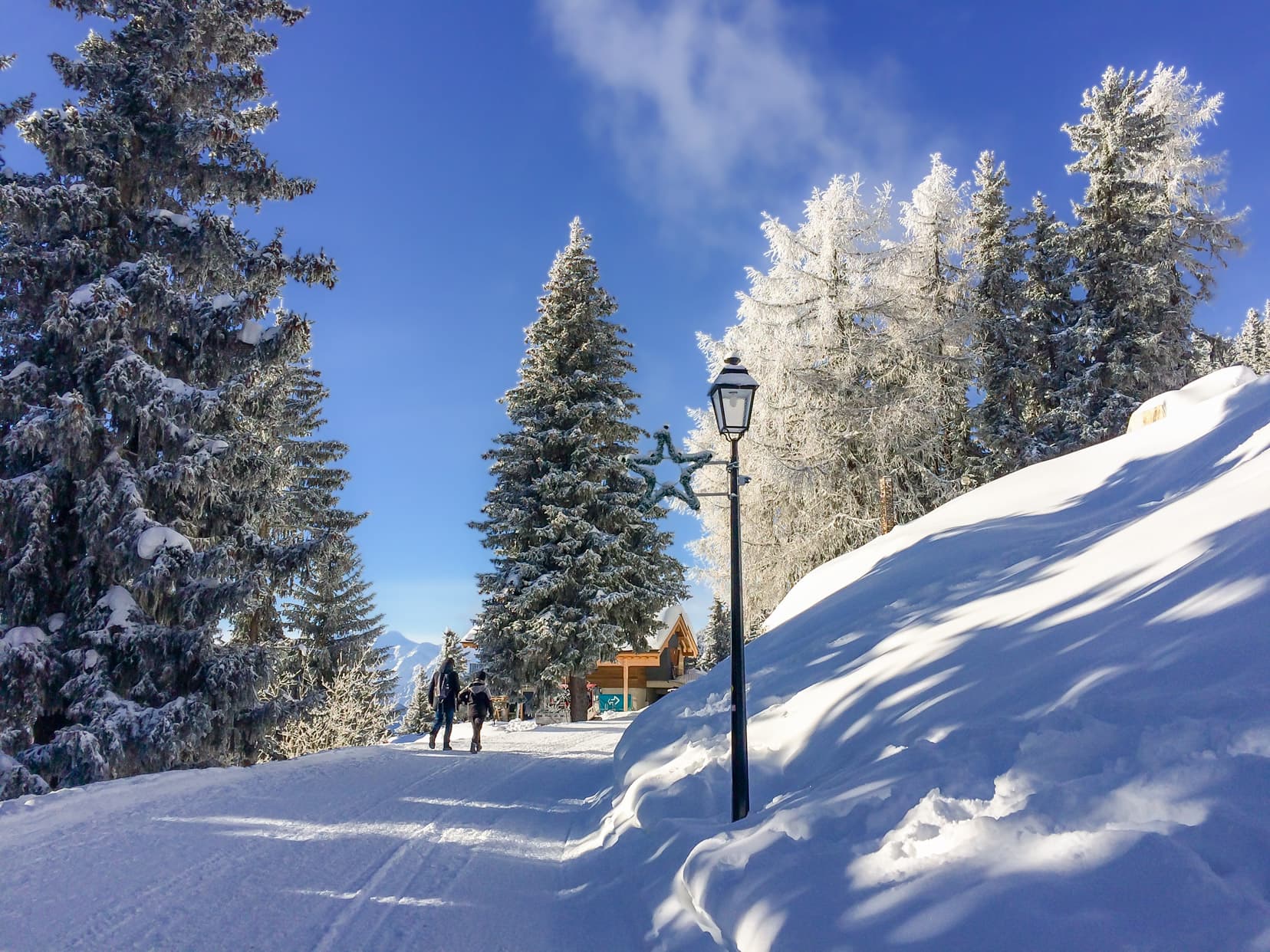 BETTMERALP SKIING RESORT MAP
The map shows various points of interest in Bettmeralp, such as the grocery shops, ski area, ski equipment hire and gondola points for Bettmeralp.
[The map can be expanded by using the broken square in the top right-hand corner and you will then be able to view the key on the left]
CHRISTMAS SKIING IN BETTMERALP
The Swiss Alps ski season begins just before Christmas, so when we arrived Bettmeralp was already becoming a vibrant hub of fun and festivity. The main street was abuzz with skiers, snowboarders and children being cheerily pulled along on toboggans.
Rustic and authentic Swiss chalets line the snow paths and Christmas decorations adorn the streets with fairy lights hanging from the chalets and restaurants -creating a perfect picture postcard Christmas scene.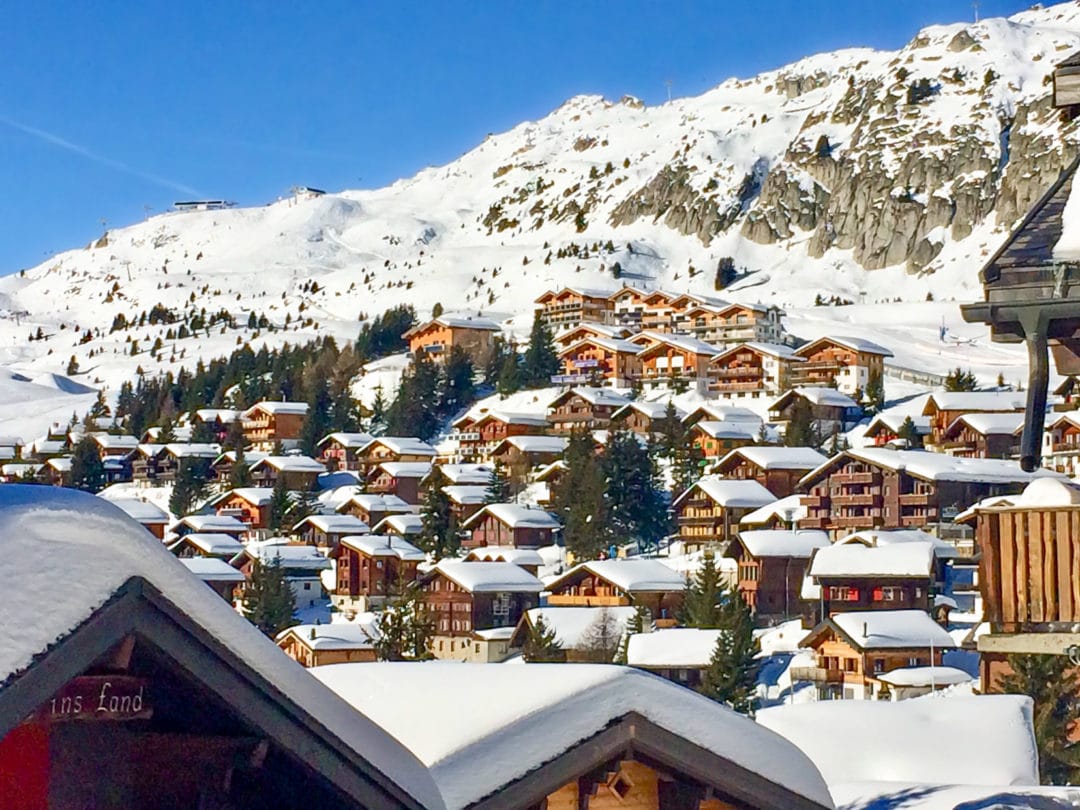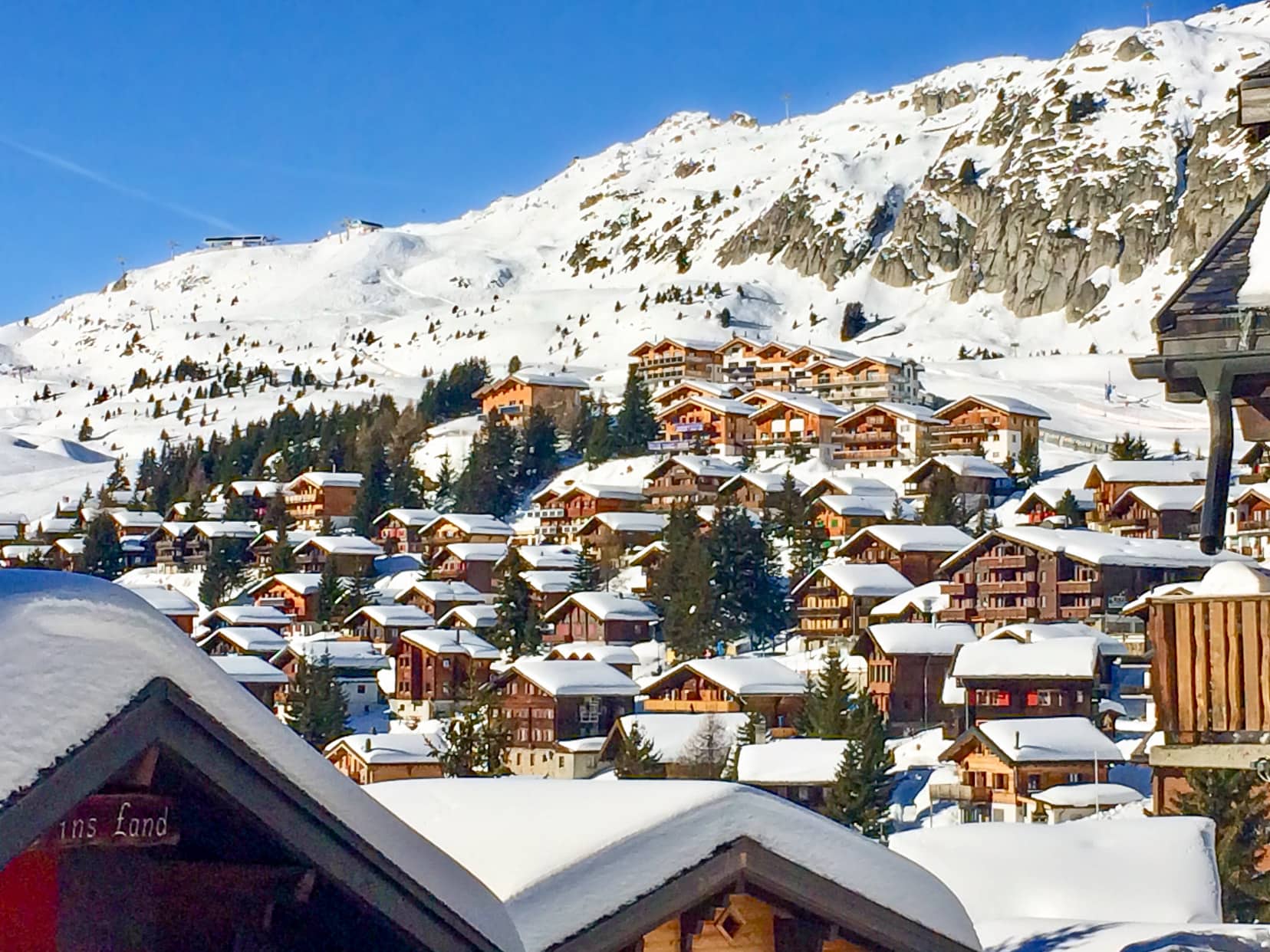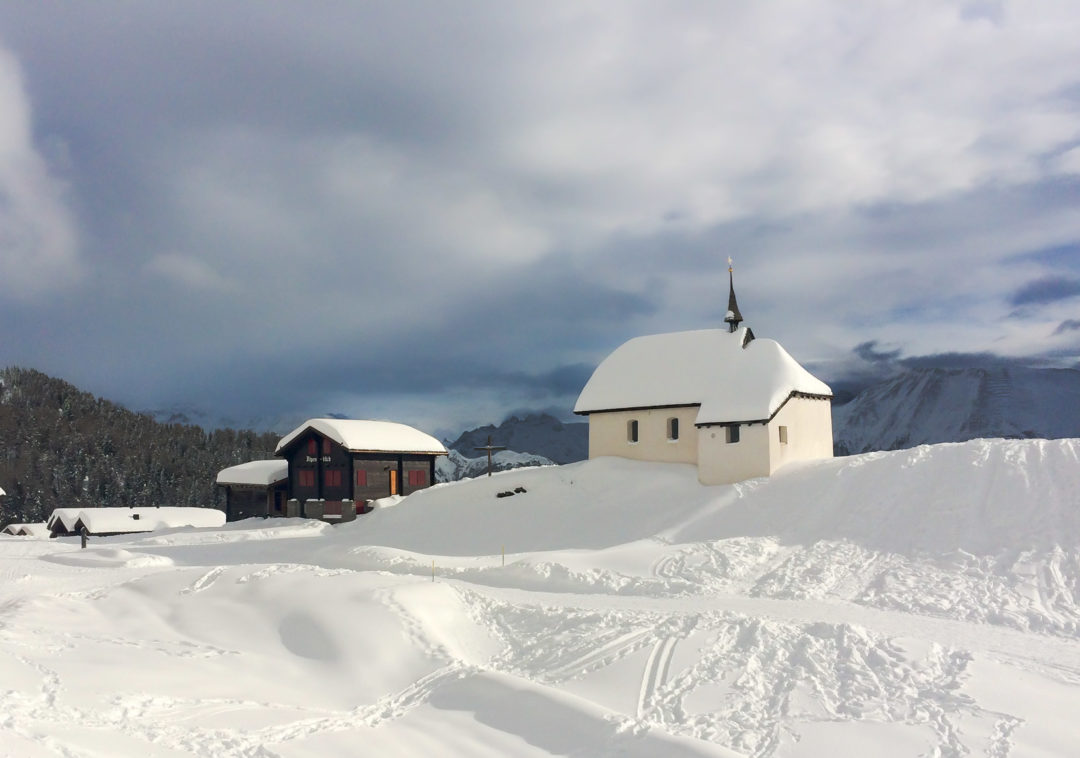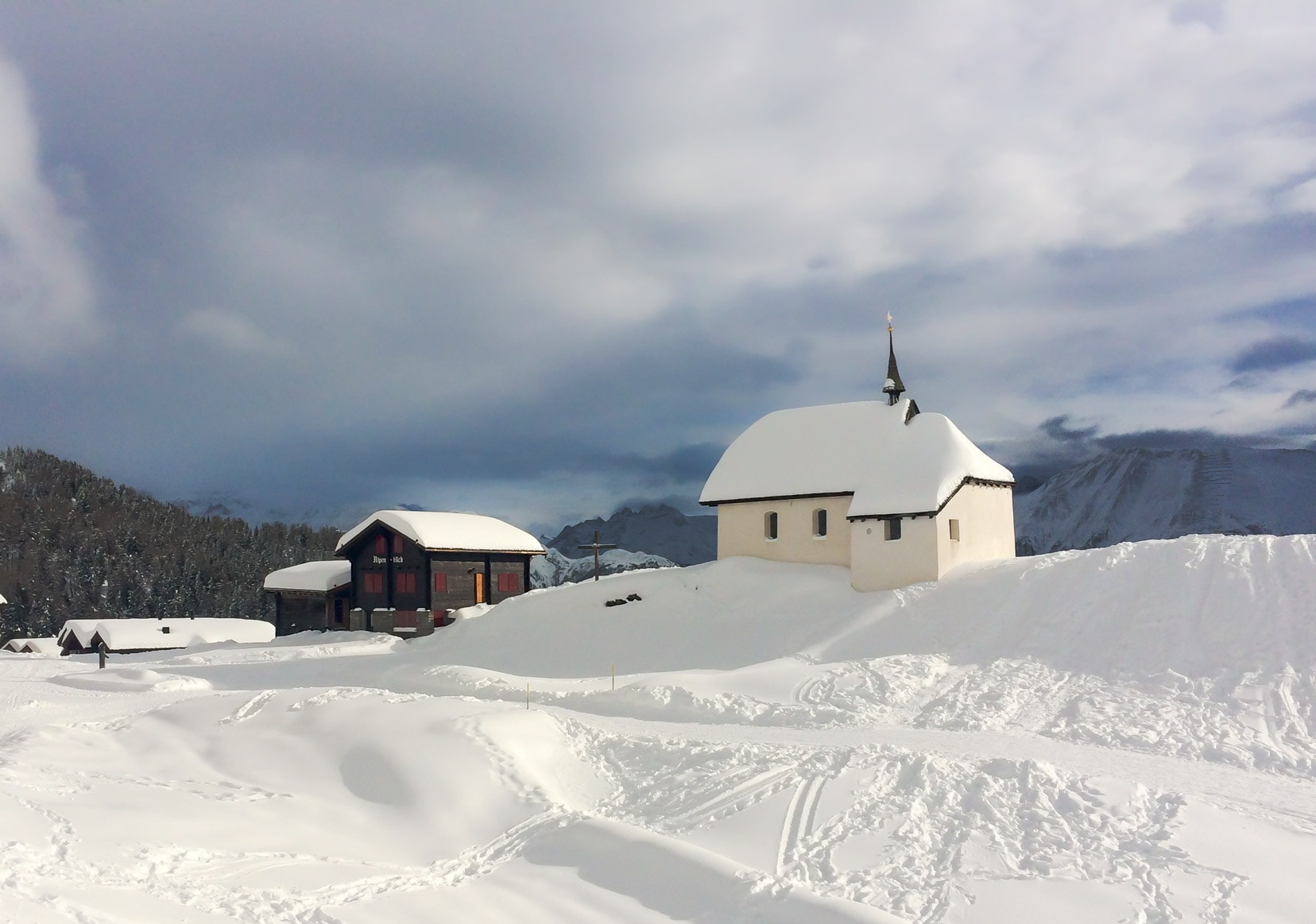 The little church at Bettmeralp has a twenty-four-hour webcam pointing at it, so you can see the snow conditions and weather any time you please.
Check out the Bettmeralp Chapel Webcam here.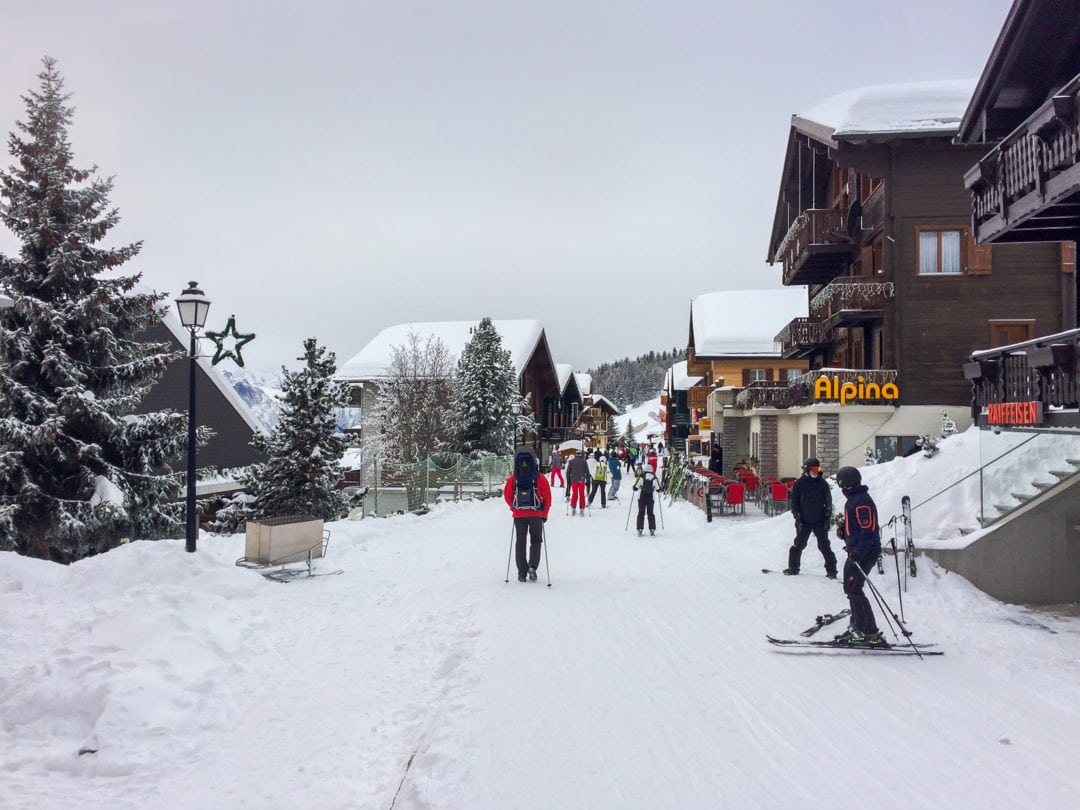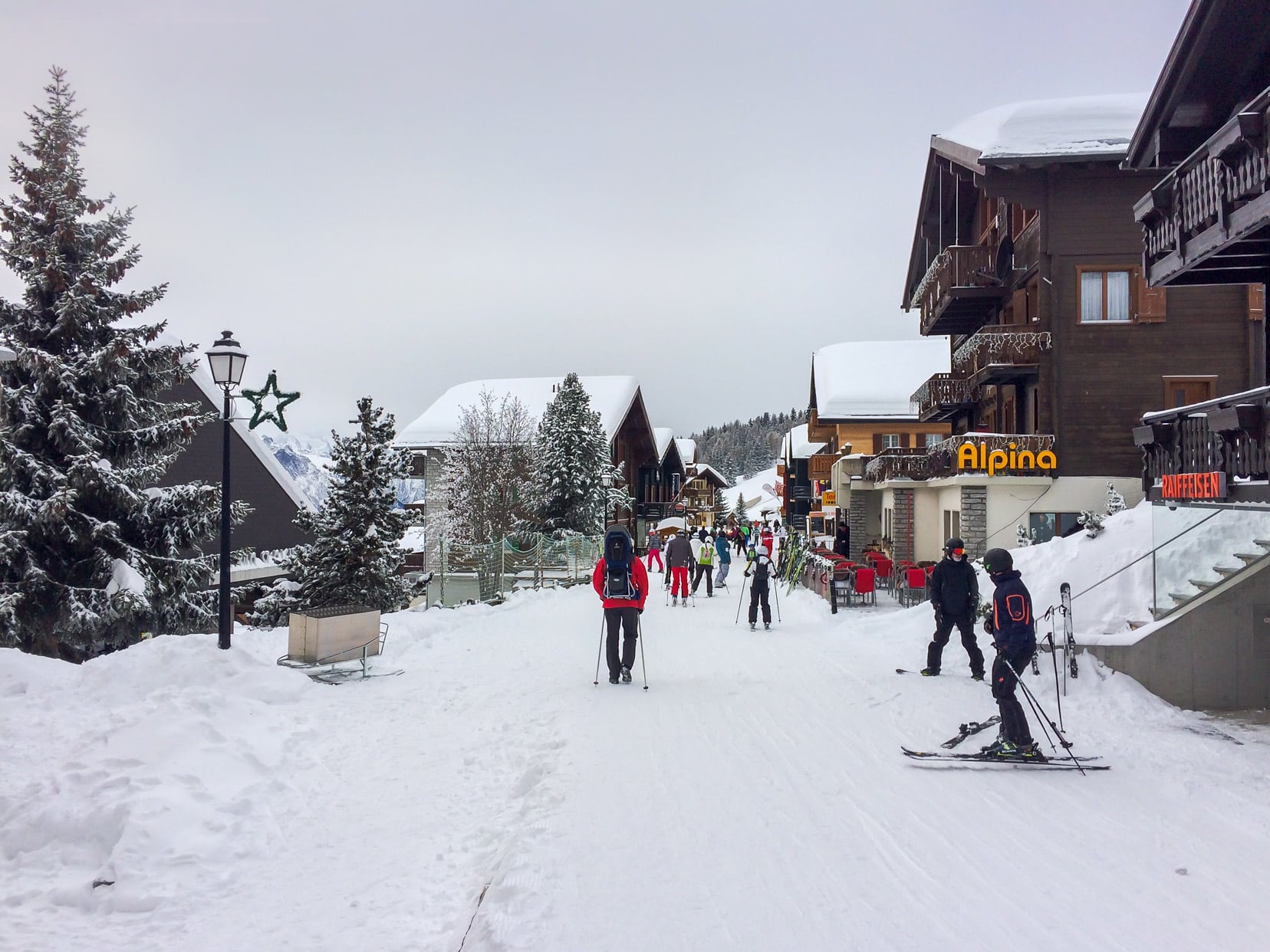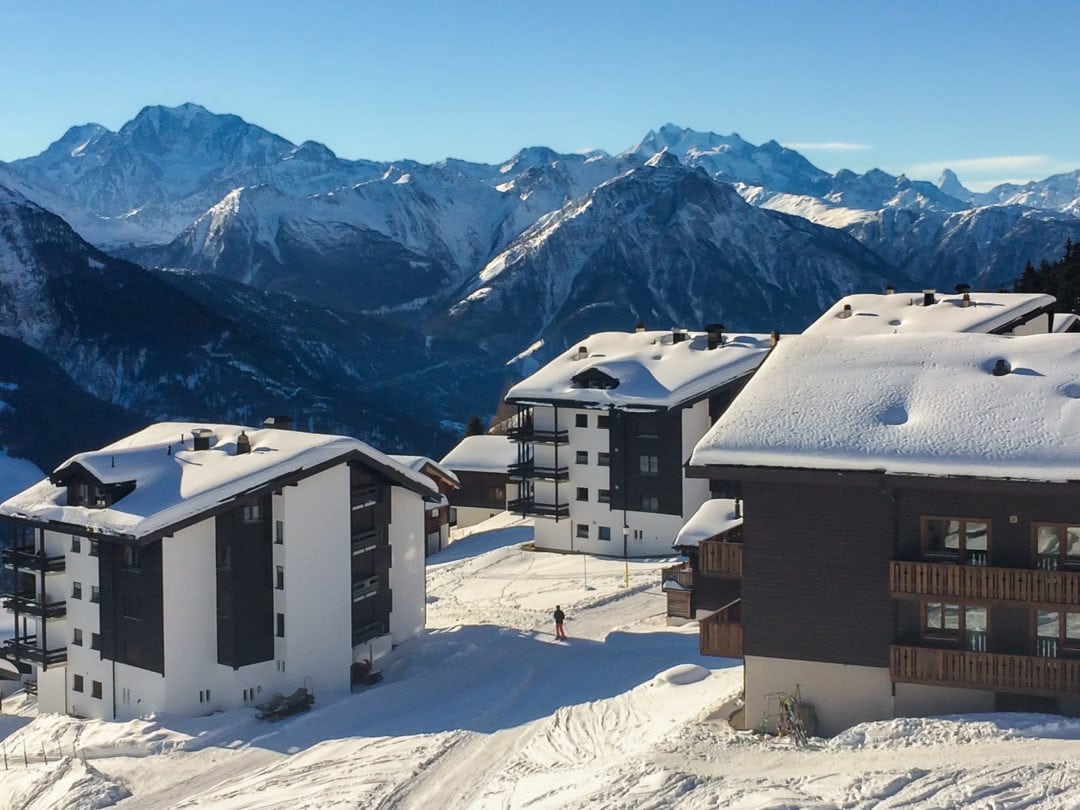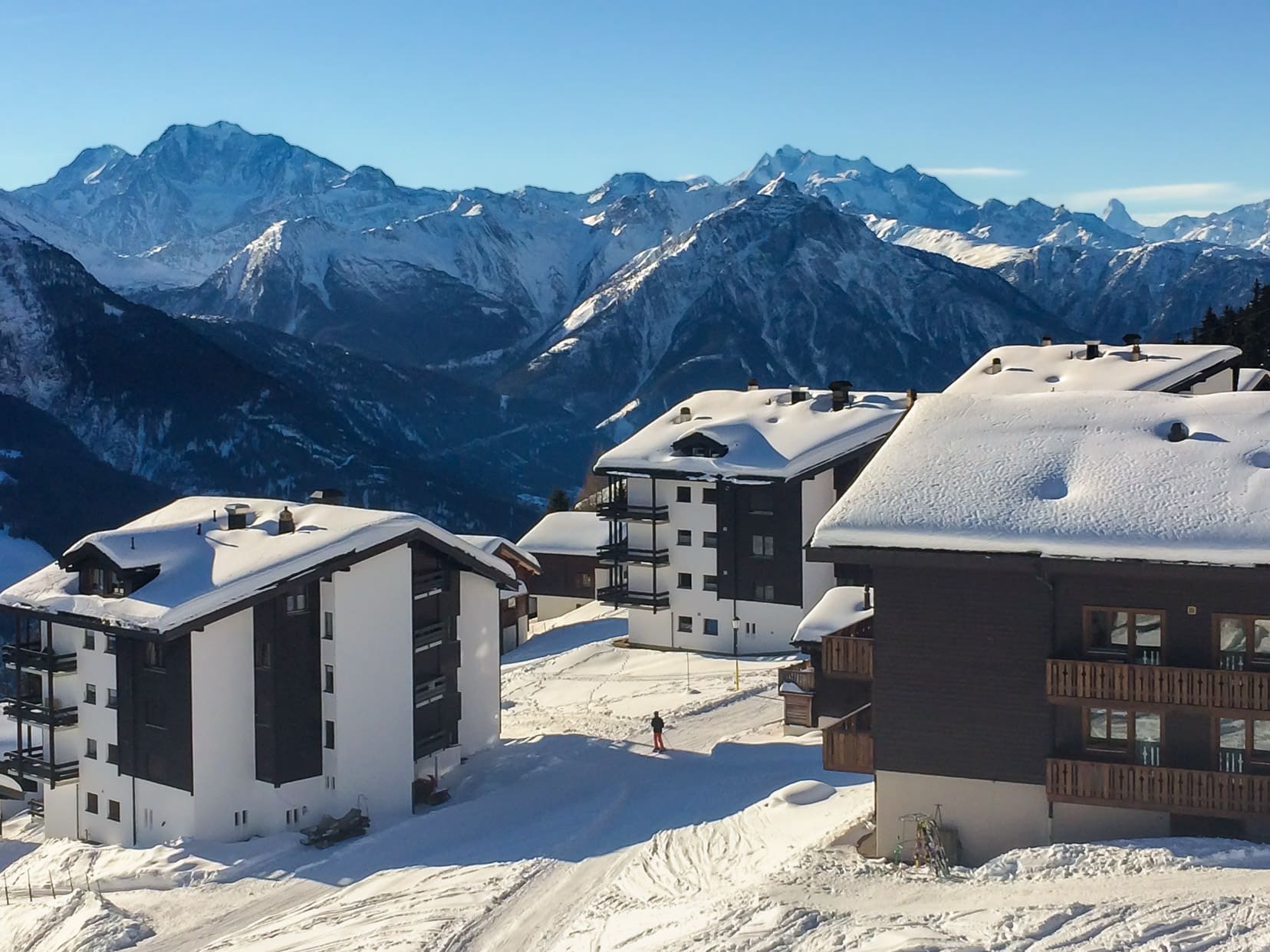 BETTERMERALP SKIING: GETTING STARTED
The only way to arrive for your skiing holiday at Betteralp is by cable car. The view of the Swiss Alps on the gondola ride up to the village is amazing. Stepping out of the Tall Station at the top, felt like we were walking out onto a different planet.
You can either hire a snowmobile taxi or walk with your luggage, (although it seems that a smart choice is to use a toboggan loaded with luggage to tow behind you).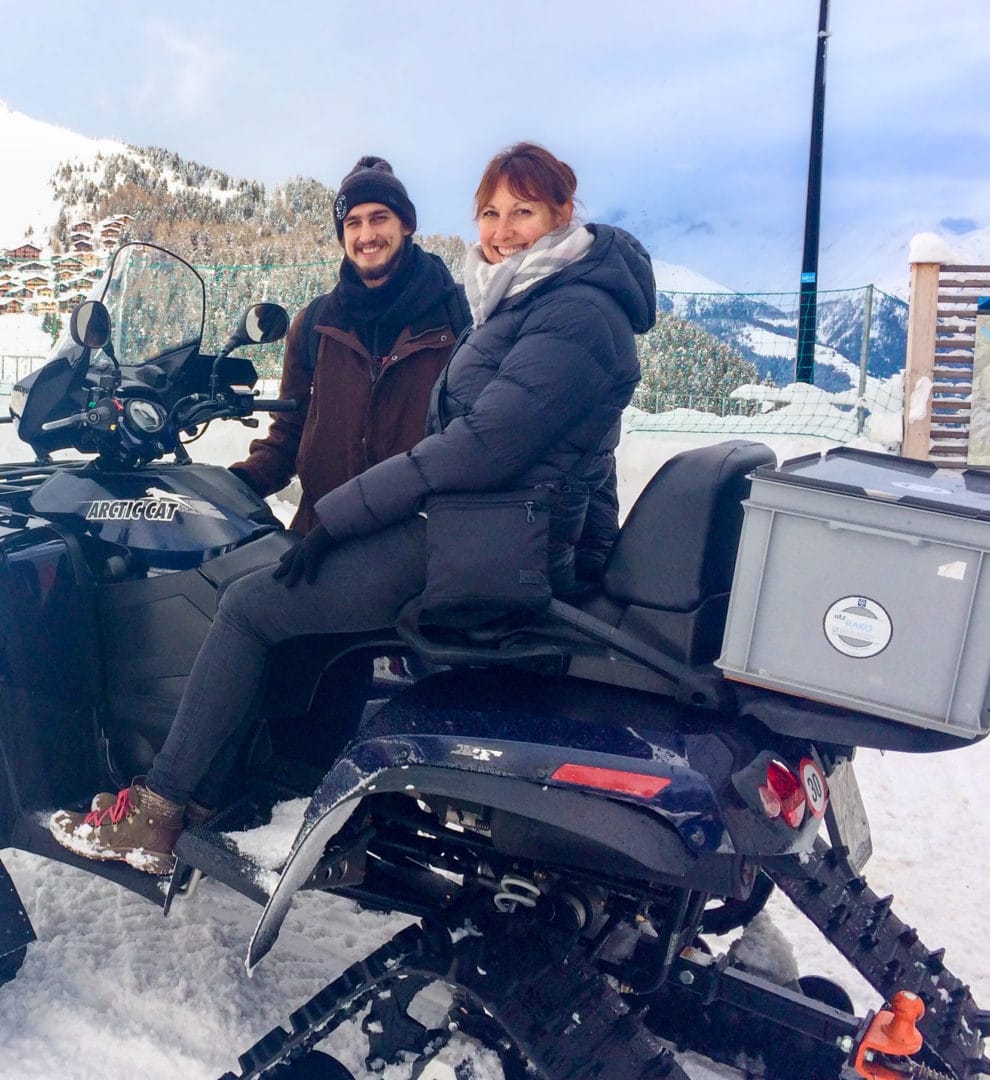 Ski Equipment Hire
There are two Ski/Snowboard Equipment Hire shops in Bettmeralp:
Mattig Sport
3992 – Bettmeralp, Tel: +41 (0) 27 927 13 01, Email: [email protected]
Derby Sport AG,
3992 Bettmeralp, Tel: +41 27 927 11 40, Email: [email protected]
Both stores sell and hire out equipment for beginners, experienced skiers or snowboarders.
With the Ski and snowboard equipment being so quick and easy to hire, we were ready to go in no time. The boys were off on the slopes snowboarding and already competing on who could handle the steepest slope.
BETTMERALP SKIING AND SNOWBOARDING VIDEO
Here's a quick snippet of our Bettmeralp skiing and snowboarding – and you can see how accomplished we are at the end 😉
BETTMERALP SKIING: RESORT INFORMATION
Bettmeralp is a car-free zone with only access by cable car
There are 35 lift facilities providing access to the pistes and skiers can ski right to their doors.
Bettmeralp Resort has been awarded the "Families Welcome" quality certificate and has a children's activity programme.
For more information and a review of the resort click here.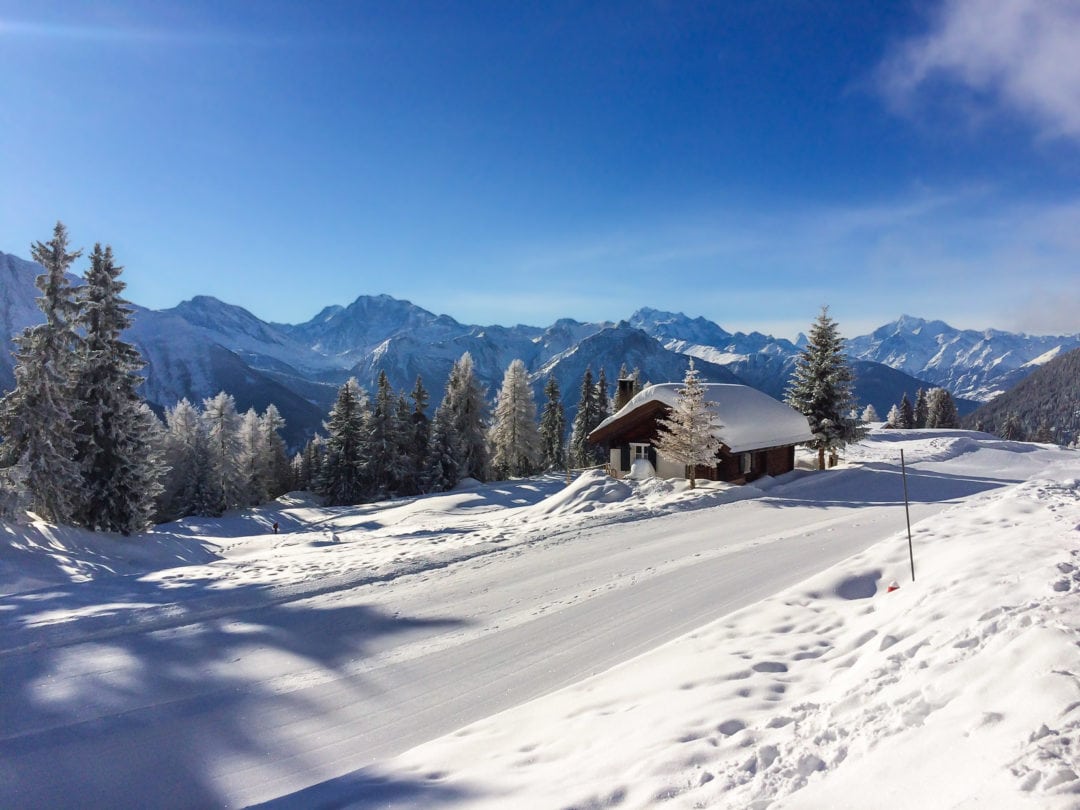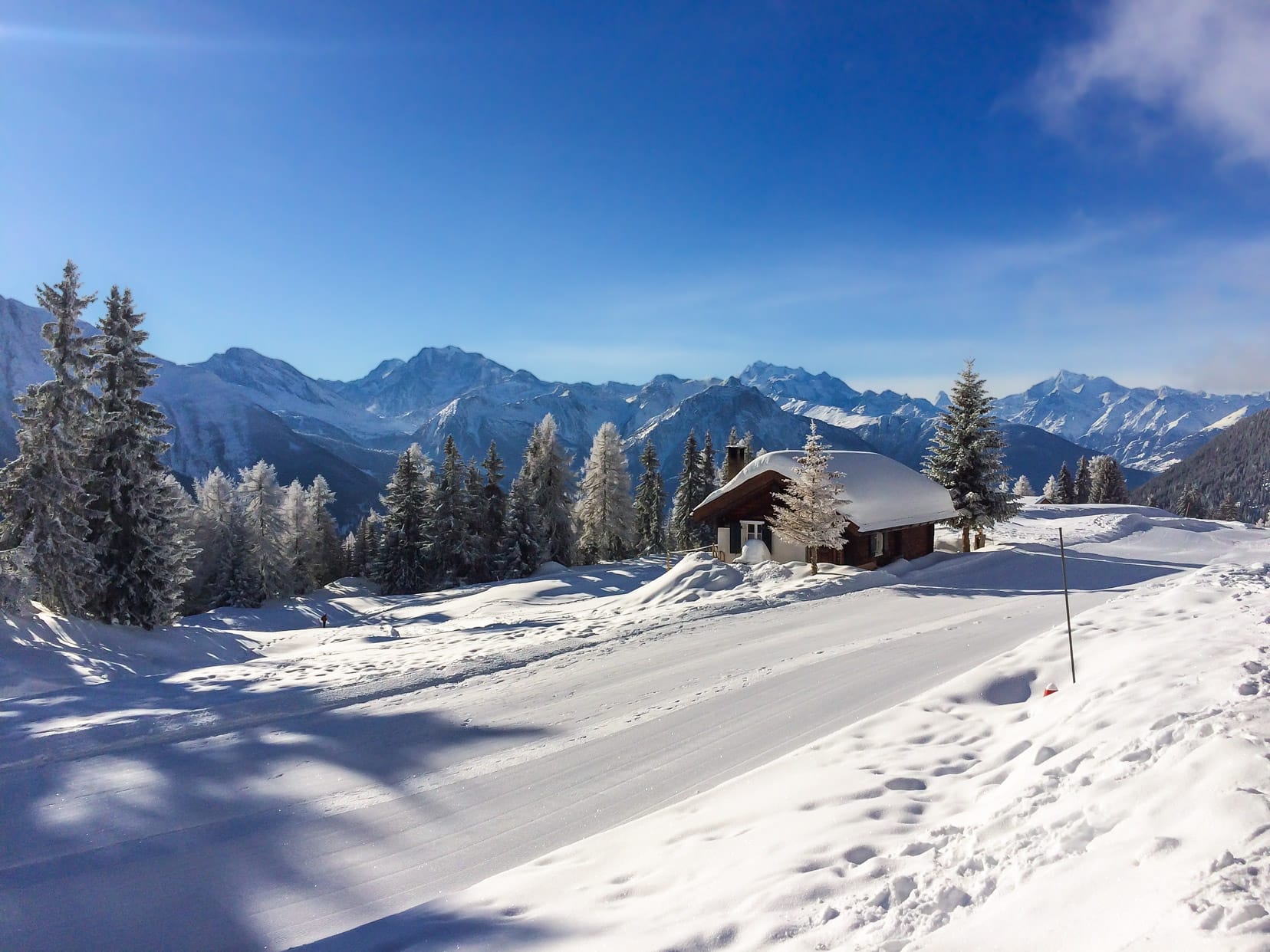 BETTMERALP SKI SCHOOL
Snow Passion  (We highly recommend this Bettmeralp ski school for young and old alike) — we are not affiliated.
Chalet Schwarzbueb, CH 3992 Bettmeralp, Tel: +41 27 927 30 39 , Email: [email protected], Website: www.snow-passion.ch
BETTMERALP SKI PASS
The Aletsch Arena ski pass covers Bettmeralp, Riederalp and Fiesch-Eggishorn.
Tickets can be purchased at the Bergbahnen cableway ticket offices or online.
You can purchase the following tickets for skiing in Bettmeralp:
Four-hour passes
Daily passes
Multi-day passes up to 21 days
Season passes
Annual passes
Valley – viewpoint single tickets (single or return)
Baggage carts (single or return)
For prices and more information click here.
BETTMERALP SNOWBOARDING
On the Kanzel/Salzgäb piste, there is the TFI Snowpark — with kicker lines, rail lines and halfpipe
PERFECT SWISS ALPS SKIING HOLIDAY
Spending Christmas skiing in Bettmeralp was a perfect family holiday.
The boys were off having fun in no time and we… well, we were learning to ski, which definitely seemed challenging with our not-quite-so-young bodies. Luckily we kept fit on our 'Europe year in the van' trip so the muscles weren't too sore and stood up to the test in the main.
Our technique, however, left much to be desired.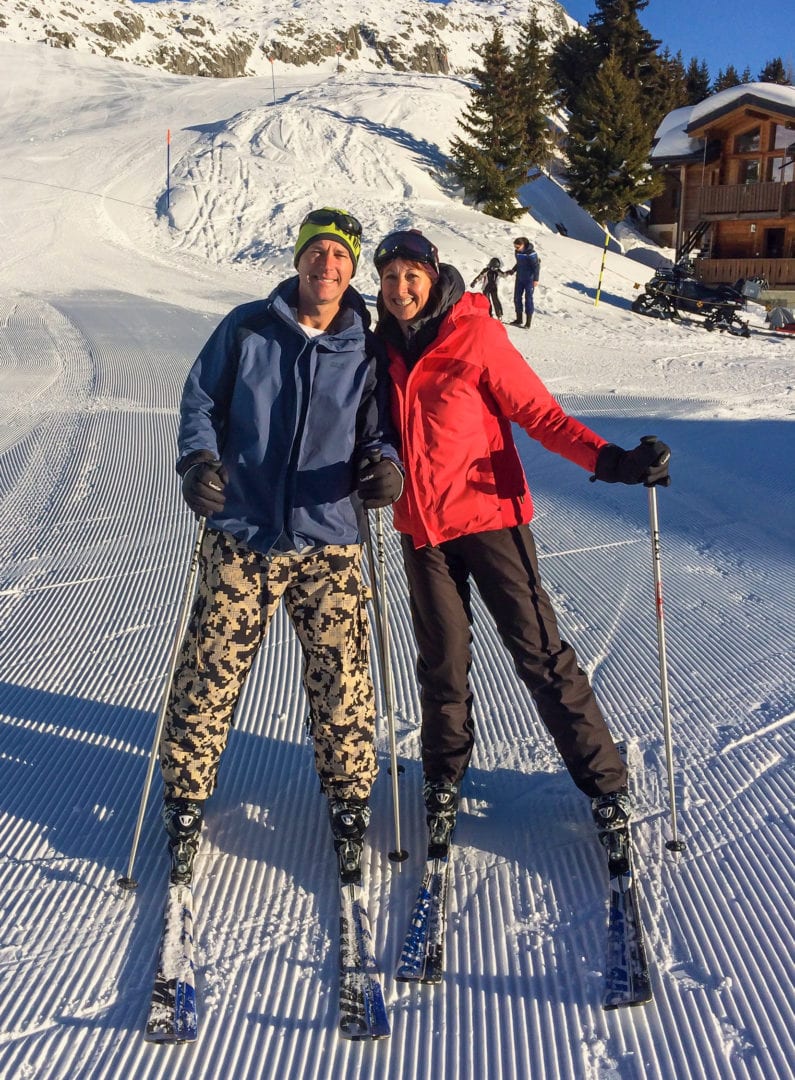 Fortunately, we had an excellent ski instructor, Marcus Rahm, from Snow Passion. He collected us daily from the chalet in his snowmobile and made us feel confident and comfortable on the slopes.
By the end of the week, we were skiing back to our apartment — well kind of. This was no mean feat, given our starting point of not even knowing how to put on our boots.
I would thoroughly recommend ski instructors, Marcus and his wife Innes, who also speaks many European languages. They live in Bettmeralp and teach both beginners and the most experienced of skiers.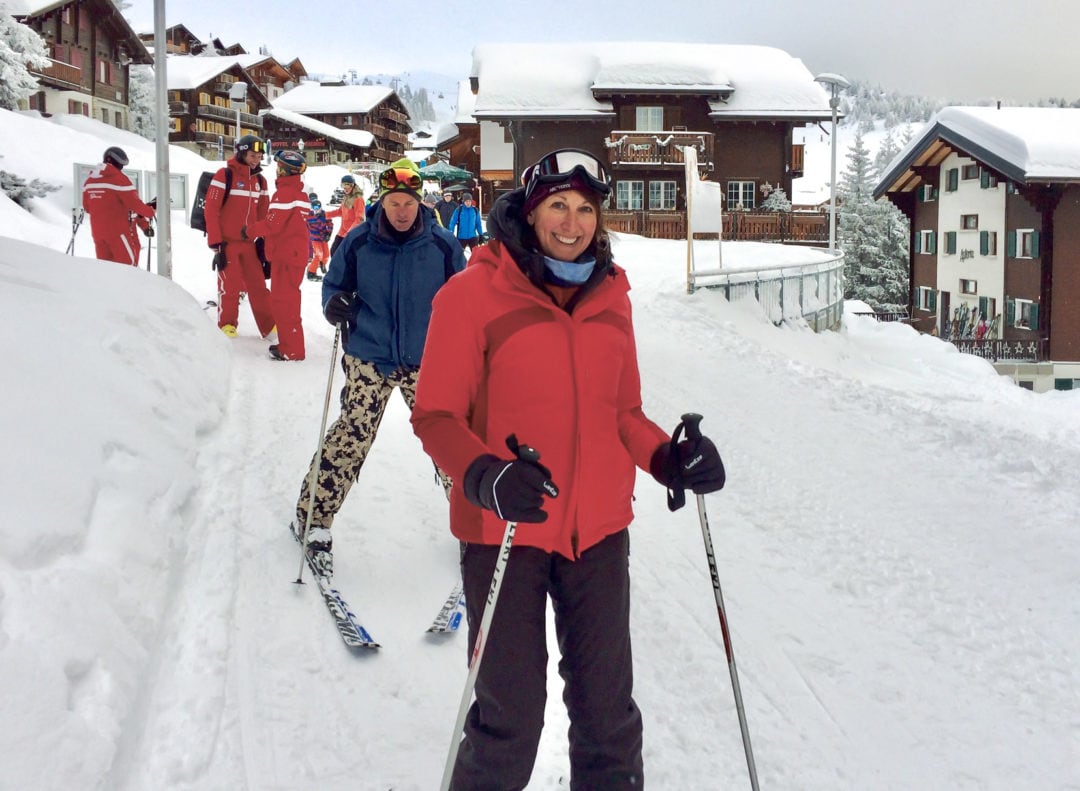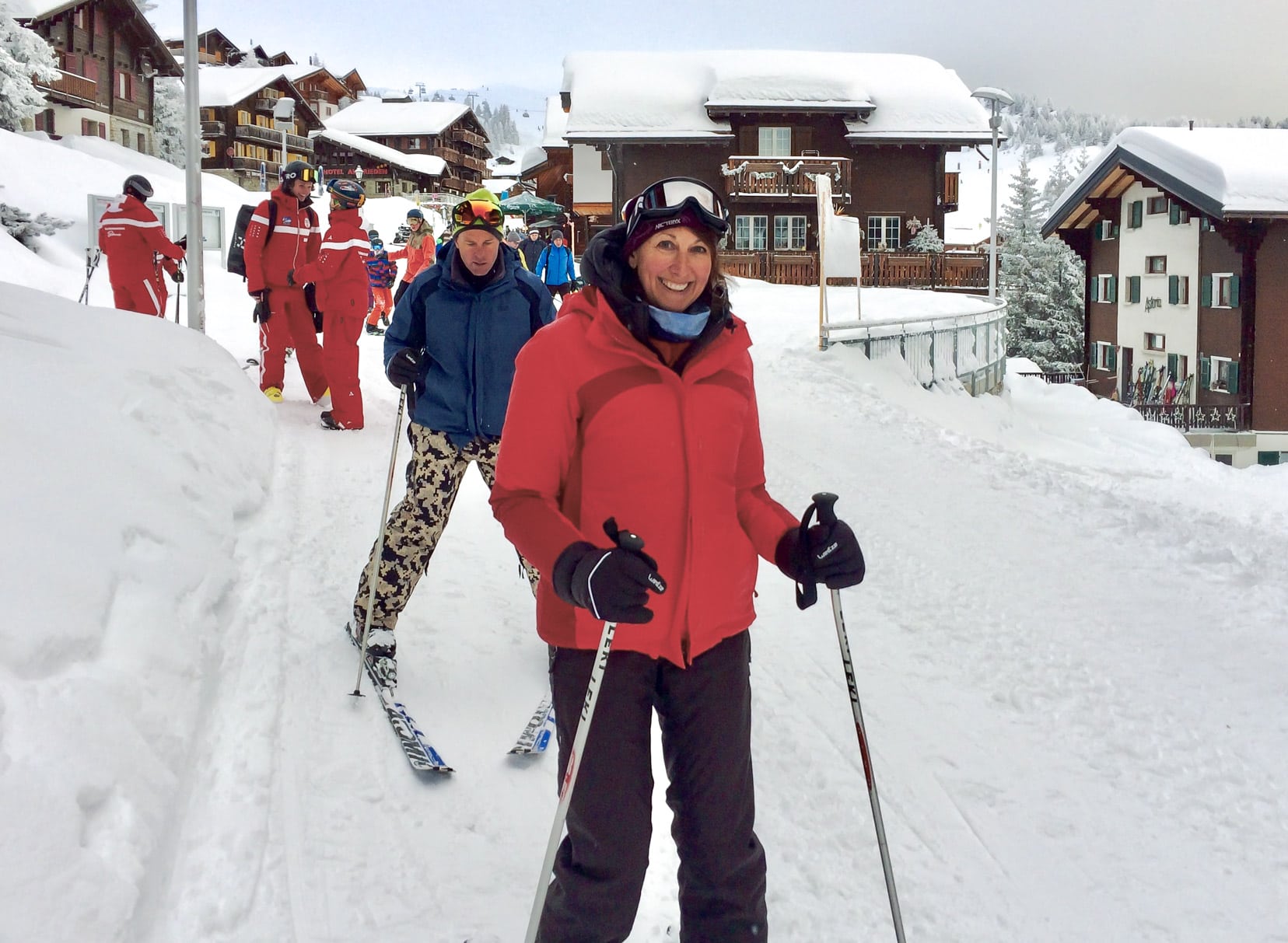 WINTER SCENERY IN THE SWISS ALPS
When we weren't skiing, we were taking beautiful walks and becoming increasingly enchanted by this mystical place.
Snowploughs regularly cleared most of the main routes but if you walk off these areas, you could find yourself knee-deep in the powdery snow. There were a few occasions we were waist-deep — such fun.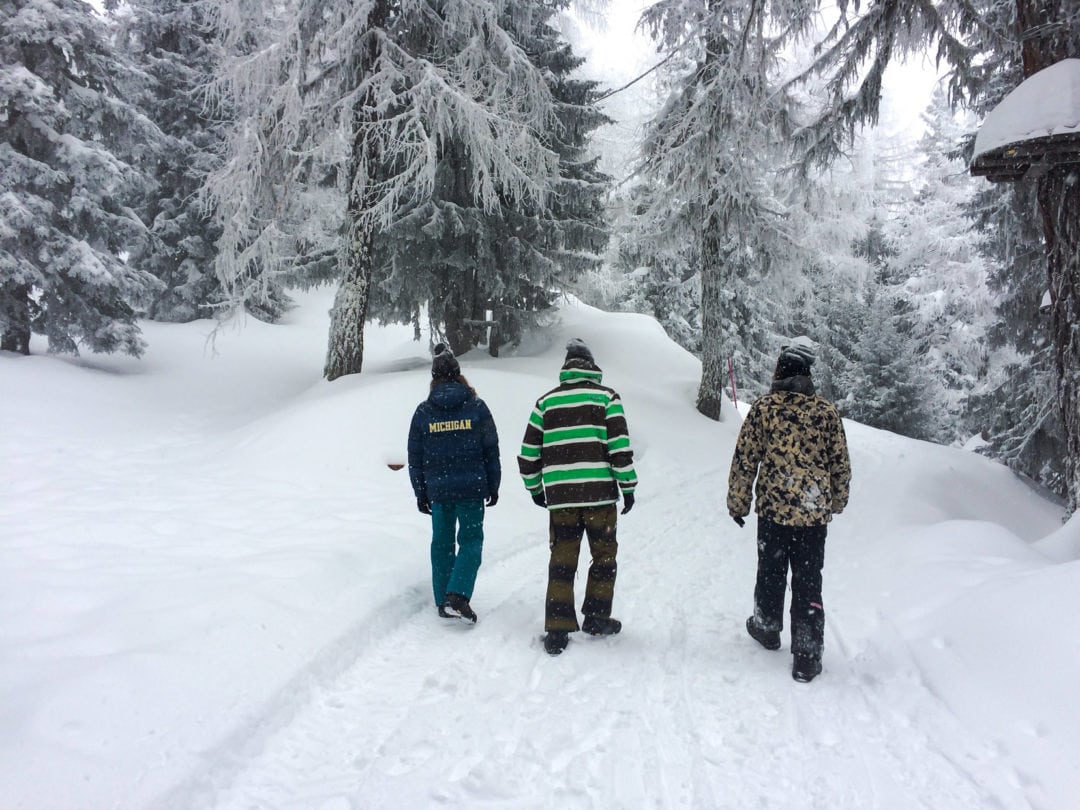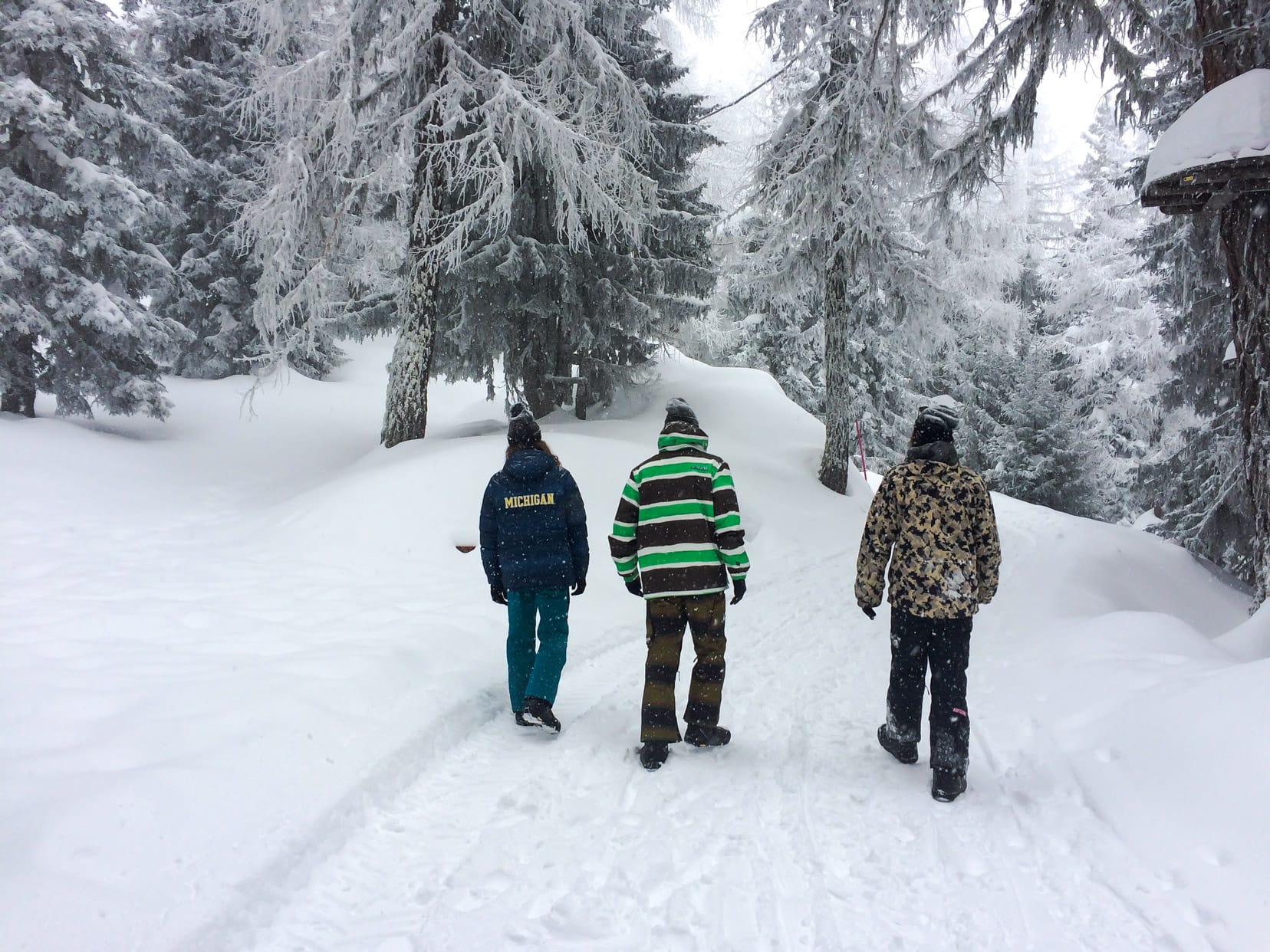 BETTMERALP SKIING: GOOD TO KNOW
---
BETTMERALP SKIING: CHRISTMAS OPENING HOURS
Skiing Season Dates: Winter season 2022/2023: 8 December 2022 to 15 April 2023
The restaurants, bars and shops were open every day, including Christmas Day.
SUPERMARKETS IN BETTMERALP
There were two small supermarkets that stocked most of the foods you would need. Bear in mind, however, that the Swiss Christmas customs may be different to your own.
In our case, we could not find Christmas puddings or cranberry sauce. That's part of the fun of travel though — adjusting to new customs.
BETTMERALP ACCOMMODATION
We booked our Bettmeralp chalet in July but surprisingly found that many were already booked. Therefore, our advice would be to organise your accommodation early. Some chalets book out over a year in advance. Which shows how popular the place is.
SEARCH BETTMERALP ACCOMMODATION HERE
TRAVELLING TO BETTMERALP SWITZERLAND
TRAVELLING TO BETTMERALP BY SWISS RAIL
Zürich > Brig > Betten Talstation > Bettmeralp
The train from Zürich to Brig takes about two and a half hours and is a comfortable ride.
From Brig, there is a short ten-minute train ride to Betten Talstation.
From here you catch the Cable Car up to Bettmeralp, the car-free alpine village high in the mountains.
Note: Booking online at SBB ( the National railway line of Switzerland) a month before we travelled and buying a 'Saver Day Pass', resulted in about a fifty per cent fare saving.
These tickets are only available a month prior and the earlier you buy them the cheaper they are.
With the 'Saver Day Pass' you can travel the whole of Switzerland on that scheduled day on all routes, whether on SBB trains or trains of other rail companies including boats, buses and trams.
TRAVELLING TO BETTMERALP BY CAR
If you are driving to Bettmeralp (it takes about 4 hours from Zurich) then you will need to leave your car in the parking area near Betten Talstation (Gondola).
Bettmeralp Skiing … That's a Wrap
With snow activities for all Bettmeralp is the ideal place for a Christmas Skiing trip with the family.
Please let us know if you would like to know anything else about Bettmeralp skiing and we'll do our best to answer your queries.
Shelley and Lars
Pin and Save for Later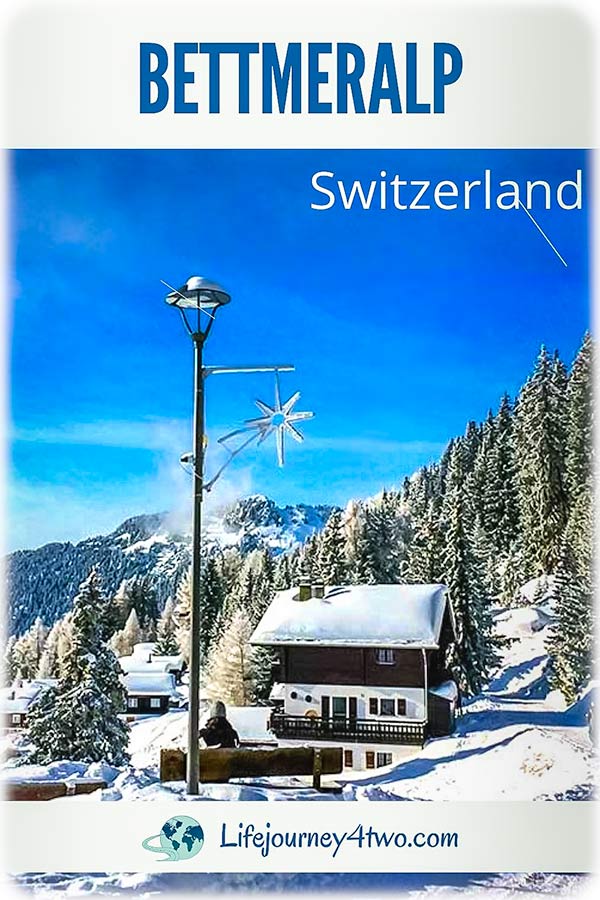 YOU MAY ALSO ENJOY READING :
PLANNING YOUR TRAVELS?
These are some of the travel resources we use when planning our trips.
For a more thorough list visit our Travel Resources page here.