MARRAKECH TO AIT BENHADDOU
If you are staying in Marrakech, Morocco, then it is well worth taking a day trip from Marrakech to Ait Benhaddou to visit the ancient kasbahs of this red earthen village. It was once on a caravan route between the Sahara and Marrakech and this scene seems straight out of a desert movie.
In fact, Ait Benhaddou has played host to the epic movie, Gladiator, the hit series Game of Thrones and many more famous films.
Arriving from Marrakech,  Ait Benhaddou sits as if a mirage in the foothills of the Atlas Mountains. Its ancient buildings hold memories of this once bustling trading post; a welcome sight to the nomadic travellers trekking across the Sahara Desert.
It will enthral and entice you, as it has so many.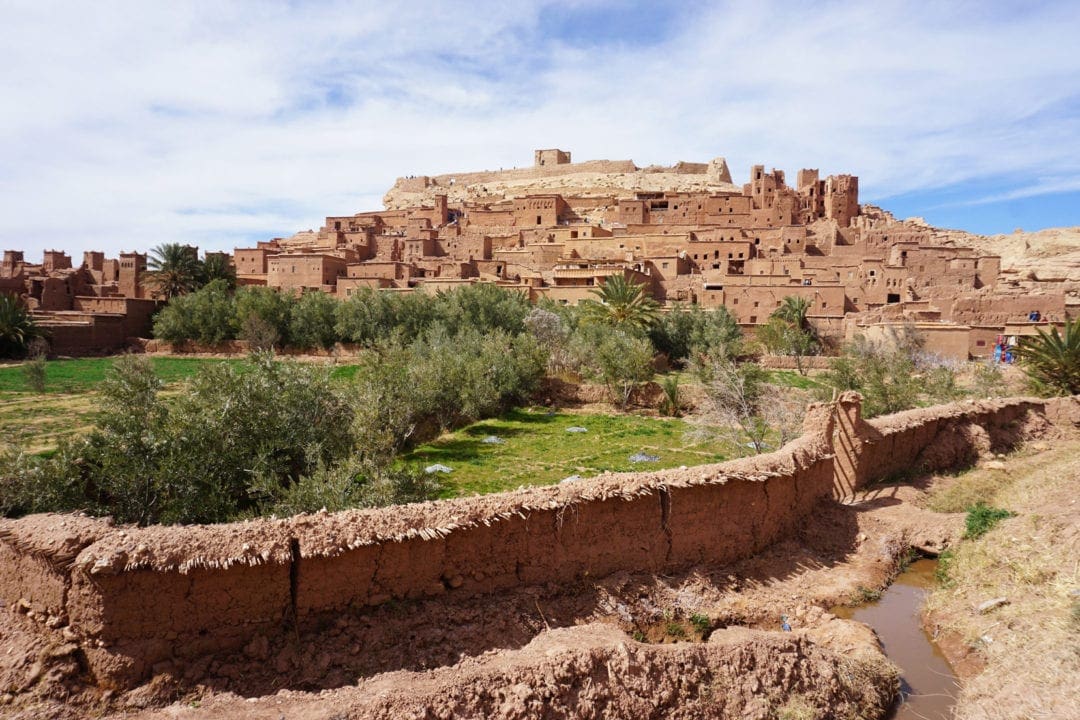 BOOKING A DAY TRIP FROM MARRAKECH TO AIT BENHADDOU
The company we booked our private day trip tour from Marrakech to Ait Benhaddou no longer exists, but there are several options of day trips to choose from.
It is a long day but so worth the visit. Check out these options below and see which takes your fancy. 
Many day trips from Marrakech to Ait Benhaddou also include a trip to Ouarzazate, but we chose to just visit Ait Benhaddou to maximise our time there. 
The one-way drive time from Marrakech to Ait Benhaddou took around four hours, including stops along the way at the following places:
DAY TRIP TO AIT BENHADDOU MAP
DAY TRIP MARRAKECH TO AIT BENHADDOU
---
Driving from Marrakech, Ait Benhaddou is reached via the Tizi n'Tichka Pass through the Atlas Mountains. On the way, we passed roadside markets and stopped off at a women's cooperative.
ROADSIDE MARKETS IN THE ATLAS MOUNTAINS
Along the side of the road in the Atlas mountains were hawkers with mineral rocks and stones along with pottery and wooden wares on sale. Our driver told us that some of the vendors add dye to the crystals to enhance their colour – so buyer beware!
TIZI N 'TICHKA MOUNTAIN PASS
On the route to Ait Benhaddou from Marrakech, you cross the Atlas Mountains through the pass of Tizi n'Tichka, at an altitude of 2260m. In fact, this is the highest road mountain pass in North Africa and follows an old caravan trail.
Beyond the pass, the road descends into the stony Sahara Desert. An hour or so later, you will gaze upon the amazing Ait Benhaddou.
It had been a particularly cold Moroccan winter and we could see the snow line down as low as 500m altitude. We were told that it had even snowed in the Sahara which was quite a rare occurrence.
ARGAN OIL WOMEN'S COOPERATIVE
At this cooperative, you can watch the Berber women use traditional methods of extracting Argan oil from the Argan nut. This oil can be used with dipping bread and also as a natural skin product.
There was free tasting on offer which I made good use of. 
PHOTOGRAPHIC STOPS IN THE ATLAS MOUNTAINS
The winding road through the Atlas Mountains was undergoing plenty of construction when we were there, but we still had ample opportunity to capture some magical photos of the surrounding landscape.
 AIT BENHADDOU ARRIVAL
Arriving at our destination, we had lunch at a large restaurant overlooking the mystical Ait Benhaddou.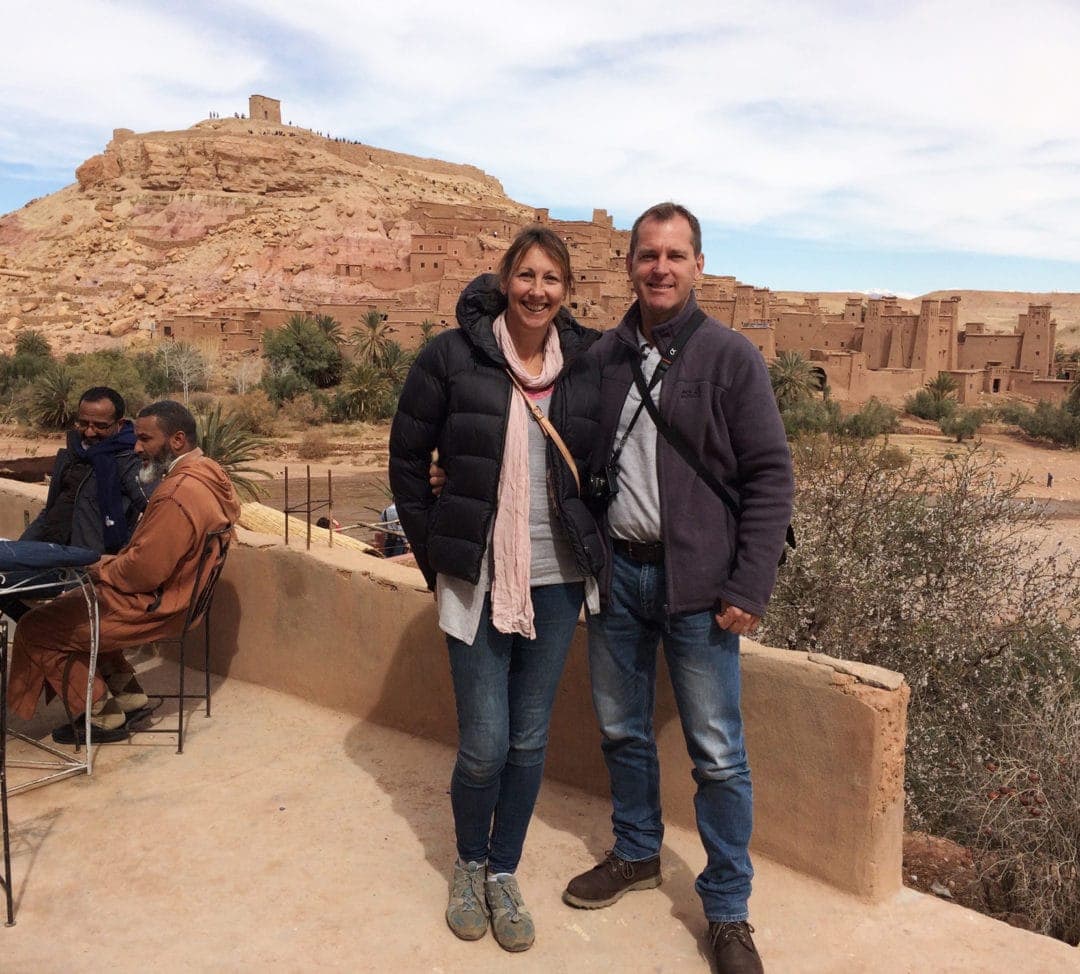 Access to this fortified village is either by bridge or by crossing the river by stepping on sandbags. We chose the sandbags as it was a fun option and made for an easy crossing.
After paying an entrance fee, a path leads you past the many Ait Benhaddou Kasbahs (merchant houses). Following this path to the very top of the hill will take you to the old granary. You can't enter the granary, but from up here you have uninterrupted views over Ait Benhaddou and the beautiful, wide-open desert landscape.
Nearby, we stopped and listened to a Berber proudly playing his Ribab (a traditional Moroccan one-stringed instrument).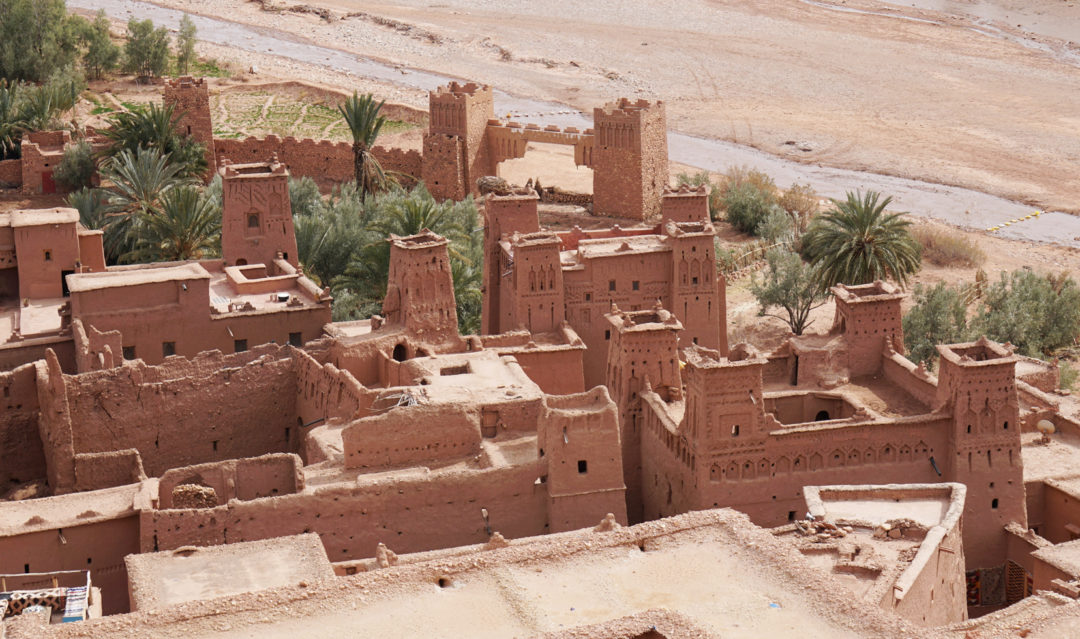 Descending the hill, we walked around the Ait Benhaddou Kasbahs and found one that was open to tourists for a small fee. We entered and agreed to pay an extra 50 Dhs for a local guide — his name was Kachir Jamal and he spoke excellent English. Jamal talked of the different household items within the Kasbah and his explanations were invaluable.
BERBER WHISKY IN AIT BENHADDOU KASBAH
Jamal then asked us if we would like to join him for Berber Whisky (not a whisky but a local Berber herbal tea) at his family's Kasbah close by. Absolutely
We met his family, drank tea and ate nuts grown from their plot of land down in the valley.
We talked about his family's life in the Kasbah and although simple, he said it was one of contentment. There was no electricity in his Kasbah and the only trappings of the modern world we saw was the gas-powered stove in the kitchen.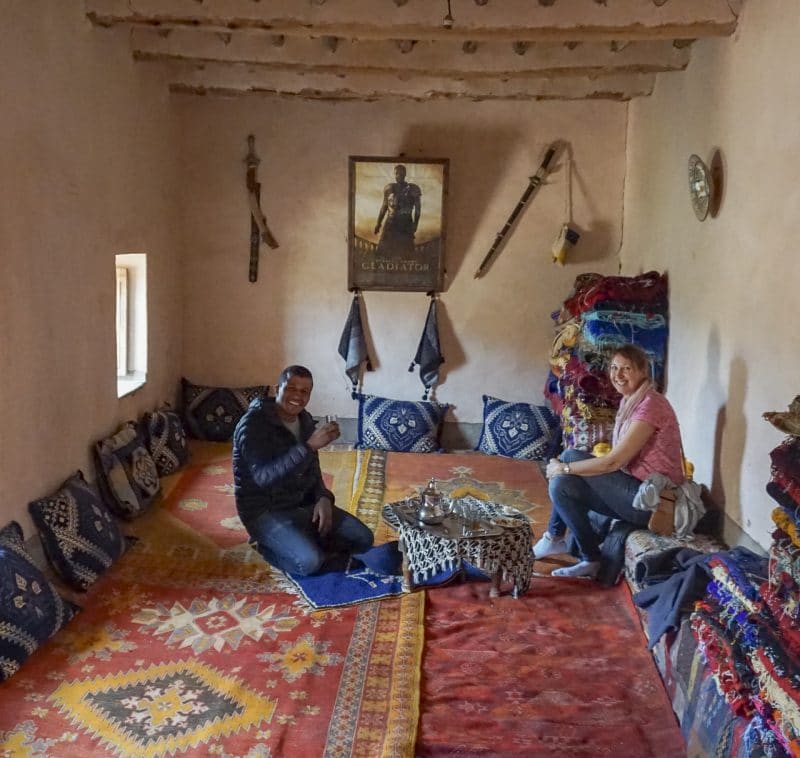 Also in his Kasbah were many beautiful carpets for sale; handmade by his mother and other women of the area. We were shown a few of these amazing pieces of work. Just beautiful pieces of art. Admittedly we were likely invited back for tea to be shown the carpets in the hope that we would buy one. I guess you can't blame the locals for trying to make a living.
It is common to find that the ground level of the Kasbah often houses a stable with sheep and chickens, so the residents can be as self-sufficient as possible.
Other Day Trips from Marrakech
This was a fantastic trip and if you are in Morrocco for a few days, you may want to venture on a longer trip and perhaps explore the desert life a little more.
Another trip we took was to visit the Ouzoud waterfalls and see the wild Macaque monkeys, but there are several options to choose from.
You may like to browse other day trips from Marrakech on Viator Tours here  or check out the tours below:
MARRAKECH to AIT BEN HADDOU … That's a Wrap
We had a fantastic day trip from Marrakech. Our total time spent at Ait Benhaddou itself was about three and a half hours. It gave us enough time to absorb the majestic scenery, gain an understanding of Berber life in the Sahara desert and just imagine what once was.
It's a must-see destination to include on any adventurer's agenda when travelling in Morocco.
Do you have any favourite Moroccan trips or sites you can recommend?
We plan to go back so it would be great to hear from you.
Pin and save for Later
YOU MAY ALSO ENJOY READING: