Things to do in Marrakech – 6-Day Itinerary
In a country rich with history and culture, Marrakech is a city with unbelievable diversity, vibrancy, culture and a hint of Medina madness.
We spent 6 days in Marrakech and have included all the best things to do with your time here, as well as practical tips for navigating this iconic African country.
This medieval city is filled with exotic sights, sounds and smells and if this is your first visit to Marrakech, then it may feel unfamiliar and overwhelming.
This guide, on what to do in Marrakech in 6 days, will help you plan your time and make your enjoyment of the sights and rhythm of this 1000-year-old city more hassle-free.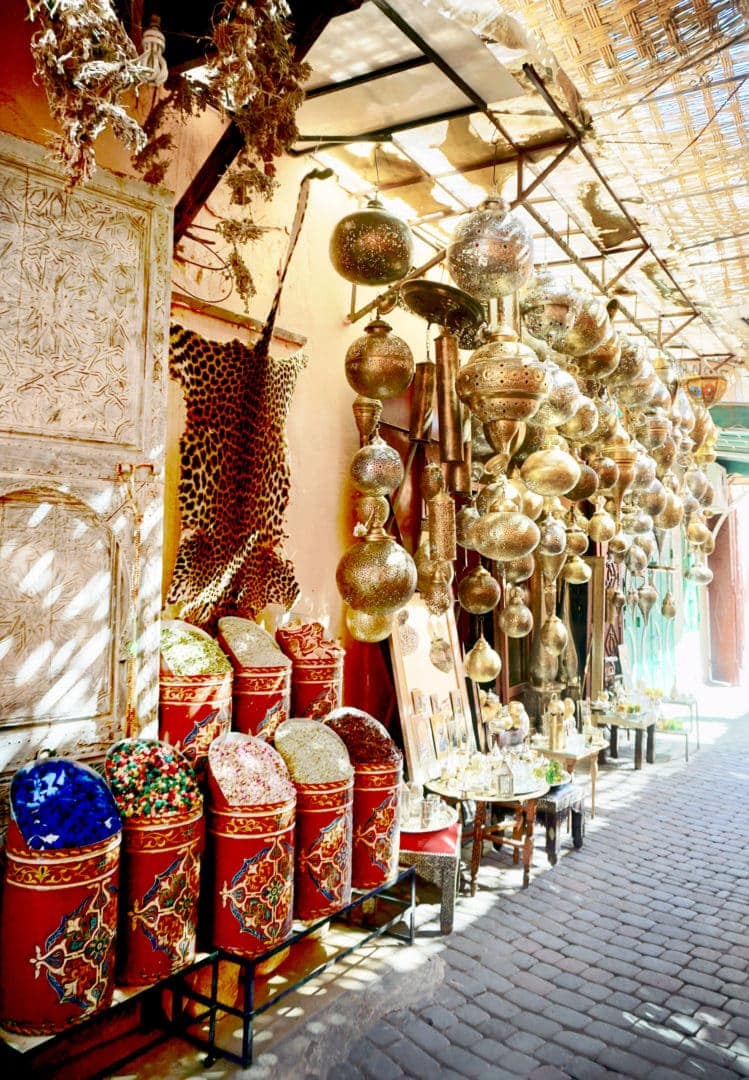 Planning a Trip to Morocco?
Marrakech Map
This map shows the location of all the attractions and experiences listed in our things to do with 6 days in Marrakech.
Zoom out on the map to locate the day trip locations: Ait Benhaddou and Ouzoud Waterfalls.
Things to do in Marrakech
---
Things to do and places to see in Marrakech and its surrounds when visiting Morocco over 6 days.
1. MARRAKECH MEDINA
The Medina is the old fortified part of Marrakech and lies inside the walls of the city.
It is a UNESCO World Heritage site and is the heartbeat of historical Marrakech.
Here you'll find many types of souks selling their own specialised products, hawkers selling photos and lamps, restaurants with waiters beckoning you in, age-old cafés and a mass movement of people to-ing and fro-ing below the ancient earthen fortress walls.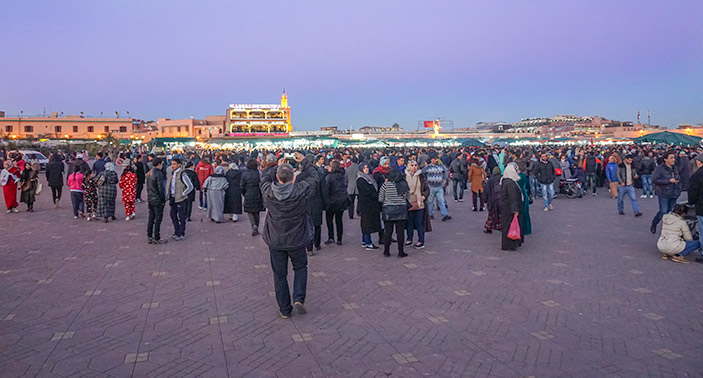 2. JEMAA EL-FNA SQUARE
Jemaa el-Fna Square is Marrakech's central square and marketplace in the Medina quarter.
By day snake charmers, monkey handlers and fruit stalls inhabit the square.
As the sun begins to set though, the square undergoes a transformation.
Locals start drifting towards this central meeting place making it a lot busier than during the day. The animal handlers retire and make way for food stalls, storytellers, performers and musicians.
The energy of Jemaa el-Fna Square really ramps up.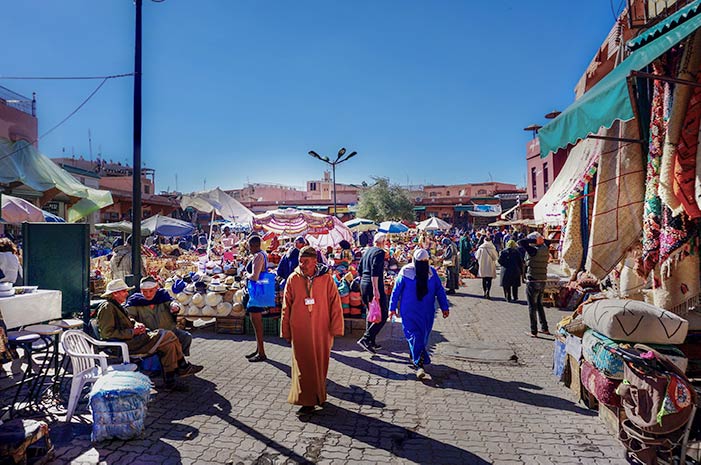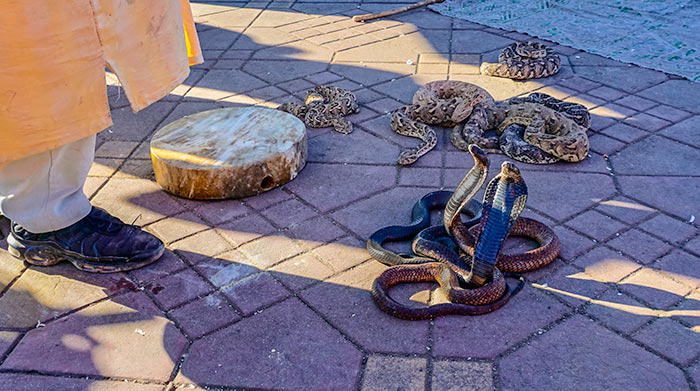 The square by daytime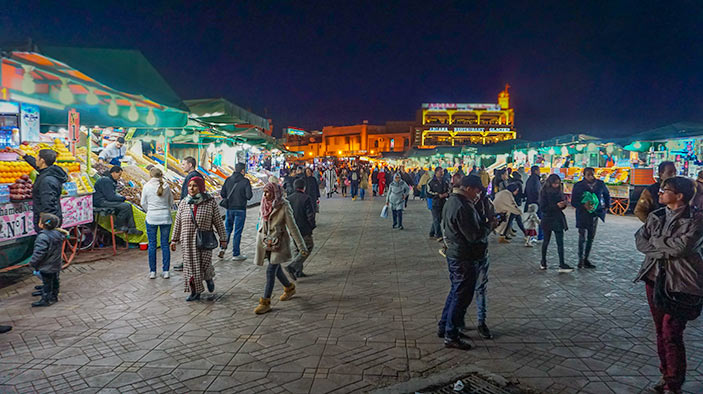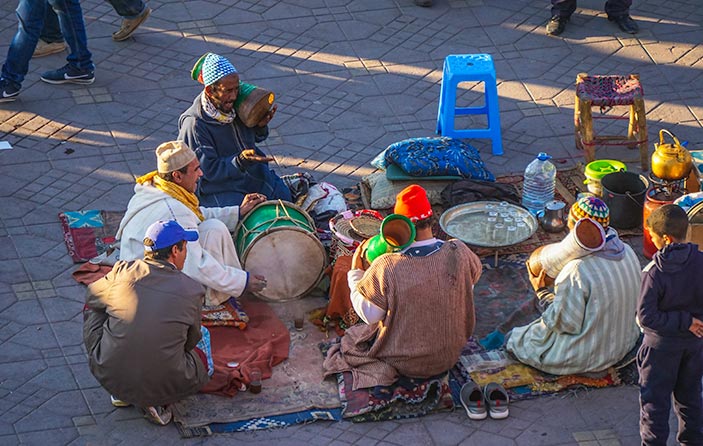 3. HOTEL RESTAURANT CAFÉ DE FRANCE
The Cafe de France has a prime location with elevated views overlooking Jemaa el-Fna square.
If you want to get above all the action in the square then go straight to the rooftop area that has plenty of seating and gives amazing sunset views of Koutoubia Mosque and surrounding Medina.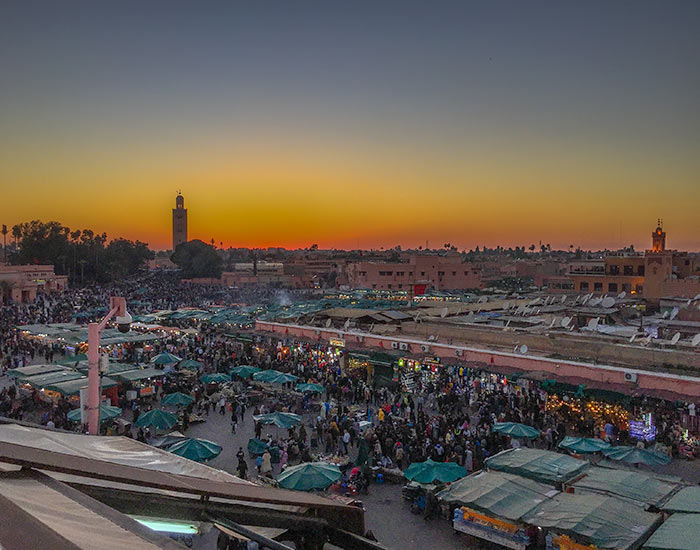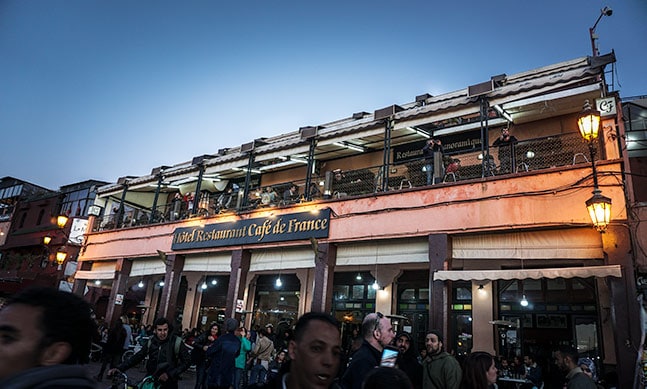 4. KOUTOUBIA MOSQUE
Close by Jemaa el-Fna square sits the imposing 77m high Koutoubia Mosque (alternative, Kutubiyya Mosque) and minaret, Marrakech's largest mosque, built in the 12th century.
This towers above Jemma el-Fna Square and is beautifully lit during the night.
Unfortunately, non-Muslims are not allowed entry.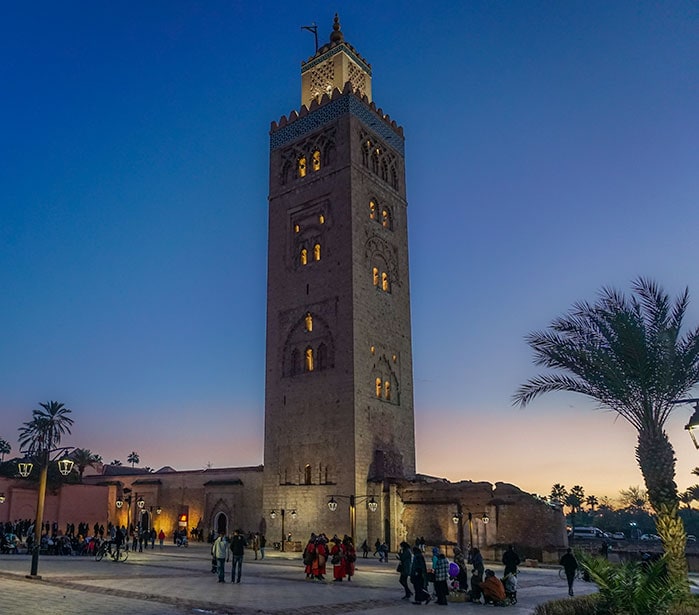 5. MARRAKECH SOUKS
At one end of Jemaa el-Fna square, you will find yourself skirting the entryway into the souks and the maze of market streets that stretch into this different world.
If this is your first time in Marrakech, prepare yourself for a possible sensory overload.
The multi-coloured wares, noisy motorbikes and bicycles whizzing by in the narrow souk alleyways, along with the numerous strange smells all compete in a race to try and overwhelm your senses.
On top of this, the vendors constantly ask you,
'Where you are from?',
'Come into my shop!',
'Just take a look'!
It feels pretty hectic for the first couple of days and then you begin to fall into the rhythm of Marrakech and it is no longer that 'strange, foreign feeling'.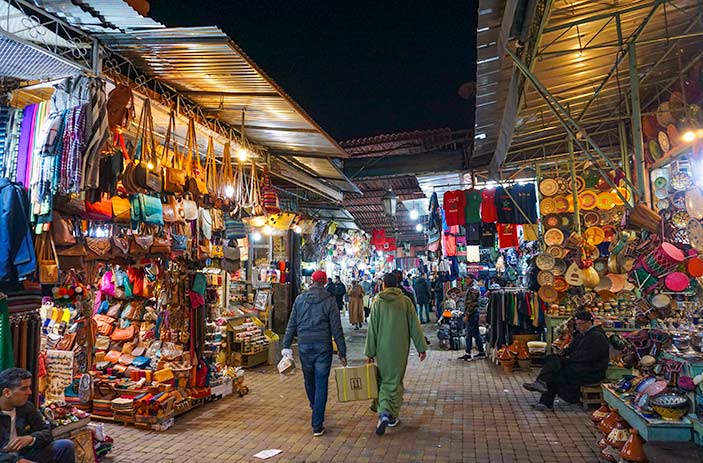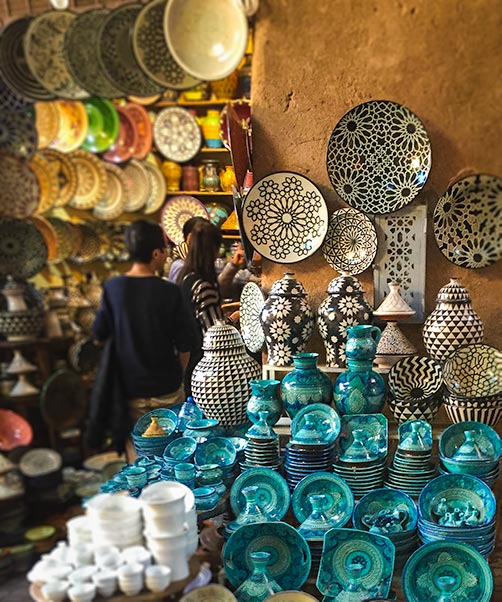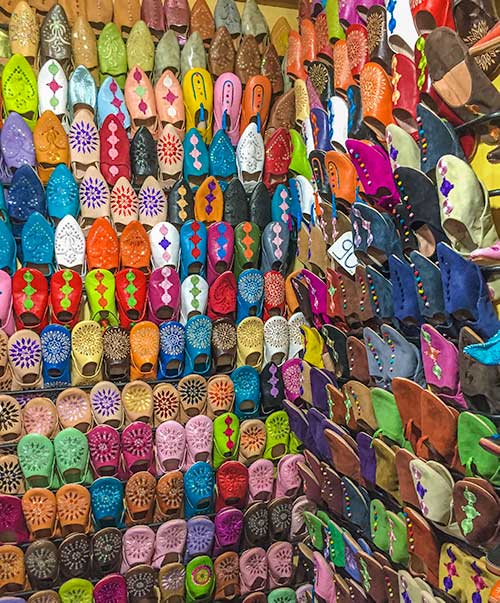 6. LE JARDIN SECRET
The magical gardens of Le Jardin Secret date back to the 16th century and are found a short walk north from Jemma el-Fna Square but still within the Medina.
These fully enclosed gardens represent an oasis of peace after you've left the souks.
A large wooden portico with beautiful murals takes pride of place in the centre of the gardens, surrounded by exotic plants sourced from around the globe.
At the far end of the gardens is a small tower housing exquisite interior designs.
A separate fee is paid at the entrance to this tower. Take advantage of some great views over Marrakech and the distant Atlas Mountains.
For prices and opening times go to their website here.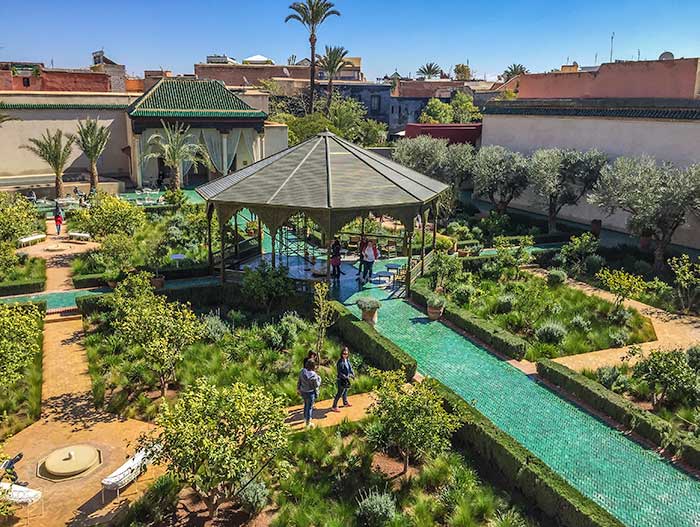 7. MEDERSA BEN YOUSSEF
Located inside the Medina, the Medersa Ben Youssef Islamic school ceased to function as a school in 1960.
It has been known as a jewel of architecture in Marrakech with its intricate designs and impressive decorations.
Unfortunately, the school was closed for renovations during our visit which was a real shame but that's a good reason to plan a return visit.
8. CYBER PARK MOULAY ABDESSALAM
Just a 500-metre walk from Koutoubia Mosque will have you arriving at Cyber Park Moulay Abdessalam.
Here you can escape all the busyness of the Medina.
This beautiful six-hectare park is full of citrus and palm trees and makes for the perfect place to take a break and enjoy the serenity of the quiet surroundings.
The park was not at all busy and there are plenty of park benches to while away the time. The gardens back onto the old fortress walls which makes for an interesting walk.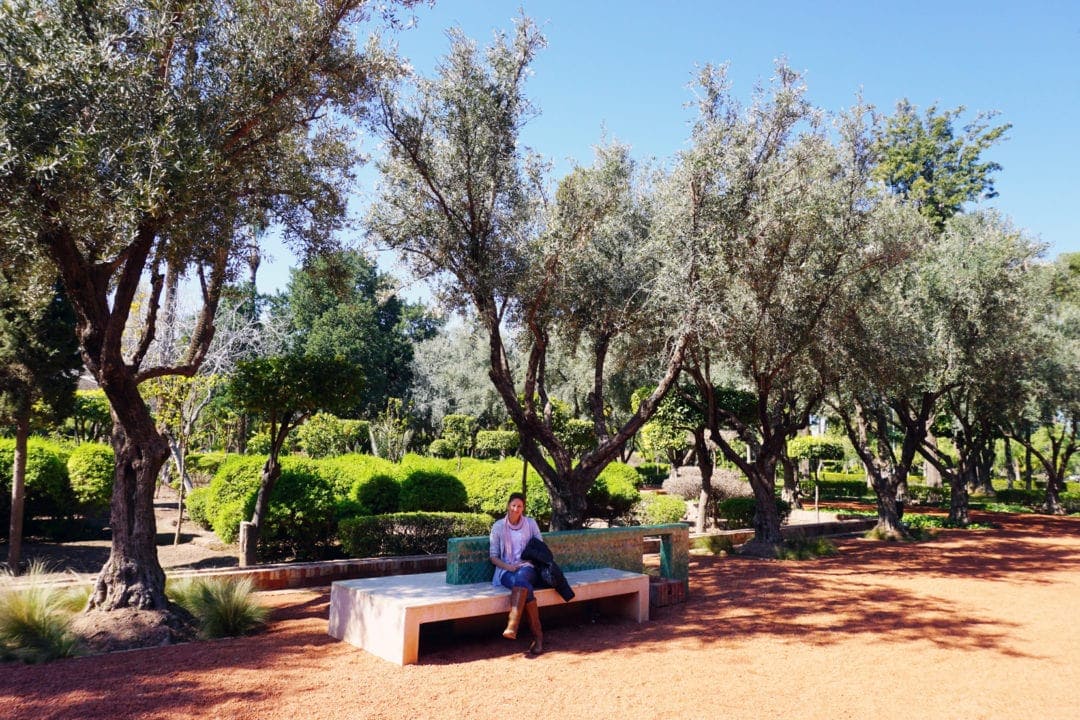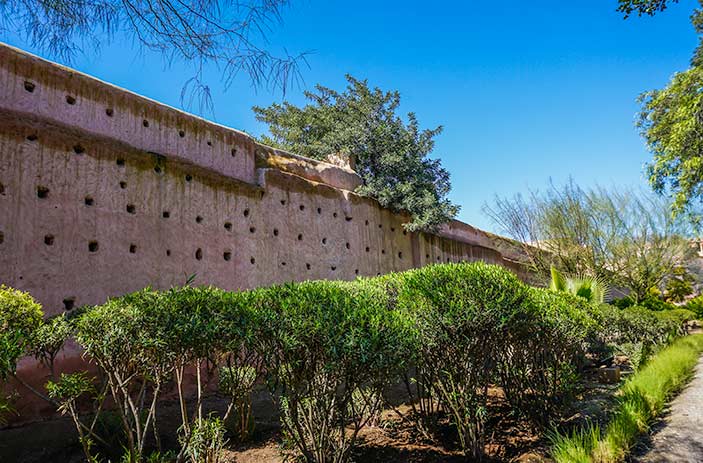 9. BAB AGNAOU
A kilometre walk south of Koutoubia Mosque, is Bab Agnaou, one of Marrakech Medina's 19 gates.
This is an impressive 12th-century gate forming part of the ruined, walled Badi Palace. This once royal entrance is now home to storks who have taken up residence by building huge nests atop the Bab Agnaou gates.
It is free to walk through the gates.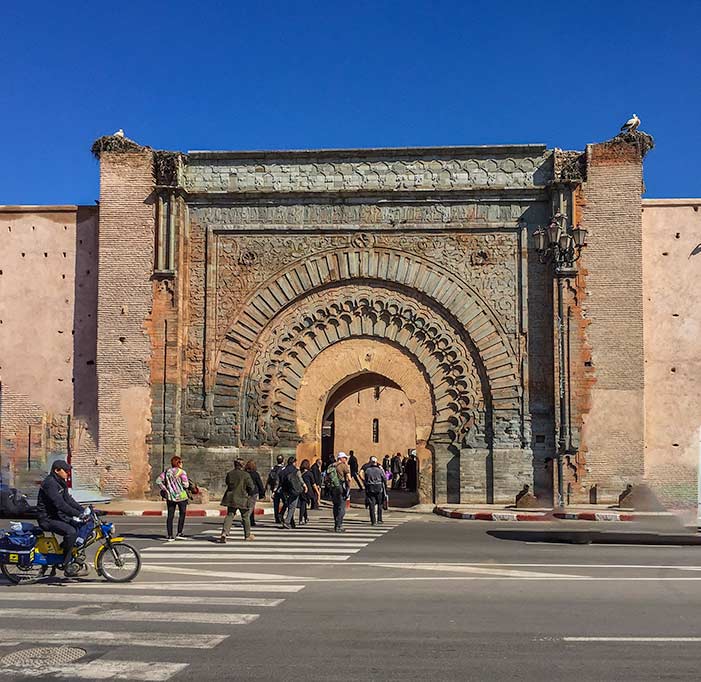 10. EL BADI PALACE
El Badi, a ruined palace, built in the late 16th century, was once lavishly constructed of gold, onyx and marble which would have perfectly reflected the palace's name; Badi Palace meaning 'Palace of Wonder'.
It was thought that this palace housed 360 rooms with a large courtyard and pool. However, with a new ruler, El Badi Palace was later stripped of its rich trappings so a new palace.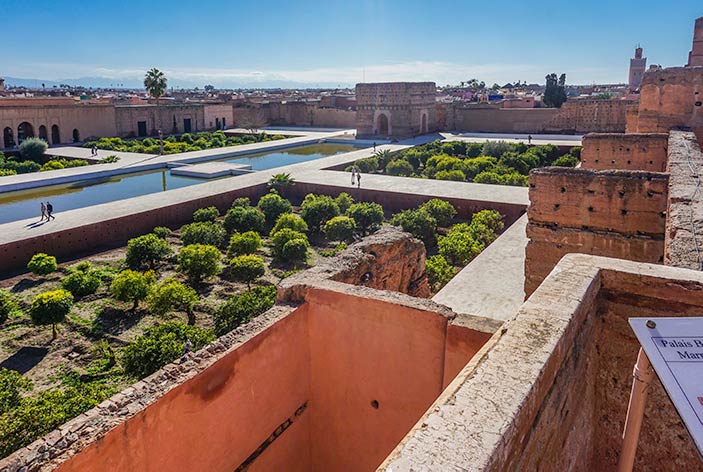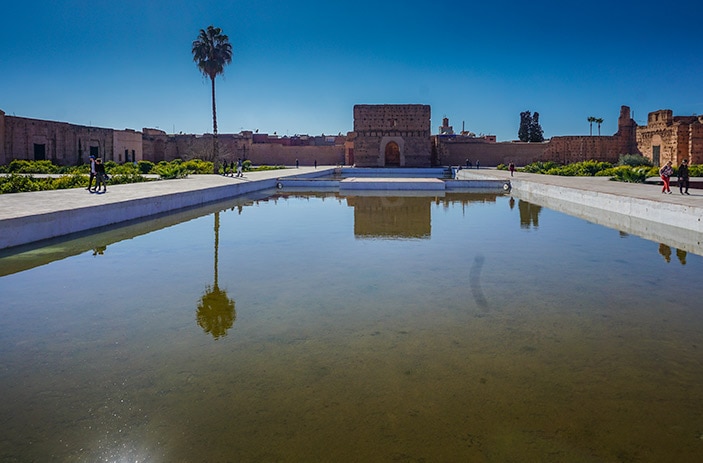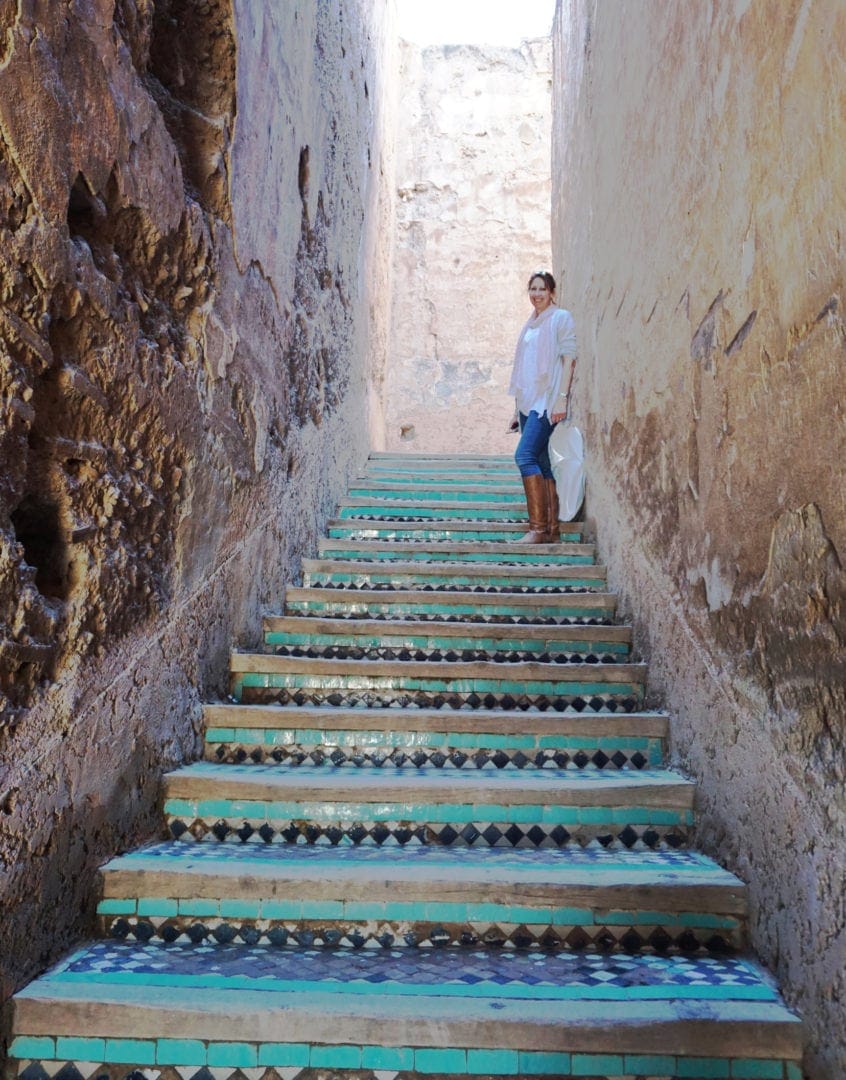 11. BAHIA PALACE
Close by El Badi Palace is the Bahia Palace, meaning 'brilliance'.
This was meant to be the greatest palace of its time. Built in the late 19th century, it combines both Moroccan and Islamic styles. Encompassing 8 hectares, including gardens, the workmanship required to produce the intricate designs is simply breathtaking. This place certainly deserves its name.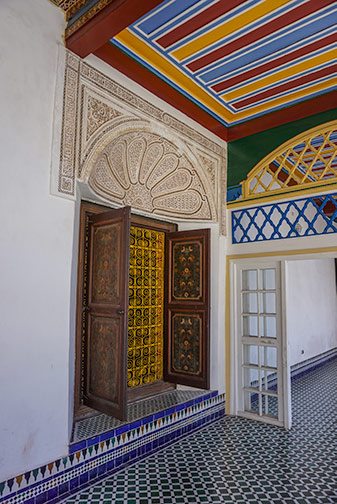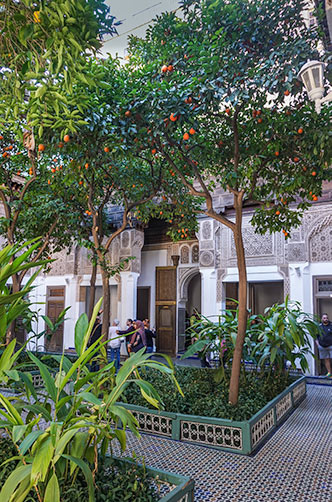 12. MAJORELLE GARDEN
A short 20-minute walk outside the Medina will find you at the stunning Majorelle Gardens.
This 2.5-acre landscaped garden was originally designed by French artist, Jacques Majorelle, taking more than 40 years to create.
Vibrant hues of blues and green fill the garden as well as the special bold cobalt blue colour now named after the artist as Majorelle blue.
Following his death, the property went into disrepair but was later purchased by designers Yves St Laurent and Pierre Berge who breathed new life into this now exquisite garden.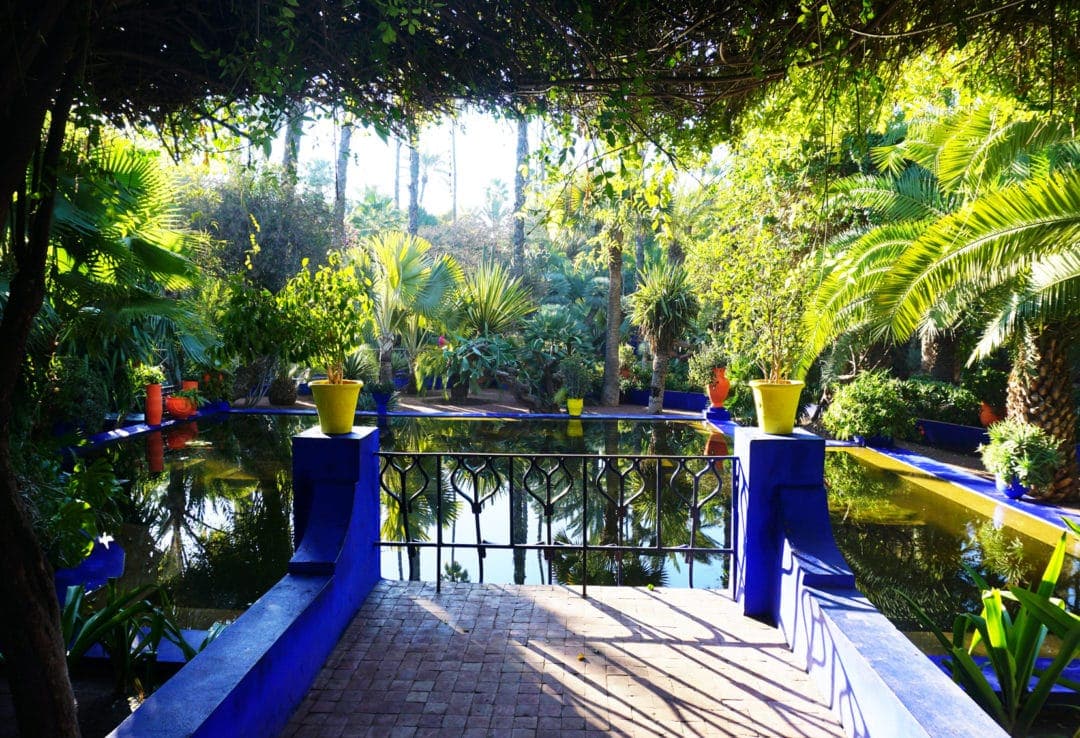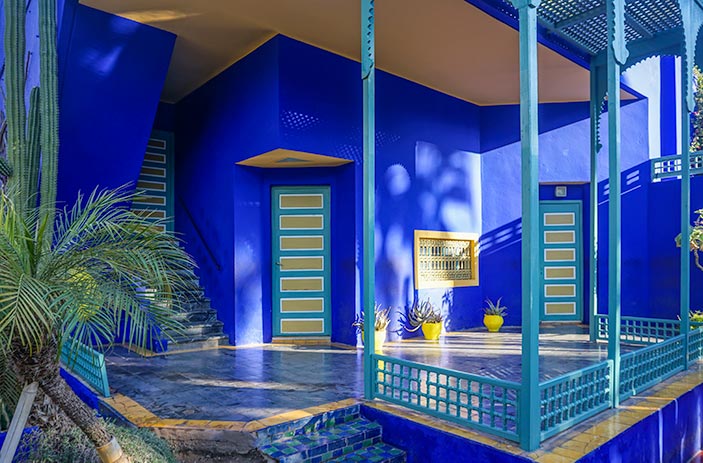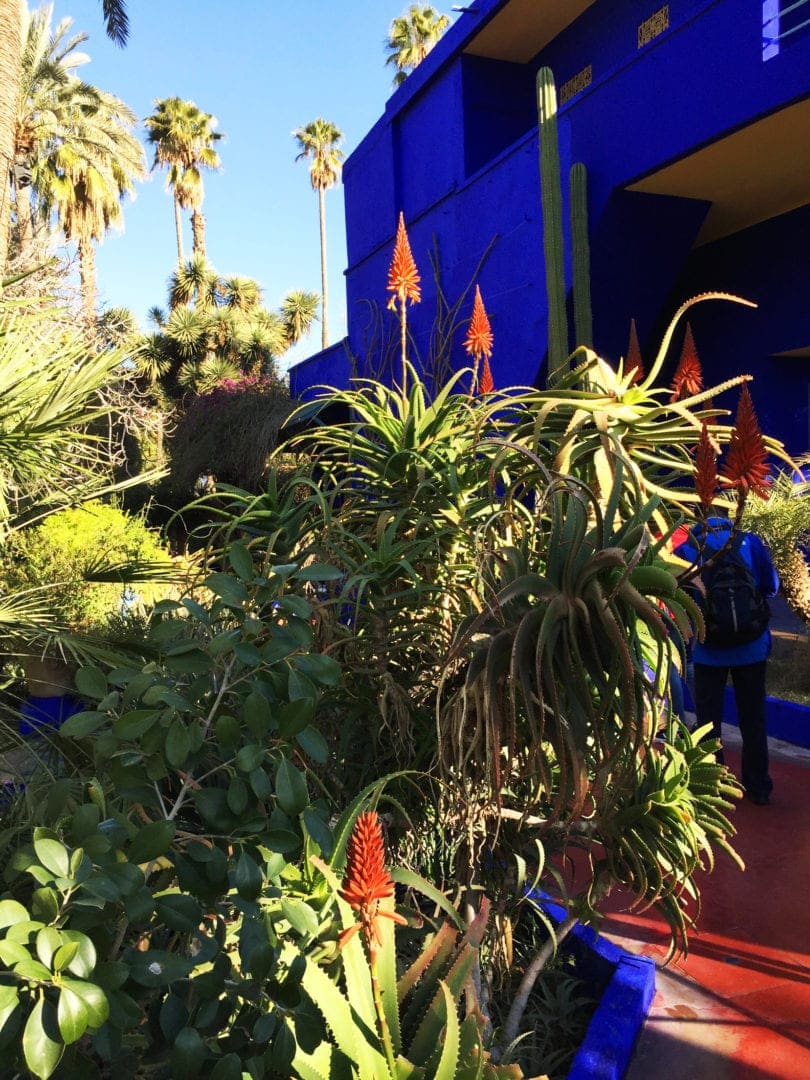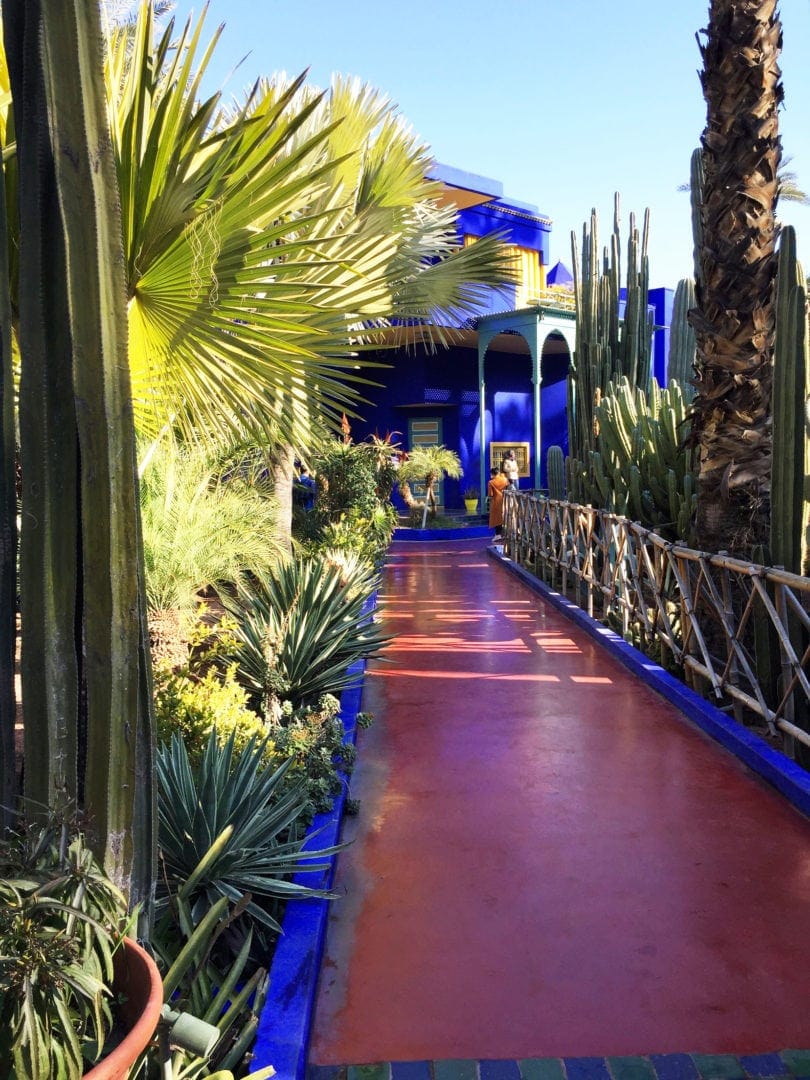 13. DAY TRIP TO OUZOUD WATERFALLS FROM MARRAKECH
There is plenty to explore around Marrakech itself but if like us, you want to experience a taste of life away from the city, then a couple of day trips to explore further afield in Morocco is just the trick.
Marrakech to Ouzoud Waterfalls is a round trip of approximately 5 hours. You not only get to visit these mighty falls but on the other side of the river, you will see wild Barbary Macaque monkeys.
You can read much more about this trip in our post, Ouzoud Waterfalls, Morocco: Chocolate Waterfalls and Cheeky Monkeys.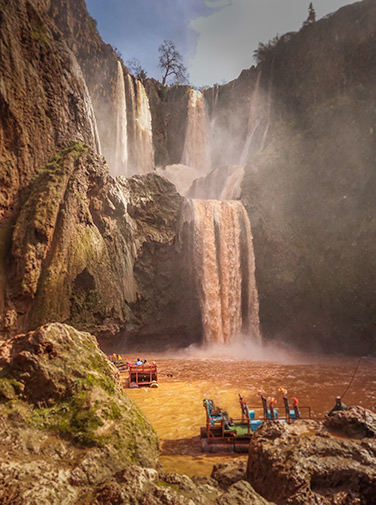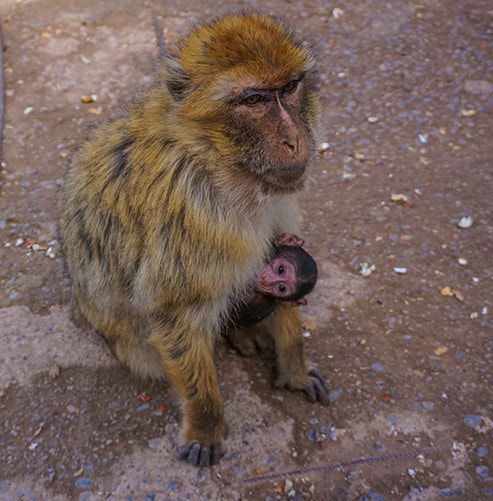 14. DAY TRIP TO AIT BENHADDOU FROM MARRAKECH
Did you ever want to visit a remote desert trading post in a formidable African desert?
Ait Benhaddou lies in the Sahara desert, in the foothills of the Atlas Mountains, and is now a UNESCO World Heritage Site.
This remote place is the stuff of legends and inspired many a film including Gladiator, Babel, Jewel in the Nile and more recently, Game of Thrones.
You can read more about this day trip from Marrakech in our article, Day Trip from Marrakech to Ait Benhaddou.
The Marrakech to Ait Benhaddou return trip is about 8 hours.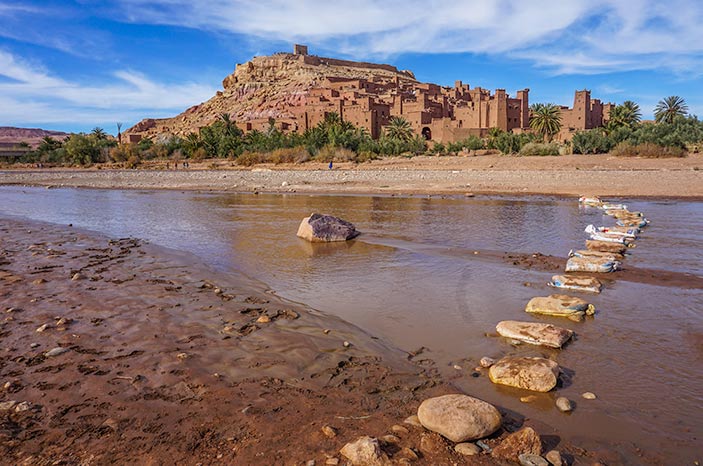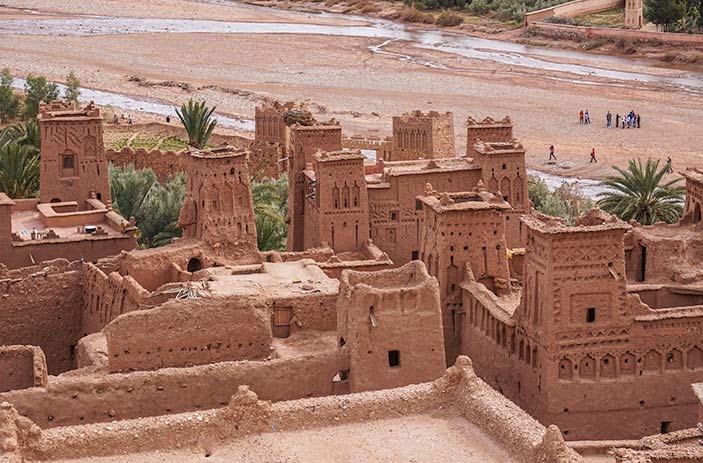 15. Stay in a Riad within the Old Walled City
If you can, definitely choose to stay in a Riad, a traditional Moroccan house with an inner garden courtyard. You'll want to find a Riad inside the Medina (the old historic walled city) so you can properly immerse yourself in all things Marrakech. Plus, it is easy walking distance to most of the great attractions we mention below.
From the outside, Riads don't look anything special but behind those closed front doors, you are enveloped in a world that is quintessential Morocco.
We stayed in the fabulous 'Dar Touyir' which also included breakfast. An added bonus is that if you don't feel like going out for dinner, then you can enjoy a really delicious traditional meal at the riad which is what we did a couple of times.
16. Try the local cuisine
While you are in Marrakech do try a Tagine. This traditional style of cooking involves placing the meat (chicken, fish, lamb or beef), vegetables and spices into an earthen clay pot and then slow-cooked. Absolutely gorgeous food.
Indulge in Mint Tea —This gorgeous tea is made from spearmint leaves with added sugar. It is not only a traditional Moroccan drink but a sign of hospitality and friendship.
Worth remembering in case you are offered it.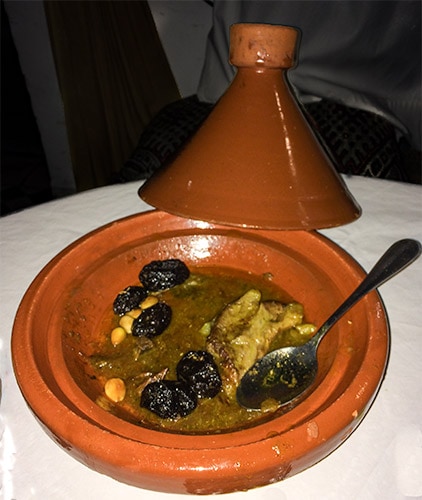 TIPS for a 6-DAY VISIT to MARRAKECH
---
Getting up to speed on what to do and what not to do in Marrakech is extremely useful.
1. Learn a few Local Words
Ok, you aren't expected to rattle off sentences in either of the two official languages of Arabic or Berber languages but knowing some basic pleasantries will go a long way.
Throw in a smile and you'll generally find that people quickly warm to you. Morocco was a French protectorate up until 1956 so speaking French will also bring rewards.
Here are a few local words that we used successfully:
Hello – Salam Alaikum
Thank you – Shukran
No, thank you – La Shukran.
2. Cash is King
When you hit the streets for shopping or buying food from the small local vendors then take smaller denominations of the local currency, the Moroccan Dirham (MOD).
Cashpoints are not on each corner but there are enough around and were always operational. Ask at your hotel or riad where the closest ATM is.
3. Tipping
Tipping is a normal way of life in Morocco. When eating or drinking out, you can use 10% of your bill total to figure how much of a tip to leave. It's customary to leave a cash tip on the table as you leave.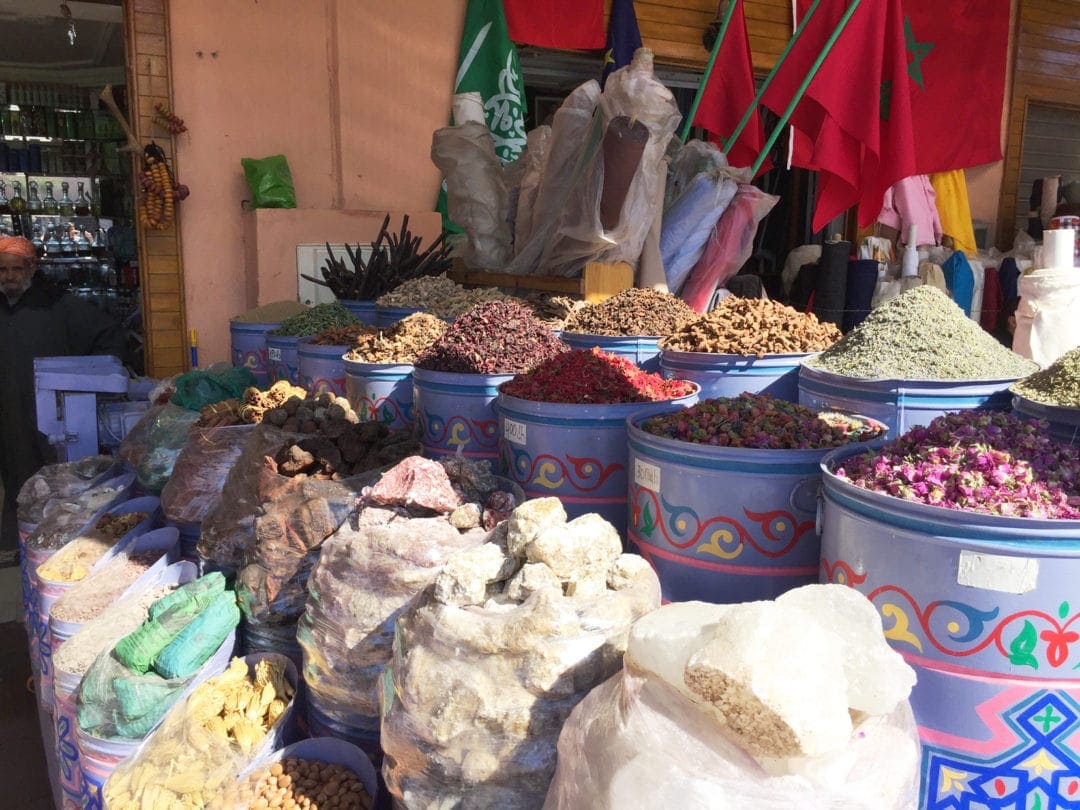 4. Marrakech Souvenirs
If you're unsure of the quality and authenticity of the products offered in the souks then a government-operated group of stores called 'Ensemble Artisinal Marrakech' offers a variety of goods.
Here you are not asked or pushed to buy anything. The prices are a little higher but there are some exquisite designs on offer. Shelley bought herself a leather handbag here.
5. Don't Drink the Tap Water in Marrakech
Buy bottled water. It's cheap as chips. Also be mindful that cold salads, ice cubes and fruit are washed using local water.
6. Scammers in Marrakech
Be wary of scammers. We were approached by a really friendly guy on the street asking us where we were going. He then said that he was off to this hotel job but he could quickly show us a shortcut to where we needed to go.
He started to lead us away into some back streets but our 'gut feeling' told us that this was not right. We stopped him and said that we were going back but he repeatedly tried to talk us into following him. We kept politely saying no and left.
Apparently these 'guides' lead you part of the way and then pass you on to another 'travel guide'. Once you reach your destination, a fee is charged and requested.
The lesson here was that if you are not sure where you are going, be wary of strangers offering to take you somewhere. It's preferable to go into one of the local shops and ask for directions.
Another of our Marrakech tips: if it just doesn't feel right, don't do it!
7. Be Prepared to Bargain
It's the way of life in Marrakech. Sure, you won't get the local rates but it's customary to haggle backwards and forwards on the price.
If you consider the final price too high, then politely say so and leave with a smile and goodbye. No feelings are hurt.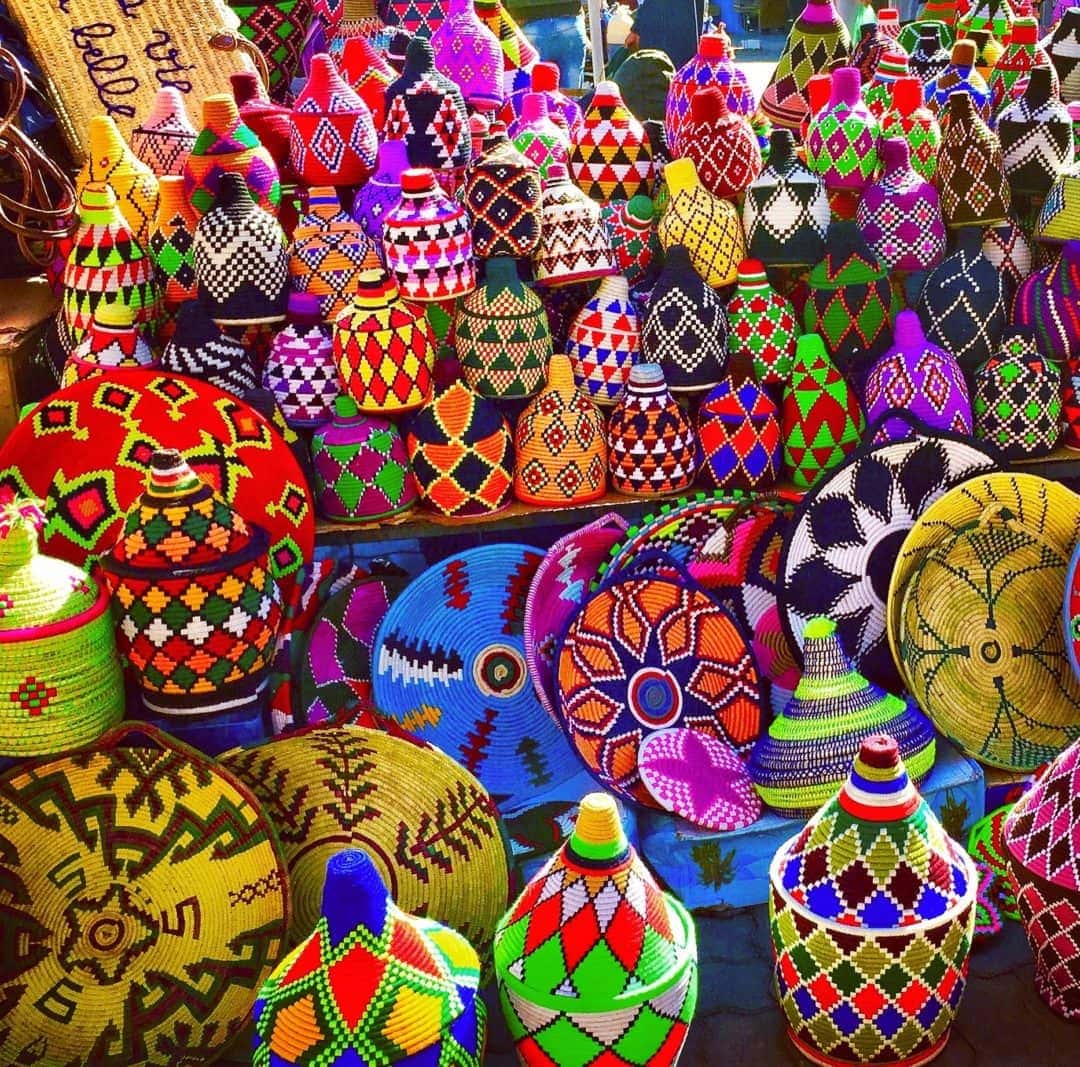 8. You Don't Have to Enter Every Shop When Asked
You'll be asked many, many times by the shop owners to come into my shop, not buy, just look'.
It's ok to refuse but it's the manner in which it is done. Smile and say 'La Shukran' and no offence is taken.
9. Taking Photos in Marrakech
You may be asked for money if taking photos of the locals. We were quite careful not to do this and when in the Medina, if we found a shop front or wanted to take a photo inside the shop, to save any unintentional offence, we would simply ask the shop owner if we could take a photo.
We were never refused. So our Marrakech tip would be to just ask first!
Street and open scenes were no problem.
10. Dress Modestly
99% of Morocco's population practices the Islamic faith. So dress to respect Islam's emphasis on modesty.
For men and women, clothes and accessories are not meant to attract attention or excessively reveal the body. For non-Muslim women, it is not necessary to wear a hijab, (a veil that conceals the woman's hair).
Moroccan women, they may choose to either cover themselves or not.
11. Watch for Traffic
You might be thinking that the Jemaa el-Fna marketplace is a pedestrian-only area.
Wrong!
Besides the odd donkey, it's motorbikes that you won't even be looking out for. They are driven quickly past the narrow shop fronts with the riders quite skillfully dodging the passers-by.
Keep an ear to the ground!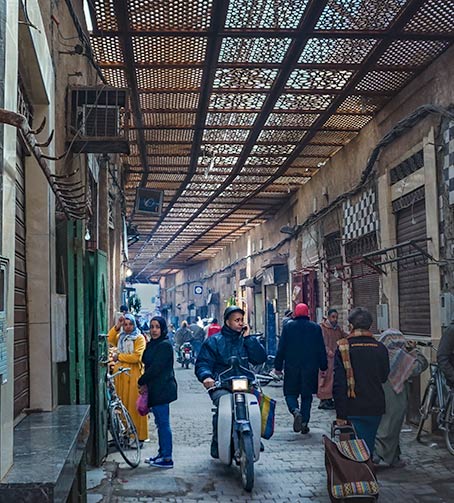 12. Extra Tips For Morocco
If you're travelling the whole of Morocco, then these Marrakech tips can basically be applied to any city.
A good article to assist with your planning and also detailing things you need to know about driving in Morocco is Atlantic to Sahara – A Morocco Road Trip Itinerary.
If you are able to spend more time in Morocco, and in particular if you have children, then I recommend checking out this two-and-a-half-week Morocco with kids itinerary by the TraveLynn Family.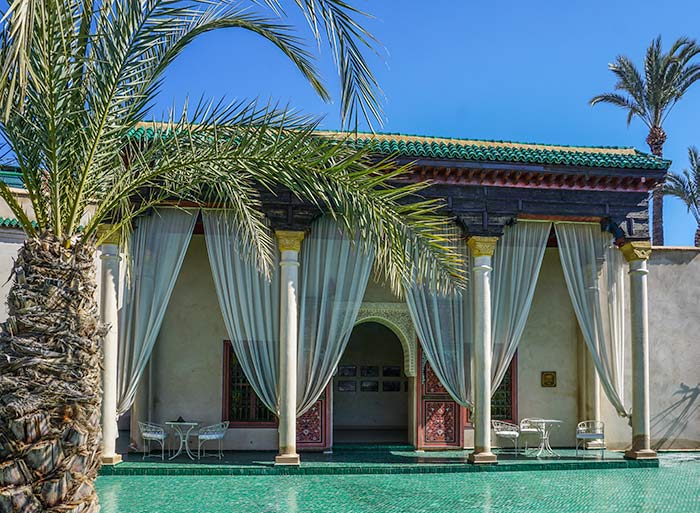 GETTING TO MARRAKECH
Because we were in the middle of a motorhome trip around Europe, we left our campervan at Seville airport parking, whilst we were in Marrakech, Morocco in North Africa.
If you are driving or have a motorhome or camper, you can find out more info here: Taking the ferry from Spain to Morocco with your campervan.
However, you may be flying to Morocco and many international airways fly to Marrakech Menara Airport (RAK).
🚘 If you are looking to hire a car then we recommend DiscoverCars.
WHY?
They were winners of the World's Best Car Rental Booking Website 2022.
They find the best deal around from over 500 rental companies
They have a Price Match Guarantee.
4.5 Rating on Trustpilot
Excellent Customer Service
Free Cancellation
MARRAKECH ACCOMMODATION
We stayed in the Medina in Marrakech at a riad called Dar Touyir and would highly recommend it. The service was excellent and the staff could not do enough for you.
You can book the Dar Touyir Riad here or find other accommodation in Marrakech here.
MARRAKECH in 6 DAYS … That's a Wrap
All up, we spent 6 days in Morocco broken into 4 days in Marrakech and two 1-day trips to Ouzoud Waterfalls and Ait Benhaddou.
We had no mishaps and we felt safe throughout the time we were there.
If you do have the opportunity to enjoy at least one of these day trips, then you'll certainly leave with a more well-rounded perspective of Morocco.
We hope you find these Marrakech attractions and tips for a 6-day Marrakech stay helpful.
Have you visited Morroco before? Do you have any favourite places?
If you enjoyed this article, you may like these FREE RESOURCES:
Pin and Save for later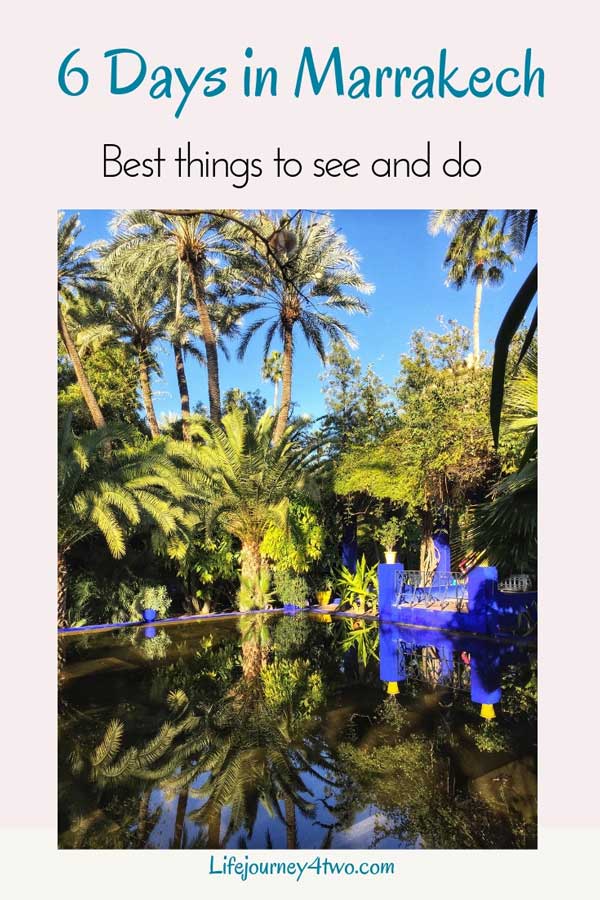 YOU MAY ALSO LIKE TO READ
PLANNING YOUR TRAVELS?
These are some of the travel resources we use when planning our trips.
For a more thorough list visit our Travel Resources page here.