Dreaming of campervanning in Europe?
We did, too, and it led us on an incredible 12-month motorhome adventure across 22 European countries. Every turn revealed new sights, sounds, and the thrilling mystery of the unknown.
We know the excitement and the overwhelm of planning a campervan trip through Europe, so we're here to help.
After a year of full-time motorhome travel in Europe, we're sharing our insights to help you navigate your own motorhome or campervan trip.
From choosing a campervan or motorhome to traversing the best European routes, this guide taps into our personal expertise to meet your need for practical, actionable advice.
As fellow travellers, we understand the journey's highs and lows and are excited to share this road with you.
For a deeper dive into trip planning, bookmark our road trip planning guide for later, but first, let's start here. This ultimate guide is your roadmap to a rewarding European adventure, full of insider tips for those of you ready to embrace the open road.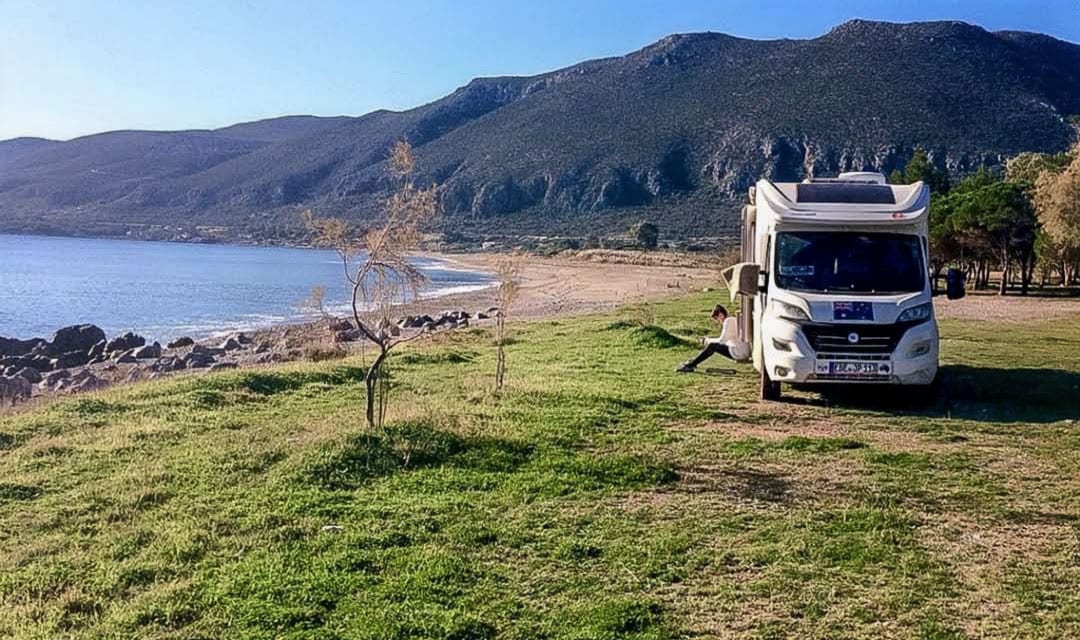 Travelling Europe in a Campervan: Our 12-Month Adventure Across 22 Countries
Our original travel plan was to drive around Europe for five months in a motorhome or campervan. However, that was just one of the very many things that changed on the journey.
Eventually, we ended up doing 12 months of campervanning in Europe.
We drove through 22 countries,
Covered around 31,500 km and
Camped overnight at over 200 different spots (*all included in our interactive map further below)
On this campervan around Europe trip, we visited the following 22 countries:
Germany, Liechtenstein, Italy (inc. Sicily), Croatia, Slovenia, Hungary, Slovakia, Austria, Switzerland, France, Belgium, Holland, Czech Republic, Poland, Bosnia and Herzegovina, Serbia, Montenegro, Albania, Greece, Spain, Morocco (only non-European country on this trip) and Portugal.
Travelling around Europe was a shared dream of ours. However, it was one that had been reserved for 'One Day', not something we were specifically planning.
That all changed one afternoon — you can read about that on our About Us Page — and nine months later, we set off on this road-tripping adventure for two.
The freedom to explore when and where the mood takes you is liberating. We now intend to keep road-tripping around the world for as long as we can.
We've since swapped out the motorhome and bought a bush camper for our overlanding Africa trip. Still love life on the road, only now with a much smaller camper!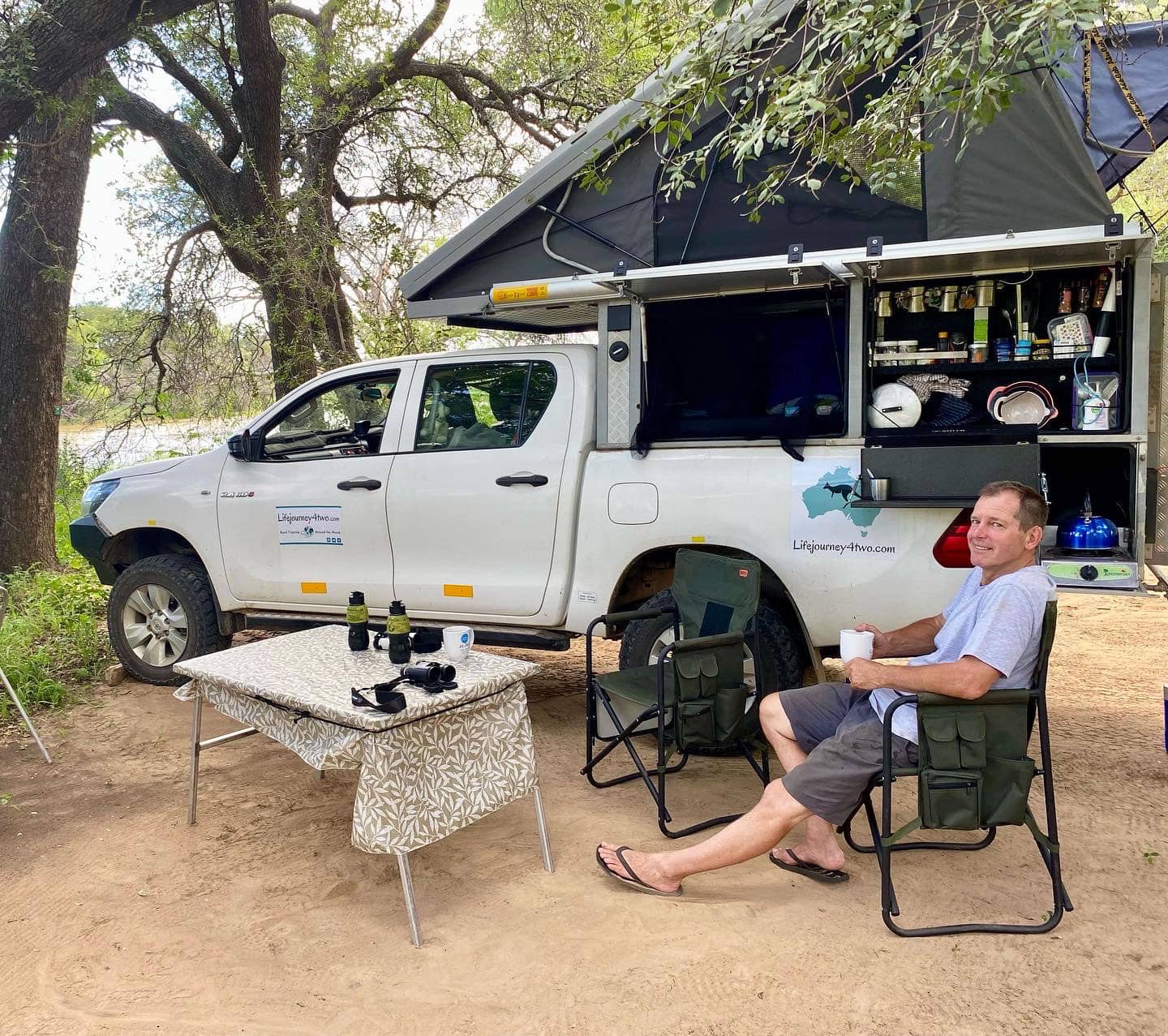 💥 Looking to HIRE a motorhome or camper? We used, and highly recommend, Motorhome Republic — they have an EXCELLENT rating on Trustpilot, and their customer service was amazing.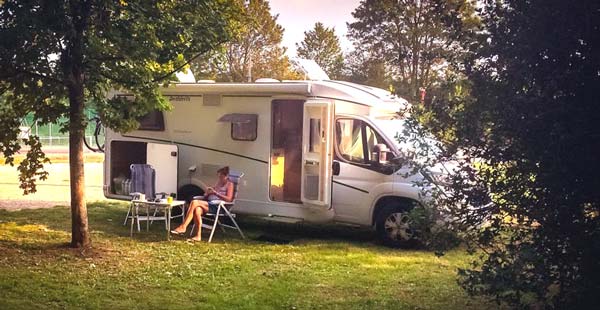 ⭐️ Planning a Trip to Europe? ⭐️
1. How to Plan a Motorhome and Campervan Trip in Europe
Embarking on a motorhome or campervan journey through Europe can be an exhilarating experience filled with freedom and adventure.
But where do you start? Planning a motorhome Europe adventure requires thoughtful preparation.
This section of the guide, covers everything from deciding whether to rent or buy a motorhome and choosing the right camper or motorhome for your travel party to essential planning tips for your European road trip.
Dive into our personal experiences and practical advice to make your campervan adventure as smooth and enjoyable as possible.
If you're new to motorhoming – you'll also want to check out our top motorhome tips for beginners for more detailed, handy information about starting out on a motorhome journey.
Note: We arrived in Europe from Australia, so we had to consider a few factors that you may or may not need to know as you plan your campervan travel in Europe.
Travelling as a couple? You might also want to check out our article with our best travel tips for couples. It highlights our experiences and how we've grown closer, even though we're with each other 24/7!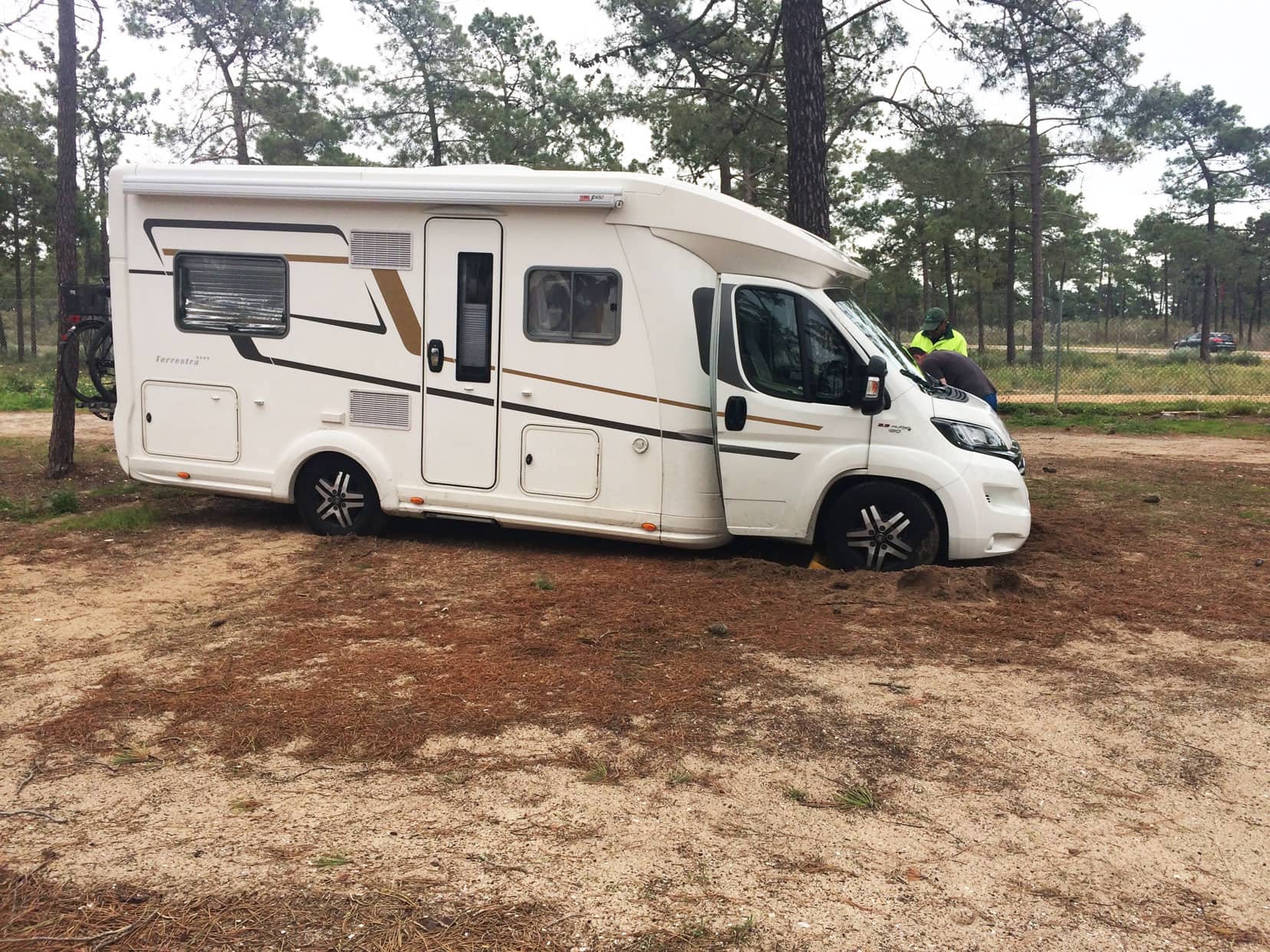 2. Passport / Visa for Travel in Europe
Luckily, we both held dual nationality European passports, so we could stay in Europe without worrying about the 90-day Schengen Visa rules.
However, if you don't hold a European passport, you can check out the European and Schengen rules and how they apply to you here. It basically means that you can only stay for a period of 90 days in 180 days.
3. To Buy or Rent a Campervan/Motorhome?
The big decision for any campervan trip planning in Europe is whether to rent or buy a motorhome or campervan. The pros and cons of both options vary, depending on your personal circumstances and the length of your journey.
Below, we've listed some of the pros and cons to consider and added our own experiences and reasons for hiring our motorhome through Europe.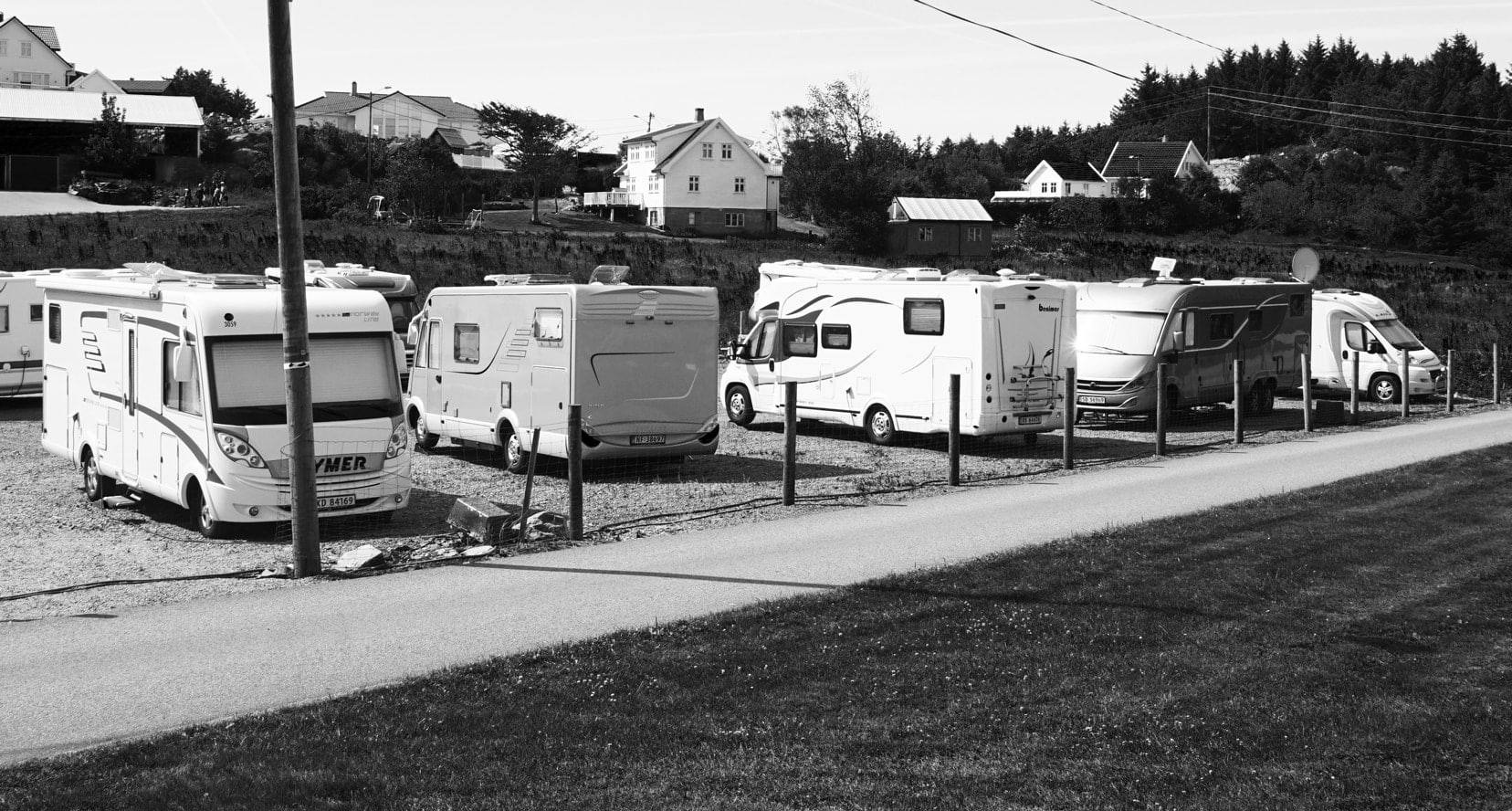 Pros of Hiring a Motorhome or Campervan
Reduced Breakdown Risk
✅ Opting for a relatively new rental reduces the chances of mechanical failures.
No Maintenance Worries
✅ Breakdowns and repairs are the rental company's responsibility, not yours.
Wide Range of Choices
✅ Expansive selection of vehicles allows you to pick the perfect layout and features.
All-Inclusive Rental
✅ Insurance, registration, road tax, and other fees are typically included in the rental cost.
Additional Accessories
✅ Options to hire extra gear like camping sets and kitchen kits enhance the experience.
Cost-Effective
✅ Renting often costs less than the combined expenses of transport and accommodation.
Flexibility and Spontaneity
✅ Change plans on a whim, stay longer at places you love and enjoy a sense of freedom.
Private and Safe Space
✅ Personal space importance is magnified in current times, offering safety and solitude.
Wellbeing Benefits
✅ Being out in nature and away from the hustle is great for mental and physical health.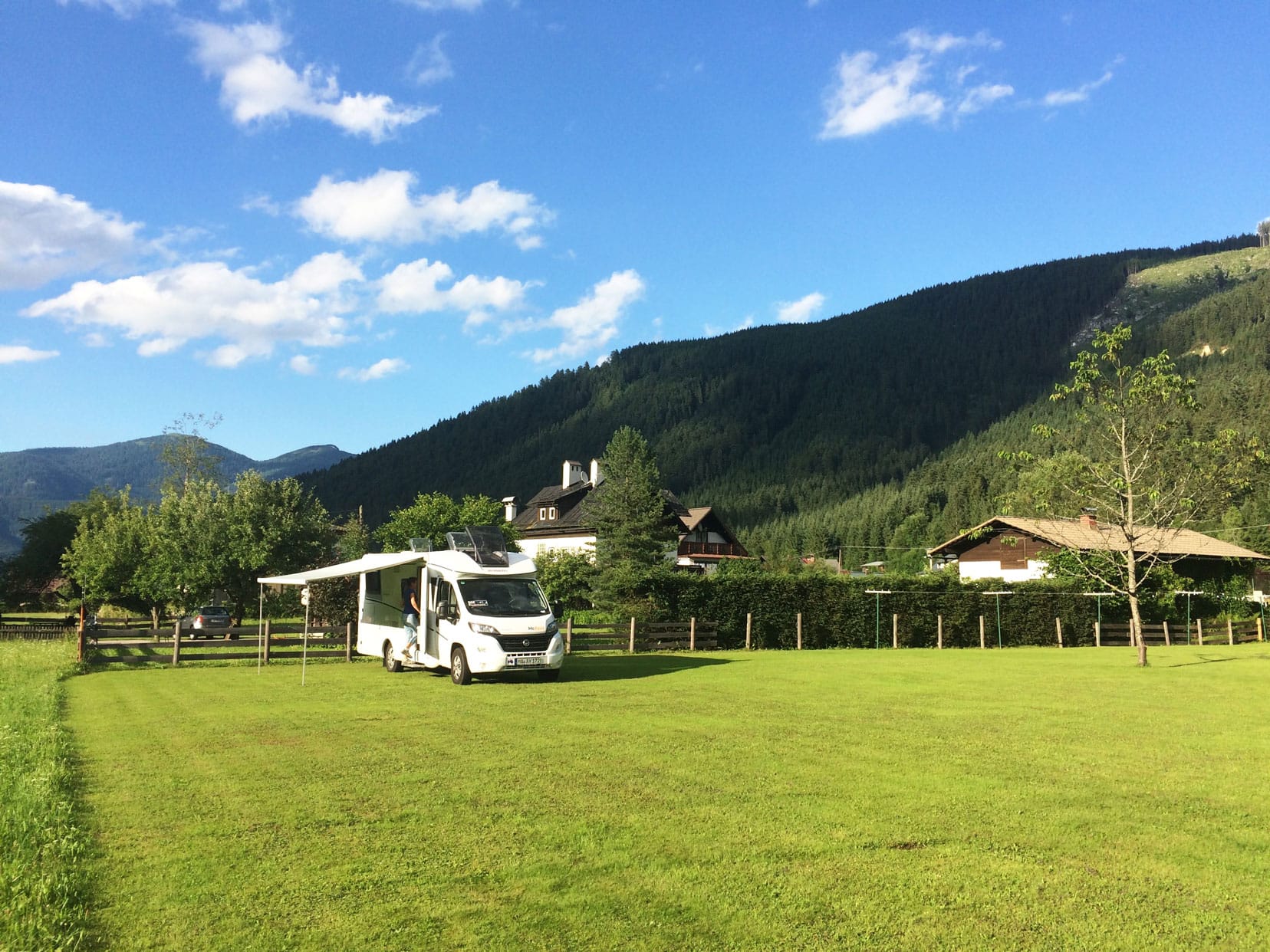 Cons of Hiring a Motorhome or Campervan
Limited Control Over Vehicle History
❌ You may not know a rental's full maintenance or accident history.
Potential Additional Costs
❌ Deposits, insurance excess, and unexpected fees can add up.
Restrictions on Customization
❌ Rentals can't be customized to personal preferences or specific needs.
Availability Issues
❌ High demand or peak season may limit choice or increase costs.
Learning Curve
❌ Adapting to different models or unfamiliar features can be challenging.
Potential for Hidden Damages
❌ You might be held responsible for pre-existing damages if not documented.
Time Constraints
❌ Rental periods can impose limits on trip duration and spontaneity.
Resale Benefit Lost
❌ Unlike buying, renting doesn't offer the opportunity to recoup costs through resale.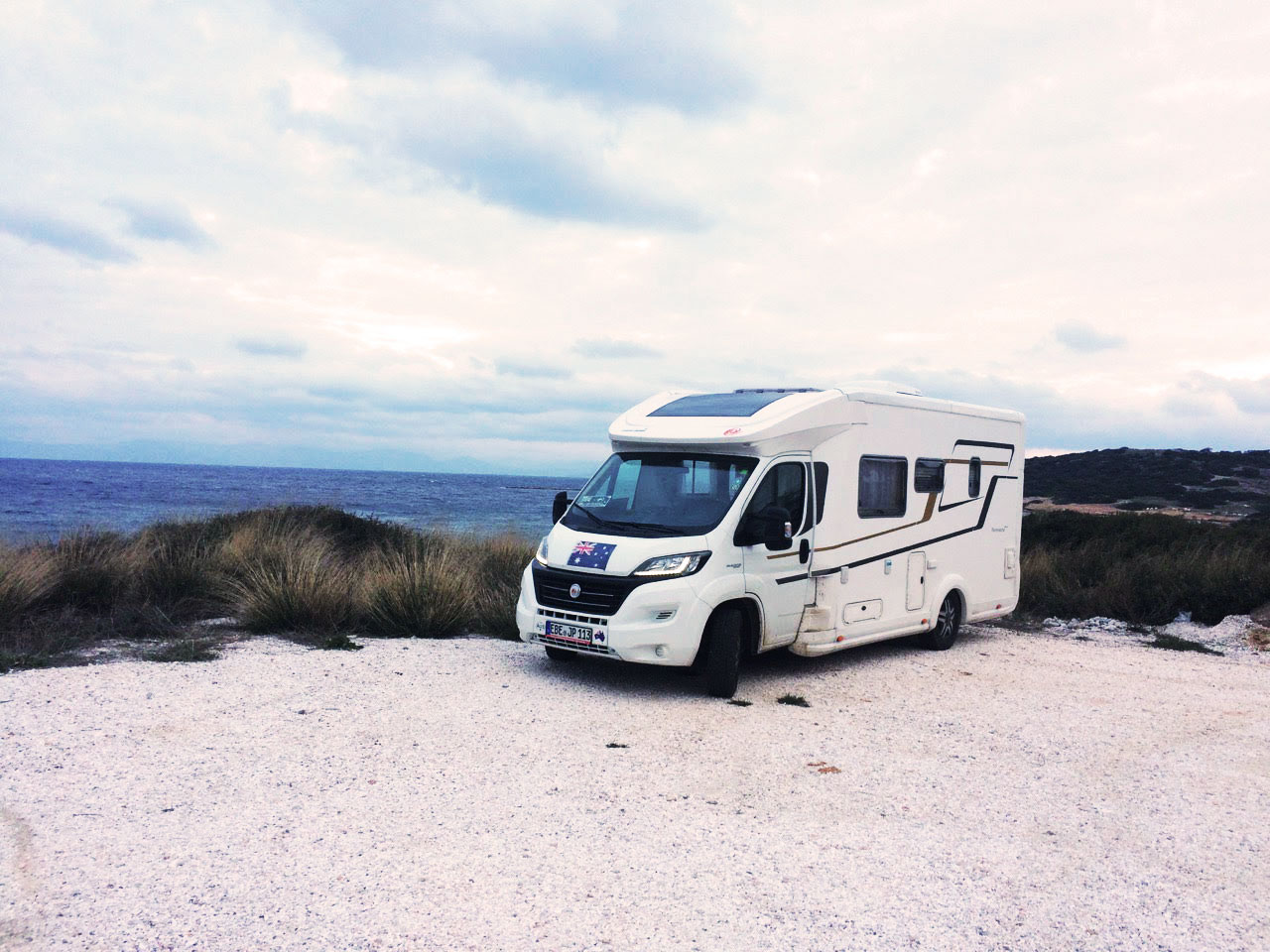 Why We Chose to Tour Europe in a Hired Motorhome
Simplified Registration and Insurance
Challenge: Buying and registering a vehicle in Europe often requires proof of residency.
Solution: Hiring bypassed these requirements, offering a smoother start to our journey.
Avoiding Right-Hand Drive Complications
Personal Experience: We considered purchasing in the UK using a friend's address, but this would likely have meant a right-hand drive vehicle, less ideal for continental Europe.
Access to Modern and Up-to-Date Motorhomes
Advantage: Hiring allowed us to use a newer, more technologically advanced motorhome than we could have afforded to buy.
Benefits: This provided enhanced reliability, comfort, and a better overall travel experience.
Avoiding Resale and Maintenance Hassles
Past Experience: Previously, I bought a motorhome that needed a costly engine replacement. This influenced our decision to hire, avoiding the stress of potential mechanical failures and the responsibility of resale.
Flexibility in Vehicle Choice
Adaptability: Mid-trip, we switched to a motorhome with electric heating and air conditioning, plus convenient features like reading spotlights. This flexibility is a significant advantage of hiring.
Peace of Mind with Breakdown Cover and Insurance
Security: Hiring provided 24/7 breakdown cover and basic insurance, ensuring a worry-free trip without the fear of unexpected, costly repairs.
This decision to hire, shaped by past experiences and the desire for flexibility and security, significantly enhanced our European adventure.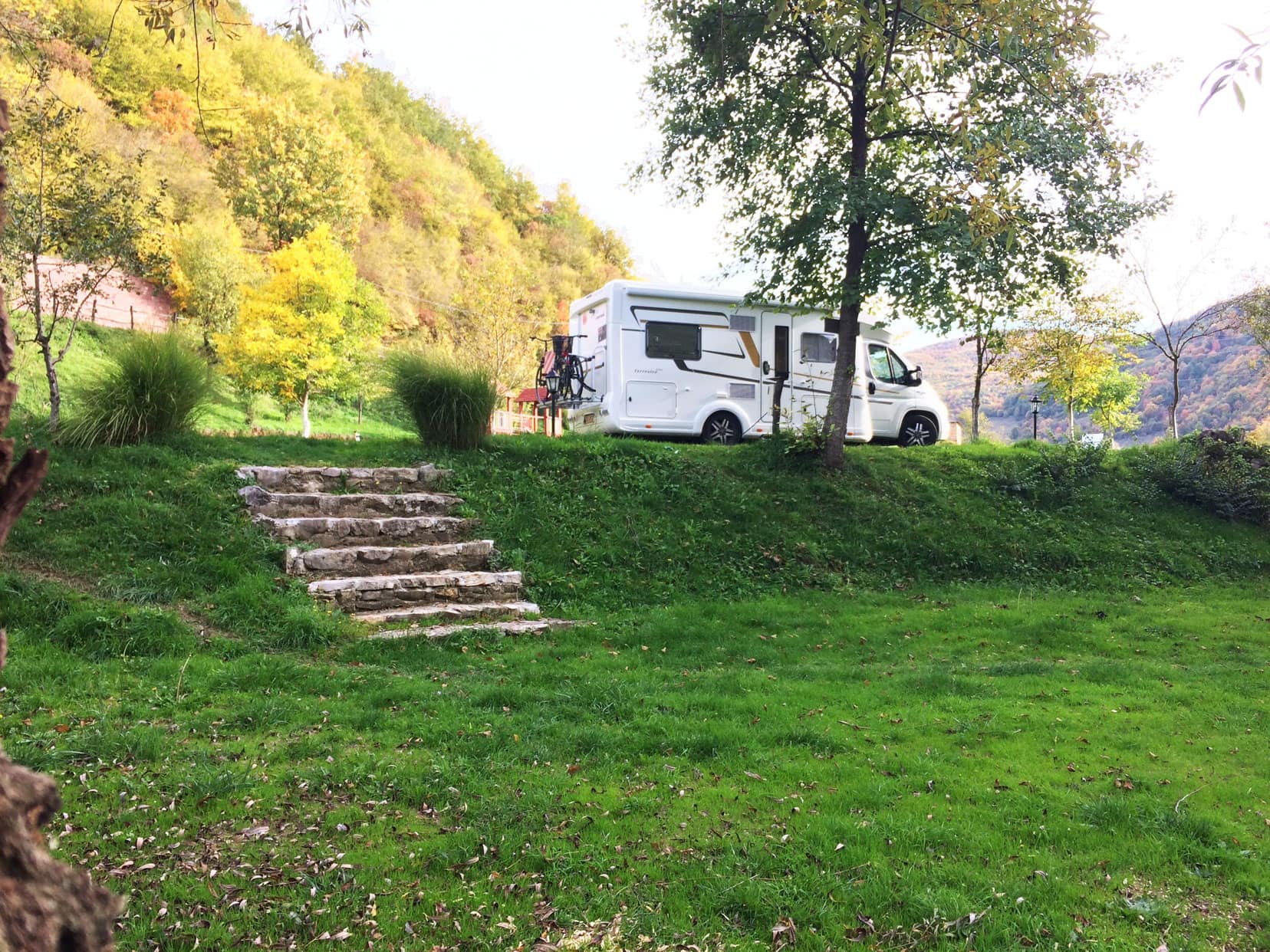 4. What Type of Campervan or Motorhome Should you Choose?
The type of camper or motorhome that you choose will depend on several things;
Your budget
The number of passengers
Your confidence in driving large vehicles
How long your trip will be
Whether you will be wild camping or staying at campsites with facilities
What creature comforts you'd like
There are many different types of motorhomes and campervans to choose from; at first, the differences between them can be confusing.
Below, you'll find a breakdown of what's what.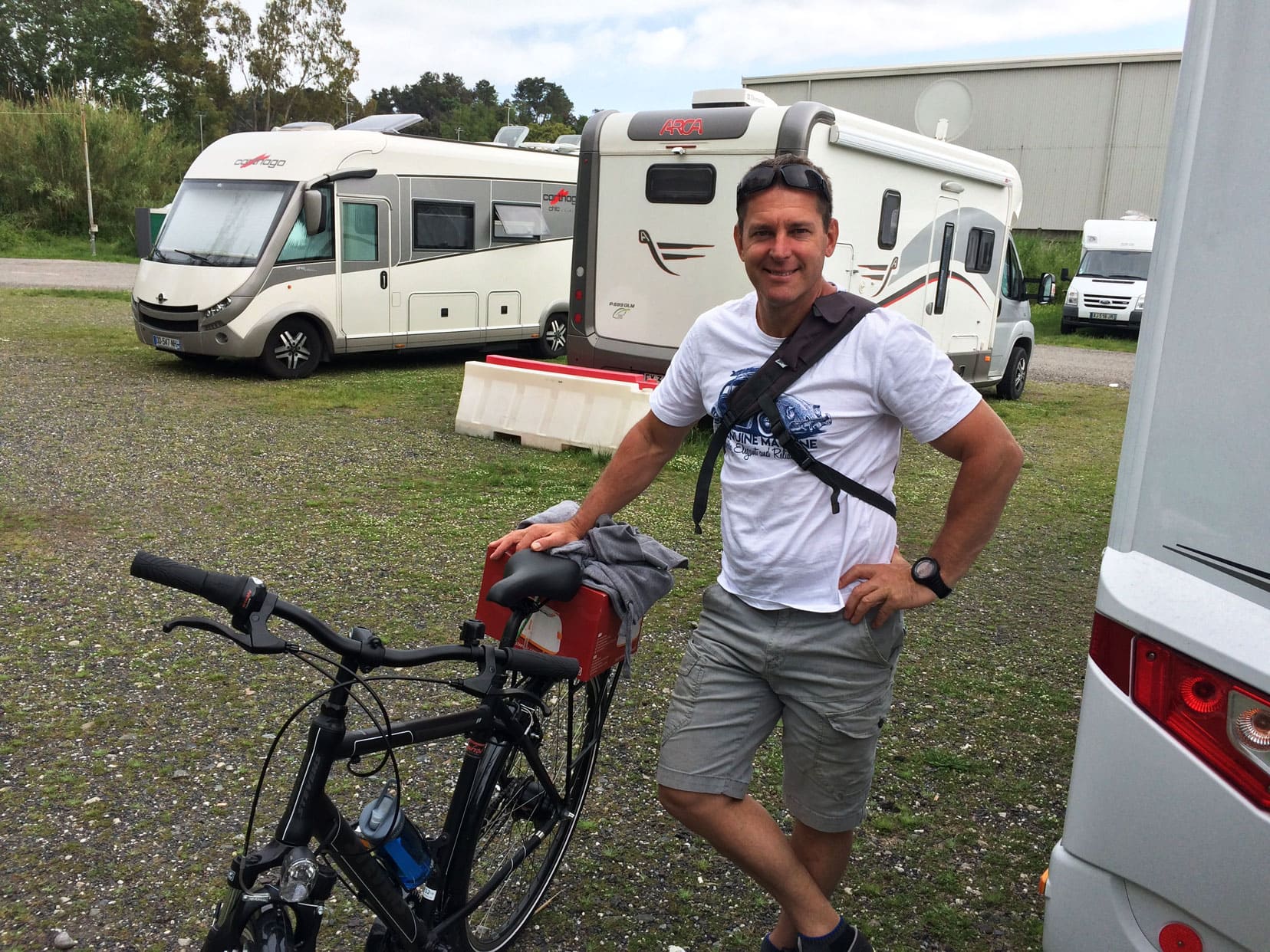 If you are like me, you might be confused about the campervan and motorhome jargon. Below, I've included a breakdown of the difference between a campervan and various categories of motorhome.
Spoiler: In the end, the terms camper, campervan and motorhome can all be used interchangeably – but generally, a campervan doesn't have a toilet inside …
Saying that, though, some websites and rental agencies call a Class B motorhome a campervan, which can have a toilet inside … It's all semantics in the end.
The main point is that you find the setup, layouts and size that suits you best.
What's The Difference Between a Motorhome and a Campervan?
In a Nutshell:
The words motorhome and campervan are often used interchangeably.
But are they the same or different?
What's a Campervan?
A campervan is a van in which you go camping. So, in theory, this term could include both motorhomes and anything you camp in that has wheels.
In practice, though, a campervan generally refers to a smaller van that does not have a toilet. That being said, some also include the Class B motorhome in this category – which does have a toilet.
Confused yet?
Stay with me.
The variations of campervan can range from a converted small van, in which you may or may not be able to stand up, to a 7-metre long Class B motorhome with a bed, living area and inbuilt shower/toilet.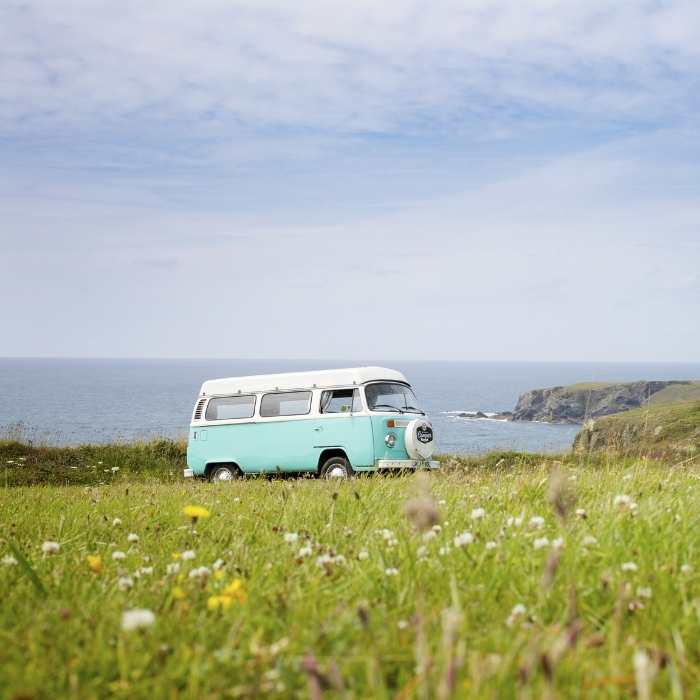 What is a Motorhome?
A motorhome is a motorised vehicle that generally has a toilet, kitchenette and sleeping area. The motorhome term is the most straightforward to understand, but there are three different classes. There are type A, B and C classes of motorhome.
(There is also a B+ and a super C, which basically means they are a big version of that motorhome class)
CLASS 'A' MOTORHOME
A 'Class A' Motorhome looks more like a bus. It has a commercial reinforced chassis and is more spacious and luxurious than other motorhomes.
If you are looking for luxury, have a big family and don't mind driving a bus, then this option may be for you.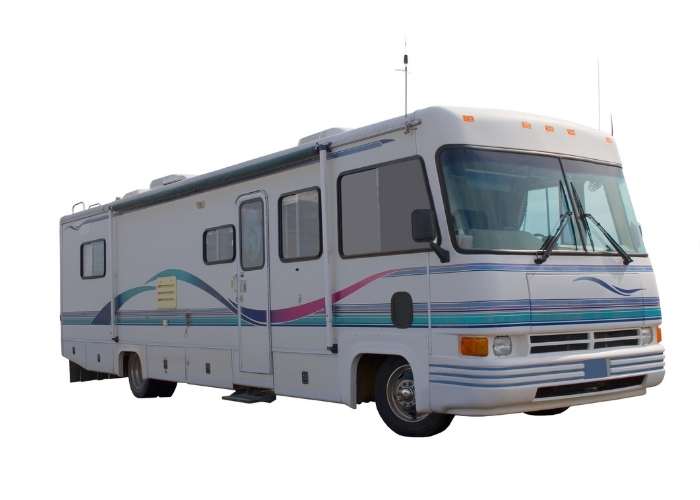 CLASS 'B' MOTORHOME
A class B motorhome is the smallest of the motorhomes. It's a compact, versatile van. This is the type of motorhome we used to travel around Europe for the year. There are also B + motorhomes that are a little larger.
These motorhomes are the easiest to manoeuvre and can fit into all campsites. Most have a wet shower, meaning the shower and toilet are one unit.
A class B motorhome generally sleeps 2 people, and the bed can either be fixed or convertible. We'd recommend getting a fixed bed to save the hassle of making the bed up each night.
If you are a couple and will spend a lot of your time outside hiking and exploring, this type of motorhome is perfect. It has all the necessary facilities you'll need and is normally the most budget-friendly to hire.
The downside, however, is that it is short on space and storage.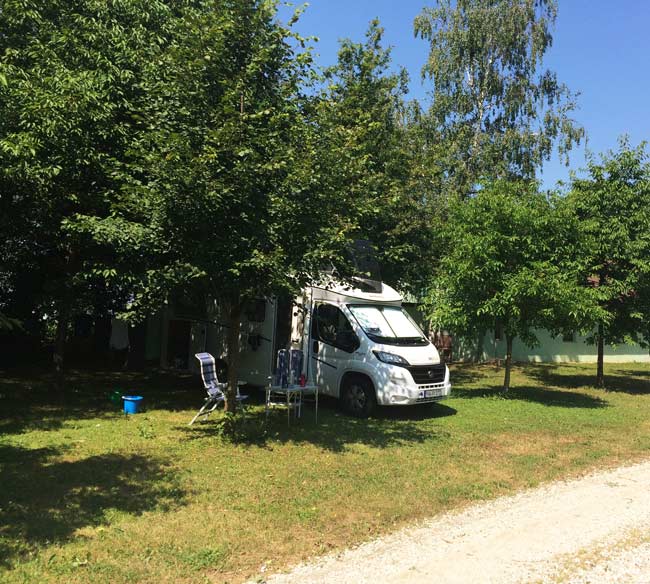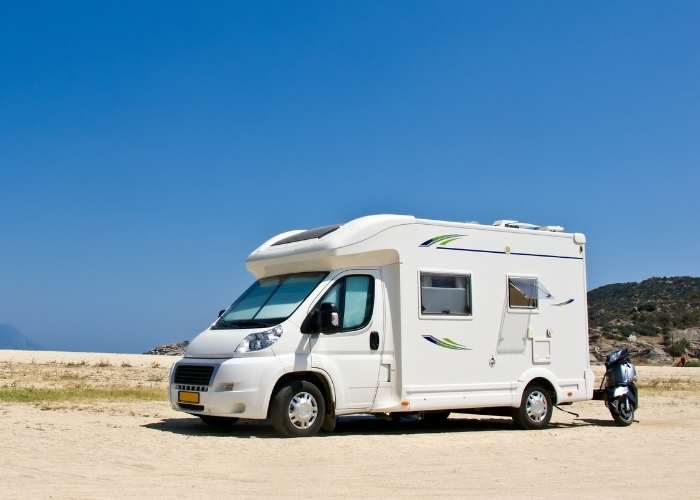 CLASS C MOTORHOME
A 'Class C' motorhome often has a cab above the driver's seat and more space than a Class B. The class C motorhome is the size between the A and the B.
As if it isn't already confusing enough! – Why they are not ordered logically, I do not know.
In order of motorhome size, largest to smallest: A > C > B
If you are a family of 4/6 or a couple looking for more space, this option will be a good one to hire.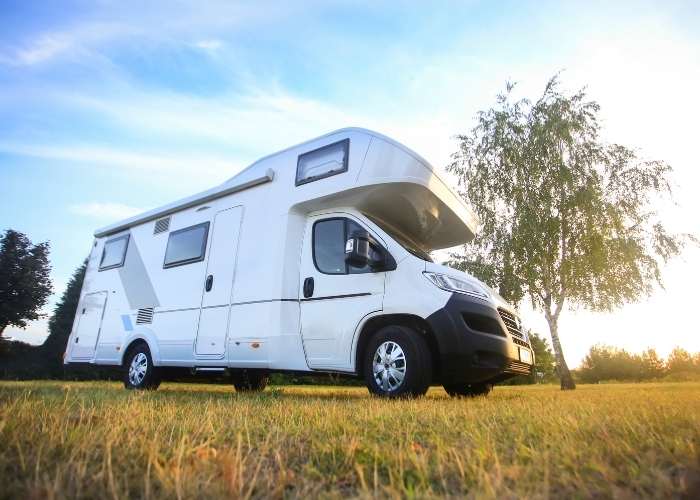 5. Where to Hire the Motorhome or Campervan
We did an enormous amount of research and found the best deals were from German motorhome depots.
Our first plan was to hire a motorhome for five months. That changed, however, to 12 months while on the road, hiring the second van through a different company and via the Motorhome Republic.
The first van we rented directly from McRent, and the second was rented through Motorhome Republic, which was able to source the best deal for us. They were also able to beat the quotes that we were getting from individual rental companies and also managed to get extras thrown in with the price.
We were so impressed with their help that we now are an affiliate. Motorhome Republic uses a variety of depots and companies (including McRent) with thousands of locations around the world.
Once you have a quote, check with them to see what they can include in the price.
🤩 Secure the best deals by booking early — Request a quote from Motorhome Republic here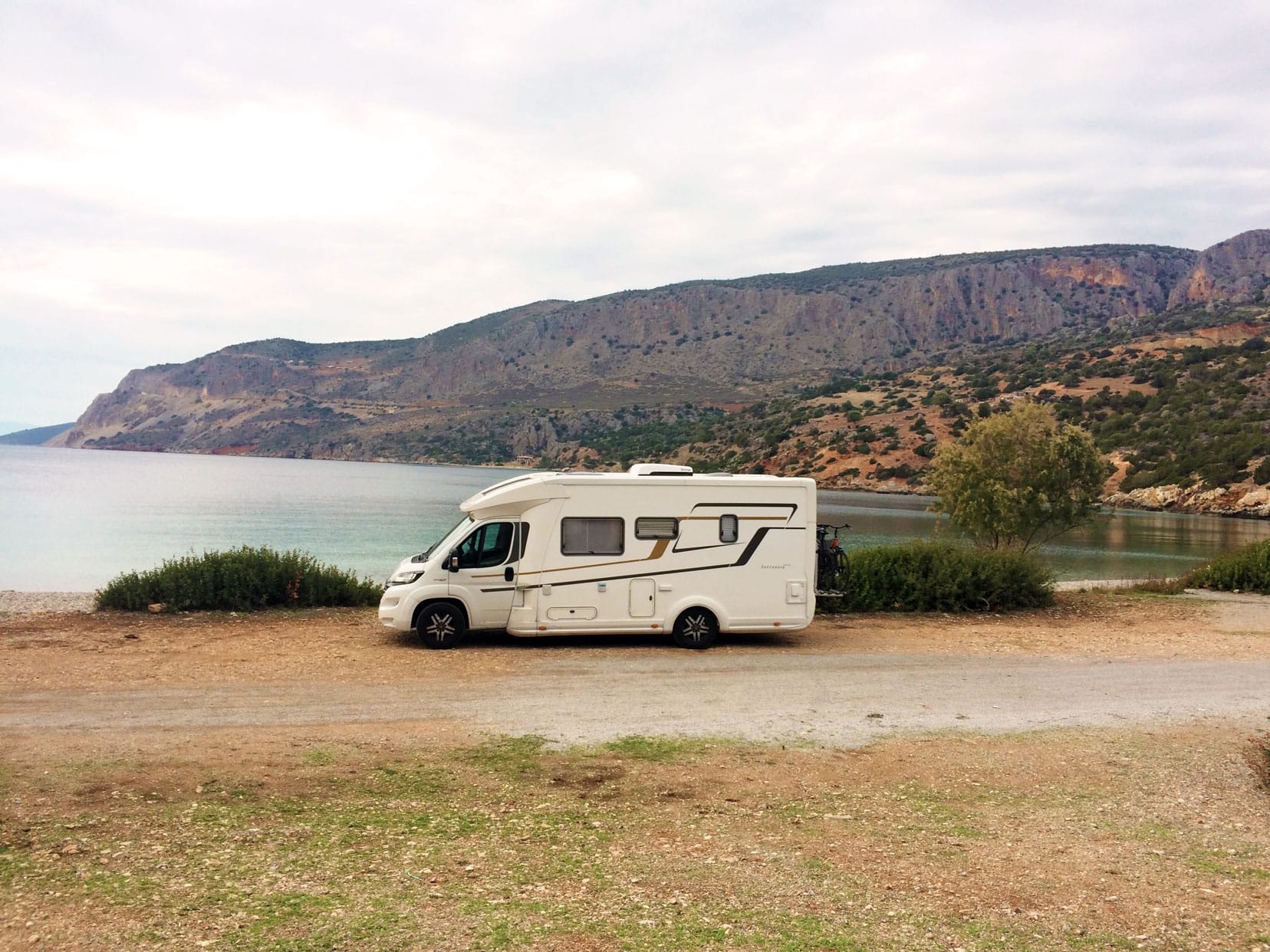 The Motorhome Republic operates worldwide, but there are many recreational vehicle rental companies out there to choose from.
We would recommend always checking the reviews for any motorhome rental company on Trustpilot. You will quickly get a clear picture of whether they are a reputable firm.
Private Motorhome and Campervan Rentals
As well as motorhome rental companies renting out their fleet of motorhomes and campers, a new trend has begun with motorhome owners renting out their personal motorhomes.
Gobooney has good reviews but avoid 'Camptoo' – I've read terrible feedback about them.
Remember to check Trustpilot for reviews and feedback on the relevant company that you are considering using.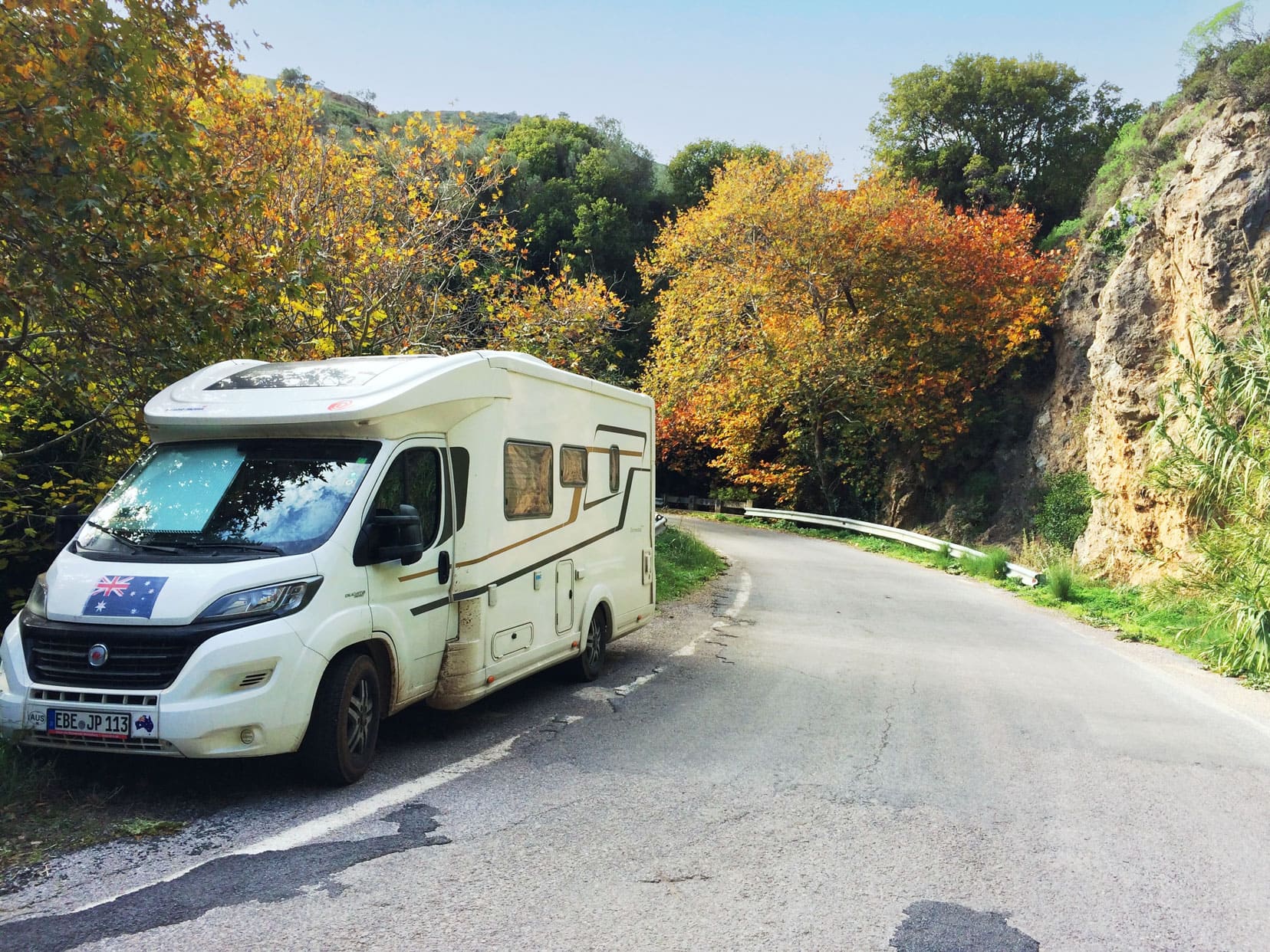 Tips For Planning Your Motorhome Pick-up
Get over Jet Lag: If you fly long-distance to the destination where you are hiring the motorhome, give yourself a couple of days in a hotel or stay in the motorhome close to the pick-up destination. You don't want to be driving tired in busy cities or for too long a distance. It is also difficult to take in all the handover information (where you are given a rundown of the motorhome functionality) while struggling to stay awake.
Check pick-up time: If hiring your motorhome from a depot – check the opening times and the drop-off and pick-up times. We flew into Germany from Australia and turned up at the depot expecting to take the motorhome as soon as they opened … but then we learnt the pickup time was 12 pm!
Hour Handover: Allow about an hour for the motorhome handover for pickup and drop off.
Video the Handover: Video record the motorhome handover so you can refer to it later.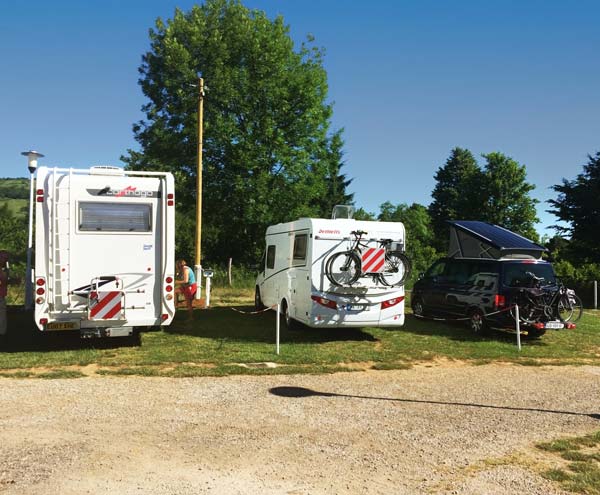 6. Campervan/Motorhome Hire in Europe: Questions to Ask & Points to Consider
Which countries are covered by motorhome insurance?
When we hired our motorhome, some countries, such as Bosnia, Serbia and Albania, were excluded. However, we were able to add them at no extra cost. Unfortunately, we couldn't add Bulgaria, Romania or Morocco, so we could not visit those countries with the campervan.
2. What is the excess payable on the motorhome insurance in case of an accident?
The insurance excess amount is often held as a deposit by the rental company. But also check with your travel insurance company whether they cover the excess payable on motorhome hire insurance. Ours did, and we had a couple of bings on our travels and our 1,500 euro excesses were covered both times.
3. What type of heating/cooling does the van have?
Our first motorhome only had gas heating, whereas the second had gas and electric heating and electric air conditioning. This saved us a huge amount of gas consumption and having to constantly worry about refilling our gas bottles. The cooling was fantastic when the days were really hot.
4. Does the heating/cooling work with electricity or gas?
As we were often at free sites or wild camping without electricity, we needed the heating to run on gas. Sometimes, putting the gas cooktop on for a bit was more economical and speedier to warm the van (with a window cracked). Our cooling system in the second camper could only be run on electricity.
5. How many gas bottles are there?
Having two gas bottles will give you a buffer until you are able to refill the other. We had two 11kg bottles.
6. What is the layout of the beds?
Are they drop-down beds? Is access easy? Do you need a ladder? It's important to consider how agile you are when choosing these options. Also, making the bed can be difficult if you don't have easy access.
7. Do you get camper chairs/picnic tables included?
Are they proper camping chairs and in good repair if they are included?
8. Is bedding supplied?
If you are hiring the bedding, check that it is relatively new. When we arrived in the country, we asked for a fresh mattress and bought our own sheets and pillows.
9. Are plates and cookware included?
You may want to buy some additional plastic containers for food storage as they won't be included in a kitchen pack.
10. Does the van come equipped with levelling blocks?
These come in very handy when you are parked on a slope.
11. Is there a bike rack attached?
We bought a couple of bikes on our travels, which were great for exploring the local areas, so a bike rack was included in the deal.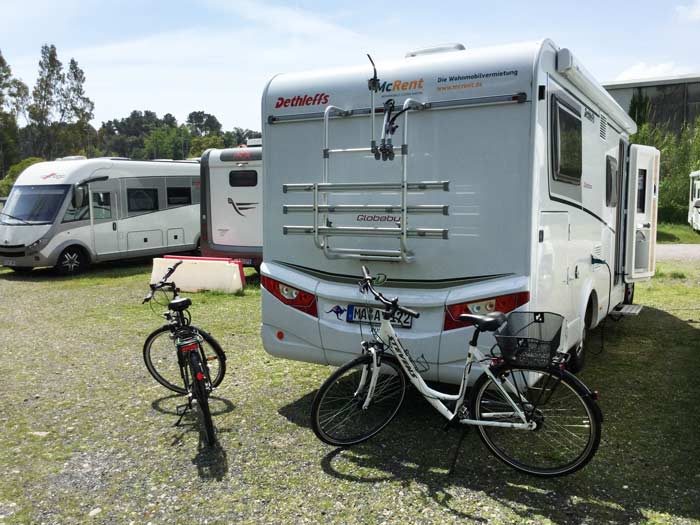 12. If travelling in winter, do you have snow tyres on the van?
Also, are snow chains provided? Some areas in winter stipulate that you must have snow tyres; in some, you must have snow chains.
13. Does the campervan have the necessary equipment legally required by most European countries?
Reflective vests, a warning triangle, and a first aid kit are required by most European countries. Check out the RAC page for their Driving in Europe Checklist.
14. Do I have unlimited mileage, or will I be charged for extra mileage?
15. What countries does the motorhome insurance cover you for?
If you travel to countries other than where you pick it up, you need to check that the motorhome insurance policy is valid. We asked for some automatically excluded countries to be included in our insurance, such as Bosnia, Serbia and Albania, which were added at no extra cost. (But, we could not visit Bulgaria, Romania or Morocco with the motorhome)
16. Does the tank need to be full when I return the motorhome?
16. Can you have a pet in the motorhome?
⭐️ Bonus Tip: Use your mobile phone to video record the handover of the campervan so that you have a resource to refer to when you invariably forget some of the instructions.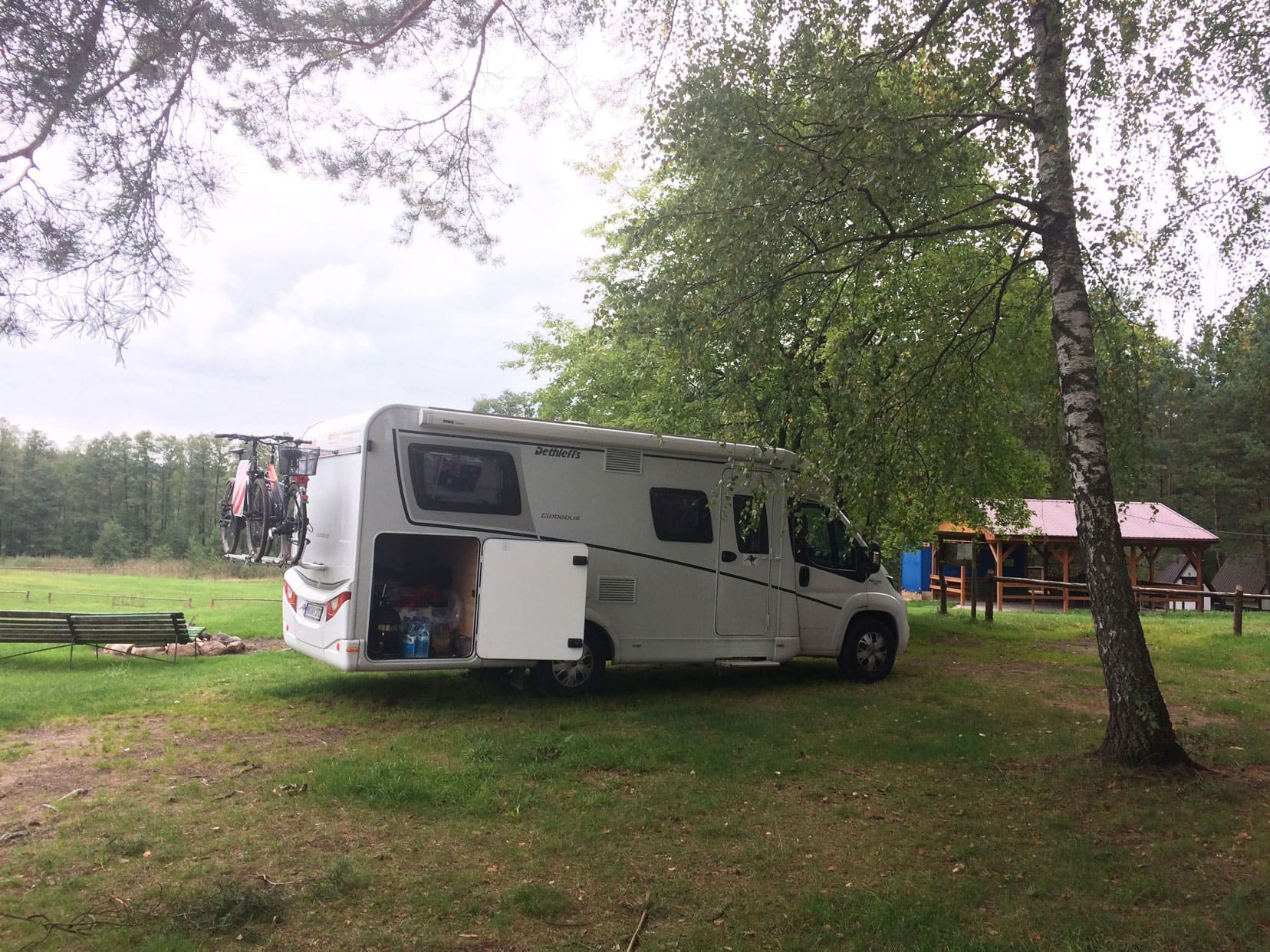 What's Included When You Hire A Motorhome/Campervan?
Inclusions that may or may not be included in your campervan or motorhome hire are:
Flyscreens
Bike Rack
Generator
Microwave
Rear parking camera
GPS Navigator
Awning
Bedding pack
Outside chairs and table
Kitchen equipment, utensils, pots and pans
Pet passengers allowed
Unlimited mileage
Always check with the rental company about what will be included in the price or what is available at an extra cost.
⭐️⭐️⭐️ Get an obligation-free quote from Motorhome Republic today ⭐️⭐️⭐️
7. Where to Begin Your Europe Motorhome Road Trip?
Where you start your campervanning trip in Europe will depend on:
Where you live,
How long your road trip will be, and
Where you are renting your campervan from
It's usually cheaper to pick up and drop off from the same point, so planning a circular route would be more economical in regard to the campervan hire costs.
As Germany was where we got the best daily rate for hire costs, we began and ended our road trip in Germany.
Another factor to consider when to campervan across Europe is the time of year and the expected weather conditions of the European countries you would like to visit.
If your campervanning trip expands over several seasons, you may wish to be further south in the winter to garner the warmer weather and explore the northern European countries in the summer months.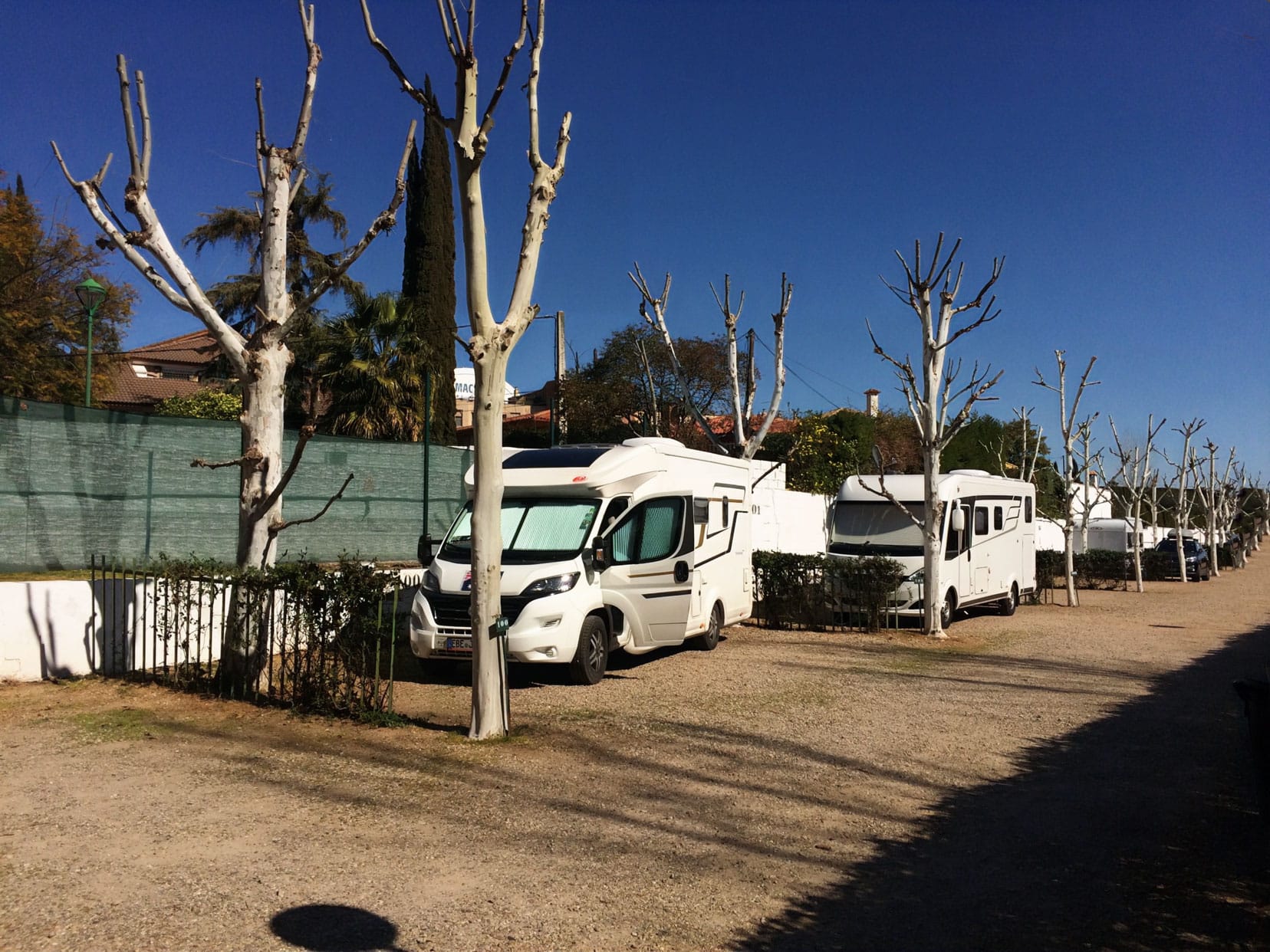 8. Campervan and Motorhome Route Planning in Europe
Remember that if you are not used to:
a) Driving a motorhome and
b) Driving on the opposite side of the road to which you are familiar,
then the first few days will likely be quite tiring and perhaps stressful.
Try not to plan to drive into big cities or do too much in the first few days. Give yourself time to adapt to the new driving situation.
When we first started our journey, we'd plan on heading for the places we wanted to see and then looked later in the day as to where we would camp overnight.
However, we learnt quite quickly that it worked out much better if we had one or two options for where to stay that night and planned our route accordingly.
Although this sometimes changed if we came across a better spot, it took some of the last-minute stress out of finding a camper stop for the night.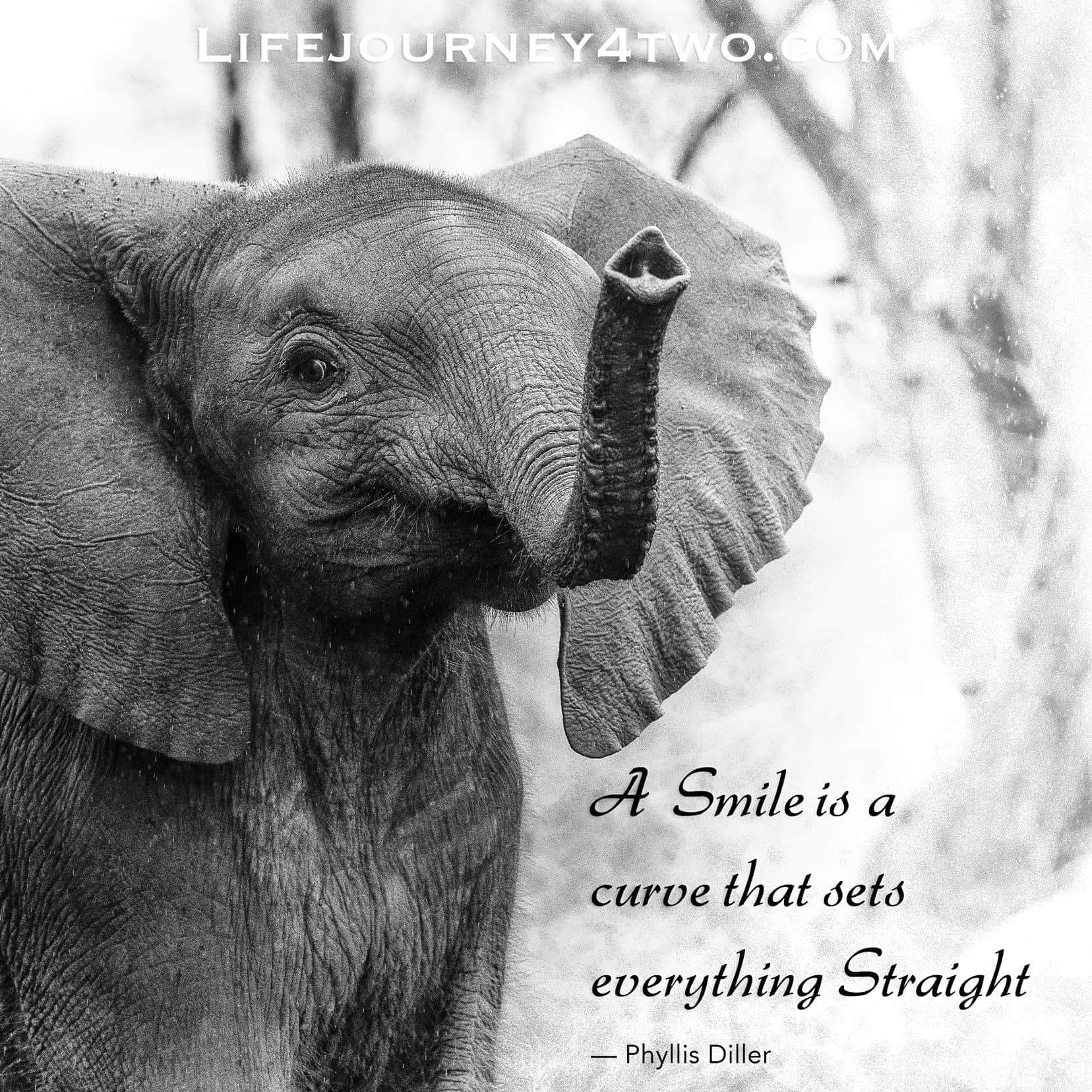 Points to Consider on Your Campervanning Route in Europe
Driving and navigating a large motorhome into the heart of big cities can be stressful, so it is often better to find a campervan/motorhome campsite in the suburbs. Find one near to public transport and catch the train or bus into the city.


Try to avoid popular European destinations in the high season — we mistakenly hit Rome in peak season, and it was unbearable. I'm not a lover of cities at the best of times, but I had been looking forward to Rome. Unfortunately, it was so busy that it ruined our experience and sense of the place.


If you are travelling off-season, check that the motorhome campsite is open. Using the campsite apps we mention below will help.


Plan your campervanning route around expected weather conditions and seasons. For example, if you prefer warm weather, head south. There are so many reasons to visit Greece, and winter is the perfect time to avoid the crowds.


Have a campervanning route plan, but do be open to change. (We planned a route around Hungary but decided after two days that we weren't too impressed and headed into a different country instead).
This FREE Motorhome/ RV Travel Planner is perfect for planning and recording your travels.
With 23 pages, including travel journal pages, budgeting, checklists, etc.
Get your Instant Download for you to print and start your next road trip planning now…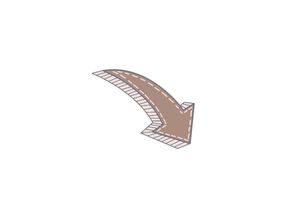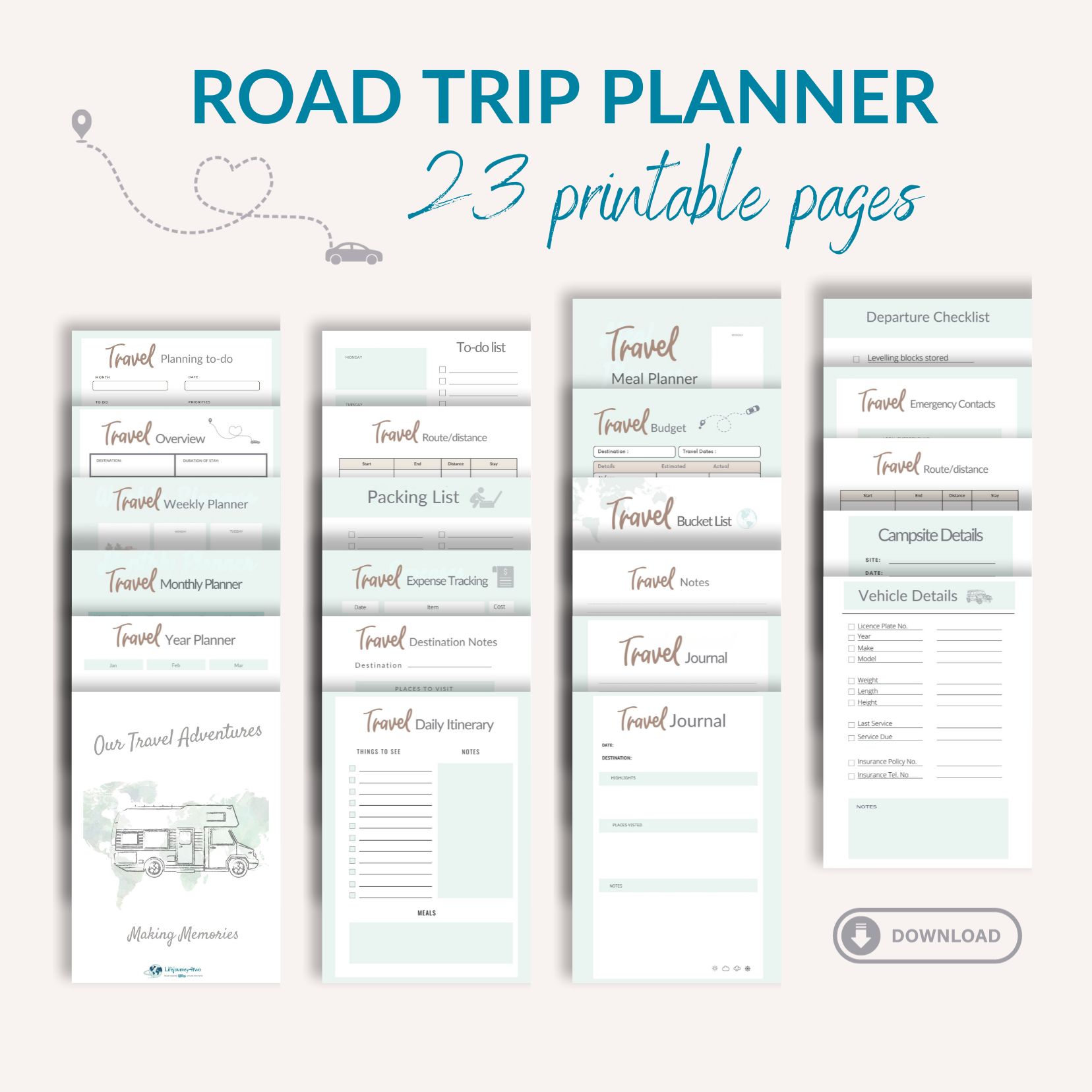 9. Motorhome Route Through Europe

This map includes our 12-month motorhome route across Europe. If you click on the coloured pins marked with a P or a star, you will see the exact motorhome and campervan sites that we stayed at, with links to CamperContact so you can check recent reviews, prices and available facilities.
On this European road trip interactive map, we have also included many of the places we visited along the way and links to posts that may be helpful.
10. Detailed Europe Motorhome/Campervan Road Trips to Inspire You
Travelling around Europe in a campervan is a thrilling way to explore diverse landscapes and cultures. We've compiled a collection of our personal road trip experiences to ignite your wanderlust and assist in planning your journey.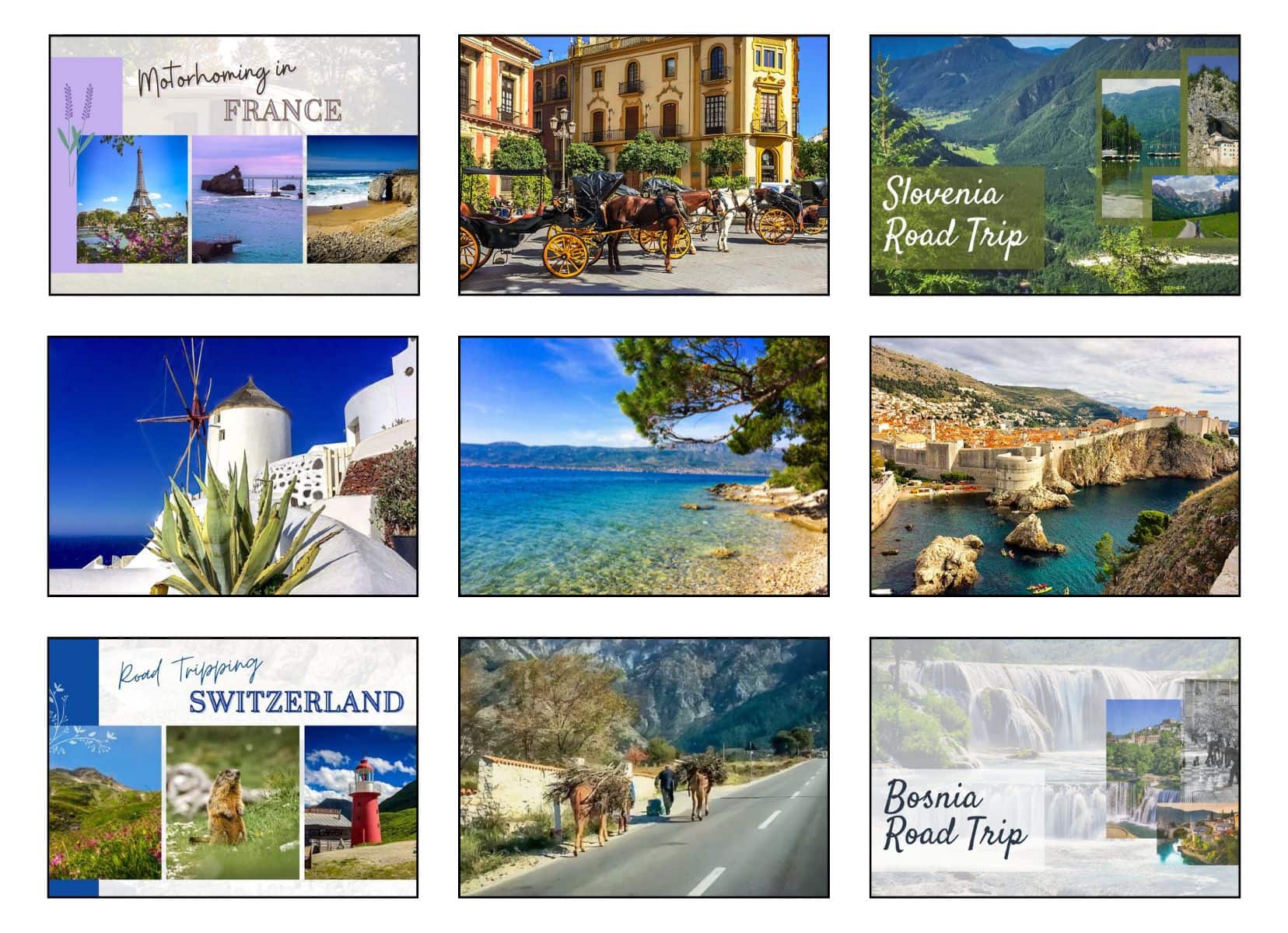 Each link below leads to an in-depth guide with tips, routes, and fabulous destinations.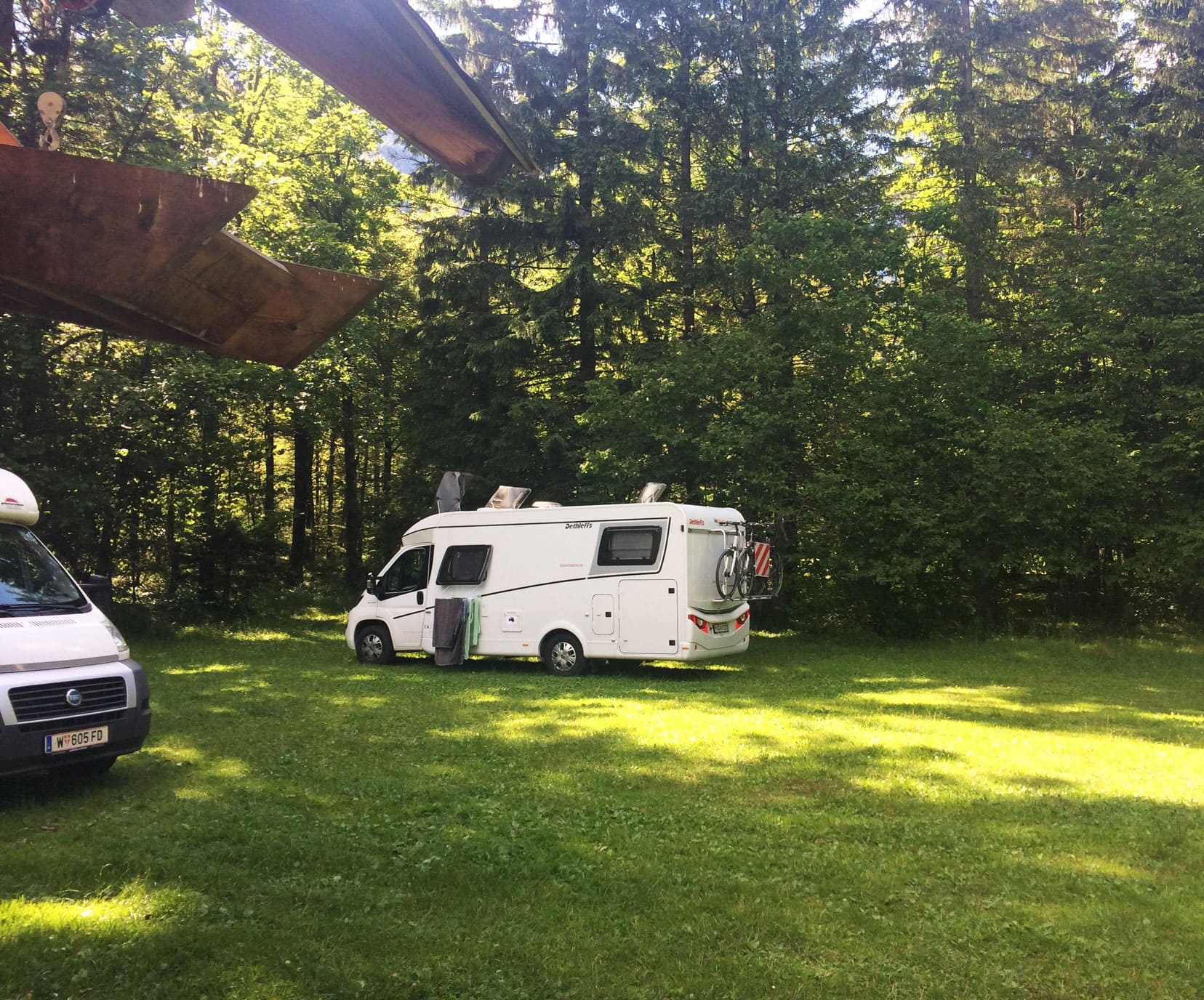 11. Tips for Motorhoming and Campervanning in Europe
Embark on your campervan road trip Europe with confidence, armed with our essential tips and tricks to make your motorhoming or campervanning journey smooth, enjoyable, and full of unforgettable memories.
We've included general, campsite and safety tips.
1. Campervan and Motorhome Tips
🔥 Carry Two Gas Bottles: It is best to travel with two gas bottles so that when one is empty, you have time to find somewhere to refill the empty gas bottle and still have gas to use in the meantime.
For more detailed insights and useful gadgets for your journey, explore our comprehensive guide on Campervan/Motorhome Accessories.


🛰 GPS Navigation: You can set up your GPS Navigator (we used a TomTom) with the size of your campervan to help prevent the navigator from taking you on small roads or under small bridges. (Note: this doesn't always guarantee you won't end up on a goat track, though ).


✔️ Pre-Drive Checklist: .Create a checklist of things to check before driving off, e.g. close all cupboards and turn the water off. (Grab a free checklist as part of the Free Travel planner here)


🚦 Know Toll and Vignette Rules: Check each country's road toll requirements. You can check out the various prices and rules here. Some vignettes can be bought at a road toll, in a gas station/shop or online.


💡 TIP: Pay careful attention to this – we had to do a detour which took us very briefly into Austria (10 minutes), and we were stopped by the police and issued a 120 euro fine for not having a vignette. Similarly, in Hungary, we hadn't realised we needed a vignette and faced another 120 euro fine waiting for us when we dropped the van back at the rental depot.


📄 Essential Documents: Have all your motorhome papers to hand, such as insurance and emergency contact details. The last thing you need in case of an accident is to search high and low to find the numbers/papers that you need.


🔒 Secure Internet Usage: Consider installing a VPN if you use the free wifi. It encrypts your Internet connection to secure it and protect your privacy. We use VPN NORD.


🎲 Bring Travel Games: Take some travel games with you to have fun together rather than watching TV or scrolling through social media. Part of life on the road is getting away from the humdrum of everyday things.

For more general advice, jump across to our Travel Tips Page.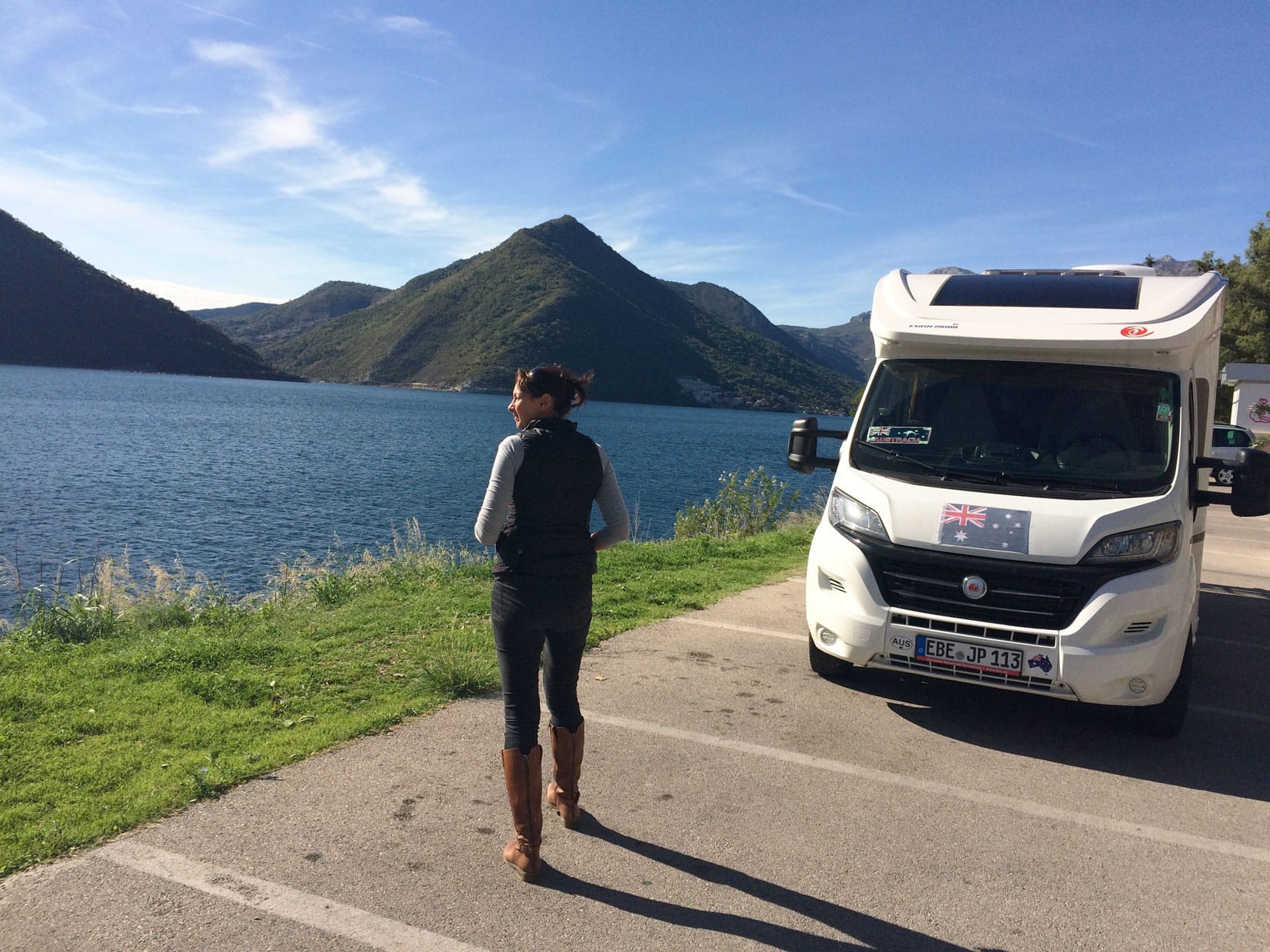 2. Campervan and Motorhome Campsite Tips
📱 Use an App for Local Campsites: Use the Camper Contact app and sometimes Park 4 Night. In Greece, Peejay's Greece Stopovers is an excellent resource.


🌟 Variety of Campsites: You'll come across a huge range in the types of motorhome and campervan campsites. From free camping, with little to no facilities, to those with amenities such as onsite restaurants and pools. As we travelled on a tight budget, we tended to stick to free or low-cost sites.


⛔ Wild Camping Laws: Check each country's recent motorhome wild camping laws. Countries that do not allow wild camping include Belgium, Croatia, Luxembourg, Netherlands, Portugal, Switzerland, Austria, Slovenia, Iceland, The Czech Republic, and Denmark.


🗓️ Seasonal Availability: Verify if the campsite is open during your travel season. Consider calling ahead.


👀 Check Recent Reviews: Always check recent motorhome campsite reviews left by other campervanners. What might seem a serene, perfect stopover in daylight hours may just be the local teens' hangout spot at night. We had a few moments like this with loud music and car engines revving late into the night


📞 Call Ahead During Busy Times: You may need to call ahead in busy times. In the whole 12 months of campervanning in Europe, we only did this on one occasion, in Southern Spain – it gets busy there in winter!


🕙 Arrival Time for Availability: Arriving before 10 am usually secures a spot, except in peak tourist seasons. Check campsite reviews to see if there is normally an issue with availability.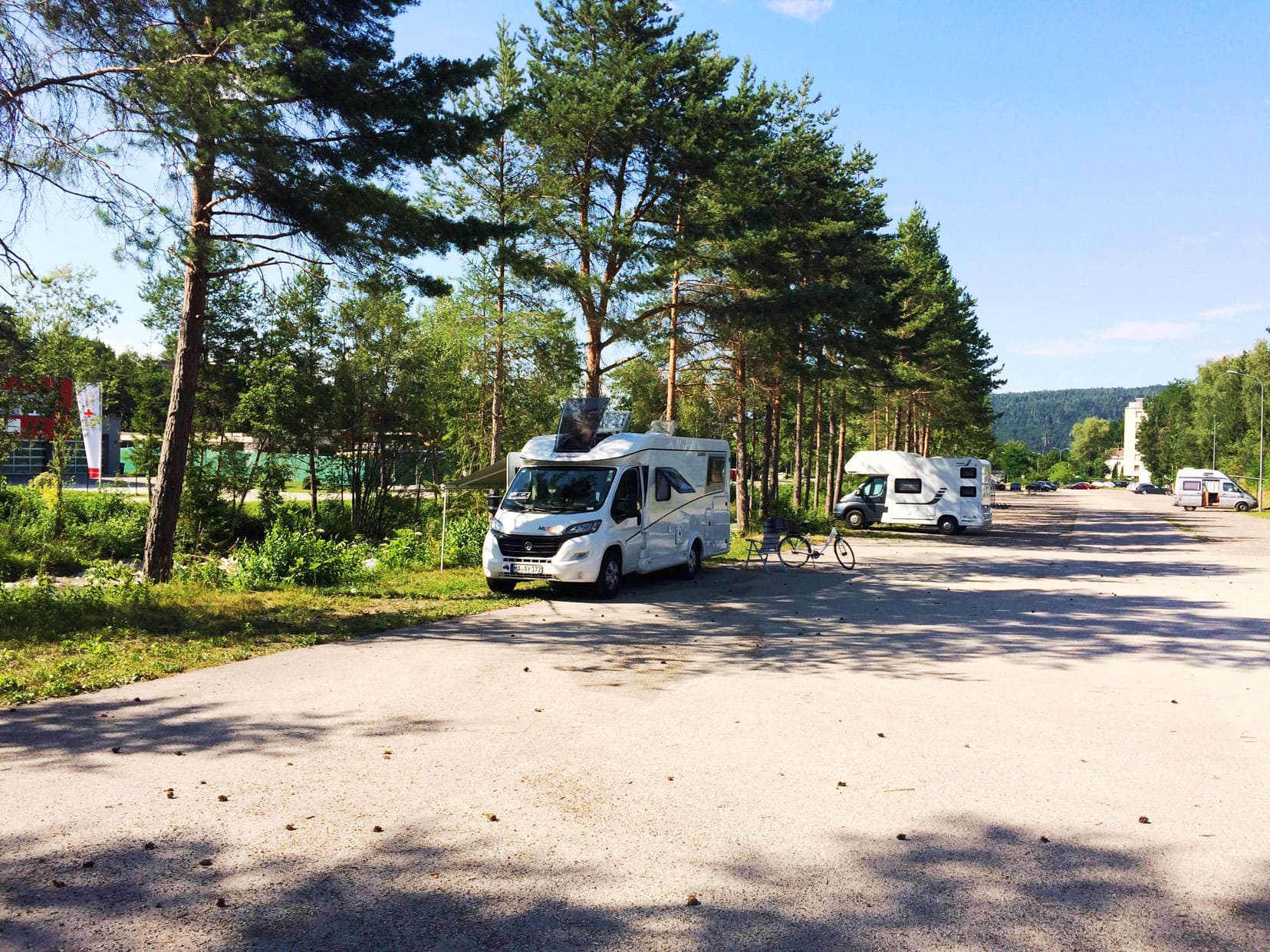 3. Safety Tips When Campervanning in Europe
🚫 Avoid Busy Areas: Steer clear of leaving your van in busy, built-up locations.


💍 Leave Expensive Items at Home: It's wise not to bring expensive jewellery or similar items on your trip.


🕵️‍♂️ Trust Your Instincts: If a place feels unsafe or uncomfortable, it's better to move on.


🛌 Curtain Strategy: Close curtains to keep it ambiguous whether you're inside the van or not, deterring potential intruders.


🔒 Secure Your Valuables: If carrying valuables like laptops and iPads isn't feasible, stash them in hidden spots or secure them in a special anti-theft backpack tethered to the van with a steel cable for added security.

👀 We have a Pacsafe anti-theft backpack, which we bought at the start of our travels. It's now one of our must-have travel items. It's not only made with Slash Guard with lockable zips, but it also has a stainless steel locking cable, which we used all the time in the camper.
4. General Tips for Campervanning in Europe
💶 Be Currency Conscious: Not all European countries use the euro. It's vital to know the local currency for each country you visit.


🗣️ Learn Basic Local Phrases: Knowing simple words like 'hello' and 'thank you' in each country's local language can be immensely helpful. A friendly gesture and a smile often bridge language barriers.


🚗 Prepare for Border Controls: While many countries have open borders, some don't. Be ready for occasional vehicle inspections at border controls, like our experience between Serbia and Bosnia and Herzegovina. We didn't have any really thorough searches – more like opening the bathroom door to check we didn't have anyone else onboard.

💡 Book early to make sure you secure a camper. Demand is high, especially in peak seasons. Click here for a quote from the Motorhome Republic
12. Travel Insurance for a Campervan Europe Trip
Make sure you have travel insurance to cover you while you are campervanning in Europe.
We recommend ensuring that your insurance covers you for the excess you will have to pay for any damage to the hired campervan. This cover alone saved us €3000 in costs when we had 'bings' on both of the motorhomes.
We also used our insurance to cover medical issues and had to replace two bikes we had stolen in Rotterdam.
Travel insurance is one of those 'must haves' we would never leave home without.
Arranging your travel insurance is more difficult if you are travelling long term or not starting and ending your journey in your home country.
World Nomads and Safety Wing are two reputable travel insurance companies that allow you to arrange your travel insurance wherever you are.
We use World Nomads, which gives us comprehensive travel and medical insurance. Get a quote from both to find the best price for you.
⭐️ Get a quote from SafetyWing here
or from
⭐️ World Nomads Comprehensive Travel Insurance Here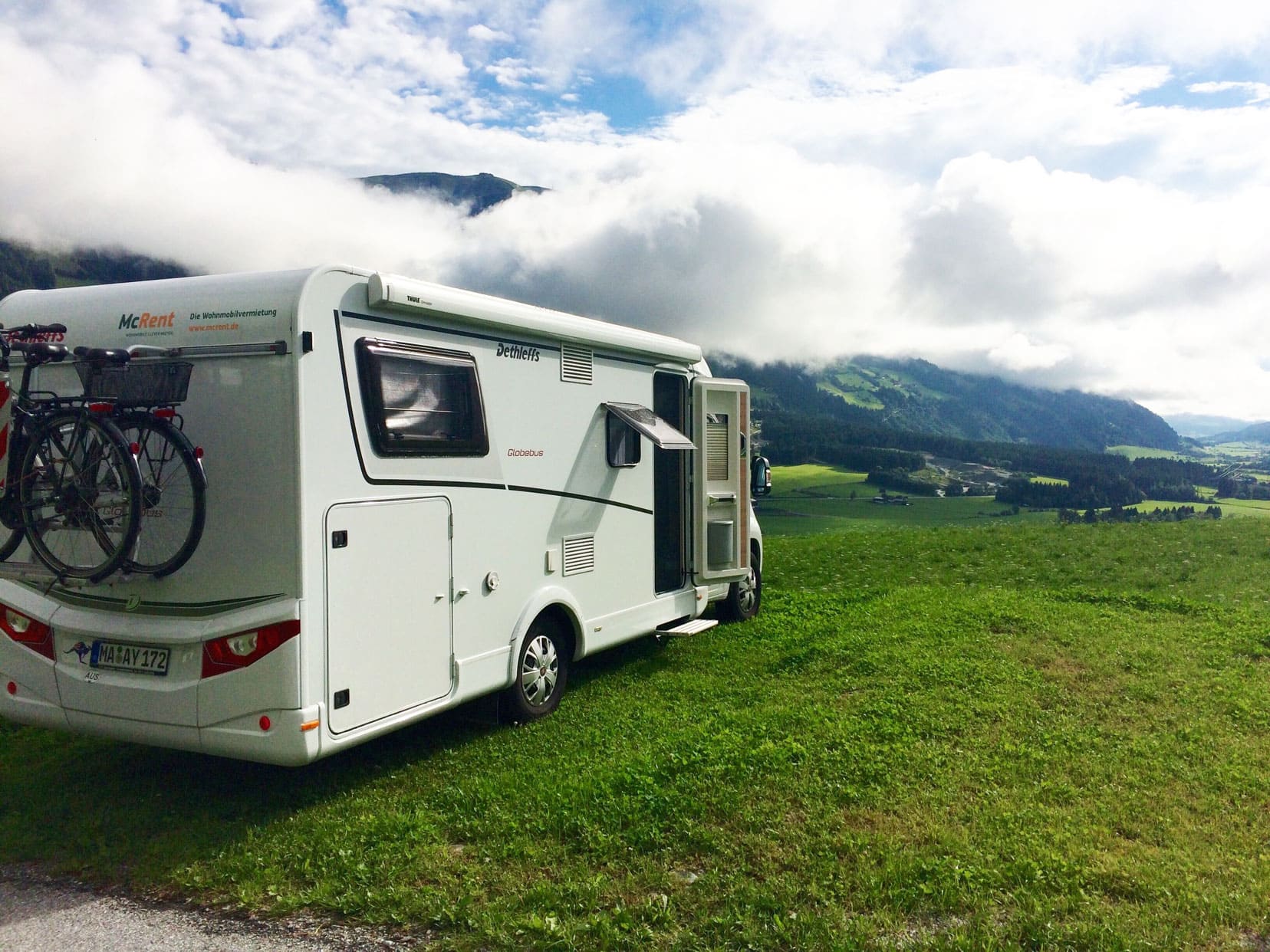 13. Costs of Motorhoming / Campervanning in Europe
This section covers the costs you'll need to consider when hiring a motorhome or camper.
How Much Does It Cost to Hire a Campervan / Motorhome?
Cost per night: This will vary considerably depending on the class of motorhome you choose, the length of hire (discount for longer periods), one-way or return to the depot, and whether you are hiring in peak, shoulder or offseason.
Generally, they will cost between £500 – £1200 per week on average. You can normally secure discounts for periods longer than 4 weeks.
Get a quote here to get an idea and to compare prices.
Refundable Deposit — Normally around $1500 or 1500 euros payable by credit card. If you are due the refund it is normally refunded within 21 days after return.
Other costs to consider when you campervan through Europe include:
Campervan Fuel – petrol/diesel: Prices vary by country. Often the large supermarkets offer good prices on fuel.


Food: Consider local markets for fresh, cost-effective options. Cooking in your campervan can significantly reduce expenses.


European Road tolls: These can add up. Plan routes in advance to manage toll costs or explore toll-free roads for scenic alternatives.


European vignettes: Required in some countries for highway usage. Check each country's vignette requirements and purchase in advance, if possible. Many are available online.


Campervan campsite fees: These vary widely from free spots to luxury campsites. Use apps like Campercontact and Park4Night to find affordable options.


Gas bottle refills: Important for cooking and heating. Know refill locations along your route or ask local camper shops – they are a wealth of local info. (Note – heating uses a lot of gas compared to cooking).


Launderette Costs: Some campsites offer facilities or find local launderettes in towns. This seemed to be one of our bugbears. We'd often end up in tiny streets with no parking. Sometimes it's just best to find a campsite with laundry facilities.


Admission Fees to attractions: Budget for museums, parks, and other attractions. Look for city tourist cards for discounts.


Local transport: Consider city passes for savings on buses and trains.


Ferry costs, if applicable: Plan and book in advance for the best rates. Check prices on Direct Ferries here.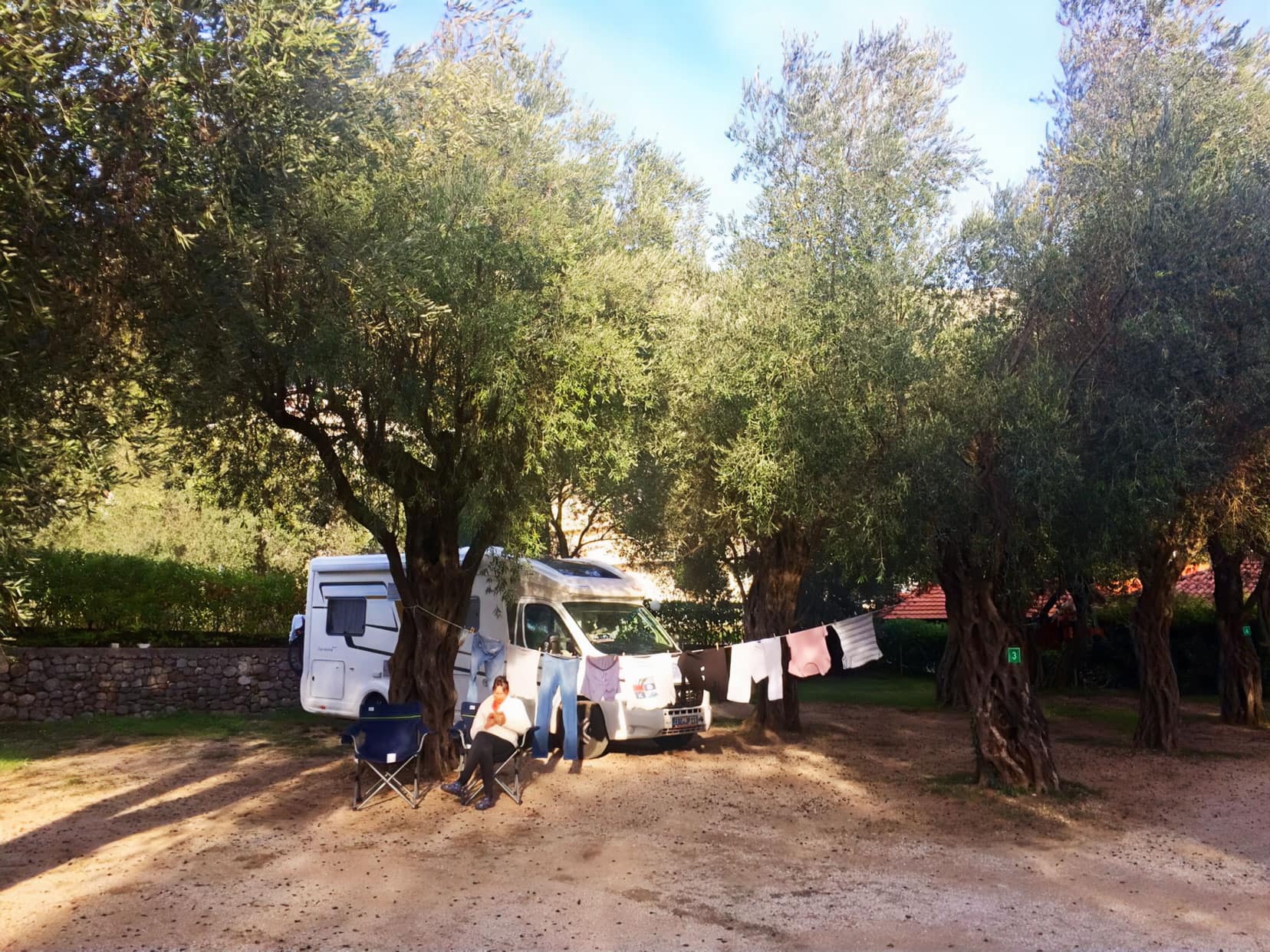 Our Europe by Campervan Costs
Breakdown of Our Costs:
We've provided an average monthly and daily figure based on our 12-month campervanning experience to help you plan your journey.
Note: Our travel expenses were mostly based on cooking our meals and staying at free or low-cost sites. Admission fees and local transport costs are subjective and depend on individual interests.
Table of expenditure items with average monthly and daily costs in Euros in 2018
| | | |
| --- | --- | --- |
| EXPENDITURE ITEM | AVERAGE PER/MONTH (EUROS) | AVERAGE PER/DAY (EUROS) |
| Campervan Hire | 2000 | 66 |
| Food | 600 | 20 |
| Fuel | 300 | 10 |
| Campsites | 207 | 7 |
| Road Tolls/Vignettes | 40 | 1.30 |
| Laundry | 22 | 0.73 |
| Gas Refills | 10 | 0.33 |
14. Sustainable Campervanning in Europe: Practices for Eco-conscious Travellers
Embarking on a campervan journey across Europe is not just about embracing adventure; it's also an opportunity to travel sustainably. As we wander through diverse landscapes and cultures, it's vital to minimise our environmental footprint.
Here are key sustainability practices for eco-conscious campervanners:
Use Eco-friendly Products: Opt for biodegradable soaps and cleaning agents. These products are kinder to the environment, especially when you're camping in natural settings. We use eco-friendly laundry detergent strips – they take up less space, are light and can be used for handwashing too.
Waste Management: Always dispose of waste responsibly. Separate your recyclables and ensure proper disposal at designated areas. Carry reusable bags, containers, and utensils to reduce plastic use.
Water Conservation: Be mindful of water usage. Simple acts like turning off the tap while brushing teeth and having a strip wash instead of a shower can save water.
Solar Power: If you have your own camper, consider equipping it with solar panels. They're a clean energy source and can power your essential devices, reducing reliance on traditional energy sources.
Drive Efficiently: Adopt fuel-efficient driving practices. Maintaining a steady speed, avoiding unnecessary idling, and ensuring your campervan is well-maintained can reduce fuel consumption – and save you money – win-win!
Support Local: Buy local products and produce. It's a great way to immerse yourself in the local culture and reduces the carbon footprint associated with long-distance food transportation.
Respect Nature: Stick to designated trails and camping spots. This helps preserve natural habitats and wildlife.
Offset Carbon Emissions: Consider carbon offsetting programs. These initiatives invest in renewable energy, reforestation, or other projects that compensate for the emissions generated during your trip.
By adopting these practices, you contribute to preserving the beautiful European landscapes you explore. Remember, every small action counts towards a larger goal of sustainable travel.
15. FAQS On Motorhoming in Europe
1. What age do you need to be to hire a motorhome?
Many motorhome rental companies state that the minimum age for hiring a motorhome is 25, and the maximum age is 70. Regulations and age ranges do differ in different countries, but these are the most common.
2. Can you drive a motorhome on a car driving licence?
Depending on your age and the weight/size of the motorhome, you may need to have a special class of licence. If the motorhome is large (over 3.5 tonnes), you will likely need a C1 or a C Class licence. For the UK motorhome driving licence regulations, check this government site.
Always check with the motorhome rental company to confirm your compliance because the regulations differ between countries. However, most motorhomes can be driven on a normal licence. To drive a class B motorhome – we drove a 7.5-meter motorhome on our normal licences.
3. How easy is it to drive a motorhome?
If you aren't used to driving a motorhome or campervan, allow yourself a little time to get used to manoeuvring it before you put yourself in the midst of heavy traffic. Drive more slowly than you would in a car, and remember that braking distances will be longer. You will also need to use your side mirrors much more as you won't be able to see out of the back.
Gobooney has some good tips on driving a motorhome.
Be aware that if you are hiring a motorhome for the first time, it can sometimes be a little stressful. We found that lightening the mood by taking on a funny persona is a good stress buster.
Read more on how we morphed into Lady Penelope and Parker on our travels to make travelling together fun, even in stressful times.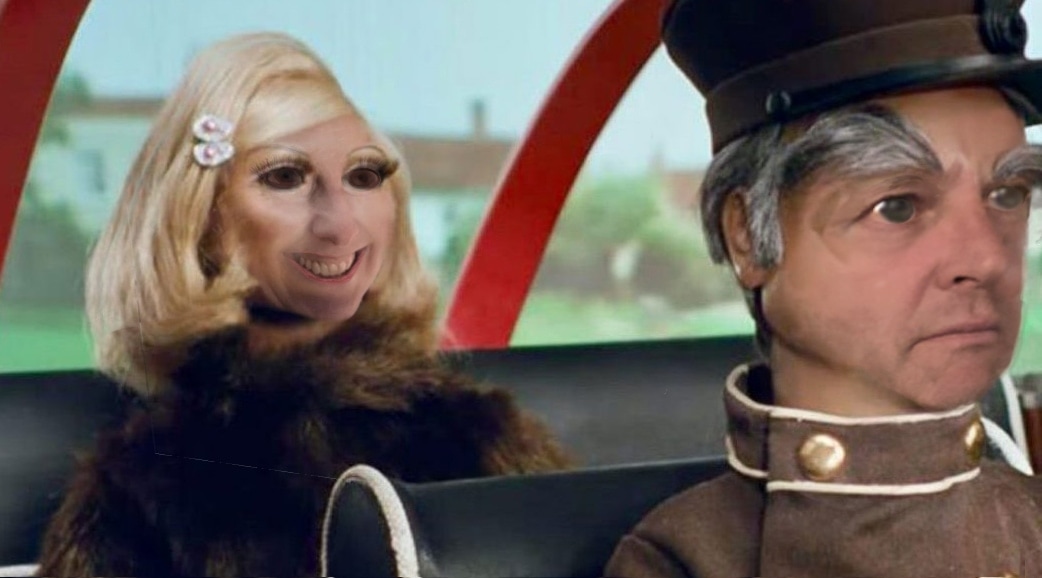 4. Can You Sleep Anywhere in a Campervan in Europe?
Sleeping regulations in a campervan vary across Europe. Some countries allow wild camping, while others require staying at designated campsites. Always check local laws to stay compliant.
5. Can I Travel Around Europe in a Campervan?
Yes, Europe is well-suited for campervan travel. It offers diverse landscapes, cultural experiences, and well-developed road networks, making it ideal for exploring in a campervan or motorhome.
6. Is Europe Motorhome Friendly?
Generally, Europe is motorhome friendly. It offers a wide range of facilities and services catering to motorhomes, including numerous campsites, parking areas, and maintenance services.
We recommend avoiding driving into big cities or small towns with narrow streets. Park on the outskirts and cycle, walk or catch local public transport to avoid navigating hectic traffic or narrow laneways with your motorhome.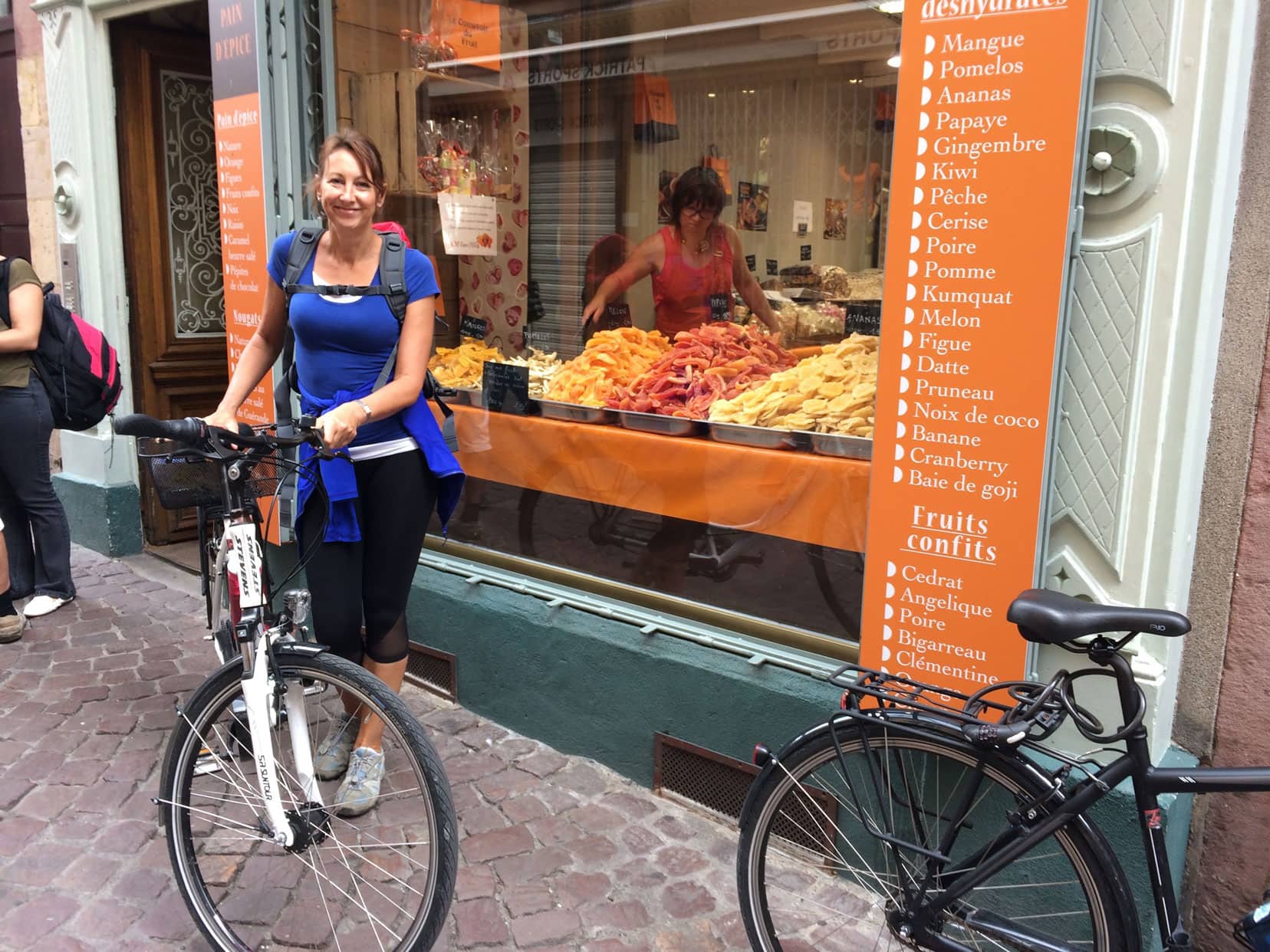 7. How Much Does It Cost to Rent a Campervan in Europe?
The cost of hiring a motorhome in Europe varies depending on the size of the motorhome, rental duration, and season. On average, prices can range from €100 to over €200 per day. Shopping around for the best deals and considering off-peak season rentals for lower prices is advisable.
16. Touring Europe in a Motorhome – Final Thoughts
When you study the whole route (see our map), there will be times when our road trip logistics may seem crazy.
We may have backpedalled and missed certain cities you believe to be spectacular.
We may have seemingly gone around in circles; indeed, we stayed at several sites more than once.
But that is the joy and the flexibility of it all.
You can go where you like, change your plans on a whim, rest, revisit, wander aimlessly, and plan meticulously.
Whatever you feel… you can do.
And remember;
Before you go, don't forget to download your free road trip planner and access to a free PDF of this post for saving and printing.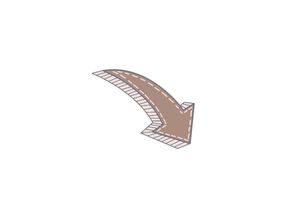 Campervanning in Europe … That's a Wrap
Our camper van Europe trip was an unforgettable adventure, and we really hope that this article helps you plan a fantastic Europe motorhome or campervan trip.
Please let us know if there is any other information you would like to know, and please don't hesitate to contact us with any questions or leave us a comment below – we love to hear from you.
Pin and save for later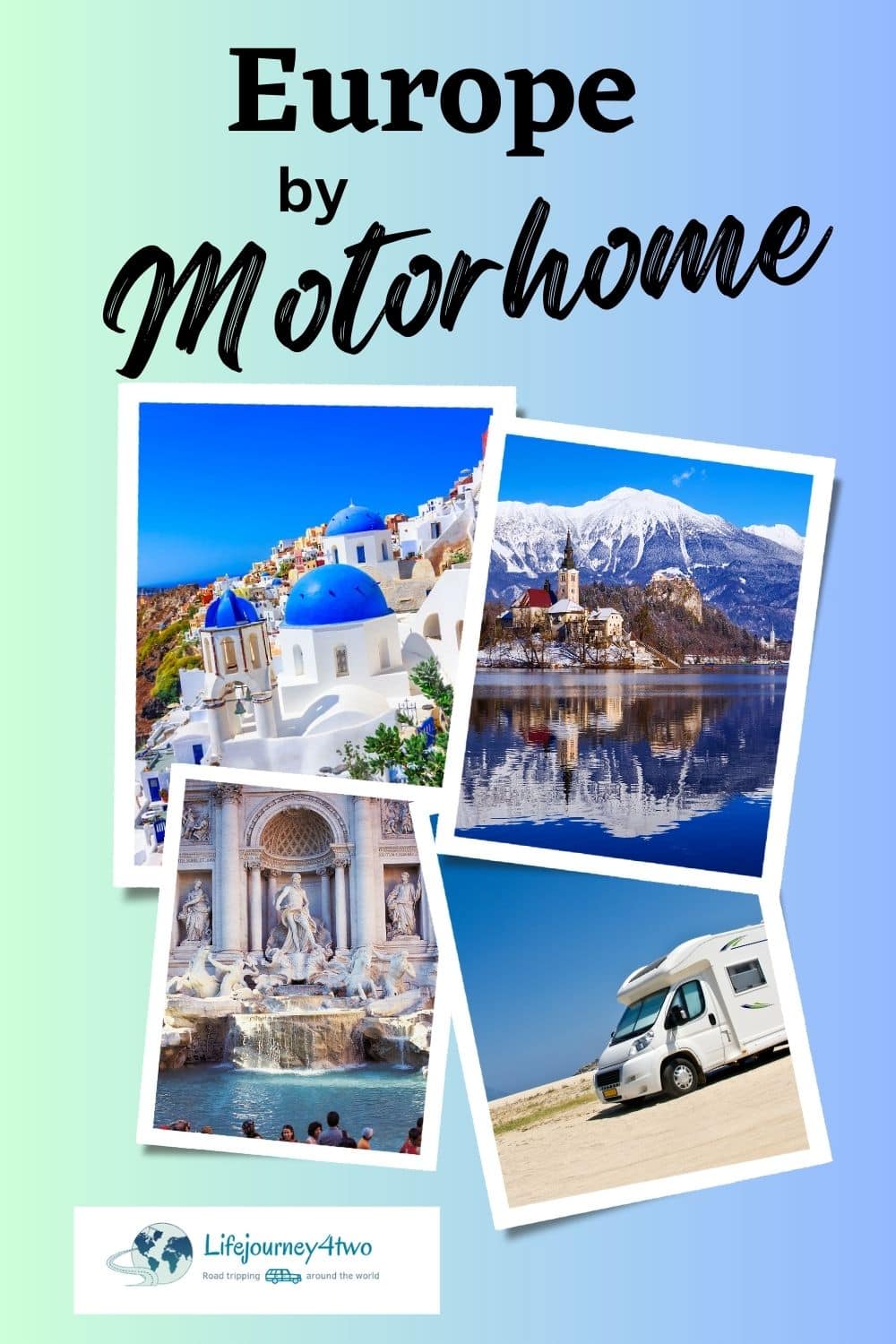 YOU MAY ALSO BE INTERESTED IN READING:
PLANNING YOUR TRAVELS?
These are some of the travel resources we use when planning our trips.
For a more thorough list visit our Travel Resources page here.