Keukenhof Gardens in Holland – a bountiful abundance of blooms, so beautiful you can't help but be enchanted and impressed by their incredible designs.
Keukenhof Holland – Tulip Garden Extraordinaire
 NOTE: Due to Covid, Keukenhof will be opening on a trial basis on 17/18/19th April 2021 – For the latest information check their website here.
Come spring, millions of visitors swarm to view the Keukenhof Gardens in Holland. They come as expectantly as bees searching for the sweet taste of nectar. And they will not be disappointed. There are over 800 varieties of tulips at Keukenhof and although the crowds can get busy at times, Keukenhof emanates an underlining peaceful ambience that soothes the soul.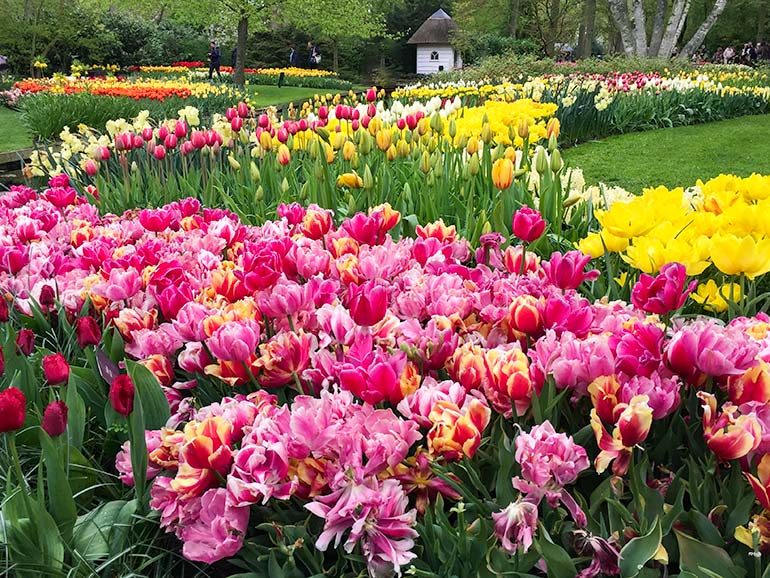 Keukenhof Gardens Information – Quick Look
__________________________
Keukenhof Gardens Opening Times:
2oth March – 9th May 2021 (currently suspended due to Covid)
Every day 8.00-19.30
Best Time to Visit Keukenhof:
Mid to late April (depending on the season's weather)
Keukenhof Visitor Tickets:
Check out the Tulip Festival Card – A fantastic time-saver – includes
Amsterdam & Region Travel Ticket (valid for travel in Amsterdam and to the Keukenhof)
Airport Transfer to Amsterdam by Train (to any station in Amsterdam)
Day Canal Cruise
Amsterdam 15% Discount Card (15% discount on Van Gogh Museum, Rijksmuseum, Heineken Experience and much more!)
Keukenhof Transfer from Amsterdam/Schiphol
Keukenhof Skip the line Ticket
Flower Tour Audioguide
Flowerfield 15% Discount Card (15% discount on your Flowerfield Experiences)
Extra's! Included in the offer is your bus transfer to Volendam and Zaanse Schans (Windmills)
Video: Keukenhof Flower Garden, Holland
Have a peek and enjoy some of the highlights of the Keukenhof Tulip Garden of 2018 in this video.
Keukenhof, Holland – the Garden of Europe
Over seven million flower bulbs are planted for the Keukenhof flower festival in Holland. Therefore,  it is no coincidence that it is known as the Garden of Europe.
It's difficult not to be impressed by Keukenhof's 32 hectares of spring flowers. Adorned with tulips, daffodils, crocuses, hyacinths and more, it is Holland's little piece of spring paradise. It was certainly one of the highlights of our year travelling through Europe in the van.
Keukenhof greeted us with waves of colourful blooms,  all displayed in spectacular designs in amongst swathes of lush green lawns and under cherry tree blossom canopies. A festival of flowers indeed.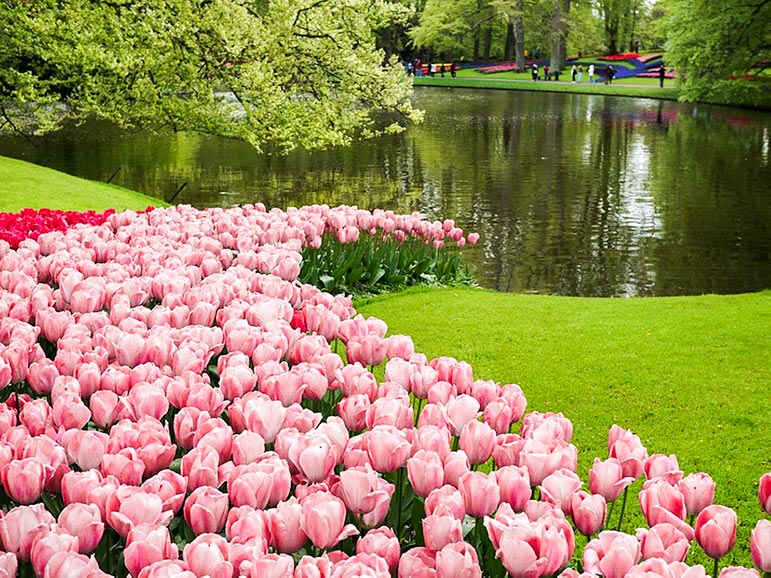 Swathes of tulips – blooming lovely at Keukenhof 
At Keukenhof, you will amble along winding paths, cross quaint bridges and pass fabulous fountains and lakes. You'll encounter countless varieties of tulips and a huge variety of other spring flower displays including narcissus, crocuses and hyacinths. Several pavilions house flower shows and inspirational designs. We spent six hours there and even then I was still reluctant to leave.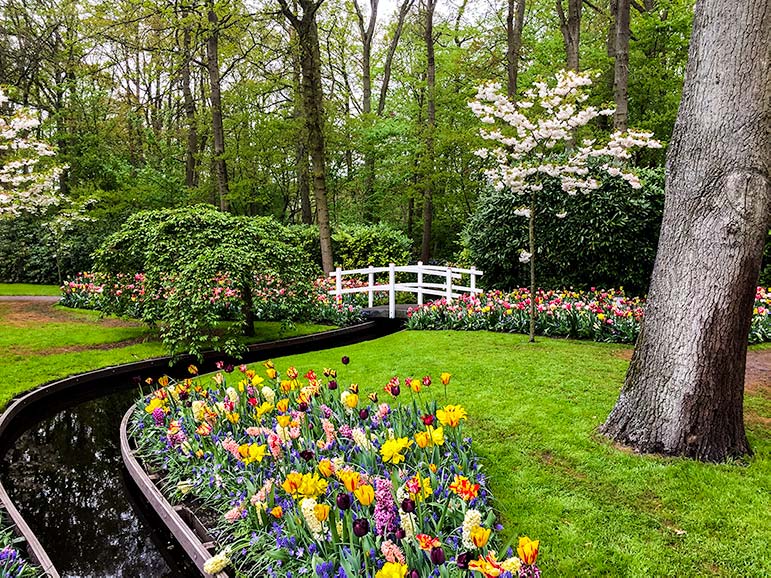 Keukenhof amazes with its intricate and varied garden designs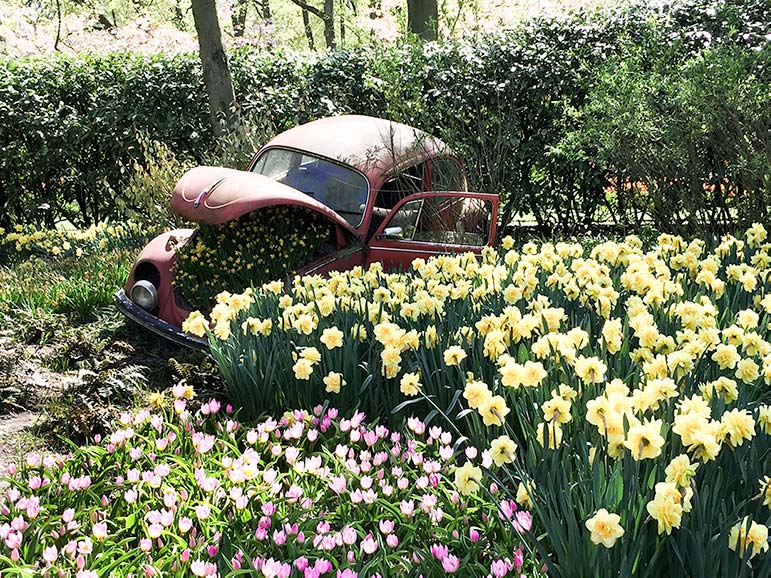 Daffodils and crocus delight at Keukenhof
Immerse your senses at Keukenhof Holland
The exquisite dalliance of colour draws you in from the outset, as scores of hues and shades vie for your attention. Nature's palette splashed on a canvas of petals,  each bloom an intricate masterpiece.
As your face catches the soft breeze it will bring upon it a perfume so innocent and pure that you will at once be mesmerised. The intricate design of each flower will have you gazing at each petal as if you'd never set eyes upon such beauty. That is the magic of Keukenhof.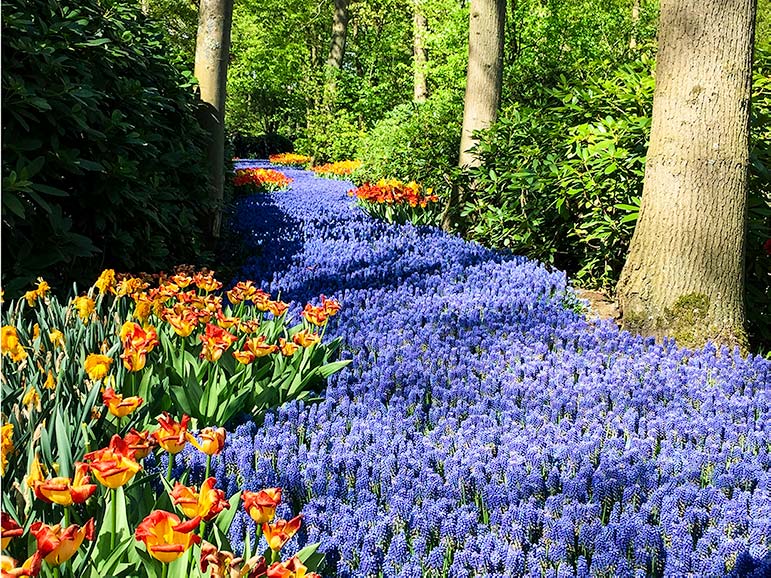 The famous river of blue Mascari (grape hyacinth) at Keukenhof Holland
Immersion in nature often gives you the feeling of serenity and wellbeing, but in Holland's Keukenhof Gardens nature seems to reach deeper somehow. Perhaps it is the vast ribbons of colour that enhance your mood.  Or the array of colours producing a chromotherapy effect on your senses. Maybe it's the beguiling mix of floral scents evoking memories of carefree days in springs gone by.  Whatever it is, Keukenhof Tulip Gardens offer it up in all its blooming abundance.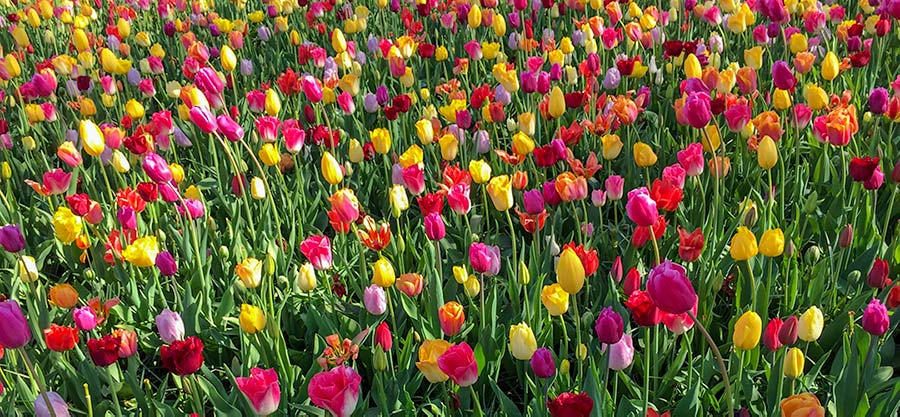 Get your colour on at Keukenhof
Tulip Festival Amsterdam
It is not just the Keukenhof Gardens,  that are full of tantalising tulips in Spring. All around the Lisse area, the flower bulb region of  Holland, you'll find multi-coloured tulip fields with seemingly endless rows of captivating colours.  It is possible to rent a bike and take tours in the surrounding tulip fields.
However, I would suggest that this be in addition to Keukenhof, not instead of. I mention this because we ourselves tossed up whether to save money and just cycle around admiring the fields. But I am so glad we paid the 19 euro each. It honestly was spectacular.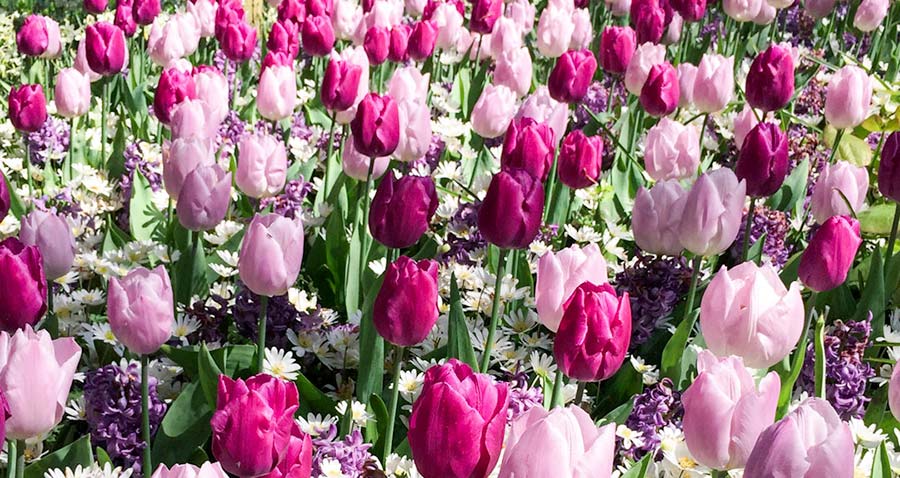 Pink and purple hues of tulips, hyacinths and daisies at Keukenhof
Other Events Related to the  Tulip Festival In Holland
The Bloemencorso Bollenstreek or Keukenhof Flower Parade attracts over one million visitors each year.
| | |
| --- | --- |
| Year | Parade Day |
| 2021 | Saturday 17 April |
| 2022 | Saturday 23 April |
On Sat 17th April 2021, a fabulous spring flower Parade will fill the streets. The Parade begins at Noordwijk Beach, travels past Keukenhof gardens and finishes in the evening in Haarlem.  The floats then stay in Harlem, the flower city if Holland,  the next day so you can get a closer look.
For more information on Bloominstreek Flower Festival click here
2021 date TBA  – 30 mosaics bring the town of Lisse to life. Free viewing.
Tulip History
Contrary to a popular belief, tulips are not native of Holland.  It is thought that they originated in Asia, growing wild in mountains north of the Himalayas.
Thus in Persia, legend has it that the red wildflower tulip sprang forth from an act of true love. A young prince, Prince Farhad, was in love with a maiden and he learnt, (mistakenly as it happened) that she had been killed. He then took an axe to his body and hacked himself to death. Hence, it is said that each drop of blood that fell on the barren earth bore a scarlet flower. As a result, in Persia the blood-red tulip was of symbolic importance, representing perfection and eternity.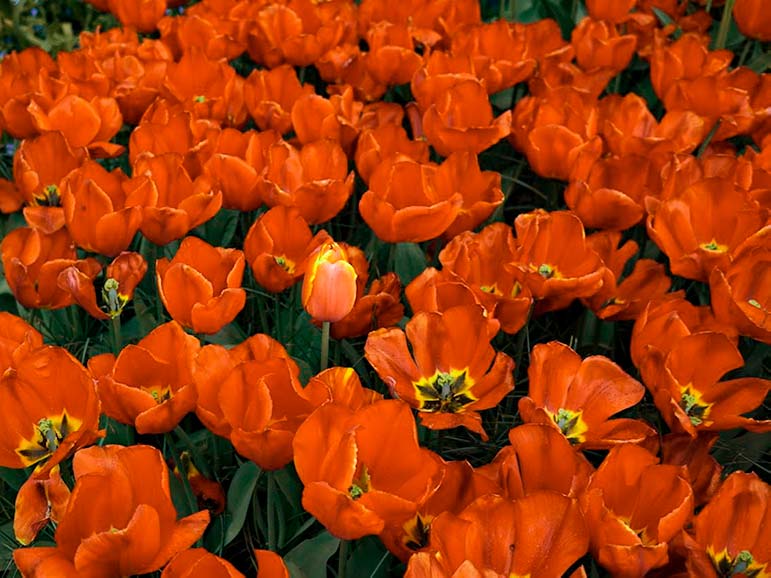 The tulip has been used as a symbol throughout history and across cultures. In the mid-sixteenth century, within the Ottoman Empire, tulips were commonplace and represented in armour, rugs and ornaments. Indeed, it is believed that it was the Turks who began cultivating the tulip and producing new varieties.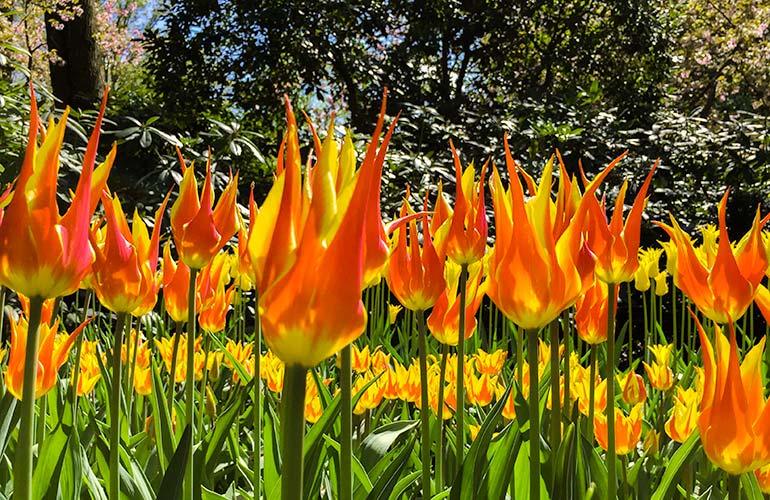 History of Tulips in Holland
Evidence shows that the tulip arrived in Holland sometime in the late 1500s.  To the Dutch, it was seen as a rare and exotic plant. Therefore, due to its scarcity, it was considered quite valuable.  Dutch tulip mania really started to take hold in Holland in 1633. The value of these new flower bulbs was increasing so much that three rare tulip bulbs were exchanged for a house. In his book, Tulipomania, Mike Dash states that a pamphlet of the time, in Holland in 1637, one single tulip bulb could buy you:
Four oxen or
Twelve sheep or
Twenty- four tons of wheat or
Two tons of butter or
Four barrels of beer or
A thousand pounds of cheese or

A silver drinking cup or
An oak bed or
A ship
The tulip bulb was used as money and traded just as gold is today. However, a few months after the height of tulip mania, the market crashed as spectacularly as it had begun, allowing the tulip to once again to become a humble flower to be admired, rather than a commodity of the stock market.
However,  tulip bulbs were a valuable asset during the 'hunger winter'  in Holland at the end of the second world war. During that time, the Dutch consumed them in quantity to prevent starvation.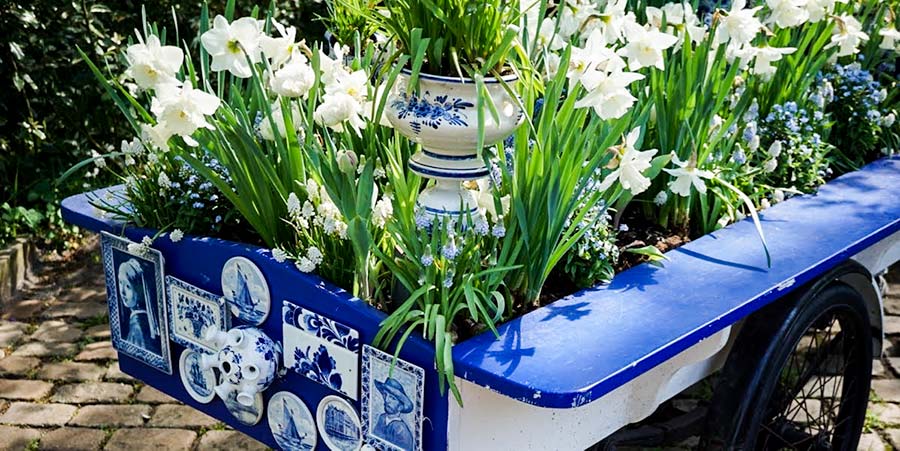 Keukenhof Gardens Holland – Good To Know
Keukenhof: Address
Stationsweg 166a, Lisse, Holland
Keukenhof: Opening Times 2021
Keukenhof is only open for two months of the year, normally from late March to late May, with the best time for tulips being around mid-May.
 2020 Keukenhof opening times are: 
2oth March 2021 – 9th May 2021
Every day 8.00-19.30
Keukenhof: Best Times to Visit
These are times which have traditionally been less busy:
Days:  Mon, Tues and Weds
Times: Before 10.30 and after 16.00
Best time to see the Tulips is around mid-April to late April. (However, it can depend on the season)
Note: Easter time can be particularly busy and at the time of the Keukenhof Flower Parade (Sat, 17th April 2021) 
Keukenhof: Theme
2021 Theme is 'World of Colours' – representing 71 years of Keukenhof.
Keukenhof: Parking
There is plenty of parking and costs $6 per day
Keukenhof: Transport
During the Keukenhof season, buses run from Schipol airport, Amsterdam to Keukenhof – BUS No. 858
Amsterdam is about an hour's drive away.
Keukenhof: Bike Rental
You can hire a bike from Keukenhof in the parking area near the main entrance.
It costs 15 euro for 3 hours. You need to pick up the bike by 12.00pm.
Book in advance to ensure availability.
Keukenhof: Tickets and Tours
If you are staying in Amsterdam, an all in one great ticket to get is the Tulip Festival Card   (see Keukenhof Quick look at top of post for all inclusions).
For Keukenhof  Admission tickets click here.
Most tours have transport from Amsterdam – Tours and transport options can be found below: 
Skip the Line: Keukenhof Gardens Tour and Tulip Farm Visit from Amsterdam: Click here
Amsterdam Super Saver: Windmills Zaanse Schans, Marken, Volendam and Keukenhof with Flower fields: Click here
Keukenhof Gardens Transportation and Skip-the-Line Ticket from Amsterdam with Optional A'DAM Lookout Tower Entrance Ticket: Click here
For more options check out Tickets and Tours here:
Keukenhof Holland is an absolute delight to the senses. If you are visiting Amsterdam or travelling in Holland / The Netherlands in springtime, then Keukenhof Gardens will both enchant and impress you.
We'd love to hear what you thought of these beautiful gardens if you have visited.
If you enjoyed this post why not pin and save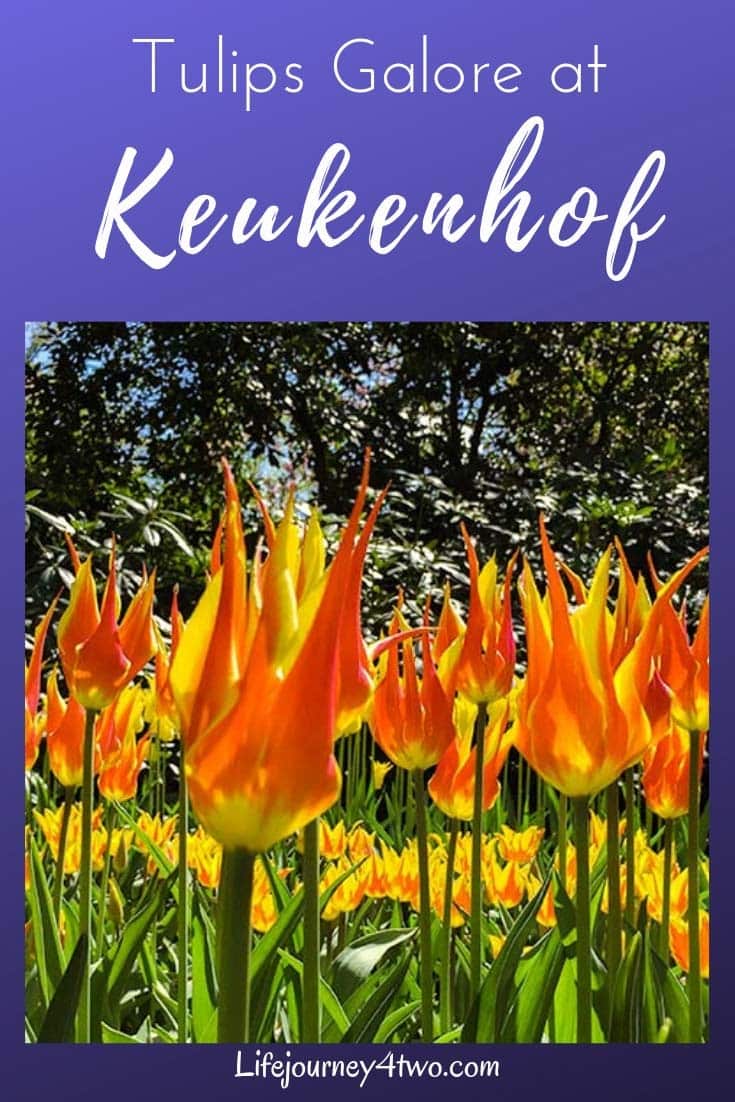 This post may contain affiliate links. This means that we may earn a small commission from purchases you make through our links, at no extra cost to you. Thank you for supporting us. For more info, read our Disclosure Policy.
You May Also Enjoy Reading:
Arrange Your Travel Insurance
Get a quote from World Nomads – one of the best options for travellers. Find out why here.
Book Your Accommodation
We use Booking.com as we can find a variety of cheap and budget accommodation such as local guesthouses and cheap hotels.
We also use Airbnb – Get up to $90 credit for your first Airbnb stay when you use our Airbnb link 
Travel Gear and Accessories
We've been on the road for almost three years now and have added useful items to  our Lifejourney4two page on Amazon  
Car Hire
We use  Rentalcars.com to find the best car rental deals.
Motorhome/Van Rentals
if you are looking for a motorhome or van rental – we highly recommend the Motorhome Republic who can find the best deals worldwide.
Finding Activities to do
We use Get Your Guide and Viator to get ideas of what to do in a place – sometimes it's best to get tickets online and jump the queues.
Flexible Accommodation Options/ Or Finding someone to look after your pets
We often use house/petsitting as it really makes our travels much more affordable – as accommodation is FREE
Get 25% off  Trusted House Sitters by using our link here: Join Trusted House Sitters either as a house sitter or if you want to find a house sitter.
Photography Prints and Products
Shop our ETSY store for digital downloads of our best photos and our unique travel designed products.