Some posts on this site contain affiliate links, meaning if you book or buy something through one of these links then we may earn a small commission. Read our Disclosure Policy here.
Best Living Desert Tour in Swakopmund
The Living Desert Tour Swakopmund introduces you to the unique wildlife living in the unforgiving landscape of the Namib Desert, one of the oldest and driest deserts in the world.
This half-day tour in Swakopmund is both absorbing and educational, and you gain a fascinating insight into the incredible, small creatures of the Namib Desert dunes.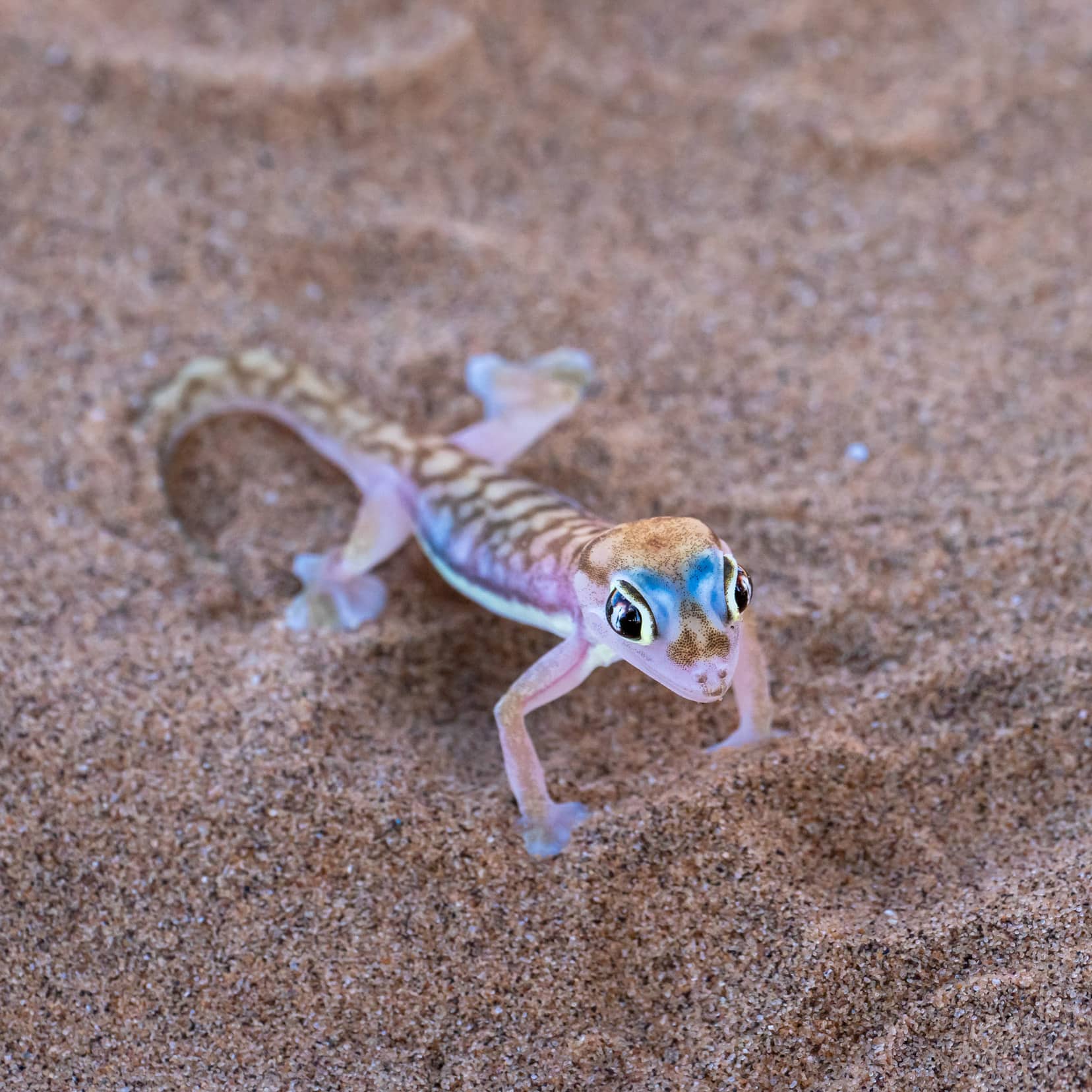 And who wouldn't want to come face to face with this stunning little fellow? The only web-footed gecko found in the world and only found here the in the Namib dunes, the Namib gecko, (once called the palmetto gecko).
After all the larger wildlife we've encountered on our Namibia travels in Africa, it was refreshing to be introduced to the smaller, but no less captivating, tiny desert-adapted reptiles and insects that inhabit the Namib Dunes.
⏳ If you're in a hurry … Here's a Quick Overview
Dive in here … just like a sand-diving lizard or if you want to get fancy, cartwheel in like a dancing white lady spider, for a quick overview.
About the fantastic Living Desert Tour we took in Swakopmund:
Run by Living Desert Adventures
To book, email them at

[email protected]

Cost N$850 per adult / $450 under 12s (paid in cash at end of tour / no credit card facility but can pay in Euro or USD cash)
Free pick-up is available for accommodation in Swakopmund
Time: 8 am pick up to between 12 pm and 1 pm drop off
The price includes soft drinks and water
Other Similar Tours:
The tour guide tells you about the desert adaptations of the insects, reptiles, and plants in the Namib Dunes and how this precious ecosystem works in harmony to survive.
From the formation of muesli (you'll have to go on the tour, but trust me, you'll never look at muesli the same way again.) and the life-giving ocean fog, to the tiniest larvae, up to the jackal, who eats anything and everything — you'll learn about it all.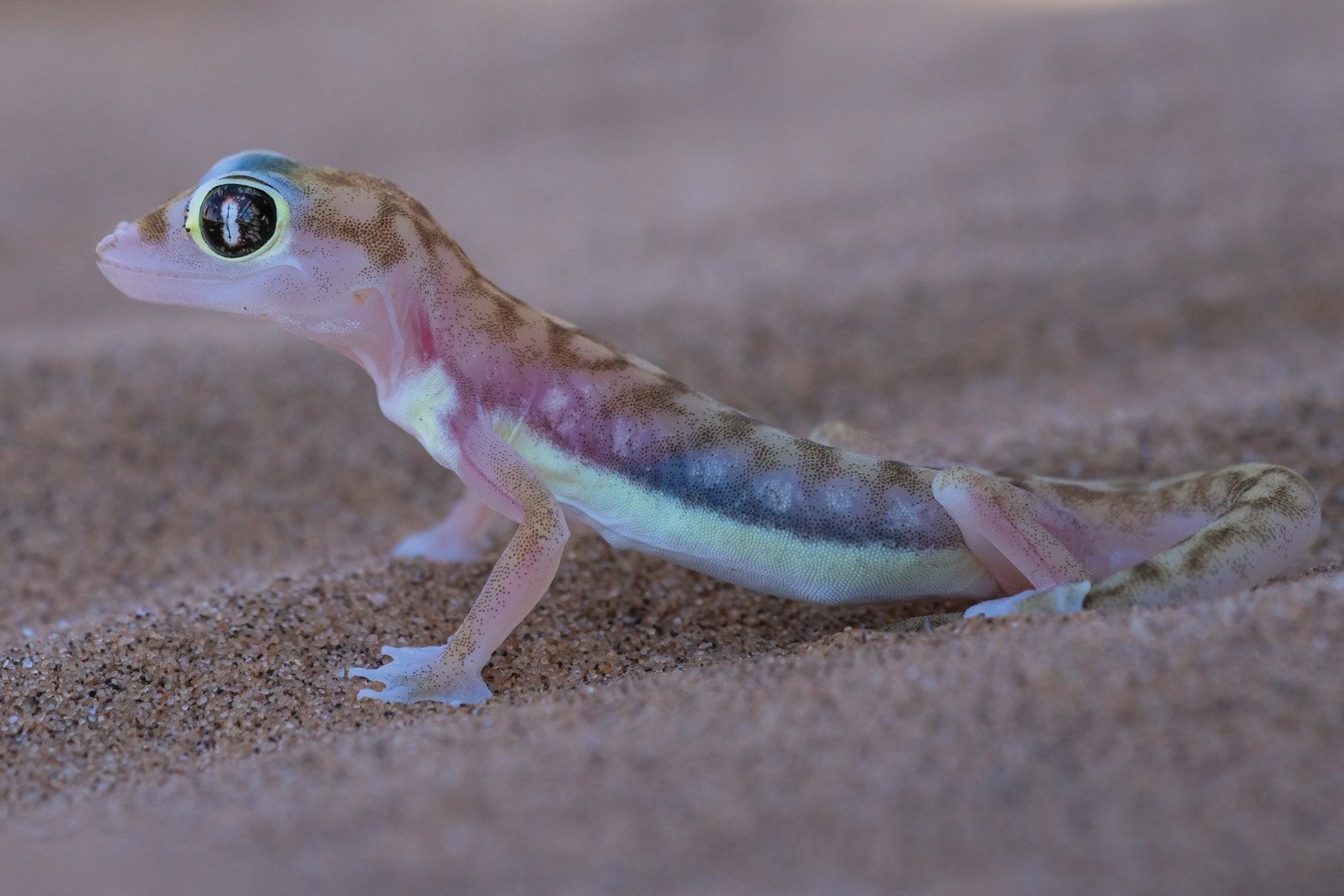 Find out who eats who. Look for cues and signs in the sand. Tiny lizard footprints, spider holes, snake tracks and tell-tale signs of buried geckos, spiders and the legless burrowing lizard.
Our guide was super knowledgeable and the company owner, Chris Nel, is a keen conservationist. You may be interested to know that he originally petitioned for this part of the desert to be protected.
So that's it in a nutshell. … But if you have more time, then read on for lots more photos, a video and more details about this captivating tour.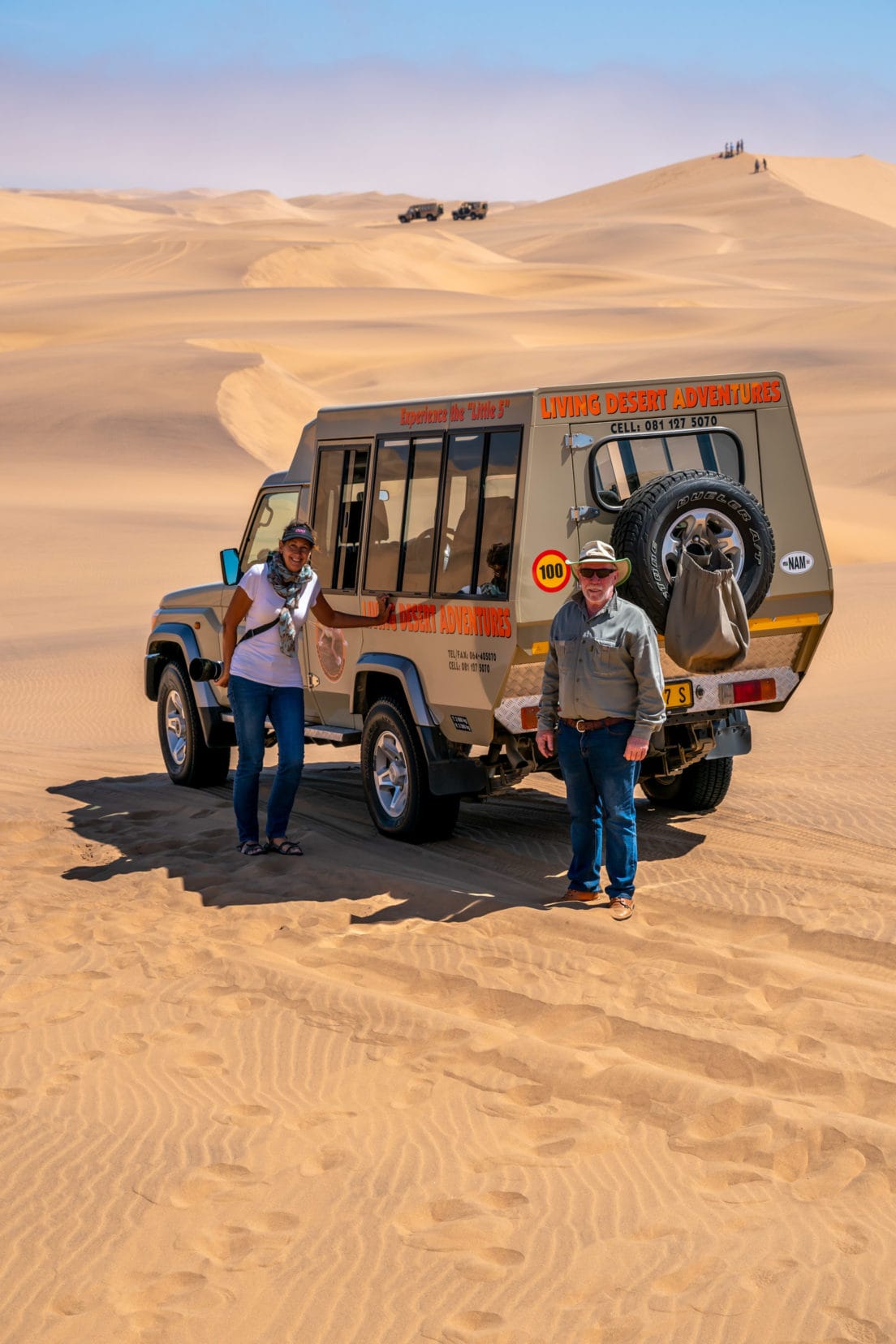 Video Teaser of the Living Desert Tour
More Details about the Living Desert Tour
The tour begins with a pick-up from your accommodation in Swakopmund. And you will then set off in a 4×4 vehicle into the desert.
Once there, a short drive away, you'll experience the beauty of the dunes. You'll learn about their formation, and discover survival techniques used by various species to overcome the challenge of living in such a harsh environment.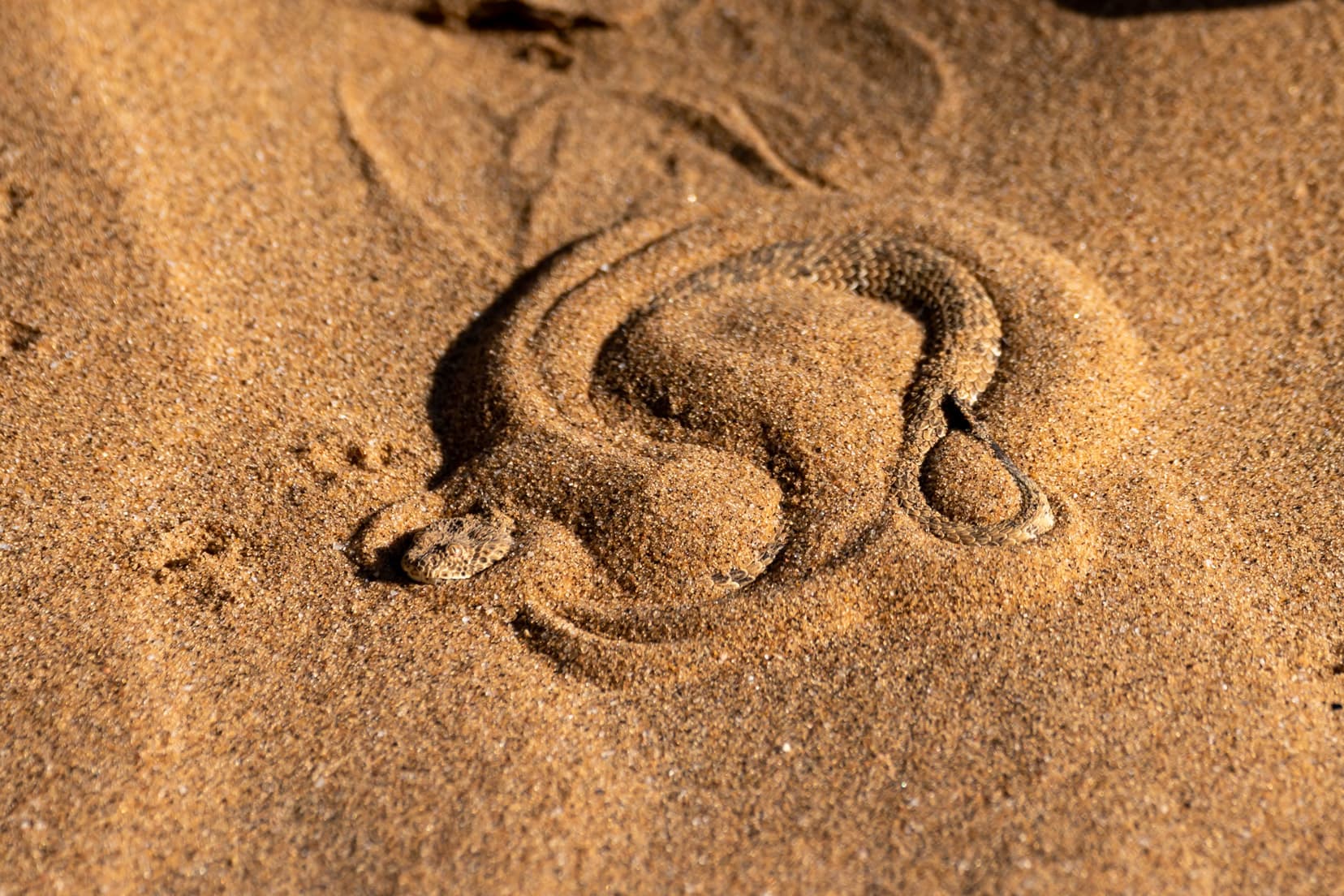 Dorob National Park
The desert tour takes you to the local dune belt between Swakopmund and Walvis Bay. It's only a five-to-ten-minute drive from the centre of Swakopmund to the Dorob National Park.
Dorob National Park, within the Namib Desert, can only be entered if you have a permit. So, it's worth booking a tour to be able to explore with a knowledgeable guide.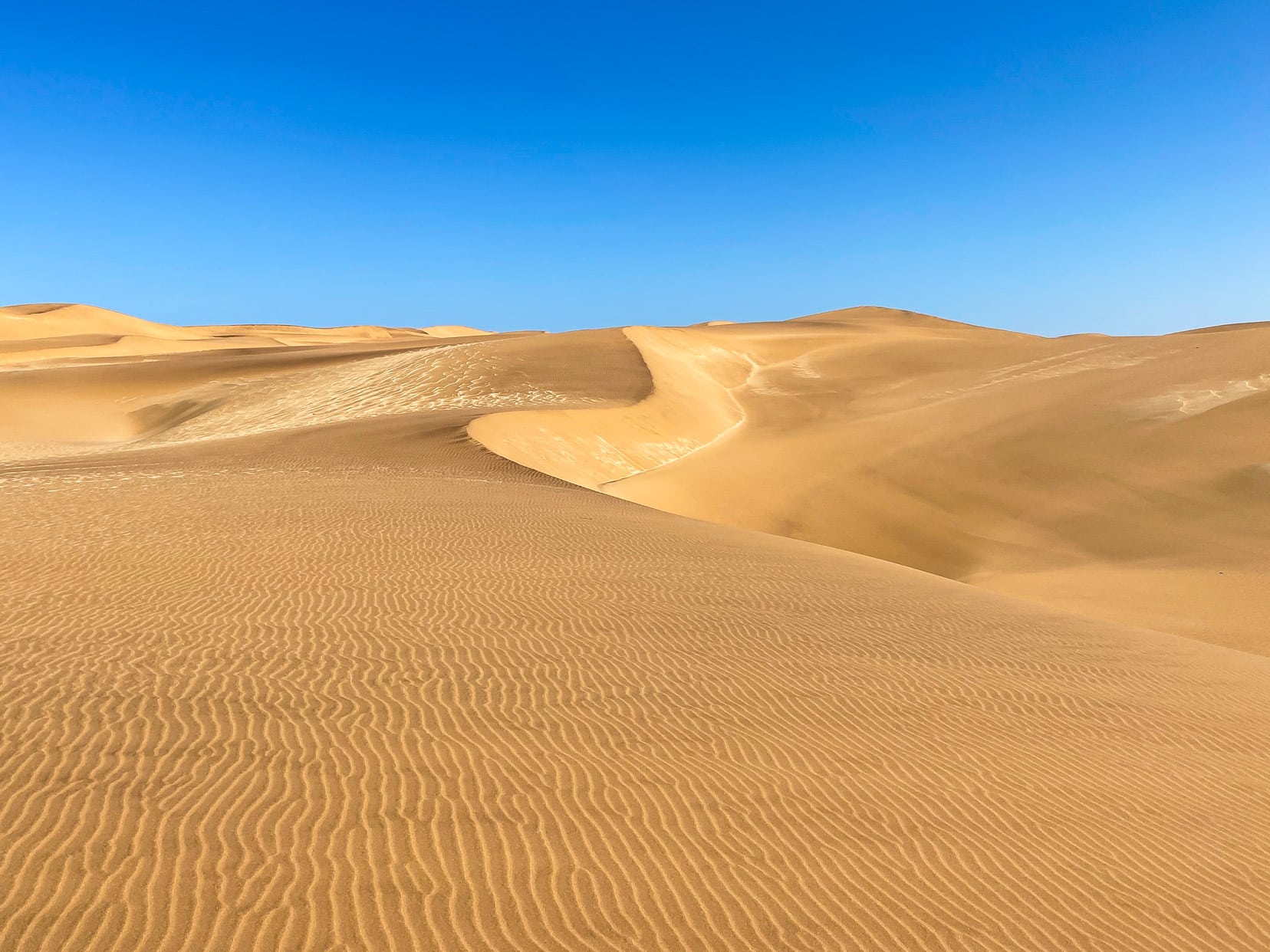 Dorob means, very dry place, and as you look around at the undulating, ever-changing shapes and colours of the dunes, you can see why it has this name.
There is one constant that helps sustain this delicate system.
The Atlantic Ocean fog.
It rolls in across the desert dunes daily, providing the dunes life source. In fact the Namib Sand Sea is the only coastal desert in the world that includes extensive dune fields influenced by fog.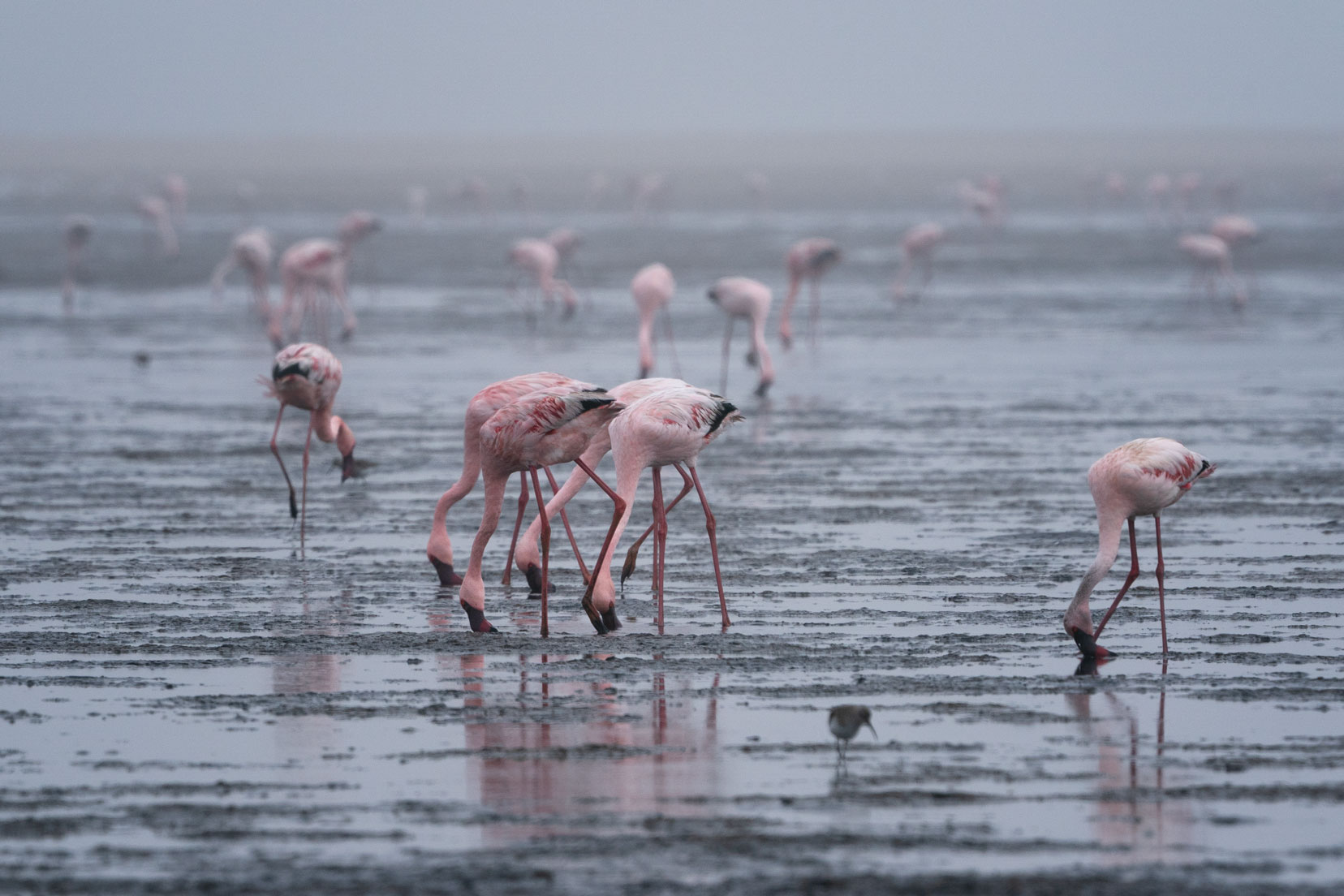 On the Living Desert Tour Safari
On the tour, not only will you learn about the insects and reptiles found in the Namib Dune system, but the guides will be on the lookout for, and finding, little reptiles and insects that you can closely look at and photograph.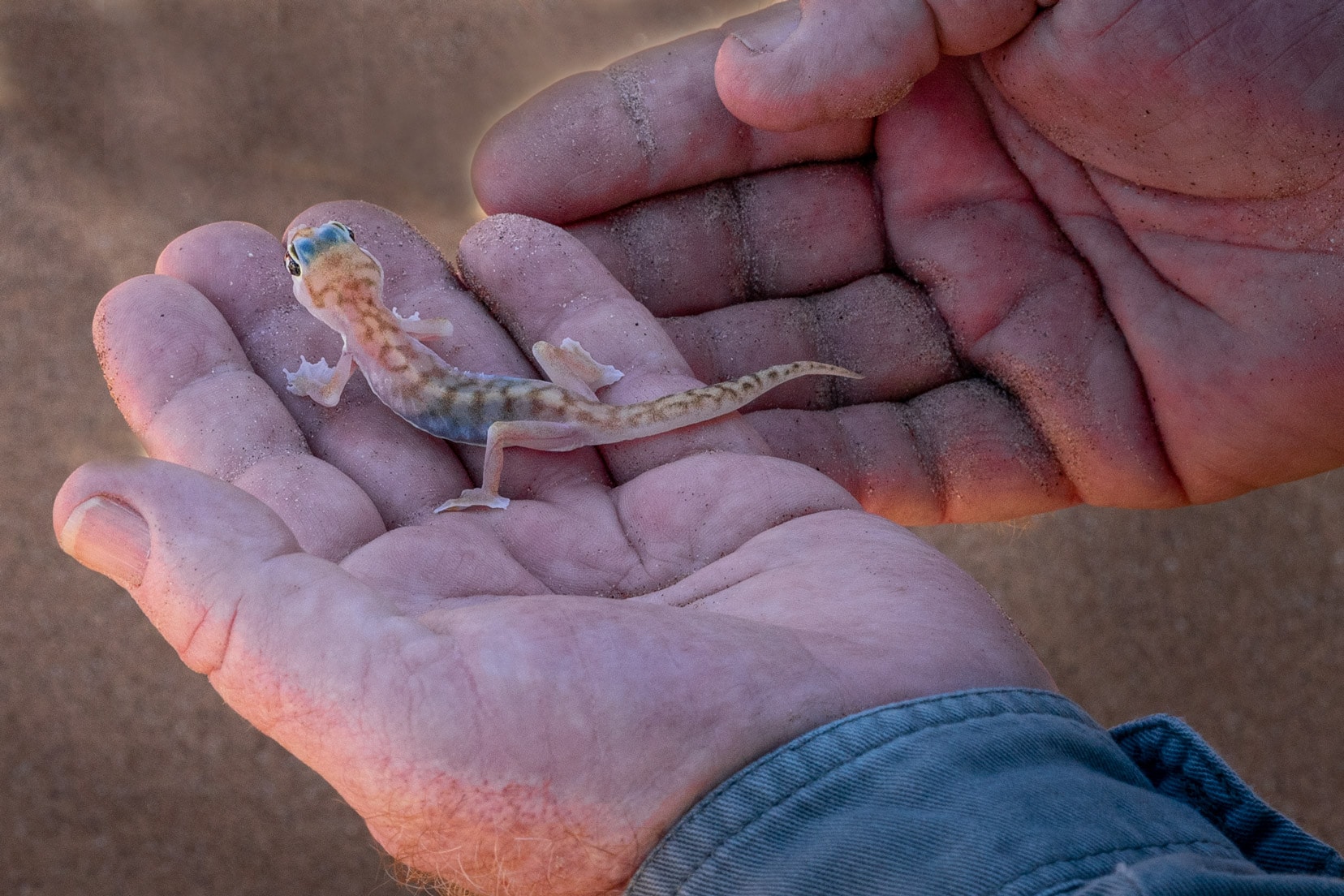 Some of these little creatures are nocturnal, but the guides have experience burrowing in the sand and gently retrieving those that won't be too upset about being disturbed.
These little critters were then put back in the same place and care was taken to ensure they weren't put under any stress, such as keeping them in the shade and not keeping them out for too long.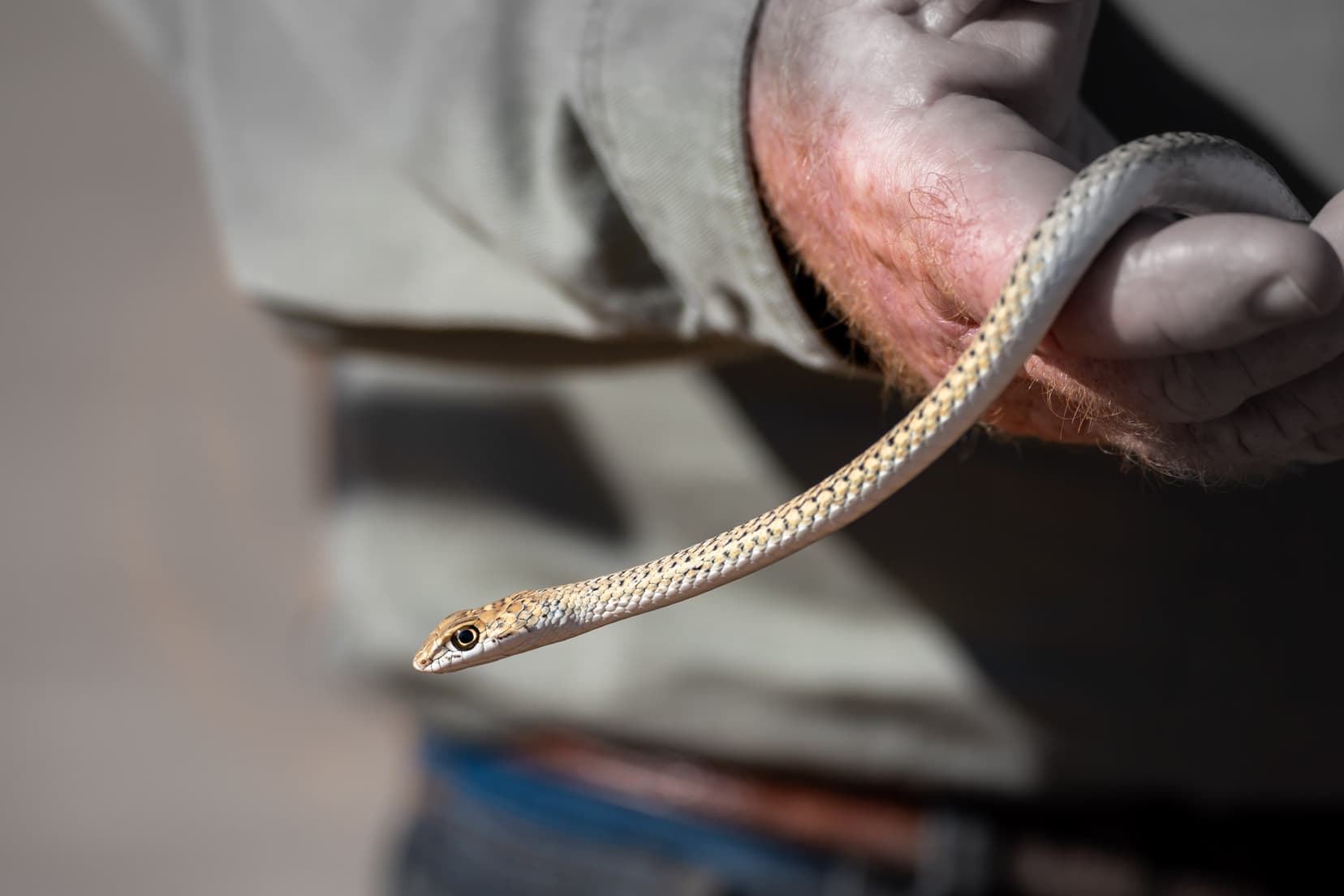 Examples of reptiles that we were able to photograph on our living desert tour were:
Legless lizard (Fitzsimmons's burrowing skink)
Namib Dune Gecko
The NamaquaChameleon
Dwarf adder
Namib Sand Snake (or whip snake)
There was plenty of opportunity to ask questions and time to take photos, all the while learning more about the incredible adaptations of the insects and reptiles here.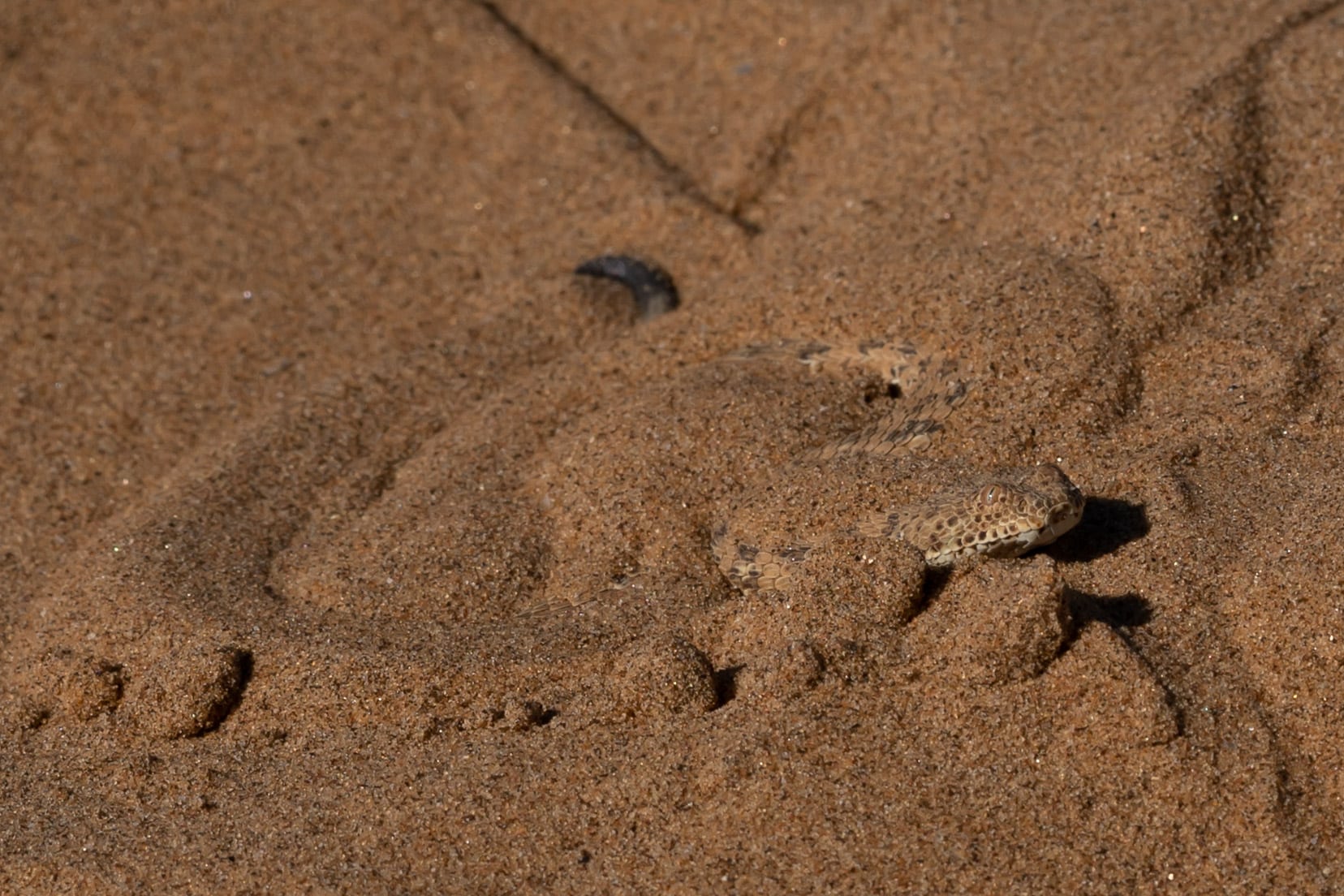 Remarkable Desert Adaptations
On our living desert tour, we learnt how desert-dwelling animals and plants adapt to the harsh surroundings of desert dunes.
I've listed a few that we found particularly astonishing below.
The 'More than a Mouthful' Tok Tokkies
One such example of using the environment to its best advantage, is the ingenuous system of the Tok Tokkies.
What is a Tok Tokkie you may ask?
It is the generalised term for the many black beetles (Tenebrionid Beetles) that you'll see scooting around on the sand.
Fascinatingly, one type of tok tokkie, the fog basking beetle, stands on its head in the morning, allowing the fog to condense and gather on its back, run-down little grooves towards its mouth and the tokkie then drinks up to 40 % of its body weight.
This water is then gradually passed up through the food chain. The lizards eat the beetles, the birds eat the lizards, and the jackals eat the birds, and so on.
The beetles feed on the wind-blown plant material – your guide will call this, beetle muesli, which settles at the bottom of the lee side of the dunes.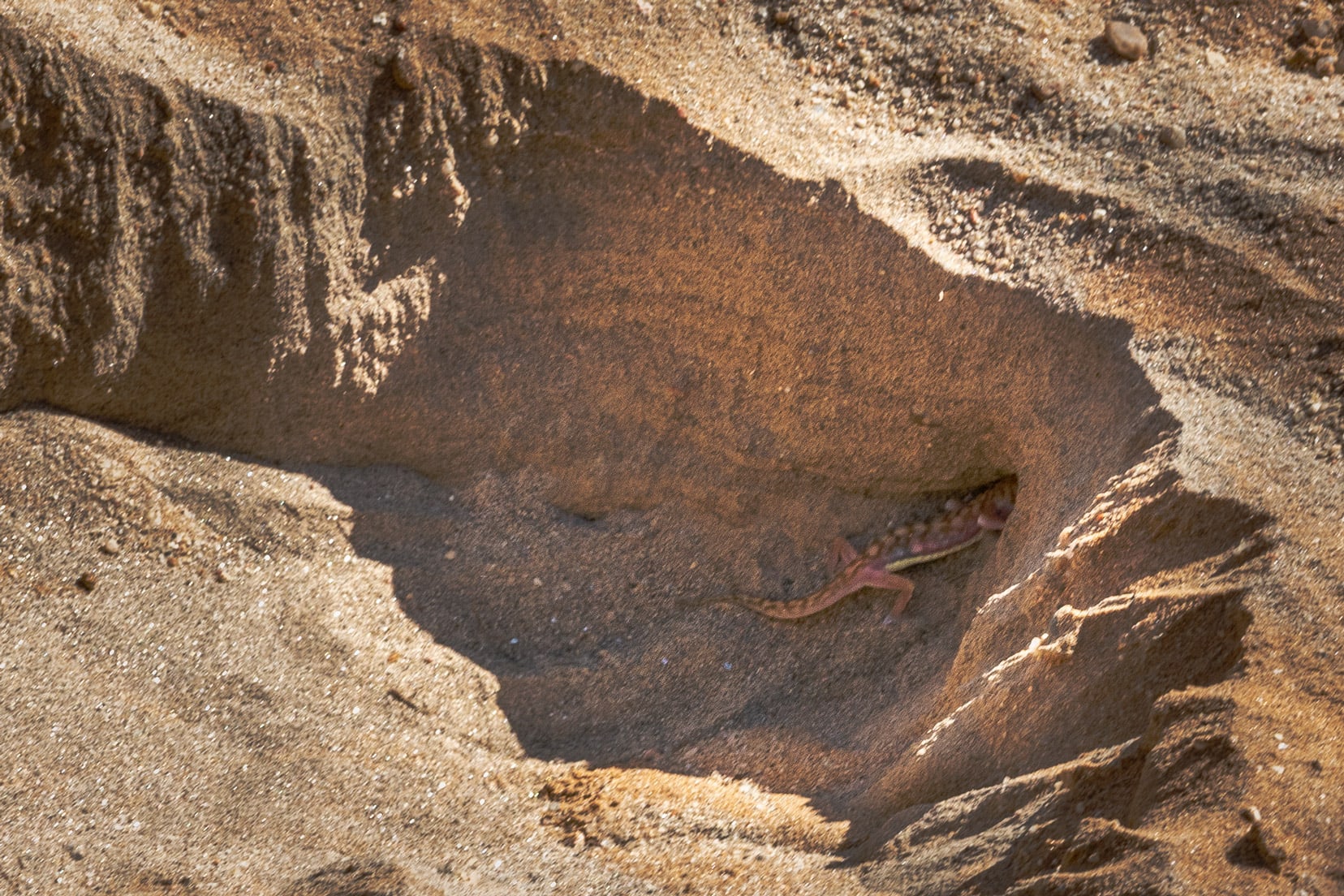 The 'Haha You Can't Catch Me' Spider
You may know that lizards release their tails when under attack, fooling the predator into concentrating on the wiggling tail while the now tail-less lizard makes its getaway.
But have you heard of the cartwheeling spider?
This nimble little thing cunningly curls up into a ball, launches itself off the side of the dune and rolls down the hill at 44 rotations per second!
This agile white lady dancing spider, as it's otherwise known, can move faster than any of its prey, leaving them at the top of the dune wondering what on earth just happened.
Once at the bottom of the dune, it waves four of its legs in the air whilst jumping around as a defence against anything that might try its chance of catching this precocious little lady.
The Dollar Plant Magician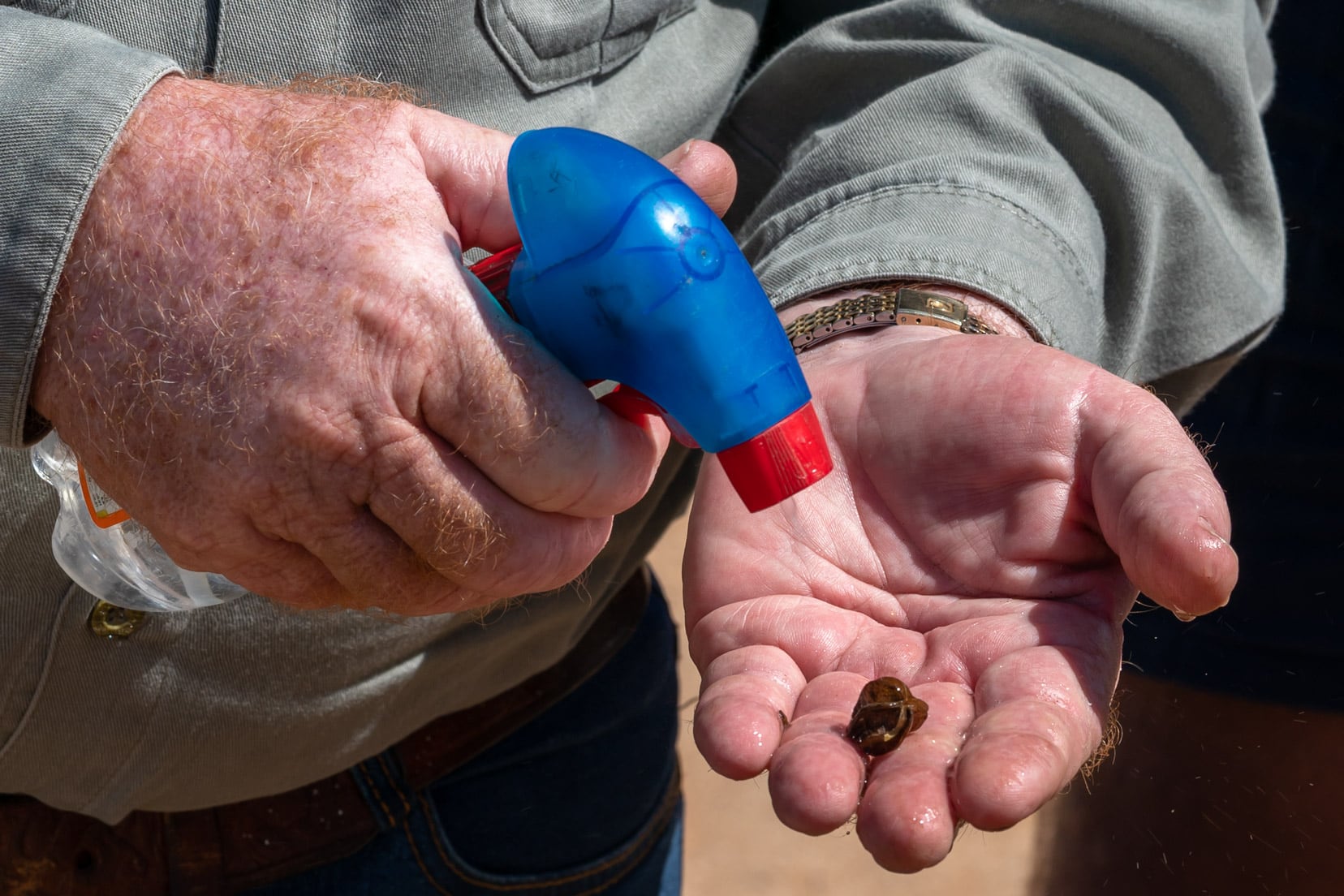 And just when we thought we had heard it all, Douglas, our living desert guide, showed us the mind-blowing trick of the Dollar Plant.
With succulent-like, plump leaves, shaped a little like a dollar, this resilient desert plant performs a magic trick to germinate new plants.
Its fruit, shaped like a mini star fruit, dries up into a circular flaky ring, that looks like a Victorian neck ruff and is easily blown by the wind.
Strewn across the desert, these parched pieces lay in wait for moisture.
The moment that it rains — a rare occurrence in the Namib Desert— the circular ring, re-forms, as if by magic, into the star-shaped fruit again, trapping the moisture inside for the seed to germinate.
We watched, as Douglas sprayed water on the dead-looking, dry splayed-out ring. To our amazement, it twisted and slowly closed up forming a perfect star shape again — now a cocoon for its seed to germinate.
I could go on all day about all the wonders happening on and under the sand, but I don't want to give away all the secrets of which I'm sure you'll be equally enchanted about as we were.
Special Moments on Our Living Desert Tour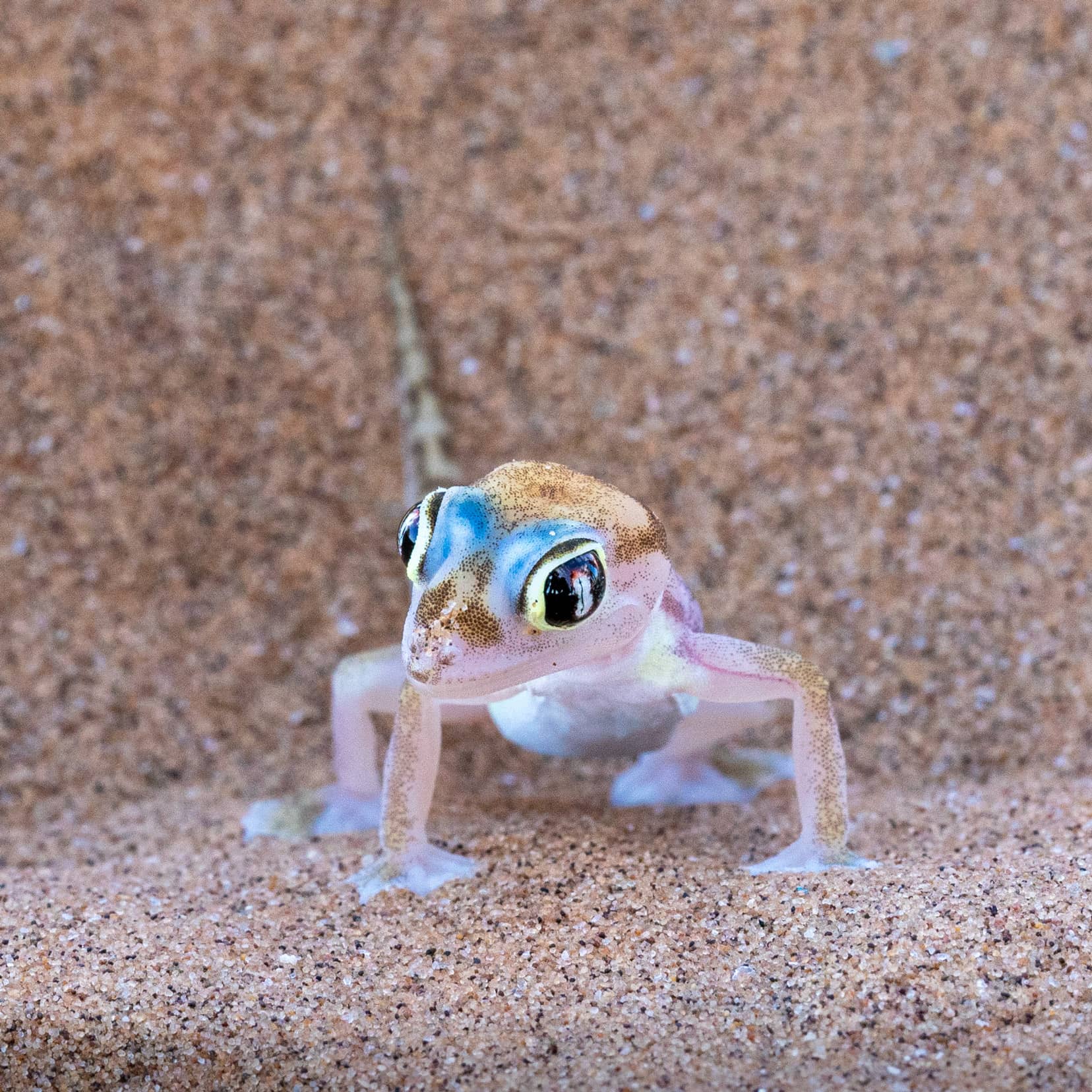 I'd have to say that my favourite sighting of the day, was of the endemic gecko, the Namib Dune gecko.
This little thing is transparent, with each being slightly different in colour. You can even see its tiny heart beating.
It is the only web-footed gecko in the world and found only here in the Dunes of the Namib.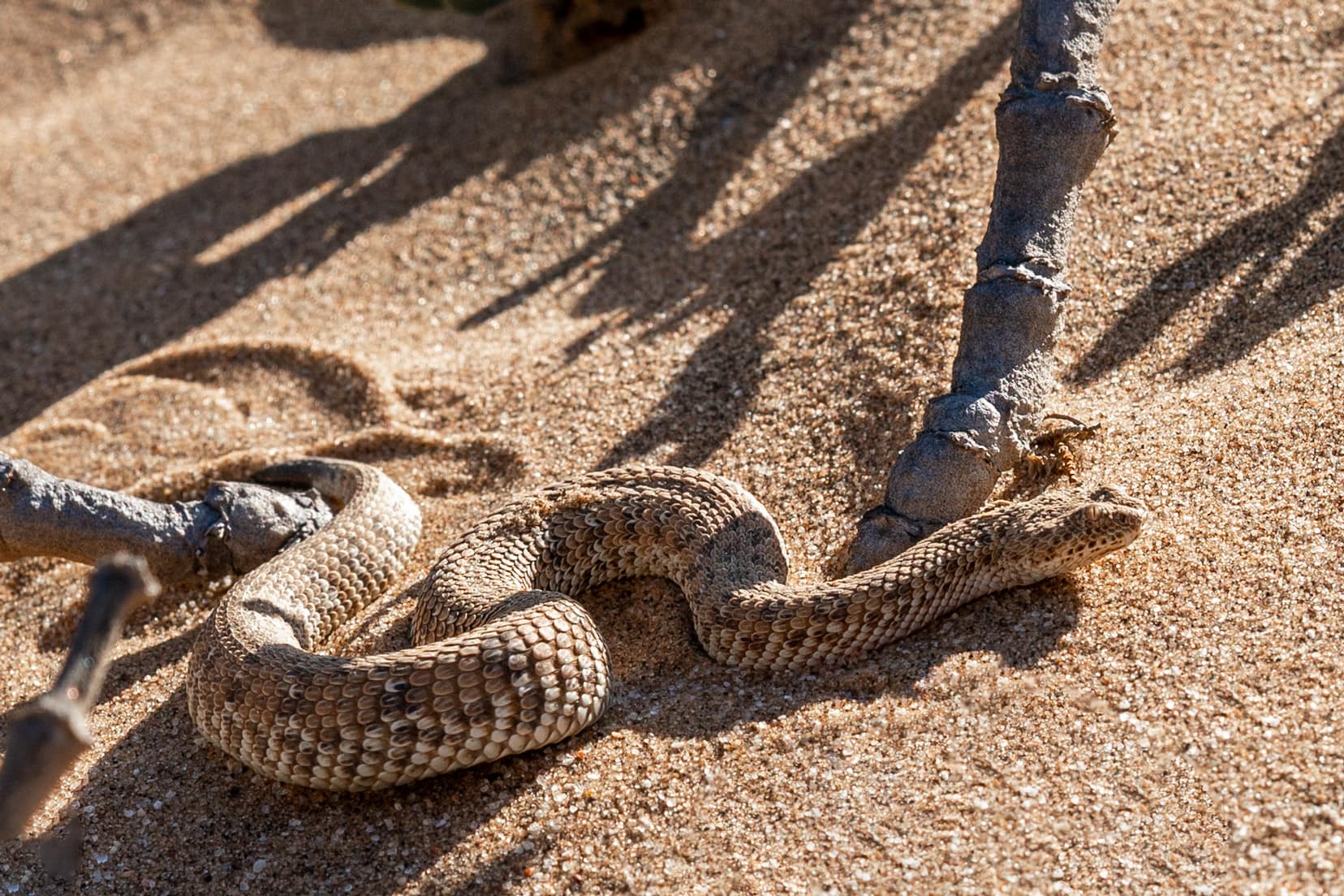 Another special moment was watching the sidewinding Dwarf Adder. It's one of the smallest adders in the world, and it buries itself in the sand with only its eyes showing. (You can see this in the video above).
The dwarf adder has a blackish-coloured thin tail end that wiggles in the sand to attract its prey. Although small, it is venomous and it can leave you in excruciating pain if it bites you.
As a grand finale, once deep into the dunes away from the town, our guide released a Namaqua Chameleon that had been found on a road in town.
It soon found its feet in its new home on the dollar plant.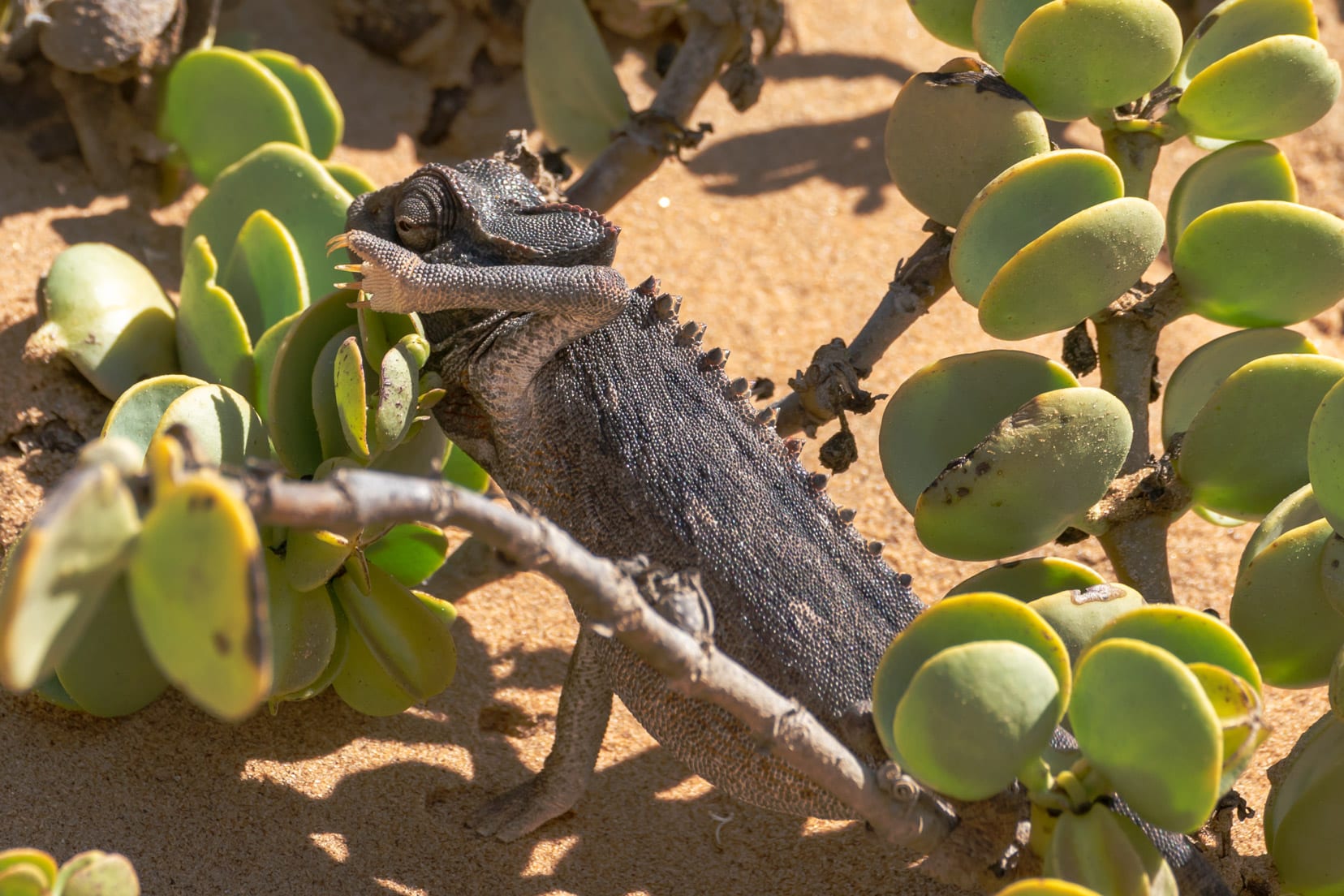 Tips for Going on this Half-Day Desert Trip
Have a big breakfast before you are picked up or take snacks with you.
You don't need to take any water as soft drinks and water are provided.
Go to the loo just before you're picked up (There is a chance to go behind the dunes, but you'd probably prefer not to).
You can wear flip flops if you want, as you won't be walking for any big distances and are easy to take off if you want to walk barefoot (Though the sand may get too hot to walk on later on in the morning)
Ensure you have your camera or phone – you will want to capture these incredible little creatures. (And have them fully charged and/or extra batteries)
Have sunscreen, a hat, sunglasses and different clothing layers (the weather can get chilly or hot depending on wind direction and fog covering)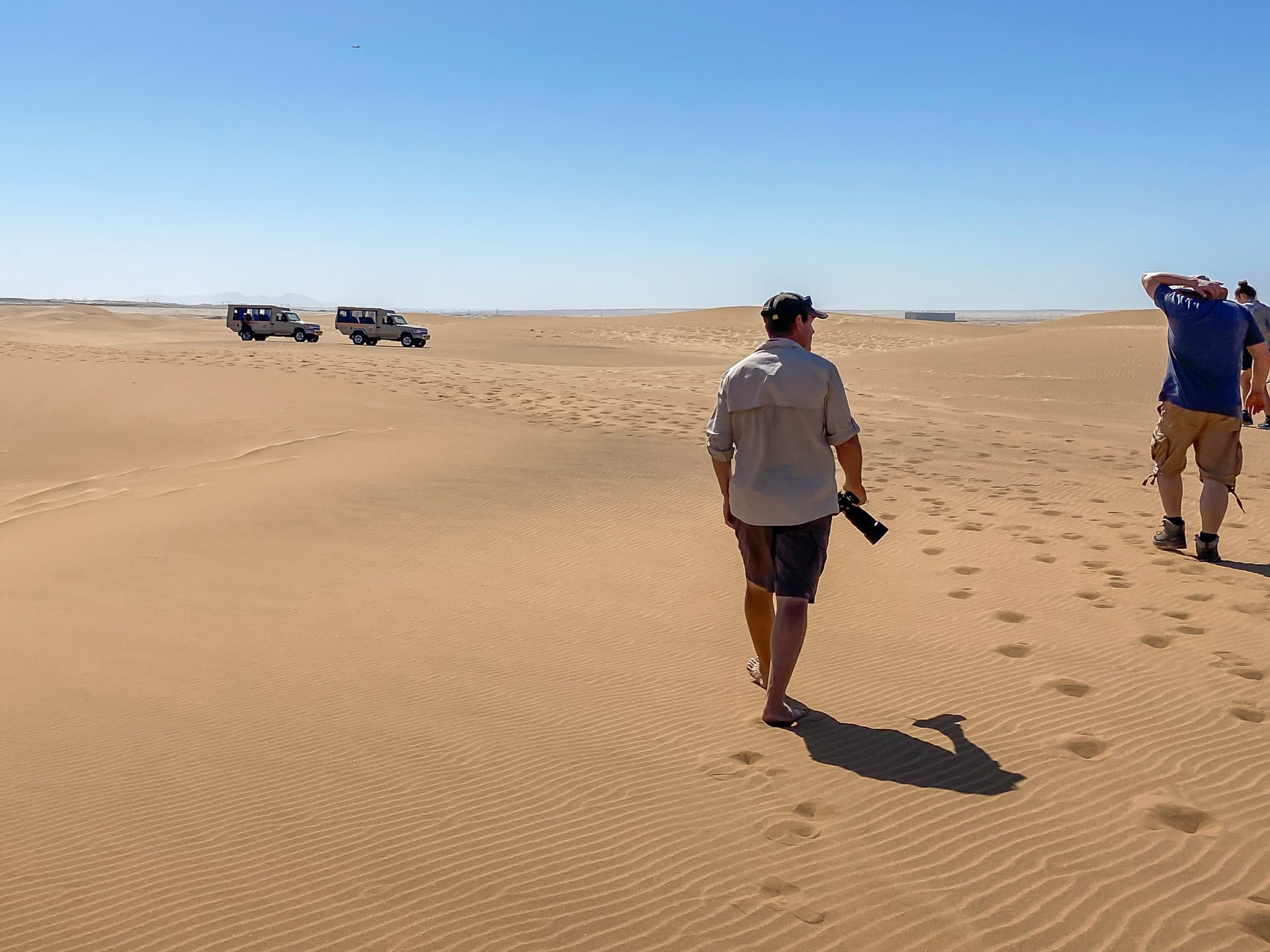 Similar Types of Desert Tours
For the more adventurous of you out there, you might like to do a similar tour, but on quad bikes.
This Quad Biking Desert Tour picks you up at your accommodation in Swakopmund, and, just as with the tour we went on, you'll learn about the living creatures in the desert and how they adapt and manage to survive such harsh environments.
✔️ Click here to learn more about this Quad Bike Tour in the Swakopmund Living Desert and to read visitors' reviews | ⭐️ 4.9/5 star reviews | ⏰ 2.5 hours |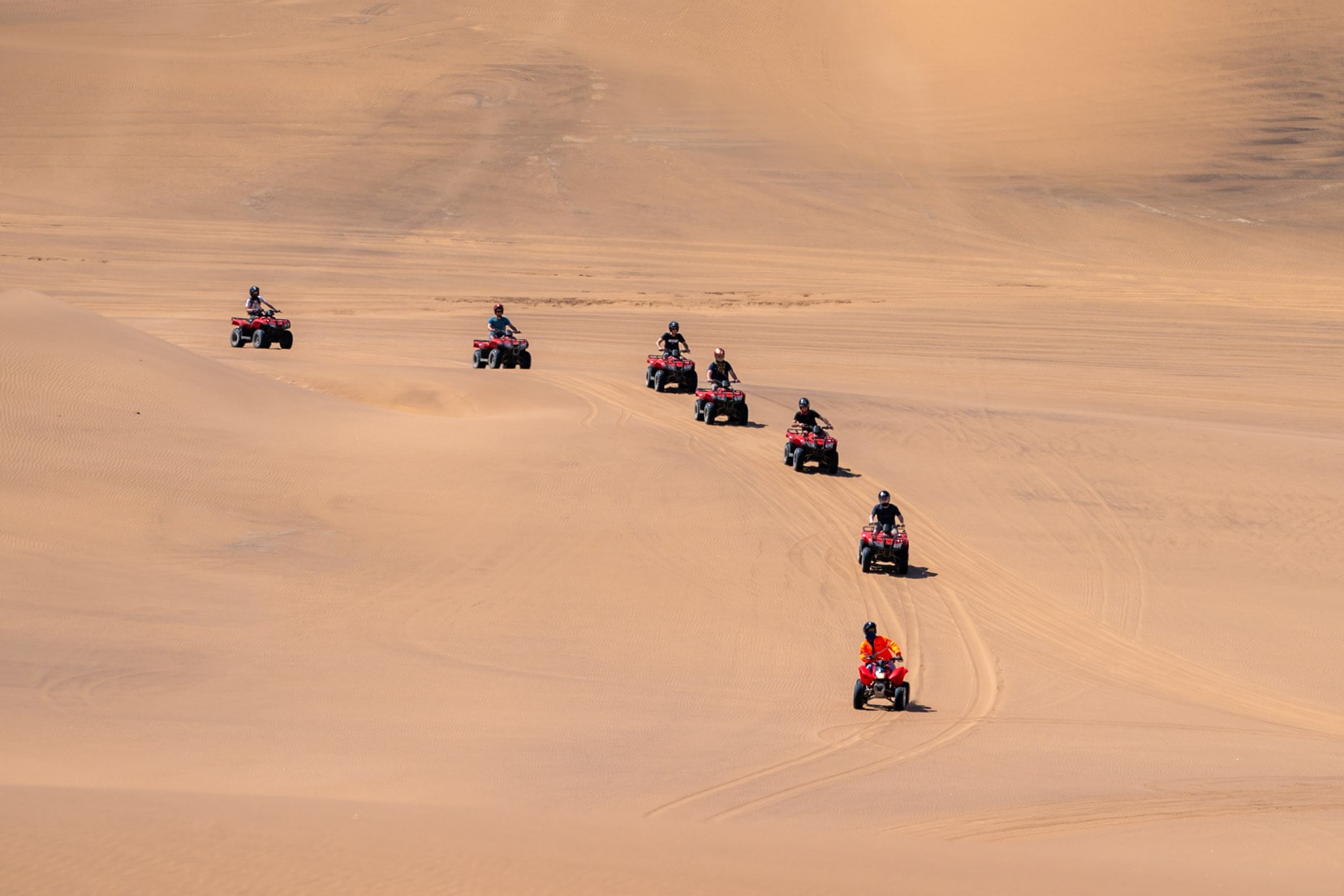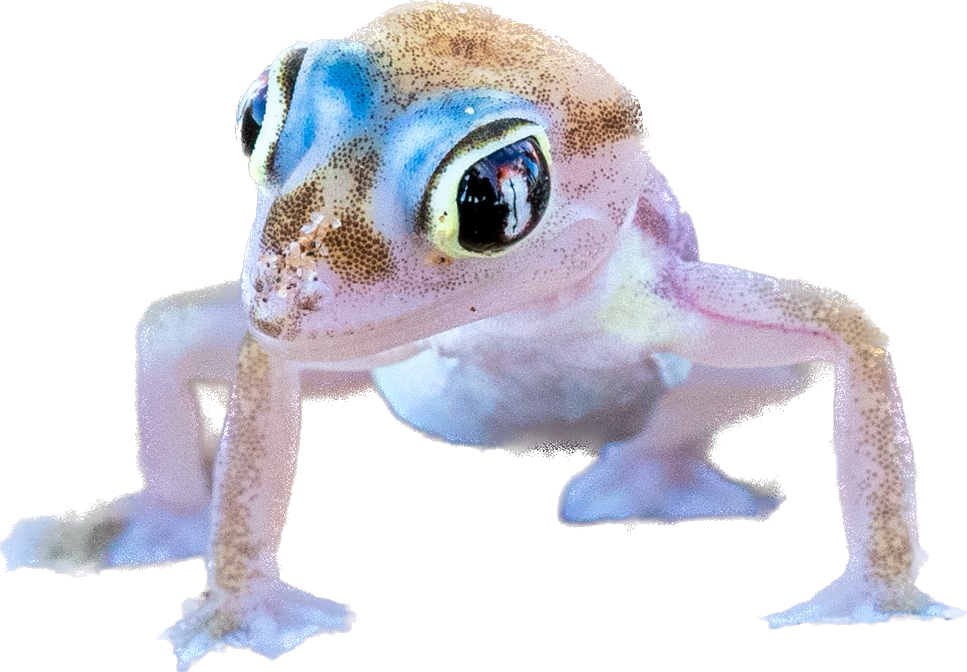 You might also like to look at these similar tours: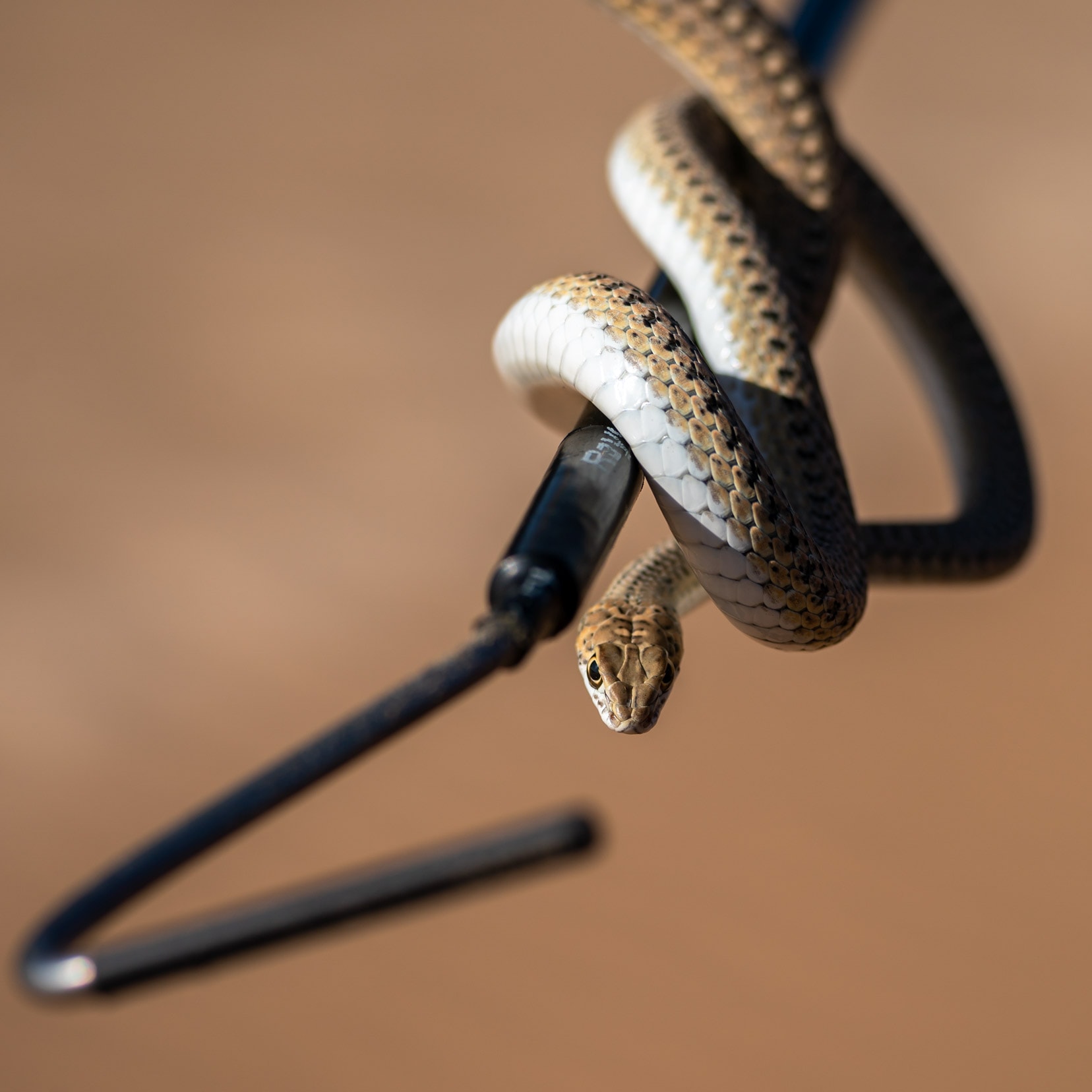 Where to Stay in Swakopmund
We stayed at the lovely Alte Brucke Holiday Resort. You can either camp or stay in a small apartment. From here, it was a short walk to the oceanfront and all the main Swakopmund activities.
🛏 This Swakopmund accommodation gets a ⭐️ Fabulous rating on Booking.com – read guest reviews or BOOK Alte Brucke here
Other Swakopmund Accommodation Options
These alternative accommodation options in Swakopmund include:
Free cancellation,
Are highly rated and
Are all within walking distance of the beachfront and town.
🏝 Swakopmund Sands: Beachfront views, free wifi and parking
Friendly and helpful staff. Good location – walkable to the beach and shops. Delicious breakfast." — Rachel UK, Feb 2023 | Book Here

---
🌸 The Secret Garden Guesthouse: Breakfast included, lovely garden, Free wifi
"Such a beautiful guesthouse, nice garden and excellent breakfast." — Francesca, March 2023
---
💎 Strand Hotel Swakopmund: If you are looking for a touch of luxury; includes a private beach area, garden, gym and 3 restaurants and bars
"We had an excellent stay here. The hotel is in a brilliant location to walk to local restaurants and of course, right on the beach – would definitely recommend it! "— Jane, UK March 2023

Pin and save for later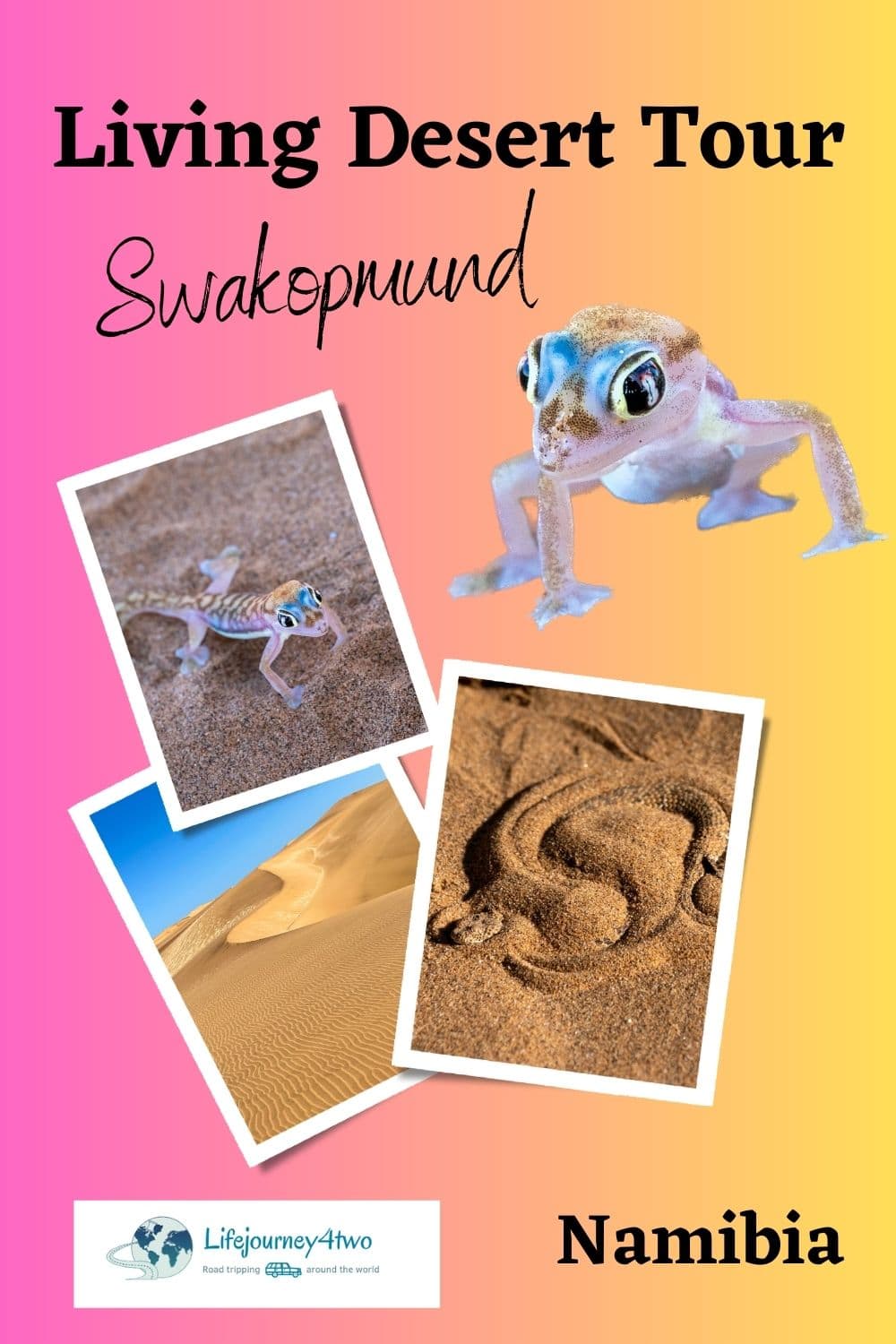 Living Desert Tour Swakopmund … That's a Wrap
A living desert tour in Swakopmund is a remarkable experience that offers a unique perspective on this section of the Namibian dune belt and its inhabitants.
The tour provides a fascinating insight into the incredible adaptations of desert-dwelling creatures and their ability to survive in one of the harshest environments on earth.
Visitors are treated to encounters with some of the region's most fascinating wildlife and stunning views of the ever-shifting dunes.
Whether you're an avid nature lover or simply looking for an adventure off the beaten path, a living desert tour is one which certainly makes you think differently about the miles and miles of sand you see around you in Namibia.
READ MORE:
PLANNING YOUR TRAVELS?
These are some of the travel resources we use when planning our trips.
For a more thorough list visit our Travel Resources page here.