Kanaan Desert Retreat
If you are looking for somewhere to stay on the D707 in Namibia, then Kanaan Desert Retreat is a fantastic option.
We camped there for two nights, and not only do you have panoramic views across the desert plains to the Tiras Mountains, but you may also be treated to an encounter with the local meerkat colony.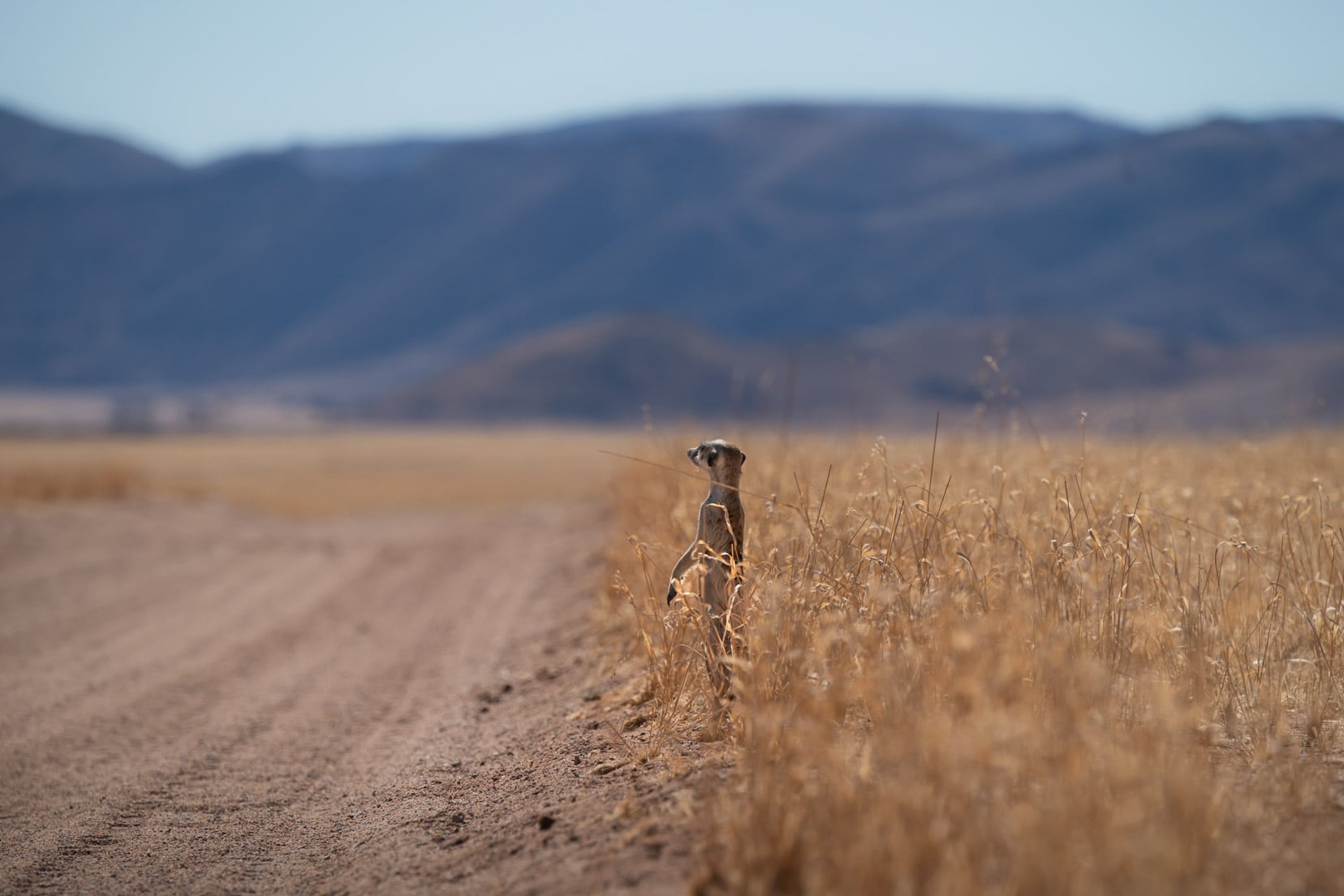 Overview of Information for staying at Kanaan Desert Retreat
If you're in a rush, here are some quick pointers to help you in your trip planning:
You'll find the Kanaan Desert Retreat just 8 km from the turn-off from the D707 in southwestern Namibia
To book a Campsite call +264 81 681 74 22 or email: [email protected]
Facilities include a restaurant, swimming pool, free wifi
Activities include sunset and sunrise drives, horseriding, blokarting and a hiking trail
There is a meerkat colony at the Kanaan Retreat
Hiring a camper in Namibia? Get a Camper Quote here
Or looking at a car rental? Get a great deal with Discovercars here
Have you arranged Travel Insurance? We use World Nomads
For all the fine details and lots of pics (and a cute meerkat video) — browse on.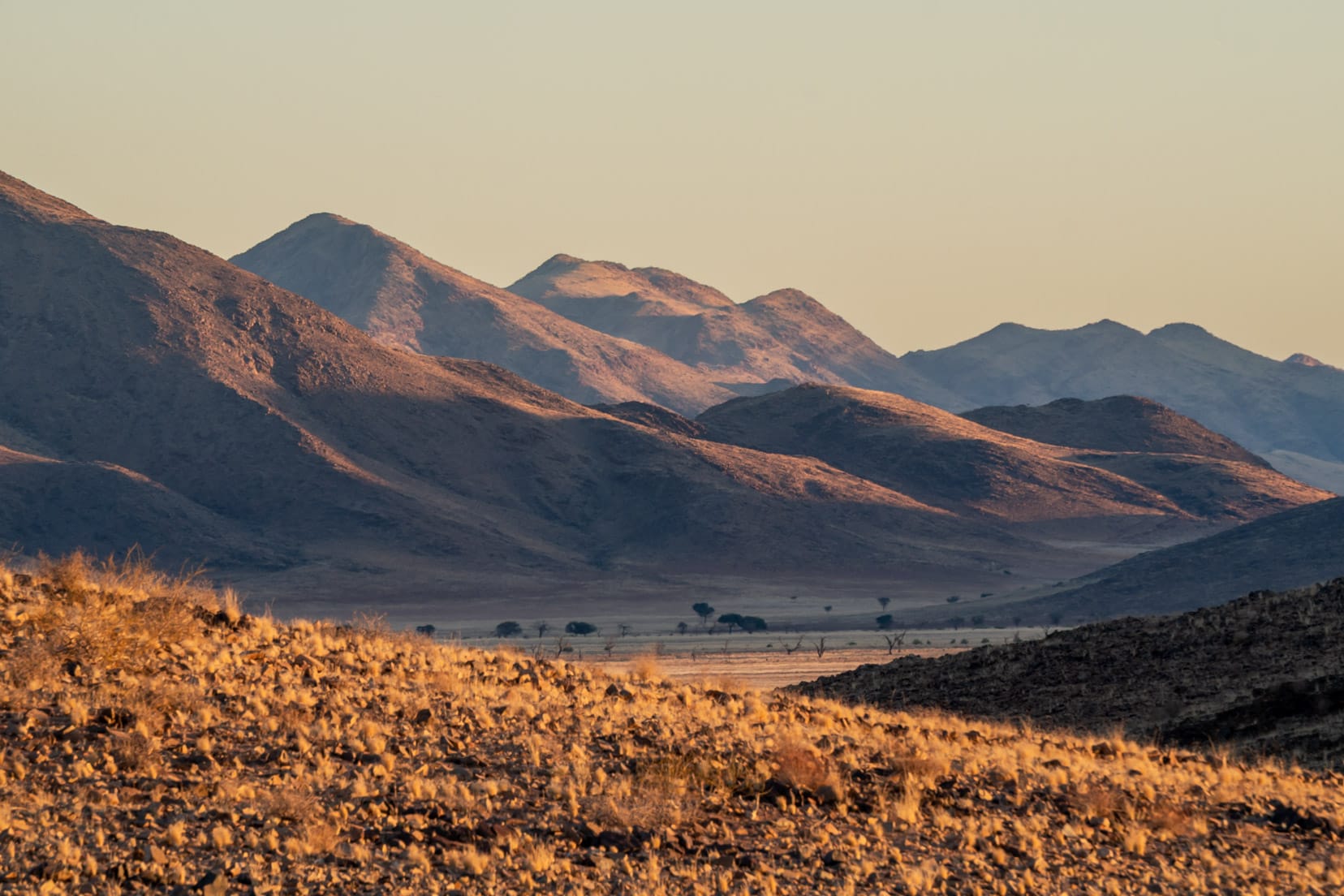 Planning a Trip to Nambia?
What You'll Find in this Kanaan Desert Retreat Article:
(Click any section above to jump ahead)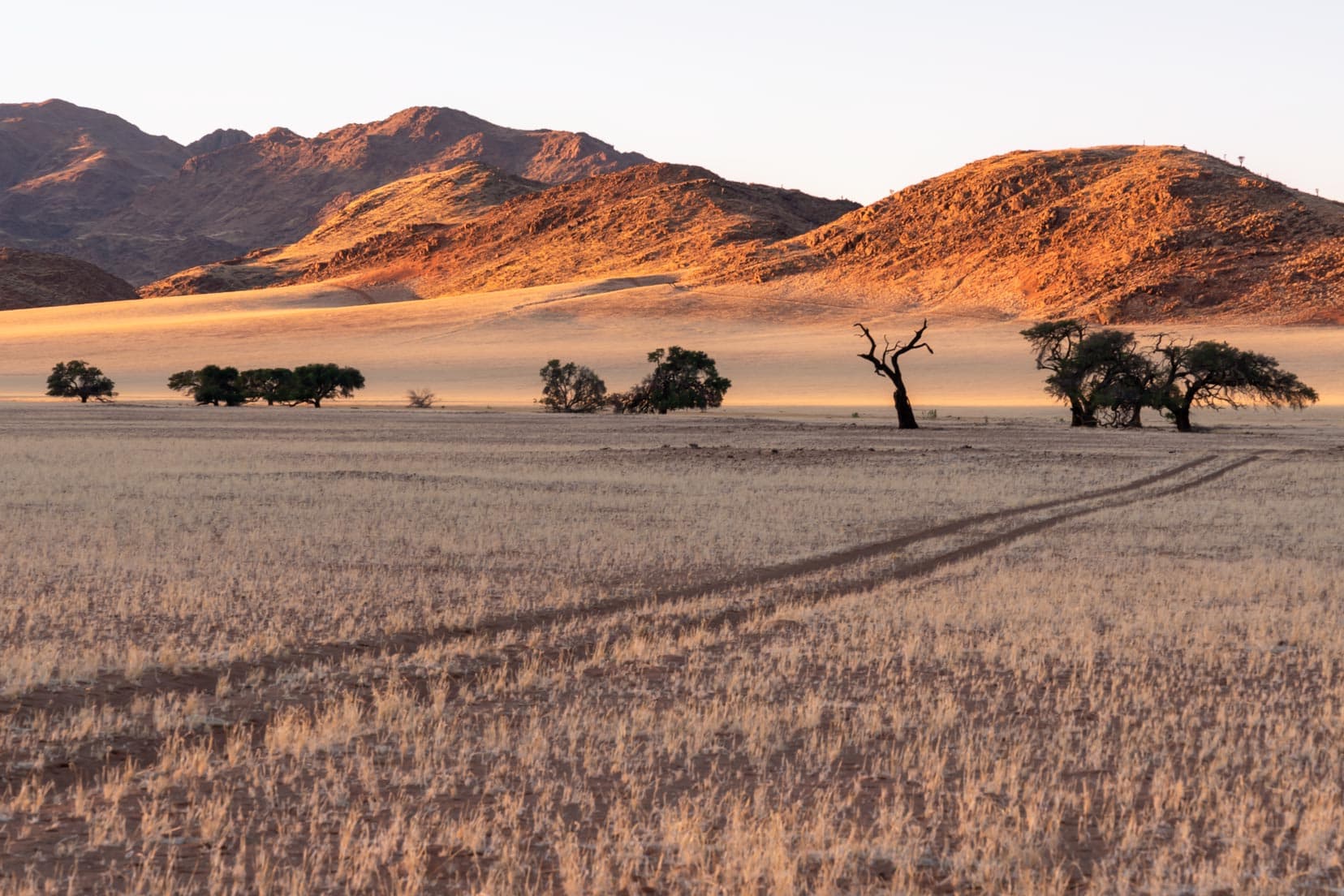 "We're staying at Kanaan Desert Retreat", said my husband.
My mind conjured up visions of a palm tree oasis. Guests in yoga poses, vegetable juices promising to cleanse my colon, and luxurious lounges, adorned in brightly coloured animal prints for me to rest my weary head.
But that's not what Kanaan Desert Retreat is about.
If you are looking for solitude, and a chance to experience the Namib Desert as it is, then this place will quieten your mind and immerse you in the natural beauty of one of the world's oldest deserts.
This area is also a photographer's delight.
But above all, if you stay here, you are contributing to the Naankuse (N/a'an ku se) conservation and humanitarian effort.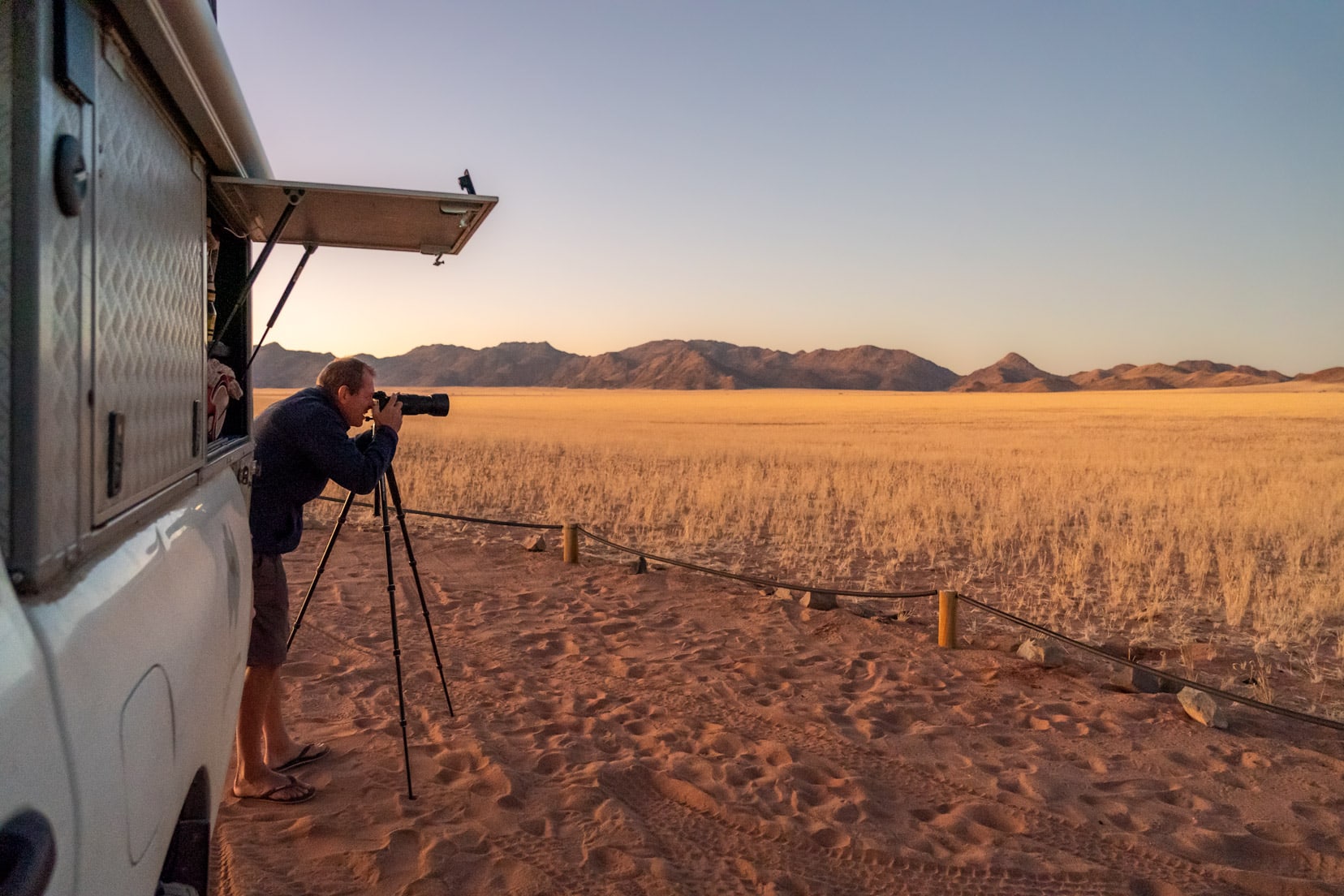 Video: Meerkat Encounter While Camping at Kanaan Desert Retreat
About Kanaan Desert Retreat
Kanaan Desert Retreat is owned by Naankuse (N/a'an ku se meaning God will protect us ), a charity and wildlife sanctuary started by Namibian-born conservationist Marlice van Vuuren and her husband Rudie.
Their profits go towards wildlife conservation and humanitarian efforts of the Naankuse Foundation.
The N/a'an ku se Foundation projects include:
Wildlife conservation
Welfare aid to the marginalised indigenous San people
Mitigation of human-wildlife conflict
Protection of the elephant and rhino populations in Namibia
Creating sustainable plant nurseries as part of a global deforestation project
The organisation is also a partner of the Shiloh Jolie-Pitt Foundation, which was started by Hollywood film stars, Angelina Jolie and Brad Pitt in honour of their Namibian-born daughter Shiloh.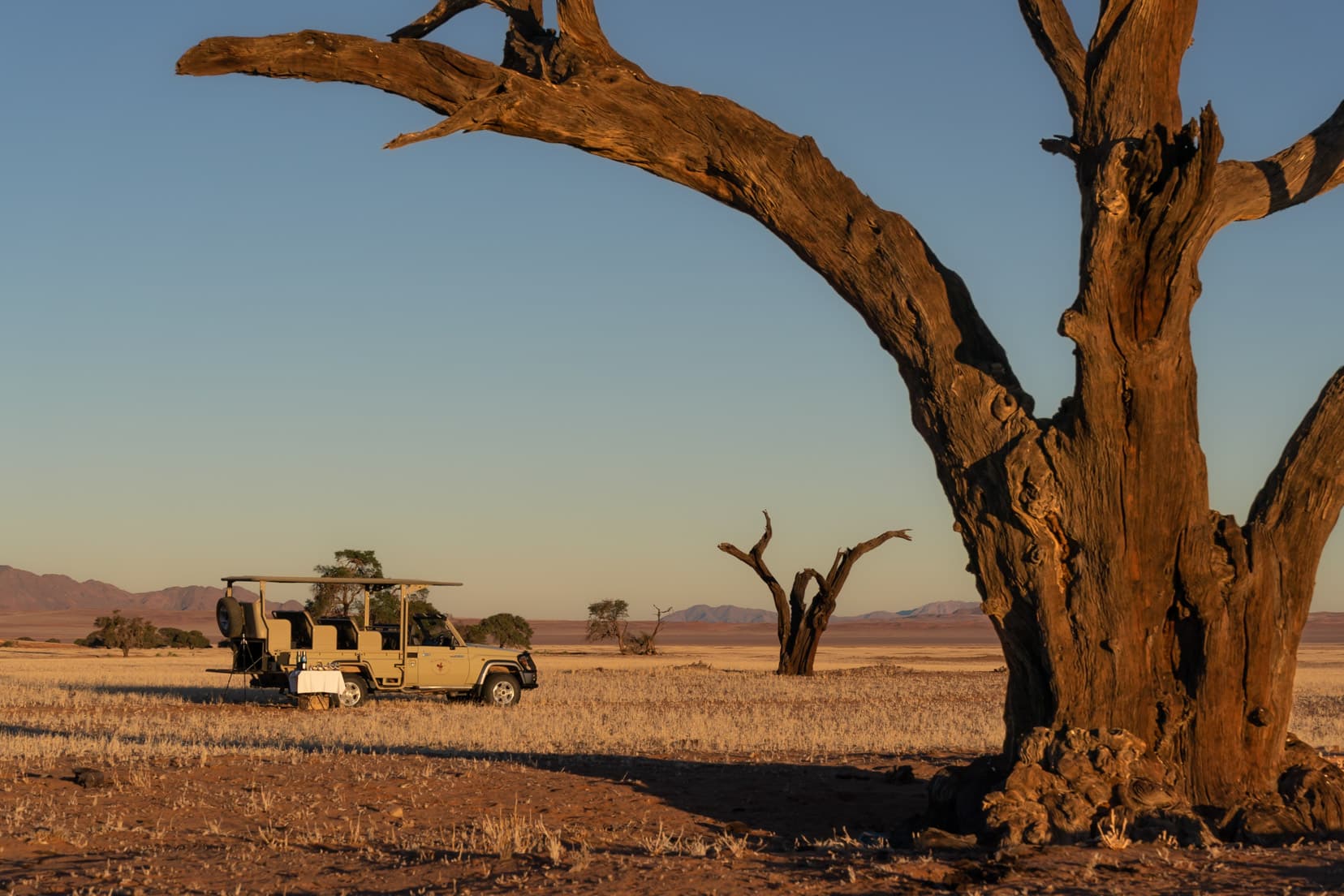 Kanaan Desert Retreat Ecotourism Project
The retreat is an ecotourism project that provides campsites as well as glamping tents for those wanting to experience the solitude of the Namib Desert.
Covering an area of 35,000 hectares, the Naankuse Kanaan Retreat creates a haven for the local wildlife and protects the sensitive ecosystem of this part of the Namib Desert.
The fences that used to form part of the farm area bought by Naankuse, have been removed to enable the wildlife to roam freely across the desert plains and the Tiras mountains.
Additionally, there is an ongoing project to remove all the remaining boundary fences to enhance and expand the free movement of endemic animals.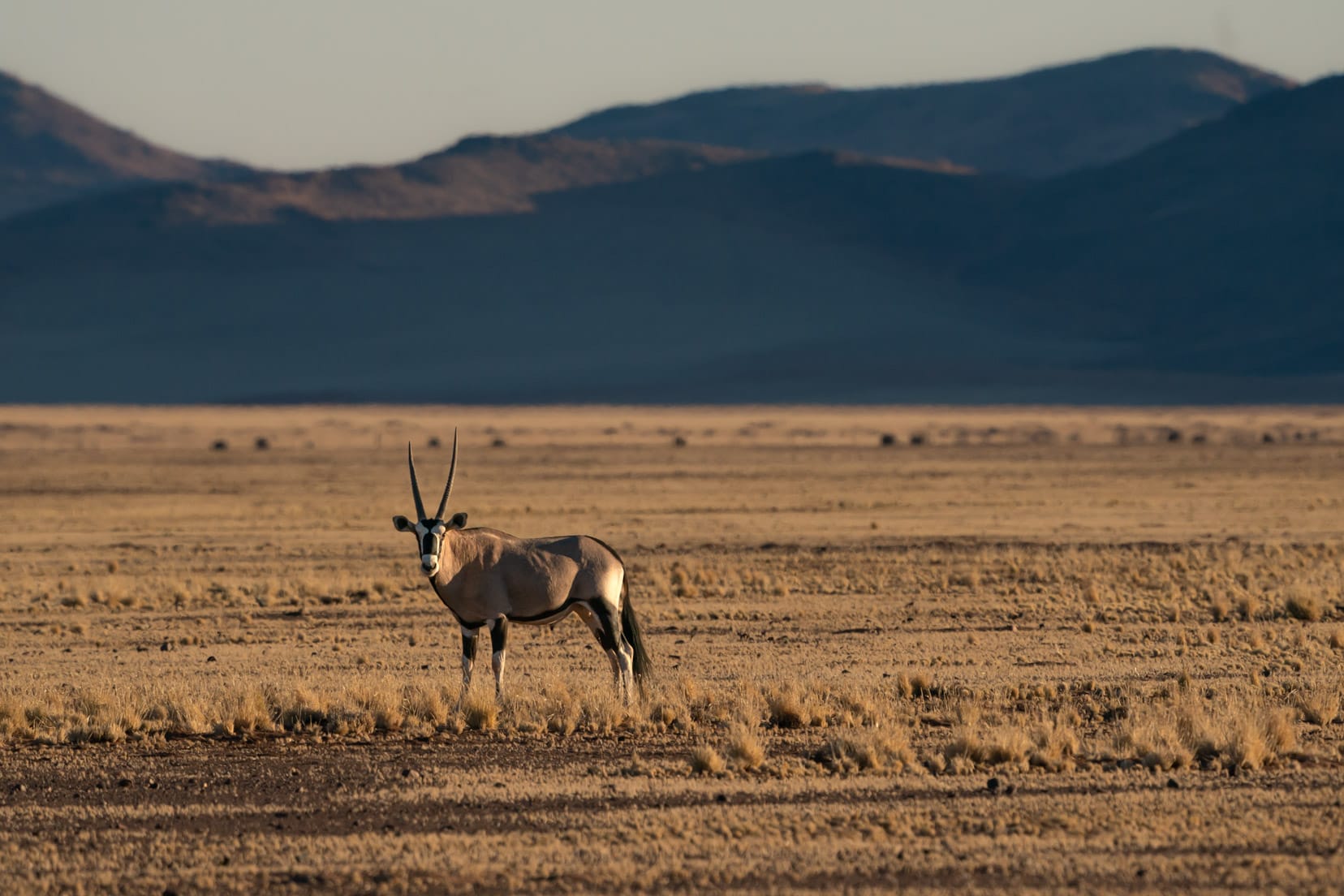 Other Ecotourism Projects By Naankuse
Along with the Kanaan Desert Retreat, Naankuse also operates the following:
Naankuse Lodge in Windhoek
Naankuse Bush Camp
Neuras Wine and Wildlife Estate
Harnas Wildlife Sanctuary
TimBila Nature Reserve
Naankuse @ Utopia
Naankuse Travellers Inn
The Naankuse Lodge, and its wildlife sanctuary near Namibia's capital, Windhoek, look after orphaned, injured and conflict animals (those who are a problem to humans). If possible, those that are rehabilitated are released back into the wild.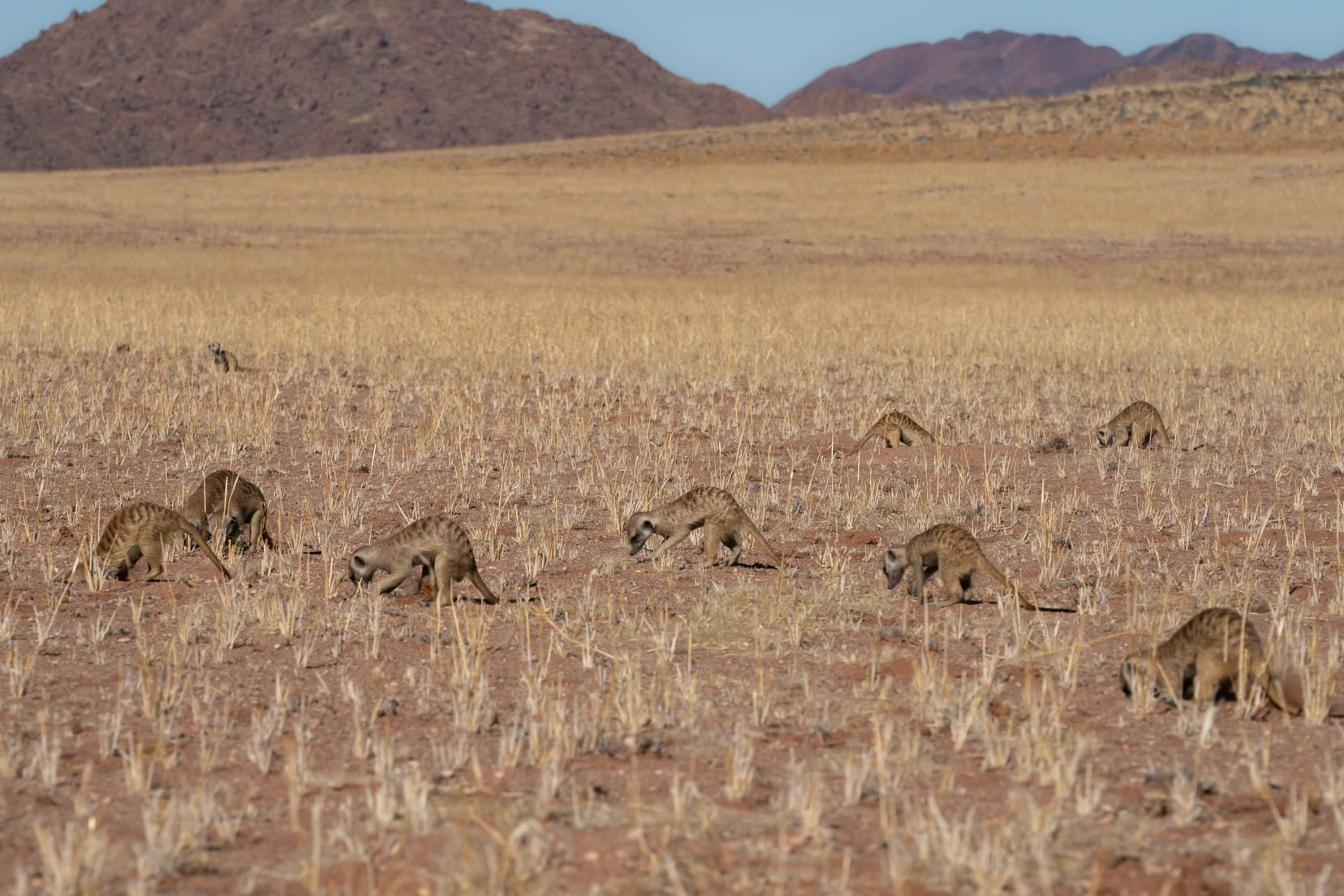 Accommodation at Kanaan Desert Retreat
There are three accommodation options available at Kanaan Desert Retreat:
Self-catering camping,
Partially catered glamping canvas tent or
Fully catered volunteering
There is a restaurant on-site, with a terrace overlooking the glamping tents, the desert plains and the Tiras Mountains. Campers can also use the restaurant; the three-course set dinner costs N$420 per person.
Free wifi is available at reception and the restaurant.
💡Note: There isn't any network signal at the campsite section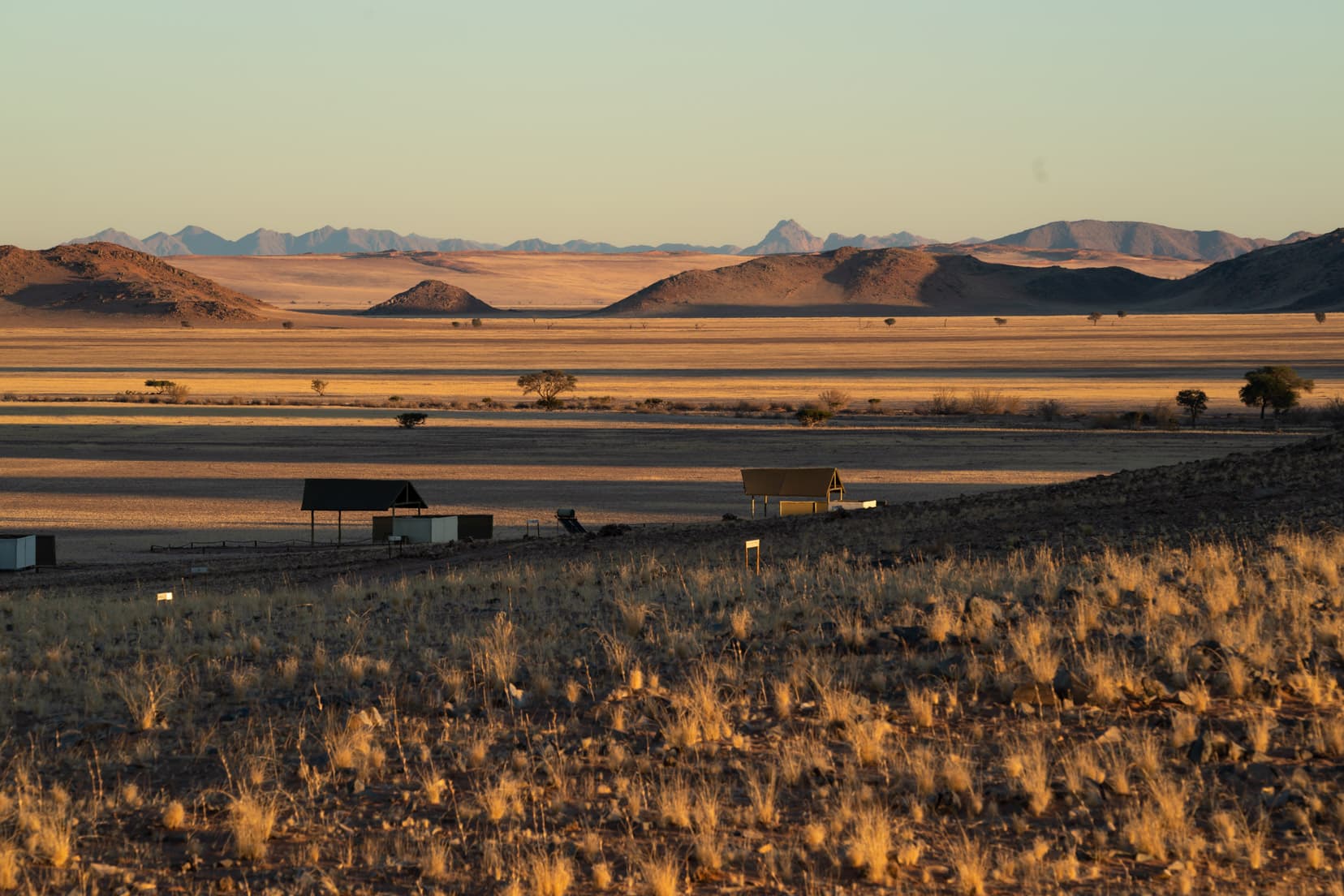 Camping at Kanaan Desert Retreat
There are eight Kanaan Desert Retreat camping sites, and they all look out over the desert plains towards sand dunes and the Tiras Mountains.
Each Kanaan camping site has:
Its own shade-cloth shelter,
Outdoor shower,
Flushable toilet,
Metal sink and
Braai (BBQ).
A windbreak to one side provides privacy and each site is approximately 30 metres apart.
Solar power provides lovely hot water for the shower, and the water is drinkable.
The campsite is about a kilometre away from the restaurant, swimming pool, glamping tents and volunteer/staff accommodation, on the opposite side of a set of rocky outcrops.
To book a Campsite call +264 81 681 74 22 or email: [email protected]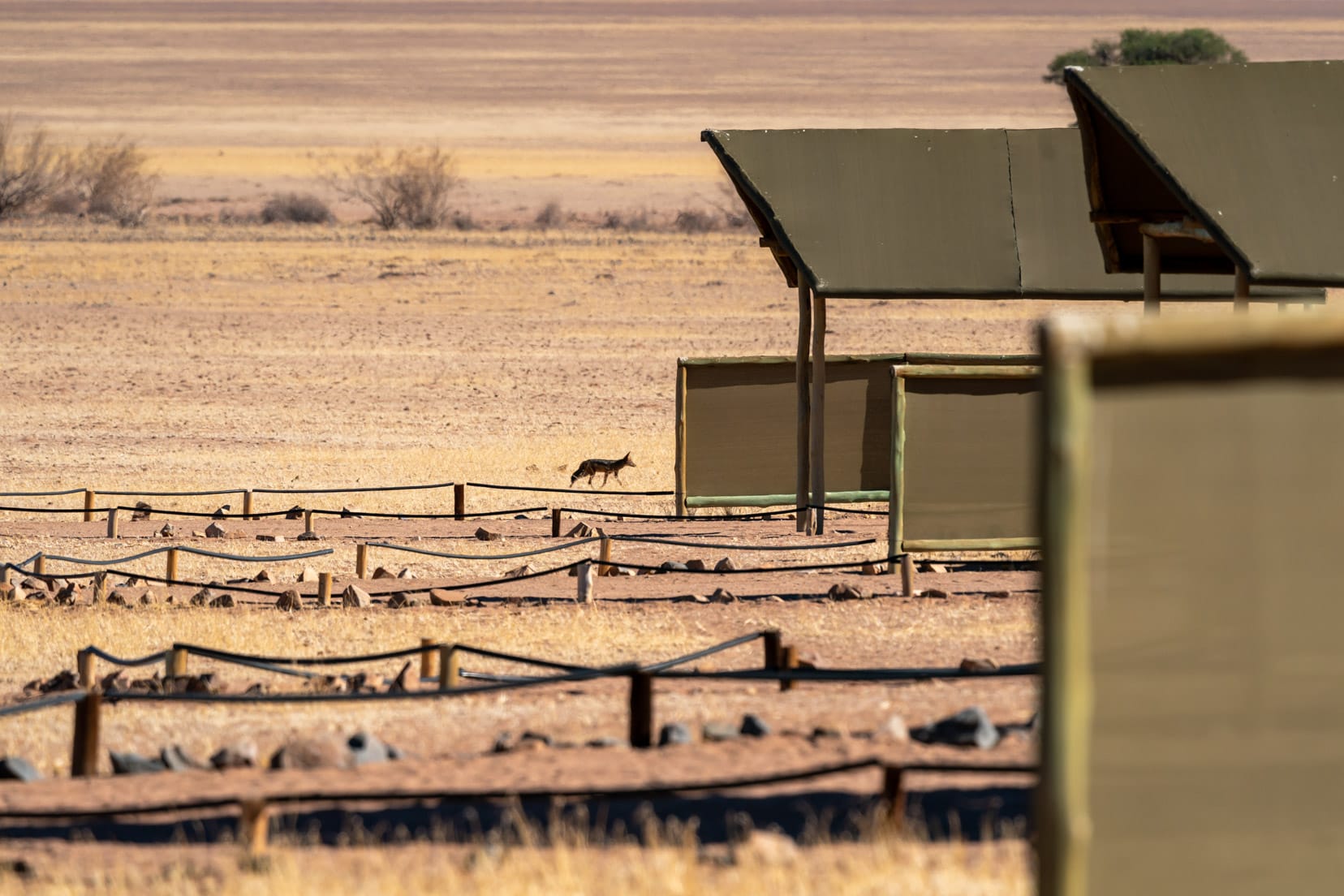 Luxury Tents at Kanaan Desert Retreat
The Kanaan luxury canvas tents are a huge step up from our rooftop tent, so if you are looking for some fresh clean white bedlinen and an ensuite bathroom then they would be just the ticket.
There are eight canvas tents, all with a gorgeous vista across the desert plains towards the Tiras Mountains.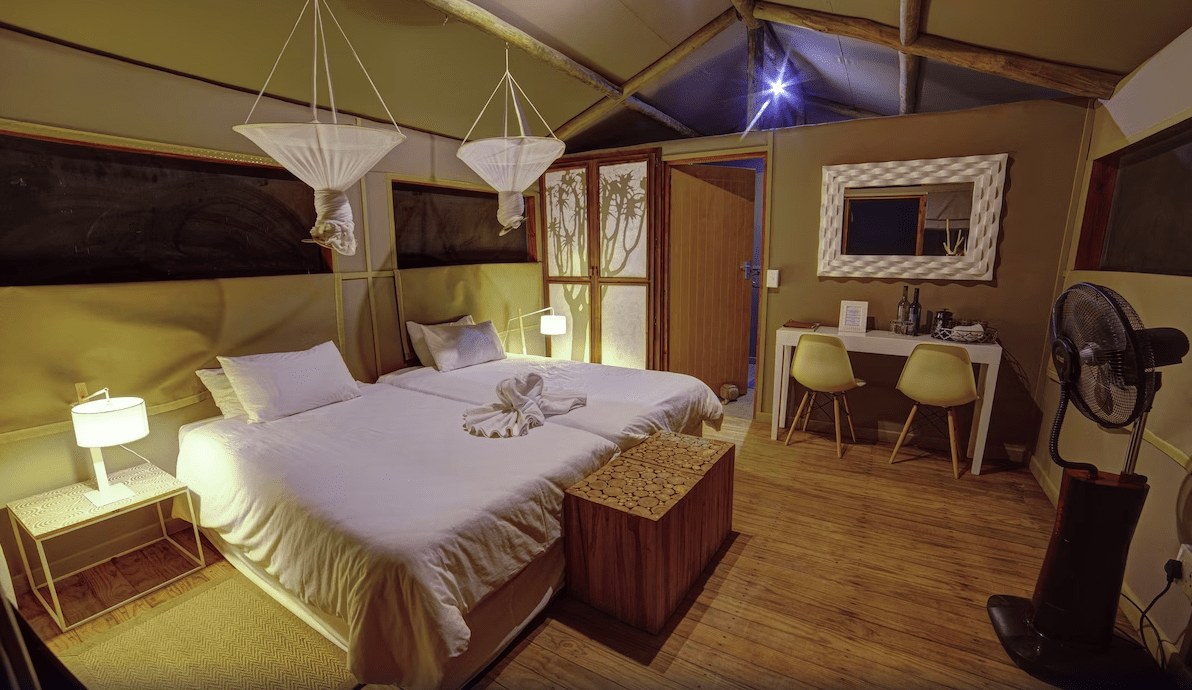 ⭐️⭐️⭐️
Kanaan Desert Retreat
✔️ Breakfast and Dinner
✔️ Free Wifi
The Kanaan Retreat website mentions that the tents overlook a waterhole. They do, but it might not be what you imagine. It is only small as you can see in the photo.
Each glamping tent has an ensuite shower and toilet and the bedroom door opens out onto a deck.
If you are considering booking just be aware that an uneven jagged stone pathway leads towards the tents so we wouldn't recommend it for anyone not stable on their feet.
You will also need to carry your baggage from the car park at the top, so if you have suitcases on wheels, you will have to carry them.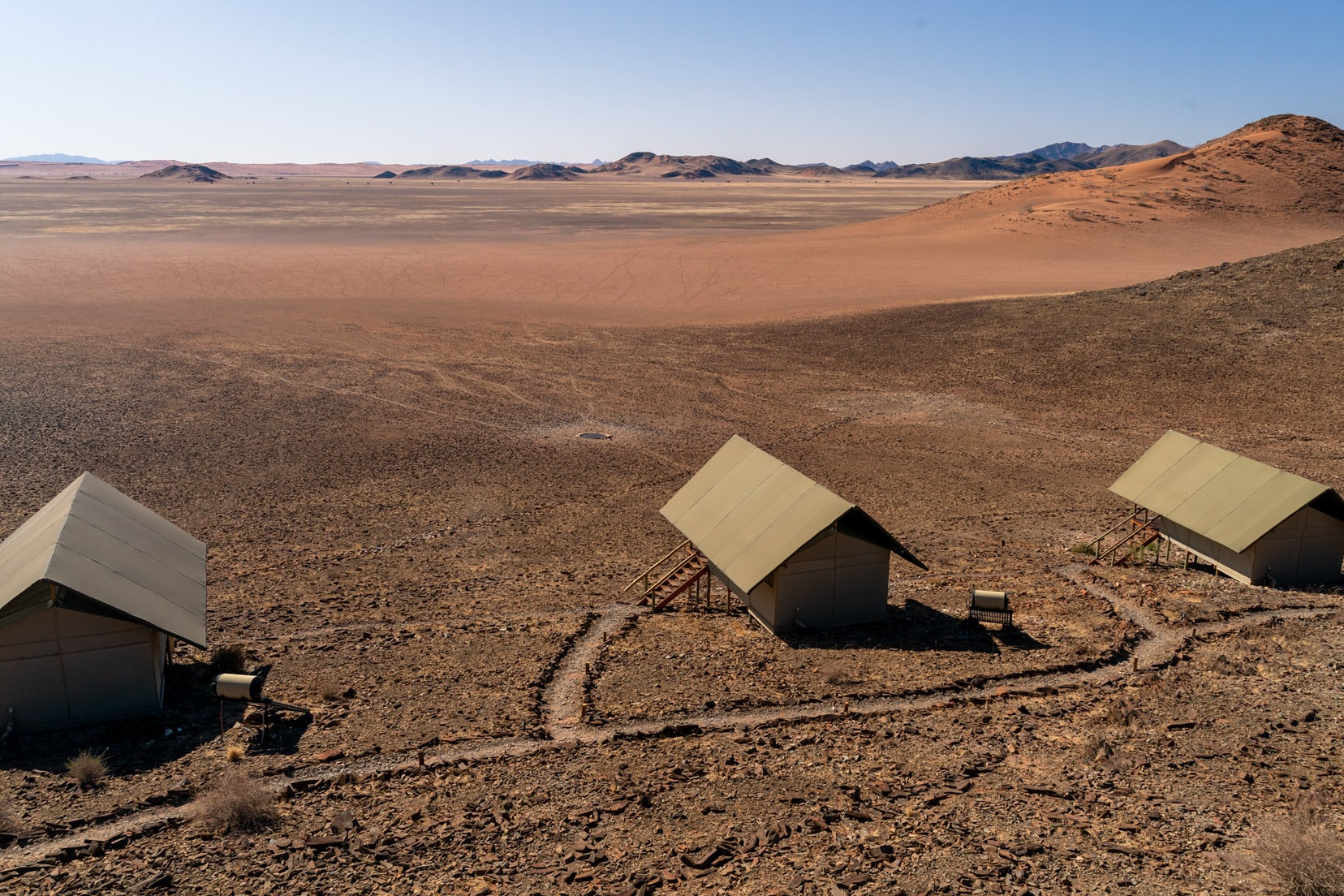 Volunteering at Kanaan Desert Retreat
If you want to get involved in helping the Naankuse foundation, they run volunteer programs ranging from two weeks to three months.
The primary volunteering happens at Naankuse Lodge in Windhoek, but once there, you can sign up for at least a week at Kanaan Desert Retreat.
The cost of volunteering includes all meals and accommodation.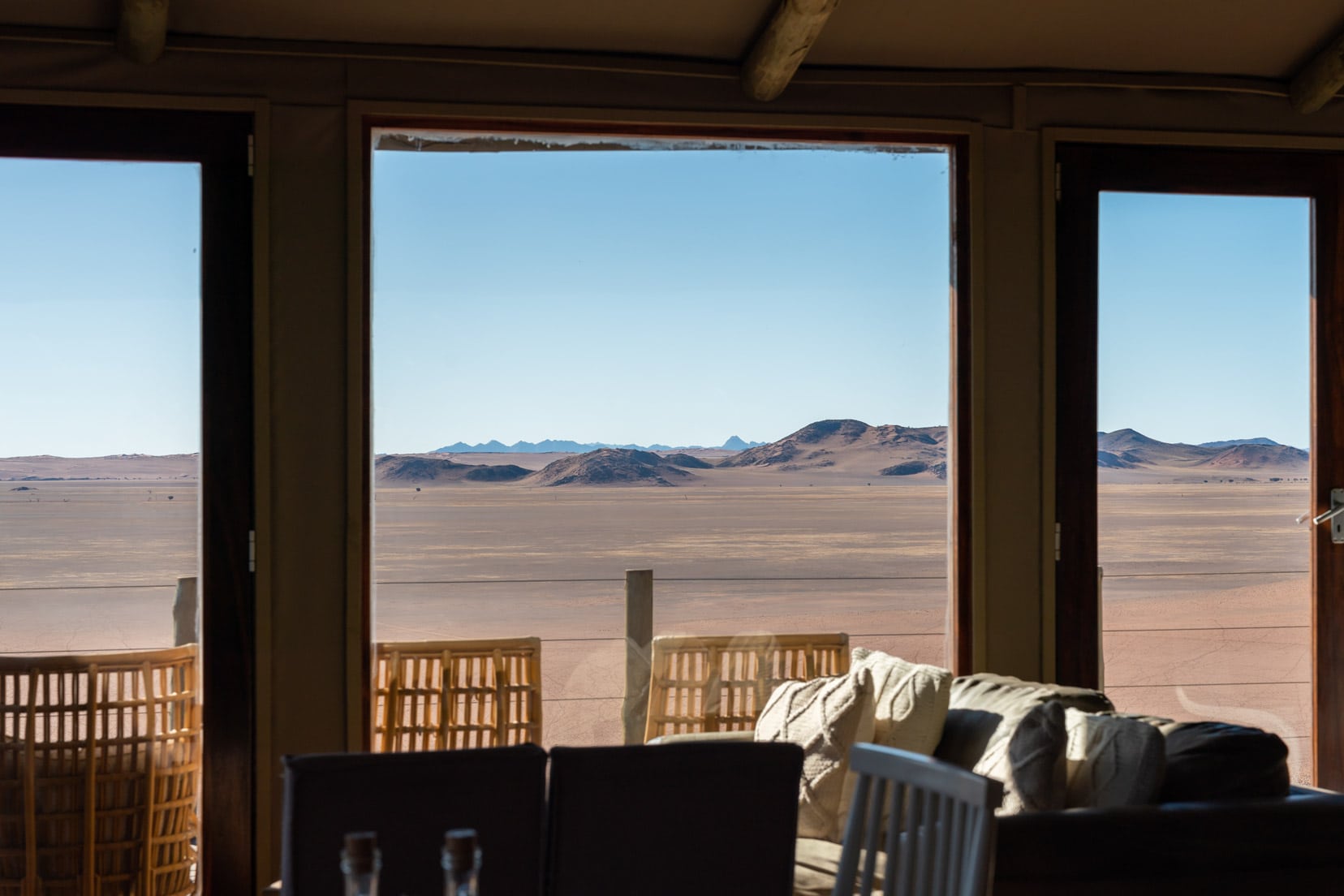 Prices at Kanaan Desert Retreat
The prices at Kanaan Desert Retreat change depending on the season. The low season is from October to March and the high season is from April to September.
⛺️ 2023 Kanaan Campsite Prices
Low Season: N$185 per person, per night
High Season: N$225 per person, per night
🛖 2023 Kannan Luxury Tent (Breakfast and dinner inc.)
Low Season: N$ 3154 per person, per night
High Season: N$3950 per person, per night
Our Experience at Kanaan Desert Retreat
We left Luderitz on the Namibian coast around eight in the morning, taking a leisurely drive north towards Kanaan Retreat.
On the way, we stopped at Garub Pan and were lucky to see a few of the Namib wild horses in the distance.
🚐 Thinking of Hiring a Camper in Namibia?
We recommend using Motorhome Republic to find you the best deal – they search all the local reputable African rental companies, including, Avis Safari, Britz and Caprivi Car Hire.
They do all the hard work for you and have a PRICE BEAT GUARANTEE
Driving the D707
The next part of the route took us along the much-touted scenic D707, with desert sands and red mountains lining the way. Others had told us not to miss Namibia's dream road, so our expectations were high.
Too high.
We decided that our impression of the road was affected by the fact that we live in Australia. We have miles and miles of landscapes that look very similar. So, although many are blown away by the D707, I have to say our enthusiasm, especially after its big build-up, was rather lacklustre.
But don't let our lack of gusto for this section of Namibia deter you — the popular opinion is that the D707 is tremendous. To be fair, we haven't driven the whole route yet, so maybe it will redeem itself on the next leg to Sossusvlei.
(Added Note… it didn't. Though the D707 is spectacular compared to the road from Sossusvlei to Walvis Bay, which is very barren and not at all scenic.)
The turn-off to Kanaan Desert Retreat, off the D707, is marked and informs you that you only have another 8 km to go.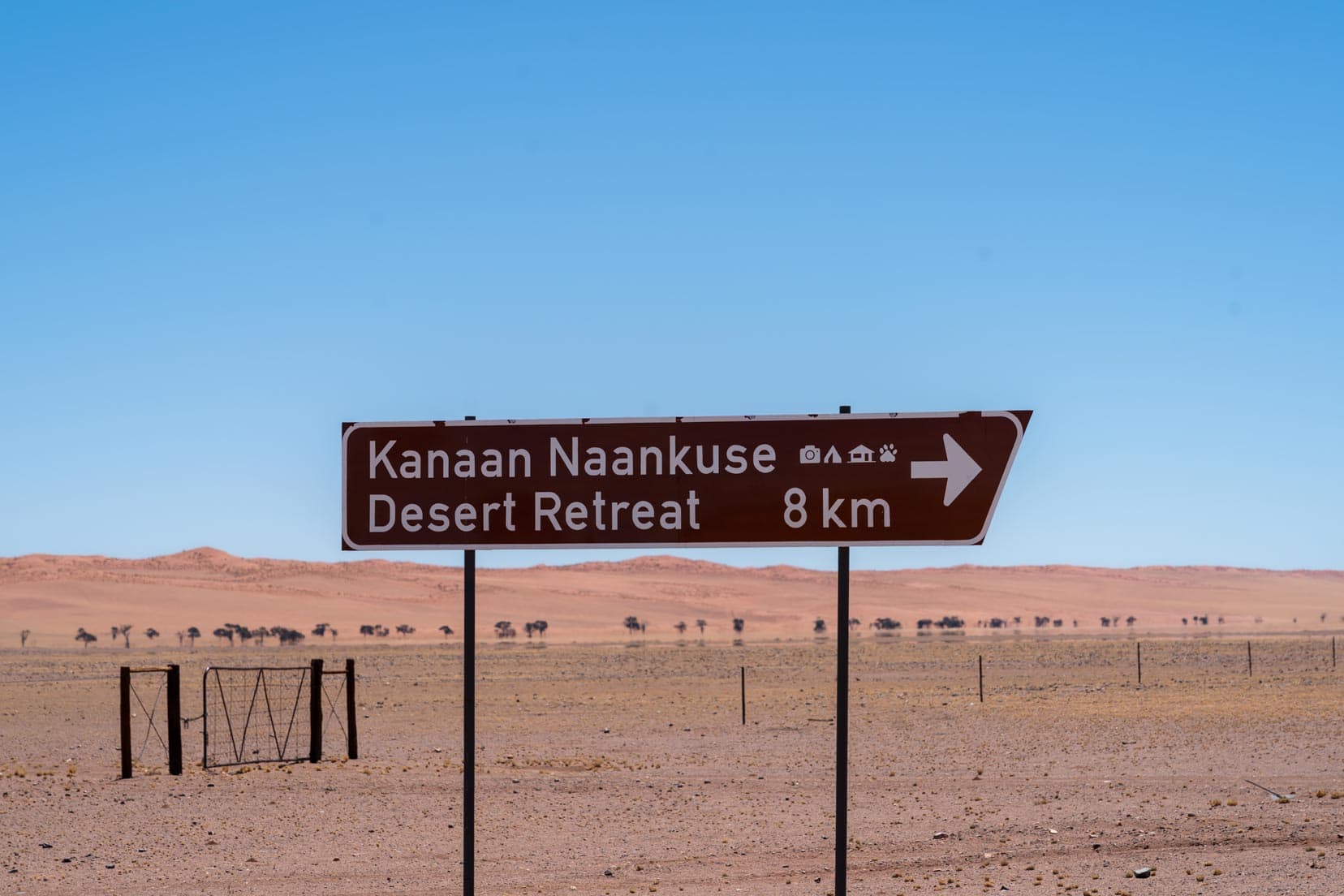 Arriving at Kanaan Desert Retreat
Hues of yellow and brown along with all their golden cousins in between, envelop you. The Tiras Mountain range and miles of red dunes are broken only by swathes of desiccated grass and a dry river bed.
A scant line of low trees is the only inkling that a river may occasionally flow here. Though this year, with no rain as yet, and almost at the end of the rainy season, the area was parched.
The reception sits alone on the hill to the left-hand side of the main trail on the drive in.
They say silence is golden. And sitting with our cuppas, gazing out across the desert plains towards the Desert mountains, tranquillity radiated from the swathe of pale-yellow grasses.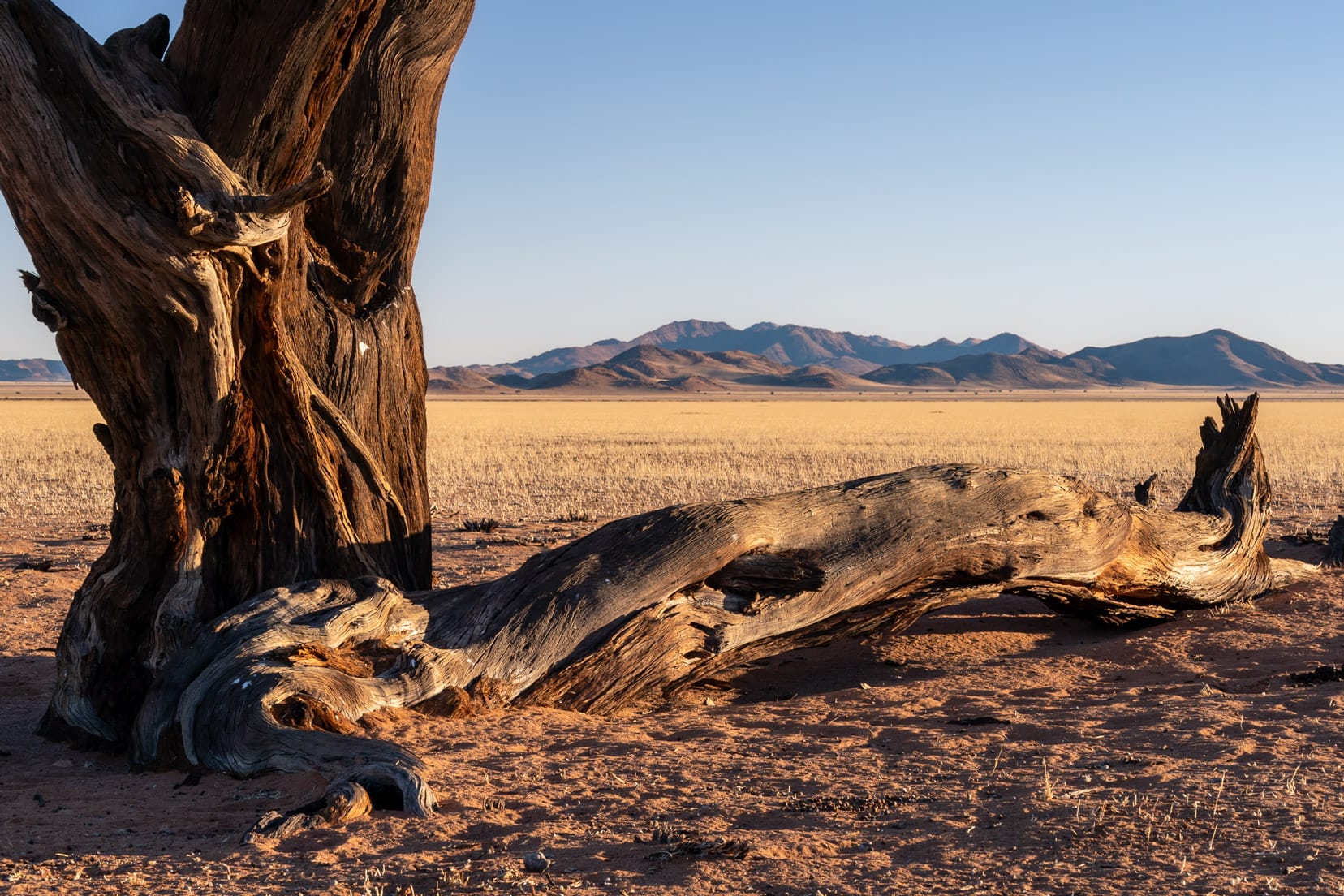 Sunrise Drive at Kanaan
The next morning Lars, was up at the crack of dawn … well, way before the crack actually, stars still littered the sky when he was picked up for the sunrise safari drive at 5.30 am.
The light in the morning is one of the best times to capture the golden hues of this impressive landscape. And as he is our number one photographer, I wasn't compelled to join him.
Rather, I stay in camp and watch the sunrise with a blanket wrapped around me and a cup of hot coffee in hand.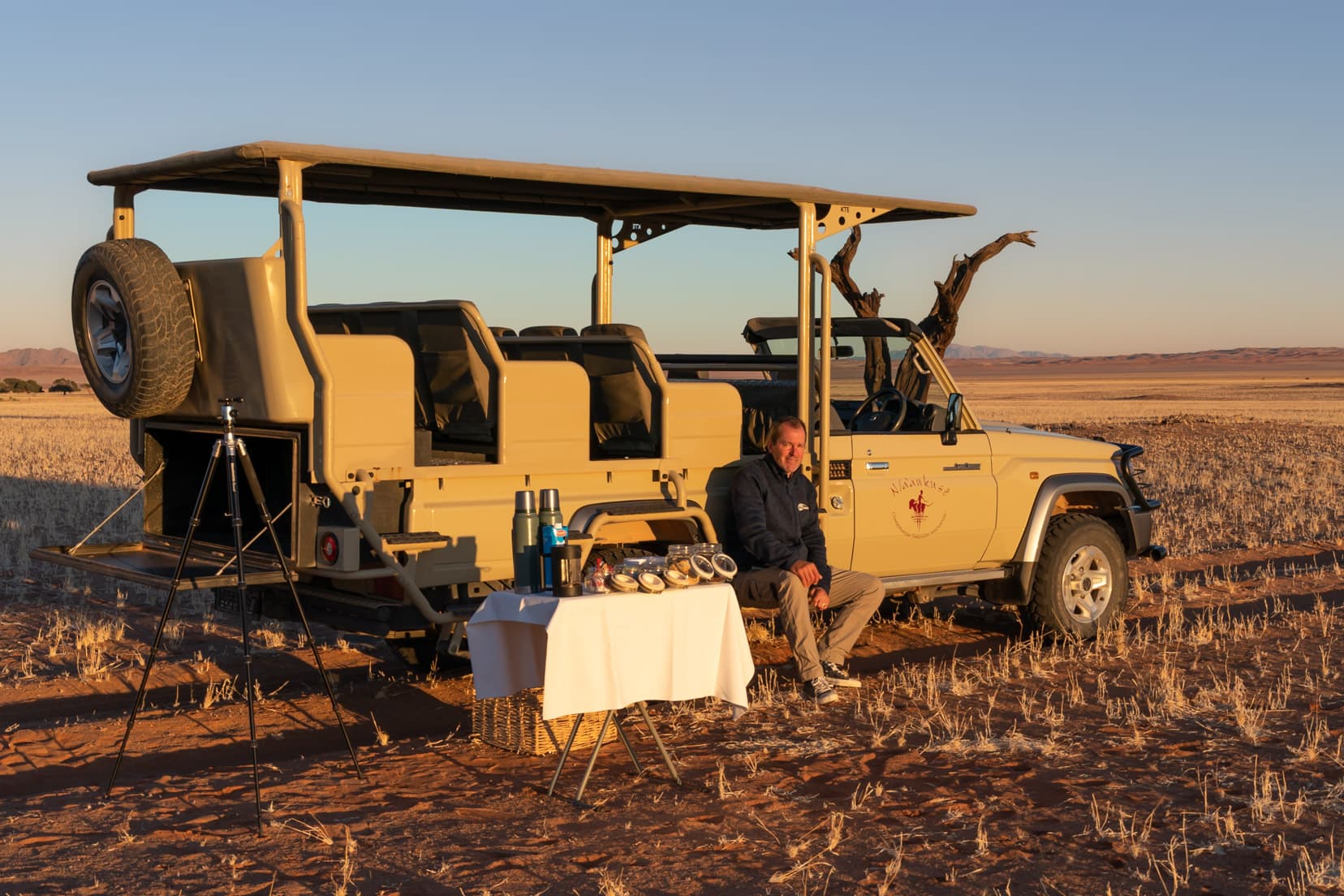 That first morning was freeeezing!
We had temperatures in the low 30s (DegC) during the day but that was the first morning on our trip where the cold weather gear had to come out.
You can't self-drive around the Kanaan Desert Retreat, so there isn't much to do in the day other than sit back and enjoy the scenery. Which we did until the sunset drive in the evening.
Sunset Drive at Kanaan
On the sunset safari drive, the most popular activity at Kanaan Desert Retreat, we were lucky to see some bat-eared foxes digging for bugs. We also learnt a little about the Nama culture, from our Nama guide, Hendris.
As the sun set, we stopped for drinks and snacks watching the day fall behind the red sand dunes of the Namib Desert.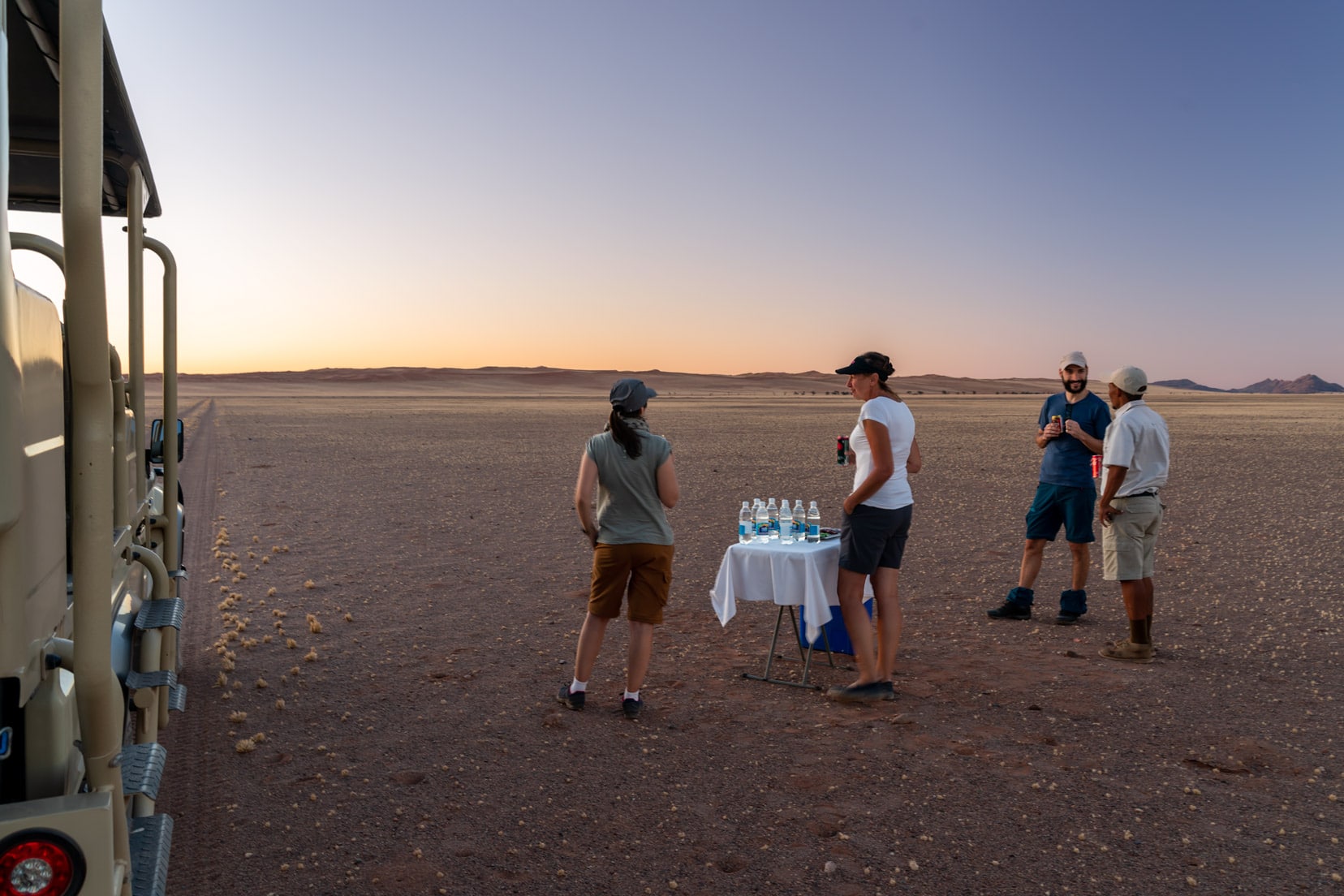 Setting off towards Sossusvlei the next morning, we were, as it turned out, just as unimpressed with the remainder of the D707.
But we were happy to have spent time camping beneath the stars, mingling with meerkats, watching the sunrise across the desert plains and contributing to the Nankuse Foundation by way of our ecotourism.
Kanaan Nankuse Desert Retreat was the perfect stopover for us between Luderitz and Sossusvlei.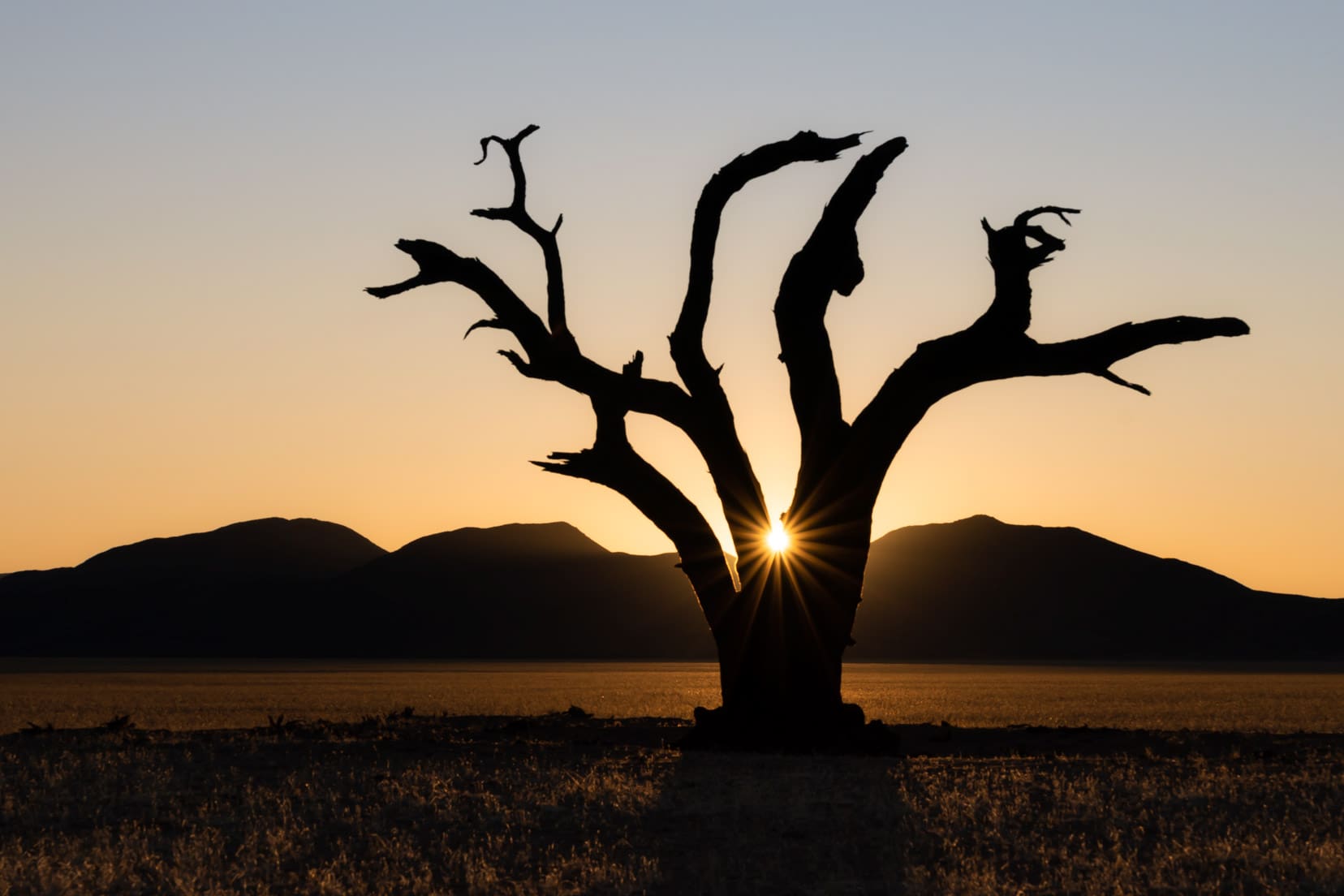 Wildlife at Kanaan Desert Retreat
The wildlife in the surrounding plains and mountains around this Nankuse Desert Retreat include:
Black-backed jackal
Bat-eared foxes
Gemsbok
Meerkats
Aardwolf
Spotted hyena
Brown hyena
Leopard
Ostrich
From the campsite, over the two days we were at Kanaan, we saw gemsbok (oryx), springbok, a black-backed jackal and ostrich.
On our sunset drive, we saw bat-eared foxes, gemsbok and ostrich.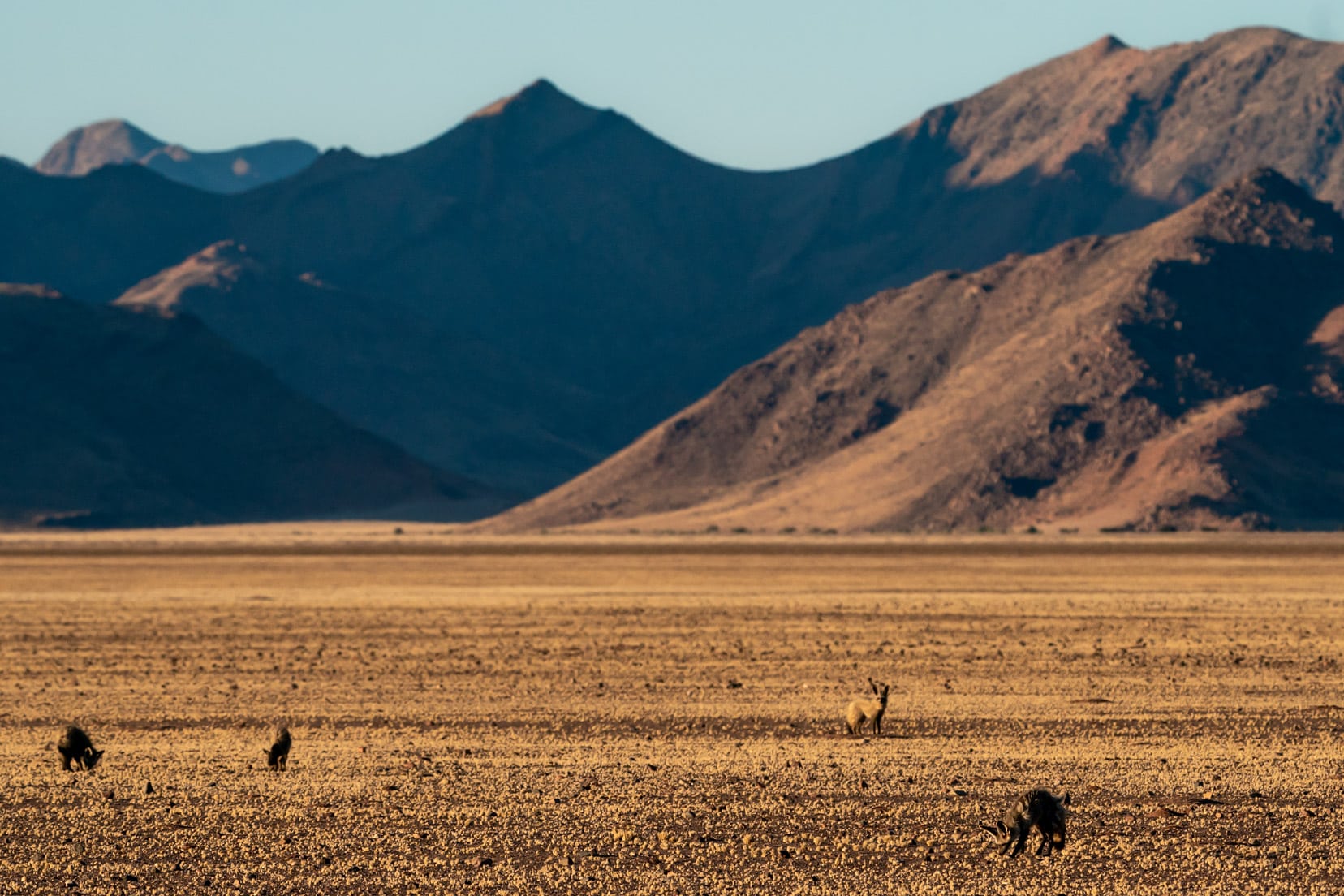 But we have to say our favourite wildlife encounter was with the meerkats.
Meerkats at Kanaan Desert Retreat
The meerkat family at Kanaan originally started with two. One was rescued as a pet and the other was being sold on the side of the road. From that male and female, the meerkat colony has grown to around nineteen of these much-loved little creatures.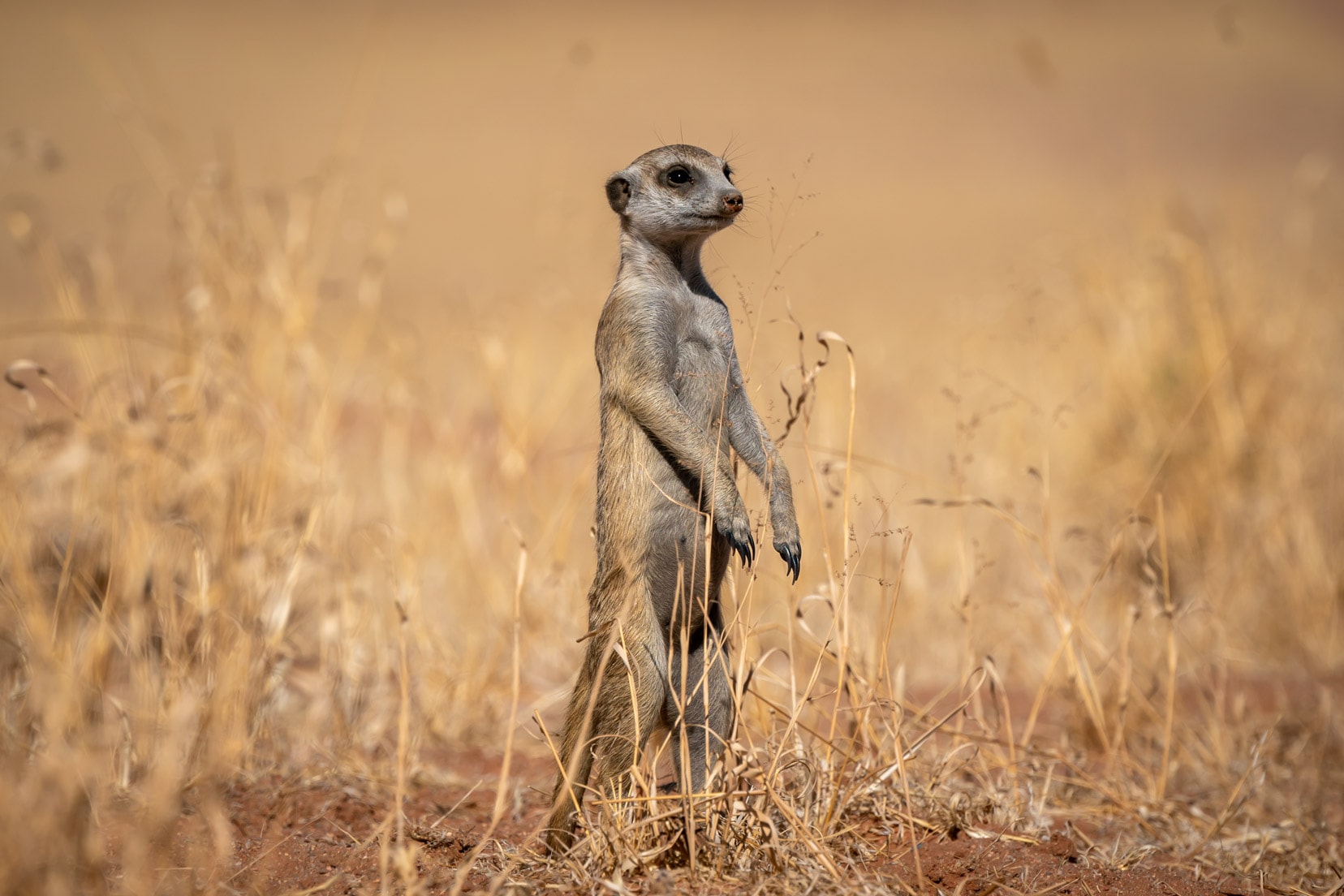 We came across them on the road between the campsites and the reception area.
As with all wildlife, it's best not to approach them and signs around Kanaan will tell you so. You must also not feed them.
We sat watching them from a distance, but they moved towards us as they were digging and searching for beetles in the sand. They moved around us as if we weren't there and even sat in the shade of our legs for a few moments to rest.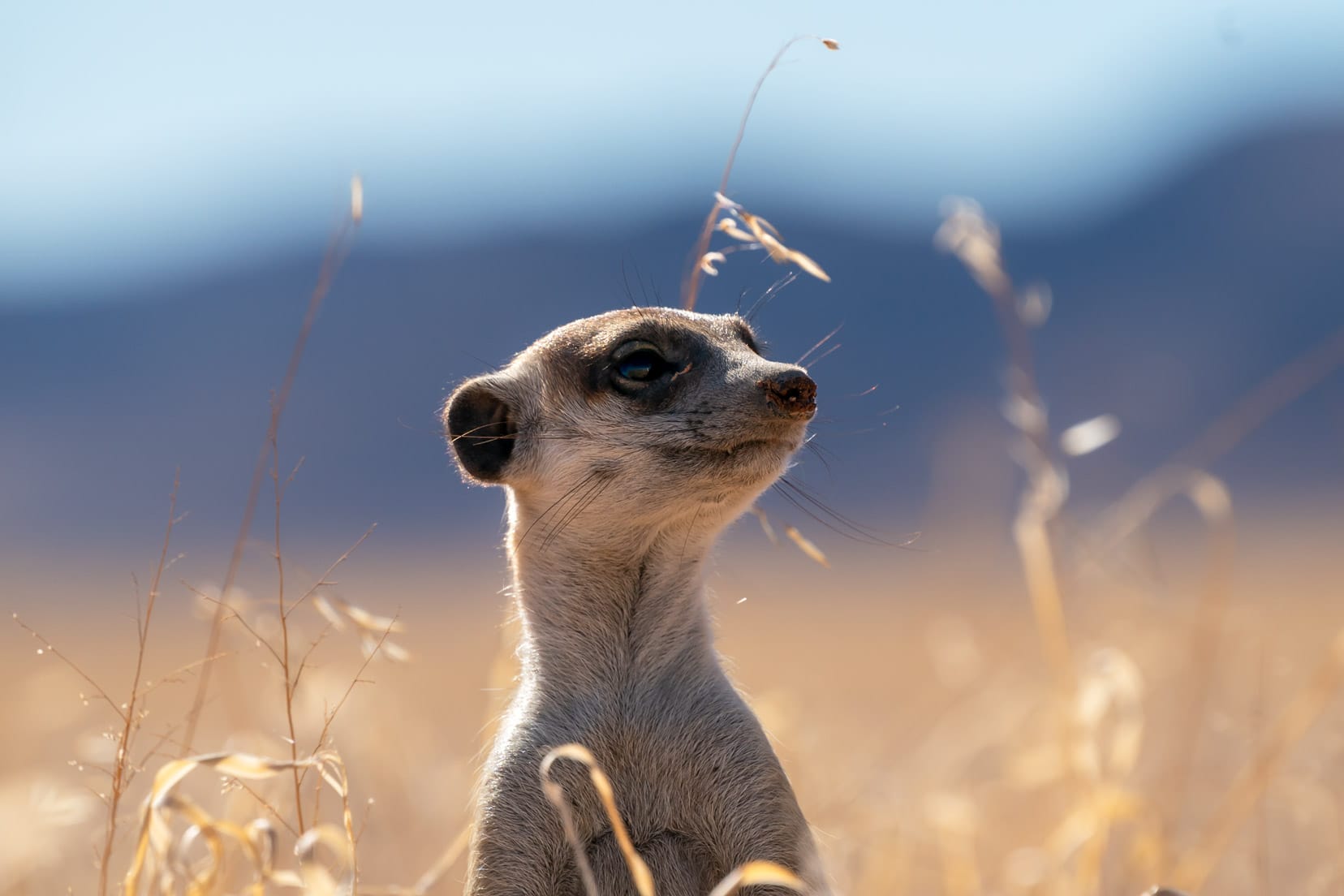 This was our first experience of seeing meerkats in Southern Africa and it was a delight to be able to sit amongst them for about an hour.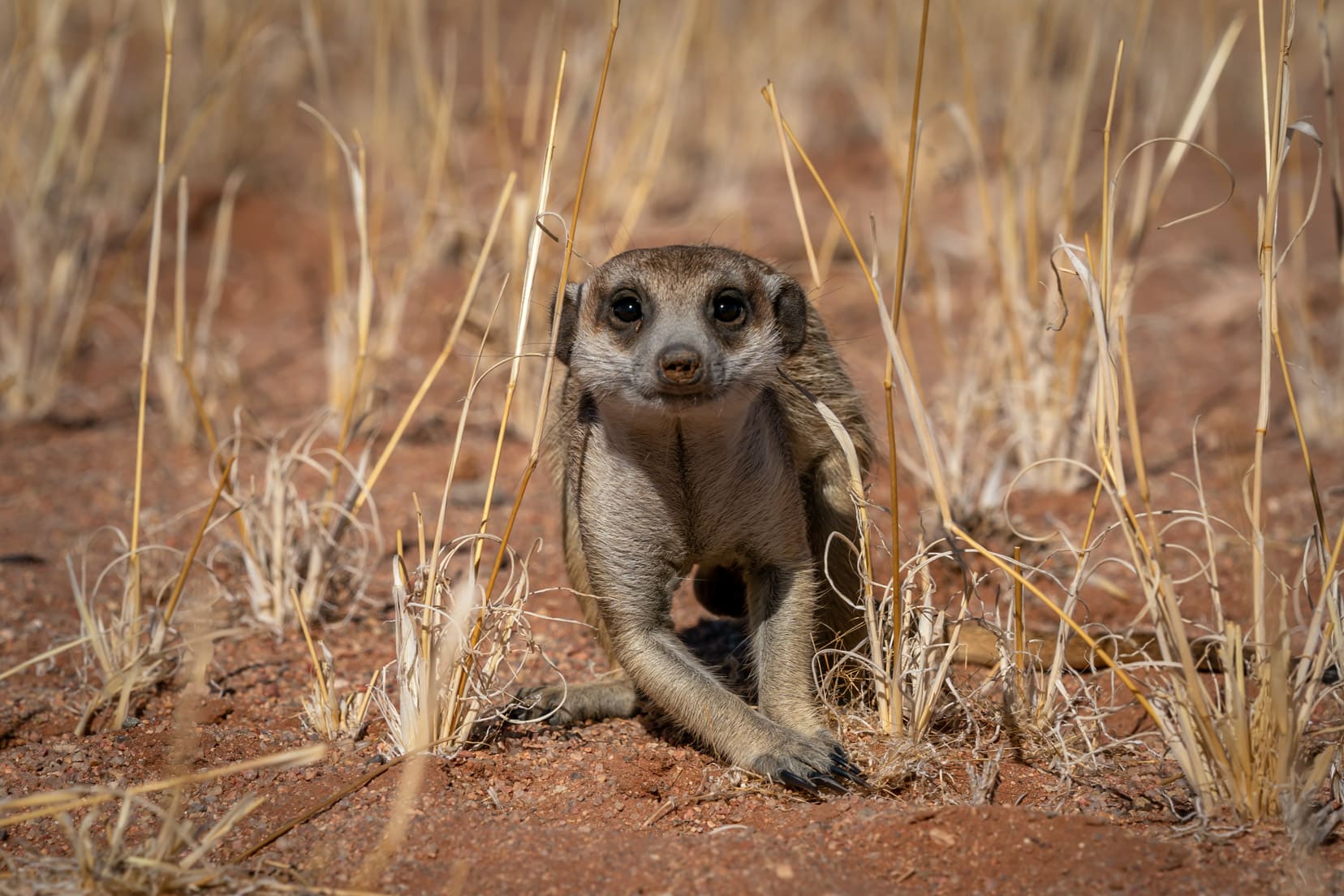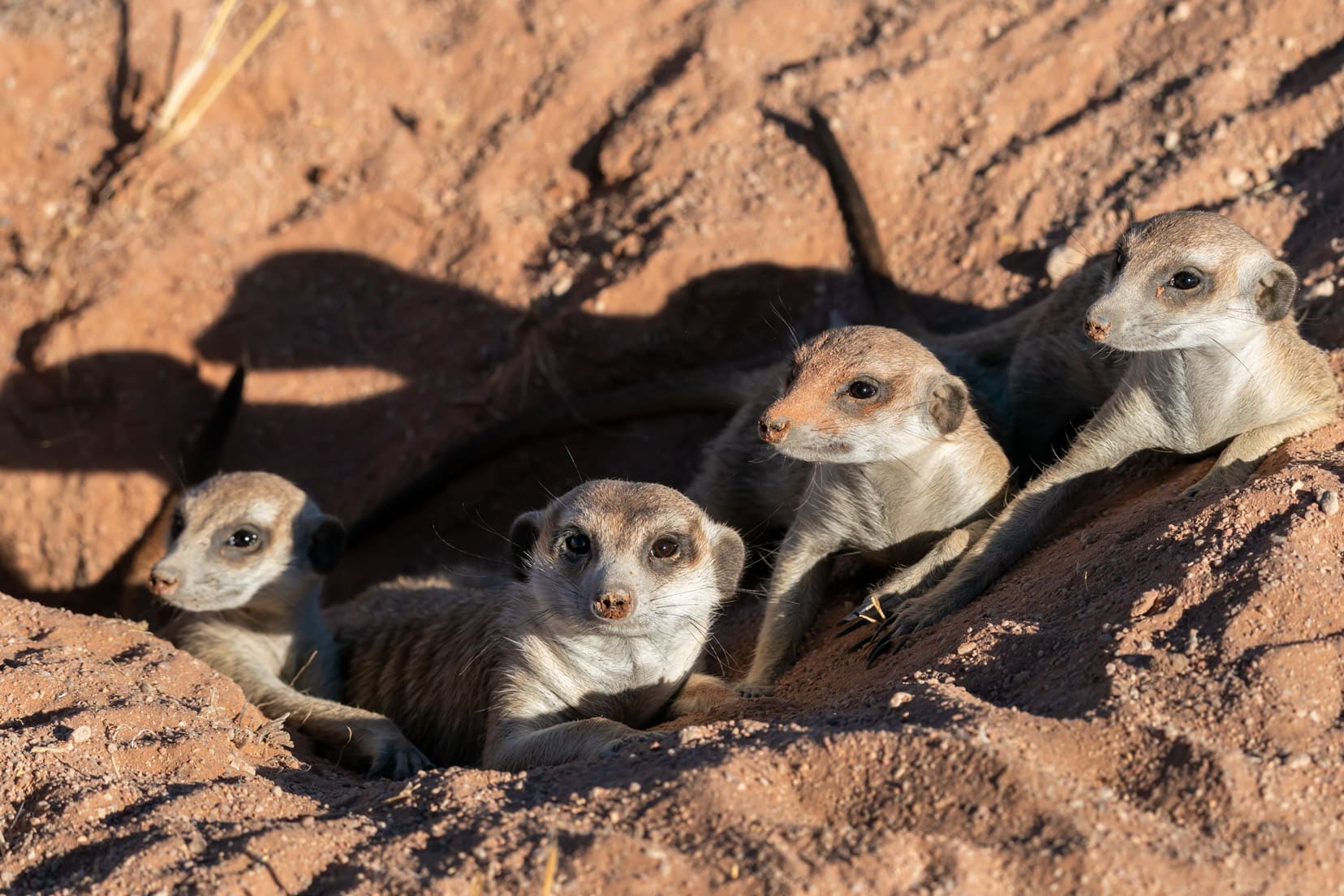 Kanaan Retreat Activities
Activities at Kanaan Desert Retreat include:
Safari drives
Hiking trail
Swimming pool
Blokarting
Horse riding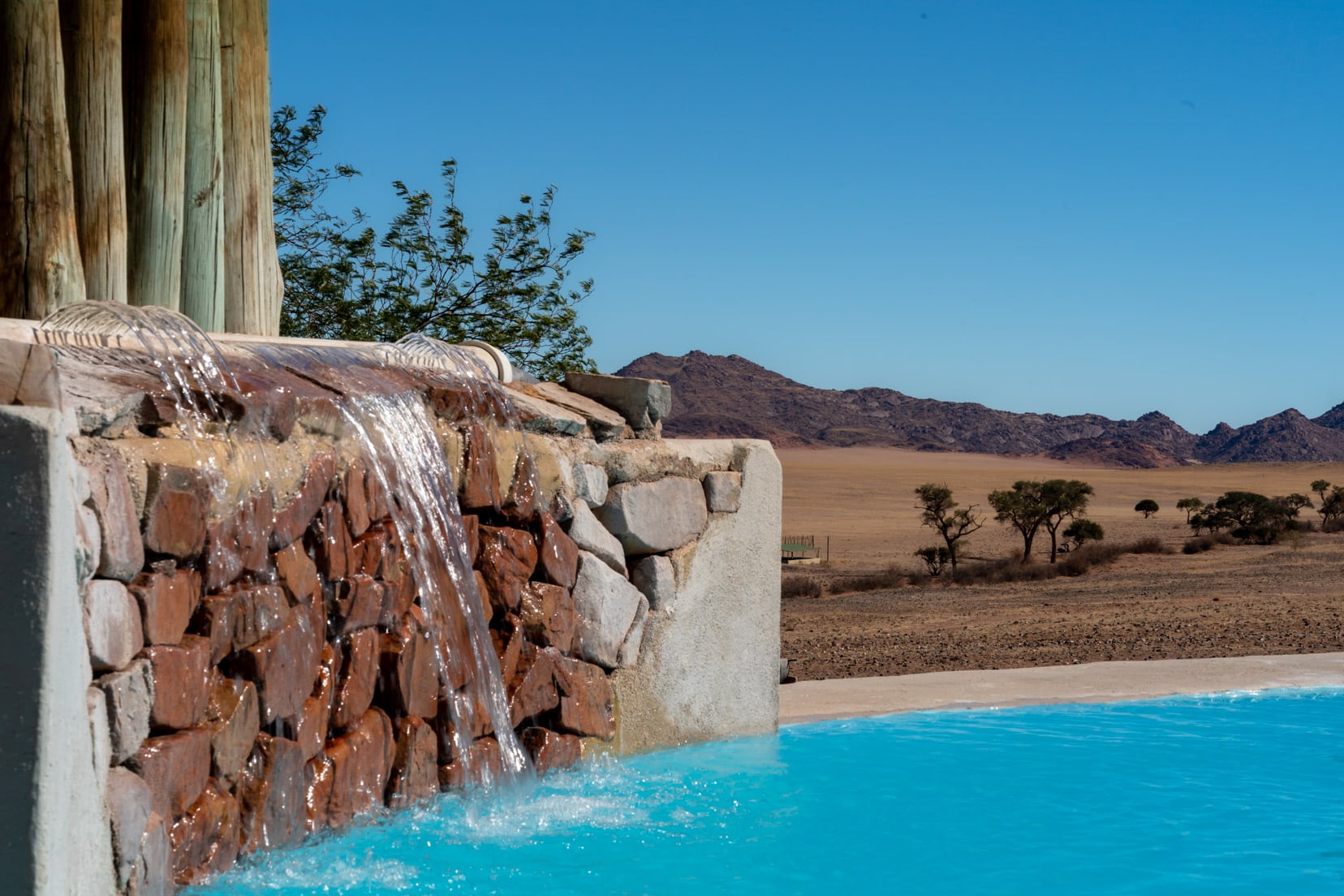 The type of safari drives available at Kanaan Desert Retreat are:
Sunrise drive — N$780 pp
Sunset drive — N$780 pp
Photography safari drive – You choose two out of a sunrise, sunset or star photography (depending on moon phase) — N$3500 pp
Professional Photography Tour — a professional photographer guides you on settings and composition for your desert shots. (Price on request)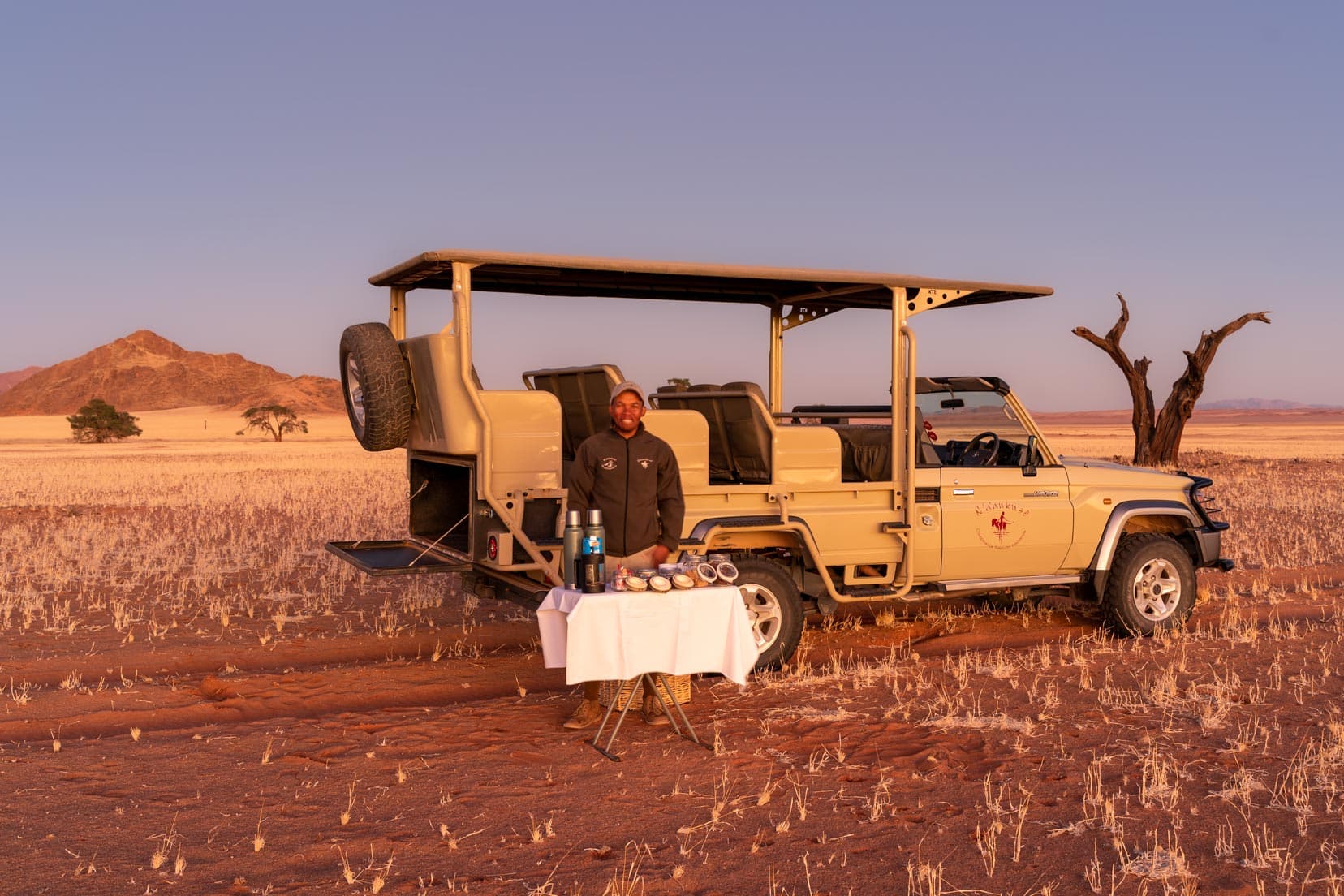 The hiking trail starts at the car park, up near the restaurant. It's a circular trail that takes about an hour and takes you through the hills and by the dry river bed.
Horse riding is available for one or two hours (two hours costing N$730 pp.)
Blokarting is an activity for the adventurous. It is a three-wheel cart with a sail attached and is only available when the wind is strong enough. Safety equipment of helmet, elbow and knee pads are provided.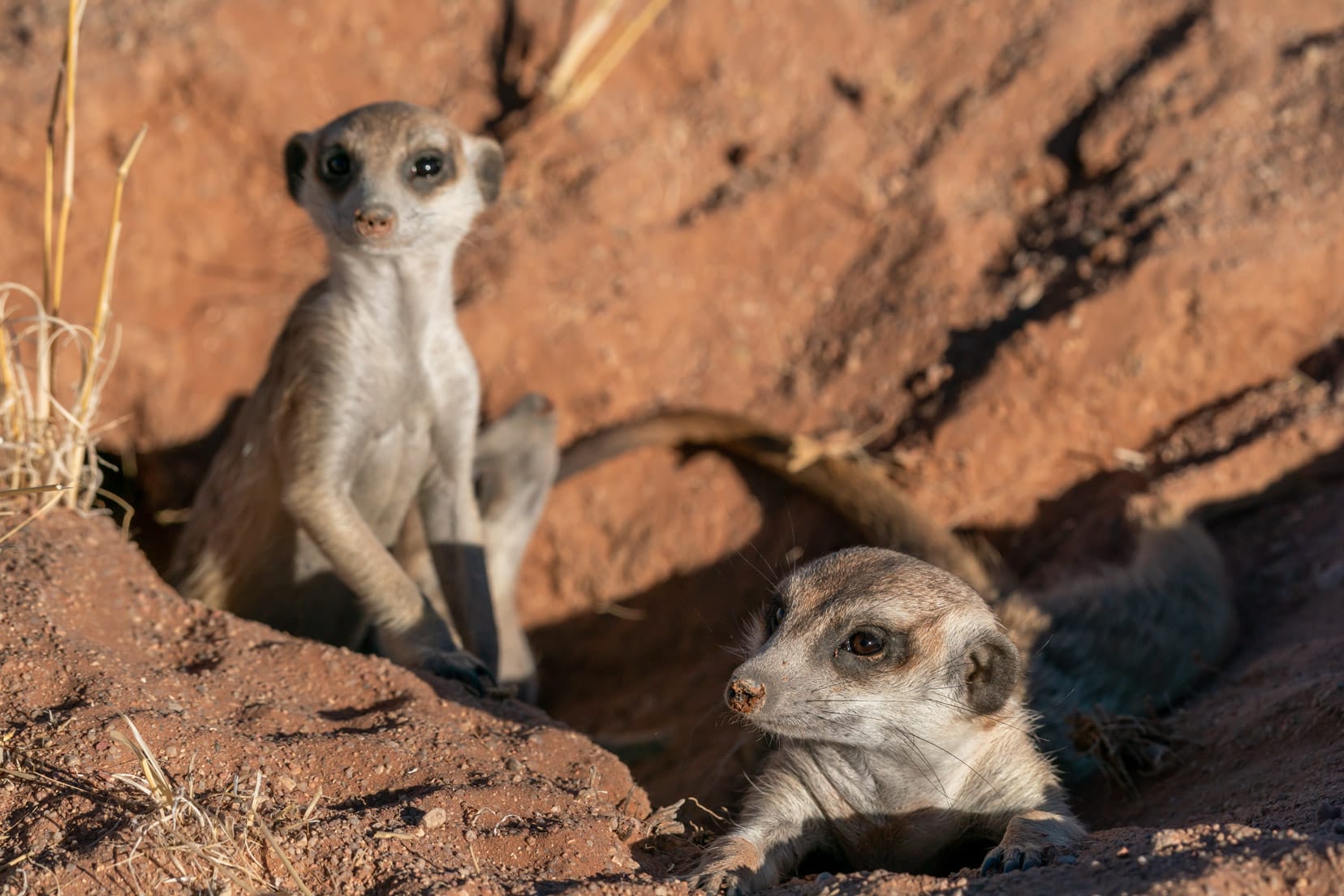 Where is Kanaan Desert Retreat
The Kanaan Desert Retreat is about halfway along the legendary D707 road in Namibia. It shares a boundary of about 35 km with the Namib Naukluft Park, in the Karas region, and is a popular stop-over point for travellers.
If you are driving north towards Sossusvlei or south towards Lüderitz or Fish River Canyon, then this is the perfect stopover on a Namibian road trip.
Distances to Kanaan Desert Retreat from nearby towns:
Kanaan to Luderitz – 270km / 3.5 hrs
Kanaan to Sossusvlei – 240km / 3 hrs
Kanaan to Aus – 150km or 2 hrs
Kanaan to Windhoek – 550km or 6 hrs
Kanaan to Fish River Canyon – 455km or 6 hrs
Best Time to Visit Kanaan Desert
The most popular time to visit Kanaan is from April to September as the winter daytime temperatures are cooler than other times of the year.
However, in the winter months, although daytime temperatures are pleasantly warm, the nighttime and early morning temperatures can be sub-zero. The winds can also be much stronger in winter, and sandstorms are more likely.
We camped there at the end of March and the daytime temperature was in the high 20s. Mornings were pretty nippy but warmed up quickly once the sun was up.
The landscape doesn't change too much over the seasons, so whatever time you visit, the spectacular desert views will be similar.
Interesting Facts we Learnt at Kanaan Desert Retreat
90% of the tourists that visit Kanaan are international tourists.
The Nama people used to make beer using the guano of the sociable weaver bird to make it stronger. If the guano had red in it — even better — because it was from the Cape Cobra droppings, making the beer even stronger.
Meerkats eat venemous scorpions – so handy to have around a campsite!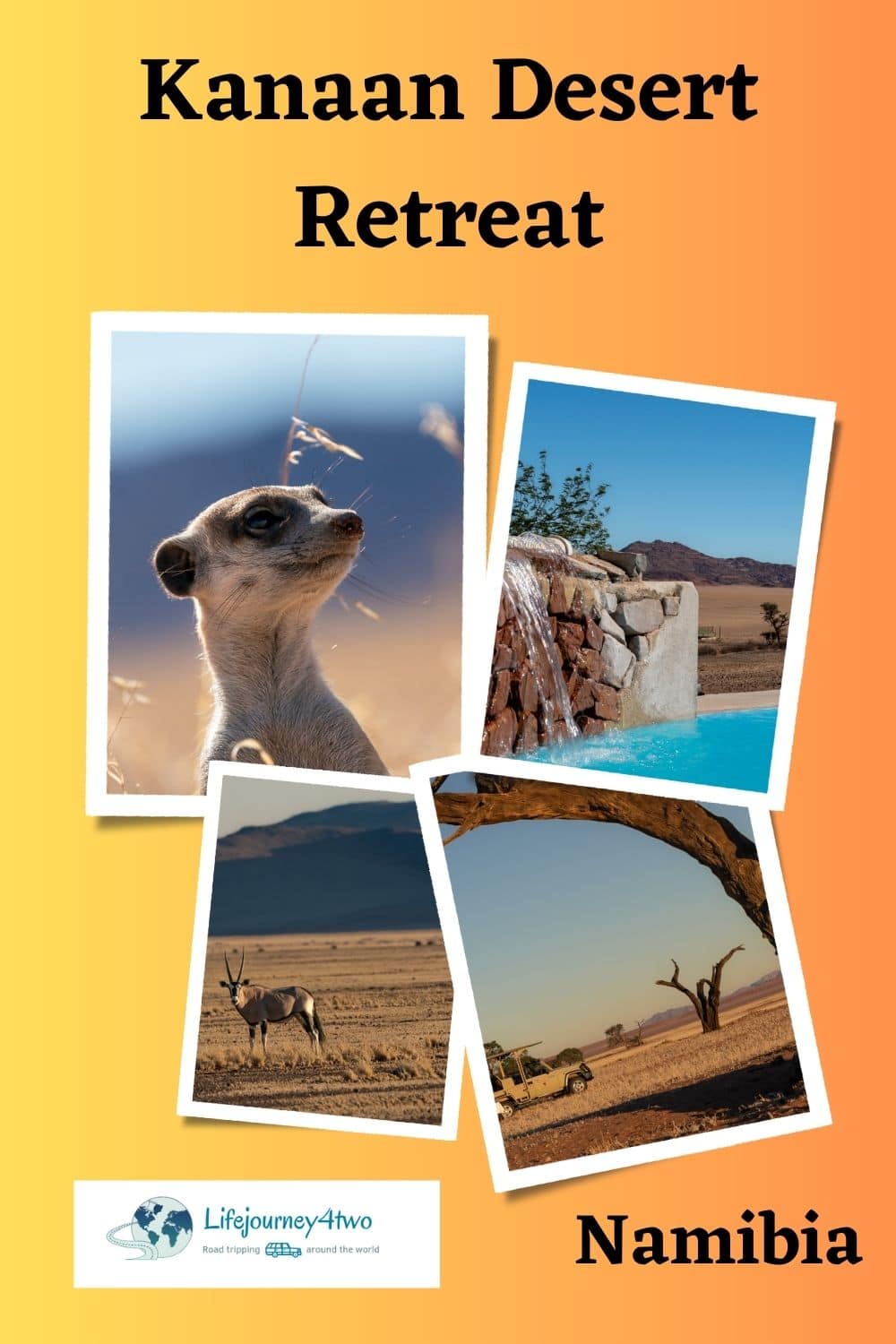 Kanaan N/a'an ku se Desert Retreat… That's a Wrap
A stop over at Kannan Desert Retreat is ideal for those of you who are:
Looking for a halfway 'ish stopover between Luderitz and Sossusvlei
Want a great place to stop on Namibia's D707
Have the desire to camp in the desert wilderness with scenic views
Mad about Meerkats and want to see them in the wild
👉 NEXT PLANNING STEPS:
🤎 Enjoy and Happy Travels
Related Articles
PLANNING YOUR TRAVELS?
These are some of the travel resources we use when planning our trips.
For a more thorough list visit our Travel Resources page here.