PULPIT ROCK HIKE NORWAY: MISSION POSSIBLE
Unlike Tom's Cruise experience of Pulpit Rock — Mission Impossible — this post gives you the essential information you need to make the Pulpit Rock Hike Mission POSSIBLE.
THIS 'PULPIT ROCK HIKE' ARTICLE INCLUDES: 
Hike statistics inc. length, difficulty rating, elevation gain
The different types of terrain you will encounter while hiking Pulpit Rock
Photos of the views you can expect to see during the Pulpit Rock hike
Planning tips for getting to Preikostolen (Pulpit Rock) and where to park
This behind the scenes video of the making of the action movie, Mission Impossible – The Fallout, on Pulpit Rock,  gives you an interesting perspective of why Pulpit Rock is one of Norway's greatest treasures.
HIKING PULPIT ROCK, NORWAY: SETTING THE SCENE
---
Firstly, if like me you're wondering if there's been a name change? Well, Pulpit Rock is formally known as Preikestolen. Ring a bell?
SO WHY IS PREIKESTOLEN NAMED PULPIT ROCK?
Well, the simple answer is that it looks like a preacher's pulpit — the raised stand in front of the preacher they use during a sermon. Pulpit Rock was discovered in 1896 and the first tourist travelled to the top of Preikestolen in the early 1900s. Now, it draws more than 300,000 visitors per year.
WHY IS PULPIT ROCK SO SPECIAL?
This flattish section of rock, shaped during the last ice age over 10,000 years ago, covers an area of about 25 square metres but it has a sheer drop of 604m all the way down to Lysefjord (a 42-kilometre long fjord).
In 2020, it was certified as one of Norway's Scenic Hikes and a sustainable destination. This means that the not for profit that runs Preikestolen is working to reduce the negative impact of tourism on this precious Norwegian landmark.
THE REWARD WHEN REACHING PULPIT ROCK?
Once you reach the top of Pulpit Rock, you will have stunning panoramic views from this amazing natural wonder… And let's not forget bragging rights as well.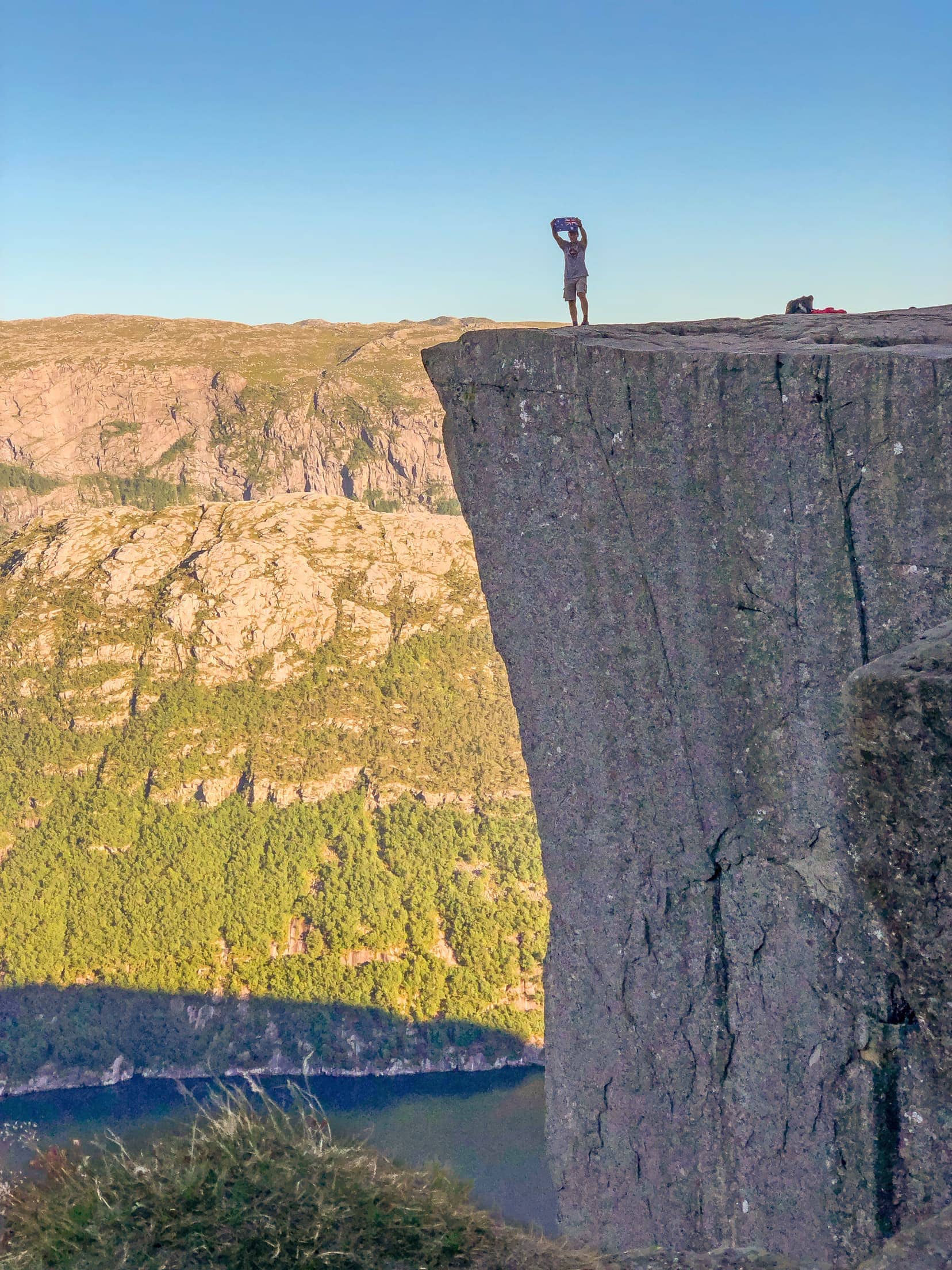 PULPIT ROCK HIKE DETAILS
---
WHO IS ABLE TO HIKE PULPIT ROCK?
It's good news! The Pulpit Rock hike is geared towards people of all ages. We saw both kids and older people on the hike – everyone chooses their own pace that's comfortable for them.
The trail has parts where you ascend for a bit which is then followed by flatter parts and this continues like this to the top. This means that it's not a hard uphill grind all the way. You don't have to be super-fit but you need to have at least an average level of fitness.
Let's look at a few need-to-know facts that you should be aware of before tackling this iconic hike.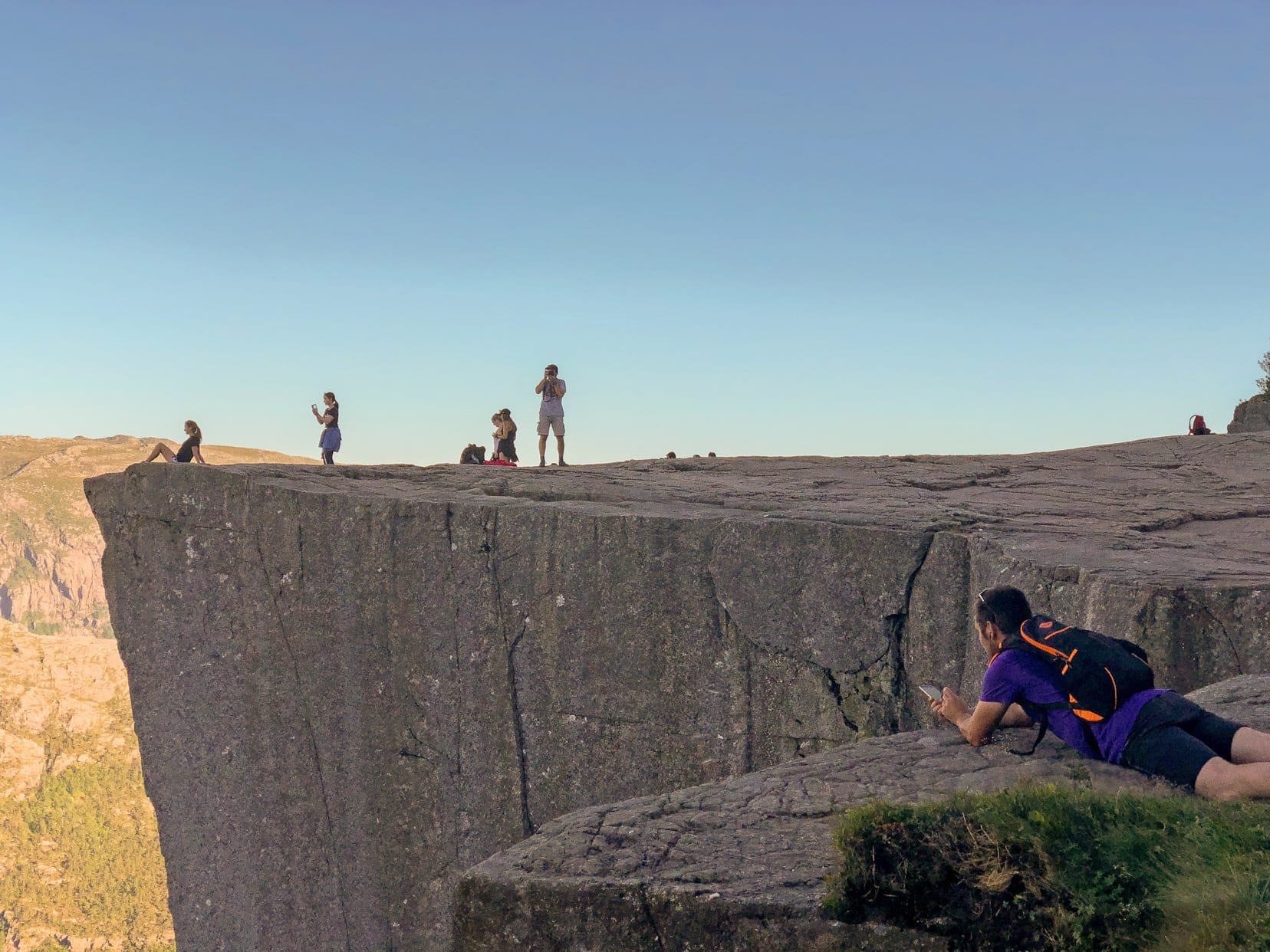 SUMMARY OF PULPIT ROCK NORWAY HIKE DETAILS
Pulpit Rock Hike Distance: Roundtrip totalling 7.6 kilometres
Hiking time (round trip): not including time spent at the top, anything from 3 to 5 hiking hours (walk fast or walk slow – you decide!)
Technical difficulty: Medium (as per grading of Norway hikes). It's recommended to have an average fitness level.
Hike elevation gain: 350m (from the Preikestolen Mountain Lodge car park to Pulpit Rock; see elevation profile below) 
Hiking Season: All year (in wintertime you will likely encounter snow so using a guide is recommended)
Drones: Flying a drone near the summit is illegal. There is a sign indicating the point past which you cannot fly a drone.
Busiest months: June to September
Car park cost: (car park at Preikestolen Mountain Lodge): 300 NOK without a time limit
Toilets: adjacent to the Preikestolen Mountain Lodge car park
Drinking Water: you will need to take plenty of your own drinking water with you
Use of Sunscreen and a hat in Summer is always a wise move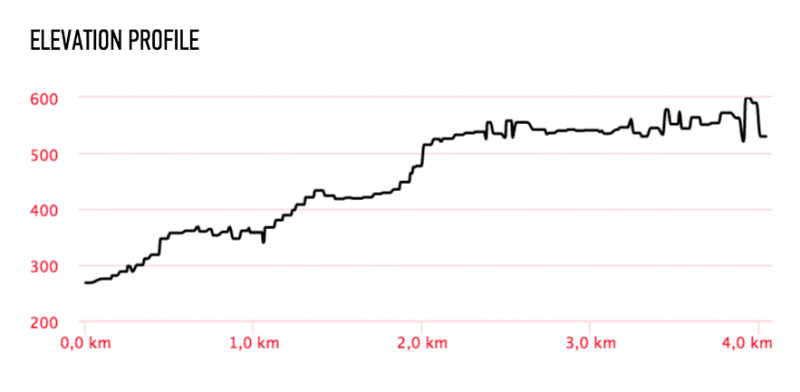 PULPIT ROCK HIKE 'LEVEL OF DIFFICULTY' 
Pulpit Rock Hike falls into the Medium (Blue) intermediate level.
Norway classifies its walks and hikes based on difficulty levels with colours that are used both nationally and internationally. Here is a summary of the levels: 
Easy (Green) – Novice Hikers / No experience necessary / <300m altitude / < 5 kilometre trail length
Medium (Blue) – Intermediate some hiking experience / average fitness level / <600m altitude / < 10 kilometre trail length
Demanding (Red) – Experienced walkers / high fitness level / <1000m altitude / < 20 kilometre trail length
Expert (Black) – Longer and more technical hikes / Experienced hikers / high fitness level / unlimited altitude and trail length
MAP: PULPIT ROCK NORWAY HIKING ROUTE
HIKING PULPIT ROCK HIKE: ARE WE CRAZY?
There's no doubt, Norway has some spectacular hikes. The serenity coupled with postcard-perfect scenery is just so invigorating. Having completed many Norwegian hikes while living in Norway, the famous Pulpit Rock was definitely one of the iconic hikes we wanted to tackle.
Earlier in the day, we had conquered Kjeragbolten, a challenging 12-kilometre hike to the 'bolt in the mountain', requiring Shelley's tenacity to overcome a crippling fear of heights.
With a good ten hours of sunlight left, we committed to throwing our energies into hiking the iconic Pulpit Rock Norway.
We should say though, in hindsight, that hiking both Kjerag and Pulpit Rock on the same day was physically demanding and we would recommend spreading the hikes over two days.
Below is the view from the town of Lysebotn, looking out into Lysefjord, which is a short drive from the Kjerag car park. It was here at Lysebotn, that we decided to drive onto Preikestolen to launch our second assault of the day.
This time to hike Pulpit Rock.
Lysebotn is situated at the very eastern end of the fjord and is the long body of water that is seen from both Kjerag and Preikestolen.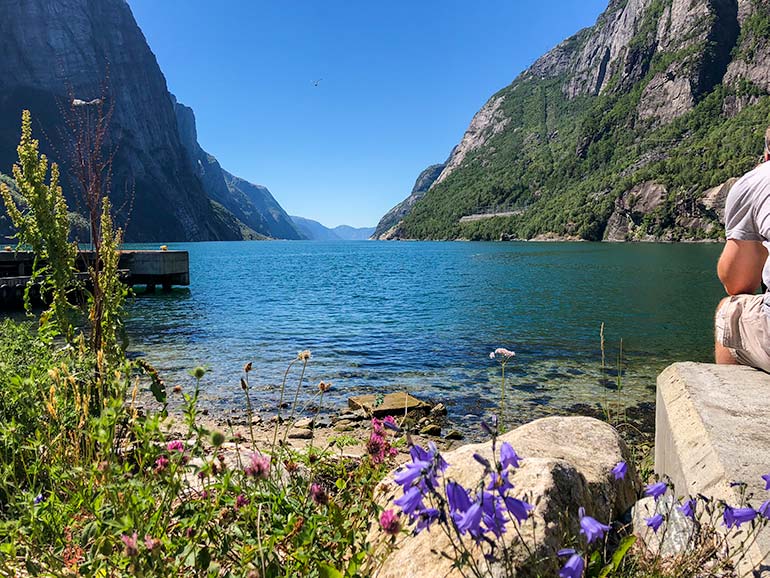 VIDEO – PULPIT ROCK HIKE NORWAY
Here are our Pulpit Rock hike highlights in a short 1-minute Youtube clip.
HIKING PULPIT ROCK
---
COMMENCING THE HIKE TO PULPIT ROCK 
The Preikestolen Mountain Lodge car park is where the Pulpit Rock hike begins. Directions to the start of the trail are well signed. Following a gravel road soon leads to the beginning of the hiking trail.
As with all other Norwegian hiking trails, the red 'T's painted on the rocks act as trail markers ensuring that you head in the right direction.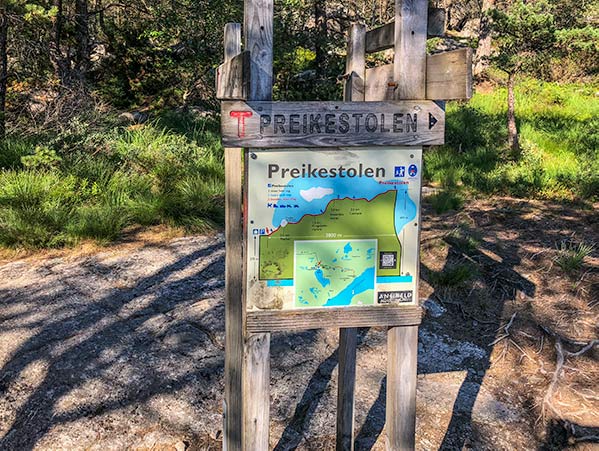 The initial part of the uphill trail meanders through some pretty scenery before reaching the rocky section. Here, for the next few hundred metres, the going gets a bit tough. Large squared off stones, laid by Nepalese Sherpas, lead the hiker up the hill.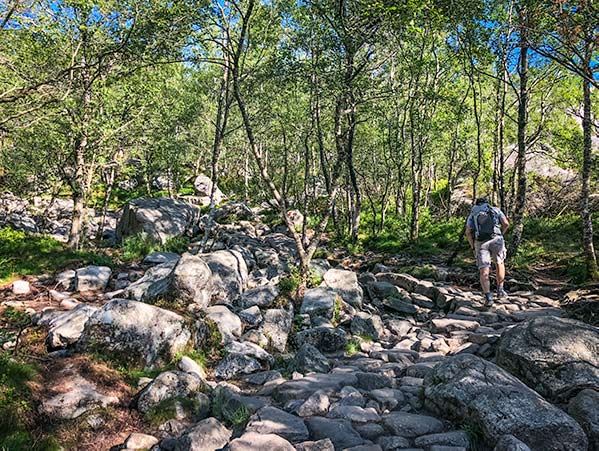 MID-WAY PART OF THE PULPIT ROCK HIKE
Progressing past the steep steps, the hiking trail opens out onto a wide, open expanse. A long, gentle uphill trail lays ahead. Close by here is a serene, small lake where the temptation to stop and swim for some, was just too much.
Looking up to the top of the trail you might expect Pulpit Rock to be just around that rocky hill…? Well, no, it's a bit early to get your hopes up just yet.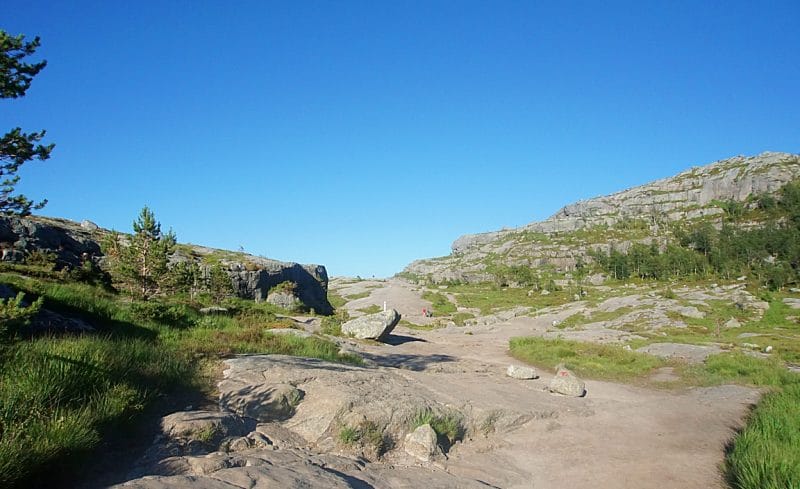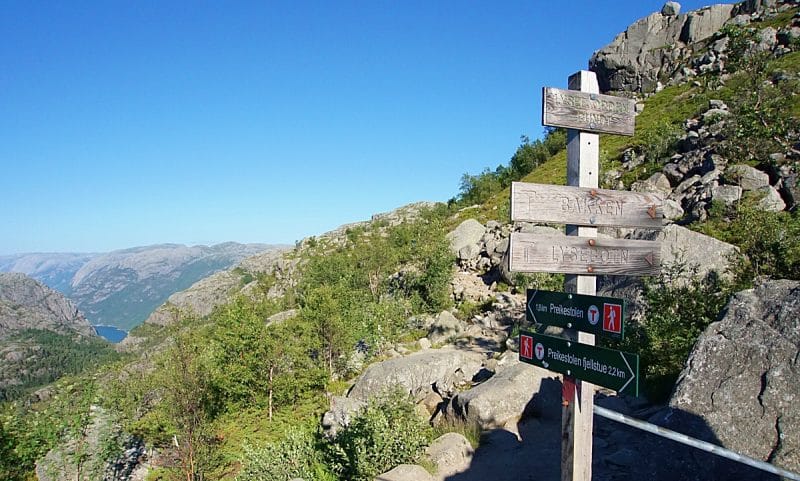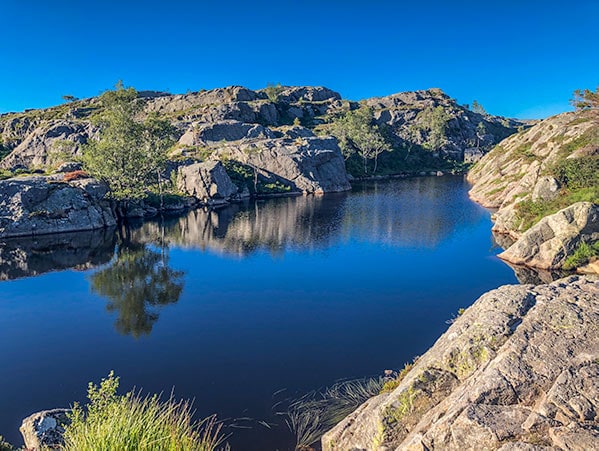 NEARING THE END OF THE PULPIT ROCK HIKE
The trail also offers some small wooden pedestrian bridges and chained handrails to make the hike as safe as possible.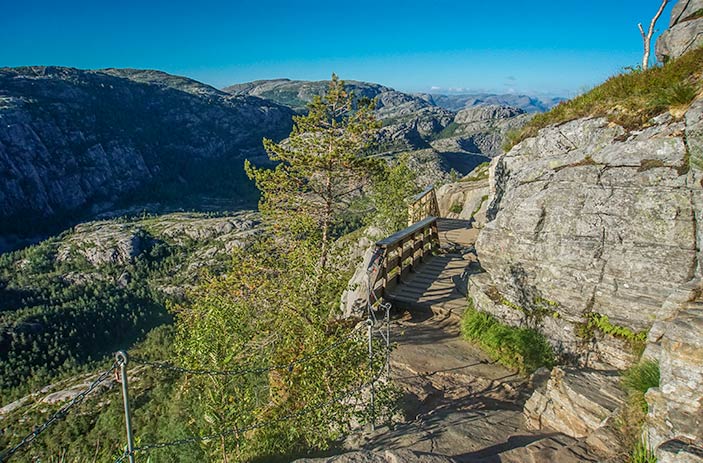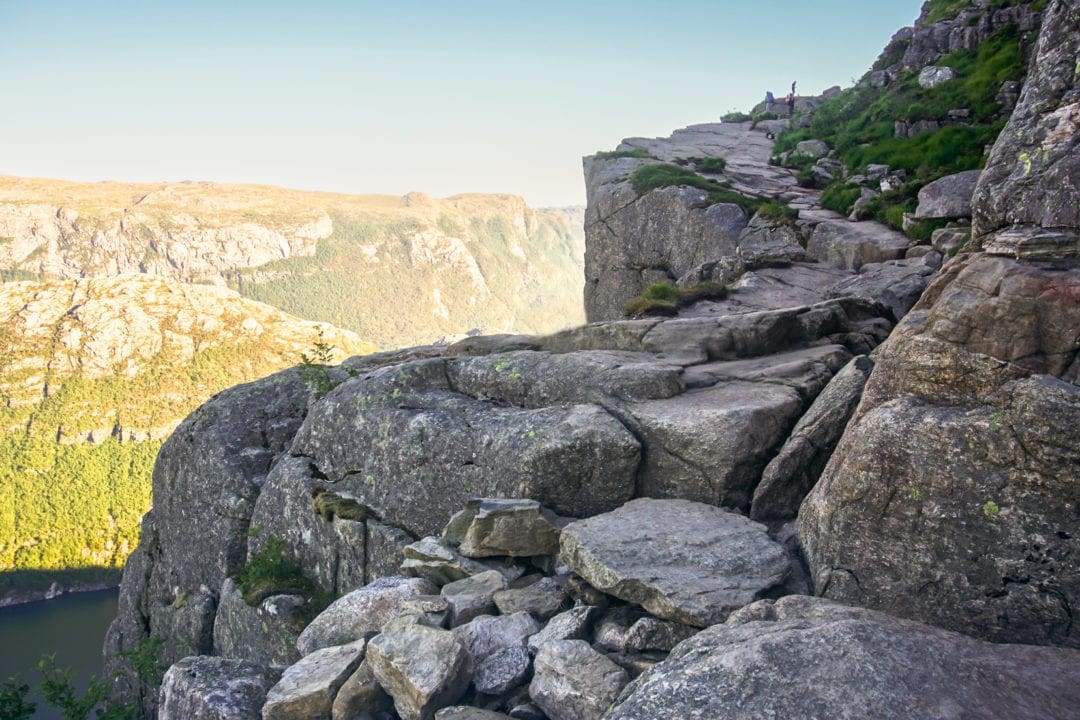 If you see the view in the image above then you know you're getting close. The path winds its way past deep fissures, following the shape of a cliff.
 Peering between the fissure gaps you are able to spy the Lysefjord, 600m below.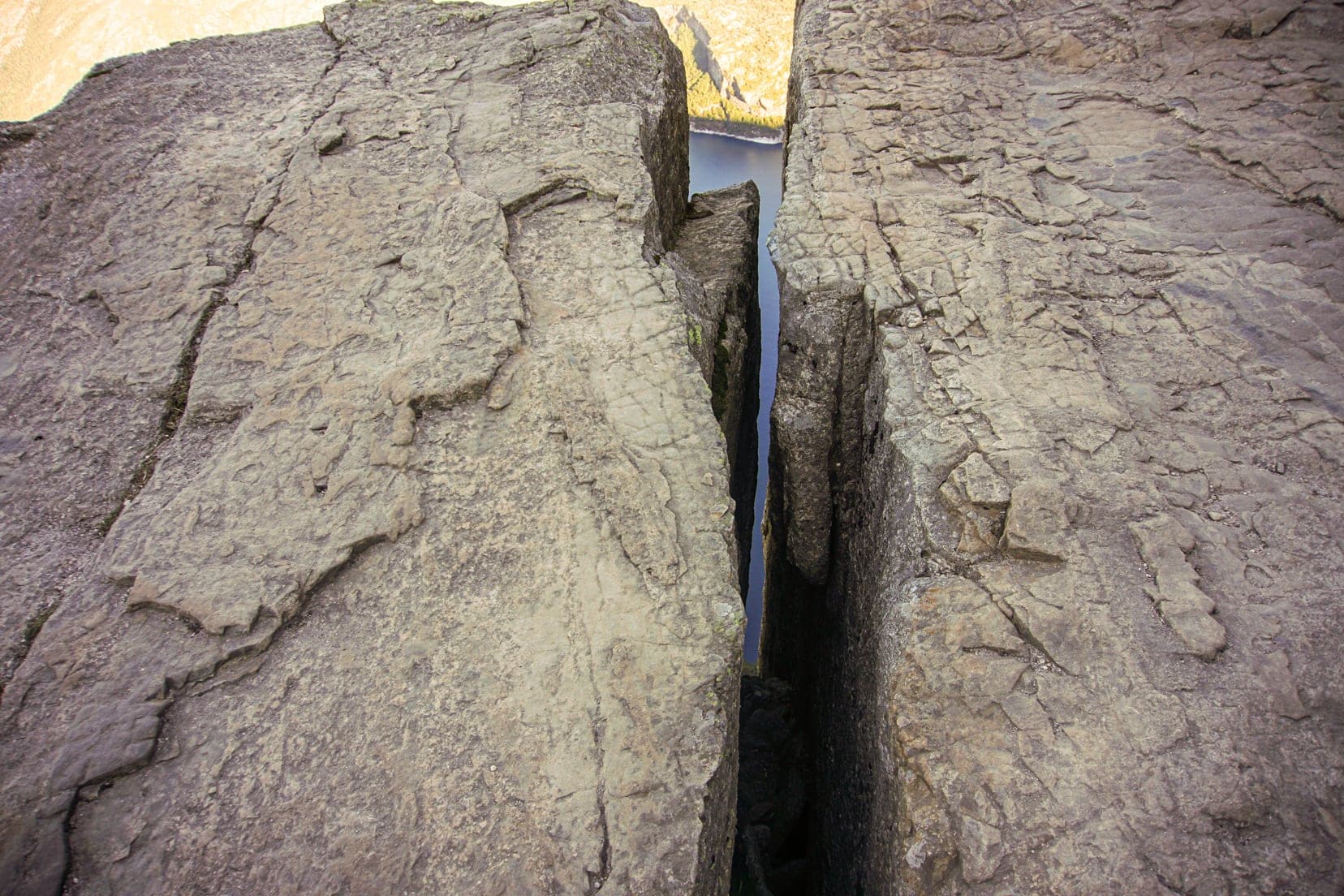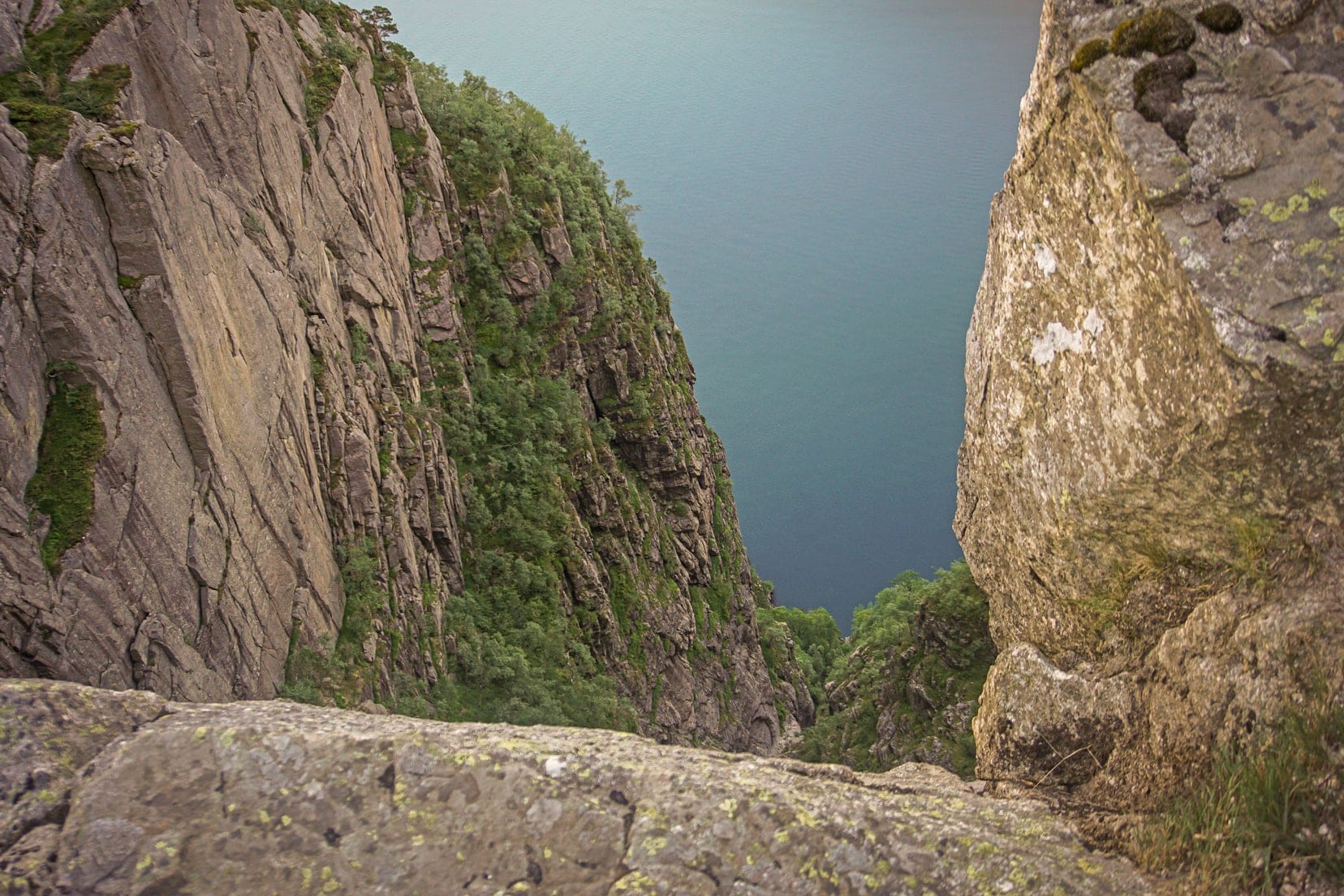 PULPIT ROCK: MISSION ACCOMPLISHED
The last 100m of the hike brought Pulpit Rock (Preikestolen) into view. Along this final leg of the hike is where you can grab some iconic photos.
One thing to be mindful of is that Pulpit Rock faces east and the cliffs behind cast shadows in the latter part of the day so this may impact your timing.
Regardless, it really is an impressive feat of nature and certainly earned its name, Pulpit Rock.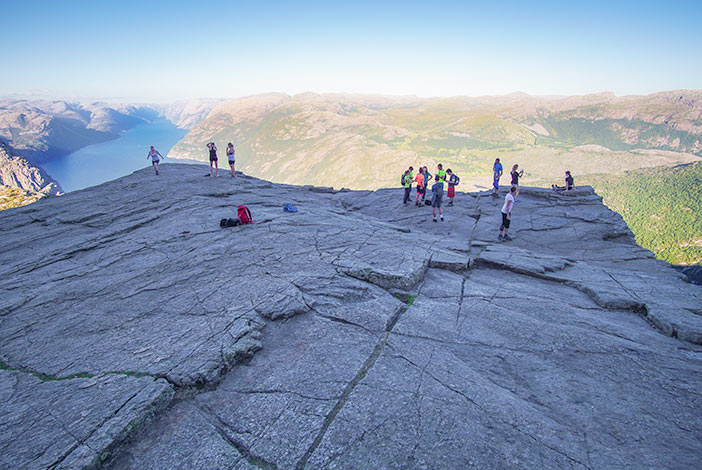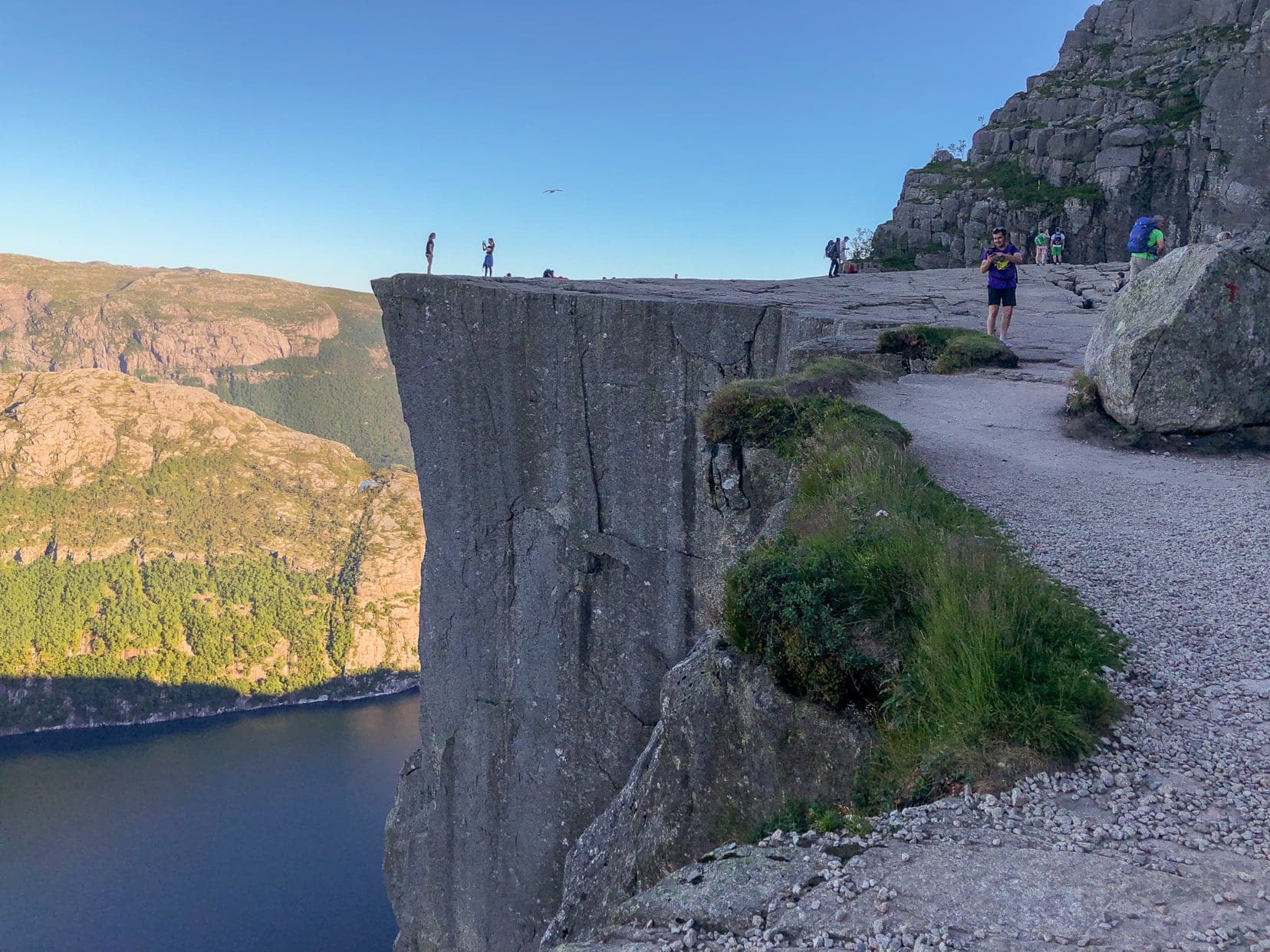 Some of the hikers carried tents to camp near the plateau for the night. The photo below shows a small green tent perched close by the cliffs.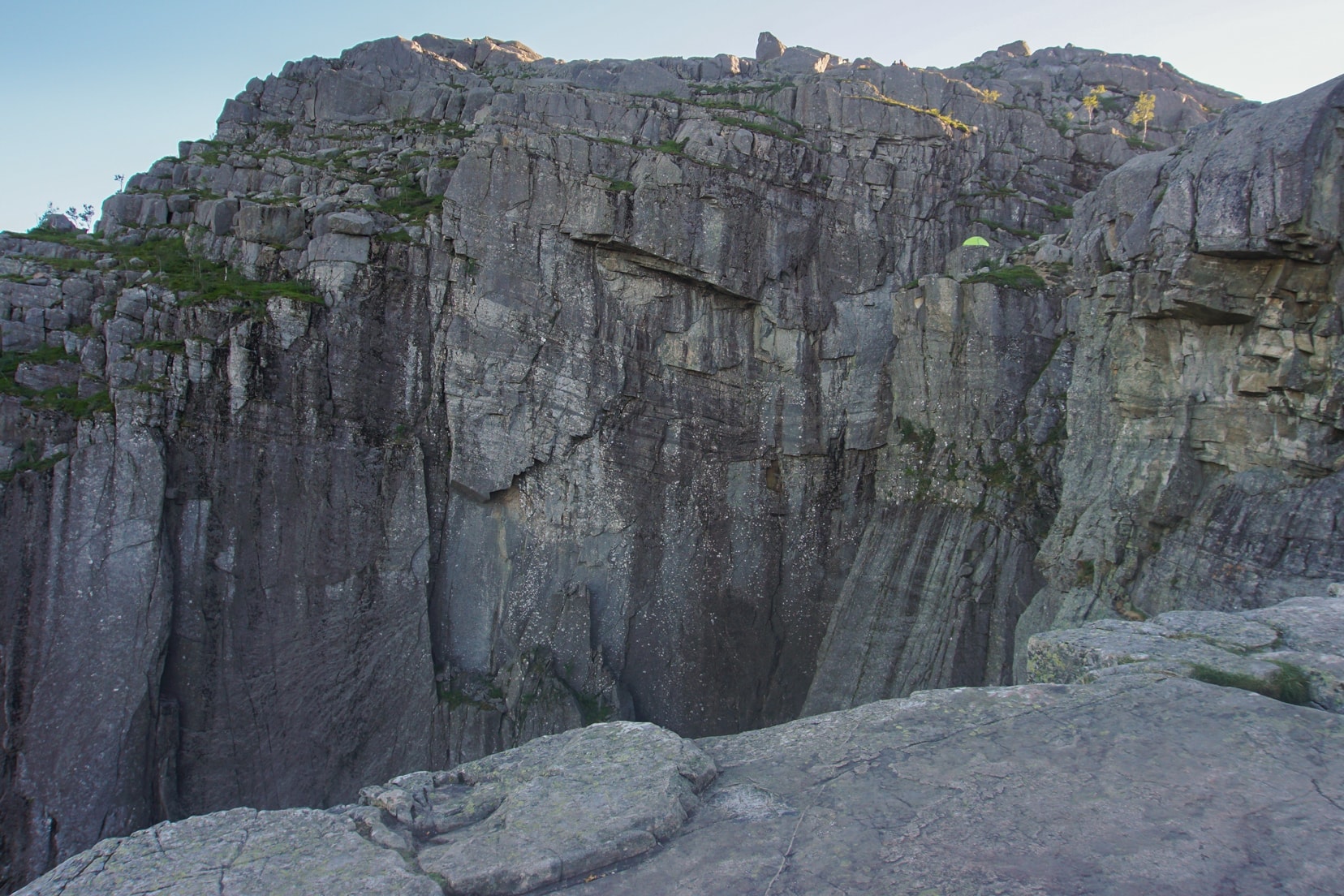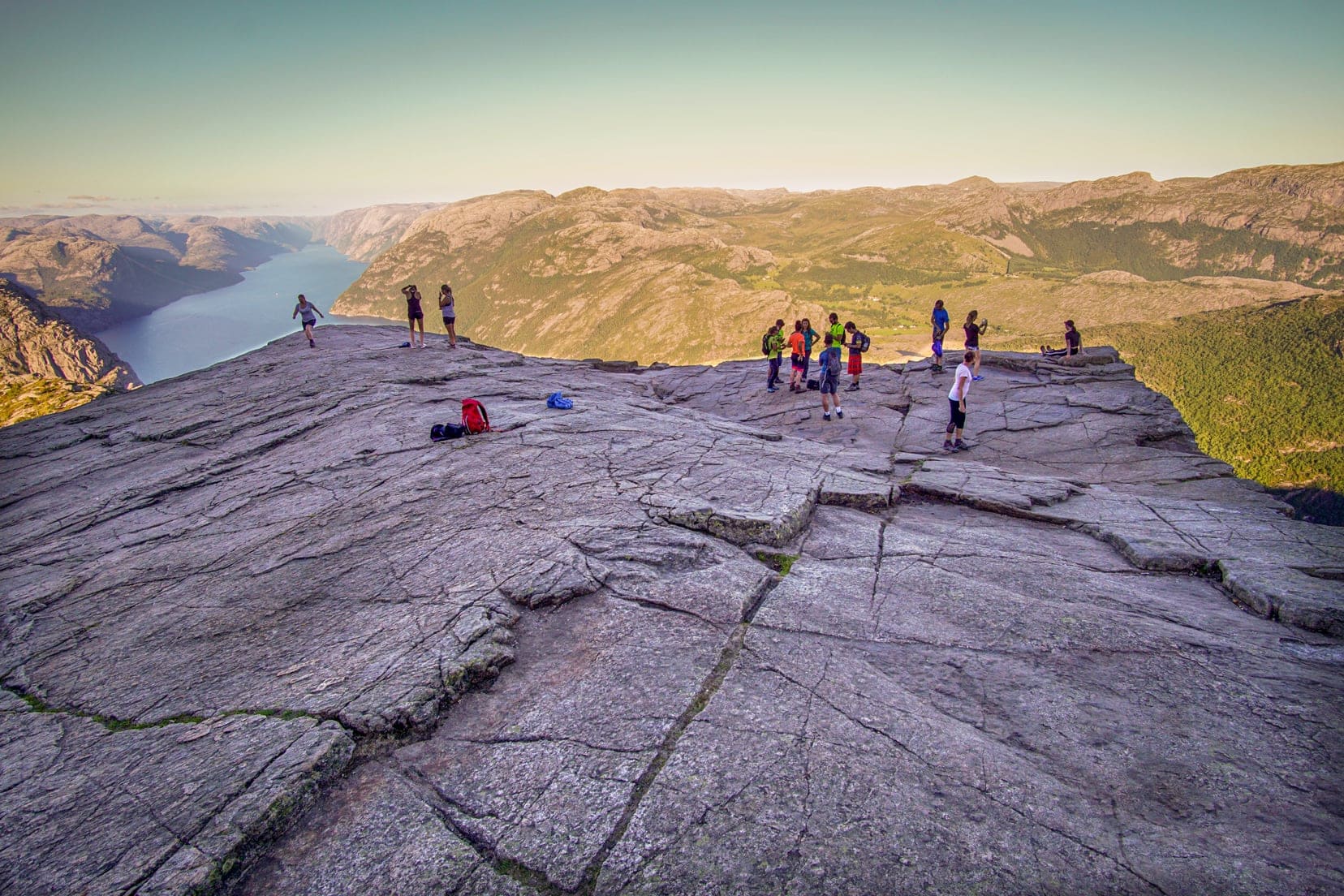 Before us, lay a phenomenal landscape of grey craggy, plunging cliffs, deep crystalline blue fjords topped off with picture-postcard views. A breathtaking view.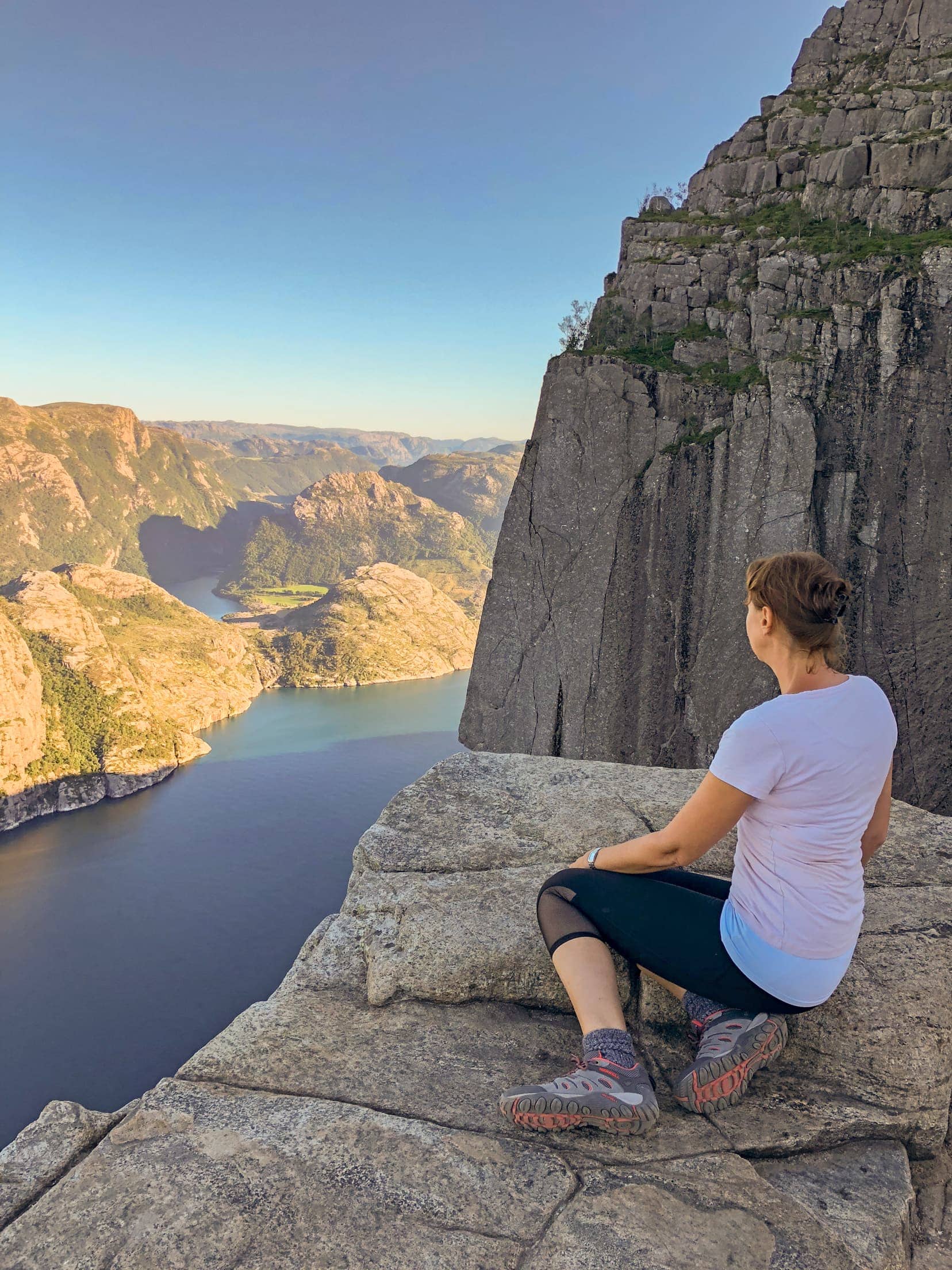 DESCENT FROM PULPIT ROCK
The return journey is quicker and technically easier than the ascent. However, If you have sore knees you might find hiking poles helpful as the steep stone steps can wreak havoc on your joints as you climb down.
Apart from the steep steps, the descent gives you another chance to soak up the incredible scenery. 
HOW TO GET TO PULPIT ROCK FROM STAVANGER:
---
There are a few options for getting to Pulpit Rock from Stavanger, as detailed below.
Want to know about all the things to do in Stavanger?
READ MORE: Check out this post ⇒ The 28 Best Things to do in Stavanger and Surrounds
DRIVING YOUR OWN VEHICLE TO PULPIT ROCK
Via the Ryfelke tunnel 
Drive directly from Stavanger to Preikestolen underneath Lysefjord. The 38-kilometre trip takes around 45 minutes.
An automatic vehicle toll system is in place. Vehicles without an Auto-PASS tag will need to sign-up for an account with Auto-PASS where you can access your toll invoices.
Cost: Vehicles (<3.5t): Regular and zero-emission are charged at NOK 140 (approx. €12.00).
Cost: Vehicles (>3.5t): Charged at NOK 420 (approx. €37.00).
  (The Ryfylke tunnel is the world's longest and deepest subsea road tunnel for traffic, and provides a road link between Strand in Ryfylke and Stavanger on Nord-Jæren.)
By Ferry from Lauvvika to Oanes:
Drive from Stavanger to Lauvivika for the ferry to Oanes then drive to Preikestolen. The total travel time is around 1.5-hours. The ferry across Lysefjord takes 8-minutes with departures per hour from each side. Buy tickets on the ferry. The ferry operates all year.
Ferry Cost: Adult NOK 30, Child NOK 17, Car with driver NOK 80 (You can also buy tickets online from Norled.No. and check out the ferry timetable)
Ferry from Stavanger to Tau 
A  one-hour ferry trip followed by a 20 min drive (36 km) to the Preikestolen car park.
Ferry Cost: Adult NOK 60, Child NOK 30, Car with driver NOK 182. The ferry has a departure every 45 minutes. 
BY BUS FROM STAVANGER TO PULPIT ROCK (PREIKESTOLEN)
The bus ride takes about an hour from Stavanger and prices start from 39oNOK. For details click here.
BY HIRE A CAR OR MOTORHOME
We use  Rentalcars.com to find the best car rental deals.
If you are looking for a motorhome or campervan rental then we highly recommend Motorhome Republic which finds the best deals worldwide.

READ MORE: Ultimate Guide to Hiring a Campervan  
FAQ'S ABOUT PULPIT ROCK HIKE
---
Here are quick answers to some of the most asked questions about Pulpit Rock.
HOW LONG IS PULPIT ROCK HIKE?
The round trip from the car park is about 7.6 km and takes 3 to 5 hours.
WHEN CAN YOU HIKE PULPIT ROCK?
The majority of visitors hike to Pulpit Rock in the summer months, June July and August. However, you can hike to Pulpit Rock throughout the year.
If you choose to hike in the winter you will need to be thoroughly prepared with clothing and equipment as there may be snow and ice on the trail.
HOW DIFFICULT IS THE HIKE TO PULPIT ROCK?
Pulpit Rock hike is classified as 'medium' level difficulty. This means that the trail is suitable for beginners, walkers of average fitness and basic hiking skills. The type of path can be rocky and most ascents are moderate but can include steep slopes.
HOW MANY VISIT PULPIT ROCK EACH YEAR?
Between 200,000 and 300,000 visitors embark on the Pulpit Rock Hike each year.
HAS ANYONE DIED AT PULPIT ROCK?
In 2013 a Spanish tourist fell from the edge of Pulpit Rock while taking photographs and in February 2000 a young couple jumped off Pulpit Rock in a suicide pact.
There aren't any barriers so care must be taken near the edge. 
PULPIT ROCK HIKE … THAT'S A WRAP
Hiking Pulpit Rock was one of our bucket list hikes in Norway. It didn't disappoint. There is little reason not to do the hike with easy travel options from Stavanger, the hike itself being of relatively short distance and of medium difficulty. Plus, you get to enjoy these majestic views all within the space of one day.
Are you interested in other hikes in Norway?
READ MORE: Check out this post: Spectacular Hikes in Norway
Have you had some great hiking experiences in Norway? 
We'd love to hear about your adventures. Drop a comment below or email us.
Are you following us on Social media? Let us know you are one of our readers and say hello on, Facebook or Instagram.
If you enjoyed the post – why not pin and save it for later.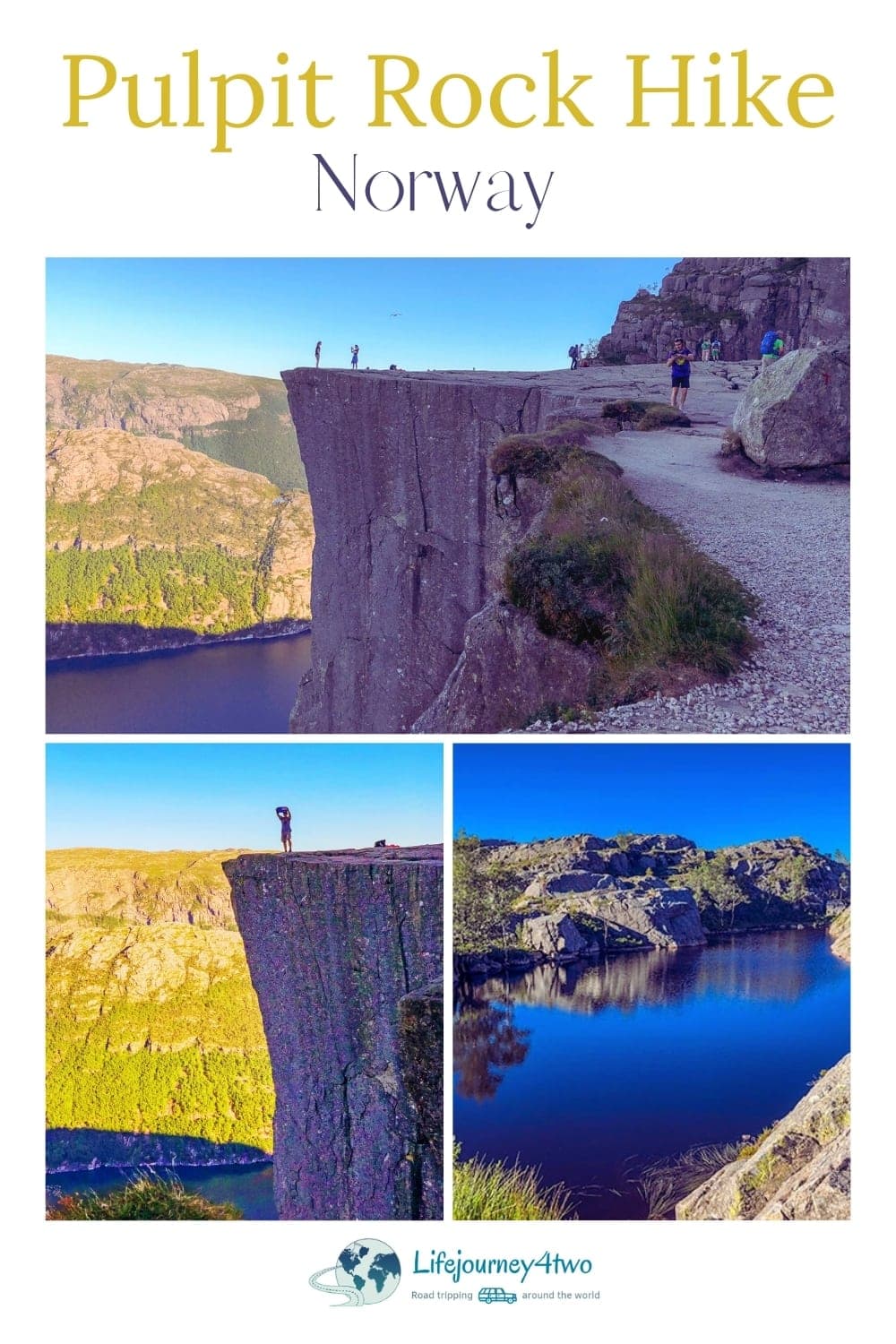 This post may contain affiliate links. This means that we may earn a small commission from purchases you make through our links, at no extra cost to you. Thank you for supporting us. For more info, read our Disclosure Policy.
YOU MAY ALSO ENJOY READING
PLANNING YOUR TRAVELS?
These are some of the travel resources we use when planning our trip and can recommend:
For a more thorough list visit our Travel Resources page here.