Kjeragbolten: Conquering this Incredible Hike
Kjeragbolten has to be one of the best hikes in Norway. It is a challenging hike, known as the Kjerag Hike, which takes you 1000 metres above the sparkling turquoise fjord below. A lone boulder lays wedged between two rockfaces just waiting to be conquered by adventure seekers. That boulder is Kjeragbolten, otherwise known as Kjerag Boulder or Kjerag Bolt.
 Find out all about this famous, awe-inspiring Kjerag Hike
Hike details
Where it is,
How to get there,
How to tackle it,
The best time to do it and
How to conquer any Kjeragbolten fears.
"And here I was, standing on the ledge beside the renowned Kjeragbolten, with my mind numbed to any thoughts that may deter me. One thousand metres below, the sapphire Norwegian fjord ambled along, unperturbed by its familiar steep and impressive confines either side. Still refusing to think, I stepped out…"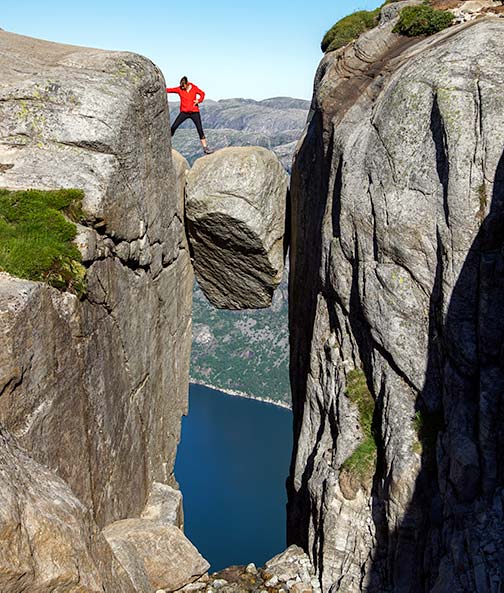 Kjeragbolten: The Logistics of the Kjerag Hike
Kjeragbolten Hike Details
The Kjeragbolten hike is rated challenging/ Demanding. It is rated red by Norway's Hiking Scale – see scale below.
Levels of Hiking in Norway
Norway classifies its walks and hikes depending on the difficulty as follows:
Easy

(

Green

) – Novice Hikers/ No experience necessary

Medium

(

Blue

) – Intermediate some hiking experience /average fitness level

Demanding

(

R

ed

) – Experienced walkers/high fitness level well equipped with good hiking boots/ basic navigation skills /map and compass.

Expert

(

Black

) – Longer and more technical hikes /Experienced hikers/ high fitness level well equipped with good hiking boots/ basic navigation skills/map and compass
The Kjerag Hike round trip takes about five-hours
1000m asl.
Kjeragbolten is only accessible in summer, from June to September.
Best time of Day for Kjerag Hike:
 In order to avoid the crowds, set off early. We left at 7.am and there were only a handful of hikers at the top. You also avoid hiking in the heat of the day.
The Kjeragbolten Tourist information provides up to date information about the hike and also details on current weather conditions.
View down to Lysebotn Fjord on the Kjeragbolten Hike
Kjeragbolten Map – Where is Kjeragbolten?
Kjeragbolten is in Ryfylke, Rogaland in Western Norway. The closest city is Stavanger, about 2.5 hours away and Kjeragbolten is a perfect stop if you are on a road trip from Stavanger.
The Blue line on the map below is the route from Stavanger to the Kjeragbolten Hike start (the car park) and the red line is the Kjerag Hike.
Getting to Kjeragbolten
The drive from Stavanger takes about 2.5 hours without using any ferries. (see blue route on Kjerabolten Map).
Parking at the Oygardsstolen carpark costs 200 N0K
Buses leave from Stavanger to Kjeragbolten – For more information, Visit Norway website details how to get there and precautions to take for the hike.
What to Take on the Kjeragbolten Hike
Hiking boots, warm clothing, food, water, sunscreen.
Recommendations from Fjord Norway provide more details about safety precautions.
Trail markers show the way to Kjeragbolten
Where to Eat at Kjerag
Kjerag Restaurant – The Eagles Nest
You'll find the restaurant just near theKjeragbolten carpark. 


Accommodation Near Kjeragbolten
Hiking Kjeragbolten Video
This post may contain affiliate links. This means that we may earn a small commission from purchases you make through our links, at no extra cost to you. Thank you for supporting us. For more info, read our Disclosure Policy.