THE BEST THINGS TO DO IN SKUDENESHAVN AND KARMOY
There are so many things to do in Skudeneshavn, and we've picked all of our favourites and gathered them together for you here.
She is not a Stavanger or a Bergen and she is certainly not an Oslo. Skudeneshavn, Norway, is more than all of them. She has a heart and soul and her very breath welcomes you with a whisper.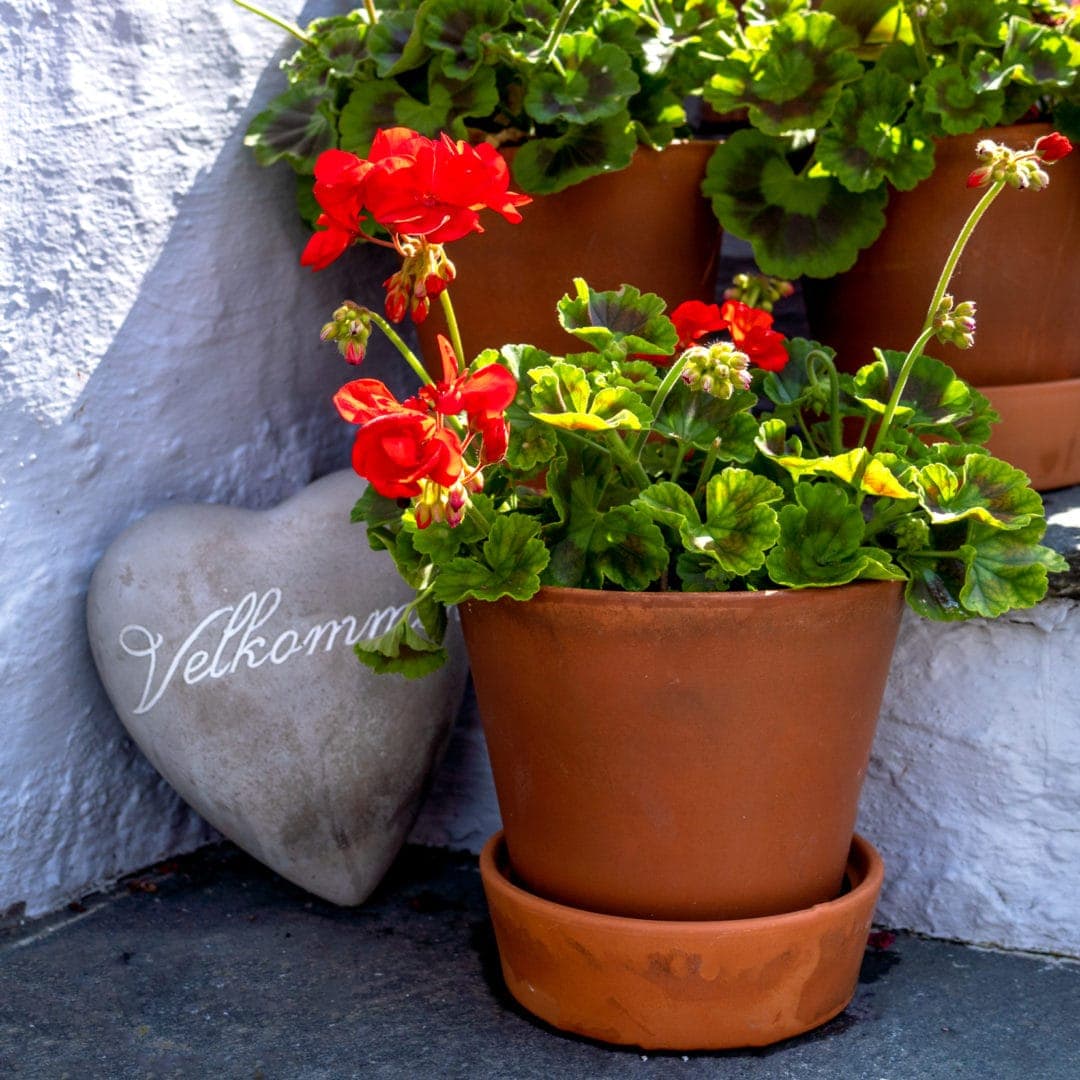 QUICK VIEW: WHAT TO DO IN SKUDENESHAVN AND KARMOY
Wander Søragada – Skudeneshavn old town
Visit the Badehuset Cafe by the sea
Use the Time Travel App to tour Skudeneshavn
Hire a free rowing boat
Have a coffee and doughnut at 13Humler
Visit Maelandsgarden Museum
Explore the local art galleries and exhibitions
Indulge in some homemade cake at the 'World's Smallest Cafe'
Stroll in Skudeneshavn Park and admire the figurehead and famous Moonstone
Sleepover at Vikholmen Lighthouse
Experience the Skudeneshavn Festival
Do some Forest Bathing
Take a Hike in Skudeneshavn Surrounds
Picnic at the New Zealand Hut
Take a dip at Skudeneshavn's Bade-Olena Bybad Swimming Area
Have a coffee at Takelurfabrikken Cafe, the old Foghorn Factory
Walk the Heritage Trail
Take a boat to Geitungen Lighthouse
Swim or stroll in Syre, Karmoy
Visit the WWII Bunkers at Syrenesetfort, Karmoy
Take a photo of Skudeneshavn Lighthouse
Explore Kysefort bunker
Visit the beautiful beach of Sandvesanden
Visit Ferkingstad Fishermen's Memorial
Swim at the blue flag beach of Akrasanden, Karmoy
Walk the coastal route from Akrasanden to Ferkingstad
Visit the Statue of Liberty in Visnes, Karmoy
Walk in the footsteps of the Viking kings at Avaldsnes, Karmoy
Find the Virgin Mary Needle at St Olav's Church, Karmoy
Explore Utsira Island full of street art
Visit the incredible 'Rising Tide' sculpture in Haugesund
Drop by the Old Derikhuset Farmhouse
Have a drink and a meal at the local Pub and Piano Bar, Smia
Planning a Trip to Norway?
SKUDENESHAVN, KARMOY
We have lived in this pretty town on and off for four years. And it didn't take long before Skudeneshavn and her incredible allure enveloped us and swept us along like the waves on its shore.
Skudeneshavn sits quietly, self-assured and confident. It knows its beauty and has a strong sense of self-worth, patriotism, and community. Skudeneshavn is an experience that deserves your attention. We regularly return and its magic never wanes.
Situated on the southernmost tip of the island of Karmoy, in Western Norway, Skudeneshavn remains relatively undiscovered. However, it is one of the most beautiful, historic towns in the country.
It is known as the 'White Lady' of Norway for a reason. Demure, proud and picturesque.
Not only that, but this stunning town of Skudeneshavn is in the 'Homeland of the Viking Kings' (Karmoy island), so it is the ideal base to explore the Island and its close surroundings.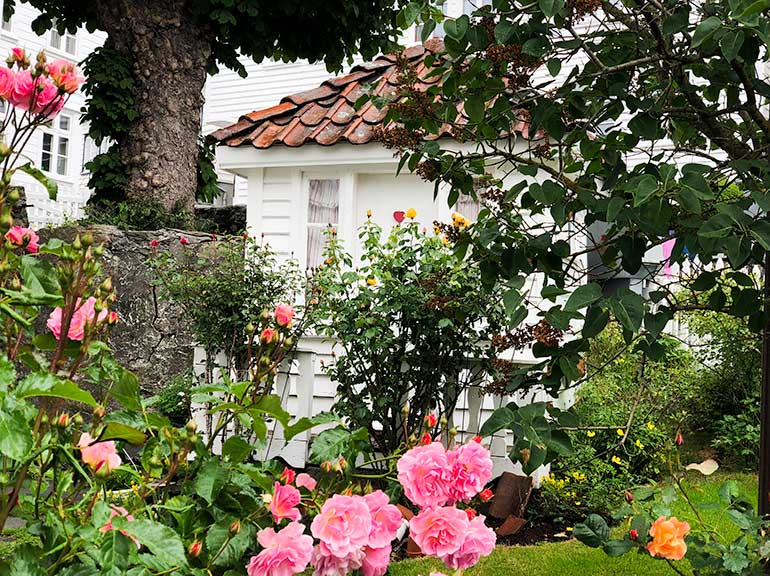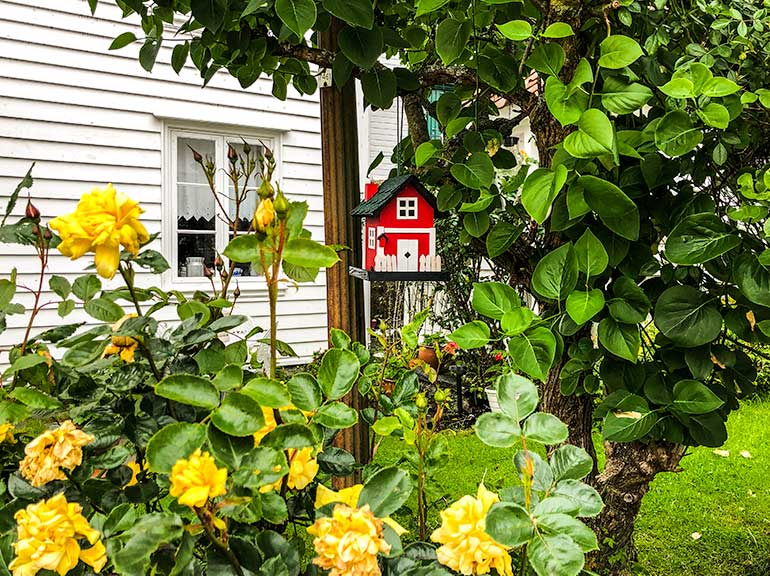 Summer flowers blooming in Skudeneshavn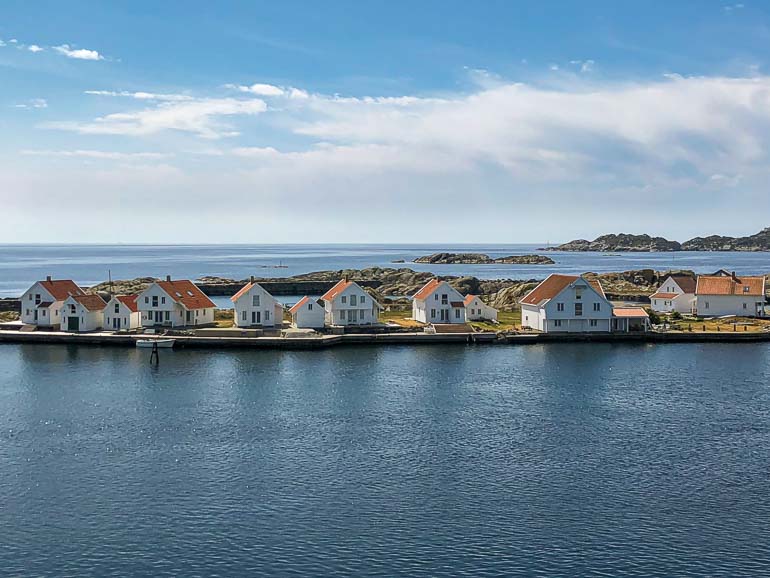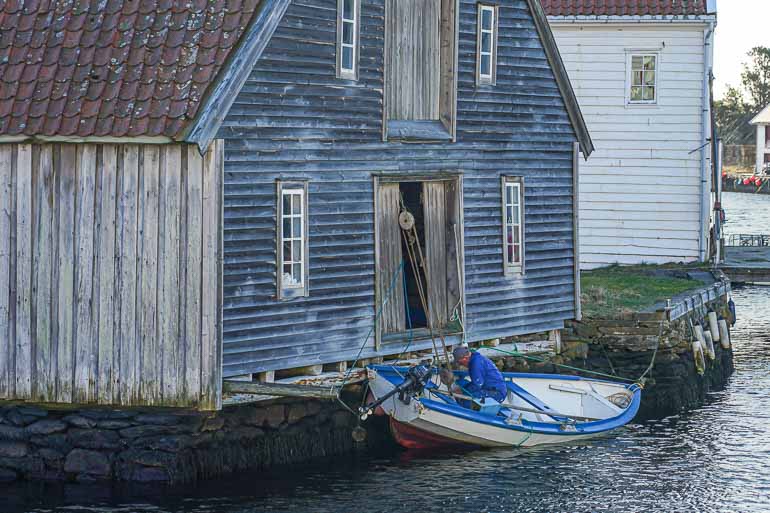 SKUDENESHAVN AND KARMOY: THE PERFECT MIX OF EVERYTHING
Skudeneshavn, (pronounced as Skoodnusarven) and affectionately referred to as Skudenes (Skoodnus) by the locals, has a rich history.
The town was built around the fishing industry and, as you wander the rose-laden, meandering laneways, you will get an immediate sense of its nautical history and influence.
Skudeneshavn's spirit fondly remembers the times of old, for she was once the queen of the harbours. She grew with speed in the early 19th century, as her seas gave forth an abundant herring harvest.
Her nautical prowess is immediately evident, as the shimmering waters reflect the softly swaying yachts and boats in her harbour. She has weathered a few storms in her time and welcomed many a seafarer to her port.
Here, her inhabitant's lives are so closely integrated with the sea, that both young and old navigate her waterways as adeptly as they do her paved pathways.
On Norway's Constitution Day on May 17th, it is abundantly clear how proud the locals of Skudeneshavn are of their town.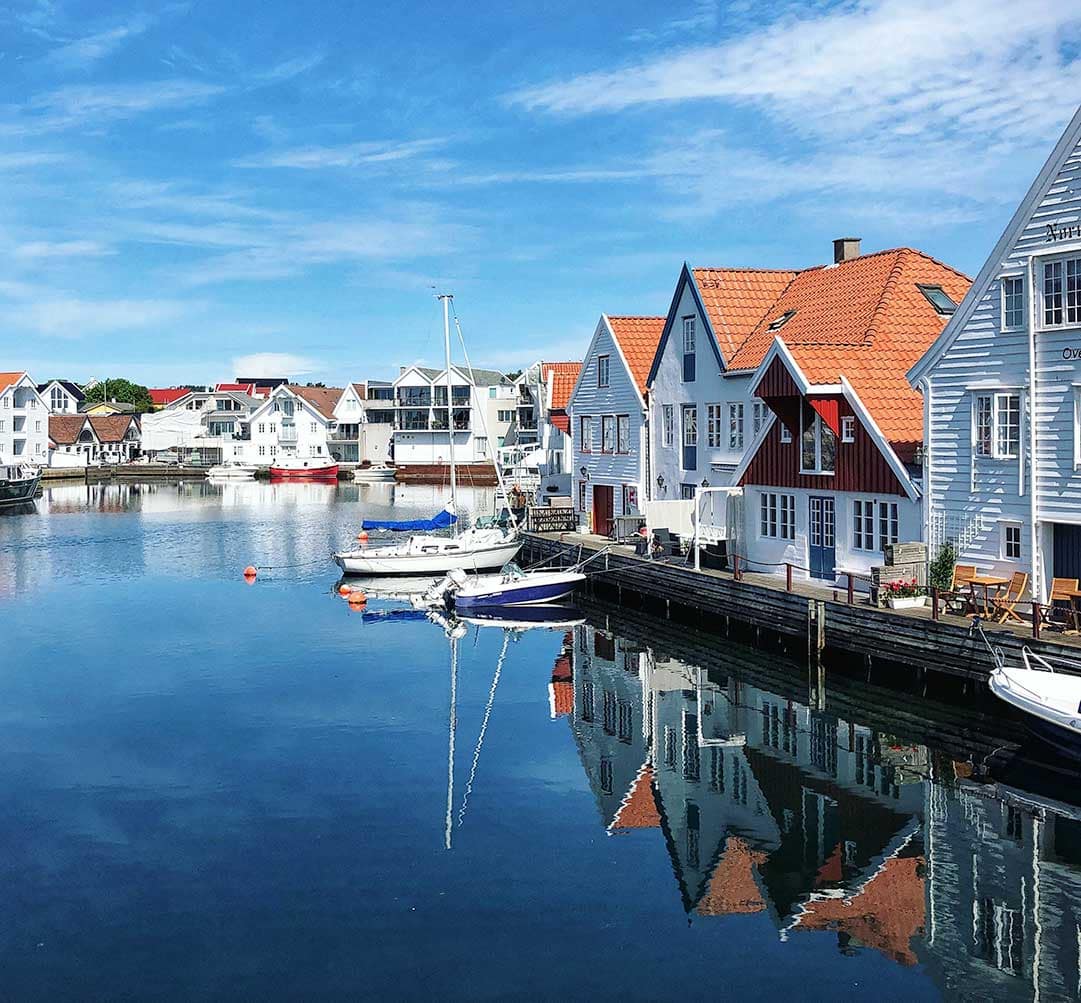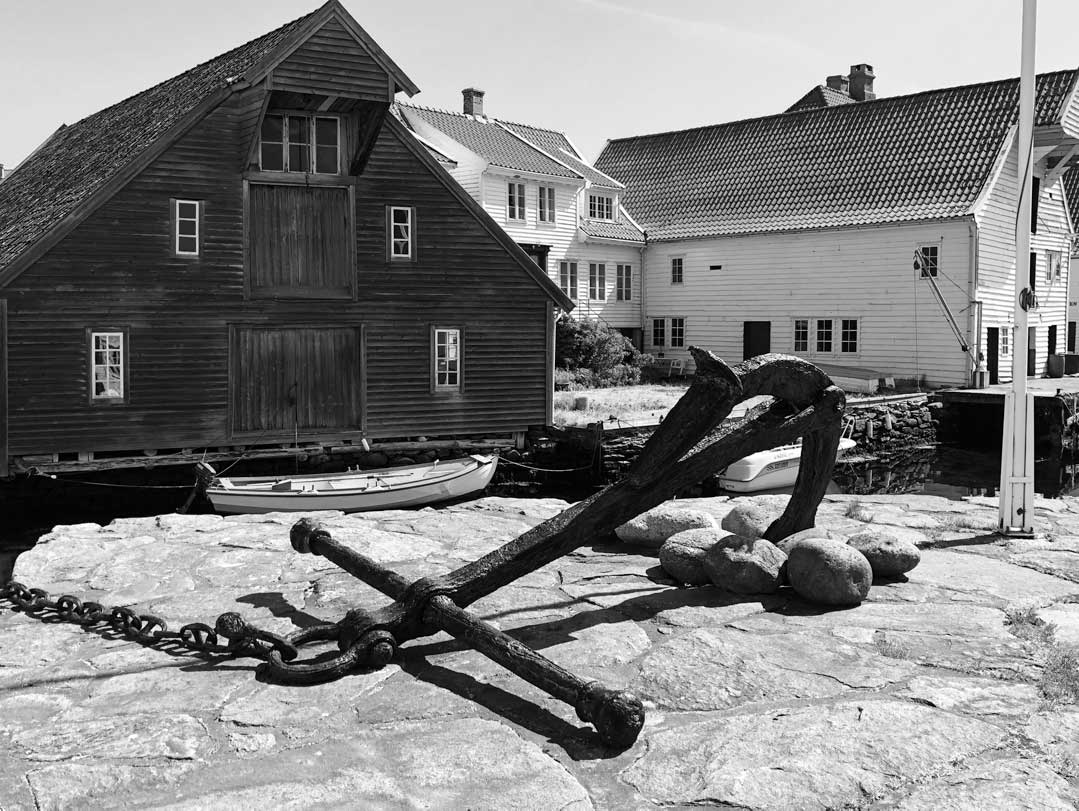 Though it's not just the sea and sparkling harbour that gives Skudeneshavn its allure. It is surrounded by forests, lakes and heather moorland and just along the coast, you'll find some of the most beautiful beaches in Norway.
The island of Karmoy itself is only about 40km in length, so it is relatively easy to explore everything that Karmoy, the Homeland of the Viking Kings, also has to offer.
We've put together a list of all the things to do in Skudeneshavn and included trips to other parts of Karmoy that can easily be reached from this enchanting town.
Interested in road-tripping in Norway? Read More: Stavanger to Bergen and Bergen to Trondheim Road Trips
VIDEO OF SKUDENESHAVN AND KARMOY
For a peek into the sensational sights of Skudeneshavn and surrounding areas in Karmoy take a look at this short video.
MAP OF THINGS TO DO IN SKUDENESHAVN AND KARMØY
33 TOP THINGS TO DO IN SKUDENESHAVN AND KARMOY
---
1. WANDER THROUGH SØRAGADÅ
If Skudeneshavn strode the catwalks, you'd admire her classic style and empirical beauty. She is meticulous in her appearance, with bountiful blooms adorning her dazzling white homes. She's called the White Lady of the Empire, due to her old wooden homes being inspired by the designs of ancient Rome.
In the centre of this white town is 'Gamle Skudeneshavn', meaning old town. The main street of Skudeneshavn Gamle is Søragadå, and here you will be surrounded by some of Norway's most well-preserved timber houses, dating from the 1800s.
While strolling through Søragadå, Skudeneshavn, you can admire the well-kept homes and pretty floral displays and find little clues that highlight the nautical essence of the town.
In summer, you'll be accompanied by the faint scent of roses and the welcoming aroma of waffles and coffee hidden in unassuming little cafes that you might miss if it weren't for the delicious smells drawing you in.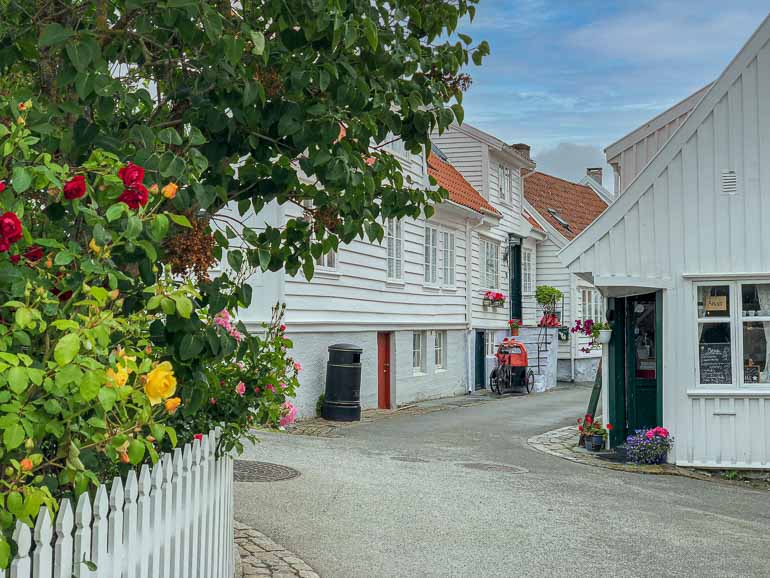 2. VISIT THE BADEHUSET CAFE BY THE SEA
The Badehuset Kulturekafe is a homely cafe right by the harbour.
In the summer you can sit outside and enjoy the sunshine beside the ocean. It regularly holds concerts and cultural events – check out its Facebook page for upcoming events and opening times.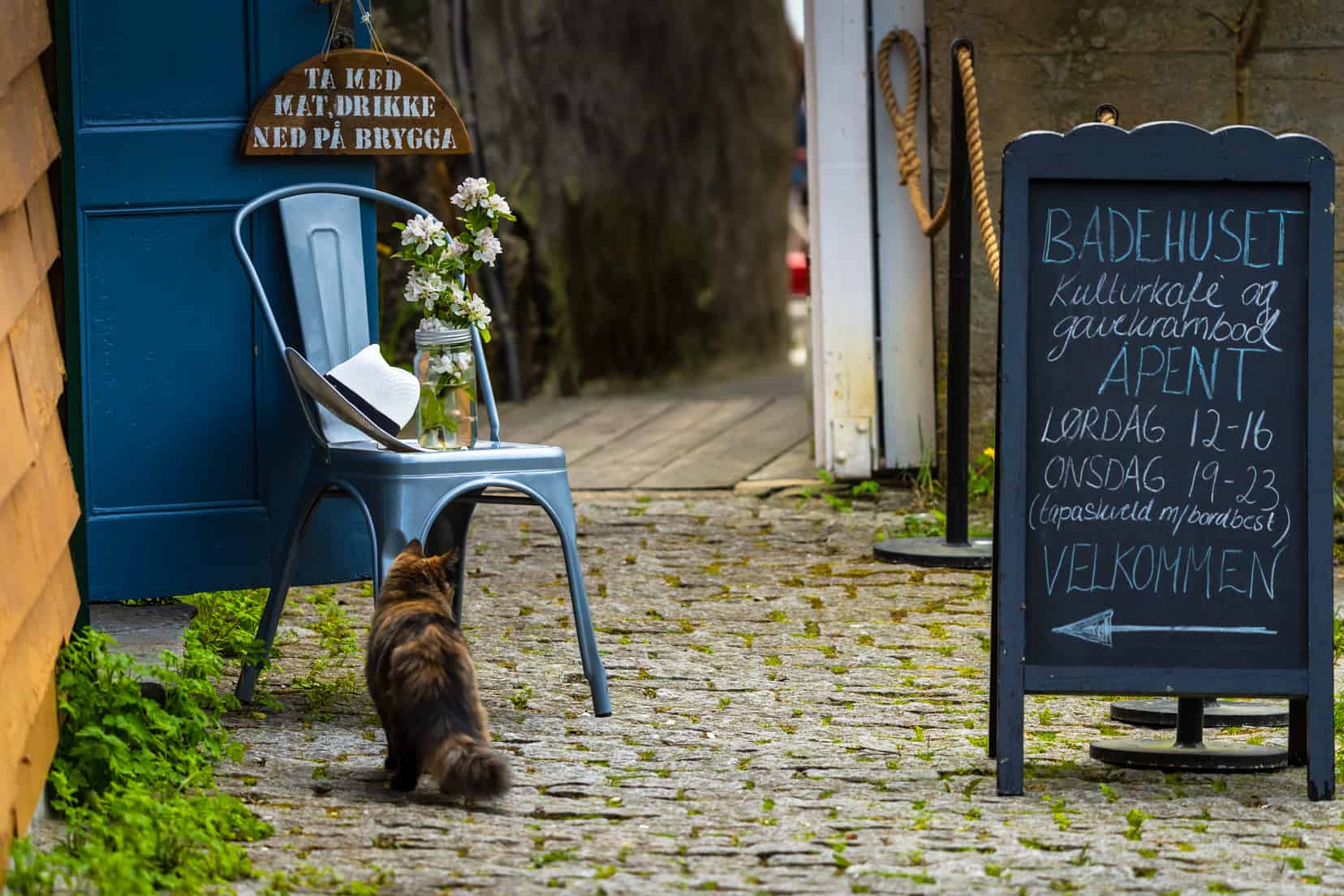 Badehuset cafe in Skudeneshavn
3. TAKE A TOUR OF SKUDENESHAVN WITH THE 'TIME TRAVEL' APP
You can download this free app onto your phone and take a historical tour around the town with little film snippets and information about the various parts. As you walk, the information, relevant to where you are, pops up.
To get the app, type in 'Time Travel in Skudeneshavn' on your phone app store and you should find it. It's run by Opplev Karmoy.
These are some of the screenshots below to give you an idea about it. It's a really cool activity and you can wander the town at your own pace and get a snippet of Skudeneshavn's history.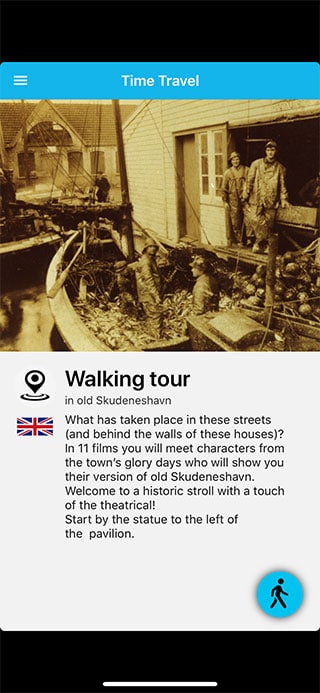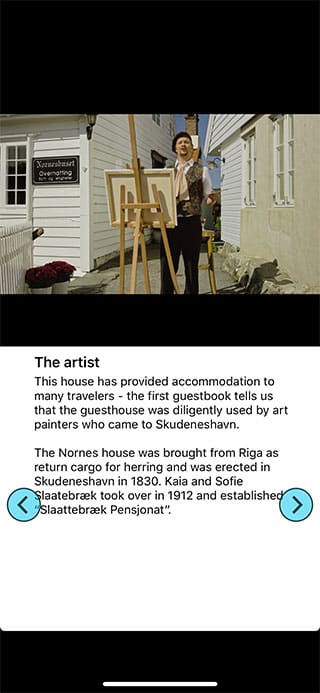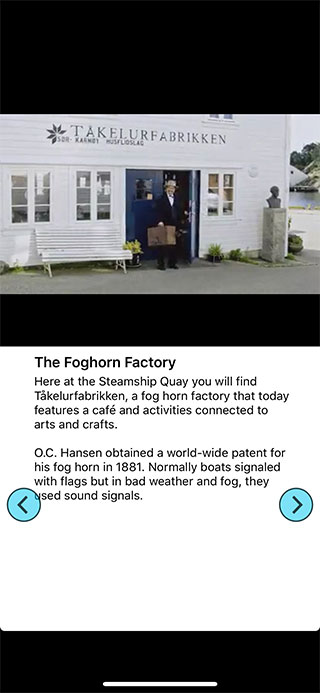 4. HIRE A ROWING BOAT
Most of our suggestions for things to do in Skudeneshavn and Karmoy are free, and this one is no exception.
You can hire a rowing boat for free, from the tourist office in the main square. You pick up the oars and lifejackets here and then can set off and explore Skudeneshavn harbour from a different perspective.
We were struck by how much life happened on the water here. Children, not much older than nine or ten, hop in their dinghies and go off for a little jaunt around the harbour.
With a boat, you can pass the old timber boathouses and get a great up-close view from the water.
Skudeneshavn Tourist Office Opening times: 1st June to 31st August (every day)
You can also hire bikes from the Tourist Office: NOK 250 First Day and then NOK 100 afterwards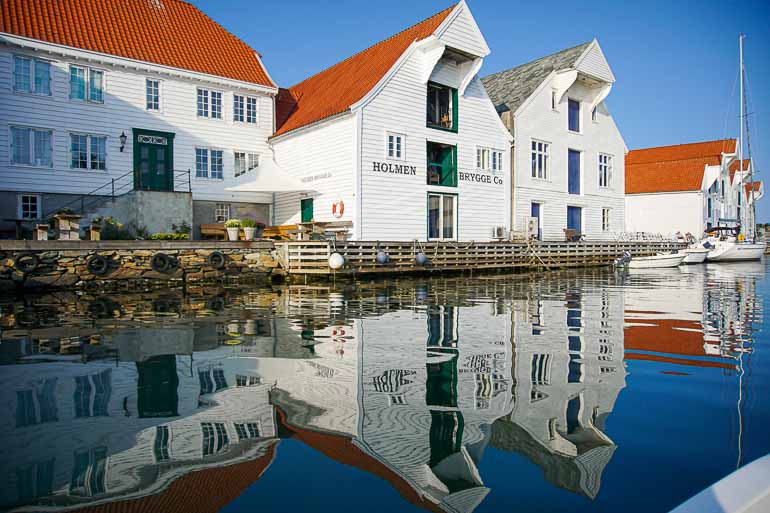 5. HAVE A DOUGHNUT AND COFFEE AT 13 HUMLER
Right in the Skudeneshavn town square, you'll find the community cafe, '13 Humler '. Translated, Humler means bumblebee, and this cafe/pub represents carefree summer days in Norway.
13 Humler is open all year round and offers snack food and delicious doughnuts and cakes – perfect to go with a coffee or even a beer or wine if you so desire.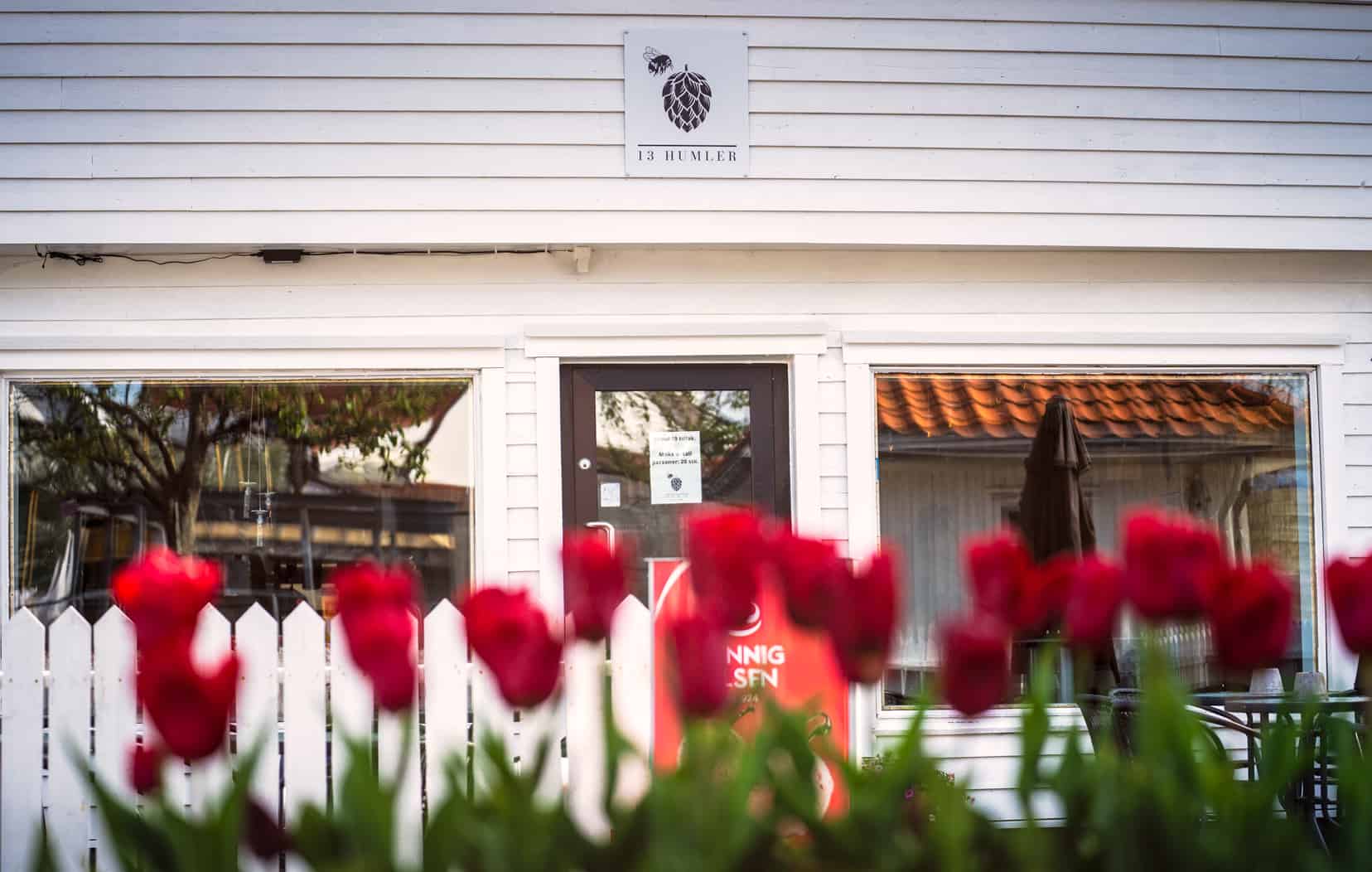 6. EXPLORE SKUDENESHAVN HISTORY AT MAELANDSGARDEN MUSEUM
This museum is located in the heart of Skudeneshavn's old town and is housed in one of the old listed timber buildings. Here you can find out how the town grew up around the herring fishing boom and how this has moulded the town into what you see today.
In the museum, you'll find a shop, a wealthy merchant's house, a dental surgery, hairdressers, blacksmith and cooper (barrel maker) tools, and also a boathouse in which the herring used to be dropped.
We paid for the museum tour which was worth taking because you get to hear so many of the stories surrounding the articles in the house. You also learn so much more about how life used to be in the late 1800s in Karmoy.
In the month of July, you can also follow 18th-century locals through the town as they tell of life as it was in the 1800s onwards.
Cost of the tour: NOK 70
Opening Times: Check the website here.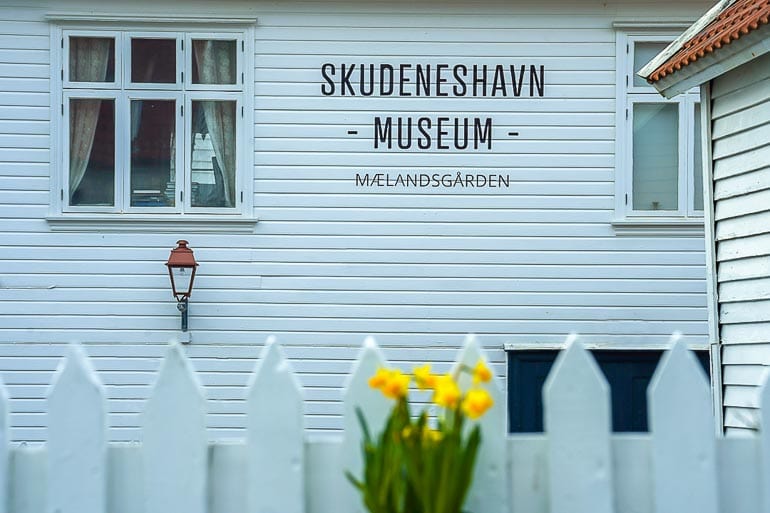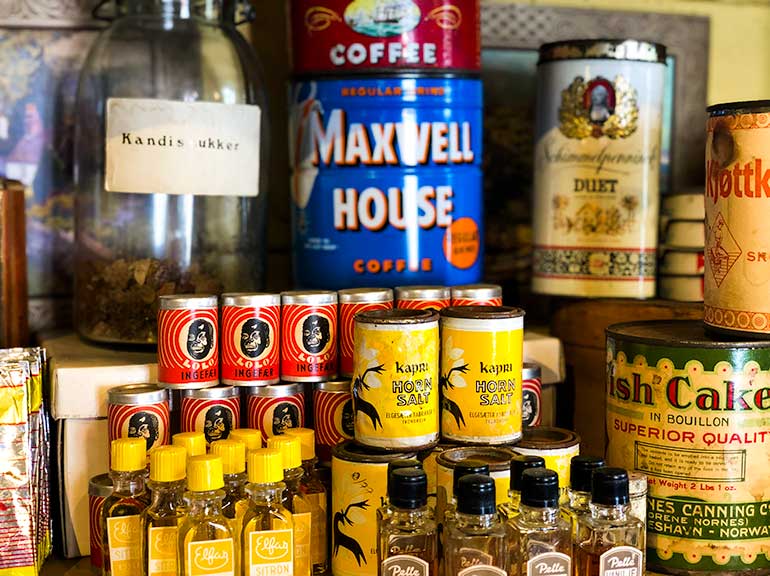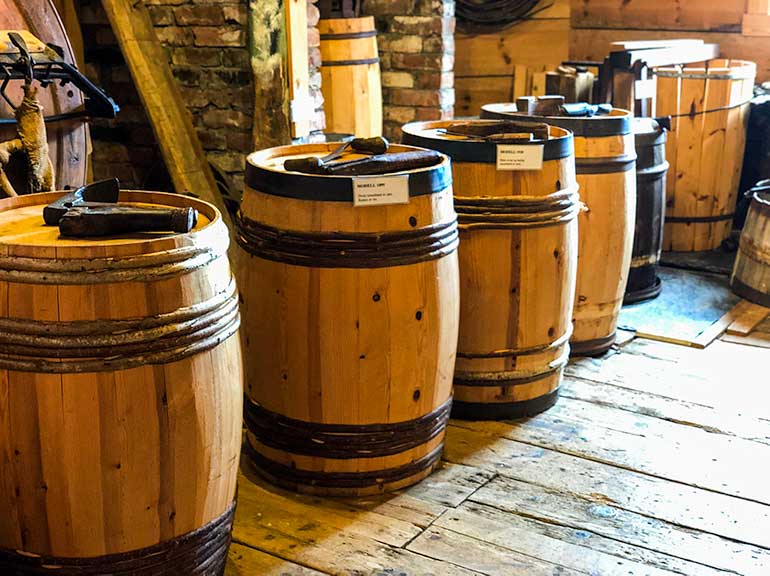 Maelandsgarden Museum, Skudeneshavn
7. EXPLORE GALLERI BLONDE FABRIKEN
The main gallery in the town is this one and has various exhibitions during the year. The gallery itself was used for salting herring back in the 1800s and has its own unique story.
You'll find this Gallery just beside Skudeneshavn Museum.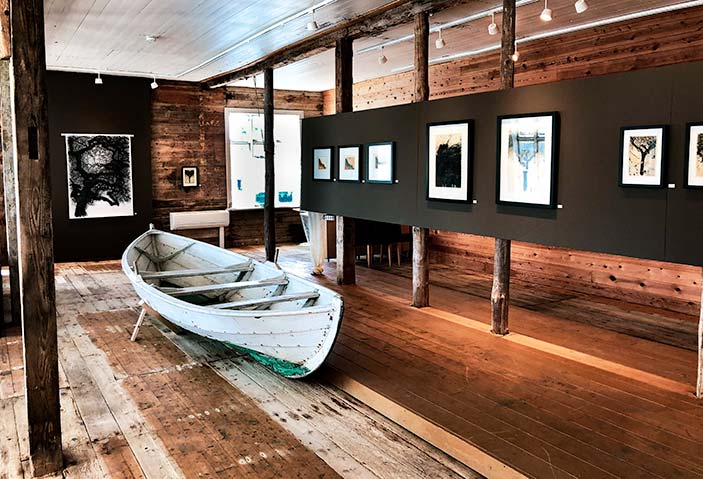 Galleri Fabriken, Skudeneshavn
8. HAVE SOME CAKE IN THE WORLD'S SMALLEST CAFE
This Skudeneshavn cafe, 'The World's Smallest Cafe', or Verdens Minste Cafe, is small, but I really don't know if it is truly the smallest cafe in the world. It is cosy and delightful though.
The freshly homemade cakes and waffles were scrumptious.
You can find this gorgeous cafe at Soragada 23 in the old town.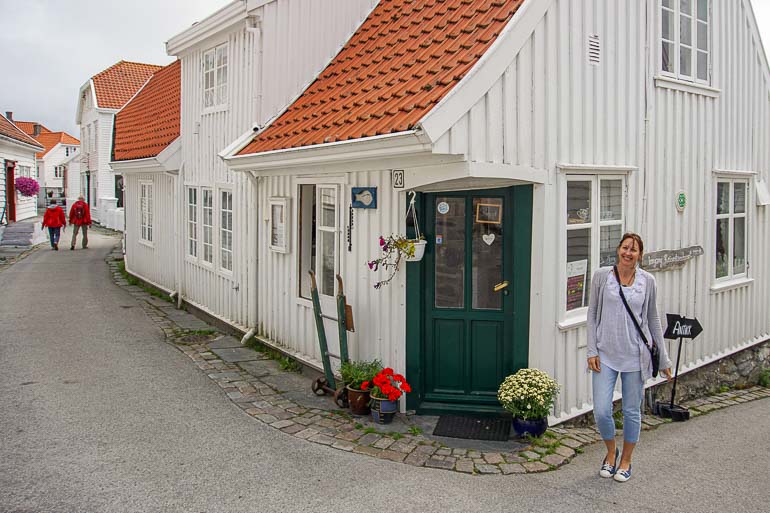 9. TAKE A STROLL IN SKUDENESHAVN PARK
Above the charismatic old town, you'll find Skudeneshavn's haven of tranquillity. Befittingly, an old ship figurehead takes guardianship and is known as 'The Lady in the Park'.
You'll also find the famous moonstone in this little sanctuary high above the town. Not a meteorite as first presumed, but a remnant of rock left behind 800 million years ago. 
You also get a great view over the rooftops of the town and glimpses of the ocean through the trees.
Also, in the park,  you'll find this lover's bench. Depending on which seat you choose will determine your answer to a proposal of marriage. So be mindful of where you sit.;)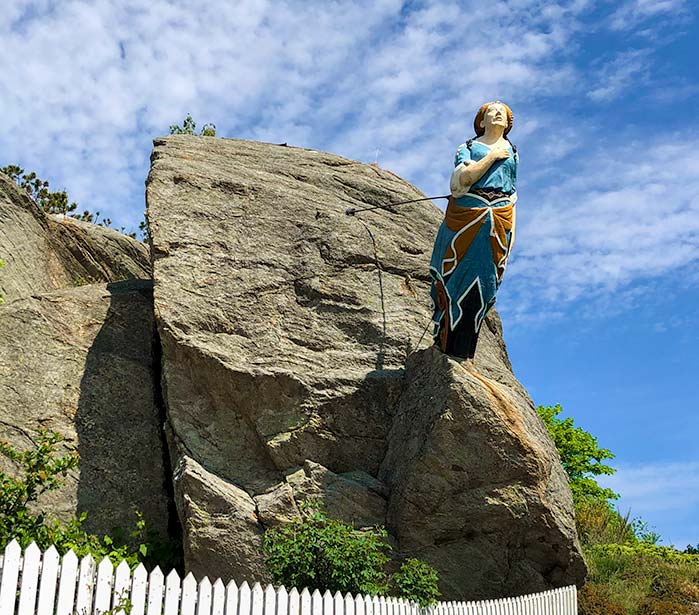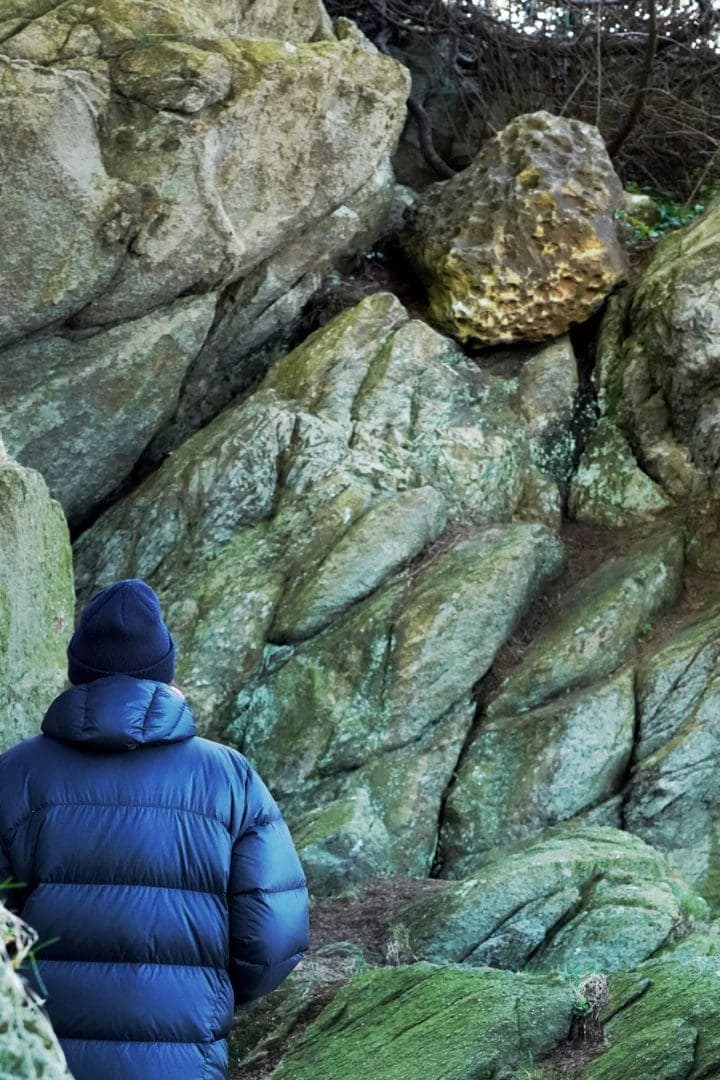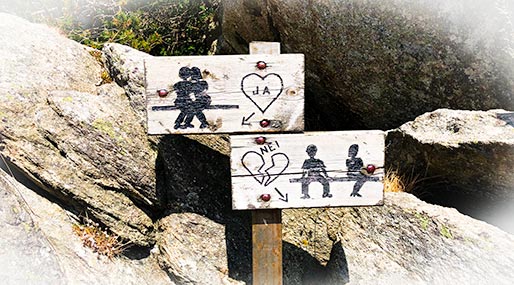 10. SLEEPOVER AT VIKHOLMEN LIGHTHOUSE
At the entrance to Skudeneshavn harbour, you'll find this cute little lighthouse. It was the guiding light for many a sailing ship in its time. It has now been renovated and you can rent it out to stay on its tiny little island.
Visit: https://visitkarmoy.no/en/vikeholmen-fyr for more details.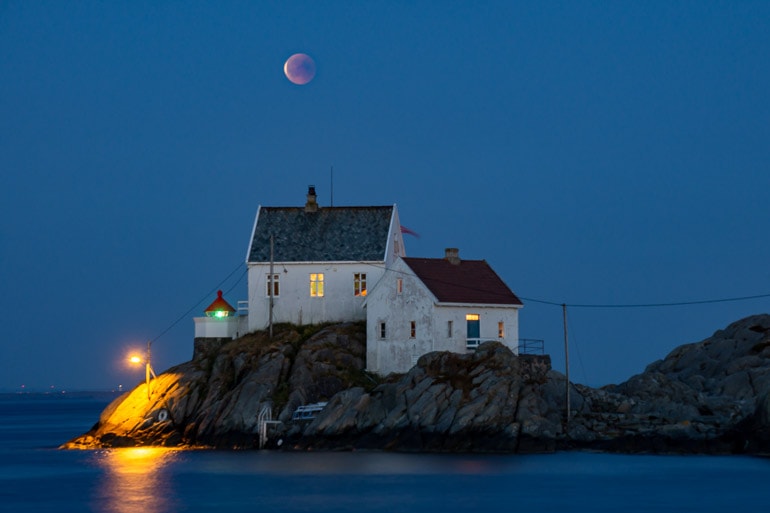 Blood Moon over Vikholmen Lighthouse, Skudeneshavn
11. EXPERIENCE THE FAMOUS TALL SHIPS SKUDENESHAVN FESTIVAL
Every year, normally on the first weekend of July, boats of every type convene at Skudeneshavn for the largest nautical festival in Western Norway.
Tall ships, wooden boats and pleasure yachts fill the harbour to the brim.
Local artisans display their wares and give demonstrations of handicrafts that have been passed down through the ages. Concerts, food trucks and a feeling of general merriment invade the old town.
It is an event that the people of Skudeneshavn, Karmoy are very proud of.
For the dates of this year's Skudeneshavn Festival check here.
[Note: 2023 Skudeneshavn Festival from June 29th to 2nd July 2023]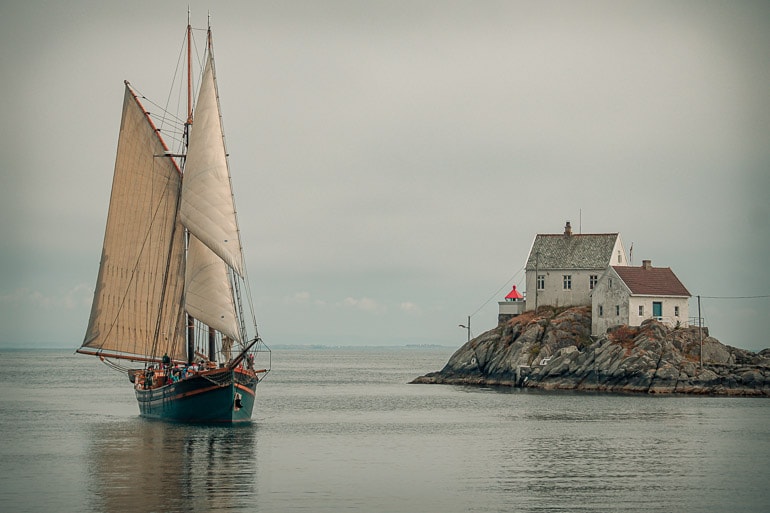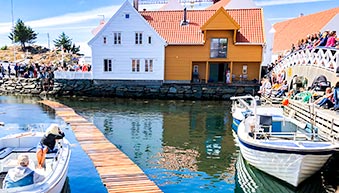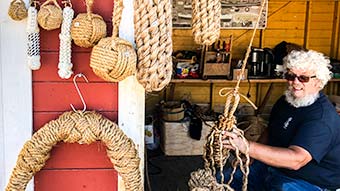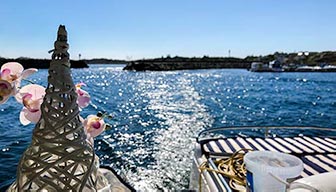 12. DO SOME 'FOREST BATHING'
Just behind Skudeneshavn town are many forest and moorland walks to enjoy.
The perfect thing to do in Skudeneshavn is to step out into nature and do some 'forest bathing' (the new expression for absorbing all the health benefits from being out in nature amongst greenery and trees).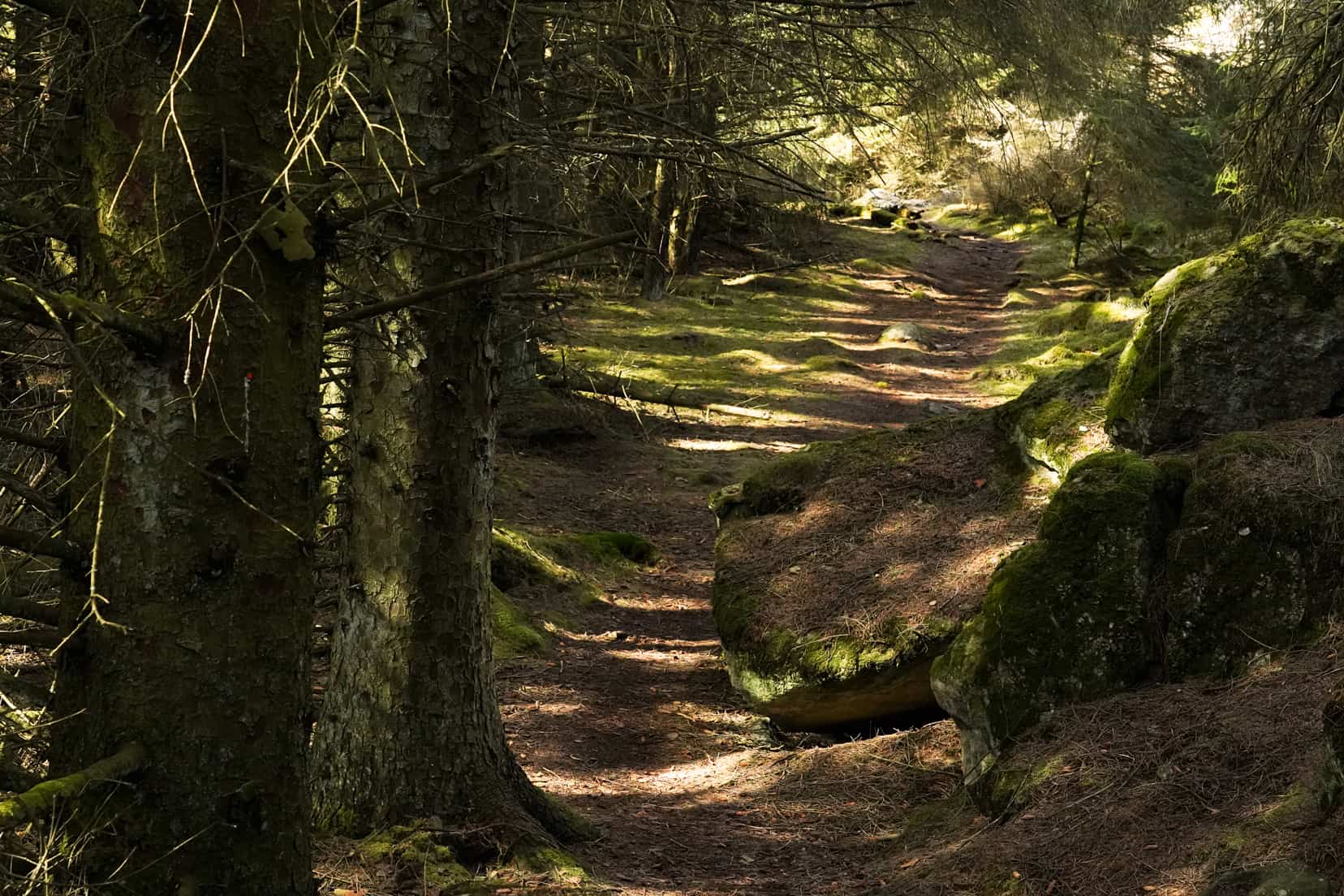 13. Take a Hike in Skudeneshavn Surrounds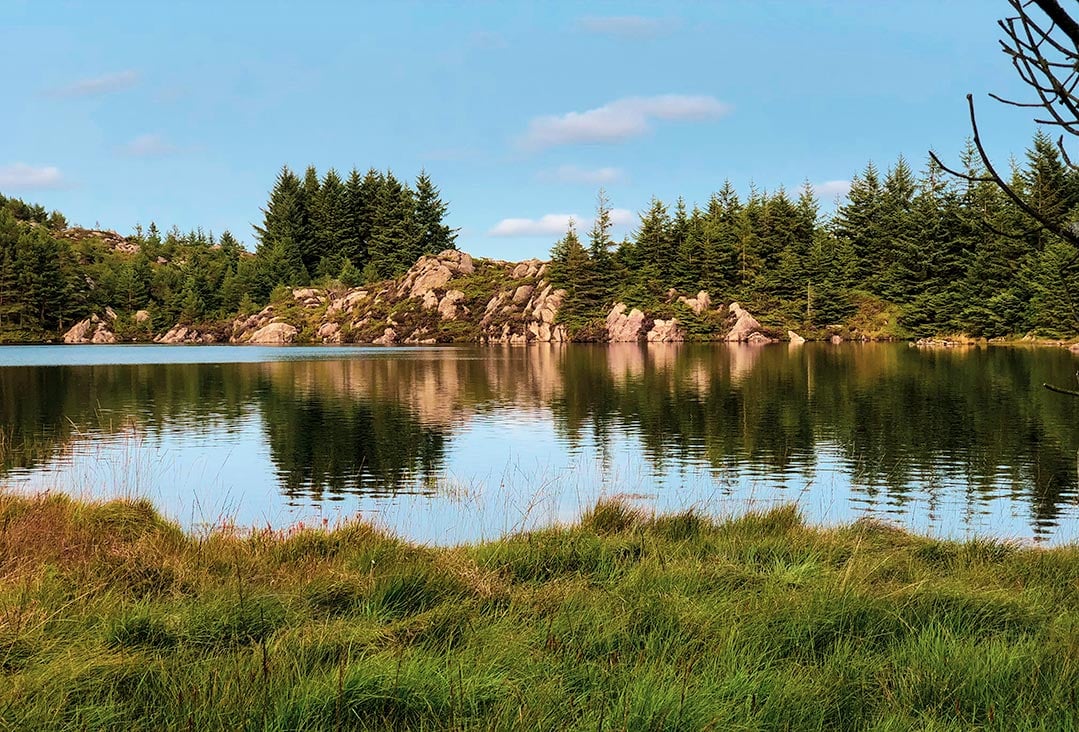 There are also lovely lakes that you can walk around or hike to. The area is well signposted with the various walking trails which lead you further into Karmoy's nature.
We took a walk around one of the lakes (Follow the sign for 'Allmannamyr rundt' to the right just after you start on the forest trails behind Skudeneshavn Sports Centre).
We then took a detour upwards towards 'Nauthydleren' to find a geocache and came across a great lookout over Skudeneshavn.
For another enjoyable hike – take the blue hiking route to Litlavatn.
This trail takes you over wooden walkways, through forests and hills and leads you to a beautiful lake and a small waterfall. It's only about a 3km round trip but gets the heart pumping and makes for the perfect outdoor exercise.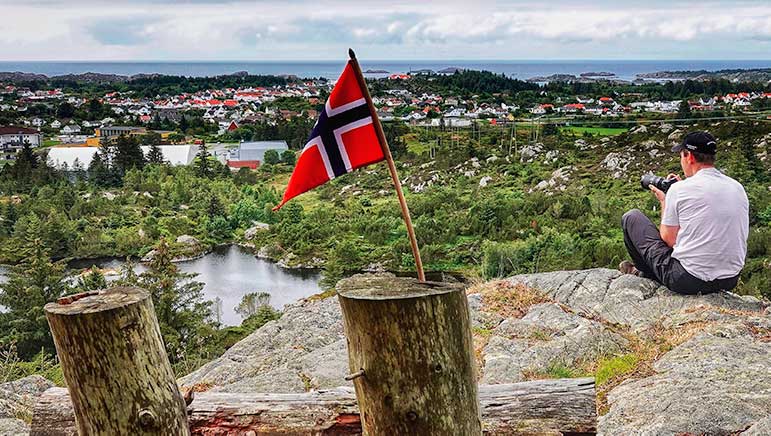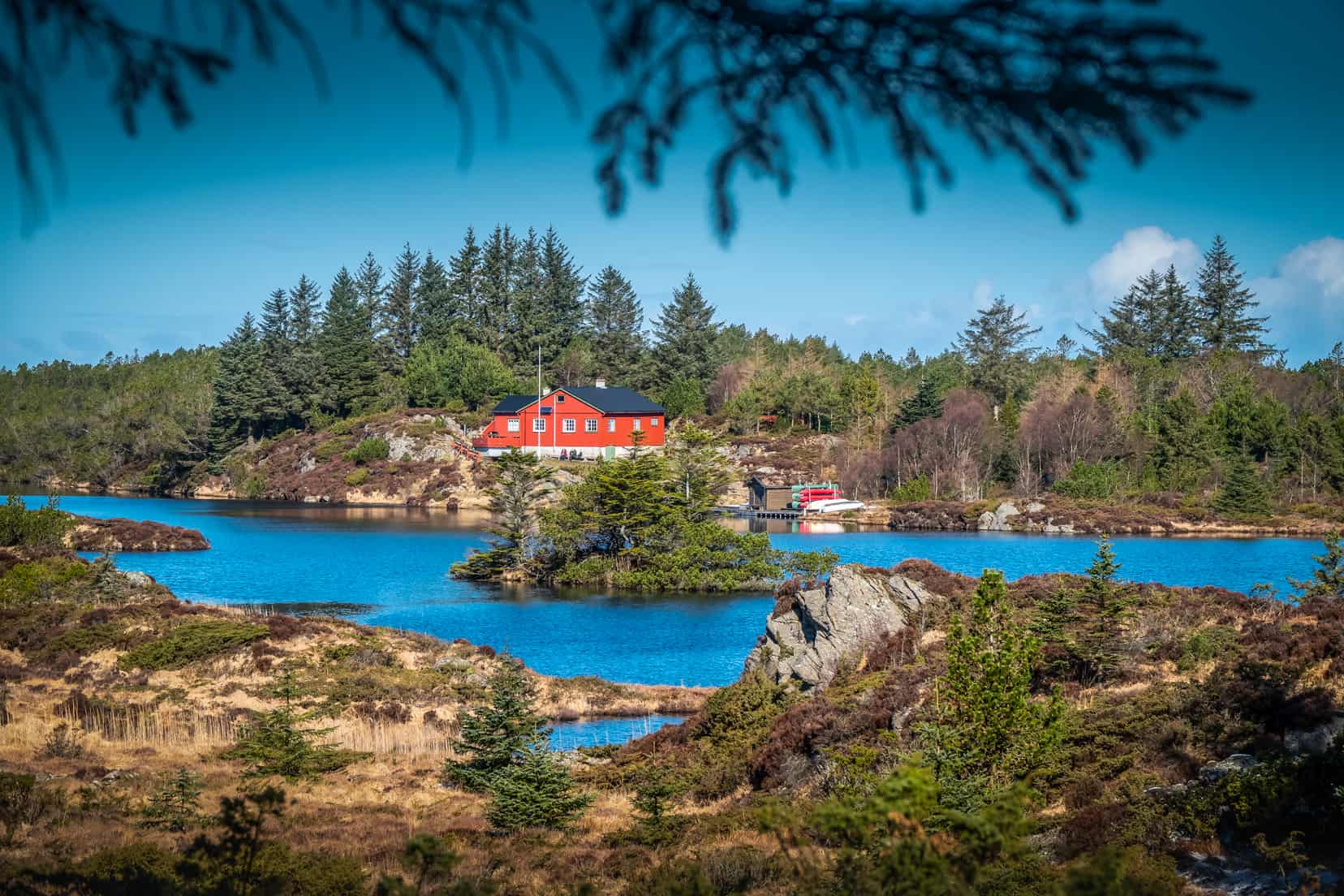 14. HAVE A BBQ OR PICNIC AT THE NEW ZEALAND HUT
This authentic replica of a New Zealand Gold Diggers hut was built in the Skudeneshavn forest in 1936 by Kristian Kristiansen. He had travelled overseas at an early age and had been a gold digger in New Zealand.
When he returned to Skudeneshavn, he built this cottage, called the 'New Zealand Hut', as a memory of the old gold diggers' cottages in which he had lived in New Zealand.
You can easily walk to the New Zealand Hut as it's only about a 5-10 minute walk from the back of Skudeneshavn Sports Hall. Once there you'll find a huge campfire area, a BBQ and picnic benches.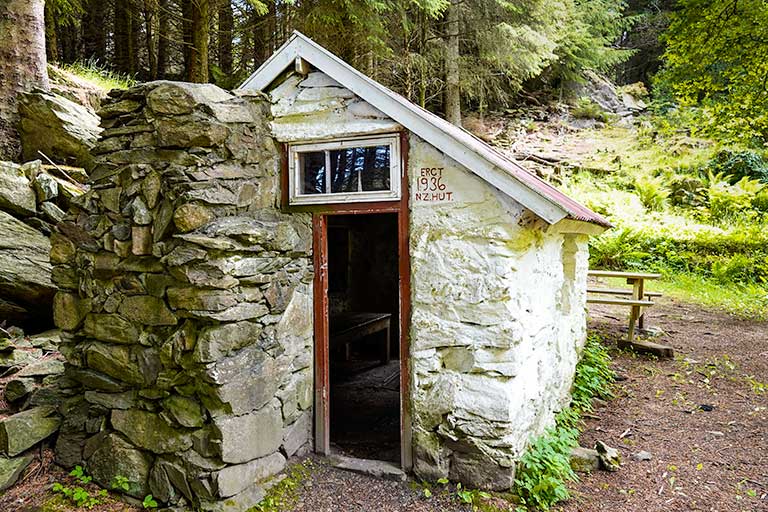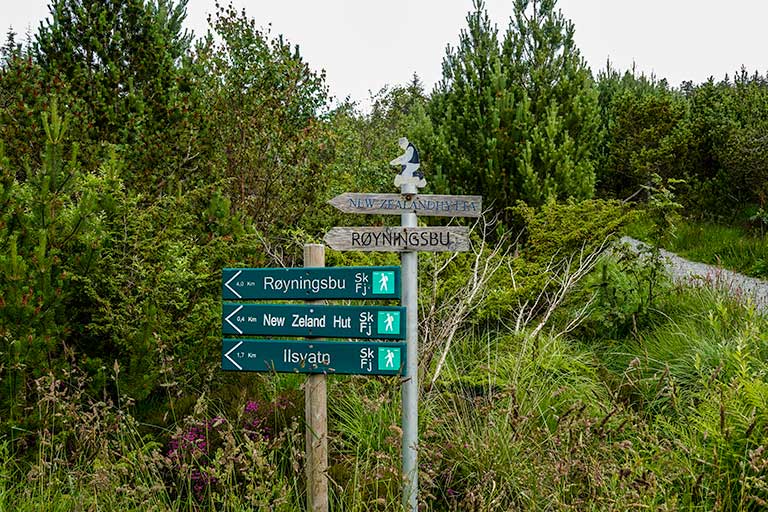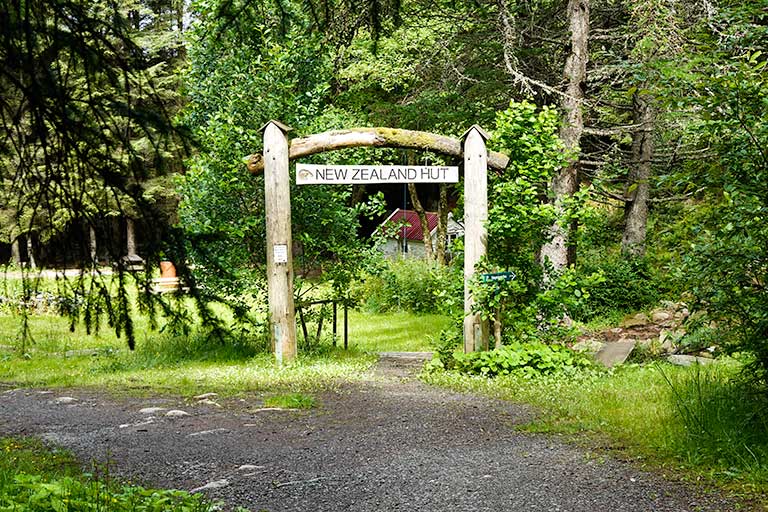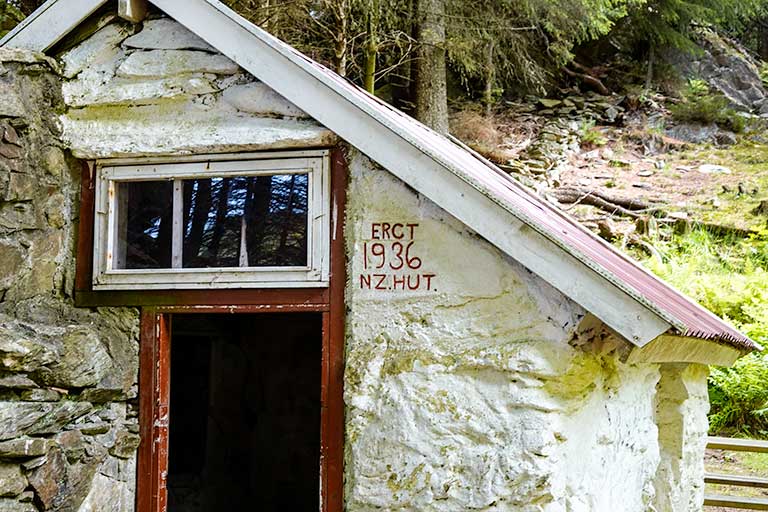 New Zealand hut in the Forest in Skudeneshavn
15. Take a dip at Skudeneshavn's Bade-Olena Bybad Swimming Area
Opened in the summer of 2021, this urban space is filled with wooden pyramids and benches alongside the harbour which has an area sectioned off for swimming. A sauna styled like a lighthouse is also on-site and can be booked for 100 NOK/hour.
The community area is named after a woman who ran a bathhouse in the old part of town, Søragada, in the last century and 2021 marked one hundred years since her death.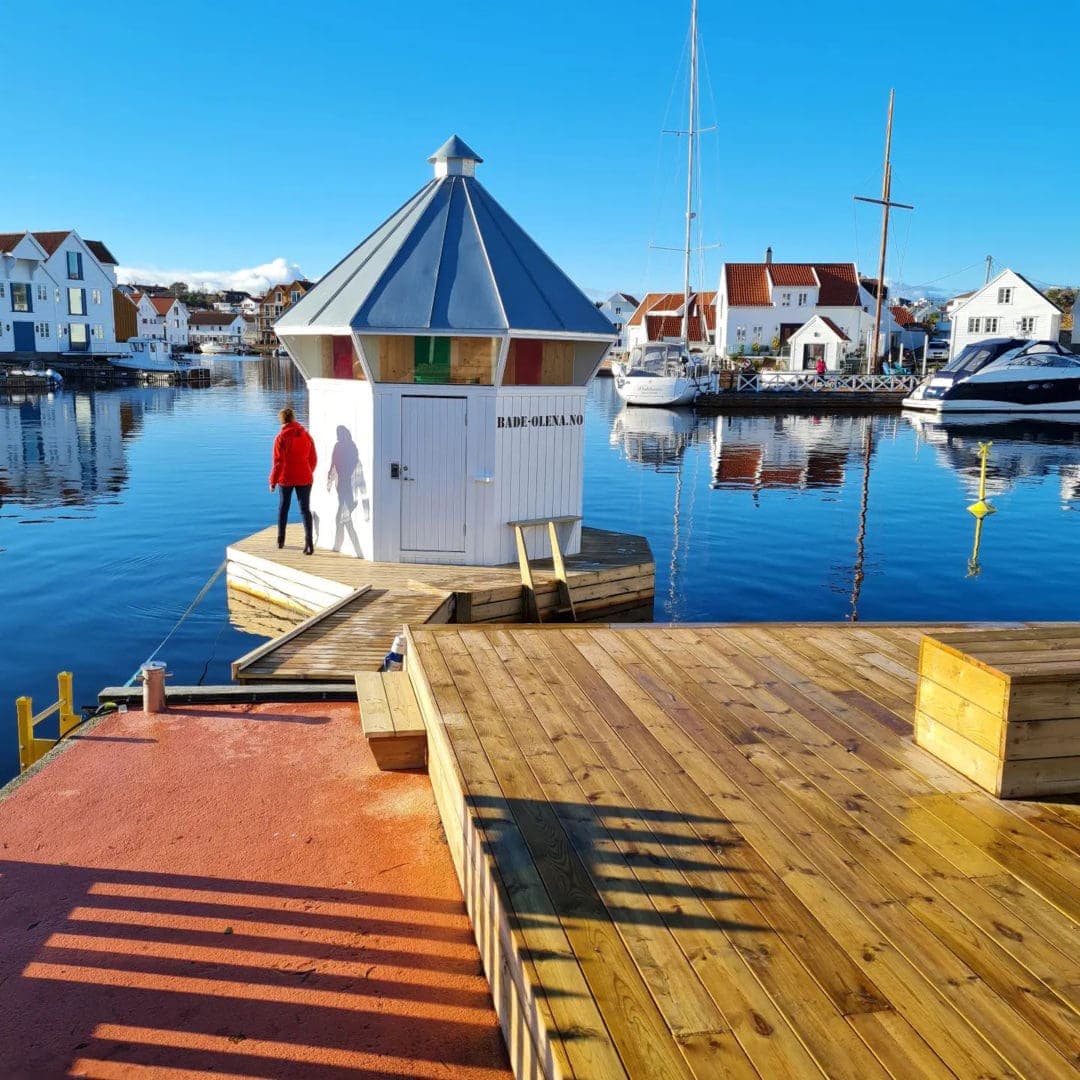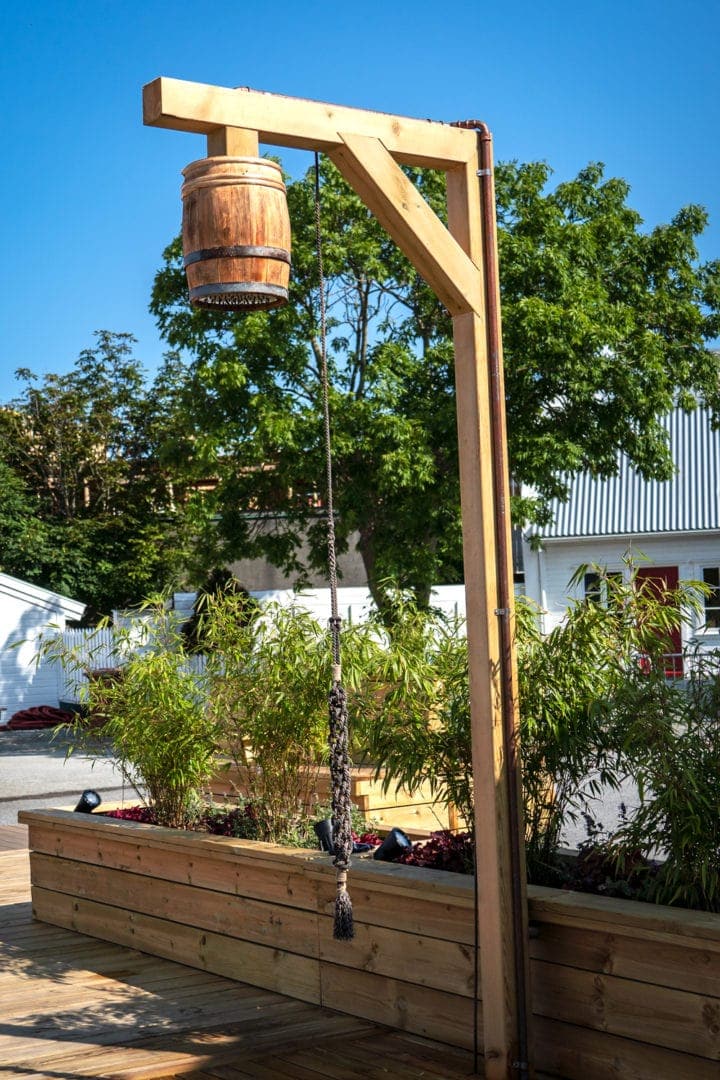 16. HAVE A COFFEE AT TAKELURFABRIKKEN CAFÉ
Have a coffee in this old Foghorn Factory and browse local handmade handicrafts in the attached shop.
O.C. Hansen's statue sits outside the cafe, as it was here that he built his famous foghorn. The ships coming into Skudeneshavn harbour used to use signal flags but these were ineffective in foggy weather. Hence the invention by Skudeneshavn local, Captain O.C. Hansen, who patented his foghorn in 1881.
The factory is now a coffee shop during the summer season (with volunteers running the community building). It is also a meeting place for local handicraft clubs, who can then sell their handiwork in the shop here.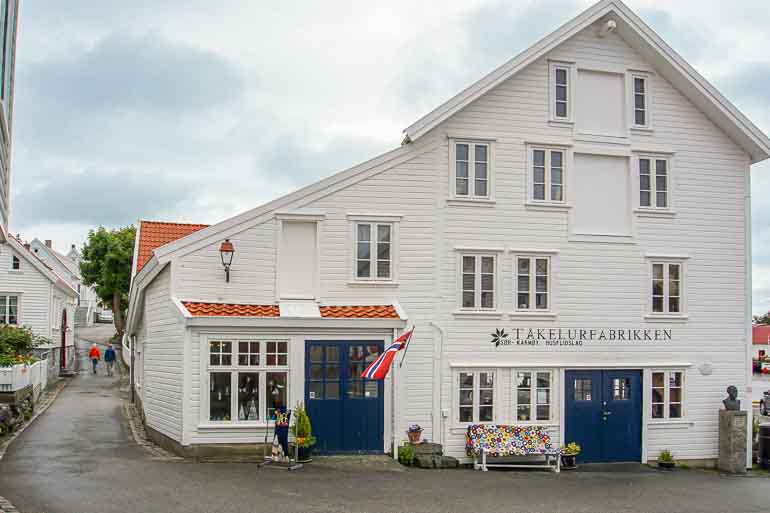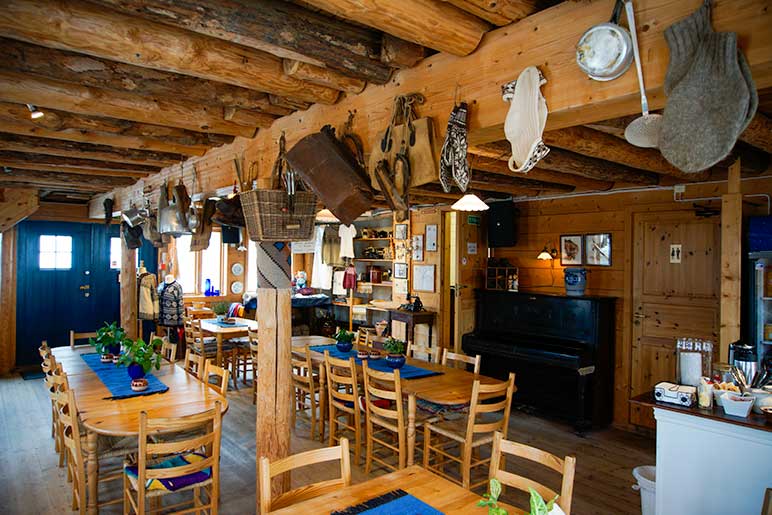 17. WALK THE SKUDENESHAVN HERITAGE TRAIL
Download the Heritage Trail Map here and walk through the town to learn more about the history and the significant cultural heritage of Skudeneshavn.
One of the interesting buildings you'll find on the trail is this 'Half house' in the old town, at 60 Søragadå Street. Known as Vaskehuset, this house was built around the adjoining hillside.
It was built and used as a laundry and woodshed for the house on the opposite side of the street.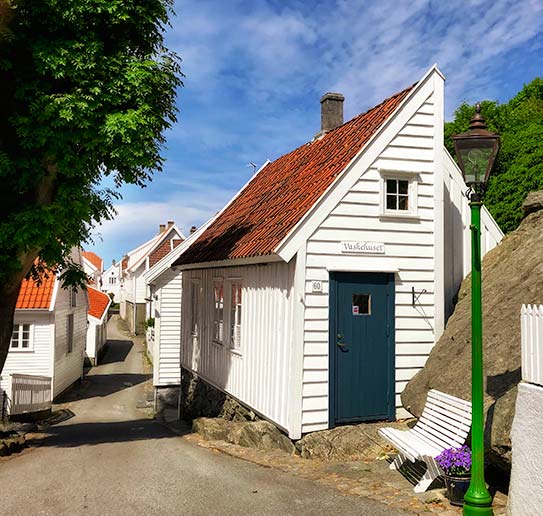 18. TAKE A BOAT TO GEITUNGEN LIGHTHOUSE
Geitungen Lighthouse, in Karmoy, is a protected National Monument. The lighthouse was first lit in 1924 and was manned up to 1994.
Take a picnic on the island and enjoy the splendid views back to Skudeneshavn.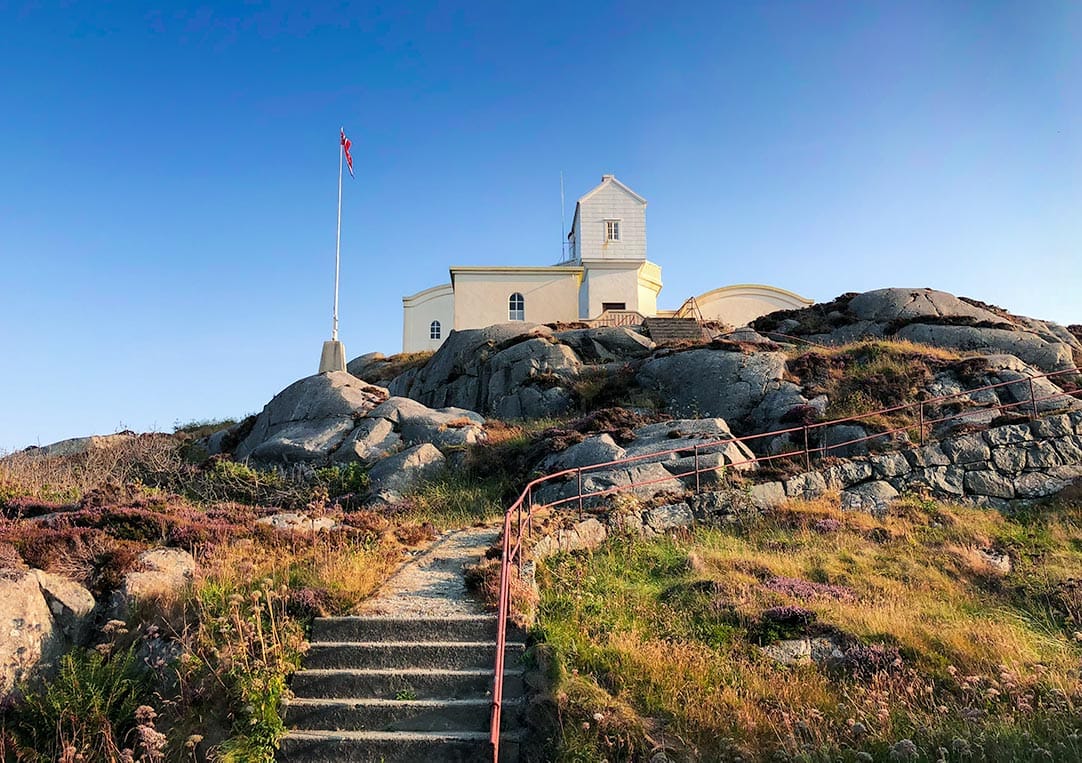 19. SWIM OR STROLL IN SYRE, KARMOY
Syre is a small village just a short walk along the coastline from Skudeneshavn.
It has a cute little harbour and a gorgeous beach cove perfect for swimming or paddling your feet.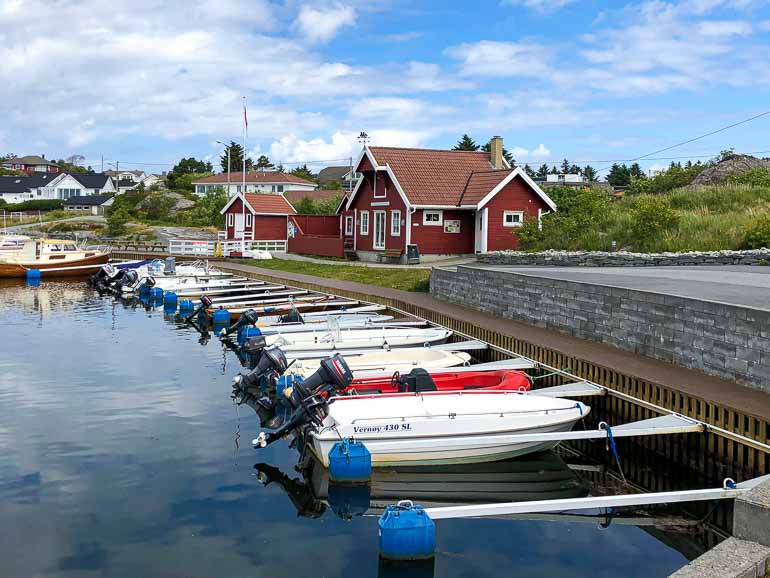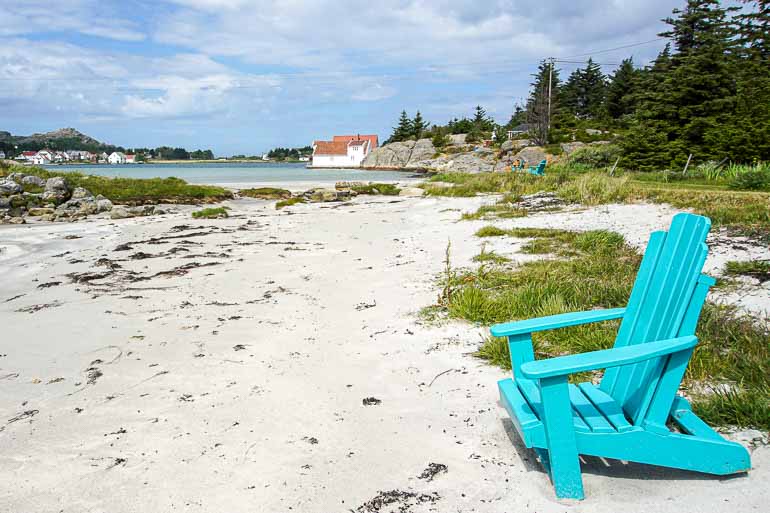 20. VISIT THE WORLD WAR II BUNKERS AT SYRENESET FORT, KARMOY
One of the best things to do in Skudeneshavn is to get out in nature. The walk to Syreneset Fort takes you through the forest, open fields and along the rocky coastline.
We walked along the coastline from Skudeneshavn to get there but it would be easier to take the roadway. If you enjoy clambering over rocks and hiking though, the coastline may be the way to go. It's only about 4km from Skudeneshavn.
The pathway leading up to the fort is across Karmoy's forested moorland and that in itself presents you with stunning scenery.
The fort was built in WWII by the occupying Germans and was used to monitor the shipping lane action. You can climb in among the bunkers and there are still plenty of German signs which seem out of place in the peaceful Norwegian surroundings.
21. SKUDENESHAVN LIGHTHOUSE
Skudeneshavn Lighthouse is automated nowadays and sits on private land. However, we were lucky enough to be there when a relative of the owners was staying from America – he welcomed us up when he spotted us taking pics from below.
You can still get some shots from below and the scenery around the area is worth exploring.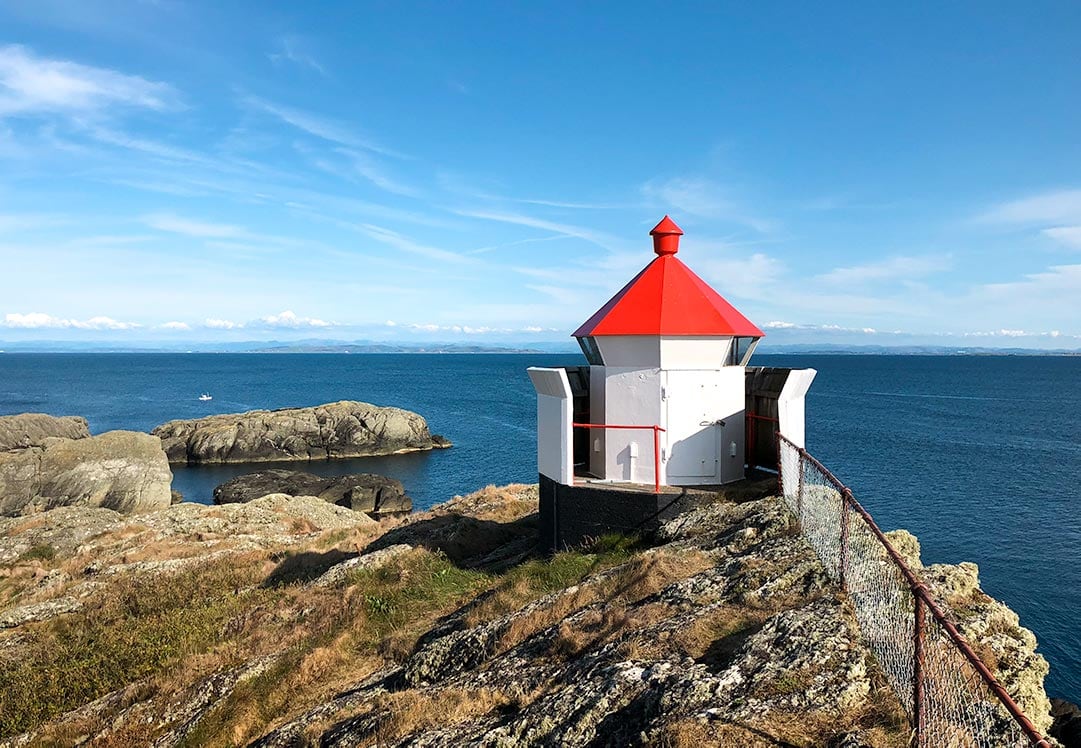 22. VISIT SKUDENESHAVN KYSTFORT
Kystfort is another war bunker and can be found up on top of the hills around Skudeneshavn overlooking the ocean.
Lars had fun looking around, whilst I enjoyed the scenery, the views across the ocean, playing with my camera and talking to the sheep.
If you are into photography you can get some great shots here, the sheep aren't particularly chatty though.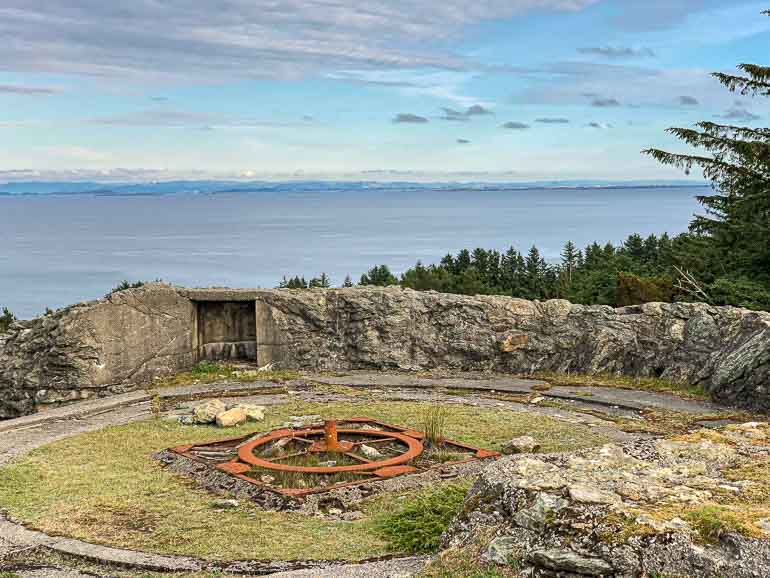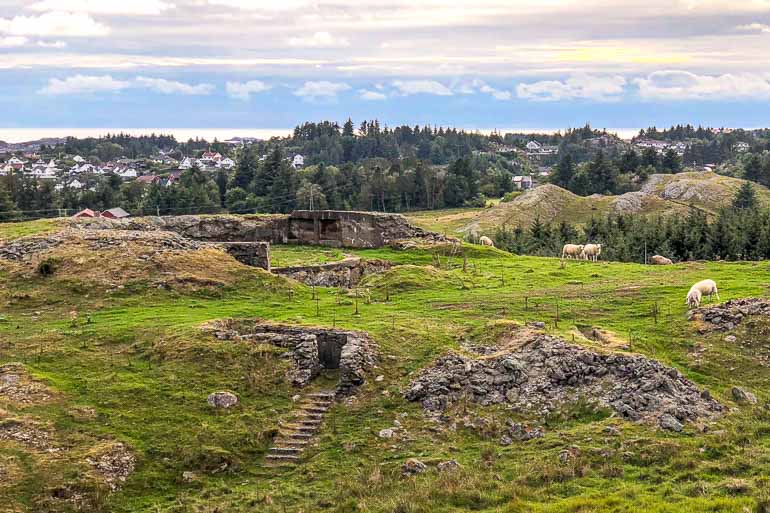 23. THE BEACH AT SANDVE – SANDVESANDEN, KARMOY
You may not be expecting to find beaches like this in Norway – we certainly weren't.
These beautiful white sand beaches, just five minutes drive from Skudeneshaven, Karmoy, are nestled by outcrops of rock and this one, at Sanvesanden, is particularly scenic.
When we were here the weather was warm and birds flitted around us as I kept stopping every few metres to admire the different types of plant life growing here.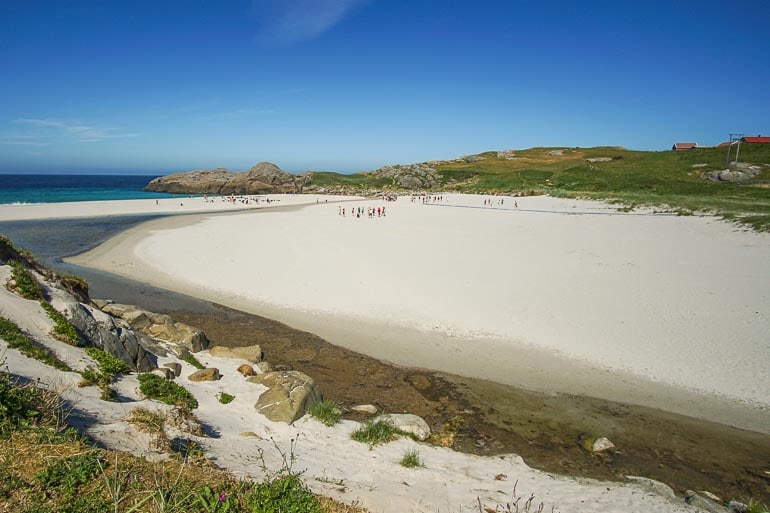 24. FERKINGSTAD FISHERMEN'S MEMORIAL, KARMOY
About a 20 mins drive north from Skudeneshavn, you'll see signs from the main road down to the Ferkingstad Fishermen's Memorial. Many of Karmoy's fishermen headed to America to make their living, especially when the herring boom dried up.
This memorial is to remember those who left and lost their lives in American waters. The memorial plays a tune of remembrance at various times of the day.
We didn't know this but we were lucky enough to be there when it started playing.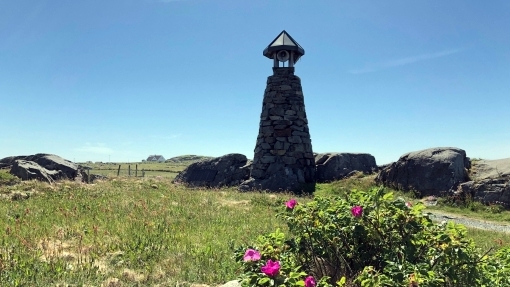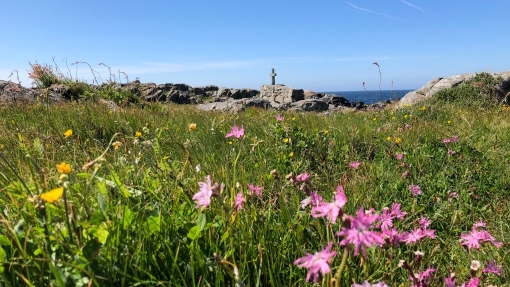 Ferkingstad Memorial by the coastline
25. AKRASANDEN, KARMOY
Akrasanden is another gorgeous beach at Akrehamn, Karmoy, about 20 minutes north of Skudeneshavn. It has been awarded the eco-friendly blue flag award (and awarded again in 2020) and it also won the most beautiful beach in Norway award in 2014.
There are shops, cafes and a Coastal Museum in Akrehamn.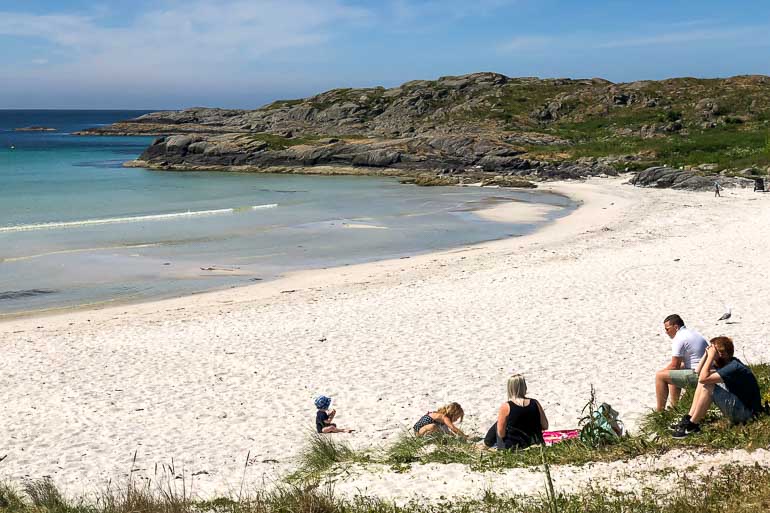 26. COASTAL WALK FROM AKRESANDEN TO FERKINGSTAD
A coastal path, on the western side of Karmoy, leads from the beach at Akrasanden to the Fisherman's Memorial in Ferkingstad.
It takes about two hours to complete the walk and is the best way to experience the western coast of Karmoy. The winds can get fresh on the coast so make sure to take some warm clothes in case you get nippy.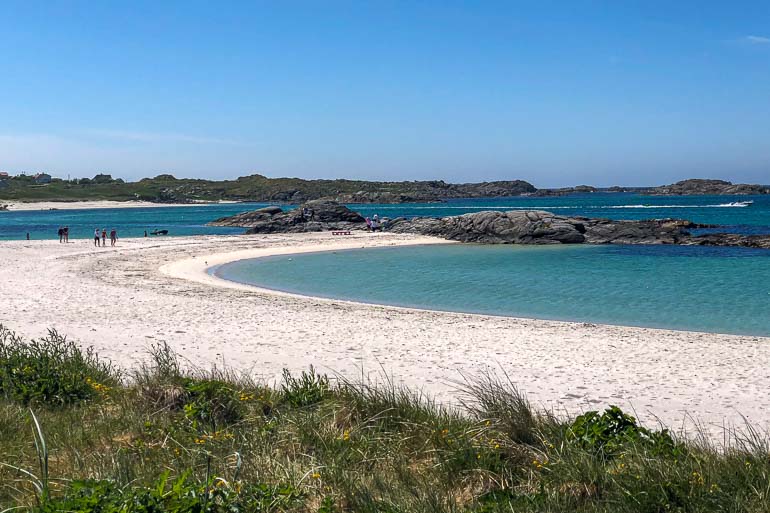 27. VISIT THE STATUE OF LIBERTY
We thought they were joking when Karmoy locals told us we could visit the Statue of Liberty!
In the 1870s, the town of Visnes, Karmoy, operated the largest copper mine in Norway. And it was this mine that supplied the copper that the New York Statue of liberty was made from.
It was in operation until 1972 and now has a museum on site.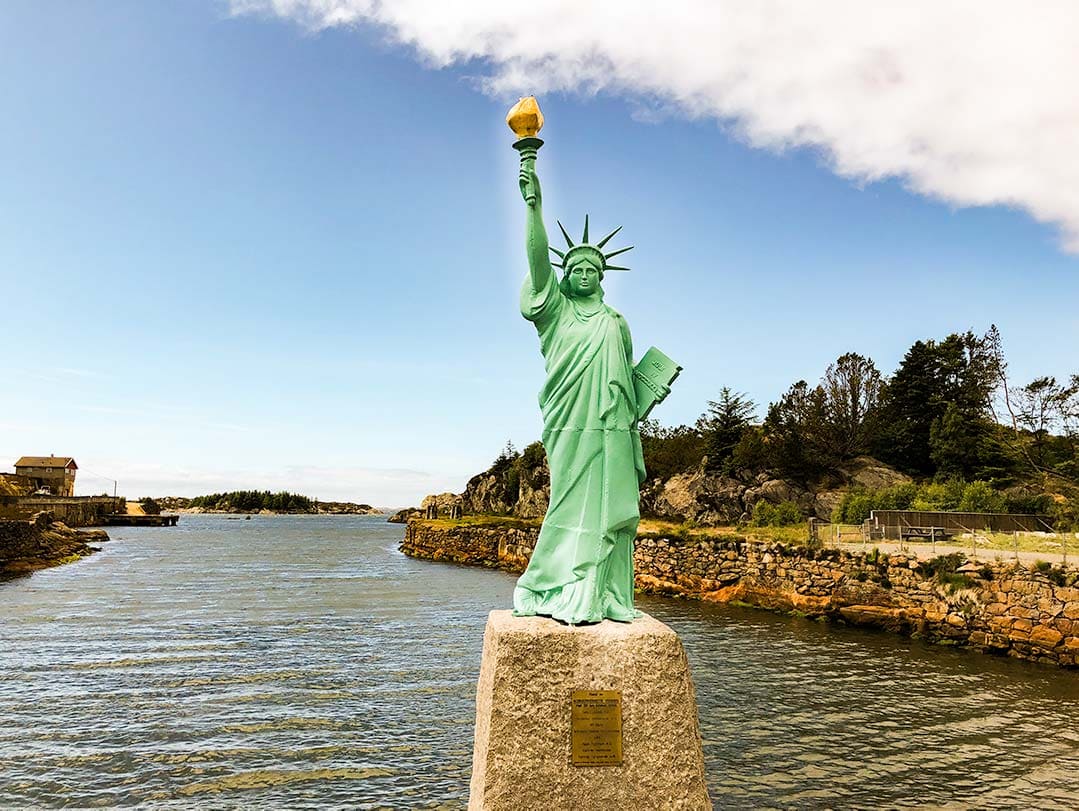 28. WALK IN THE FOOTSTEPS OF THE VIKING KINGS AT AVALDSNES, KARMOY
The island of Karmoy is the home of the Viking Kings.
They ruled from the site at Avaldsnes, about a 30-minute drive from Skudeneshavn.
Here you can visit the Viking History Centre and also experience what life was like on a Viking homestead.
For more information about the Viking connection to Karmoy and what to do in Avaldsnes, read our post, In the Footsteps of the Viking Kings, Avaldsnes.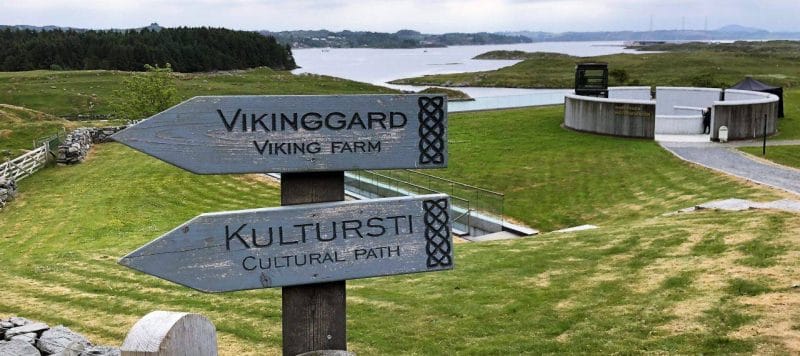 29. VISIT ST. OLAV'S CHURCH AT AVALDSNES, KARMOY
Just beside the Viking History Centre, in northern Karmoy, on the hill overlooking Karmsund Strait, sits St. Olav's Church.
This stone church was built in 1250, but it is believed that it replaced a wooden church built by King Olav Tryggason in around 1000 AD.
Here you'll also find the Virgin Mary's Needle, an ancient stone that dates from around 200AD. The story passed down through the ages is that if the stone touches the church then Doomsday will descend. Legend suggests that priests would climb up the pillar at night and chip away pieces to make sure it did not touch the church.
Hence, we are apparently now 9.2 centimetres away from it being the end of the world.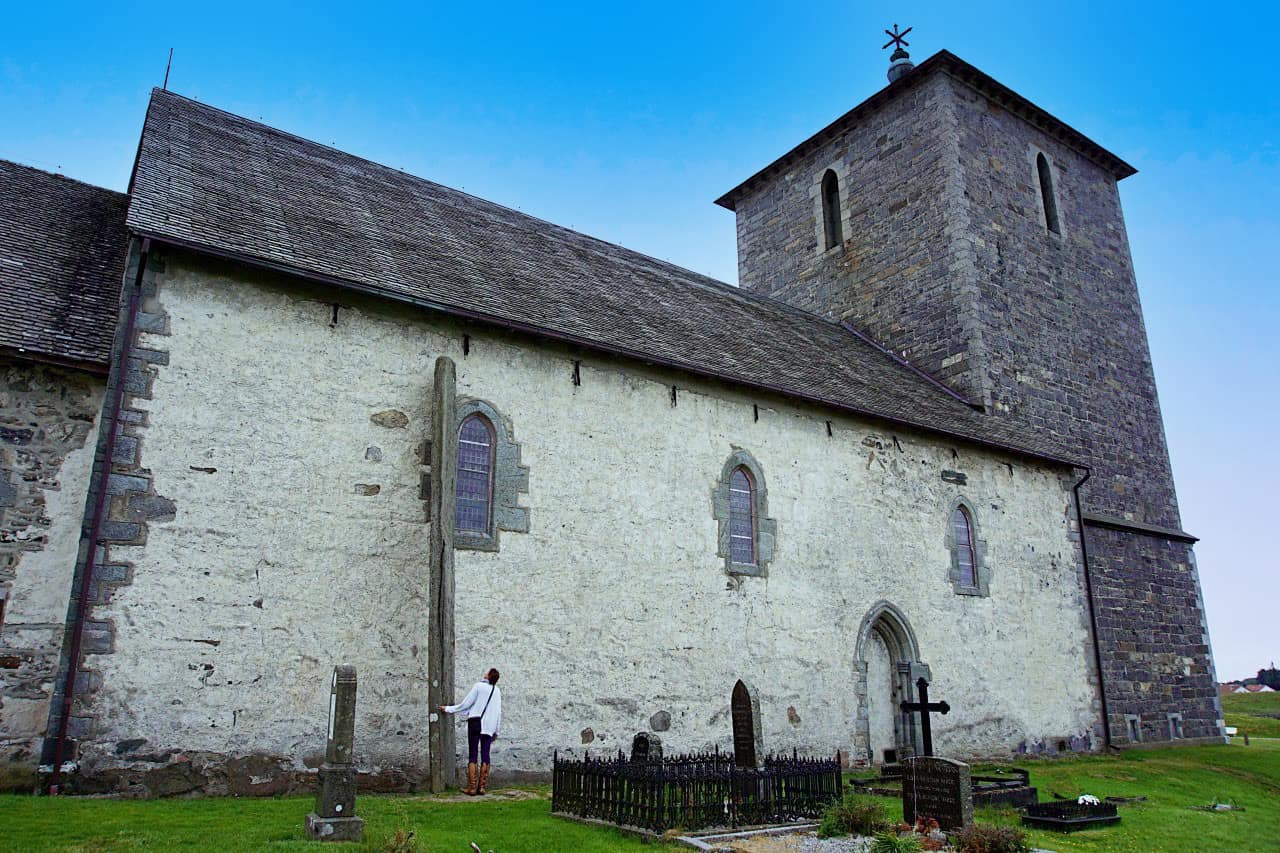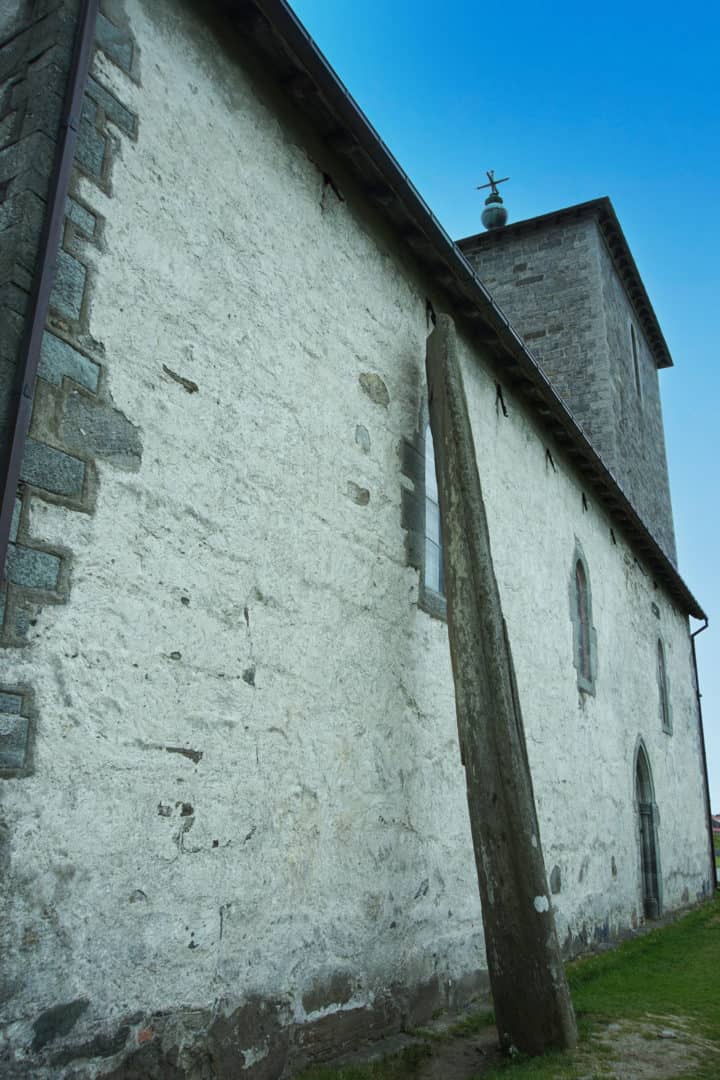 30. GO FOR A DAY TRIP OR OVERNIGHT AT UTSIRA
We found this awesome island of Utsira, just west of Karmoy, at the end of our stay in Skudeneshavn. However, we wish we'd found it sooner.
If you enjoy hiking, (this was one of our best hikes in Norway), or love street art, then Utsira is a must to have on your bucket list.
You can get a ferry from Haugesund, which is about a 30-minute drive north of Skudeneshavn.
For detailed information on Utsira, check out our article, 'Why Utsira Should be on Your Norway Bucket list'.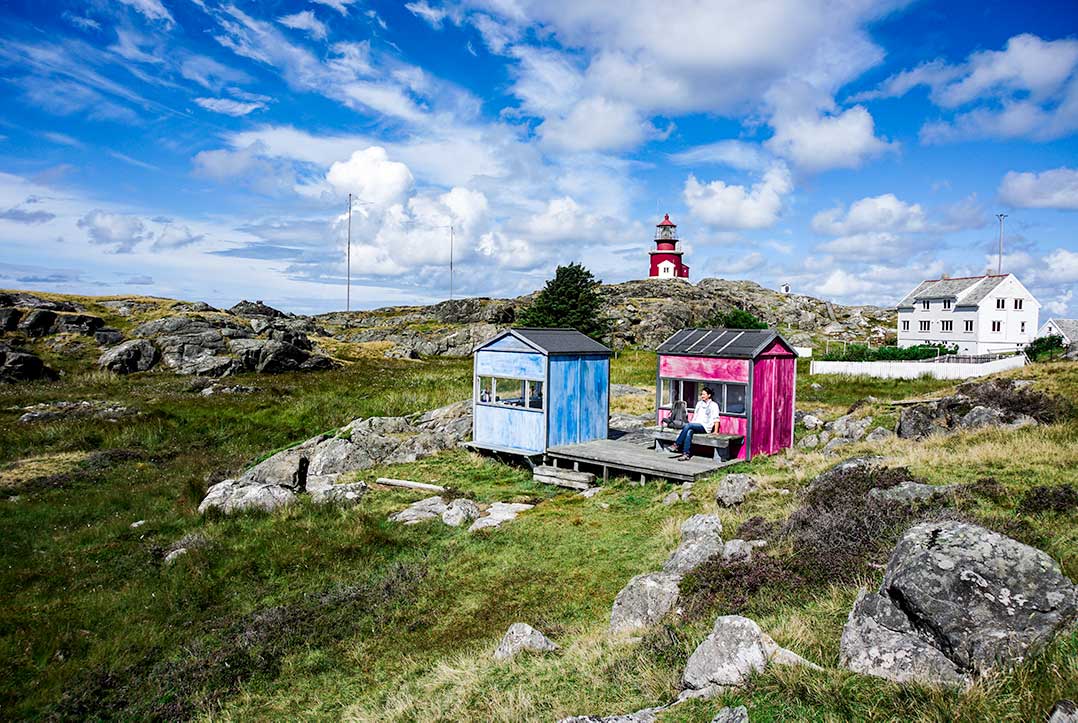 There are so many things to do in Skudeneshavn and on the small island of Karmoy, that a week here would keep you more than busy.
So next time you are looking to visit Norway, be sure to put Skudeneshavn and Karmoy on your itinerary. It'll take you away from the crowds and offer you a tantalising, diverse taster of Norway, all within easy reach.
31. VISIT THE 'RISING TIDE' SCULPTURE IN HAUGESUND
Hidden almost out of sight is the sculpture, entitled The Rising Tide. It is the work of Jason deCaires Taylor, a British artist who first placed the sculpture on the Thames in the United Kingdom.
The sculpture comprises four life-size horses and is representative of the origins of industrialisation but they are also meant as a warning about climate change. Each horse head has been modelled on an oil well pump, making a political comment on the impact of fossil fuels on our planet.
Haugesund is about a 40-minute drive north of Skudeneshavn.
You'll find the sculpture at the end of Kvalsvikvegen, Haugesund. Take the right-hand fork along the road, not the left.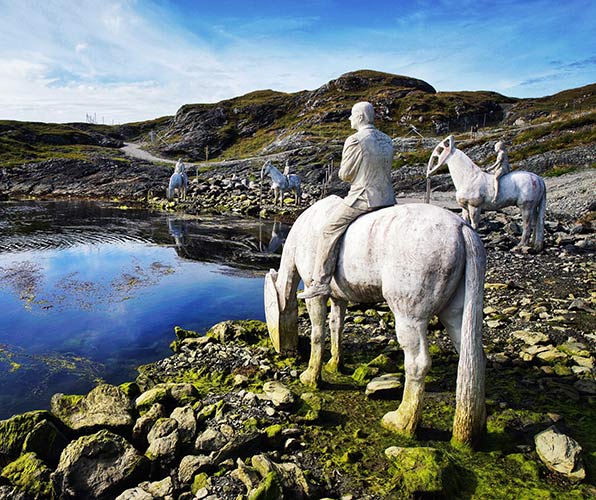 32. DROP BY THE OLD FARMHOUSE DERIKHUSET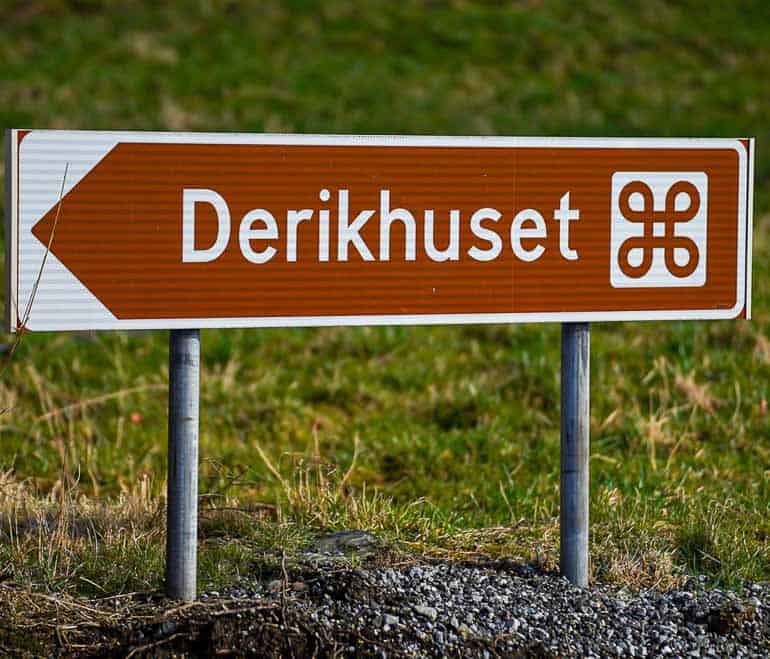 Derikhuset, built in 1840, is a charming old farmhouse – now a museum. It has a stone-walled garden and a peat cellar at the rear.
We visited in early spring with snow still melting on the surrounding fields as the daffodils started to bloom.
Just a little bit further along the road, you'll find the path leading to the forest hikes so you can take a circular route back to Skudeneshavn through the forest.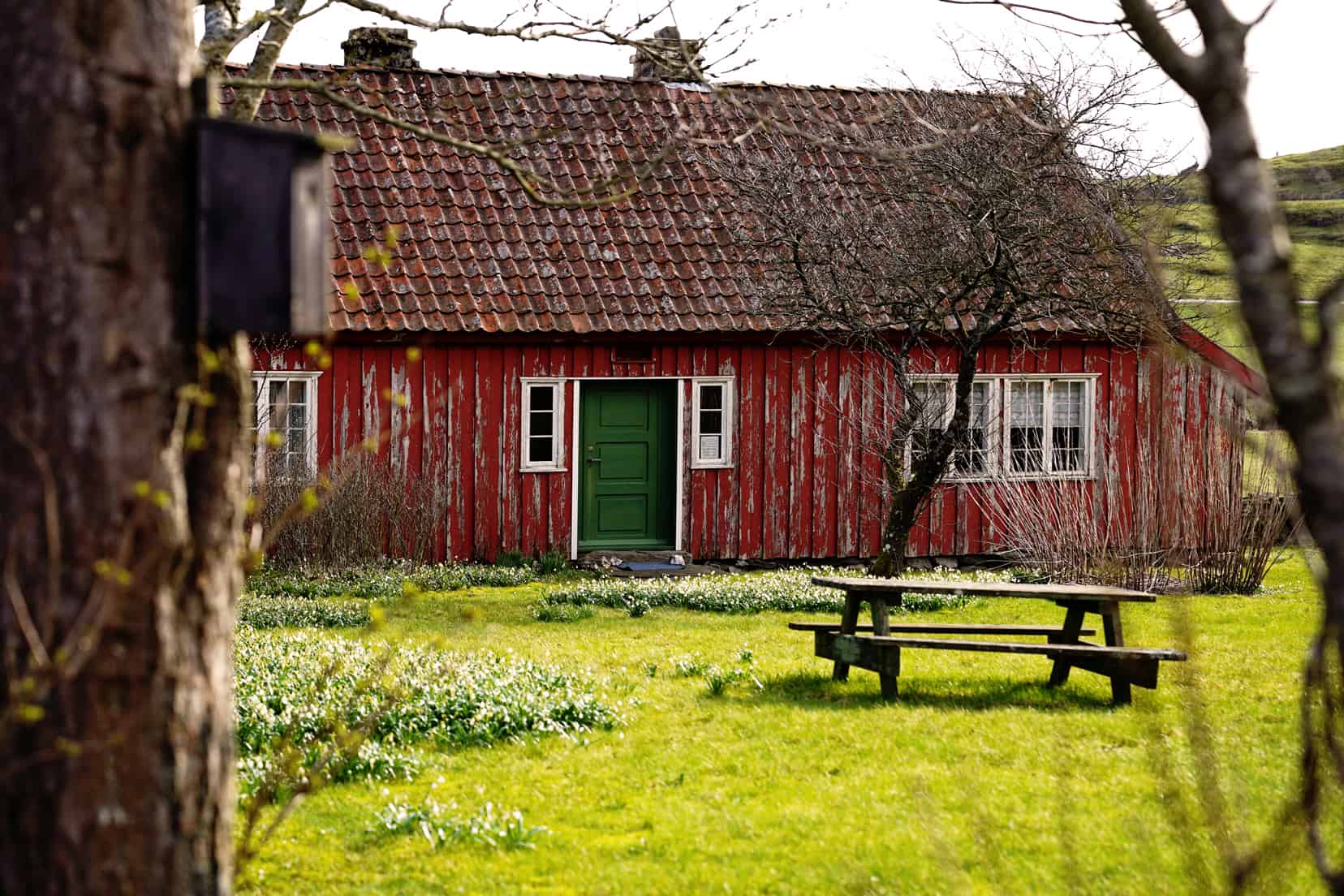 33. Have a drink and a meal at the local Pub and Piano Bar, Smia
The perfect setting for a sundowner in the land of the midnight sun. You can be cosy inside or enjoy the weather in the pretty terraced area outside.
The perfect end to exploring Skudeneshavn and the island of Karmoy.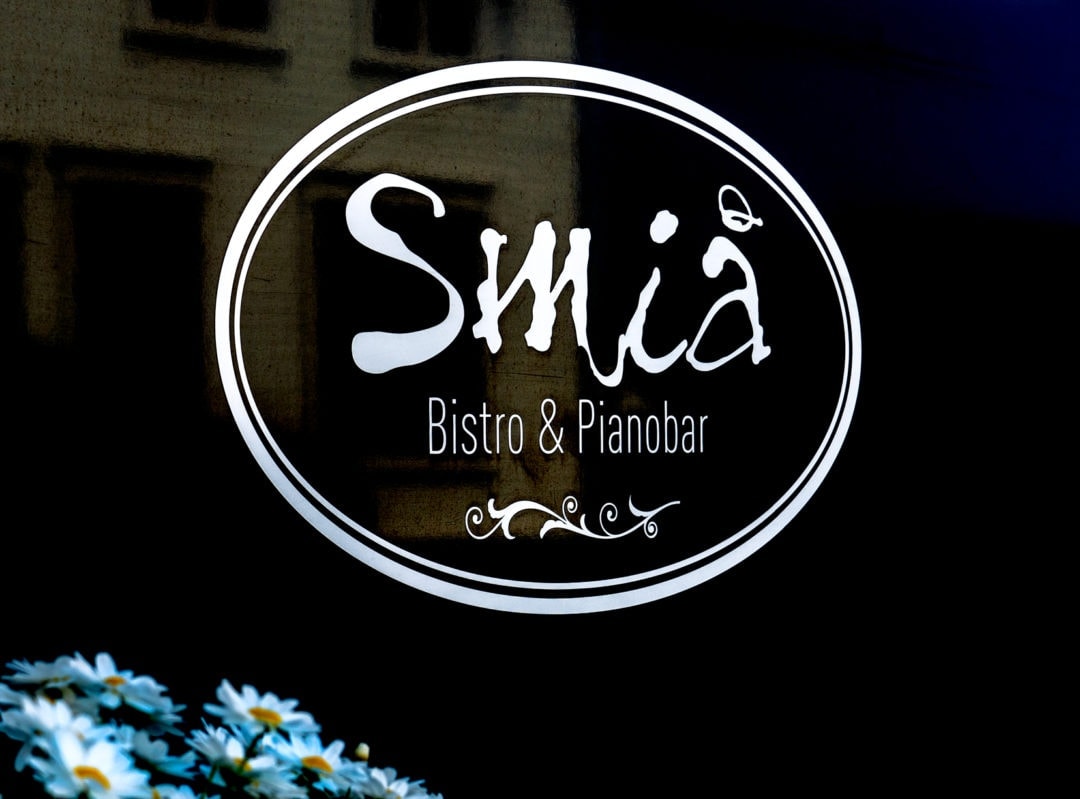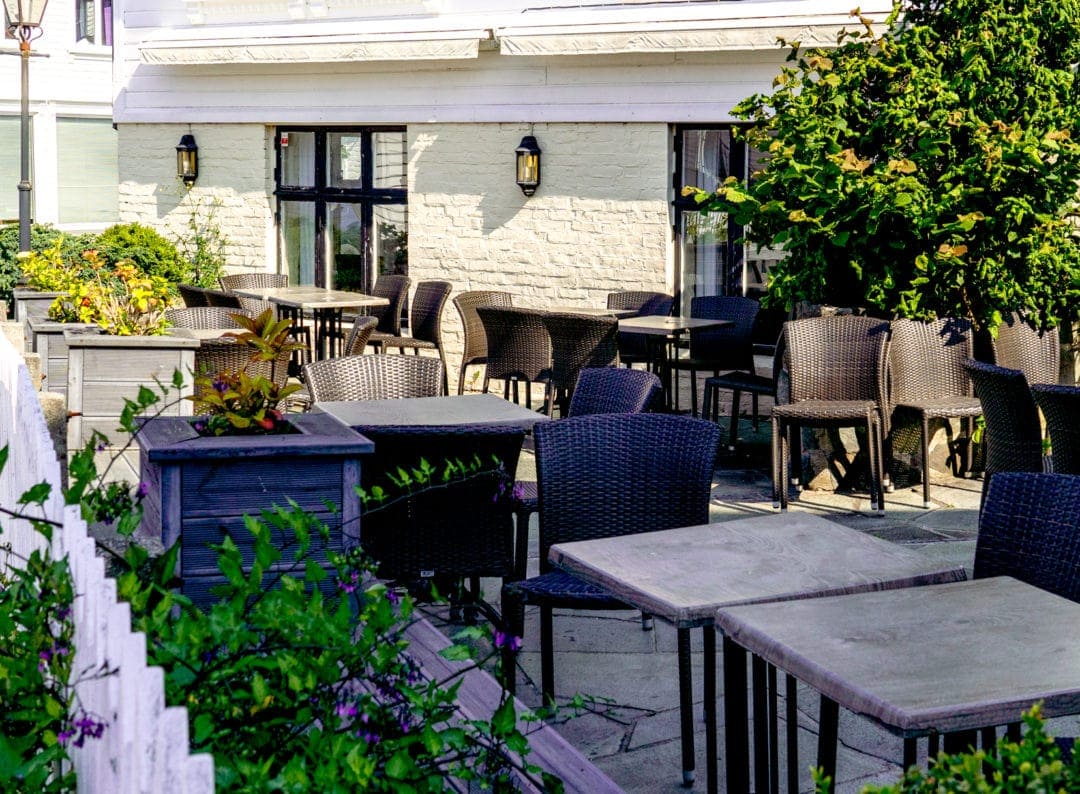 Smia outdoors area
ACCOMMODATION IN SKUDENESHAVN
Skudenes Camping
Here you can rent self-service cottages, with free wifi and cooking facilities.
There is also motorhome/RV parking available.
⏹ Book a room at Skudenes Camping here
Apartment in the old town (Sorogada 15)
This one-bedroom apartment with a garden, free wifi and a kitchenette is located right in the heart of Skudeneshavn.
⏹ Find Prices at Soragada 15 here
Norneshuset Overnatting
One of the highest-rated accommodation options in Skudeneshavn, this historic house on the waterfront offers a full continental breakfast, free wifi and an ideal location within the heart of the old town.
⏹ Book a room at Norneshuset Overnatting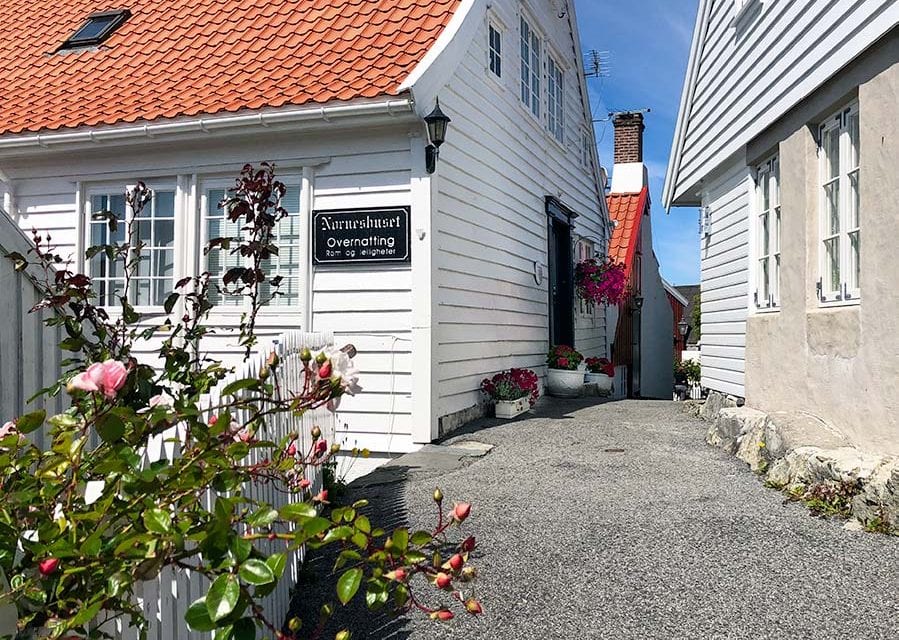 Find more accommodation deals in Skudeneshavn here.
Getting to Skudeneshavn
Haugesund Airport is about a 30-minute drive north of Skudeneshavn, on the island of Karmøy.
We had a car when we travelled around Norway which was definitely the easiest way to get around.
🚘 If you are looking to hire a car then we recommend the award-winning company, DiscoverCars
They find us the best deal around and they also have a price match guarantee.
However, there are buses that run around the island.
Check the bus timetable on the Kolombos website here.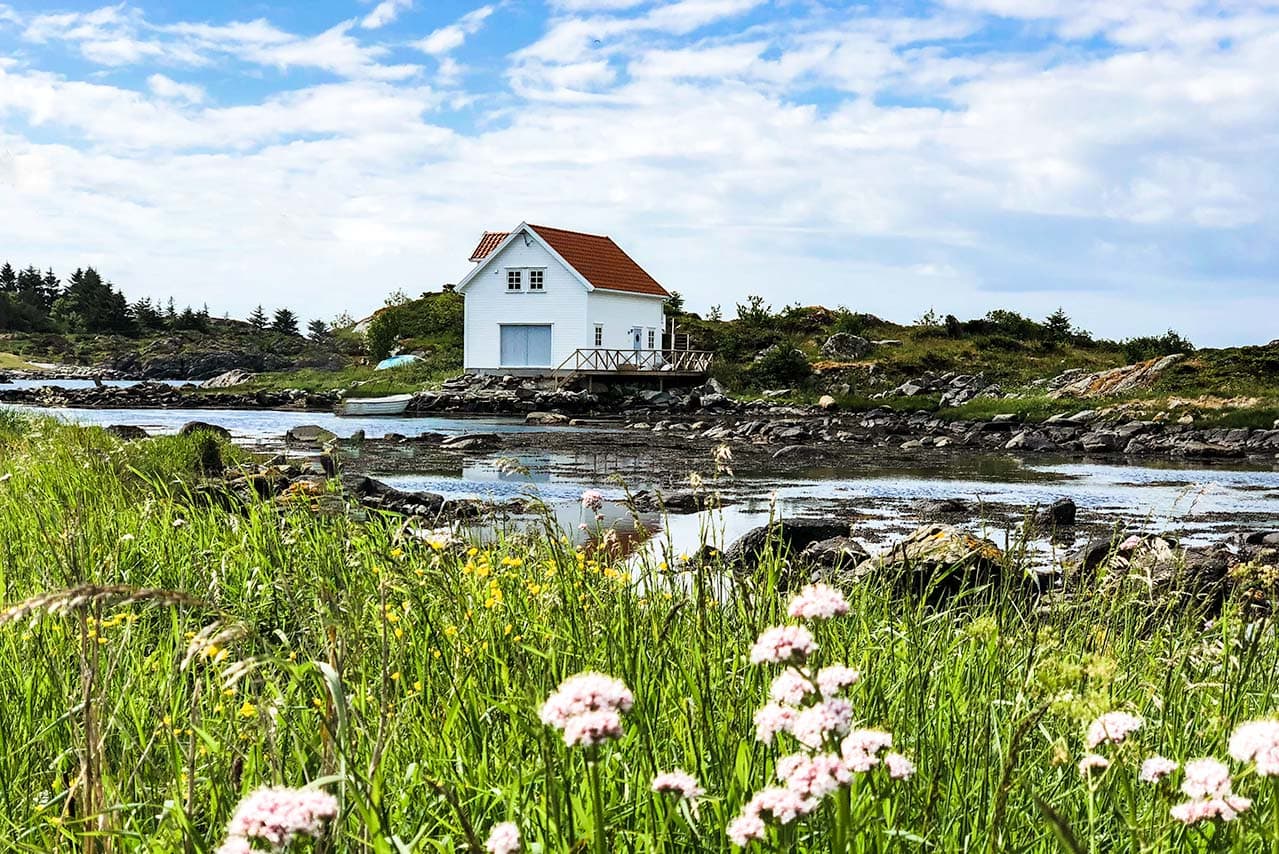 THINGS TO DO IN SKUDENESHAVN … THAT'S A WRAP
It's hard to forget her when she gives you so much to remember. Skudeneshavn swept us up in her warm embrace and we have had a love affair with her ever since.
Skudeneshavn's allure spreads from her coast to her forest. She has an abundant personality and easily satisfies an inquisitive traveller's desire to explore.
With her nautical nuances, stunning coastal plains and boundless beautiful countryside of forests and lakes – Skudeneshavn may just steal your heart too.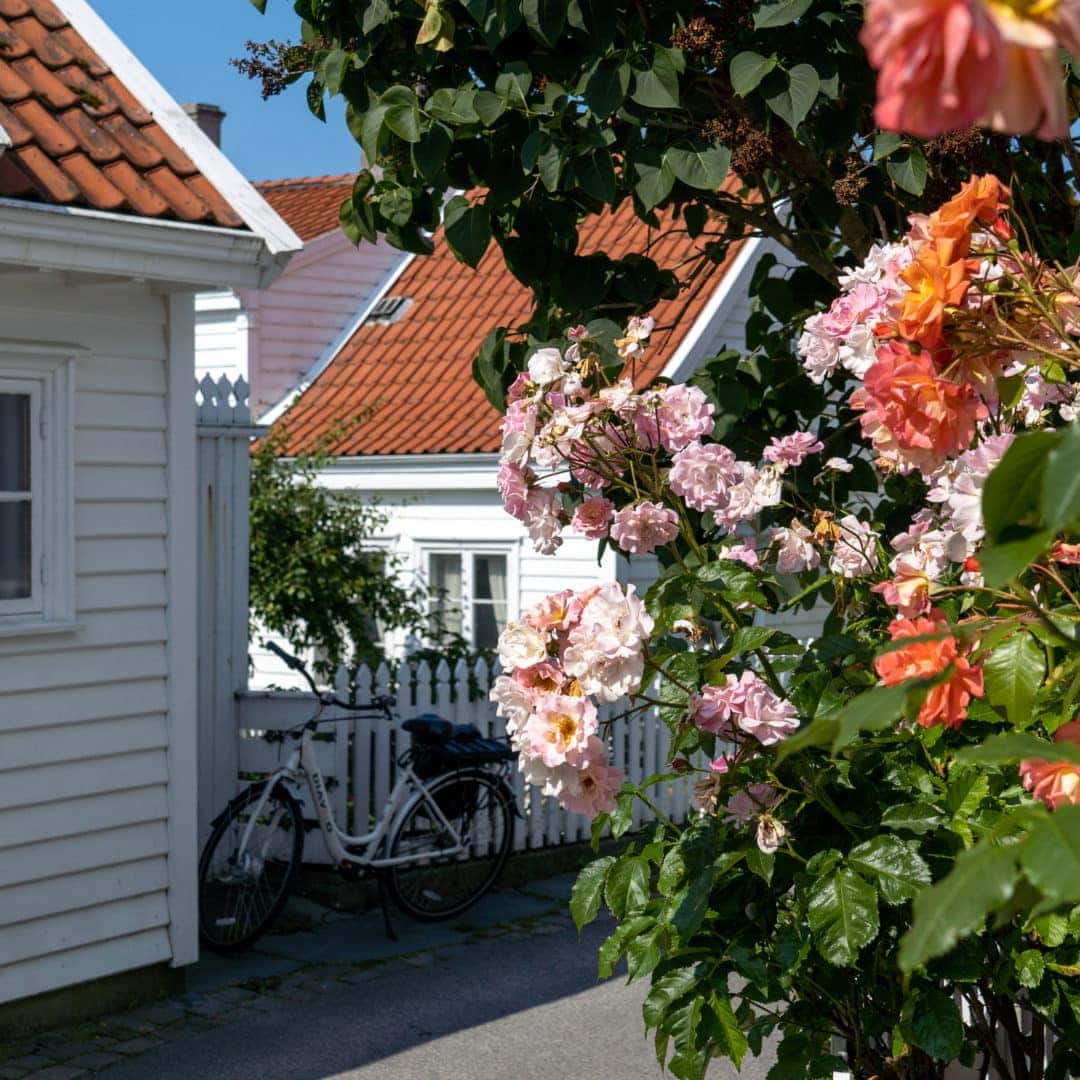 ---
What would be the first thing to do on your list if you visited Skudeneshavn?
If you've been here, are there any places you think should be added to our list of things to do in Skudeneshavn and Karmoy?
As always we're happy to answer any questions you have.
---
Pin and Save for Later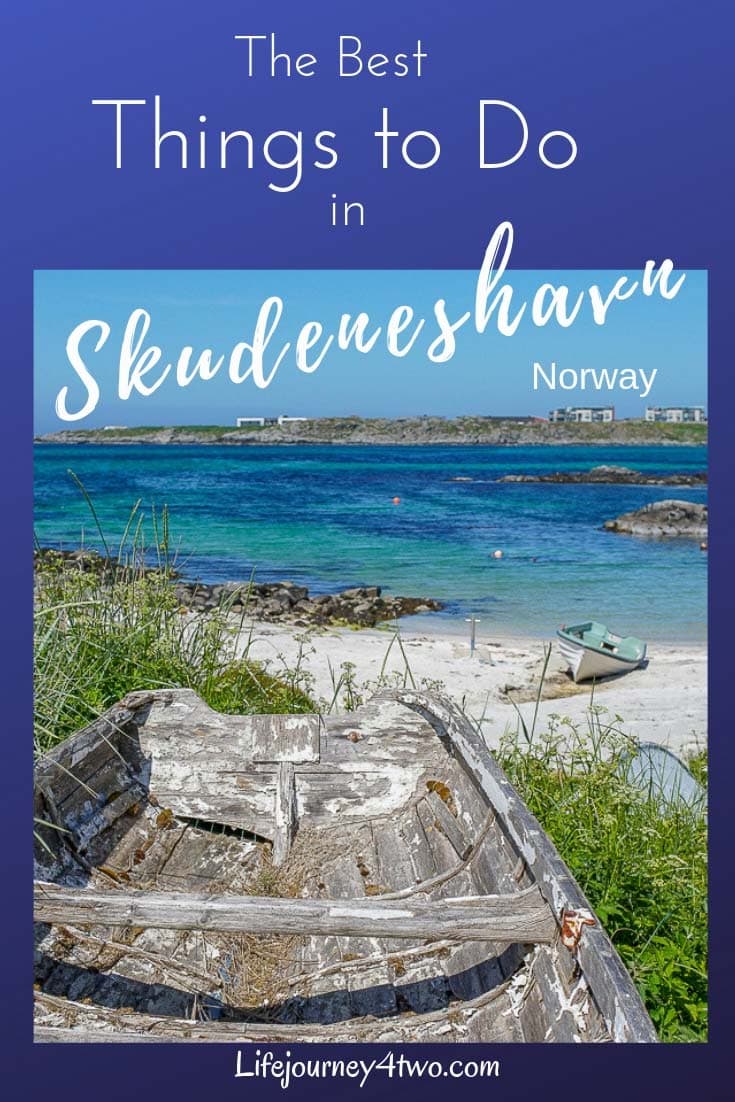 YOU MAY ALSO BE INTERESTED IN READING:
---
PLANNING YOUR TRAVELS?
These are some of the travel resources we use when planning our trips.
For a more thorough list visit our Travel Resources page here.