Some posts on this site contain affiliate links meaning if you book or buy something through one of these links, we may earn a small commission. Read our Disclosure Policy here.
PRINCE ALBERT AND ITS SURROUNDS
If you find yourself on the edge of the Karoo desert, four hours northeast of Cape Town, then you may have been lucky enough to stumble upon the small town of Prince Albert.
We were one of those lucky ones, living there for over five months.
If you happen to find yourself in Prince Albert, a town that wouldn't look out of place on front of an olde-world fudge tin, then here are the best things to do in Prince Albert.
What to Do in Prince Albert: Quick Overview
Book into a quaint Old Victorian style B&B
Admire Prince Albert town's Architecture
Drive in the rugged Swartberg Mountains
Tour Prince Albert's Bin Art
Watch a Show in the iconic Showrooms
Sample the homemade delights in the local cafes
Visit the local artisans and their shops
Hike in the surrounding mountains
Visit the local dairy for fresh produce
Take an African sunset walk
Be spooked on the local ghost tour
Admire Prince Albert's unique leiwater system
Vist the Fransie Pienaar Museum
Star gaze and try some astrophotography
Tour the local wineries, olive and fig farms
Drive to Meiringspoort Falls
Visit Oudtshoorn and an ostrich farm
Take a visit to Cango caves
Admire the scenery at Gamkapoort Dam
Hire a mountain bike
Hike in the Swartberg Nature Reserve
👉 Check out the thousands of tours and activities available in South Africa here
We decided to take a break from camping and arranged a house sit in this beautiful town. Our timing just so happened to coincide with South Africa's Covid lockdown and our 5-week planned stay morphed into 5 months.
Many South Africans who we'd come across whilst we were heading for Prince Albert, sang its praises.
Words such as charming, historical, Victorian and quaint were tossed around us like confetti, giving us an inviting idea of the place we were to spend five weeks house-sitting.
We were bound for Prince Albert, looking forward to some animal love and to meeting the town giving us a break from 'Bucky', our 4×4 bush camper.
Not that we don't love our camper, Bucky, but to have access to a private toilet, shower and a bed you don't need to climb up into was a luxury we were looking forward to.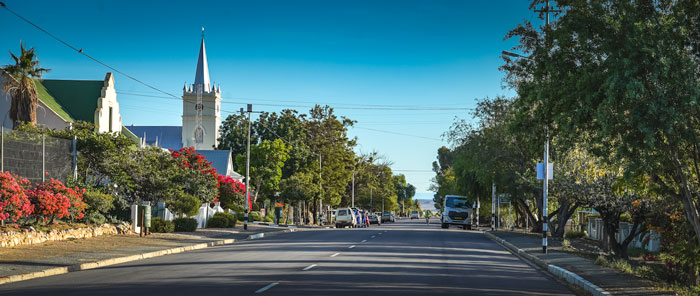 Prince Albert – On the Edge of the Desert
And so it was, that we found ourselves in Prince Albert, a remote town amongst the desert scrublands of the Karoo at the foot of the incredible Swartberg Mountains.
Prince Albert is truly an oasis in the desert that feels rather like a mirage, a town that feels strangely out of place.
You do not expect to find a picturesque Victorian-era town planted among the rather barren low growing scrubs of the Karoo desert, but there it is nonetheless.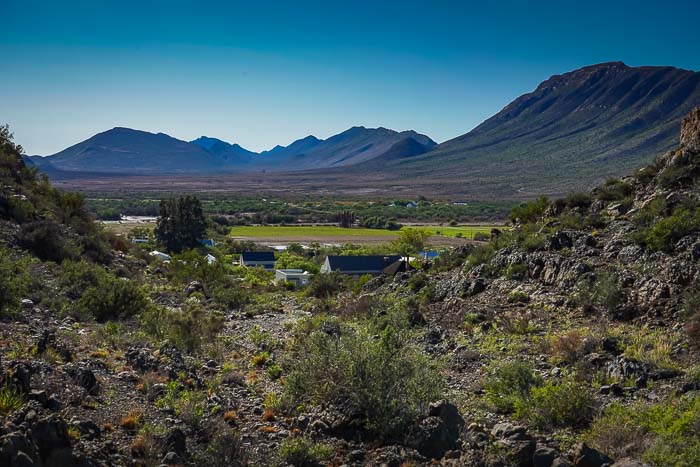 Whether you are visiting Prince Albert just for a day or a week or two, it is a place that once under its veil of serenity and calm, you'll want to rest there a little longer.
It is a place to escape to.
A sanctuary amongst the surrounding mountains.
A haven to shelter in to enjoy nature, relaxation and all that this pretty town and its surroundings offer.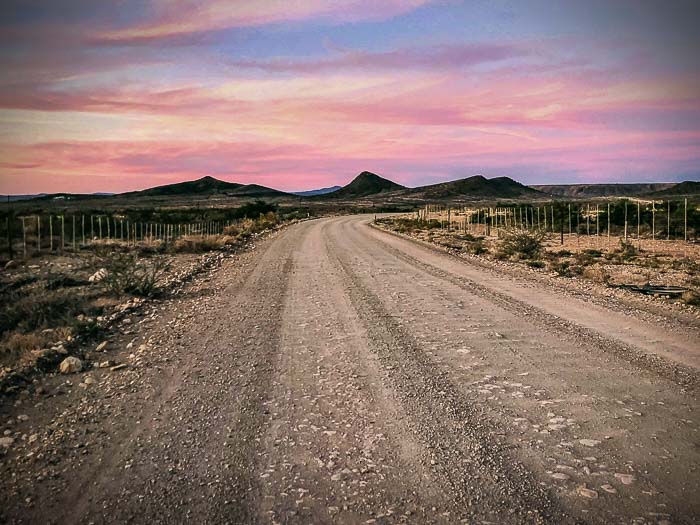 Sunset in Prince Albert
Two weeks into our house sit, South Africa went into strict lockdown due to the Coronavirus pandemic. Our five weeks in Prince Albert became five months.
Although being in Prince Albert in times of Covid-19 restricted our thorough exploration, five months gave us ample time to get the 'vibe' of this town.
Unlike in many towns of South Africa, there aren't any high-security fences with barbed wire here in Prince Albert. Many locals leave their windows open and doors unlocked. There is no fear of assaults or carjacking.
Prince Albert is a safe town — a town with morals and values and ethics.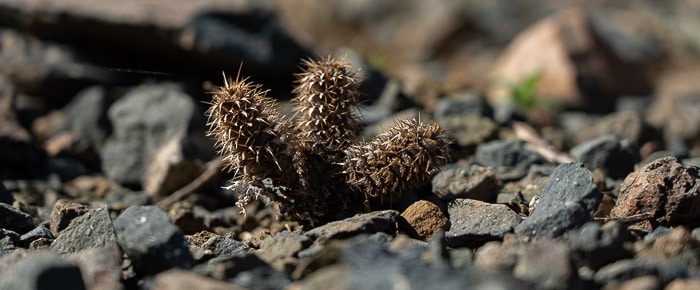 There are plenty of things to do in Prince Albert and its surrounding area. And hopefully, you'll be there long enough to also feel the heart of the town — the pride of the locals, their interesting stories and their bottomless generosity and friendliness.
There is a sense of solidarity in Prince Albert, often missing in many parts of South Africa where the divides between white and black seem too marked and too broken.
We hope you enjoy your time there as much as we did.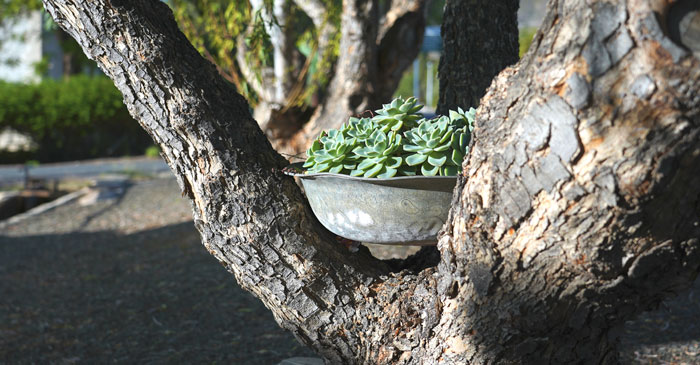 INTERACTIVE MAP FOR THINGS TO DO IN PRINCE ALBERT
HOW TO USE THIS MAP
To use this map, expand it using the square symbol on the top right-hand side and you will find the key on the left-hand side. Prince Albert's things to do are marked with purple icons and the surrounds are marked in yellow.
Cape Town is about 4.5 hours to the southwest of Prince Albert and the nearest major city is George, about 2.0 hours south along the well-visited Garden Route.
THINGS TO DO IN PRINCE ALBERT AND KAROO SURROUNDS
As you drive along Prince Albert's main street, Church Street, you find your head constantly turning from left to right. The quaint Victorian and Edwardian style architecture, the Karoo cafés inviting you to try their daily specials and the curios, museum and galleries that line the thoroughfare of the town, all tastefully tout their presence.
(Note: We did do most of these but for the benefit of you as our reader, we have included activities that are available but we were unfortunately unable to do due to lockdown and Covid restrictions – we have noted which we did not do for transparency sake).
1. BOOK INTO ONE OF THE MANY BEAUTIFUL B&BS
There are plenty of B&Bs and guesthouses to choose from in Prince Albert and we would definitely recommend choosing one with a garden – especially if you are a keen birder.
Being in lockdown for five months, we were kept gainfully entertained by the numerous birdlife that frequented the garden.
READ MORE: for more photos of these beautiful birds in Prince Albert.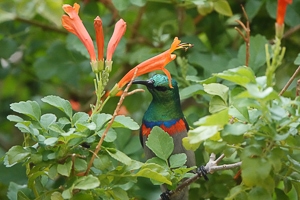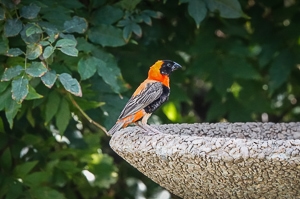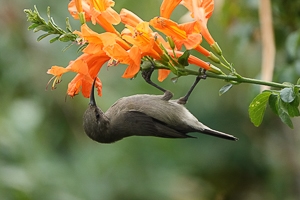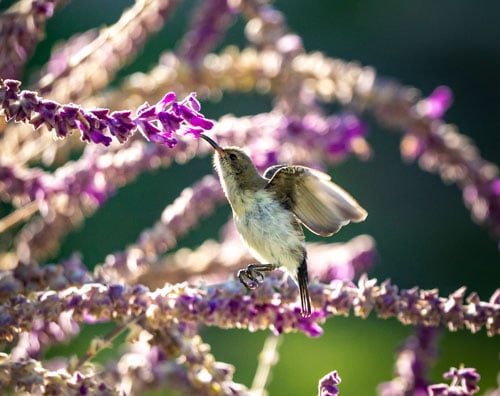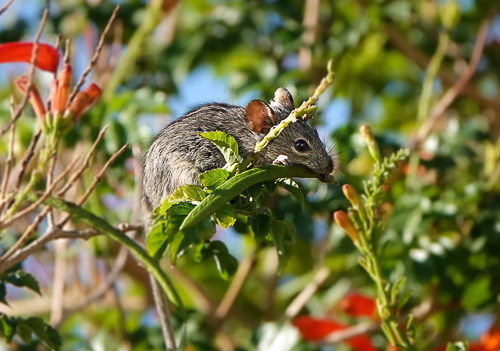 There aren't only birds in the Prince Albert trees …
🛏 Find beautiful guesthouses and hotel accommodations in Prince Albert: click here.
2. ADMIRE PRINCE ALBERT'S ARCHITECTURE
Wander the tree-lined streets of Prince Albert and admire the mix of Victorian and Edwardian architecture, along with the Cape Dutch and Prince Albert gables. (the former being the more ornate of the two).
Prince Albert also has 17 Provincial Heritage Sites listed – one of which is the Swartberg Hotel found in the centre of town.
The Prince Albert Dutch Reform Church takes pride of place along the aptly named main street, Church Street.
You can get more details about the listed buildings from the Prince Albert tourist office, on Church Street.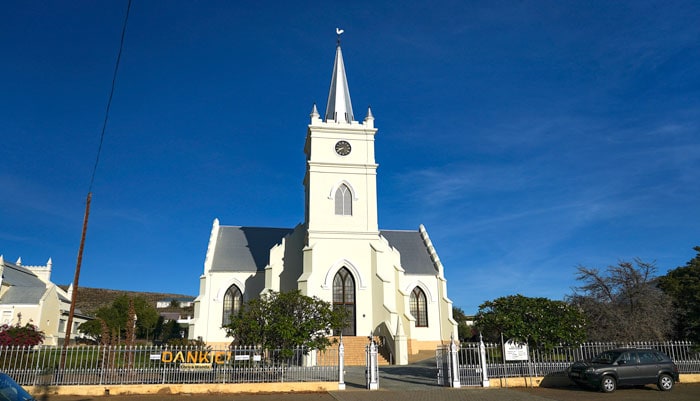 Prince Albert Dutch Reform Church
3. DRIVE IN THE SWARTBERG MOUNTAINS
There are two main ways to get to Prince Albert – through the Meiringspoort Pass or the Swartberg Pass. Both are beautiful drives in their own right but if you like a little more adventure then the Swartberg Pass isn't to be missed.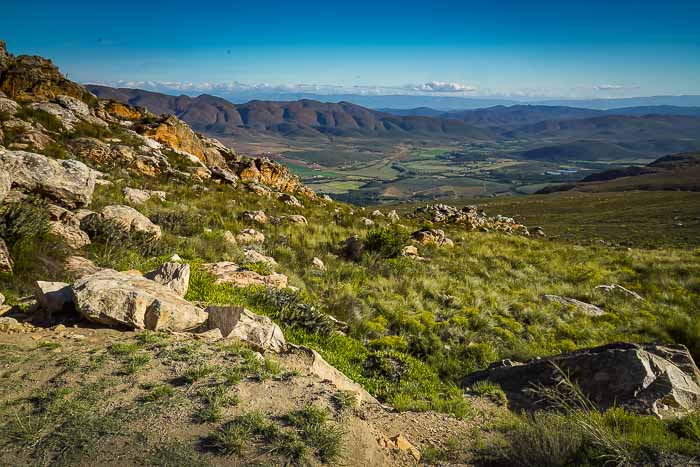 Views on the Swartberg Pass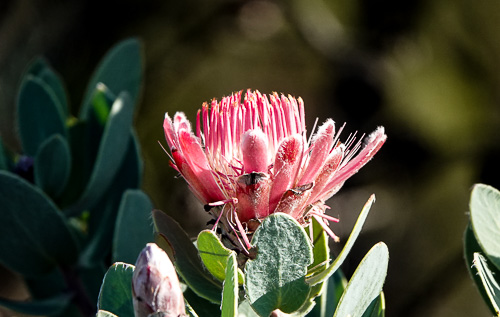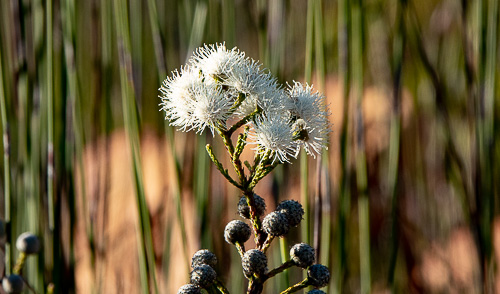 The Swartberg Pass, just 5km from Prince Albert, is a UNESCO World Heritage Site and apart from its stupendous views and many rare species of plants, if you are lucky, you'll come across one of these cute klipspringers.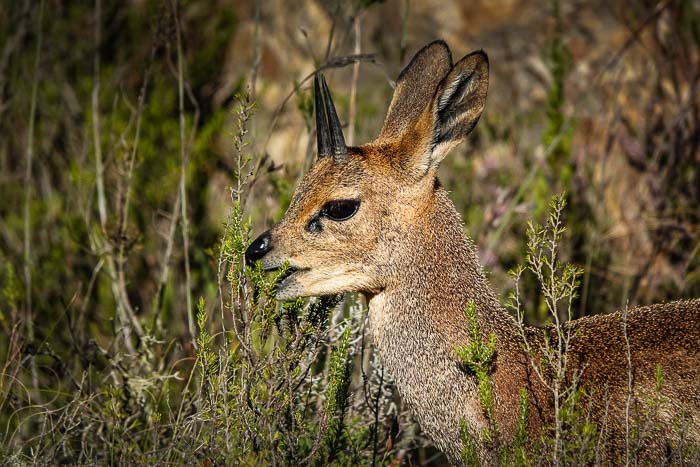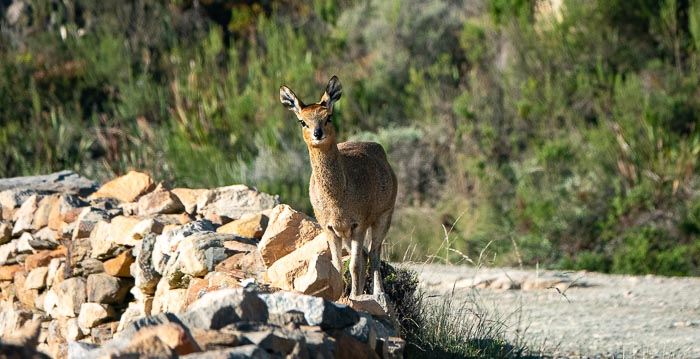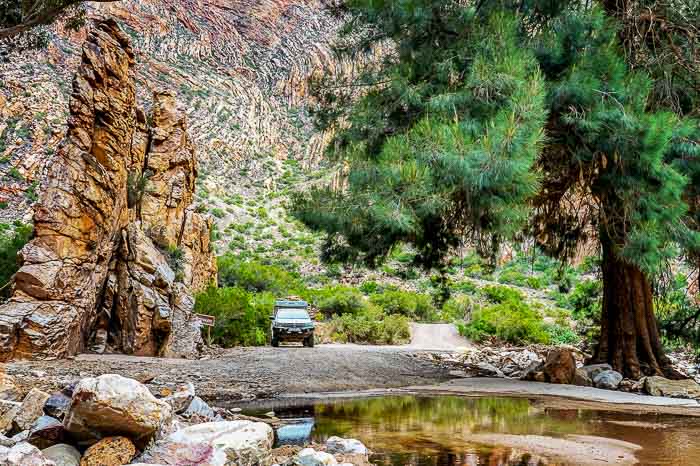 Swartberg Pass (the part near the Prince Albert end)
4. TOUR THE 'BIN ART'
In 2012 Prince Albert celebrated 250 years since it had been founded in 1762 and local artists and schoolchildren decorated the bins as a celebratory project.
Therefore, while wandering through Prince Albert you can find 107 bins embellished with some form of art – an interesting take on street art.

Street art on the bins in Prince Albert
5. SEE A SHOW OR A MOVIE IN PRINCE ALBERT'S SHOWROOM
Decorated in Art deco style the Showroom Theatre seats 140 and has an HD movie screen. It is used for cinema screenings as well as being a venue for live performances.
For a schedule of what is showing, times, dates and prices click here.
6. SAMPLE THE CULINARY DELIGHT IN THE RESTAURANTS AND CAFES
There is certainly no shortage of cafes and restaurants along Prince Albert's main strip.
One of the most popular with residents and travellers alike is the Lazy Lizard, an unpretentious café on the left as you enter the southern part of town. Here, you can sit outside in the shade and enjoy their famous apple pie or partake in their just as delicious carrot cake that people come from miles around to try.
We can attest that both hit the spot. And I have to say, carrot cake was consumed more often than was probably healthy during those five months – but when in lockdown…?
The Lazy Lizard also do a great takeaway menu on Monday (Burgers), Wednesday (fish and chips) and Sunday (pizza).
Just off the main thoroughfare, on Pastorie Street, you'll find Prince Albert's Bush Pub – we had several meals from there and the food was top notch and plenty of it.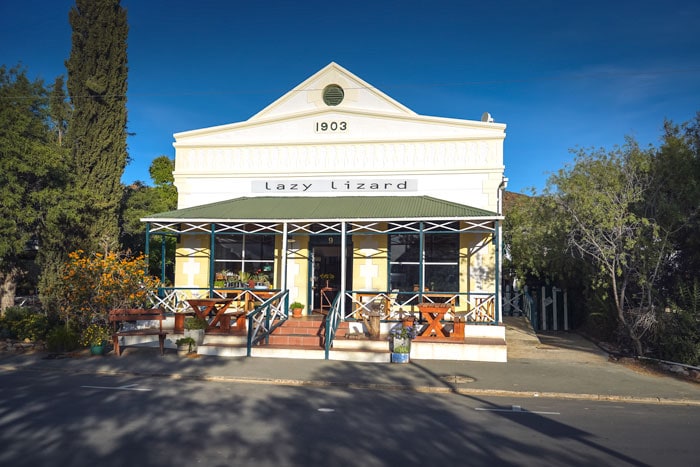 Our favourite local café, the Lazy Lizard, in Prince Albert
7. VISIT LOCAL ARTISANS
At the art galleries and curios shops, you can admire the artwork and handmade crafts of the region.
There is also a women's cooperative run in Prince Albert, Handmade Karoo whereby local women make a variety of handicrafts for sale. Some of their items are on sale in the Lazy Lizard Café and they also have an online shop, so you can order from anywhere in the world and support this fabulous local community enterprise.
Avoova, a local treasure of the Karoo, is a company with its factory (and recently opened shop in Prince Albert), that produces functional home and giftware made from ostrich shell mosaics.
They source the ostrich eggs from either unfertilised or hatched eggs making the process both sustainable and environmentally friendly. You can find Avoova at 16 Magrieta Prinsloo Street, Skaapies Einde, Prince Albert.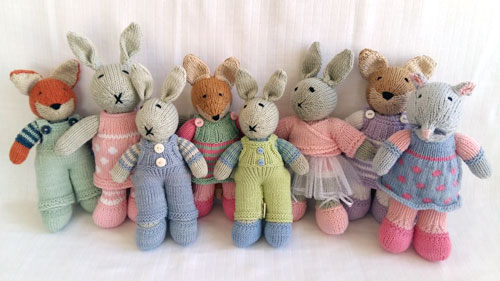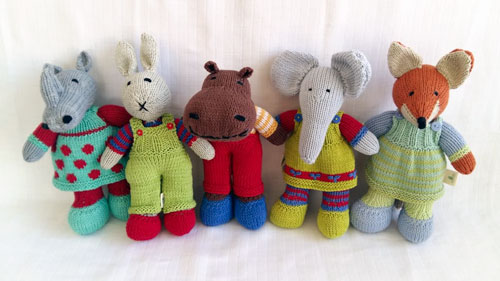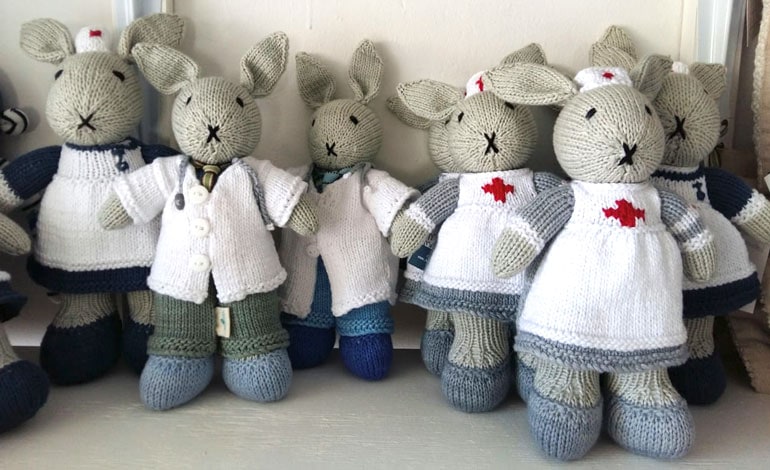 8. TAKE A WALK IN THE MOUNTAINS
With mountains all around, there is no shortage of walks for those who enjoy hiking but if you don't want to go too far, we would recommend climbing the Koppie (hill) at the edge of the town.
The Gordon Trail starts here, and you'll find a pathway up to the top which overlooks Prince Albert. Here you get a wonderful view across the town and the surrounding Karoo desert.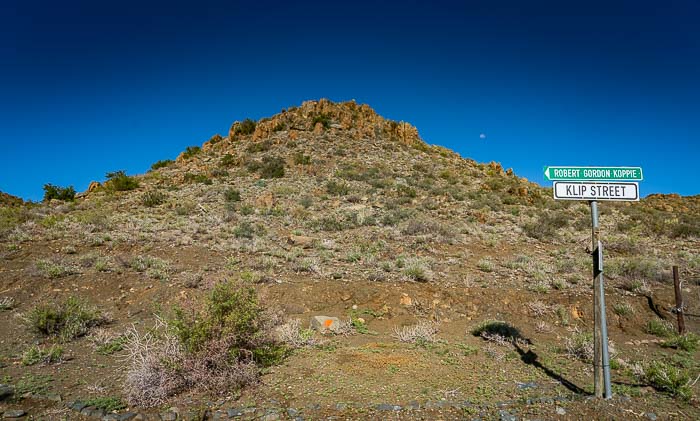 The start of the Koppie Trail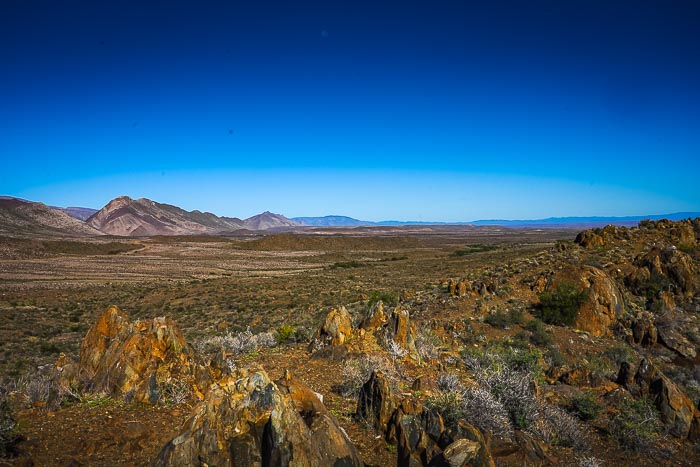 View of the mountains behind Prince Albert's koppie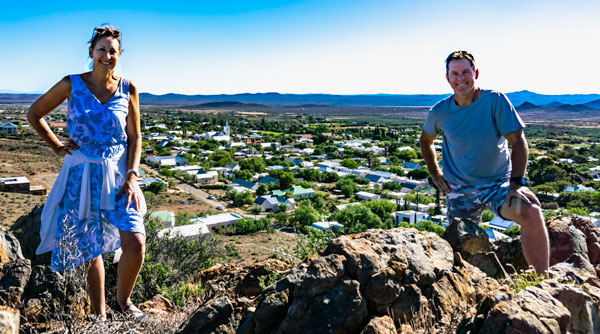 View across Prince Albert from the koppie
9. TAKE A VISIT TO THE LOCAL DAIRY
At the top of town, you'll find Gays Guernsey Dairy. Gay, the cheery owner, started the dairy in 1990 with only three cows, but her family business has now grown to be an integral part of Prince Albert. The dairy supplies many of the local cafes and the local Spar.
You can either take your own container to fill straight from the raw milk pump or buy a prefilled bottle. We stocked up on Gay's fruit yogurts and cheeses – many of which have won international cheese awards. All of the products are natural, unpasteurised and free of hormones and antibiotics.
You can find out more and check opening times here.
10. TAKE A SUNSET WALK
One of our favourite things to do, while living in Prince Albert, was to go for an evening walk along Seekoegat Road. A winding, dusty road that leads into the mountains.
The golden hour along that strip of road is beautiful as the light sets the mountains aglow and sprinkles Prince Albert in gold.

On Seekoegat Road, looking towards Prince Albert town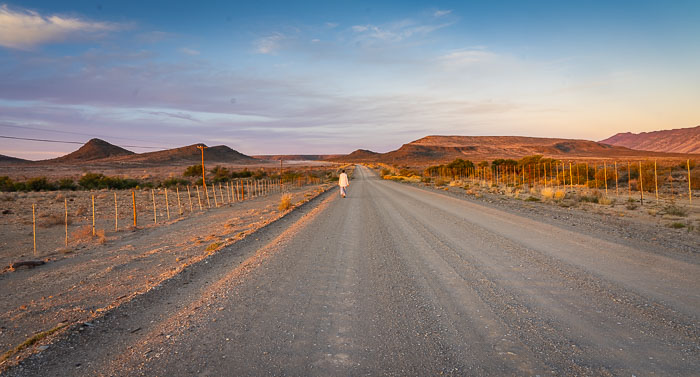 On Seekoegat Road, at sunset, walking away from Prince Albert town
11. TAKE A GHOST TOUR
We had heard, even before arriving in Prince Albert, the rumours of ghosts inhabiting the town. And when you arrive, it does seem to be the type of setting that bodes well for ghostly tales. And no one seems to know the tales and history behind these accounts as much as local story weaver, Ailsa Tudhope.
You can find out more about her tours here.
(We did not take the tour)
12. BE ASTONISHED BY PRINCE ALBERT'S LEIWATER SYSTEM
One of the most interesting systems that operate in Prince Albert and that intrigued us no end was the town's lei water system for irrigation.
Along the sides of the road and along the borders of properties you will see what looks like a canal system.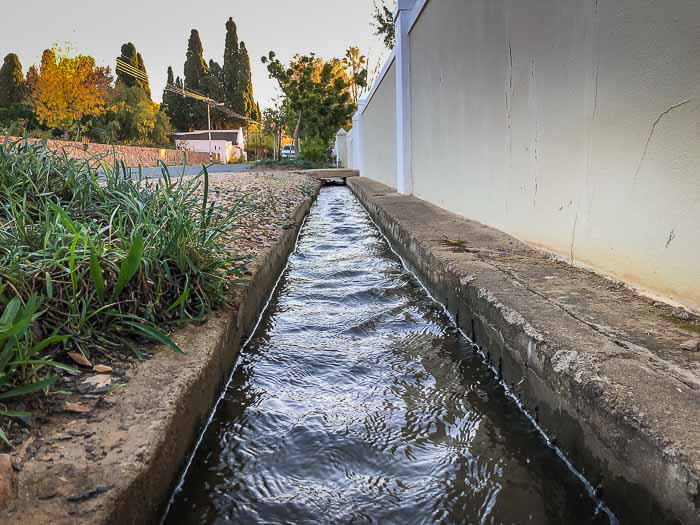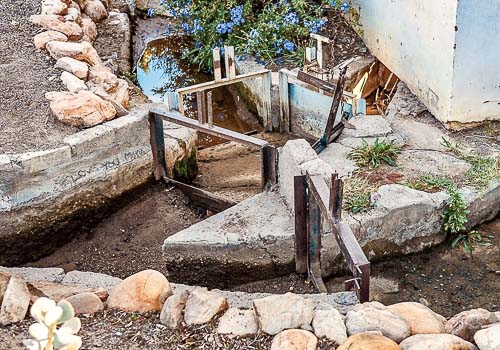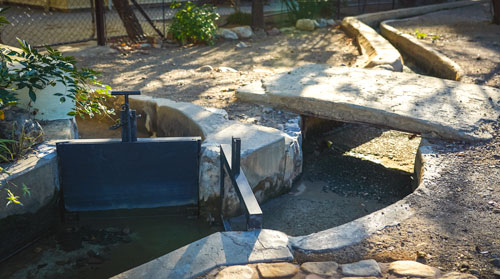 Prince Albert water system, channelling water to the homes from the Swartberg Mountains
These are in fact water channels that link throughout the town providing a continuous source of water to residents with water rights.
The historical Leiwater channels are filled from the water runoff of the Swartberg mountains. Each property has a set day and time in which they can open their water slot and direct the water into their property.
The property then has a holding area from which more channels can be open and closed to direct water into various parts of their garden.
13. VISIT THE FRANSIE PIENAAR MUSEUM
The Fransie Pienaar Museum won the Best Museum in the Western Cape award in 2018. The museum details the history of Prince Albert and the Swartberg Pass and has all sorts of mementos collected through the eras.
Find out more about the museum and opening times here.
(It was closed while we were there due to Covid)
14. STAR GAZING AND ASTROPHOTOGRAPHY
The lack of light pollution in Prince Albert makes it the perfect location to look to the skies. If you are a keen photographer, it is also the perfect place to practise your astrophotography. Lars captured this image of the milky way on Seekoegat road, leading out of Prince Albert. (See Map)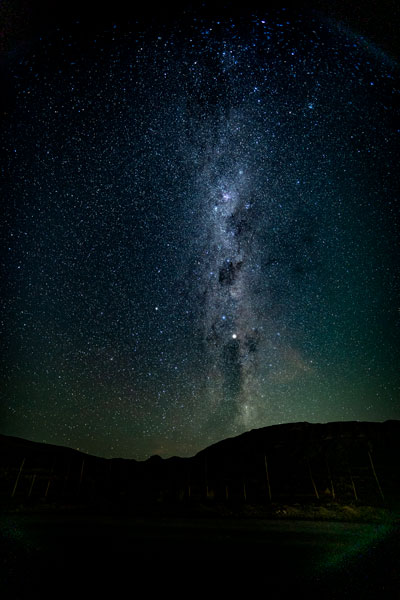 15. VISIT THE LOCAL WINERIES, OLIVE AND FIG FARMS
The area around Prince Albert is known for its culinary specialties of olive oil, figs, apricots, Karoo Lamb, and it also has a couple of wineries.
Locals recommend a visit to:
16. DRIVE THROUGH MEIRINGSPOORT PASS AND STOP AT THE FALLS
Meiringspoort Pass was one of my favourite drives in the area – and we went through it a few times when we had to drive to Oudtshoorn for supplies not available in Prince Albert.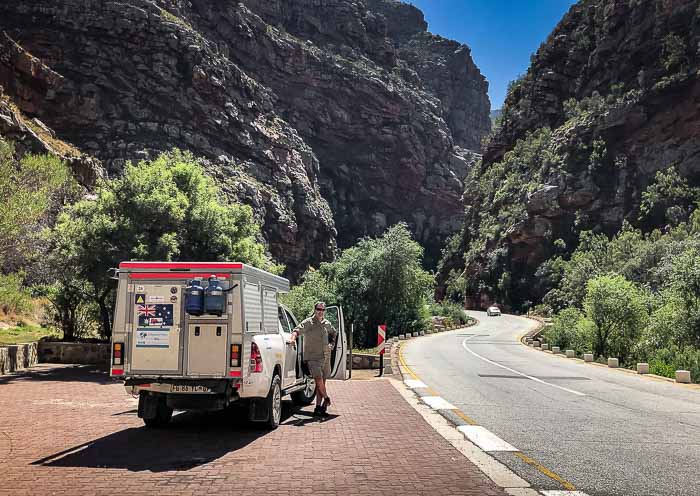 Meiringspoort Pass
The mountains enclose you as you drive through and the shapes, and colours are incredible. There is also a high chance of seeing a troop of baboons — either on the rocky crags above you or playing down by the riverbeds you pass.
Do stop at the Meiringspoort Falls – there is a dedicated car park and a small hut which has posters explaining more about the Falls.
When we were there, it was the dry season, so the falls were more of a trickle, but the scenery was no less spectacular. If you are there on a sunny day — which is likely because the area has a high amount of sunshine, the reflections in the pools are mesmerising.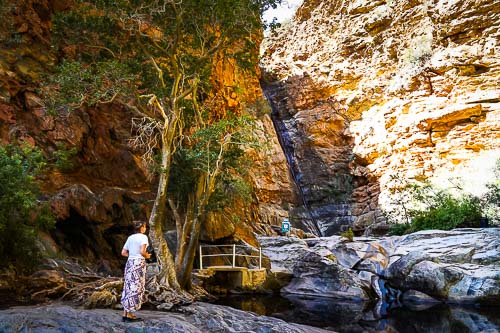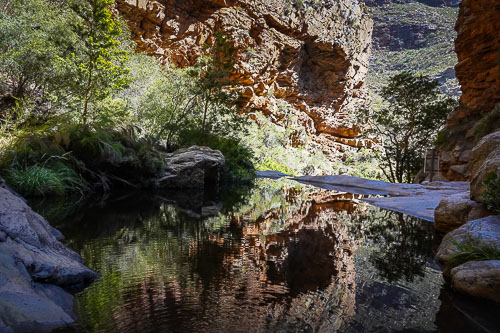 17. VISIT THE TOWN OF OUDTSHOORN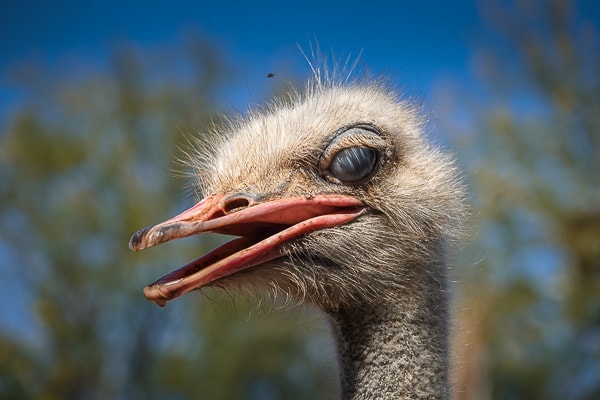 Oudtshoorn is known as the ostrich capital of the world. The town thrived in the late 1800s and early 1900s due to the popularity of ostrich feathers adorning ladies' haute couture across the world.
Oudtshoorn is still famous for its ostrich farming but the rich pickings of the early 20th century, when the price of ostrich feathers almost matched the price of gold, are long gone.
The ostriches are now farmed for their meat (which is low in fat), their leather, and feathers for dusters and the like.
There are several ostrich farms that you can visit in the area to learn more about this flightless bird; we visited Chandelier Ostrich Farm.
For more on Oudtshoorn and things to do while in town click here.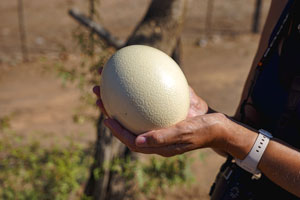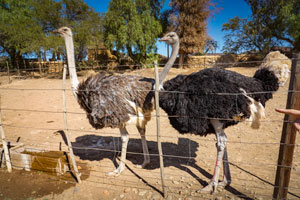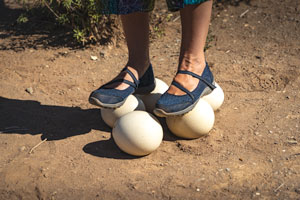 18. VISIT CANGO CAVES
The Cango caves, discovered in 1700 have been forming for 4500 million years. On the tours, you learn about the various formations that fill the caves and the people that once lived in them. There are two tours available, a Heritage Tour and the Adventure Tour (not for those who are claustrophobic, under 6, or with high blood pressure).
For more details check out their website here.
The day we first drove past the Cango Caves was the first day it closed due to Coronavirus. So, unfortunately, we weren't able to visit the whole time we were nearby.
19. VISIT GAMKAPOORT DAM
Many locals in Prince Albert suggested we take a trip to Gamkapoort Dam. Just follow the signs they said.
Lars was keen on getting a sighting of the Fish Eagle that we'd heard frequented this part of the Karoo so we set off along Magrieta Prinsloo Street (just off Church Street).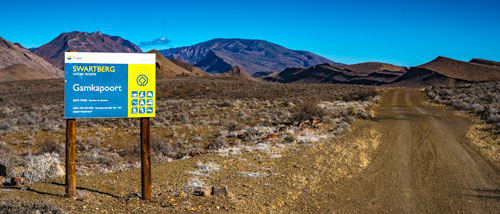 At least we found the Gamkapoort Reserve … now where is the dam?
We followed the signs and our directions on google maps but we never did find the dam that day and finally gave up our search after travelling along one road that was too rocky and another that just seemed to disappear.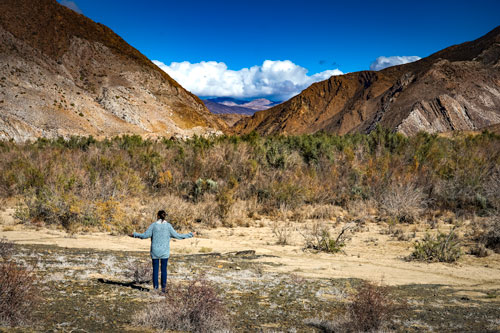 We did enjoy the tranquillity of the Karoo landscape, but never found the Dam …
GAMKAPOORT DAM: WHAT WE NOW KNOW
Later, we found out that had we continued along the road (the left fork) which we thought was too rough (and therefore couldn't possibly be the way), we would have come across the dam with a short walk for the view. However, we had doubled back and took the other road, which came to a dead end.
That dead-end was actually just in from of the river edge, but due to the drought, the water was so low that we couldn't see it. The green trees were evidence there was some kind of water flow there, but definitely not a dam;)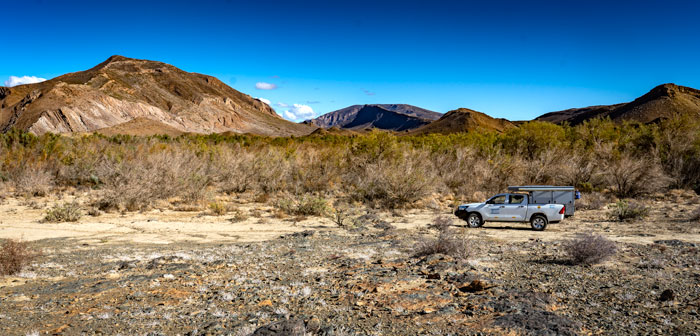 When you enter the reserve, coming from Prince Albert, the roads lead to a remote part of the dam. The road was initially used to access the temporary construction village when the dam was being built.
The last few kilometres are a rough track so you will need a 4×4. Once in the reserve, you will come across a fork in the road. The left fork takes you to where we were trying to get to and the right fork takes you where we ended up.

Once in the Reserve, the left fork leads to the dam – the right to the river.
A Prince Albert local, Jonathon Spence, told us that visiting the dam,
"…won't provide a great shore experience, although the juxtaposition of the harshness and the almost certain utter solitude is atmospheric. One might get to do a bit of 4x4ing to get there. Some non-motorised watercraft is the best bet."
He also kindly provided us with these incredible pics of the dam.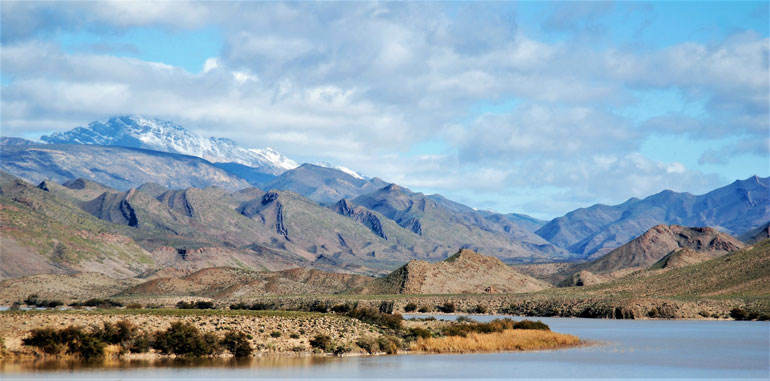 Note: if the area has been in drought or it is summer then you might not see much water. Also, what might seem to be a bone-dry dam bed is often just a crust over gooey mud that could suck down a vehicle or person, making escape extremely difficult.
There is also another route, (the main route) that takes you to the other side of the dam on the R62 turning inland between Calitzdorp and Ladismith – this route takes you through the scenic pass of Seweweekspoort Pass.
I guess we need to go back and try this route next time.
20. ENJOY A MOUNTAIN BIKE RIDE
Mountain or gravel bike riding is popular in the area, including foodie/ride combos. Imagine yourself on a remote gravel road disappearing over the horizon.
The go-to guy is Arno Botha at Prince Albert Cycles who can make all of this happen.
Additionally, MTB Africa (based in Prince Albert) runs a three-day, social, cycling and culinary experience, for limited numbers. They include luxury accommodation, excellent local cuisine, wines and craft beer in their Karoo Gravel Grinder events.
21. TAKE A HIKE IN THE SWARTBERG NATURE RESERVE
The hiking trails in the Swartberg Nature Reserve include a variety of terrains, ranging from easy to very rugged.
They are self-guided but you need to get a permit from Cape Nature.
THINGS TO DO IN PRINCE ALBERT … THAT'S A WRAP
Prince Albert town was home for five months and the perfect place for us Aussies to chill during a Coronavirus Lockdown. But now that travel is on the cards again, it's a great place for both South Africans and tourists to visit.
It's only two hours north of the renowned Garden Route, and certainly a spot we would recommend adding to any road trip itinerary.
With so many things to do in Prince Albert and its stunning mountain surroundings, it's the ideal destination for nature lovers and those looking for a relaxed and laid-back break away from it all.
We absolutely loved our time in this gorgeous gem of the Karoo.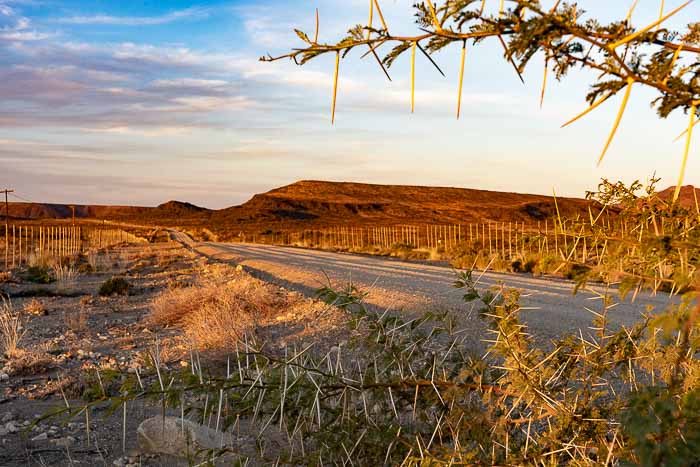 The golden hour in Prince Albert
As always please ask us any questions and we'd love to hear from anyone who has visited Prince Albert and your favourite thing to do, see or visit either in the town itself or surrounding areas.
Pin and Save for Later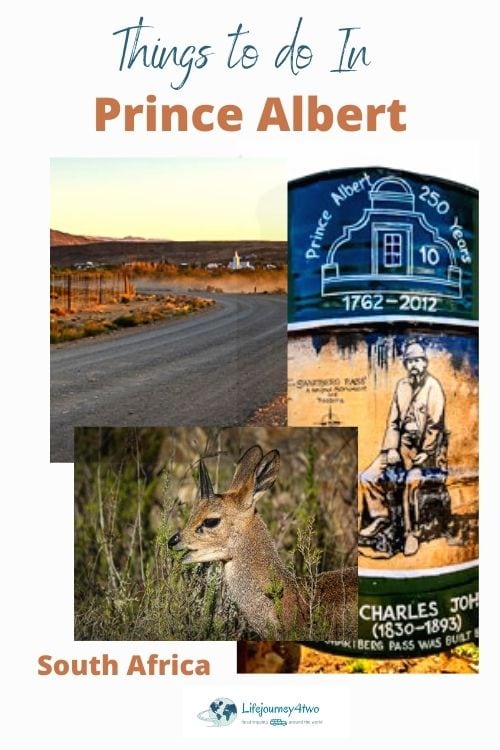 YOU MAY ALSO BE INTERESTED IN READING…
PLANNING YOUR TRAVELS?
These are some of the travel resources we use when planning our trips.
For a more thorough list visit our Travel Resources page here.