Some posts on this site contain affiliate links meaning if you book or buy something through one of these links, we may earn a small commission. Read our Disclosure Policy here.
4×4 SOUTH AFRICA
It was our dream to travel to Africa. And what better way, than to plan an open-ended Africa road trip across this incredible continent. The first adventure was to 4×4 South Africa.
Oh, the places you'll go to and the sights you'll see.
Getting off the beaten path on a self-drive safari is freedom at its best.
Our first decision, as foreigners, was deciding whether we should rent or buy a 4×4 South Africa vehicle.
So, if you are travelling to South Africa, this article will help:
Explain the benefits of driving a 4×4 vehicle over a 2×4
Where to purchase or rent a South Africa 4 x4 vehicle?
Make your decision as to whether to buy or rent a 4×4 overlanding vehicle in South Africa
Explain how, as foreigners, we bought and own our South African 4×4
Equipment considerations for a 4×4 South African vehicle
Upgrades completed on our 4×4 in South Africa
Should you consider an accredited 4×4 training course in South Africa?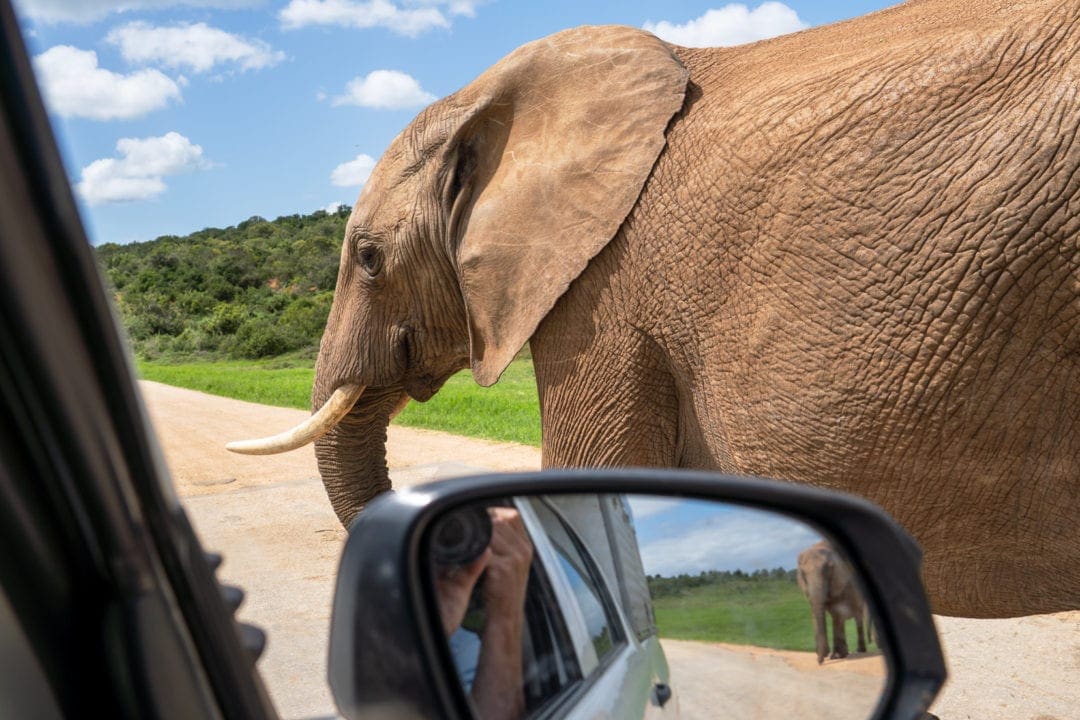 >>> READ MORE: Driving in South Africa: The Definitive Guide
RENTALS: SHOULD I CONSIDER A SOUTH AFRICAN 4×4 RENTAL OR A 2×4 RENTAL?
The benefit of travelling in a 4×4 over a 2×4 is that you have the freedom to go almost anywhere where you want. If your plan is only to visit the main National Parks, for example, Kruger National Park, then a 2×4 vehicle would suffice. But if you want to explore more of the country, and want to maximise your opportunities and get off-road to lesser travelled locations then a 4×4 is a must.
Off-road or on-road, in wet, dry, rocky, muddy or sandy conditions, 4x4s are made to tackle the harsher terrain.
Advantages of a 4×4 are:
Improved height advantage over normal sedans, meaning you will have better game viewing,
Improved ground clearance and
Off-road vehicle specifications enable the vehicle to handle tougher conditions.
READ MORE: Kruger Safari Accessories — a list of our thoroughly road-tested self-drive safari extras we wouldn't be without.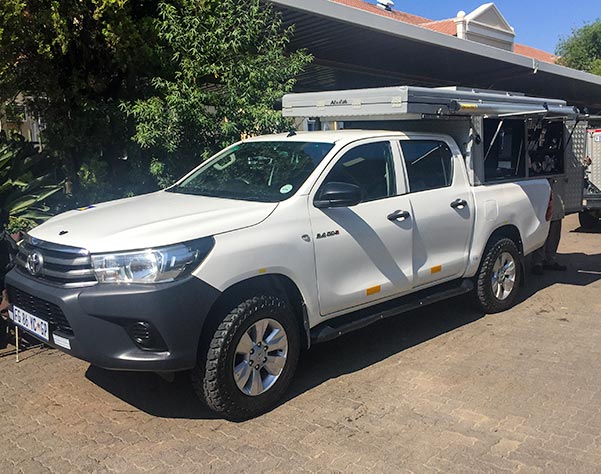 WHERE TO RENT OR PURCHASE A 4×4 SOUTH AFRICA
There are a few 4×4 rental companies in South Africa. Have a look at the online reviews of each business and call them to talk through what you need. This will give you a gut feeling about them, whether that be good or bad.
We ended up dealing with Bushlore which has its main office in Johannesburg, South Africa. They have a large 4×4 rental fleet with support offices in most of southern Africa: South Africa (Capetown, Johannesburg), Namibia (Windhoek), Botswana (Maun, Kasane), Zambia (Victoria Falls) and Zimbabwe (Victoria Falls).
The major drawcard for us was that Bushlore retire their pre-equipped 4×4 vehicles and put them up for sale.
(Note: we have no affiliation with Bushlore).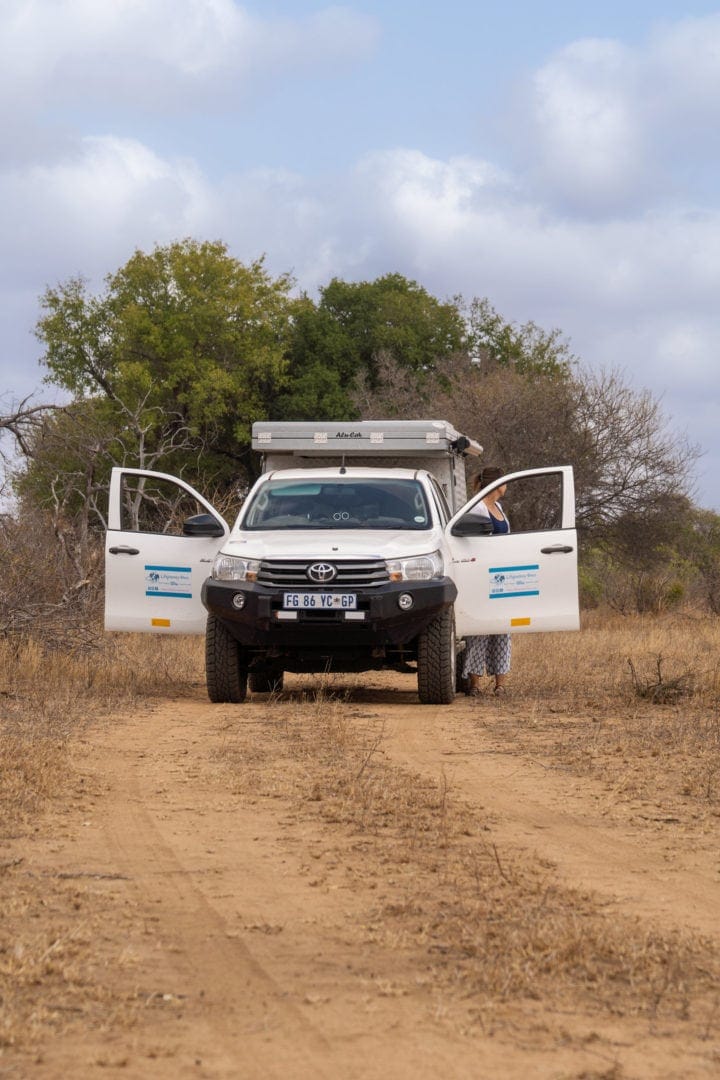 RENTING THROUGH BUSHLORE — COSTS AND VEHICLE OPTIONS
The go-to man at Bushlore (the Johannesburg branch, South Africa), when you want to rent or buy, check out pricing or simply have someone 'local' answer your queries, is the ever-helpful Dieter Marx ([email protected]).
For shorter-term travel, rental is the obvious option. You can check out Bushlore's rental vehicles and rates here.
Just a quick note, Bushlore offer a minimum rental period of 5 days for rentals within South Africa and a minimum rental period of 7 days for rentals outside of South Africa. All quotes are based on the vehicle being hired from and returned to, Johannesburg (South Africa) with intended travel through the countries of Namibia and Botswana.
For me and I am guessing this applies to most of us longer-term travellers, buying is definitely the most cost-effective option. But for those with limited time, then rental is the way to go.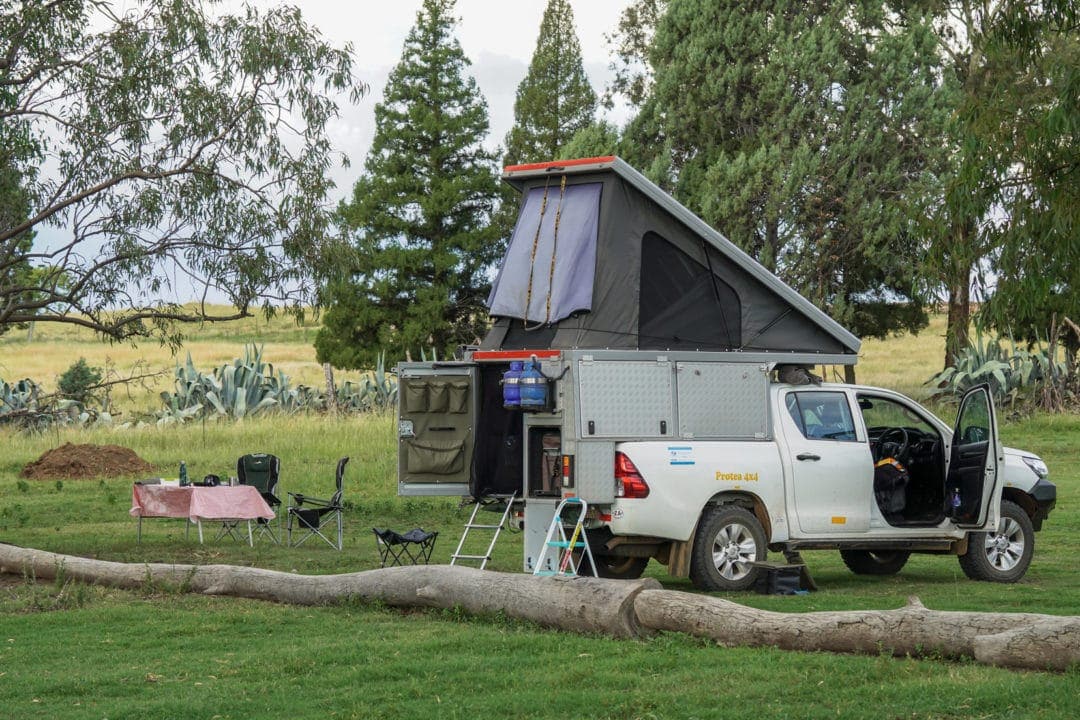 OUR DECISION: PURCHASE A VEHICLE TO 4×4 SOUTH AFRICA
We are long-term travellers and decided that 4×4 rental was not feasible for us and decided to purchase a 2016 double cab 4×4 Toyota Hilux pre-fitted bush camper in South Africa (cost was ZAR 395,000).
For us, this was the most cost-effective means of transport for our long-term travel plan in Africa.
It allowed us the freedom to go where we wanted when we wanted. We were also able to fit out the 4×4 exactly how we wanted it.
The cost was ZAR 50,000 and included:
Replacement steel front bumper,
Rock-sliders,
Fabrication and fitment of a fixed aluminium ladder to access the rear accommodation part (the original method was to use a stand-alone step-ladder which we had to place into position. It wasn't that stable and it was only a matter of time before one of us would have tripped up causing a fall),
3x weatherproof canvas side-panels that fit onto the existing pull-out canopy to create an extra 'room' for protection from the sun, wind and rain,
Removal of the back seats and addition of an aluminium security box plus the fitment of ammo boxes for food storage (canned goods),
Fitting out of the accommodation part of the vehicle with a cargo net for clothes, canvas multi-pocket storage for smaller loose items and securing the mounting bracket for a 20-litre Lifesaver filtered water container.
It's worth a mention, that we were offered the single cab Toyota Land Cruiser, which is the ultimate vehicle for extreme 4×4, just as good for camping and ready for any 4×4 trail, but the Hilux was tough enough for us, cheaper and the money we saved, we put towards the upgrades.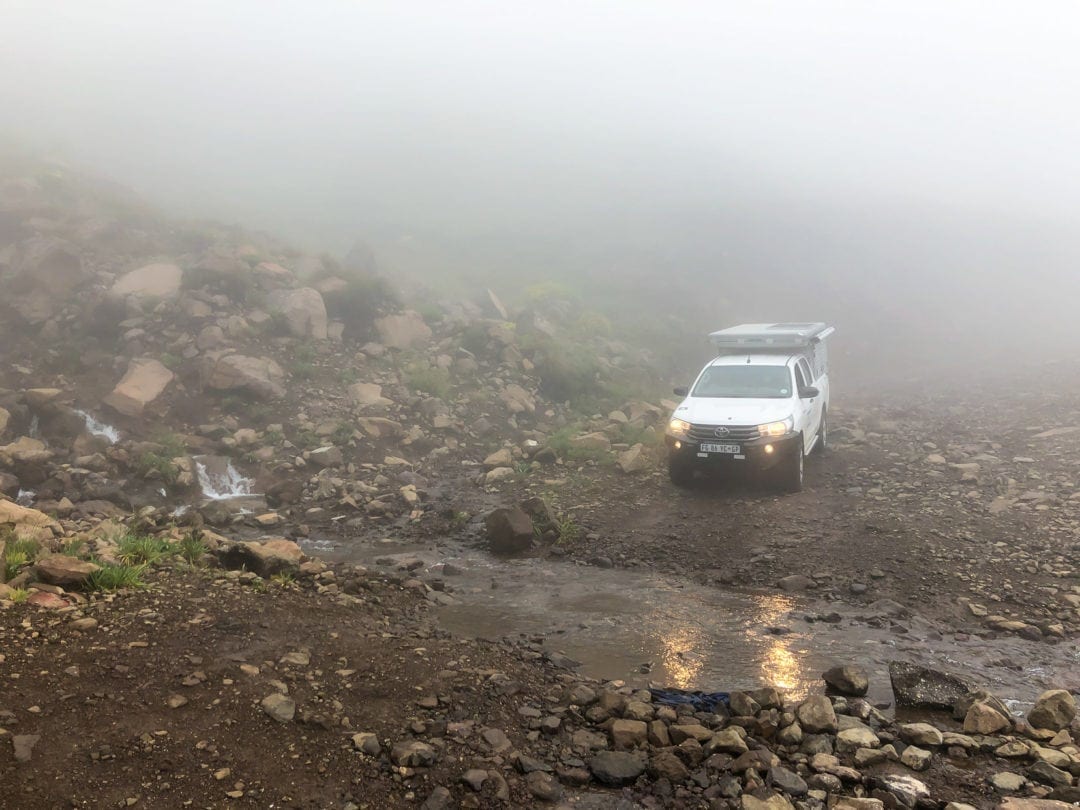 BUYING AND REGISTERING A 4×4 SOUTH AFRICA VEHICLE AS A FOREIGNER
We agreed to purchase the 4×4 through Bushlore.
Entering into a 12-month buyback agreement with Bushlore meant that although we had bought the vehicle outright, on paper the ownership and registration would be retained by Bushlore. This was due to us being foreigners and not having either a South African driver's licence or a Traffic Register Number (TRN).
Under this buyback agreement, when our first year with the 4×4 had expired, we could choose to either: opt to sell the 4×4 back to Bushlore, sell to a South African citizen or keep the 4×4 ourselves. A year was nowhere near long enough for the travels we had planned, so we had every intention of keeping the vehicle.
Bushlore would then arrange a TRN for us, meaning that they would transfer ownership of the 4×4 into our name but Bushlore would maintain the ongoing vehicle registration in their name, leaving us to find our own South African vehicle insurance provider.
Buying a vehicle sight unseen, from a foreign country, is potentially a risky venture but Bushlore was simply fantastic to deal with. We had a lot of emails back and forwards followed by a couple of calls. They took the time and walked us through the whole purchasing process.
Honestly, it all went really smoothly without any hiccups. I would have absolutely no hesitation in recommending Bushlore when either renting or buying a 4×4 South Africa vehicle. You can check out Bushlore's pricing on their different second-hand 4x4s.
Update: as of September 2022: Bushlore have informed me that they have temporarily halted the buyback program as their new fleet of 4×4 vehicles has low mileage and will not be retired in the near future. They expect the buyback scheme to be revived around May 2023.
In line with this, Bushlore is also temporarily unable to assist foreigners in acquiring a TRN for vehicles bought from Bushlore.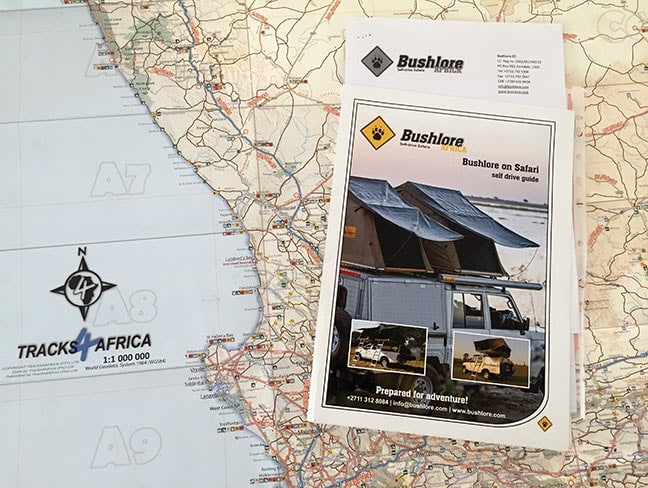 VEHICLE OWNERSHIP TRANSFER (1 YEAR LATER)
(Updated Feb 2021)
Approaching the end of the year buyback period, we had much of Africa still to explore so it was a no-brainer to move ahead and take ownership of the Hilux and forego initiating the buyback agreement. We were in Norway at this time so all this was done remotely relying on Bushlore who, again, came through for us.
Bushlore arranged for my own TRN, which allows a foreigner to purchase and own a vehicle in South Africa, at a total cost of R3000. So I was a step closer to ownership. But at this point in time, our Hilux, although bought outright a year ago, still remained in Bushlore's name.
The next step was to arrange my own vehicle insurance; without this, the vehicle ownership transfer could not take place. I did some research and tried my luck with some South African insurance companies but I was told that without a South African ID number, I could not proceed.
I took to the Overlanding Africa group on Facebook, a treasure trove of useful information by super helpful people, and put my question on the forum.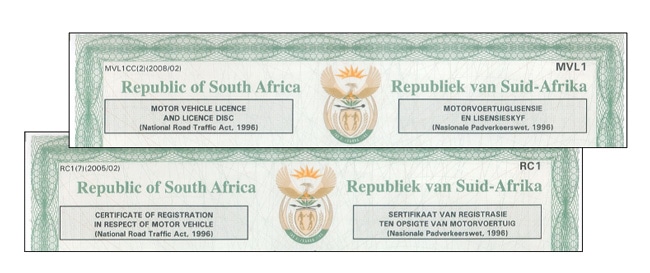 After following up on some leads, I settled on a broker in Namibia, Herman Krause Insurance Brokers, who could offer both 3rd party and comprehensive insurance for all countries in Southern and Eastern Africa we intended to overland.
It was a straightforward process — I simply had to forward full vehicle details with modifications, personal identification and vehicle registration papers. I did explain to the insurance company that the vehicle was not yet registered in my name and that this was part of the process I needed to follow to transfer it over to me – there were no issues at all at this point.
With my own insurance now in place, Bushlore could now take the vehicle for a roadworthy inspection. It failed twice but passed on the third attempt, after throwing some dollars at it.
The transfer was now purely an administrative exercise and I soon received my certificate of ownership (NATIS), roadworthy certificate and the new licence disc in my name.
As we had no fixed address in Africa, Bushlore kindly agreed to have the annual renewal of the licence disc sent to them which would be forwarded to us, wherever that may be in Africa.
Now, we were truly the proud owners of our own Hilux bush camper.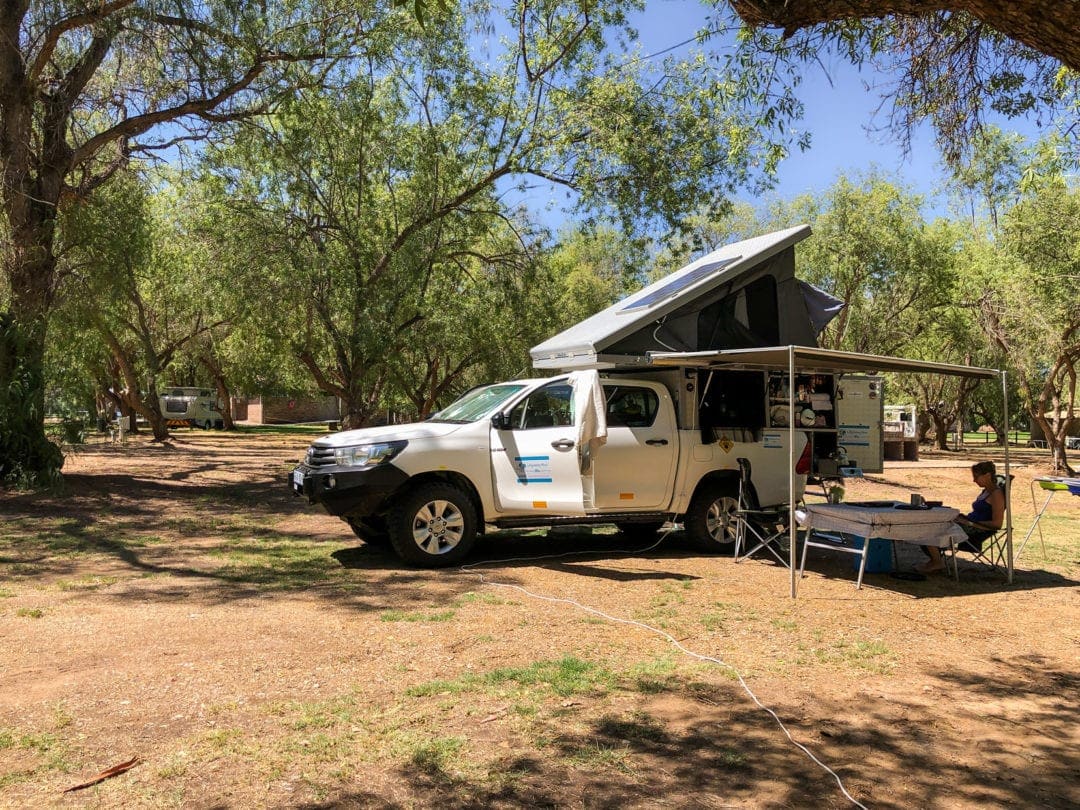 EQUIPMENT CONSIDERATIONS FOR A 4×4 SOUTH AFRICA VEHICLE
---
Sleeping Arrangements
The big one here is 'Where do I or do we sleep'?
Options vary from a traditional ground tent to a more versatile rooftop tent. A ground tent does allow you to leave it on-site and drive away, whereas you will need to pack down your rooftop tent first before driving away. But really it takes minimal time to put a rooftop tent up and down, especially the hard shell pop-up roof tents where it's all over in about 30 seconds flat. This is what we decided on and what a great decision when you're putting it up and down 365 days a year.
The bonus is that the mattress and your bedding stay inside the shell when you close it. You can also install a solar cell on the hard-shell roof to charge that second battery — another wise investment of ours.
Cold Food Storage
Our Hilux has one 40-litre freezer which we choose to operate as a refrigerator. We found it difficult to have both frozen food on the bottom and refrigerated items like milk and cheese sitting on top. Either the produce was all frozen or all defrosted due to the regulator cycling the temperature. Some 4×4 vehicles are equipped with two freezer units, with one normally left to act as solely as a refrigerator.
4×4 Awning
Whether it's raining or you need shade from the sun, a pull-out awning is a must-have item. In addition, we purchased some vertical panels that attach to the awning to block both the wind and rain.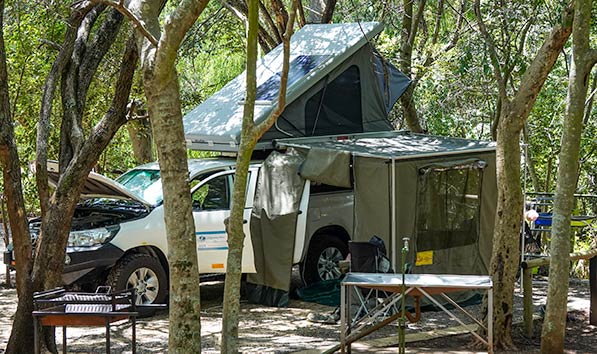 A Second Battery
In times when you aren't driving, the refrigerator will draw power from a second battery which can be charged via a solar cell. Alternatively, you can rely on campsites with mains power.
Ideally, the second battery should be a deep cycle battery which is ideal for longer sustained use.
Car Jack
Does your 4×4 have the correct load capacity?
The vehicle weight increases markedly with the extra cab and accessories fitted on the back and as such, the original car jack might now be under-rated for the lifting task.
Tyres
Running with two spare tyres is the preferred option.
Make sure you have good-quality brand tyres. You'll get the mileage out of them as long as the tyres are treated properly. Running with two spare tyres is the preferred option.
Fuel Storage
You should ideally have long-range fuel tanks or extra jerry cans for fuel. Driving in 4wd does decrease the vehicle's economy and fuel stops aren't always to be found when you need them.
Snatch Strap
Does the Snatch strap have an adequate load rating? Consider the shock loading on a snatch strap. Mine is rated at 10 tonnes.
THE BEFORE AND AFTER 4×4 UPGRADES – WALKTHROUGH VIDEOS
Below are two videos of our Hilux 4×4 Bushcamper.
In the first video, we step through the standard equipment of the 4×4 and in the second video we discuss the upgrades mentioned further on in this article.
THE UPGRADES LISTED ON OUR 4×4 HILUX
Upgraded the original aluminium rock sliders with steel rock sliders
Upgraded the original front bumper with an extended steel bullbar
Added 2 tow points on the rear of the vehicle
Fitted the hi-lift jack to the underside rear of the vehicle
Removed the rear bench seat and fitted 2 x ammo boxes (hard plastic containers) on one side for food and a lockable aluminium security box on the opposite side
Fitted a seed net above the rear seats to store jackets and hats etc.
Added pocket storage: on the vehicle dash for maps, pens, insurance papers etc, on the vertical bulkhead behind the rear seats and inside the rear cabin
Added an external mains power socket and 2 x 12V plus inside the cabin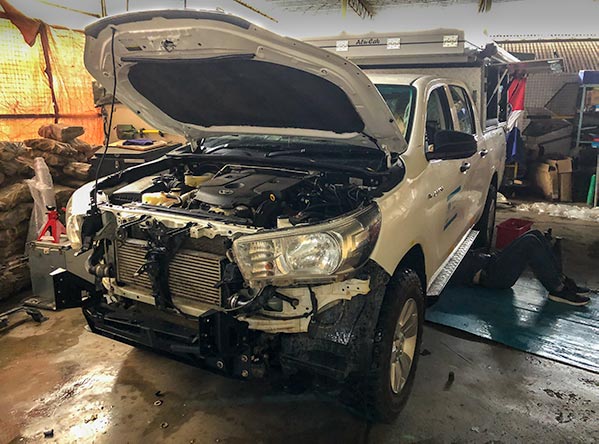 Added 3x mains sockets inside the cabin
Mounted a Lifesaver water filtration jerry can inside the cabin
Added shelving into some of the existing storage compartments
Fitted a seed net between the bull bar and the radiator
Fitted mosquito screens to the rear door and side window area of the cabin
Upgraded snatch strap
Tow bridle
Upgraded load-rated jack
Upgraded towing shackles with a higher load rating
Added a hinged aluminium ladder to the cabin floor that folds down to the ground to allow access from the ground into the cabin itself and stores inside the cabin and flush with the cabin door when the door is shut
Installed an additional sliding bolt to lock the rear cabin door from the inside
When buying a second-hand 4×4, consider having the suspension inspected by a suspension specialist. Within the year after our purchase, I had the power steering rack reconditioned and the control arm bushes replaced.
Independent inspection, even when the vehicle has valid roadworthiness, may give you extra bargaining power to lower the asking price and regardless, it's just good to know what condition it's in.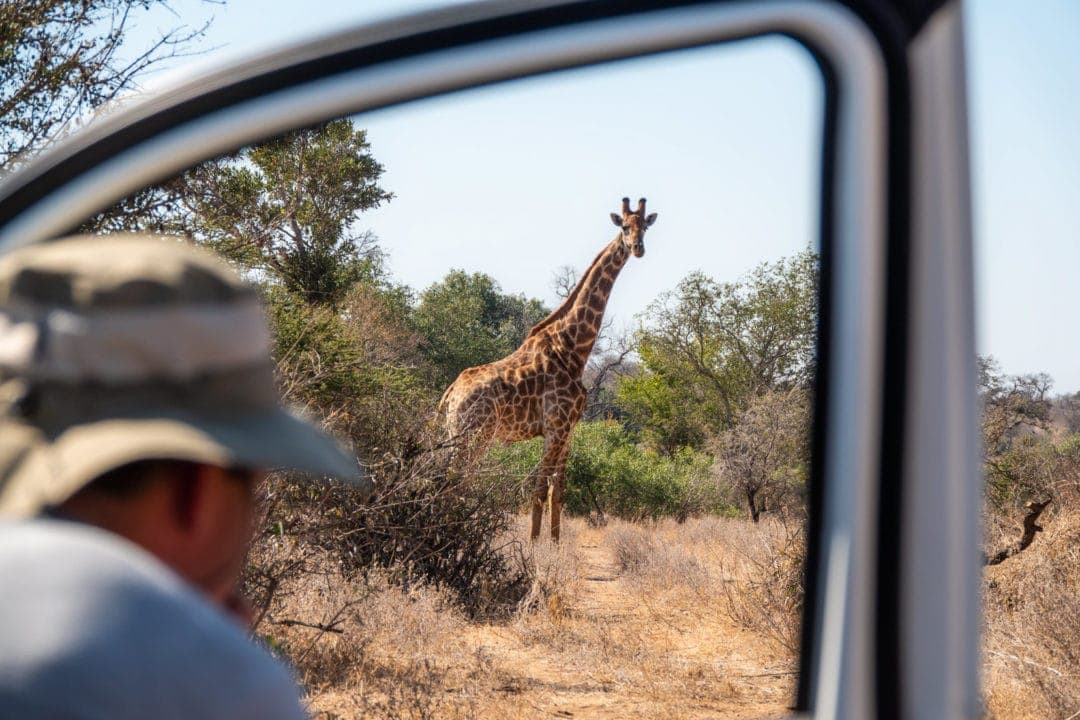 UPDATE TO ACCESSORIES: 4×4 SOUTH AFRICA (FEB 2021)
I started to have some problems with the Hilux being difficult to start. Over the course of a month, the situation didn't change and the breaking point was when the vehicle needed towing from a bush camp in Klaserie near Kruger National Park into Hoedspruit.
Long story short… 2 weeks later … the fuel pressure rail was replaced (nearly cost me a kidney). The likely root cause of the problem being dirty diesel and supported by the fuel hoses and fuel tanks being all gunked up. Fuel hoses were replaced and fuel tanks cleaned so that should be the end of that but I wanted more safeguards.
So, after a little research, I invested in a Racor inline pre-fuel filter. This is rated to 10 microns and able to remove suspended water from the diesel. The cost of the filter unit, filters (x3) and mounting bracket came to R4700 which is not insignificant, but for me, is well worth the outlay for the peace of mind.
Many of the accessories that we use for our bush camper, we initially found useful when travelling Europe in our campervan.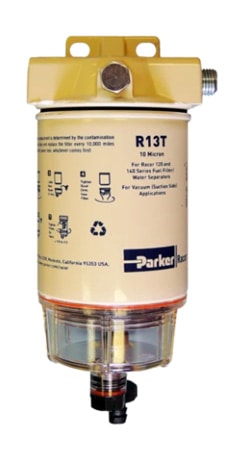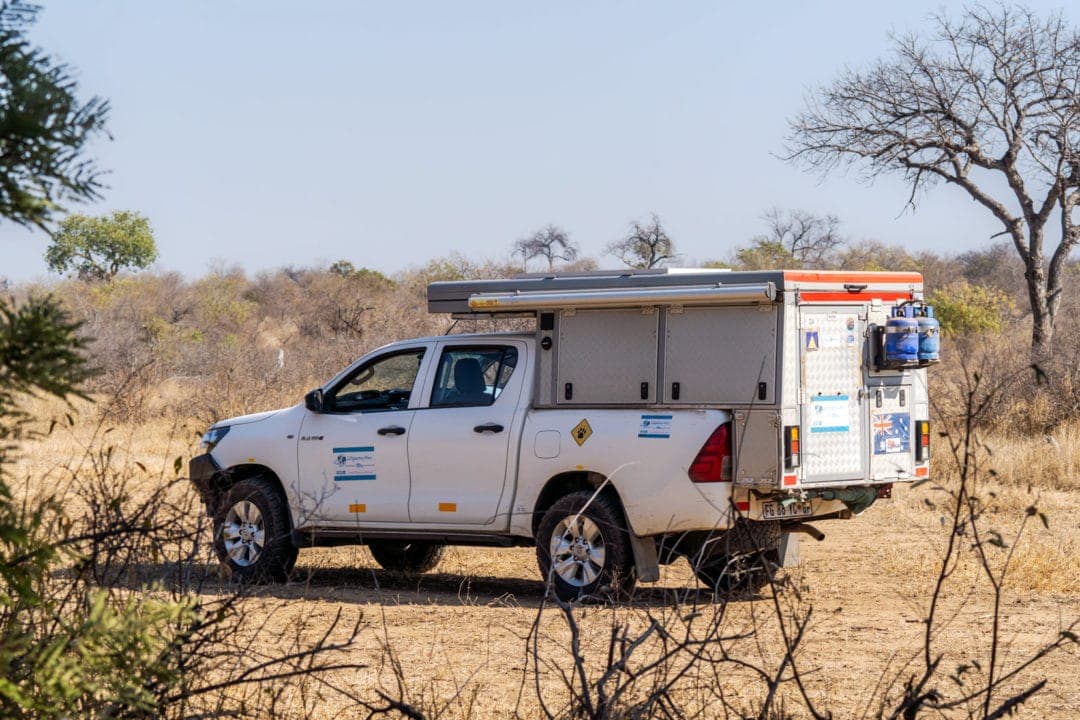 SO WHERE DID I GET THESE MODIFICATIONS DONE?
By sheer chance we were introduced to Morne Claassens who works as the 4×4 Specialist out of Kennis Caravans and Motorhomes in Roodepoort, Gauteng close by Johannesburg.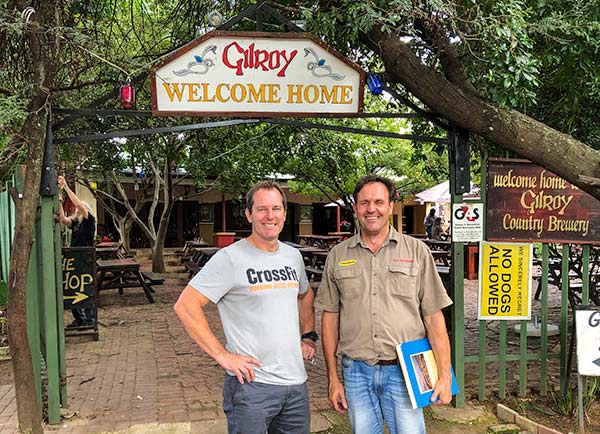 This guy is the go-to person for 4×4 fit-outs. He knows his stuff — sourcing materials at competitive prices and his workmanship is absolutely A1.
On top of that, he's a genuinely great guy. We can't recommend Morne highly enough.
(Again – we are not affiliated with Morne or Kennis Leisure World)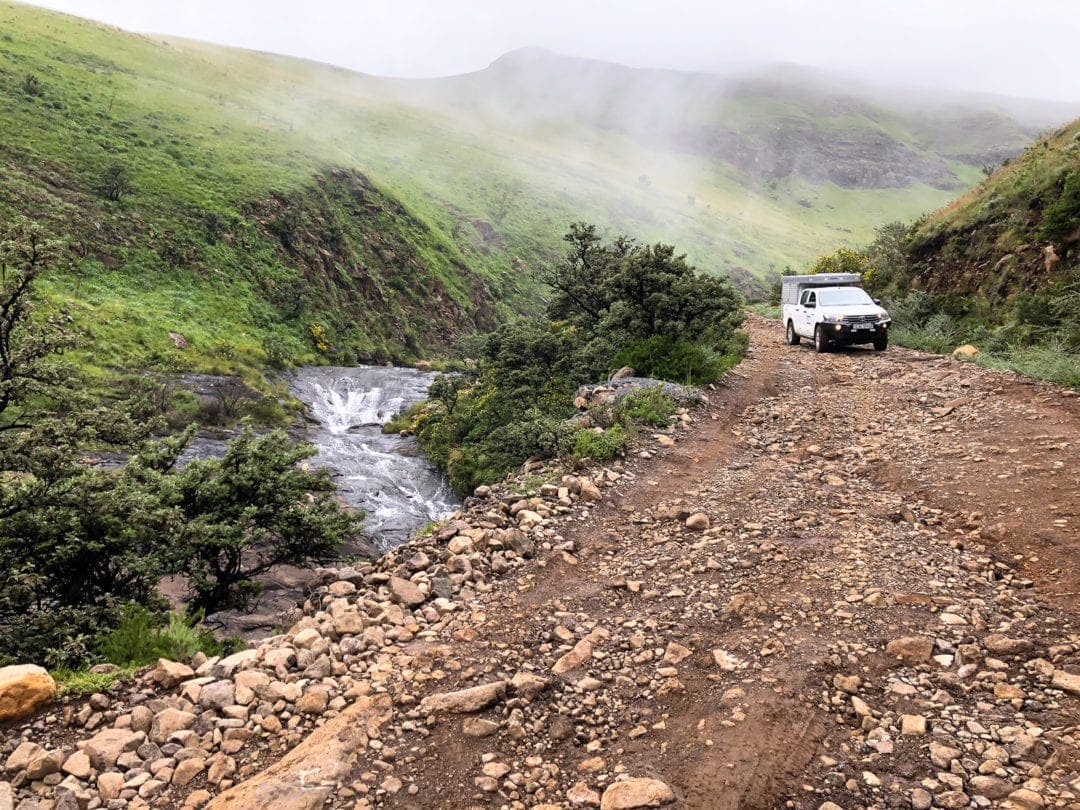 Don't start your trip without your comprehensive Tracks4Africa products .. take a look!
SHOULD I CONSIDER AN ACCREDITED 4×4 TRAINING COURSE IN SOUTH AFRICA?
I mean why wouldn't you?
You have just rented or bought yourself a 4×4 South Africa vehicle and now intend to go off-road. Are you familiar with that particular vehicle and how it handles the higher centre of gravity from all that extra weight from the rooftop tent and other accessories?
Give it thought! It makes perfect sense to test this vehicle in controlled conditions under the guidance of an accredited instructor.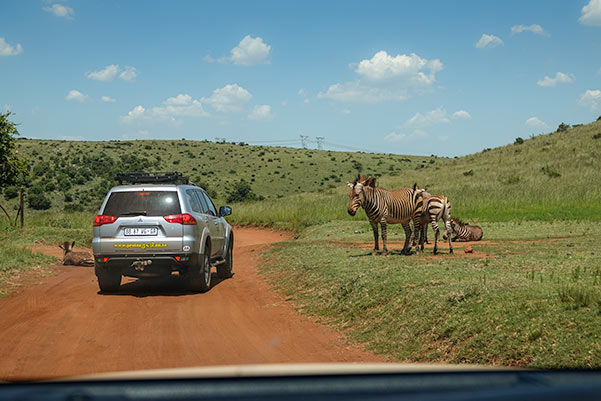 We highly recommend 'Protea 4×4'.
Owner/instructor, Jannie Rykaart, of Protea 4×4 has more than 20 years of 4×4 experience and gave us a thorough and informative one-day 4wd course covering both the theory and practical elements.
Protea 4×4 is based in the Rhino & Lion Nature Reserve, an hour's drive from Johannesburg, so if you're picking up a vehicle from Johannesburg, then it's right on your doorstep.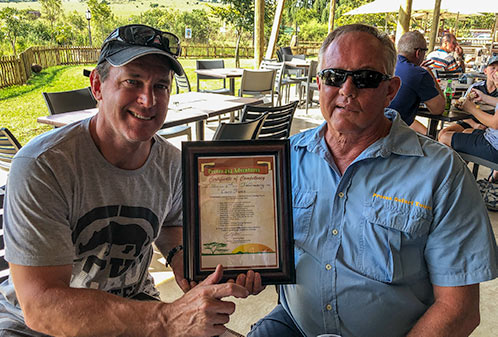 He also completed a walk-through of our newly purchased 4×4 and equipment, giving us some really good advice.
Another bonus is you get to drive the 4×4 tracks of the Rhino & Lion Nature Reserve and are often within arm's reach of many of the reserve's beautiful animals.
RENT OR BUY YOUR 4×4 SOUTH AFRICA VEHICLE … That's a Wrap
Whether you rent or buy a 4×4 South African vehicle will depend on your own circumstances, such as how long you intend to travel and of course, your budget.
Hopefully, the pointers above can help you make the best decision.
Personally, we did a lot of homework prior to our purchase and were also lucky to cross paths and do business with some great people here in South Africa. Those people deserved a mention in this article.
Good luck with your 4×4 rental or 4×4 purchase.
Go out and enjoy as much of this beautiful African continent as you can. Feel free to share your thoughts and experiences as I'd really like to hear how others have tackled the whole vehicle buying issue in South Africa as a foreigner.
Finally, a couple of essential products that we use on the road and you may like to consider purchasing for yourself:
If you're planning to visit a few of the South African national parks then have a look at the Sanspark Wildcard which has a one-off up-front payment for park conservation fees.
Also, when Overlanding, we can't fault the Tracks4Africa apps and hard copy maps/manuals. These include the driveable routes plus all sorts of handy information including fuel stops, camping sites and other great stuff. This has been absolutely brilliant for us.
Again, safe travels and if you see us on the road, make sure you stop and say hi!
If you enjoyed this article, you may like these FREE RESOURCES:
OR Pin and Save for Later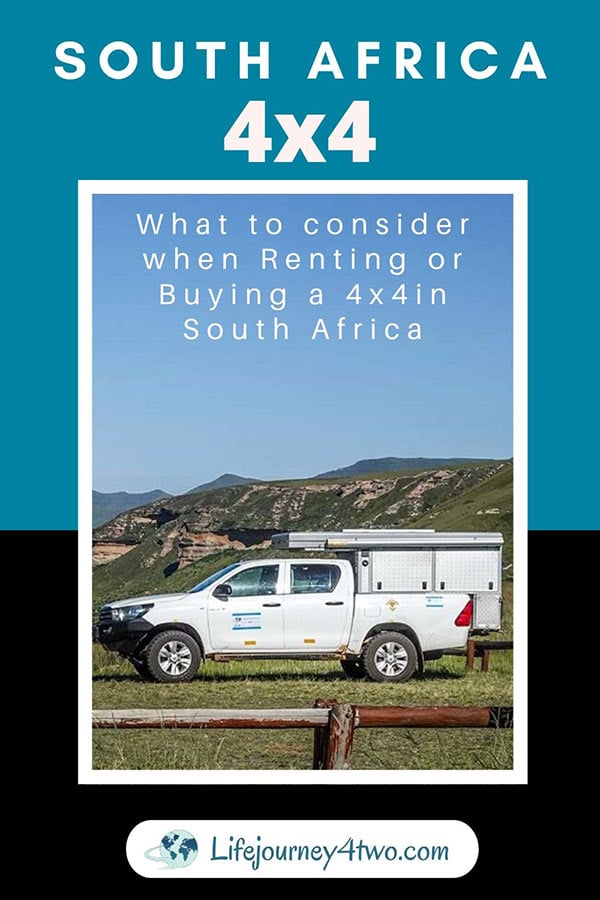 READ MORE:
PLANNING YOUR TRAVELS?
These are some of the travel resources we use when planning our trips.
For a more thorough list visit our Travel Resources page here.