MONKEYLAND PLETTENBERG
Loud 'Whoops' rang out across the treetops. The swingers and singers of the forest were in fine fettle. Little did we know how close we'd come to enjoying their antics.
Just north of the renowned Garden Route of South Africa, at Monkeyland Plettenberg Bay, you can gain an insight into these incredible creatures and walk beside this plethora of primates monkeying around enjoying their safe "forever home'.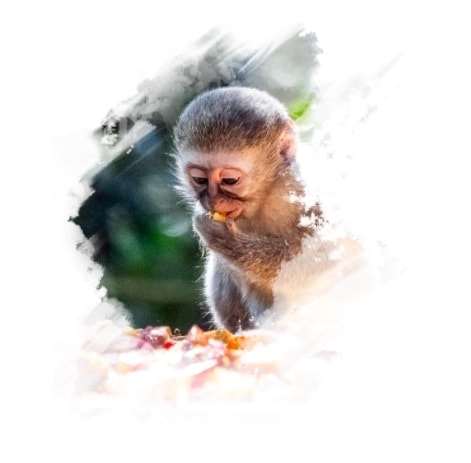 ABOUT MONKEYLAND PLETTENBERG BAY
Monkeyland is in the Crags area of Plettenberg Bay (Plett for short). It was the idea of Tony Bligaut, who wanted to create a safe haven and a 'forever home' for ex-captive primates. Therefore, in 1998 he created the first free-roaming multi-species primate sanctuary.
Today, there are over 550 primates who call this little piece of monkey paradise, home.
Situated in 12 hectares of South African forest, these rescued animals have a chance to integrate into social groups and become part of a hierarchy as nature intended.
A far cry from many of the awful situations that once plagued their lives.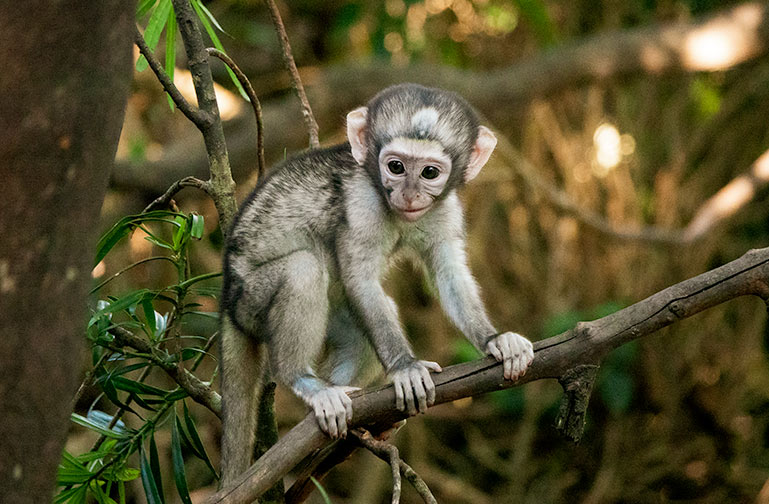 Planning a Trip to South Africa?
There are two Monkeylands in South Africa. Monkeyland Plettenberg Bay, on the south coast, was the original and its sister sanctuary, Monkeyland KZN, opened in April of 2019 in the Dolphin Coast area of Kwa-Zulu Natal, on the eastern coast of South Africa.
MEET THE PRIMATES AT MONKEYLAND PLETTENBERG BAY
There are currently ten species that make up the primate families at Monkeyland.
MONKEYLAND PLETTENBERG BAY VIDEO
Have a quick peek at this video to give you an idea as to what to expect when visiting Monkeyland.
Monkeyland and SAASA
Monkeyland is part of the award-winning South African Animal Sanctuary Alliance (SAASA), whose mission is to improve the lives of captive primates, birds and other wildlife by relocating the captive wild animals to spacious sanctuaries.
The SAASA group is an active #HandsOffOurWildlife and #animalrightsintourism campaigner. Its other sanctuaries are also located near Plettenberg Bay. They include the free-flight bird sanctuary, Birds of Eden, which is right beside Monkeyland Plettenberg Bay, and the Jukani Wildlife Sanctuary, which rescues big cats.
There are many opportunities for volunteering with primates at Monkeyland and many other projects volunteering with primates in South Africa.
There is a strict no-touch policy at Monkeyland — an increasingly important initiative being heralded in South Africa.
We were also pleased to see this practised at the Rhino and Lion Nature Reserve near Johannesburg.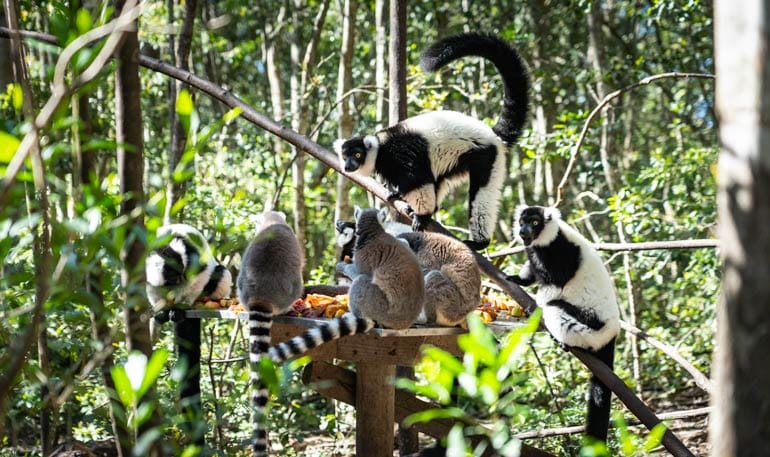 WHERE DO THE MONKEYLAND MONKEYS COME FROM?
The ex-captive monkeys at Monkeyland come from a variety of backgrounds:
Owners who have realised that having a pet monkey isn't as much fun as they originally thought — looking after an intelligent primate / wild animal in a house is nothing like having a cat or a dog
Pet monkeys rescued from appalling conditions
Circus animals no longer wanted or abused
Monkeys rescued from or that have been in laboratories
Surplus and unwanted zoo animals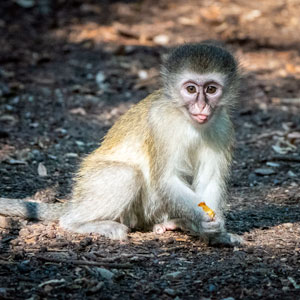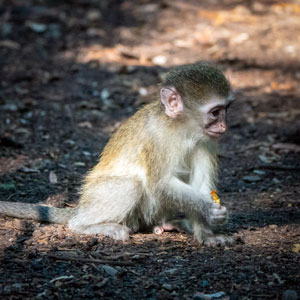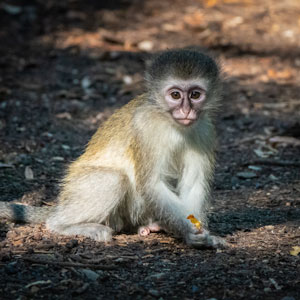 Baby Vervet Monkey in Monkeyland
WHAT TO EXPECT AT MONKEYLAND PLETTENBERG BAY
There is no need to pre-book at Monkeyland, you simply buy your ticket at the counter and then wait either in the restaurant area, souvenir shop or viewing platform for your monkey safari guide.
There are regular guided tours so the wait isn't too long – the longest that we waited (for any of our three tours) was 20 minutes. The guided tours can be arranged in English, Afrikaans, German, French or Spanish.
Before the hour Monkey Safari guided tour, (you are not permitted to wander through the Monkeyland forest without a guide), you will be offered mosquito repellent. If you haven't already lubed up with repellent now is your chance.
The mosquitoes love the dark, moist areas in the forest and delight at the opportunity to make a meal of you!
MONKEYLAND'S MOSQUITO PROBLEM AND CROCODILE HEADS
Due to the explosion of the mosquito population at Monkeyland, mosquito repellent plants have been introduced in the lilyponds.
To prevent the monkeys from eating the plants, Monkeyland has also strategically placed a couple of plastic crocodile heads in the large ponds as a deterrent— which at the time of our visit was apparently working well.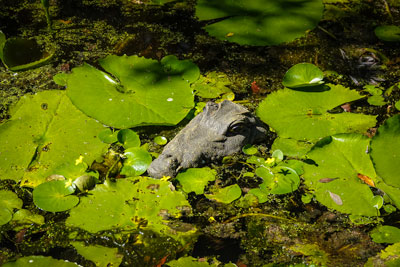 The Monkeyland guided tour is an hour long, and as you walk through the forest, you will often find yourself within arm's length of these incredibly fascinating creatures, who at times seem as equally interested in you as you are in them.
Your guide gives you information about the monkeys and is more than happy to answer any questions you have. They know many of the monkey personalities and can give you insights into their characteristics and habits.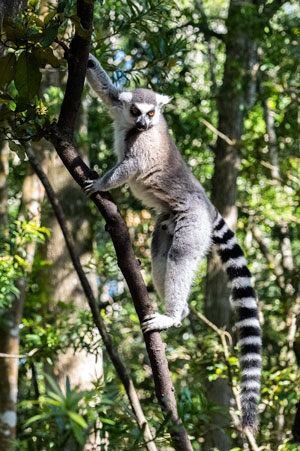 This little fellow, a ring-tailed lemur, struck a pose for the many eager cameras pointed his way. You'll see him in our video and he seemed non-plussed by all the attention — as did most of the monkeys.
It was such a delight to be able to be a visitor in their environment and to be amongst them as they went about their daily lives.
Some of the monkeys were foraging for bugs on the ground. We caught the antics of one cheeky baby monkey speedily nabbing a juicy black beetle from his brother's outstretched hand as he examined his catch.
There was lots of action as these primate cousins busied themselves around us. Baby monkeys clung to their mother's fur while adolescents played rough and tumble and chased each other through the trees.
Many of the larger monkeys lazed around on branches while tiny squirrel monkeys and capuchins dashed in between our feet scooting to and fro in the undergrowth.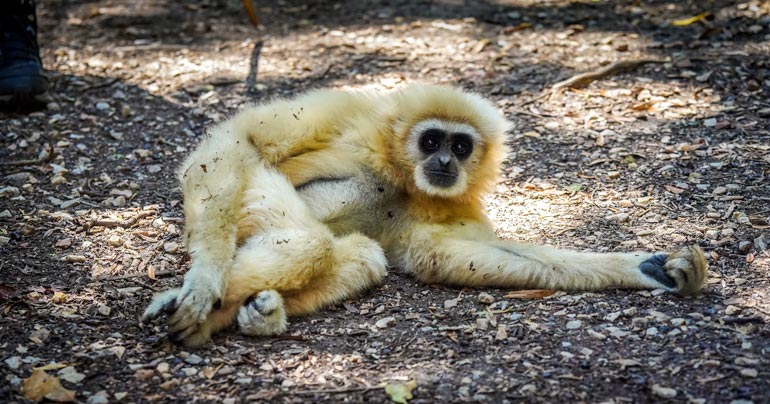 As well as walking through the forest, there are also a couple of large lily ponds and a 128-metre suspension bridge which gives a contrasting perspective of an eye-level view across the treetops.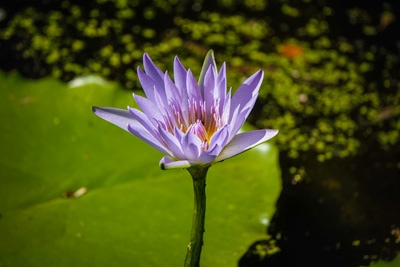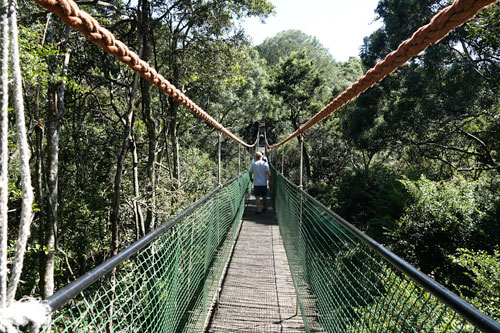 RECOMMENDATIONS FOR YOUR MONKEYLAND PLETTENBERG BAY VISIT
Wear long sleeves and trousers to protect yourself from mosquito bites. (There were hundreds of mozzies when we visited but Monkeyland were growing mossie-repellant plants in the lakes to try and reduce the numbers)


Use mosquito repellant— preferably a high DEET one to reduce the risk of mosquito bites. (Note: Monkeyland is not in an area with a Malaria risk).


Wear comfortable walking shoes — you will be walking through the forest paths.


Bring your camera/video — you are able to take as many photos and videos of these amazing animals as you would like – but don't get in their faces. There will be plenty of opportunities for you to practise photographing the wildlife.


Ensure you have a fully charged phone/camera and/or spare batteries.


Check your camera settings — you may be shooting in poor or high-contrast lighting.


Your ticket is valid for the whole day, so if you have time and are so inclined (as we were), you can go on as many guided tours as you like.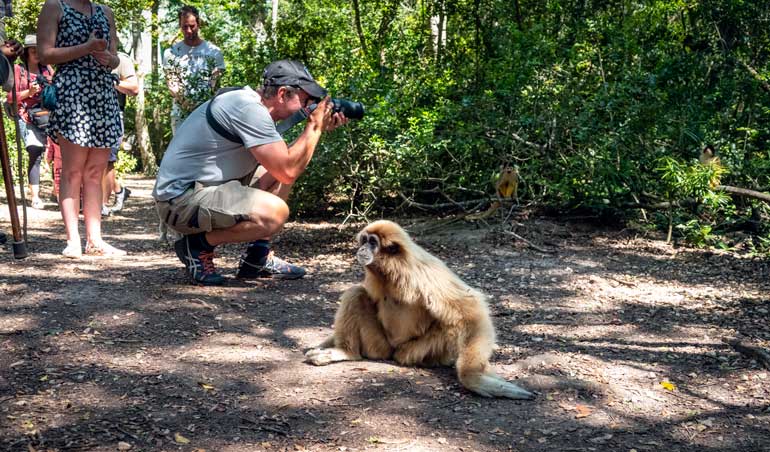 THE MONKEYS AT MONKEYLAND PLETTENBERG BAY
---
1. BLACK AND WHITE RUFFED LEMUR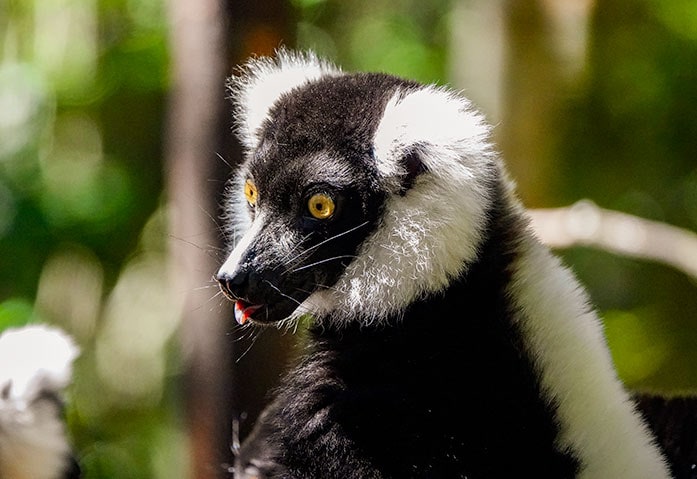 Lemurs are primates, but they are prosimian primates, which means they are neither monkeys nor apes. They are native only to the African island of Madagascar and some of its small neighbouring islands.
Unfortunately, lemurs are considered the most endangered species on the planet due to their habitat destruction, the exotic pet trade and being hunted as bushmeat.
The white and black ruffed is one of 103 species of Lemur.
2. RINGTAIL LEMUR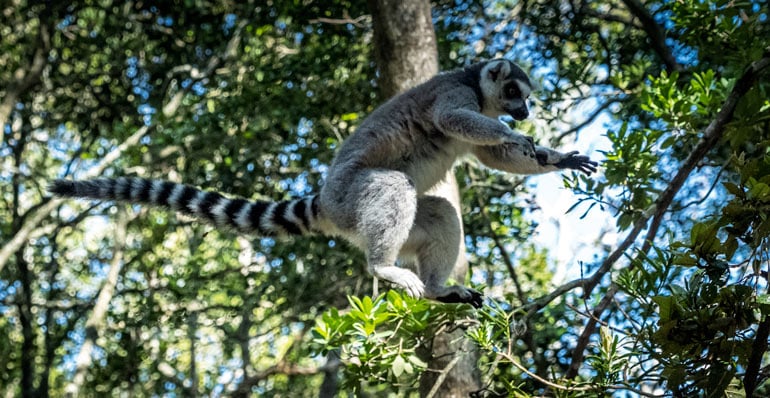 The ring-tailed lemur is easily recognisable by its vividly striped long black and white tail. They spend a lot of time foraging around on the ground for fruit, leaves and tree bark.
We came across several groups of them snuggled up together laying in the sun.
The lemurs have cat-like facial features with whiskers and although they make a range of noises they can miaow and purr like a cat.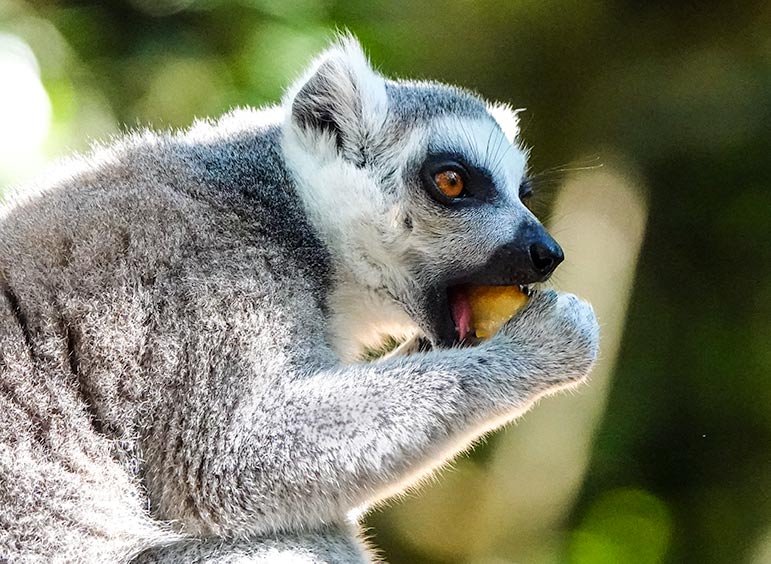 3. BLACK HOWLER MONKEY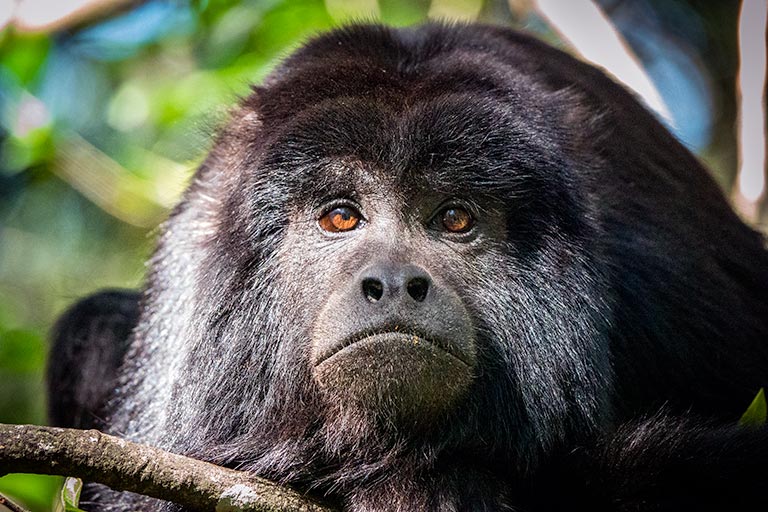 Another endangered monkey is the Black Howler Monkey, one of the larger New World Monkeys. They are native to Central and Southern American rainforests.
The males and females are different colours, with the males being black and the females a golden/brown colour. The young are born a blondie colour and change according to their gender.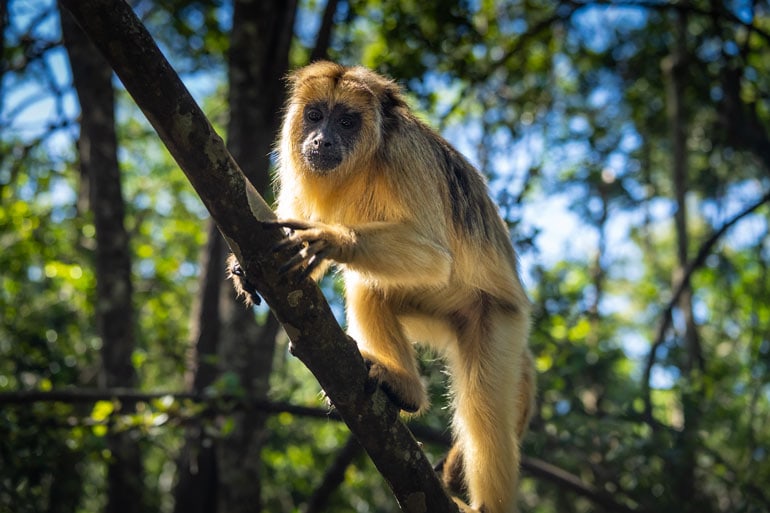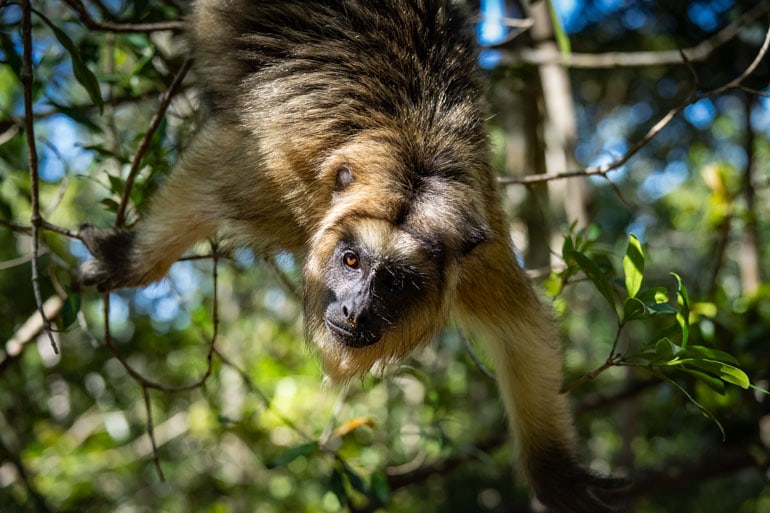 You might have guessed by their name that they are known for their loud howl. In fact, it's so loud that it can be heard from up to five kilometres away.
Their howl may travel a long distance, but they themselves are rather lazy monkeys and travel, at most, about 700 metres in the day.
We didn't hear a howler while we were at Monkeyland as they normally perform for a dawn chorus. Therefore, to give you an idea of the noise have a listen to this Howler in this National Geographic video.
4. BOLIVIAN SQUIRREL MONKEY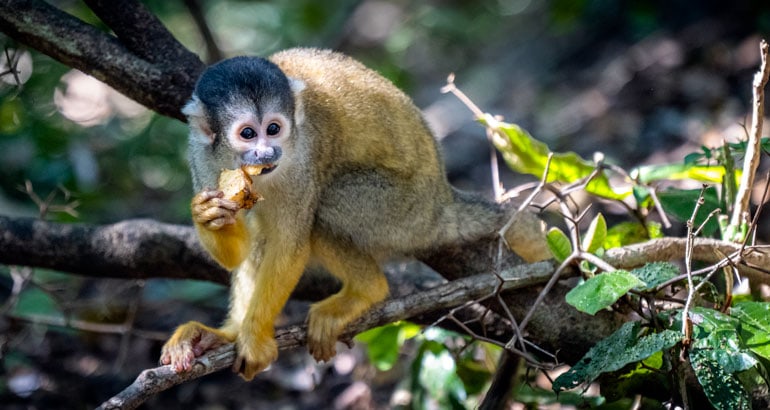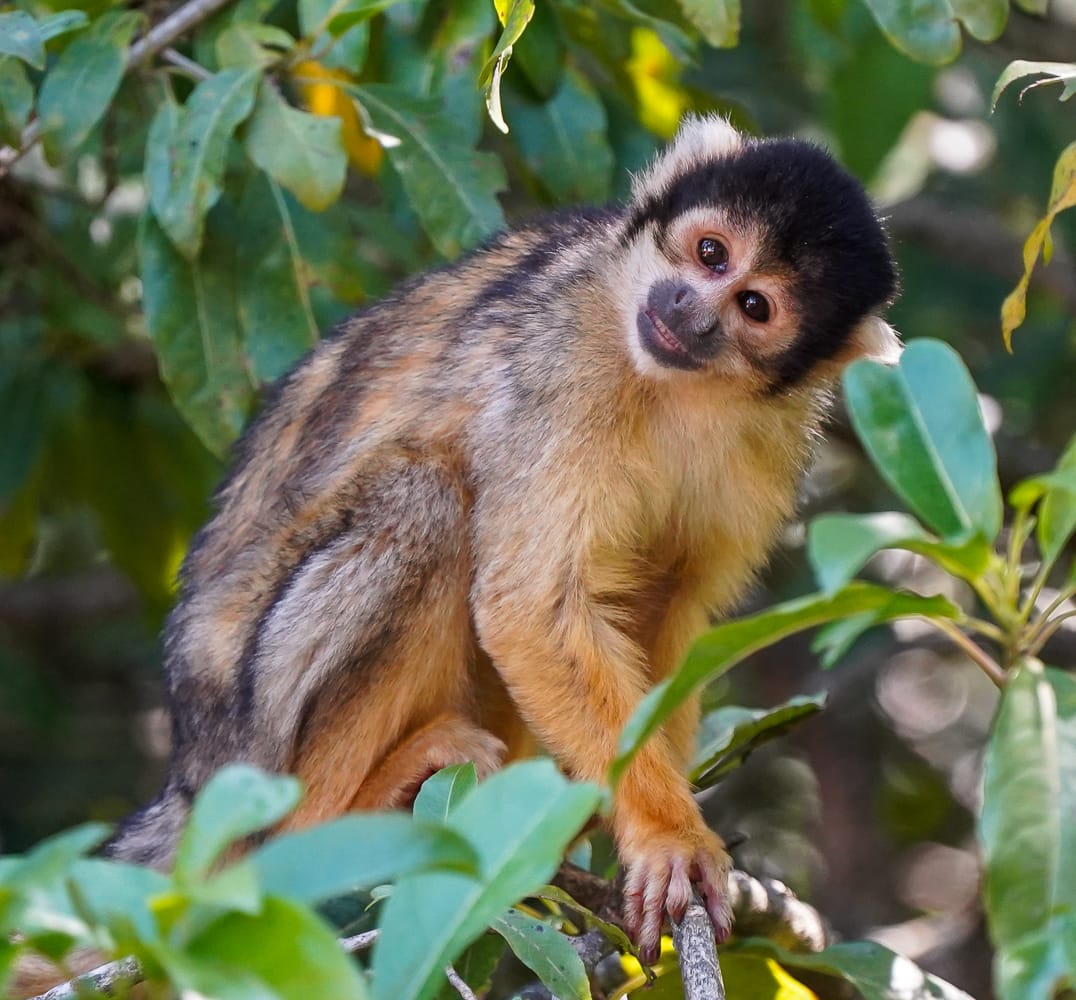 The Bolivian Squirrel Monkeys are omnivores and forage around for bugs and insects as well as fruits and seeds. They are native to the Amazon Rainforests and are another endangered species, being threatened by use in biomedical research, monkey pet trade, bait and food.
Interestingly the Squirrel Monkey's brain-to-body mass ratio is 1:17, which gives them the proportionately largest brain of all the primates. However, this doesn't mean they are particularly smart.
Although they look cute, they are apparently the most aggressive type of monkey at Monkeyland primate sanctuary in Plettenberg Bay.
5. HANUMAN LANGUR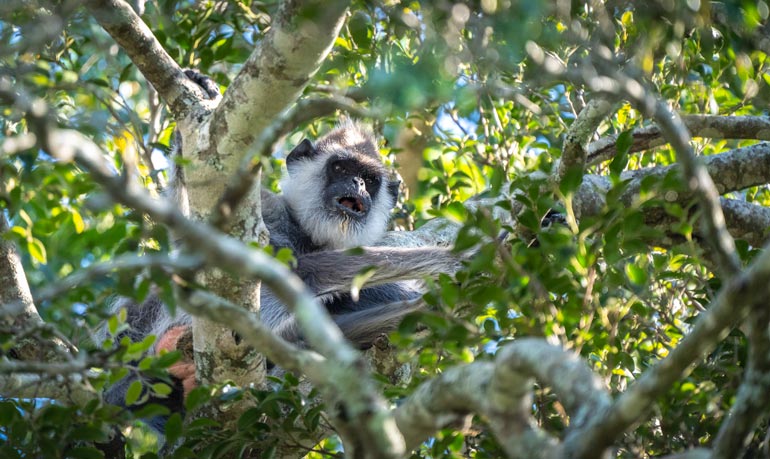 The Hanuman Langur is an Old World Monkey native to the subcontinent of India. Again, it is another threatened species, with common threats being tigers, panthers, and loss of habitat.
The Hanuman's name comes from a Hindu God and this monkey is revered in some parts of India.
Its long eyelashes protect its eyes from the glare of the sun in the treetops.
It was hard to spot this fellow but one of the guides knew where he might be hanging out, so we were luckily able to get a shot of him. He is apparently a little grumpy and a bit of a loner.
6. GEOFFROY'S SPIDER MONKEY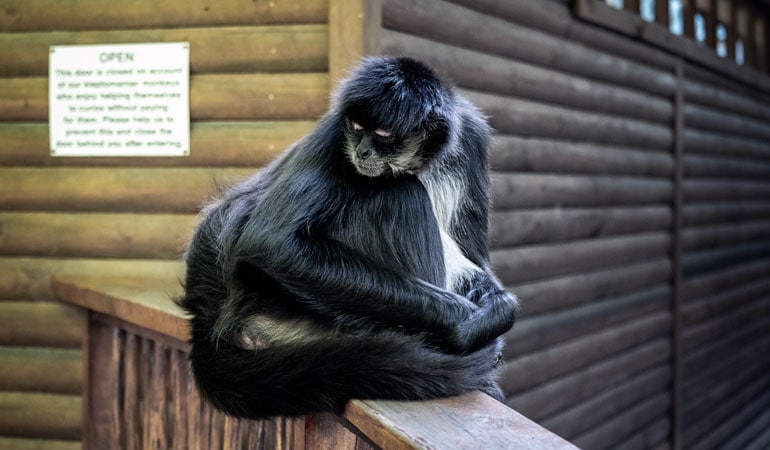 The Geoffroy Spider Monkeys are New World monkeys, from Central America. They are also endangered due to deforestation and the pet trade.
Lucy and her son Liam live in the Monkeyland forest and if you are lucky you'll get to see these two characters. Lucy is getting old and apparently lacking patience but Liam is quite playful and we saw him pretending to take the guide's stick.
7. TUFTED OR BROWN CAPUCHIN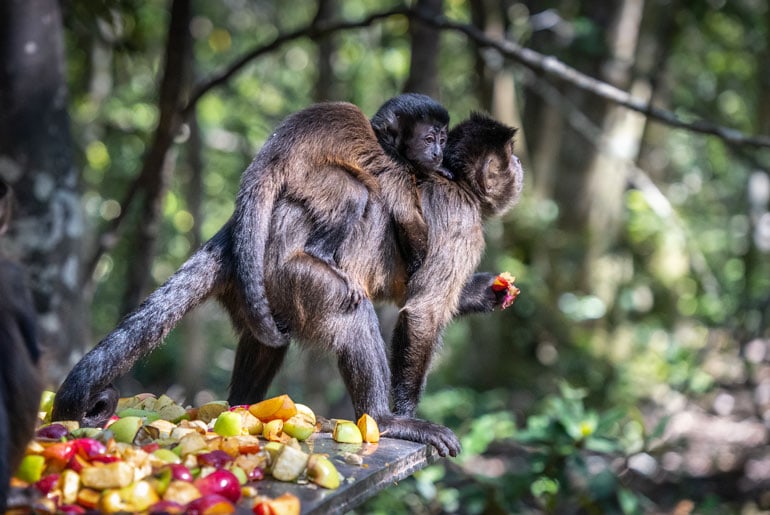 The Capuchin Monkey is recognisable by its brown 'cap' — and it is this which has resulted in its name. The brown cap is said to resemble the hood of a Capuchin monk's cloak.
The Capuchin is a New World Monkey, native to South America, and considered one of the most intelligent of that order. They use objects as tools and the Monkeyland guides told us they are often seen using stones to crack open nuts.
You can see Capuchins in action in their native home of Brazil, here in this short Discovery Channel Video.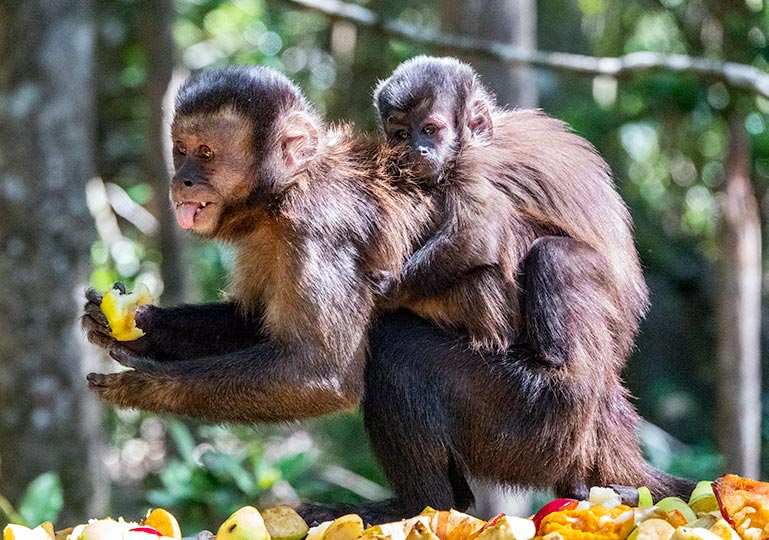 8. RED-BACKED BEARDED SAKI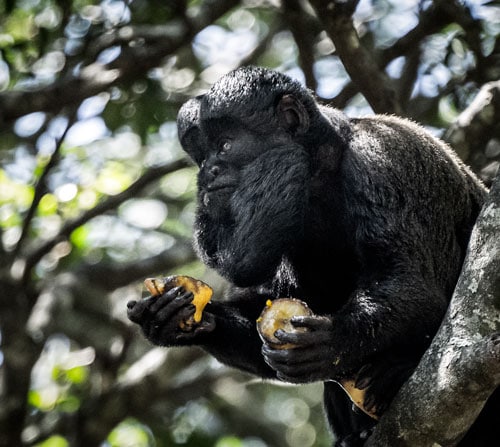 Here's a red-backed saki with a handful of fruit he'd gathered, before escaping up into the tree.
No prizes here to see why they are known as bearded monkeys. Strange-looking creatures, but they have a gentle temperament. They are New World Monkeys found in the Amazon areas. Not only do they have thick bushy beards but also bushy tails used for balancing.
Not the cutest monkey in town but rather hip-looking I'd say.
9. VERVET MONKEY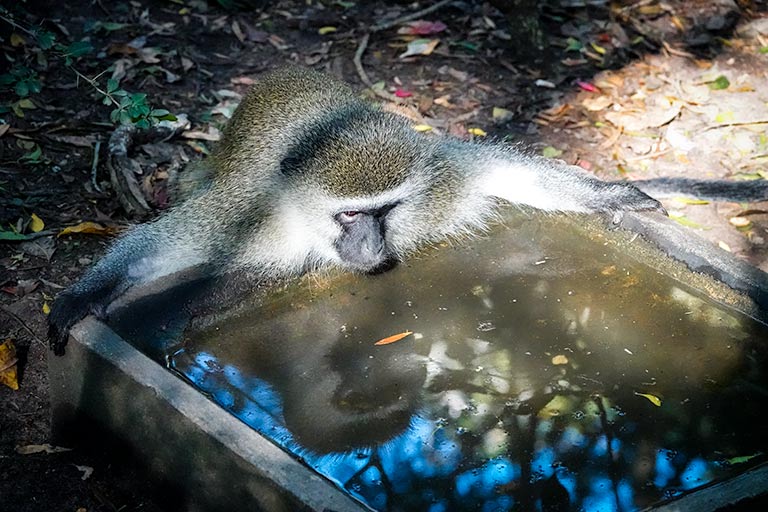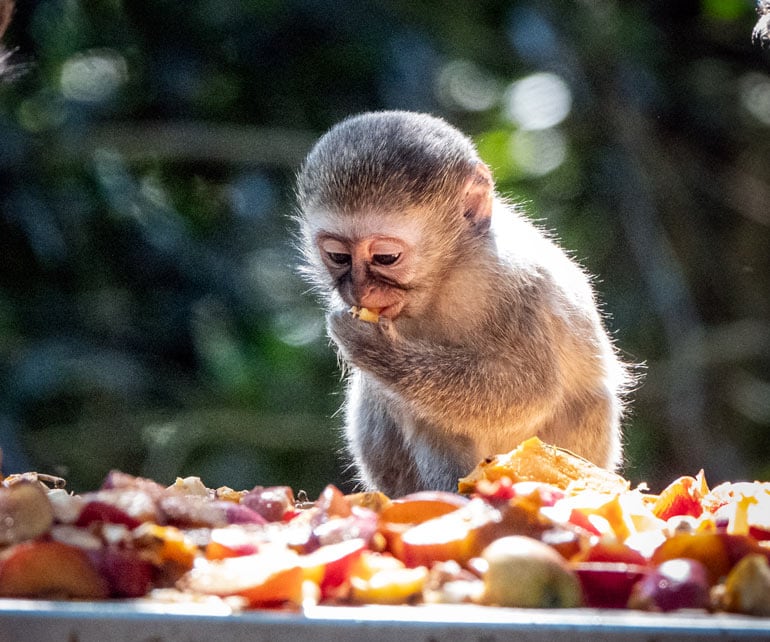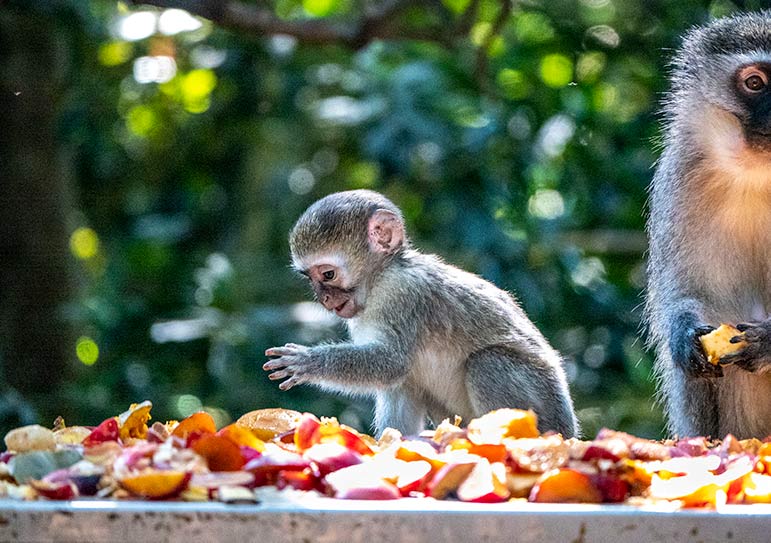 Vervet Monkeys are indigenous to South Africa and we first came across them in the wild at our first campsite in South Africa when we began Overlanding in our 4×4. You need to put all of your food away or they'll likely come and steal anything you leave out.
As we were watching them, I thought one was holding something blue. He was — but not what I was expecting. The vervet male monkeys have bright blue scrotums with a red penis. How decorative.
(You can see vervet monkeys kissing and more animal antics in our Kruger animal video )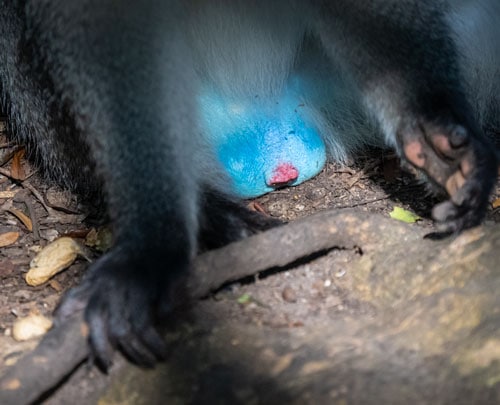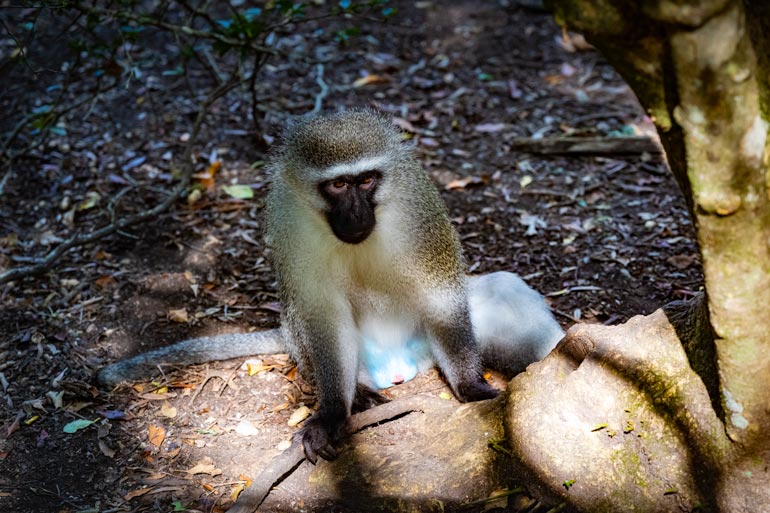 10. WHITE HANDED OR LAR GIBBON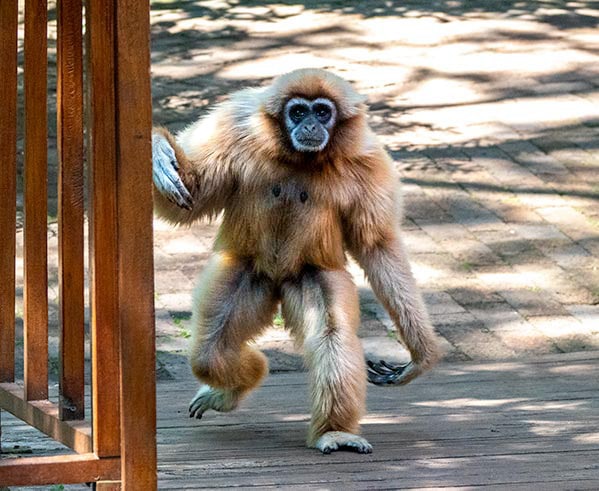 The Lar Gibbon (otherwise known as the White-handed Gibbon), was the first monkey we heard, and then saw, as we arrived at the Viewing Deck at Monkeyland. Actually, I need to correct that statement, it was the first lesser ape we saw — gibbons aren't monkeys, but are part of the ape family.
We were immediately surprised and startled when these two cheeky gibbons came out from underneath the picnic bench table right beside us and padded off like two small furry humans with ridiculously long arms.
We hadn't imagined that we'd get that close and certainly hadn't expected such an experience before we even entered the monkey forest.
The Lar Gibbons can swing between trees at 30km per hour! They also 'sing', often in duets, through the treetops. Hence they are known as the 'singers and swingers' of Monkeyland.
At the beginning of our video, while we are outside looking at the Baboons, you can hear the Gibbons singing in the background.
WHY ARE THERE CAGES AT MONKEYLAND PLETTENBERG?
The idea of Monkeyland is that the monkeys can free-roam. So why will you see some cages within the forest?
The cages you might see will be housing recently acquired monkeys that are gradually adapting to be integrated into the forest. The free-roaming monkeys are able to interact with these caged monkeys and they form friendships through the cage.
Therefore, when they are released into the forest they have already become part of a social group and can then integrate further into the hierarchy of the free-roaming monkey group.
There is also a 'special monkey enclosure' in which those monkeys whose personalities or physical condition is such that they would not be accepted or survive if released into the ecosystem of the free-roaming monkeys here at Monkeyland.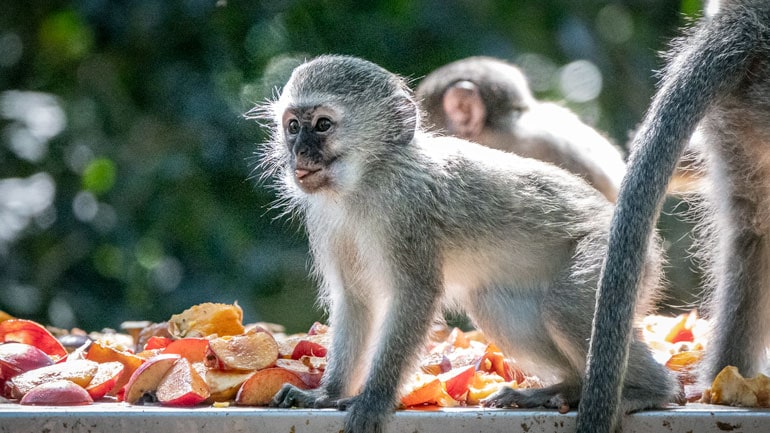 MONKEYLAND'S OLD AND NEW WORLD MONKEYS
You will likely hear your Monkeyland safari guides talk about whether the monkey you are watching is a New or Old World Monkey, but what exactly are the differences between New and Old World monkeys?
About 40 million years ago there was a noticeable split between monkeys. New World Monkeys somehow migrated to South America, whilst the Old World Monkeys continued to develop in Africa and Asia along with apes.
OLD WORLD MONKEYS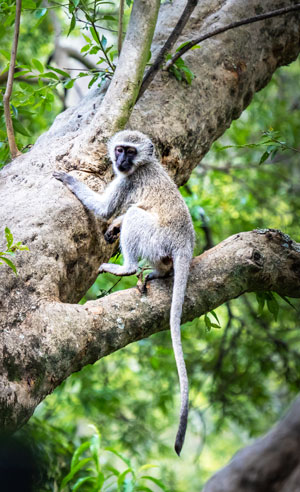 Normally larger in size
Mainly carry their young underneath on their bellies
Flat fingernails rather than sharp
Nostrils are narrower and point downwards
Cheeks have padding
Buttocks have padding to sit on
Found on the ground and in trees
They can only see in black and white
Tails do not support their weight and are not used as a 'third-hand'
Examples of Old World Monkeys are: Vervet Monkeys, Baboons, Langurs
NEW WORLD MONKEYS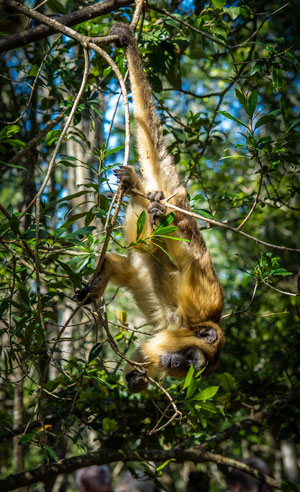 Normally smaller in size
Mainly carry their young on their backs
Most have sharp fingernails rather than flat
Nostrils are wider and round in shape
Cheeks do not have padding
Buttocks do not have padding
Found mainly in trees
Have colour vision
Many have prehensile tails which support their weight and can be used as a 'third hand'
Examples of New World Monkeys are: Capuchins, Squirrel Monkeys, Spider Monkeys, Howler Monkeys, Sakis
MONKEYLAND PLETTENBERG BAY PRICES
If you just wanted to go to the viewing deck and the Monkeyland restaurant then the cost is free, but to enter the monkey forest with a guide you need to buy a ticket.
There are varying rates depending on whether you would also like to visit Birds of Eden and/or Jukani Wildlife Centre.
We bought a combination ticket for Monkeyland and Birds of Eden which costs us 540 ZAR per person. Check here for Monkeyland Plettenberg Bay's current rates and opening times.
GETTING TO MONKEYLAND
---
WHERE IS MONKEYLAND PLETTENBERG BAY?
MONKEYLAND PLETTENBERG BAY ADDRESS:
Address: Portion 11 & 12 of Kirbywood Farm, The Crags, Plettenberg Bay, 6602, South Africa
GPS Coordinates: 33 degrees 57'55″S 23 degrees 28'57″E
TIMES FROM VARYING TOWNS TO MONKEYLAND
From Plettenberg Bay, about 20mins just off the N2.
From Cape Town – about 6 hours,
From George – about 1 hrs 45 min
From Knysna -about 45 min
From Jeffrey's Bay – about 1 hour 30 min
WILD BABOONS OF SOUTH AFRICA
As you get nearer to Monkeyland it is clearly signposted and if you are lucky, as we were, you will see a troop of baboons near the entrance.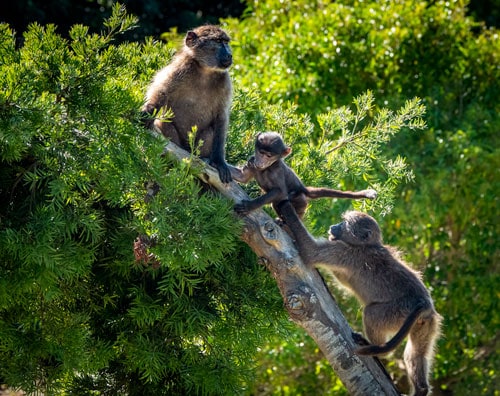 Before we even stepped foot into Monkeyland, we were entertained just outside the gates, watching a local troop of baboons. Driving through South Africa, you will likely see baboons or vervet monkeys as these two species roam wild throughout the country.
These Chacma Baboons living outside of Monkeyland (in the surrounding protected area) can not get into Monkeyland – if they were able to, they would attack the monkeys inside and likely kill them.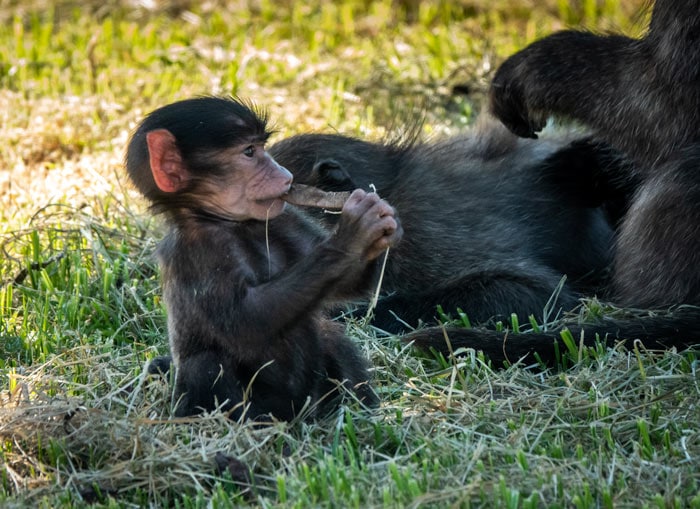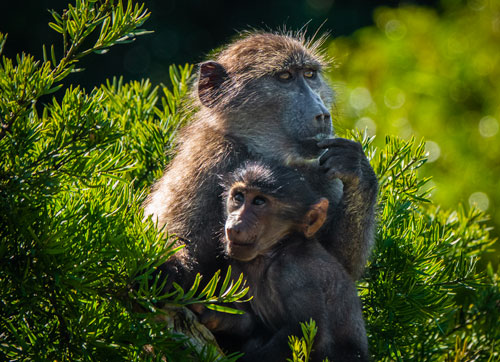 MONKEYLAND PLETT … That's a Wrap
Monkeyland at Plettenberg Bay is delightful to visit. Being within the environment of these primates is a privilege and by the time we left, we felt as joyous as the swingers and singers sounding their 'whoops' across the treetops.
We hope you enjoy a visit or at least enjoy the pictures and video of these cheeky monkeys that we came across at Monkeyland in Plettenberg Bay.
Please ask us any questions that you may have and share any experiences you have had here or at any other animal sanctuary. We'd love to hear your stories.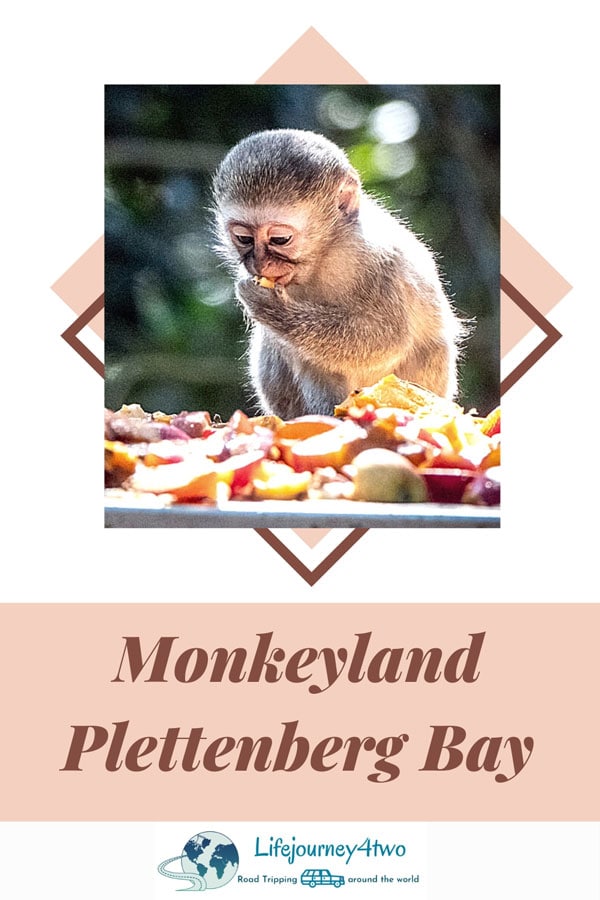 If you enjoyed this post, you may like to read;
---
PLANNING YOUR TRAVELS?
These are some of the travel resources we use when planning our trips.
For a more thorough list visit our Travel Resources page here.