Bosnia Road Trip
A Bosnia road trip, in a country with half of its landscape covered in forests, is bound to make for an incredibly scenic drive. Add in waterfalls, mountains, lakes and fruit-laden orchards, and you have a picture-perfect landscape to explore.
Bosnia and Herzegovina (shortened to Bosnia in this post, for ease of reading), is a country rich in diverse cultures and history. It is a melting pot of religions and a country that has seen more than its fair share of war.
Yet its people, a mix of Bosniaks, Serbs and Croats, are welcoming to outsiders and have a strong sense of pride and community.
We'd just finished our Croatia road trip, visiting the famous, Krka and Plitvice waterfalls, made even more beautiful by the green and blue dragonflies flitting around the water's edge. Their translucent wings captured the sunlight, creating a mini light show in the calmer waters away from the frothy falls.
Bosnia was our next road trip in the beautiful Balkans. It's surrounded by Croatia, Montenegro and Serbia, but also has a tiny sliver of land, in the southwest, on the Adriatic Coast.
Planning a Trip to Bosnia?
Overview of Places to Visit on a Road Trip in Bosnia
Summary of places to visit on a Bosnia road trip, (we cover these in more detail with extra recommendations in the post – click on a place to find it in the post)
What's Included in this Bosnia Road Trip Post?
To help you plan your road trip in Bosnia we have included the following:
Bosnia Road Trip Interactive map
Places to visit in Bosnia
Driving tips for Bosnia
Information about motorhome rules and options for overnight stops
Campervan/motorhome campsites
Motorhome and campervan rental information
Bosnia Road Trip Interactive Map
HOW TO USE THIS BOSNIA ROAD TRIP MAP
To use this map, expand it using the square symbol on the top right-hand side and you will find the key on the left-hand side. By clicking each location you will find extra information. For example, each campervan/ motorhome/RV overnight park on the Map has the web link to Camper Contact where you can see the facilities available, price, opening times, and useful user reviews on each campsite.
You can also click or unclick the driving route for ease of use when viewing.
The motorhome overnight stops we used are marked with a brown circle and a motorhome icon and the places we visited are marked with purple icons.
Video – A few seconds of Bosnian Moments on our Road Trip
Motorhome Road Trip Itinerary Breakdown
Korenica > Strbacki Buk: 77 km (approx 1 hour 40 mins)
Strbacki Buk > Camp BUK: 16 km (30 mins)
Camp Buk > Martin Brod: 12 km (20 mins)
Martin Brod > Jajce:150 km (2 hours 20 mins)
Jajce > Sarajevo: 158 km (3 hours)
Sarajevo > Camp Buna: 140 km (2.5 hours)
Camp Buna > Mostar: 13 km (20 mins)
Camp Buna > Kravica Waterfalls: 41 km (45 mins)
Bosnia Road Trip Total Kilometres: 607 kilometres (Approx 11 hours 35 mins driving time)
---
---
Places To Visit on a Bosnia Road Trip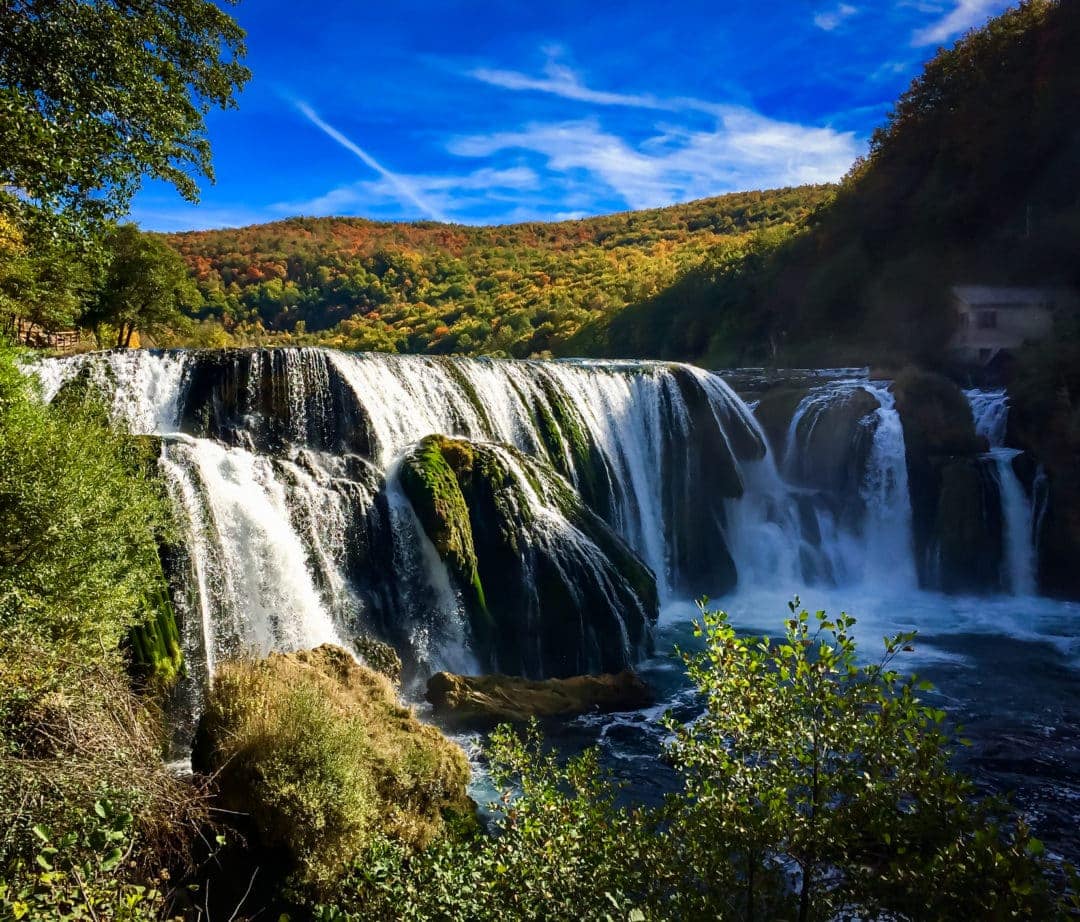 Una National Park
Any road trip throws up surprises, some more welcome than others. Una National Park involved both types. But it really is one of the most beautiful places on this campervanning Bosnia Road trip.
Strbacki Buk, waterfall in Una National Park
Our road trip, towards one of the main waterfalls in the Una National park, Štrbački buk, began on what we call relatively normal roads.
However, with 8km still to go, we turned onto a rather rutted unpaved road. Our buttocks jiggled up and down, along with everything else in the campervan that could wiggle and jump around.
Not imagining this could go on for the whole eight kilometres, we continued. Note to self — never overestimate the quality of a road on a Bosnia road trip.
Not only did the bumpy ride continue, but the road seemed to close in on us so much so, that in places, we wondered whether it might be a goat track rather than an actual road.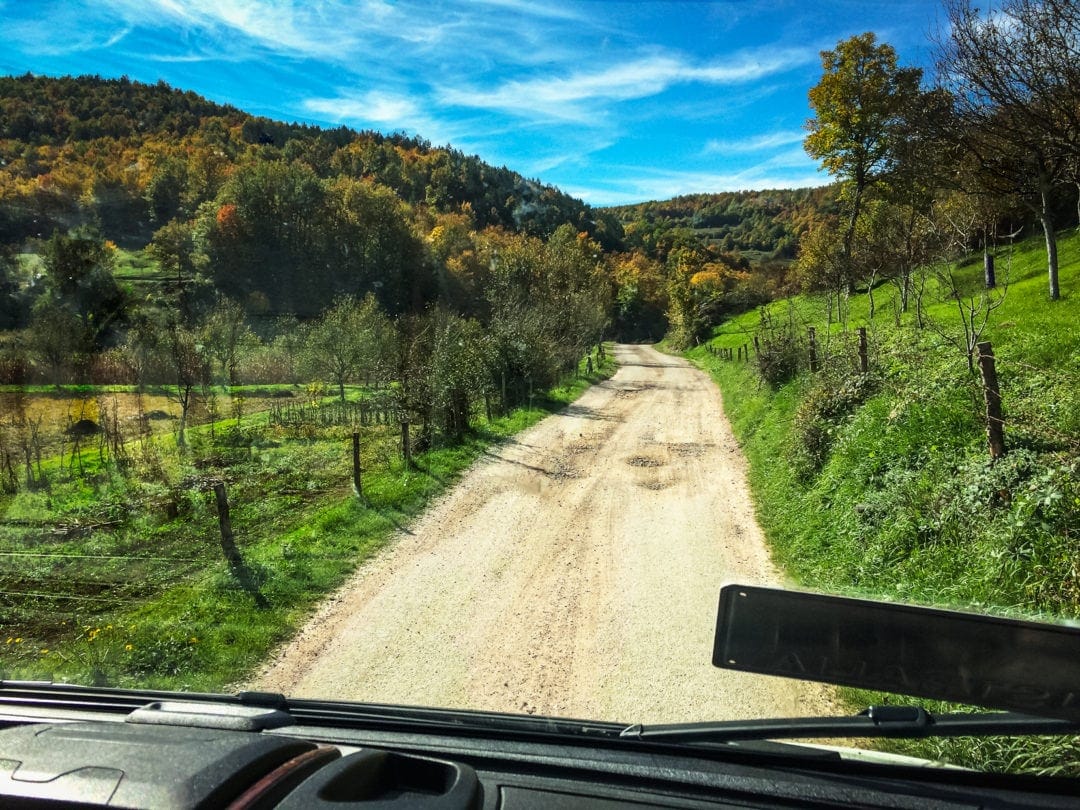 The road wound its way along, running parallel to the Una River. Emerald green pools of water, glimmering with leafy reflections, flowed alongside us. And, apart from the moments we thought we might slip right into it, the River Una was rather lovely.
The choppy track probably aged the motorhome by ten years, (luckily we were renting) and it gave Lars a few more grey hairs, —keeping an 8-metre-long motorhome out of a river will do that to you.
But, the scenery was gorgeous. And, because we were travelling so slowly, Lars could enjoy it too — well, when the wheels weren't skimming the water. There's always a silver lining;)
When we finally arrived at Strbacki Buk, enduring every bump and jolt in the road, seemed more than worth it.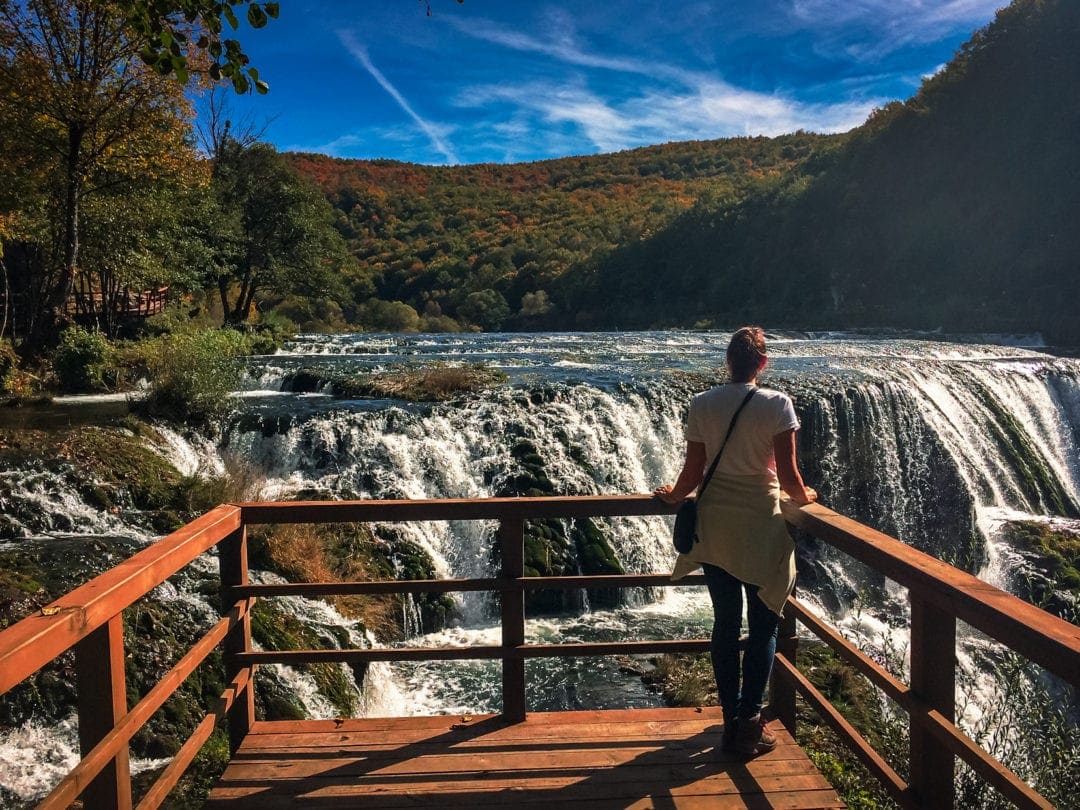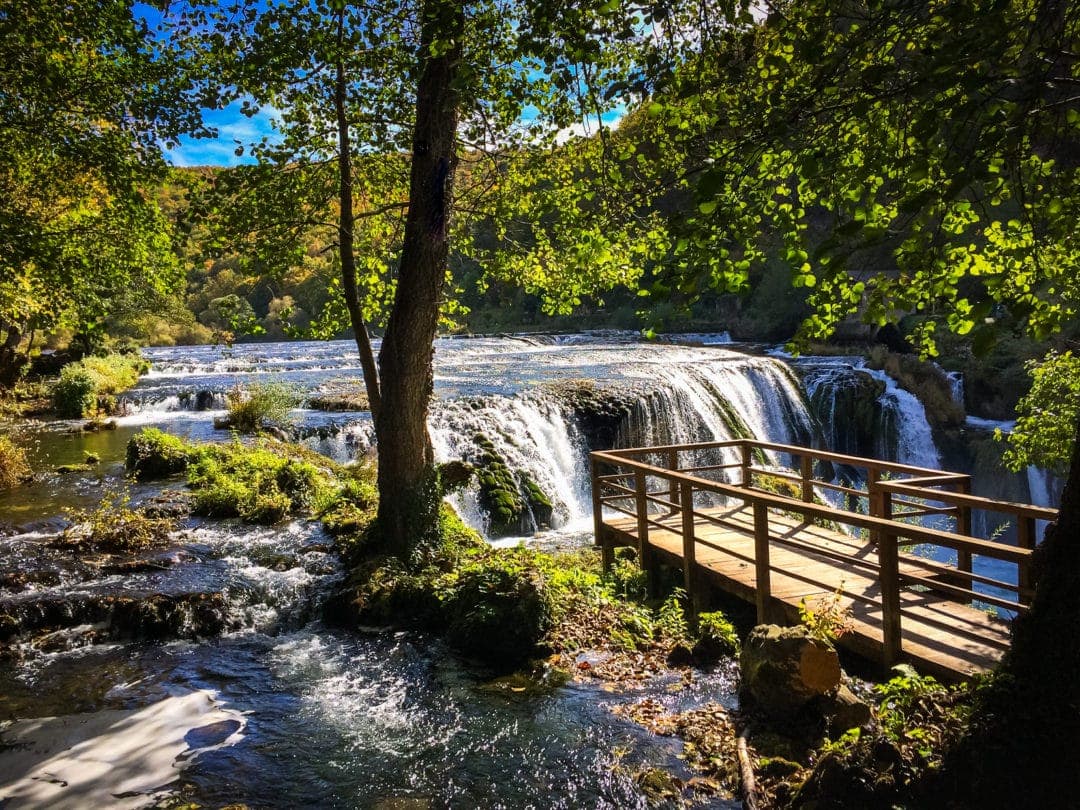 Una National Park, the largest park in Bosnia, was set up in 2008 to protect the Una river and its tributaries Krka and Unac. There are several entrances to the park, but to see the largest waterfall, Strbacki buk, the 8km dirt track is a necessary right of passage.
The Strbacki Buk waterfall is 25 metres high and an impressive sight. There are plenty of wooden bridges and platforms for easy viewing.
Martin Brod Falls in Una National Park
Another section of Una National Park is Martin Brod. The entrance is by Martin Brod village, and it's really worth taking a walk around this tiny village. In amongst the rustic homes, mini waterfalls flow, and it's hardly surprising that this area used to be full of watermills and natural washing mills called bučnicas. You can read more about Martin Brod from the Una National Park website.
Local legend tells us that the name Martin Brod came about after a young girl, Marta, tried to cross the river. Marta was in love with a curly-haired boy who lived on the opposite side of the river.
Unfortunately, her parents weren't at all happy with this and forbid her from seeing him. One day, she tried to cross the ford (brod), but the rocks were so slippery that she fell into the rapids, never to be seen again.
The ford was named after her, Marta's Brod, eventually morphing into the name Martin Brod.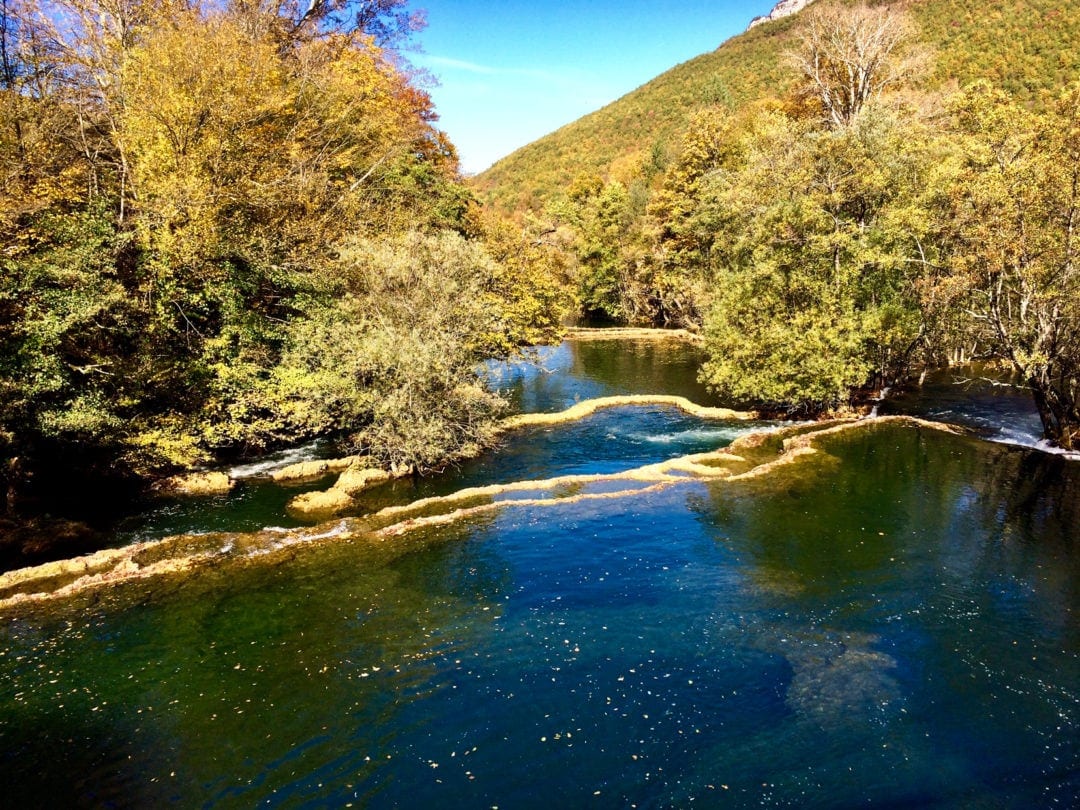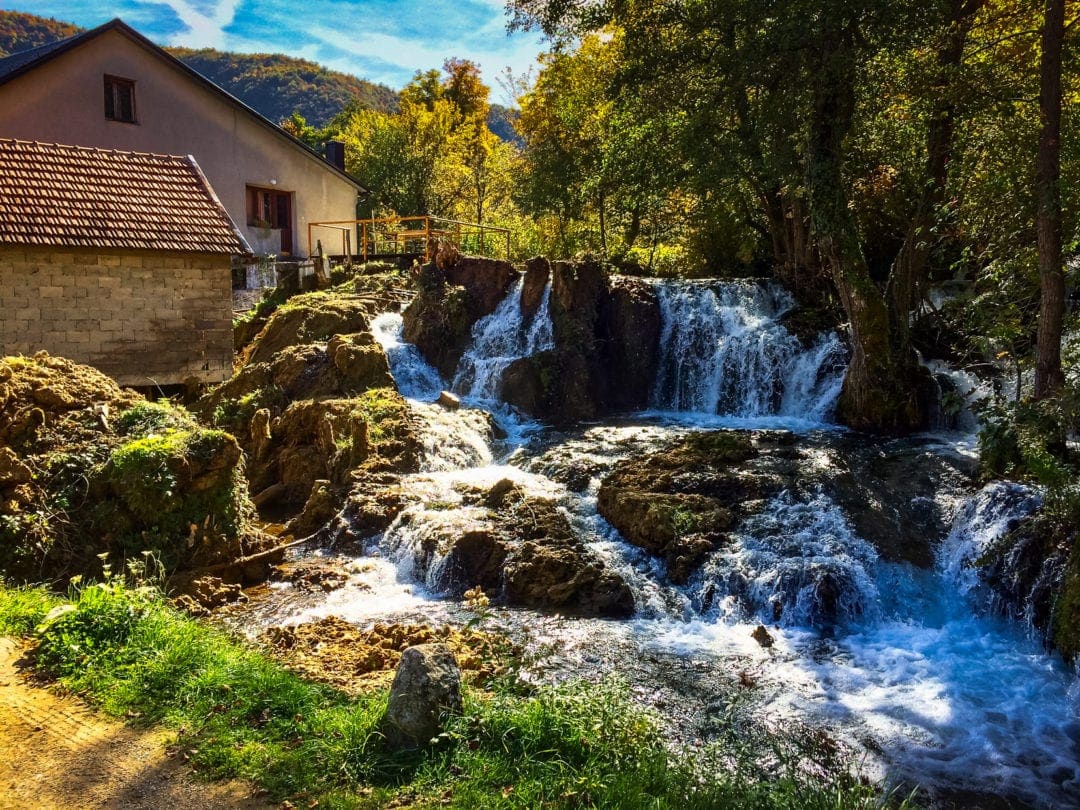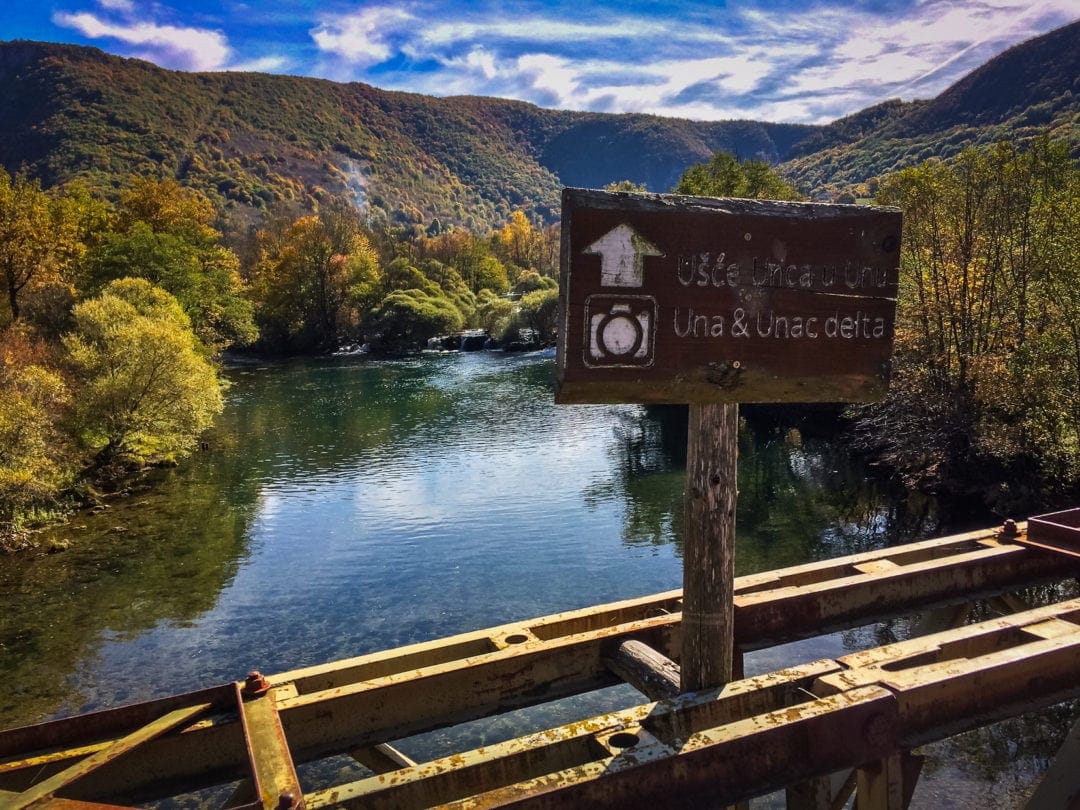 Jajce
While visiting Jajce on your Bosnian road trip, you'll realise that the town is a little different from most. Rather than a central square as its centrepiece, Jajce has the Pliva Waterfall cascading 22 metres in the centre of town.
The walled city of Jajce was once the capital of the Kingdom of Bosnia. Built in the 14th century, it became the seat of the Bosnian Kings. Later, it became a citadel and the Jajce fortress now crowns the town, along with the medieval watchtower.
From the other side of the river, you can capture a fantastic high-ground shot of Pliva Waterfall, along with Jajce's clock tower and fortress in the background.
Directions for great photography spot: From the bus car park (see brown motorhome stop on the above map), cross the bridge on the E761, turn left onto the M16, pass an old cemetery on your right and on your left you'll see a path into the woods leading to a wooden pavilion.
From there you will have a fantastic view.
(Unfortunately, we didn't know this at the time so all our shots are from below)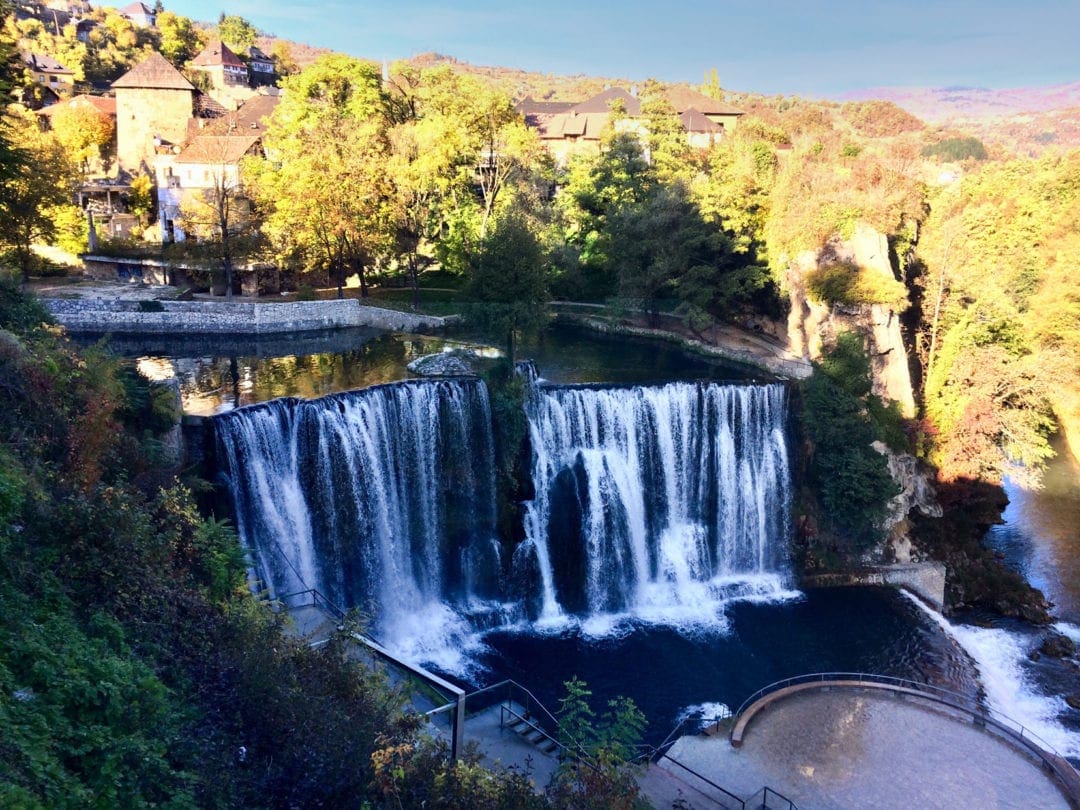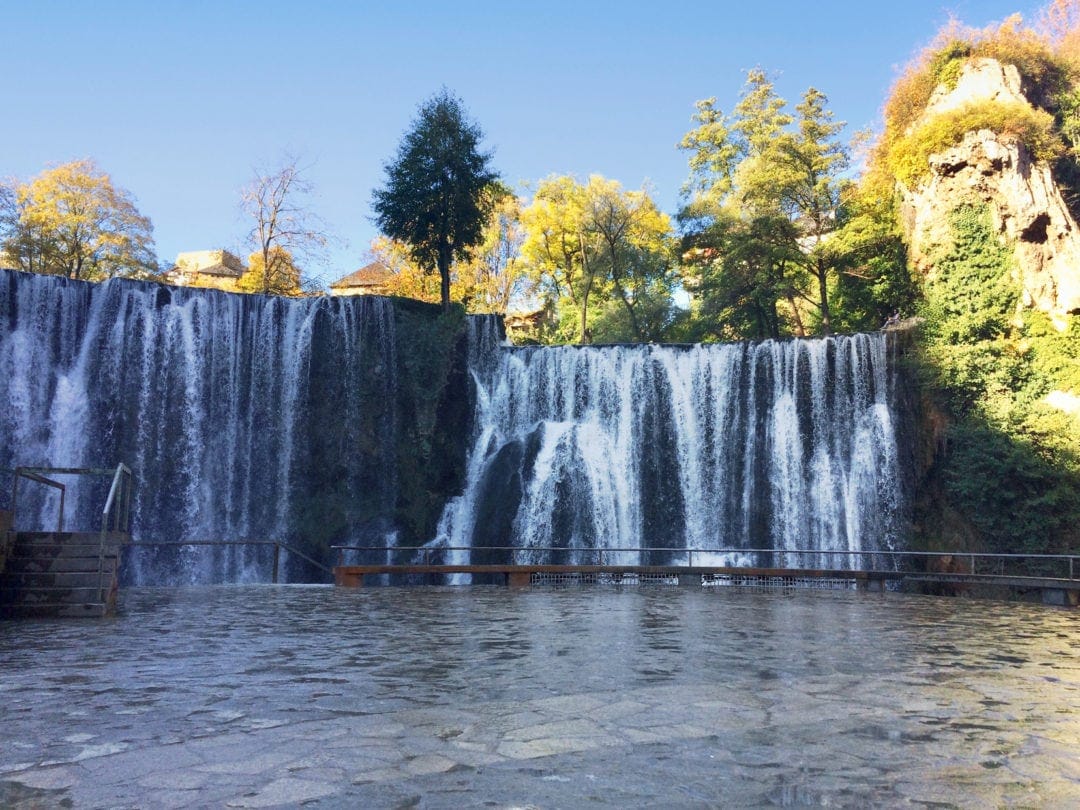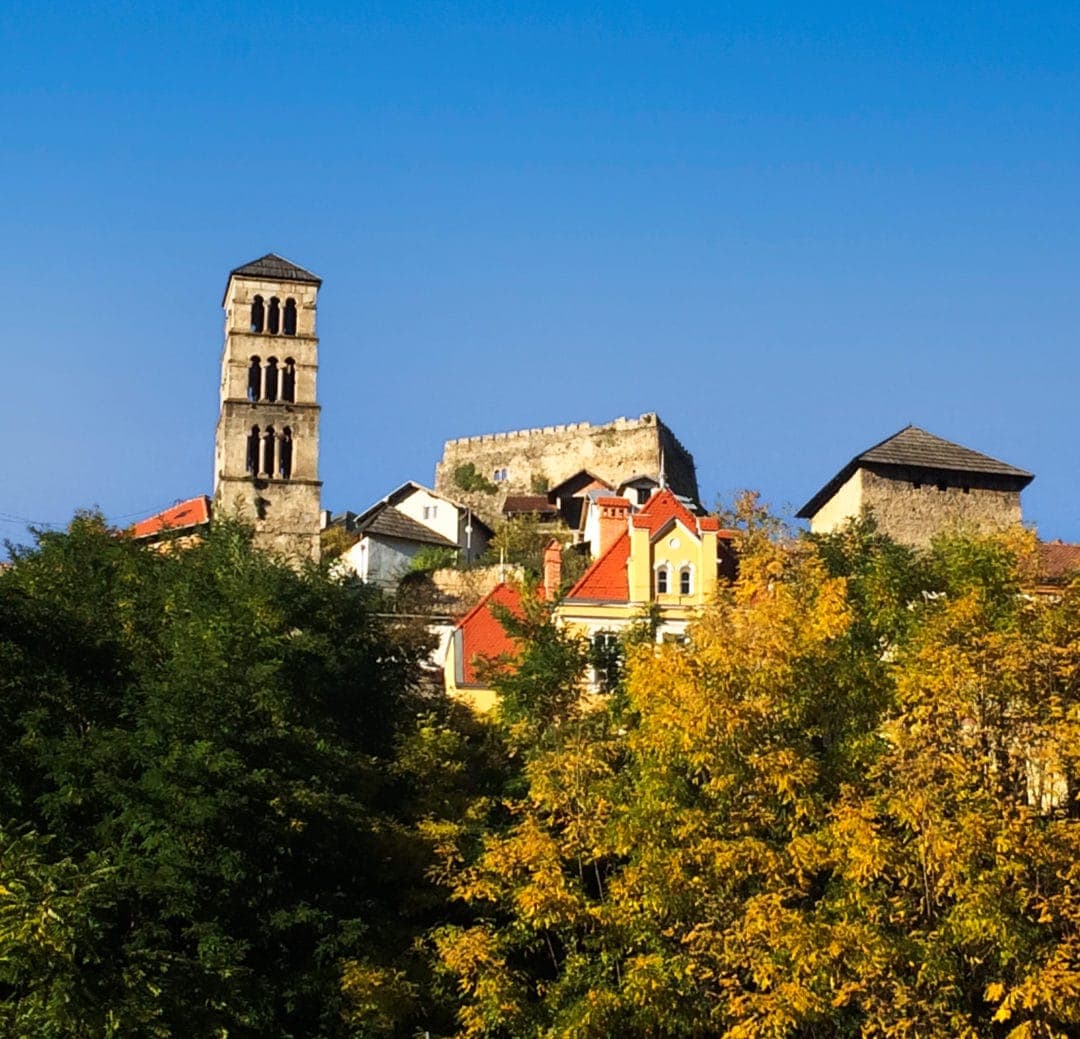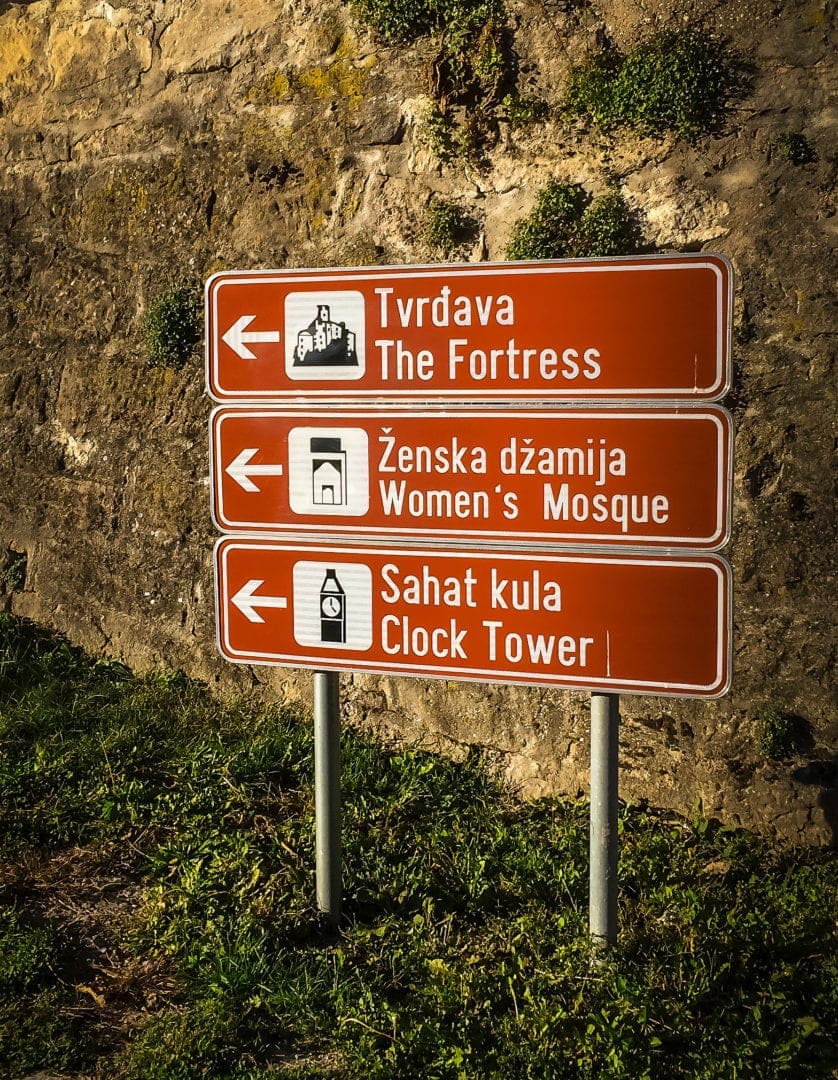 Jajce Wooden Watermills
About 5km west of Jajce, at Mlinčići Park, you'll find a marvellous park where you can stroll around the waterfalls and catch a glimpse into the watermill history of Jajce.
Water cascades around these old wooden mills surrounded by greenery. A picturesque spot to stop with Pliva Lakes close by.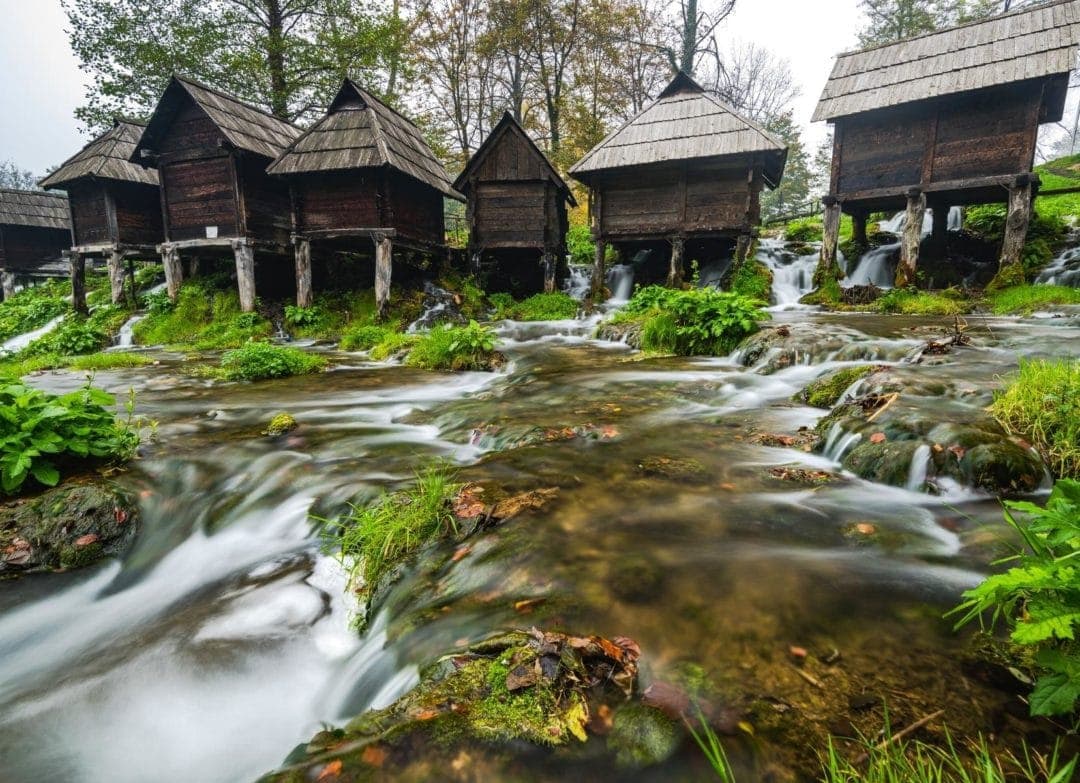 Sarajevo
Leaving Jajce behind, the next stop, as we road-tripped Bosnia, was Sarajevo.
Bosnia and Herzegovina's capital city, Sarajevo, bears deep scars from the 1992-95 Bosnia War. Some are visible, but many are unseen, carried in the hearts of its people. Sarajevo suffered 44 months of constant siege. 11,500 were killed, and 1600 of those were children. It was the longest siege of a capital city in the history of modern warfare.
Thanks to my history lessons at school, Sarajevo was one of the cities I had heard of. I'm not sure I actually knew where it was, but I knew the assassination of Franz Ferdinand happened here in 1914, and that it caused World War One.
I don't remember learning the whys and wherefores of it all, but at least I knew that.
I was 17 years old when Sarajevo hosted the Winter Olympics, in 1984. Not being much interested in sport, I can't say I learnt any more about where it actually was then either.
Now, walking side by side with Neno, our tour guide and a young man who grew up during the siege of Sarajevo, I feel guilty that his city and his plight weren't ever in my mind.
How detached we can become, as we busy ourselves with living our own lives.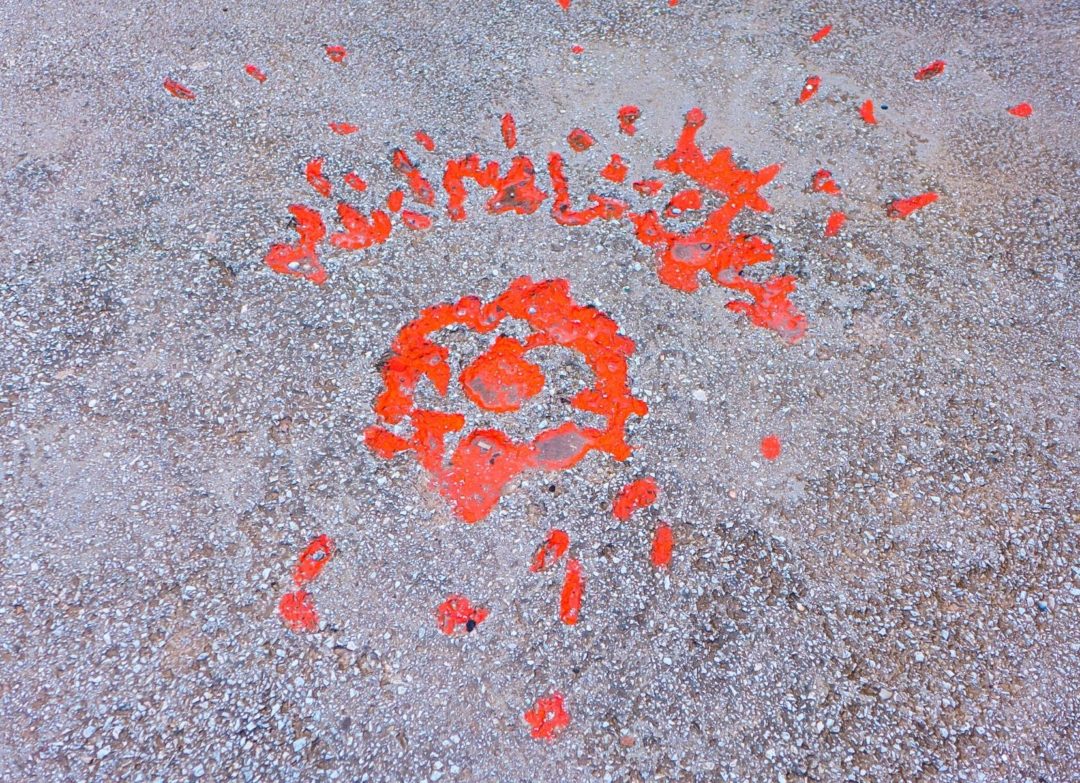 When Neno was sheltering and living in the basement of his building with all the other families, I was studying law at university.
While I worried, as a divorced, single mum, how I would complete my assignment with a two-year-old toddler throwing tantrums left right and centre, Neno watched on as friends and family were shot and killed by snipers and mortar shell explosions.
I worried about assignments. He worried about getting enough food, enough clean water and getting through a day without losing a loved one.
Every day.
For 1425 days.
The concrete scars left by mortar bombings throughout Sarajevo have been painted in a red resin as a legacy to those who were killed in the Sarajevo siege. They are known as the Sarajevo Roses.
Whatever you choose to do in Sarajevo, do choose to take a tour and hear the stories of those who lived through the war. We recommend Neno and friends Free walking Tour (It's free, but you tip the amount that you would like to give at the end).
---
---
Liberation Square (Trg Oslobođenje)
Liberation Square sits in the heart of Sarajevo. Nearby, as a nod to the city's multiculturalism, are Cathedrals, one orthodox, another Christian, a Jewish Synagogue and Muslim Mosque.
A blended community.
Unbroken by a conflict that could have very easily trampled its soul.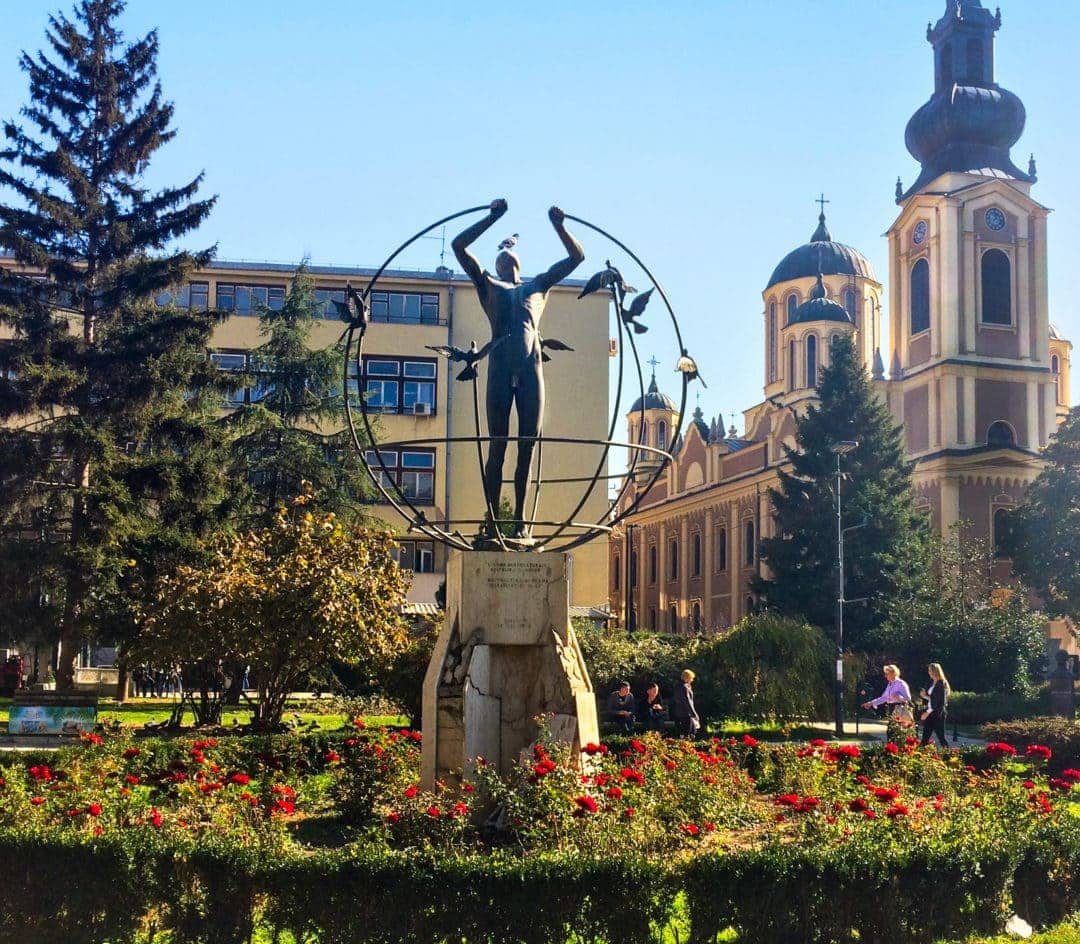 Listening to Neno, (our tour guide), it's obvious that the people of Sarajevo stuck together amidst the fighting. Civilian relationships between the Serbs, Bosnians and Croats were not torn apart. That was left to the sniper bullets and bombs raining down from above.
However, there is one intense battle that continues in Sarajevo.
Here, in Liberation Square, sacrifices are made and manoeuvres are carefully planned. Knights fall to protect their king, while bishops do their best to interrupt proceedings.
The 64 square battlefield is a serious matter. Moreover, from the number of comments being tossed around, it sounds like everyone has an opinion on how to win. Chess is a serious business.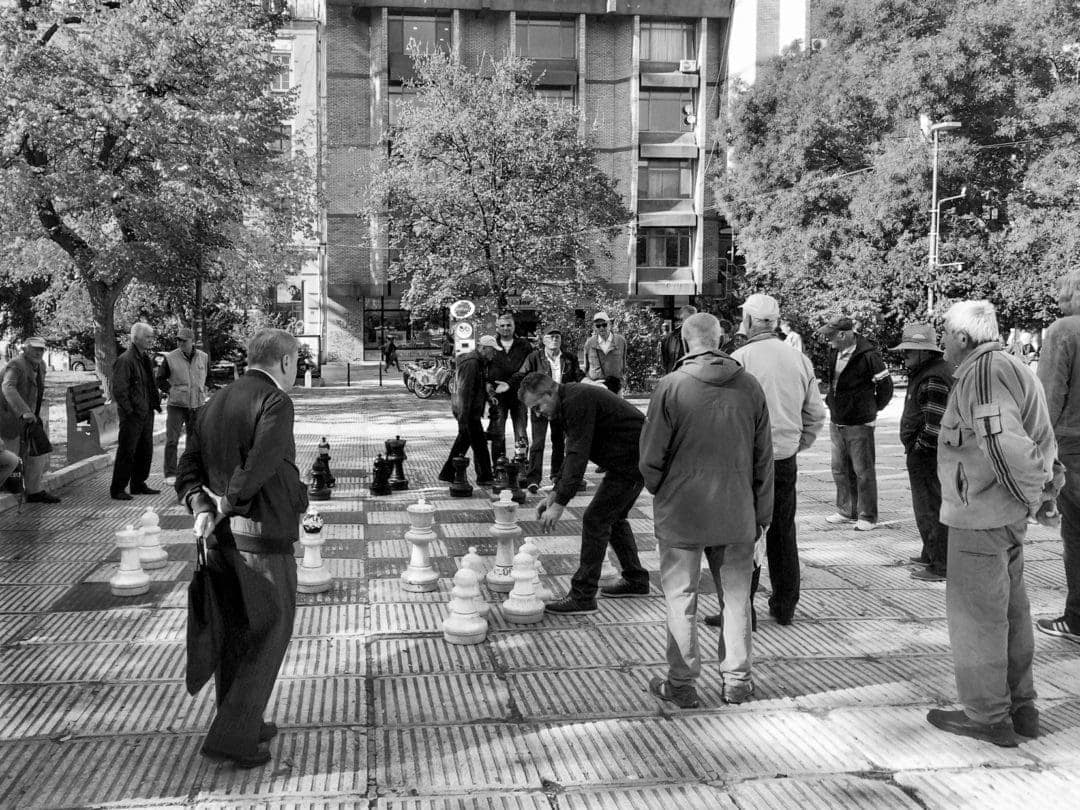 In the centre of Liberation Square, stands the monument, Multicultural Man Builds the World. It was put up in Sarajevo in 1997, two years after the first identical statue was installed in Toronto. The same statue, by Italian sculptor Francesco Perilli, is also in Changchun (China), and East London (South Africa).
Perilli describes the meaning of the monument as:
"It represents a man who, at the centre of the globe, joins two meridians; while the remaining meridians are held aloft by doves, a peace symbol in themselves. Moreover, the doves are symbolically meant to represent the cultural vitality of the people who, with the man, construct a new world, under the banner of dialogue and mutual respect".

Francesco Perilli
There are many other monuments and statues dotted around Sarajevo. An interesting, funny one, is the huge tin of Beef, the ICAR can monument. This tin of beef was sent to Sarajevo as part of the humanitarian package during the war.
The locals say that this infamous gold tin, marked 'Beef,' contained more jello than meat. Though they ate it out of necessity at the time, they realised it was pretty disgusting and created a monument as a "thanks, but no thanks" to the UN.
Latin Bridge
The Latin Bridge, also known as Princip's Bridge, stretches across the Miljacka River in Sarajevo. It was here, at its northern end, where Gavrilo Princip shot and killed Franz Ferdinand and his wife Sophie in 1914. This was the precursor to World War I.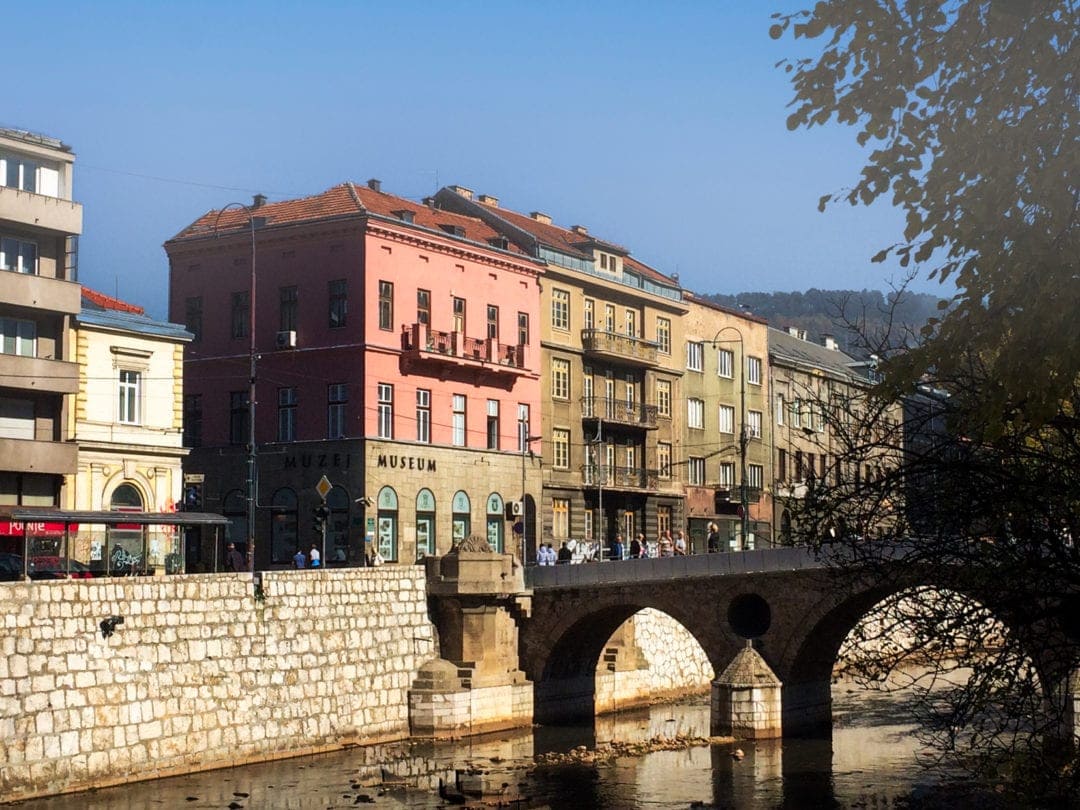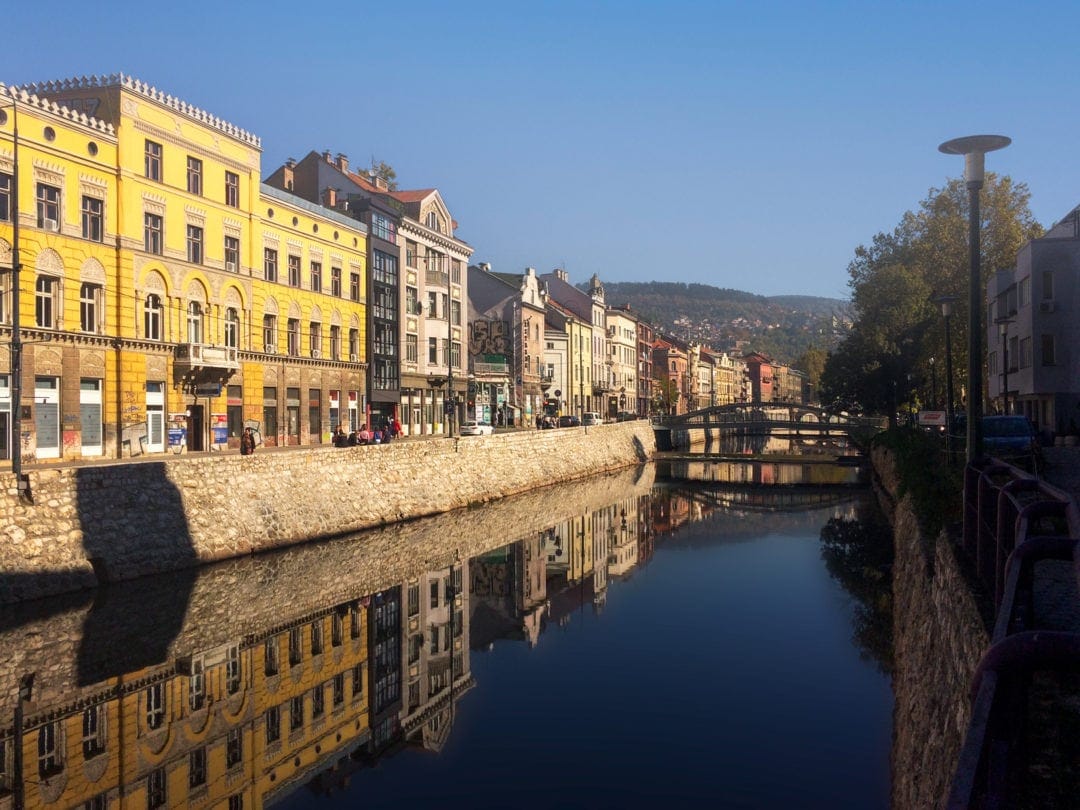 Sarajevo City Hall (Vijecnica)
The City Hall, locally called Vijećnica, was one of the most lavish buildings to be built in Sarajevo in the Austro-Hungarian occupation. Unfortunately, in 1992, at the beginning of the siege, it was bombed and went up in flames.
At the time, it was the National and University Library of Bosnia and Herzegovina and around two million manuscripts, books and documents were destroyed in the fire. It was finally reopened 22 years later, in 2014, after extensive renovations.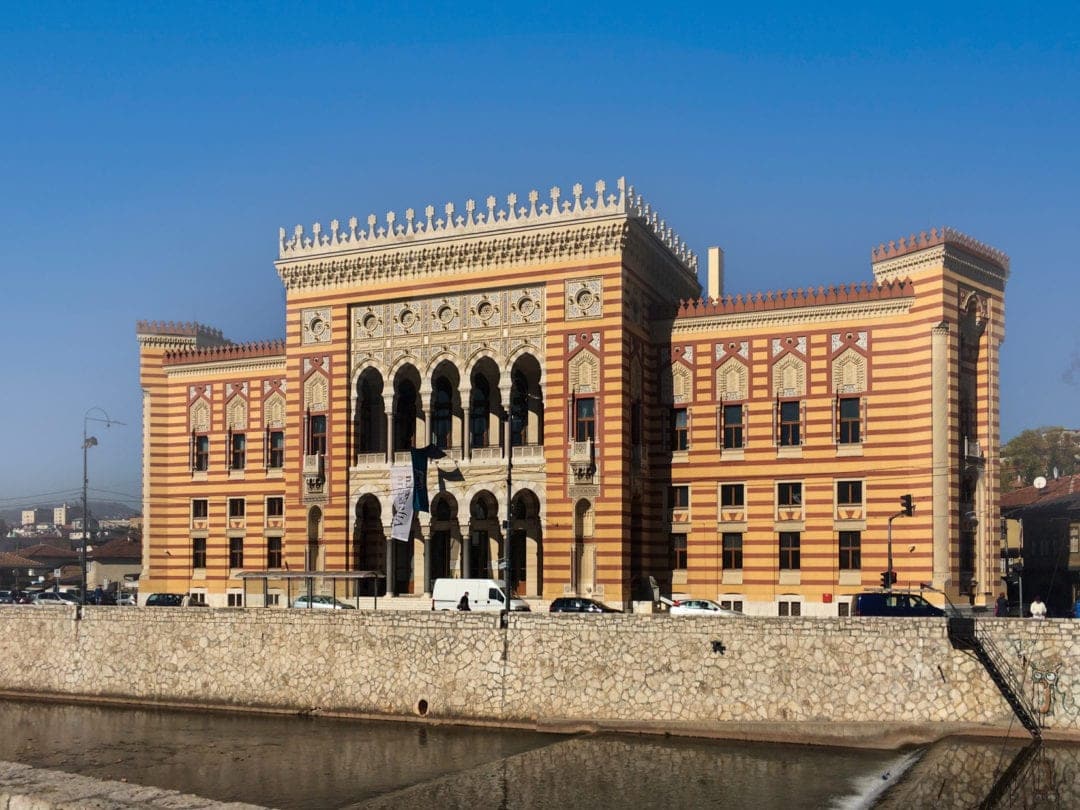 Inat Kuca
On the opposite side of the river to the town hall, sits the inconspicuous Inat Kuca. Since 1997, Inat Kuca has been a traditional Bosnian restaurant. But its history started with a stubborn old man defying the powers be.
Old Benderija, a Sarajevo local, lived in one of the houses that were to be demolished to make way for the building of the impressive city hall. However, he refused to allow this to happen.
Finally, after many negotiations, he agreed to be compensated with a bag of gold and for his house to be moved, brick by brick, to the other side of the river. And just like that, Inat Kuca, which means the House of Spite, was born.
Today the building is a protected cultural and historical heritage site.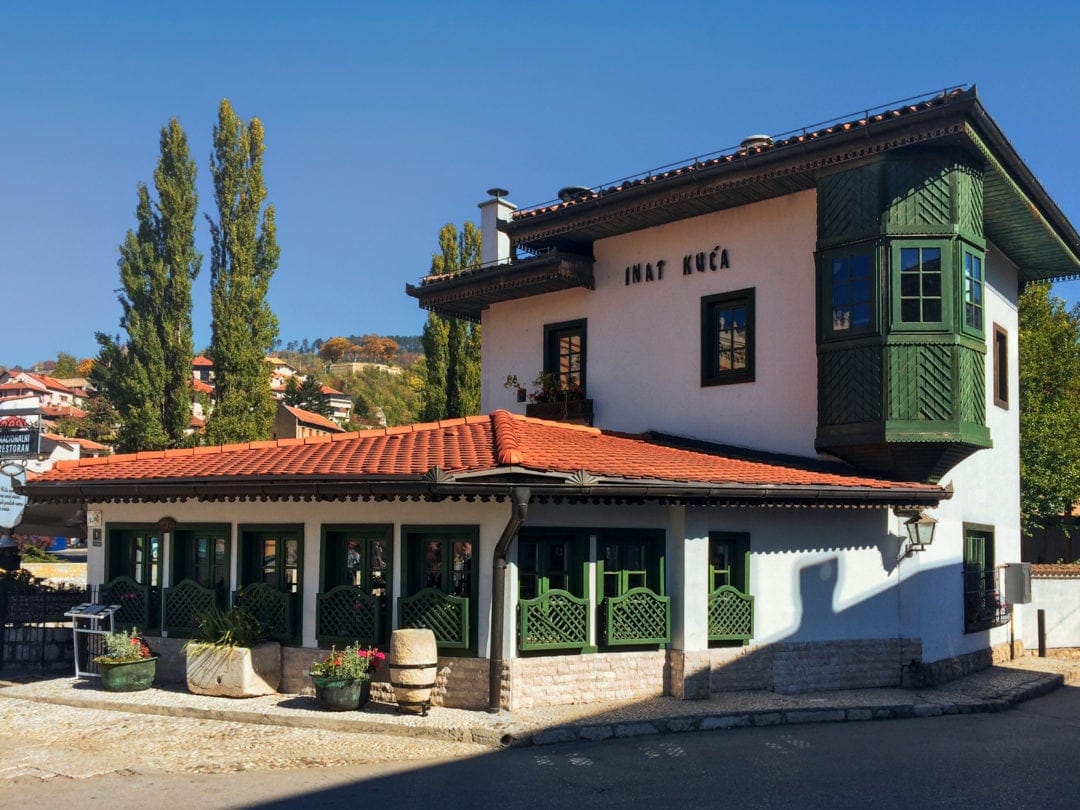 Sarajevo Cemeteries
The Kovači Cemetery is the resting place of many of the victims of the Sarajevo siege. Its narrow white column-like headstones are another poignant reminder of the terrible loss of life in the besieged city of Sarajevo.
Also, on the southern slopes of Sarajevo, you'll find the second-largest Jewish cemetery in Europe, the largest is in Prague. The Old Jewish Cemetery is on the tentative list as a UNESCO site.
It was in use from the early 17th century to 1966. Unfortunately, it was badly damaged in crossfire during the war. Due to unexploded landmines placed amongst the graves, it remained closed until all were cleared. It eventually opened again in 1996.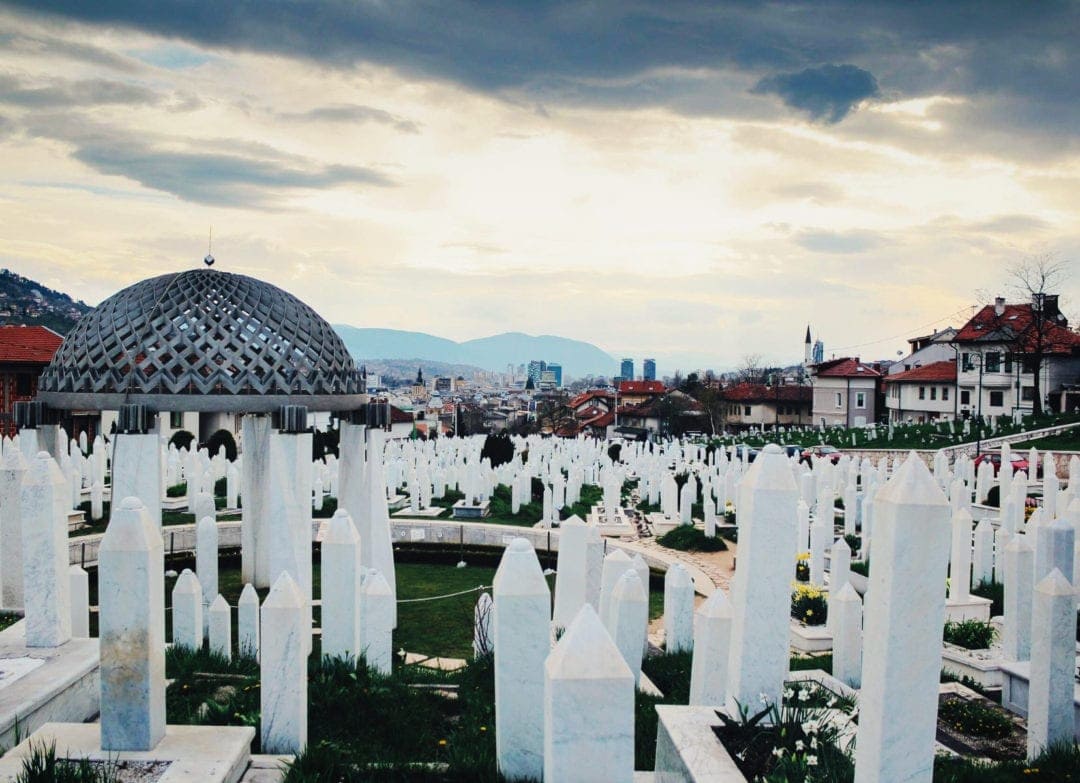 Bascarsija — the Old Bazaar
Take a stroll through the old historical centre of Sarajevo, Bascarsija. Dating back to the 15th century, this maze of narrow streets is packed with local artisans, tiny shops and cafes.
We stopped to soak up the atmosphere and took the opportunity to sample a couple of local dishes. For the main course, we tried Cepavi, a naan-type bread filled with small sausages, sour cream and fried onions. For dessert, Tufahije and coffee.
The Bosnian coffee was very bitter — presumably an acquired taste. But the Tufahije, a poached apple stuffed with a walnut filling, was delicious.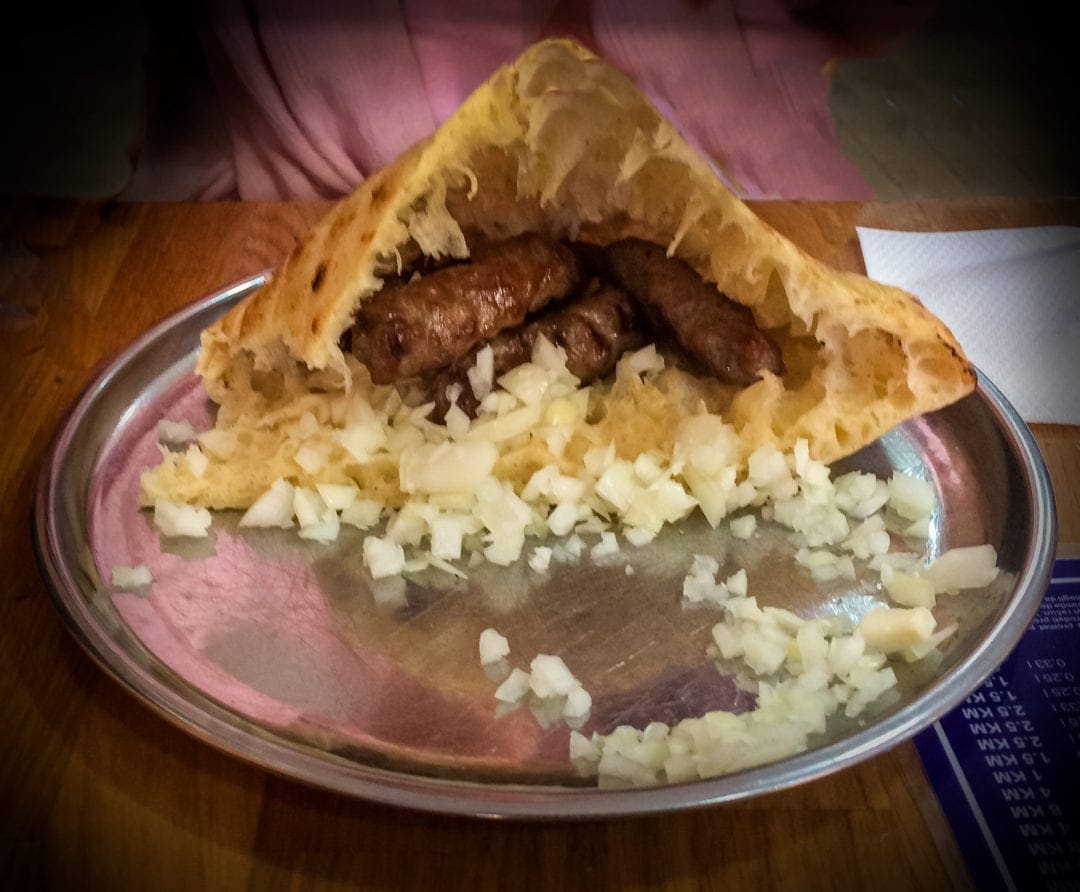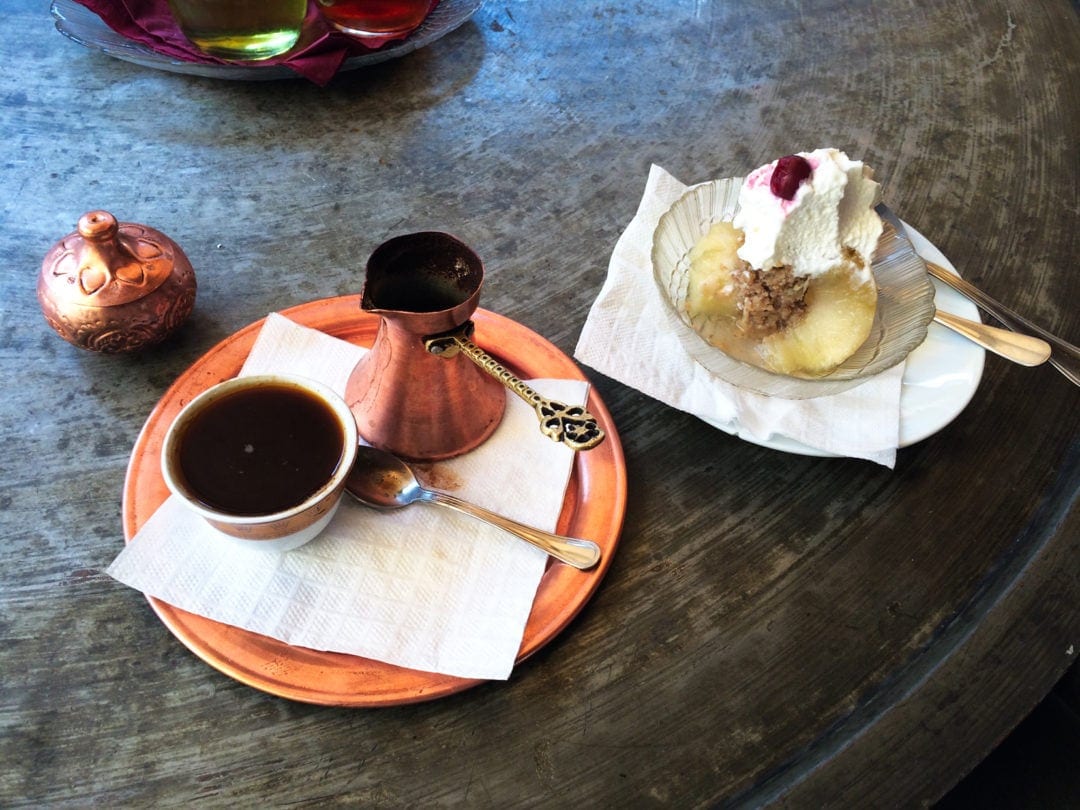 Sarajevo Olympic Bobsleigh and Luge
The Sarajevo luge and bobsleigh track saw victories won and ambitions dashed in the 1985 Winter Olympic Games. Unfortunately, in the Bosnian War, it was used as an artillery position, destroying the track in the process.
Wounded and battered, it now displays graffiti and attracts tourists, not for its medal-winning performance, but as a reminder of modern war.
We didn't make it here, but fellow travel bloggers, Gemma and Craig of TwoScots Abroad did, and their post tells you how to get to the Sarajevo Bobsled.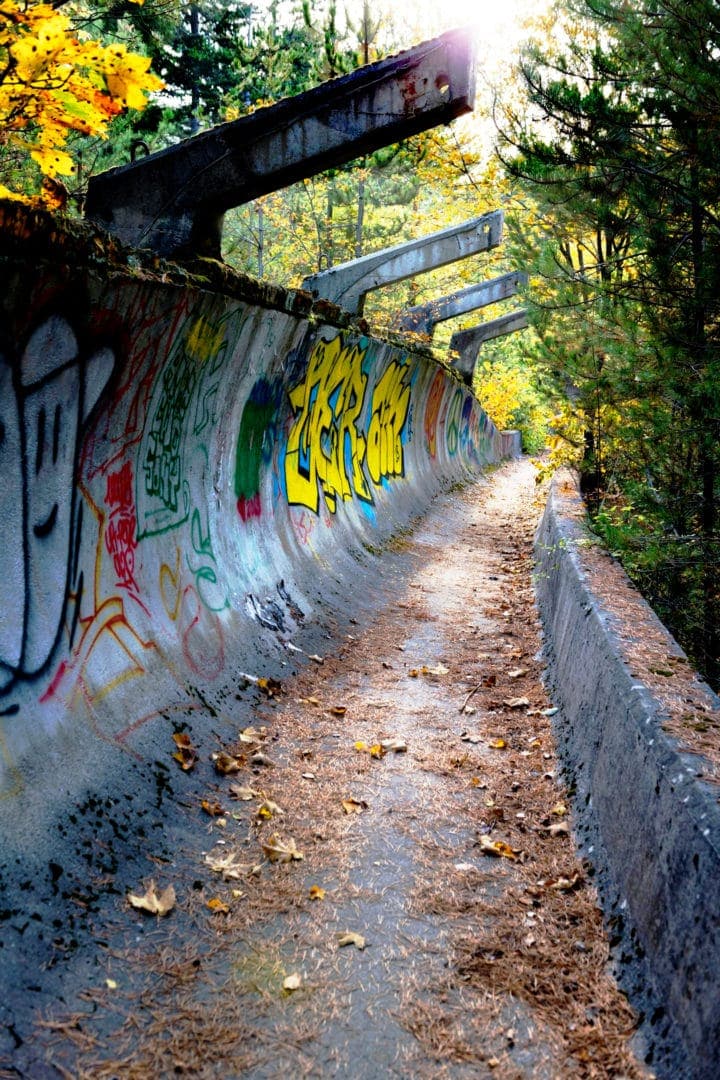 Mostar
Similarly to Sarajevo, Mostar is littered with derelict and pockmarked buildings, especially in the area around Španjolski trg (Spanish Square). In contrast to Sarajevo though, Mostar Old Town, nestled between the mountains and the tree-lined Neretva River, has a more intimate feel than Sarajevo.
The Old Town, a listed World Heritage Site, is picturesque and it's easy to spend a few hours wandering the narrow, cobbled streets.
Below, we've highlighted a few of the places not to miss on a stop at Mostar as you road trip Bosnia.
---
---
Koski Mehmed Pasha Mosque
Through an arched entrance leading to a courtyard, sits this small mosque dating back to the 17th century. Interesting as mosques are, it is the minaret tower with exceptional views towards the old town and Stari Most (old bridge) that is the drawcard here.
The tiny, narrow staircase of 78 steps, winds its way up to the top where you reap the reward of panoramic views across Mostar.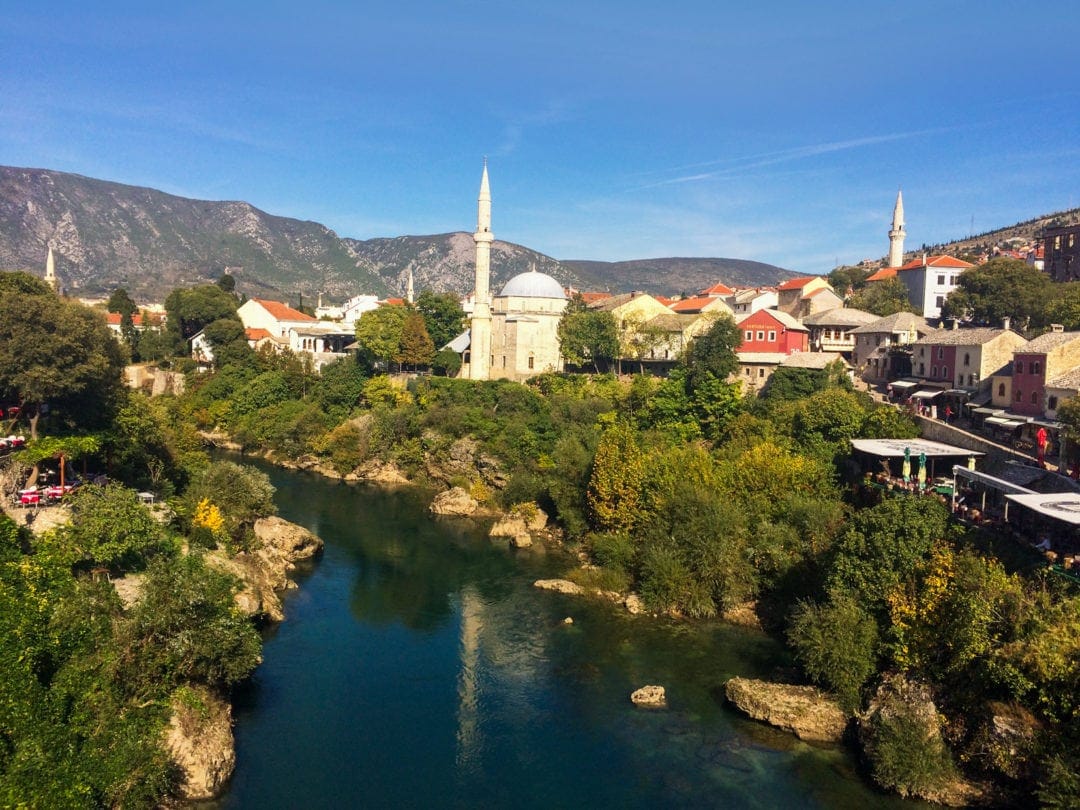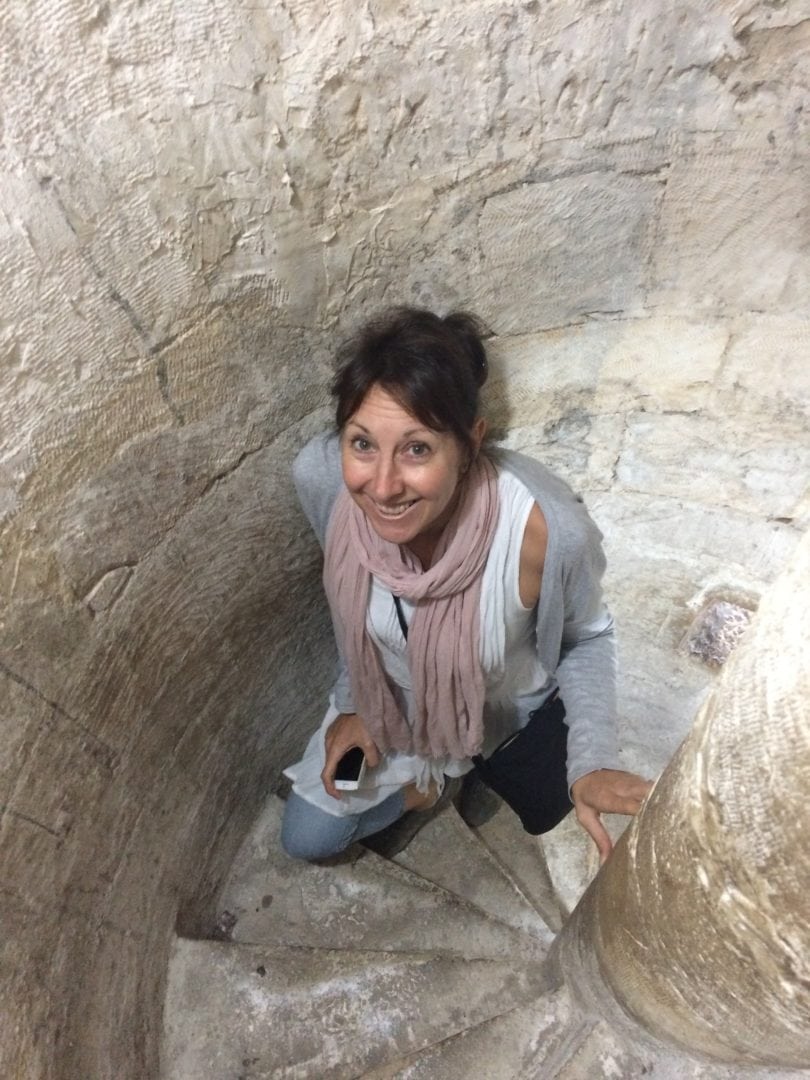 Old Bazar Kujundziluk
Between the mosque and the Mostar Old Bridge, local artisans, shops and cafes line the cobbled, narrow lanes. This is the Old Bazar Kujundziluk, where you'll find traditional copper workers tapping away at their intricate designs, local handmade jewellery, rugs, traditional Turkish smoking pipes, scarves, porcelain pots, and many other trinkets and souvenirs.
Stari Most — Mostar's Old Bridge
One of the most iconic images that you will often see representing Mostar, is the view of its old bridge, Stari Most. The bridge was originally built over the Neretva River in the 15th century when the town developed in Ottoman times.
However, during the Bosnian War, much of the Old Town and the bridge were destroyed.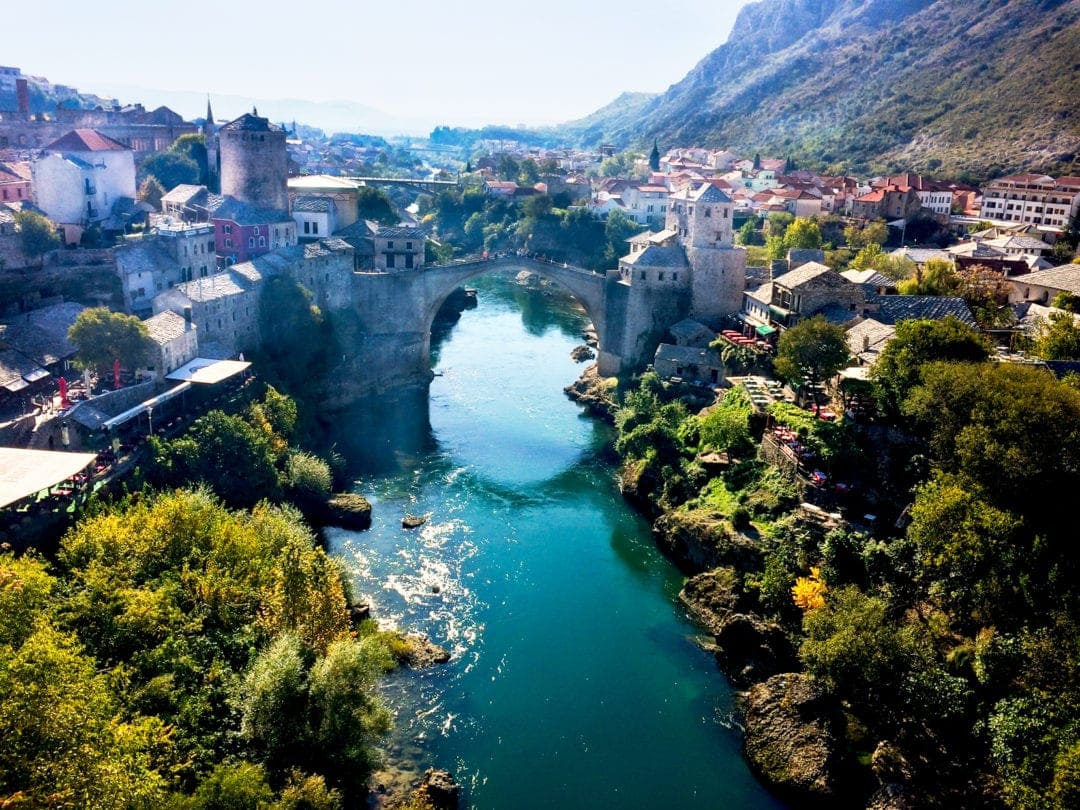 As an example of a multi-cultural urban settlement, the bridge and many parts of the old town were rebuilt by a committee established by UNESCO. Now on the World Heritage List, the bridge and old town are;
A regular spectacle that occurs on the bridge, is young men standing on the edge of the bridge's railings looking like they are about to jump.
They collect money from onlookers and when they believe they have amassed enough, they jump into the river below.
Be mindful that their charade can go on for hours, with several false starts and teasing of eager tourists at the ready with their cameras.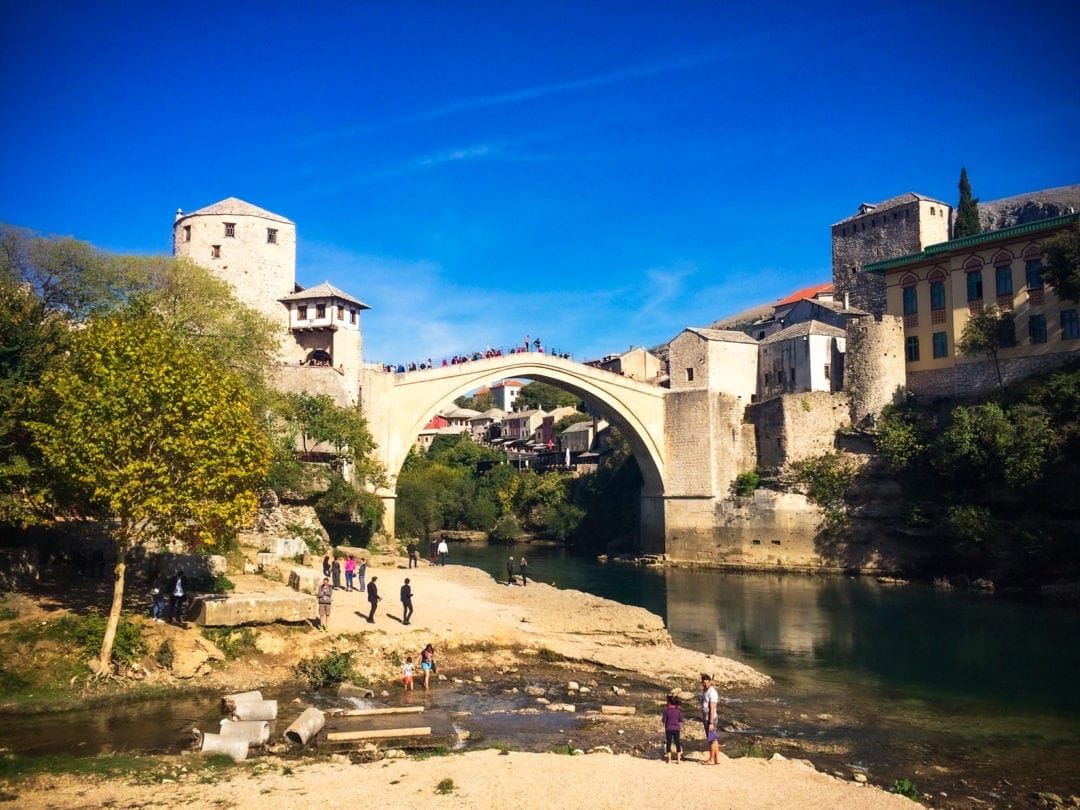 Mostar's Crooked Bridge (Kriva ćuprija)
This cute little bridge was built as a smaller trial version of the Stari Most. It too, however, has been rebuilt due to both structural damages in the war and then being washed away in floods. Locals told us that local cafes play music here at night, so it might be a nice place to hang out if you are in Mostar for the evening.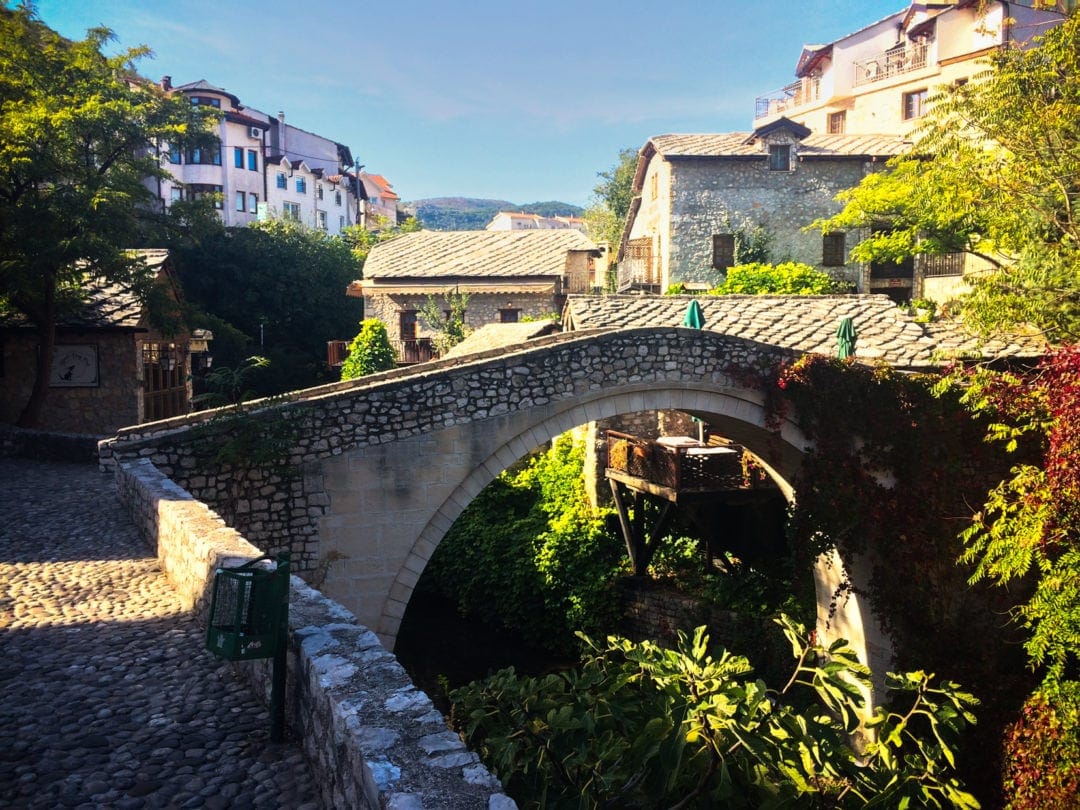 Mostar Sniper Tower
The Mostar Sniper Tower was once a bank, but in the Bosnian War, because of its high vantage point was used as a sniper tower.
It now stands derelict as a painful reminder of the conflict. In fact, as you wander around Mostar, and elsewhere in Bosnia, you'll find many bullet-ridden and derelict buildings. Although boarded up, graffiti artists now use the tower as a canvas to express their creativity.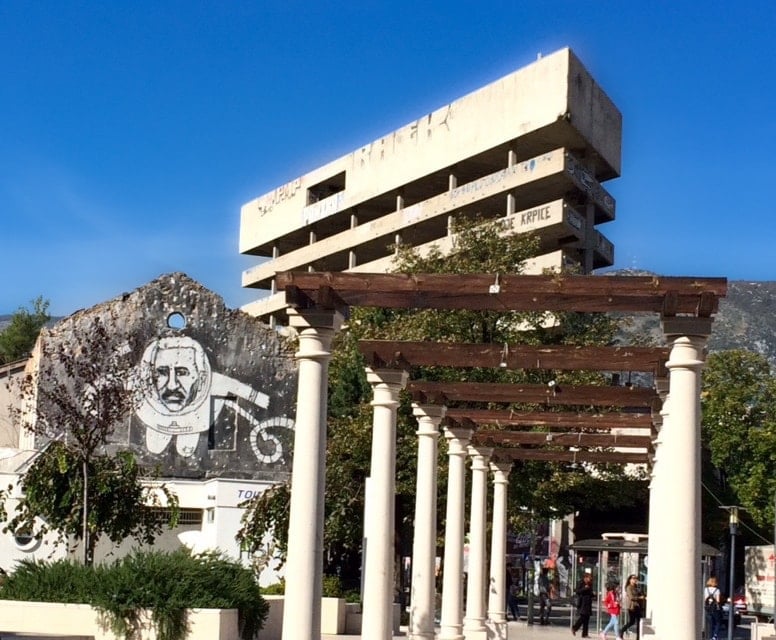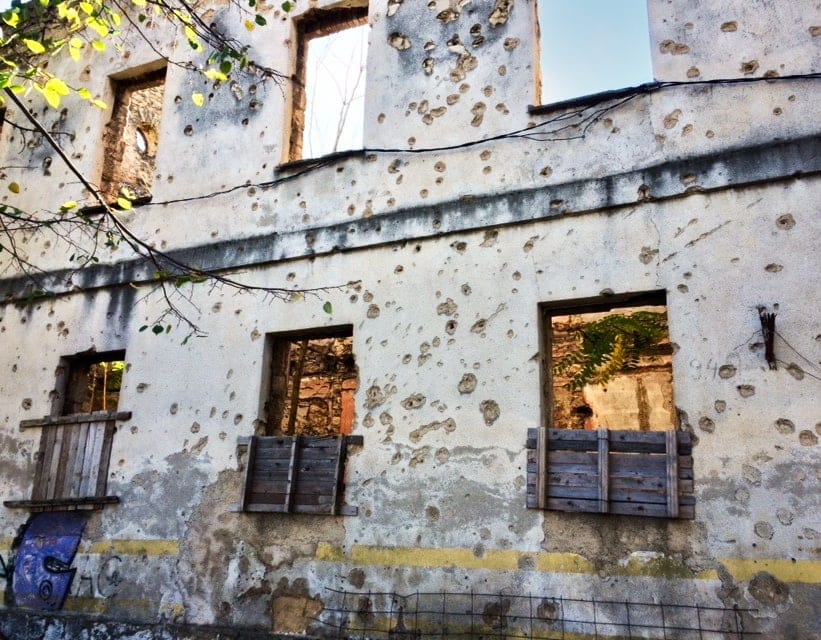 Blagaj Tekke
Not far from Mostar, is the gorgeous River Buna, its source being an underground cave spring in Blagaj. Situated right at the entrance to the cave at the bottom of a steep cliff face is the ancient Dervish Monastery, the Blagaj Tekke.
To visit inside, you do need to take your shoes off and cover-up, but it's an interesting building to explore, covered with carpets and cushions. It's cool, calm and peaceful inside and its setting is spectacular.
Constructed in the early 1500s, the Blagaj Tekke was for those of the Dervish faith — a branch of Islam, that took a vow of poverty and rejected material possessions. They were well-known for performing whirling dances as part of their worship, with white costumes that fanned out as the Dervish spun themselves around.
There are a few cafes nearby for refreshments and to soak up the calming atmosphere.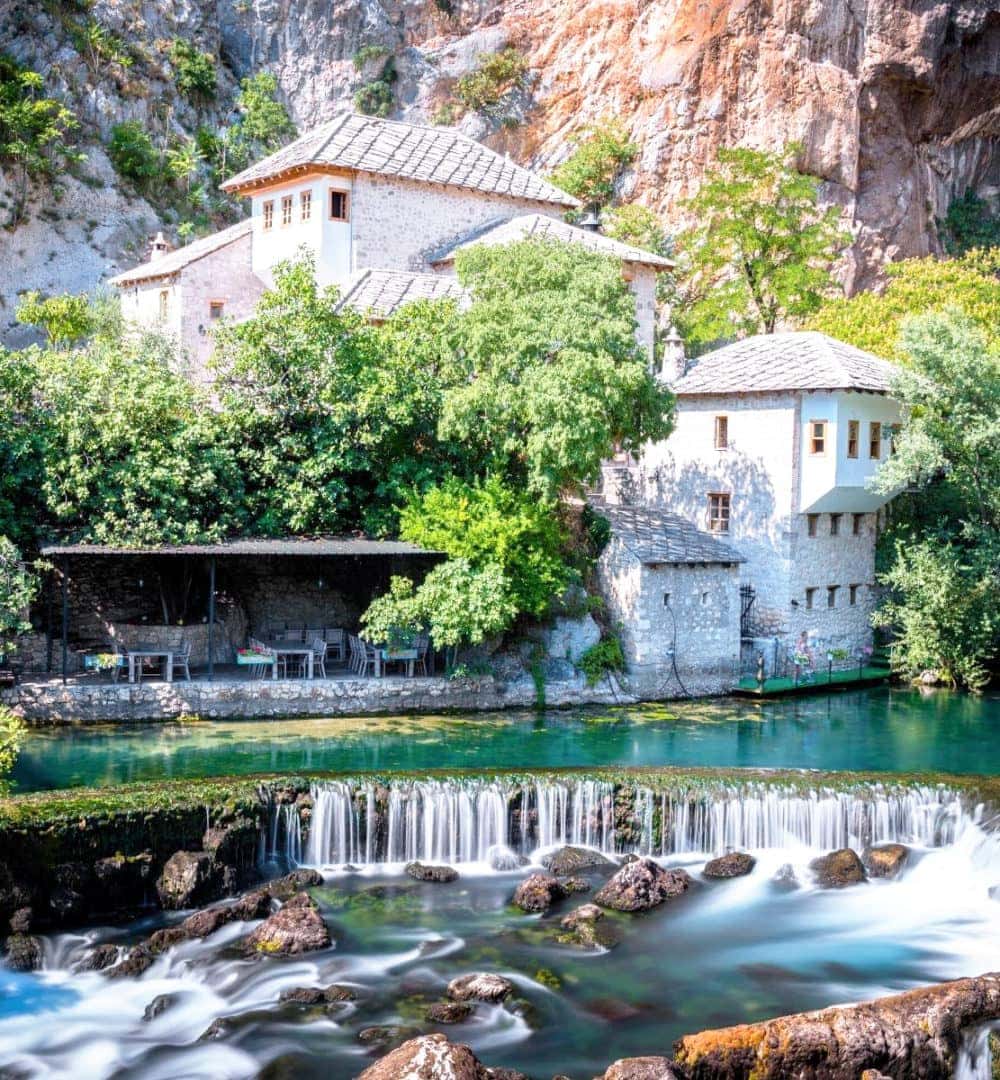 Kravica Waterfall
About 30 minutes from Mostar, this pretty waterfall is worth a stop on your Bosnia road trip, especially if you get there early before the crowds. Its appearance is a little like Krka Waterfall in Croatia and you are also allowed to swim here.
The Kravica Falls are 25 metres high and the arc-shaped cascades flow amongst luscious greenery.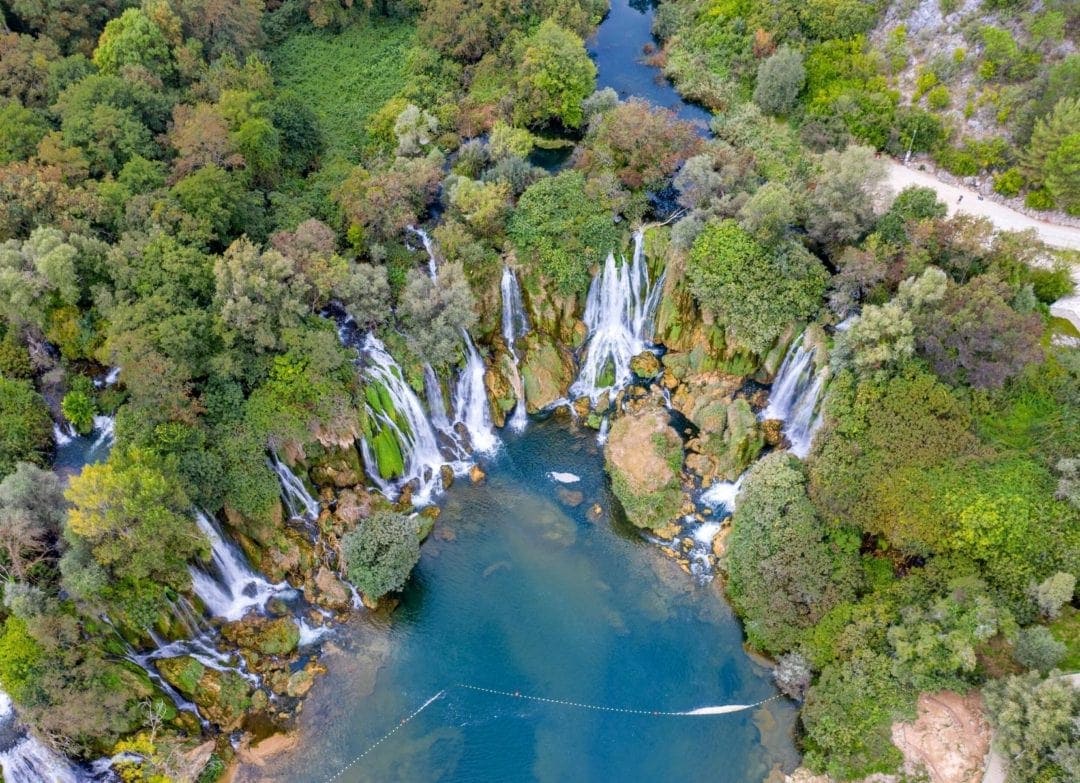 After road-tripping through Bosnia, we headed off to road trip Serbia, However, the Croatia border is only a short distance from Kravica Falls, so it would be easy to continue your road trip through Croatia. From here you could easily head north to Split or south to Dubrovnik.
Campervanning and Motorhoming in Bosnia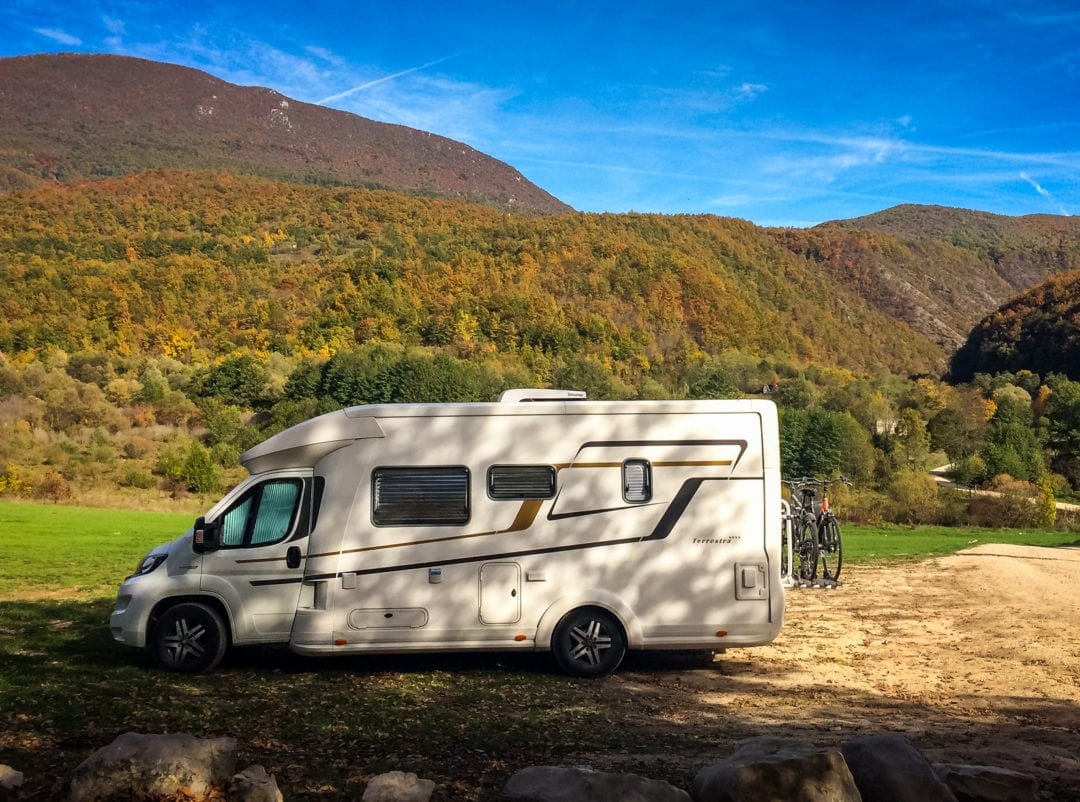 Tips for Campervanning in Bosnia
Bosnia Campervan Rental
On our travels through Europe, we found that the Motorhome Republic was able to negotiate a much better deal than we could get when we tried going to the motorhome rental companies ourselves. In addition, they did all the hard work!
We are now affiliated with them because we were so impressed with them.
For a thorough article on things that you need to consider when hiring a motorhome, read this post:

Our Campervan Stops in Bosnia
Una National Park: Camp Buk — Beautiful spot by the river and friendly owner who was keen to share his home-brewed Rakia (A strong fruit brandy-like drink)
Jajce: We overnighted in a car park (44.33703, 17.26819) and paid ten euros but it was so noisy we wouldn't recommend it. There is a campsite nearby @ Autocamp Plivsko Jezero
Sarajevo: Camping Sarajevo — We drove into Sarajevo straight from Jajce, but if you stay at this campsite you could get a taxi or reviews state that the owner is willing to give a lift.
Mostar: Camp Buna — ***** Excellent camper stop with a super friendly host, Gaga, and opportunity for lifts to Mostar and Blagaj.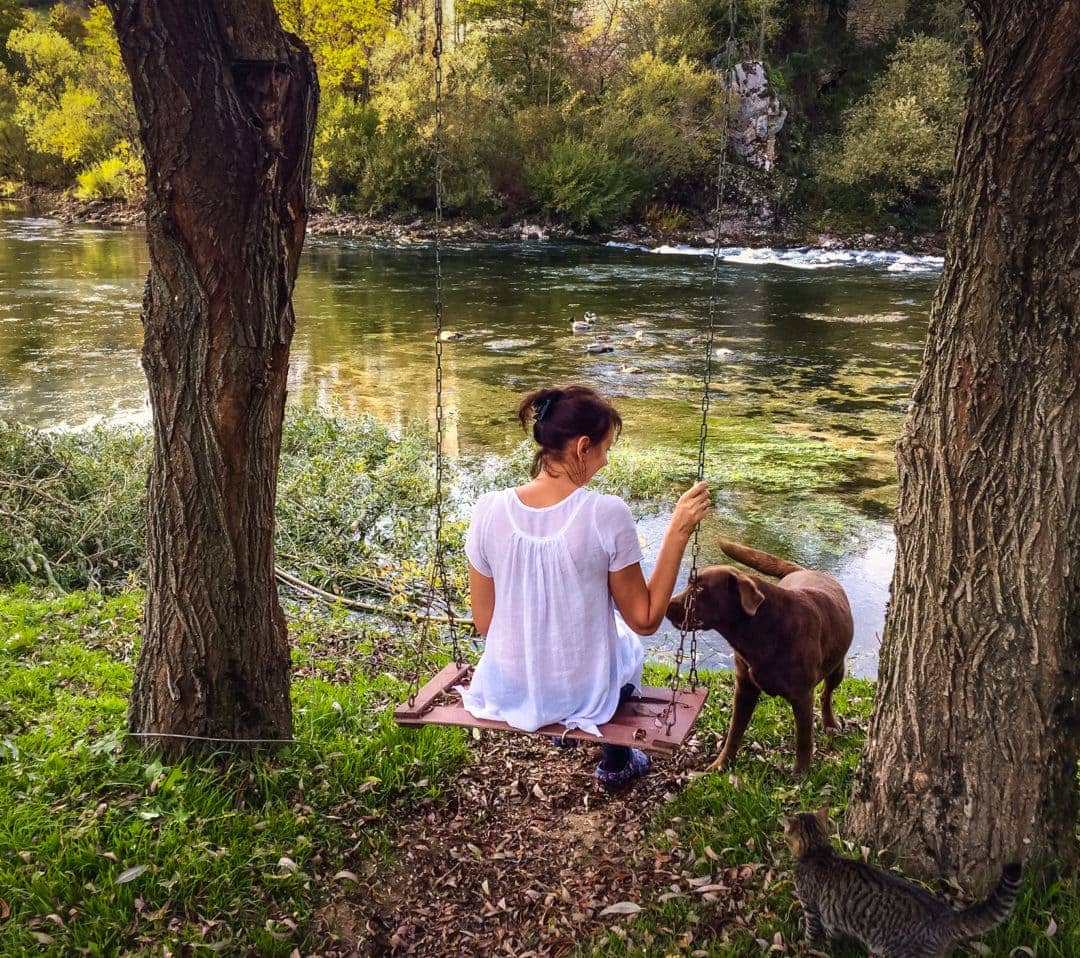 Wild Camping in Bosnia
Although not officially sanctioned, wild camping is tolerated in Bosnia. However, there are unexploded mines around the countryside, so don't go off road.
Accommodation in Bosnia:
If you are looking for accommodation in Bosnia, try these deals on Booking.com
DRIVING IN BOSNIA
Many of the roads in rural areas can be in poor condition, but the major routes are fine.
In Bosnia, you drive on the right
Seatbelts are compulsory
You will need to have the following documents:

Drivers licence (An international driver's licence isn't required)
Vehicle insurance
Vehicle registration document
Passport
Note: Since August 2021 you no longer need a Green Card for Bosnia

You are also required to have the following in your vehicle:
Use of speed camera detectors is prohibited
Anyone under the influence of alcohol can't sit in the front seat, even as a passenger
If you're involved in an accident, you must wait until the police arrive
Driving in Bosnia requires adjusting the beam pattern to suit driving on the right so that the dipped beam doesn't dazzle oncoming drivers. You can purchase inexpensive beam deflectors to adjust the beam.
Dipped headlights must be used at all times, day and night
Trams on the left have priority
Bosnia Toll Roads: There aren't many toll roads in Bosnia, just the A1 around Sarajevo and at the border with Croatia in the south. To avoid them, you can program your navigator to avoid tolls. Tolls are collected at the toll gates and can be paid by cash or credit card
Speed Limits are as follows unless otherwise signposted and on dry roads

130 km/h (80 mph) on motorways
100km/h on dual carriageways

80 km/h -100 km/h (50 mph) outside urban areas
50 km/h (31 mph) in towns and cities.

Never drive off road in rural areas as Bosnia has many unexploded land mines
Emergency Number: 112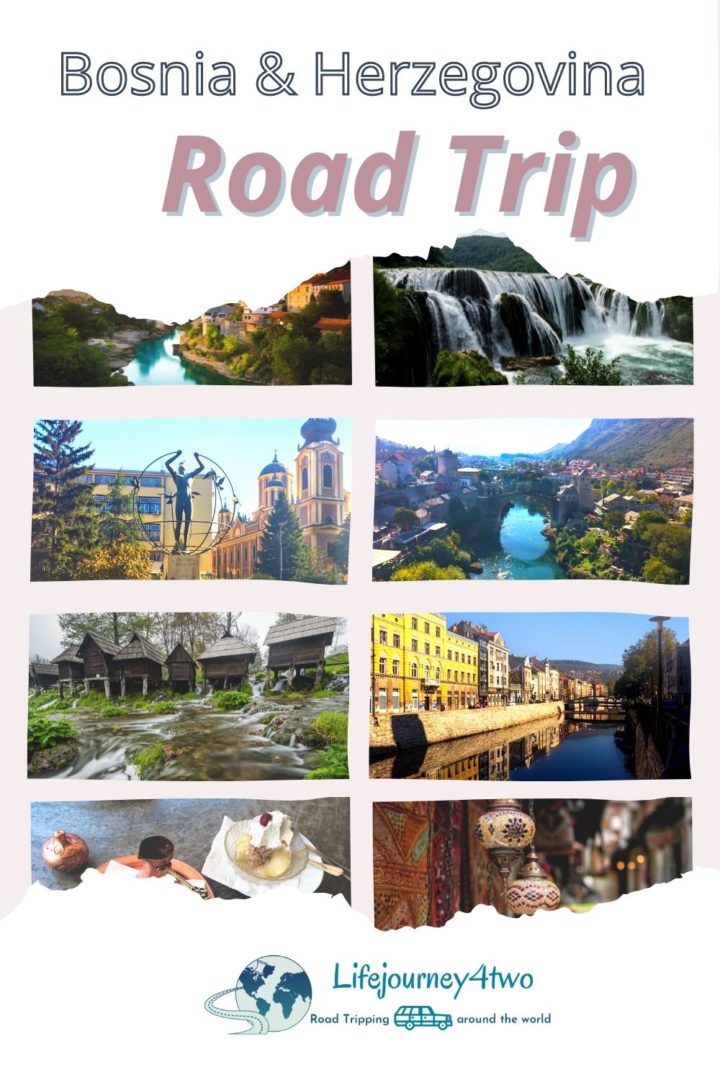 HANDY INFORMATION FOR ROAD TRIPPING IN BOSNIA
Currency: Bosnian Mark (BAM)
Handy Bosnian Words:

Thank you = Hvala (HVAH-lah)
Good day, hello = Dobar dan
Goodbye = Ćao (Chow)
Yes = Da
No = Ne

Water is safe to drink from the tap
BOSNIA ROAD TRIP … THAT'S A WRAP
As I wrap this post up, with a mixture of sadness for what happened here in Bosnia and Herzegovina and hope for its future. A country with so much beauty needs to be shared with the world. Tourism is one of the ways that will help the country recover. Indeed, telling their stories to tourists, on their Sarajevo city tours, is how Neno and friends make their living.
Lakes, mountains and waterfalls are calling, and there are so many interesting places that a Bosnian road trip can take you.
I wrote that paragraph above yesterday. Today, Russia has invaded Ukraine. It's the 24th of February, 2022.
I expect that I am not alone in having difficulty understanding how, in the 21st century, this is happening. Wars like this are meant to happen in the past. Not today. Not now. Not in a democratic world.
Authoritarian powers in the world ensure we cannot take peace for granted — we can never be sure that the stories we listen to from the tour guides in Sarajevo, will not become our own story.
Let's hope the world heals and humanity wins.
FREE RESOURCES:
FREE 23-page Travel Planner, including menu planner, journal pages and budgeting)
FREE Travel Guides (many countries)
FREE Phone Wallpapers
FREE Photo Ebooks
Monthly Travel News
---
YOU MAY ALSO ENJOY READING:
---
PLANNING YOUR TRAVELS?
These are some of the travel resources we use when planning our trips.
For a more thorough list visit our Travel Resources page here.