TWO-WEEK UZBEKISTAN ITINERARY
Uzbekistan offers the modern-day traveller a journey back to a time when what we now see as small Uzbek cities, were once the major trade centres on the lucrative Silk Road.
Come with us on this Uzbekistan itinerary — a journey through time.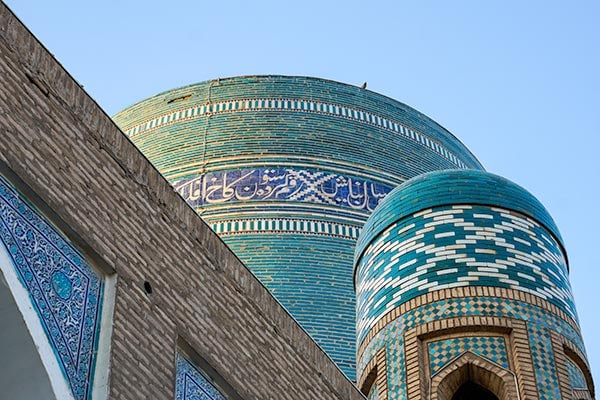 Its main ancient cities, Samarkand, Tashkent, Bukhara and Khiva, reflect glorious eras of days long gone. Now, intertwined with their own unique flavours of the modern age. This two-week Uzbekistan itinerary takes you on a journey exploring these mystical famed cities of old.
If you are looking at visiting Uzbekistan, read our Practical Uzbekistan Travel Tips and Guide, which gives you heaps of useful information for a trip to Uzbekistan. It includes how to book trains in Uzbekistan, information on credit card use, currency exchange, sim cards, travel safety, food, accommodation, and loads more.
2 WEEK UZBEKISTAN ITINERARY: OVERVIEW
This Uzbekistan itinerary is easily adjusted from 2 weeks to 1 week or up to 3 weeks. We've included additional options to choose from if you have more time.
We spent 2 weeks traversing Uzbekistan by train which made for the most relaxing and stress-free travel.
Here is our 14-day Uzbekistan itinerary which proved to work perfectly, giving us enough time at each place without the feeling of having to rush:
Stop 1 – Tashkent 1-day visit
Stop 2 – Samarkand 3-day visit (Tashkent to Samarkand = 300 kilometres)
Stop 3 – Bukhara 3-day visit (Samarkand to Bukhara = 280 kilometres)
Stop 4– Khiva 3-day visit (Bukhara to Khiva = 450 kilometres
Stop 5 – Khiva to Muynak and the Aral Sea ship cemetery 1-day visit (Khiva to Muynak = 380 kilometres (one-way)
Stop 6 – Urgench 1-day visit (Khiva to Urgench = 32 kilometres) Urgench to Tashkent flight = 2-hours via Bukhara)
Planning a Trip to Uzbekistan?
Uzbekistan Tours
If you want an even easier Uzbekistan Itinerary consider this Grand Uzbekistan Tour.
This 14-day tour includes accommodation and entry fees and covers all the main cities, Tashkent, Nukus, Khiva, Bukhara and Samarkand.
⭐️ Check out this tour and other Uzbekistan options here on Viator | ⏰ 14 days | ⭐️ 5/5 Star Reviews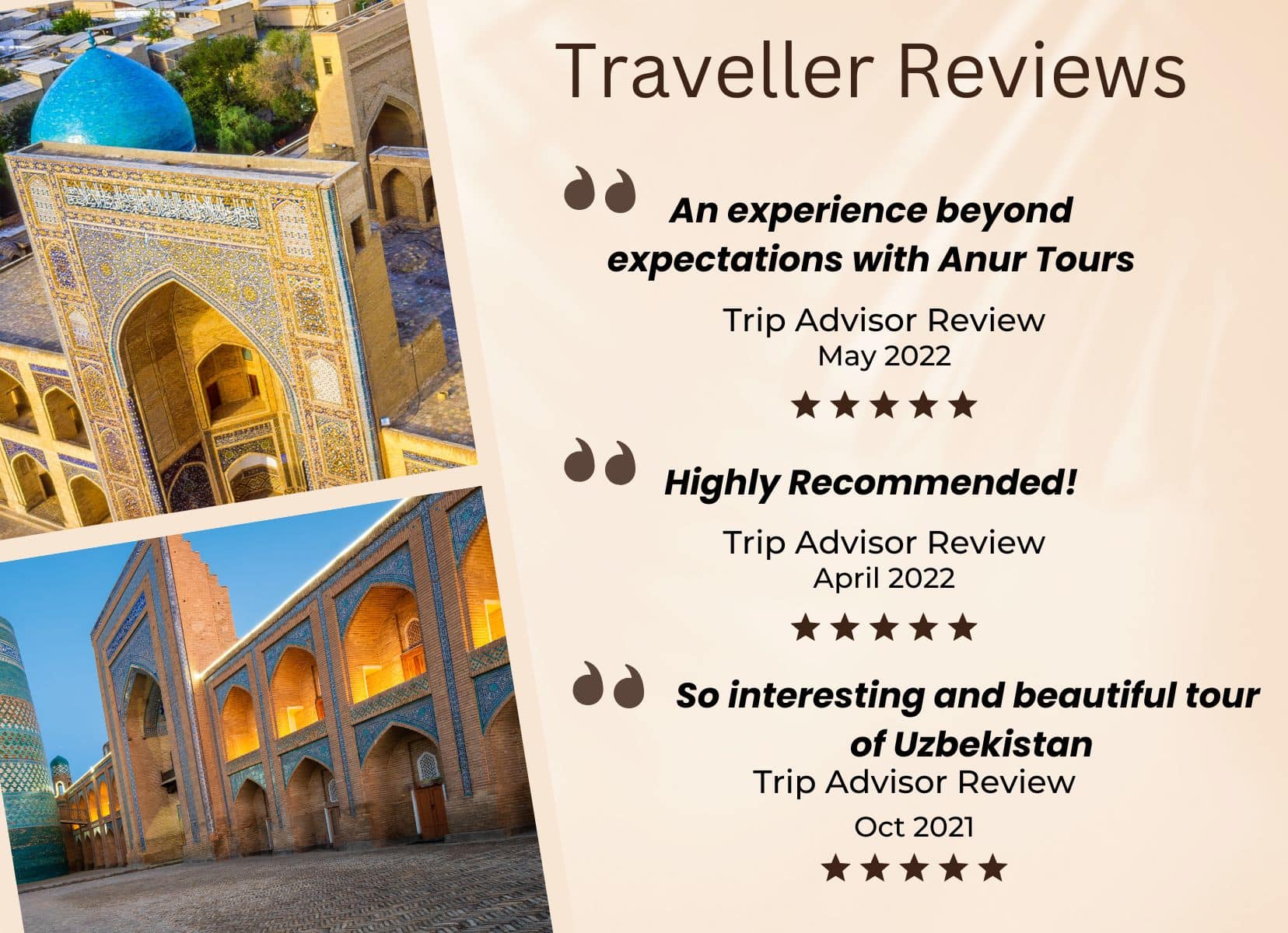 ⭐️ Explore this Uzbekistan Tour here
UZBEKISTAN ITINERARY MAP
UZBEKISTAN ITINERARY VIDEO
Below is our video capturing the essence of our Uzbekistan trip which includes visits to Tashkent, Samarkand, Bukhara and Khiva as well as a day trip to the Aral Sea ship cemetery.
BEST ATTRACTIONS ON THIS EPIC UZBEKISTAN ITINERARY
---
STOP 1 – TASHKENT ITINERARY
TASHKENT METRO
The Tashkent Metro is an underground train system that was built in 1966, following an earthquake. The Metro was designed to not only be earthquake-proof but to double as nuclear bunkers when under Soviet rule.
The underground stations are resplendent with stunning and individually styled decor made from metal, marble, granite, alabaster and glass. Each one is designed by Uzbekistan artists and architects and each station has its own particular theme.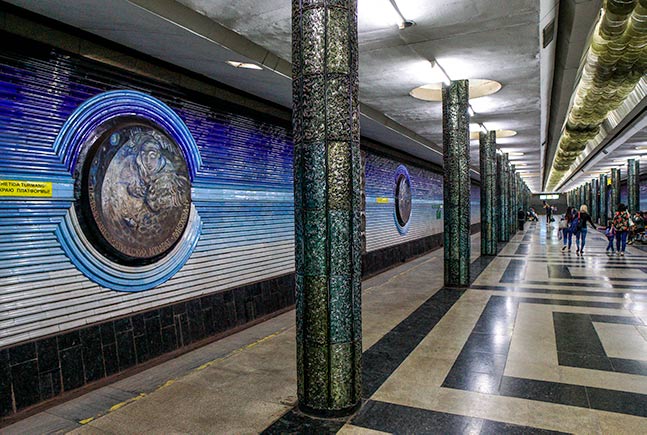 UZBEKISTAN HOTEL
Jump off the metro at Amir Temur Hiyoboni Station and you will have quick and easy access to the Uzbekistan Hotel, just a few hundred metres away.
This hotel exemplifies typical Soviet 1970s brutalist architectural style and boasts 243 rooms on 16 floors. Its facade is made up of lots of interlocking concrete squares.
The Uzbekistan Hotel was built I'm 1974 and is one of the largest in the country. Many of the city's large buildings were destroyed in the 1966 Tashkent Earthquake, and the hotel was part of the city's rebuild.
It's definitely worth a visit and you could even plan to stay in one of its classically furnished rooms for as little as £54 per night.
Find out more and current booking deals here.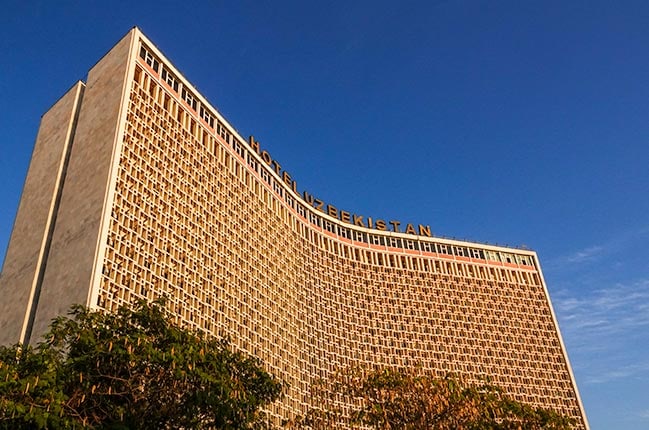 CHORZU BAZAAR
Chorzu Bazaar is a traditional marketplace selling breads, spices, fruit and vegetables.
The closest Metro stop to here is easy to remember – Chorsu, on the blue 'Uzbekistan' line.
It's a short 750m walk to arrive at the bazaar.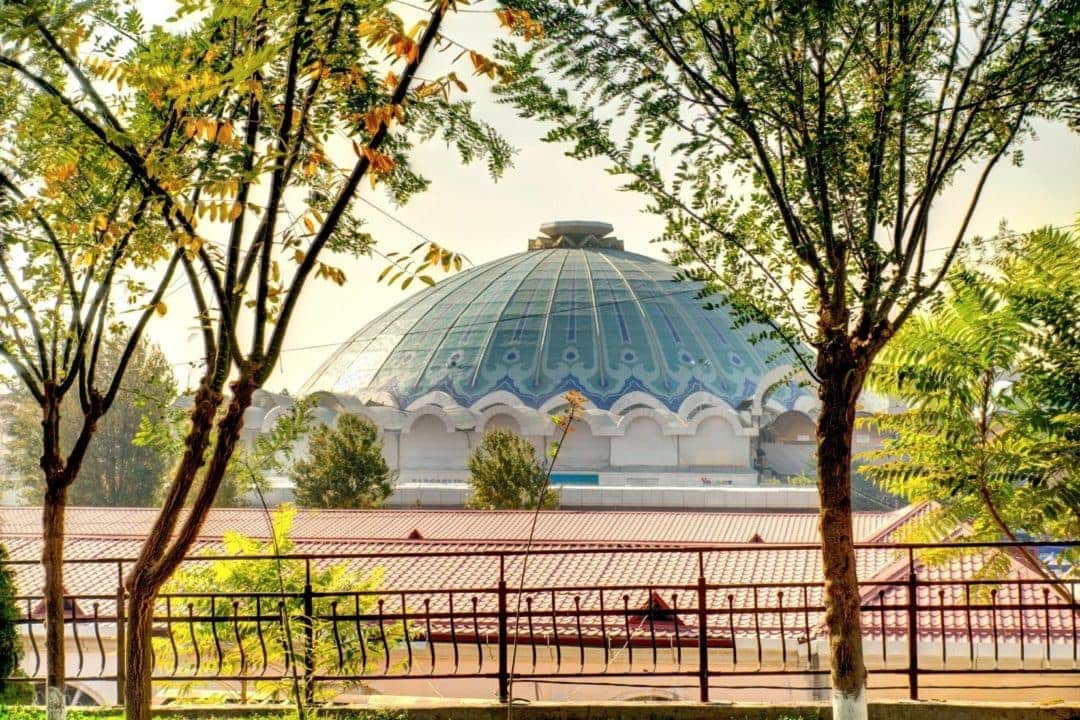 Plov Centre
The Plov Centre, also known as the Central Asian Plov Centre is a restaurant that serves up Plov, an Uzbek traditional dish. Plov is made of rice and meat and cooked in huge cauldrons at the centre.
The closest Metro stop is Habib Abdullayev which is about 650m from the restaurant.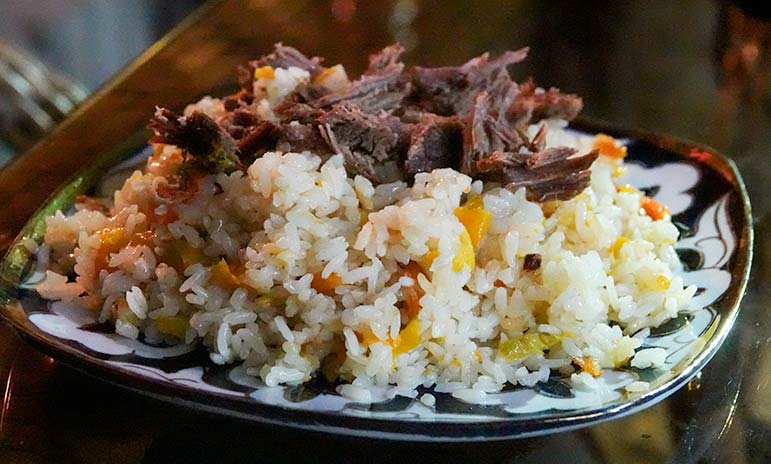 Tashkent's Museums
There are plenty of Tashkent museums to choose from:
State Museum of History: Tracing Uzbekistan's history
State Museum of Art: It has several thousand pieces of art, the largest collection in Uzbekistan
Amir Timur Museum: Dedicated to the Mongol warlord Amir Timur with many antiquities relating to his life
Museum of Applied Art: Showcasing Uzbek carpets, ceramics, textiles and handicrafts
Tashkent Museum of Railway Technics: Diesel and steam locomotives and other train equipment
TASHKENT TOUR
If you'd prefer to take a guided tour of Tashkent – check out this Tashkent City Tour, including stops at:
Amir Timur Museum
Amir Temur Square
Independence Square (Mustakillik Square)
Memorial Square
Monument of Courage Earthquake Memorial
Minor Mosque
Tashkent Television Tower
Memorial to the Victims of Repression
Chorsu Bazaar
Ensemble Hazrati Imam
Palace Nations Friendship
Uzbekistan State Museum of Applied Art
👉 Book or find out more about this jam-packed tour of Tashkent | ⏰ 7-9 hours | ⭐️ 5/5 Star Reviews
⭐️⭐️⭐️⭐️⭐️ Great tour! Great price 1 Wonderful guide! — Frederick_B, Jun 2022
⭐️⭐️⭐️⭐️⭐️ Great tour, guide and experience — Kevin_P, May 2022
⭐️⭐️⭐️⭐️⭐️ A lovely tour of Tashkent! Great, friendly guide, Mirzabek, with perfect English! — Jo_A, Apr 2022
TRAIN TRIP: TASHKENT TO SAMARKAND
Arriving at Tashkent's main train station, South Railway Terminal, we showed our passports and tickets (have hard copies of your train tickets on hand) and passed our bags through X-ray machines. Our passports and tickets were checked a second time and we were then directed onto the train departure platform.
The platform signs, as expected, were in Cyrillic but just ask around and you'll be pointed to the correct platform.
It was a fuss-free experience.
READ MORE: The Best Places to visit in Tashkent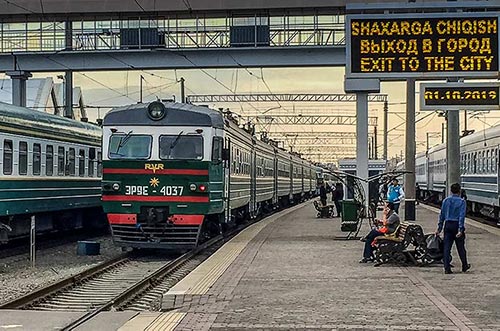 STOP 2 – SAMARKAND ITINERARY
The city of Samarkand is thought to date back to the 8th century BC and in that time, has had its share of foreign rulers. This is evident in the mix of architectural styles seen on buildings and monuments. In 2001, Samarkand was included in the UNESCO World Heritage List.
REGISTAN SQUARE
Registan Square consists of three madrasahs (ancient universities):
Ulughbek,
Sherdor and
Tilla-Kori
These huge structures date back to the 15th century and frame a central square in the heart of Samarkand.
Each madrassah opens onto its own internal courtyard.
Travel Tip: At sunset, there is a period of about 20 minutes where the Madrassah is illuminated by the sun's rays. Perfect for photos from the tiered seating area overlooking the entrance.
Every few nights, there is a laser light and sound show projected onto the Madrasahs.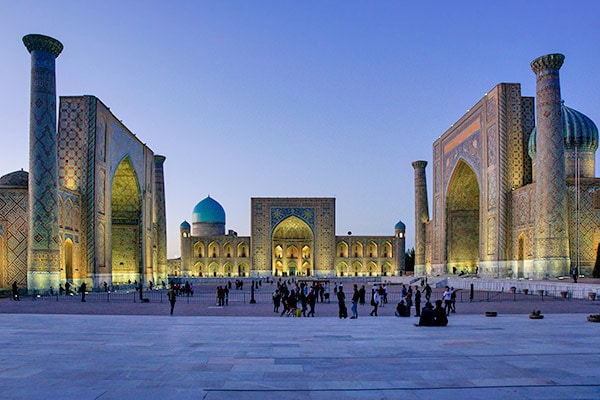 BIBI KHANYM MOSQUE AND MAUSOLEUM
This was one of the largest mosques in the world during the early 15th century. On the opposite side of the street to the mosque, is an unobtrusive and rather plain mausoleum containing five tombs. One of which is believed to be for the mother (Sarai Mulk-Khanym), and another for the wife of the famous Uzbek ruler, Amir Timur.
SIAB BAZAAR
Tucked behind Bibi Khanym, is Samarkand's largest market, Siab Bazaar. This marketplace sells food, vegetables and all sorts of homewares. It's pretty busy in the mornings but by lunchtime, the local crowd has pretty much disappeared.
SHAH-I-ZINDA COMPLEX AND SHAH-I-ZINDA CEMETERY
The Shah-i-Zinda Complex consists of more than twenty mausoleums of the nobility, dating back to the 12th century. The mausoleums are packed closely together and tower over the small streets around them.
Travel tip: The most interesting access to the Shah-i-Zinda Complex, is via an interesting walk through the Shah-i-Zinda Cemetery that borders the Shah-i-Zinda Complex. Access is close to the Hazrati Hizr Mosque.
The cemetery's main thoroughfare is a display of modern wealth with its amazing array of ornate marble and granite headstones and graves.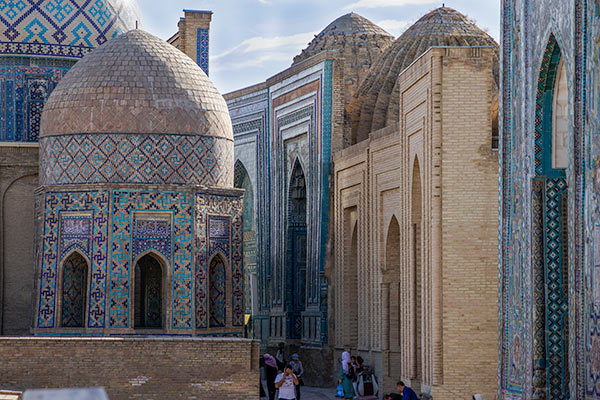 AMIR TEMUR MAUSOLEUM
This mausoleum is the burial place of Amir Timur, a famed warrior from the area and under whose rule and subsequent successors Samarkand became the centre for scholarship and science. Also buried here are his two sons, two grandsons and Timur's spiritual mentor. Amir's coffin is covered by a single piece of black jade.
AMIR TEMUR STATUE
Crossing into University Boulevard, a mere 200m away, you can see a giant-sized effigy of a seated Amir Temur. It's a busy roundabout but if you time it right with the traffic lights you'll be able to cross over.
Travel Tip: You can get some great photos of Amir Temur from Hamid Alimjan Park right opposite without risking life and limb by trying to cross the road.
OTHER SAMARKAND OPTIONS YOU MAY LIKE:
1) Hazrati Hizr Mosque — this 17th-century mosque was renovated in the 1990s and is quite new looking. You are not allowed to take photos inside this mosque.
2) Tilla Kari Park — just behind Registan Square, this park offers interesting and different perspectives of Registan Square.
TRAIN TRIP SAMARKAND TO BUKHARA
The journey from Samarkand to Bukhara was a 2.5-hour train ride.
The same security checks precede entry to the train platform.
Travelling in economy class was easily as comfortable as the Tashkent-Samarkand business class section. The carriage is open-styled with two seats on each side of the aisle. You are able to order food and drinks from the vendor who walks down the aisle.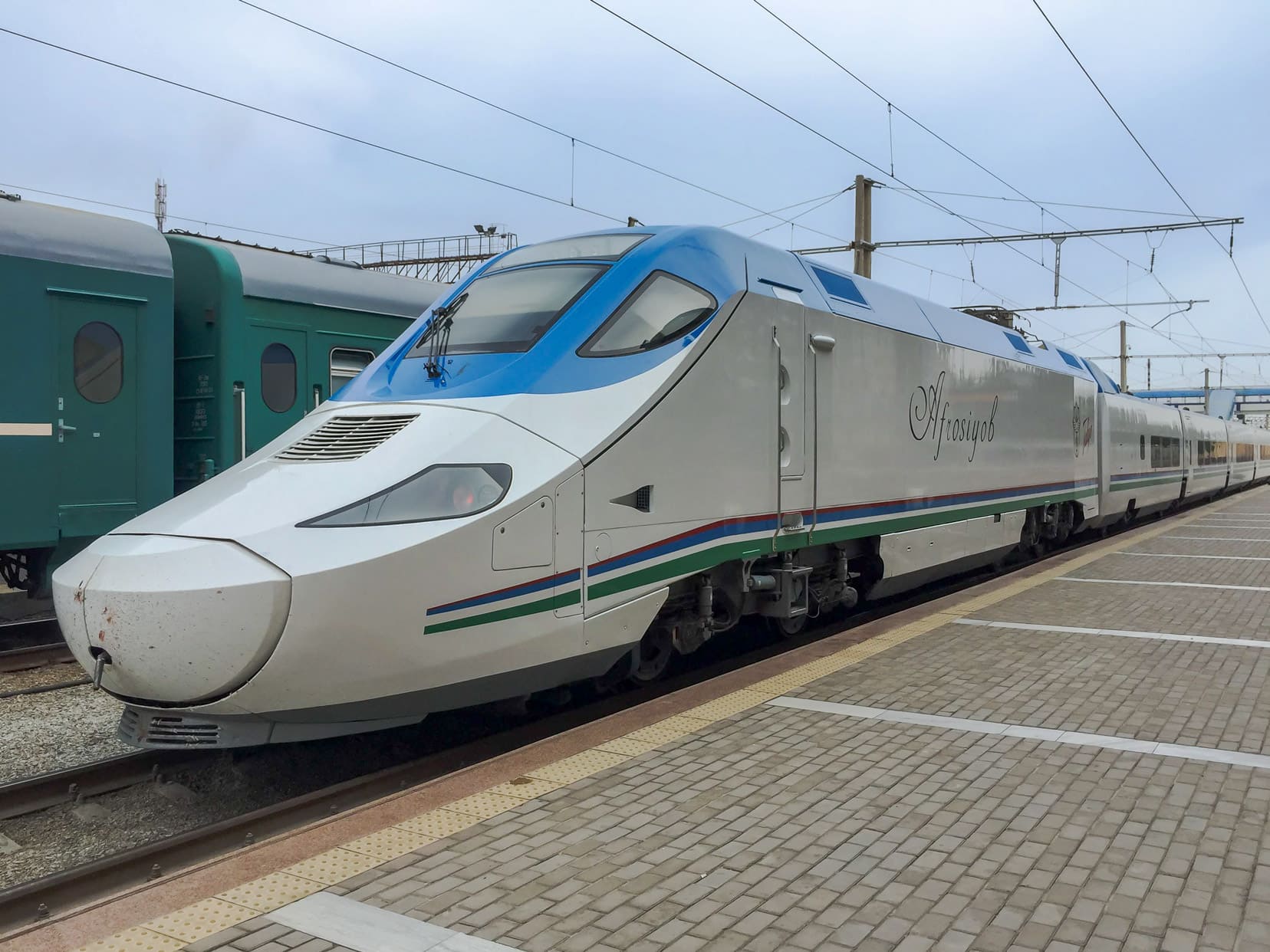 READ MORE: on the Amazing Things to do in Samarkand
STOP 3 – BUKHARA ITINERARY
Bukhara is known as a museum town with over 140 ancient monuments dating back more than 2000 years. The old city was another important trading post on the lucrative Silk Road route. Bukhara's old city was classified as a UNESCO world heritage listed site in 1993.
CHOR MINOR
This tiny madrasah has four little blue-domed minarets and an open courtyard around it. Inside, there's a small Uzbek stall selling traditional wares.
Travel Tip: If you like old war memorabilia, then opposite Chor minor was a small market selling all kinds of old war memorabilia including old original military medals and uniforms. It was the only one we saw during our two weeks in Uzbekistan.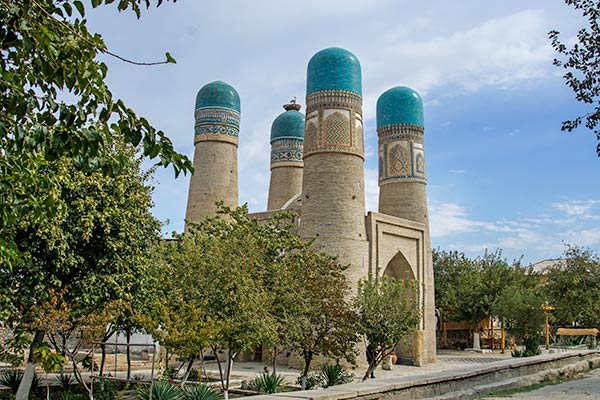 Nearby the market, we saw a caged 'partridge' which is the national bird of Uzbekistan. Speaking to one of the locals, he told us it was good luck for households to have this caged bird and that most households did.
We also asked about singing birds that we had seen that were kept in cages with a cover over them at restaurants and businesses. He told us that this musical bird was a 'quail' and that keeping them covered prompted them to sing.
We wondered if instead, it was a cry for freedom.
LYABI HAUZ POOL
This old stone pool used to be a meeting place in past times where people drank water, washed and talked. Nowadays, many have been filled due to problems with water-borne diseases. However, the Lyabi Haus pool remains and to this day, is still a popular place where you can find alfresco dining and a place to relax from the days travelling.
Travel Tip: Head here for a late evening drink or dinner as every couple of days you'll be able to watch and listen to some traditional music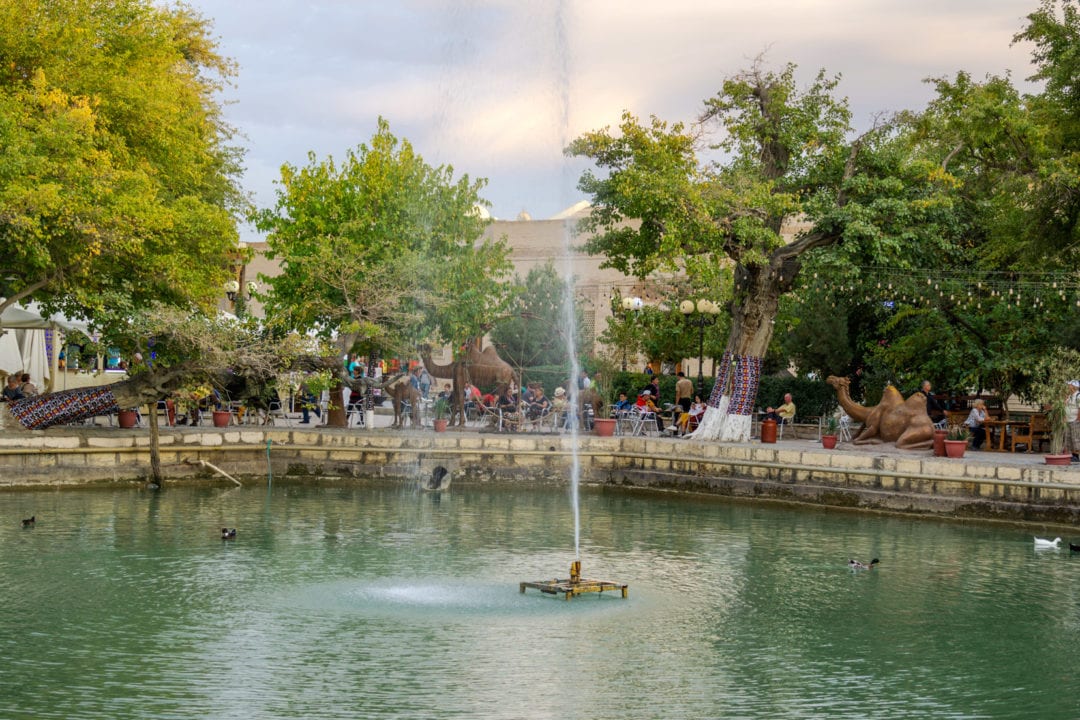 MADRASAH NADIR DEVON BEGI AND HODJA NASRUDDIN
Nearby the Lyabi Hauz pond is the Nadir Devon Begi Madrasah. The courtyard within has the typical stalls selling Uzbek wares, but you'll also find metalworkers gently working the metal with their hammers and chisel.
Right outside the madrasah, is a statue of Hodja Nasruddin, an ancient philosopher known along the Silk Road for his wisdom and wit. It is said that those who rub the statue will have good luck.
MADRASAH KUKELDASH
Just north and over the road lies the Madrasah Kukeldash. It doesn't look very different from other madrasahs, but inside is a family-owned business selling and teaching Suzanne embroidery. Many of the materials were decorated with the good luck fruit, the pomegranate.
KALON MINARET, POI KALYAN MOSQUE AND MIRI-ARAB MADRASAH
These three attractions are all close together. We recommend visiting the adjoining Kalyan Mosque first, which you must depart just prior to sunset, as it still operates as a mosque.
Poi Kalyon Mosque, built in the 16th century, has a huge inner courtyard built with a series of 208 columns and 288 domes with a solitary mulberry tree in the centre.
The beautiful 12th-century Kalon minaret towers over the old city. This 45m high landmark is great to orient yourself during walks. Opposite the mosque entrance, is the beautiful facade of Miri-Arab Madrasah.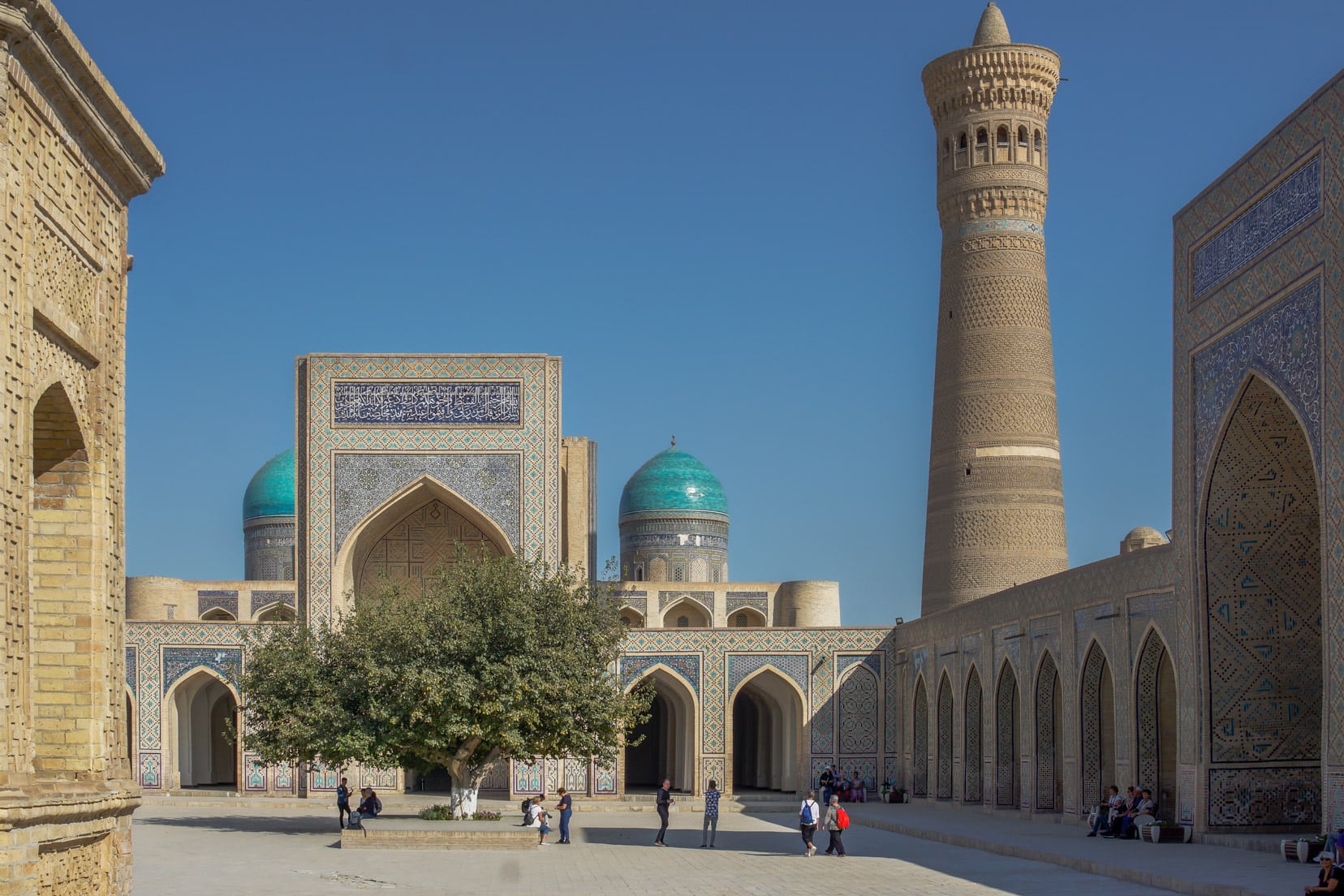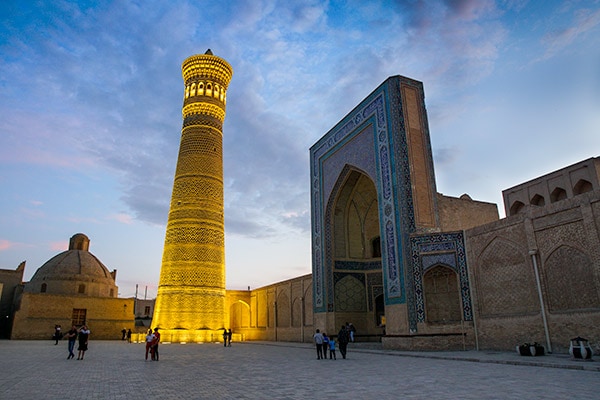 SAMANID MAUSOLEUM
Approximately two kilometres west of the Lyabi Hauz pool, in Samani Park, lies the Samanid Mausoleum. This 10th-century small medieval crypt is Bukhara's oldest Muslim monument and displays an amazing example of patterned, symmetrical brick construction.
BOLO HAOUZ MOSQUE
From the Samanid Mausoleum and before reaching The Ark, a slight detour will have you passing a really colourful 18th-century Bolo Haouz Mosque. This wooden mosque has 20 wooden columns supporting a painted wooden roof.
THE ARK
This massive citadel dates back to the 4th century. The thick earthen walls tower above the ground at heights of 16m to 20m. The entrance is through a massive portal by an inclined walkway.
Inside you'll find that the old rooms, stables and stores now form separate museums with just a few artefacts.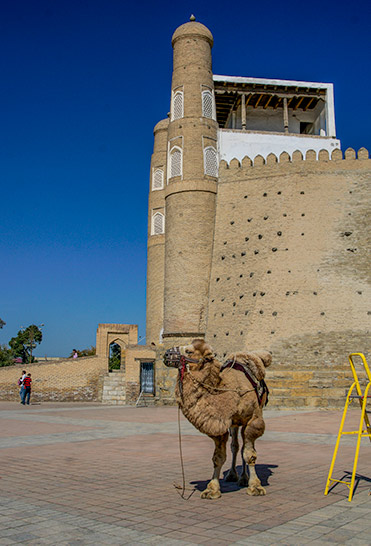 TRAIN TRIP BUKHARA TO KHIVA
Before reaching Khiva, the train stops in Urgench for about 10 minutes. Total train travel time was 4 hours. We tried Business Class with super comfortable leather upholstered seats. The price was not exorbitant.
A taxi from Khiva train station to Khiva's Itchan Kala (walled fortress) took approximately 15 minutes.
READ MORE: On the Best Things to do in Bukhara
STOP 4 – KHIVA ITINERARY
Khiva is Uzbekistan's northernmost city on the ancient Silk Road route. Its inner city, called Itchan Kala, is a lot smaller than that of the other cities mentioned, but it still offers many attractions.
It must be said though, that during our visit in October 2019, many of the museums had only part-filled shelves on display.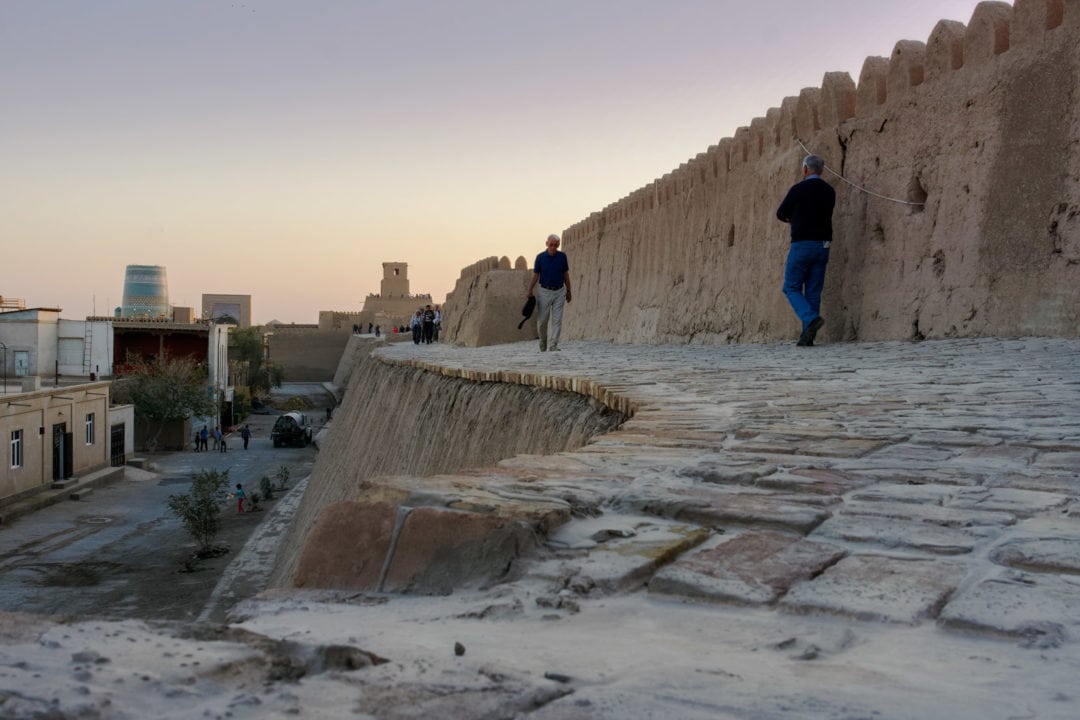 Here are our top places to visit for Khiva's old city:
DUMA MOSQUE
With its 218 wooden columns supporting a huge roof, this indoor area is huge even boasting its own small garden areas within.
KALTA-MINOR MINARET
This eye-catching 29m high minaret has a 15m diameter base and is covered with blue glazed tiles.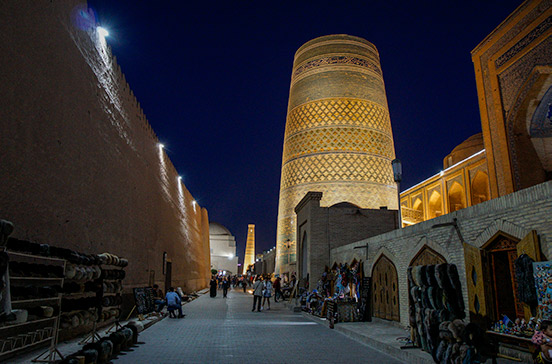 ISLAM-KHOJA MINARET
This minaret towers to a height of 57m and was built in the early 20th century so by no means an ancient building.
TOSH HOVLI PALACE
This palace is quite interesting with its many rooms of artefacts including pillars, wheels, and water wheels. One of the internal courtyards even had a yurt (albeit modern age) but it was good to see how these were fashioned.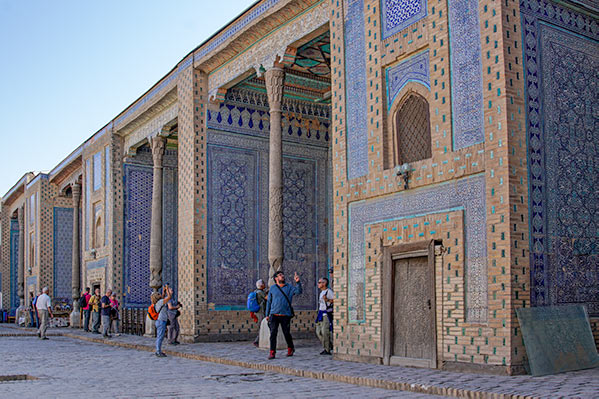 KHIVA GRAVEYARDS
You can see some of the original ancient graves in the southwestern corner of the old city, but many of these are currently undergoing renovation.
Keep an out when walking around the inner city because a grave will sometimes be marked with a small post with flags which is a symbol of good fortune ahead.
Walking the outside walls will also reveal graves embedded in the structure.
SUNSET WALK OF THE OLD CITY WALLS
Definitely don't miss this. A set of stairs, beside the northern gate, give access to the 6 to 8-m-high earthen city walls. Walking as far as you can, along the western wall at sunset, will give spectacular views of the minarets and Muhammad Rahim-Khan Madrasah.
Travel Tip: This is a great spot for some magical photos over Khiva Itchan Kala at sunset.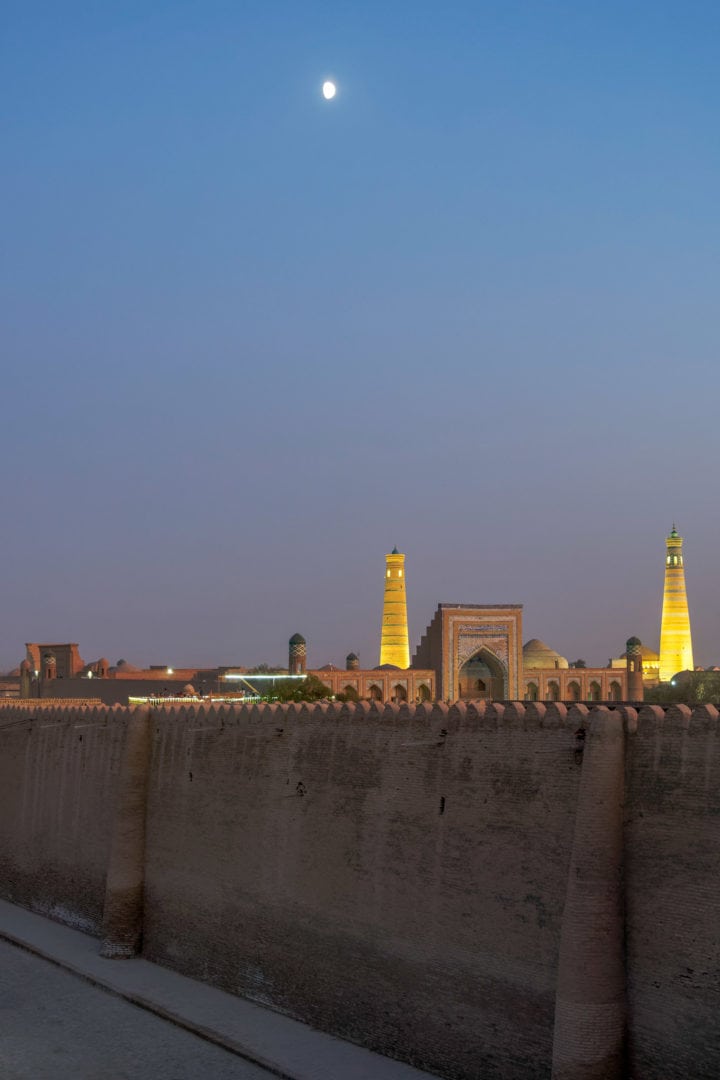 READ MORE: Top Things to do in Khiva
STOP 5 – DAY TRIP TO MUYNAK AND THE ARAL SEA SHIP CEMETERY
This Islambek Travel 1-day trip (day trip to Muynak Ship Cemetery) also includes visits to:
Chilpik Kala (an ancient earthen tower),
Nukus Art Museum,
Mizdakhan (a huge cemetery with mausoleums),
Muynak Museum and the nearby
Aral Sea ship cemetery and
Badai Tugai Natural Reserve.
Travel Tip: This has recently been offered as a 2-day trip which is preferable as you really need all this time to fit in the attractions comfortably. Plus you are looking at approximately 800 kilometres of driving in total for the trip.
Here are the attractions from the trip:
CHILPIK KALA
Chilpyk is a round, roofless earthen tower, 15 meters high and 65 meters in diameter, built at the top of a rounded natural hill, 43 km from Nukus. There are great views of the surrounding landscape and the nearby Amu Darya river.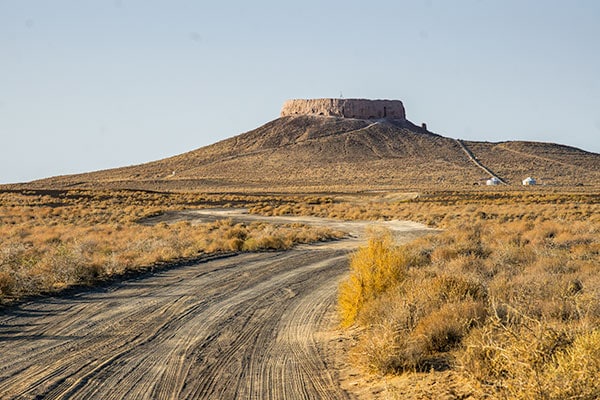 NUKUS ART MUSEUM
This museum has roughly 50,000 pieces of Avante-Garde Russian artwork plus other museum pieces from Asia and the Middle East.
MIZDAKHAN
This huge cemetery, dating back to the 4th century, in the town of Khodjeyli consists of distinctive grave sites and mausoleums. Inside the cemetery is the underground mausoleum of Muzlum-Khan-Sulu, the small hillock of Jumart Qassap which is a praying place, is the mausoleums of Muzlum-Sulu-Khan and Shamun-nabi with its 25m long tomb.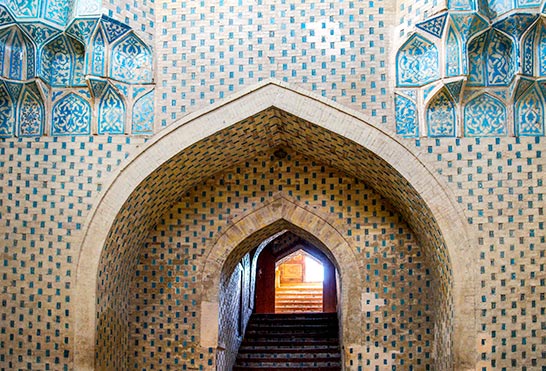 MUYNAK MUSEUM
This museum, on the edge of the old Aral Sea, has photos and memorabilia from the early 20th century, back when the Aral Sea held the title of the fourth-largest inland body of water.
It used to host a flourishing fishing industry before its waters were pillaged for the irrigation of cotton — one of the worst ecological disasters of the 20th century.
ARAL SEA SHIP CEMETERY
Standing on edge of the original coastline brings into view some old fishing vessels pointing out to what was, the Aral Sea of old where waters used to gently lap the now rusted hulls. It is now a desolate, sandy terrain punctuated by scrubby trees.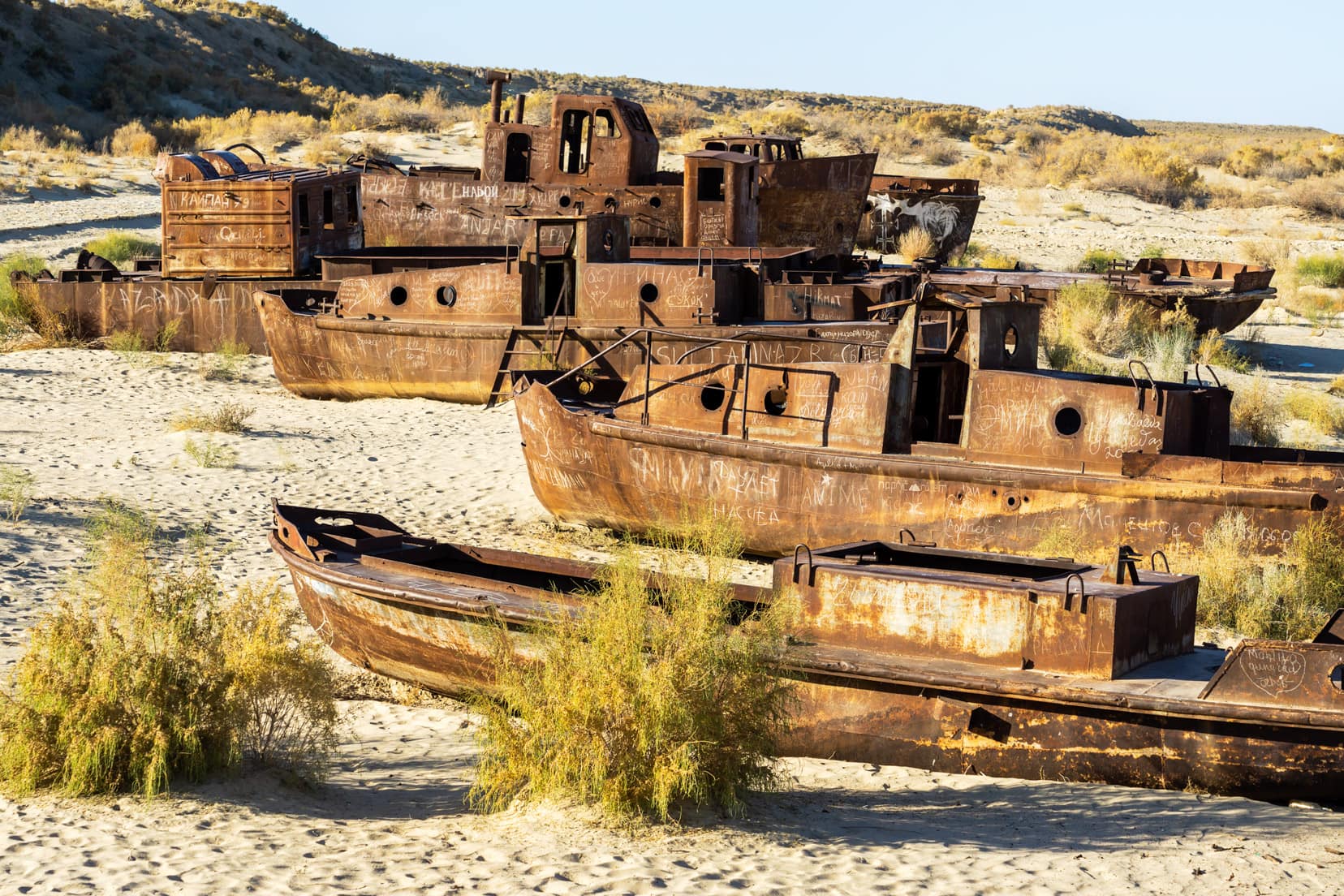 READ MORE: Khiva to Aral Sea Day Trip
STOP 6 – URGENCH
TAXI RIDE: KHIVA TO URGENCH
We could have opted to backtrack all the way to Tashkent by train, but instead decided on the 2-hour flight from Urgench via Bukhara to Tashkent.
Grabbing a taxi in Khiva, the journey was just an hour to Urgench, leaving us time to explore a little of the city. Urgench (also sometimes spelt, Urgance) had its fair share of 20th-century monuments and generally, we liked the feel of the place.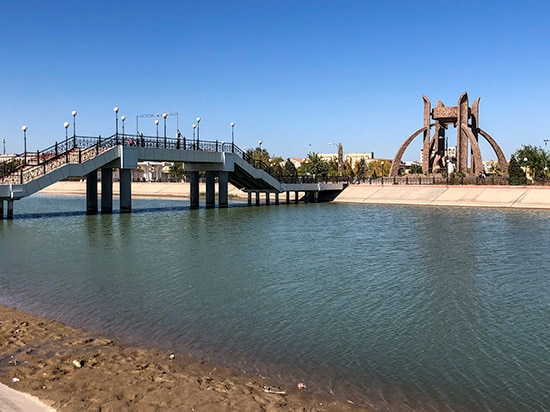 UZBEKISTAN ITINERARY … THAT'S A WRAP
This epic Uzbekistan itinerary could easily be adjusted to fit a longer travel period. Although we wouldn't recommend shortening this itinerary if you were considering seeing most of these attractions already mentioned.
We didn't visit the Fergana Valley in the east of the country due to heightened security issues.
If you find other places of interest that should be included, please comment below.
We hope you enjoy Uzbekistan as much as we did.
Pin and Save for Later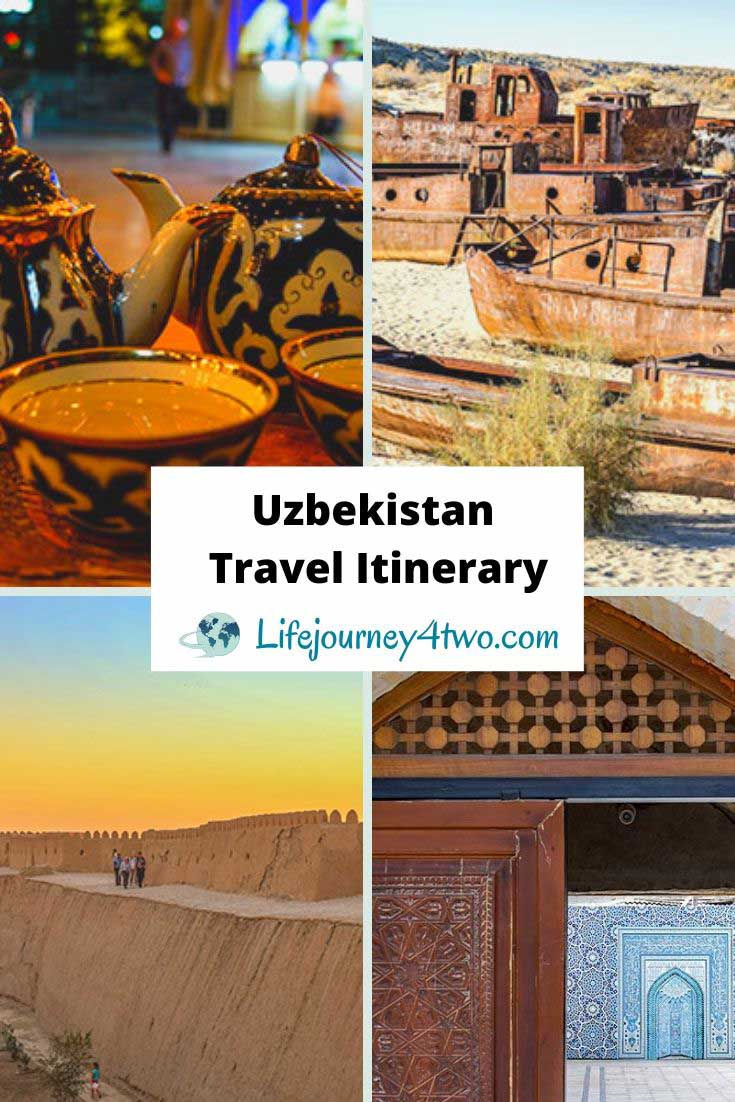 READ MORE:
PLANNING YOUR TRAVELS?
These are some of the travel resources we use when planning our trips.
For a more thorough list visit our Travel Resources page here.