Great Things to do in Bukhara, Uzbekistan
Each Uzbekistan city seems to have its own particular charm and vibe. Bukhara's historic centre, UNESCO listed in 1993, is no different. This old city, lying in the heart of Central Asia on the ancient Silk Road route, seamlessly intertwines its historic past with the conveniences of the modern-day. Bukhara's vibe is relaxed and welcoming. With over 140 ancient monuments dating back to the 6th century B.C., there are plenty of great things to do in Bukhara.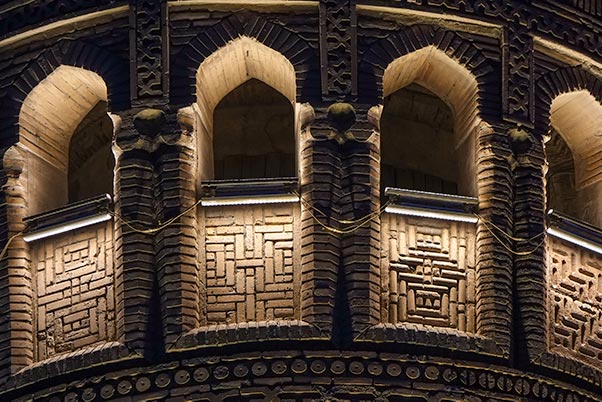 Kalon Minaret by night – one of the many great things to see in Bukhara
Map: Things to Do in Bukhara
Top Things to Do in Bukhara
1. Visit Lyabi Khause
Bukhara's old city's pulse seems strongest at Lyabi Khause, a hauz or pond, which was once one of many places used for water storage. Now, however, few ponds remain. This particular one, with its palm tree-fringed perimeter, provides a popular meeting place for both locals and travellers alike.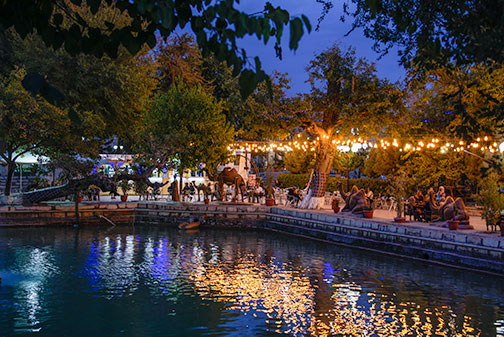 Lyabi Khause pool, Bukhara, has an inviting ambience at sunset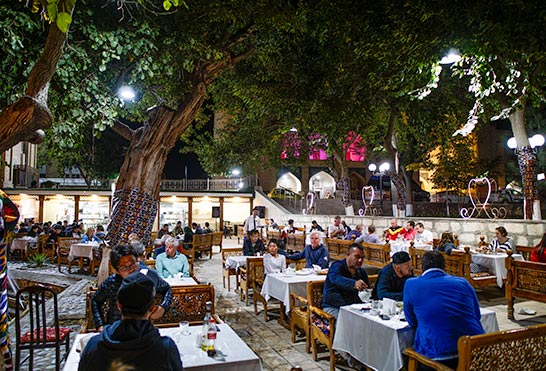 This popular restaurant at Lyabi Khause has a warm, friendly vibe
Quiet by day, Lyabi Khause takes on a vibrant atmosphere by night. The musical sounds of an Uzbek musician seem to infuse the waiters with haste, delivering food and drink onto tapchans, the traditional raised eating platforms, where sitting cross-legged is definitely the order of the day. For those physically challenged, there are standard tables and chairs available too.
Talk a walk around Lyabi Khause and you'll find a huge mulberry tree planted way back in the year 1477. Whether you decide to visit Lyabi Khause by day or night, there are many attractions close by to whet your appetite.
2. Explore Lyab-i-Hauz Ensemble
This ensemble consists of three 17th century complexes surrounding the Lyabi Khause pool. Madrasah Nadir Devon Begi (adjacent to the park), a khanaka or lodging-house (opposite) and the Kukeldash Madrasah (across the road).
Madrasah Nadir Devon Begi
Shadowing the park is the eminent Madrasah Nadir Devon Begi. The mosaics on the front building depict distinctive colourful tigers and antelopes.
Common with nearly all madrasahs we had visited, the internal courtyard housed many small handicraft shops. Although many did not attract much attention, some hammering in another part of the courtyard did.
Here, artisans were at work with hammer and chisel, gently working the designs into the metals. The monotonous tap of hammer on chisel did not even stop even when we both swapped greetings – definitely a dedication to the task.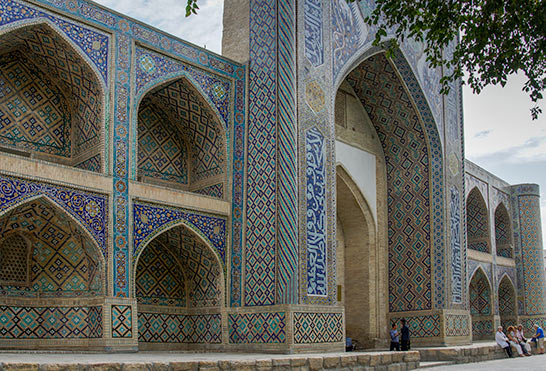 Beautiful mosaics on the Nadir Devon Begi Madrasah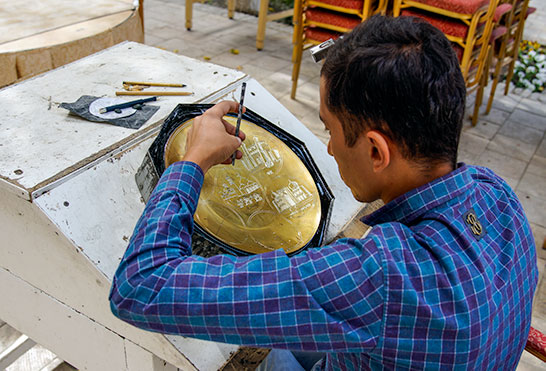 An artisan working with hammer and chisel
Kukeldash Madrasah
From the outside, the Kukeldash Madrasah does not have the colourful artwork of the Madrasah Nadir Devon Begi but don't let that lead you to think it isn't worth a visit.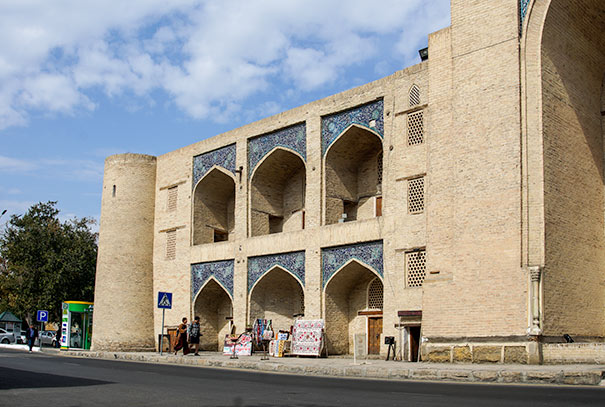 Kukeldash Madrasah faces Lyabi Khause 
A small unobtrusive sign on the outside of the madrassah, Anor – Suzani Shopping Centre, indicated that a business of selling handicrafts lay within. Entering, we saw that the walls and floors were filled with tapestries. But not just any tapestries, but special Suzani or needle embroidered tapestries.
The owner, Zaynab Muradova, proudly showed us the differences between the Persian Suzani and other different types of embroidery.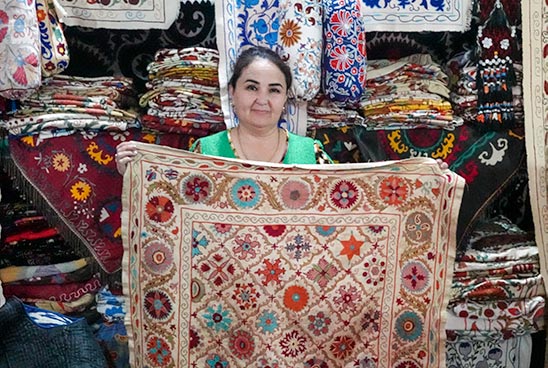 Zaynab Muradova, the proud owner of 'Anor'
Zayna explained how the stories of life were stitched into the patterns and that depicting the popular pomegranate was a sign of good luck. Zaynab is also a teacher of Suzani embroidery at the local university and is also planning to offer embroidery courses for tourists. 
Khanaka or Lodging House
We could not enter the lodging house at the time of our visit as the area was fenced off and nearby trees prevented a good photo. The best we could do was a distance shot taken from Lyabi Khause. The front façade has some amazing detail.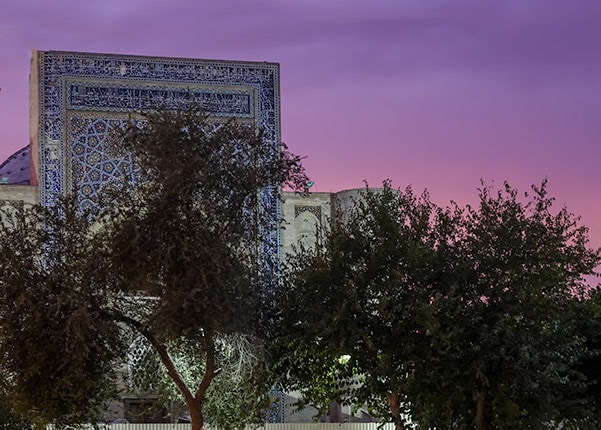 The intricate mosaics of Khanaka, Bukhara
3. Admire the Hodja Nasruddin Statue
Inside the park between Lyabi Khause and Madrasah Nadir Devon Begi, is an interesting statue of a comical looking man gesturing with his hands on a somewhat small donkey.
Who is this man? Well it's Hodja Nasruddin, an ancient philosopher known along the ancient Silk Road for his wisdom and wit.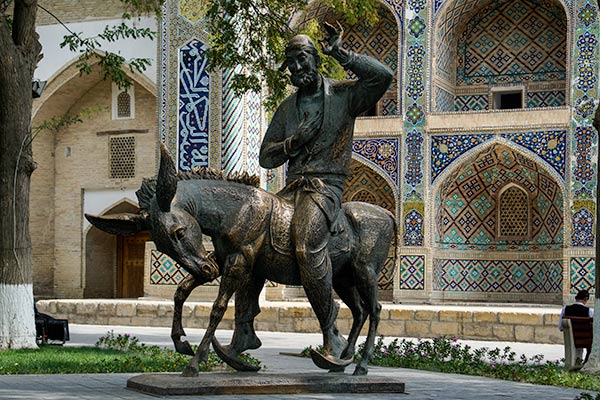 The statue of Hodja Nasruddin
While we were watching, a constant stream of people not only took photos with Hodja, but also rubbed the statue which is said to instil good luck. Hodja was probably laughing to himself at this thought, but regardless, he was certainly getting plenty of attention from both locals and visitors alike.
(On a side note: whilst at the statue, we spied a 'fish out of water'. A bright red hop-on / hop-off double-decker bus parked up and splashed with advertising for tours of Bukhara. Looks like Bukhara is taking their tourism to the next level).
4. Visit Chor Minor and Nearby Market
This cute little 19th-century four blue-domed madrasah sits quietly on its own. It's found within easy walking distance of Lyabi Khause. Entry to Chor Minor is free and once you enter, there's just enough room for a single vendor selling some traditional handicrafts.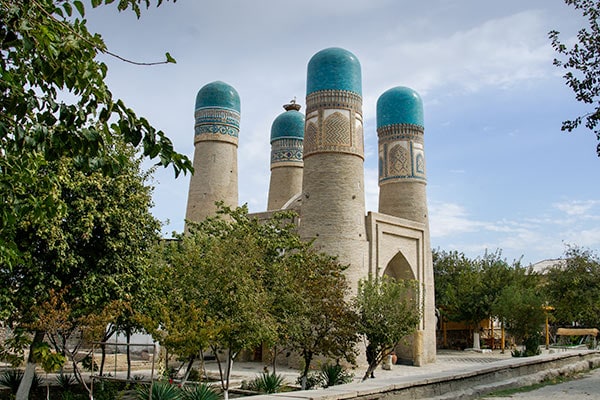 The distinctive four blue domes of Chor Minor
What caught our interest here though, was the market opposite Chor Minor. Here, an array of old war memorabilia including uniforms and medals were on sale. We hadn't seen the likes of this before in Uzbekistan. Imagine the stories, if those medals could talk.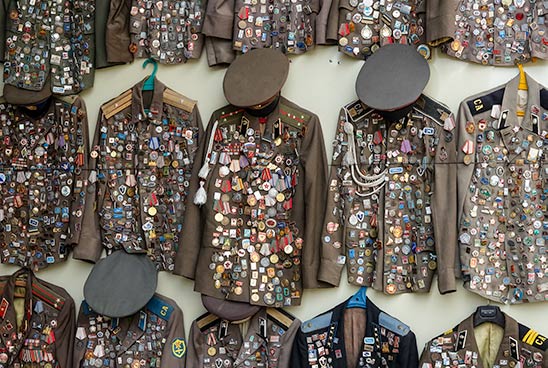 5. Bukhara Photo Gallery
If you are interested in old cameras and prints of the old city then the Bukhara Photo Gallery is worth checking out. This private gallery has paintings and prints on sale depicting typical Uzbek life.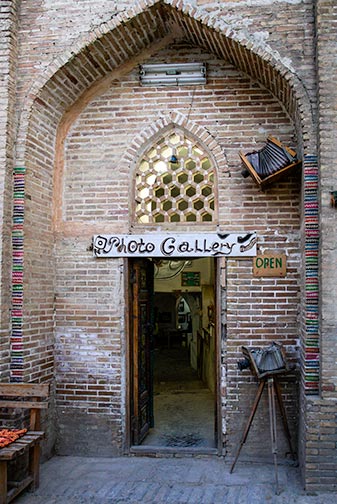 6. Visit the Po-i-Kalyan Ensemble
Three main buildings make up the Po-i-Kalyan ensemble: the Kalon Minaret, Poi Kalyan Mosque and the Miri-Arab Madrasah.
Kalon Minaret
If you're in the old city of Bukhara then you can't help but see the 12th-century Kalon Minaret. At 45m in height, it dominates the skyline.
Genghis Khan was so impressed with this structure, that he commanded that it remain standing. Up until the early 20th century, those caught breaking the law were marched to the top of the minaret and pushed over – sealing their fate.
As you can probably guess, sunset photos featuring Kalon Minaret is something well worth considering.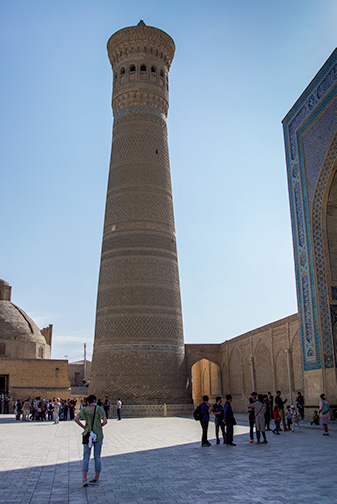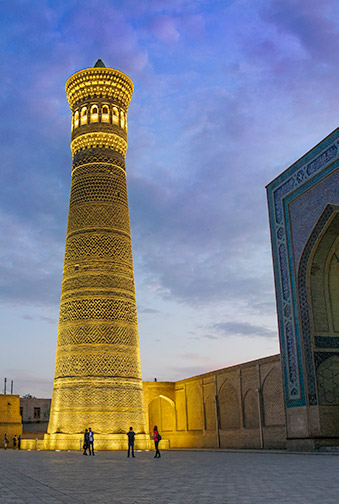 Poi Kalyan Mosque 
You don't realise how impressive this 16th-century structure is until you walk into its courtyard. This mosque has a staggering 288 domes resting on 208 pillars within its galleries which encircle the courtyard. The courtyard contains a lone mulberry tree which shades some seating and gives some respite from the sun.
Note: The mosque closes just prior to sunset.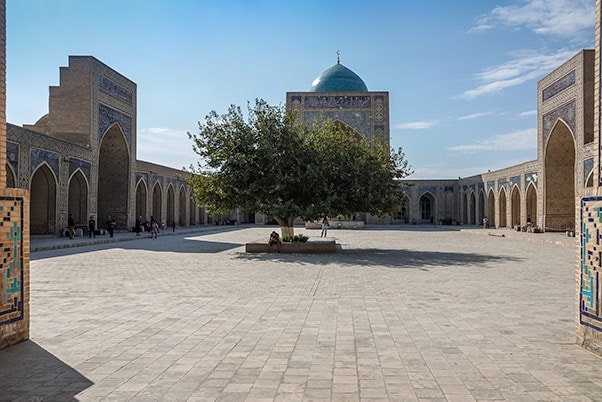 The expansive Poi Kalyan Mosque
Miri-Arab Madrasah
Opposite the entrance to Kalyan Mosque, is the recognisable Miri-Arab Madrasah, with its 2 large blue domes and spectacular tiled mosaics. This madrasah is still active, providing education to future imams and religious leaders.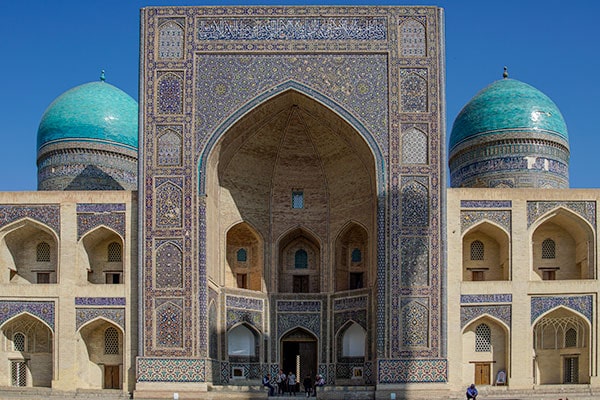 Miri-Arab Madrasah is still a working madrasah
7. Admire Abdulloxon and Modarixon Madrasahs
Close to the eastern entrance to the Samoniylar Istirohat bog'i park are two 16th century madrasahs facing each other. Both the Abdulloxon madrasah and Modarixon madrasah have impressive blue-tiled mosaics and beautifully inscribed portals. By chance, we were able to take a peek into the Modarixon madrasah courtyard which seemed to be quite neglected and at a guess unused. But this may be because this madrasah is away from the usual tourist route, and yet to attract much attention. Regardless, it was again great to see this wonderful workmanship still standing the test of time.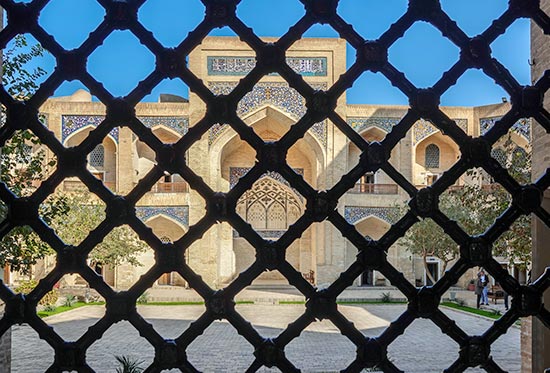 Inner courtyard of the Abdulloxon Madrasah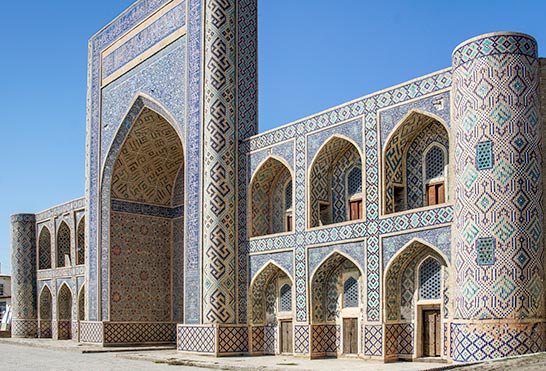 More intricate mosaics, this time on the Modarixon Madrasah
8. Visit Samanid Mausoleum
The Samanid small 9th-century mausoleum is special as it was built in a time when Islam forbade erecting any post-mortem monuments. This family crypt is devoid of any of the intricately coloured mosaics seen in buildings in later centuries. Instead, symmetrically, patterned mud bricks give the building its own uniqueness.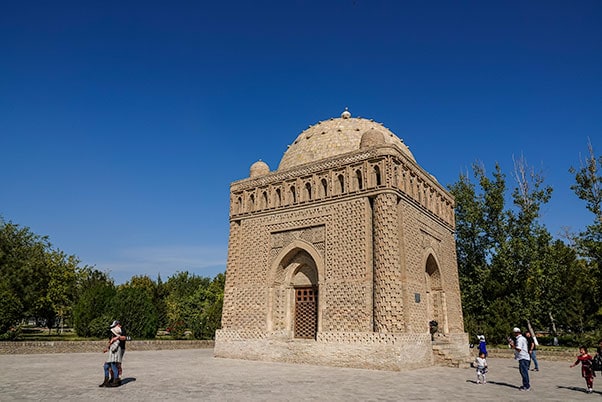 The old earthen bricked Samanid Mausoleum
9. Be amazed at Bolo Haouz Mosque
Setting itself apart from other mosques, the 18th century Bolo Haouz Mosque rises above the ground on twenty beautifully coloured and sculptured wooden columns. This is perfectly complemented by the exquisite patterns displayed on the ceiling.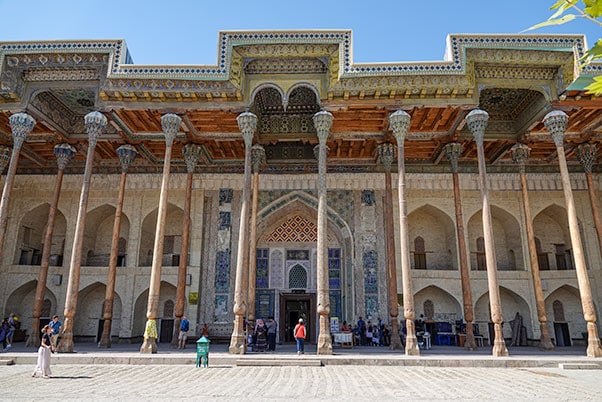 The many wooden pillars of the Bolo Haouz Mosque
10. The Ark
Dating back to the 4th century, this huge earthen walled citadel, now called the Ark,  acted as a residence to the ruling Khans.
Access to the citadel is via a long uphill passageway, passing through a massive portal. The walls tower above the surrounding flatlands to a height of 20m. The interior of the Ark boasts all the necessary services of a palace – throne room, music pavilion, jewellers, stables, stores, jail and others which can all be viewed once inside the walls.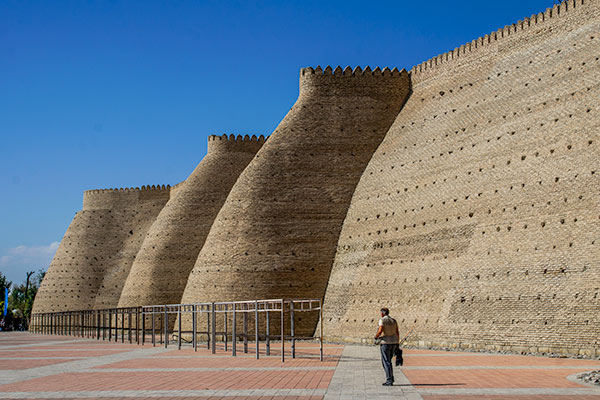 Huge earthen walls of The Ark tower over passers-by
11. Climb the Sukhov Observation Tower
In the park opposite the entrance to The Ark, you can find a 20th-century modern observation tower with its own resturant. It has one of the highest vantage points across Bukhara.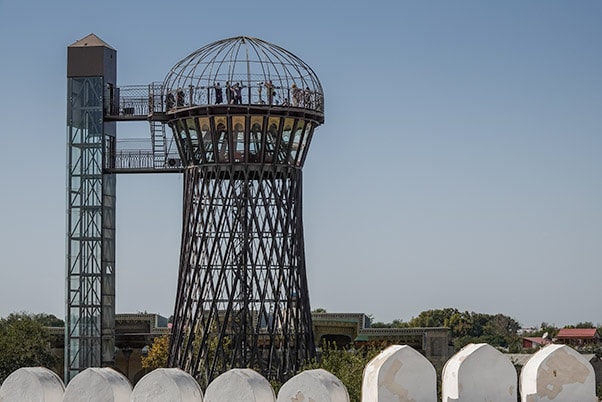 12. Visit the Memorial Complex of Imam Al-Bukhari
Close by the observatory is this striking memorial to Imam Al-Bukhari, who lived in the 1st century as one of the most revered Imams in Islam. He collected some of the most authentic sayings of the Prophet Mohammed which numbers into the thousands. Inside this complex lies his tomb and a museum.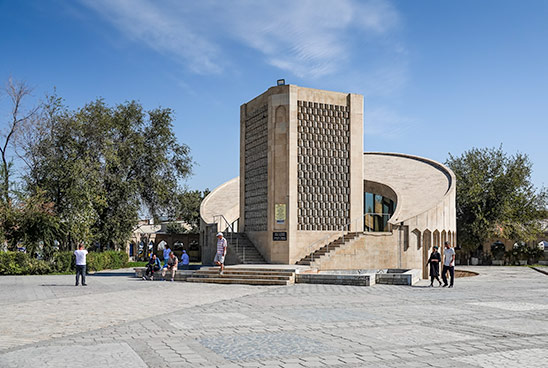 The curving structure resembles the crescent moon
13. Just Wander through Bukhara Old Town
Just walking through the streets of the old town is interesting in itself. Seemingly forgotten and neglected madrasahs and mosques dot the streets within easy walking distances of each other. The buildings are generally chained shut but you can often spy through small openings to see the unkept inner courtyards.
Local markets spring up in most of the free  spaces in Bukhara, whether on the pavements or back streets. As we said before, the locals are not pushy to make a sale and it's this friendliness that made us want to take a look without the pressure to buy.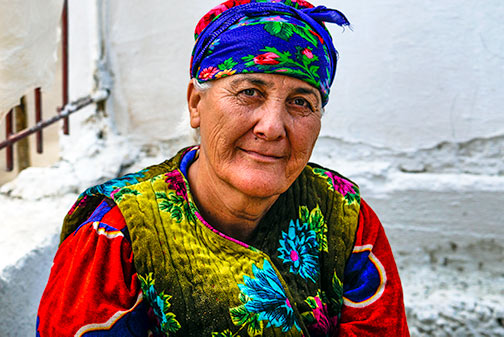 Warm and friendly is an accurate description of the locals here in Bukhara
May be miss this one: House Museum XIXth Century
This small dilapidated dwelling had a hand painted sign, House Museum XIXth Century, on the outside of its courtyard. Looking in from the entrance, the yard was filled with random collections of local bric-a-brac with no theme of any sorts. The owner claimed there were great views to the old city but this was not the case. We reluctantly parted with 20,000 SOM, even though no prices were on display, on the insistence of the owner. Our recommendation would be to avoid this place.
Where to Eat in Bukhara
Look for Lyabi Khause, an old water storage pond in the old town, where you'll find a very popular restaurant and beside it a cafe. Nestled amongst the madrasahs, it is a great open place to relax and you'll also be treated to some local nighttime music whilst you tuck into the great food on offer.
For more places to eat, check Lonely Planets Bukhara Restaurant Guide here. 
Where to Stay in Bukhara
We stayed at the Amir-Yaxyo Hotel for our time in Bukhara. It was only a few hundred metres from Lyabi Khause,  a great location. We can also vouch for the fantastic breakfast and fast wifi.
For more options – check out the Bukhara accommodation deals available on Booking.com
Bye Bye Bukhara
We thoroughly enjoyed Bukhara old town and hope you get an opportunity to enjoy these great things to do in Bukhara.
The old town is filled with such a variety of grand monuments and buildings. You also have the choice to just wander the streets and investigate what lies tucked away. Bukhara really offers a bit of everything and will meet the needs of most travellers, making it a must-see destination for those visiting Uzbekistan.
If you've visited or you do so in the future,  let us know your favourite things to do in Bukhara by adding a comment in the box below. Happy travels.
This post may contain affiliate links. This means that we may earn a small commission from purchases you make through our links, at no extra cost to you. Thank you for supporting us. For more info, read our Disclosure Policy.
You May Also Like to Read These Uzbekistan Articles:
Looking for More Travel Inspiration?