THINGS TO DO IN KHIVA, UZBEKISTAN
Exploring the many things to do in Khiva, gave us an insight into what makes this ancient city so popular with tourists and why it retains such a unique feel.
The ancient Uzbek cities we visited, along the old Silk Road, continued to intrigue us. Each city in Uzbekistan, Tashkent, Samarkand and Bukhara, all possessed different energies. Khiva was no different.
READ MORE: The Ultimate Uzbekistan Travel Tips and Guide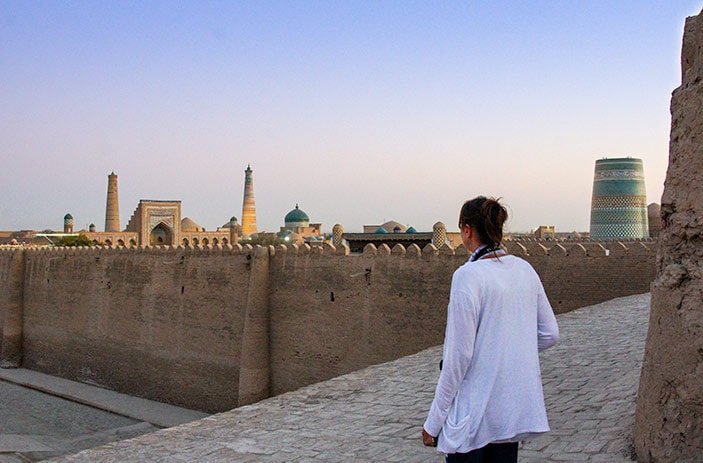 Planning a Trip to Uzbekistan?
MAP OF THINGS TO DO IN KHIVA
ARRIVING IN KHIVA
Leaving the Khiva train station by taxi, we drove through the modern part of Khiva before reaching the square walled, old inner fortress, known as Itchan Kala.
Imposing earthen walls, 6 to 8m high, 6m thick and with a perimeter of 2.2 kilometres, tell-tale signs of Khiva's long story of conflict. The city has four gates. Each facing the four corners of the world.
In 1990, the ancient city of Khiva was listed by UNESCO as a World Heritage site.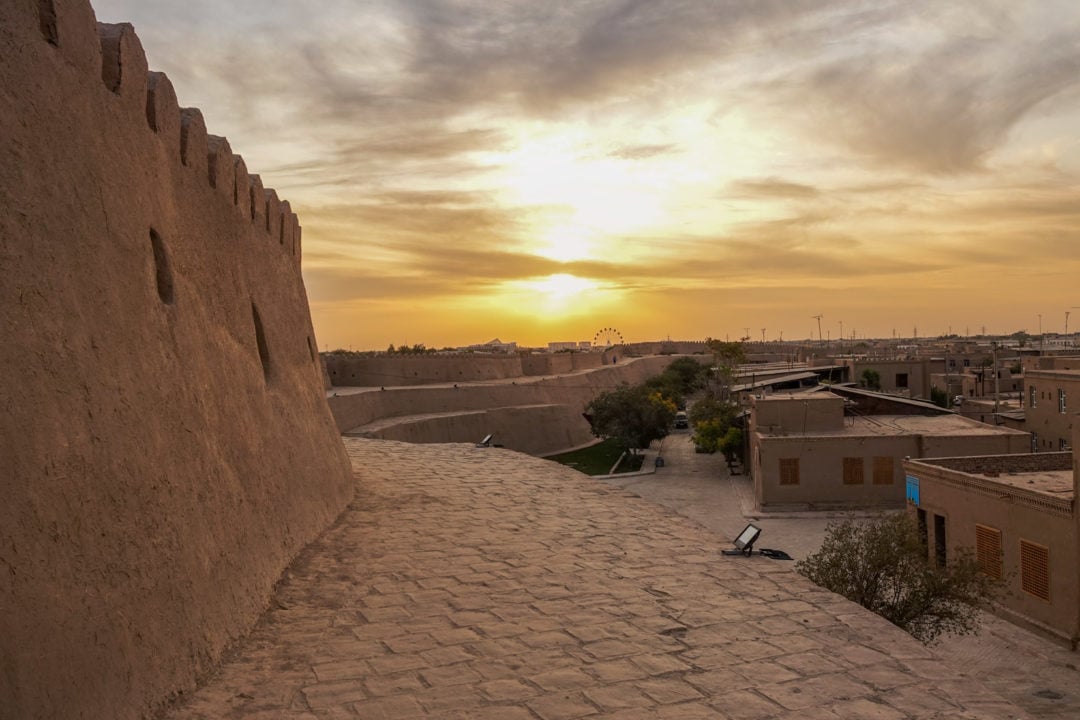 Having experienced the expansive areas of the old cities of Samarkand and Bukhara, and to a lesser extent Tashkent, we were surprised at how compact Khiva's Itchan Kala (Old Fortress) was. This was compounded by the fact that merchant stalls occupied the footpaths of most of the streets. As well as this, large tourist groups wandered the narrow streets, adding to an already cramped space.
We had set aside four days to check out the best things to do in Khiva and despite the surprising crowds, we were keen to get going.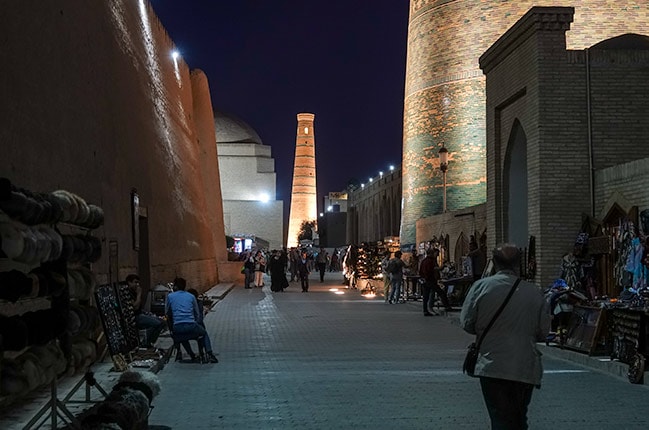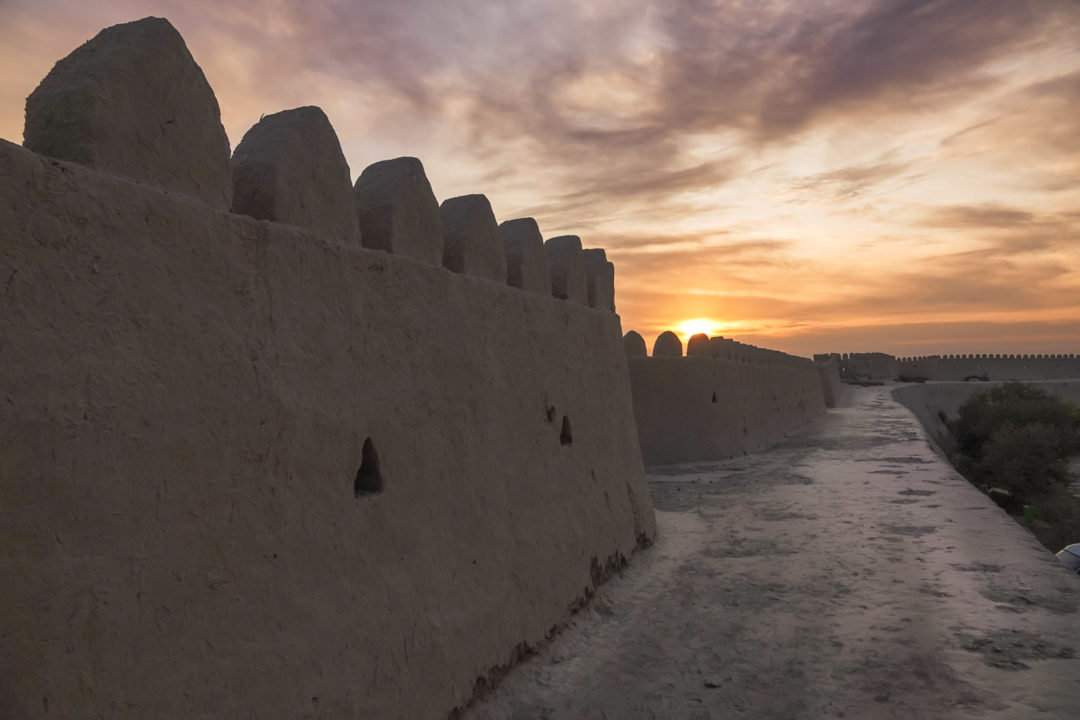 THINGS TO DO IN KHIVA
---
1. WANDER OLD KHIVA TOWN
Khiva's Itchan Kala is a city of modern-day museums, markets and attractions.
We found it hard to get a real feel for the place by day due to the many market traders lining the streets. Therefore, we'd recommend wandering the streets in the early morning (ie. sunrise) before any of the local markets are set up.
It is during these quiet hours that you can feel the true essence of Khiva.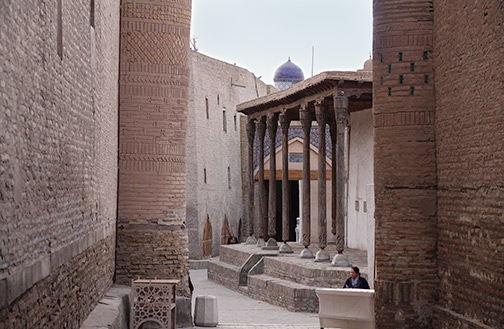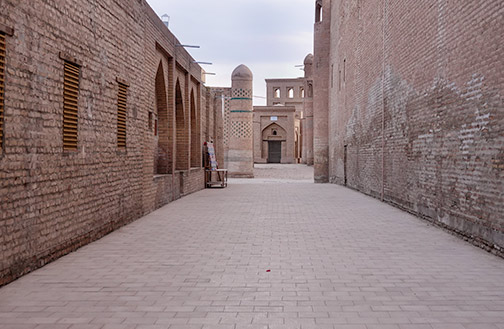 Once the day started though, the bustle of traders and tourists changed Khiva's ambience. Many of the market stalls were set up in front of Khiva's old buildings, partially blocking the line of sight to the beautiful facades.
In contrast to the other Uzbekistan cities we'd visited, the local merchants inside Itchan Kala didn't seem particularly happy. When we initiated a greeting with a hello and a smile, we sometimes received a verbal response but almost never a smile. This surprised us and was contrary to the boisterous friendliness of the Uzbek locals of Tashkent, Samarkand and Bukhara.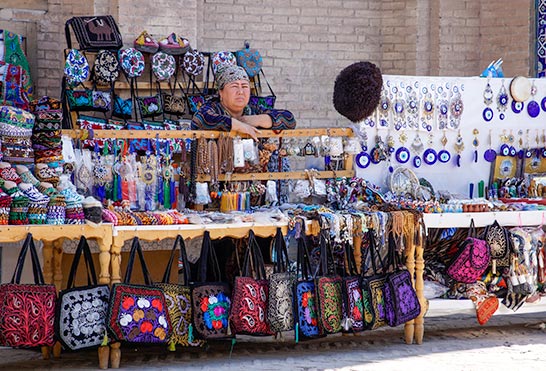 Seeking an answer to why this may be, we stopped by the local Tourist Information Centre. We were told that many locals were stressed because of unmanageable loan repayments.
Apparently, the government had encouraged stall holders to take up small business loans and locals to turn their homes into BnBs. The government expected an increase in tourism, and, therefore, touted that these businesses would thrive.
The expected influx of money, however, had not materialised.
Perhaps the problem lies with Khiva often being the last stop in Uzbekistan. If visitors started their journey, like us in Tashkent and left Khiva as their last stop, then souvenirs may have already been bought. Also, there were an awful lot of stalls all competing with each other, so perhaps the souvenir market is too flooded in Khiva.
Some of the popular market items were traditional fur hats and colourful local Uzbek dolls.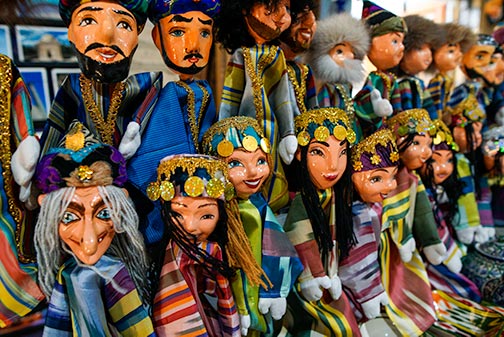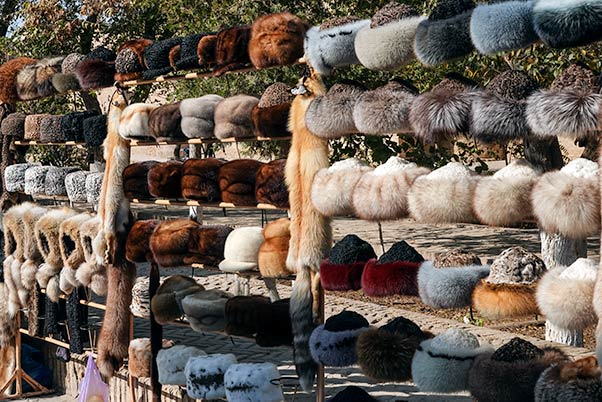 2. VISIT DJUMA MOSQUE
The Djuma Mosque is also known as the Friday Mosque or the Juma Mosque. Its 215 carved wooden columns hold up its flat roof, and although this mosque was built in the late 18th century, some of its pillars date back to the 10th century.
Interestingly, it was completely different in style from other mosques we'd seen in Uzbekistan. There were small gardens inside within, giving the area a calming feel. We were even lucky enough to see two locals in traditional dress who kindly agreed to pose for a photo.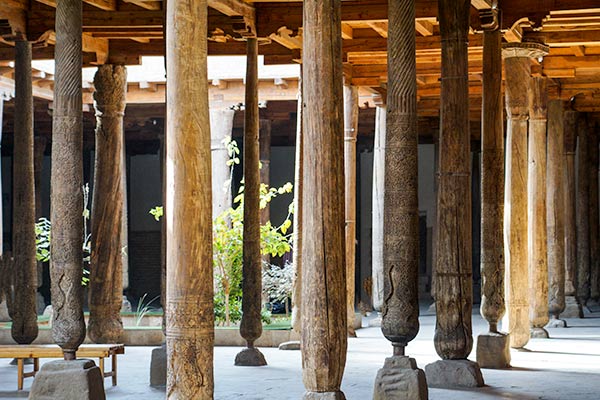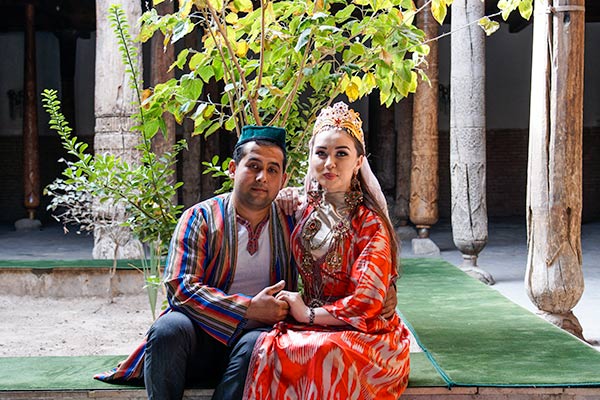 3. HANDICRAFTS MUSEUM / TOSH HOULI PALACE
The Handicrafts Museum isn't the attraction here, but the Tosh Houli Palace that houses it is. The palace, also known as the Stone Palace or Tash Khauli Palace, is worth seeing because of it beautiful architecture and, multi-coloured patterns on its roofs. The structure, with its hand-carved wooden pillars, was finished in 1838.
Allah Kuli Khan commissioned the palace in 1831 and wanted it built within two years. When the architect, Usta Nur Mohammed Tajikistan, pointed out that completing it in two years would be impossible, he suffered a slow eight-hour death from impalement. A more accommodating architect was found, but, despite a thousand Persian slaves working on the building, the palace still took eight years to complete.
A yurt sat in one of the internal courtyards. Its relevance was unexplained.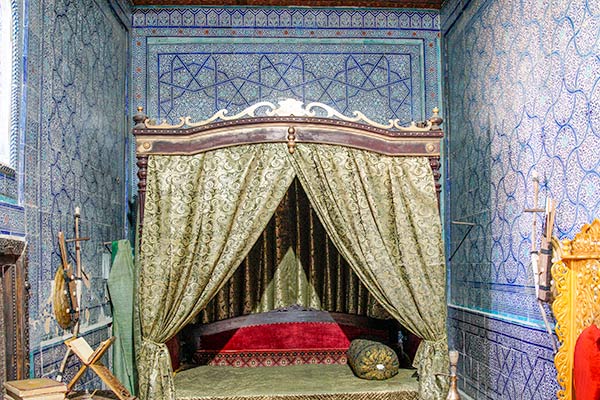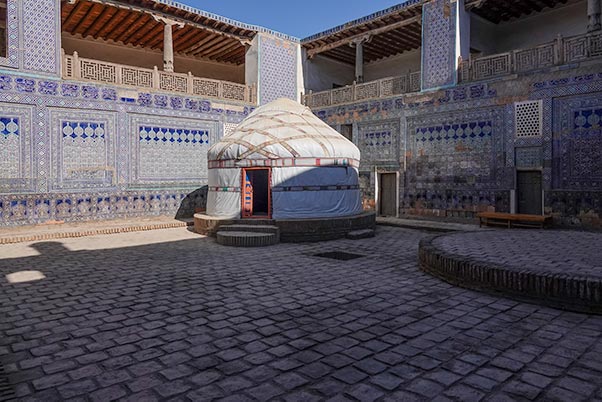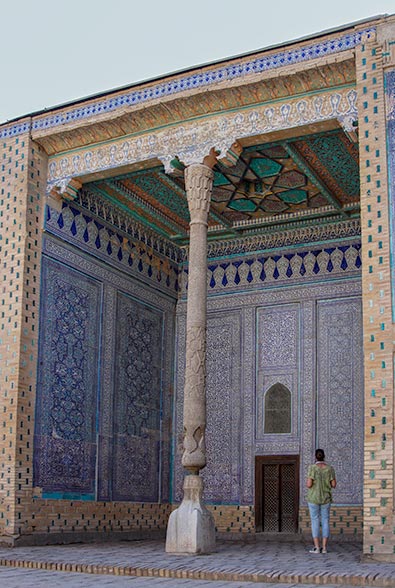 4. MINARET KALTA MINOR
'Minaret Kalta Minor' translated means 'short minaret'. With its 15m diameter base and 29m height, tales of the past proclaim it was originally designed to be at least twice or maybe three times this height. Unfortunately, this would have allowed a view from the top into the ruler's harem, so construction ceased.
This is but one of many such legends surrounding Minaret Kalta Minor. Regardless, it is an impressive structure to behold and you can't miss it when you enter by the western gate of Khiva.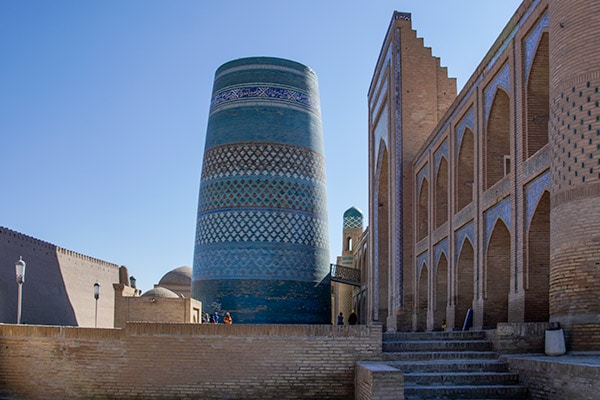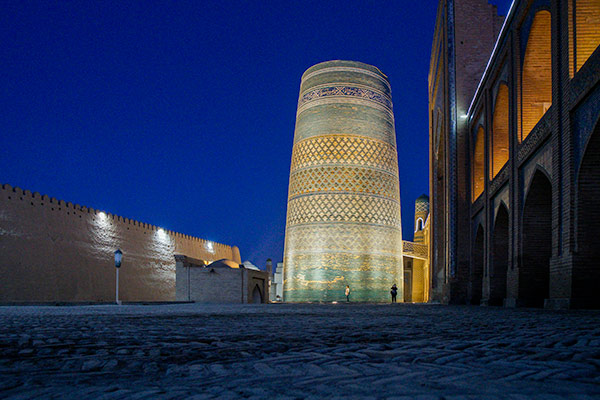 5. ENJOY SUNSET VIEWS FROM THE CITY WALLS
The best views are standing on the wall surrounding the old city of Khiva, near Kunya Ark citadel, not far from the western gate. To reach this point you'll need to walk to the northern gate and nearby you'll need to follow a series of steps leading up the walls. From here, go west and then follow the wall south. Go as far as you can until reaching a dead-end at the Kunya Ark Citadel.
It's here you'll have a spectacular view over this old city, including:
Muhammad Rakhimkhan Madrassah
Juma minaret
Islam Hoja minaret.
To return, simply backtrack your steps. At the time of our visit (September 2019), it was free to walk the walls, although we were told that there were plans to install turnstiles to have paid access.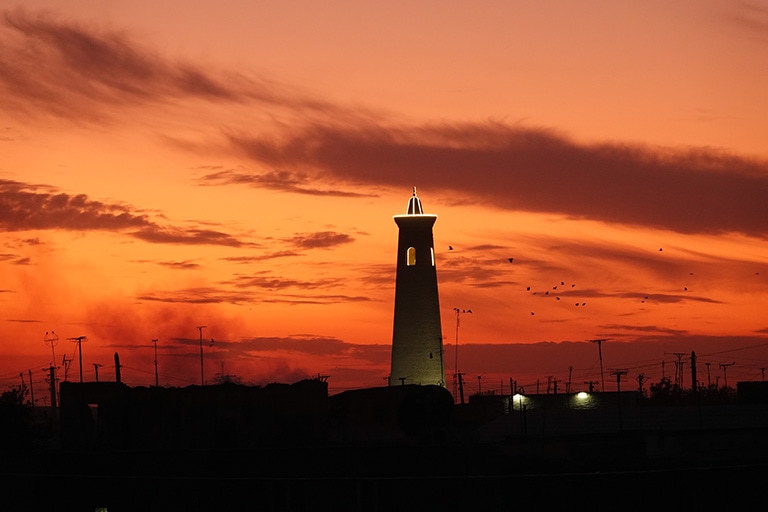 Of an evening, walk the old city walls when a certain calm descends, allowing the city to fall back to the pace of a lost time. It was definitely a highlight for us. Rising above the hustle and bustle of the streets gives you the opportunity to admire the grandiose madrasahs and minarets of Khiva.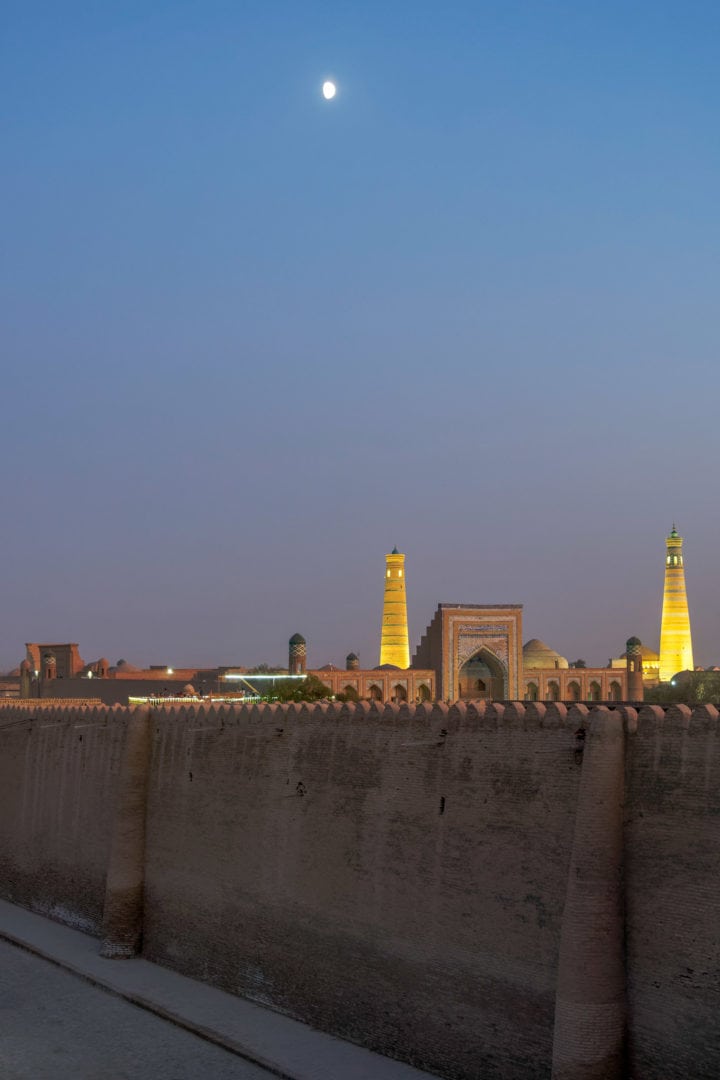 6. ENJOY A MEAL AND FANTASTIC VIEWS AT CARAVAN KHIVA RESTAURANT
This three-storey restaurant offers fabulous views of the cityscape from the open-air top floor. It is located close to the southern gate and the owners are super-friendly.
Bring your camera and a jacket as it can get pretty cold once the wind blows and that was during our visit in October. We can personally vouch for the fantastic mixed meat skewers here.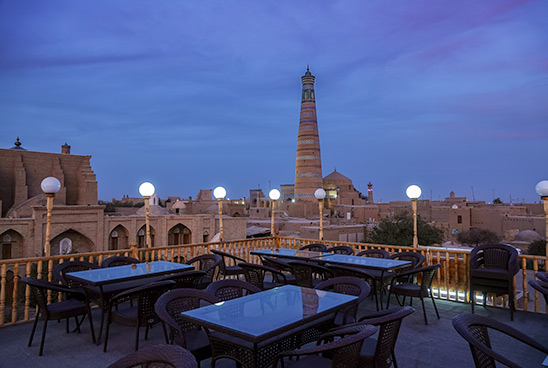 7. MAUSOLEUM OF MAKHMUD PAKHLAVAN (PAKHLAVAN MAHMUD COMPLEX)
This structure was completed in 1701 and is the only blue-domed building in Khiva. The mausoleum is a dedication to the 14th-century warrior and poet, Makhmud Pakhlavan. who, following the battle, freed many of his imprisoned countrymen.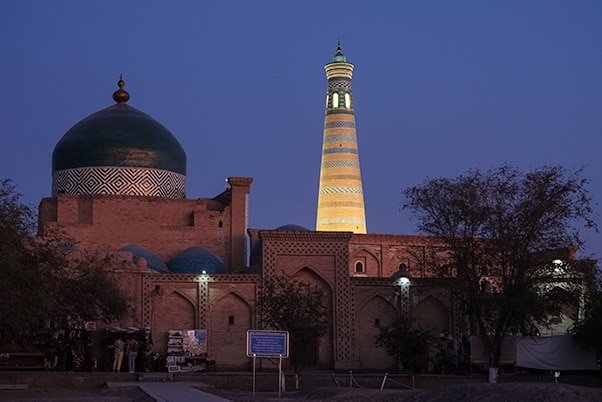 8. MUHAMMAD RAKHIMKHAN MADRASSAH, NOW KNOWN AS THE MUSEUM OF THE HISTORY OF KHIVA KHANATE
This madrasah was built in 1876 and is one of the largest madrasahs in Central Asia. Each corner of the internal yard corners has a green-domed tower.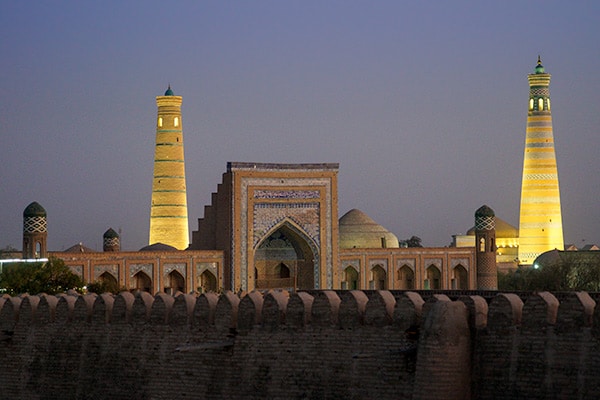 9. OLD KHIVA GRAVEYARDS
These interesting old Khiva graveyards can be found in a few locations around the old city:
In the southwestern corner of Itchan Kala right by the wall are a series of graves currently undergoing renovation.
At the back of the Pakhlavan Mahmud Complex lie some renovated graves lying clustering together.
If you look carefully you can sometimes see old graves marked with flagged sticks which is a symbol of good luck.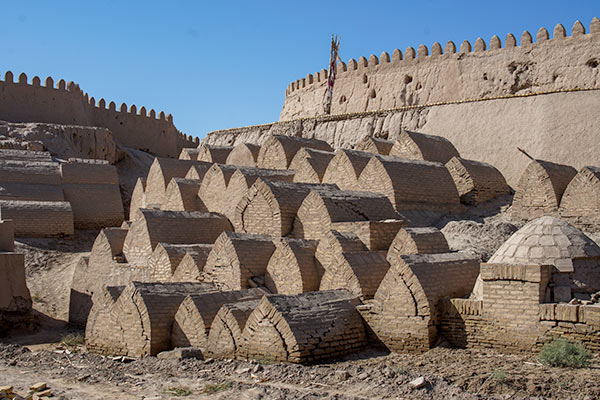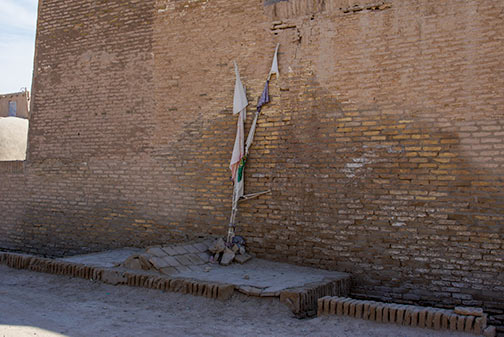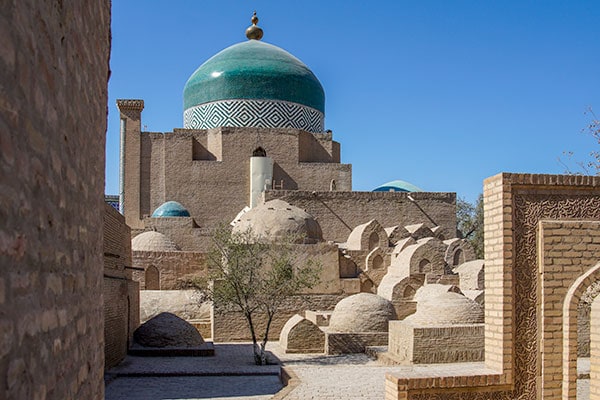 10. THE WEIRD AND NOT-SO-WONDERFUL NATURE MUSEUM
If you are looking for something different and a somewhat weird thing to see in Khiva, then check out the Nature Museum. There are some strange objects on display here but specifically, look for the co-joined twins' display. I won't say anything more on this but it's more than a bit confronting.
11. TAKE A DAY TRIP FROM KHIVA TO THE ARAL SEA SHIP CEMETERY
Murad (the owner) at Islambek Travel offers comprehensive travel packages from Khiva. I chose the day trip from Khiva to the Aral Sea Ship Cemetery.
The trip was priced right for a budget-conscious traveller and included a variety of different things to see along the way. You can find Islambek Travel right by the Islambek Hotel within Itchan Kala, Khiva.
READ MORE: Day Trip to Aral Sea Graveyard from Khiva
HELPFUL INFORMATION FOR YOUR VISIT TO KHIVA
---
Most of the things to do in Khiva are in the old city.
To enter Itchan Kala and the individual museums and other attractions you need a ticket.
There are various types of tickets for purchase depending on what things you'd like to see.
At the time of writing this article, only the west gate acted as the main entrance to Itchan Kala and it's here you can buy the different types of tickets. All tickets were valid for 48 hours.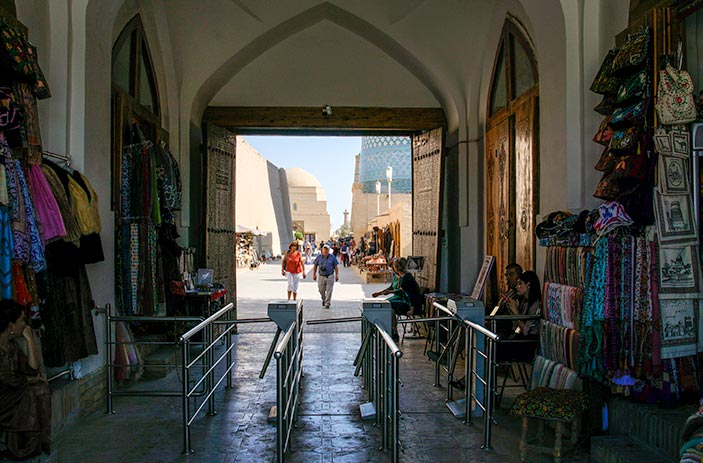 Economy ticket: Parting with 50,000 SOM allows you to walk the city without museum entry.
Standard ticket: Parting with 100,000 SOM (as we did), allows you to walk the city and enter all museums/mosques.
Deluxe ticket: Parting with 150,000 SOM gives you entry to Itchan Kala including all museums/mosques as well as three minarets.
If you have questions, you can ask the people at the ticket office or the Tourist Police, whose job it is to assist tourists. When we were there, turnstiles were only in place at the western gate but there were plans to install turnstiles and ticketing offices at the other 3 gates (north, south and east gates).
ALTERNATIVE ACCESS TO KHIVA ITCHAN KALA
We did notice that locals used pedestrian access to and from Itchan Kala via a small walkway only 100m south and within eyesight of the western gate. Perplexed, we asked the Tourist Police if there were plans to install turnstiles across this entrance. They said there weren't.
They said that this unpatrolled access way would always remain open and free as locals working inside the walls needed to return home. There is also another free pedestrian entrance just north of the eastern gate. Although you may enter the city from here, you will not have access to any of the attractions within.
It's simple enough to pay the small ticket entrance fee. This won't break the bank and it helps support the local economy.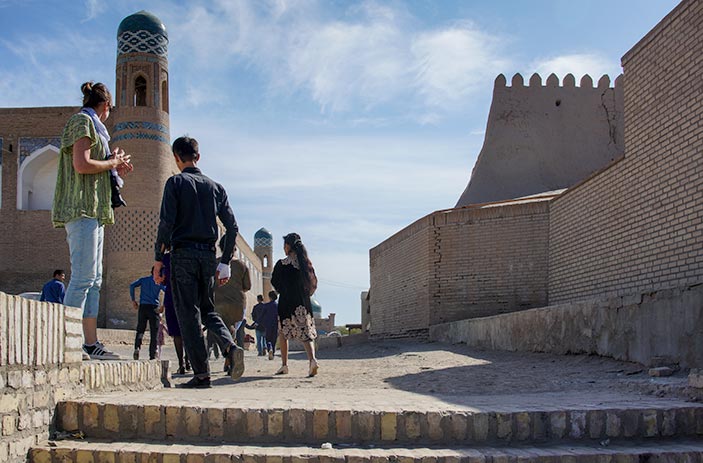 WHERE TO EAT INSIDE KHIVA, ITCHAN KALA
Caravan Khiva Restaurant – mentioned above. This place opens for lunch and dinner and has really tasty food and plenty of variety on the menu.
WHERE TO EAT OUTSIDE KHIVA, ITCHAN KALA
Just outside the western gate is an authentic restaurant called 'Rustamboy –Choyzonasi'. It was popular with the locals and came with local pricing. We enjoyed a tasty Uzbek Lagman soup consisting of vegetables, pasta and meat with bread.
WHERE WE STAYED: INSIDE KHIVA'S OLD CITY
We booked into the Family Guest House – Khiva Azim Ota which offered a traditional Uzbek breakfast. The establishment was ideally located within the old city walls and had reliable, fast Wifi. You can find more deals on Khiva Accommodation here:
Click Here For Khiva Accommodation Deals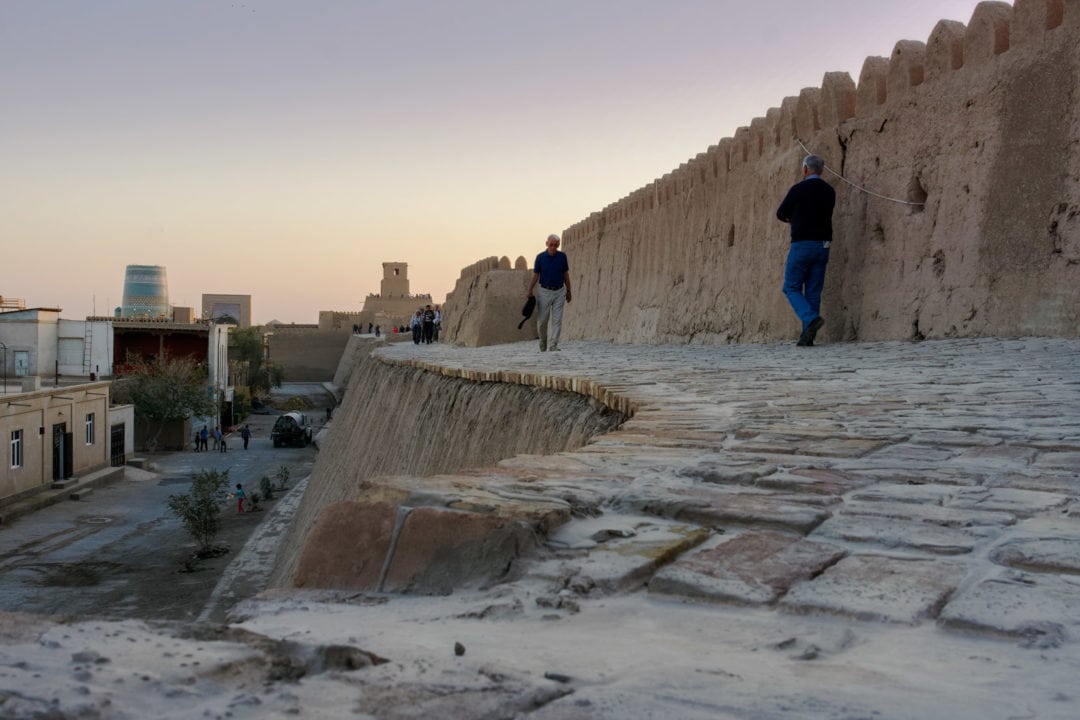 CREDIT CARD USE AND EXCHANGING FOREIGN CURRENCY in KHIVA
1) CREDIT CARD USE
Many of the ATMs within Itchan Kala accept MasterCard only. We were told of an ATM machine accepting visa cards at the Hotel Asia Khiva, just outside the southern gate. However, this machine was out of service. Finally, we hit the jackpot, the NBU – Milliy Bank (National Bank Of Uzbekistan) which allowed us to use our Visa card for cash withdrawal and to also exchange foreign currency for local SOM currency.
To find the bank, refer to the Things to See in Khiva Map earlier in this article or for a quick heads up, walk about 500m north-west of the northern gate. The bank is opposite the Hotel Bek Khiva.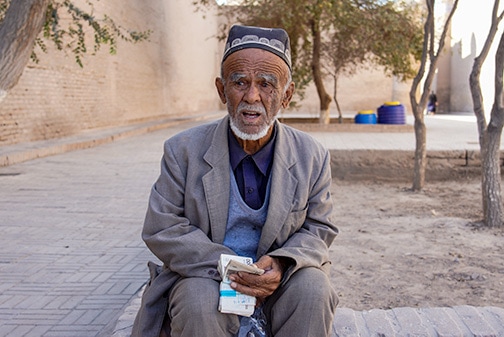 2) EXCHANGING FOREIGN CURRENCY
There is an option to use the portable cash machine at the currency 'Exchange Office' which is at a building on the right side just as you enter the western gate.
Unfortunately, the assistant could not get the ATM card machine to connect. We did see other tourists attempting to exchange foreign currency but let me warn you upfront, the notes MUST be in perfect condition otherwise they will not be accepted. We saw near-perfect euro notes rejected on a claim they looked dirty.
THINGS TO DO IN KHIVA … THAT"S A WRAP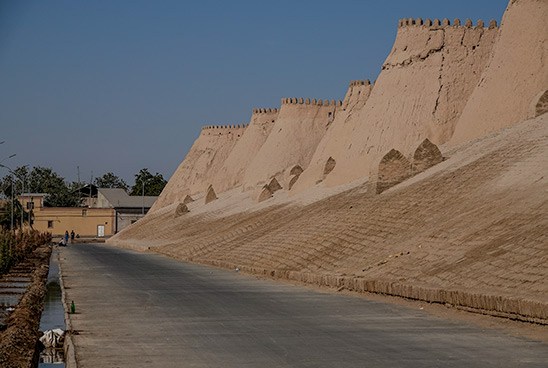 Khiva was a place of contrast, by day a bustling tourist hive and by evening, an ancient city lapsing into the quiet that it has known for centuries past.
We've shared some of our best things to do in Khiva here but please feel free to let us know what you found interesting, and your own thoughts on Khiva.
Pin and save it for Later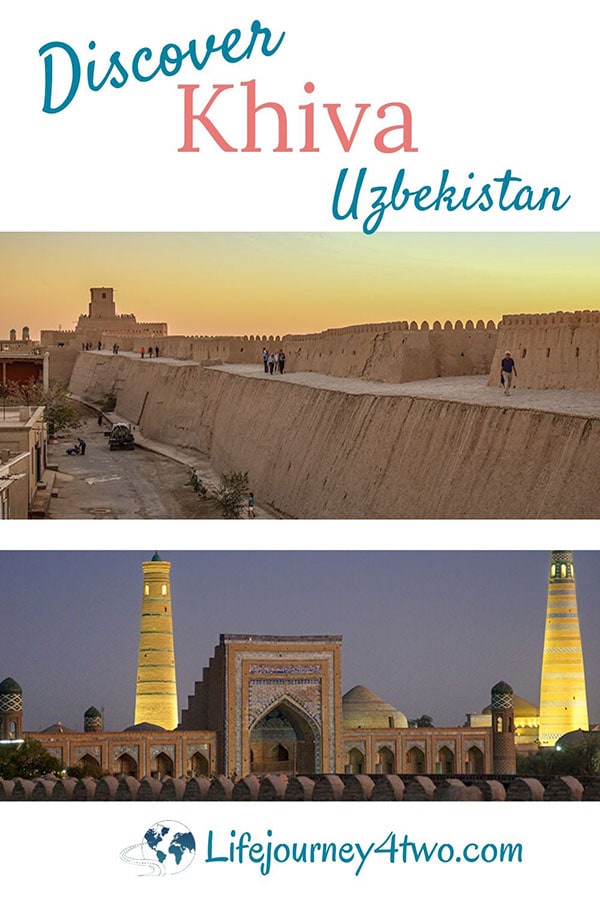 YOU MAY ALSO ENJOY READING:
PLANNING YOUR TRAVELS?
These are some of the travel resources we use when planning our trips.
For a more thorough list visit our Travel Resources page here.