Want to make your travel in Uzbekistan easier and cheaper? Read on …
(We visited Uzbekistan in October 2019 and will regularly update these Uzbekistan travel tips as we stay in touch with our local contacts)
"Come on Mister, it's only $10," said the mouthful of smiling gold teeth.
Our first experience in Uzbekistan. A local said not to pay any more than USD$1.50 (15,000 SOM) for our taxi from the airport to our city hotel. But guilt kicked in when the local taxi drivers reacted to our meagre offer as if it was a grave injustice. However, if you are travelling on a budget then you need to weigh up what is a fair price for you and for locals. Be aware that the taxi drivers will pull on your heartstrings.
We managed to bargain our ride down to USD$6 – knowing that this was still way above the average fare, but happy to part with it and just get to our hotel. The next morning the hotel booked a taxi for us and it cost 13,000 SOM (about USD$1.30) for the same distance!
Knowing the lay of the land when you arrive in a foreign country can make your trip both easier and cheaper. These Uzbekistan travel tips will help you save money and avoid any hassle in this famed Silk Road country.
Uzbekistan Travel Tips: Summary
Many nationalities get free access to Uzbekistan without a visa – check here
Tourists are welcomed and tourism is being actively developed
Most international flights land in Tashkent, the capital of Uzbekistan
The languages spoken are mainly Uzbek and Russian – some younger locals speak English
The local currency is Uzbek SOM (UZS) – Note, US Dollars are no longer used as local currency
Cash is mainly the currency of choice but some larger stores and hotels take credit card
Banks can exchange foreign currency to SOM and there are increasing numbers of ATM machines for different card types in the main cities
Banks and money exchanges will only take pristine notes (even if there is a tiny tear or the note is wrinkled/dirty they are reluctant to change them.)
Use up your SOM before you leave Uzbekistan as you cannot exchange this outside the country
Tourist Police are active in the cities and have stations near the main tourist areas
Trains run between the main Uzbekistan cities
Alcohol is freely available
It is recommended not to drink the tap water in Uzbekistan
One of the main Uzbekistan national dishes is called Plov and is a lamb, veg and rice dish
There are no strict dress guidelines in Uzbekistan ( Though you will need to dress respectfully in religious places and practising mosques)
Practical Uzbekistan Travel Tips and Information
It is tourism, rather than trading, that is now Uzbekistan's drawcard.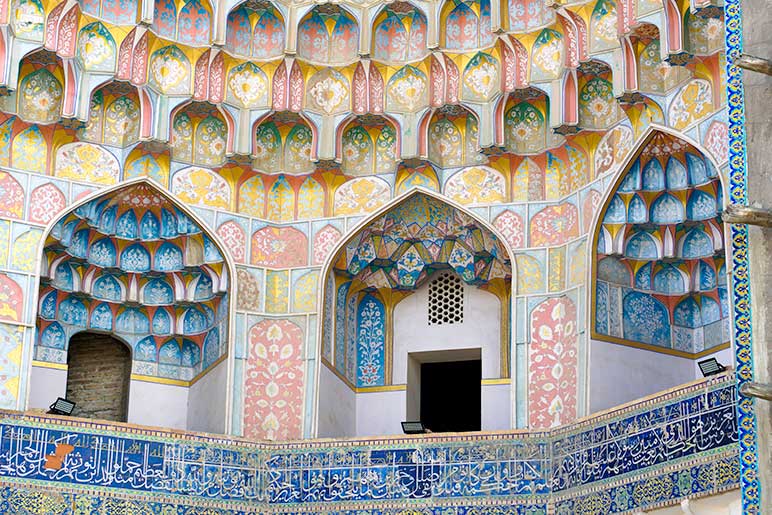 Uzbekistan was once a main thoroughfare of the Silk Road, with traders and travellers plying their wares. When the trading route began to decline and under Russian rule, Uzbekistan became a difficult country to enter. Much of its architecture and great examples of mausoleums and mosques fell into disrepair.
However, the magnificence of what once was is now being restored with ongoing restoration projects in the main cities of Uzbekistan. The country is once again welcoming visitors from all over the world but with tourism rather than trade being the drawcard.
Since 2016 the new president, Shavkat Mirziyoyev, is changing the approach to tourism and making it easier for foreign visitors to visit Uzbekistan. Moreover, Lonely Planet has named Central Asia Silk Road region, as one of the top places to visit in 2020. 
Where is Uzbekistan?
Uzbekistan is in amongst all the other 'Stans' in Central Asia. It is bordered by Kazakhstan to the west and north, Tajikistan and Kyrgyzstan to the east, and Afghanistan and Turkmenistan to the south. 
 Uzbekistan declared independence from the Soviet Union in August 1991 and became the Republic of Uzbekistan. The suffix of 'stan' is an ancient Farsi or Persian word meaning place of or country. 
Uzbekistan Map
Uzbekistan Travel Visa Requirements
Since February 2019, many nationalities do not need a visa to enter Uzbekistan – check visa requirements here.
Also, from January 2020 the visa requirement is waived for more nationalities and in addition, Chinese nationals won't need a visa for a 7-day stay. Therefore, Uzbekistan is expecting a big jump in tourist numbers in 2020.
Is Uzbekistan Safe For Tourists?
Travellers should keep up to date on the travel status of Uzbekistan. Consider subscribing to get email or text updates on security issues, health issues and natural disasters. In Australia, we subscribe to Smartraveller to ensure we receive the latest travel information.
We didn't experience anything untoward while travelling through Uzbekistan but it is always advisable to stay alert and be aware of your surroundings.
We found the Uzbekistan people to be extremely hospitable and welcoming. The main cities have a high presence of Tourist police to assist with any problems tourists may encounter. Uzbekistan tourism is being developed and therefore it is much easier and safer to travel in the country than in previous times.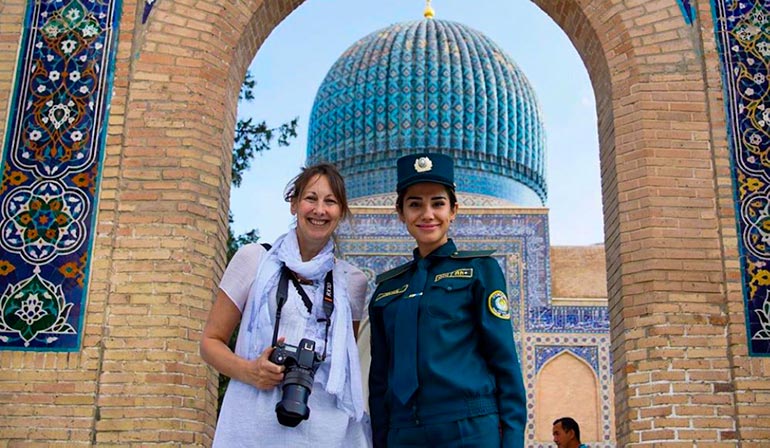 Uzbekistan Tourist Police have a special Uniform identifying them as such. 
Do I Need Vaccines for Uzbekistan?
Yes, some vaccines are recommended by WHO  for Uzbekistan: hepatitis A, hepatitis B, typhoid, rabies, meningitis, polio, measles, mumps and rubella (MMR), Tdap (tetanus, diphtheria and pertussis), chickenpox, shingles, pneumonia and influenza.
Also, note that particular medicines are considered restricted products in Uzbekistan. Find out here which type fall into this category.
We would also recommend that you have a comprehensive Travel Insurance Policy.
What Language is Spoken in Uzbekistan?
The languages spoken in Uzbekistan are mainly Uzbek and Russian. However, some younger locals speak English.
Try to learn a few Uzbek words as this is really appreciated by the locals.
Hello = Assalomu aleykum
Hello(informal) = Salom
Thank you = rahmat
For pronunciation and more phrases – check out this website
Flights to Uzbekistan
Many airlines now fly to the international airport at Tashkent, the capital of Uzbekistan. The airport is about 7.5 miles from the city.
One of the main airlines servicing this airport is Uzbekistan Airways. We flew with them and were unsure as to what to expect. However, the service was great.
The inflight entertainment might not have had the latest blockbusters but there was enough variety to keep the average non-film buff happy. The food on the flight was standard aeroplane food. Take note not to be confused by the email asking you to order your plane food before departure. We thought it meant that we didn't get a meal (due to it being a budget flight) and we bought several sandwiches for the journey. Just after demolishing those, the air stewardess asked whether we wanted 'chicken' or 'beef. So, as it happened, we did get a free meal after all. No need for any more food that day!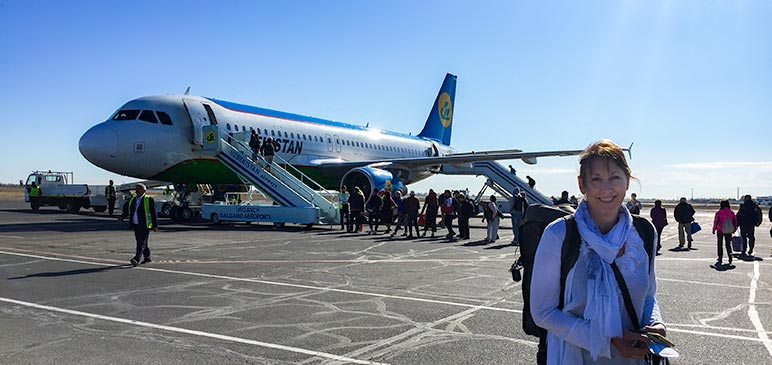 Arrival at Tashkent Airport
Entry into Uzbekistan at Tashkent Airport was very straightforward. We stood in line for about 30 mins to have our passport checked at Customs. We were asked where we had flown from and then our passports were stamped and we continued to baggage collection, bought our sim card and withdrew cash from an ATM. All done in another 20 minutes.
For those requiring visas, there was a special desk from which you could purchase this.
Uzbekistan Local Currency and ATM Machines
Local Currency is the Uzbek SOM (UZS) – locals call it 'SOM'
ATMs dispense SOM only (As of 1/10/19)
Local Banks will change USD, British Pounds, Japanese Yen and Euros
Ensure bank notes are pristine or the bank will not accept them (They rejected many of ours that were just crinkled but no tears)
The local currency in Uzbekistan is SOM and this can be either bought before you arrive or withdrawn from ATMs. There is an ATM machine that accepts foreign visa cards at Tashkent Airport near the Baggage Carousel. Be mindful that you will be unable to exchange SOM to another currency after you leave Uzbekistan. 
Up until 1st October 2019, the USD was also used as local currency and available at ATMs, but this has now changed.
There are several ATM machines in the cities, but whether they work or not can be hit and miss. Therefore, it is a good idea to withdraw cash before you get desperate. A few stores take credit card, but the majority are cash-based.
ATM machines do accept different types of cards but definitely the Master Card seems more common. There are quite a few ATMs about but because we had a visa card, we had to search pretty hard to find an ATM machine that would accept it.
Sometimes we found that ATMs ran out of SOM. This happened to us after a long weekend. We had run out of SOM and only had USD. Most vendors only accept SOM and not USD or credit card. The Banks were all closed as it was late afternoon. Because we needed to eat and I needed to buy a pair of sandals (my others broke), we were desperate for cash. On the grapevine, we had heard that there was a Black market exchanging USD to SOM. Therefore, we asked around and found someone.  Luckily the interest rate was only marginally lower than that offered by the banks. We ate and were able to buy some new sandals. 
However, please note that the black market is an illegal activity and we have been told that sometimes government officials go undercover. Our recommendation would be to be aware of the possibility that the ATM's may not be working and plan to get money from a bank or exchange centre when they are open so as to not run short on cash.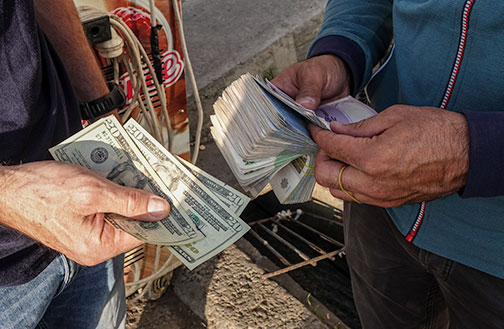 Uzbekistan Sim Cards and Wifi
The majority of foreign Sim cards don't work in Uzbekistan so it is advisable to purchase a Sim card on arrival.
At Tashkent airport, you can purchase a UMS Sim card at the 'Tourist Service Centre' which is conveniently located right beside the baggage collection carousel. The minimum price for a data sim is 84,000 SOM (about USD$8.40) for 8GB data. They set your phone up right there for you – so you are all set to go without the worry of having to find free WIFI somewhere.
Some of the tourist info centres and hotels have free WIFI but the signal can be intermittent and is rarely high speed.
Top 4 Places to Visit in Uzbekistan
These are the main four places that tourists visit in Uzbekistan.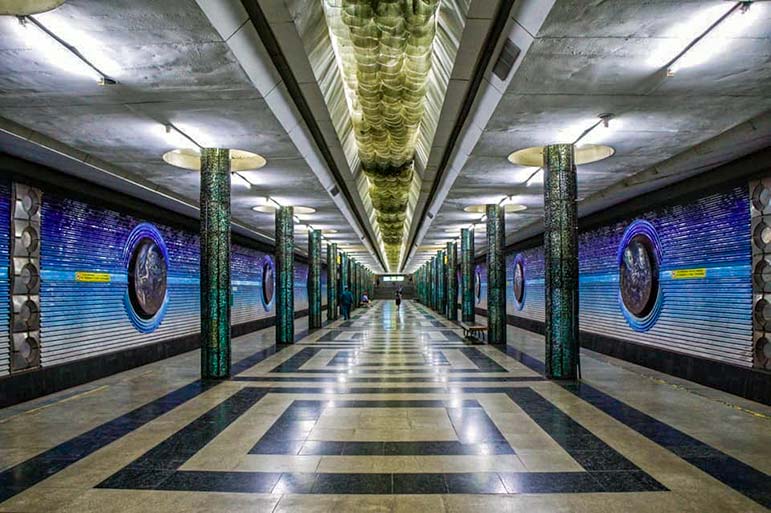 Samarkand – once the intersection of the silk road trades routes,  Samarkand is now on the UNESCO World Heritage List due to its abundance of monuments, mausoleums and Madrassahs. It certainly is full of impressive sights and there is a strong sense of local pride here.
For more information about this city see our post, Amazing Things to do in Samarkand Uzbekistan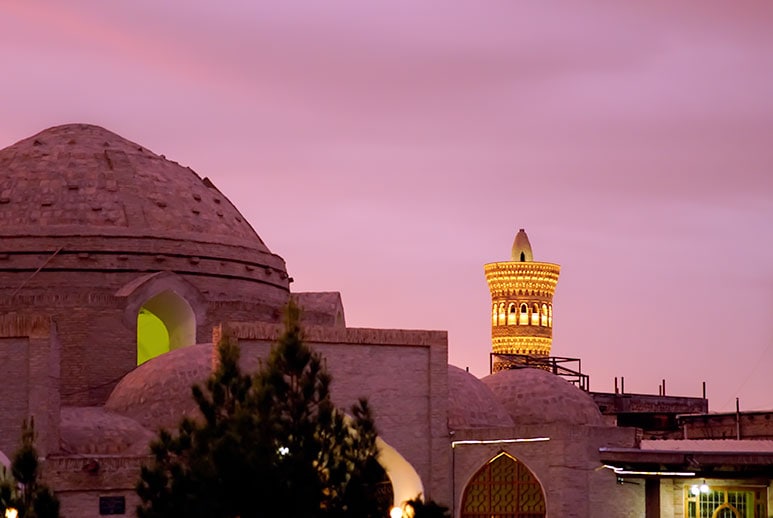 Bukhara – this city had a more relaxed feel compared to Samarkand. The madrassahs and minarets haven't been restored as much as those in Samarkand, so they seem less grand but perhaps more authentic.
For more information about this city see our post, Best Things to do in Bukhara Uzbekistan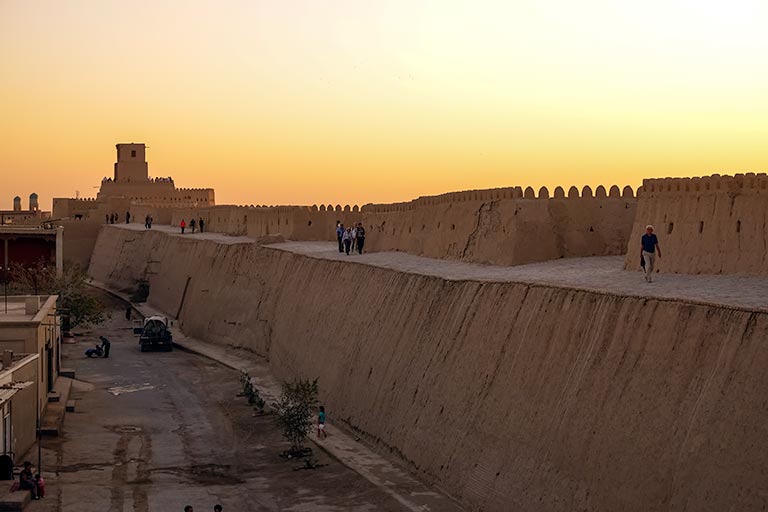 Khiva was once a trade slaving post with its leaders known for their brutality. There are two parts, the old and new town. The old town, called Ichan-Kala was designated a UNESCO World Heritage site. It is within a fortress wall with many of its homes and buildings built of mud walls.
For more information about this city see our post, Top Things to do in Khiva  and Khiva to Aral Sea: A day of Intrigue
Catching Uzbekistan Taxis
Most of the locals use an app called Yandex Taxi to order their taxis. Download the app before you get to Uzbekistan and you will be ready to use as soon as you arrive so no need to barter with the cab drivers at the airport. It states exactly how much the fare is and you can link it to your credit card, so you also don't need cash to pay.
There are yellow marked taxis and unmarked taxis. Apparently, the only difference is that the yellow ones are licenced to stop and pick up extra people for a fare and can be shared taxis. The price is the same and you can barter with both types. However, if you in a shared taxi you may have more bartering leverage.
We found that if we were catching a yellow taxi in the city they were offering a fair price for within – a standard 10,000 – 20,000 SOM ( USD$1 to $2). However, if you need to get from train stations, airports or travel a distance of more than about 5km then the price jumped up quite significantly. This is when your bartering skills come in handy.
Uzbekistan Trains
You can book Uzbekistan trains online in advance or buy your tickets directly at the train station. However, we would advise booking in advance as our carriages were full and only a limited number of trains run.
There are a few Websites that sell online Uzbekistan train tickets. The official one – http://railway.uz/en/ we found to be unreliable and was down a lot of the time. We used  tutu.ru. and found that to be the best for us.
The online tutu.ru ticket bookings only become available online about 45 days before the actual train journey so you can't buy tickets before this. What you can do though, is have email notifications sent to you advising when the window is open. This is what we did and were then able to buy our tickets online immediately as seats do book out. We booked Tashkent to Samarkand, and Samarkand to Bukhara online at, tutu.ru. Just remember, keep hard copies of your train tickets with you.
However, for some reason, the Bukhara to Khiva leg of the train journey could not be booked online through tutu.ru as this was available only to Russian visitors and locals. Why? It's still a mystery to us. We approached a local Uzbekistan travel agency, Advantour, who were super helpful and arranged the tickets at no additional cost and we had them waiting for us at the hotel in Bukhara when we arrived. All fuss-free.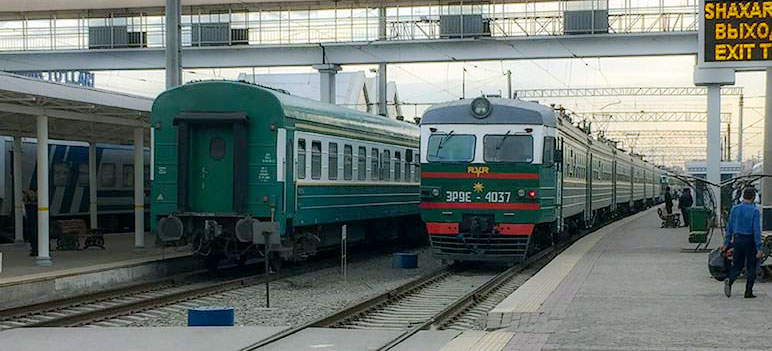 Summary of our Uzbekistan Travel by Train:
Train Tashkent to Samarkand
Cost USD $17
Time: 3 hours
Booked online
Business Class in old fashioned train cabins
Train Samarkand to Bukhara
Cost USD$8
Time: 2.5 hours
Booked online
We used economy class on the train trip from Samarkand to Bukhara and it was more comfortable than the business class from Tashkent and was half the price!
Train Bukhara to Khiva
Cost USD $40
Time: 5 Hours
Booked through Advantour The tickets were delivered to our hotel a couple of days before our journey.
The business class on the fast train from Bukhara to Khiva was nicer than the economy but really the only difference is having more legroom and a table.
Uzbekistan Accommodation
Uzbekistan Registration Requirements
When you travel in Uzbekistan you are expected to register at a hotel or at the place that you stay. The hotel gives you a registration slip which you then keep to show on departure.
However, we weren't asked to show them and others we know didn't have to show them either. That said, there is a possibility of being fined, so although departure procedures seem to be less strict, it is worth keeping your registration slips just in case.
Uzbekistan Accommodation Options
There are a range of options for accommodation in Uzbekistan. Budget accommodation is on average about USD$10-$20 /night and standard accommodation about USD$30-40 / night.
Hotels and B&B's we used and would recommend:
Uzbekistan Food
While you won't find a lot of fruit and vegetables on offer in Uzbekistan, you'll find plenty of meat dishes, traditional Uzbek cuisine of which the locals are very proud.  Some of the main Uzbek foods you'll come across are:
Plov–  The main traditional dish is called 'Plov'. This is a rice dish with lamb or beef mince, onions, carrots and depending on where you eat, some other minor ingredients.
Manti – A dumpling filled with beef or lamb mince and onions. It also sometimes might be filled with pumpkin.
Lagman Soup – consistency varies depending on the restaurant but is like a lamb stew with noodles and vegetables
Fried Lagman – Basically fried noodles coated in a tomato-based sauce. Often comes with a fried egg on top.
The Uzbek staples are bread and noodles. You'll likely find many vendors on the side of the road with bread baked with traditional patterns indented. The food is relatively cheap here and therefore it doesn't break the bank to eat out.
Average Restaurant Costs:
Locals restaurants: USD$3.50 per meal (eg. 3 meat kebabs, one beer, bread, salad)
Tourist restaurants: USD$5-$8 per meal (eg. Meat, veg, noodle Soup, Beer, bread)
Note: It is not safe to drink the water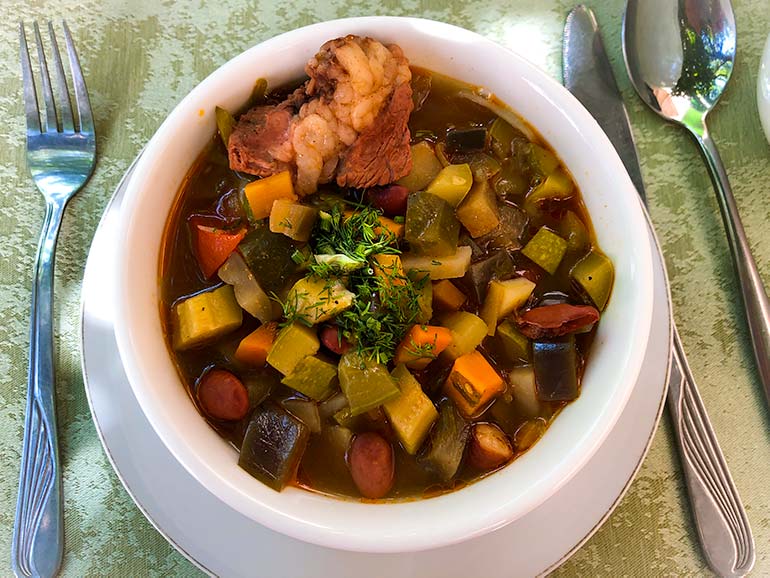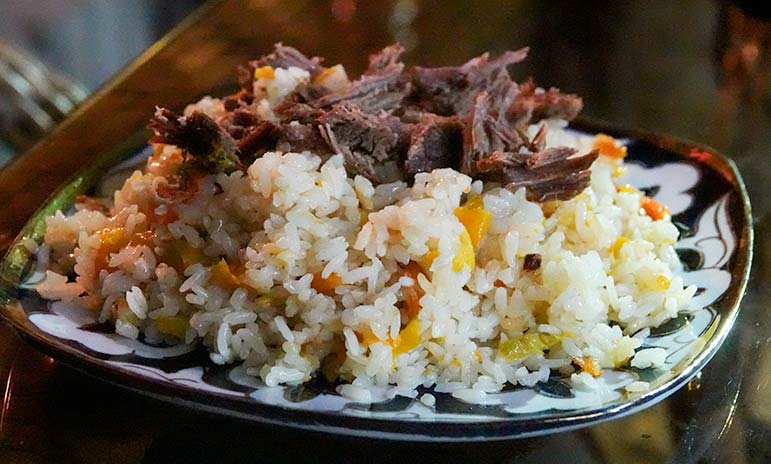 The National Uzbekistan Dish – Plov
Madrassah/Mosque Entrance Fees.
Most places have an adult price listed but this is usually only for locals – a little further down the price list you'll find the fee for foreign visitors. This price is often quite a bit more than the local's price. For example, to visit the Madrassahs in Registan Square, Samarkand the locals pay 3000 SOM and foreign tourists, 40,000 SOM. A fair enough difference given that the average wage is so much lower in Uzbekistan compared to that of most tourists. It would be a shame if the locals were priced out of visiting their own historical monuments. 
On average the entrance costs range from 20,000 to 50,000 SOM per person. Many also charge extra if you want to take photos.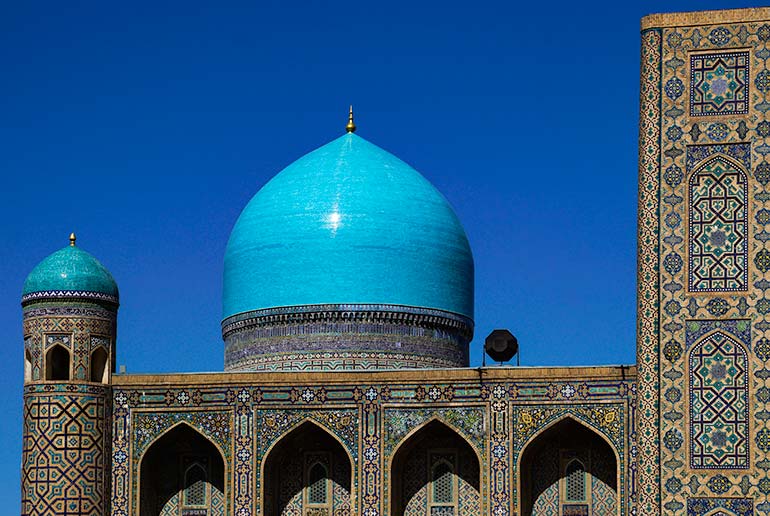 What is the best time to visit Uzbekistan?
The best time for Uzbekistan travel is in the Spring (from March to May), or Autumn (September to November). In Spring the mountains are green, and the weather isn't yet too hot. September and October are good as the temperatures are cooler but still warm and pleasant to explore the country.
Outside of these months, winter temperatures drop to -5 DegC and summer temperatures climb to a particularly gruelling 40 DegC +.  During these months, businesses trade sporadically meaning that you may find some places open but with no fixed hours of operation.
Our October Autumn weather was just perfect.
Photography and Drone Usage in Uzbekistan
Be sensitive to the local culture. If an area has a 'No Photos' sign abide by it and show respect.
In regards to taking photos of strangers, always ask permission. Most people we asked were happy to have their photo taken. In fact, strangers asked us to take photos of them rather than us asking them!
Only on two occasions did we get asked for money – both times the person had asked us to take a photo of them before requesting money. We politely refused-not wanting to encourage this type of touristic scam.
Many sites we visited on our Uzbekistan travels charged an extra fee, in addition to the entrance fee, if you want to take photographs.
Uzbekistan has banned the import, sale, and usage of drones. We chose to send our drone on ahead of us rather than risk having it confiscated when entering the country.
What Type of Souvenirs can you Buy in Uzbekistan?
Some of the main souvenirs and items that you'll find being sold in Uzbekistan are silk scarves and rugs, ceramics, puppets, cotton scarves, hats, knives and copperwork.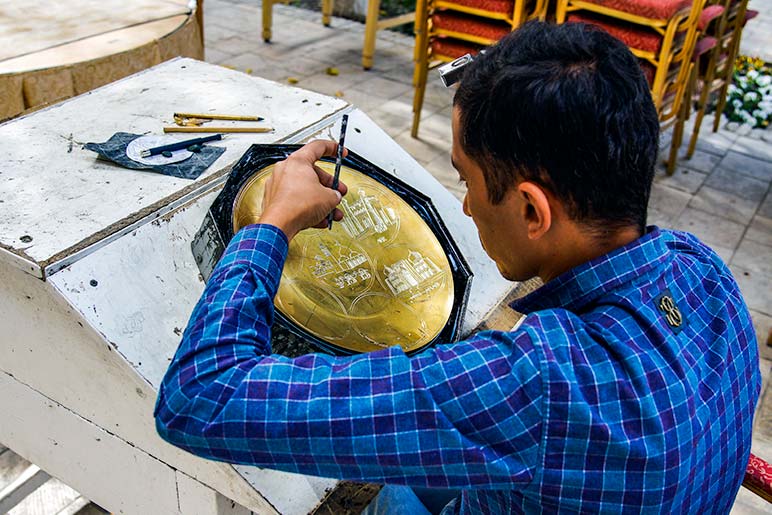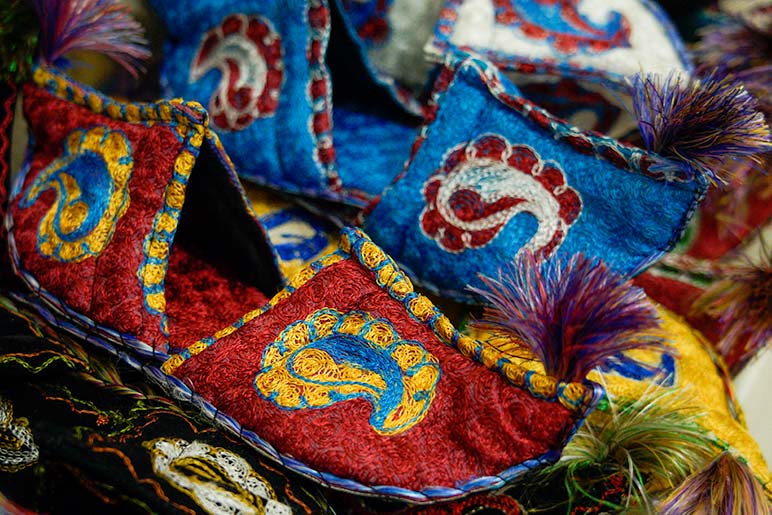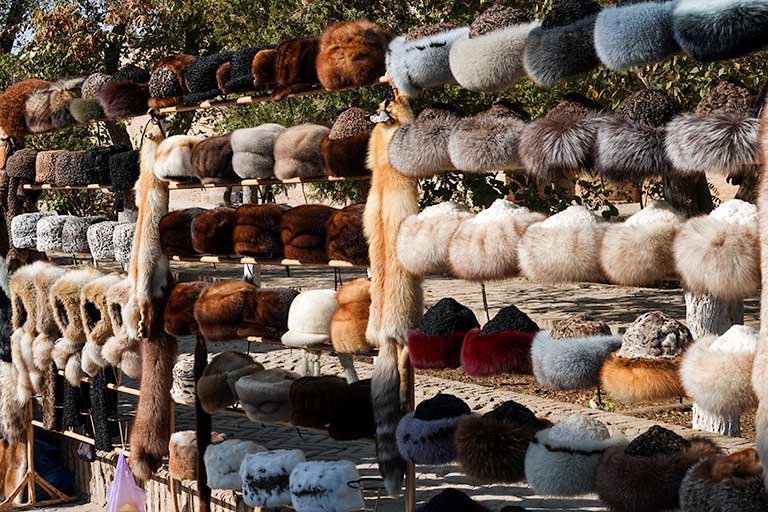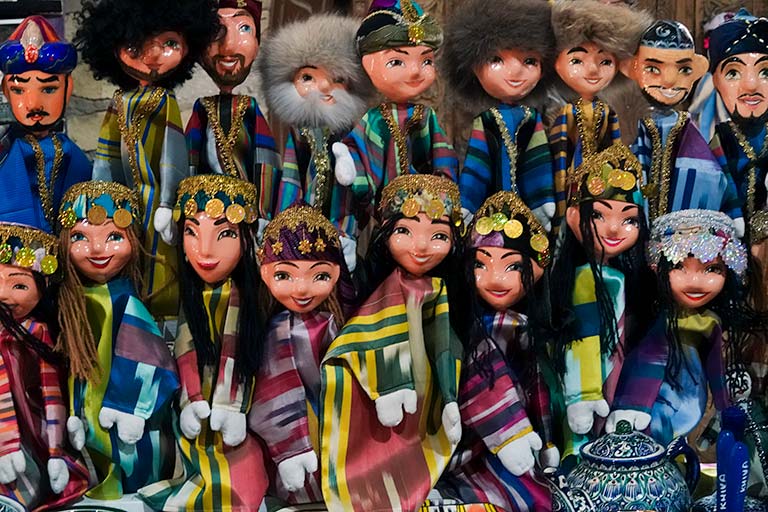 Can You Drink Alcohol in Uzbekistan?
Although Uzbekistan's main religion is Muslim, most Muslims there are very relaxed when it comes to drinking alcohol.  Vodka, beer and sweet wines are popular.
You can read more about Uzbekistan's drinks and drinking customs here. 
What Should you wear in Uzbekistan?
You'll find many of the older locals wear conservative type clothes. Men may wear suits while the women wear long velour type pants with long colourful dresses over the top. Many also wear bright headscarves. However, many of the younger crowd wear clothes which would not be out of place in Europe or the US. Many sport jeans, the latest trainers and trendy brand t-shirts.
Tourists seem to wear whatever they feel comfortable in. However, if you visit a practising mosque then it is respectful for women to cover shoulders and head (travel with a light scarf) and have long pants or skirt. For men, long pants and a shirt ( no tank tops). You'll find some of the mosques are no longer used as such and therefore the clothing requirement is less strict.  What will be really useful are comfortable walking shoes as you will likely be doing a lot of walking in each city.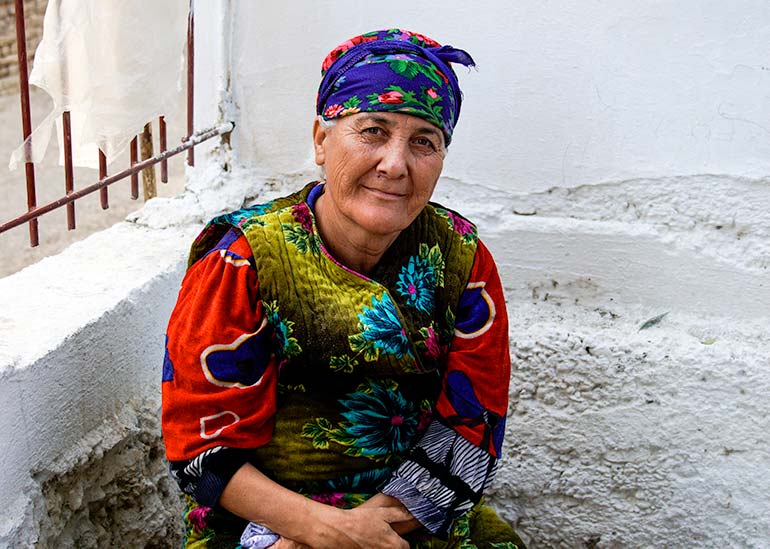 Uzbekistan Travel Tip Updates
We will endeavour to keep this post updated with any changes that occur – if you know of anything that we have missed or changes that have occurred please drop us an email or leave a comment so we can give readers as relevant information as possible 🙂 Thank you x
Have you been to Uzbekistan or planning on going? Let us know what you thought or if you have any questions ask away and we'll try and help.
Which of these Uzbekistan Travel Tips has helped you the most? 
This post may contain affiliate links. This means that we may earn a small commission from purchases you make through our links, at no extra cost to you. Thank you for supporting us. For more info, read our Disclosure Policy.
Why not Pin and Save for Later?
You may also Enjoy Reading:
If you enjoyed this article, you may like these FREE RESOURCES:
FREE Travel Guides (many countries)
FREE 23-page Travel Planner, including menu planner, journal pages and budgeting)
FREE Phone Wallpapers
FREE Photo Ebooks
Monthly Travel News 
Planning Your Travels?
These are travel resources we use when planning our trip and can recommend: