KHIVA TO ARAL SEA SHIP GRAVEYARD DAY TRIP
The Khiva to Aral Sea Day trip was a highlight of our visit to Khiva, an ancient city in north-western Uzbekistan.
A great sightseeing option is to join a private one-day tour to the Aral Sea ship cemetery. The tour I decided to take was budget-friendly, included stops at many diverse locations on the way to the Aral Sea, and only requires the visitor to have a general level of fitness.
These ancient Uzbek cities also formed important trading hubs on the famous Silk Road route: Tashkent, Samarkand, Bukhara and Khiva.
READ MORE: For modern-day travel tips, be sure to read up on our Practical Uzbekistan Travel Tips and Guide.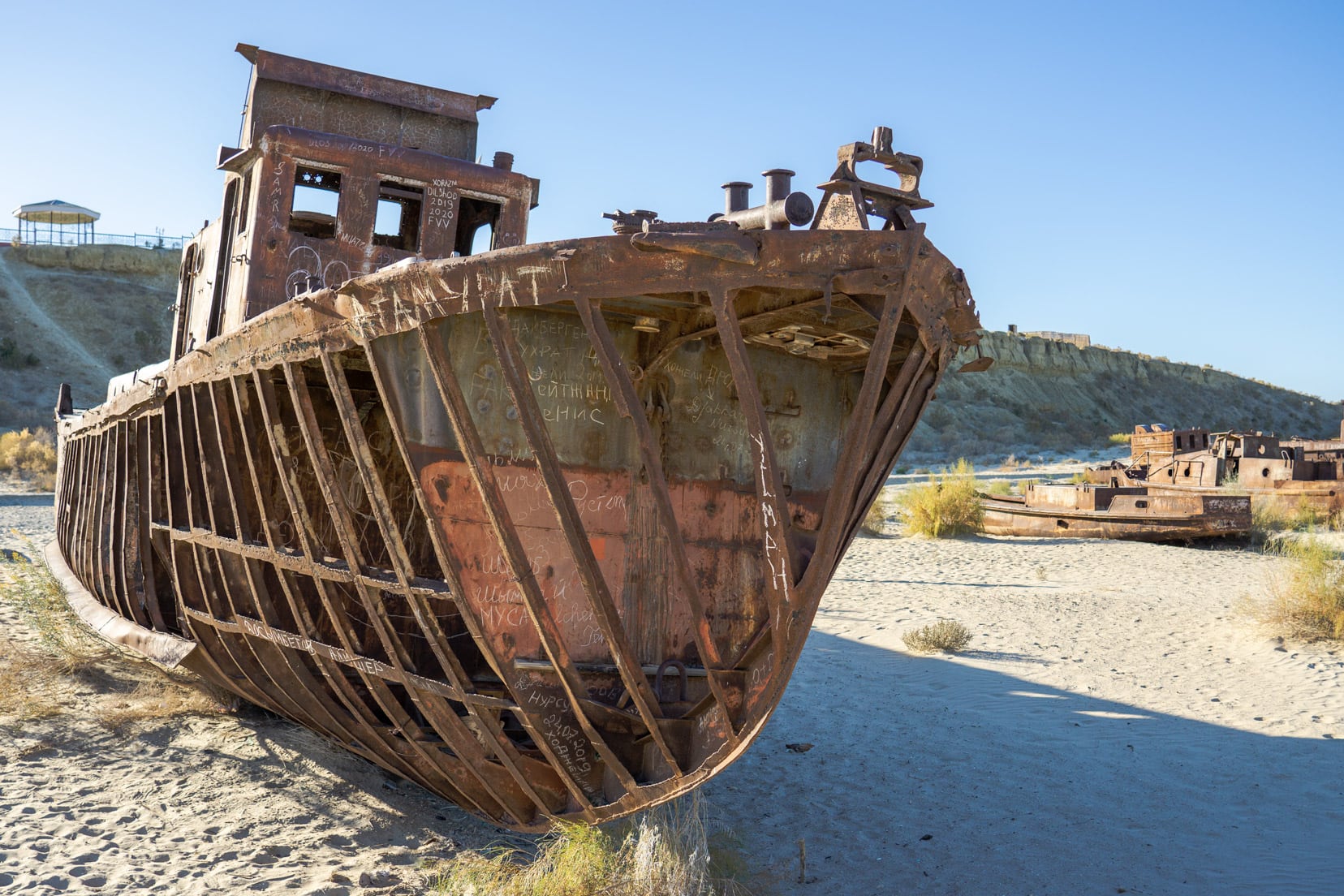 Planning a Trip to Uzbekistan?
KHIVA TO ARAL SEA SHIP CEMETERY: MAP OF THE DAY TRIP STOPS
KHIVA TO ARAL SEA SHIPS: TRIP PLANNING
When we were in Khiva, I was floating the idea of a day trip to the Aral Sea ships cemetery but not really knowing how I was going to achieve this. I met a fellow tourist in Bukhara who recommended Islambek Travel and especially the Aral Sea day trip.
With Islambek Travel being located within Ichan Kala, the walled inner town of Khiva city, it's easy to find the travel agency, located at the Islambek Hotel and speak face-to-face with Murad, the owner. He made the whole experience so easy, by stepping through the whole trip with clear explanations. All you have to do then is relax and enjoy the trip.
(Note: we have NO affiliation with Islambek Travel).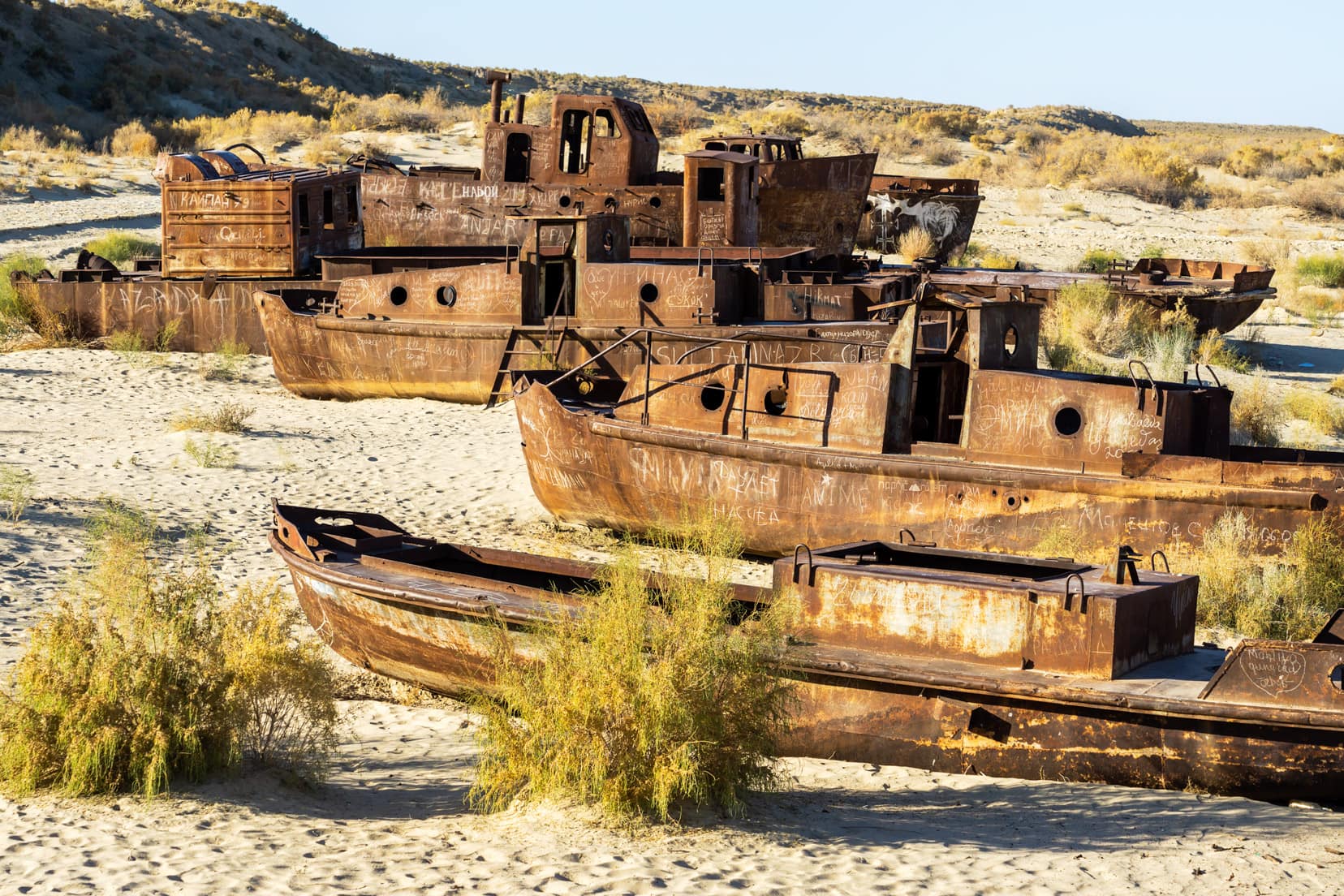 Islambek Travel offers year-round excursions and has different options to suit your schedule.
A good thing is that the price is fixed for the trip and includes a car with a driver. In other words, the more people that fill the seats, the less you pay.
The 'Day Trip to Muynak Cemetery' cost me USD $32.50 (approx. 325,000 SOM which is the local Uzbek currency). A bargain in my books.
This trip also included stops at:
Muynak Museum
Savitsky Art Museum
Mizdakhan
Chylpik Kala.
You will need to pay for your own museum entry fees and food.
Pickup was organised for 06.30 am, so we hit the road just before sunrise. There was a long day ahead. Little did I know that it would be 16 hours later before we returned to Khiva Itchan Kala.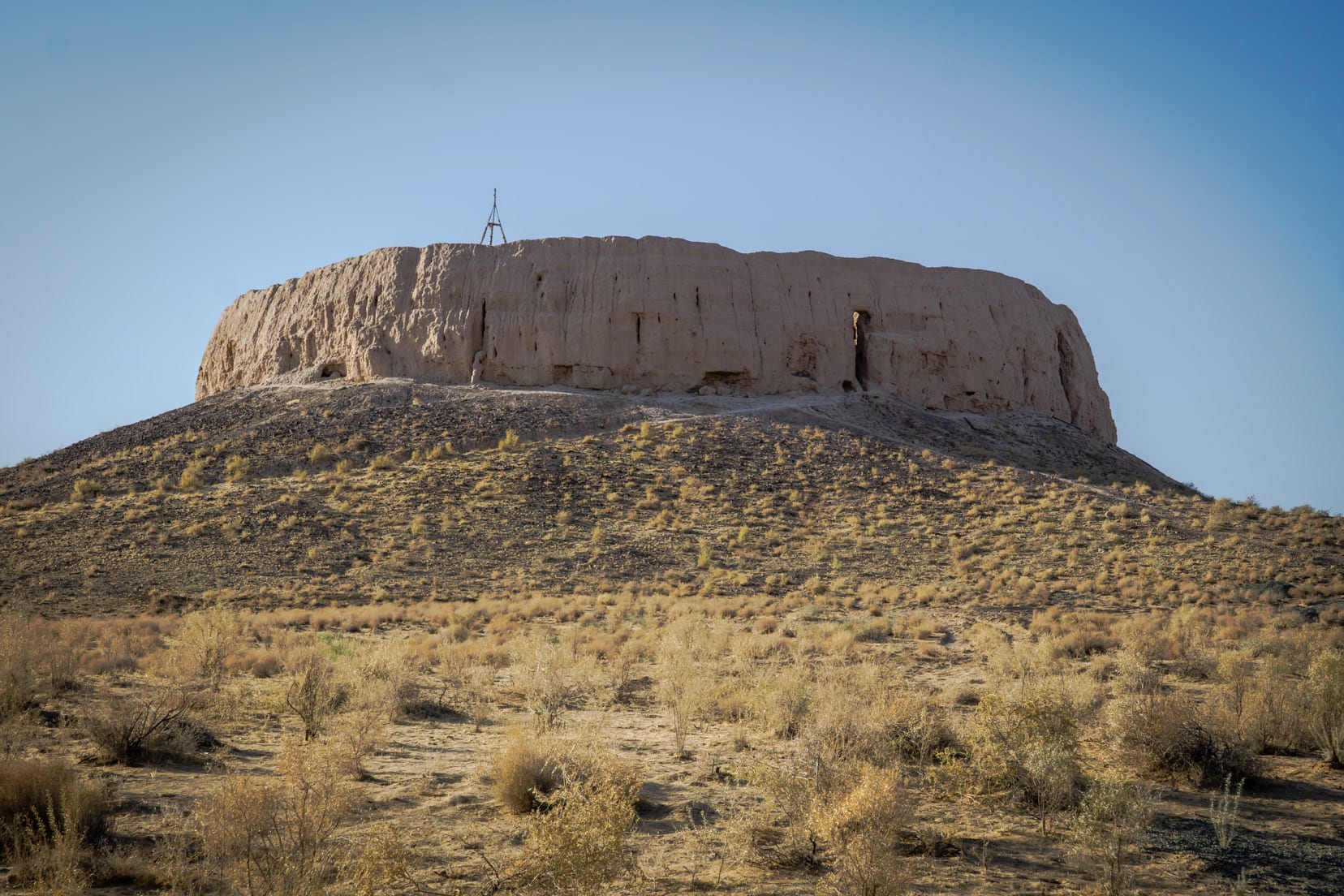 KHIVA TO ARAL SEA SHIPS
---
STOP 1: CHILPIK KALA (SHILPIQ – UZBEK SPELLING, CHILPYK – RUSSIAN SPELLING)
Chilpik Kala is a three-hour drive north of Khiva and overlooks the Amu Darya River.
This round, fortress-like structure with mud walls is built on a small hillock and makes for an impressionable sight on the barren plains around it. It is thought that this site was an ancient tower of silence (a royal dahkma), built by the Zoroastrian priesthood.
The Zoroastrian faith dates back thousands of years. It demands that the dead do not pollute either fire, water, earth or air, so they lay the bodies of the dead on raised platforms to be stripped of flesh by birds. The bodies are then dried in the sun and this whole process is considered a purification process.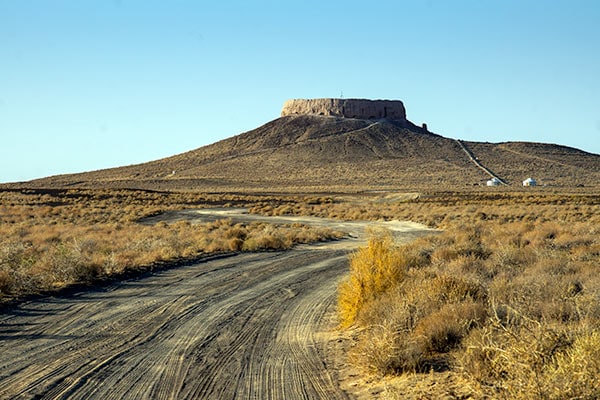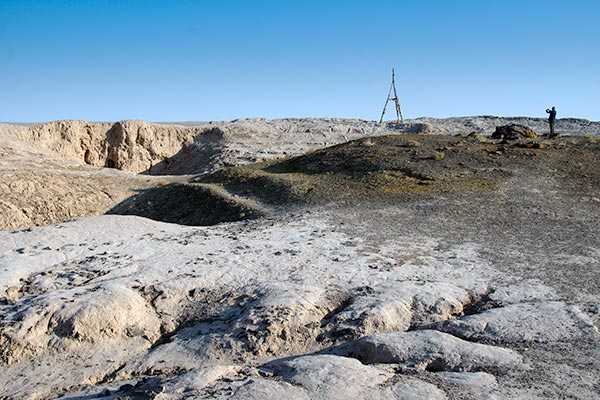 A dusty road winds its way from the highway to the base of the Chilpik Kala. Nearby is a modern-looking yurt camp and concrete steps that lead you up to the side of the structure. From the top of the stairs, a deeply rutted worn section of the wall provides a steep, but short, clamber to the open rooftop of Chilpik Kala.
The rooftop is well-weathered, roughly 50m in diameter, leaving no indication of how the structure might have looked in its earlier times.
A lone triangulated flagpole stands vigilant, with multi-coloured pieces of cloth wrapped around it. It's a tribute to the souls that once walked this earth along with a hope for a wish to come true.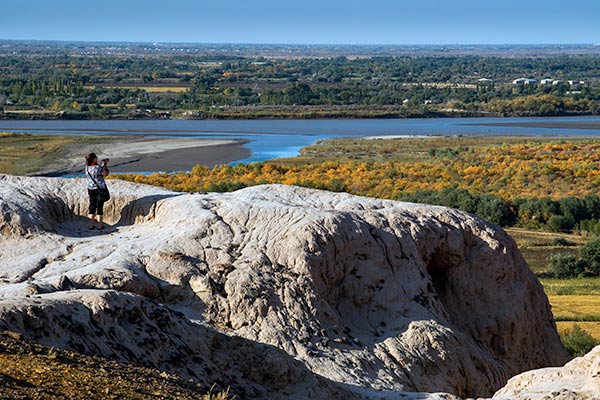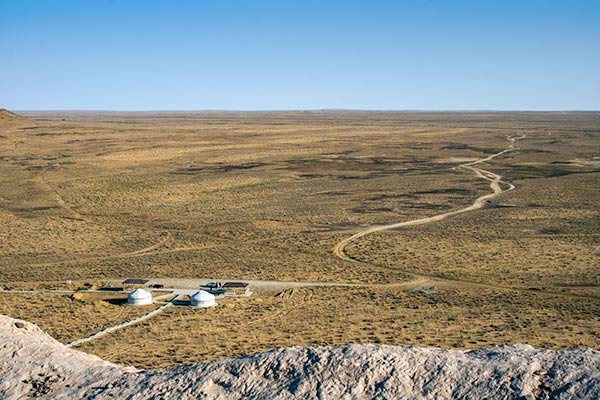 Beautiful contrasting landscapes come into view. To the west, the splendour of the fertile lands of the Amu Darya River.
Whilst to the east, a dry, flat, desert terrain is punctuated by small hillocks. You may even see pigeons circling Chilpik Kala, as they roost in the crevices of the mud walls.
Thirty minutes to an hour is about enough time to absorb it all and this is all free.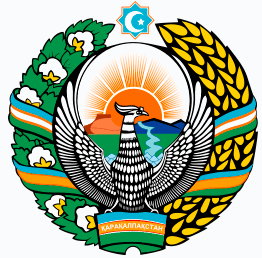 An interesting point is that Chilpik Kala still holds great significance in Karakalpakstan, appearing beside Amu Darya (the nearby river), on the emblem of the Karakalpakstan national flag.
STOP 2: NUKUS ART MUSEUM AND SAVITSKY COLLECTION
Fifty kilometres away in Nukus is the Nukus Art Museum, otherwise known as the Karakalpakstan State Museum of Art.
It is home to the prized Savitsky collection of Russian avant-garde art founded single-handedly in the 1960s' by Igor Savitsky. He was a Russian archaeologist and art collector who coveted more than 90,000 pieces of art and artefacts from Soviet censorship.
Today, it is heralded as one of the finest collections of Soviet avant-garde art in the world.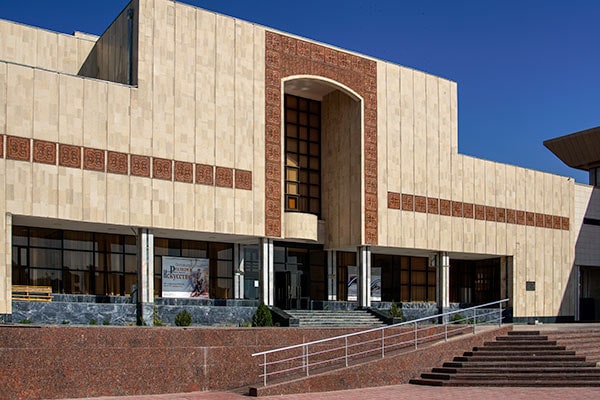 Due to the many pieces of artwork on display, a second building with its own admission fee is in use.
I chose to enter the main museum with the most famous pieces of work after a recommendation from one of the museum staff. I paid extra for taking photos.
Prices for Photo and Video:
Foreign Visitors – still photography 120,000 soums (about $ 11 USD)
Video (per day) 350,000 soums (about $32USD)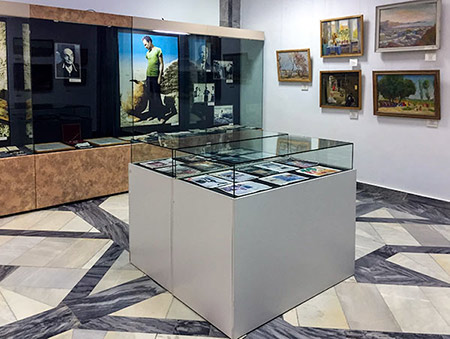 The marble stairwells and floors give the museum a grand appearance. Inside the museum, artefacts from different parts of Asia, the Middle East and northern Africa adorn the walls and cabinets, along with a dazzling display of avant-garde art.
I spent about one and a half-hour at the museum.
As fate would have it, and unbeknownst to me, Uzbekistan Television was filming outside the museum on the day of my visit. I was interviewed and asked what I thought of Uzbekistan, the people and my trip in general.
There were smiles all around when I conveyed that all three were amazing.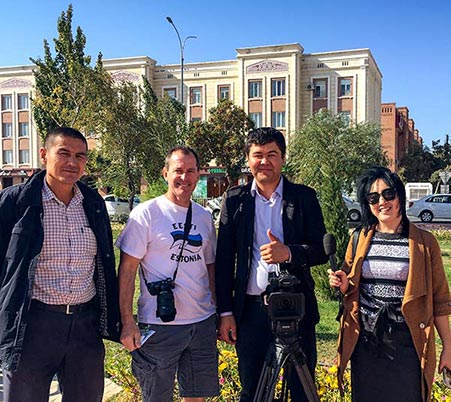 STOP 3: MIZDAKHAN NECROPOLIS
Just 22 kilometres away from Nukus, lies the Mizdakhan Necropolis (cemetery), just south of the modern city of Khodjeyli.
If ever there was a place that felt sad and lonely then this place is it. From the entrance, it looks like a smallish area, but upon cresting the hill in front, the sight of the undulating landscape of four hills filled with thousands upon thousands of graves just stops you in your tracks.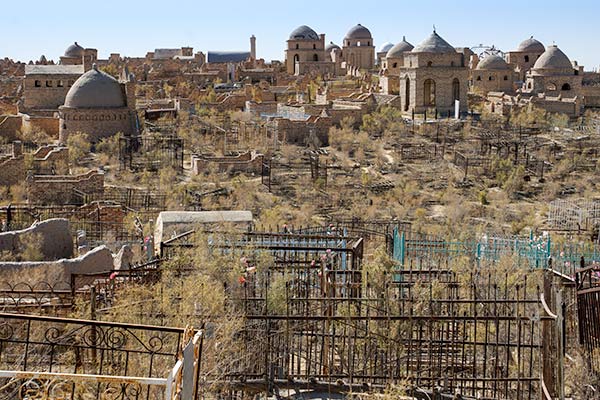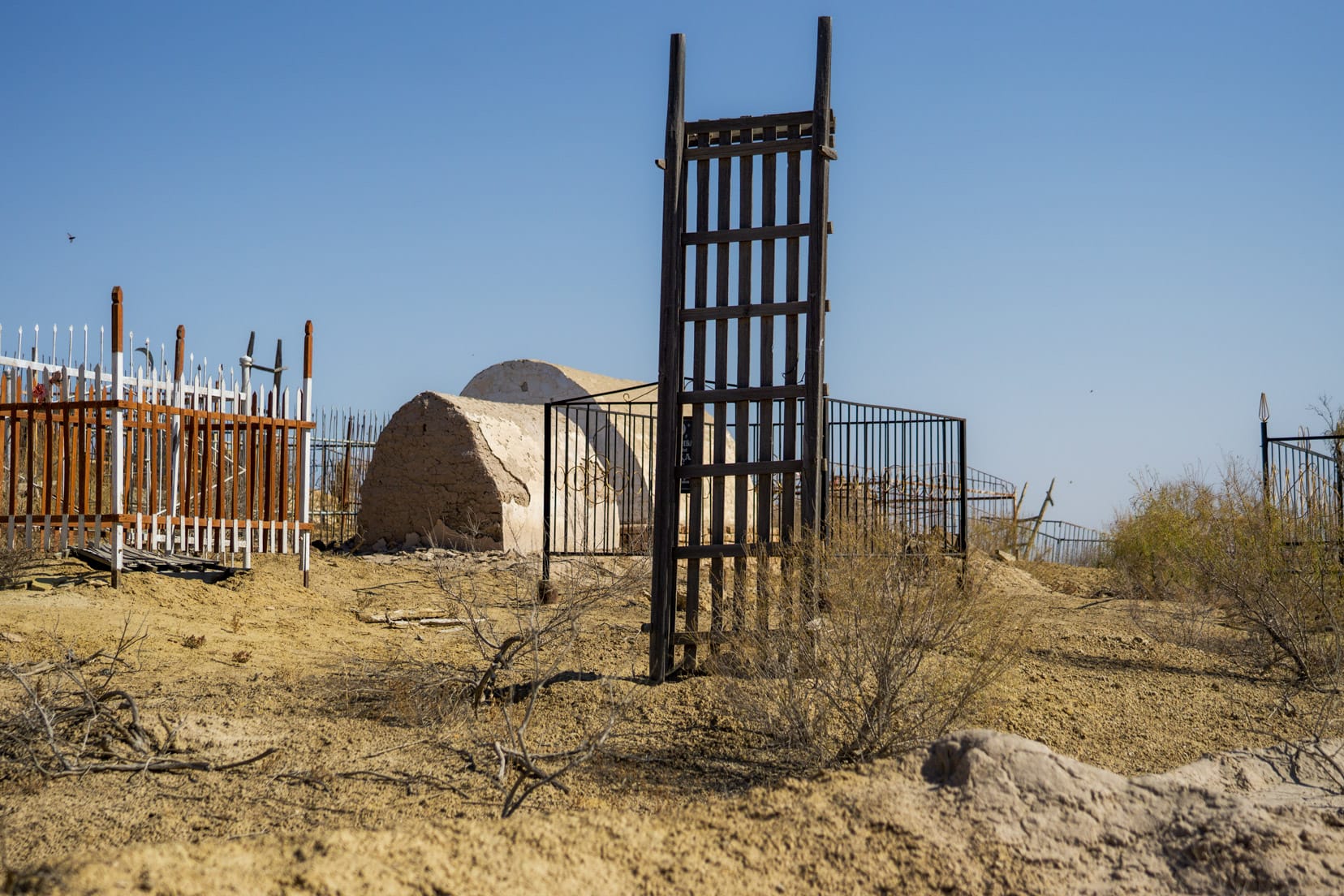 Aside from wandering and observing the many graves, some of the interesting attractions that should be seen here are noted below.
MAUSOLEUM OF MUZLUM-SULU-KHAN
From the outside, this 14th-century mausoleum looks like a rather plain, uninteresting brick-like structure because only the dome and arched entrance are visible. The beauty lies within.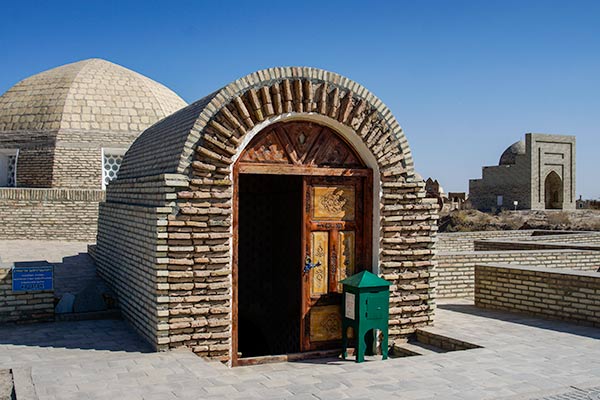 Descending the stairs of the mausoleum, you'll see the walls are all filled with small blue-coloured tiles embedded into the mud-brick walls. The internal octahedral vaults house two gauze-covered coffins with domes resplendent in azure-coloured tiles and latticed windows.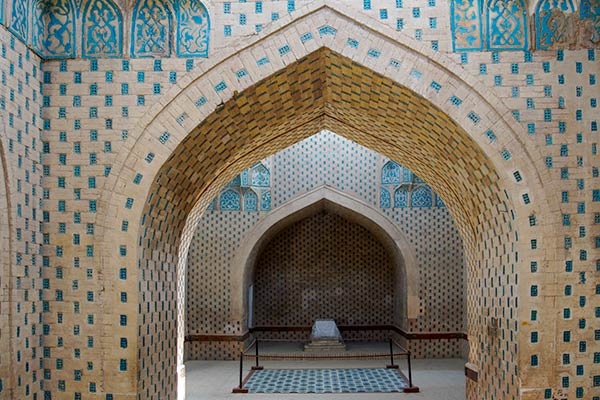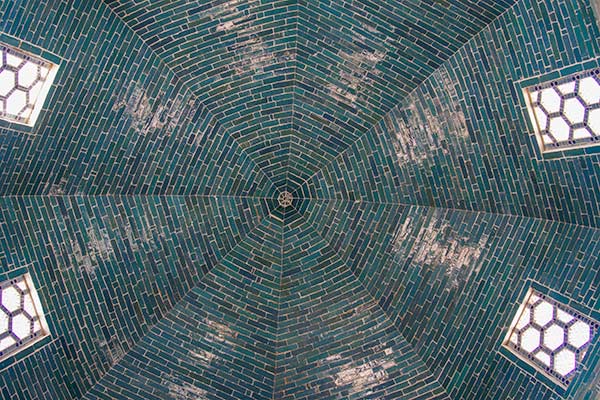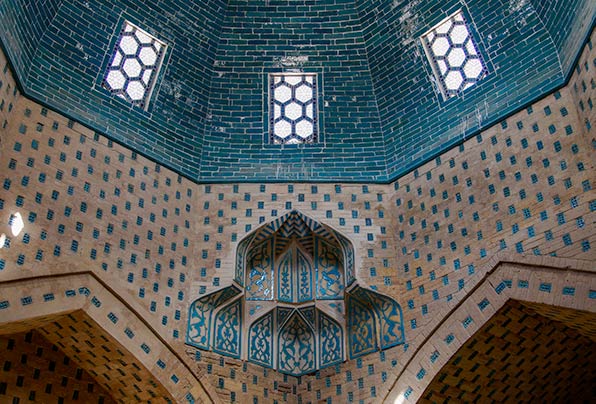 HILLOCK OF JUMART QASSAP
This small five-metre-high burial mound has supposedly been built over the grave of Saint Jumart. Ancient belief has it that a woman can be cured of sterility by tumbling down the slope seven times.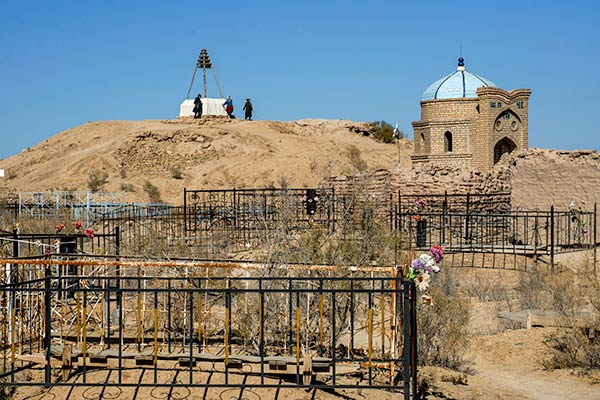 EREJEP CALIPH MAUSOLEUM
This huge structure dominates the local area with its three high walls and partly visible dome. It is an impressive and imposing structure dating back to the 9th century. According to legend, it is the burial place of an Islamic saint who preached in the area.
Interestingly, it has a cane base to make it earthquake resistant.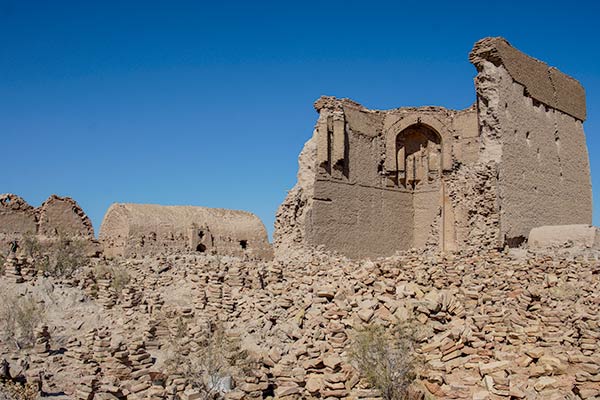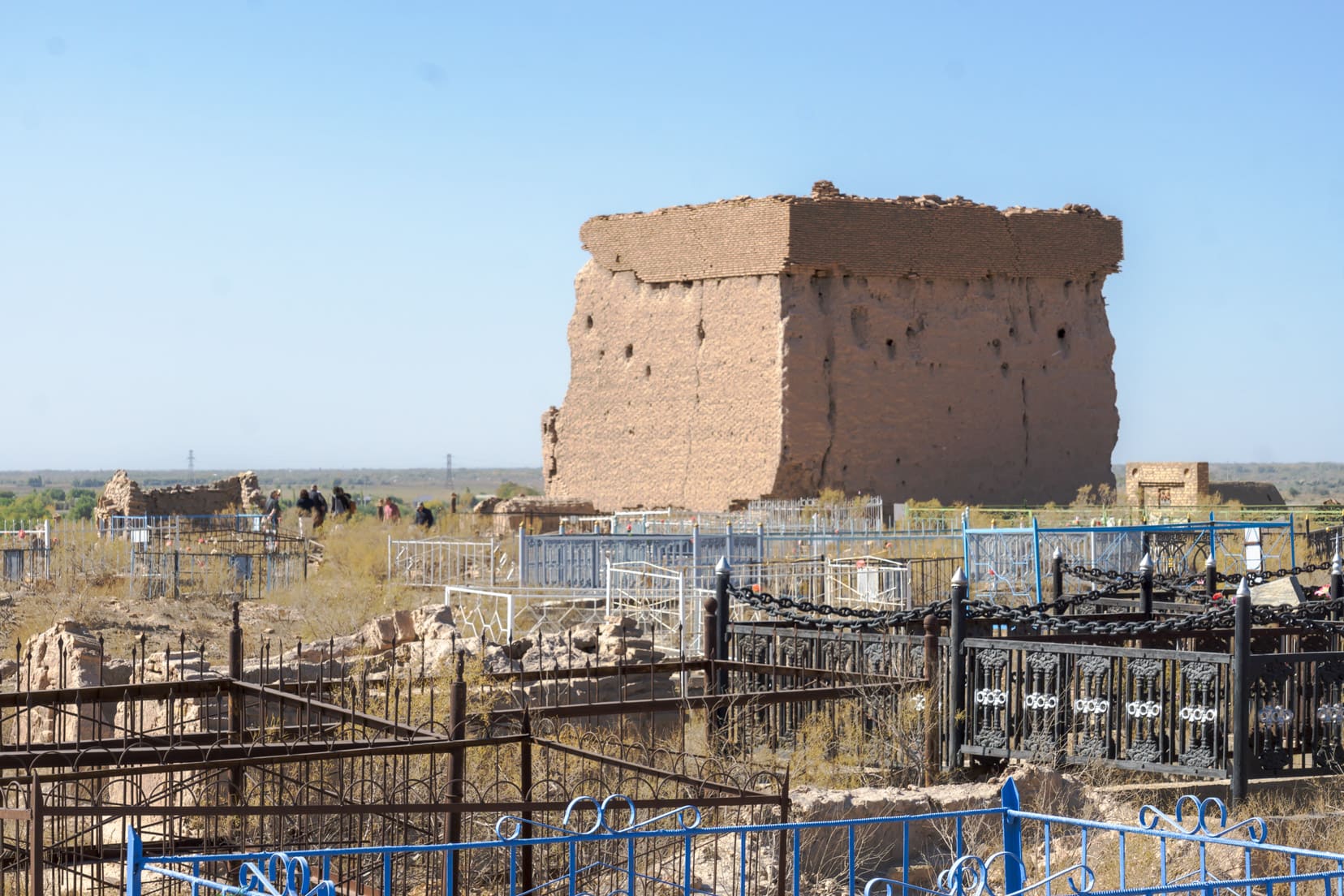 MAUSOLEUM OF SHAMUN-NABI
Saint Shamun was apparently able to heal the sick, talk to the animals and even control the weather. No wonder he was revered. His 18th-century mausoleum differs from others in that it houses a tomb that is over 25 metres in length. Surprisingly, when his tomb was opened by archaeologists, there were no remains inside.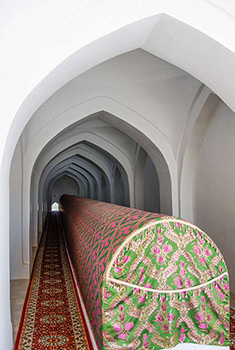 Next to Mizdakhan Necropolis, are the remains of the 4th century BC Gyaur-Kala fortress, not far from the Great Silk Road. It is one of the oldest and one of the most visited pilgrimage sites dating back to the time of the advent of the Zoroastrians.
There is a fair amount of walking to be done if you want to wander, and I spent an easy 1.5 hours here.
It is free to enter, although one local wanted money for a personalized tour by himself. We declined. He then asked for money to walk by the necropolis but instead, we voluntarily donated to the drop boxes near the mausoleums.
STOP 4: MUYNAK HISTORY MUSEUM
Passing through the city of Muynak in northern Karalkapakstan, some 185 kilometres from the Mizdakhan Necropolis, brings you to the rather scantily stocked Muynak History Museum.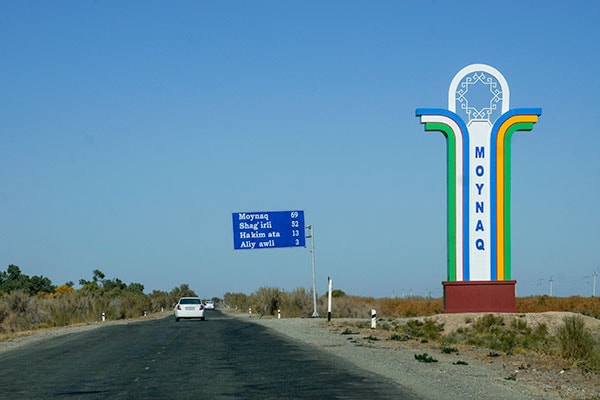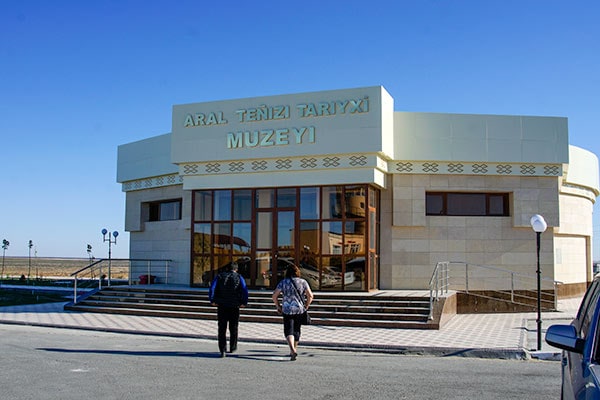 The museum consists of a small semi-circular internal hallway adorned with paintings of days past when fishermen plied the Aral Sea and catches were bountiful.
Central to the museum is a large video room where you are seated to watch a poor-quality film dubbed with bad English. Some of the footage is interesting, but it was nearly impossible to understand what was being said — a real shame.
I spent about 40- minutes there and the Entrance fee: was 20,000 SOM (approx. USD $2)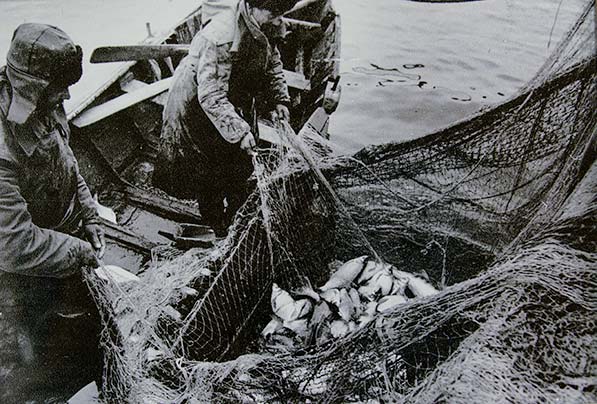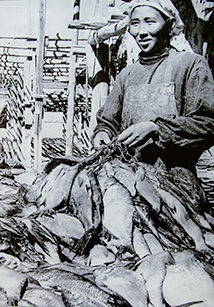 STOP 5: MUYNAK ARAL SEA MONUMENT
The Muynak Aral Sea Monument is situated a mere 100m from the Muynak Museum and was erected to mark the original coastline. Now, looking out, there is nothing to see but sand and scrubby trees. But this used to be the fourth biggest inland sea in the world.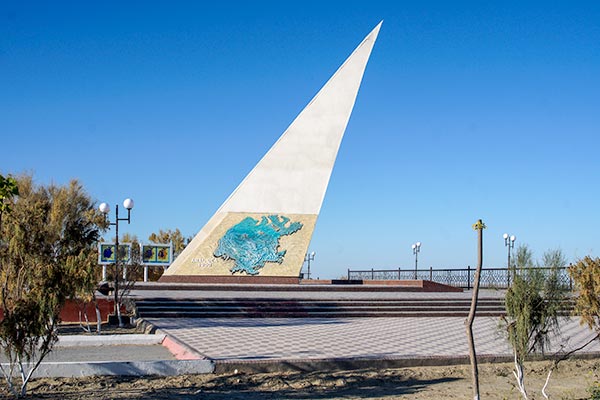 During the time of Soviet Union occupation in the 1960s, a directive was issued for cotton growing on lands nearby the Aral Sea. Massive irrigation projects were undertaken, but much of this water was lost due to inefficient water usage by absorption into the sand when transferring water from the sea to the fields.
By 1987 the Aral Sea level had dropped nearly 13 metres, shrinking to less than 10% of its original size. I
t is one of the planet's worst environmental disasters.
For before and after images, check out these NASA images of the Aral Sea.
It is free to visit.
STOP 6: ARAL SEA SHIP GRAVEYARD
If you didn't already feel the plight at the loss of the Aral Sea, then gazing down from the original coastline, at the rusted skeletons of the Aral sea ships, certainly drives the point home.
There are two locations within a few hundred metres of each other where you can both wander and wonder at these old shipping relics.
These decaying ghosts, directly in front of the Aral Sea monument, all face out to what was once the open sea, as if longing to return to that life that offered so much more than the idle fate that has been dealt them.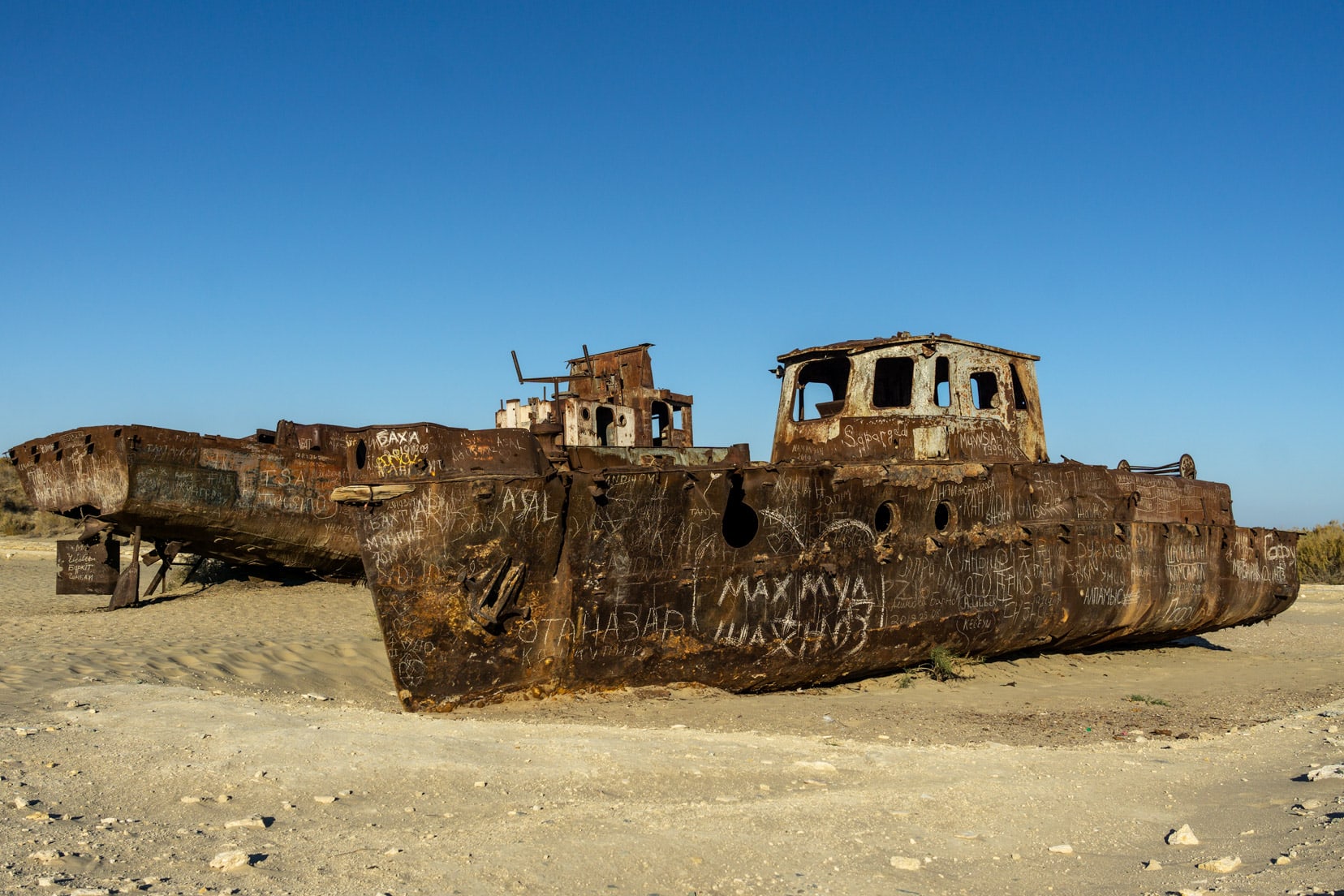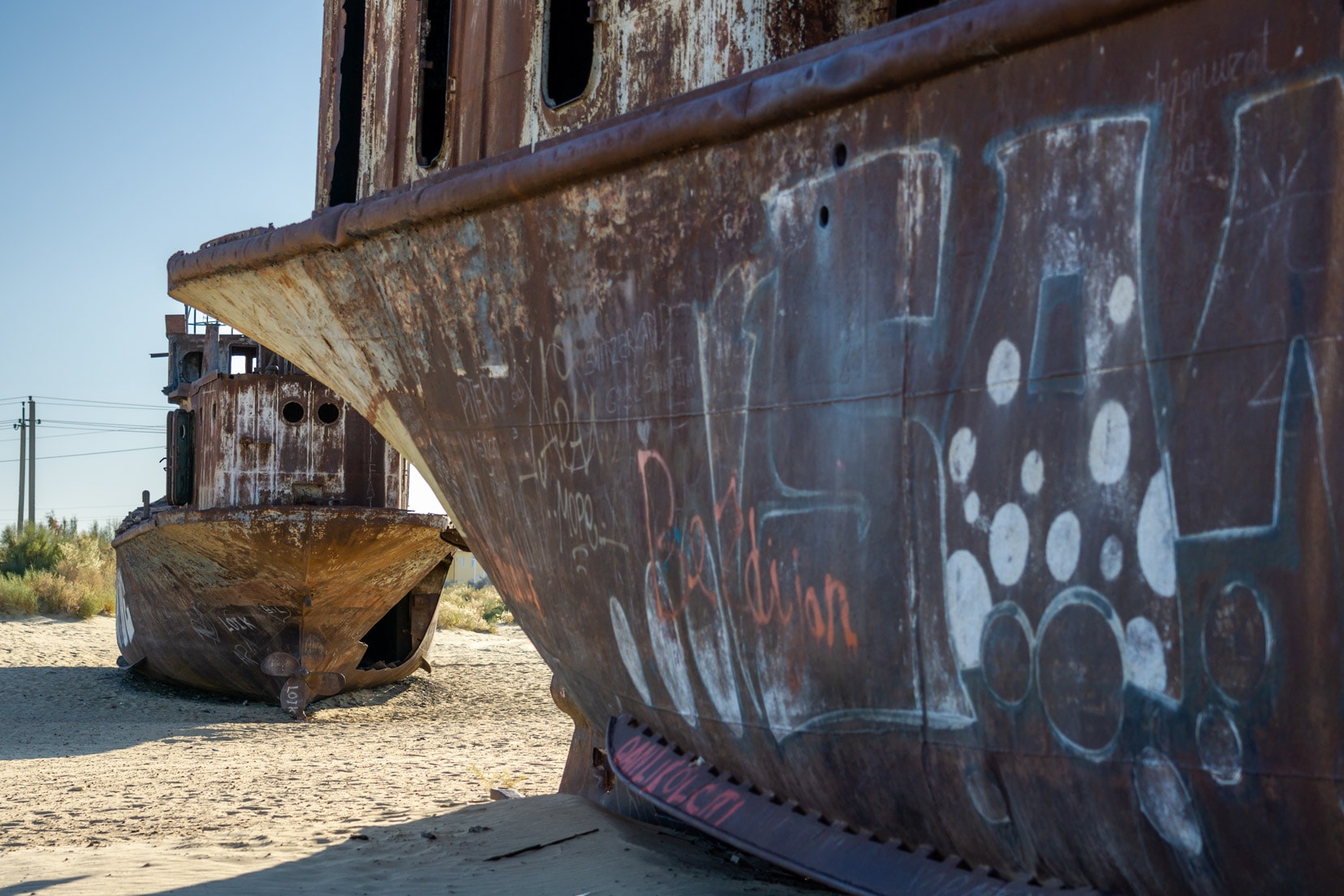 You are able to clamber up on a couple of the boats to gain better views using the purpose-built ladders and handrails. Ignoring a bit of graffiti, the boats lay as they were left many, many years ago.
The Aral ships graveyard was well worth the one and a half hours we spent there and honestly, I could have easily stayed another hour at least.
It is free to walk around the Aral Sea ship cemetery.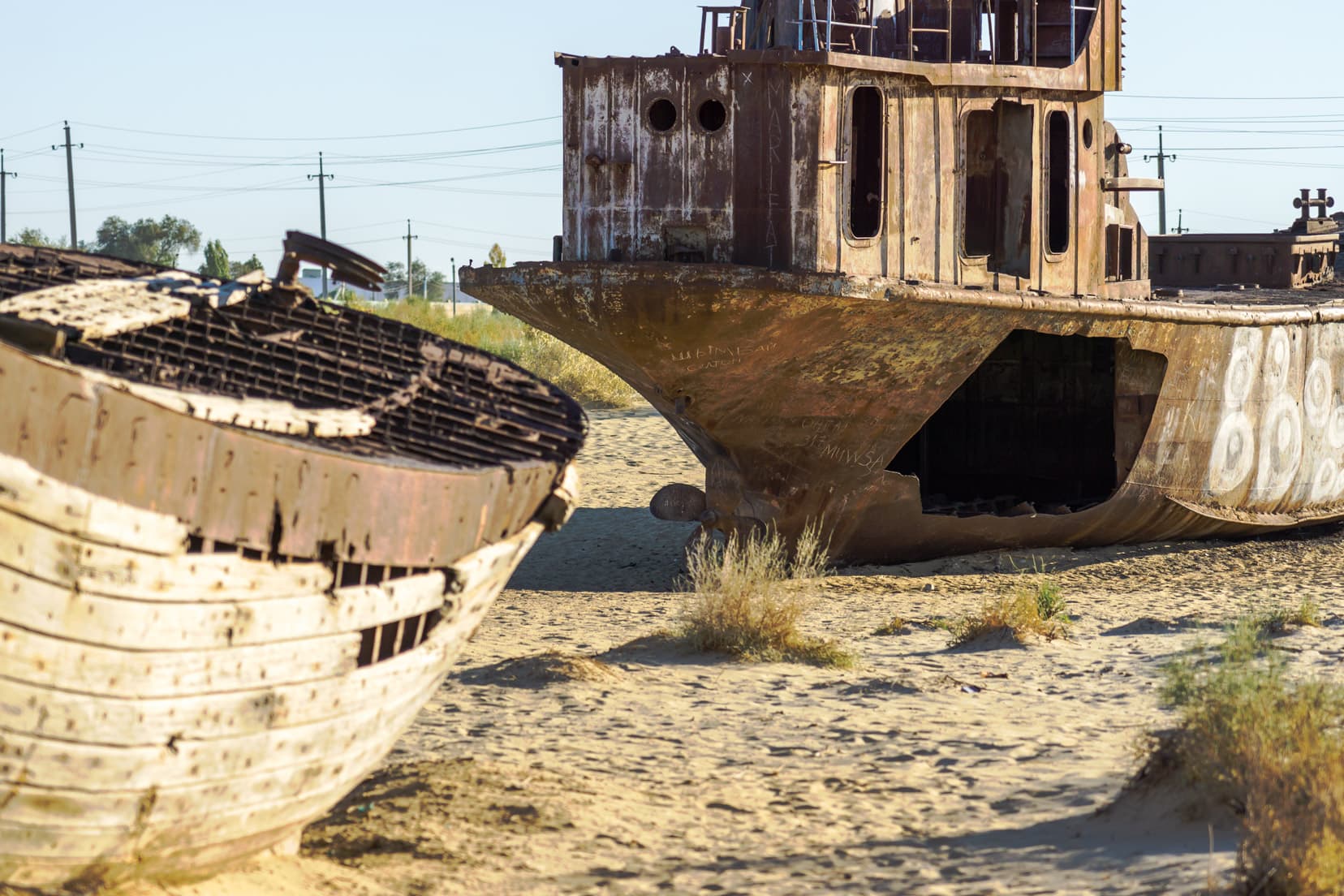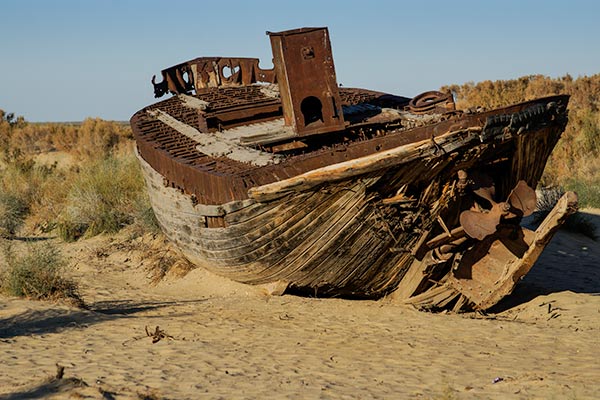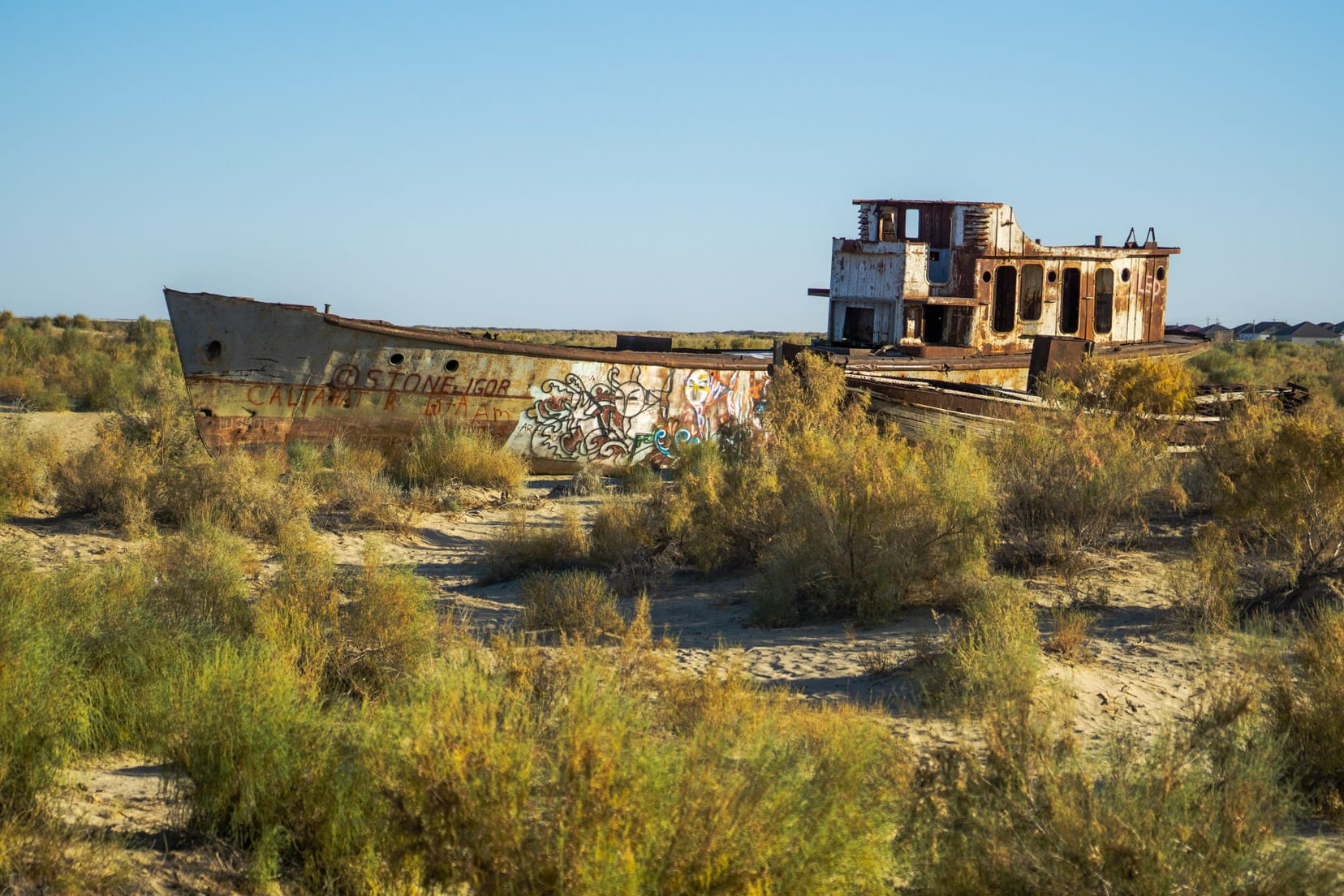 STOP 7: BADAI TUGAI
Although scheduled as part of the tour, there just wasn't enough time to visit Karalkapakstan's only nature reserve located 90 kilometres from Khiva. We left Muynak at sunset and ran short on time. A shame, as the reserve is known for its forests, rare Bactrian Deer and birdlife.
HOMEWARD BOUND ON THE KHIVA TO THE ARAL SEA SHIPS TRIP
The drive from the Aral Sea Ship Graveyard to Muynak passes by man-made lakes with golden grassy island pathways and deep blue shallow waters that take on brilliant hues with the setting sun.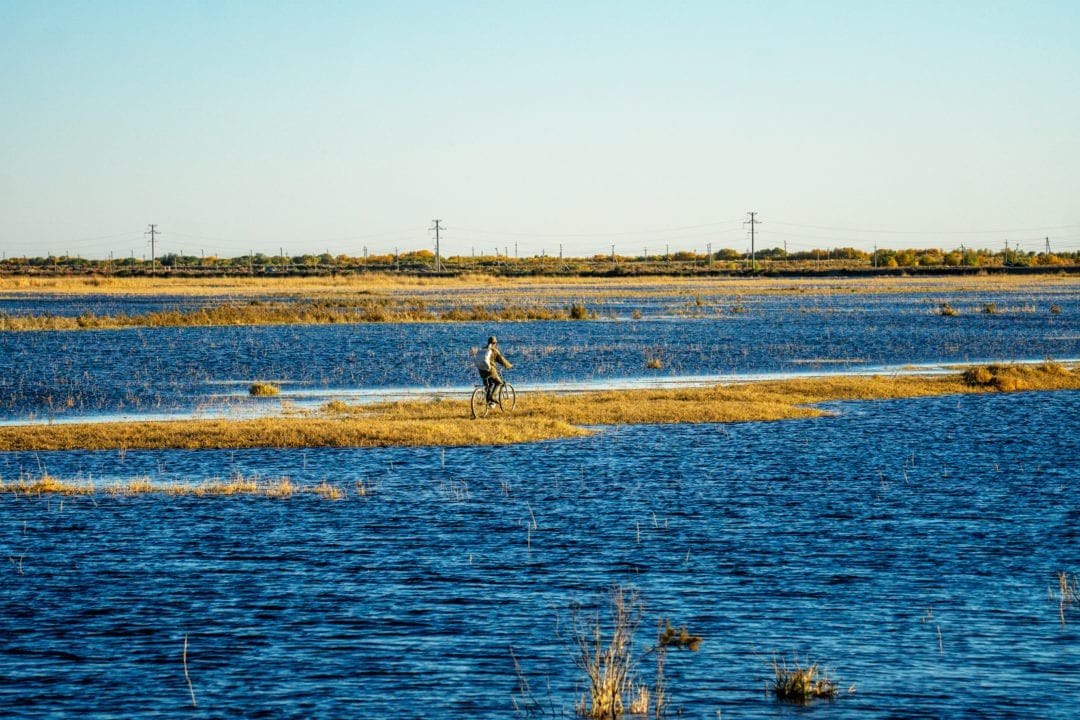 It's a long haul of five to six hours from Muynak to Khiva, broken only by stops at Metan.
Metan is a methane re-fuelling station where all passengers are required to disembark, for safety reasons, whilst the vehicle is filled.
We arrived in Khiva closer to midnight so we were all happy to call it a day.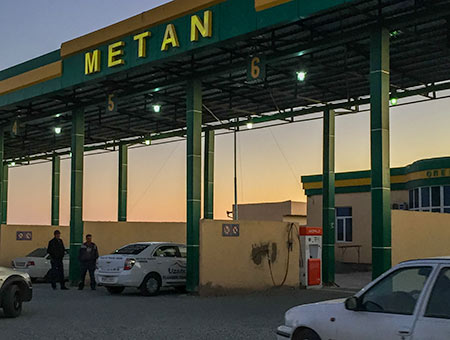 KHIVA TO ARAL SEA SHIP CEMETERY … That's a Wrap
It was a fabulous day out. There was a bit of everything included on the day trip which made it super interesting.
My favourite attraction on this day trip from Khiva was definitely the Aral Sea ship graveyard, and as I said before, I could have spent hours here.
It was a shame we didn't have time to see the Badai Tugai Nature Reserve but it would have been hard to reduce time at the other locations without feeling like you were rushing.
UPDATE: Islambek Travel has recently confirmed that they will offer this same 1-day trip to the Aral Sea from Khiva also as a 2-day trip enabling more time to be spent at each location.
Have you been to the Muynak Ship Cemetery? We would love to hear about your trip and what you considered your highlights.
Pin and Save for Later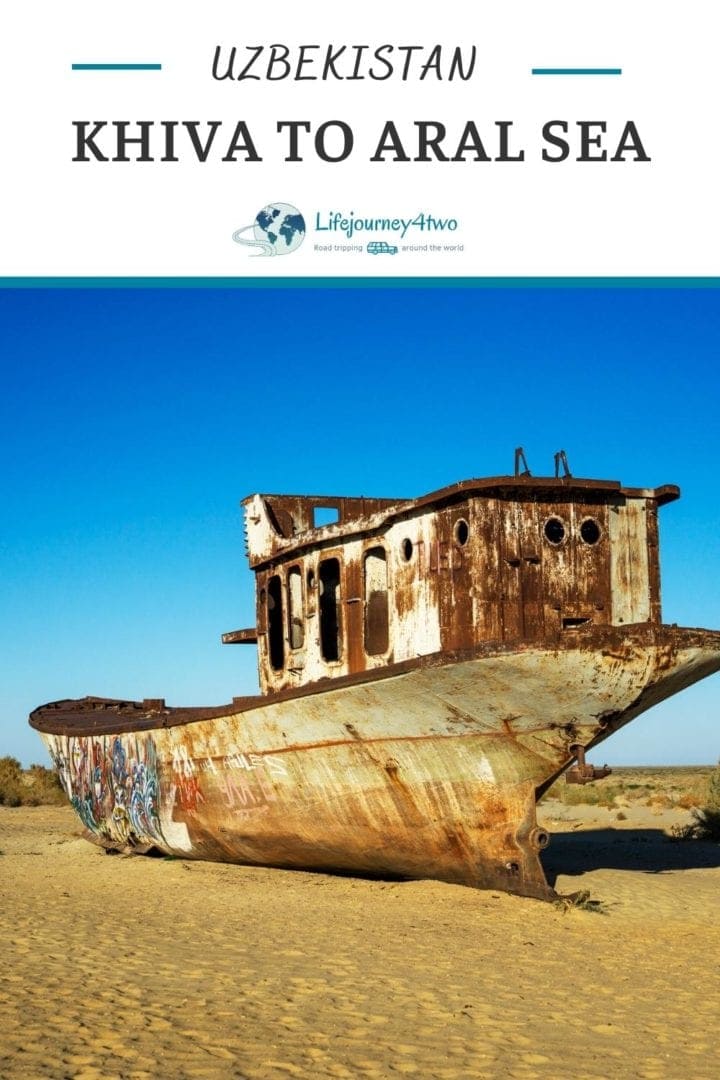 READ MORE
PLANNING YOUR TRAVELS?
These are some of the travel resources we use when planning our trips.
For a more thorough list visit our Travel Resources page here.