Some posts on this site contain affiliate links, meaning if you book or buy something through one of these links then we may earn a small commission. Read our Disclosure Policy here.
KRUGER SAFARI ACCESSORIES – 10 ABSOLUTE ESSENTIALS
Getting the best out of an African safari, whether self-drive or guided, means you'll really need to give some prior thought to the safari accessories you have with you. When you're in the middle of the action it's too late.
This article will give you valuable tips to consider before you find yourself among the animals in Kruger.
All of these essential Kruger safari accessories we used on our two-month Kruger self-drive and have been a winning combo for us.
Having bought our Hilux 4×4 Bush Camper in South Africa, we started our overlanding adventure in South Africa, planning to travel as much of Africa as possible. This ex-safari vehicle is now our home and has all we need to travel off the grid.
Take a look inside our bush camper here.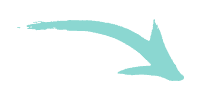 OUR TOP 10 KRUGER SAFARI ACCESSORIES
---
Planning ahead for a Kruger South Africa safari by packing the essential safari accessories will pay off and ensure you have the best experience you can. You don't need to kit yourself out with that much gear, but we do consider all of these to be essential Kruger safari accessories.
We use them all.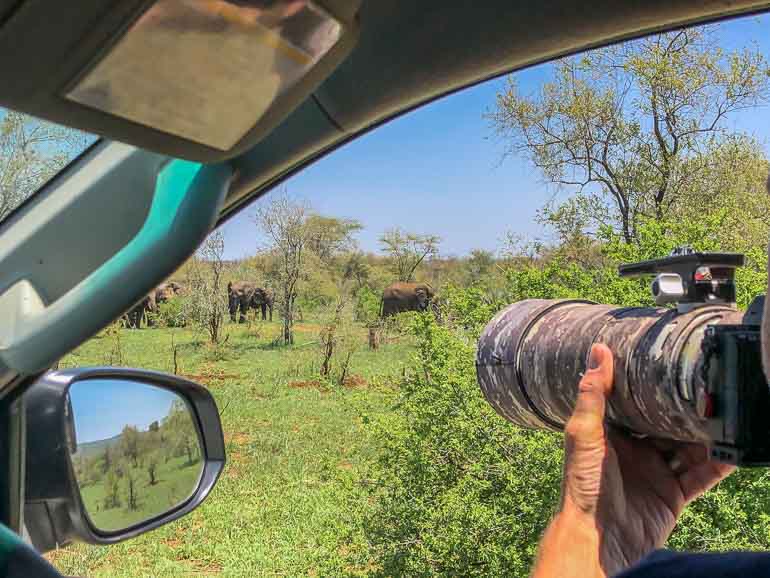 1. MODERN CAMERA/ LENS COMBINATION (FOR IMAGES AND VIDEO)
Digital cameras are in abundance nowadays, with plenty of choices on the market. Whether you choose to buy brand new or second-hand, you shouldn't have to re-mortgage for the purchase.
Mobile phones do a reasonable job too, especially for close-up footage, but may fall short when you require extra resolution and/or depth of field.
Personally, we have all bases covered using both our digital cameras and an iPhone X. Shelley was using a Sony RX10iv 20MP bridge camera, which was really versatile, but has now upgraded to a Sony a9 with a Sony FE 100-400 mm telephoto lens.
I was using a Sony a7III and Sony a6100 using an assortment of full-frame lenses, but I too have upgraded to Sony a9s. In Kruger National Park, ninety per cent of the time I used my Sony 200-600mm FF lens for distance and Sony 70-300mm FF for closer action.
During a game drive, my preferred method is to lie the camera with Sony 200-600 lens across my lap, keeping the other camera and Sony 70-300 lens lying ready in an open camera bag that sits partly on the armrest between the front seats. I keep both cameras powered on, in idle, and ready for action.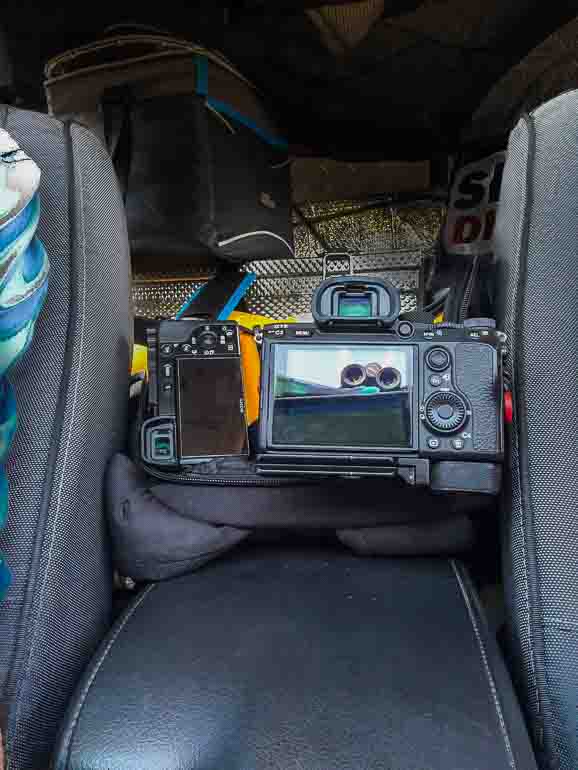 SONY RX10IV
Why we liked the Sony RX10IV
A lightweight, weatherproof camera
Does not require changing lenses
Focal lengths with an equivalent 24mm to 600mm optical zoom
20MP, 1-inch sensor
Blistering fast 0.03s auto-focus speed with 315 phase-detection autofocus points
24 frames per second
Silent shooting
Video quality is superb and 4K is available
Built-in stabilization
SONY A7III
Why we liked the Sony a7III
24MP full-frame sensor
693 phase detection autofocus points
IBIS stabilisation
10 frames per second
Silent shooting
insane ISO range maxing out at 204,800
4K video
2 memory card slots
SONY A6100
Why we liked the Sony a6100 (APS-C camera)
24MP APS-C sensor
Pocket-size camera
4K video
11 frames per second
425 phase-detection autofocus points
Real-time Eye AF and Tracking
(Sony a6100 does not have in-body image stabilization but I got around this by using lenses that do have inbuilt image stabilization)
READ MORE: African Wildlife Photography – Our Story so Far…
2. CAMERA AND PHOTOGRAPHIC ACCESSORIES
Cameras and photographic accessories go hand in hand. You'll need 12V camera battery chargers, memory cards, UV or ND camera lens filter and a tripod.
We always make a point of charging as many of our camera batteries during the night. Of course, during the day camera batteries discharge and need to be swapped out. To charge on the run, we only use 12V USB battery chargers meaning we can utilise the 12V charging capability using the cigarette lighter socket with a USB port (see more on the port below).
The Sony RX10iv and Sony a6100 share the same NP-FW50 battery so we have a few spares to fall back on, (actually 7 batteries in total). My trusty Sony a7III uses the NP-FZ100 of which I have a total of four.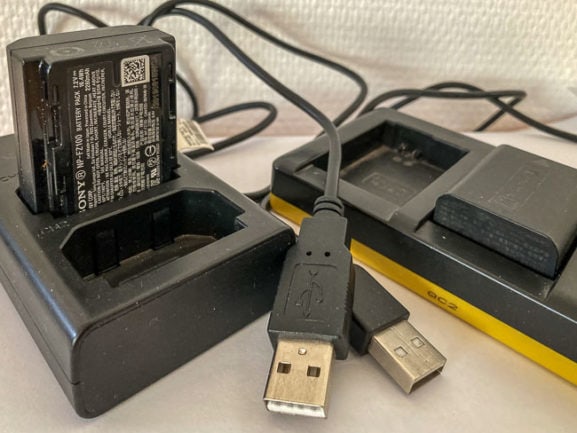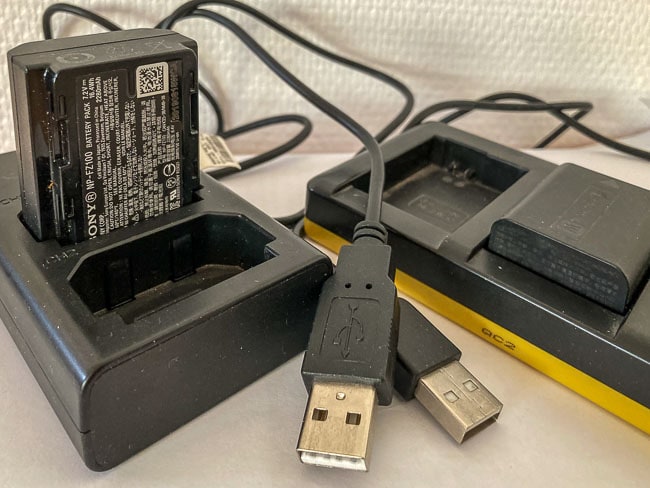 Why did I include lens filters on the list? Here's the thinking behind the decision. Our travel is planned to take us into the wilds of Africa, where camera repair/parts shops are few and far between. Scratching a lens is something I just don't want to consider.
To avoid scratched lenses, we've protected our lenses with filters: Hoya UV protective and Haida Circular Polarising filters (both are reputable brands). Damaged filters are easily replaced in the field, but scratched lenses aren't.
Although we each have a tripod, 99% of our time in Kruger we shoot hand-held on our self-drive safaris so the tripods have stayed in their cases.
3. BINOCULARS
This is really one of the non-negotiable Kruger safari accessories.
You must pack binoculars.
Whether you're the type of person who is serious about photography or prefers to watch and soak it all in, binoculars are definitely your friend. There are many options with varied pricing, but before you make the best choice for your needs, you'll need to understand the features first.
Not having owned binoculars before, I spent a fair amount of time on research to understand what was important before I purchased the Avalon 10×42 PRO HD model — a quality product. They have the best features for spotting wildlife and importantly, can be bought at a competitive price.
[I just want to mention that we have no affiliation with Avalon.]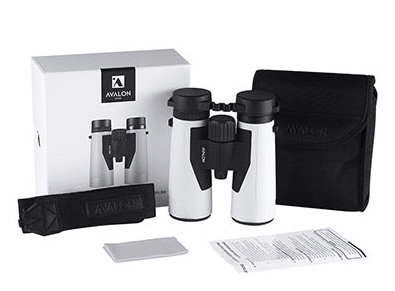 These were the deciding factors as to why we chose these:
MAGNIFICATION
Magnification is represented by the number '10' in the (10×42). The general agreement is a magnification of 8 to 10 for wildlife will do the trick. Going higher than x10 magnification makes it challenging to track moving animals due to the reduced field of view (discussed below).
It's best to give an example from our Kruger safari to show the importance of binoculars.
In the below image, taken from the window of our 4×4 Hilux near Shingwedzi camp, can you spot the leopard?
This is typical of the view you have from a vehicle during a game drive when you aren't using binoculars or a zoom lens. Ok, there's a pair of elephants .. but is that all?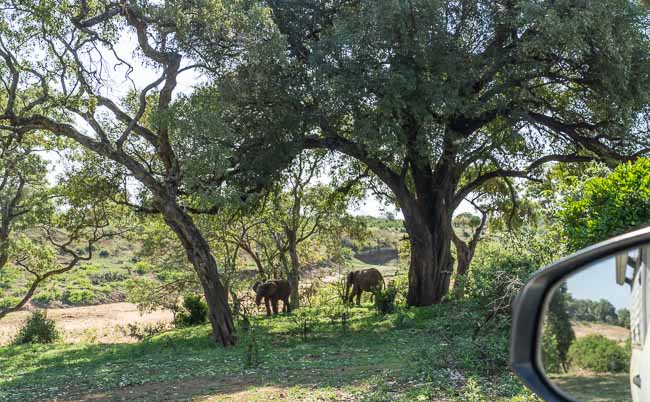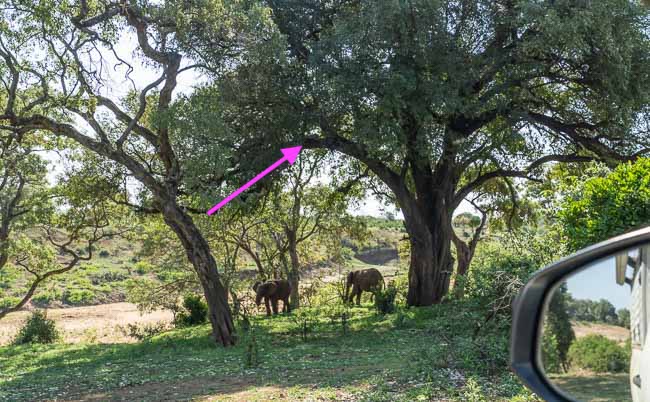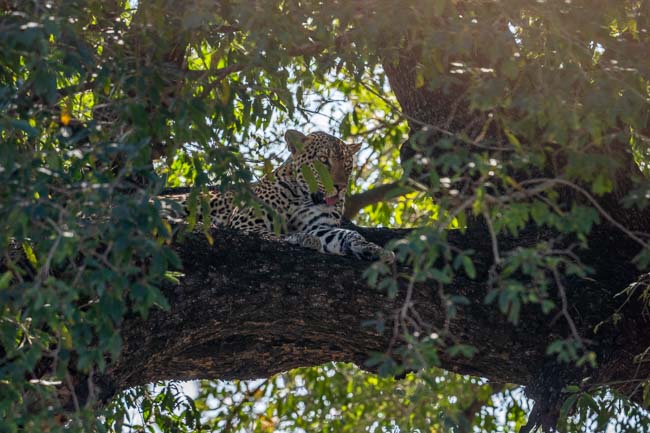 READ MORE: Shelley experienced this great magnification of our binoculars when she slowly backed away from this scary encounter with a Leopard.
OBJECTIVE LENS DIAMETER
Shown as the number '42' in the 10×42, this number is normally found on the inside circumference (in mm) of the objective lenses (the two lenses that aren't placed on the eyes), and is representative of the amount of light that can pass through.
The greater the number, the greater the amount of light the binoculars allows. This transfers directly to a brighter image which is especially apparent in low-light conditions. This greater lens size also means a larger physical size.
EYE RELIEF
This allows a person wearing glasses to adjust the eyecups (what you look through) by twisting them in or out to ensure a good field of view. On the Avalon (my binoculars) this is rated at 15mm which is an average value.
For those that don't need to wear glasses, then eye relief won't be a concern.
BAK-4 ROOF PRISM
BAK-4 is the glass-type (found in the Avalon binoculars) known for its well-defined and brighter images. The Roof Prism acts as a mirror to reflect incoming light and works on a different light-gathering technique to the alternative Porro Prism (which may suffer from prisms being knocked out of alignment). Roof Prisms by design are small and light which makes for a perfect travel item.
You can check if you have BAK-4 glass by reversing the binoculars and looking at a light source through the exit pupils. You will see that the circular light pattern will be round and evenly lit.
Still undecided on binocular selection? Below is a video hosted by Orms, a photography wholesaler based in South Africa, which steps through the different features of binoculars and explanations on what the buyer should consider when buying.
FIELD OF VIEW
Field of View (FOV) is the angle of horizontal view you can see when keeping the binoculars still over a standard distance of 1000 yards. The FOV value is either measured in feet / 1000 yards or represented as an angle. In my case, the Avalon has a 283 feet FOV or 5.4° which falls into the typical range of values that are generally agreed to fall between 220 and 520 yards or the equivalent of 5° to 10°.
CLOSEST FOCUSING DISTANCE
This is the closest distance from the binoculars that an object can be properly focused. The Avalon is rated to 3m.
WATERPROOF AND FOG PROOF
Weatherproof binoculars is another important consideration. Just because it's foggy or raining doesn't mean you won't see wildlife. The Avalon binoculars score two ticks for both water and fog proofing.
DIOPTER ADJUSTMENT
This allows the focus to be adjusted on one of the eye cups to compensate for the difference between your eyes. Another important feature especially when you share binoculars and the focus can be quickly adjusted just by tweaking the diopter adjustment.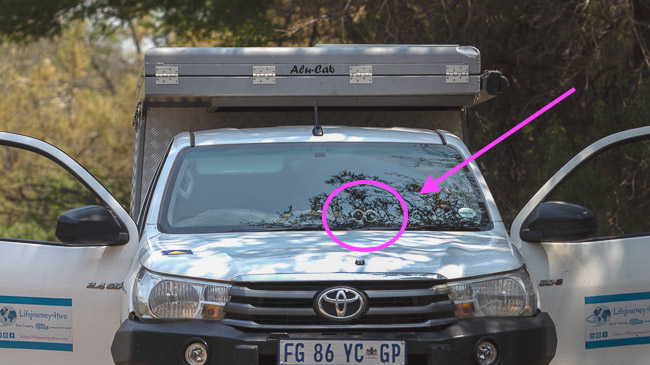 DIMENSIONS
If you intend on sharing binoculars then they need to be comfortable for all especially someone with small hands. The Avalon is a comfortable 14.3 x 12.4 cm, a perfect size for the wife and myself.
WEIGHT
Lighter binoculars are easier to hold to the eyes for long periods and if you intend on hanging them around your neck, then the lighter the better. The Avalon weighs in at a comfortable 550g and is a good lightweight option.
CARRYING CASE, LENS COVERS AND EYE-CUP COVERS
It is important to keep dust and debris off your equipment when you can and these features should form part of the overall purchase price and not be available as an additional option. All are included in the price of the Avalon binoculars.
View Avalon Binoculars on Amazon
4. TABLET OR IPAD (WITH GPS CAPABILITY)
It's great to see where you are located when driving on safari in Kruger National Park. If you are expecting a network signal for your phone or tablet then think again. You'll need to rely on offline maps. Make sure your device has built-in GPS capability.
Personally, we use Tracks4Africa digital maps loaded via the app onto a Samsung tablet. We can see the different routes, campsites and a whole lot of extra useful travel information. Tracks4Africa also loads onto Apple devices. For a free offline map option, take a look at the Maps.Me app.
Instead of leaving our tablet to bounce around inside the cab, we mounted it on the dash using magnetic holders that have a 3M sticky backing. It works very well.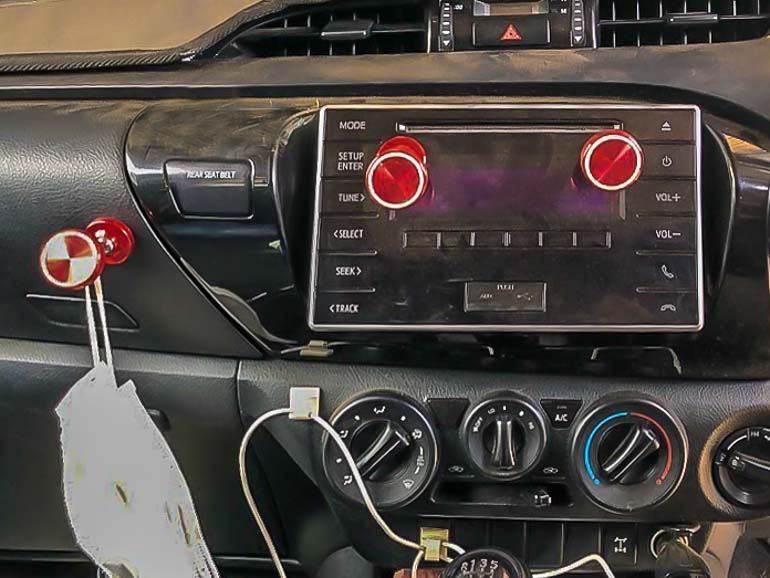 5. CAMERA BEAN BAG
In Kruger National Park, most of the wildlife photography is done from a vehicle. It's all about holding the camera steady and depending on the scene, this may be for a long time.
A bean bag is a good alternative to holding your camera and it stops any wobble. There are different types of bean bags, but the one with the ears that support the bag on each side of the window is the most stable.
We bought a couple of empty camera bean bags (as they pack down nicely when travelling) and simply filled them with rice once we reached our destination.
The bean bag is great from the passenger seat but space is pretty restricted from the driver's seat and because of this I (as designated driver) prefer to rest my arm on the open window sill when holding my camera and 200-600mm lens.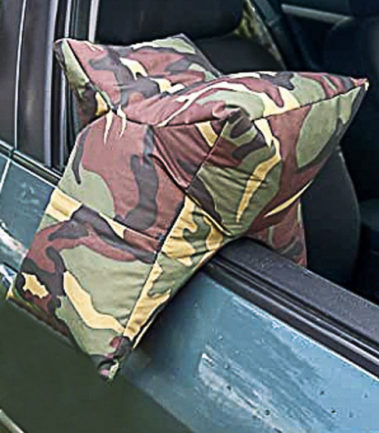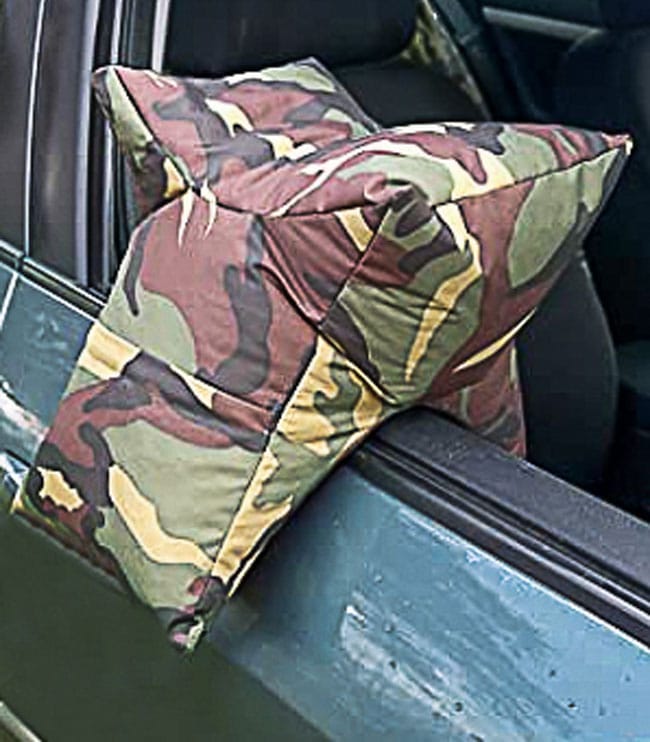 6. WILDLIFE AND MAP REFERENCE MATERIAL
While there are many, many reference books on the fauna and flora of Kruger, a really comprehensive app for iPhone or Android is the KrugerExplorer. It includes info on Kruger campsites, flora, fauna, routes and maps; pretty much a one-stop-shop and the app is regularly updated. It's a great one-stop wildlife reference for any photo safari.
We can honestly say that the KrugerExplorer app is a worthwhile investment (USD$9.99) at the time of writing this article, and an added bonus is that you can log your sightings.
Check out our comprehensive guide of everything you need to know for a Kruger National Park self-drive Safari here.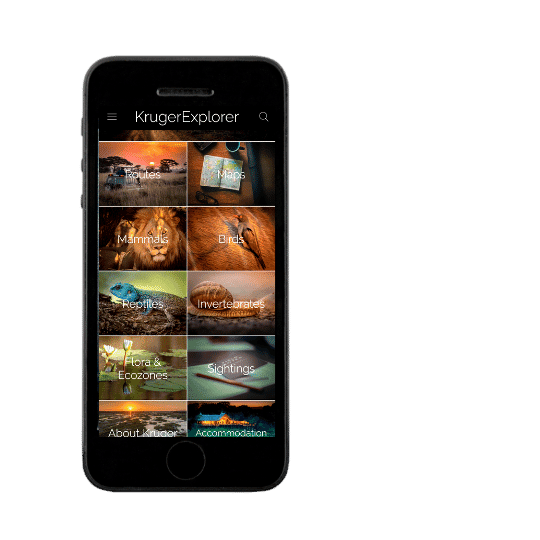 While we're talking apps, we plan our safaris using the comprehensive Tracks4Africa which covers routes, campsites, fuel stops and a whole lot more valuable information for the traveller.
Choose different Tracks4Africa products that load onto a laptop/tablet or pick the hard copy maps and traveller atlases. There are plenty of choices and everything is professionally finished.
7. CAMERA MEMORY CARDS
Memory cards are vital if you are using a camera. To choose the right memory card, you'll need to know your camera buffer size and the memory card write speed. Choose a memory card that equals or exceeds the write speed.
Why?
Shooting fast action in a continuous long burst will fill the camera buffer that then needs to write to the memory card. A memory card with a slow write speed will slow the transfer of images from the camera to the card. This will limit how many extra images you can take whilst the buffer is trying to empty.
A memory card has important information on the card itself. Here you can read more about the different card specifications from a respected memory card manufacturer, Kingston.
We've never had a memory card fail on us but buying reputable brands as outlined in this B&H article will give you stress-free shooting. We choose and place our faith in Sandisk memory cards.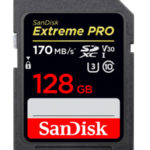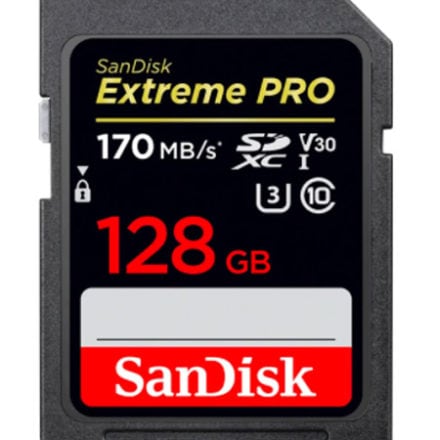 8. WATERPROOF CAMERA BAG
Having a water-proof camera bag, or at least a bag that has an external 'waterproof cover,' will protect your expensive gear. There are backpack-type bags or messenger bag. The type of bag you choose will depend on how much equipment you are travelling with.
I have the Vanguard Alta Rise 48 which allows me to carry two cameras plus the Sony 200-600mm, Sony 24-105mm and Tamron 70-180, plus filters, batteries, cleaning equipment and Ipad.
The camera bag isn't just handy when hiking. It's also handy when on safari; in our Hilux, the bag sits open between the front seats where I can lie one or both of the cameras inside.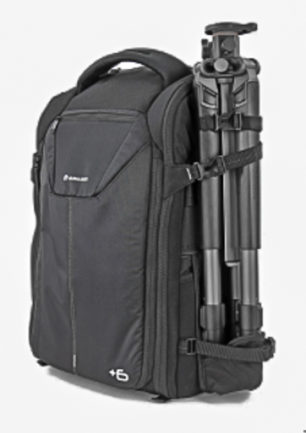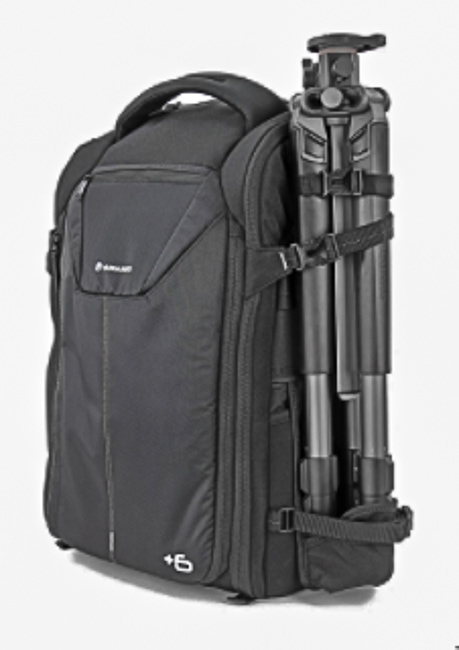 9. GIMBAL FOR MOBILE PHONE
Hand-holding a phone when taking videos is ok but utilising a gimbal gives the end result a really slick and professional look to the footage. It removes the movements we induce like the steps we take when walking or the wobbles when holding a camera. There are many options but we chose the Benro 3XS Lite based on good reviews for long battery life, removable tripod and competitive price.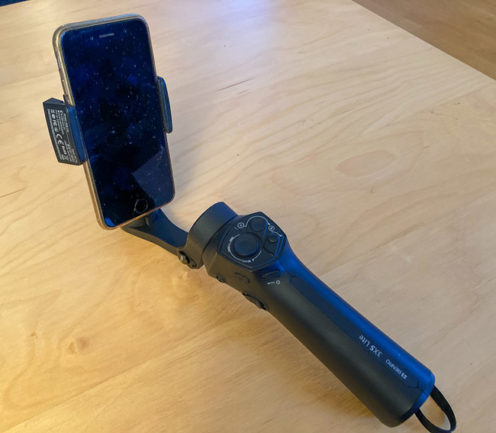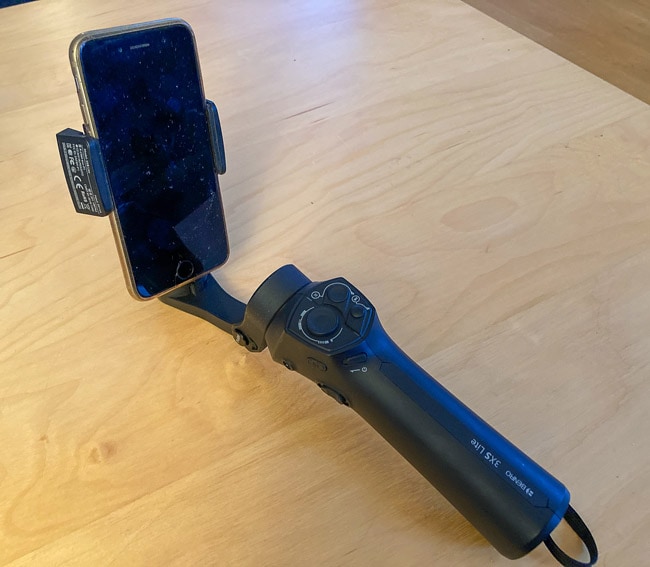 10. 12V USB 3-PORT SPLITTER
As mentioned earlier in this article, we've purposely chosen our equipment based on the ability to charge off of 12V. That includes our Ipads, gimbal, mobile phones and camera battery chargers for all of our cameras.
It's been a super-handy and cheap investment allowing multiple devices to charge at the same time. Great, when you are out on safari for the whole day.
You can even find some guided safari vehicles that have accessible USB 12V ports.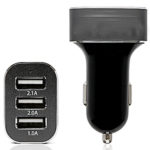 KRUGER SAFARI ACCESSORIES – THAT'S A WRAP
Having spent over three months on safari in both Kruger and Greater Kruger, we've worked out which Kruger safari accessories really make a difference and work to make the experience even better.
They are practical, and most importantly, we rely on them all, each and every day.
Sharing our success with these Kruger safari accessories has been the purpose of this article.
I hope it's sparked some extra thought around what you will need before you head off on your own safari.
I'd really be interested to hear if you swear by, or have had success with any other accessories.
Lars
Pin and Save for Later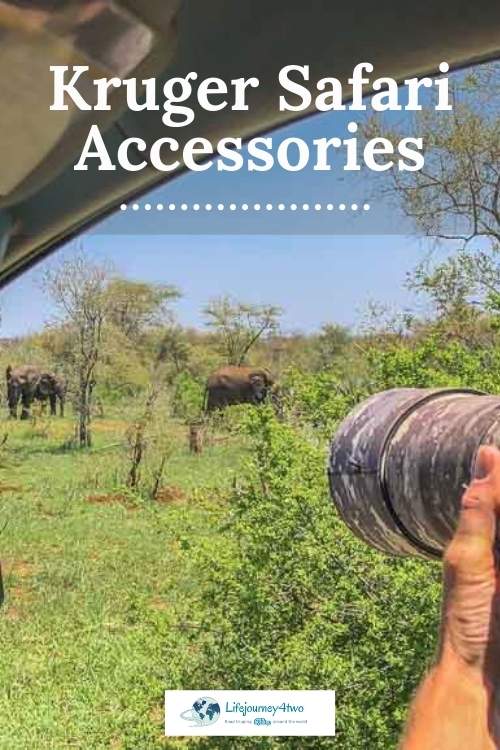 YOU MAY ALSO BE INTERESTED IN READING:
PLANNING YOUR TRAVELS?
These are some of the travel resources we use when planning our trips.
For a more thorough list visit our Travel Resources page here.