Some posts on this site contain affiliate links meaning if you book or buy something through one of these links, we may earn a small commission. Read our Disclosure Policy here.
If you're looking for comprehensive and easy-to-follow steps on how to plan a road trip, then you've come to the right place. As full-time road trippers, with more than 5 years on the road, we know a thing or two about road trip planning.
How to Plan a Road Trip
During our world road-tripping adventures, we've been behind the wheel of both left and right-hand drive cars, 4-wheel drives (4WDs), motorhomes and campervans.
Whether we were Campervanning in Europe, 4x4ing in South Africa or driving Iceland's magical landscapes, all required serious thought on how to plan a road trip.
Once you know how … it's happy travels ahead.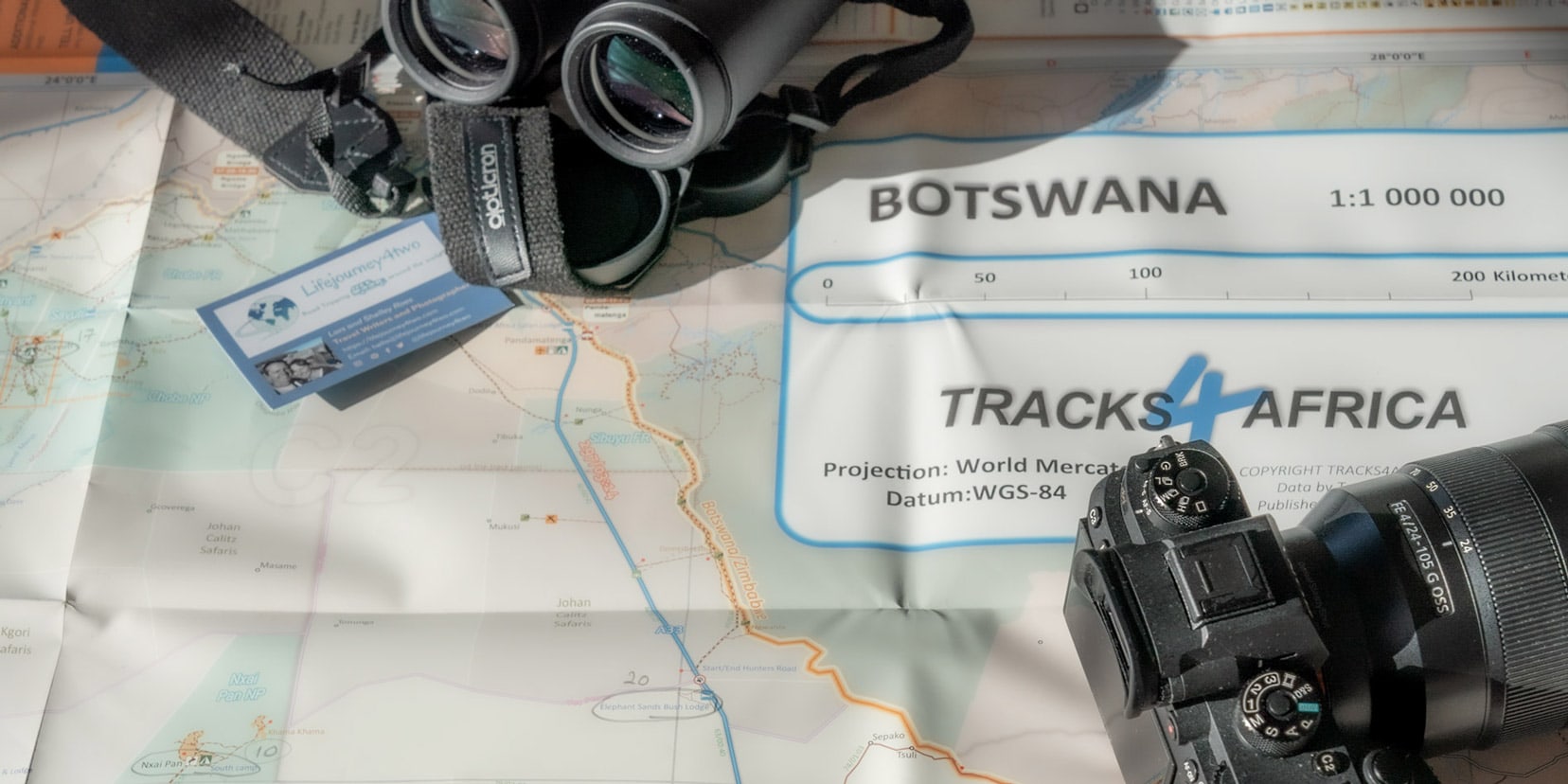 Everything You Need to Know About Road Trip Planning
Here I walk you through everything you need to know for planning a road trip, starting with some basic questions to ask yourself, and then following on with more specific details.
1. Are Your Road Trip Plans Realistic?
Could your ambitions be outweighing the reality?
This is absolutely fine. I mean, this is why we plan in the first place, to be clear about what needs preparation to make your trip a success.
For example, you may want to drive on an African safari but are not that confident to drive in, which will likely be tough 4×4 off-road conditions.
Do you proceed to drive the safari anyway, knowing your skill set is way below what it needs to be? Or, do you take the decision to complete a 4wd driving course first to upskill yourself?
The initial road trip planning phase will help you realise how to make your road trip a reality.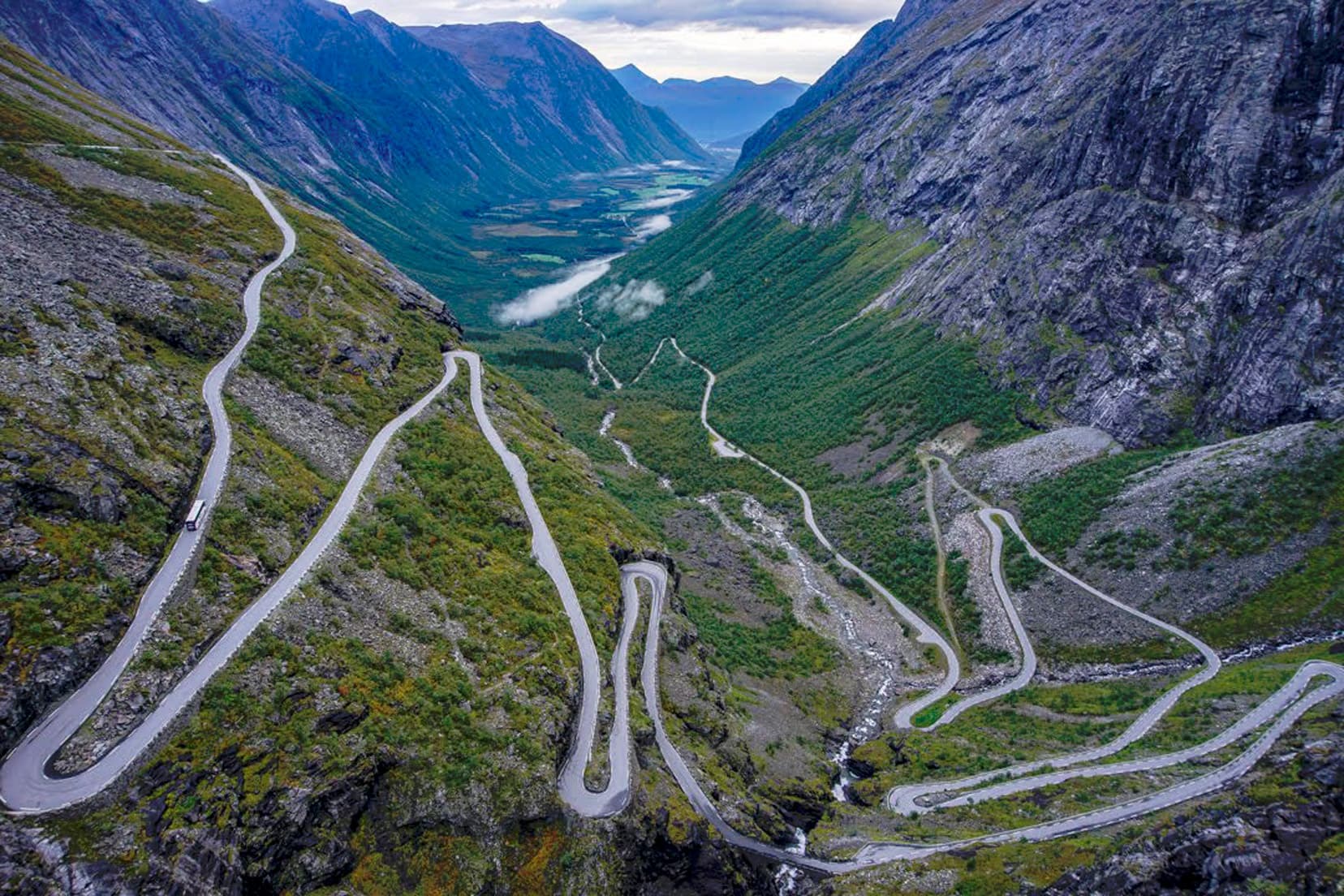 2. Are you Travelling Solo or with Others on your Road Trip?
Taking decisions as a solo traveller means you won't have to agree on any decisions. Otherwise, if you have travel companions you will need to collaborate on the details of your road trip plan.
Sometimes talking about the plan with others can offer different perspectives and ideas you may not have considered.
>>> READ MORE: Road Trip Tips for Couples
3. Consider Factors that can Impact Your Travel Time
Are you the type of traveller that likes to meander during road trips, taking in as many sights as possible?
Or, are you focused solely on the destination and prefer the most direct routes? Perhaps you are a mixture of both.
Regardless, these are the factors that may impact your road trip planning route selection and travel times:
Available travel time
Travelling with kids
Your general fitness and that of your travel companions
Type of vehicle you are driving on your road trip
Distance between stops
4. Don't Pack too Much into One Day
Remember to factor in downtime in your road trip planning. Sure, it's exciting to see as much as you can, but bouncing from one stop to the next, on the clock, is just not relaxing.
Personally, we are not fans of the bounce. We prefer instead, to adhere to the mantra of enjoy the moment.
Choose a pace that isn't too hectic to keep the smiles on the dial.
If you find yourself overwhelmed you may need to tweak that tight schedule.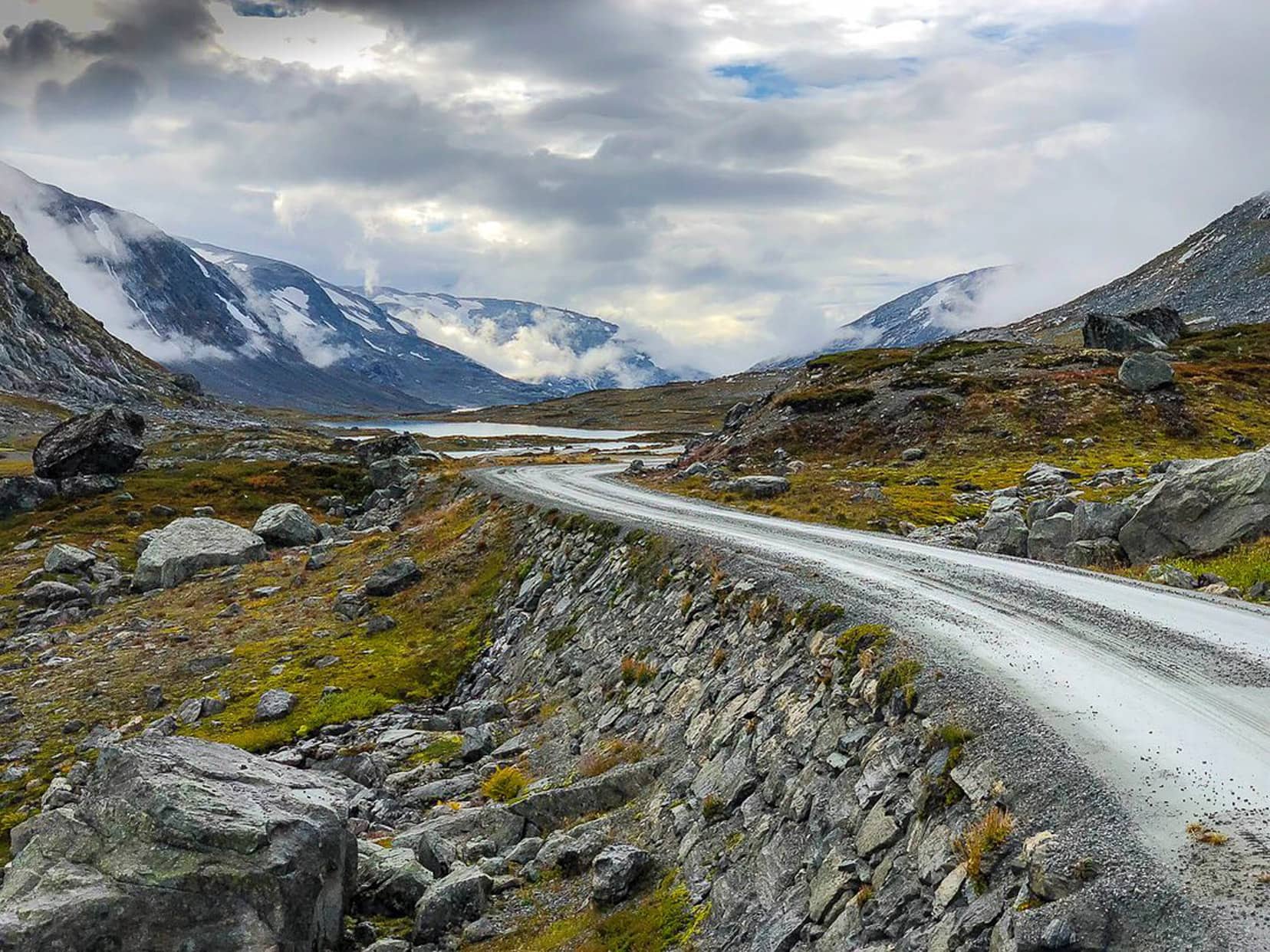 5. Plan Your Road Trip Overnight Stops
For many, you'll probably feel more comfortable knowing that you have booked accommodation in advance. Knowing where your head will hit the pillow that night, is just one less thing to concern you.
If you're a free spirit, however, then wild camping may well be an easy last-minute decision for you.
For us, we might not have planned the specific location to stay overnight, but we always have at least a good idea of the general area where we will stop.
Part of the road trip planning process is knowing travel distances and travel times to give you an accurate idea of possible overnight stops.
Camping Apps
During our year-long Campervanning in Europe road trip, we extensively used the Campercontact app. It provides comprehensive campsite information across many countries. It's possible to test the app yourself with a free access option or simply jump right in with a Pro-level subscription.
Another campsite app we used, but not so frequently and in tandem with Campercontact, was Park4Night. This app covers global locations but is more focused on Europe, the UK and the Americas.
Additionally, some travellers use the Pitchup app. The app includes campsites across the UK, Europe and the US.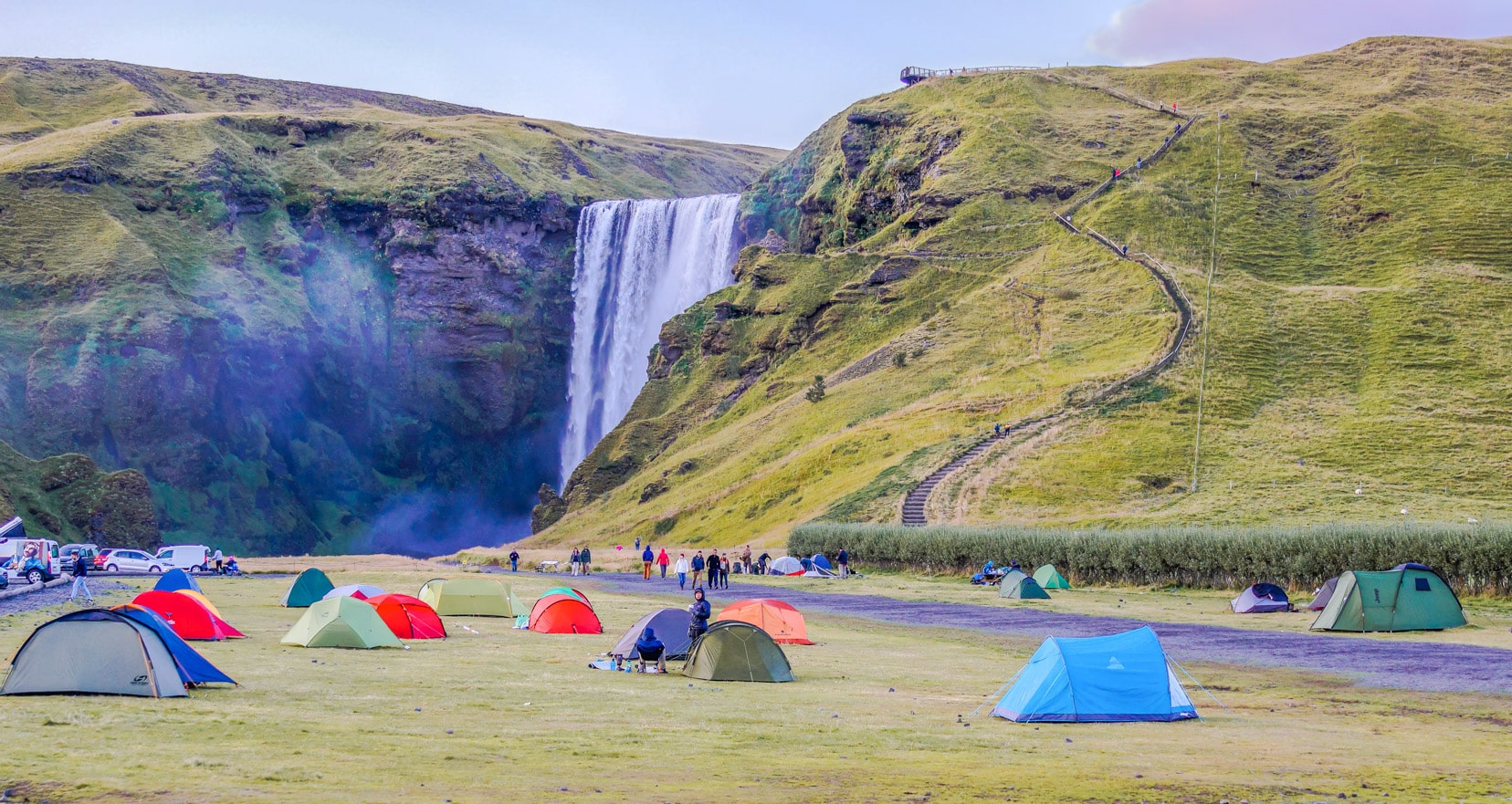 6. Plan for the Unexpected
Plan for what may happen.
I am a firm believer in thorough road trip planning and looking at what could go wrong. I'm not negative in any way but I prefer to plan for the worst and hope for the best.
Here are some initial considerations to get the ball rolling (I go into more detail later in this article): vehicle maintenance, spare parts, driver fatigue, mobile network signal, the distance between stops, driving route selection and general road condition.
Have paperwork to hand in the case of emergencies, such as breakdown numbers, insurance details etc. You don't want to be scrabbling around trying to find them when you are already in a pickle.
7. How to Plan Your Road Trip Route
Depending on what you are comfortable using, you can either opt to use digital apps or paper maps to plan your road trip route. I use both in tandem.
How to Plan a Road Trip with Google Maps
Google Maps is popular and makes it easy planning of a road trip when not going off-road.
The benefit of Google Maps for road trip planning:
It finds the quickest route to a destination based on your user-defined settings
Can display a route that avoids motorways, tolls and ferries
Is easy to add additional stops when building your intended route
Has real-time handy route information and displays traffic congestion and the total trip time
Route navigation can work offline but it will not update real-time route information without a network connection
Other Navigation and Road Trip Apps
Mobile phones are helpful and even the very basic models have built-in GPS allowing you to pinpoint your position.
Useful mobile phone navigation trip planning apps available for download include those that require a mobile signal to update and those that don't.
These two apps require an active mobile network signal: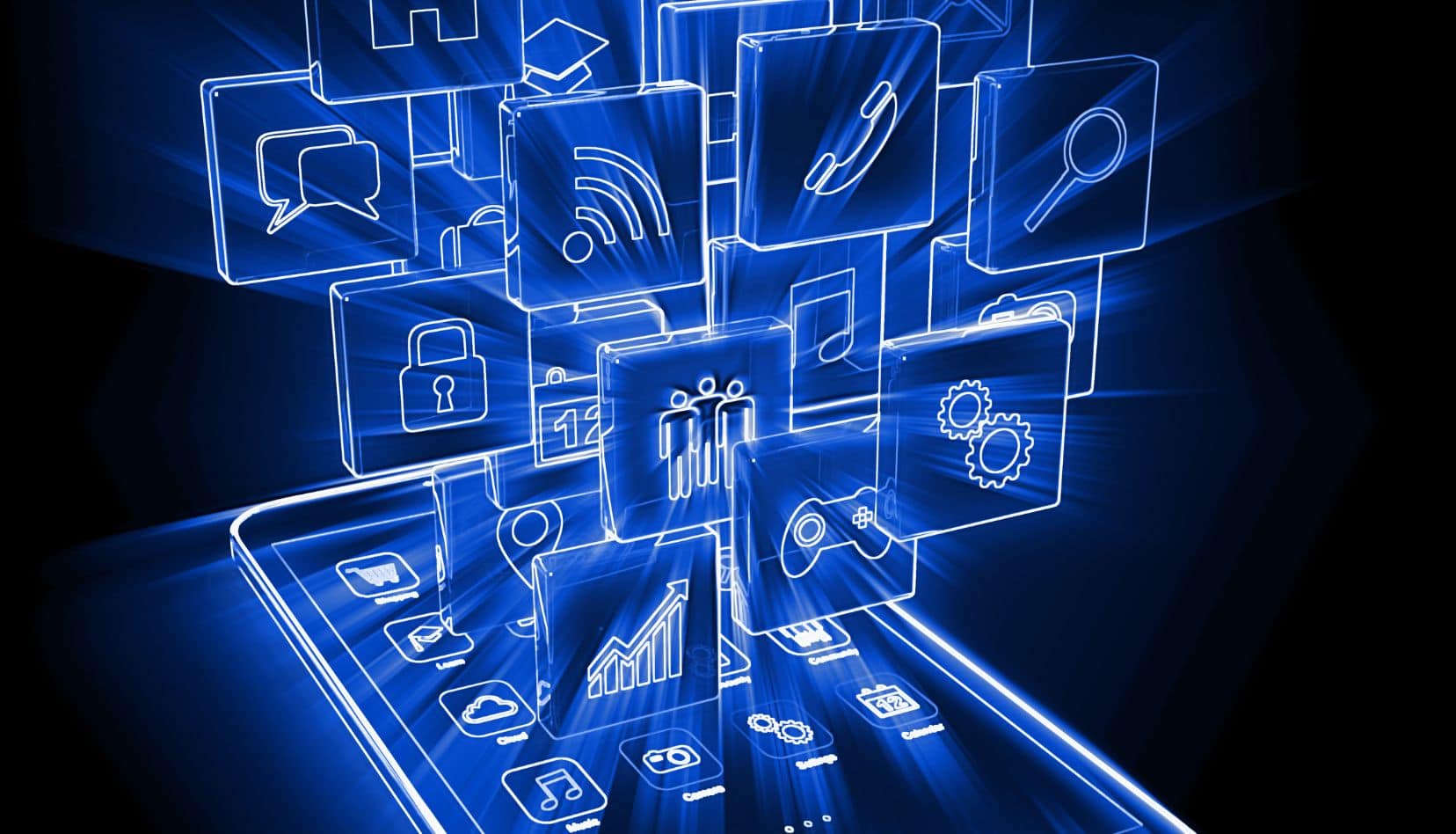 Apps that work offline and do not require an active mobile network signal to update position and route information often require a particular map area to be downloaded first. This map area will then be available for later use when there is no network signal.
Popular apps are:
Maps.me (our off-line navigation map of choice)
Mapy.Cz (similar to Maps.me but also offers a handy topographical overlay)
Tracks4Africa (we have Tracks4Africa loaded on our tablet but obviously this app is applicable only to the African continent). If all fails on the digital front, we always carry our Tracks4Africa paper maps.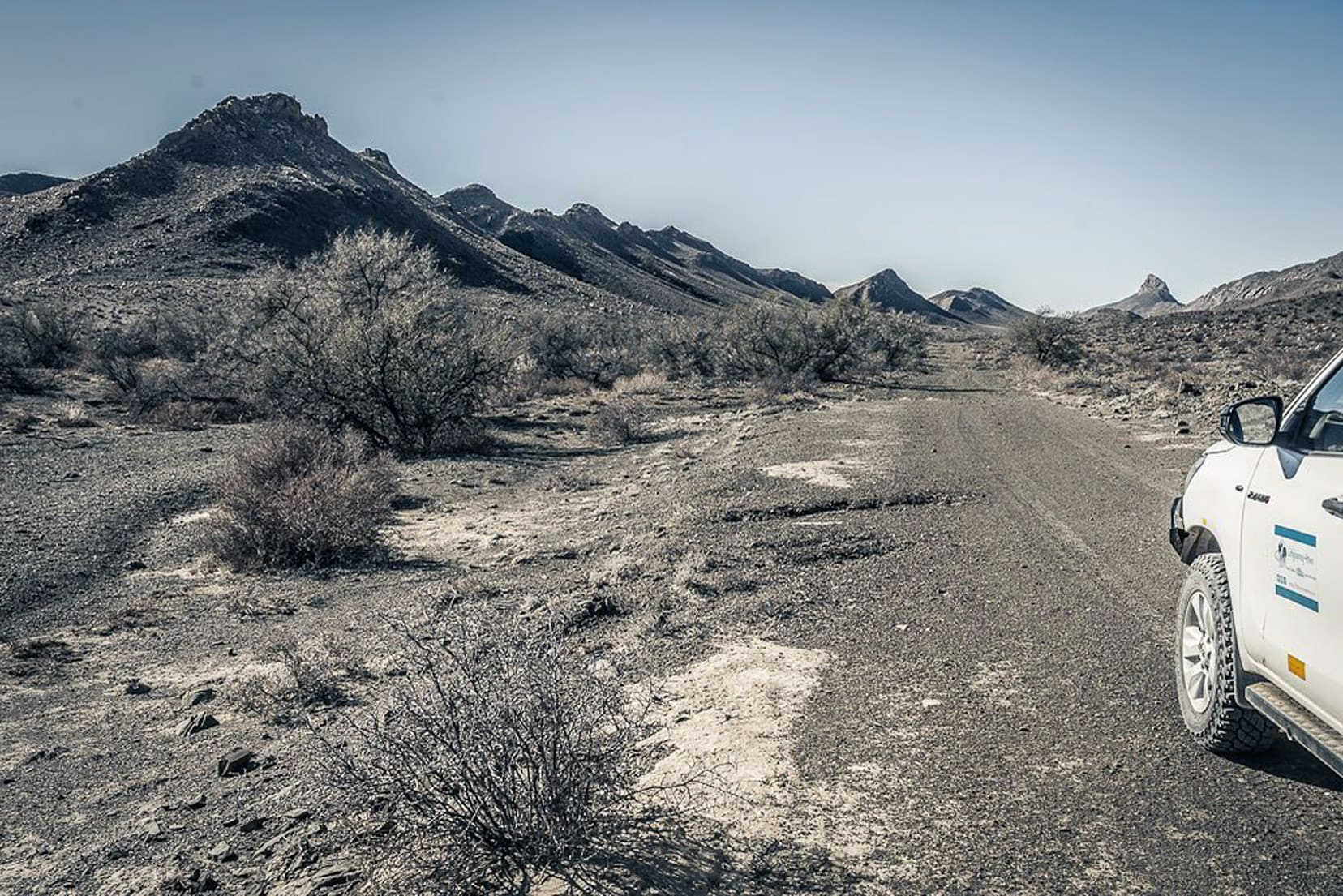 8. When to Plan a Road Trip
If we know the places we want to visit are popular, we plan our road trips outside of the peak season.
This type of off-peak or shoulder season travel usually means cheaper accommodation as well as more choice and availability. Also, you shouldn't have to worry too much about being shoulder-to-shoulder with other tourists.
The busier travel periods, however, normally line up with the best seasonal weather and school holidays. So if you are after the weather, or need to take a trip with the kids, you just be aware that prices may be more expensive and you will need to book accommodation well in advance.
Whatever time of year you take your road trip, consider the weather conditions that you may be driving in. Make sure you have a suitable vehicle for the type of weather and expected road conditions en route.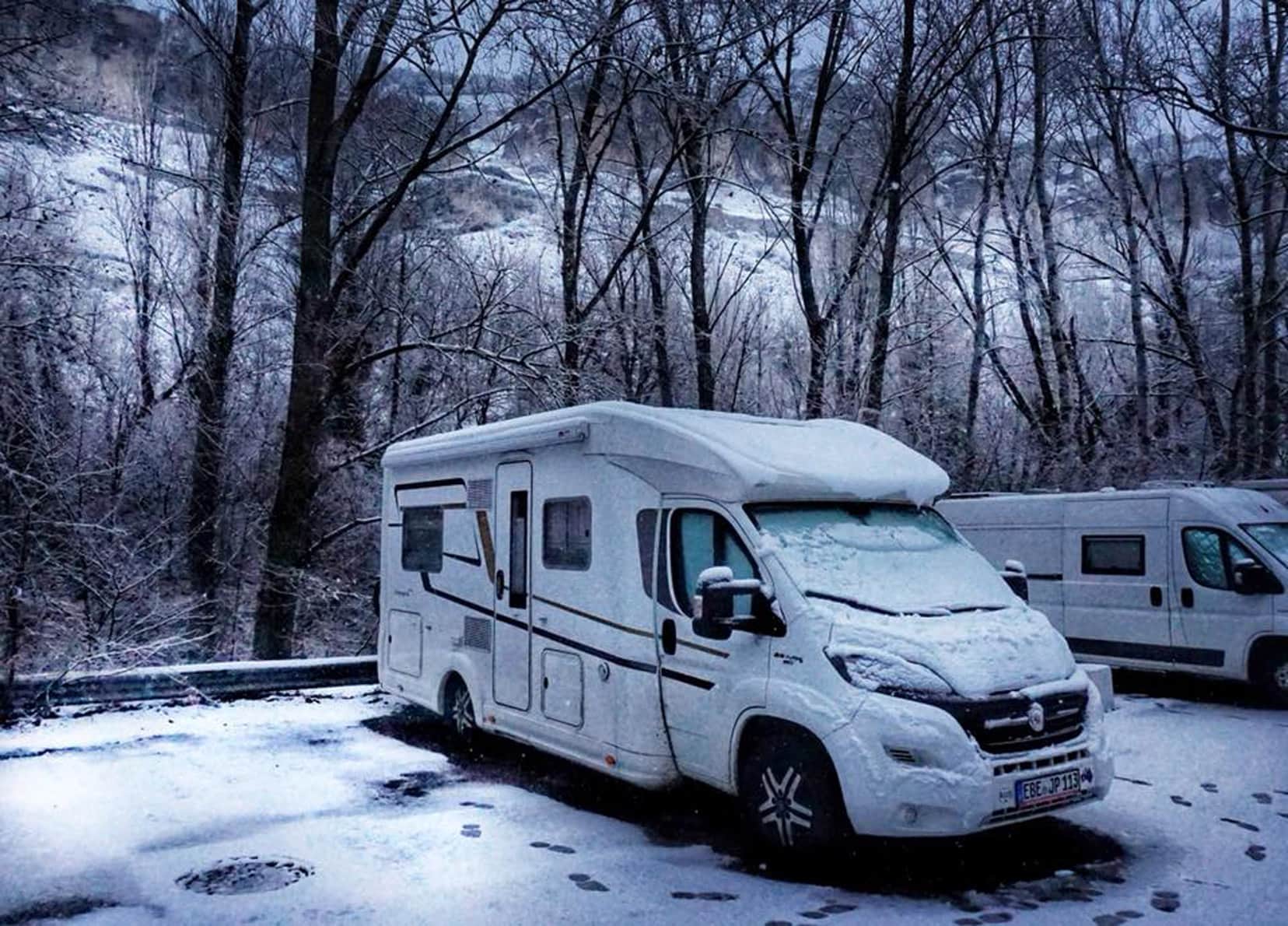 If you don't already own the vehicle that you need, then hiring is a good option. Or, if you want to travel by motorhome or camper then it can be more economical to hire rather than buy a camper.
During our year-long campervanning in Europe road trip, we chose to hire a motorhome for the year.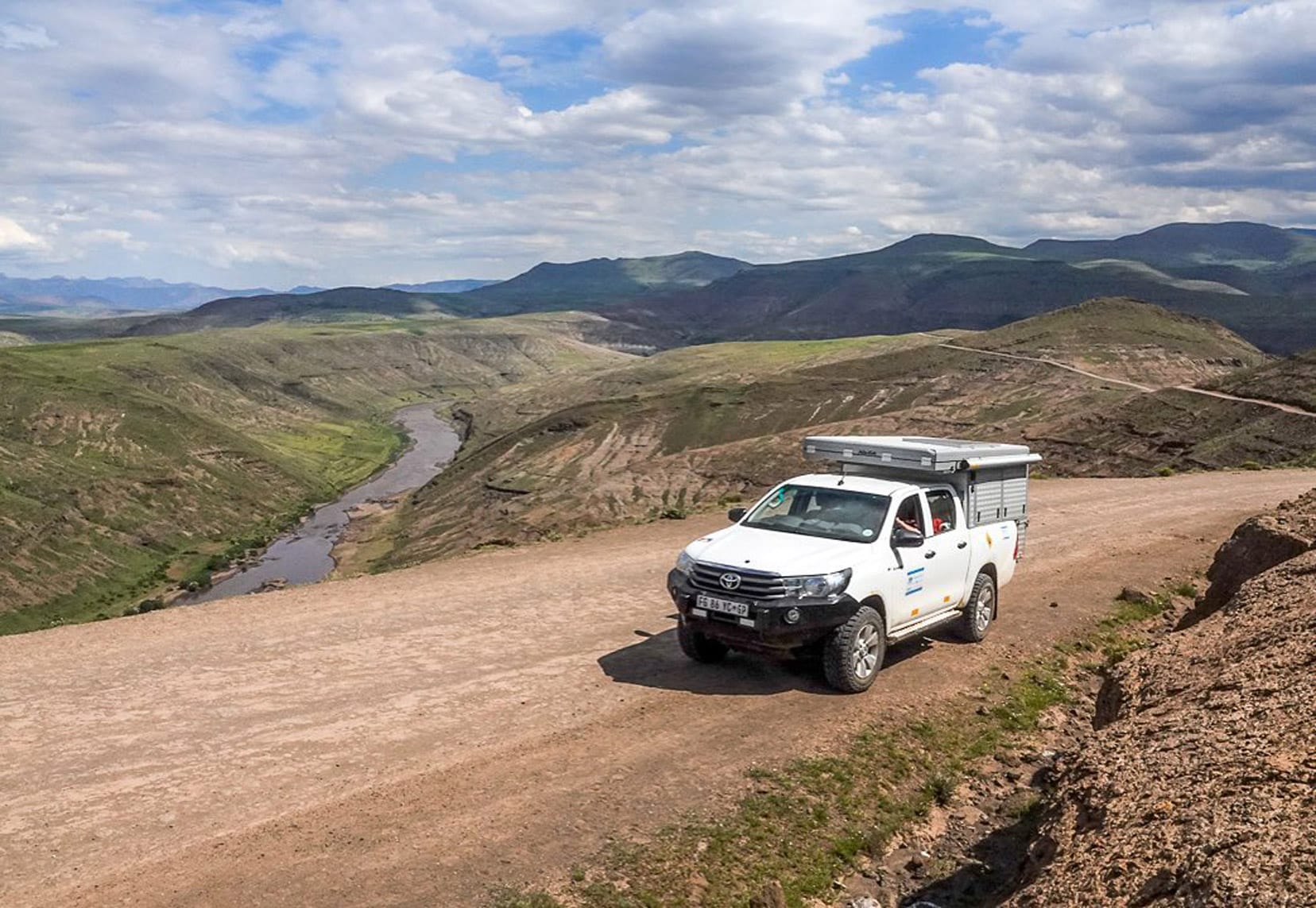 9. How to Plan a Road Trip on a Budget
A road trip will require some sort of budget. As long-term travellers, we need to budget carefully by travelling cheaply and always search for the best deals, trying to squeeze the most from each dollar.
Here are our top five tips on how to road trip on a budget:
1. Make a List of Expected and Known Expenses
Your road trip budget should include the obvious costs of vehicle hire (if applicable), fuel, accommodation, parking and food.
It's good to get this down in writing and not keep just keep it in your head. We have plenty of useful pages in our road trip planner to help you do just this.
⭐️ Download this free travel planner to help you.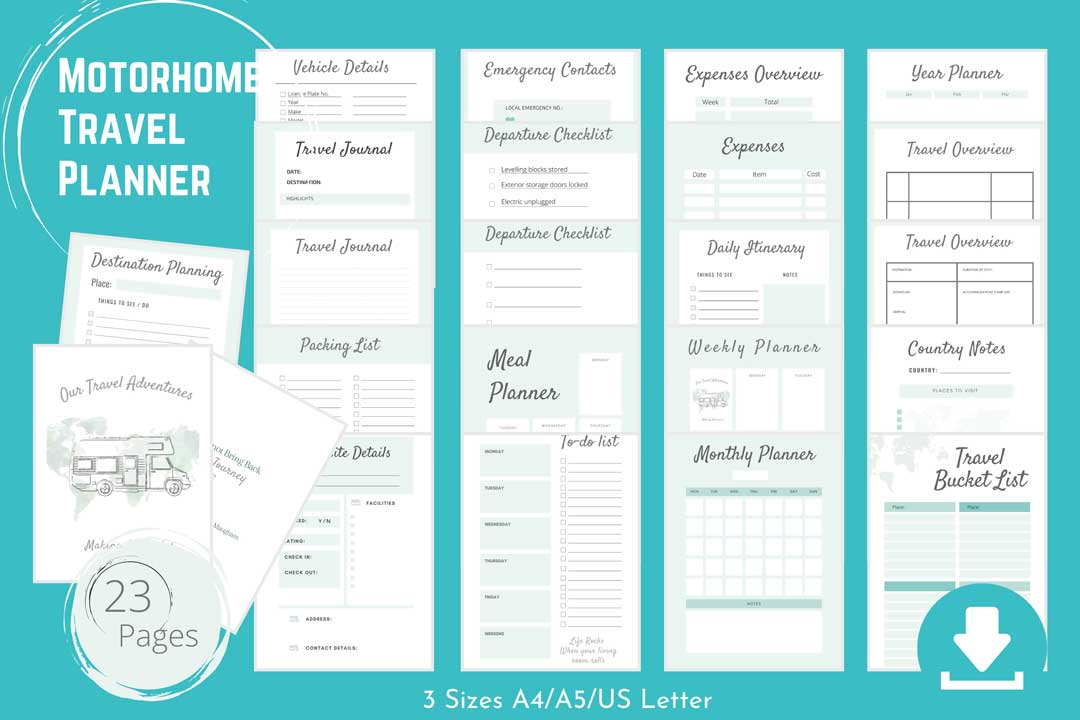 2. Opt for Wild Camping
Where it is legal and safe to do so, consider wild camping to avoid paying accommodation costs. There are also other cheap overnight options to consider such as back-packer hostels or free options such as couch surfing.
Our favourite way to save money on accommodation though is house sitting.
Our longest house-sit to date was a 9-month chateau-sit in the Dordogne region of France.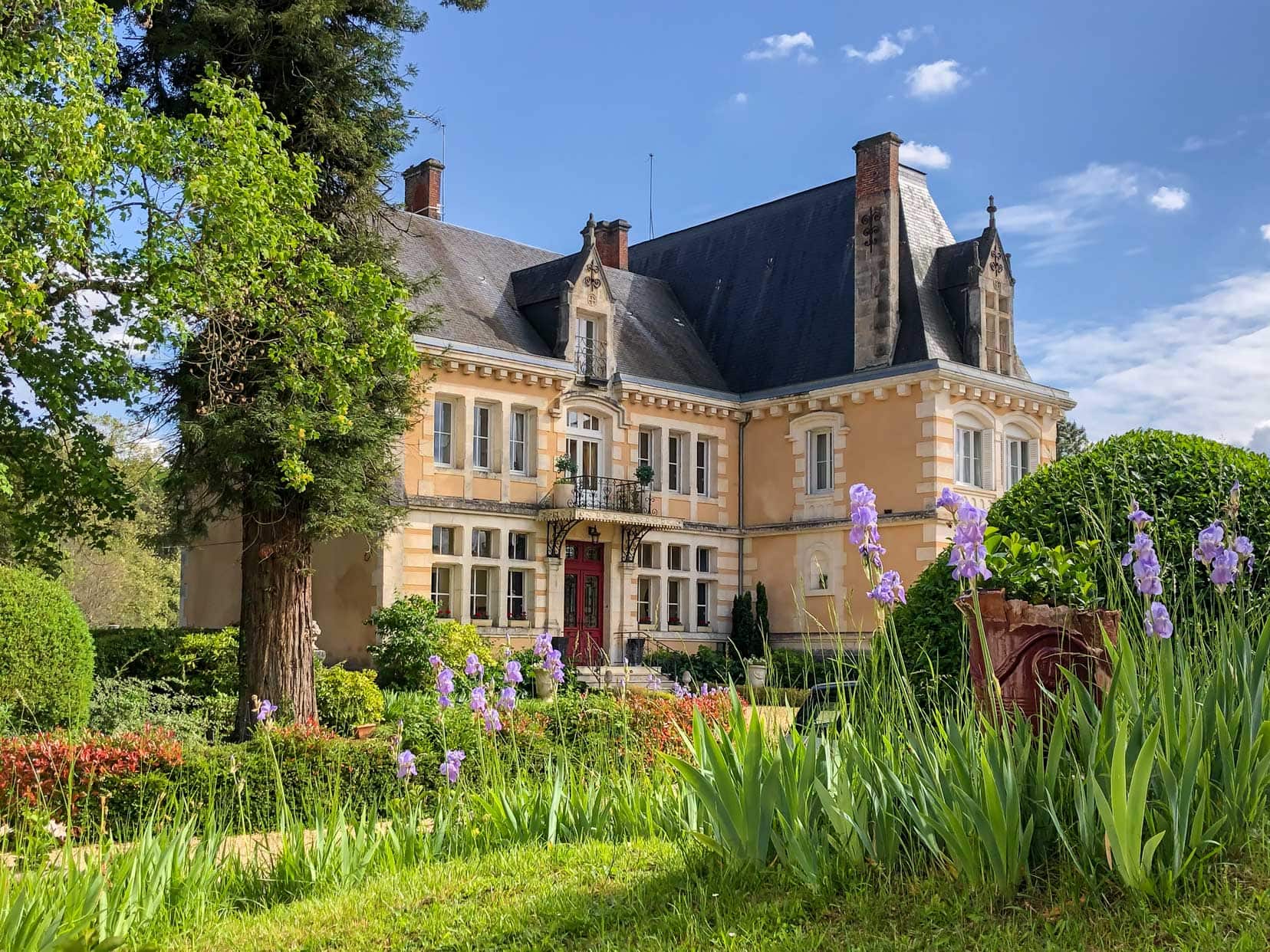 We have saved thousands by using the global network of opportunities that TrustedHousesitters offer. No money changes hands and it's the perfect way to combine our love of animals and travel.
House owners give us a free place to stay whilst caring for their pets. In return, we have our animal fix and a place to stay at a destination that we want to visit.
3. Prepare Your Own Road Trip Food
Preparing your own food while on your road trip is one of the best ways to save money. It also allows you more freedom to eat what you want and you also won't need to search for places to eat.
Obviously, if you are in a camper this is going to be easier, as you'll likely have cooking facilities and cold storage on board.
We don't eat out as a rule – it's unnecessarily expensive and can put that money towards more travel.
4. Search Facebook Groups
Facebook groups can be a great source of useful information freely shared between members. Plus, you'll find like-minded people who can offer advice and help steer you in the right direction.
This all helps you to spend wisely.
5. Grab a Travel Friend
There's nothing like the company of good friends on a road trip. Also, I'm sure they would be willing to split some of the travel costs.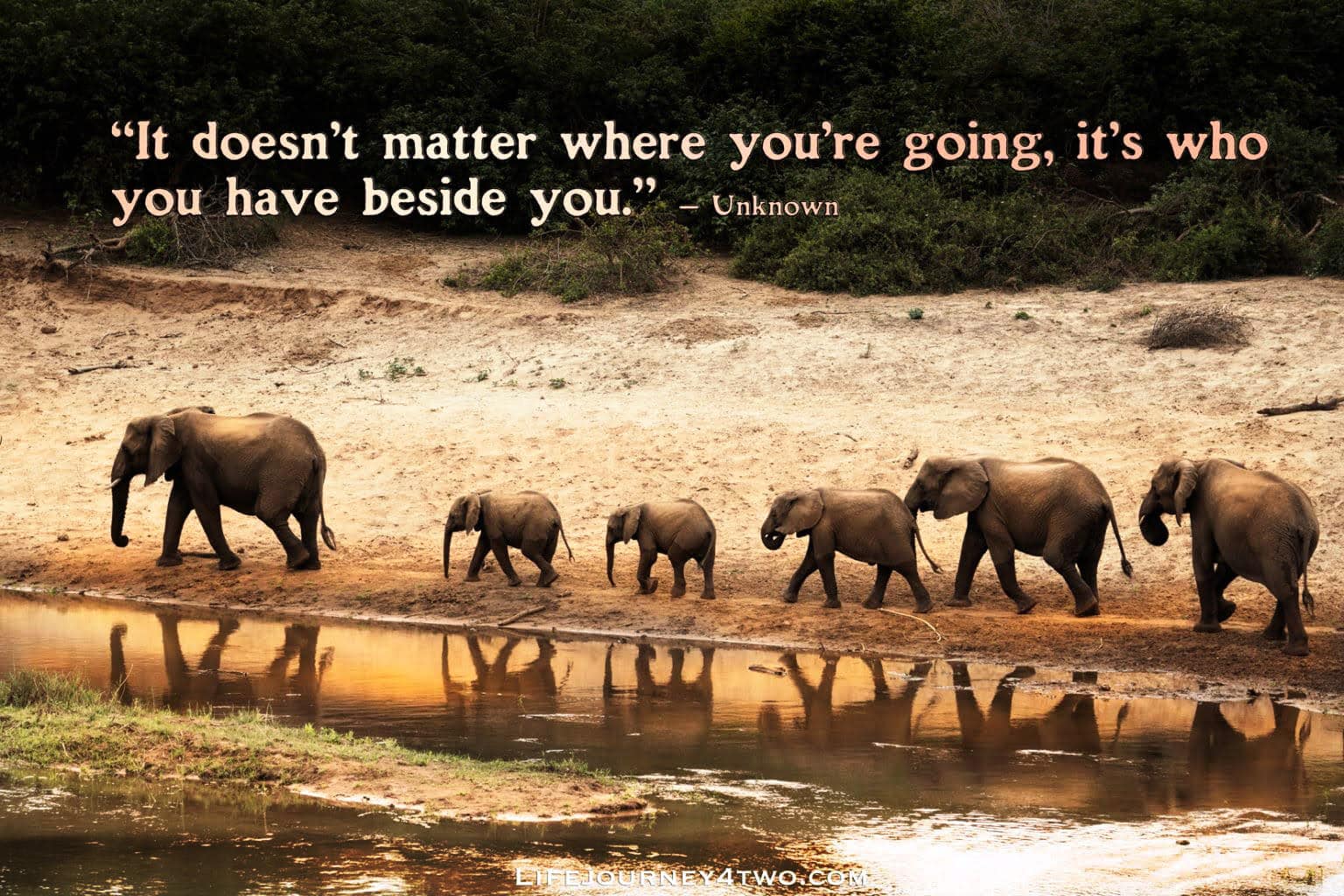 10. How to Plan Things to See on your Road Trip
So, you have committed to the road trip, you know your destination and have narrowed down some ideas for your overnight accommodation. Next, you need to plan things to see and do on your road trip.
Your interests might include: hiking in national parks, museum visits, watching life go by from the best cafes, photographing wildlife or enjoying scenic drives.
The list is extensive but whatever you choose, be sure to enjoy it.
Below are five recommendations where you can find useful information on things to see on your road trip:
1. Contact Tourist Information Centres
Tourist information centres have the latest up-to-date information. Often you can source brochures and are able to talk to someone knowledgeable about where you intend to visit.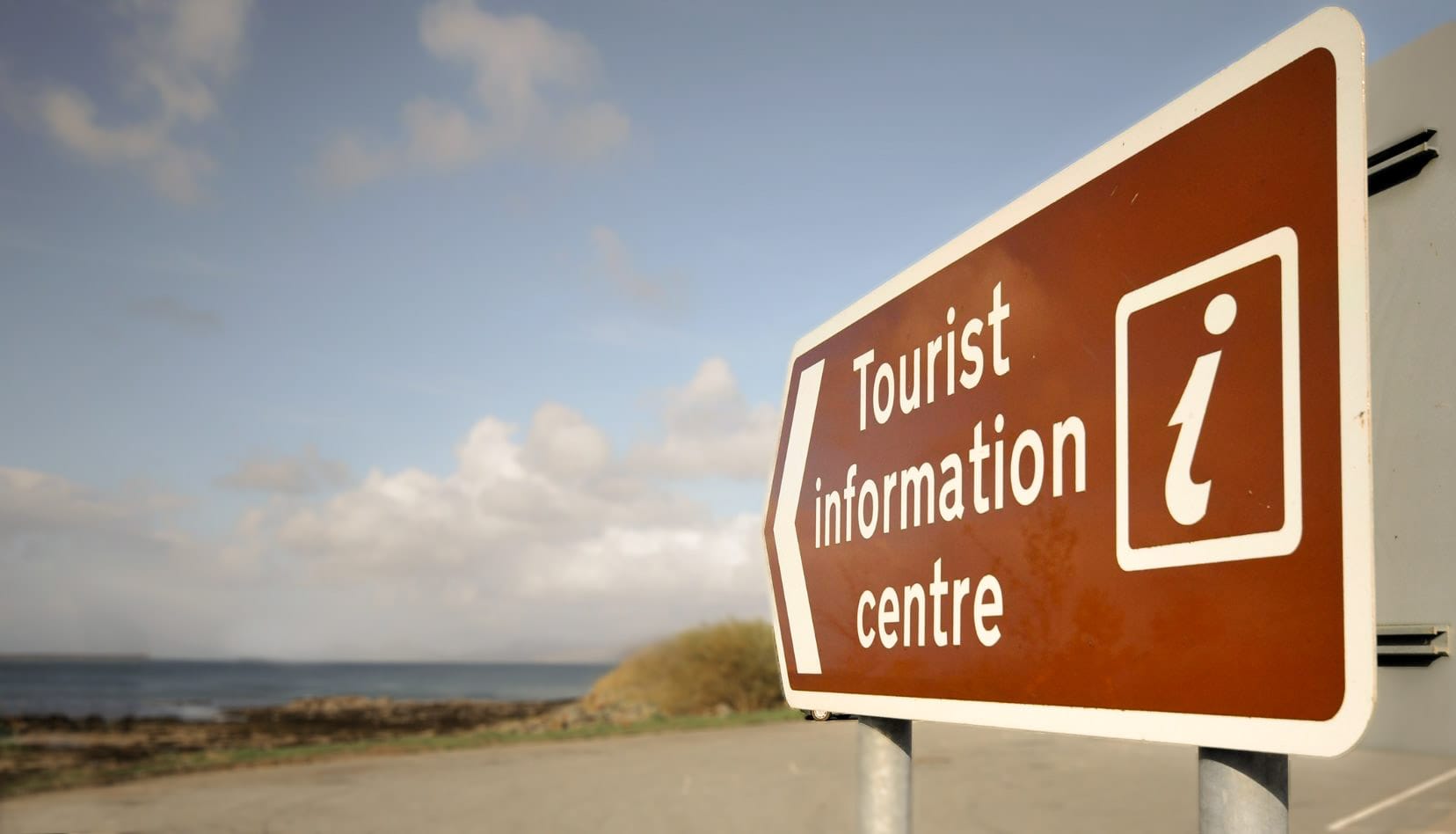 2. Get-Your-Guide
This website offers a wide range of excursions, activities and tickets for an area. Even if you don't book a tour, it's a great place to look for ideas.
Check out GET YOUR GUIDE here:
3. Geocaching
Never heard of it? In short, Geocaching is a global treasure hunt. A person seeks a hidden object, known as a geocache, using a mobile phone's GPS position to locate a cache's position. These caches can vary in size from the length of your fingernail up to the size of a lunch box.
Caches contain a paper log in which to write your name and the app allows you to register the find. The great part of all this is that often the cache is placed in a location that has some significance. It might be a fantastic view, a structure of historical importance or something interesting and worth a look.
It's great fun for adults or kids and can break up a long journey. The app can be tested as a free version albeit with limited geocaches to find but it's enough to give you a taste.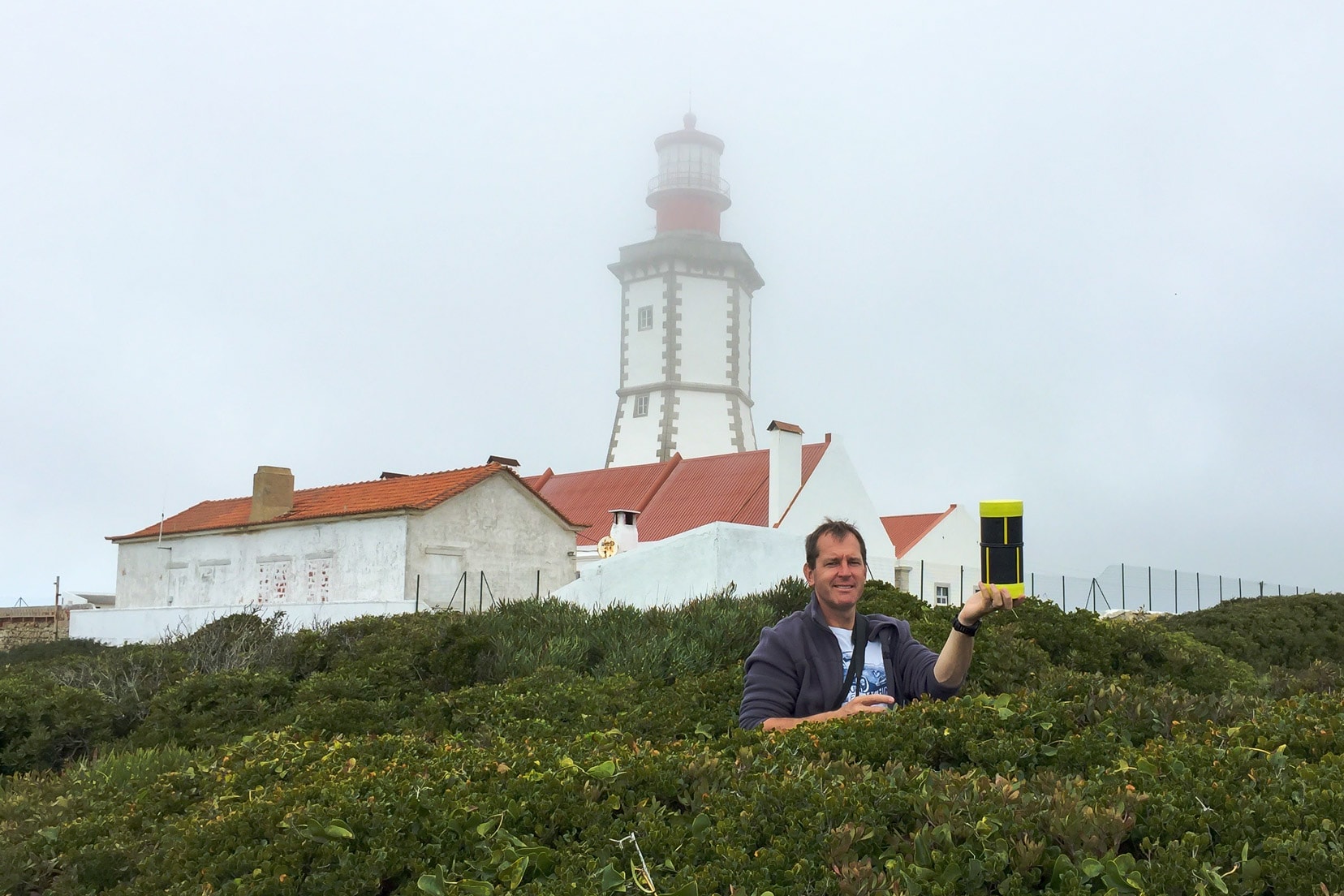 4. Instagram Inspiration for Your Road Trip
Social media can give a virtual taster of what lies ahead. Use the search tool by adding a location name and scanning the images to see if any whet your appetite.
You may just find yourself with more to see than you initially planned.
Check out our Instagram here
5. Travel Guidebooks
Travel guidebooks have a wealth of information and can be bought second-hand or downloaded as an e-copy for storage on a tablet. Even the earlier guidebook editions are worth a browse.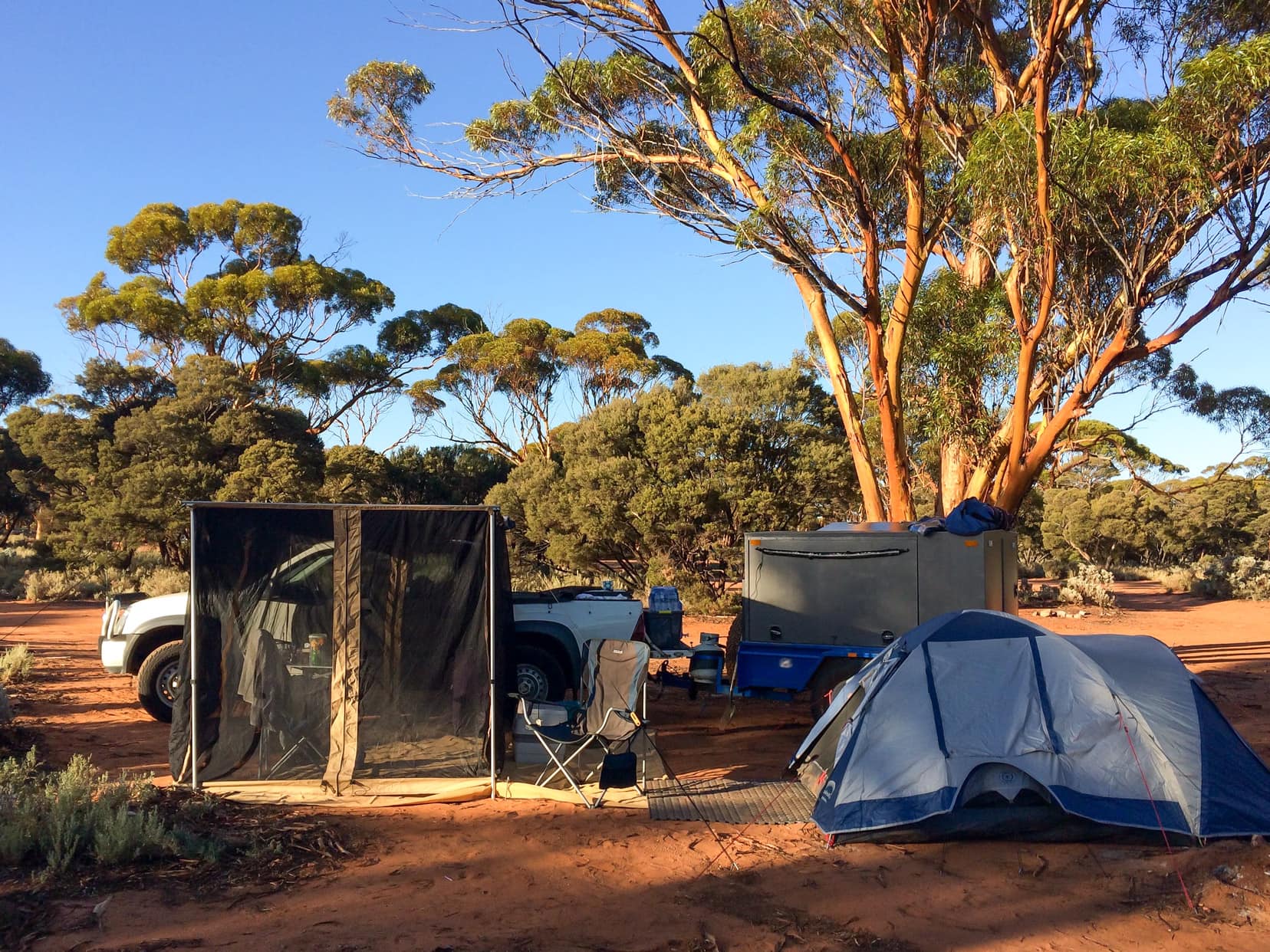 11. Road Trip Tips for a Safe Drive
Some timely reminders which should come as no surprise to us drivers:
Don't drive tired. Avoid fatigue by taking regular driving breaks, sipping water and eating healthy snacks will all help with road alertness
There's no hurry, enjoy the experience. Be patient on the road and let those that want to overtake, do so.
Countries have different road rules, and road signs and you may find yourself driving on a different side of the road than what you are used to. A bit of pre-arrival homework on road rules will help to keep you out of trouble as we did for driving in South Africa.
Share the driving, that way you can all benefit from time away from the wheel. If travelling with a friend, let them navigate and talk you through the directions which allows you to focus solely on driving.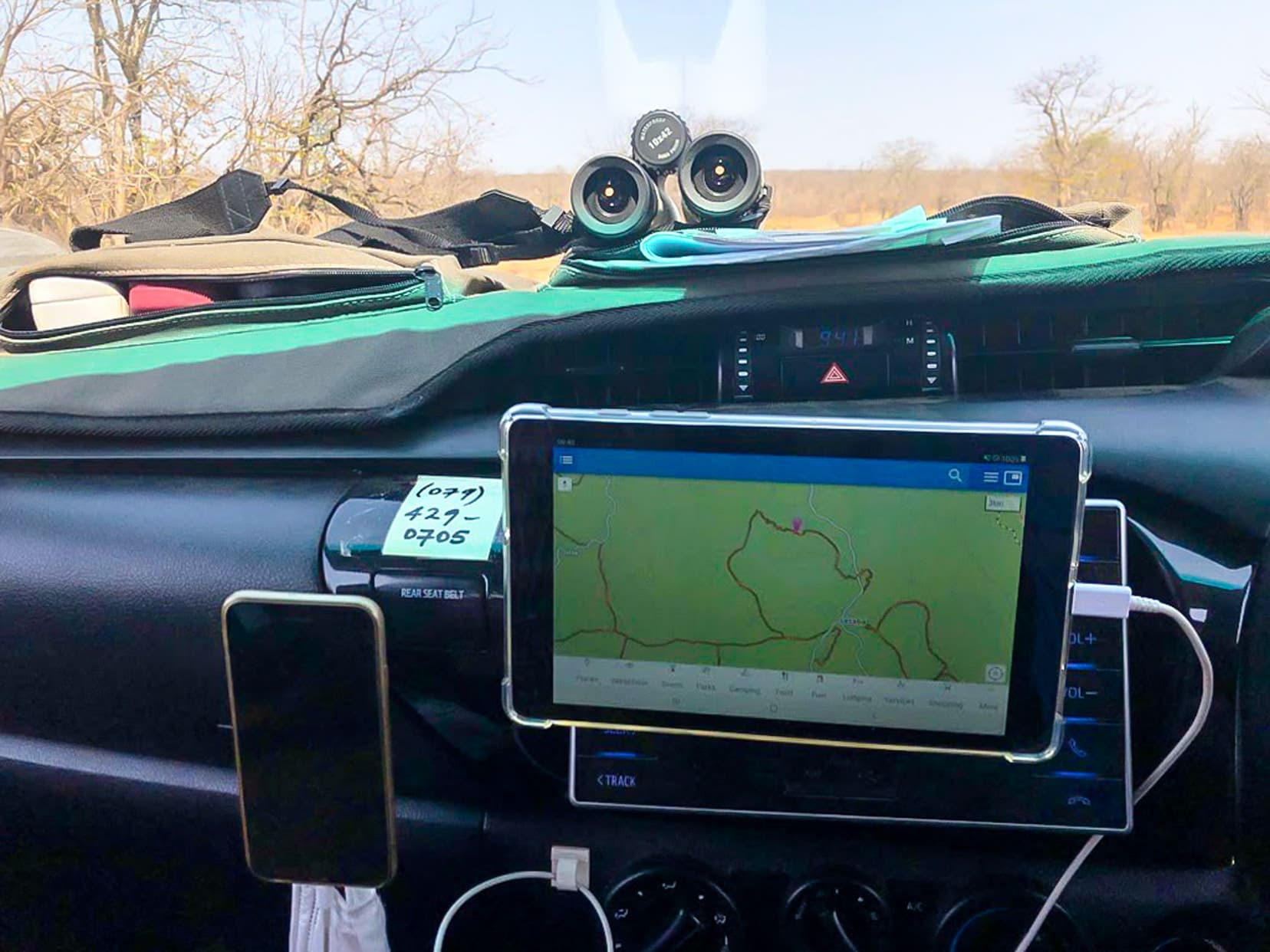 12. How to Prepare Your Body for a Long Road Trip
Get yourself off to a safe start with a good sleep the night before.
Eat a good meal before setting out on your road trip
Take frequent breaks by getting out of the vehicle and stretching those muscles
This also gives your eyes a chance to rest
Have water to sip on to stay hydrated and avoid headaches
13. How to Road Trip with Kids – Avoid the Dreaded 'I'm Bored'
If you've planned some longer drives, then a great way to break the monotony in the vehicle, especially when travelling with kids, is to have some super fun road trip games at the ready.
⭐️ Click here for The Absolute Best Travel Games to Take on a Road Trip ⭐️
We've loved taking games away with this on our road trips.
I know I've mentioned it before but Geocaching is such great fun. You have to check it out!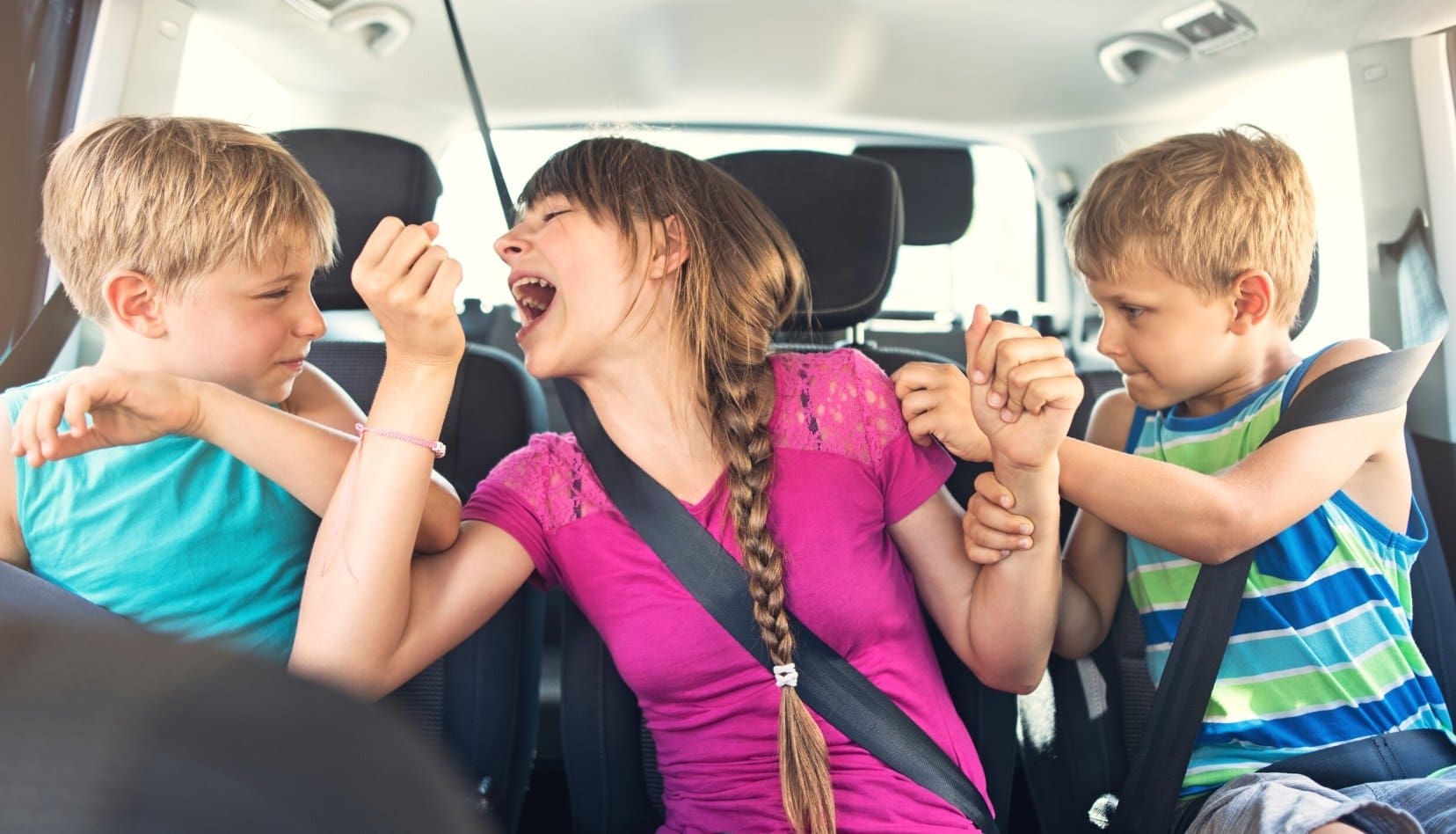 14. How to Plan a Long-Distance Road Trip
If you've read everything up to now then you will know how to plan a day-long road trip or a long-distance road trip covering many days. (… And well done for getting this far!)
All these previous discussion points can be applied over and over for any road trip itinerary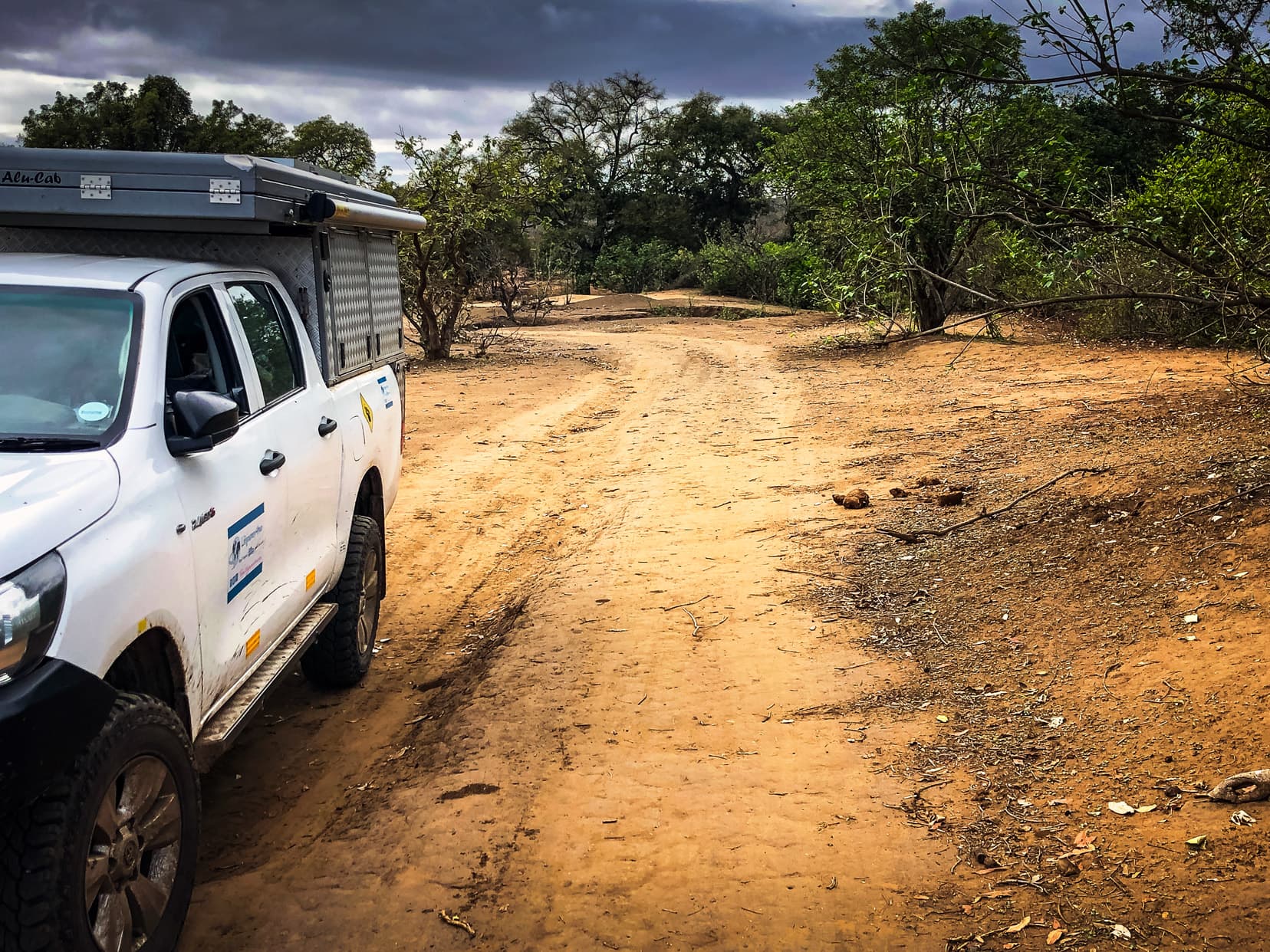 15. How Hard is it to Plan a Road Trip?
It does take time and a degree of thoroughness to properly plan a road trip but it's not that difficult.
With practice comes experience. The more road trips you take, the more second nature all these steps mentioned in this guide will become.
If you consider all of these points in this article, you will be already ahead of the game and increasing your odds of a fantastic trip.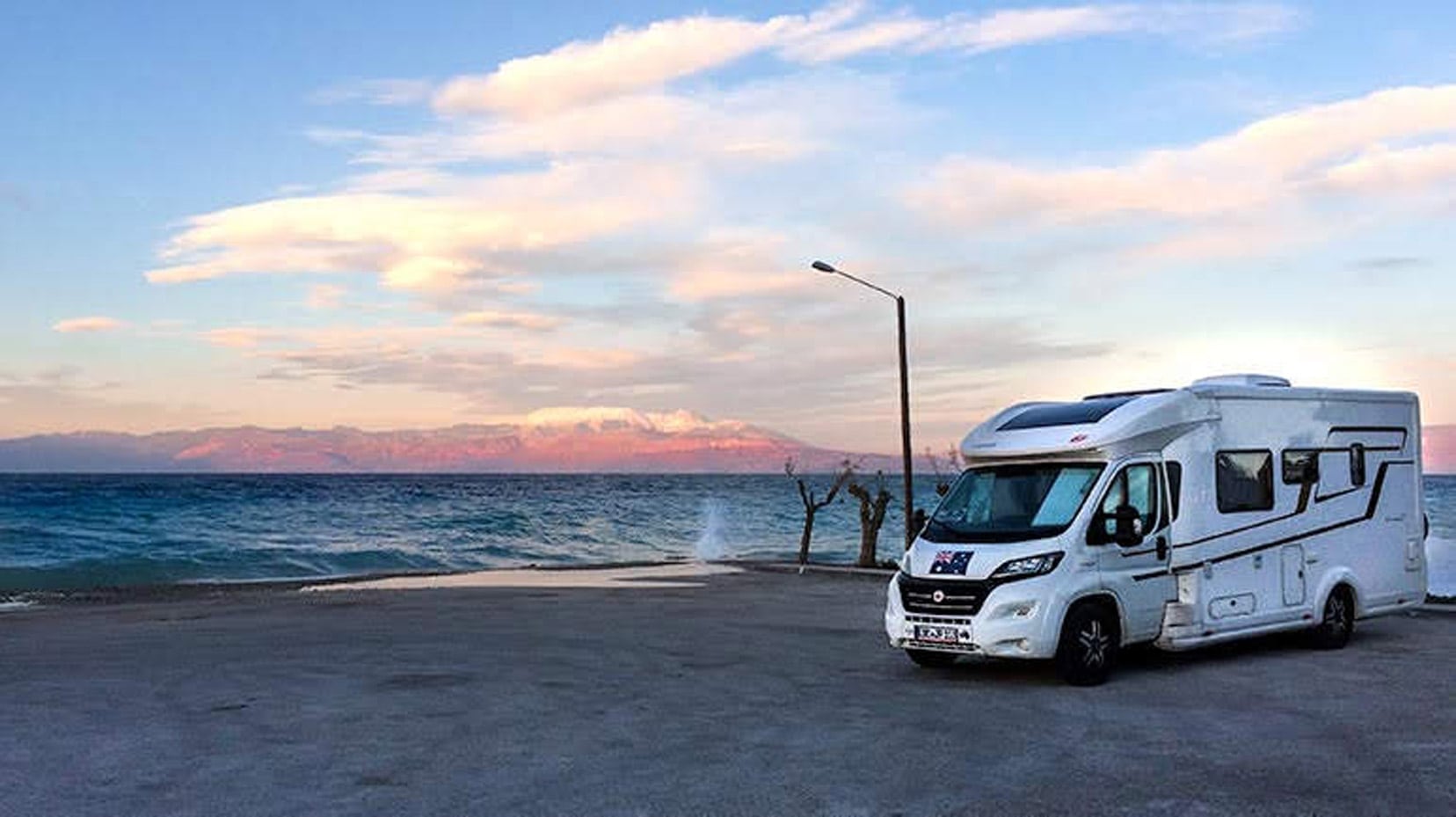 16. Road Trip Vehicle Preparation
Whatever type of vehicle you are driving on your road trip, these practical preparation tips apply.
1. Check Tyre Condition and Pressures
There is a minimum accepted safe tyre tread depth and this is roughly equivalent to the height of a match head or approximately 1.6mm.
Maximum tyre inflation pressure values are indicated on the tyre and near the rim. The pressure value is represented in both kilopascals (kPa) and pounds per square inch (psi).
If you prefer to think of pressure in bars, then multiply the PSI value x 0.069. For an accurate reading of tyre pressure, test the air pressure before the start of a drive and when the tyres are cold.
A pressure check roughly every 2 weeks is good practice. Just remember to replace the valve caps that you took off and don't forget to check the spare tyre (if you have one).
2. Check the Operation of the Car Jack
Every vehicle has specific reinforced load points for the placement of the jack on the chassis. These locations are found behind the front tyres and forward of the back tyres but specific positions are included in the vehicle handbook.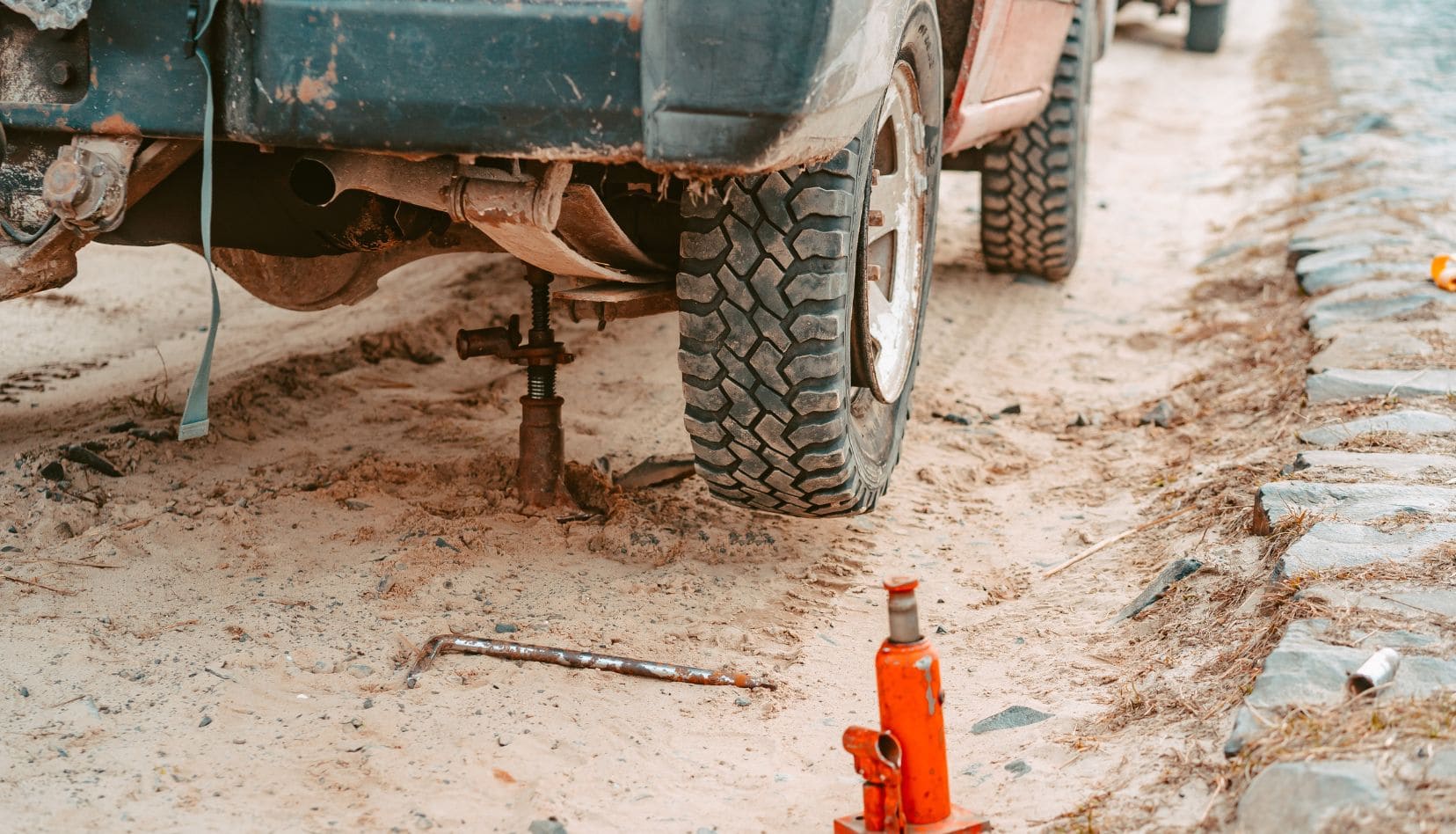 3. Breakdown and Vehicle Insurance
You may give thought to including breakdown insurance with vehicle insurance for your vehicle. There are different add-on options that can be included in an insurance policy that takes effect in a breakdown situation.
Some of these insurance 'extras' could be access to a hire car, breakdown towing and overnight accommodation.
Additionally, you can look at breakdown cover through dedicated agencies such as RAC and AA.
4. Vehicle Mechanical Condition
It may be prudent to drop your car into a qualified mechanic for a pre-trip check-up. Alternatively, if you're savvy with vehicle operation then carry out your own pre-departure checks.
These are some basic checks that can be carried out:
Check the level of engine oil via the dipstick
Brake and wiper fluid level
Visual check for signs of wear on the rubber belts
Check that these same rubber belts are tensioned with just a little give when you push down on them
Look for signs of fluid leaks in the engine bay
Lightly squeeze any rubber hoses to confirm the elasticity
Check radiator fluid level, but only when the engine is cold
Check indicators and driving lights are operational
Visual check that the vehicle is not leaning one way, indicating a possible faulty shock absorber
Check that the windscreen and driving mirrors are clean and positioned for good viewing.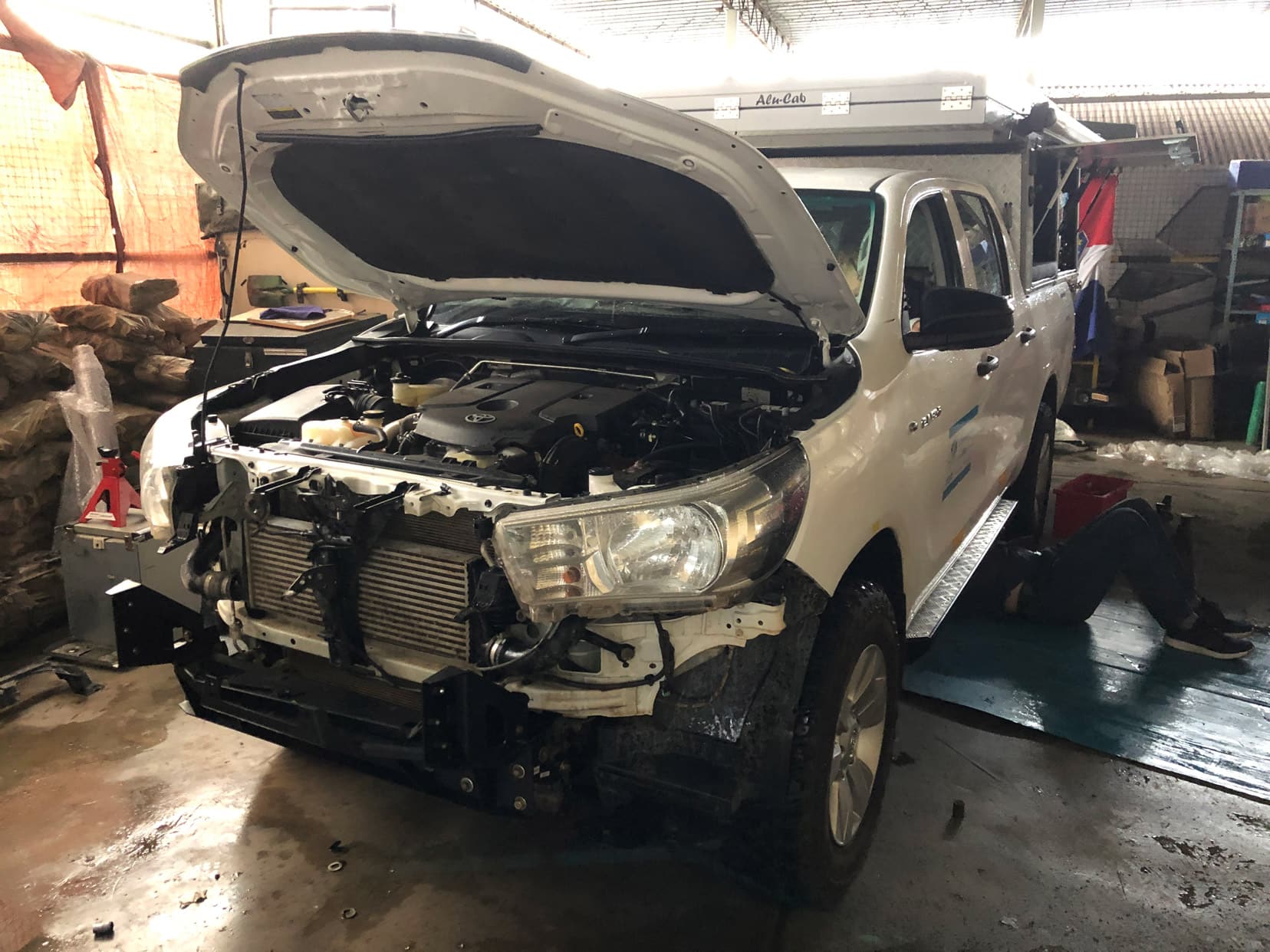 5. GPS Stand-Alone Units for Route Navigation
There are many different manufacturers (such as Garmin or TomTom) that offer 12V GPS devices that plug into the cigarette socket in your car and are often suction cupped to the windscreen.
Some devices allow memory cards to be used in the unit which allows access to additional information including navigation maps and routes.
6. Spare Car Key
Do you keep the spare key hidden somewhere on your vehicle or have someone keep it safe for you? It's worth some consideration.
17. Planning a Road Trip by 4WD: Off-Road Driving
For our overlanding Africa adventures, we opted to buy (and not rent) our South African registered 4WD bush camper, a 2016 Toyota Hilux. It was a lot more of a cost-effective option for our intended long-term overlanding Africa travel.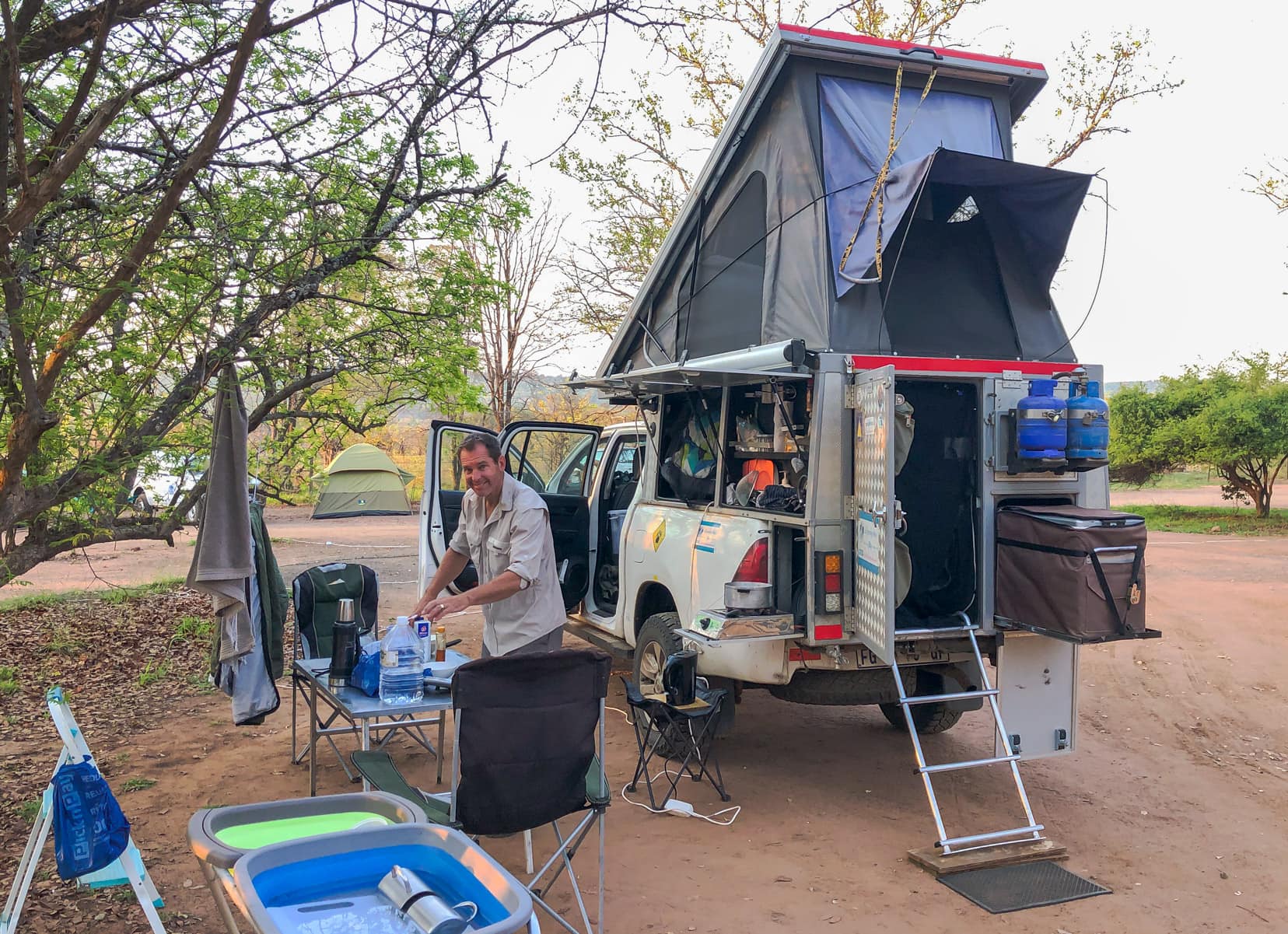 Being an ex-safari hire vehicle, our bush camper came pre-fitted with all we needed for off-grid travel including a pop-up tent.
All vehicles need their fair share of pre-road trip preparation and 4wds especially so.
Here's our preparation checklist:
1. Mobile and Satellite Network
Without an available mobile network, phone communications are not possible unless you're travelling with a satellite phone. There are quite a few satellite networks and providers available with differently priced plans. Depending on how remote your travel is and what risks you might be exposed to, a satellite phone does give you peace of mind.
Better to have the phone and not need to use it, than the other way around.
This is the right time to make mention that you may find certain mobile phone apps do not open because the latest version of the app has not been downloaded.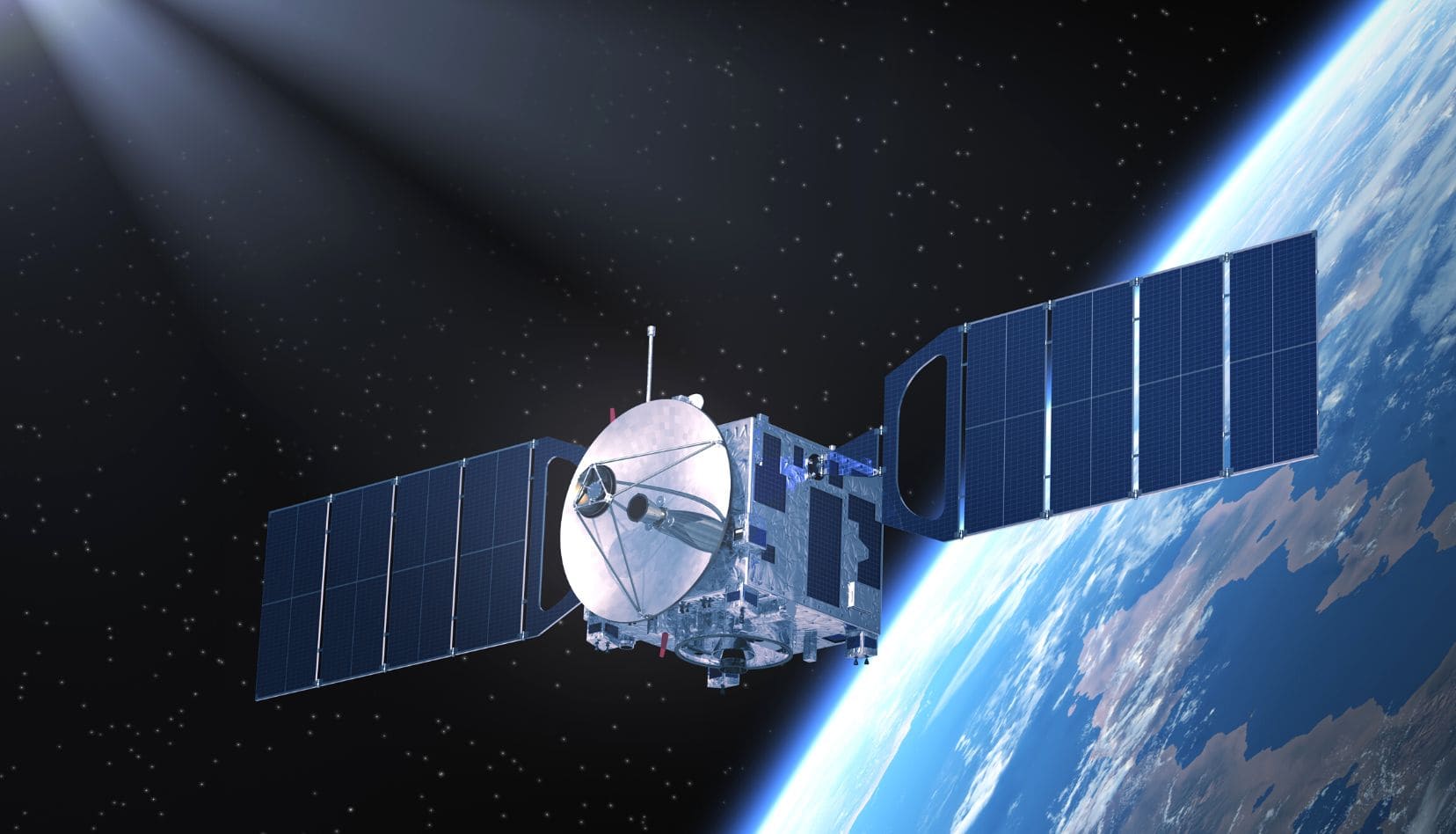 2. Water
If you're going completely off-grid, you'll need to calculate the expected water consumption per day per person and compare it with the total water storage you expect to carry.
3. Gas
Portable gas bottles used for cooking need storage in a safe, vertical position and ideally are sited externally on the vehicle. We have two gas bottles that sit on stands at the rear of the vehicle.
4. Refrigeration
Refrigeration for perishables. Give some thought to how you intend to keep food at safe storage temperatures. Our Hilux has a single 40-litre fridge/freezer and even though it is compartmentalised into fridge and freezer sections, we found that temperatures were either too high or too low. Therefore, we use it solely as a refrigerator which is fine for milk and fresh produce.
Some 4wds are kitted out with two of these units, one operating as a fridge and the other as a freezer.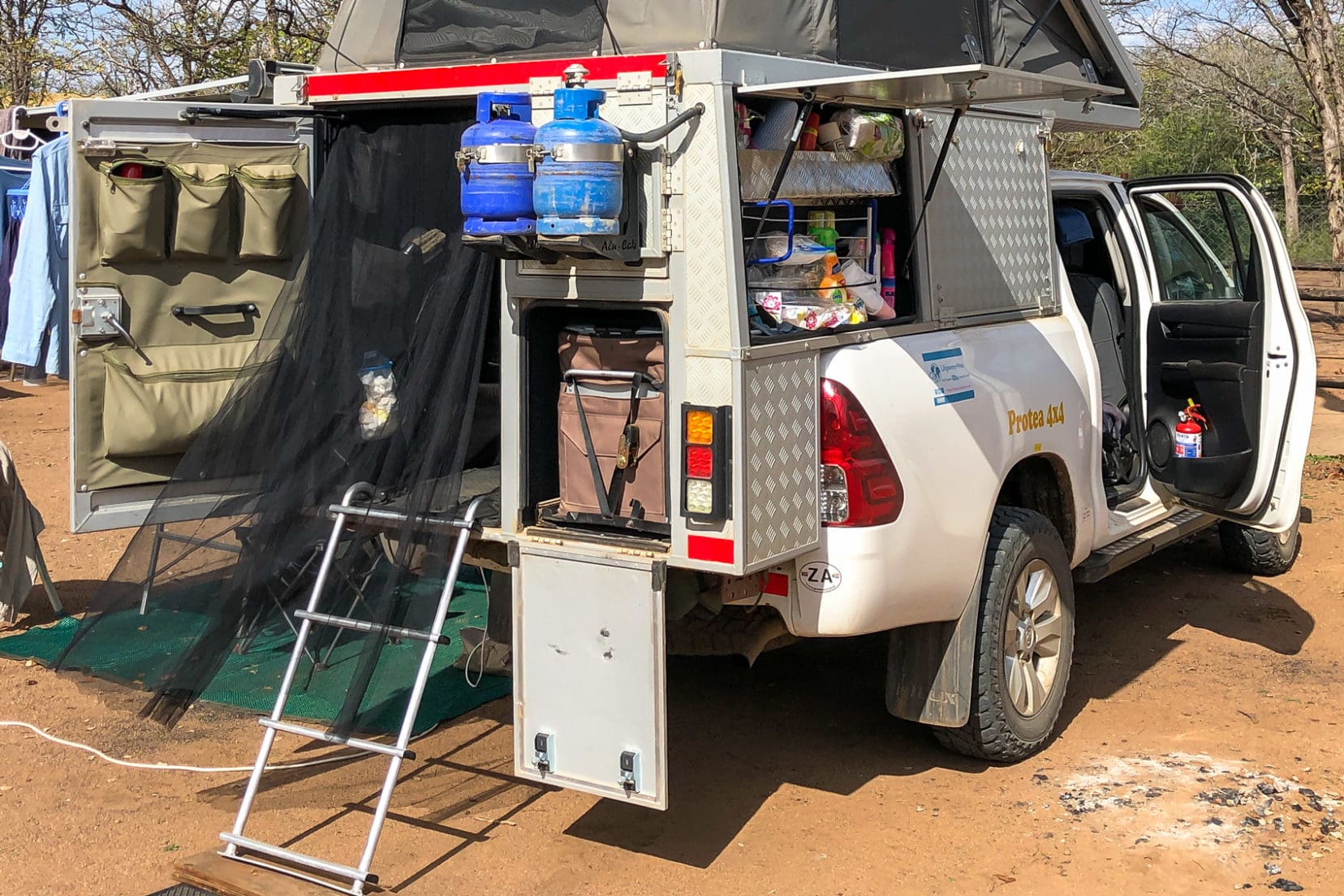 5. Fuel and Fuel Quality
Fuel consumption is a lot higher when driving with 4WD engaged compared to 2WD. Long-range fuel tanks are the way to go. It may be the case, however, that you decide to purchase portable fuel storage containers. The jury is out as to whether metal or plastic fuel containers are better.
The next question to ponder is where to store them. If overhead, then be sure to not to exceed the vehicle's roof load limit.
And as with any overhead load, this requires proper securing and regular checking as straps do work loose. Lucky for us, our Hilux came with integrated long-range fuel tanks.
I was concerned with fuel quality and installed a secondary fuel filter. It does require regular ongoing filter replacement though, but I accept the cost of this over being stuck somewhere remote with the engine not willing to start because of water and other impurities in the fuel.
If you're after a cheaper option, then look for the inexpensive portable fuel filters that temporarily seat into the fuel filler pipe just prior to filling. The fuel from the nozzle flows into the filter and then to the tank.
6. Air Filter
Your engine needs both good quality and quantity of air to operate properly. After a dusty drive, take your air filter out and give it a shake to remove debris. Carrying a spare filter is a necessity.
7. Tyre Pressure and Monitoring Tyre Pressure
Reducing air pressure in the tyres allows for better passage over different terrains. At some point, you'll need to increase the tyre air pressure, and this is where a 12V air compressor that connects to the car battery, does the trick.
Air compressors with good volume output will allow faster inflation of your tyres.
To monitor all four tyre air pressures simultaneously, I installed a wireless air tyre pressure monitor on each tyre. These monitors continually feed real-time air pressure and temperature information to a digital display in the cab.
This gives me great peace of mind knowing that I can read tyre pressures directly.
For me, this is a much better option than having to stop and check each tyre individually, multiple times during the day.
8. Plan to be Bogged
What is your plan when the vehicle becomes bogged?
A couple of rigid recovery boards or traction mats are essential to place under tyres to increase both traction and surface area for the tyre to grip.
Of course, your trusty shovel will be getting a good workout if you find yourself bogged.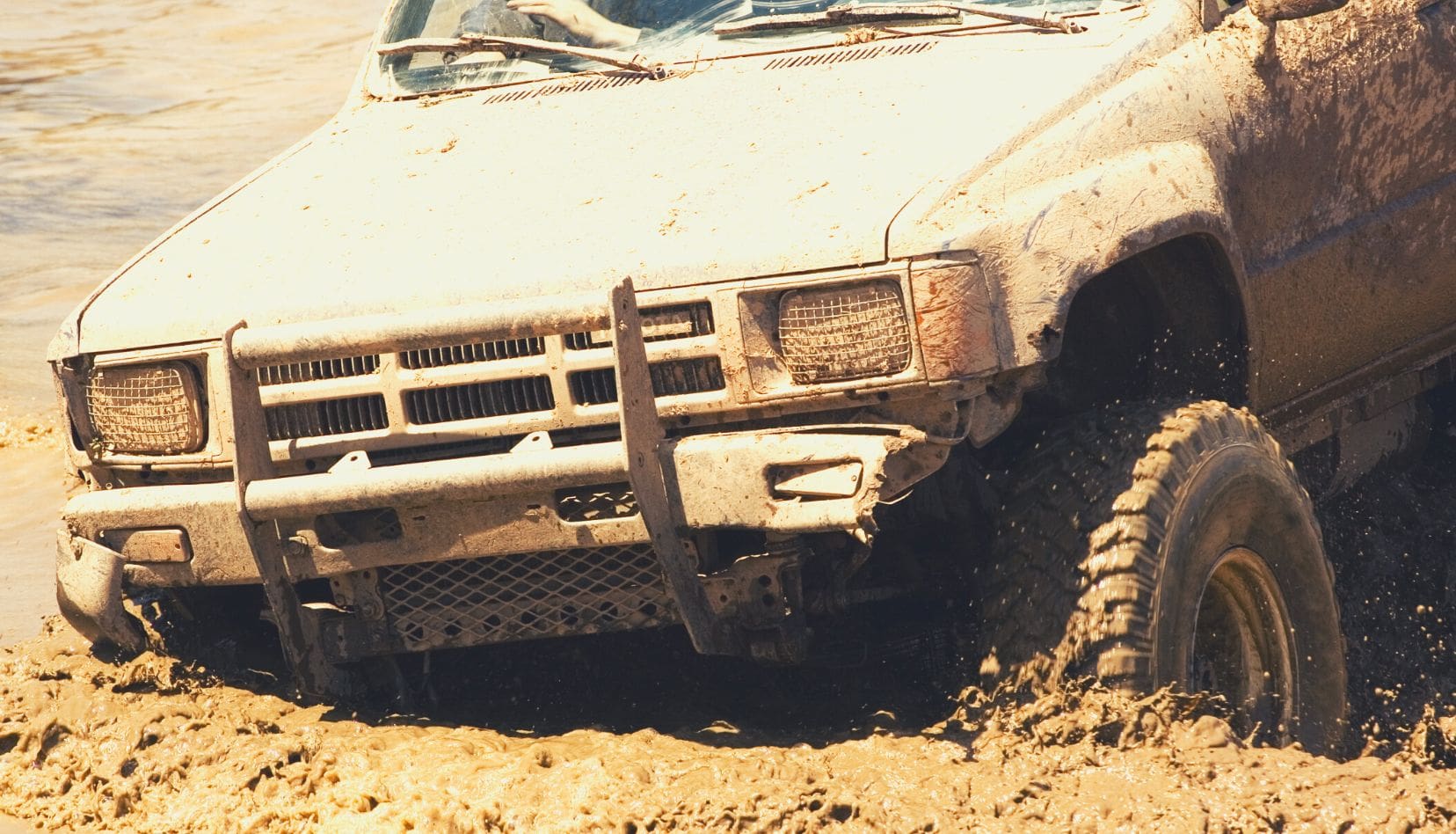 9. Sufficiently Load-Rated Vehicle Jack
Your 4wd will have been delivered from the factory with the appropriately load-rated jack. However, after you've loaded extra fuel, drinking water, camping gear and accessories plus all the food, the total vehicle weight may well exceed the capacity of the original vehicle jack.
You'll need to do the math here to calculate the total weight of a fully-loaded vehicle. Consideration given to investing in a heavy-duty high lift jack may be one of the best purchases you make.
Used for tall vehicles, high lift jacks will extend vertically way past what a bottle or scissor jack could which is great for 4wds in general. High-lift jacks come in different sizes.
10. Toolkit
Carrying a selection of tools will allow you to re-tighten anything that comes loose during your road trip plus carry out necessary maintenance. Other handy non-tooled items in my tool bag are:
Tie wire,
Heavy-duty duct tape,
Hose clips,
Tie-wraps,
General purpose grease,
Silicon sealant, and
Various fuses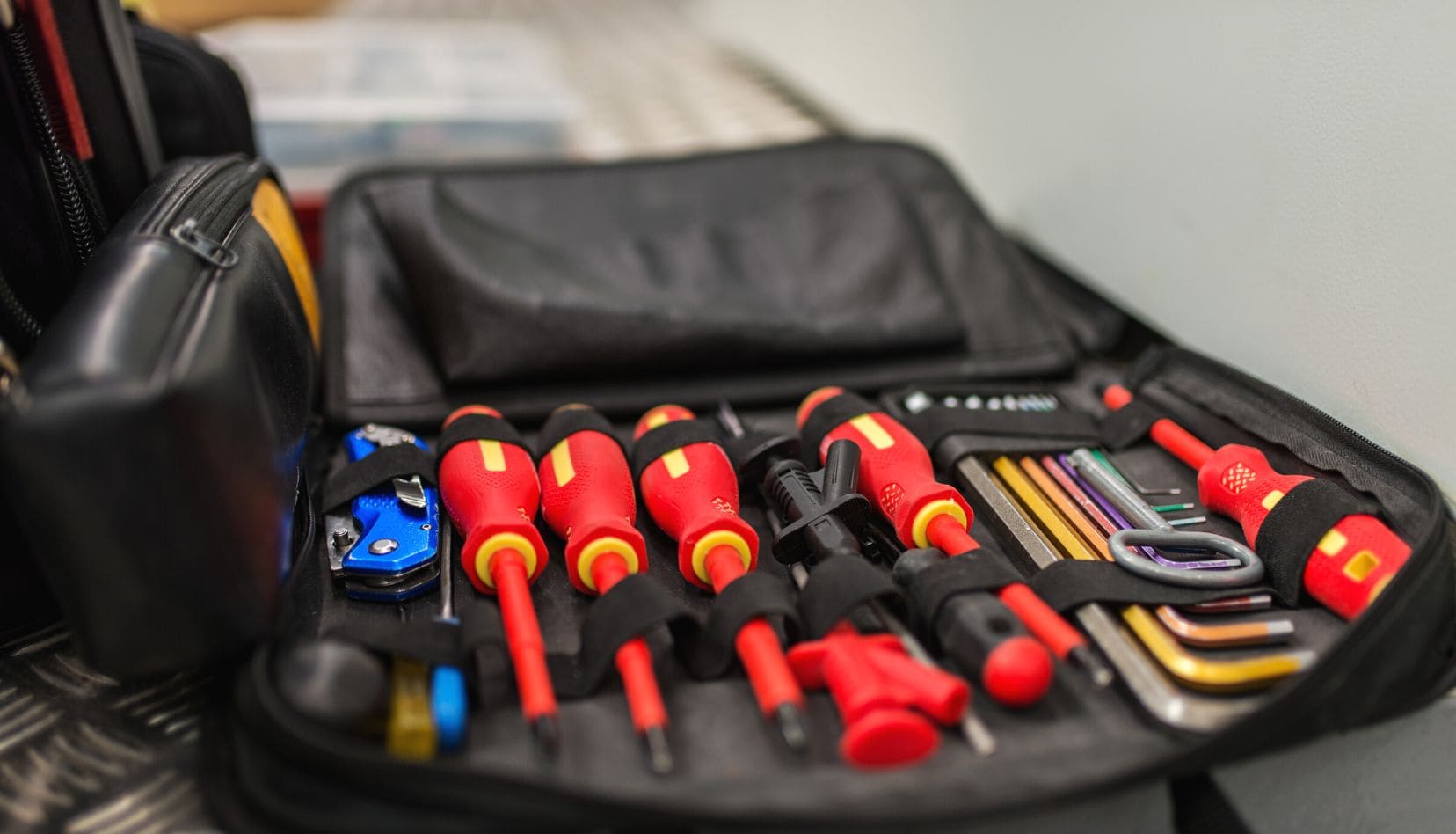 11. Vehicle Spare Parts
You are going to need spare parts. Here are our most notable spares:
2 spare tyres,
Tyre plug kit,
Spare coolant hoses,
Spare drive belts,
Extra fuel filters,
Engine oil,
Brake fluid, and
Radiator leak sealant.
12. Residual Current Device (RCD)
An RCD is a safety device that rapidly interrupts the current flow and shunts the current to the ground. Look for electrical extension cables fitted with an RCD as they can protect your life and equipment.
Extension leads often have an RCD test option using push buttons that allow you to intentionally trip the RCD to test its functionality.
13. Voltage Sensitive Relay (VSR)
If you plan to be off-grid with no access to mains power, then you might be relying on a second 12V battery to provide power. You really should have a VSR (voltage-sensitive relay) installed. The VSR device allows both batteries to charge while the engine is running but then isolates the two batteries when the engine is off.
This ensures that only the second battery is used to draw power when the engine is off ensuring that the starting battery cannot be discharged. Some VSRs have an LED indicator on them indicating the unit's operating status.
18. Planning a Road Trip by RV / Campervan / Motorhome
Our first big overseas road trip involved us hiring a motorhome for a year to travel Europe. We had the best time and Europe left us with fond memories of some truly amazing sights.
Being first-time campervanners, it was totally new to us and we loved it. The whole idea of road-tripping and living out of a campervan was liberating.
We've shared comprehensive information in our Campervanning in Europe article and check out this article if you are into handy campervan gadgets.
Part of what made this campervanning so special was our ability to wild camp. If you're not familiar with the terminology, wild camping is basically camping away from paid facilities. Many countries legally approve of wild camping but not all so something you will need to check out for yourself.
Below are some important considerations for campervan preparation for a road trip.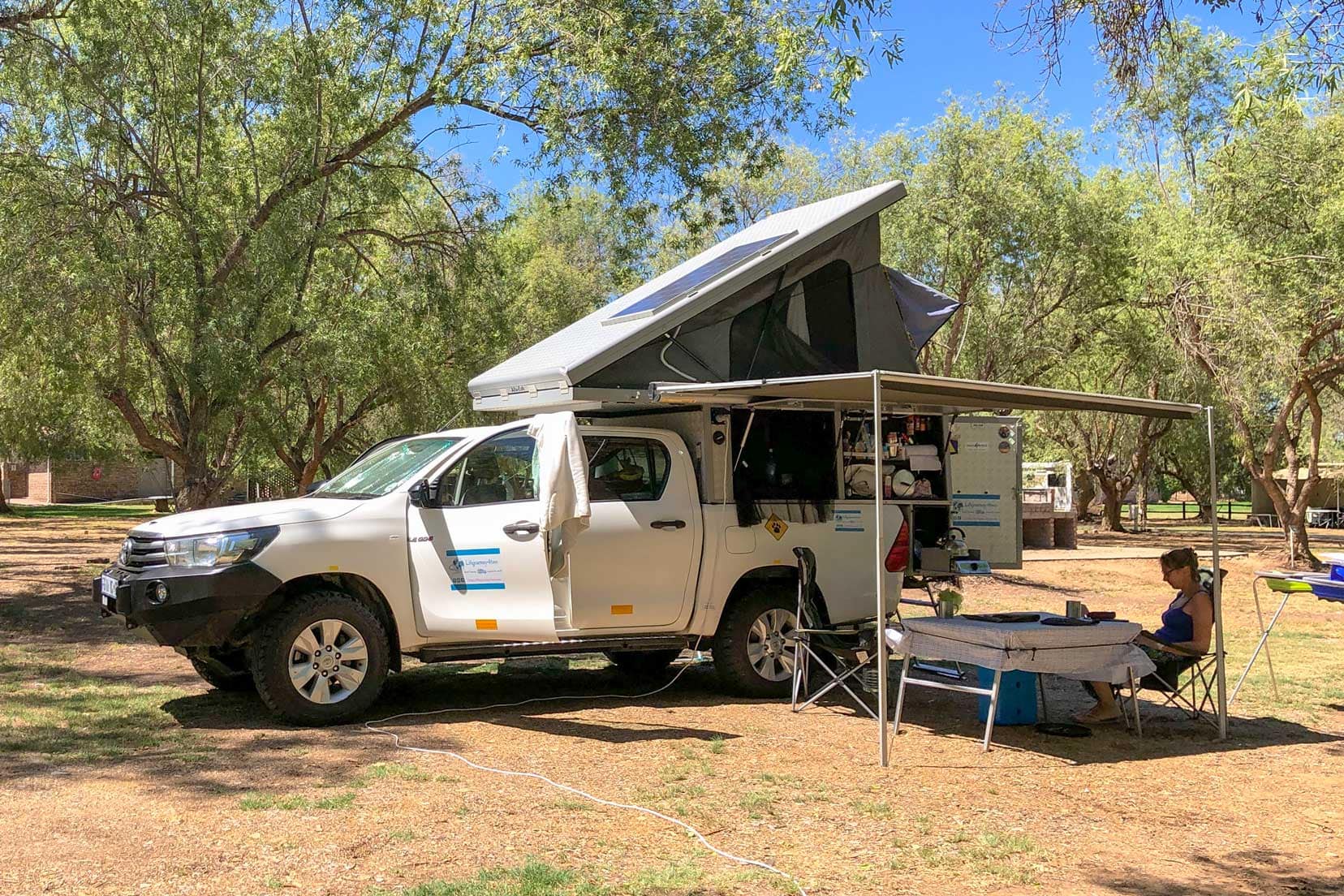 Planning Your Daily Travel Route
Preparing your intended travel route in advance is something we learned early on. Manoeuvring and parking an 8-metre-long motorhome within congested city limits was just unnecessarily stressful.
We opted instead to park in the suburbs and use either public transport or our bicycles to ride into the city centre. This kept it fuss-free.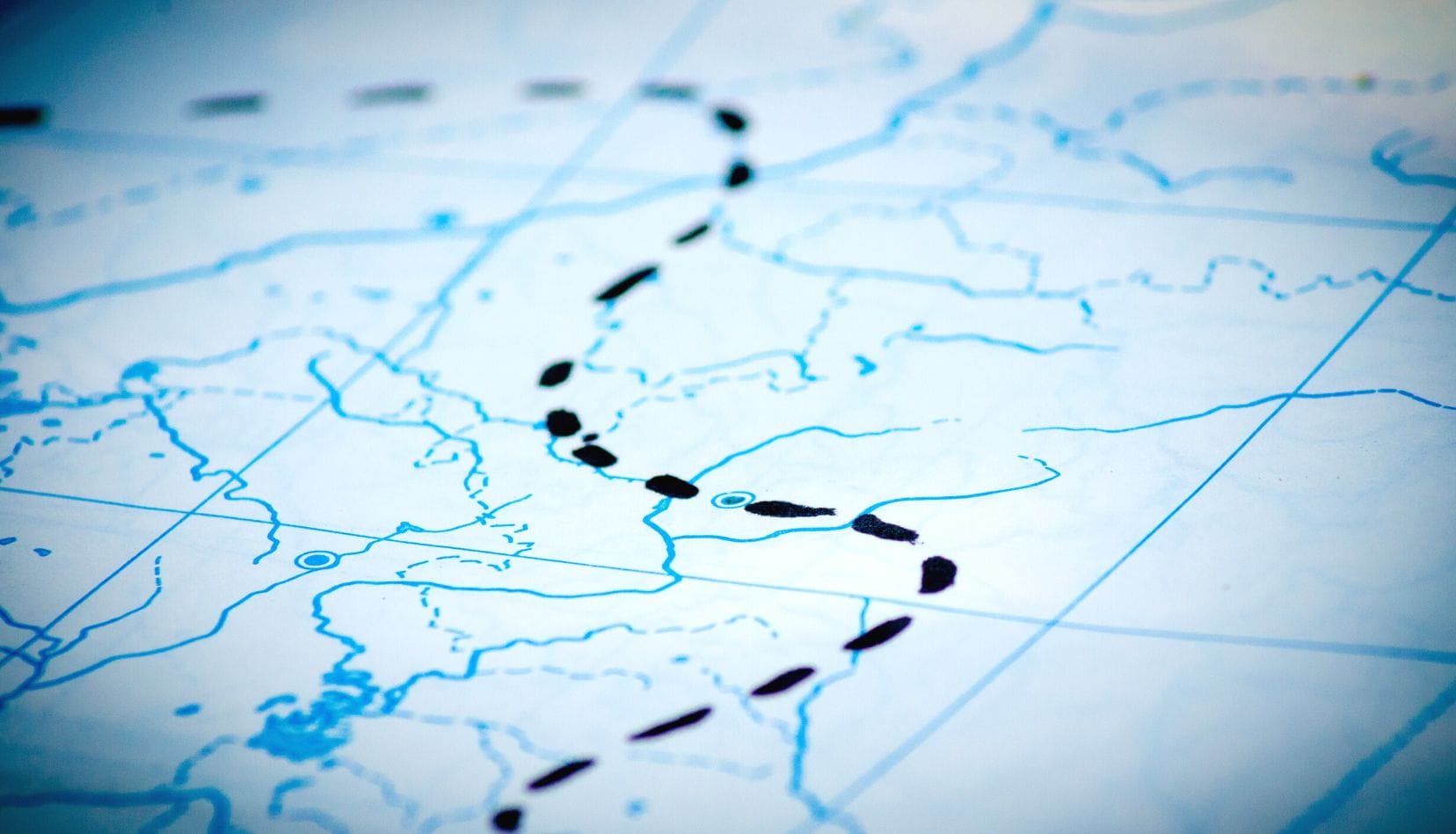 Use Sink and Drain Plugs
Driving stirs up the liquid in the grey water tank causing some pretty evil smells to rise via the drain pipes into the campervan accommodation spaces. You certainly don't need that.
Before each drive, we squirted a thick anti-septic fluid down the sink which helped to coat the drain pipes, and prevent the smell.
Secure, Secure, Secure
Anything that has a tendency to rattle or is loose needs to be secured. If not, it will be the next thing that breaks.
We found these methods worked best for us: placing paper towels between each of the plates, closing cupboard doors on a wedge of paper, tightly closing all roof air vents and using rubber anti-slip matting.
Hot Water
To provide hot water for a shower in a motorhome, an LPG water heating system is required. Depending on which countries you travel to, sourcing replacement gas bottles or even the re-filling of existing gas bottles can be challenging. This is due to the different connections between the gas bottle and the charging hose.
To get around this problem, we opted to buy a few different sizes of gas fitment connections to allow us to top up our two 11kg gas bottles in our hired motorhome.
Have an RCD (Residual Current Device) and VSR (Voltage Sensitive Relay)
Check out the RCD and VSR discussed above.
How to Plan a Road Trip – That's a Wrap
A road trip can be heaps of fun, and knowing how to plan a road trip will go a long way to ensuring you have a great time.
Whether you're hitting the road in a car, camper or 4wd, reading this article will set you in good stead for your next road trip adventure.
Make sure you grab our free 23-page road trip planner by subscribing below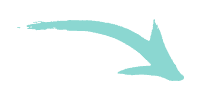 Pin and Save for Later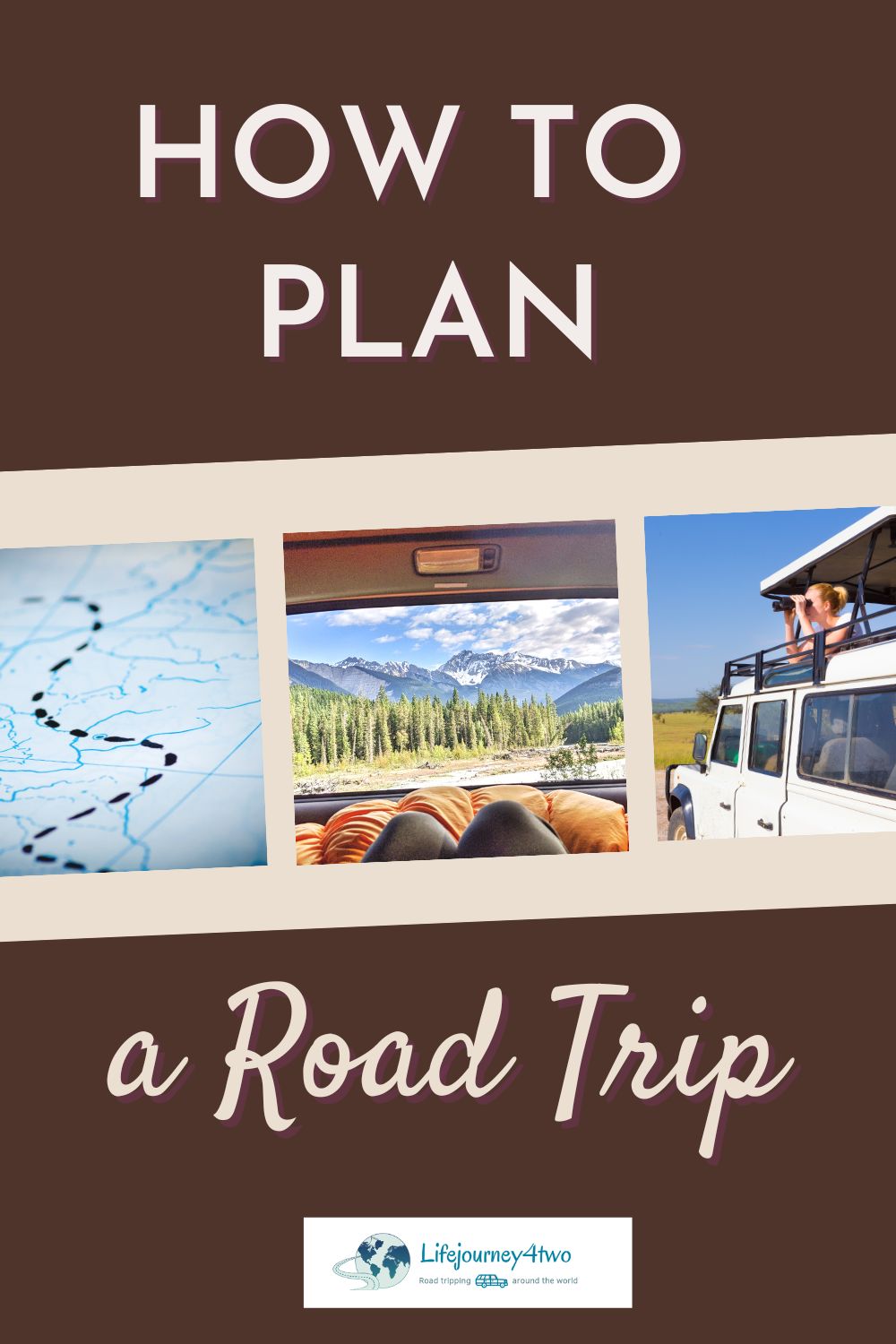 Read More:
PLANNING YOUR TRAVELS?
These are some of the travel resources we use when planning our trips.
For a more thorough list visit our Travel Resources page here.