Some posts on this site contain affiliate links, meaning if you book or buy something through one of these links then we may earn a small commission. Read our Disclosure Policy here.
LOIRE VALLEY ITINERARY & THE BEST CHATEAUX TO VISIT
This Loire Valley Itinerary will have you meandering along the Loire River to visit some of its best fairytale Chateaux.
Sometimes known as the 'Garden of France', the Loire Valley is most well known for its charming chateaux. It's set amongst rolling hills, lush vineyards and exquisite market gardens. Depending on the season, you may pass cherry orchards and fields of asparagus and artichokes.
France's Loire Valley is nestled between the villages of Sully-sur Loire and Chalonnes, and the area is a World Heritage Site.
The Loire Valley Chateaux included in this Itinerary
1) Chateau d'Ussé
2) Chateau De Azay-Le-Rideau
3) Chateau de Villandry
4) Chateau de Chenonceau
5) Chateau du Chambord.
LOIRE VALLEY CHATEAUX MAP
3-DAY LOIRE VALLEY ITINERARY OVERVIEW
---
DAY 1
On this Loire Valley itinerary, you'll pass by the historic towns of Blois, Chinon, Orleans, Saumur and Tours.
And what better way to begin this adventure than in the historic town of Saumur, overlooking the Loire River and on the doorstep of these romantic chateaux.
Explore the historical town of Saumur

Sample the local wines
Visit the National Riding School – L'ecole National d'Equitation
Visit the Saumur Chateau on the hill

Visit Chateau d'Usse – Drive 35km from the town of Saumur to the village of Rigny-Ussé
DAY 2
Visit Chateau De Azay-le-Rideau – Drive 15 kilometres from Chateau d'Usse to the village of Azay-le-Rideau
Visit Chateau de Villandry – Drive 11 kilometres north from Azay-le-Rideau
DAY 3
Visit Chateau de Chenonceau – Drive 53 kilometres from Chateau de Villandry
Visit Chateau de Chambord – Drive 58 kilometres from Chateau de Chenonceau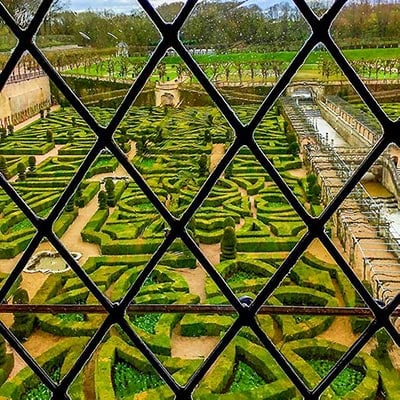 BEST 5 LOIRE VALLEY CHATEAUX TO VISIT
---
With more than 300 chateaux in the Loire Valley, the choice of which ones to visit is overwhelming.
It's likely you'll want to visit the most popular and spend the time enjoying the different experiences at each one.
We visited the Loire Valley, as we motorhomed through France, in early Spring. Therefore, out of peak season, we found that none of the chateaux was particularly busy.
Chateau Chenonceau was the busiest, but we also thought it was the prettiest so wouldn't have wanted to miss that one.
We chose not to go into all of the chateaux as we often find the exterior the most enchanting part and we also travel on a budget.
However, that said, we did venture into the Chateau Villandry to admire the exquisite garden designs and the chateau interior to understand the old way of life.
1. CHATEAU D'USSE
This very picturesque château was the inspiration for the tale of Sleeping Beauty and has been associated with many other Walt Disney movies.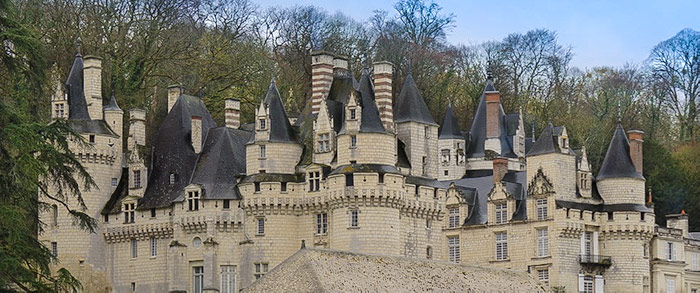 It has been a family home for more than two centuries and still to this day, remains the private residence of the Duke of Blacas and his family.
For more information, such as opening hours and prices go to the Chateau d'Ussy website.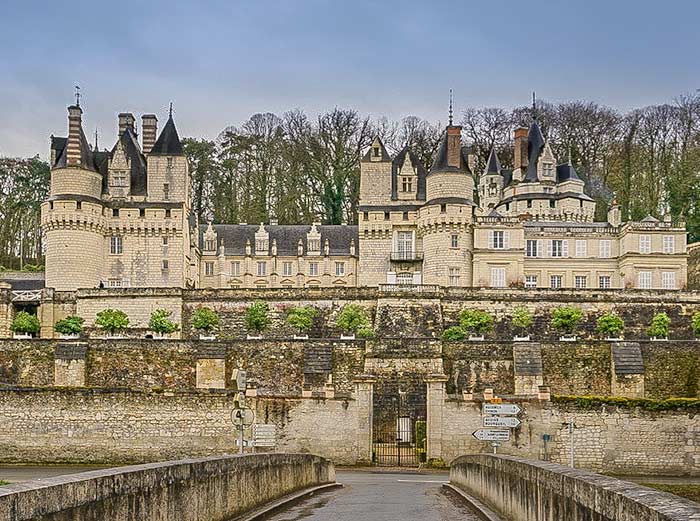 2. CHATEAU D'AZAY-LE-RIDEAU
Set on an island in the Indre River, that feeds into the Loire River, this exquisite chateau is a lovely example of French Renaissance architecture and was once a 12th-century feudal castle.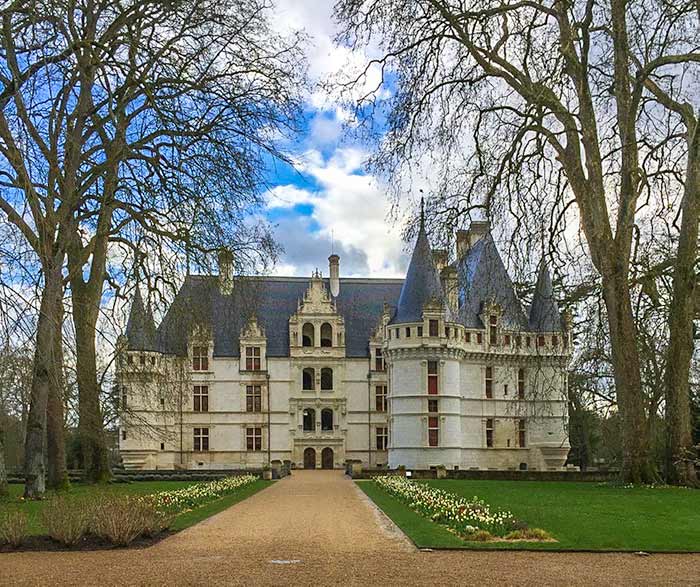 Construction of this chateau was both slow and complex as the river silt did not make for a very solid foundation. Would you believe that the building's large stones had to be transported from a site 100 kilometres away?
The French State purchased the Chateau d'Azay-le-Rideau in the early 20th century and it joined the distinguished list of Loire Valley UNESCO World Heritage sites, along with the other chateaux in this post.
For more information, such as opening hours and prices go to the Chateau d'Azay-le-Rideau website.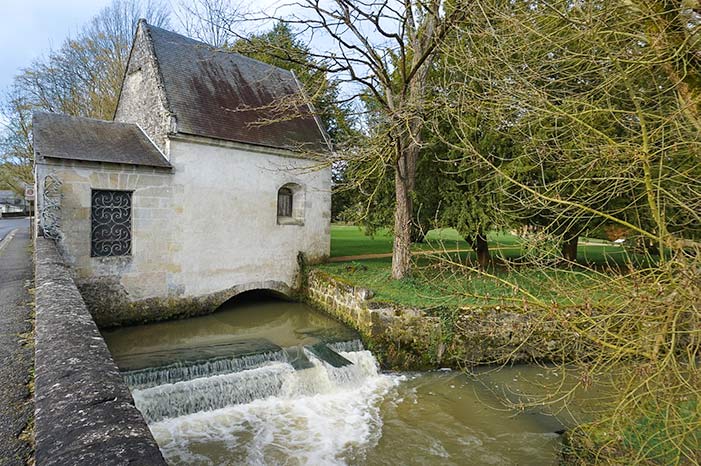 3. CHATEAU DE VILLANDRY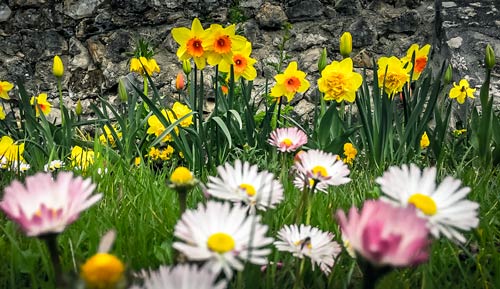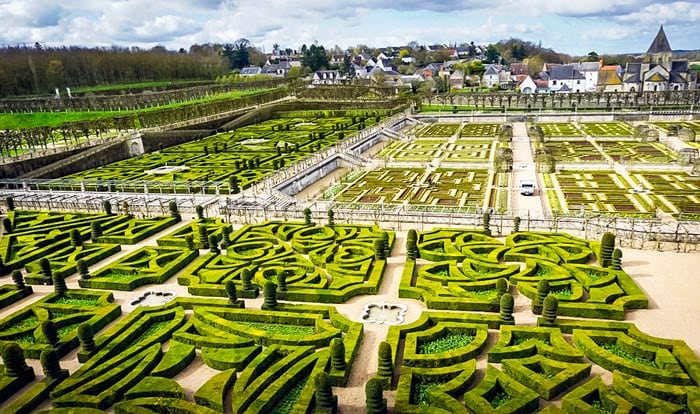 Originally a 14th-century fortress, the chateau you see today was built around the fortress' old keep.
The Chateau de Villandry gardens have continually altered their theme over time.
Originally Renaissance styled, these gardens were replaced with an English theme, and then in the early 20th century, returned to the beautiful ornamental Renaissance gardens and hedgerows that are present today.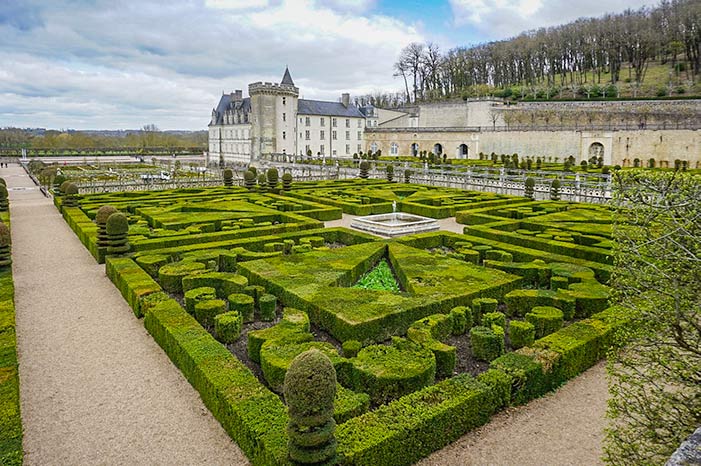 The exquisite gardens of Chateau de Villandry are our pick for the most beautiful on our Loire Valley Itinerary
The ornamental garden is planted in the form of love symbols, representing fickle, tender, passionate and tragic love.
Our early spring visit meant that many flowers weren't blooming. However, this was offset by the chateau interior which was luxuriously appointed. This decorative splendour was typical for the era.
For opening times and prices visit the Chateau of Villandry website.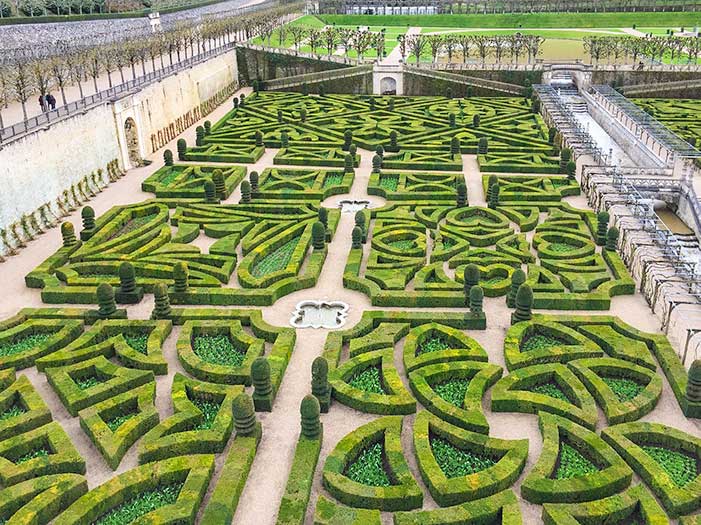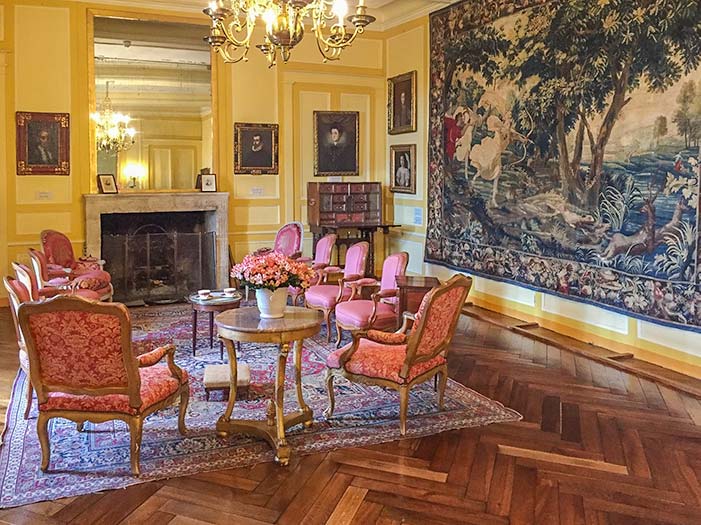 4. CHATEAU DE CHENONCEAU
The Chateau de Chenonceau, built-in 1576, is a beautifully situated and exquisitely fashioned chateau spanning the River Cher, not far from the Loire River. It is often called the 'Ladies Chateau' because many prominent French women have lived here over time.
In its time, the chateau has housed scholars, academics and philosophers and in more recent years, served as a military hospital in WWI.
You cannot help but be irresistibly drawn to the beauty of its architecture and we found this to be our favourite of all the chateaux in the Loire Valley we visited on this itinerary.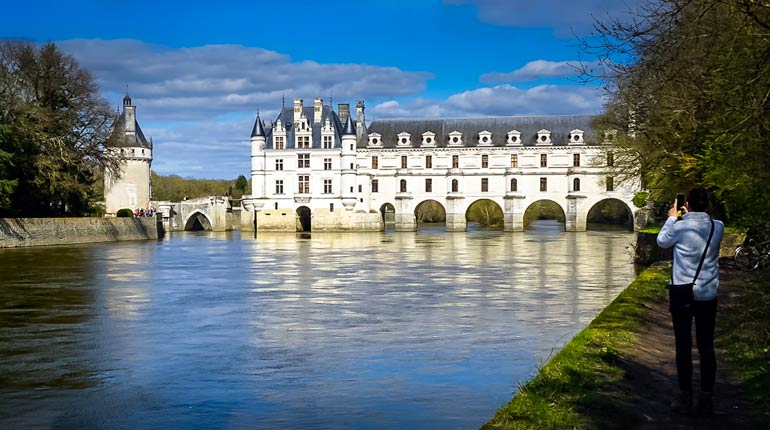 Loire Valley Tip: Fantastic free views of Chenonceau (we were told this tip from a cleaning lady we met in the chateau car park)
Cross to the southern river bank via a bridge to the east of the chateau. Once across, follow a trail that takes you right past the back entrance to Chenonceau. If you need the parking spot that we used for our motorhome then this is where we parked off the D976 roadway. It really is worth it for these fantastic views.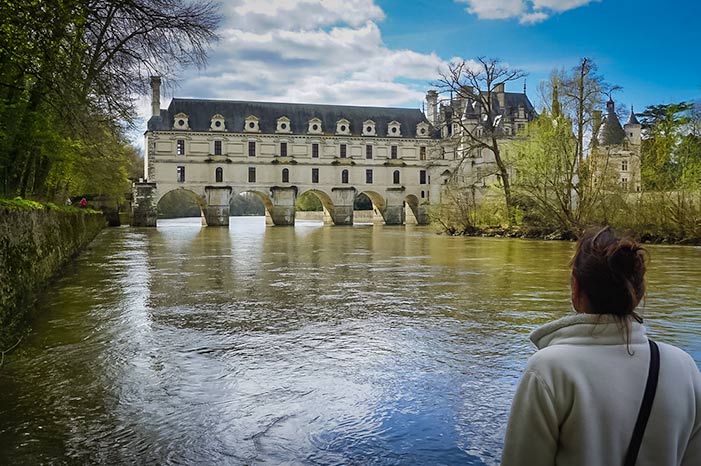 For more information, including opening times and prices visit the Chenonceau Chateau website.
5. CHATEAU DE CHAMBORD
With its French Renaissance architecture, this unfinished chateau (building ceased in 1547), is the largest in the Loire Valley.
Sitting on about 13,500 acres, it was primarily used as a short-stay hunting lodge. At that time, with no nearby villages to supply food, the château residents hunted the animals within the forest.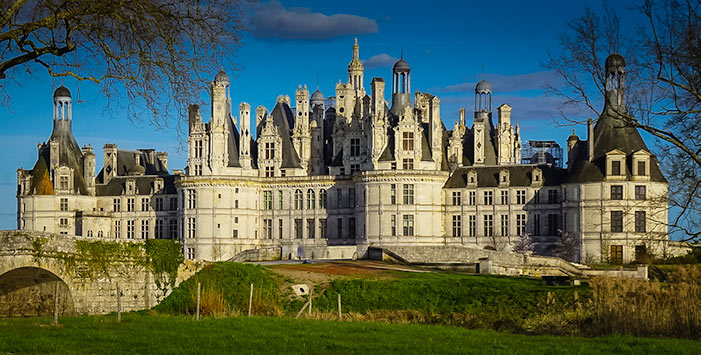 Would you believe that the chateau was actually not permanently furnished?
People who stayed here needed to bring their own furniture for their stay.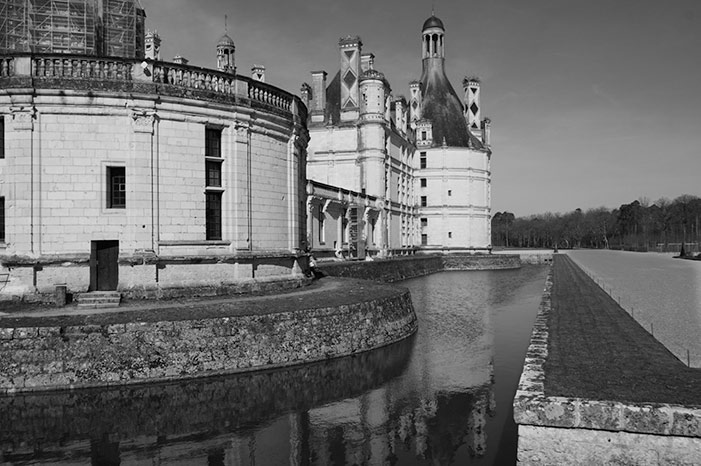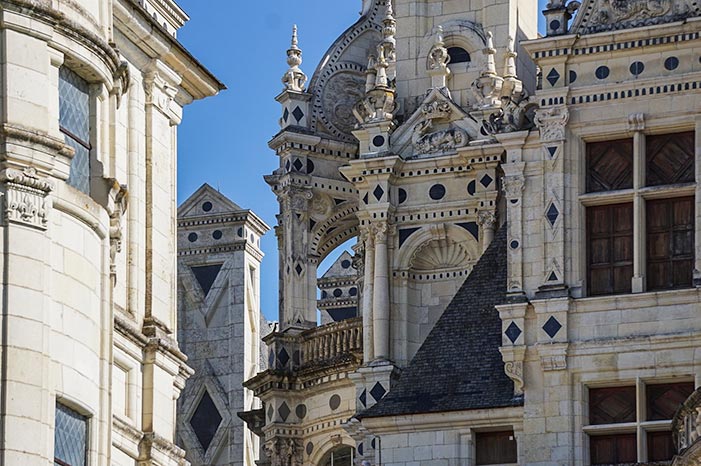 During World War II, many art collections from the Louvre Museum in Paris were secretly stored there.
Not only that but It is also the site where an American B-24 Liberator bomber crashed. The two surviving pilots were secretly hidden in nearby villages and re-joined their own forces some months later.
A memorial plaque commemorates this event. The plaque can be found to the northeast of the chateau, just off a walkway that borders the chateau's moat.
For more information, including opening hours and prices visit the Chambord Chateau website.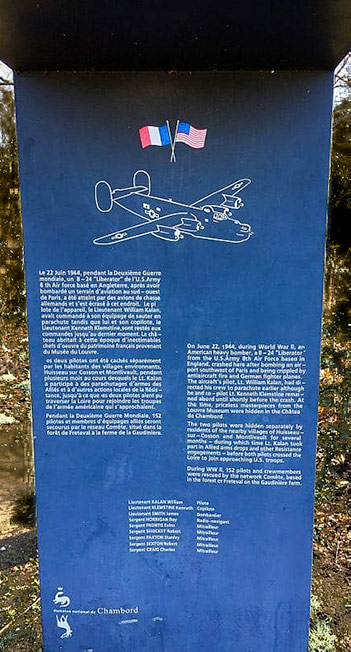 ACCOMMODATION FOR THIS LOIRE VALLEY ITINERARY
---
MOTORHOME AND CAMPER STOPS FOR THIS LOIRE VALLEY ITINERARY
DAY 1 (CHATEAU D'USSY)
Motorhome Stop: Aire Le Lac Mousseau
DAY 2 (CHATEAU D'AZAY-LE-RIDEAU; CHATEAU VILLANDRY)
Motorhome Camp: Domaine Badiller
DAY 3 (CHATEAU DE CHENONCEAU; CHATEAU DU CHAMBORD)
Motorhome Stop: Chambord Aire
HOTELS, B&BS and ROOMS for THIS LOIRE VALLEY ITINERARY
DAY 1 (CHATEAU D'USSY)
DAY 2 (CHATEAU D'AZAY-LE-RIDEAU; CHATEAU VILLANDRY)
DAY 3 (CHATEAU DE CHENONCEAU; CHATEAU DU CHAMBORD)
HOW TO GET TO THE LOIRE VALLEY
Both Nantes and Tours have international airports.
Trains run from Paris to Tours, Angers and Nantes with Angers being the town with the closest train station to Saumur. The national train line is SNCF and you can book SNCF tickets online here.
We were touring Europe in a motorhome so we headed north on our road trip across Brittany and Normandy before detouring to spend two days in Paris.
DRIVING IN THE LOIRE VALLEY — 3 DAY ITINERARY
Driving this short road trip and having the freedom to adjust your Loire Valley itinerary to suit your timings and tastes is probably the best way to explore the area.
If you don't have your own transport then we recommend Discover Cars to find the best car rental deal.
If you are looking to hire a motorhome — which gives you even more flexibility on your Loire Valley Itinerary then we use, and can highly recommend,  Motorhome Republic which finds the best deal for you in the country where you require the motorhome.
LOIRE VALLEY ITINERARY: WHAT YOU NEED TO KNOW ABOUT DRIVING IN FRANCE
In France, you drive on the right.
You will need to have the following documents:

Drivers licence (An international driver's licence isn't required)
Vehicle insurance
Vehicle registration document
Passport

You are also required to have the following in your vehicle:
Driving a right-hand drive vehicle in France requires adjustments to the front headlight beam patterns so that the dipped beam doesn't dazzle oncoming drivers. You can purchase cheap beam deflectors to deflect the beam which are just stickers placed in a specific spot for your make/model of vehicle which is in the instructions. We used these on our front headlamps. Just be aware that if you have an accident when your lights are in use without these deflectors in place, then insurance claims may be voided.
Many of the motorways have tolls. To avoid them you can program your navigator to avoid tolls and you can also use www.autoroutes.fr to plan your trip and find out the costs of tolls etc.
Speed Limits are as follows unless otherwise signposted and on dry roads

130 km/h (80 mph) on toll motorways
110 km/h (68 mph) on dual carriageways and motorways without tolls
80 km/h (50 mph) on other roads
50 km/h (31 mph) in towns. The town name starts with the limit, a bar through the town name is the de-restriction sign
LOIRE VALLEY ITINERARY … THAT'S A WRAP
This 3 day Loire Valley itinerary includes the five most beautiful Loire Valley Chateaux to visit.
However, as mentioned already, there are many more Loire Valley chateaux to whet your appetite. Nonetheless, this selection will give you a delicious taster of the French Renaissance era.
If you enjoy the Loire Valley fairytale chateaux, you may also be interested in a road trip through the Alsace in northeast France. An area filled with delightful medieval half-timbered houses — straight out of a Hans Christian Anderson fairytale.
Another area, full of beautiful villages and towns, is the Dordogne area.
If you are a family travelling, check out the TraveLynn Family suggestions for the Best Chateaux in the Loire Valley to visit with Kids.
Additionally, for an extensive list and a map of the chateaux along the Loire Valley visit ExperienceLoire.com.
Are there any other chateaux that left you feeling just wonderstruck? We'd love to hear from you.
Pin and save for later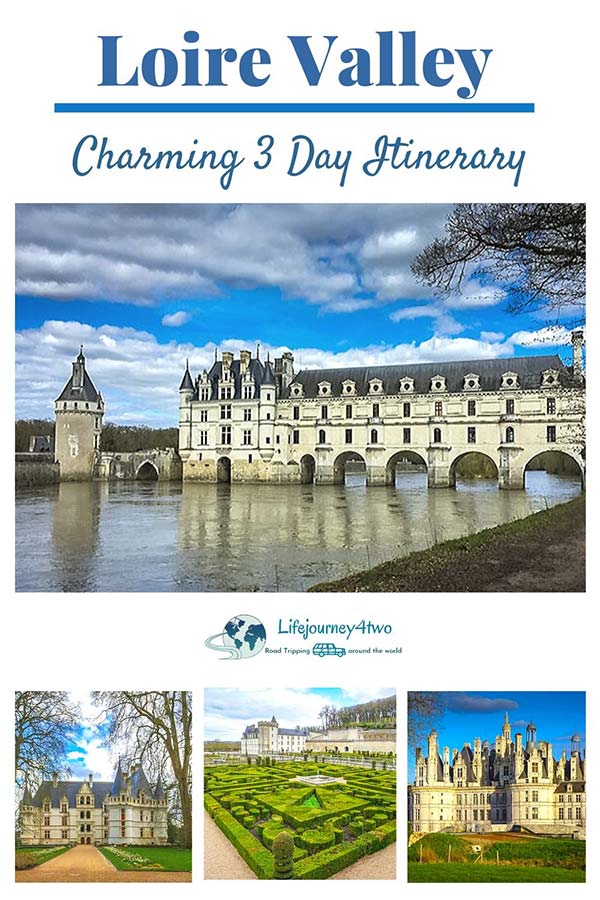 YOU MAY ALSO ENJOY READING
PLANNING YOUR TRAVELS?
These are some of the travel resources we use when planning our trips.
For a more thorough list visit our Travel Resources page here.