Monkey Forest Rocamadour (Foret des Singes)
France is teeming with medieval towns, historic buildings, enchanting chateaux and is home to one of the most romanticised cities in the world, Paris. Therefore, the last thing we expected to find whilst travelling through Europe in our campervan was a Monkey Forest in Rocamadour France.
Watch the Monkey Forest Fun (Video)
When an animal looks into your eyes, something special happens. But that special moment is even more precious when the eyes that look back, are so like your own that you feel a connection. There exists a recognition of a long lost divide, that stirs your soul and sparks curiosity and a longing to understand these animals that seem to mimic so much of ourselves.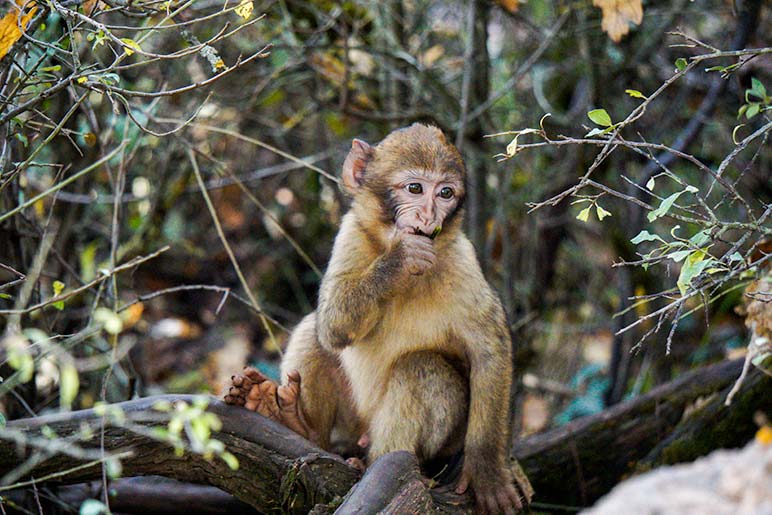 The Monkey Forest Rocamadour (Foret des Singes in French), is the perfect place to indulge your curiosity and to interact with these special Barbary Macaque monkeys.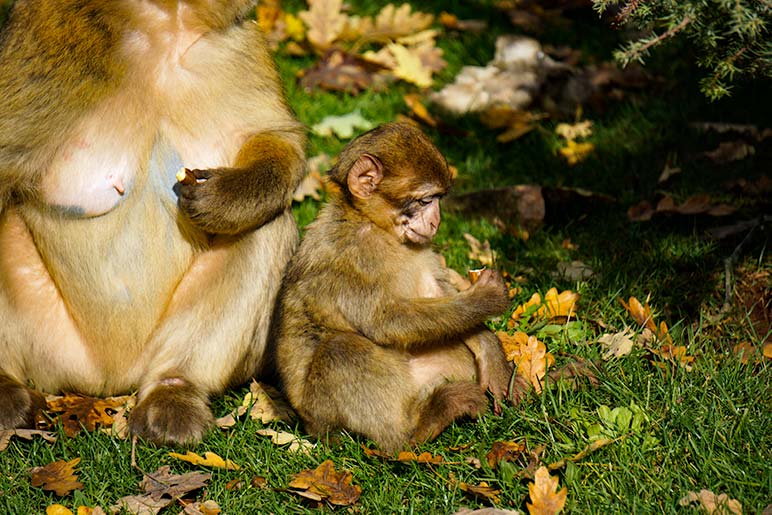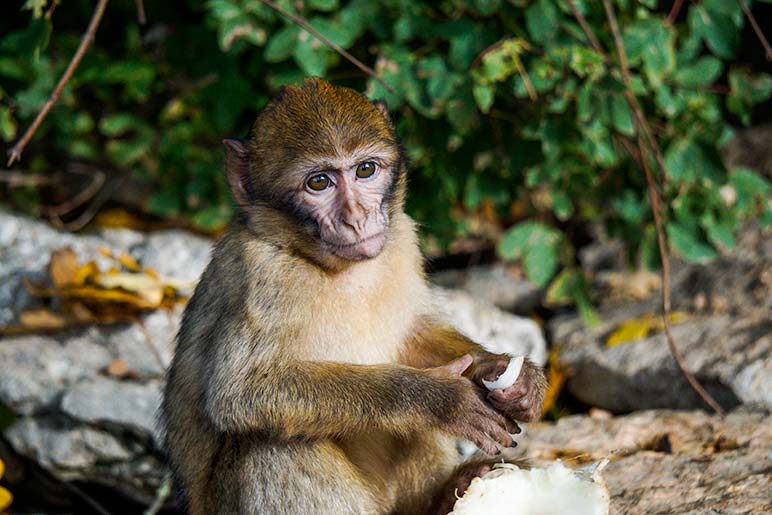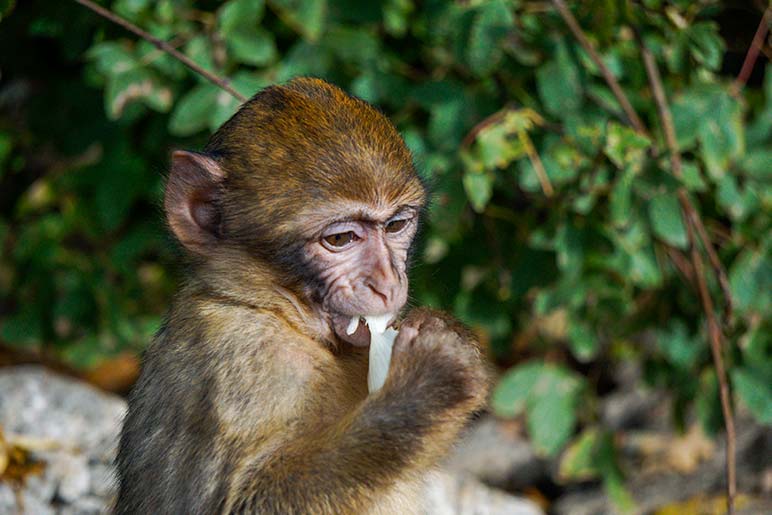 Foret des Singes Research Centre
Although also a tourist attraction, the Foret des Singes is a Research Centre. The Barbary Macaque monkeys are an endangered species, with only about 8000 still living wild. Therefore, the Rocamadour Monkey Forest is studying the social behaviour of the Barbary Macaques and also has a breeding program.
The natural habitat of these monkeys is in the Atlas Mountains in Morocco and Algeria. And thanks to the breeding program at Foret des Singes, groups of monkeys are able to be released back into the wild there.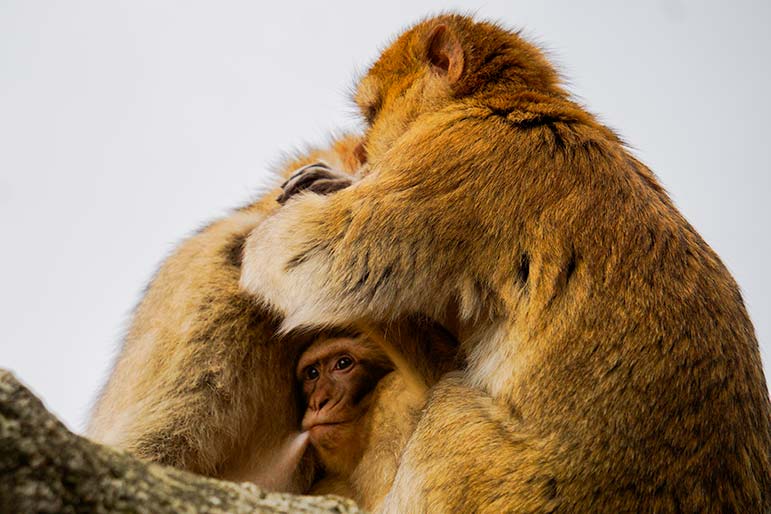 Spot the baby monkey having a feed?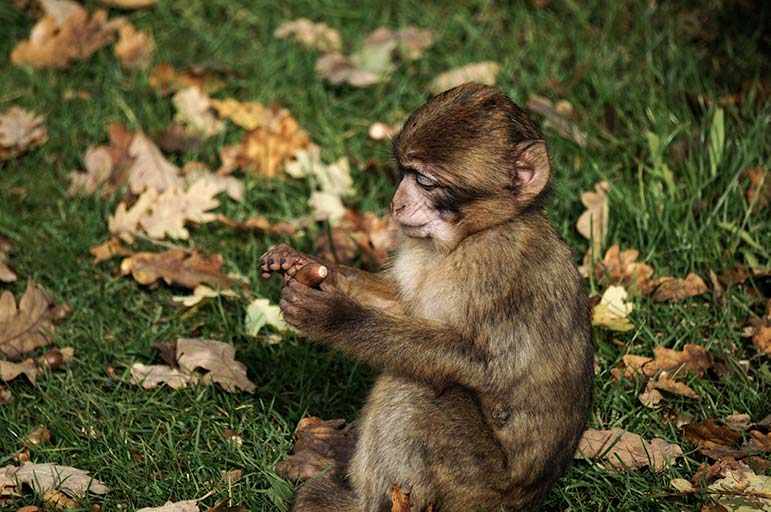 Rocamadour Monkey Forest Environment
There are about 150 Barbary Macaques in the 20-acre Monkey Forest.  You follow a 1.3km trail around the park as you mingle among the monkeys. The Barbary Macaques, here at the Foret des Singes, live in three distinct groups. One group lives in the more open area near the entrance, while another group inhabit the thicker forested area a little further on. The third group live around the rocky area further along the trail.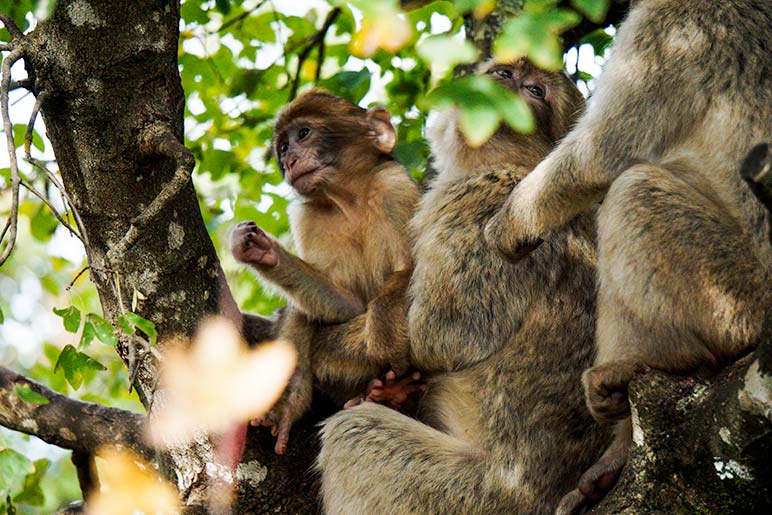 Family time at the Monkey Forest Rocamadour
At the Monkey Forest, there are guides all along the route, so you can stop and ask them any questions you have about the monkeys. There is also a feeding session every 45 minutes or so where the monkeys are fed fruits and seeds. The guide also gives a talk about the Barbary Macaques at the Monkey Forest.
As the monkeys are all around you at the Foret des Singes, it is important to not get too close. You are asked to keep at least a metre between you and the monkey. However, having the chance to offer them your popcorn means that you will have a small monkey hand reach out to you and gently take it from you.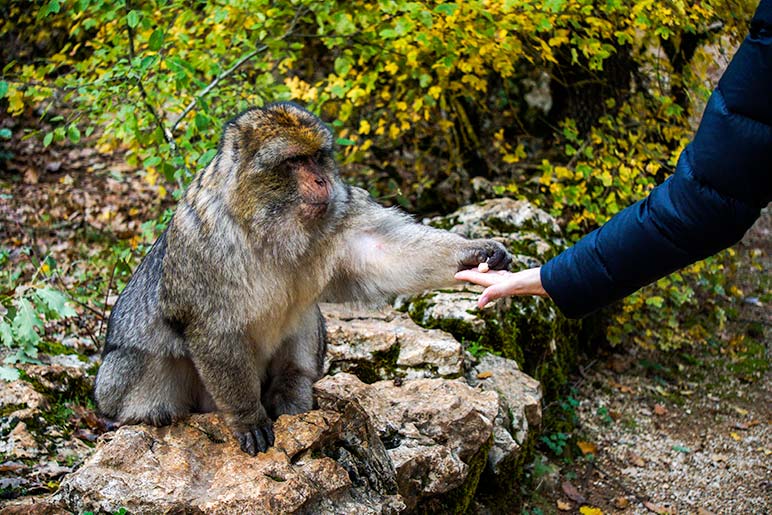 'Popcorn? Don't mind if I do!'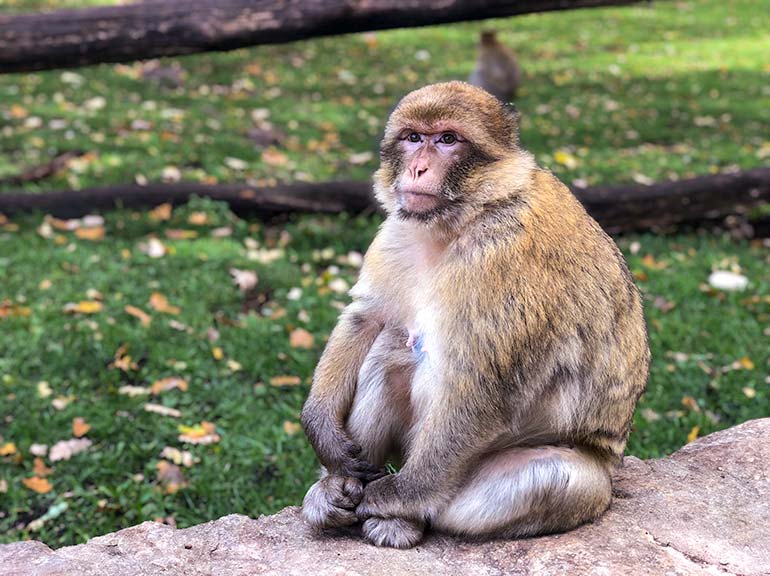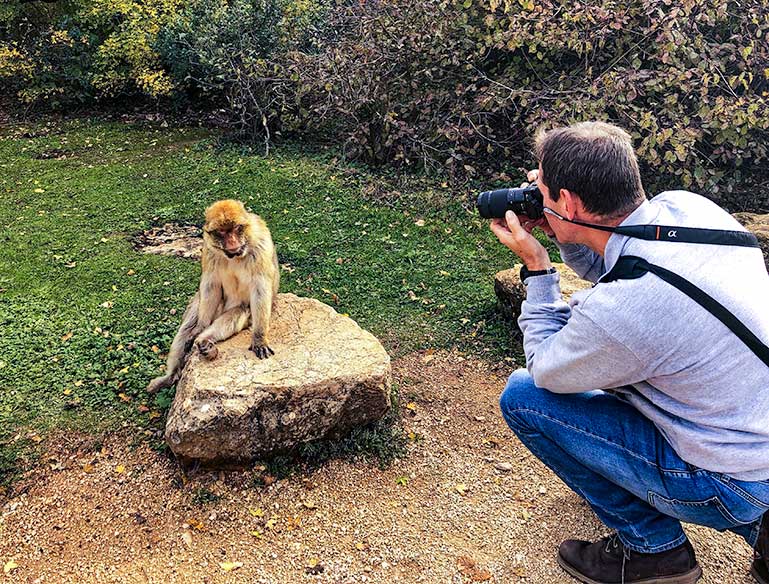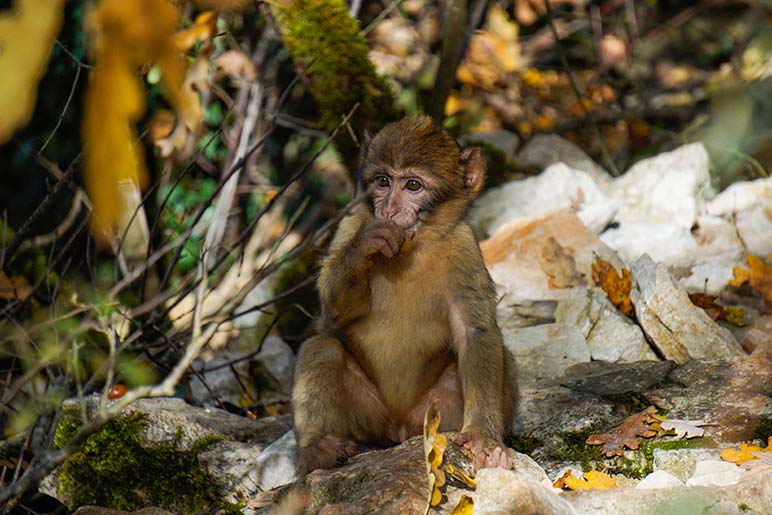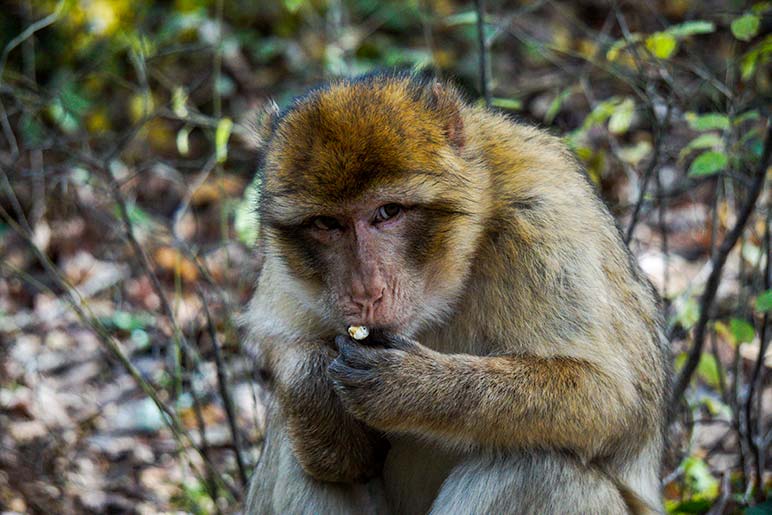 Monkey Forest Rocamadour Experience
On arrival at the  Monkey Forest (Foret des Singes, , you will be given a handful of popcorn which you can feed to the monkeys. However, these need to be kept in your hand and not in pockets. This is to discourage the monkeys for foraging food from your person.
If you are already readers of our blog, you will know that we love nature encounters and having the privilege to be so close to these Rocamadour monkeys was just awesome. We could have stayed all day watching their antics. This was particularly true of the babies and young monkeys, who played around just like little kids.
I watched one little pair chase each other and roll in the grass for ages before what looked like mum monkey come over and calm them down by promptly sitting one of them on her lap. The little monkey squirmed just like a toddler to be let go, but mum wasn't having any of it.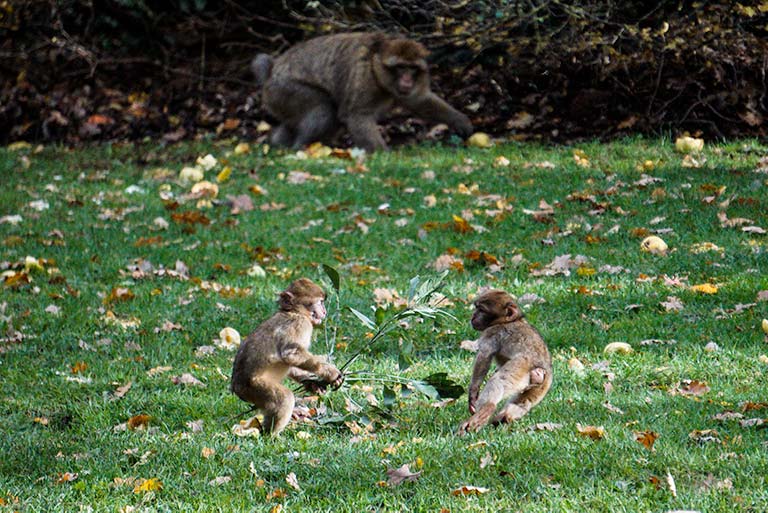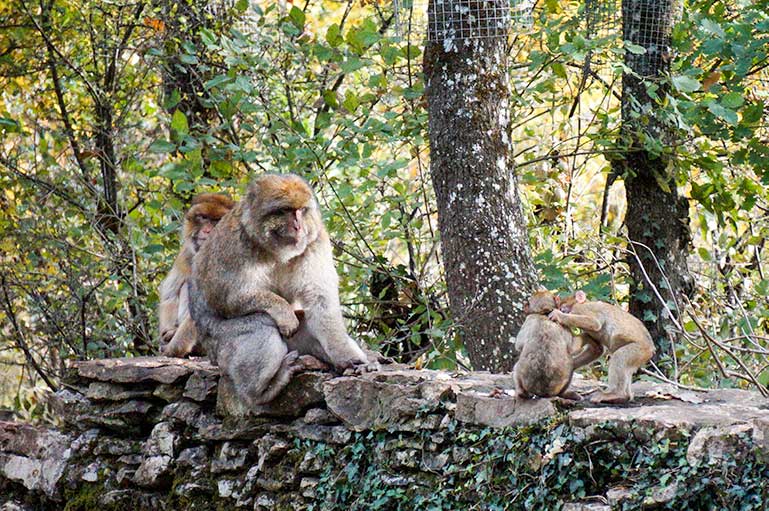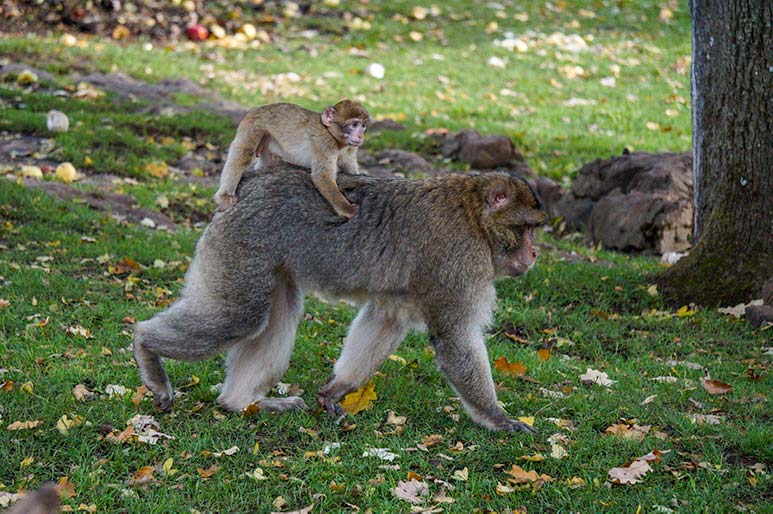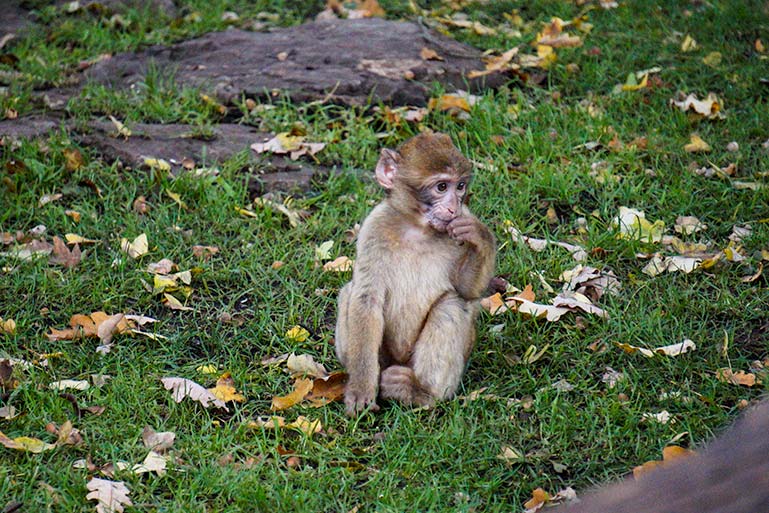 The older monkeys seemed quite happy to laze around grooming and watching the antics of the youngsters. Some monkeys wait on the side of the paths to entice you to give them your popcorn, whilst a few lay right in the middle of the path, seemingly unperturbed by visitors having to walk around them.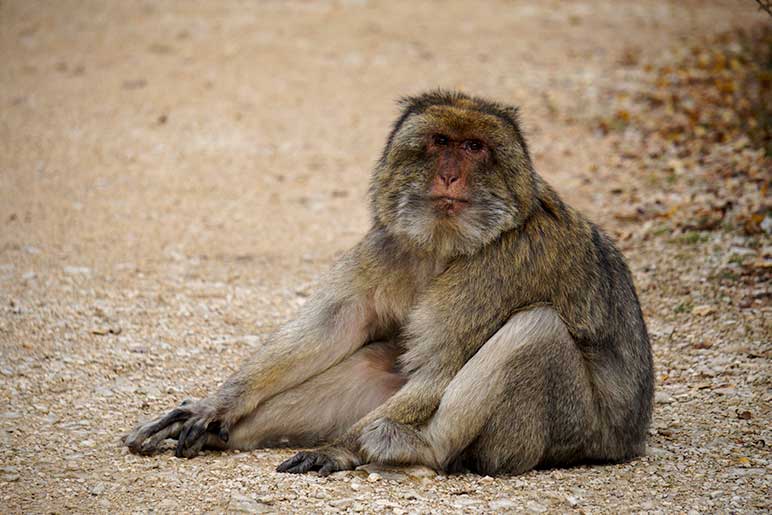 Rocamadour Barbary Macaque Monkeys
Monkey Bonding
The Barbary Macaque are very group oriented and you will no doubt see many of them grooming each other. This cleaning ritual not only helps with hygiene but is also an important part of their social bonding. These monkeys also have a strong bond with their babies. Both the mother and father of a baby monkey take part in rearing and protecting it.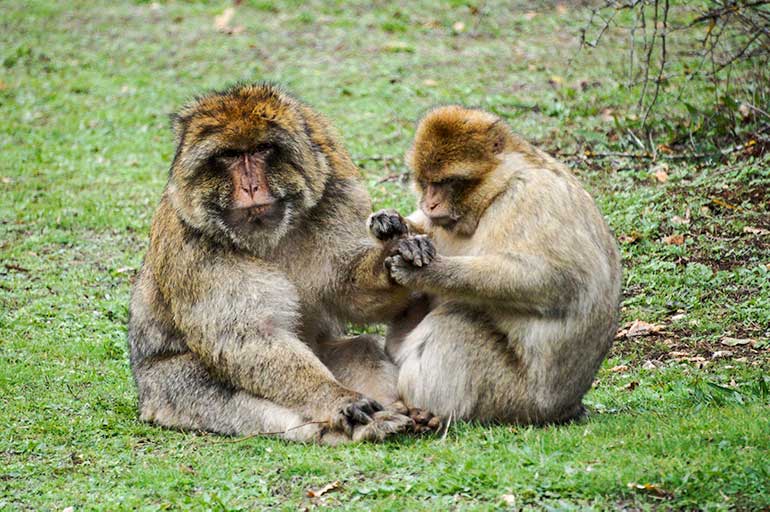 Grooming each other is a show of affection and bonding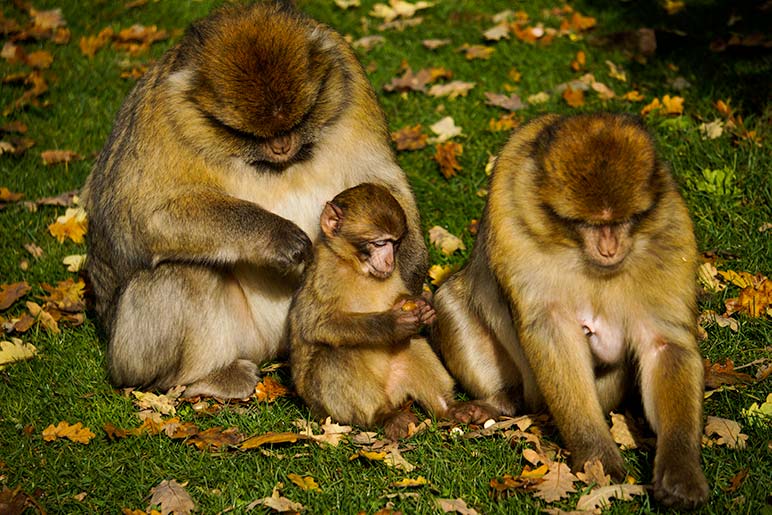 One little happy family of monkeys at Foret des Singes
Barbary Macaque: Threatened Species
As mentioned previously, the Foret des Singes is a conservation centre and working to protect this threatened species. The Barbary Macaques have become endangered due to deforestation in North Africa and also due to the increase in the pet trade and photo prop trade in Morocco. Many young babies are taken to perform tricks or traded as pets. (See Barbary Macaque awareness and Conservation on Facebook for more details).

When we were in Marrakesh, Morocco, we saw many tourists paying to have their photo with a monkey. The monkey had a lead and was chained around its neck. I don't think the tourists realise the harm that they are doing.  Moreover, I am sure that most would be horrified to know that they are contributing to the endangerment of these monkeys. That is why these centres, such as the Rocamadour Foret des Singes, are so important because they also educate the public and spread awareness of the Barbary Macaque plight.
It is much better to see these wild animals in their natural habitat or in conservation centres which replicate their natural environment.  We were lucky enough to first see wild Barbary Macaques in their own habitat in the foothills of the Atlas Mountains at Ouzoud Falls, Morocco.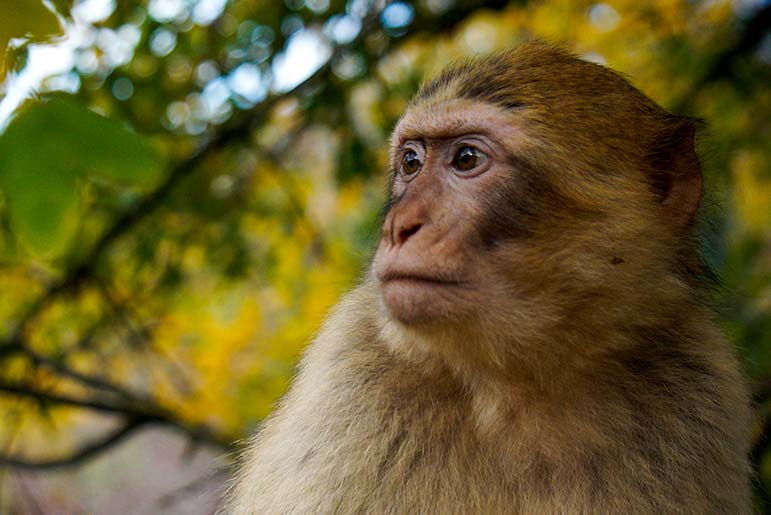 Monkey Forest: How to Get There
Rocamadour Map
The Rocamadour Monkey Forest, Foret des Singes, is just outside the medieval town of Rocamadour.
Address: 'La Forêt des Singes' – 46500 Rocamadour
SAT NAV coordinates: N 44°48'13''/E 1°38'02''
Monkey Forest Opening Hours
The Foret des Singes is open from the end of
March
to the beginning of
November.
Opening hours vary depending on the month that you visit so it is best to
check their website
for details.
Monkey Forest Prices
| | |
| --- | --- |
| Adults | 9,00 € |
| Children (5-14 yrs) | 5,50 € |
| Free for the under-5s | |
| Adult concession | 8,00 € |
| Child concession (from 5 to 14) | 4,50 € |
As always, if you have any questions or would like some more information and you think we may be able to help, please contact us. We are always happy to hear from you.:)
If you enjoyed this post please feel free to share on your social media below.
This post may contain affiliate links. This means that we may earn a small commission from purchases you make through our links, at no extra cost to you. Thank you for supporting us. For more info, read our Disclosure Policy.
You May Also Like to Read 
If you enjoyed this article, you may like these FREE RESOURCES:
FREE Travel Guides (many countries)
FREE 23-page Travel Planner, including menu planner, journal pages and budgeting)
FREE Phone Wallpapers
FREE Photo Ebooks
Monthly Travel News 
Arrange Your Travel Insurance
Get a quote from World Nomads - one of the best options for travellers. Find out why here.
Book Your Accommodation
We use Booking.com and Tripadvisor to find accommodation that suits our budget and to get a great overview of available specials and deals. 
Travel Gear and Accessories
We've been on the road since 2017 and have added items we've found useful to our Lifejourney4two page on Amazon  
Car Hire
We use  Rentalcars.com to find the best car rental deals.
Motorhome/Van Rentals
If you are looking for a motorhome or van rental - we highly recommend the Motorhome Republic who can find the best deals worldwide.
Finding Activities to do
We use Get Your Guide and Viator to get ideas of what to do in a place - sometimes it's best to get tickets online and jump the queues.
Flexible Accommodation Options/ Or Finding someone to look after your pets
We often use house/petsitting as it really makes our travels much more affordable - as accommodation is FREE
Get 25% off  Trusted House Sitters by using our link here: Join Trusted House Sitters either as a house sitter or if you want to find a house sitter.
Photography Prints and Products
Shop our ETSY store for digital downloads of our best photos and our unique photographic designs.