The beauty of French village life is its simplicity, calm and the ease of solitude – at least when you're not dodging bullets in the forest – but more on that later.
Life ticks along at a relaxed pace. The traditional stone houses echo times gone by – when life was less hectic, and that sentiment pervades into today's French countryside way of life. We had seen glimpses of French village life as we were motorhoming in France, but there is nothing quite like immersing yourself in something to feel its true essence wash over you and seep into your pores. So we took the opportunity to douse ourselves in the Dordogne.
Life in a Dordogne Village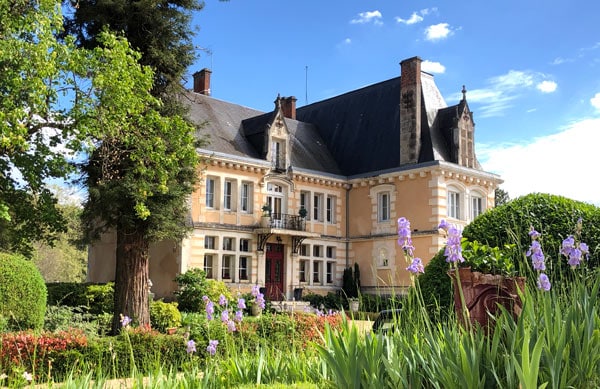 Chateau de Villars, Dordogne
Living in Villars, one of the many delightful Villages of the Dordogne, for nine months meant that we were able to authentically experience French village life. It had been a dream of mine to live in France for a while and when a long term house-sit came up in the Dordogne we jumped at it.
When we applied for the pet sit we were on our year-long Europe motorhome trip and were headed to Norway for the Summer.  We knew that once autumn came we would likely be ready to stay in one place for a while. It would also be an ideal opportunity to work on developing our travel blog.
Thus began our nine-month stay in the tiny rural Dordogne village of Villars with three cats, eight chickens and seven sheep. Oh, and a beautiful grand old chateau to keep an eye on.
Other than the surprising chasse, our time in France was full of furry fun, foie gras and the occasional faux pas.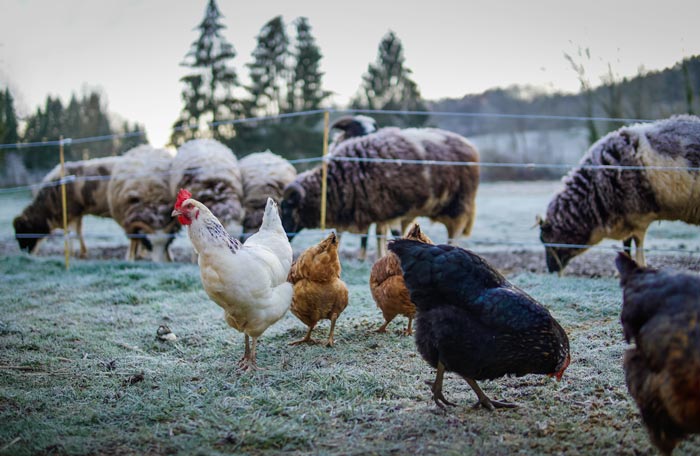 Some of the chickens and sheep under our care
French Faux Pas
You will likely find the French people in the country villages very friendly. We noticed quite a contrast compared to our experience in Paris, for example. If you are walking along the street you will likely be greeted with a 'Bonjour madame/ monsieur', on a regular basis. Learning some basic french is useful, as you cannot guarantee that those who live in rural French villages will speak English.
Even at the doctor's surgery, when a new patient entered the waiting room he/she would bid a 'Bonjour,' to the already waiting patients and the sentiment would be returned. Everyone probably thought us quite rude when we had already entered and not said a word!
I had wanted to improve my French whilst living in the country and was very fortunate to be taken under the wing of a local villager, Eliane. She spoke several languages and had been an English teacher before she retired. She also generously kept us well supplied in homemade jams and cake.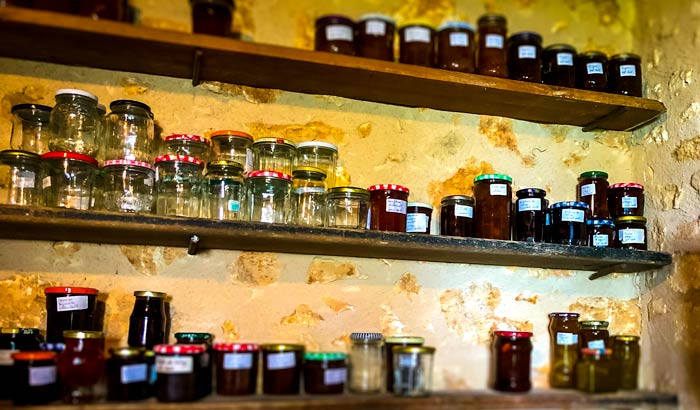 Homemade preserves that you'll find on many French villager's shelves
Dinner at Eliane's was always an education, whether it was learning new words or eating something traditionally French. How can one forget they have eaten 'black-assed pig'  (a speciality of the area)  and supped on nettle soup.
I'll also not forget trying to hold back the snort of laughter the day Eliane excitedly informed me she was looking forward to having a big cock at the weekend. 🙂 A few seconds later the rough translation caught up with me, but it was too late for my mind not to have already gone down a totally different path to the one intended. She had actually ordered a big cockerel for making a coq au vin.
My accent and pronunciation proved hilarious to the french at times too. At a get together with some of the villagers my mention of  'a sore neck' – resulted in tears of laughter … not the response I'd expected. Apparently, I had said I had a sore arse! The french word for the neck is cou ( pronounced koo) and the word for arse is cul (pronounced kue) … a wrong vowel sound can make all the difference.
Foie Gras in Rural France
One could argue that not eating what your French hostess dishes up for you would be a faux pas – but I don't think that one applies specifically to France.
I swore that I would absolutely not touch foie gras whilst in France – for ethical reasons; the process seems hauntingly cruel to me.
However, it didn't take long to realise that here in rural France, making and eating foie gras is as normal as baking a batch of scones. And there is also just as much pride in who makes the best.
At our first dinner invitation, (the villagers had welcomed us with open arms),  we sat down to an entree of foie gras. The delightful hostess offered me the plate with obvious pride as she told me how it was homemade. I fought with my emotions. It was clear that she had gone to this trouble for us –  wanting us to experience the local cuisine.  As she was busy telling me about the rest of the prepared dinner and how it was connected to the region, I was having an ethical versus etiquette battle in my head.
I ate the foie gras.
In fact, I ate the foie gras at several more dinner invitations. Fois gras is as part of rural France as the good ol' Aussie BBQ is to us Australians back home.
But as the saying goes … what happens in rural France … stays in rural France;)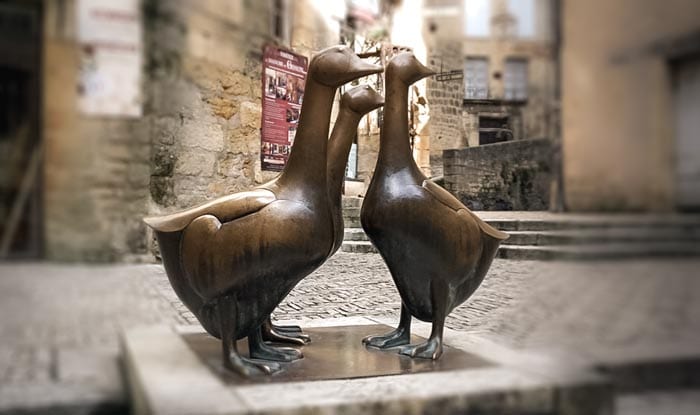 Fois Gras is a traditional liver pate made from Goose or Duck liver
French Village Life in General
Sometimes you can travel through a French village and not see one person – and wonder if anyone actually lives there at all.
Many of the residents in French villages are of an older generation with the younger crowd preferring to live in the more metropolitan areas of France with a faster pace of life. In addition, there are a number of ex-pats from the UK who have either retired to the French countryside or who own summer homes there.
This also explains why many of the charming French window shutters remain closed throughout winter, the house in lockdown until the summer months when France gets an influx of visitors and returning residents.
Much of the French hospitality industry, particularly in the French rural villages, shut up shop for the winter. Some restaurants close completely, others have restricted opening times. This was another surprise to us and a complete contrast to Australia which is pretty much 'open all hours'.
In reference to opening hours – weekends in French villages are actually 'true' weekends. The shops aren't open on Sundays and most close at lunchtime on a Saturday. Many shops also close for a couple of hours over lunchtime.
You also quickly realise that life in rural France means getting used to not being able to order a takeaway. We didn't eat chips, pizza or a takeaway curry for a whole nine months … The nearest you're likely to get to fast food in a village in France is the fresh baguettes at the village bakery.
Dodging Bullets in the Dordogne
Dodging bullets in the Dordogne wasn't something that we had considered when planning our house sit in France, but it was something we started to take very seriously when the gunshots began to shatter our tranquil weekends.
On weekends, from September to February the local 'chasse' will be found hunting wild boar and deer across the fields and in the woodlands of France. This practice is accepted in France and part of the culture – but seems very odd for us coming from Australia.
If you visit these country-side French villages in autumn-winter, definitely enjoy the magnificent countryside, but be hyper-vigilant if you go walking near woodlands at the weekends and wear bright clothing – you definitely don't want to be mistaken for a wild boar.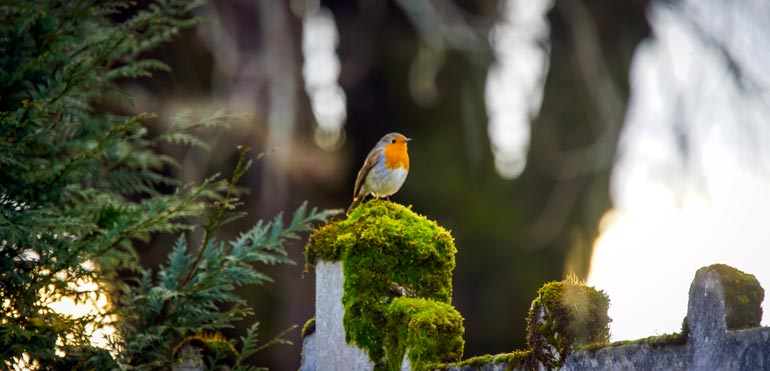 Stay alert on woodland walks in autumn/ winter
That pace of life and simplicity was one of the overarching facets of French village life. Tradition ticking along nicely in the way it has done for centuries.
We are glad to have lived within and experienced this part of French life. However, you can't help wonder how long this kind of traditional life can endure with the ever creeping vines of technology, the younger generation seeking a more modern way of life and the growing urban developments.
French village life, at the moment, is a respite away from the hustle and bustle. Hopefully, it will be preserved for a while yet, along with the homemade jams and jars of conserved foods on the French villager's shelves.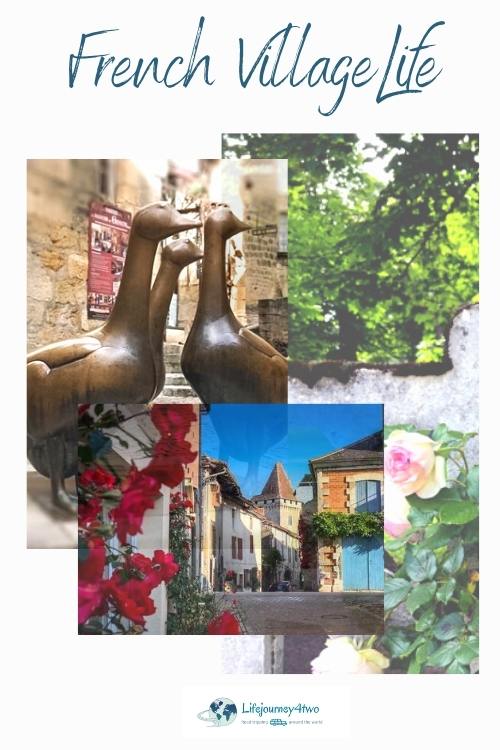 Arrange Your Travel Insurance
Get a quote from World Nomads – one of the best options for travellers. Find out why here.
Book Your Accommodation
We use Booking.com as we can find a variety of cheap and budget accommodation such as local guesthouses and cheap hotels.
We also use Airbnb – Get up to $90 credit for your first Airbnb stay when you use our Airbnb link 
Travel Gear and Accessories
We've been on the road for almost three years now and have added useful items to  our Lifejourney4two page on Amazon  
Car Hire
We use  Rentalcars.com to find the best car rental deals.
Motorhome/Van Rentals
if you are looking for a motorhome or van rental – we highly recommend the Motorhome Republic who can find the best deals worldwide.
Finding Activities to do
We use Get Your Guide and Viator to get ideas of what to do in a place – sometimes it's best to get tickets online and jump the queues.
Flexible Accommodation Options/ Or Finding someone to look after your pets
We often use house/petsitting as it really makes our travels much more affordable – as accommodation is FREE
Get 25% off  Trusted House Sitters by using our link here: Join Trusted House Sitters either as a house sitter or if you want to find a house sitter.
Photography Prints and Products
Shop our ETSY store for digital downloads of our best photos and our unique travel designed products.