MOTORHOMING IN FRANCE
Motorhoming in France not only offers diverse and varied options of places to visit but the ease at which you can travel across France is magnified by the many dedicated motorhome Aires and places to overnight. France is just perfect for a road trip and campervan travel.
We travelled for 12 months full-time through Europe by motorhome and have to say that France was the country most well equipped for motorhome, campervan and RV life.
We also lived in France for 9 months and experienced French village life in the Dordogne.
The most difficult parts of motorhoming in France are likely to be the choices you'll need to make about which areas to visit, which cheeses to buy and how many crepes are way too many to eat in one day.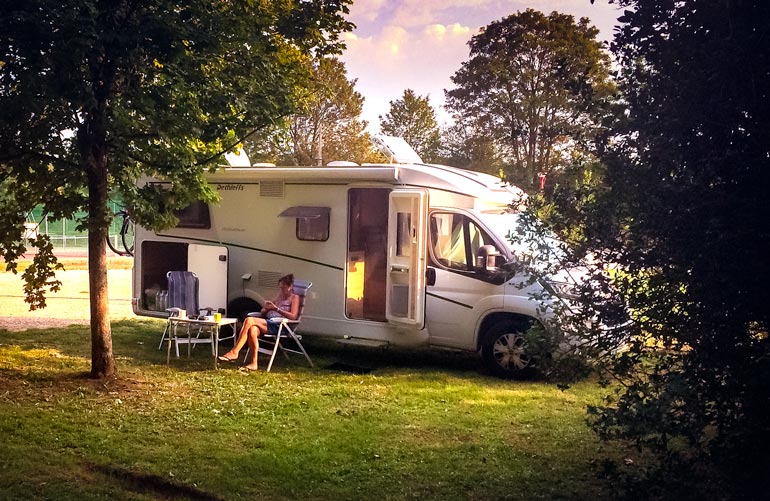 For those of you new to campervanning, you will want to read our Motorhoming tips for beginners post which has really good pointers to help make your motohoming or campervan trip so much easier and stress-free.
We also highlight many of the campervan accessories we find useful which you may wish to browse or go to our All Things Motorhome Lifejourney4two Amazon Shop.
Planning a Trip to France?
HOW THIS MOTORHOMING FRANCE POST WILL HELP YOU:
♥ Suggested Motorhome routes and road trips in most regions of France
♥ We include all of our stopovers and motorhome sites in France
♥ Advice in relation to driving a motorhome in France
♥ An interactive map with motorhome overnight spots and places to visit
♥ Handy tips to make your motorhome tour of France as stress-free as possible
MOTORHOMING FRANCE INTERACTIVE MAP
HOW TO USE THIS MOTORHOME FRANCE ROUTE MAP
To use this map, expand it using the square symbol on the top right-hand side and you will find the key on the left-hand side. By clicking each location you will find extra information.
For example, each of the Campervan overnight stops on the Map has a web link to Camper Contact where you can view the facilities available, the price, opening times, and useful user reviews on each French motorhome campsite.
The Motorhome overnight stops are marked with an orange circle with a motorhome icon and the places we visited are marked with location icons.
VIDEO TASTER OF MOTORHOMING IN FRANCE
MOTORHOME CAMPING IN FRANCE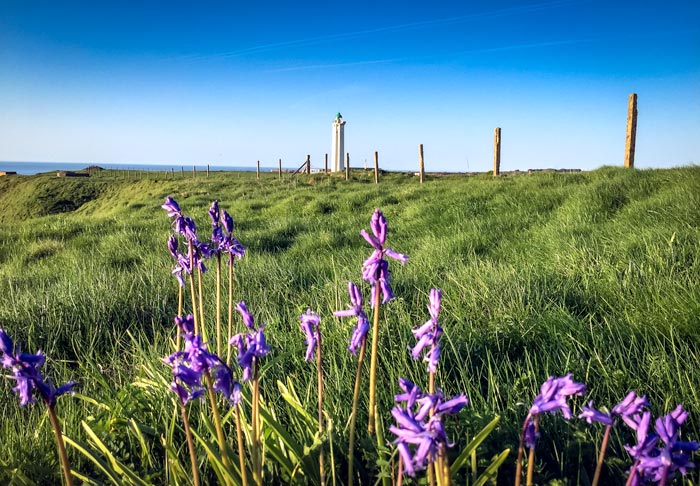 MOTORHOME CAMPSITES
A motorhome tour is the best way to travel France and is much more economical way of travelling than having to find accommodation. There are dedicated luxury campsites for those who like to splash out a little but also plenty of cheap or free options for those on a budget.
We were on a budget, so our itineraries tend to reflect the cheap or free motorhome camping options.
A few of our stops were run by a local family and we often would be camping in their garden. One such beautiful spot was with the lovely Corinne and Didier, who couldn't have been more friendly. We stopped here en route from the Loire Valley to Normandy.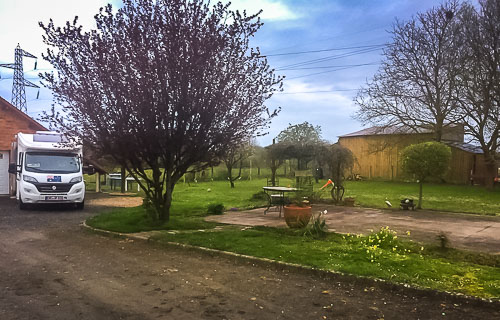 FRENCH MOTORHOME AIRES
French Motorhome Aires are dedicated spots for motorhomes and campervans which are located throughout France. Some have services such as electricity, water and waste disposal but others are just a spot to overnight.
You simply turn up and hope that the spots aren't already taken. We never had a problem, but then we were never travelling in the busy areas during peak season.
To ensure a spot it's best to arrive early – ie around 10 am when most campers will have just moved on, but not many would have arrived.
The signage at the Aire will give instructions as to the hours that you can park your motorhome there and other details such as whether or not you need to pay for electricity, water etc.
WILD CAMPING IN FRANCE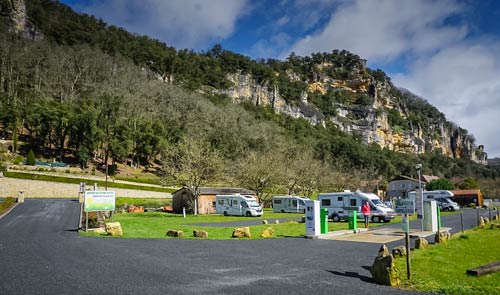 Wild camping in France for motorhomes is possible. As long as you park your motorhome, campervan and RV somewhere that isn't going to bother anyone you should be ok.
Obviously, it is better not to set up camp and to only overnight for one night, rather than hanging out your washing and looking like you might be setting up home. You will want to be unobtrusive as possible when finding a wild camping spot.
You can find out more about the rules and regulations regarding wild camping in France here.
FRANCE PASSION MOTORHOME STOPOVERS
France Passion is a scheme whereby local businesses, farms, wineries and the like welcome you to stay on their property for free. Many entice you off the beaten path and offer their delicious gastronomic wares for sale. What better way to campervan France than hopping from one winery to another?
You can download a guide to over 2000 stops and get a France Passion Sticker here. Find out more information on the France Passion Website.
READ MORE: Speaking of passion, have you read our 15 Best Road Trip Tips for Couples
MOTORHOME HIRE IN FRANCE
If you aren't travelling in your own motorhome then we thoroughly recommend Motorhome Republic. They search for the best deals for you with a wide variety of campervan rental companies with various pick-up points in France.
We used them and they were incredibly helpful and we saved more money going directly to them rather than to individual rental companies.
For more information on, and details of how and why we hired a Campervan for our Travels in Europe, check out our:
INFORMATION FOR DRIVING A MOTORHOME IN FRANCE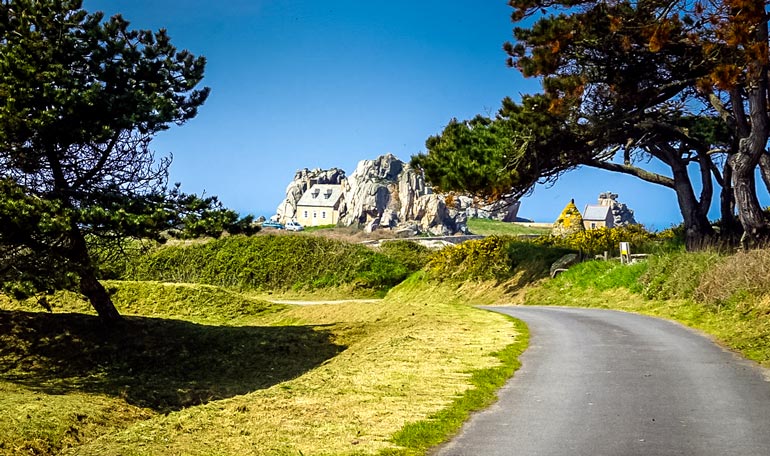 In France, you drive on the right.
You will need to have the following documents:

Drivers licence (An international driver's licence isn't required)
Vehicle insurance
Vehicle registration document
Passport

You are also required to have the following in your vehicle:
Driving in France requires adjusting the beam pattern to suit driving on the right so that the dipped beam doesn't dazzle oncoming drivers. You can cheaply purchase beam deflectors to adjust the beam.
Many of the motorways have tolls. To avoid them you can program your navigator to avoid tolls and you can also use www.autoroutes.fr to plan your trip and find out the costs of tolls etc.
Speed Limits are as follows unless otherwise signposted and on dry roads

130 km/h (80 mph) on toll motorways
110 km/h (68 mph) on dual carriageways and motorways without tolls
80 km/h (50 mph) on other roads
50 km/h (31 mph) in towns. The town name starts with the limit, a bar through the town name is the de-restriction sign

Some cities, such as Paris and Grenoble enforce a clean air area and to enter your vehicle must have a Crit'Air Vignette. Also, in other cities, the area may be temporary so you need to check which areas are affected when you are touring France. You can do this by checking the Urban Access Regulations site.
PLANNING YOUR MOTORHOME ROUTE THROUGH FRANCE
Use the below information to help plan your France road trip and you will also find it helpful to:
MOTORHOME CAMPSITES AND SERVICES APPS TO USE
We have included all of our motorhome camper stops we stayed at in France – with most having links to the camper contact site where you can see reviews and available services. We used this app the most when motorhoming through France.
Another app you might find useful is Park4 night, which many motorhomers also use.
THE FLEXIBILITY OF MOTORHOMING FRANCE
Motorhoming through France means that you are totally flexible as you road trip France, and you can either have a fixed plan and route all mapped out or you can travel along and decide where to go as your whim decides.
When we travel, we kind of end up with a happy medium of both. We basically know where we are headed but try not to lock anything in, so we have options to stay longer in certain places if we like.
While Motorhoming through France, we also tended to stay off the motorways. This meant that we avoid the tolls and also, as in most countries, you see much more driving the back roads than you would ever see stuck on the motorway.
If you are time-poor, however, and need to get to your next destination pronto, then the motorways would be the way to go as the back-road routes are likely to be much slower.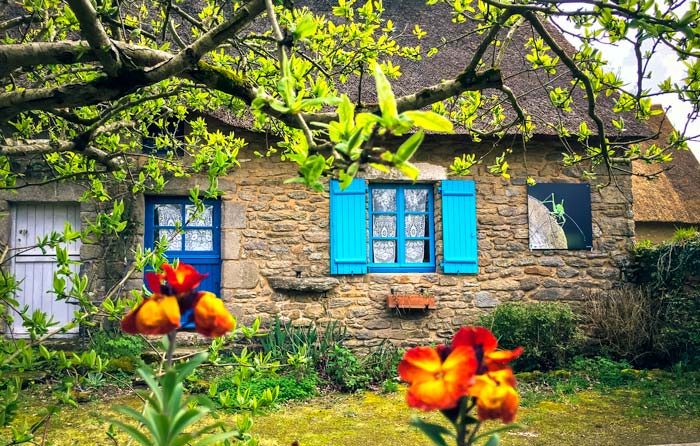 MOTORHOMING IN FRANCE AND DESTINATION CHOICE
Whether you enjoy landscapes, historical sites, beaches or city life, France has something to whet your appetite. And speaking of appetite – the French certainly have some spectacular culinary specialities. Even just the basic fresh French bread and cheese is enough to get the juices flowing, and if you like wine, then you will be spoilt for choice.
In fact, the most difficult parts of motorhoming in France are likely to be the choices you'll need to make about which areas to visit, which cheeses to buy and how many crepes are way too many to eat in one day.
We can help you with where to motorhome in France, but you are on your own as regards the cheese, and as for the crepes … there is definitely no such thing as too many.
WHERE TO MOTORHOME IN FRANCE
If you are travelling from the UK to France you are likely to arrive either in Brittany or Normandy, or just north, if arriving in Calais or Coquelles via the Channel Tunnel. This makes these the perfect place to begin your France motorhome tour. Both of these areas alone could keep you busy, exploring their amazing rugged coastlines and rich history.
Further afield you have the lure of the Loire Valley with its fairytale chateaux and the delightful Dordogne villages set amongst rolling hills and meandering rivers.
If you want to visit pretty places and love medieval villages then you can't go wrong by taking a road trip to the Alsace region.
This famous wine route in eastern France has some of the most beautiful villages in France. With its architecture influenced by adjacent Germany, you will find a plethora of half-timbered houses with flowers spilling out from their window boxes.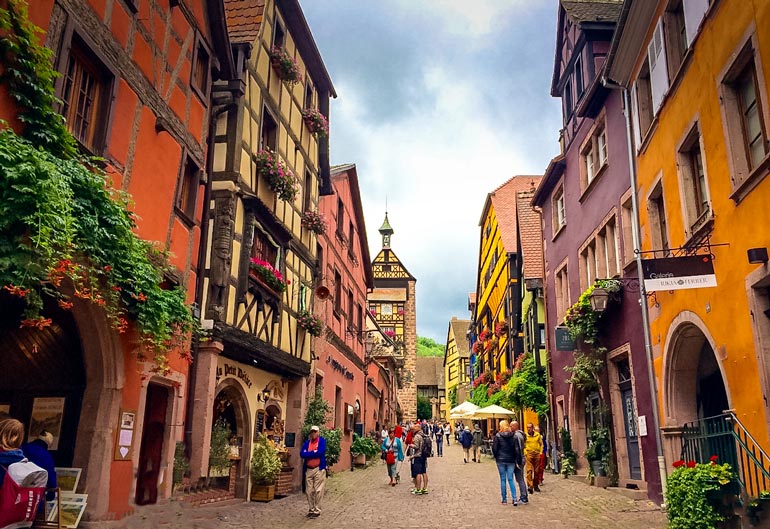 Cities aren't normally our thing, much preferring small towns and villages, but when in France a visit to its renowned romantic capital city of Paris is a must.
However, we would advise finding a campsite outside of Paris and not driving your motorhome into the capital. It is much easier to park at a campsite in the outer suburbs and catch a bus or train into the city. That's exactly what we did, and the bus stopped right by the campsite which made life so much easier.
PLACES TO VISIT WHILE MOTORHOMING IN FRANCE
---
1. BRITTANY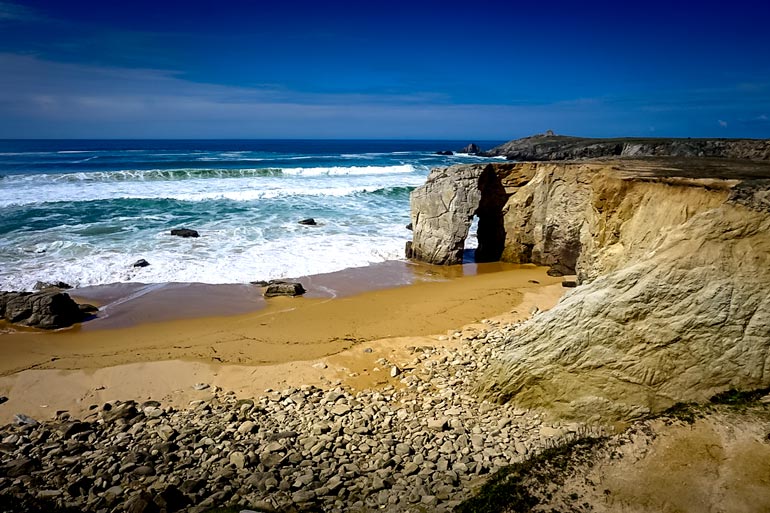 While in Brittany we would recommend including these destinations on your campervan trip.
Perros- Guirec – Town is famous for its pinky-hued granite rocks on the Côte de Granit Rose, (Pink Granite Coast).
Quiberon Peninsula – and its famous White Point Arch. This is a spectacular coastline filled with walking trails.
Plougrescant – Here you will find the most unusual sight of Castel Meur or La Maison des Gouffre ('House between the Rocks'). A house sandwiched between two huge rocks. The surrounding area is raw and wild. This was one of our favourite locations where we discovered campervanning throughout France.
Dinan – A medieval town with cobbled stone streets, timbered houses and the oldest ramparts in Brittany.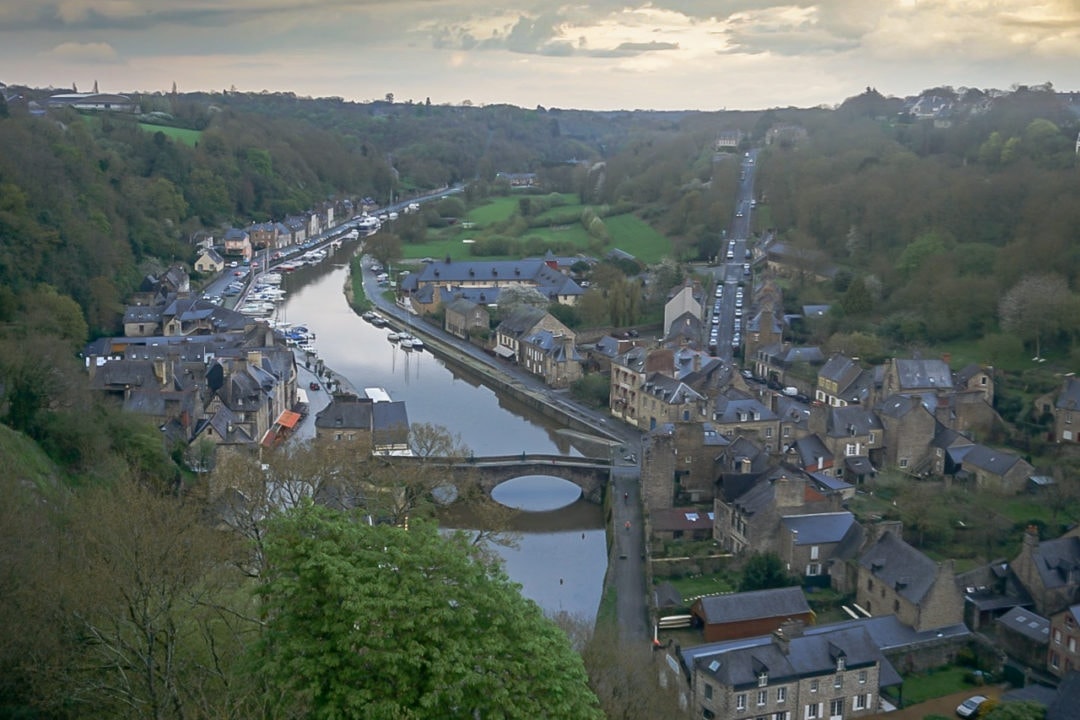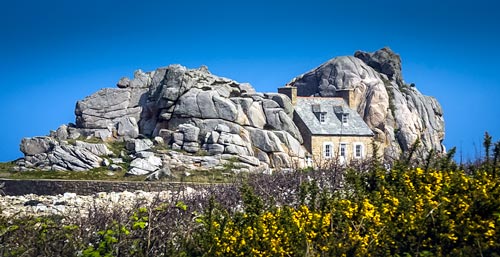 >>> READ MORE: Full Brittany Road Trip with more destinations and details.
2. NORMANDY
Our favourite places that we visited in Normandy were:
Mont St. Michel – A tiny island, with roots dating back to the 8th Century, and most recognisable by its Benedictine abbey occupying the highest ground. This can get very busy in peak season.
Etretat –Famous for its limestone arches and the 'Needle', or Aiguille, this particular part of the Normandy coastline abounds with spectacular scenery.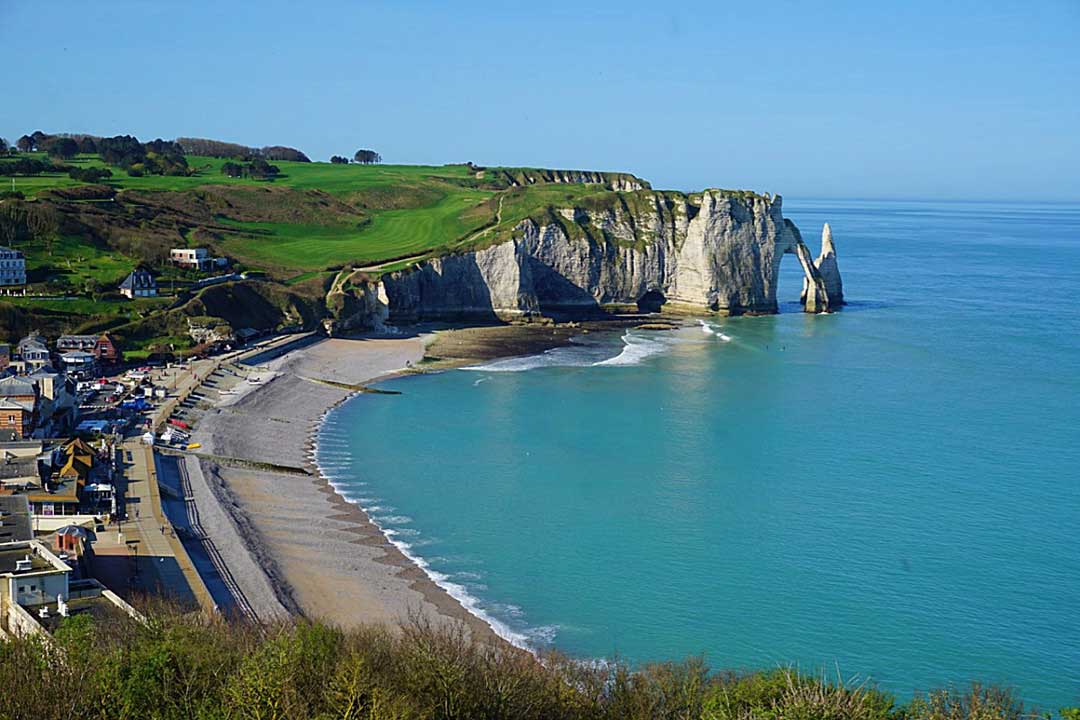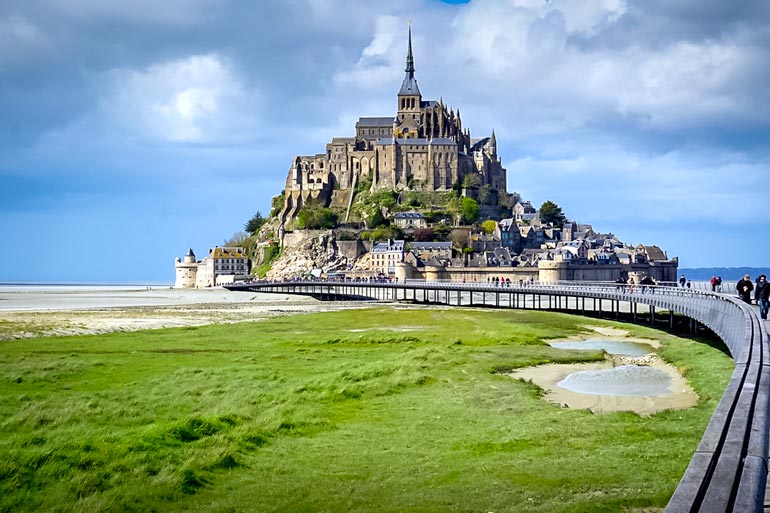 We wanted to see Monet's Garden in Givenchy but we were out of season and we totally missed Bayeaux and seeing the renowned Bayeux Tapestry – which was on our list to see but we got side-tracked going inland instead, Which means there is a good excuse to motorhome through Normandy again sometime.
READ MORE: Click here for the Full 4-Day Normandy Road Trip with more destinations and details.
3. LOIRE VALLEY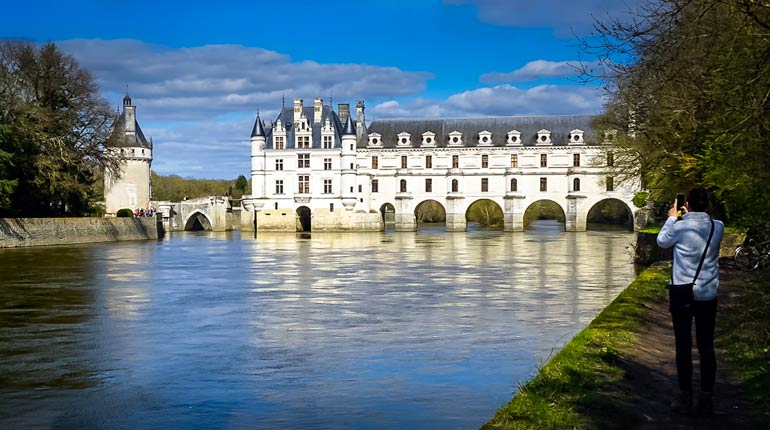 There are so many exquisite chateaux to visit along the Loire Valley, so it is challenging to decide which to include on your French motorhome trip. These are the top five that we would recommend:
Château d'Usse
Château d'Azay-le-Rideau
Château de Villandry
Château de Chenonceau
Château de Chambord
READ MORE: Click here for our full Motorhome Loire Valley Itinerary
4. THE DORDOGNE
The Dordogne is such a picturesque place, full of some of the most beautiful towns and villages in France. It's hard to choose our favourites but would recommend definitely including these small villages:
Rocamadour – a UNESCO Heritage pilgrimage town built into the cliff face. If you love monkeys – make sure to visit the Rocamadour Free-Roaming Monkey Sanctuary
Brântome – A picture-perfect postcard town on the river Dronne.
La Roque-Gageac – another picturesque village at the foot of a cliff face.
Bourdeilles – This tiny village is lovely but the river view and its olde world bridge are stunning.
Sarlat la Caneda – This town is more touristic but worth a look-see.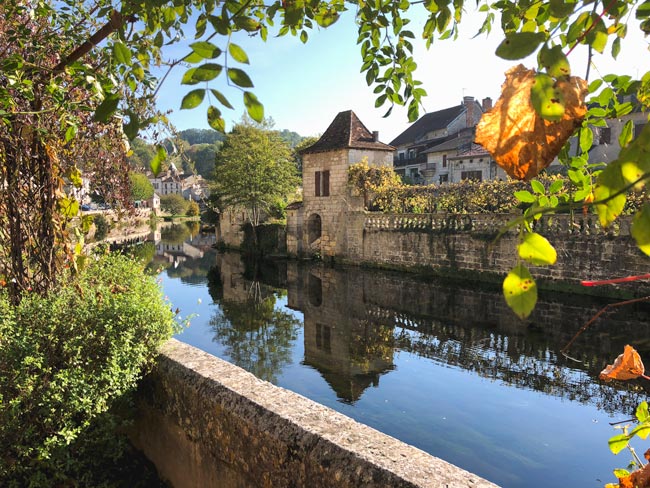 READ MORE: 8 Delightful Dordogne Villages
Another place to visit in the northern Dordogne area is Oradour-Sur-Glane. This village isn't covered in our delightful villages of Dordogne post because a visit here is the antithesis of delightful.
It is a village frozen in time — left as it was in June 1944 when 642 villagers were massacred by the Nazis. A visit here will leave you silent and heartbroken. However, this ghost town speaks volumes in its silence. It is a heart-rendering testament to the ravages of war.
The village is strewn with twisted sewing machines, and remnants of a quiet country life once lived. The image that screams the loudest within the crumbling walls of Oradour, is the crushed pushchair in the village church. You momentarily feel the intense fear and desperation of mothers as they and their children were brutally murdered.
It is a poignant place to visit and an emotive reminder of how fragile humanity is.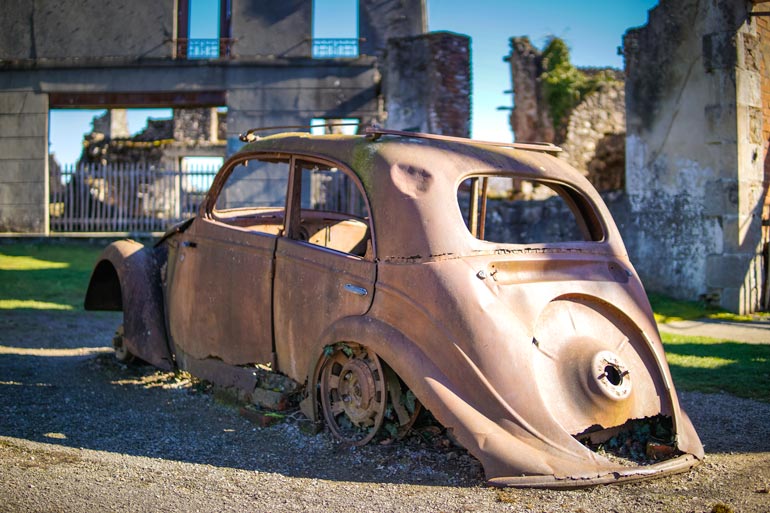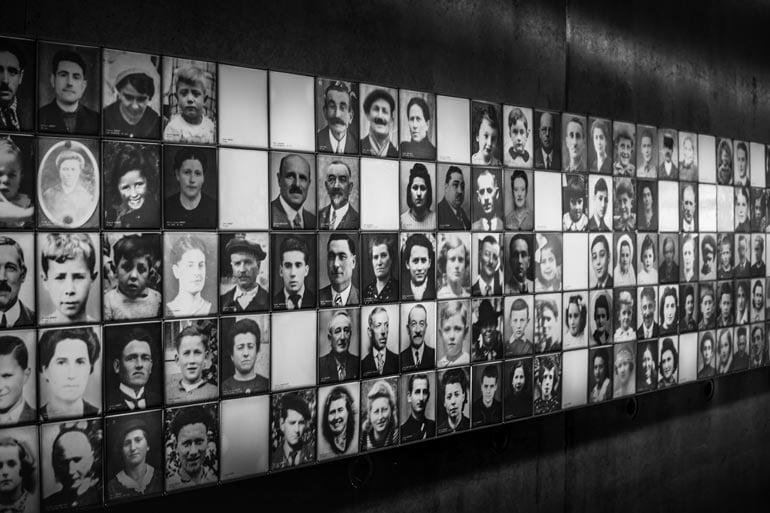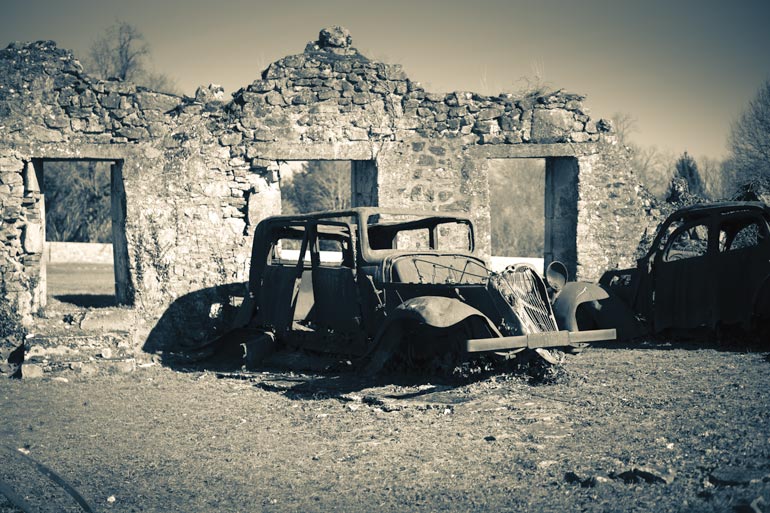 5. THE ALSACE REGION
We cover what to visit on the Alsace wine route and where to overnight in your motorhome in our post but don't miss out on visiting these absolutely charming small villages: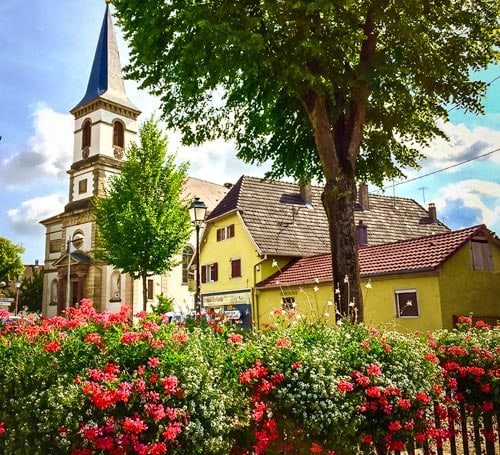 Riquewihr
Hirtzbach
Eguisheim
Ribeauville
Colmar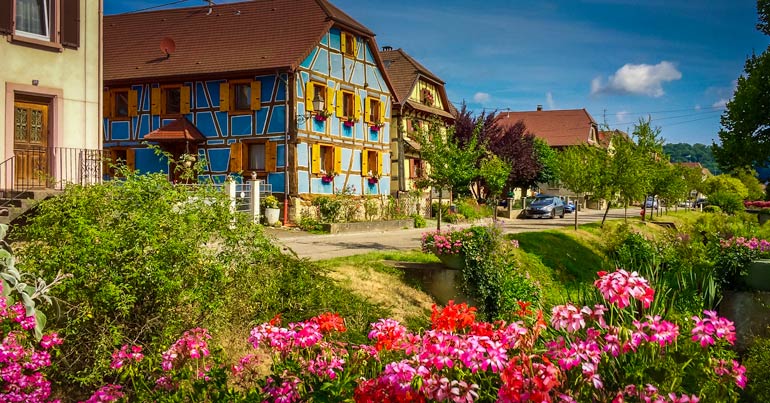 READ MORE: France Road Trip in Alsace
6. PARIS
As mentioned previously, we highly recommend parking your motorhome at a campsite outside of Paris and getting local transport into the city. Motorhome travel in the heart of any city can be slightly stressful but a major capital city tests driver and navigator relationships above and beyond.
For a fun take on how we relieve some stress in difficult travel situations take a look at our Lady Penelope and Parker Driving Personas Article.
We spent two days exploring Paris – and included in our itinerary were: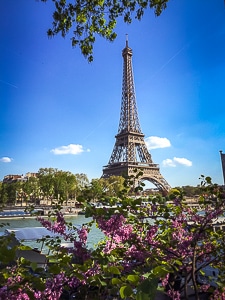 Bastille
Notre Dame
Montmartre Cemetery
Basilica du Sacre Coeur
Arc de Triomphe / Tomb of the Unknown Soldier
Eiffel Tower
Louvre Palace
Tuileries Gardens
Place de la Concorde
Parc Floral de Paris
READ MORE: Click here for our Full Paris 2-Day Itinerary Article
THE PALACE OF VERSAILLES
About 24 km, a 40-minute drive, from Paris sits the famous palace of Versailles. The Palace began life as a hunting lodge in the 1600s but was transformed into an architectural masterpiece by King Louis XVI.
The Palace of Versailles was home to the monarchy until the French Revolution in 1789. The excessive spending and extravagance of the royal family and its courtiers, whilst the french economy was falling apart with thousands of french peasants starving, was the impetus for the uprising.
In 1837 King Louis Phillipe restored the palace as a museum and in 1979 it was declared a UNESCO World Heritage Site.
Today, it is the second most visited monument in Paris, the first being the Louvre.
(Therefore make sure you arrive early – you can see the long queue when we left just after lunchtime).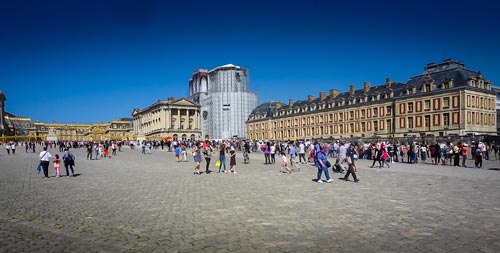 The Palace of Versailles website has many virtual exhibitions that you can watch to whet your appetite before visiting in person.
The vast gardens are full of sculptures and fountains – many of which are musical. You can find out the best times to visit these here: Musical fountains timings.
VIDEO OF PALACE OF VERSAILLES MAIN MUSICAL FOUNTAIN
7. SOUTH WEST FRANCE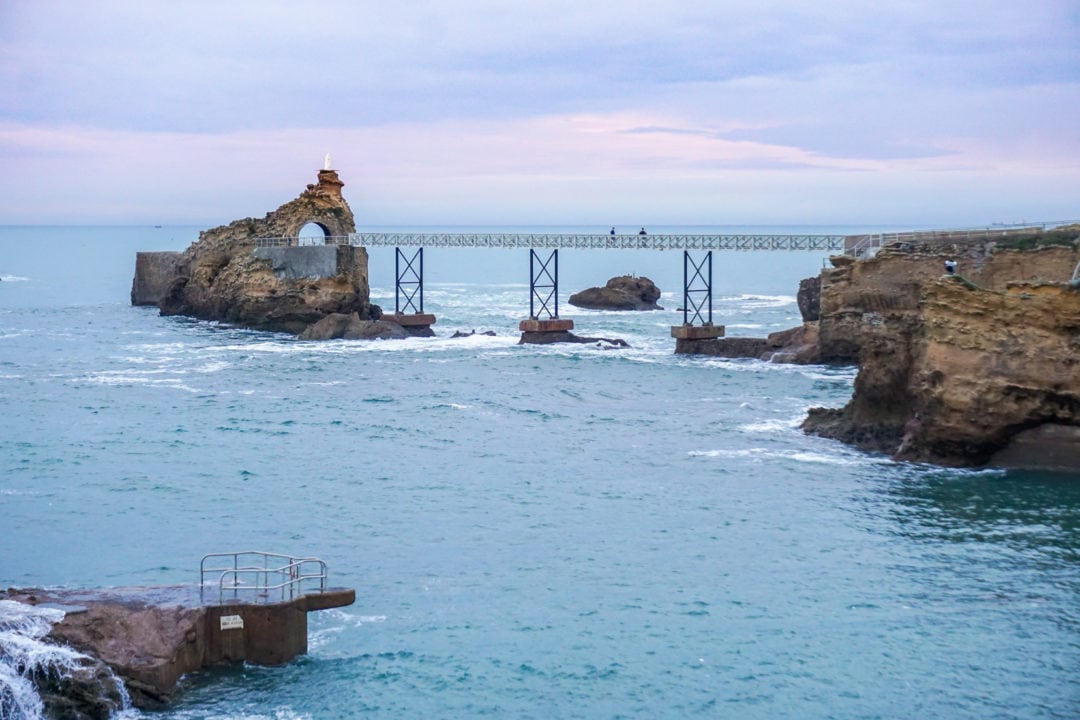 We campervanned through South West France very briefly. We stayed with friends, and the main highlights that stood out for us – and this was even in the rain (it bucketed down most of the time we were there), were:
Biarritz
Espellete
St. Jean de Luz
The area is rich in Basque culture – which has its own language and heritage, and you will see signs of this as you motorhome through this intriguing area. The Basque people are an ethnic group that borders northwest Spain and southwest France.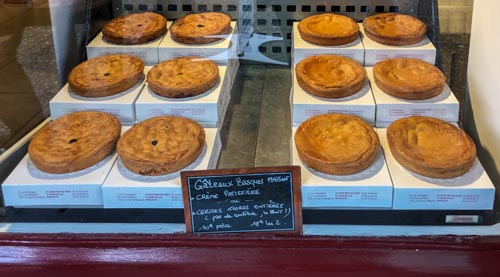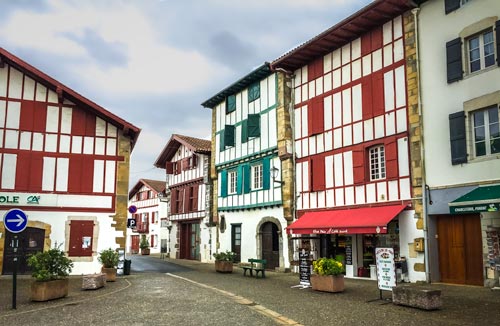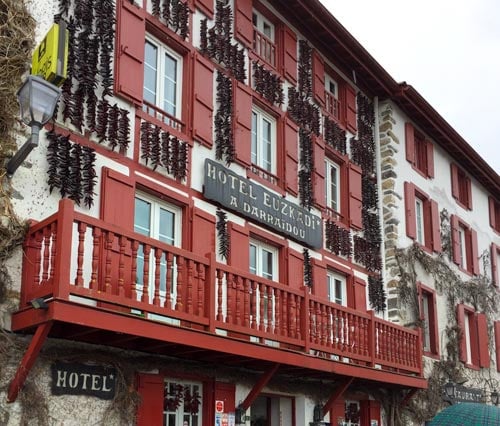 MOTORHOMING IN FRANCE: HANDY INFORMATION
---
HANDY FRENCH WORDS
French Knowing these French words will help make your Motorhome trip in France that bit easier;
Gazole = diesel
Autogas = LPG
Camping cars (pronounced comping carre) = motorhome
Péage (pronounced payaage)= Toll
Laverie = Launderette
Jeton (pronounced jshuton)= token (sometimes needed for washing machines at campsites)
SUPERMARKETS IN FRANCE
Intermarché,
Auchan,
Carrefour,
E.Leclerc,
Lidl
Note that in the more rural and smaller towns, the supermarkets may close at lunchtime and will be closed on Sundays. Many shops and businesses also close on Saturday afternoons.
FRENCH LAUNDERETTES
The French seem to know how to make campervan life easy. Not only is it easy to find motorhome campsites but you will also find 24-hour self-operated launderettes in car parks and large supermarket areas which, for those of us without washing machines in our campervans, makes the washing debacle so much easier.
Though we did get a good system going with me washing and Lars being the spin cycle, finding a 'Laverie' made things much easier when we had a big load.
We often were able to locate using Google maps – find near me.

MOTORHOMING IN FRANCE …THAT'S A WRAP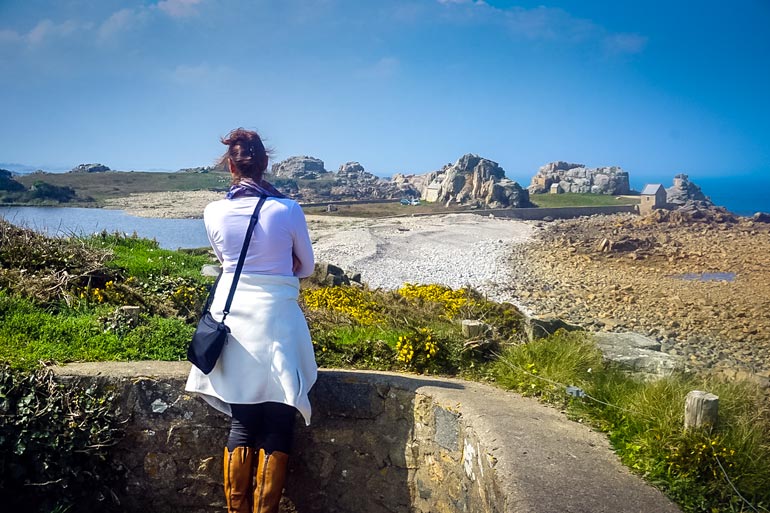 We loved our time motorhoming in France and were lucky enough to experience so many of its beautiful towns and villages and its diverse landscapes. Enjoy your motorhome touring in France and if it is your first time – good luck with everything and welcome to the world of motorhome travel freedom and adventure.
Although we've now swapped out a motorhome for a 4×4 bush camper (more practical for Overlanding Africa), a motorhome is a perfect way to explore France and the rest of Europe.
We have included as much advice on motorhoming in France as we can think of, but please, as always, reach out to us if you think we have missed out on anything or if we can help you with any queries.
Pin and Save for Later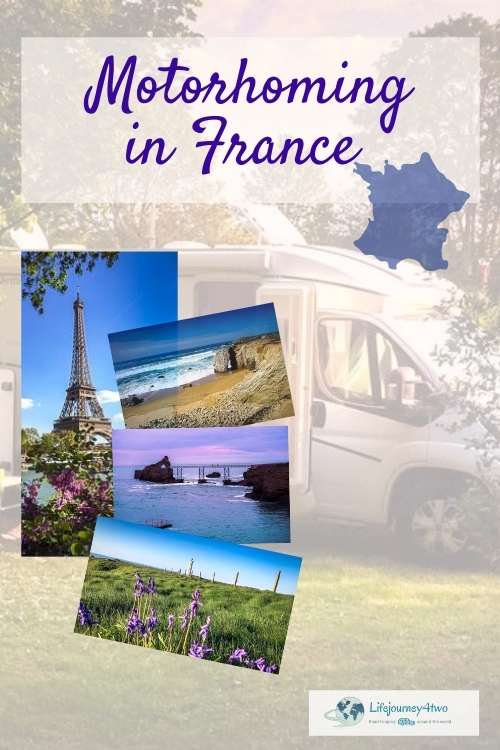 READ MORE:
---
PLANNING YOUR TRAVELS?
These are some of the travel resources we use when planning our trips.
For a more thorough list visit our Travel Resources page here.