Norway Stave Churches
There's no denying it, nature gave Norway more than its fair share of beauty. With its deep, emerald depths of the fjords,  craggy snow-crested mountains that thrust sharply from the water's edge and let's not forget the charismatic northern lights that shimmer across a midnight sky.
However, she needs to share the accolades. Reminiscent of Viking times and intertwined with Norse mythology, stand the ethereal, wooden Norway stave churches.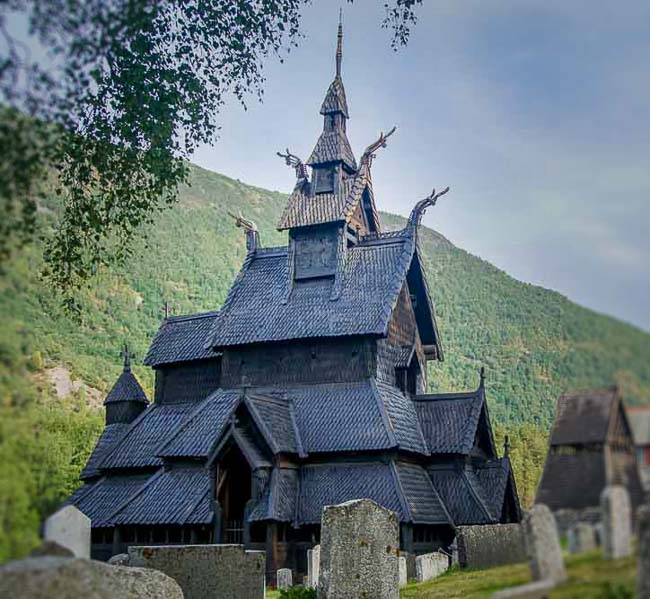 These architectural marvels were mostly built between the 12th and 14th centuries for the Roman-Catholic church but later turned to Evangelical Lutheran following the Protestant Reformation. There were once thought to be over 1000 medieval Norway stave churches. Today, however, there are but 28 still in existence.
Both Sweden and Poland lay claim to one historical stave church each.  The Polish stave church actually originated in Norway.
Urnes stave church, in the municipality of Luster in Sogn og Fjordane county, is believed to be the oldest stave church in Norway and is included on the UNESCO world heritage list. We haven't seen that one yet …
We have spent over 12 months in Norway over the last few years and have been fortunate enough to road trip across Norway seeing some of the best that the country has to offer. We've written many articles showcasing this beautiful country.
Our Favourite Norway Stave Churches
We made sure that during our Norwegian road trips we included these stave churches on our must-see list. 
Here are the five that have dazzled us so far:
Map: Where to find the Best Norway Stave Churches
To use this map, expand it using the square symbol on the top right-hand side and then look to the key on the left-hand side. By clicking each location you will find the corresponding position on the map. 
Why the Name 'Stave' church?
Designs for stave Norway churches differed but they all shared a common feature in that they were built with major uprights or 'staves'. These staves then formed the framework of the central room from which the skeletal framework of wall planks was hung. The curved parts of the building were taken from the naturally occurring 'knees' of a tree between the trunk and the roots.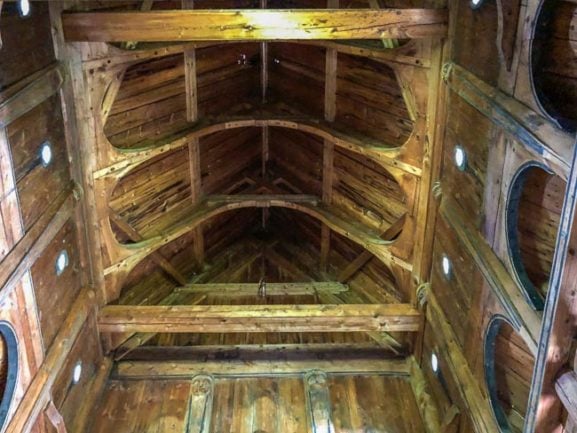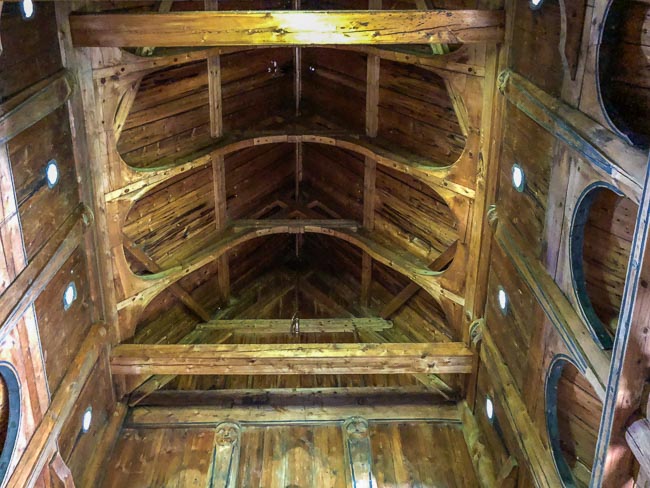 Inner roof structure resembles that of a boat
Norway stave churches were built of a preserved old-growth pine that was left to stand vertically after cutting, to allow the sap to seep from the top of the timber which aided in its resistance to rot. This helped, as many of the earlier built Norway stave churches used a construction method using earthbound staves.
However, a later and more effective structural improvement was to sit these vertical staves on sills or foundations of stone. This technique was key to timber preservation as attested by the remaining historical stave churches, all of which rest on such sills.
Another part of this success story was owed to the application of coats of tar to the timbers. This black tar was a by-product of burning charcoal resulting in a type of black molasses. The tar has a distinctive and pleasing pine scent and was common-place in all the stave churches we visited.
We spoke to a painter at Heddal stave church who said he re-applies the tar to the exterior of the church every couple of years and the job takes months to complete. The tar was manufactured keeping as much as possible to the methods of old.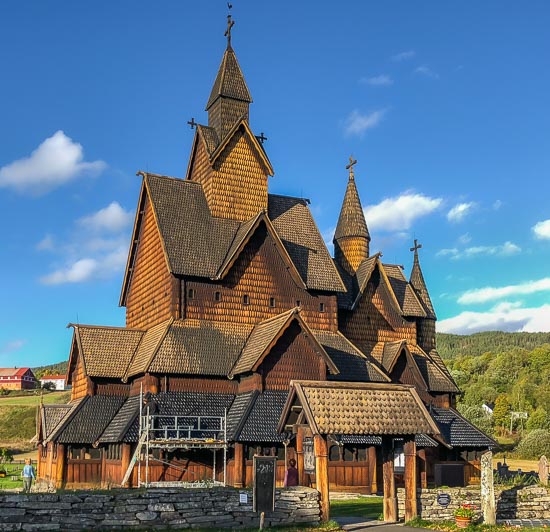 Painting with all those surfaces is an arduous process 
Many of the original Norway stave-churches had survived up to the 19th century but a law was introduced stating that churches must be able to hold at least a third of the local population which resulted in new churches being built and the dismantling of stave churches.
In more recent times, since 1992, twenty-two stave churches have unnecessarily found their demise at the hands of arsonists.
Best Stave Churches in Norway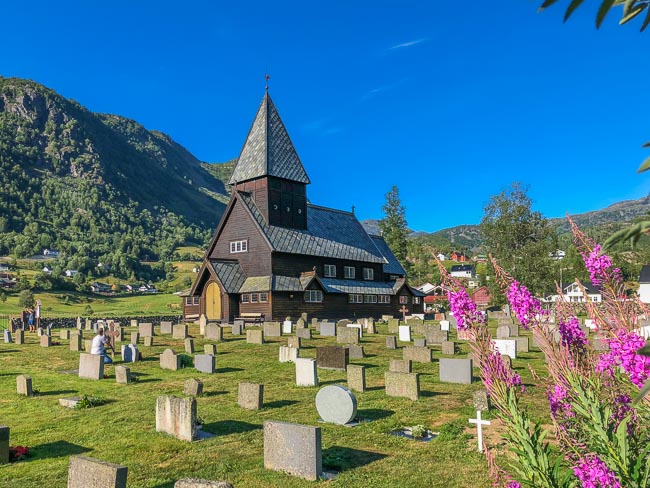 The picturesque Røldal stave church
Year of Construction: 1250
Location: Odda municipality of Hordaland county, Norway within the village of Røldal
This church was an important pilgrimage site in Norway up until 1835. A crucifix inside the church, dating back to the 13th century, was said to 'sweat' each year and it was this sweat that held healing powers.
In the early 20th century the church underwent a major renovation and the outer walls are now protected with an outer wooden layer. To this day, Røldal Stave Church still operates as the parish church for Røldal.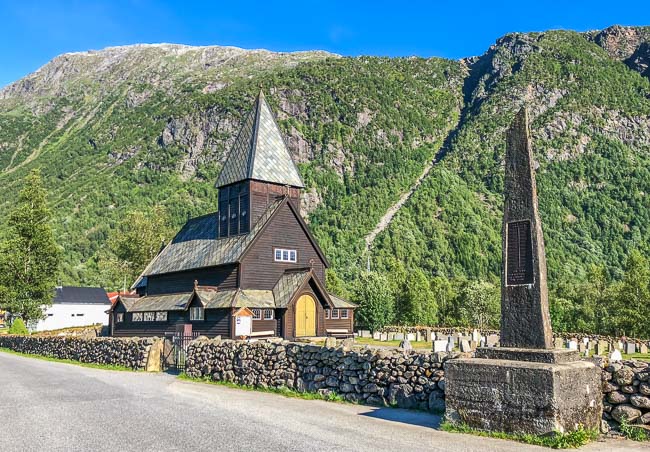 Rodal stave church in an inviting location
Rodal Stave Church Information
Opening times: 10 am to 4 pm each day however this is a general rule and it is best to confirm that the church is open for the dates of your visit by contacting:
Tourist Information in Bergen,
Strandkaien 3, NO-5014 Bergen Norway
Tel.: (+47) 55 55 20 00
E-mail:

 

[email protected]

 

Cost: 50 Nok per person
Free parking is available close by the stave church;
Guided tours are available by contacting: Guidetelefon + 47 4810 9284 or via email: [email protected]
Borgund Stave Church and Bell Tower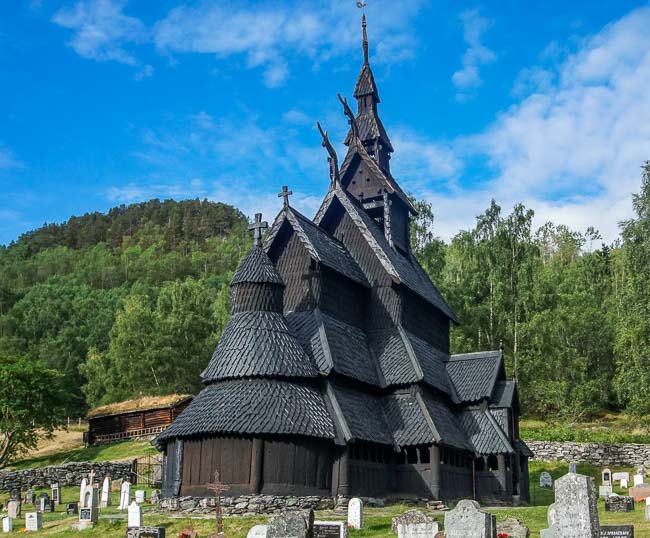 The beautifully preserved Borgund stave church
Year of Construction: Around 1180
Location: Lærdal municipality in Sogn og Fjordane county, Norway within the township of Borgund
This is one of the best-preserved stave churches in Norway and has been used as a template for the renovation of other stave churches. 
It is characterised by its carved portals, the dragon's head carvings that adorn the rooftops and the scale-like wooden shingles on the roof. The interior is far from plain, with many different designs and patterns on its wooden walls.
Borgund stave church existed as the county parish up until 1854 and in 1877 was purchased by the National Trust of Norway to save it from demolition and hence proclaimed a museum.
Close by the Borgund Stave Church is the only free-standing stave bell tower in Norway and is believed to have been built in the 13th century. In 1868, one of its two large bells was shifted into the 'new' Borgund Church.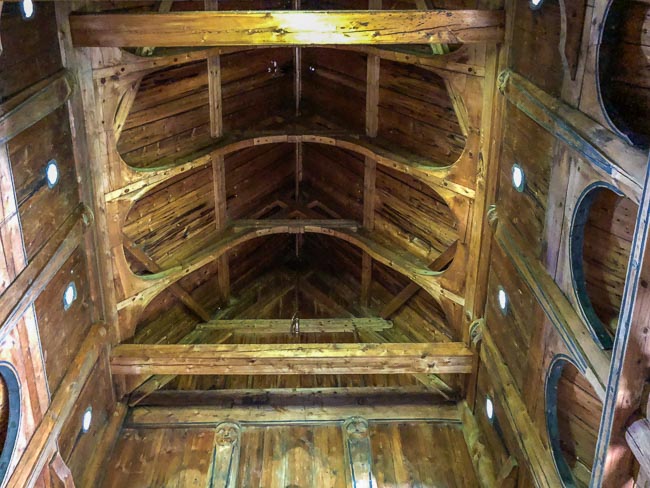 The inner roof showing the sturdy beams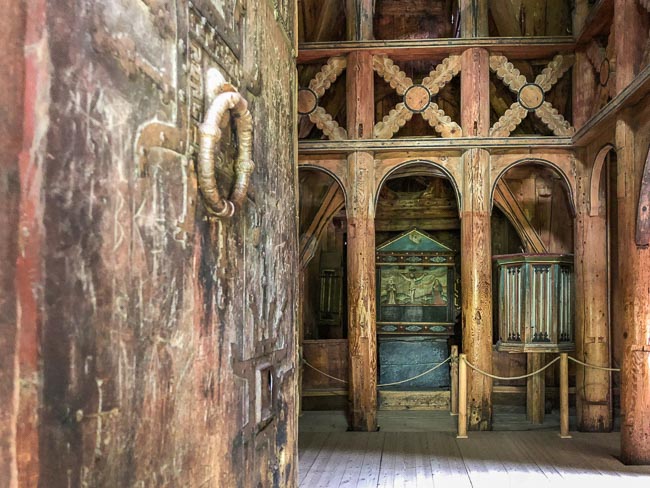 Mythical runes on the door and staves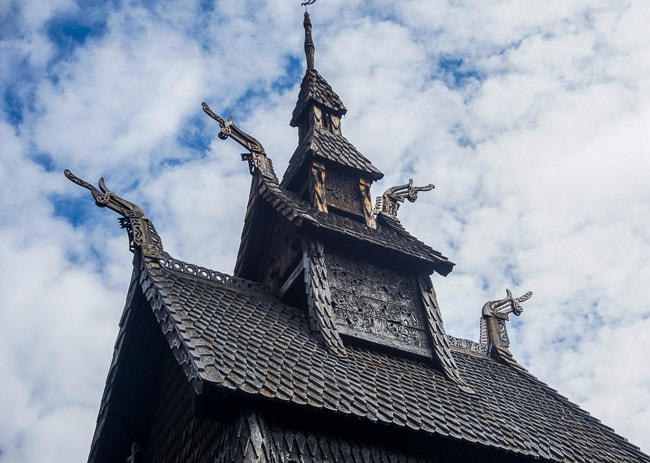 The dragon heads add an air of mystery
The historic, white, stone Borgund Church stands close by the stave church and was built around the year 1300. In the mid-19th century, the building was extended into a cross-shaped design and later rebuilt after a fire ravaged the building in 1904.
Kongsvegen or The Kings Road is a hand-built paved road that was completed in 1793 is easily accessed from behind the Borgund Stave Church.
Borgund Stave Church Information
Opening times: 01 June to 30Sept. each day

 from 10:00 AM – 5:00 PM 

Cost: 

Adult: 100 Nok, Children: 80 Nok (

the entrance fee to the Stave Church also includes entrance to the Borgund Stavkyrkje visitor centre, about 100m from the church.
Contact: [email protected] or Tourist Information in Bergen, Strandkaien 3, NO-5014 Bergen Norway, Tel.: (+47) 55 55 20 00, E-mail: [email protected]  / www.visitBergen.com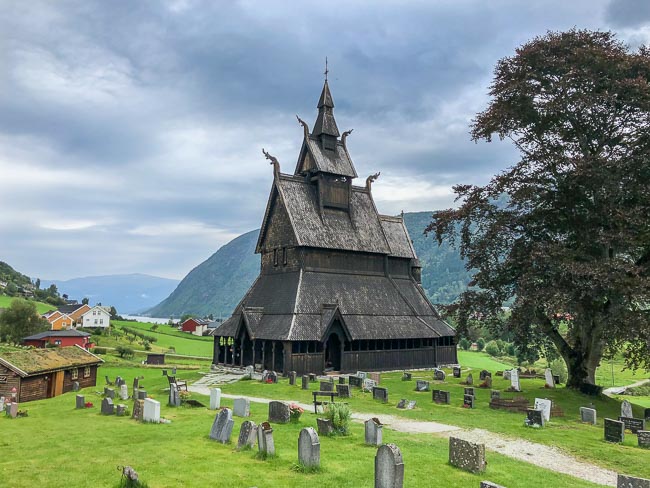 Hopperstad stave church set on prime real estate overlooking the fjord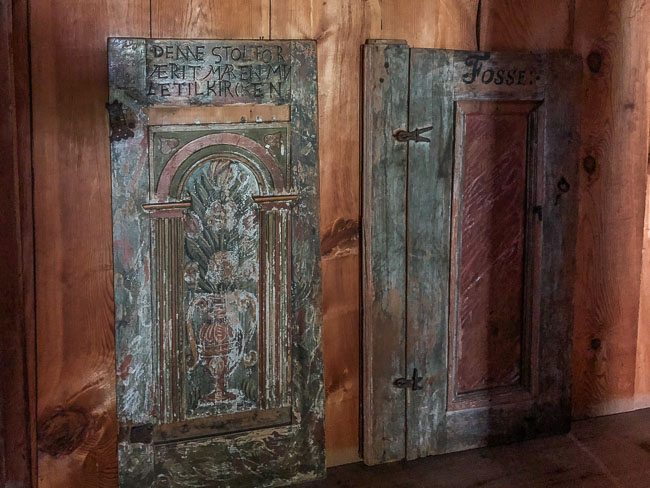 Inscriptions of the craftsman names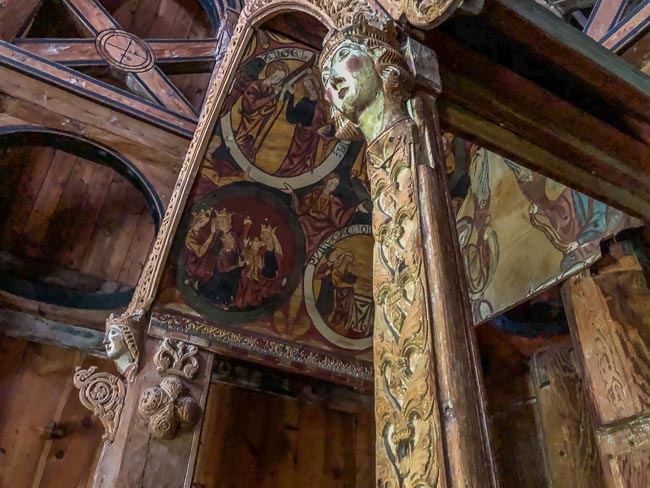 Intricate carvings in the wood
Year of Construction: 1130
Location: Vik Municipality of Vestland county in the village of Vikøyri
This triple-nave stave church proudly stands just outside the village of Vikøyri with panoramic views over Vikøyri and the Sognefjord.
From the outside, the roof is adorned with the popular dragon head depictions.
Interestingly, if you view the church roof from inside, it takes the shape of an inverted boat with its exposed ribs. Looking closely at the walls reveals runic inscriptions and symbols. Even the door bears the carver's marks. It was common to bury the dead underneath the church floor but this practice ceased early in the 19th century partly due to the smell.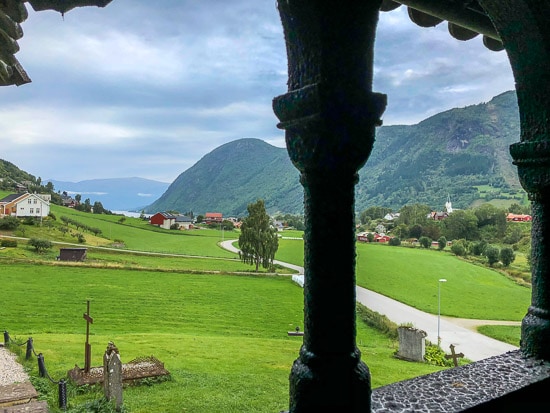 Looking out from the Hopperstad stave church towards the fjord
Hopperstad Stave Church Information
Opening times: 01 June to 30 September and each day between 9:00 am and 4:00 pm.
Cost: 

Adult: 80 Nok, Children: 60 Nok

Contact: +47

57695270

/ [email protected] or  email 'Visit Sognefjord' Tourist Information Centre on [email protected]
Parking is available right by the church boundary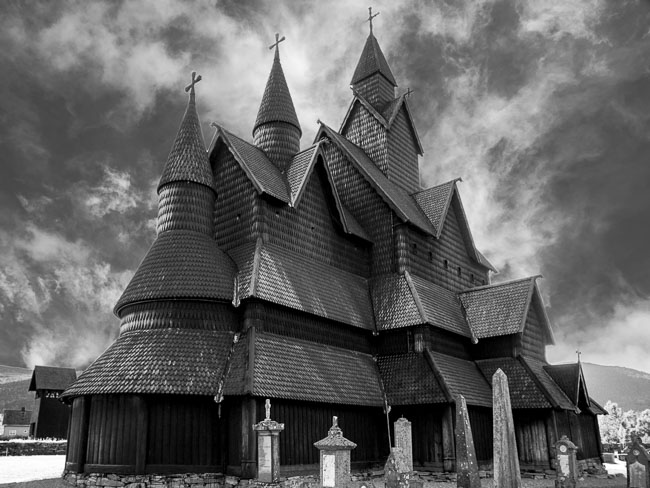 Norway's biggest and most impressive stave church
Year of Construction: 1200
Location: Notodden Municipality within Telemark county in the village of Heddal
This mid-13th century stave church is impressive, boasting 3 turrets and over 50 roof surfaces and it rightly claims the title of the largest stave church in Norway.
Heddal stave church is still in use as the main parish church in Heddal. The church's interior designs are strongly affected by the legendary myths of Sigurd the Dragon Slayer and also with wall paintings and an altar dating back to the 17th century.
The four doorways are heavily carved with each facing one of the main directions on a compass. Men, women, clergy and processions used their own doorways in an effort to ward off evil spirits.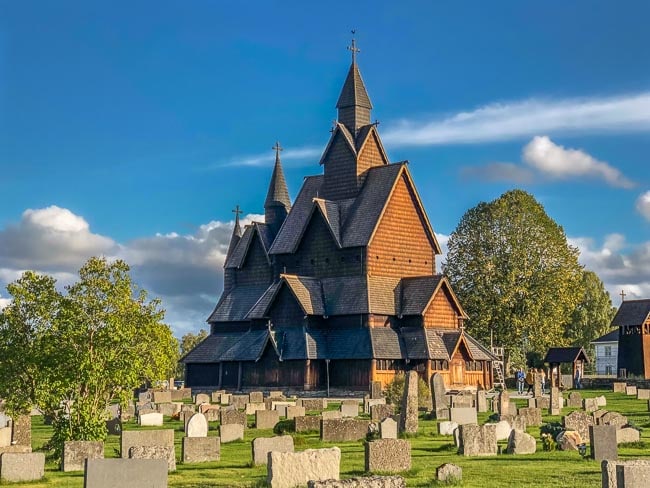 Heddal stave church catching the late afternoon light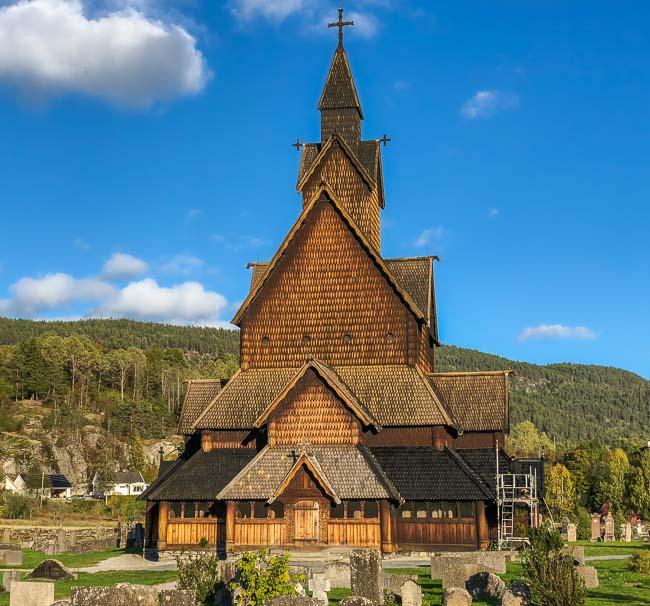 Heddal stave church is a work of art!
Heddal Stave Church Information
Opening times: late June to Mid-August each day between 10:00 am and 5:00 pm
Cost: 

Adult: 80 Nok

For additional information contact: Håvard Russnes tel. 915 67 600 [email protected];  Anne Marie Halvorsen tel. 922 04 435 [email protected]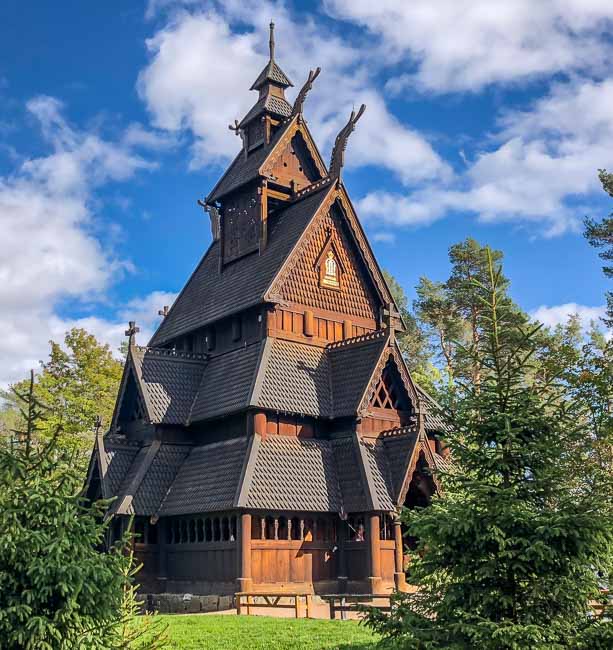 Gol stave church – renovated and relocated to Oslo
Year of Construction: approx. 1200
Location: Oslo at the Norwegian Museum of Cultural History 
The Gol Stave Church was originally from Gol, Buskerud Municipality in Viken county, Norway. In 1885, this church was due for demolition but was instead gifted to the King of Norway who moved it from the mountains to Oslo and reconstructed it to resemble the original look.
The Gol stave church is now a museum located in the Norwegian Museum of Cultural History on Bygdøy, a peninsula on the west side of Oslo. 
Taking pride of place on the hill within the museum grounds is the Gol stave church. At the church entrance, we met Annie, a local guide who was attired in national dress. Annie eagerly walked us through the church pointing out under torchlight nearly invisible runes on the walls and staves. One of the memorable stories she told us was that the women were always stood on the north side of the church in the event that the demons should get in. This way the women would be taken first!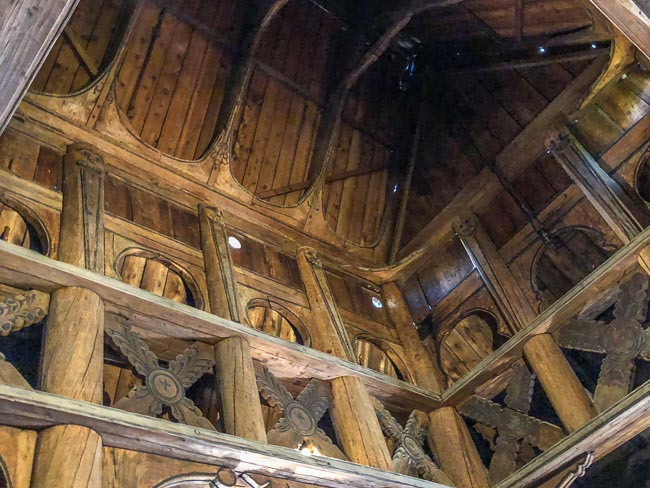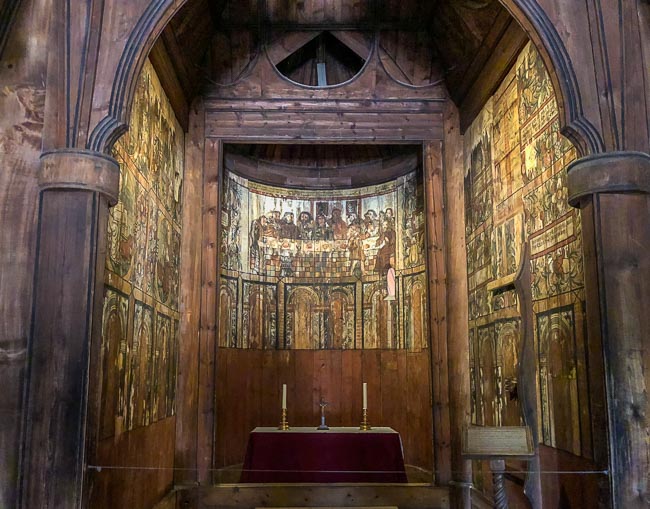 Painted scenes inside the church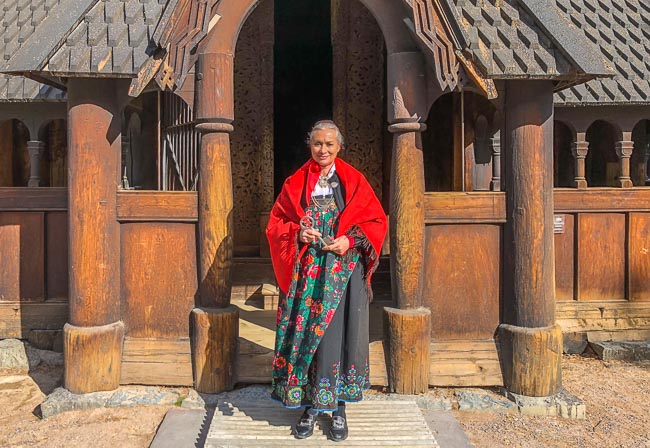 'Annie' – our informative guide at the Gol stave church
Gol Stave Church Information
Opening Times:

01 Jan to 30 April

each day 11:00 am to 4:00 pm;

01 May to 30 Sept

10:00 am to 5:00 pm;
Free wifi throughout the museum grounds
Contact: Oslo Visitor Centre, Call centre: +47 23 10 62 00, Mon – Fri 09:00 to 16:00hrs or email:

[email protected]

  OR Norsk Folkemuseum, 22 12 37 00, or email: [email protected]
Map of Norway's Remaining Stave Churches
Below is a map showing the remaining 28 stave churches in Norway and a list if you want to be familiar with the names.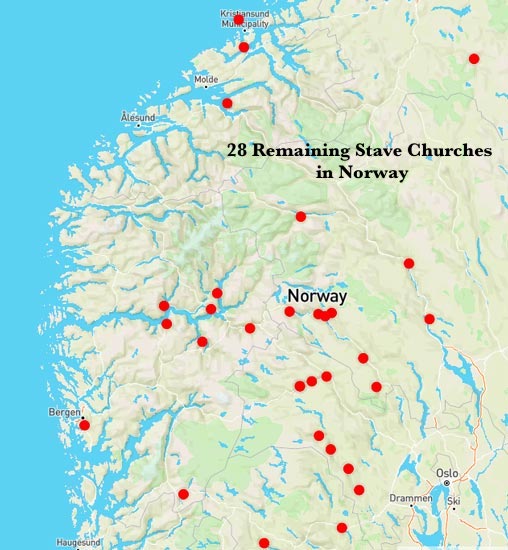 Borgund
Eidsborg
Flesberg
Garmo
Gol
Grip
Haltdalen
Hedalen
Heddal
Hegge
Hopperstad
Høre
Høyjord
Kaupanger
Kvernes
Lom
Lomen
Nore
Øye
Reinli
Ringebu
Rollag
Rødven
Røldal
Torpo
Undredal
Urnes
Uvdal
Visiting Stave Churches Around Norway
Norway stave churches are dotted all around the country and the easiest and most time-effective option is to have your own vehicle. This means you have control over when you need to get going and which direction you can head. If we need to hire a vehicle then we use Rentalcars.com to find the best car rental deals.
Norway Stave Church Round-Up
In all our travels we've not seen the likes of these architectural masterpieces in any other country. Norway stave churches surely represent quintessential 'old Norway' at its very best. And to think that these beautiful works of art were built not by master craftsmen, but by talented local tradesmen.
If you want to read more about these and other Norway stave churches, click here.
Have you visited any of the Norway stave churches? Did you have a favourite? We loved visiting the stave churches and we'd really like to hear what you thought of them. Feel free to drop a comment below.
This post may contain affiliate links. This means that we may earn a small commission from purchases you make through our links, at no extra cost to you. Thank you for supporting us. For more info, read our Disclosure Policy.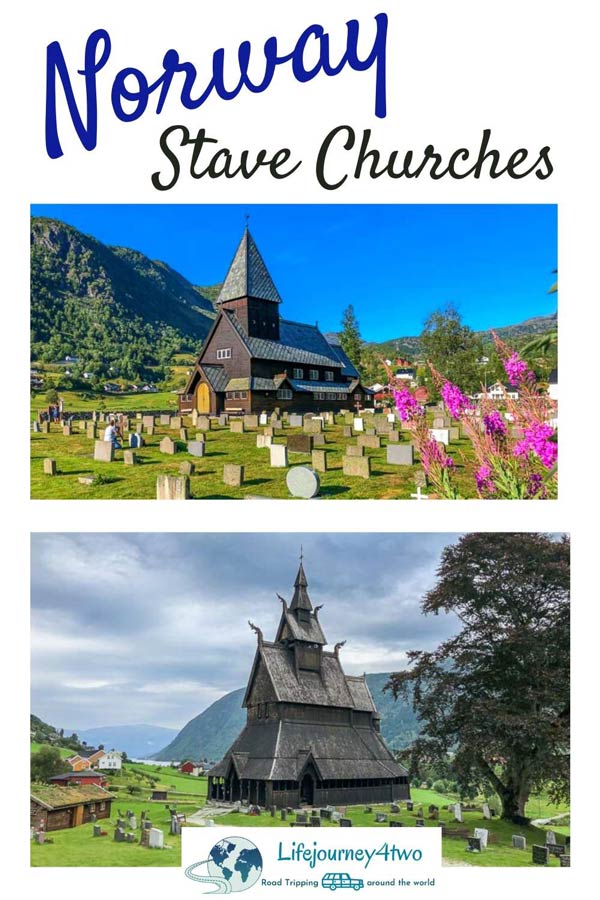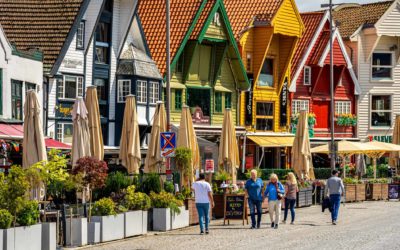 The best things to do in Stavanger include a mix of museums, sandy beaches, street art, photogenic coastal scenes and so much more…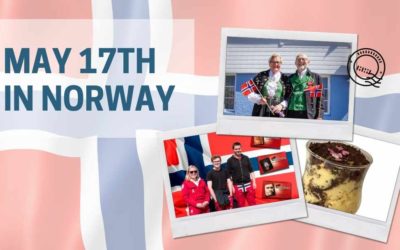 The 17th of May in Norway is a time for families to celebrate. The streets come alive with waving flags, traditional costumes and ice cream!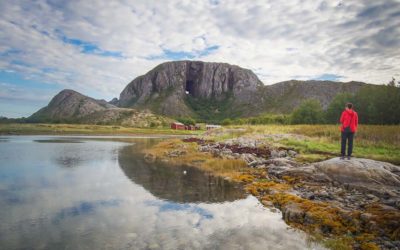 Torghatten, Norway's very own 'Hole in the Mountain' is unique.Set in a beautiful island panorama, this hike is one you won't want to miss.A one-off wonder.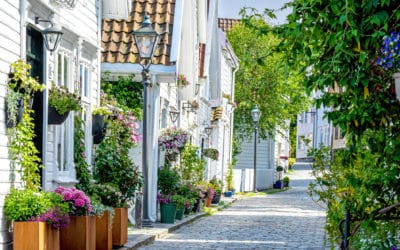 This Norway 2 week itinerary between Bergen and Stavanger follows many of Norway's Scenic Routes plus fjords, stave churches, traditional towns and waterfalls.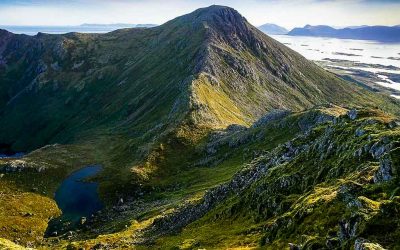 The Dronningruta hike (The Queen's Route) is a challenging hike with dazzling, majestic landscapes. Located in remote Vesterålen, Norway, it awaits discovery.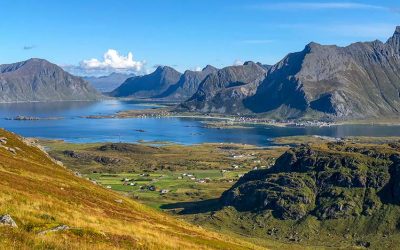 Hiking Norway is the ultimate way to experience this stunning country of fjords, glaciers and mountains. These hikes range from easy to challenging. Enjoy Norge!
Arrange Your Travel Insurance
Get a quote from World Nomads - one of the best options for travellers. Find out why here.
Book Your Accommodation
We use Booking.com and Tripadvisor to find accommodation that suits our budget and to get a great overview of available specials and deals. 
Travel Gear and Accessories
We've been on the road since 2017 and have added items we've found useful to our Lifejourney4two page on Amazon  
Car Hire
We use  Rentalcars.com to find the best car rental deals.
Motorhome/Van Rentals
If you are looking for a motorhome or van rental - we highly recommend the Motorhome Republic who can find the best deals worldwide.
Finding Activities to do
We use Get Your Guide and Viator to get ideas of what to do in a place - sometimes it's best to get tickets online and jump the queues.
Flexible Accommodation Options/ Or Finding someone to look after your pets
We often use house/petsitting as it really makes our travels much more affordable - as accommodation is FREE
Get 25% off  Trusted House Sitters by using our link here: Join Trusted House Sitters either as a house sitter or if you want to find a house sitter.
Photography Prints and Products
Shop our ETSY store for digital downloads of our best photos and our unique photographic designs.