NORWAY 2 WEEK ITINERARY
This Norway 2 week Itinerary Includes:
Cruising the fjords,
Visiting stave-churches,
Wandering the 'gamle' or old traditional Norsk towns,
Gazing at tumbling waterfalls,
Driving as many of Norway's Scenic Routes as possible,
And let's not forget, hiking to some exhilarating world-class locations around the Stavanger and Bergen areas of Western Norway.
Norway is truly deserving as a bucket list country and its Scenic Routes, as you can probably guess, showcase some of the best landscapes in Norway. Many of these roads are only accessible in Summer and Autumn due to snowfall blocking access.
We've spent over 12 months living and travelling through Norway over the Summer and Autumn seasons for the last few years with our base in the historic village of Skudeneshavn, leaving us a lot of time to explore this fairytale country.
This article is No.1 of 4 of a series where we road-trip from Stavanger all the way up to the Lofoten and Vesterålen islands of northern Norway.
READ MORE:
#2 Bergen to Trondheim – An Unforgettable Road Trip
#3 Trondheim to Bodo – Crossing the Polar Circle
#4 Lofoten Road Trip: Seeing is Believing (inc Video)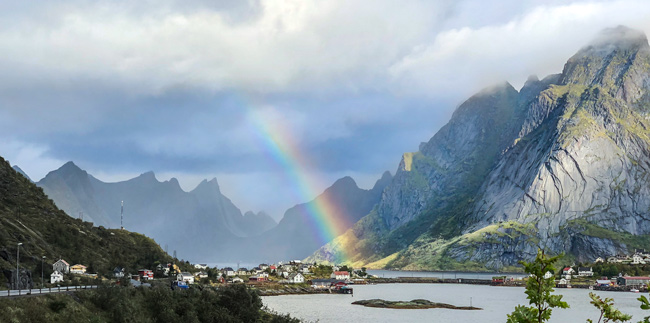 Norway certainly has some pristine scenery
NORWAY 2 WEEK ITINERARY IN A NUTSHELL (MAIN ATTRACTIONS)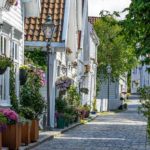 1. Stavanger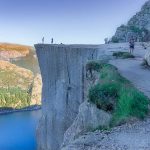 3. Preikestolen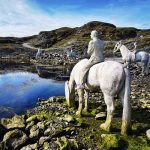 5. Haugesund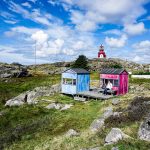 6. Utsira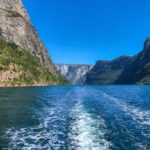 8. Fjord Cruise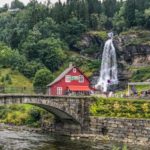 9. Waterfalls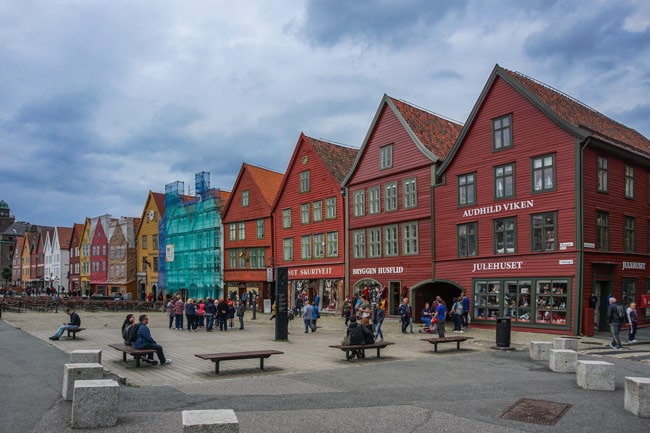 10. Bergen
ROUTE OVERVIEW (STAVANGER TO BERGEN)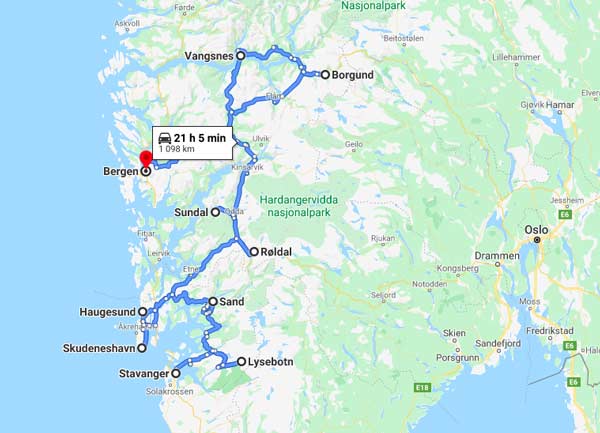 PLANNING YOUR NORWAY 2 WEEK ITINERARY
There is so much to see in Norway. Planning an itinerary requires a careful approach. The trick, as we learnt, is not to try and fit too much into your schedule. You don't want to rush Norway.
Factor in extra time for exploring more of the places you really like once you are there. Plan for unexpected stops that you'll take to admire the amazing sea/landscapes and factor in that you might get some bad weather. Even in Summer, you can't completely guarantee fine weather in Norway.
Stavanger and Bergen are too far south for viewing the Northern Lights so you'll have to head north, as we did, to at least the latitude of the Lofoten islands, 66ºN or even further north if you like.
There are many different attractions included in this Norway 2-week itinerary so there's sure to be something that appeals to everyone, and even more so if you have kids.
This itinerary enables you to start your trip from either Stavanger or Bergen. Both of these places are international travel hubs making them the perfect place to hire a vehicle and launch into your adventure.
If you prefer to have a base from which to travel, then this itinerary is perfect for day trips from both Stavanger and Bergen. You would certainly guarantee yourself a full day of activity as the Norwegian Summer months treat you with about 18 hours of sunlight!
NORWAY ROADTRIP MAP OF SCENIC ROUTES AND ATTRACTIONS
To use this map, expand it using the square symbol on the top right-hand side and then look to the key on the left-hand side. By clicking each location you will find the corresponding position on the map. 
Red lines denote the different Norway Scenic Routes;
Blue circles with a star denote an attraction;
Green circles denote waterfalls;
Black circles denote hikes;
Purple circles denote main towns;
Yellow circles denote alternative options.
NORWAY EVENT CALENDAR
There are many different festivals and events; you'll be spoilt for choice in Summer. You can find out more by clicking on:
During our time in Norway we have really enjoyed: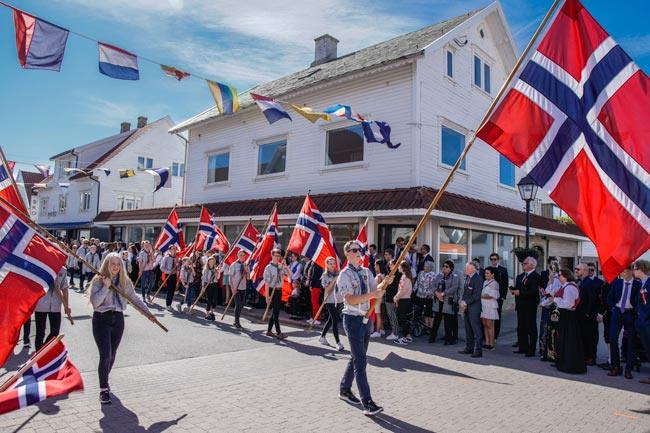 Norway's National Day Parade is well celebrated, Skudeneshavn, Norway
NORWAY ROAD TRIP ITINERARY – 2 WEEKS OF Wonder!
As mentioned before, starting your trip in either Stavanger or Bergen is perfectly fine but for this article, we'll start this adventure from Stavanger.
Not only did we visit all these places but we also used the Geocache app to take us to other interesting places along the way that you just won't find mentioned in any tourist guide. It definitely adds extra excitement into the day and a great activity if you have kids!
DAY 1 – STAVANGER
Jump straight in and immerse yourself into old traditional Norway by walking the picturesque cobble-stoned streets of Gamle Stavanger or Old Town Stavanger with its 173 historic 18th-century homes. These beautiful steepled, white houses with their colourful flowering gardens make for a fairytale atmosphere!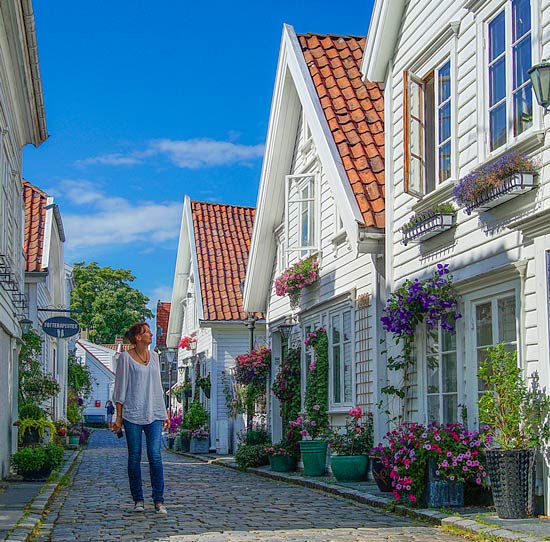 Pretty fairytale like streets of Stavanger
The harbour front forms part of Gamle Stavanger and it's here you can choose to eat at one of the many restaurants that line the harbour boulevard. If you're lucky, you may even see one of the glorious tall ships of old, taking part in the augural Tall Ships Race.
READ MORE: 28 Best Things to do in Stavanger and surrounds.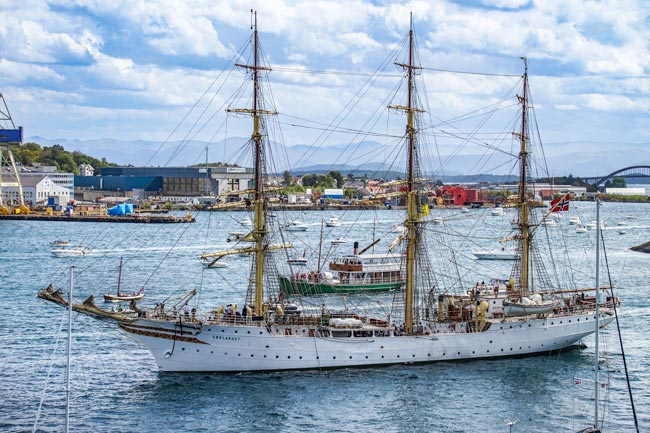 Tall ships departure from Stavanger, Norway 
A short walk away is Byparken, the city park with a fountain lake that is lined with sculptures including the bronze statue of a boy with his captured duck and ducklings. There are plenty of park benches to sit and while away the time.
Stavanger is a great place to springboard onto some great nearby hikes: Preikestolen (Pulpit Rock) and Kjerag overlooking the magical Lysefjord.
DAY 2 – HIKE KJERAG
Hiking Kjerag mountain will involve a 6-hour return trip with the hike difficulty rated as demanding. The hike offers birds-eye views of the Lysefjord but the main goal of many is to stand on Kjeragbolten or 'Kjerag Bolt'. This small round boulder is wedged high in a crevasse at an altitude of 984m and is reached at the end of the hike.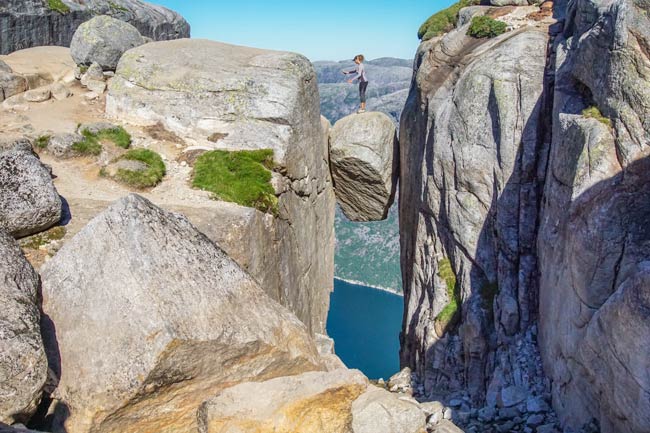 Kjeragbolten up close and the Lysefjord way below!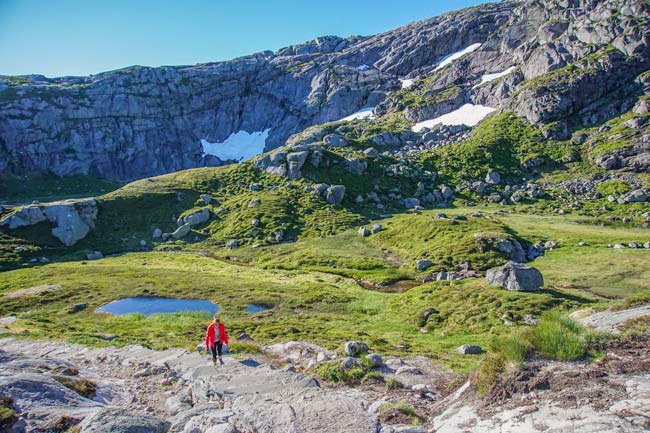 Kjerag Hike has scenic views all the way
Standing on Kjeragbolten is not for everyone, as we well know, and it doesn't have to be; you'll enjoy the amazing views and fresh mountain air regardless.
Read More Hiking Kjergbolten and Fear at .
DAY 3 – HIKE PREIKESTOLEN (PULPIT ROCK)
Not far from Kjerag (about 2.5 hours travel time) lies the famed Pulpit Rock or Preikestolen, one of the most visited attractions in Norway. This 25m x 25m platform rises 600m above the Lysefjord and is rated as medium difficulty. The Pulpit Rock hike round trip takes around 4 hours making it more attractive than Kjerag if you are pressed for time.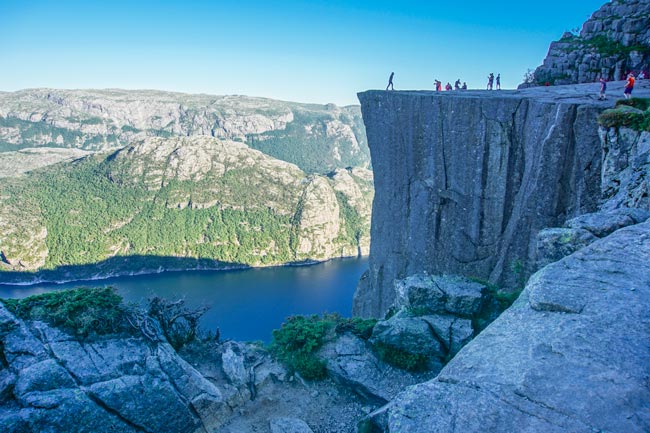 Pulpit Rock
Although we hiked Kjerag and Preikestolen on the same day, we would recommend that you spread the 2 hikes over two days for maximum enjoyment.
READ MORE: Hiking the Panoramic Preikestolen
(Alternative – Flørli Stairs)
Also in the vicinity of Kjerag and Preikestolen is the famous Flørli stairs with mesmerising views down onto Lysefjord. This one is still on our to-do list but if climbing the 4,444 steps of one of the longest staircases in the world is for you, then you can read more about this 4-hour 'Challenging' climb on Visit Norway.
Leaving Preikestolen, you'll begin the drive north on the Ryfylke Scenic Route towards Himakana.
DAY 4 – HIKE HIMAKANA AND VISIT SKUDENESHAVN OLD TOWN
HIKE HIMAKANA
This moderate difficulty hike is definitely one for everyone. Known as the Mini-Trolltunga, the trail takes around 2 hours to complete and offers plenty of diverse and stunning scenery culminating with grand views over Boknafjord. Himakana was one of our favourite hikes as it wasn't overwhelmed with tourists, unlike the previous two hikes mentioned.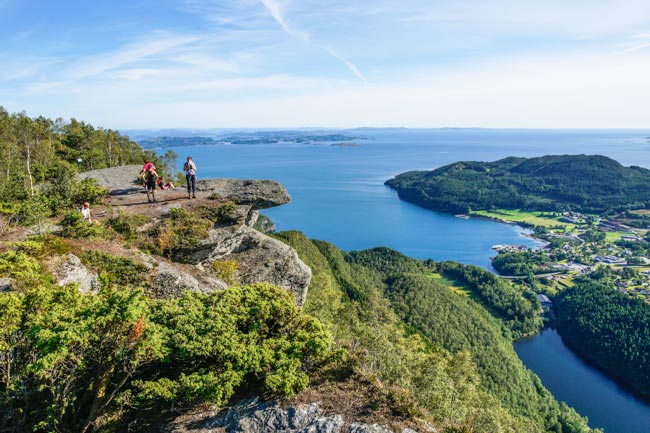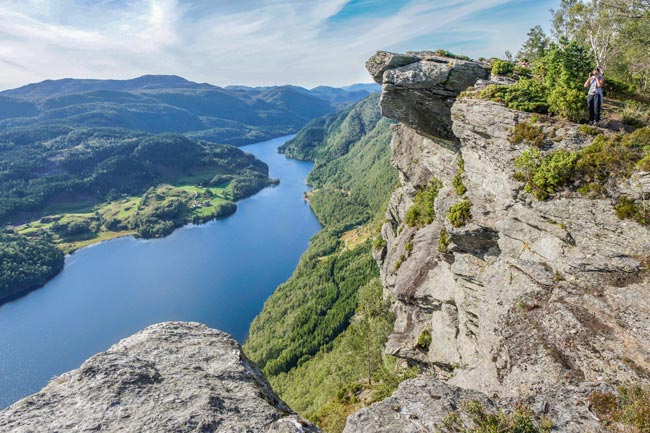 VISIT SKUDENESHAVN OLD TOWN
Skudeneshavn is situated on the island of Karmøy, in the heartland of Viking territory. Gamle Skudeneshavn or Old Town Skudenshavn has streets of exquisite white-washed homes and has that welcoming old village charm.
There is so much to see and do around Skudeneshavn, such as: visiting the World War II bunkers and forts, indulging in waffles and coffee in the smalest cafe in the world, finding the famous Moonstone in Skudeneshavn park and walking through the beautiful old town by the harbour.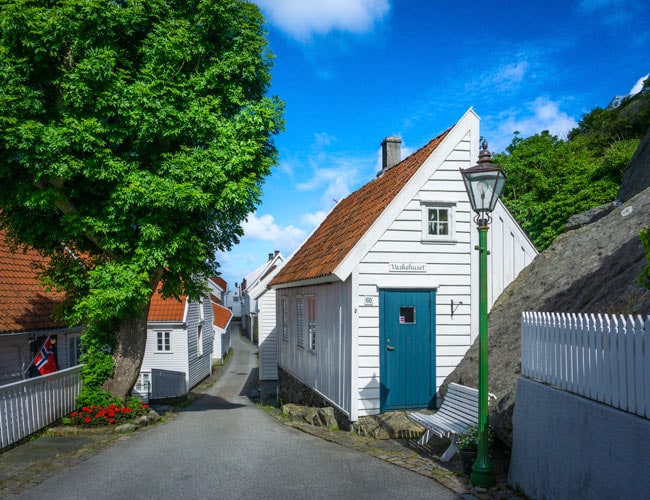 The notable 'Half House' in Skudeneshavn
When driving north from Skudenshavn, take the western coastal route and enjoy the beautiful white beaches of Sandvesanden and Åkra. That's not all though, there's so, so much to see in and around Skudeneshavn.
READ MORE: Explore Skudeneshavn and the island of Karmøy.
DAY 5 – AVALDSNES VIKING VILLAGE AND HAUGESUND
AVALDSNES
No trip to Norway is complete without a visit to the Viking settlement in Avaldsnes. The reconstructed buildings were built using the original techniques from centuries ago.
Close by, is the Nordvegen History Centre which is a museum dedicated to telling the story of the Vikings and how Alvaldsnes became the first Royal Throne of Norway. Take a sneak peek at the annual Viking Festival in this video:https://www.youtube.com/embed/s60hmN1BM5g?feature=oembed&wmode=opaque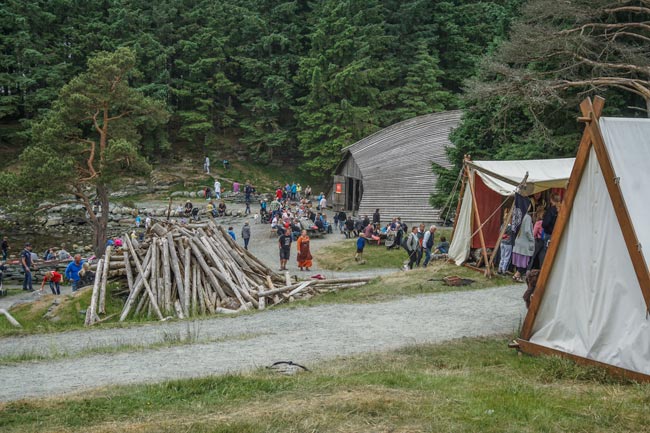 Avaldsnes Viking Village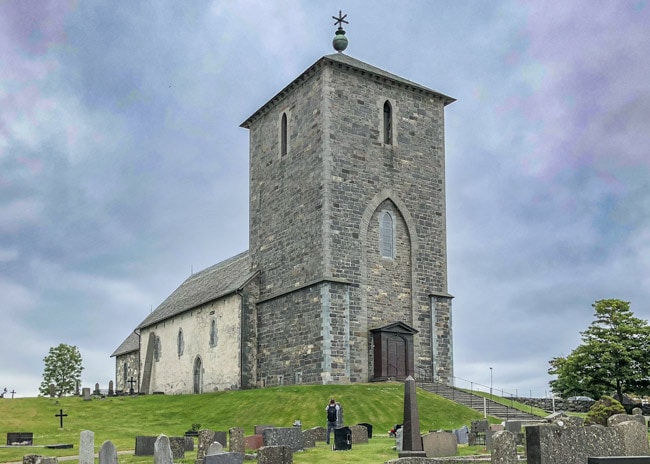 St. Olav's Church, Avaldsnes
Close to the History Centre lies the restored St. Olav's church, built around 1250 A.D. Mary's Needle, a huge stone monolith, leans towards this church and legend foretells that when the stone touches the church, judgement day will have fallen. Luckily, there are still a few inches between the two!
HAUGESUND
This coastal town is largely known for its shipbuilding and repairs, but it offers  lovely walks along the waterfront and a wide range of harbour-front restaurants.
Not to be missed is the impressive monument, Haraldshaugen, dedicated to King Harald who unified Norway under one rule, way back in the late first century. Each of the smaller stone pillars surrounding Haraldshaugen represents one of the historic counties of old which with each bearing the county name.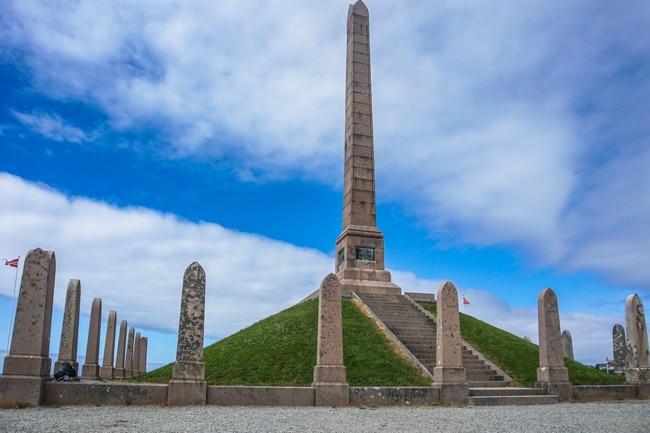 Haraldshaugen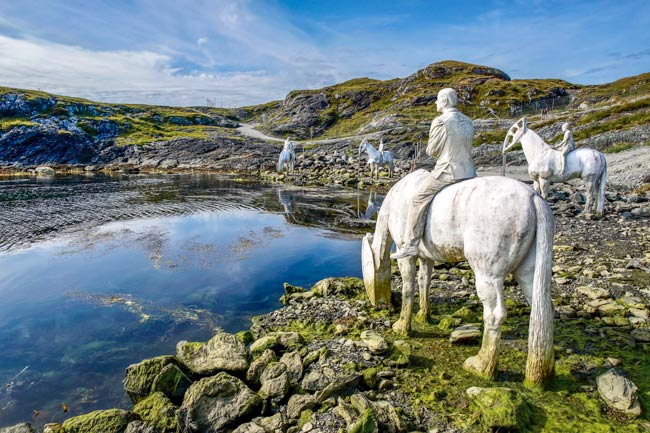 Kvalsvik 4 horse sculptures
Just to the north of Haugesund, within the lapping waters of Kvalsvik, stand the 4 horseman statues. The style is a fusion of the olden day working draft-horse and society's newer dependency on oil production. Interesting works of art!
DAY 6 – UTSIRA ISLAND
From Haugesund, a short 70-minute ferry-ride has you arriving at the amazing butterfly-shaped Utsira island. This island has many attractions including it being a bird watchers paradise.
The old Utsira lighthouse, built-in 1844, is still operational although not in active service. Another great drawcard is the island's famous international street art that can be found all over the island. You'll need most of the day to walk or ride whilst exploring this haven. 
READ MORE : Utsira, definitely an intriguing island.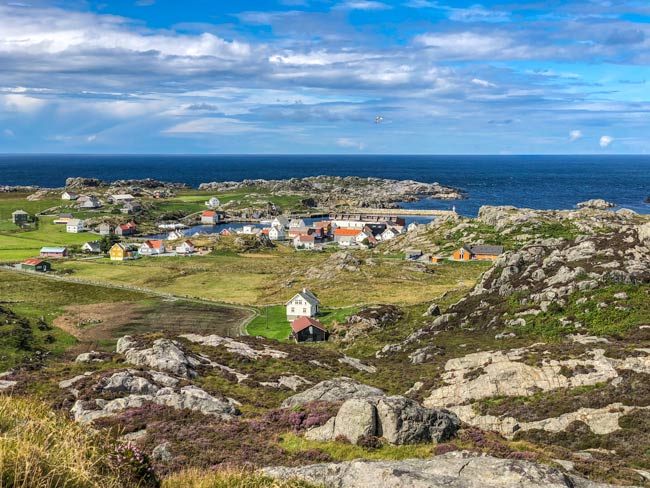 Utsira island
Leaving Haugesund, you'll re-join the Ryfylke Scenic Route.
DAY 7 – SVANDALSFOSSEN, ALLMANNAJUVET – SAUDA ZINC MINES, RØLDAL STAVE CHURCH, LÅTTEFOSSEN WATERFALL
SVANDALSFOSSEN
This beautiful, cascading waterfall tumbles 180m down and under the road but what you see is only the final part of the falls after the waters have merged. You need to walk the 500 odd steps of the walkway up the small hill to the right of the falls where it flattens out onto a small plateau of sorts; then you get to see the full breadth and wonderment of Svandalsfossen.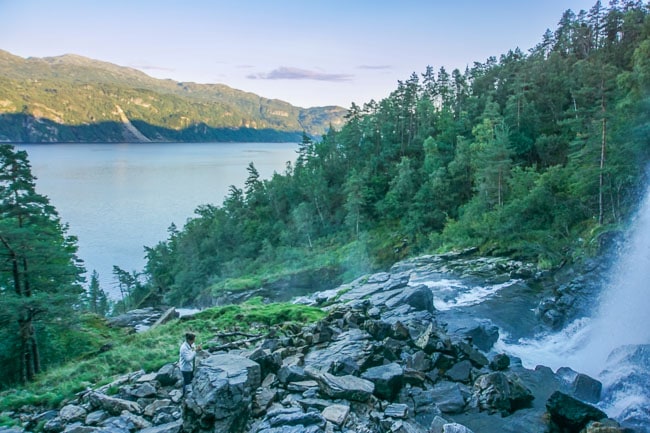 'Svandalsfossen' 
ALLMANNAJUVET – SAUDA ZINC MINES
These mines were in operation in the late 19th century and now guided tours are offered into the actual mines themselves. A series of box-like buildings with doors and roof made of zinc with plywood panels are visible from the road and within close proximity of the mine. They represent the hard and austere life of a miner. A small, permanent exhibition displaying the life of the mine is open for visits.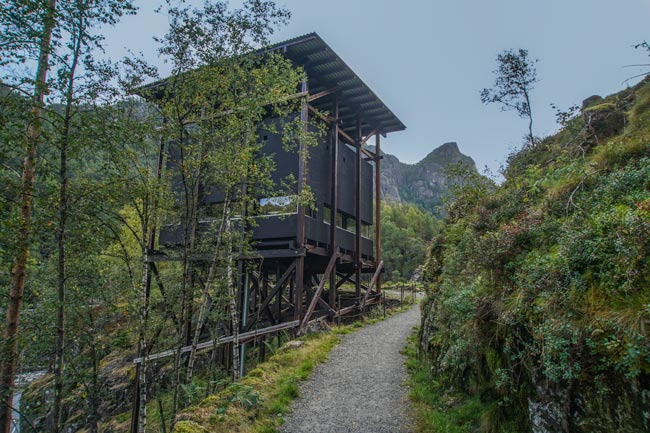 The museum is open daily in mid June to the end of August and maybe visited out of the season by prior arrangement:
RØLDAL STAVE CHURCH
This lovely 13th-century stave church was built along one of the major pilgrim routes in Norway. Amazingly, this is still the parish church for Røldal and renowned for its beautiful internal decorations. The medieval beauty of stave-churches is certainly reminiscent of the long past Viking era.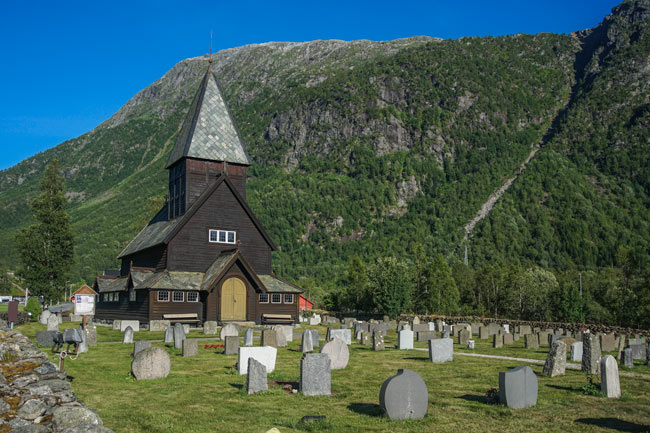 Røldal stave church
Leaving the Røldal Stave Church, pick up the Hardanger Scenic Route starting at Skare.
LÅTTEFOSSEN  – TWIN WATERFALL
Just 2 km past Skare and right by the main road '13' is the twin waterfall, Låttefossen. The waterfall splits and cascades 165m down the mountain and in the process, casts water spray over the road. The sheer volume of water that passes you by is phenomenal. Accessible parking is nearby with a walkway underneath the road that brings you face-to-face with the falls.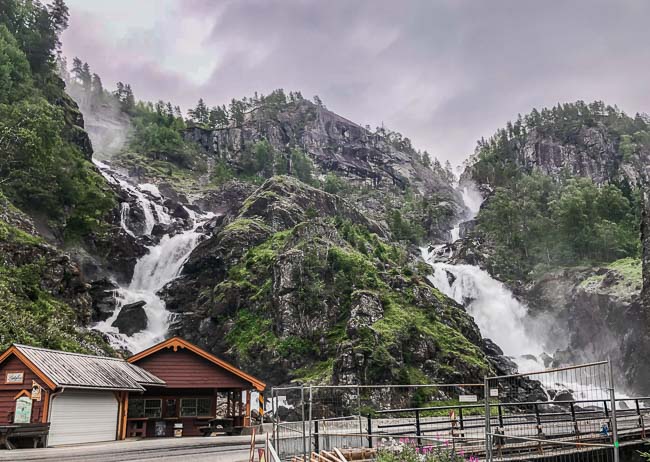 'Låttefossen'
DAY 8 – BONDHUSVATNET, KINSARVIK
BONDHUSVATNET
This stunning walk around Lake Bondhus shouldn't be missed. This Norwegian hike is rated as easy and takes you along  the lake's edge. Set aside 2 to 3 hours in total for this scenic walk and the countless photo opportunities on offer.
Gazing up to the snowy mountain peaks beyond the lake you may spy the receding Bondhusbrea Glacier, which was a source of ice used for export long ago. Following the receding trail of glacial worn rocks to spot where the glacier used to meet the water, is a lovely sandy beach that is perfect to either picnic at or just sit and admire the surrounding beauty.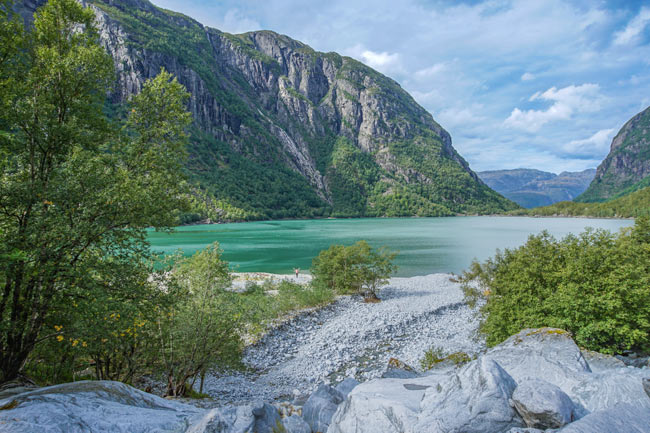 Bondhusvatnet
(Alternative – Trolltunga)
Leaving Bondhusvatnet, you may be keen to attempt the hike to Trolltunga. The town of Odda is the best starting point to strike out from. This hike is still on our to-do list so we can't offer any personal advice but Visit Norway has plenty of information about this 'Expert Level' 7 to 10-hour hike. Enjoy!
KINSARVIK
Kinsarvik has one of the oldest stone churches in Norway dating back to the 12th century with Roman styled arches. Not to be missed and close by is the grand, old, white-washed tourist office building named 'Kinsarvik Brygge'.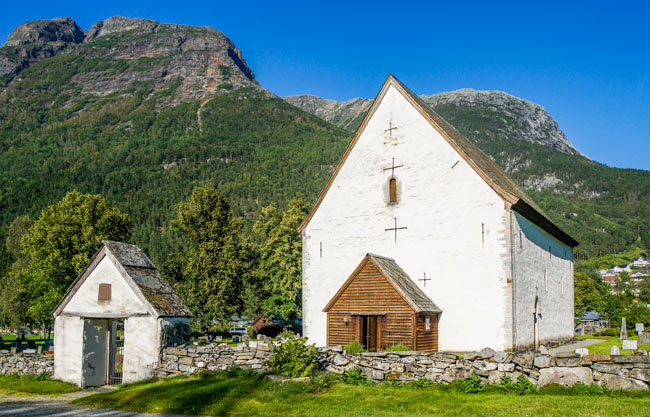 Kinsarvik Church
DAY 9 – DRONNINGSTEIN HIKE (KINSARVIK ↔ LOFTHUS)
Dubbed The Queen's Panoramic Route, this 16-kilometre trail is rated as difficult and will take 8 to 9 hours to complete. The reward along the way is panoramic views of Hardangerfjord, orchard fields, forests and the expansive Hardangervidda National Park.
The descent down to Lofthus will have you walking the handcrafted stone Monk Steps. Construction began in the 13th century and took over 300 years to complete. Our hike of Dronningstein was much more than we expected – in so many good ways!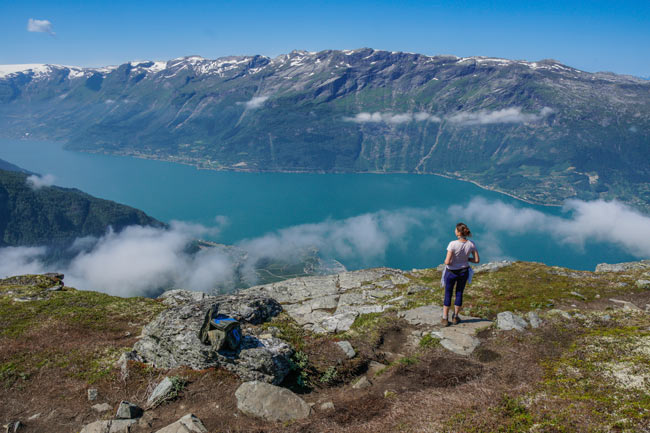 The Queen's Panoramic Route
DAY 10 – FLÅM FJORD CRUISE
FLÅM FJORD CRUISE
Take a 2 to 4-hour fjord cruise from Flåm to Gudvangen starting in Aurlandsfjord with final passage down the UNSECO World Heritage Site of Nærøyfjord. If you are having second thoughts because of possible seasickness, then don't, as the waters in the fjords are always calm (see video below). Once you reach Gudvangen and before you catch the bus that shuttles you back to Flåm, walk the shoreline and check out the Viking sculptures. You can feel the Viking presence of times gone by. 
VIDEO: Calm Norwegian Fjord Waters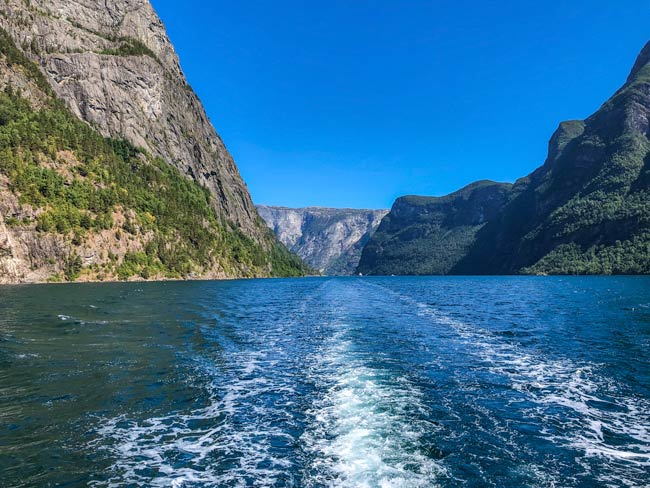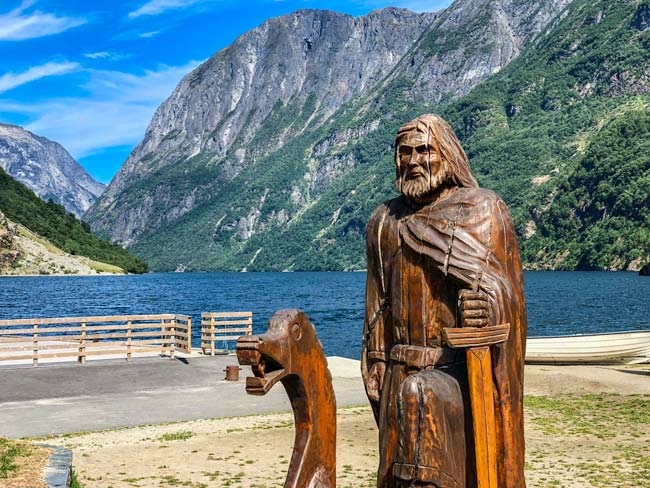 Gudvangen
(Alternative – Flåm Railway)
This incredible 20-kilometre train journey begins in the fjord and climbs to the top of the mountain passing farms, steep ravines, cascading waterfalls and snow-capped mountains. Voted as one of the most beautiful train journeys in the world, it is definitely on our to-do list. The return trip takes around 2 hours. Find more information on the Visit Norway site.
Leaving Flåm, drive the Aurlandsfjellet Scenic Route to the Borgund Stave Church.
DAY 11 – STEGASTEIN LOOKOUT, BORGUND STAVE CHURCH AND KONGEVEGEN, LÆRDAL TUNNEL, HOPPERSTAD STAVE CHURCH, VANGSNES HISTORIC HUTS
STEGASTEIN LOOKOUT
 The beginning of the Aurlandsfjellet Scenic Route winds up the mountain to a height of 650m above Aurlandsfjord where you will find an impressive wooden viewing platform jutting out from the mountain, Stegastein. Parking is just past this lookout and not only can you get fantastic views down into Aurlandsfjord from the lookout but also from the embankment behind the lookout. This road above Stegastein is closed in winter.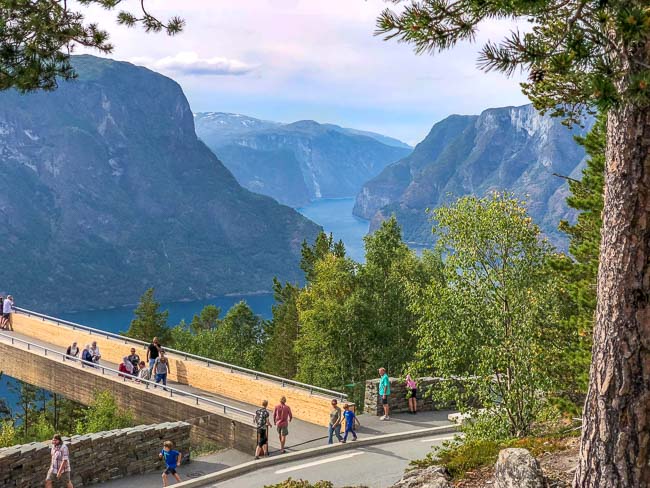 Great views from above Stegastein Lookout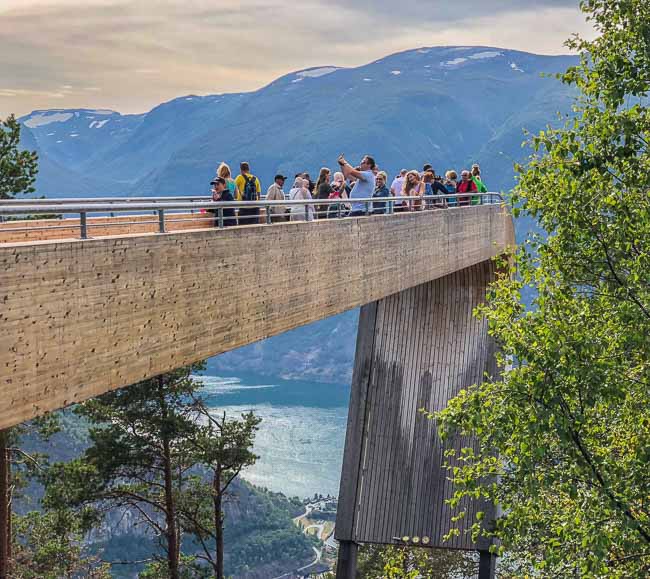 Stegastein Lookout
BORGUND STAVE CHURCH AND STROLL THE KINGSROAD (KONGEVEGEN)
Drive the Aurlandsfjellet Scenic Route to the 12th-century stave church, which is one of the best-preserved in Norway and is renowned for its characteristic dragons-head roof carvings. Guided tours are available (which we took advantage of) for a minimal extra fee and was definitely interesting. A mere 100m away is the informative Borgund Church Museum which is worth dropping by.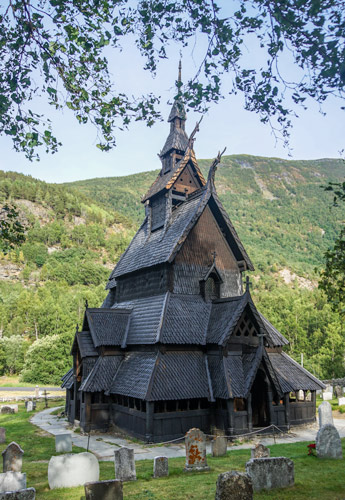 Borgund Stave Church
Behind the Borgund Stave Church lies Kongevegen, or 'King's Road', a 100 kilometre stretch of road built in the early 19th-century to join Bergen and Oslo. You can walk a part of this steep section of road, Kongevegen over Filefjell, with its 180-degree bends and crafted stone wall foundations. This 5.4-kilometre walk will end at Rimskjold (the junction of Kongevegen with road 630) and turn back to Borgund Stave Church. It will take a couple of hours and is rated medium difficulty.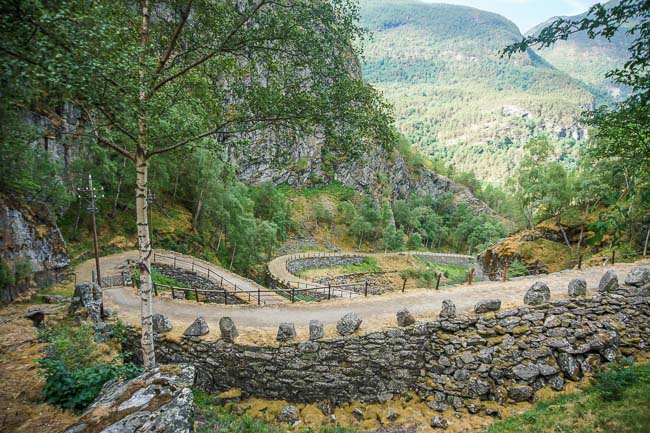 Walk Kongevegen
Instead of re-tracing your previous driving route, when leaving Borgund Stave church, drive road 630 which follows Kongevegen or King's Road (Lærdal-Fagernes) and parallels the bubbling Lædalselvi river. It is a very scenic drive weaving through the mountains and away from any signs of modern life.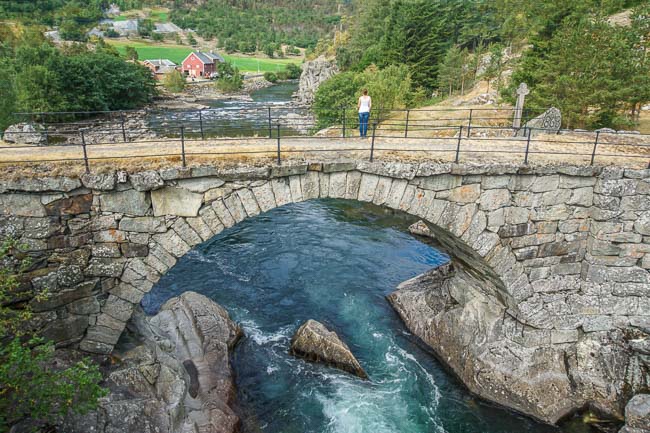 Drive Kongevegen
LÆRDAL TUNNEL
At Lædalsøyri, you could again join Aurlandsfjellet Scenic Route otherwise you could choose to drive the world's longest road tunnel, connecting Aurdale and Lærdal. The 24.5 km tunnel is interspersed every 6 kilometres with an enlargened area that is beautifully lit with artificial lighting and offers an area to park off the main road. We grabbed a bit of iPhone footage below.
HOPPERSTAD STAVE CHURCH
The town of Vikøyri is home to the beautiful Hopperstad Stave Church dating back to 1130. This church shares the title as the oldest stave church in existence. The church is located in a beautiful rural setting within a fjord setting. Get your camera ready!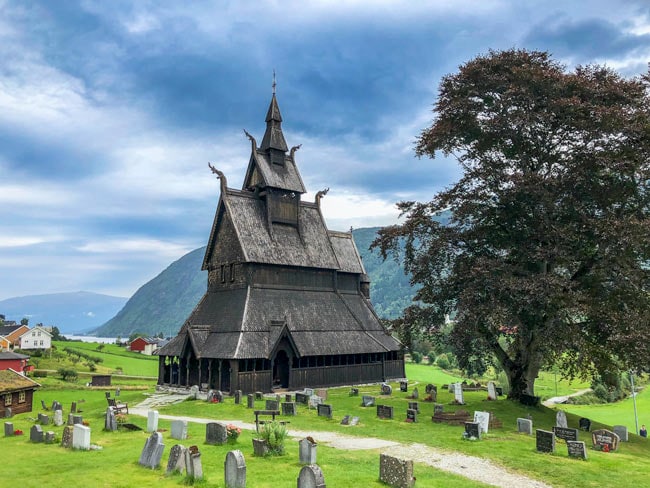 Hopperstad Stave Church, Vikoyri
VANGSNES
A short 12 kilometres away is the quaint village of Vangsnes. Here at the harbour are around 60 historic shore dweller sites and you are also treated to magical views down Sognefjord, the longest fjord in the world. Small information boards share the history of the buildings. 
DAY 12 – SMOKED SHEEP'S HEAD, STEINSDAHLSFOSSEN (WATERFALL)
SMOKED SHEEP'S HEAD IN VOSS
The traditional food of Western Norway is the smoked sheep's head which is served as an intact head on a platter. The town of Voss is renowned for its Smalahove or smoked sheep's head. Although we had this delicacy in our sights, it wasn't on offer when we passed through Voss. If you have tasted it, let us know your thoughts both before and after! Here is a video to make your own mind up whether its for you or not.
Leaving Voss, drive the Hardanger Scenic Route to Steinsdahlsfossen.
STEINSDAHLSFOSSEN
This is one of the most visited waterfalls in Norway and is special because a walking path takes you behind the waterfall. The waterfall has a drop of 50m and is set back from the road in a picturesque setting.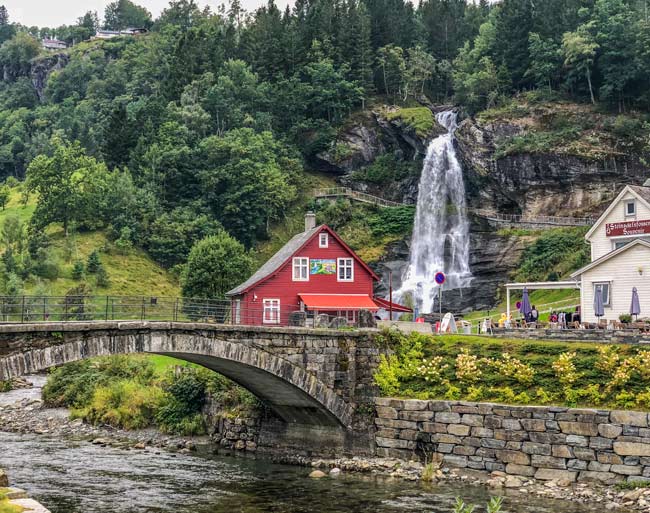 Steindahlsfossen, Norway
Leaving Steinsdahlsfossen, and heading towards the final stop of this 2 week Norway Itinerary, Bergen, you'll drive through stunning scenery with mirror-like lakes amongst the fjords. Quintessential Norway.
DAY 13 & 14 – BERGEN
We chose to stay in downtown Bergen, close to the old part of town, so we could easily walk to these worthwhile sights:
ST JOHN'S CHURCH
This church has the highest spire in Bergen topping out at 61m with the build being completed in the late 19th century.
BERGEN FISH MARKET
This market is one of the most visited outdoor markets in Norway. The fish markets also include restaurants selling many types of seafood and dates back to the 13th century.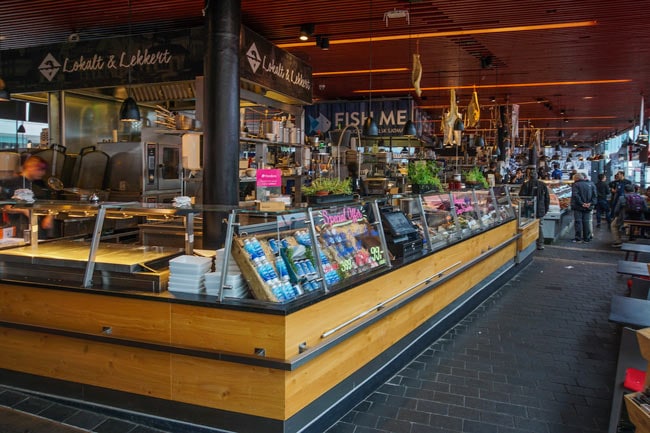 BRYGGEN
These waterfront buildings were the very first buildings in Bergen having been re-built in the early 18th century following a terrible fire. The buildings were once nautical trading offices but are now made up of restaurants, small shops and galleries. Bryggen holds a place on the UNESCO World Heritage List.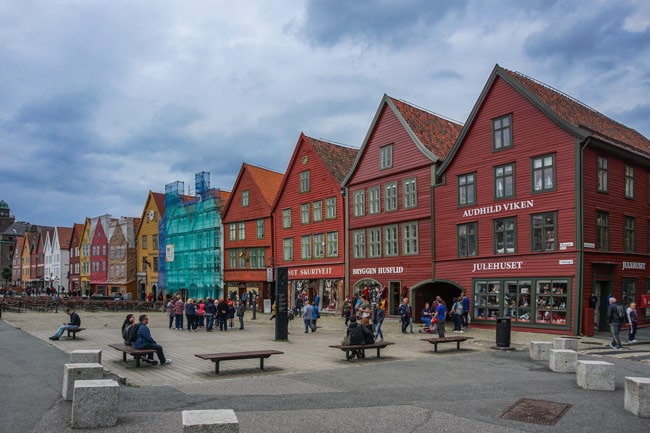 Bergen Bryggen
MUSIKKPAVILJONGEN
This lovely white, iron music pavilion is found in City Park, amongst lovely gardens and has an attractive Moorish-styled architectural design. A great place to sit and absorb the grandness of the seven mountains that surround Bergen.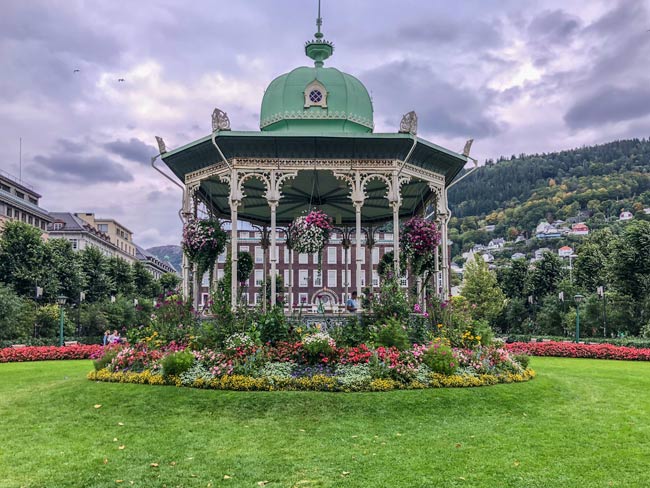 LILLE LUNGEGÅRDSVANNET
Close by the music pavilion is the small, picturesque, octagonal-shaped lake with a central fountain that offers plenty of bench seating to people-watch or simply enjoy the surroundings.
(Alternative – Bergen Bird's Eye View)
Hike Mount Fløyen for panoramic views over Bergen and its 7 surrounding mountain peaks. You can self-guide on other hiking routes or to keep things easy, take the Fløibanen funicular up and hike down back into Bergen. Another one we have on the back burner to do but you can check out more information here. Next Road Trip – Bergen to Trondheim
EVERYTHING YOU NEED TO KNOW FOR YOUR NORWAY 2 WEEK ITINERARY
TRANSPORT FOR YOUR 2 WEEK NORWAY ITINERARY
Self-drive is definitely the way to go. You have the freedom to go where you want, when you want. We campervanned around Europe for a year and it was not only great fun but the best way to travel. Public transport does service some of these places but honestly, a rental car or campervan hire will get you mobile and allow you to pick the perfect travel routes for you that suit your plans.
Here you can find hire car and campervan hire options from either Stavanger or Bergen to best suit your needs.
CAR AND MOTORHOME RENTAL
Rentalcars.com gave us the best car rental deals in Europe, especially during our road trip around Iceland.
Motorhome Republic found us the best hire deals for campervan hire for our year-long road trip around Europe. They found better pricing than we could find going direct ourselves therefore making the process so much easier.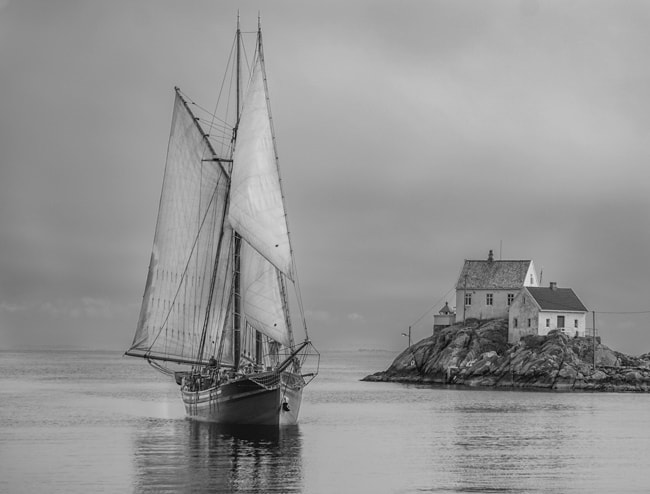 Tall Ship, Skudeneshavn, Norway
WHAT TO PACK FOR YOUR NORWAY 2-WEEK TRIP
Even in Summer, there is a fair bit of variability in temperatures and the weather can change quite quickly. It can be quite cold and wet in the morning but turn into a blistering hot day. Layering your clothing is the best option and having waterproof top and bottom means you won't have to hike in wet clothes.
We strongly recommend waterproof hiking shoes/boots
If you have weak or sore knees then consider using walking poles to prevent shock loading on your joints. Some of these hiking downhill descents are quite steep and can cause jarring which is not pleasant
A backpack with a waterproof cover is super handy to carry water, food and any camera accessories
We've been on the road for over three years now and have added some useful travel items to our Lifejourney4two page on Amazon.Check out our Recommended Travel Items Here
DRIVING IN NORWAY
Most of Norway has a maximum 80km/hr speed limit on the open roads. Speed and trip (average speed between locations) cameras are in abundance, so driver beware.
Norway has an electronic road toll system. We owned a non-Norwegian registered car (U.K. plates), so needed to register our vehicle on the Norwegian PLC site with our credit card details. Every 3 weeks to 4 weeks we were invoiced. It's quick to set up and hassle-free.
Summer and Autumn are the busy tourist seasons and the best time to travel Norway as you'll find pretty much all of Norway's roads open and not closed due to snow.
Norway's traffic rules can be found on the Norwegian Public Roads Administration site vegvesen.no or you can make direct contact with the Traffic and Road Information on +47 815 48 991.
To check to see if any of Norway's Scenic Routes are closed, follow this link to the Norway Tourist Routes site.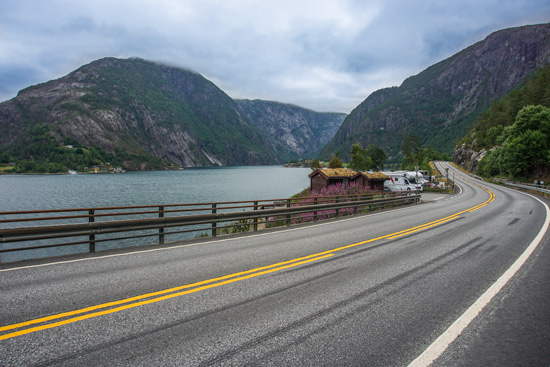 Typical fjord driving
HANDY PHONE APPS AND EMERGENCY PHONE NUMBERS
yr app (as in the 2 letters y and r) This is an accurate Norway weather app for both IOS and Android devices
outtt appprovides detailed trail maps for Norway for both IOS and Android devices
maps.me app is an off-line map for both IOS and Android devices
Smart Parking app is available for both IOS and Android phones and allows you to pay for parking online and not have to worry about carrying around coins or credit cards
Emergency Phone Numbers – Fire: 110; Police: 112; Ambulance: 113
WHERE TO STAY IN NORWAY
We found AirBnB to have the best priced and available accommodation options. You can, of course, opt for booking a hotel but expect to spend a little bit more. When booking accommodation, some of the cheaper establishments do not include sheets and pillowcases as part of the standard booking and needs to be added at an extra charge. Make sure to check the booking details carefully.
BOOK YOUR ACCOMMODATION
We use Booking.com as we can find a variety of cheap and budget accommodation such as local guesthouses and cheap hotels.
HIKING DIFFICULTY LEVELS IN NORWAY
Norway classifies its walks and hikes depending on the difficulty as follows:
Easy (Green) – Novice Hikers/ No experience necessary
Medium (Blue) – Intermediate some hiking experience /average fitness level
Demanding (Red) – Experienced walkers/high fitness level well equipped with good hiking boots/ basic navigation skills /map and compass.
Expert (Black) – Longer and more technical hikes /Experienced hikers/ high fitness level well equipped with good hiking boots/ basic navigation skills/map and compass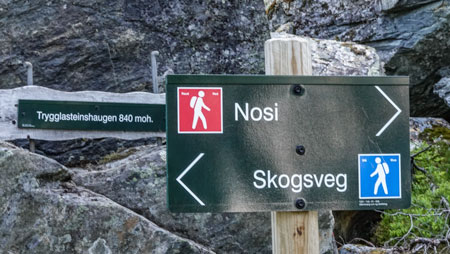 NORWAY 2 WEEK ITINERARY ROUND-UP
This itinerary was designed to showcase the many diverse attractions between Stavanger and Bergen and offer the best options to consider when planning your Norway 2 week itinerary. With good weather and long Summer days, Norway is sure to leave you wondering if you actually have stepped into a fairytale land.
Have you travelled to Norway before? What's on your Norway bucket-list? We'd love it if you shared your thoughts in the comment section below.
This post may contain affiliate links. This means that we may earn a small commission from purchases you make through our links, at no extra cost to you. Thank you for supporting us. For more info, read our Disclosure Policy.
Pin and Save for Later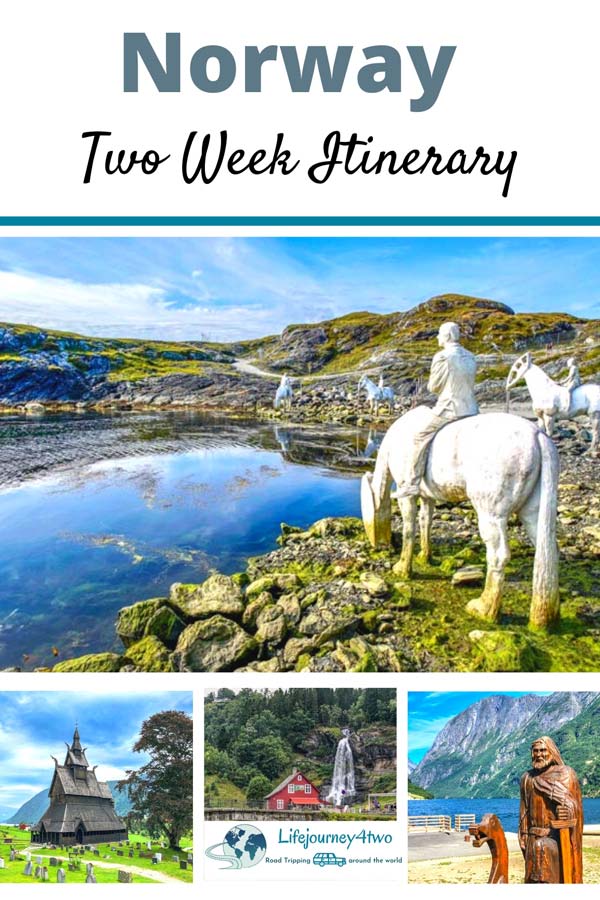 Read More Here: