UNVEILING OF THE NORTHERN LIGHTS OF LOFOTEN, NORWAY
The Lofoten Northern Lights danced and shimmered across the night sky in a complex, choreographed sequence. Teasing and tantalising, moving in waves. First appearing just above us … and then rising far above. As quickly as they appeared, they would dim and disappear only to reappear in another part of the sky.
A true marvel of nature that has enthralled and been revered by people through the centuries.
The northern lights deserve to be on everyone's bucket list — and rightly so.
READ MORE: Loften Road Trip: Magic Though Through the Islands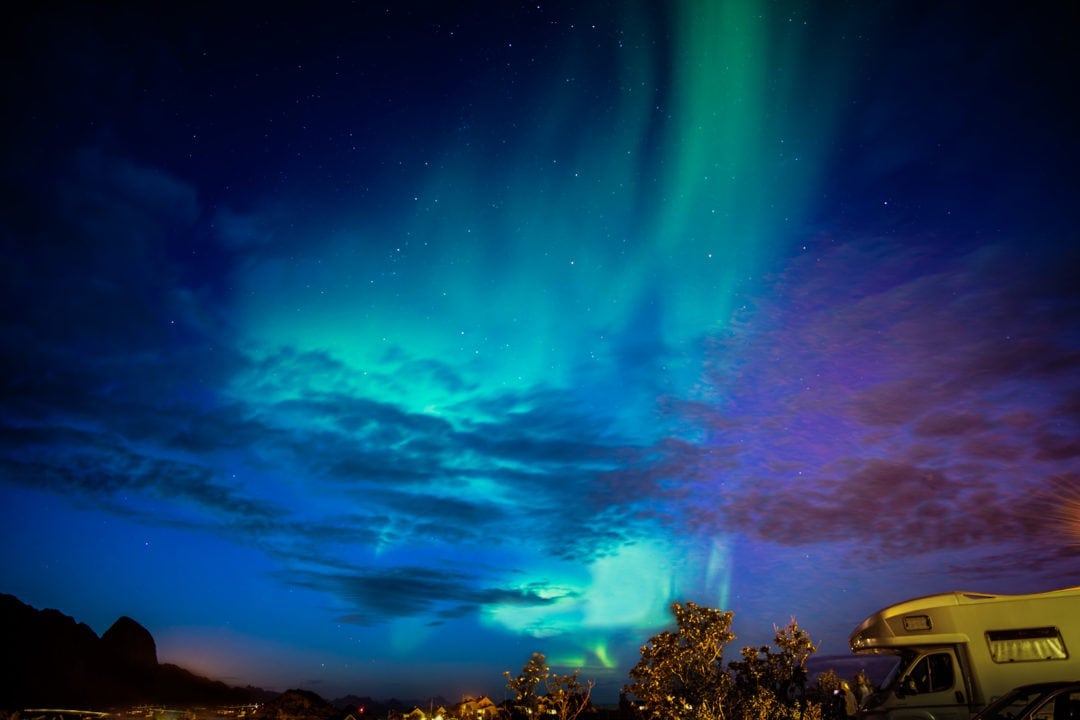 Planning a Trip to Norway?
WHAT EXACTLY IS THE AURORA BOREALIS (NORTHERN LIGHTS)?
Charged particles from the sun are blown by the solar wind and strike the Earth's atmosphere, (remember this for later when we talk about predictions). Most are repelled by the Earth's magnetic field.
However, the magnetic field is weaker at the North pole, allowing some of the sun's charged particles to penetrate our atmosphere. These collide with gas particles in the atmosphere resulting in emitted light or as we know it, the Northern Lights.
The different colours of light are due to the type of gas particles colliding.
The common green colour is produced by low-altitude oxygen collisions at around 60 miles of altitude
The red colour is produced by high-altitude oxygen collisions at around 200 miles altitude and
The purple-blue colour indicates collisions with nitrogen
The Aurora lights range from about 50 miles above the Earth's surface all the way up to 400 miles altitude. The same applies to the Aurora Australis near the South Pole.
Aurora Borealis is Latin for 'northern goddess of the dawn' while Aurora Australis is 'southern goddess of the dawn'.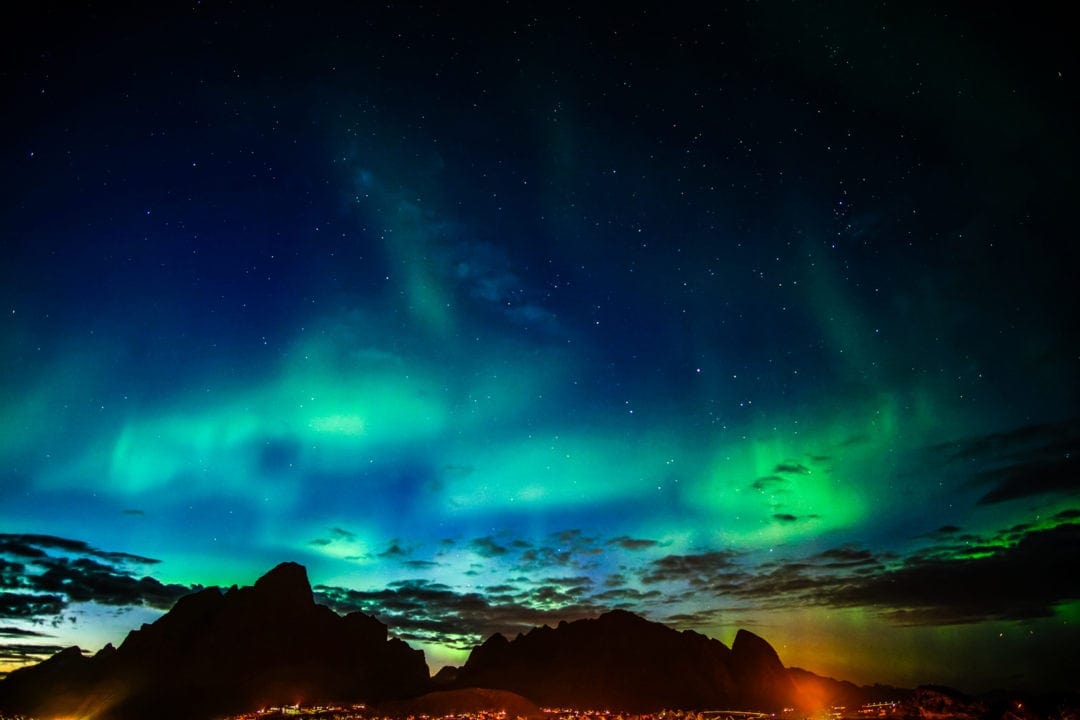 CHASING THE NORTHERN LIGHTS in LOFOTEN
We had heard many a story describing the beauty of the Northern Lights and nearing the end of our unbelievable Norway fjord road trip, grabbing a glimpse, now we were in northern Norway, would be the icing on the cake.
Now in late September, we were hopeful that the Aurora Borealis would grant us front-row seats to her renowned light show.
But she wasn't going to come to us … we would have to find her!
MAP – NORTHERN LIGHTS LOFOTEN
WHEN IS THE BEST TIME OF YEAR TO SEE THE NORTHERN LIGHTS LOFOTEN?
Plan to visit Lofoten between the months of September to April. Statistics favour the months of September, October and March as the best viewing months for Norway Northern lights.
However, be mindful that the weather in Lofoten during the winter months, (December, January and February) can be bleak with constant strong wind and rain.
Also, to see the Loften Northern Lights you'll need a dark sky. Between the months of May and August, there is just too much light in the sky for the naked eye to see them, even though the Aurora may be blazing away above you.
Although you will often hear that you need cold nights as a pre-requisite to seeing the Northern Lights, this is not true. The cold is normally due to the lack of cloud cover.
Lofoten's minimum winter temperatures hover around 0º due to the warm Gulfstream waters that lap her coastline, yet phenomenal sightings of the Northern Lights have taken place here.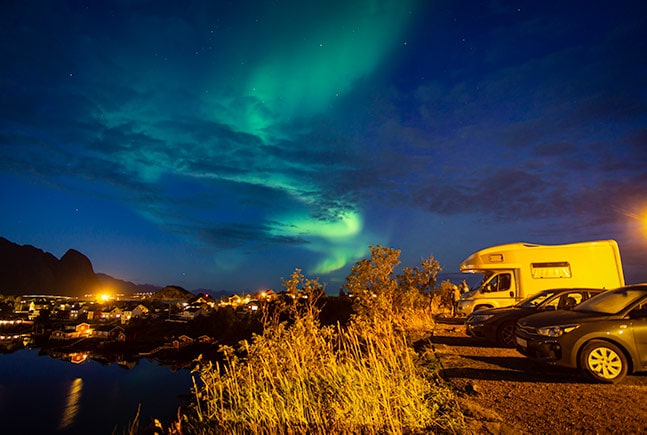 WHERE CAN YOU SEE THE NORTHERN LIGHTS?
The general rule is that anywhere north of the Arctic Circle, (latitude 66°33'N) will put you in the Aurora Borealis target-rich environment. That's not to say that you won't see the lights just south of the Arctic Circle, but the chances are slim.
Let me clarify the anywhere north of the Arctic Circle, that I mentioned above.
You definitely need to pick a spot well away from any artificial light source to avoid light pollution because the intrusive light will provide an unwanted distraction in your photo.
Also, if you are photographing the northern lights, then any bright light sources can blow out (over-expose) an image during a long exposure shot.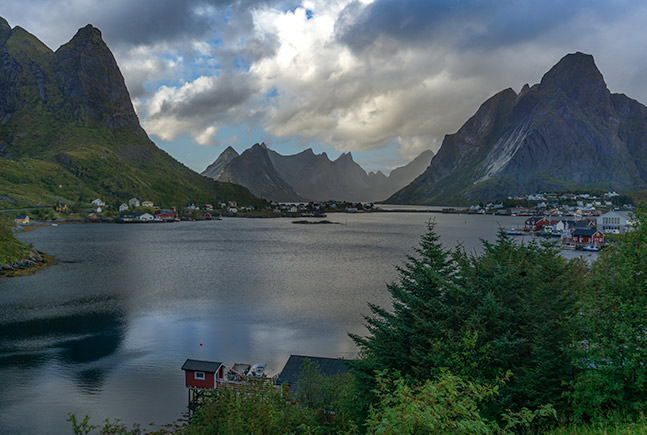 CAN YOU SEE THE NORTHERN LIGHTS IN LOFOTEN?
Can you see the northern lights in Lofoten?
Absolutely!
Lofoten is located at 68°10'N, well within the Arctic Circle at 66°33'N. So, if you're at Lofoten then your chances of seeing the Northern Lights are already much improved.
Travelling even further north will give you longer periods of darkness thereby increasing your window of opportunity. Generally, the lights seem to be most active between the hours of 1700hrs to 0200hrs.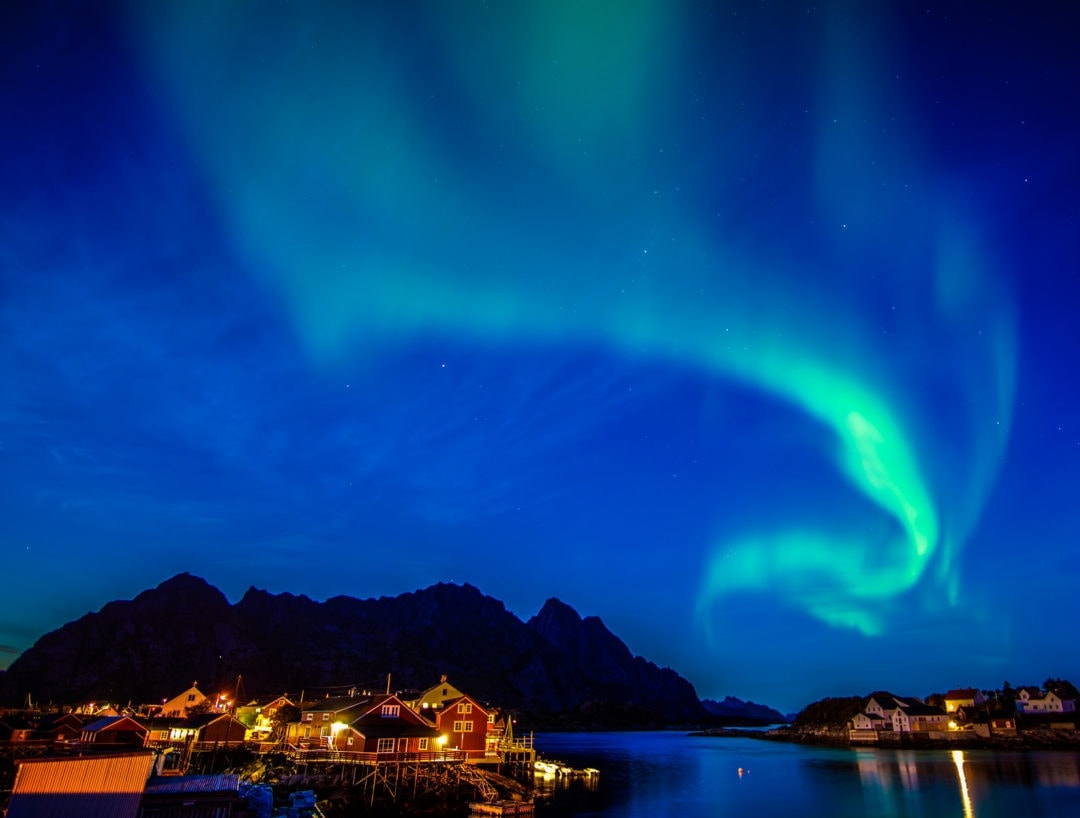 ESSENTIAL PREPARATION FOR VIEWING THE LOFOTEN NORTHERN LIGHTS
The Right Location: Ok, we mentioned this before – it's best to be inside the Arctic Circle
The Right Month: Pick a month to visit between September and March. Statistics point to September, October and March as the best viewing months in Lofoten.
Dress Appropriately: You'll be out in the elements after dark so you'll need proper warm clothing and ideally hiking shoes/boots. Why do I mention hiking footwear? Often, you'll choose a spot but then change your mind and have to hike somewhere else for a better vantage point. This could entail hiking mountains, fording streams, uneven ground … you get the picture.
Location, Location: Check out your preferred viewing locations during daylight hours so you can get straight there in the dark. If you intend on taking photographs, then you may want to think about a location that has a picturesque foreground. For example, set up your photography equipment across from a body of water that can provide some lovely Northern Light reflections.
Weather: You'll need a good weather app that provides forecasting. See the suggested apps below.
Solar Activity: This is an indicator of the probability of seeing the Northern Lights based on the KP Index number from ranging 1 to 9, with 9 being the highest probability. Just because the KP index is low, don't think that you won't see the lights. We had a forecast of KP 2 and had a grand display of lights.
Photography Equipment: You'll be shooting long-exposure images so a tripod is essential. A wide lens will also help to include as much of the night-time view as possible.
Bring a Torch: You'll need to find your way in the dark.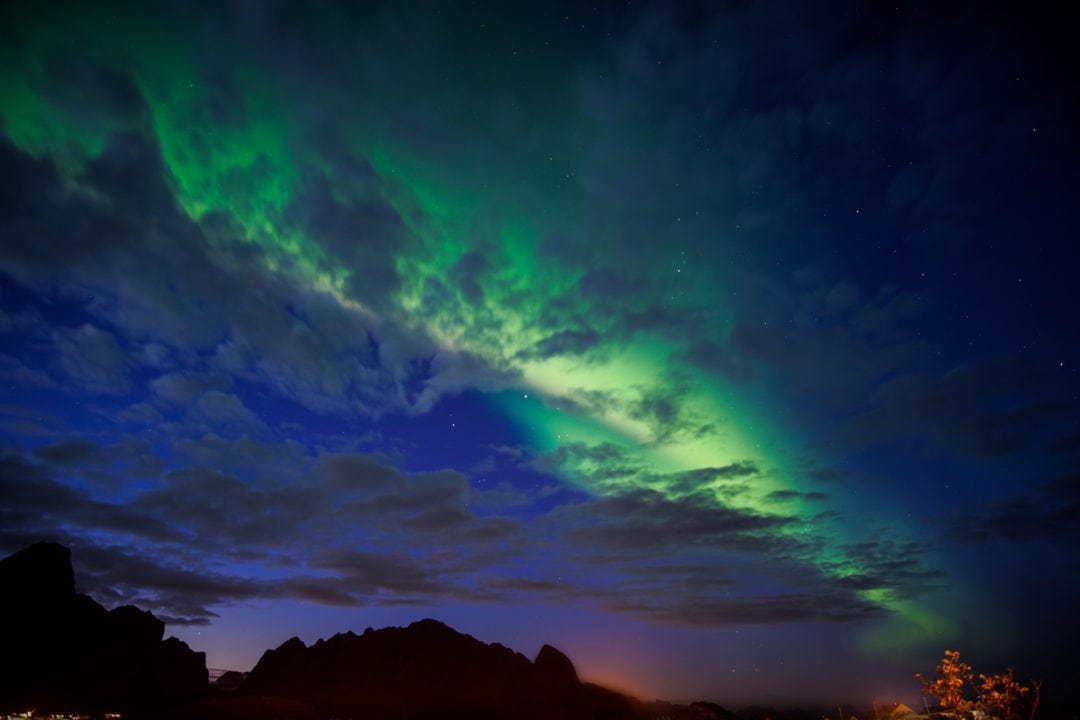 ESSENTIAL PHONE APPS TO HELP FORECAST THE NORTHERN LIGHTS
Weather app: YR (a local Norwegian app that is brilliant)
Aurora and KP Index Free Forecasting Apps: AuroraAlerts, My Aurora Forecast AuroraNow. I used all 3 apps.
Off-line Map: Ok, Maps.Me isn't an app to help forecast the northern lights but this off-line map will allow you to add locations of your preferred Northern Lights viewing locations.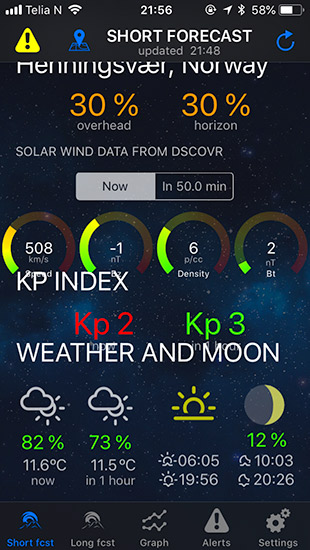 PHOTOGRAPHING THE LOFOTEN ISLANDS NORTHERN LIGHTS
What you need to think about for Northern Lights photography:
Tripod: as mentioned before, a sturdy tripod that won't blow over in the wind.
Wide-angle fast lens: You will want to capture as much of the night sky as possible and a wide lens of a focal length of 12mm to 24mm and an aperture in the range of 1.4 to 2.8 would be ideal. Shoot with the lens wide open ie. 2.0 to 2.8.
Remote shutter release: This saves you from having to manually trigger the shutter release button on the camera allowing you to be lost in the Northern Lights.
Shoot in Manual: You'll be able to manually adjust your exposure time as the brightness of the Aurora changes.
Focus to Infinity: You'll want to manually focus your lens to infinity or the furthest distant object that the lens can focus on sharply. Sometimes the lens will have an infinity mark on it, but this is rarely accurate requiring an independent check by yourself. Once you have determined where the infinity position is on your lens, you could either put a mark on the lens or tape down the focus rings to prevent accidental movement. This setting should then remain unchanged for the upcoming shots. You don't want to try and use the camera's auto-focus functionality.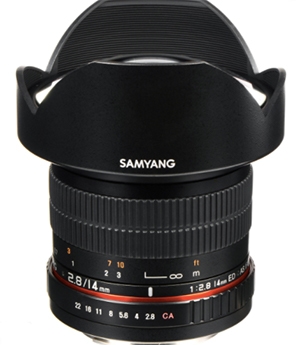 6. ISO: There's normally an ISO range at which the camera will exhibit the least amount of noise. Make sure that you choose the best setting for your camera. Start with a low ISO value and if the image is quite dark, you can then increase the ISO value. ISO values can fall between 400 and 4000. As the intensity of the Aurora changes, so will your ISO.
7. Exposure Time: Generally in the range of 6 to 15 seconds. Remember the exposure time will reduce if you have snow around you as this will reflect light. When the Aurora is moving quickly, exposures could be between 5 to 8 secs whereas slow-moving Auroras could have an exposure time of 10 to 25 seconds. These settings are fluid and will depend on the intensity of the light and its movement.
Post-Processing the Northern Lights
You'll need to post-process your raw images to some extent to get them looking good. I use Adobe Lightroom however there are quite a few software packages that will achieve a similar result.
To start, I run the raw file through a denoising program. This way I can see the image noise after the denoising and decide what settings I best need to adjust the processing stage. After some extensive research, I settled on DxO Pure Raw 2 as my chosen denoising program.
This program works with different input file types however does not accept Jpegs. Operating either as a standalone program or as a plug-in within Lightroom, the end result surpasses any Noise Reduction (found within the Detail tab) tweaking that I did in Lightroom.
Using DxO Pure Raw 2 couldn't be easier, there is just one window that opens running up the program. You then are given the choice of the level or method of denoising. There are handy question marks inside the window that give detailed explanations of the setting choices. you are able to select one or multiple files for denoising.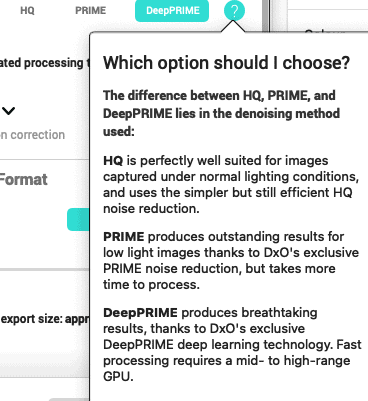 Running up DxO pure Raw 2 for a standlone file (not sourced within Lightroom) will prompt the program to add an denoised output file of your choice (Jpg or DNG) into a self-generated directory called DxO on the desktop.
Running up DxO pure Raw 2 program within Lightroom, results in the program generating a DxO directory in Lightroom with either a denoised output Jpg or a DNG file.
Now you are ready to start adjusting your Lightroom settings. This is how I choose to go step through Lightroom's Develop Module:
'Auto': quickly gives you a starting point. I remember what the sky looked like at the time I took the shot so have a good idea of what the end result should be. All the time avoiding blown-out areas or super-saturated colours that look unnatural.
Vibrance slider: I may gently apply this and normally no more than 15.
Saturation slider: I leave at 0.
Shadow slider: adds exposure which may lift an interesting foreground and lighten the sky but may cause a blowout on bright light sources eg. a town's street lights. Play with this setting to get the 'feel' you want.
Exposure slider: apply carefully without blowing out the sky.
Clarity slider: this is the secret weapon. I adjust to values of 50+ to target and lift those soft illuminations of the Northern Lights.
It's more a matter of adjusting each of the settings and seeing what effect it creates with the overall image whilst maintaining a natural look. If you want to have a play with DxO Pure Raw 2 then you can follow this link to the DxO site for a free trial.
STOP 1 – REINE: LOCATION, LOCATION
Our first base was Reine, a fishing village on the westernmost island of Moskenoy. We scouted some possible vantage points during our daytime excursions and settled on a car park that was only a few hundred metres from our accommodation. Too good!
We would overlook Reine with the sheer mountains forming the perfect, contrasting backdrop. Unfortunately, being so close to the town, there's always the possibility of too much light pollution.
However, on occasion, the lights can enhance your image, as the coloured light reflections in the below image show.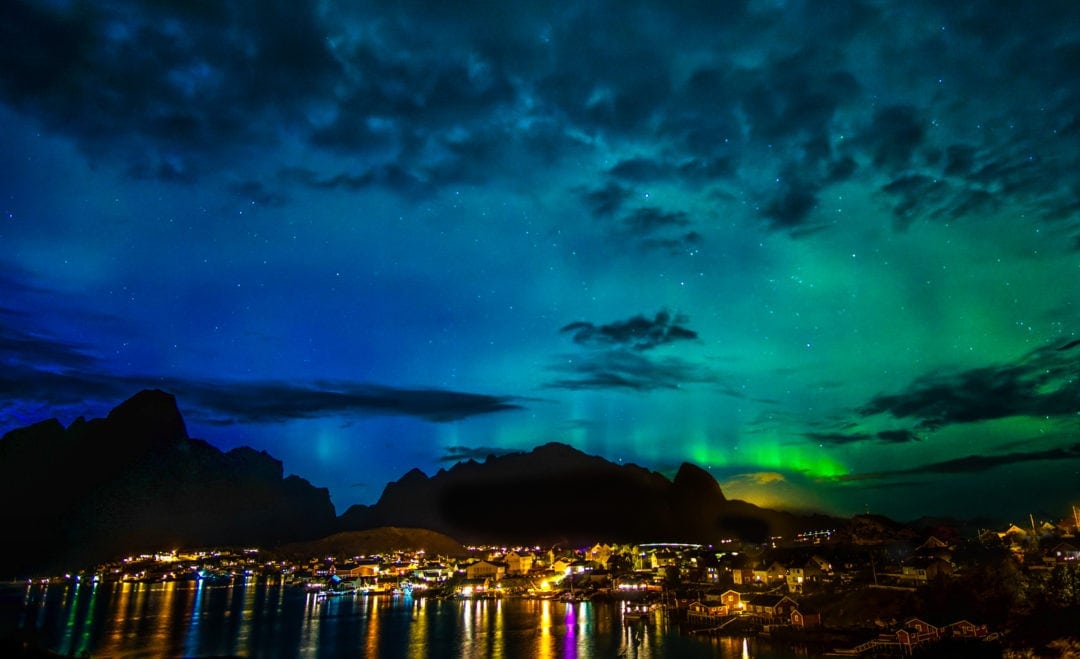 I had researched the KP index, (the predicted value of geomagnetic activity between 1 and 9) and the odds were in our favour with an expected KP of 6 not long after sunset.
We had the location.
Now, all we needed was for mother nature to meet us halfway.
The prediction was spot on. An hour after sunset, about 9.30 pm, with a few scattered clouds peppering the sky, the curtains drew back, and the northern light show began.
We spent the next two hours watching in amazement.
Finally, the lights lost their will to impress, faded and bade goodnight.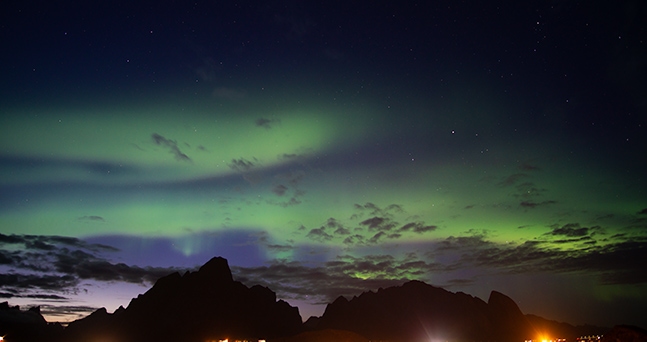 STOP 2 – HENNINGSVAER
Leaving Reine, we drove further east to our next destination, Henningsvaer, on the island of Austvagoy. And how fortuitous, the verandah of our bed and breakfast was north facing with an unobstructed view, so we wouldn't have to leave home at all for this shoot. It was slightly cloudy with a predicted KP value of 3 so we were thinking that maybe tonight wasn't going to be our night.
They took us by surprise. The northern lights must have been attuned to our anticipation. As we were still marvelling at the last vestiges of a beautiful sunset, the lights materialised right above our heads. They were definitely determined to draw all the attention to themselves.
The complex, choreographed sequence of lights enthrals. As quickly as they appear, they swirl, dim and then fade but re-appear elsewhere. A unique beauty.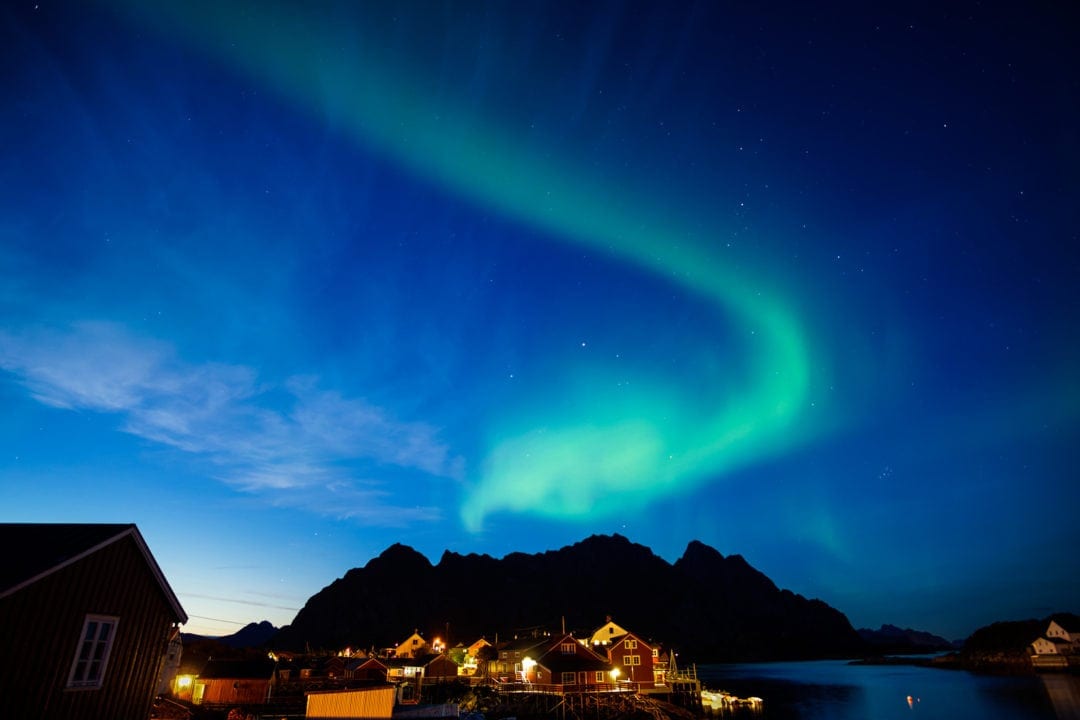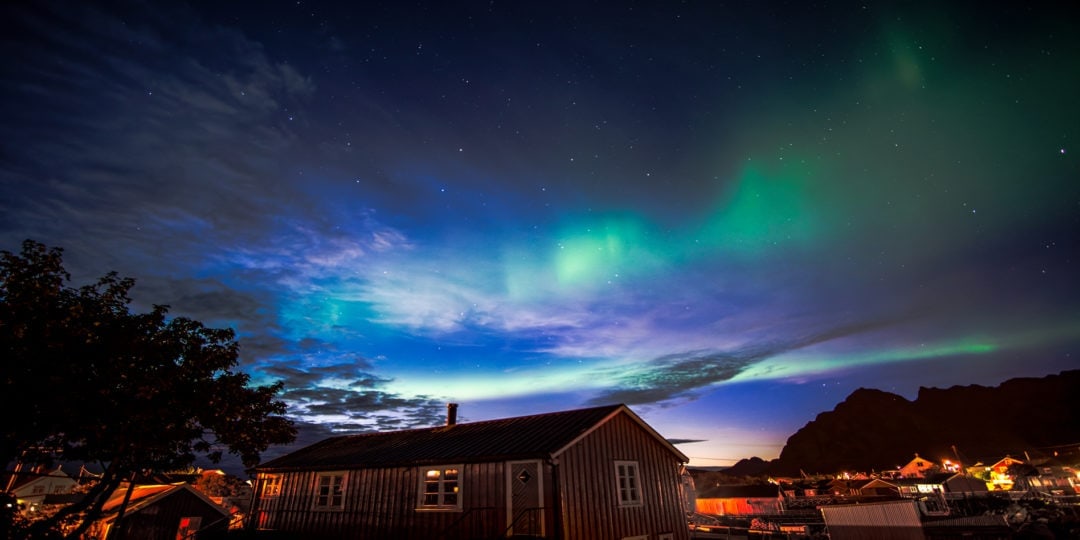 STOP 3 – NYKSUND: No Show on Northern Lights
We continued our Lofoten Islands search for the Northern Lights. Driving further north, we arrived in Nyksund, the northernmost part of Langøya, in Vesterålen.
We had positive indicators for a Northern Lights show: No cloud cover and a KP index of 3.
However, the Norse Gods were not favouring us that night. Even with these textbook conditions, we weren't treated to any sighting whatsoever. It does prove that even with all the information at our hands, these are still predictions only.
There is no guarantee that you'll see the Northern Lights.
LOFOTEN ACCOMMODATION
If you are looking for accommodation in Lofoten check out these deals
NORTHERN LIGHTS LOFOTEN … That's a Wrap
We had some unbelievable sightings of the Lofoten Northern lights. Was it down to luck? Yes, to a degree, but you can certainly push the odds in your favour with a little prior knowledge.
It was an experience that was absolutely worthy of any bucket list and it will surely leave us with memories that will last forever. Would we do it all again? In a heartbeat.
Have you seen the Northern Lights? Where was your best sighting? Were you in awe? We'd be really interested to hear your thoughts.
Pin and Save for Later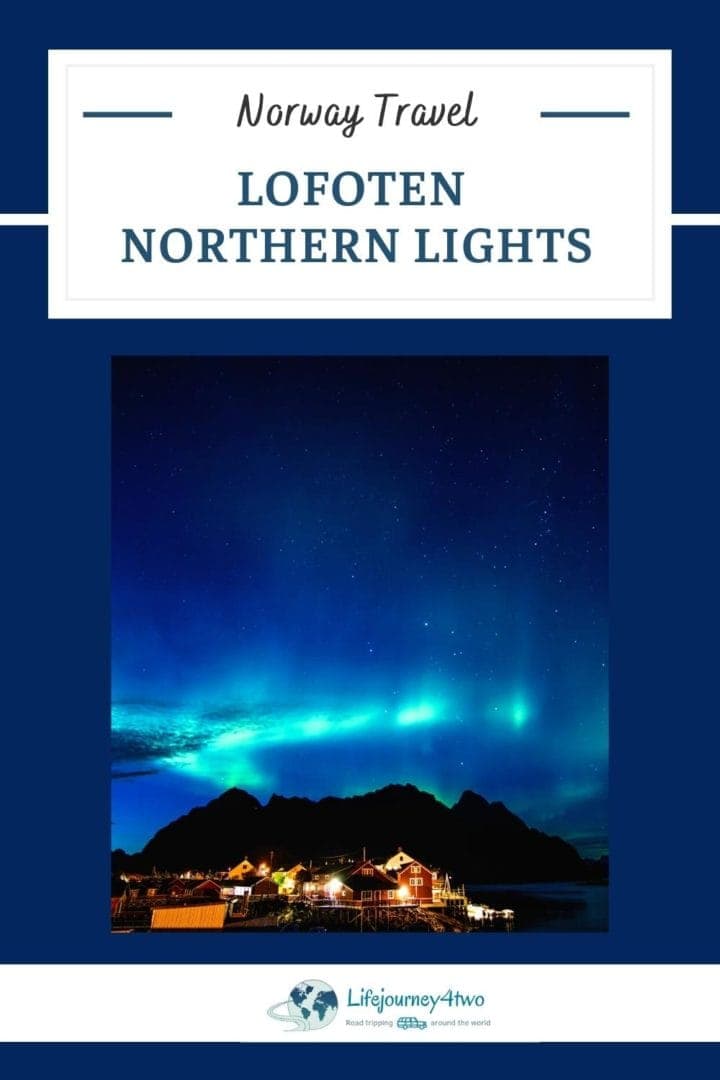 YOU MAY ALSO ENJOY READING
PLANNING YOUR TRAVELS?
These are some of the travel resources we use when planning our trips.
For a more thorough list visit our Travel Resources page here.