BEST HIKES IN NORWAY — BREATHTAKING BEAUTY AWAITS
Hiking in Norway offers its own special magic, and those we've included here are some of the best hikes in Norway.
Close encounters with the elements and being amongst nature bring you alive, but when you are surrounded by the majestic Norwegian landscape, that experience becomes nothing less than extraordinary.
The Norwegian scenery leaves you spellbound and, like an addictive drug, has you craving for more.
Whether it's facing fear on a boulder wedged between two rock faces, standing at the edge of an immense glacier lake or looking down into the deep majestic fjords — Norway hikes never failed to amaze.
In amongst our life on the road, we've also lived in Norway, on and off for about two years, and these are our very best bucket-list hikes not to be missed.
OUR TOP HIKES IN NORWAY SUMMARY
Kjeragbolten Hike (Demanding)
Preikestolen Hike (Demanding)
Himakana Hike – Mini Trolltunga (Medium)
Bondhusdalen Hike (Easy)
Kongevegen Hike (Easy)
Dronningstien Hike (Demanding)
Utsira Hiking (Easy)
Ryten Lofoten Hike (Medium)
Dronningruta Hike (Demanding)
Torghatten Hike (Easy)
Best Hikes in Norway Map
This detailed hiking in Norway map outlines information on each hike including parking, exact route and other important information.
Planning a Trip to Norway?
WHAT AWAITS YOU WHEN HIKING NORWAY?
Stunning deep blue fjords, cascading waterfalls, pristine mirrored mountain lakes, lush green valleys, and incredible rock formations are just some of the idyllic scenes you'll come across with our list of locations for hiking Norway.
We have done all of these hikes and they vary from easy to challenging.
Each one is incredible in its own right.
Whether you are looking to hike all day or for a couple of hours, to climb steep mountains or amble along, you'll find that there is something for everyone when hiking in Norway.
THE BEST HIKES IN NORWAY
---
1. KJERAGBOLTEN HIKE, NORWAY
Hiking Level: Demanding
Distance: 10 km
Time: 6 hours return trip
Height: 1084 masl
Closest City: Stavanger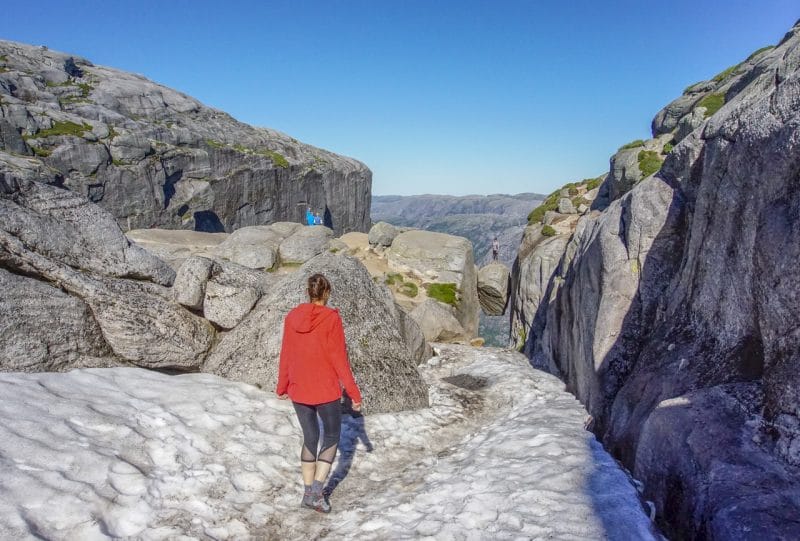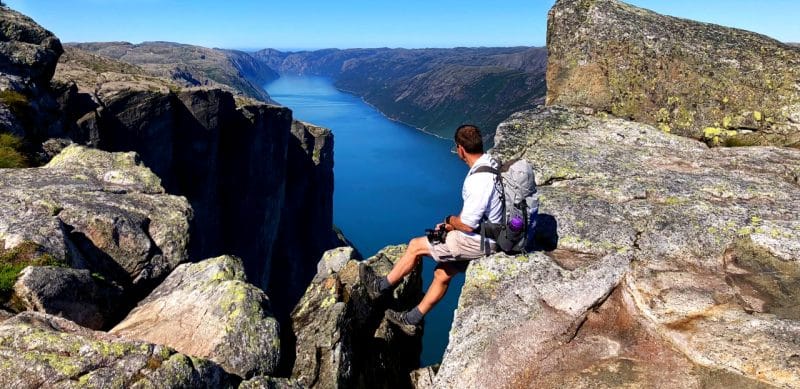 One of the most iconic of the best hikes in Norway is the one to Kjeragbolten Boulder.
1000m above Lysefjord sits a single boulder wedged between two steep mountain rock faces — Kjerag rock.
The hike itself is across steep mountains and valleys so you experience rapid ascents and descents as you head towards the final plateau and come face to face with the famous Kjeragbolten rock ( this translates as 'Kjerag bolt').
The scenery on the route is varied and spectacular. You'll have views down to the tiny town of Lysebotn, and will pass over sparkling rivers, mountain lakes, lush green valleys and scraggy rock plateaus.
At the top of the mountain hiking trail, you can experience the thrill of standing on Kjeragbolten itself.
NOTE: Not recommended if you have a fear of heights you can read about my experience and what happened when I tried to face my fear on our Kjeragbolten Hike.
READ MORE: Our Kjeragbolten Hike and the fear at the top
However, from this giddy height, you also have an excellent vantage point to view stunning Lysefjorden in all its glory.
We recommend that you walk a short distance to venture to the mountain ridges on either side of Kjeragbolten as not only do you get grandstand views of the fjords, but you can also look down onto Kjeragbolten itself from above.
Due to the popularity of this hike, we would recommend setting off as early as possible in the day.
2. PREIKESTOLEN (PULPIT ROCK) HIKE, NORWAY
Hiking Level: Demanding
Distance: 8 km
Time: 4 hours return trip
Height: 604 masl
Season: April to October
Closest City: Stavanger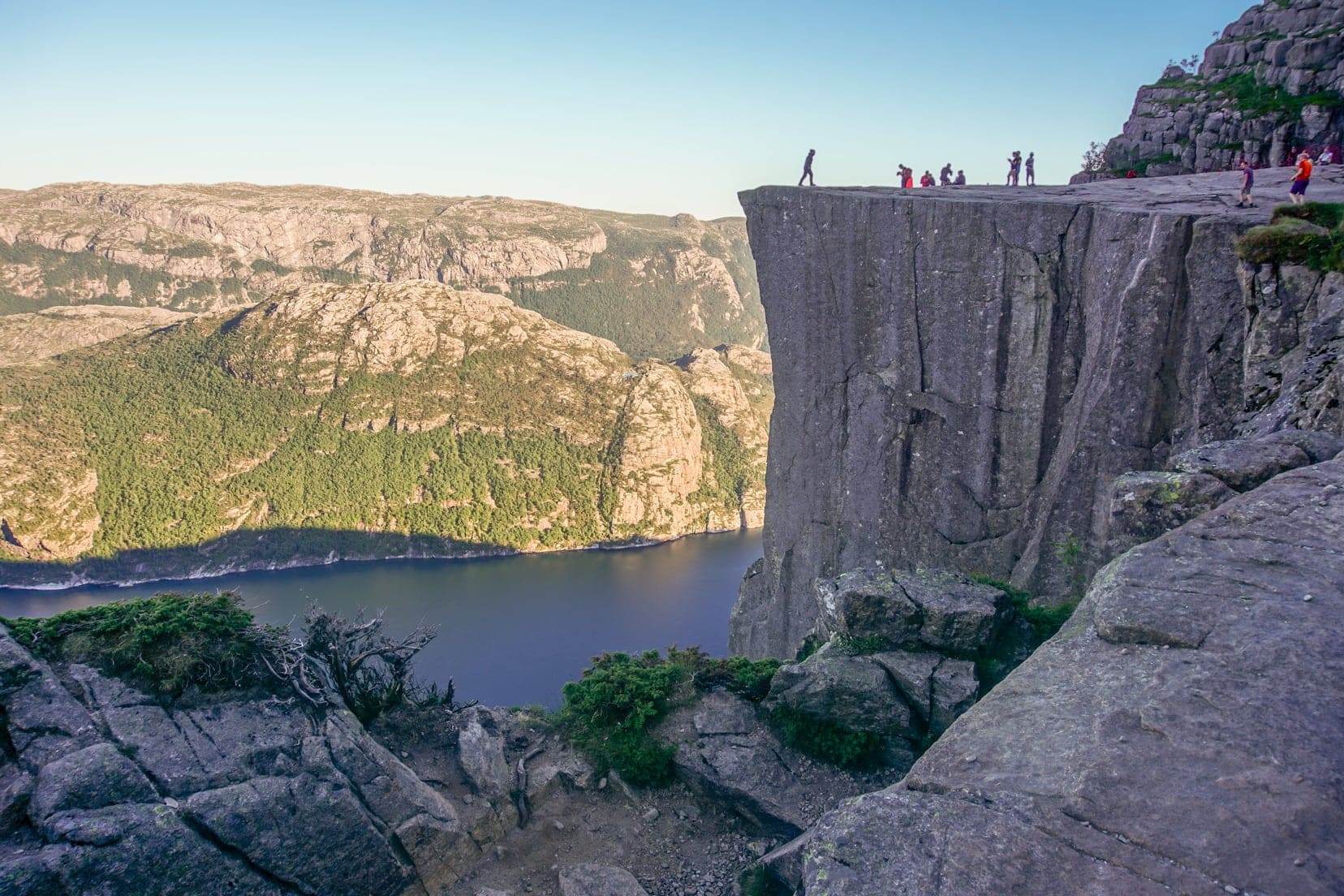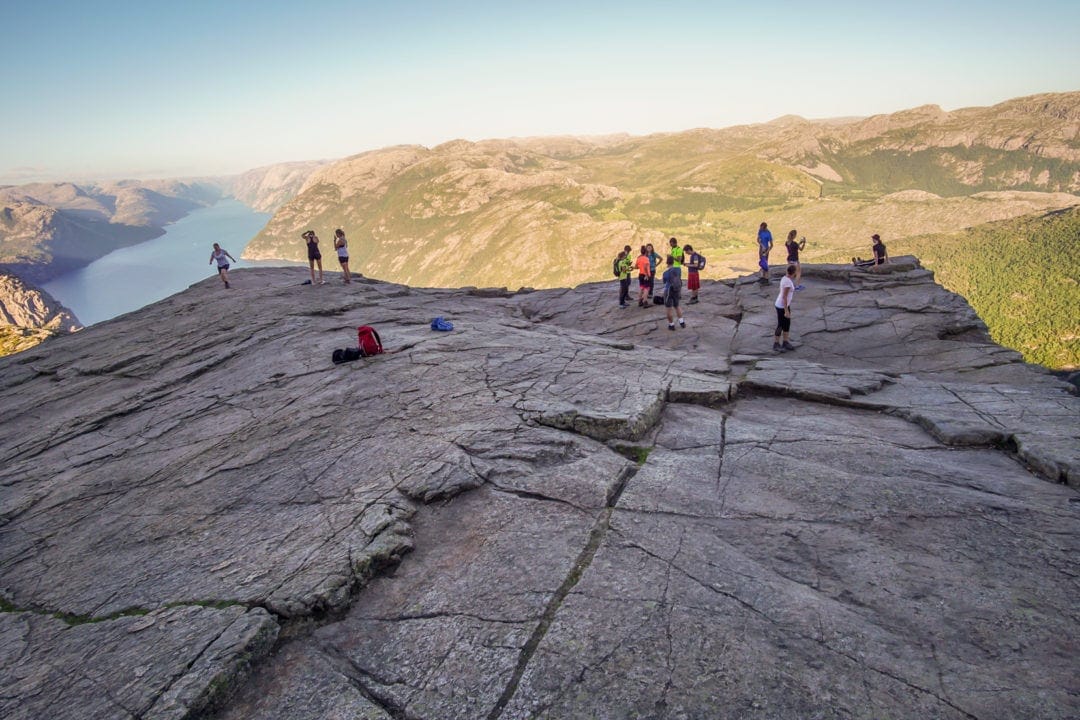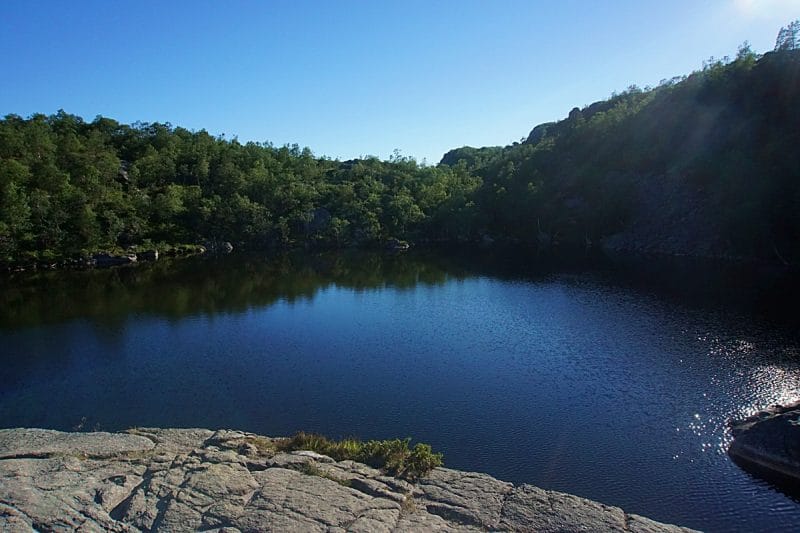 Preikestolen, otherwise known as Pulpit Rock, is one of the most visited hikes in Norway. It was made even more popular after Tom Cruise hung from this rock during the filming of Mission Impossible.
The hike to Preikestolen passes through the forest, rock and over boulders and passes by picturesque small lakes (ideal to take a dip in if it's hot).
Parts of the hiking path have rather large, steep steps which were built by the Sherpas.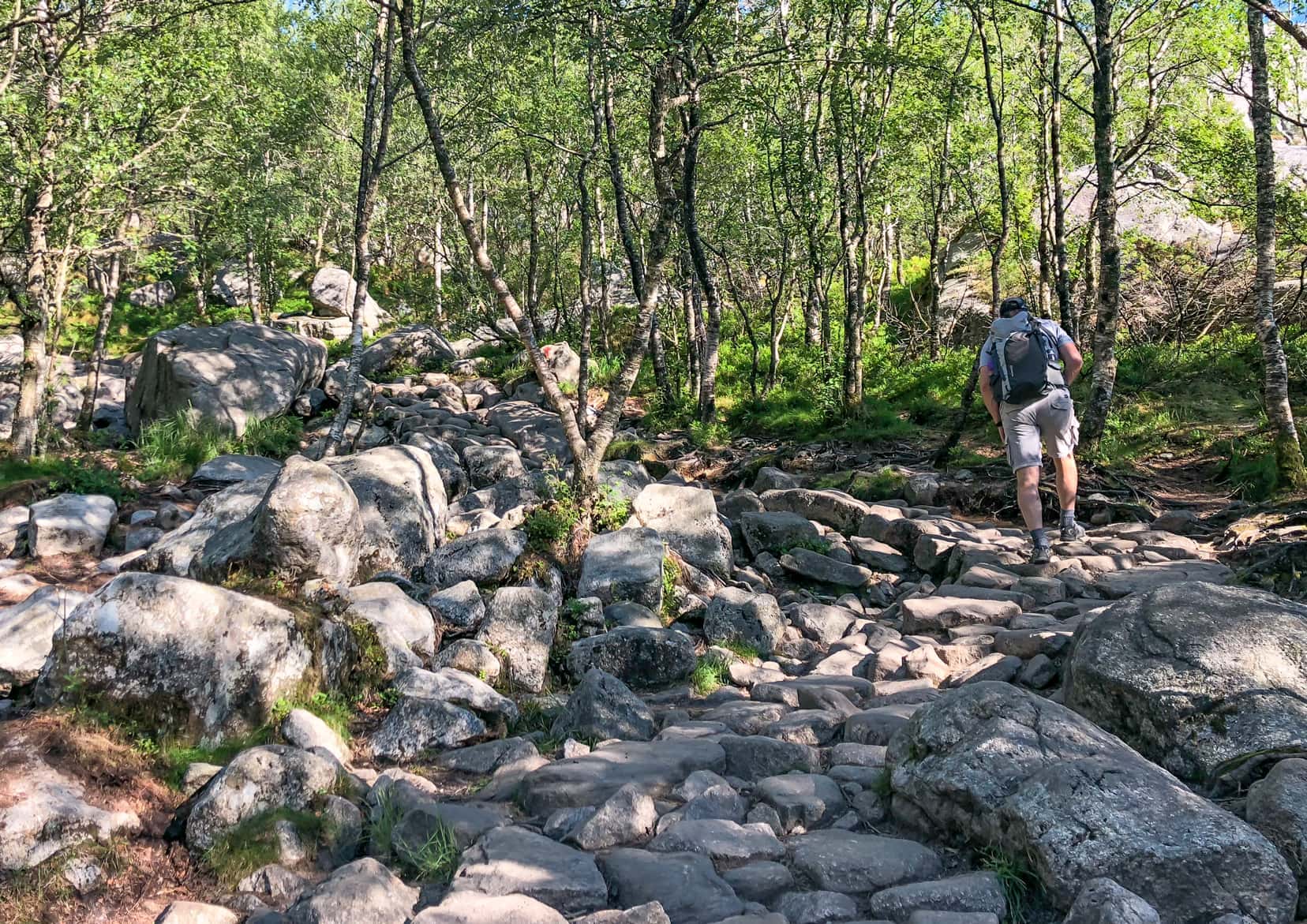 We would recommend doing this hike either early morning or late afternoon / early evening (in summer it doesn't get dark until about 11 or 12 pm) because it can get very busy.
Also, take a look at where the sun will be sitting in the sky when you reach the plateau as Preikestolen is shadowed by the mountains during the latter parts of the day. Shadows don't always make for a great photo.
The views of Lysefjorden are stunning but please stay away from the edge — it's around a 600m sheer drop. A word of warning – there are no barriers to keep you back from the edge.
The Preikestolen hike is shorter and physically less demanding than the Kjeragbolten hike but there are still some steep inclines to navigate.
READ MORE: of our Preikestolen Hike
3. HIMAKANA HIKE, NORWAY
Hiking Level: Medium
Distance: 5 km Return Trip
Time: 2 hours return trip
Height: 327 masl
Season: All year
Closest City: Stavanger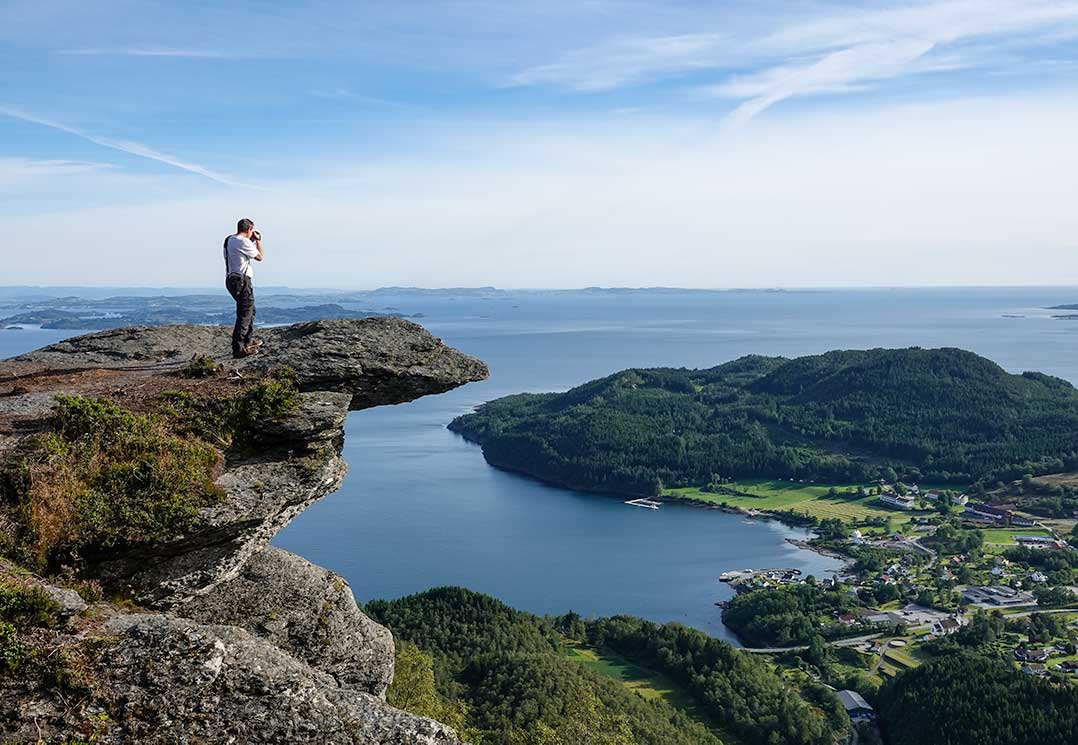 Himakana is known as the mini Trolltunga. (Trolltunga is another famed epic hike in Norway).
This mini version only takes 2 hours for a round trip though, compared to its namesake (Trolltunga), which takes about 12 hours. Himikana is also less touristy and much more accessible with all the typical jaw-dropping scenery you can expect when hiking Norway.
Although only 327 masl, the final climb up to the top is quite steep.
The path is relatively easy though and you'll pass many diverse landscapes and scenery in this short ascent. It will keep you wondering what you'll see next.
The icing on the cake is reaching the top and being treated to those magnificent views across the fjords that open out below the summit of Himakana.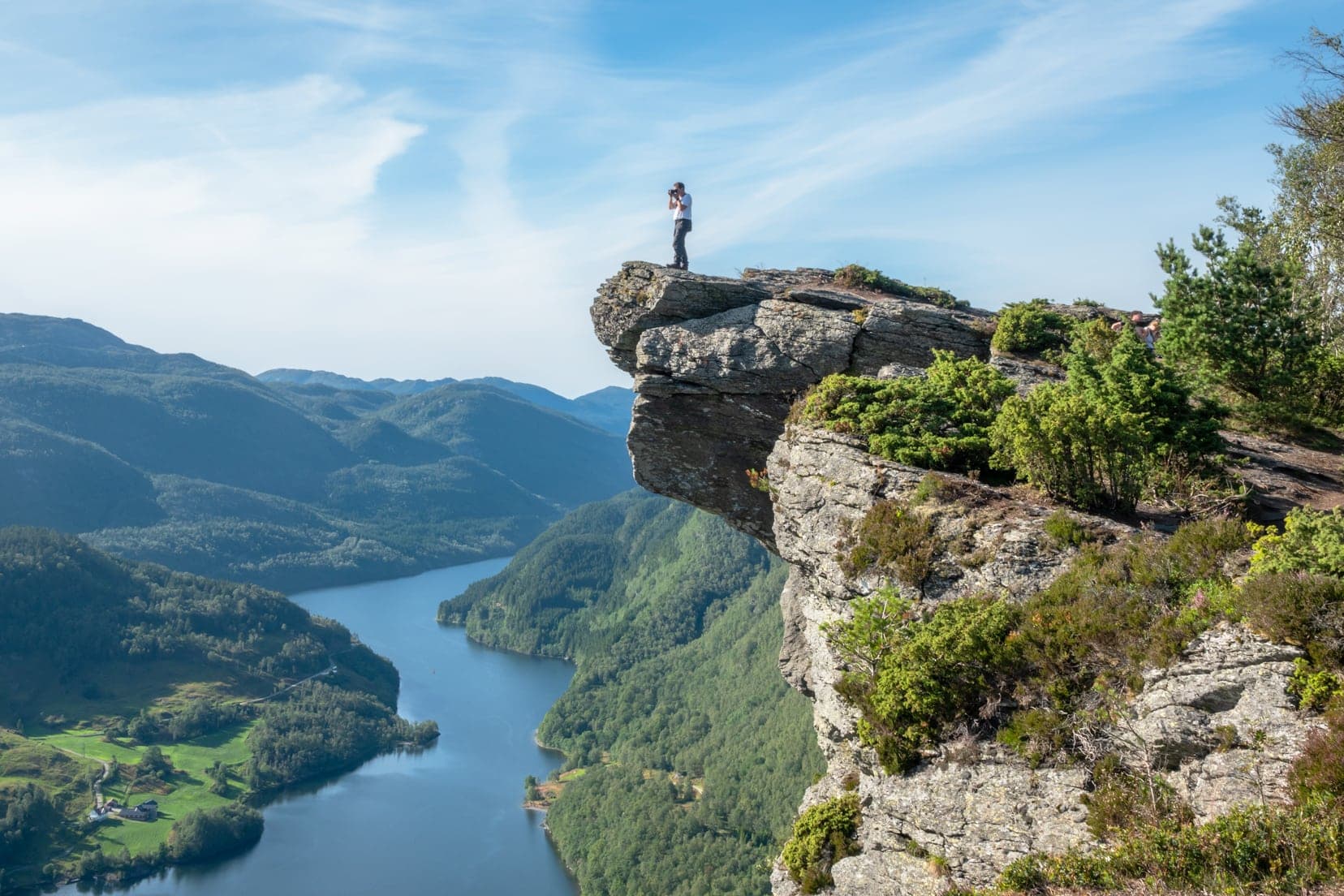 What we did find really enticing, was that you can make out the details in the scenery below you without needing binoculars or a zoom lens as you are only at a few hundred meters of elevation gain.
The view at the top of Himakana will leave you spellbound. A huge reward for just an hour's hike to Himakana's peak.
READ MORE: Himakana Hike: Mini Trolltunga
4. BONDHUSVASNET HIKE
Hiking Level: Easy
Distance: 5.2 km
Time: 3 hours return trip
Height: 190 masl
Season: April to October
Closest City: Bergen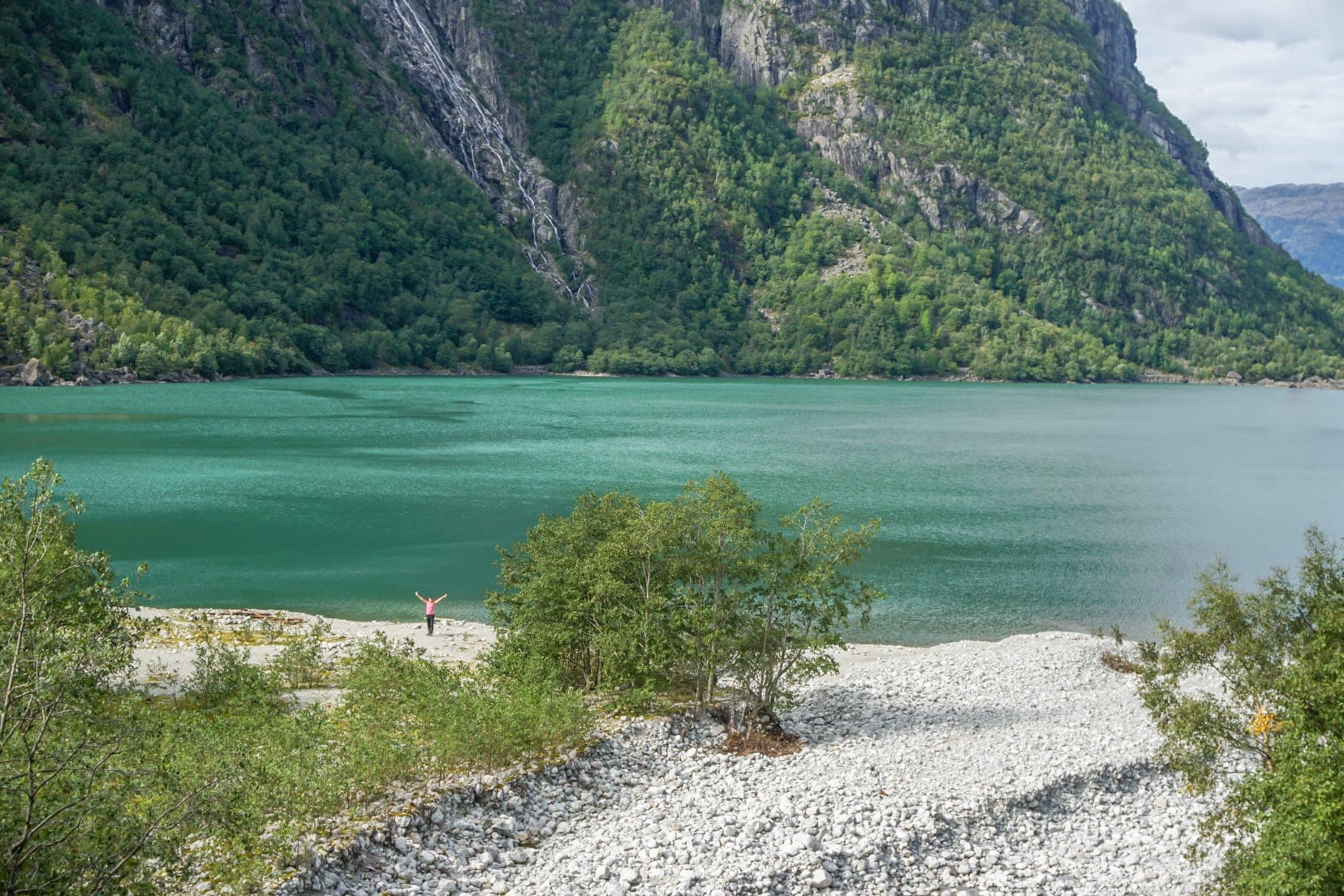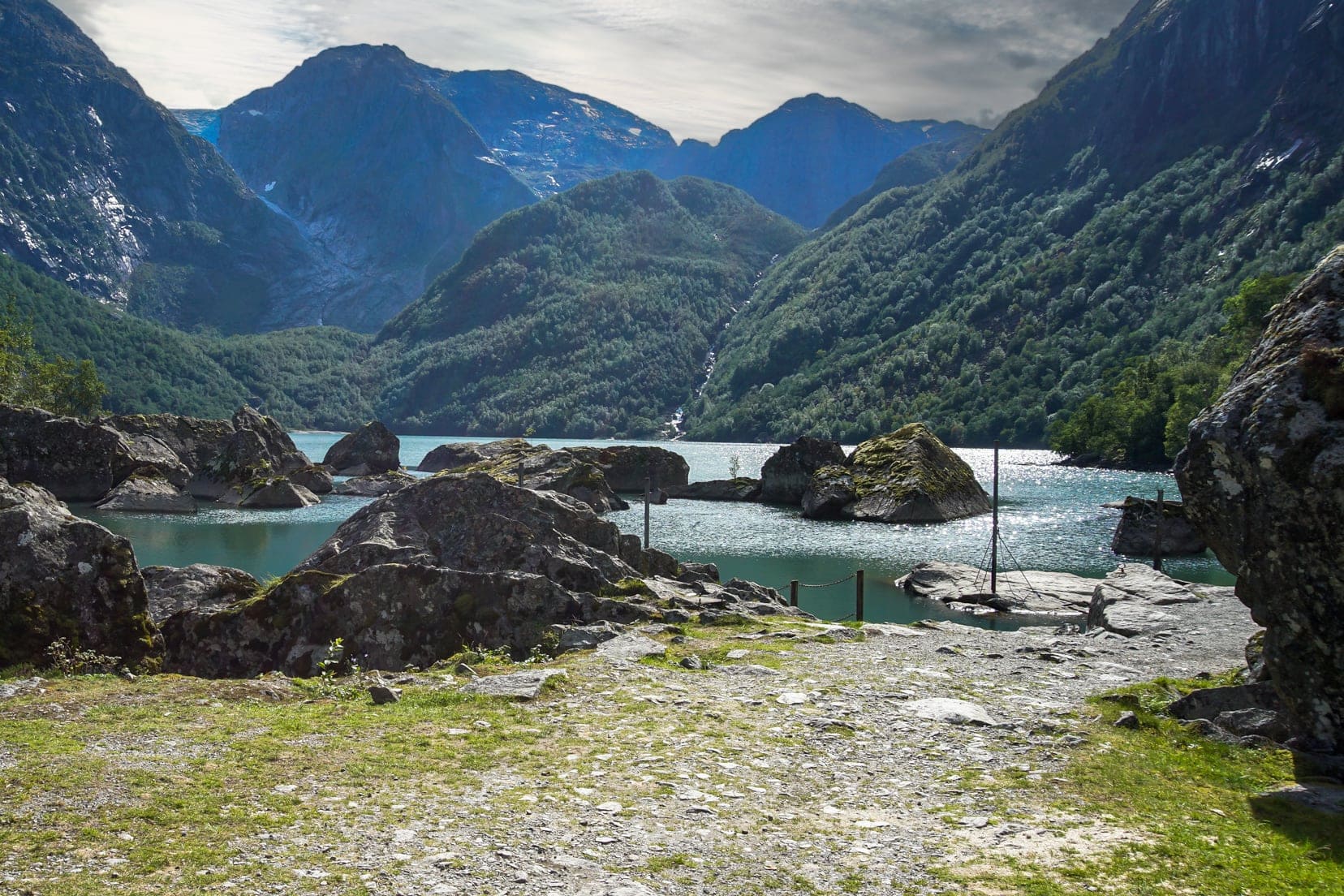 Just past Odda, near Folgefonna National Park, is the Bondhus Valley and Bondhus Glacier.
This beautiful hike takes you to Lake Bondhus where you can see the icefall of the Bondhus Glacier on the mountainside. This is one of the easier hikes in Norway, but its scenery is no less impressive.
The hike begins with a gentle slope and the smell of pine follows you along the path alongside the cascading Bondhuselva River on your left. The steep mountainsides on either side are laden with pine forests and the scenery is captivating.
When you reach Bondhus Lake, you experience stillness and beauty. The glacier in the distance and this incredible landscape carved out thousands of years ago, suddenly made us feel so impermanent and so small.
The Bondhusvasnet Hike felt like it was offering up a reminder to live every day and to make the most of our relatively short time on this planet.
We followed the path by the lake until we came to a pebble beach that opened up at the far shoreline.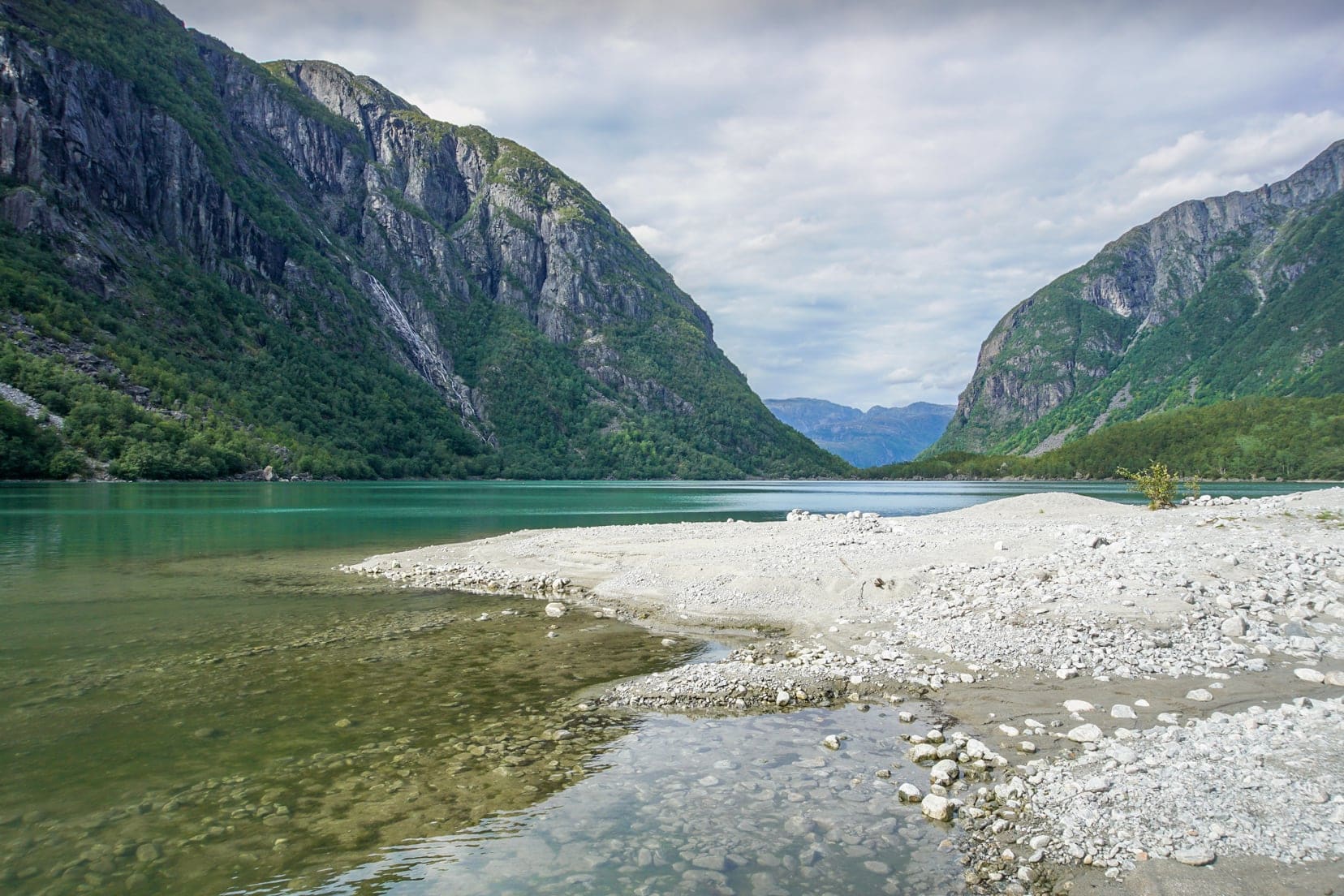 It took an extra 40 minutes but wow … we definitely recommend it because you get a close up to look at the glacier's receding path and can scramble part of the way up over big boulders. A lovely beach and some magnificent views across Bondhus Lake top off the experience.
The path in places is not as easy to walk as the initial part of the trail. Expect to clamber over some rocks and keep an eye out for protruding roots. You don't appreciate it as much without a little effort getting thrown into it.
Directions: Turn off the main road in Sundal and you can park in the Bondhusdalen parking area which also has toilet facilities. See the map above.
5. VINDHELLAVEGEN HIKE
Hiking Level: Easy
Distance: 4 km
Time: 1-2.5 hours return trip
Height: 280 masl
Season: April to November
Closest City: Bergen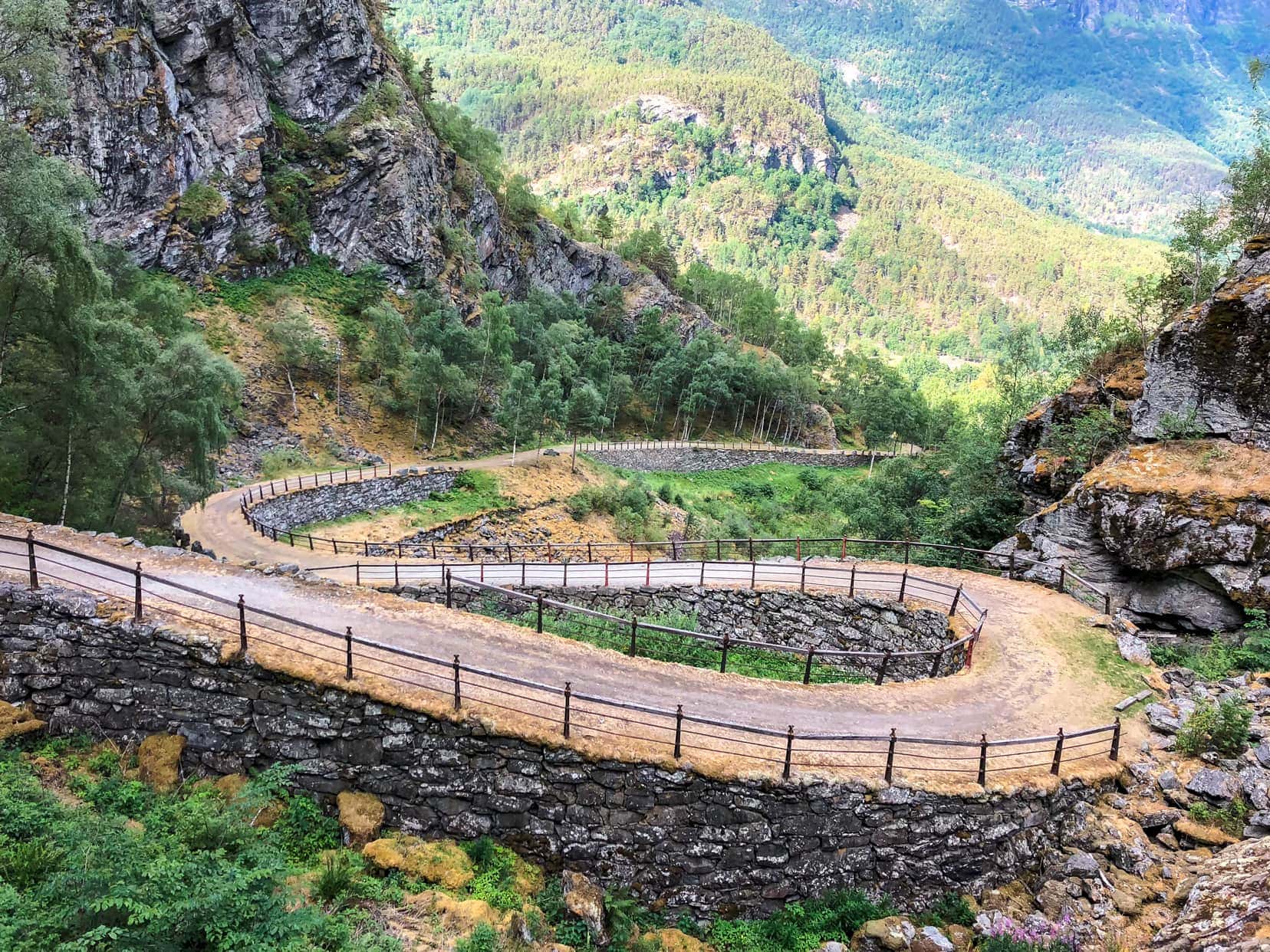 The start of the Vindhellavegen Hike is behind the Borgund Stave church.
The trail leads up to The Old King's road over the Filefjell mountain pass was completed in 1793 and was the first road between east and west Norway.
The history of the trail is the drawcard for this hike and the fact that you can do as little or as much of the trail as you like. The hike to the old Kings Road gives you an overall view of the incredible craftsmanship and work required to build such a road in the late 1700s.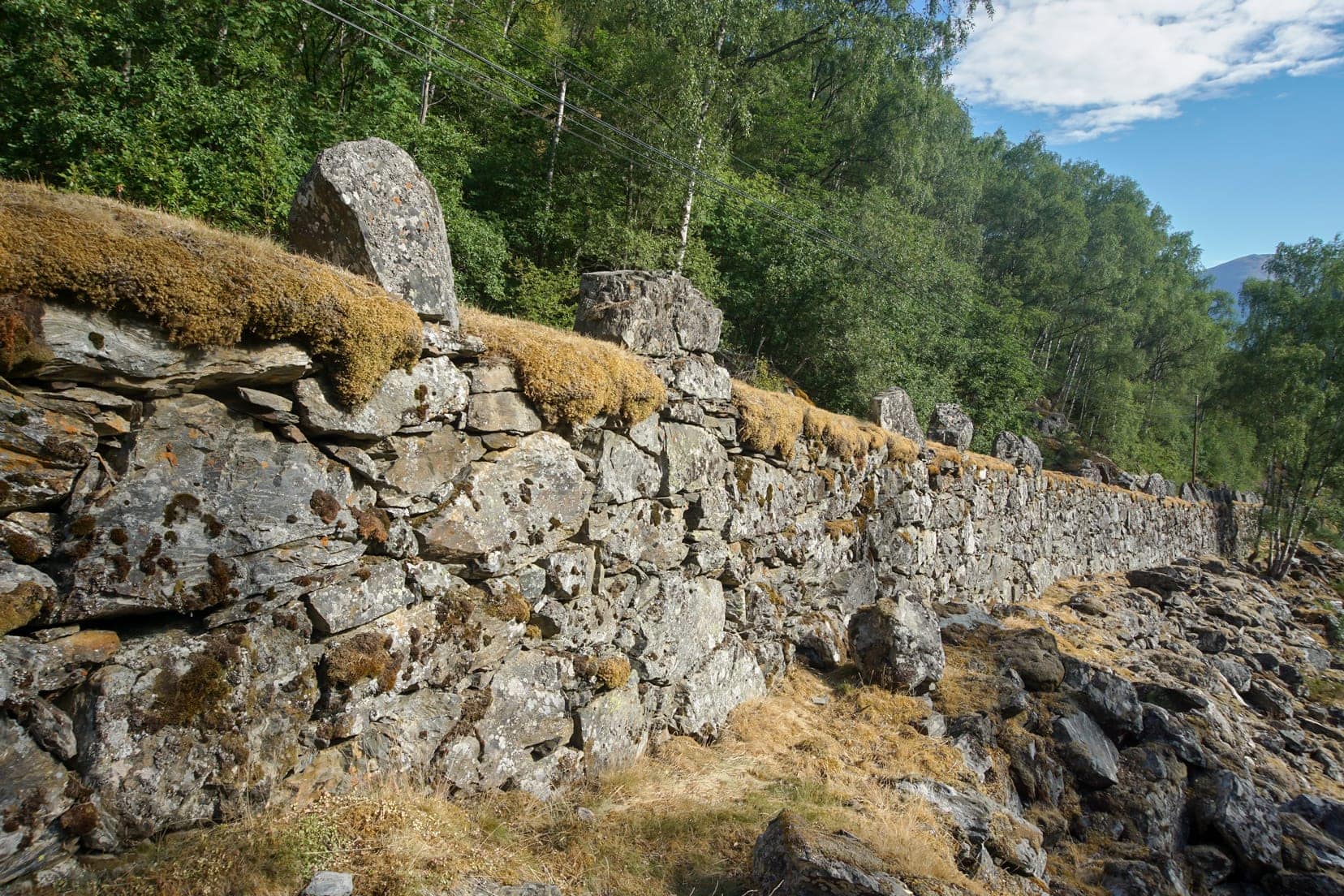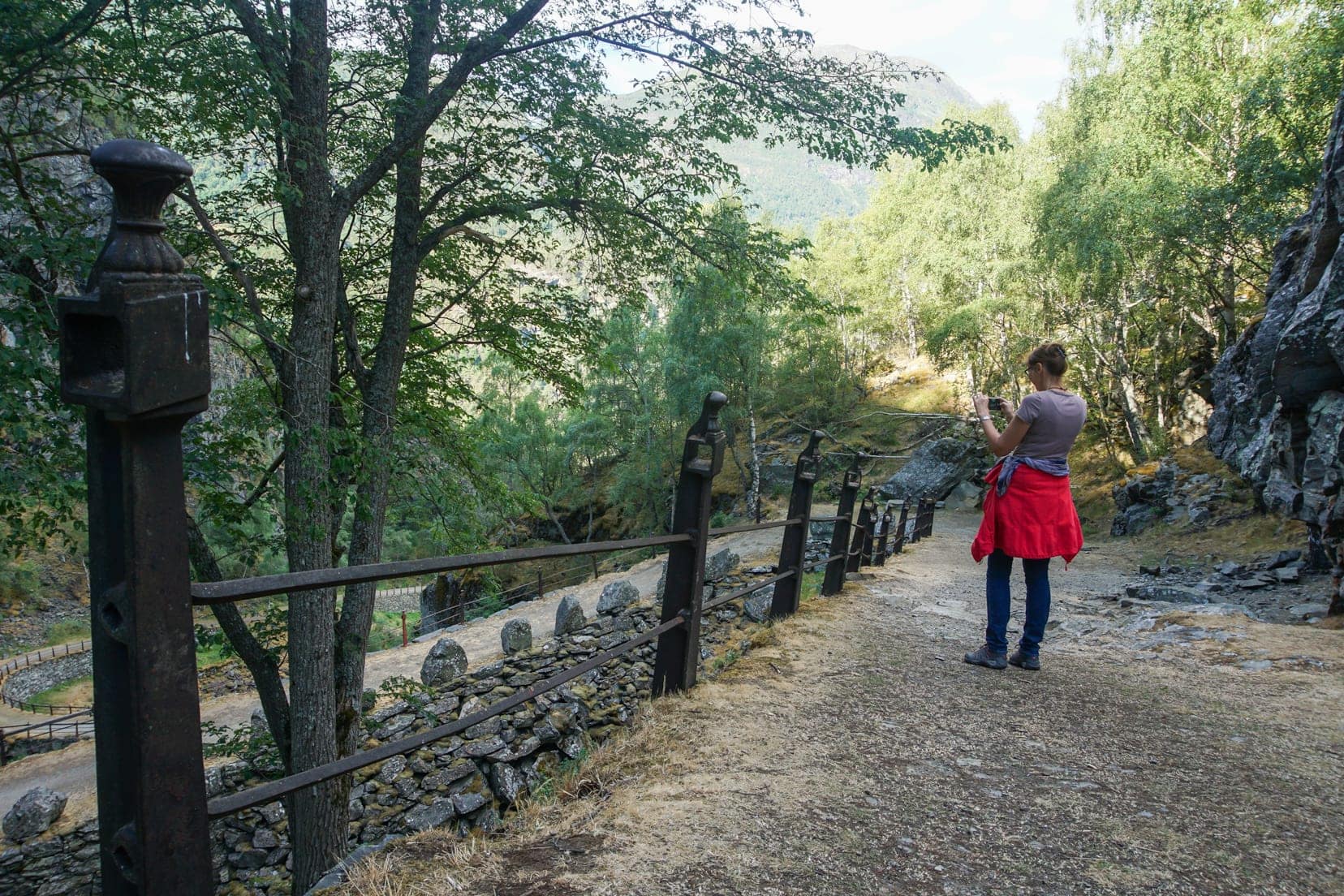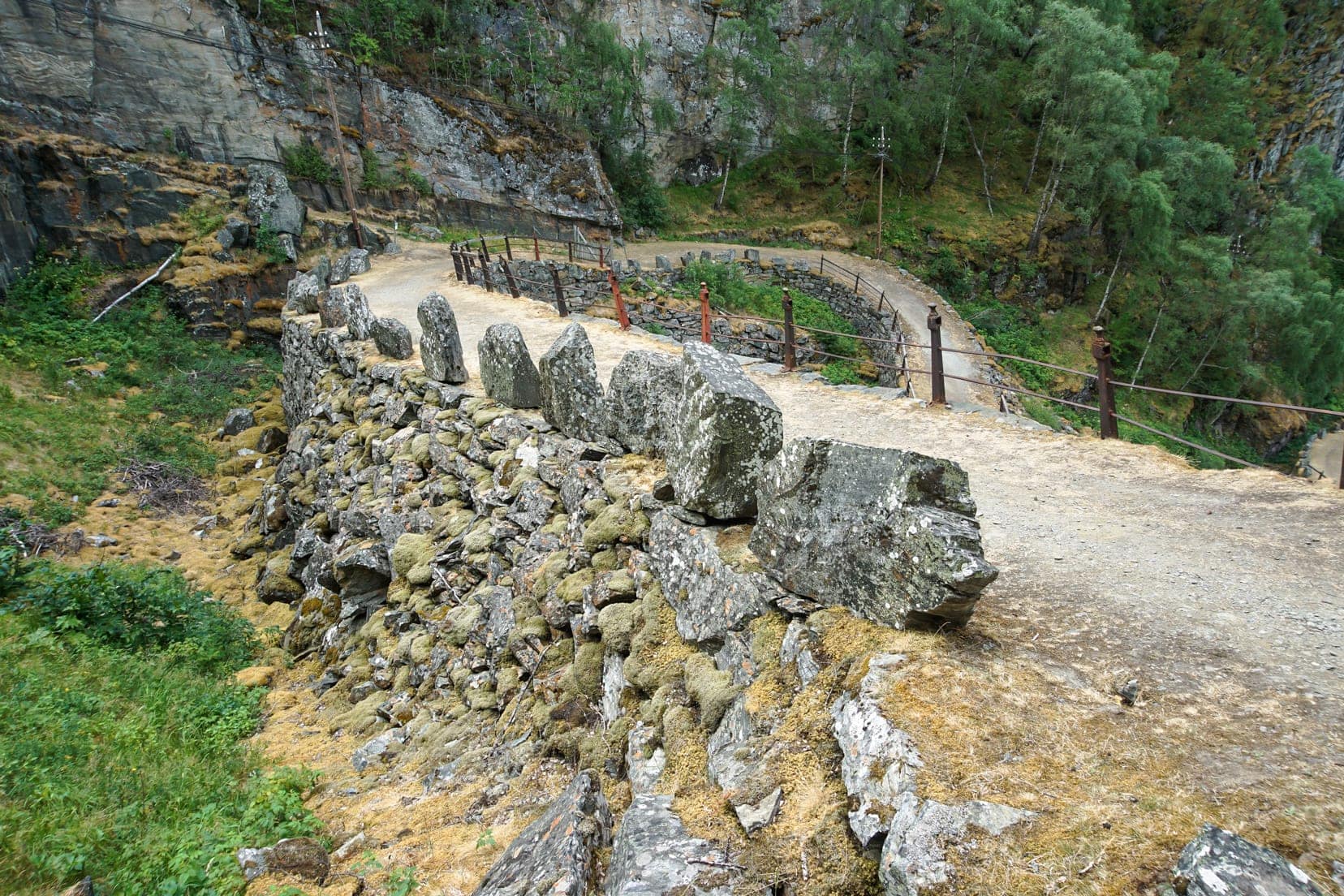 In 2017, Kongevegen over Filefjell was awarded the EU's highest cultural heritage award.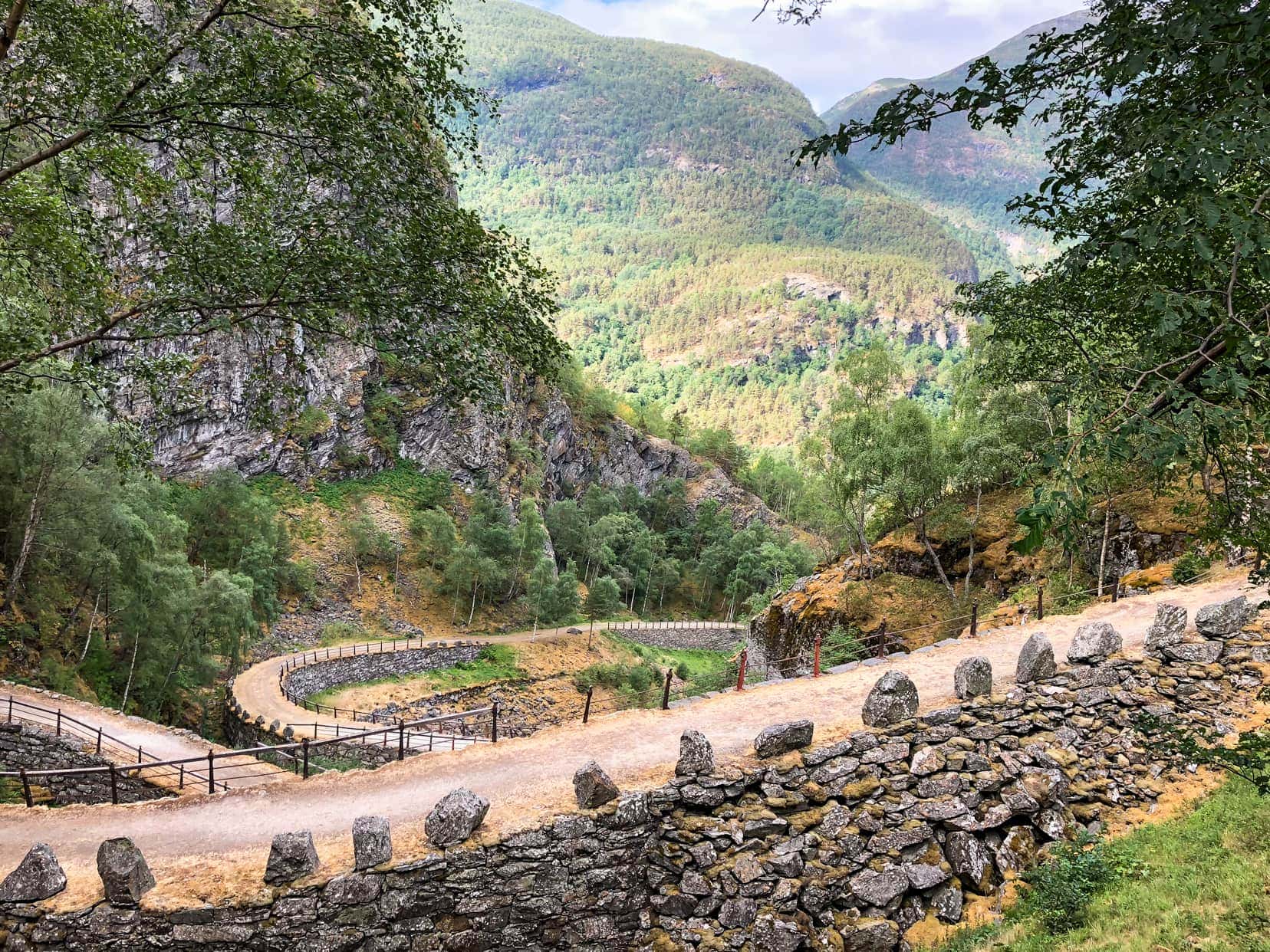 It is certainly well worth a visit and has information boards along the way that show where certain activities of road construction took place such as where the blacksmith set up his forge under rock overhangs.
6. DRONNINGSTIEN HIKE, NORWAY
Hiking Level: Demanding
Distance: 16 km
Time: 8/9 hours one-way trip
Height: 1100 masl
Season: June to September
Closest City: Bergen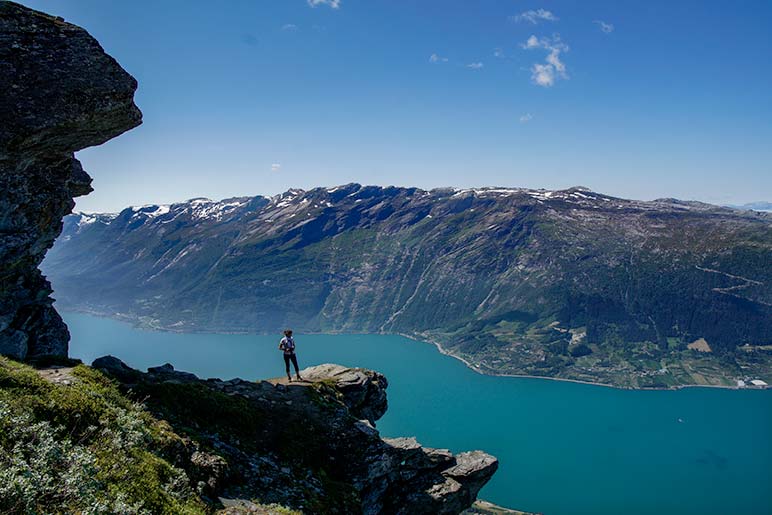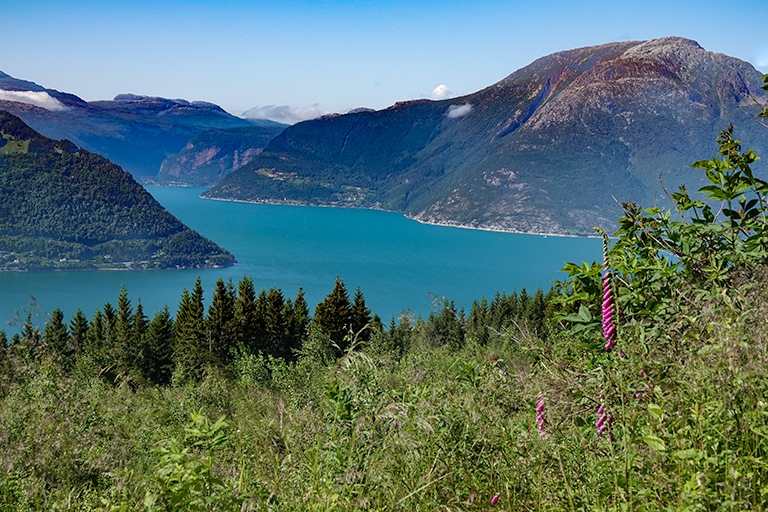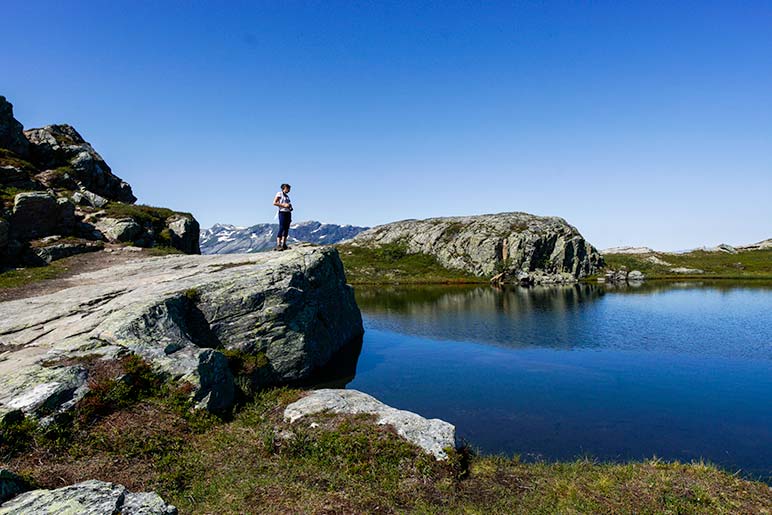 Dronningstien (also known as the Queen's Panoramic Hiking Trail) has to be one of the most beautiful hikes we have done. The scenery left us absolutely spellbound and was probably our favourite hike in Norway so far.
The Dronningstien hike takes you along the edge of the plateau of the Hardangarvidda National Park. The Hardanger region of Norway is known as the 'Orchard of Norway'. Fruit trees abound with picturesque villages nestled on the shores of Sorfjorden.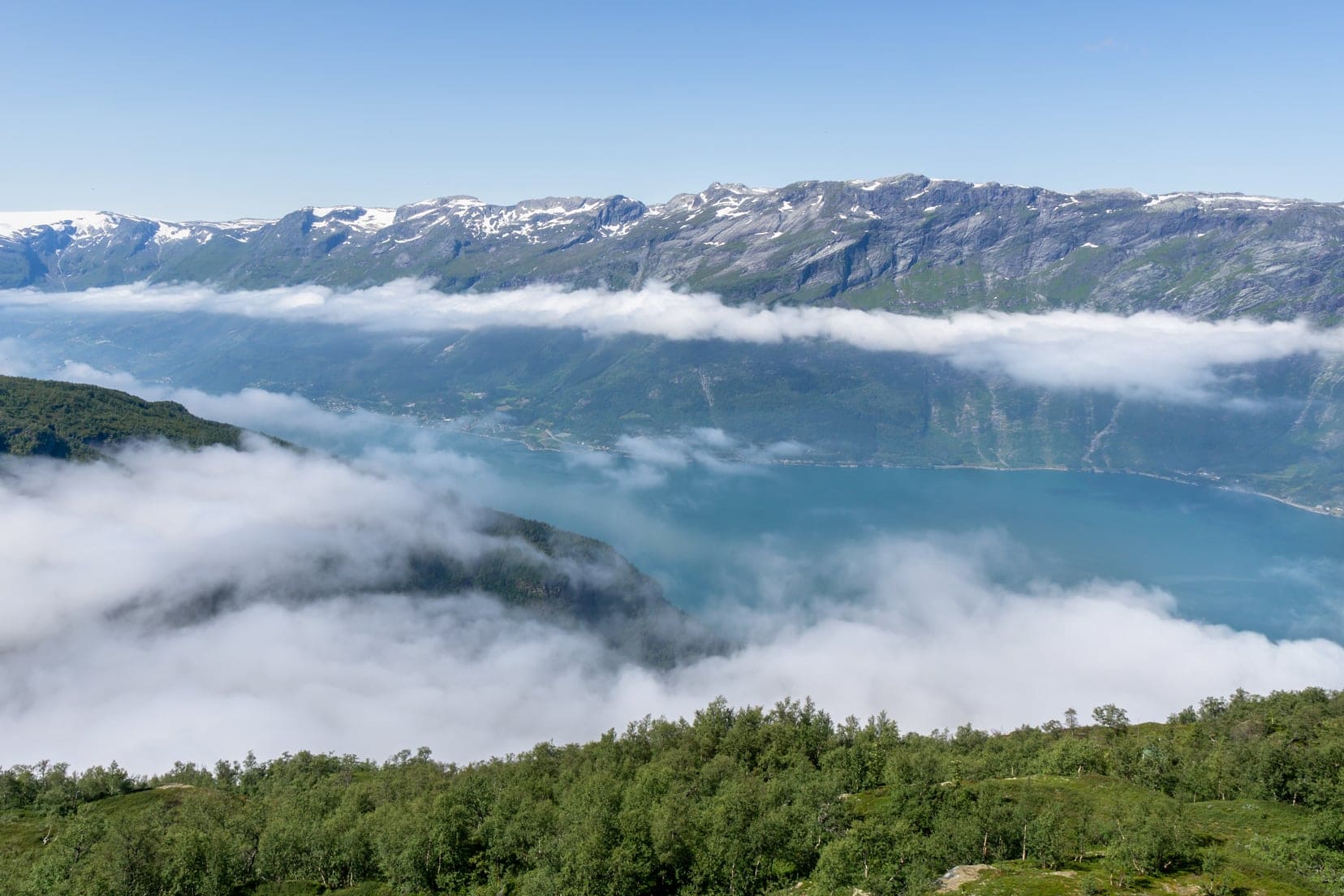 This Norway hike is packed full of stunning, ever-changing scenery, which helps you forget the burn in your leg muscles. Really, it is just the initial few kilometres of ascent on either end of the hike that sends the heart rate up.
Don't let this deter you though as roughly 80% of the hike is done along the flattish, majestic Handagarvidda plateau.
Read More of our Dronningstien Hike
7. UTSIRA ISLAND HIKING
Hiking Level: Easy
Distance: Optional/ 10 km
Time: Optional/5 hours
Closest City: Bergen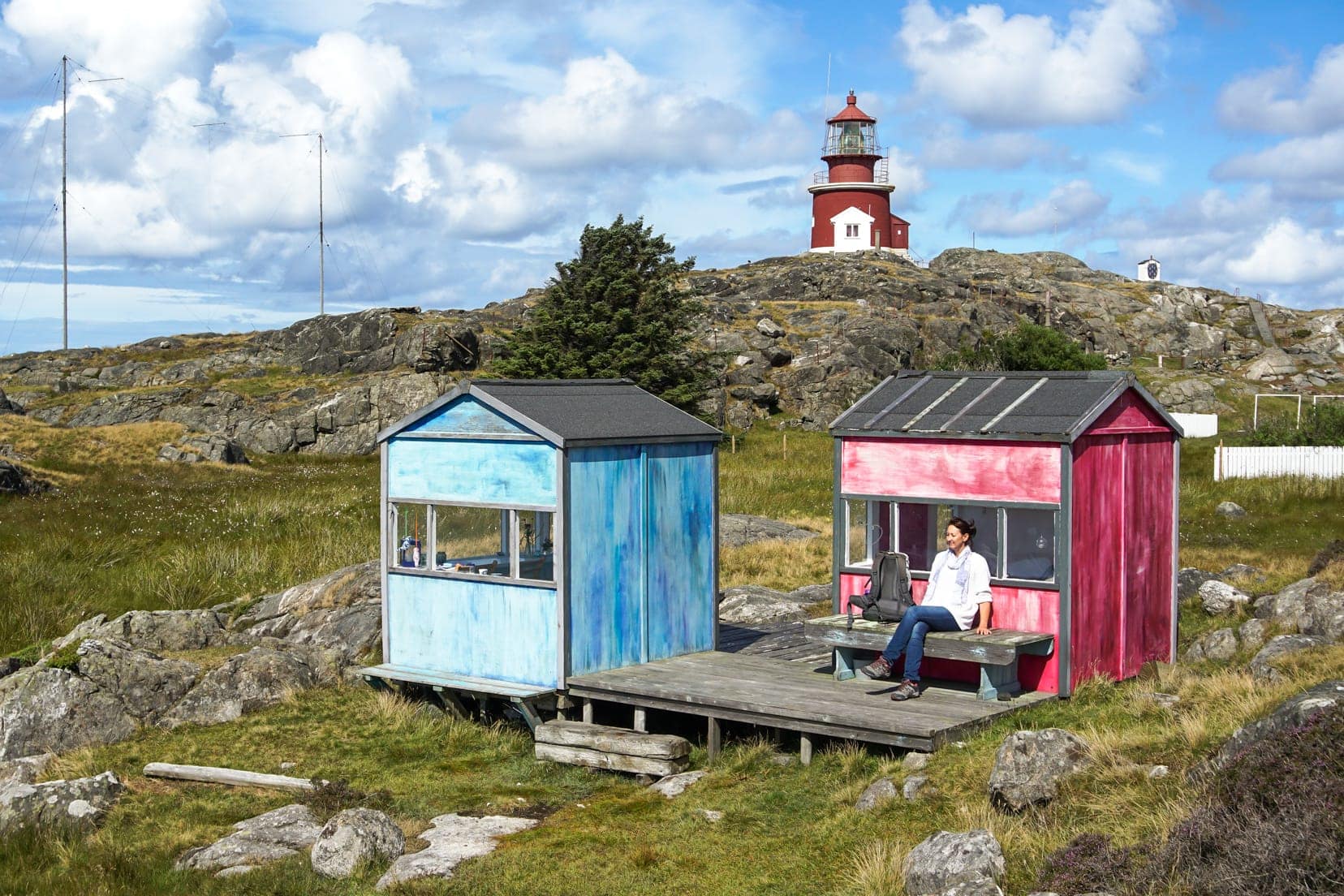 Hiking on the Island of Utsira, just off the coast of western Norway, is a special experience that can be best enjoyed over a whole day but best over a weekend.
Utsira is a bird watcher's paradise and an island filled with amazing street art. Utsira also has a wild rugged coastline and steep hill climbs that offer stupendous views across the island.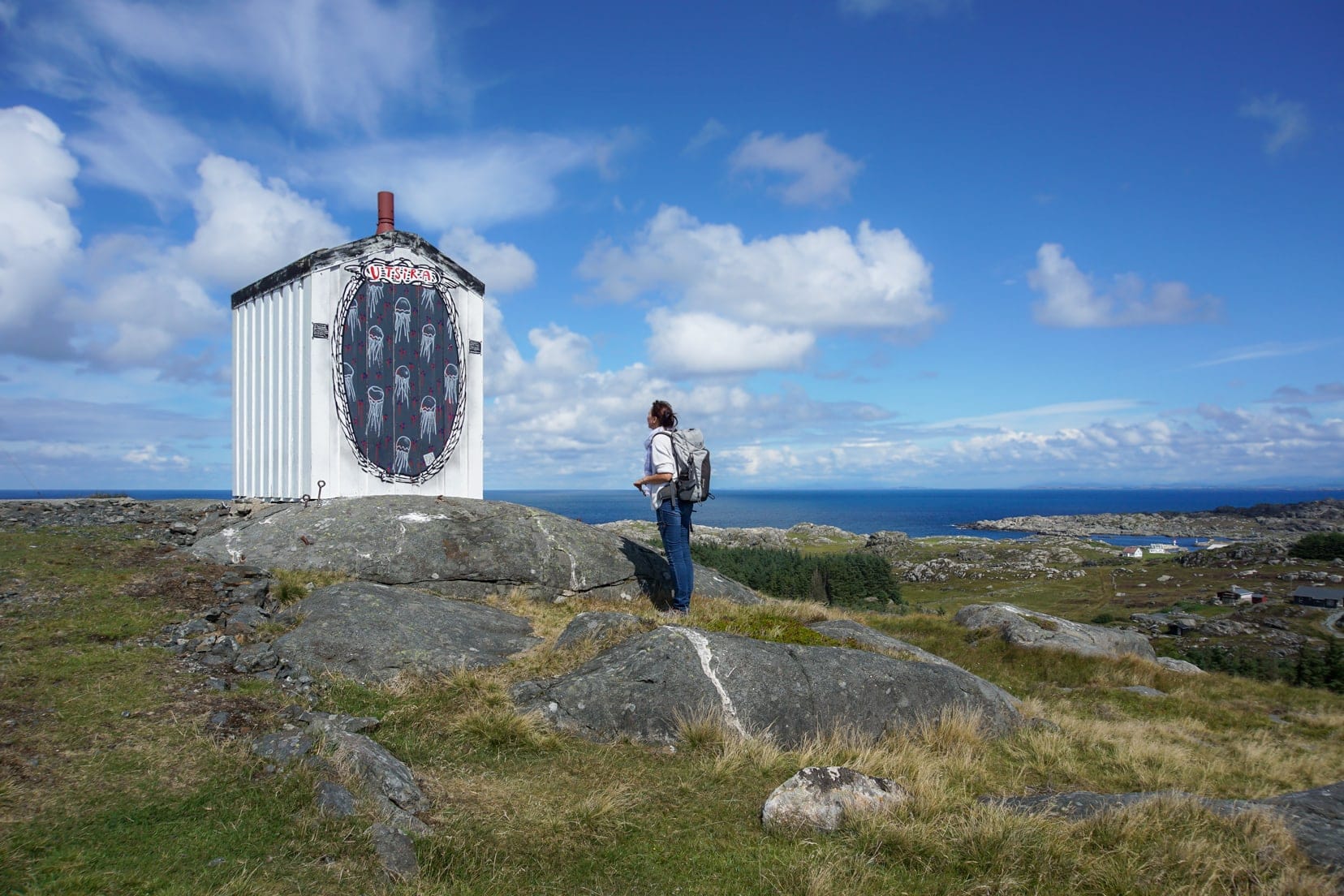 The whole island's coastline is only 13km, and the length of the island itself measures 3km, with a width of 3.5km. Therefore you can explore the whole island in a day but we'd definitely recommend spending 2 days here as there is so much to see and do.
We spent a day here and even though we caught the first ferry to the island and the last ferry back we didn't get to walk the whole island or see everything we wanted. Yes … Utsira is that interesting!
If you love street art, bird watching, nature or geocaching then this is a fantastic place to hike and enjoy all the island has to offer.
Read More of our Ultimate Guide to Utsira
8. RYTEN LOFOTEN HIKE
Hiking Level: Medium
Distance: 8 km
Time: 3-4 hours return trip
Height: 543 masl
Season: May – September
Closest Main City: Svolvaer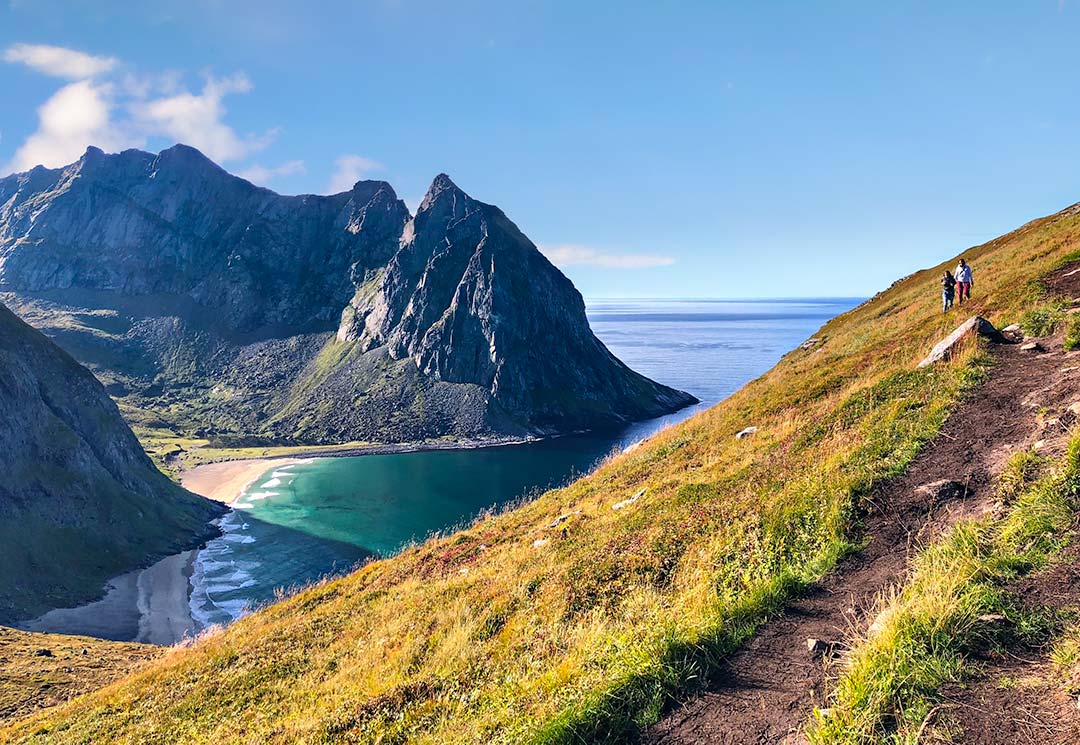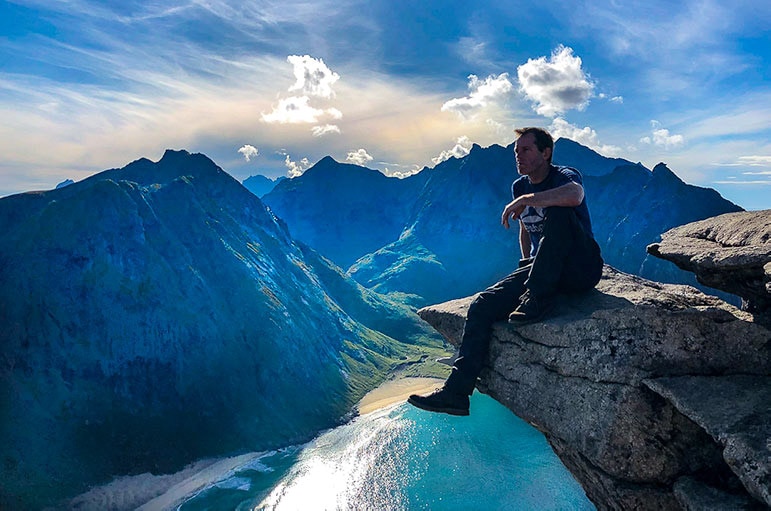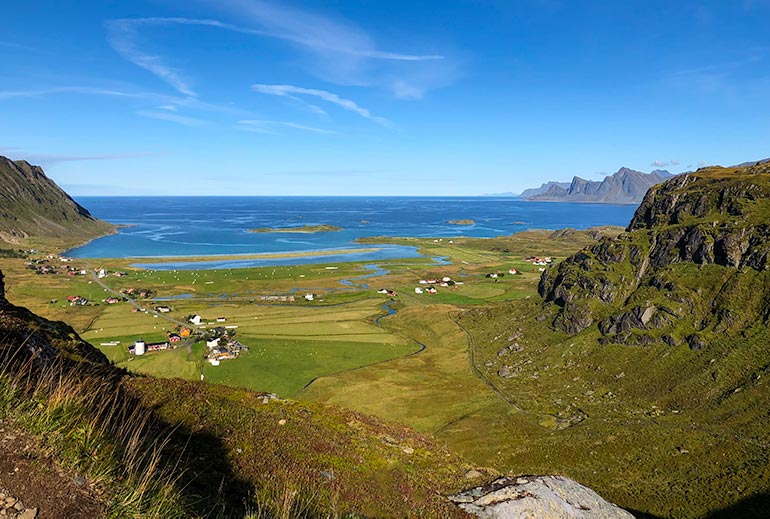 The hiking Norway brochures we had read reported that this hike was a medium level and that you could bring small children. However, we would not recommend small children on this hike and would say that it is between medium and challenging.
The trail of this hike was particularly muddy and wet so no doubt it's easier when the ground is dry.
The climb is long and in some parts, quite challenging. We walked through quite a few boggy areas, so make sure you have waterproof hiking boots.
The view of Kvalvika Beach from Ryten Mountain is one of the unexpected classic spectacular views in Lofoten and is so worth the hike up this mountain.
Take a photo on the overhanging rock that looks out to Kvalvika beach — it's pretty much at the summit.
If you want to walk down onto Kvalvika Beach, then check the tide times as the beach is subject to tidal changes.
Read More of our Ryten Lofoten Hike
9. DRONNINGRUTA, LOFOTEN
Hiking Level: Demanding
Distance: 15 km
Time: 5-8 hours return trip
Height: 448 masl
Season: Best in summer (can get very windy)
Closest Main City: Svolvaer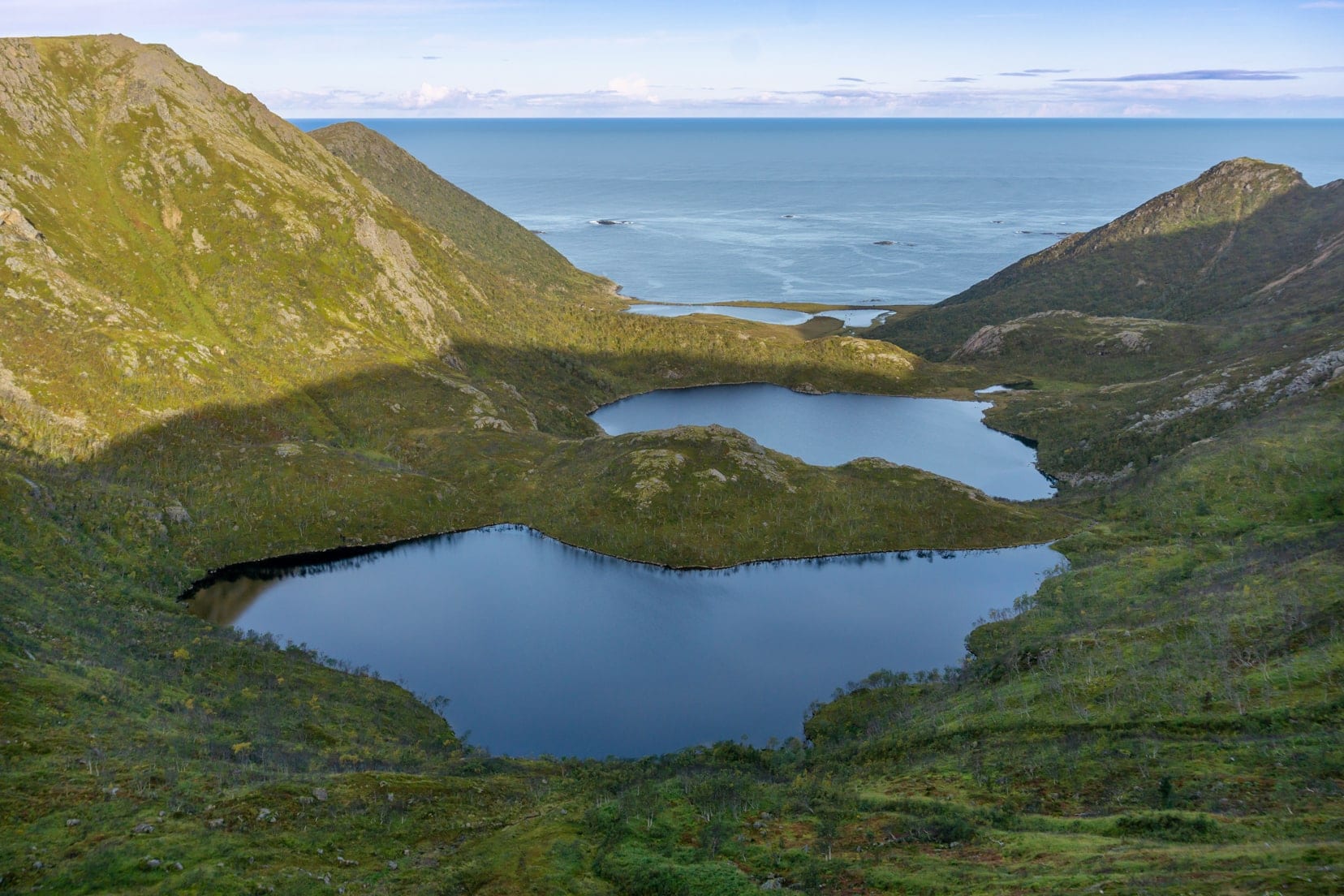 Hiking Norway: Dronningruta Hike views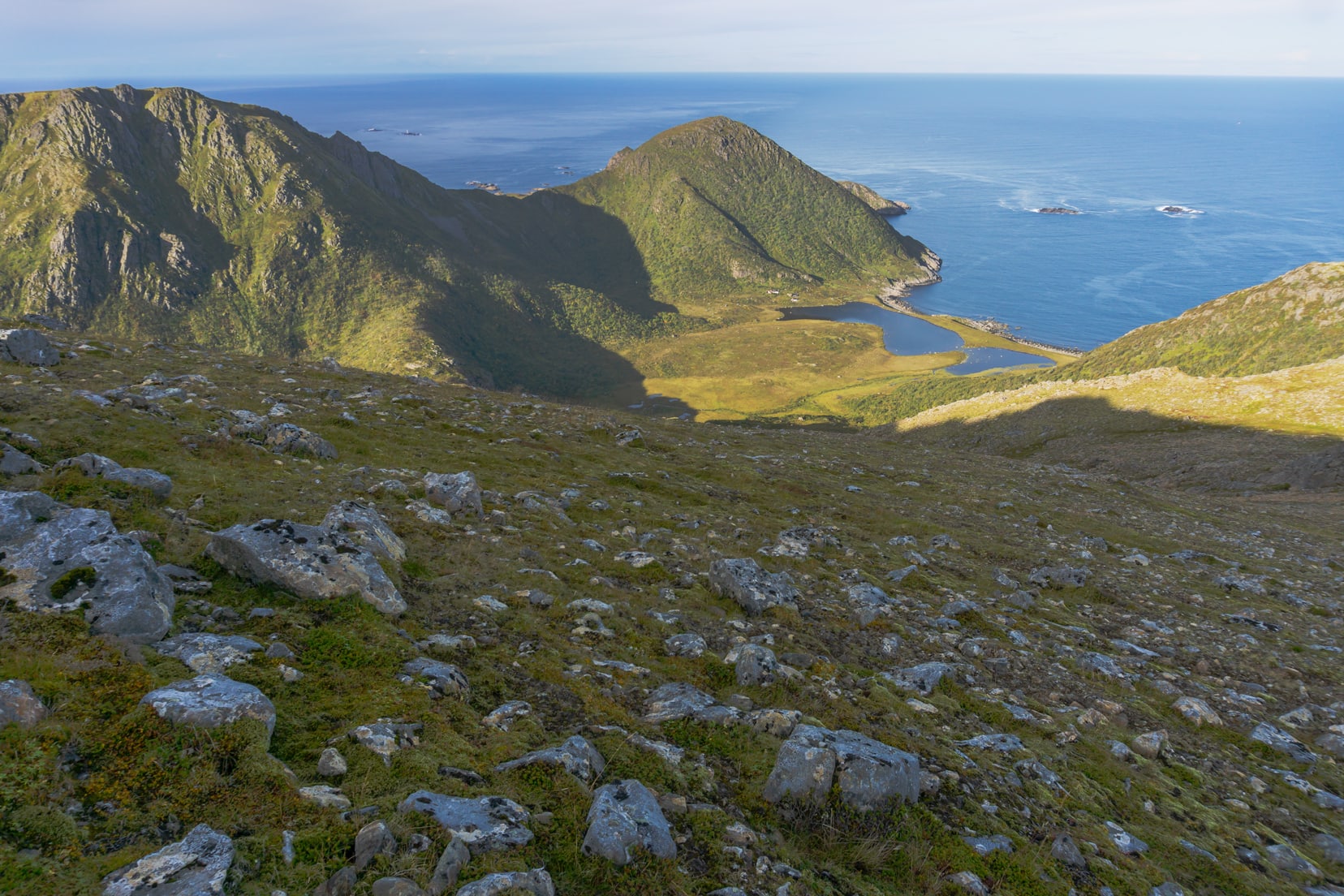 Dronningruta hike in Vesterålen, Norway, takes you over and across mountainsides and along the rugged coastline which looks out over the Atlantic Ocean.
The hike is named Dronningruta (The Queen's Route) after Queen Sonja of Norway. She hiked the trail when she visited Vesterålen in 1994.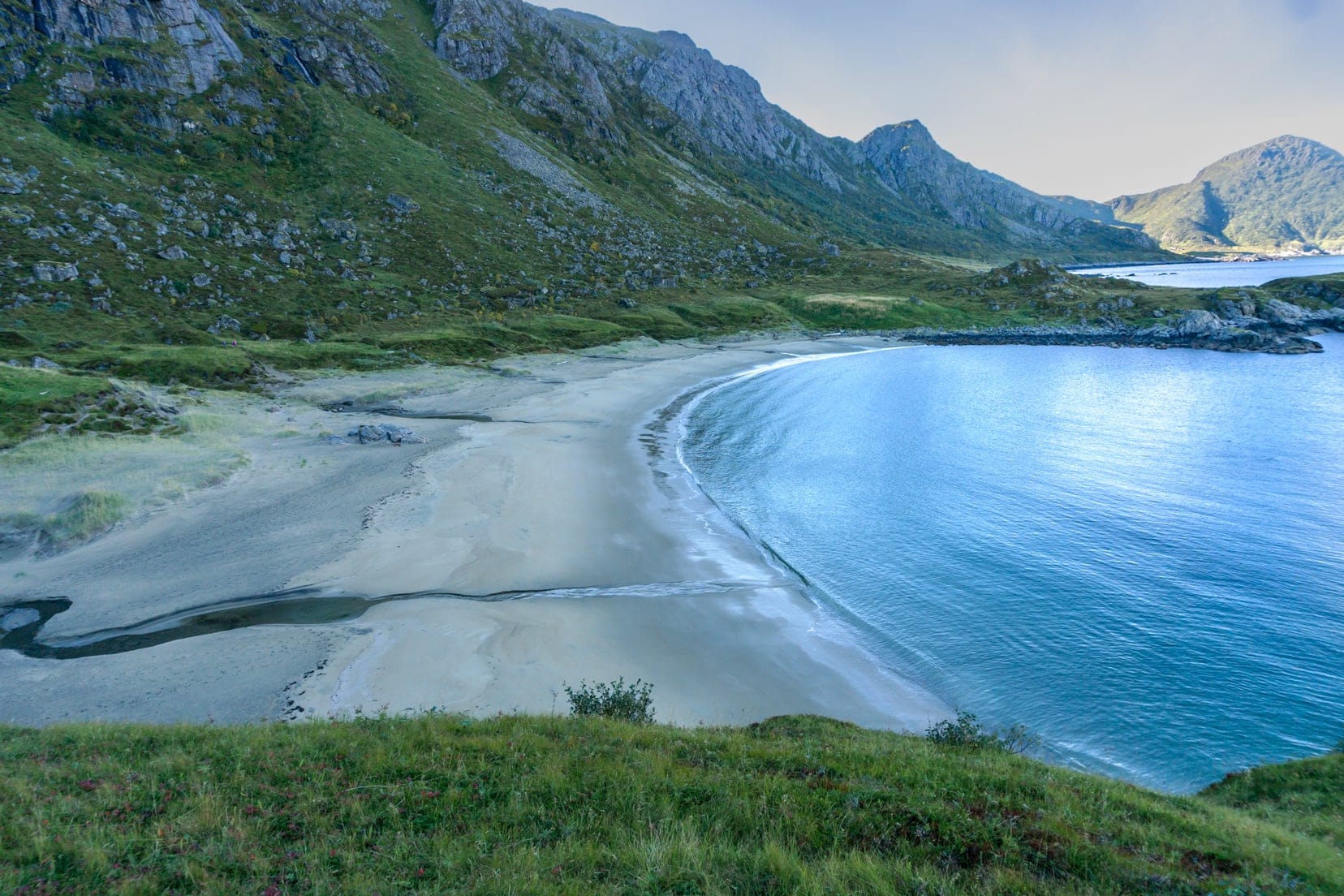 The Dronningruta hike is a round trip between the fishing villages Stø and Nyksund in Vesterålen, Northern Norway. You can choose to start the hike in either of the two villages.
You'll find that there aren't many hikers on this trail, so if you're after a bit of solitude, fantastic scenery and a good workout, then this hike in Norway is definitely the one for you.
READ MORE on the Dronningruta Hike – The Queen's Route
10. TORGHATTEN, BRØNNØY – THE HOLE IN THE MOUNTAIN
Hiking Level: Easy
Distance: 3 km
Time: 2.5 hours round trip
Height: 258 masl
Season: Best in summer
Closest Main Town: Brønnøysund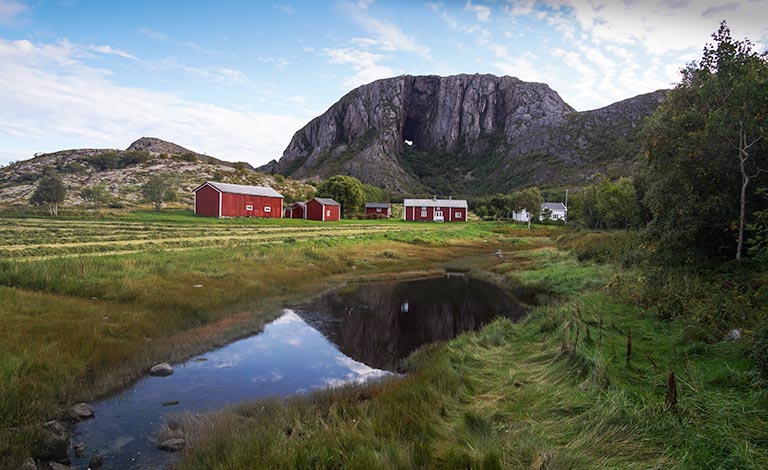 This magic mountain, Torghatten, actually has a hole right through it.
Situated on the island of Torget in Brønnøy Municipality within Nordland county, it is just phenomenal to witness.
You don't have to only admire it from a distance, you can actually walk right through this granite mountain. It's an easy hike but just maintain some careful footing when traversing the rocks going up to, and when walking through the hole.
We recommend that you don't just walk through the mountain, but down the other side towards the sea. There's a trail to follow. Head towards and past the only pretty farmhouse you will see, and keep heading towards the water.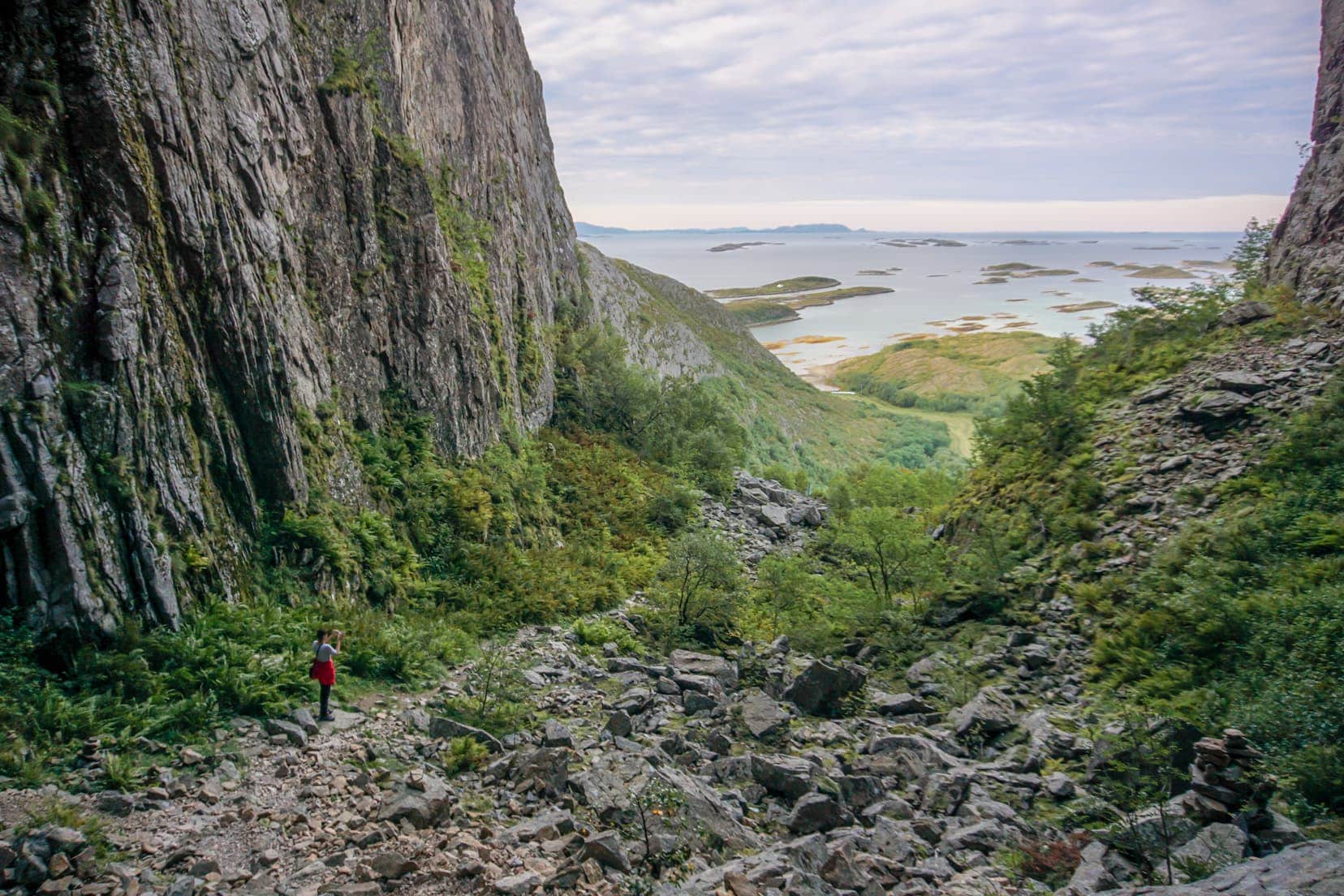 Looking back from here gives some spectacular views, and if you position yourself right, you can even see right through the hole.
This Norwegian hike through Torghatten is postcard perfect.
READ MORE on Torghatten – Hiking Norway's 'Hole in the Mountain'
TOP TIPS FOR HIKING in NORWAY
Wear sturdy/waterproof hiking boots
Wear wind and waterproof hiking clothing with layers for a change of weather (The weather can change quickly in the Norwegian mountains, so be prepared)
Bring water to prevent dehydration
Ensure you have enough snacks and food for energy
Norway Emergency Telephone numbers: #110 Fire; #112 Police; #113 Ambulance
Make sure you are in a suitable physical condition for the difficulty level of the hike
If hiking alone, inform someone where you're going and your planned return time
If using a mobile, you can download a handy free weather app called Yr
If you need to navigate with an offline mobile map, download the free Maps.Me
GOOD TO KNOW FOR HIKING NORWAY
A Norwegian Common Law (Allemannsretten) gives you the right to roam freely in Norway. This means that you can walk nearly anywhere you want. Outdoor recreation has become a major part of Norway's national identity and is established by law. You are free to enjoy the great outdoors as long as you show respect for nature.
These are the main rules to follow:
It is forbidden to walk on tended pastures and fields.
Camping on fenced land is not allowed without the landowner's consent
Waste should not be left behind
Dogs are to be kept on a leash between April 1 and October 15th.
TRAIL DIFFICULTY LEVELS WHEN HIKING NORWAY
Norway classifies its walks and hikes depending on the difficulty as follows:
Easy (Green) — Novice Hikers/ No experience necessary
Medium (Blue) — Intermediate with some hiking experience /average fitness level
Demanding (red) — Experienced walkers/high fitness level well equipped with good hiking boots/ basic navigation skills /map and compass.
Expert (Black) — Longer and more technical hikes /Experienced hikers/ high fitness level well equipped with good hiking boots/ basic navigation skills/map and compass
Best Hikes in Norway … That's a Wrap
If you enjoyed this article, you may like these FREE RESOURCES:
Pin and Save for Later
YOU MAY ALSO ENJOY READING:
PLANNING YOUR TRAVELS?
These are some of the travel resources we use when planning our trips.
For a more thorough list visit our Travel Resources page here.