Some posts on this site contain affiliate links, meaning if you book or buy something through one of these links then we may earn a small commission. Read our Disclosure Policy here.
17TH MAY IN NORWAY
Cheers of 'Hip hip hurrah', waving flags, ice cream and mini trumpets set the scene on this 17th of May in Norway. Patriotic Norwegians line the streets in National dress celebrating the day with marching bands and lashings of ice cream.
There is no other day in the Norwegian calendar that brings out the amount of pride and camaraderie as the 17th of May (syttende mai).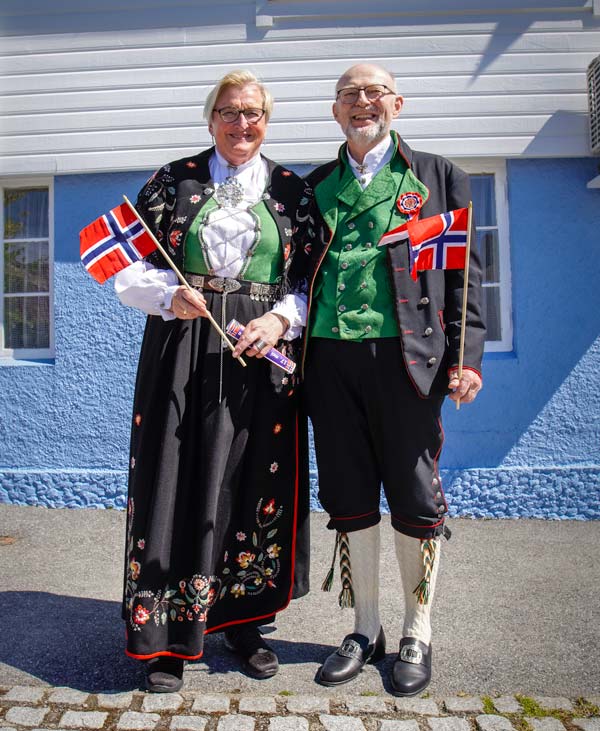 A Norwegian couple wearing their traditional bunads on 17th May
The 17th of May began in Skudeneshavn with a salute – the boom of canons across the harbour at 7 am sharp.
WHY IS THE 17TH OF MAY IMPORTANT IN NORWAY?
The 17th of May in Norway is referred to as National Day or Constitution Day (Grunnlovsdagen). Norway's first constitution was signed on this date in 1814 in the Norwegian town of Eidsvoll and Norway was declared independent after a 400-year union with Denmark.
This all came about after the defeat of Napolean in the Napoleonic Wars in Europe in 1813. Denmark (then ruling Norway), was allied with Napoleon's French army and therefore found itself on the losing side of the battle.
Sweden, however, was one of the victors of the war and Denmark was forced to cede Norway to Sweden in January 1814. It was decided that Norway would be independent and set out a system of government and voted for a new King.
The constitution was challenged by Sweden later that year and amended to join Norway into a union with Sweden, with the Swedish king then becoming king of Norway. This union lasted until 1905 when a landmark vote resulted in Norway gaining complete independence.
So it was actually on June 7, 1905, that Norway gained its independence, but it is the 17th of May that it celebrates as the date of its first constitution.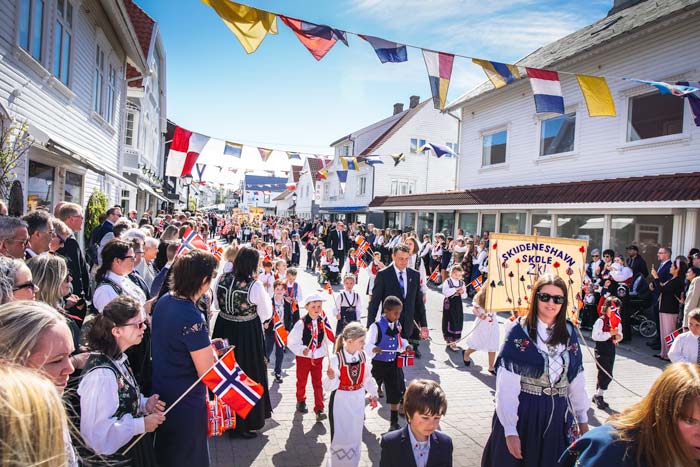 Skudeneshavn Street Parade in 2019
NORWEGIAN CONSTITUTION DAY TRADITIONS
It is clear, as we stand amongst the crowd on May 17th in the small town of Skudeneshavn, Norway, that today is a day of which Norwegians are extremely proud.
"It's the most important day of the year, "
Frode Wareberg tells me, as his toddler blows a toy trumpet and fervently waves a Norwegian flag. His partner Kristina, adds that it is a day for everyone to come together and to be proud to be Norwegian.
The family are dressed in their 'Sunday best' – Kristina has chosen not to wear her bunad as she didn't have time for all the preparation. It can take a few hours to get the bunad ready to wear because the silver adornments need to be polished and the long gown and cotton shirt are difficult to iron.
She's not the only one who has decided to skip the bunad for this year's celebration. Several others tell me it wasn't worth the 'effort' because of the restricted celebrations due to the Covid pandemic.
This is the second year in a row that Norway's May 17th celebrations have been derailed. There is no marching band this year but the residents of this small harbour town have organised a midday car parade and a boat parade for later in the afternoon.
We watch as car after car drives by with horns blaring. Norwegian flags and greenery are clearly the decoration of the day and most drivers are decked out in their bunads.
Normally the street would come alive with the tunes of a marching band. Let's hope 2022 see's the return of normal May 17th celebrations for Norway.
BARNATORGET – CHILDREN'S PARADE
Norway's 17th of May celebrations gradually increased over the years and in the 1860s a children's parade (Barnatorget) became a large part of the celebrations. Though it wasn't until 1899 that girls were also allowed to be part of the parade.
The children remain a large focus of today's celebrations. Schools' marching bands and parades are very much front and centre. In Oslo, the children's parade includes about 60,000 children making their way past the Royal Palace, where the King and Queen wave from their balcony.
I asked Skudeneshavn local, Roy Jakob Hoines, who grew up here, about his memories of May 17th as a child.
"Growing up, it was always about trying to hear the cannons fire in the morning. The quality of the boom is never the same, this year it was a smaller one, but last year I think they woke up the whole Island! After the boom, you get dressed in your best clothes and are forced to partake in the parade. Which was always embarrassing, because your family would do their best to shout, wave and take pictures of you in the loudest of ways."
For Roy Jakob, Norway's 17th of May is a day to enjoy family and friends. He adds that "Norwegians are very committed to their traditions, and seldom break those traditions. So before the Covid pandemic, May 17th was like Groundhog Day, the movie."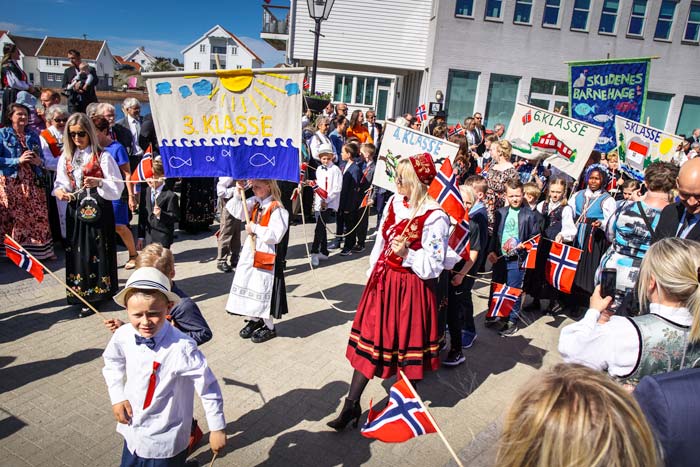 School children marching in the May 17th Parade in 2019
BUNADS ON MAY 17TH
The Norwegian Bunad is the traditional costume that represents the wearer's regional heritage.
Though quite a few chose not to wear their Bunads this year, there were still more wearing Bunads than not. The men mainly dressed in suits, however, I also spotted a few in their bunads.
The bunad is an expensive Norwegian outfit. The costs range from about $4000, so it is no surprise that it is a treasured heirloom passed down to the next generation. The Bunad designs each represent the traditions and customs of the community where it originated. There are about 400 different variations throughout Norway.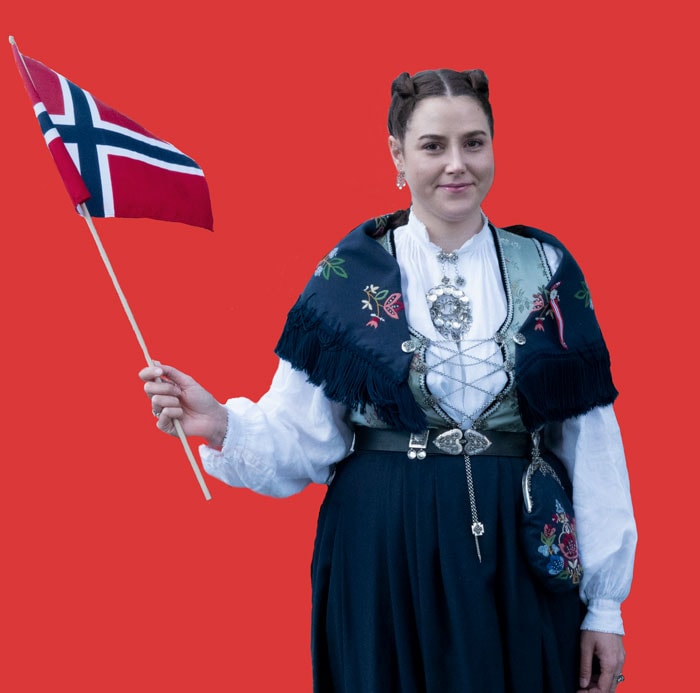 TRADITIONAL FOOD ON MAY 17TH
"Have you had an ice cream yet?" a local asked us. It appears May 17th isn't complete until you've licked your way through at least one ice cream in celebration of Norway's National Day. About 30 million ice creams are eaten in Norway on May 17th!
Roy Jakob tells me that sweets and cake are the main sources of food on the 17 of May. The local dish is 'Dronning Maud's pudding', (a mousse) made of whipped cream, egg yolks and chocolate. It's a local dish, created in 1906 in Haugesund for the visiting Queen Maud and King Haakon and is a favourite for the May 17th celebrations.
Along with this creamy pudding, hotdogs and ice cream are the other main foods eaten on May 17th. Certainly, a day to fill up on party food.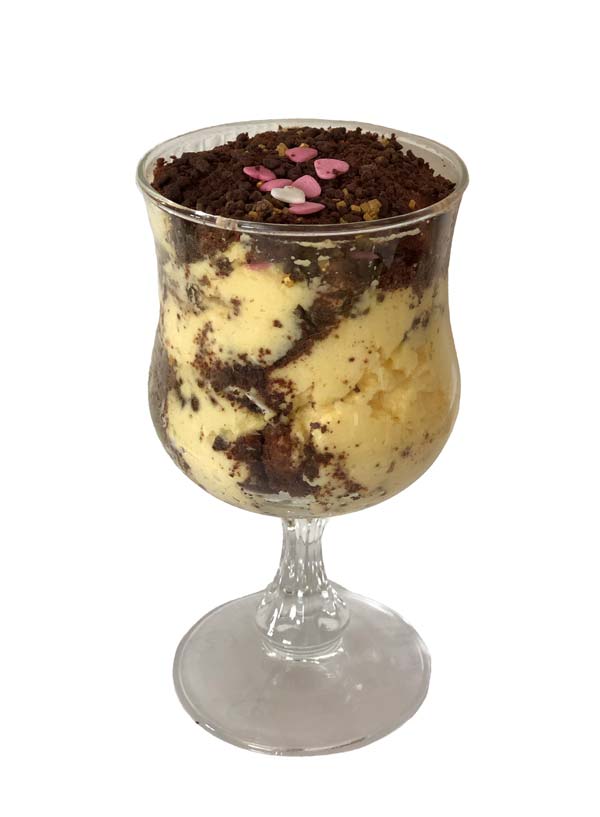 Queen Maud's Pudding – Layers of grated chocolate and mousse (egg yolks, gelatine and whipped cream)
RUSS – SCHOOL LEAVERS AND MAY 17TH
May 17th in Norway happens to coincide with the end of the school year and final exams. A tradition has grown whereby graduating school leavers dress in a red jumpsuit (Russebukse) and hand out 'business cards' (Russekort).
The Russ or red comes from the original colour of the caps that signified graduation back in the early 1900s. The modern version now involves a few weeks of celebration, called the russefeiring, ending on the 17th of May. The students hand out their mock 'business cards' with a funny picture, contact details and a comical or sarcastic quote.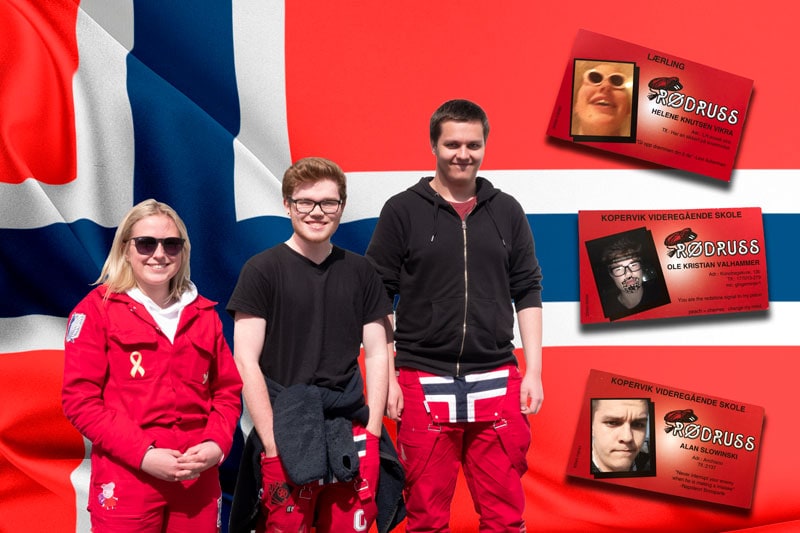 I spoke to a few of the Russ, who were handing out their 'calling cards' on May 17th in Skudeneshavn. None of them knew the reason why this tradition happened or why they were wearing red.
'It's just the way it is,' they said.
They also didn't know that in some parts of the country, the colour of the jumpsuit reflects the field of study that the graduate is pursuing. I guess when you are 18, you need to look no further into any reasoning other than a great excuse to party.
We have a similar rite of passage for graduates in Australia – 'Leavers Week'. But that just involves the students going to a few chosen destinations and partying hard. 'Leavers' also happen after their final exams, but these Norwegian students still have their exams to sit!
I'd suggest it's not the healthiest and most studious lead-up to their final exams.
JUMPSUIT COLOURS USED BY 'RUSS' IN NORWAY
Red = General studies
Blue = Business studies
Black = Vocational
White = Medical
Green = Environmental
MAY 17TH NORWAY – THAT'S A WRAP
And what better way to end this article than with this photo of an enthusiastic couple we spotted rowing around the harbour blowing a trumpet and shouting 'Hurrah' in true May 17th style.
We will continue to celebrate Norway's Constitution Day wherever we are in the World by indulging in cream cakes, ice cream and hotdogs. Will you join us?
Hip Hip Hurrah for the 17th May in Norway.
READ MORE: Things to do In Skudenshavn, Norway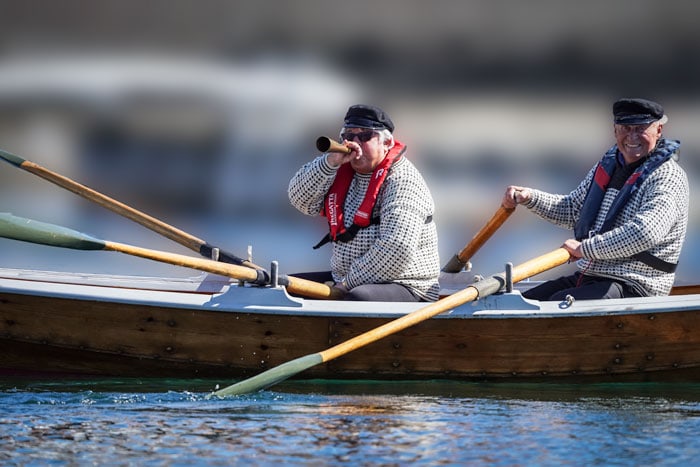 The fervour of May 17th – a couple shouting hurrah and blowing a bugle
Pin and Save for Later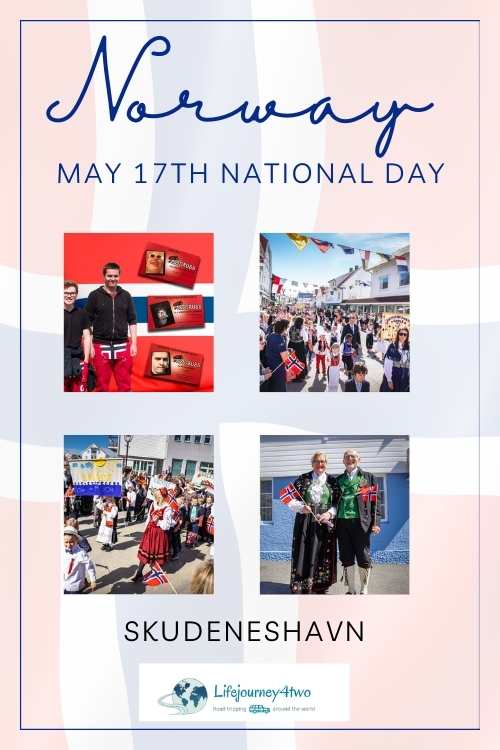 READ MORE
PLANNING YOUR TRAVELS?
These are some of the travel resources we use when planning our trips.
For a more thorough list visit our Travel Resources page here.