Best Things to do in Stavanger and its Surrounds
Stavanger abounds with things to do and its surrounding area offers plenty of diverse landscapes to explore.
You'll find museums, pretty photogenic streets, long sandy beaches, famous street art, historical monuments, dramatic coastal scenes, mountain hikes, fabulous fjords and of course, plenty of Norway's Viking heritage dotted throughout this southwestern area of Norway.
This charismatic city is fourth in size after Oslo, Bergen and Trondheim, but it feels much more personal than a large city. Two of its main streets are some of the most photographed in Europe, one for its vibrant colours, the other for its white timbered houses and floral charm.
The centre of Stavanger is neatly packaged around the harbour and invites you to unwrap its enticing sights step by step.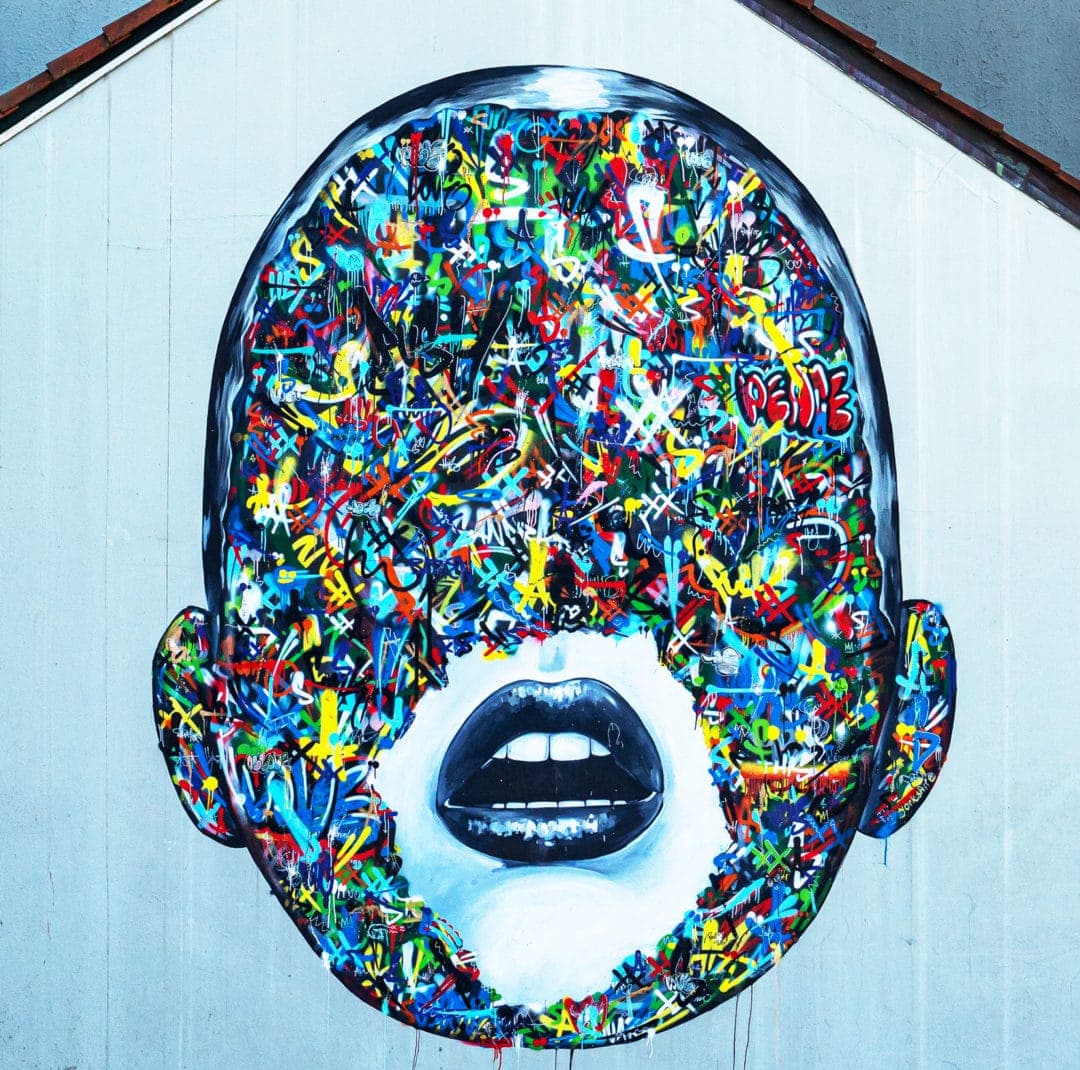 Stavanger was awarded the European Capital of Culture award in 2008 and hosts various cultural festivals each year, such as the 'Nuart' Street Art Festival, 'Utopia Music Festival and Gladmatsfestivalen, which attracts over 200,000 people.
Not only is the city itself full of things to do, but Stavanger also has more than 250 tiny islands sprinkled around its shores. Much of this archipelago is accessible by bridges and undersea tunnels.
The Jæren lowlands to the south take you through the area's important agricultural lands and the dramatic mountain peaks and sparkling Lysfjord call to you from the east.
To help with your planning and orientation I've included a colour-coded map and broken the things to do in Stavanger and its surroundings into separate areas.
Jump Forward:
Planning a Trip to Norway?
Map of Stavanger and Surrounds
Snapshot of Things to Do in Stavanger and Surrounds Video
Things to do in Stavanger City
Our list starts off with all the things to see and do in Stavanger that are within walking distance of the city centre.
Further on in the list, we include all the amazing things to do and places to visit in Stavanger's surroundings. For most of these, it will be much easier if you have your own transport but some are accessible by bus or via tours.
🚗 Looking to hire a car? We recommend DiscoverCars with free cancellation and ⭐️ 4.5/5 star Reviews on Trustpilot.
1. Wander the Old Streets of Stavanger (Gamle Stavanger)
Here, you'll find 173 wooden houses built in the late 1700s and early 1800s. In summer, vibrant flowers spill from window boxes and hanging baskets flood the narrow street with colour and charm.
This is a street that demands you dawdle as every step seduces with its alluring appeal.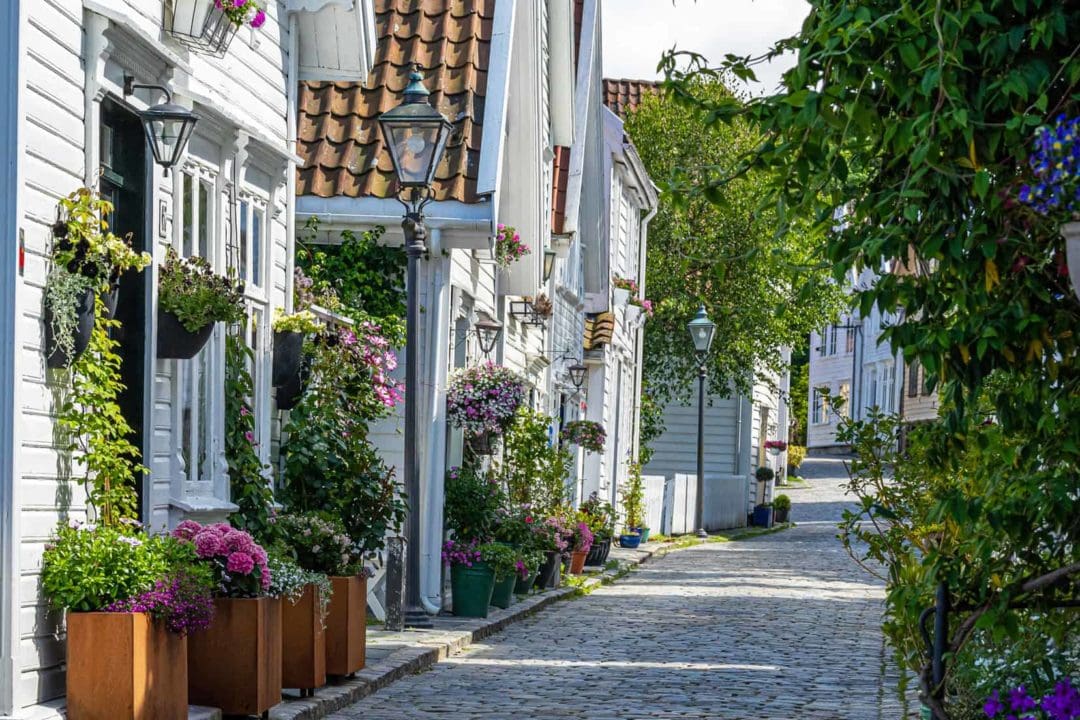 Wild strawberries grow in the cobblestone cracks and the subtle scent of roses floats in the air. The white timber houses in old Stavanger welcome you with overflowing flowers and foliage.
This is Øvre Strandgate, another of Stavanger's most photographed streets in the heart of Gamle Stavanger, (Old Stavanger). In 1975, UNESCO designated Old Stavanger as one of the cities worthy of preservation in Norway.
👣 To see the town from a local's perspective, you may like to book a personal guided walking tour of Stavanger – ⭐️ read reviews here
If you appreciate this part of Stavanger, with its beguiling old, white wooden houses, then we suggest you include the more off-the-beaten-path town of Skudeneshavn in your trip. It is about a two-hour drive northwest of Stavanger, on the island of Karmoy.
Its idyllic old streets wind organically between granite rocks and the harbour and are a more intimate experience for the visitor.
2. Visit the Canning and Printing Museums
Between 1900 and 1950, before the discovery of oil, it was the canning industry that dominated the city of Stavanger. In 1918 there were 60 canning factories in the city.
Both the Canning and Printing museums are next to each other in the old town area of Stavanger with the Iddis café and brasserie nestled between them.
The name of the café is derived from the word, 'Iddisar' — a local Norwegian term referring to the collection of sardine can wrappers. And it is these wrappers that inexplicably linked the canning and printing industries of the past, together.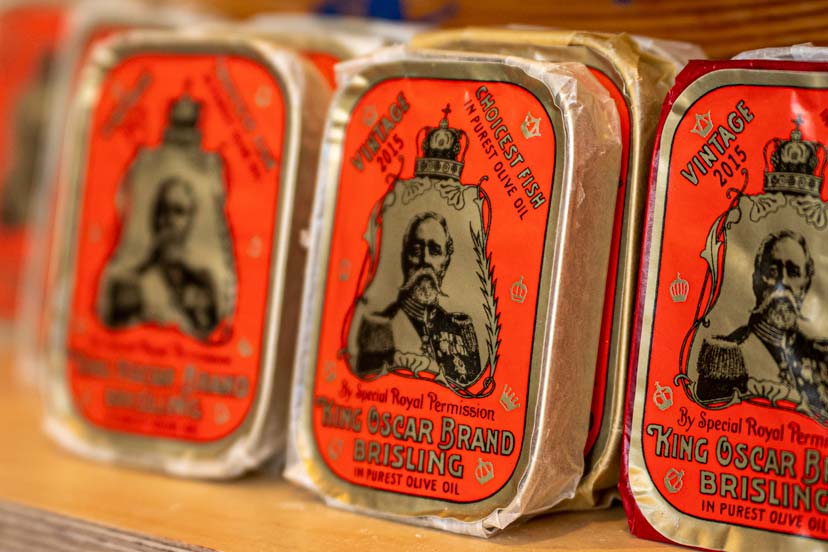 About 40,000 different labels were printed and Norwegian children used to collect the sardine wrappers much like you would collect postcards or stamps.
Jakob Høines, a local in the area, now in his 60s, told me that as a child he had a huge collection and he would exchange wrappers with other children to build his collection. He wished he had saved them because today they would be worth a lot of money.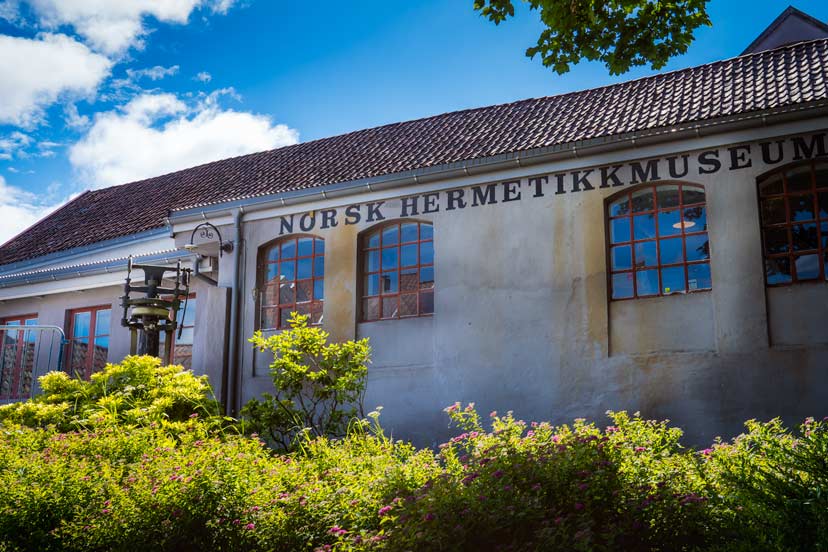 Norway's sardine canning industry wasn't packing any normal sardines though. The icy waters around Norway were home to brisling sardines, said to be one of the highest quality sardines and one of the tastiest.
Today, there is not even one factory canning sardines in Stavanger. One of the factories, however, is now home to the Canning Museum, which tells Stavanger's sardine story through interactive and historical exhibits.
Visit the two museums to learn more about the interesting history of the sardine canning industry and its eventual demise in Stavanger.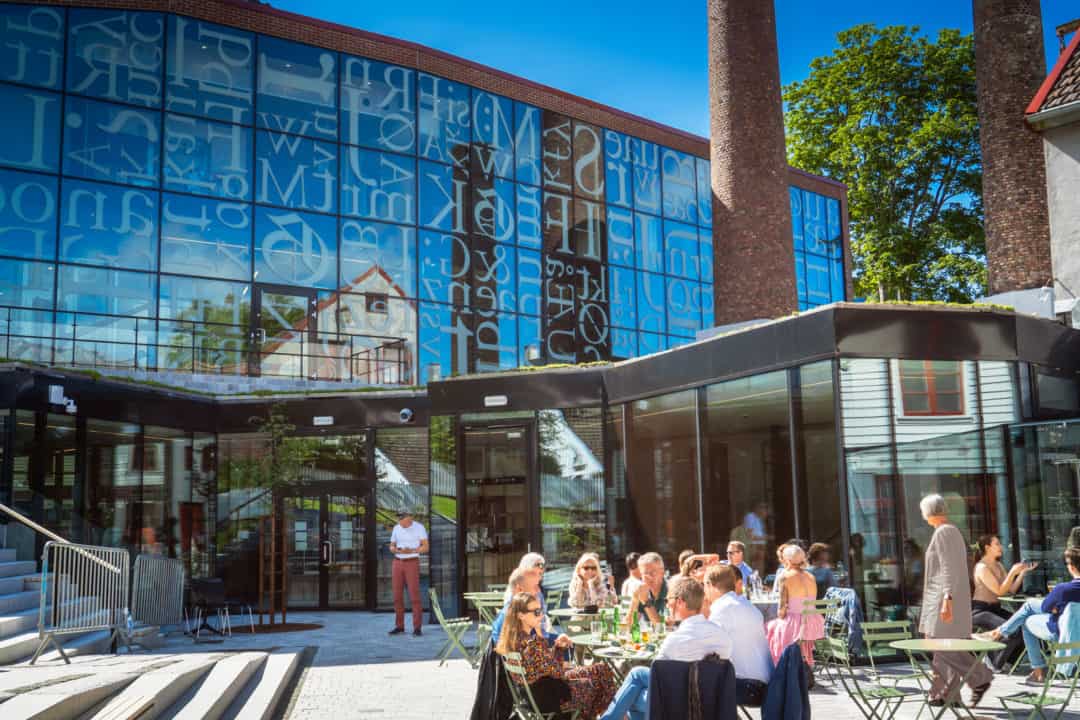 3. Have a Coffee or Meal at Iddis Café
The Iddis Café, as mentioned above, recently opened and sits between the Canning and the Print Museums. There is also a museum shop in the cafe selling memorabilia and of course … sardines. The vibe is friendly and the food looked delicious.
4. Stroll Through Øvre Holmegate — the Street of Colours
Øvre Holmegate, or as locals call it, 'Fargegata' (the street of colours), is one of the most photographed streets in Stavanger. Locals and tourists alike enjoy this vibrant strip of cafes, bars restaurants and shops.
The terraces are bustling, filled with cheery chatter and laughter. The street exudes vivaciousness and you almost expect the many street art figures to jump off the walls and join in all the frivolity.
And it's not just the tourists that have the hots for Øvre Holmegate. I asked Martinus Bjerga, a local who works at the Oil Museum, his favourite part of Stavanger. I was surprised to learn that it was this street of colours.
Quite often, places that are tourist attractions seem to drive the locals away to find less busy, secret local spots.
But here it seems the vibrant 'Faregata' is home to all.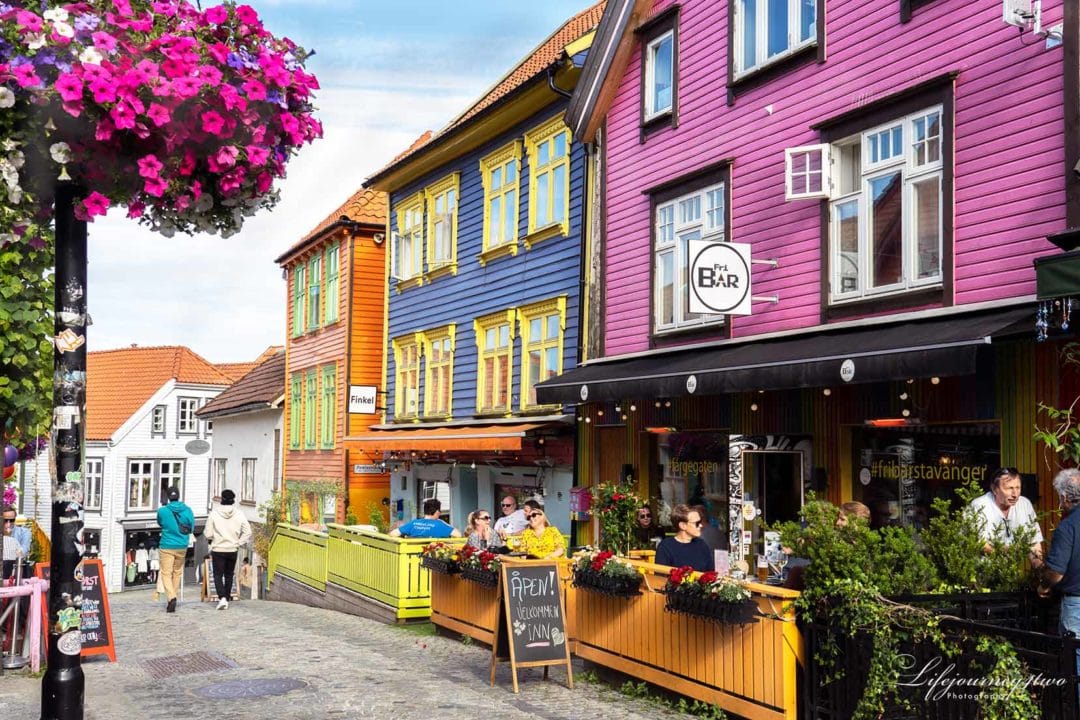 5. Enjoy a Viking Virtual Reality (VR) Experience
At Viking House, near the Tourist Information office, you'll find Norway's first Viking virtual reality experience. Take a seat on the Viking boat and experience the saga of Harald Fairhair — who is said to have been the first Viking King of a united Norway.
Although at times the figures in the VR seemed a little jerky, the overall experience was quite extraordinary.
My favourite part was watching the northern lights shimmer above us, while Lars' favourite parts were the battle scenes. I wouldn't recommend that children under the age of ten watch it because there were a few scary parts.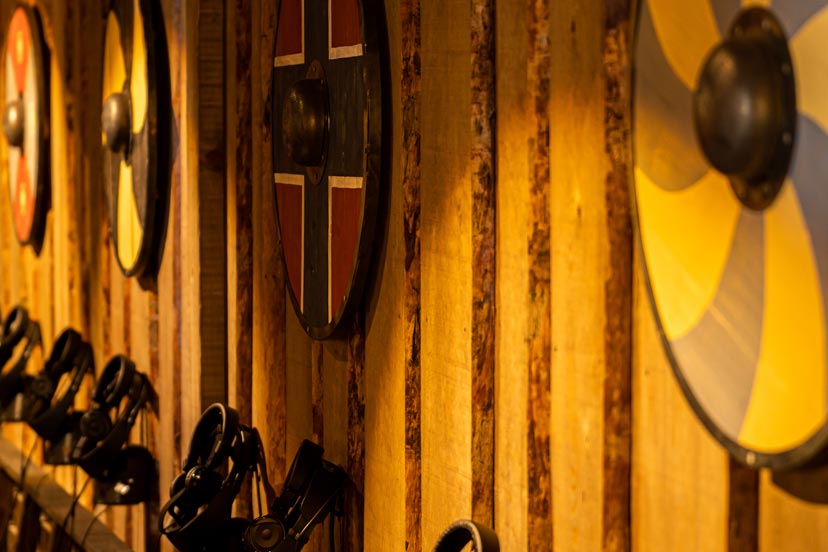 While at Viking House in Stavanger, you can also satisfy any cravings for all things Viking. There is a shop selling clothing, books, swords, and jewellery, and you can even forge your own Viking-style coin.
Steinar Raaen, the Viking Smithy, handcrafts many of the items. His most popular piece of jewellery that he sells is the 'Lothbrok Twist', a Viking arm ring. If you are a fan of the hit TV series Vikings, you'll recognise the Viking arm ring used as a pledge of loyalty to the kings and the Norse Gods.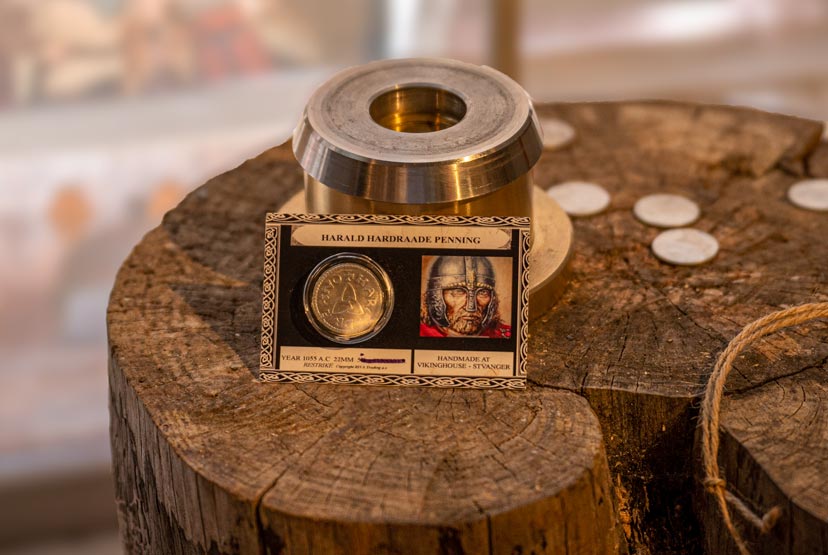 6. Visit the Norwegian Petroleum Museum
Much of Norway's wealth has come from oil and gas, and therefore, front and centre in Stavanger is the Oil Museum.
Stavanger can be traced back to the 12th century. However, it underwent massive growth when oil was discovered off the coast in 1969. The development of its oil and gas industry has given Stavanger the accolade of being the oil capital of Norway.
Fortunately, it has retained much of its charm and it is a contradiction of any industrialised image that such a label may infer.
The museum is an impressive and modern-looking building from the outside, with parts of it jutting into the ocean mimicking an oil platform. Here you'll find a wealth of information about Norway's oil history, with films, timelines, models and interactive exhibits.
For the last 50 years, Norway has relied on jobs and revenue from the oil and gas industry. This has led to Norway accumulating enormous wealth, which it has used to provide excellent public services to Norwegians. However, it is now faced with the challenge of finding new solutions in light of climate change and energy production.
The museum has an interesting exhibit on the Energy and Climate challenge, posing many questions about Norway's options for the future.
The Stavanger Petroleum Museum recommends you allow about 1.5 hours for your visit.
Find opening times and prices here.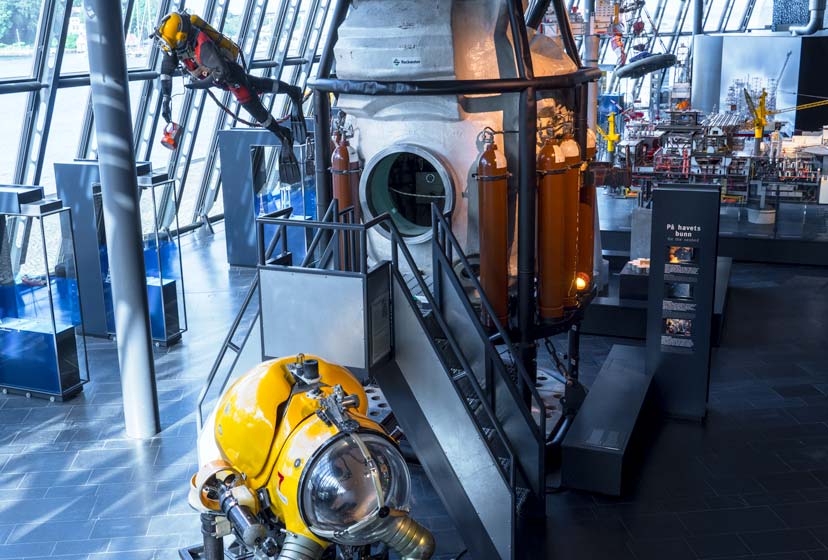 7. Search Stavanger's Streets for Awesome Street Art
Every year, Stavanger hosts the Nuart Street Art Festival and both Stavanger and the surrounding area are now rich with fascinating creations, of all artistic genres, from artists around the world.
Take your time strolling through the streets and remember to look up as well as down. You'll discover cheeky little paintings hidden around corners and in the most unusual places. You can see more examples of Stavanger's street art in our Stavanger video. You could spend a whole day here just hunting down Stavanger's street art.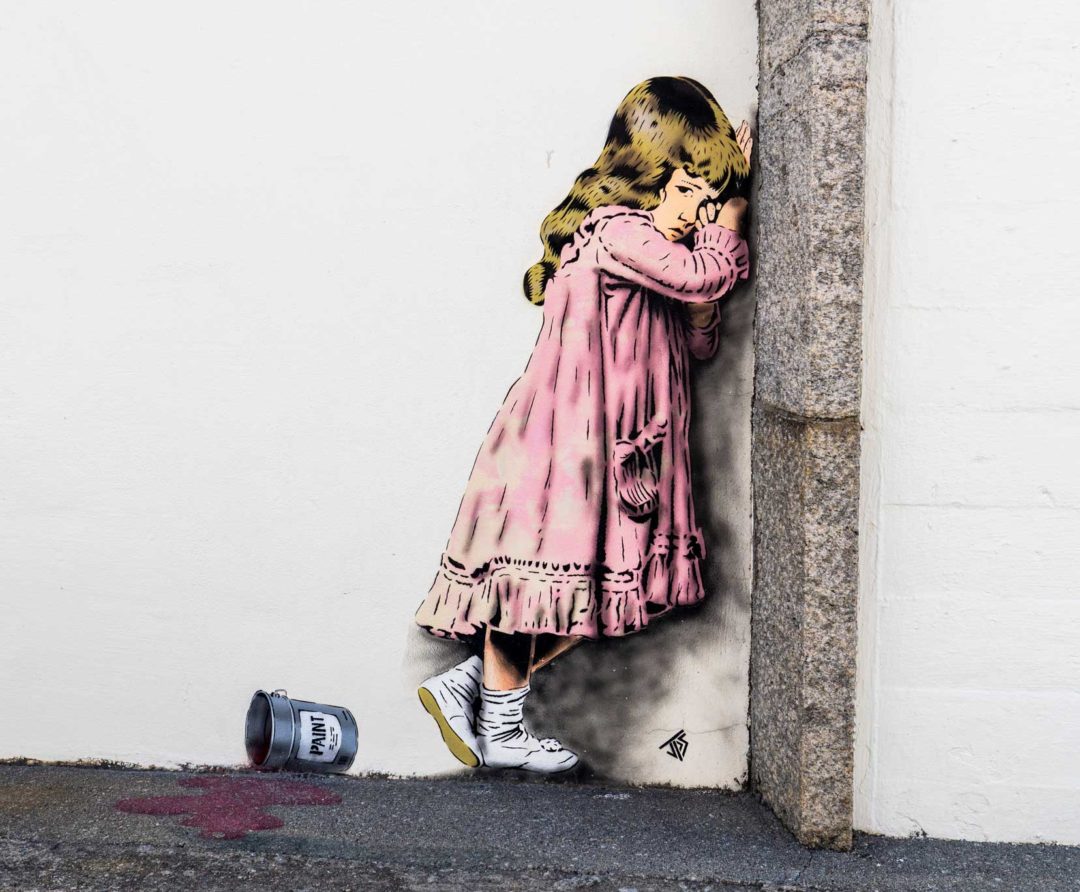 8. Find all 23 Broken Column Sculptures in Stavanger
You can find 23 of these 'rusty man' figures throughout Stavanger. They are part of the 'Broken Column' sculpture project of Stavanger Art Museum. The sculptures all sit at a different level above sea level and all face the direction of the sea. The first is in the museum, the last in the sea just outside a reef at Natvigs Minde.
The British artist, Antony Gormley, describes the idea as follows:
"They are displaced vertebrae from an imaginary pillar, where the head of one connects to the foot of the other".
Gormley is most well known for his creation, the 'Angel of the North' erected in the north of England in 1998.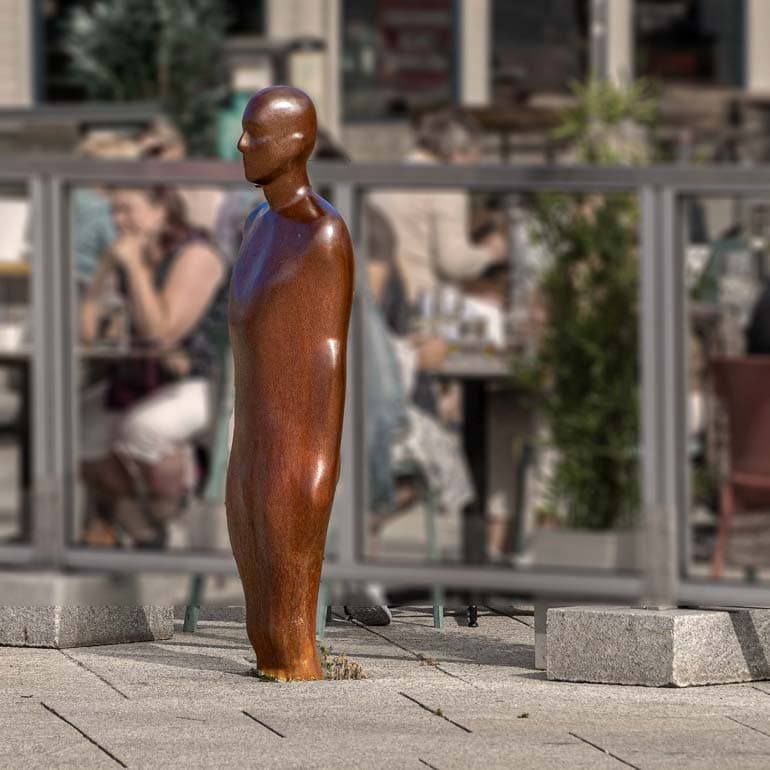 9. Admire Stavanger Cathedral
Stavanger Cathedral presides over the city. As with many historical dates here in Norway, legends and sagas tell us when events may have happened.
According to legend, the church was built in 1125. This makes it one of the oldest churches in Norway.
This cathedral is the only one in Norway that has kept its Middle Age original architecture and the only Norwegian cathedral that has been in continuous use since the 1300s.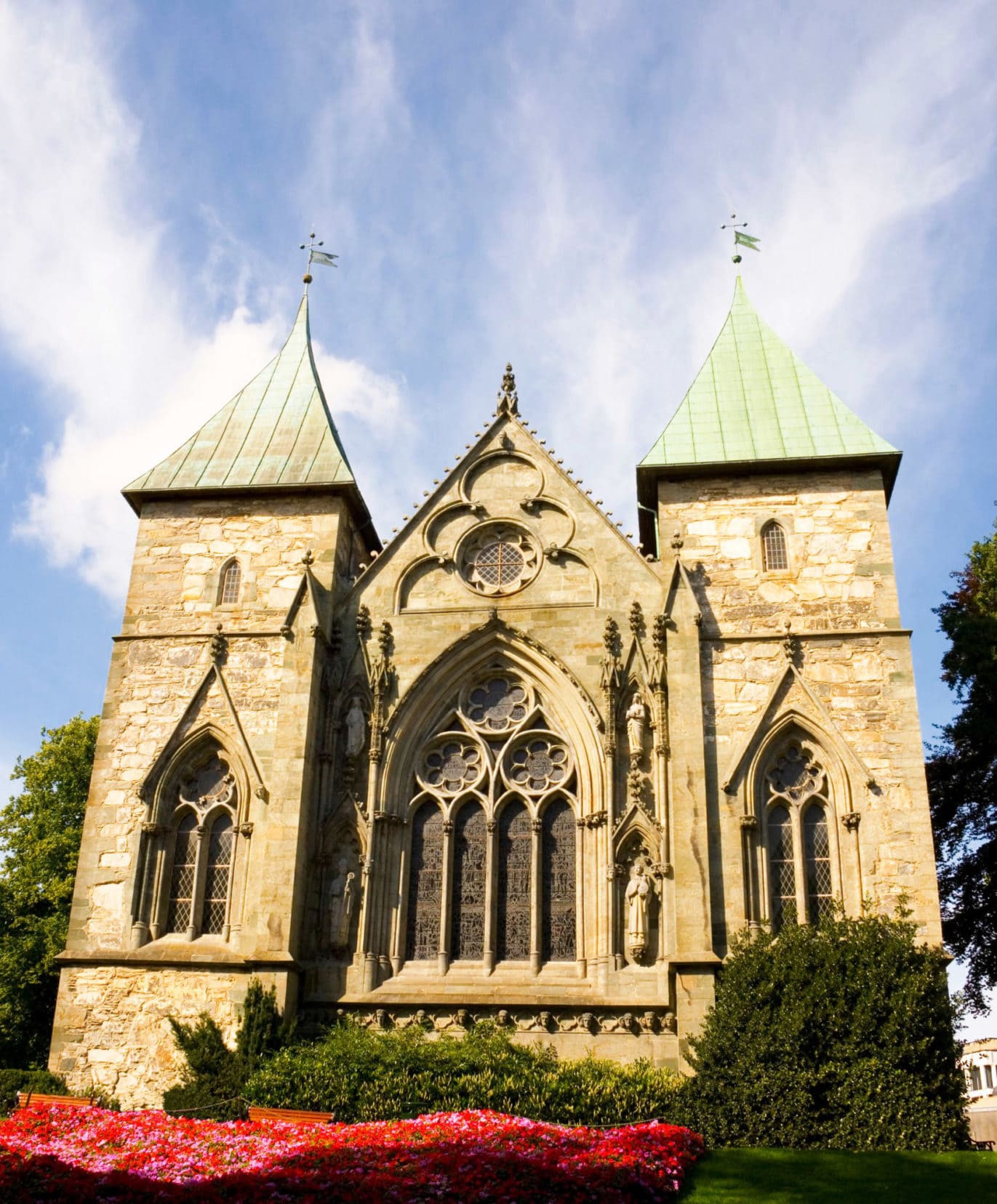 The cathedral is in the process of renovation and this is scheduled to continue until 2023.
10. Visit Stavanger Maritime Museum
Many of the sea houses on the wharves in Stavanger were originally used for salting herring. The herrings were then stored in barrels before being loaded back onto ships and sold to European countries. In later years canning factories operated in the sea houses. The Stavanger Maritime Museum is in two of the sea houses opposite the harbour.
Other museums and cultural buildings that you may be interested in are:
Norwegian Children's Museum
Breidablikk Museum — Norway's best-preserved villa dating from the 1880s with authentic interior
Kunstall Stavanger — Norwegian and international contemporary art
Day Trips from Stavanger to the Mountains and Fjords
Stavanger is the ideal city to organise day trips to the incredible surrounding mountain peaks and azure fjords. Here are a few we recommend which include options for the adventurous and for those who'd prefer a leisurely visit to this area of natural beauty.
11. Hike Kjeragbolten
To hike to Kjeragbolten, you do have to be relatively fit. It is a demanding 4.5-hour hike with alternating steep inclines and declines. However, if you are up for the challenge, you will be rewarded with magnificent scenery and will come face-to-face with my nemesis, the Kjerag Bolt.
It was here that my story about the hike, Fear at the Rockface, came to fruition. Did this rock, unbelievably wedged between two cliff faces at 1000 metres above Lysefjord below, defeat me? Or did fear fade in the name of adventure?
Find out here, along with all the information you'll need to know about hiking Kjergbolten:
⭐️ If you would prefer a guided hike to Kjeragbolten, book this tour and get picked up from your hotel — including an optional Lysefjord boat tour. (Free cancellation 24 hours before with full refund, and buy now pay later option)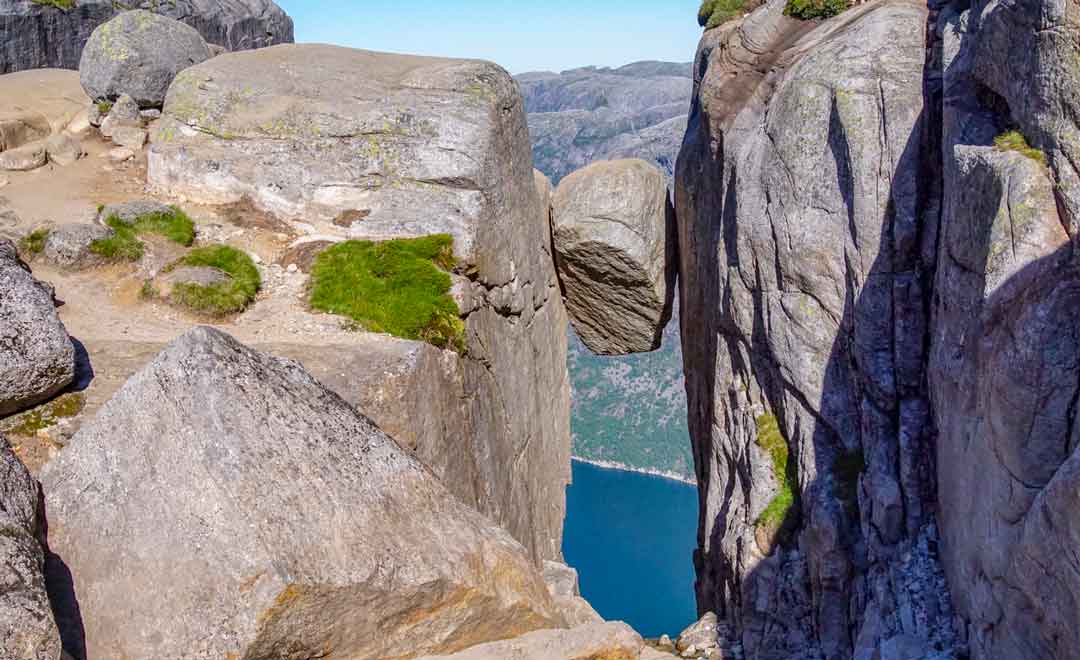 12. Cruise along Lysefjord
Several cruises take you along the serene Lysefjord, including a fjord tourist ferry. You can take your pick of a slow kayaking trip, a safari tour or a scenic tour.
Most take you under the imposing Pulpit Rock, whilst exploring beautiful gorges and waterfalls, and if you're lucky you may meet some of the seals of the fjord.
13. Hike to Pulpit Rock (Preikestolen)
Hiking to Preikestolen or Pulpit Rock is easier than hiking to Kjeragbolten, but can still be challenging. The views over the Lysefjord and the scenery during the hike are well worth the climb to this iconic Norwegian precipice, 604 metres above the fjord.
We hiked to Pulpit Rock on a beautiful warm summer's day in the late afternoon. You can find out all about how to get there, and what it's like and see the incredible views from our photos in our post here.
You may also want to take part in a guided hike like the one below. Or if you are visiting in Winter you may like this Winter Guided Hike of Preikestolen.
⭐️ Check out this Preikestolen (Pulpit Rock) Guided Hike with hotel pick-up. (Free cancellation and full refund up to 24 hours before) | ⭐️ 4.8/5 | ⏰ 9 hours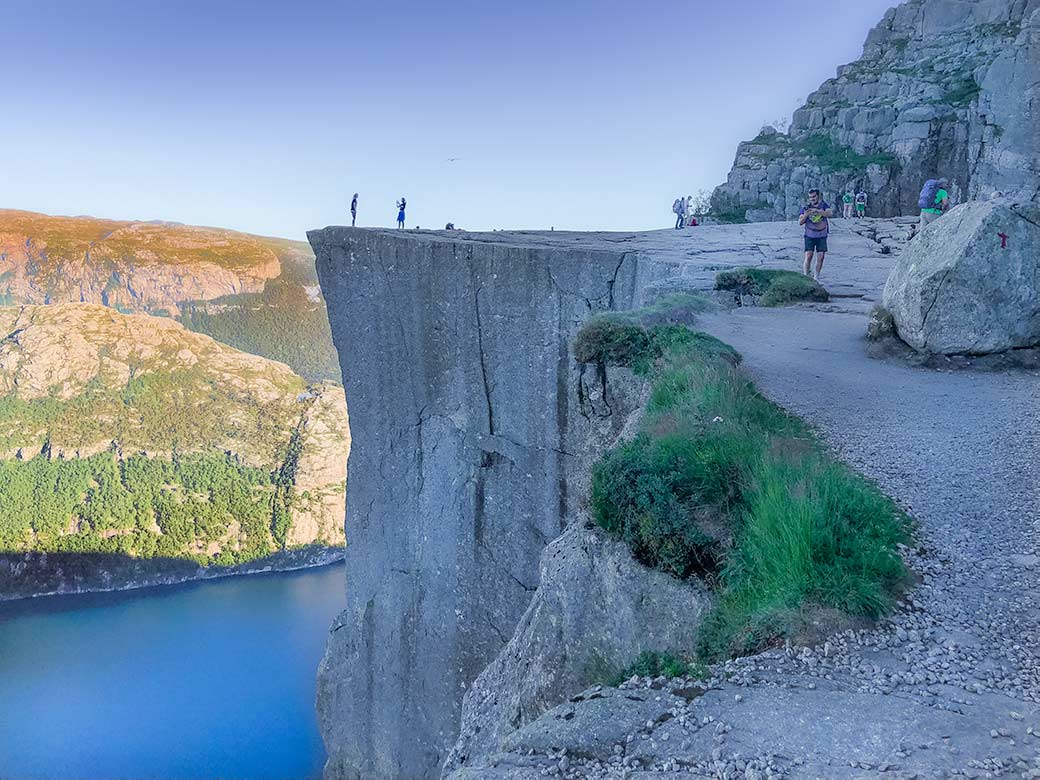 14. Climb the Flørli Steps
The Florlitrappene are 4,444 steps that follow water pipelines and rails that were used to transport a trolley from the top of the mountain down to Lysefjord below. It's one of the longest staircases in the world.
Not on my list of things to do in the Stavanger region, but for those adventurers for whom height and vertigo aren't an issue, then this might be a climb and hike to consider.
It is recommended to only climb up the stairs and to hike around the circular route for your return. Note that this hike is listed as challenging.
Things to See and Do on the Fringes of Stavanger
Heading south from Stavanger, you venture onto the Jaeren Scenic Route taking you through the lowlands of Western Norway.
It is here that you come to some of the sandiest beaches in Norway. Heading north from Stavanger, you'll find Stavanger's archipelago of tiny islands offering an escape from city life.
15. Take a Trip to Utstein Monastery
Thirty minutes north of Stavanger, on one of its many islands, Mosterøy, you'll find Norway's only preserved monastery. The Utstein Monastery was built in 1260 and it is believed to have been farmland owned by the first king of Norway, Harald Fairhair.
Harald's throne was further north at Avaldsnes, on the island of Karmoy, known as the home of the Viking Kings. The Utstein Monastery is now part of the Stavanger Museum.
16. Feel Small Next to Sverd i Fjell (Swords in the rock)
Peace, Unity and Freedom. That is what is represented by the three Sverd i Fjell (Swords in the Rock).
This impressive monument overlooks Hafrsfjord. It is believed that an important battle took place here in the late 800s, between Western Norway's King Harald Fairhair and several other kings ruling various parts of Norway.
Norse sagas tell stories of Harald's Viking army winning the battle and uniting Norway into one country.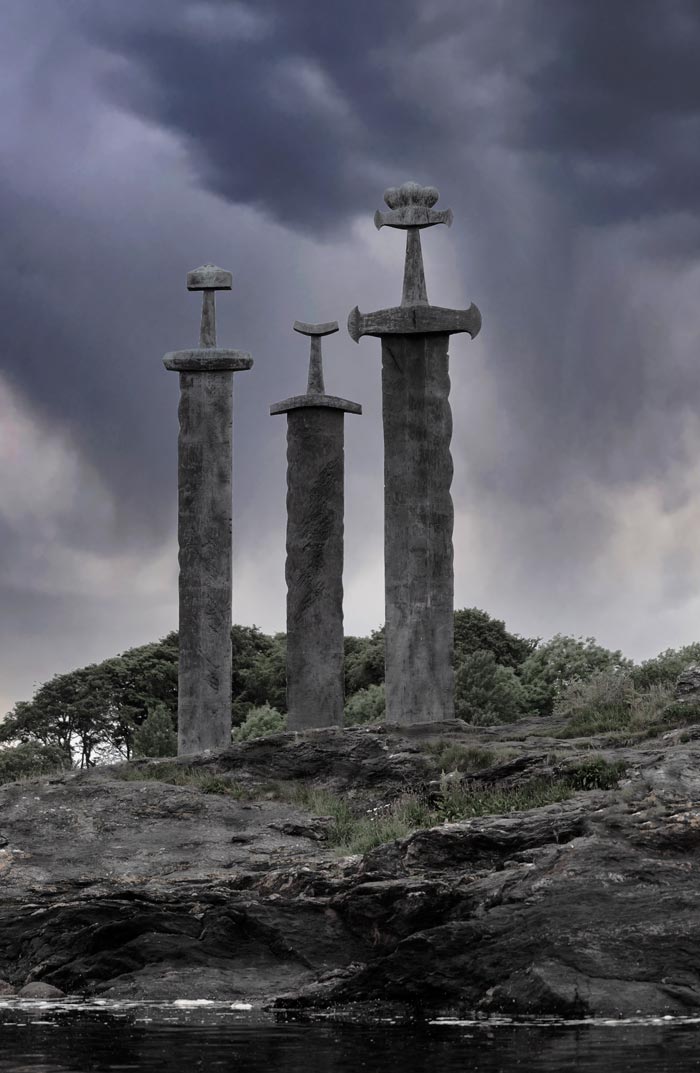 17. Step Back in Time at the Iron Age Farm (Jernaldergåden)
The Iron Age farm in Ullandhaug is part of the Stavanger Museum of Archeology. It provides an insight into life in the late Iron Age, 1500 years ago. This farm has been built on the original ruins that date back to approximately 350 – 550 AD. Here you'll find an exhibition area, a visitor centre and many interactive activities.
18. Explore the Aviation Museum (Flyhistorik Museum)
If you are interested in Norwegian aviation history then you will want to stop here. The museum covers the history of Norway's aviation from WWII to the present.
19. Get the Sand Between Your Toes at Solastranden Beach
Solastranden Beach ranked as one of the best beaches in the world, is a 2.3 km white sand beach sheltered by dunes. It's popular for watersports, such as surfing, windsurfing and kite-surfing.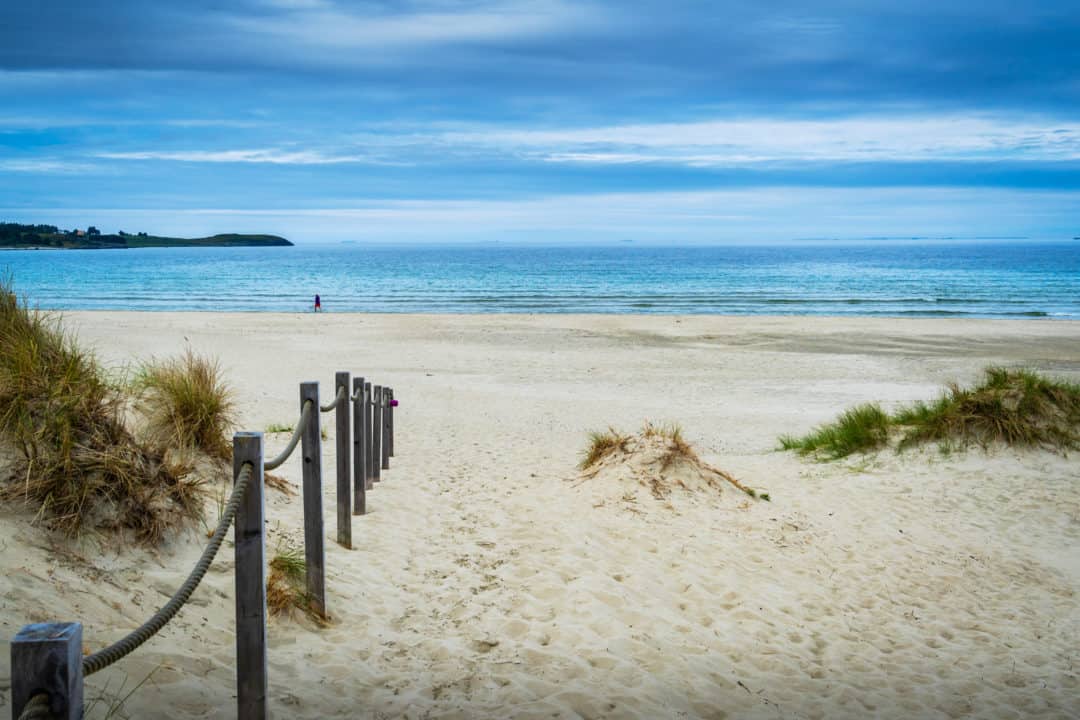 20. Imagine Pagan Times at Domsteinane
Domsteinane is like a mini-Stonehenge. Stone circles are not common in Norway, and this is one of the most peculiar in all of Scandinavia. The original stones were first described in 1745, but some think they may have been older, dating from the early Iron Age or earlier.
The 24 stones are arranged in a circle with a rectangular stone slab in the centre and eight rows of smaller stones, like spokes on a wheel, radiating out from the centre. It isn't known what the purpose of the stones was. But the circular design suggests it was a place of some sort of worship to the Gods.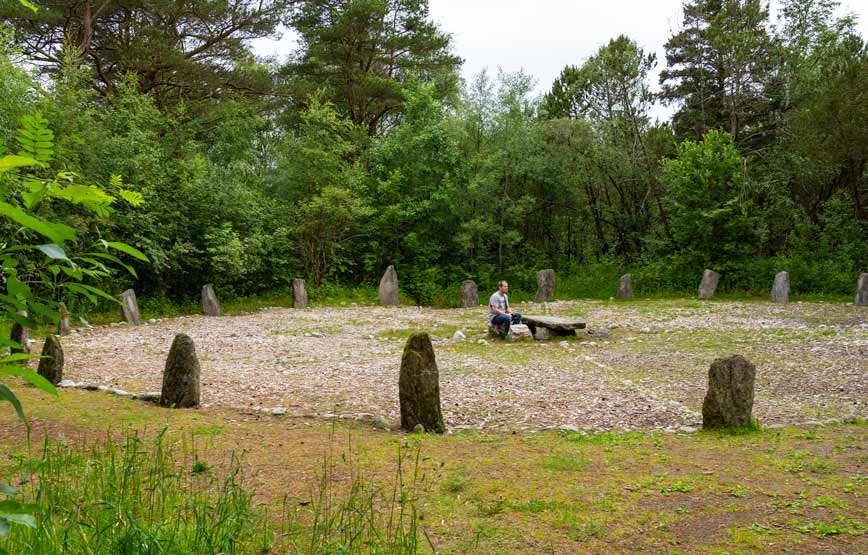 21. Take a trip along the Jaeren Scenic Route
Take a trip along the Jaeren Scenic Route Jaeren/ Jæren — part of the larger North Sea Route from Kristiansand to Haugesund. Jaeren boasts the largest lowland area in Norway and stretches for 41 km between Ogna and Bore.
Laced along Jaeren's coastline are dunes and rocky boulders, wildflowers and wide ocean views, cultural heritage sites and historical buildings.
The Jaeren Route is one of Norway's scenic routes. But the road itself does not have the type of stunning scenery we have grown to expect from Norway. The landscape seen from the road is rather repetitive. After all, it is the largest area of lowland in Norway, so there are endless fields of crops and cattle farms.
The green fields, stone fences and cute calves are enticing at first, but Jaeren's appeal is not on the route itself, but on what you'll find on its many sideroad detours towards the coast.
22. Get Back to Nature at Orrestranda Beach and Conservation Wetlands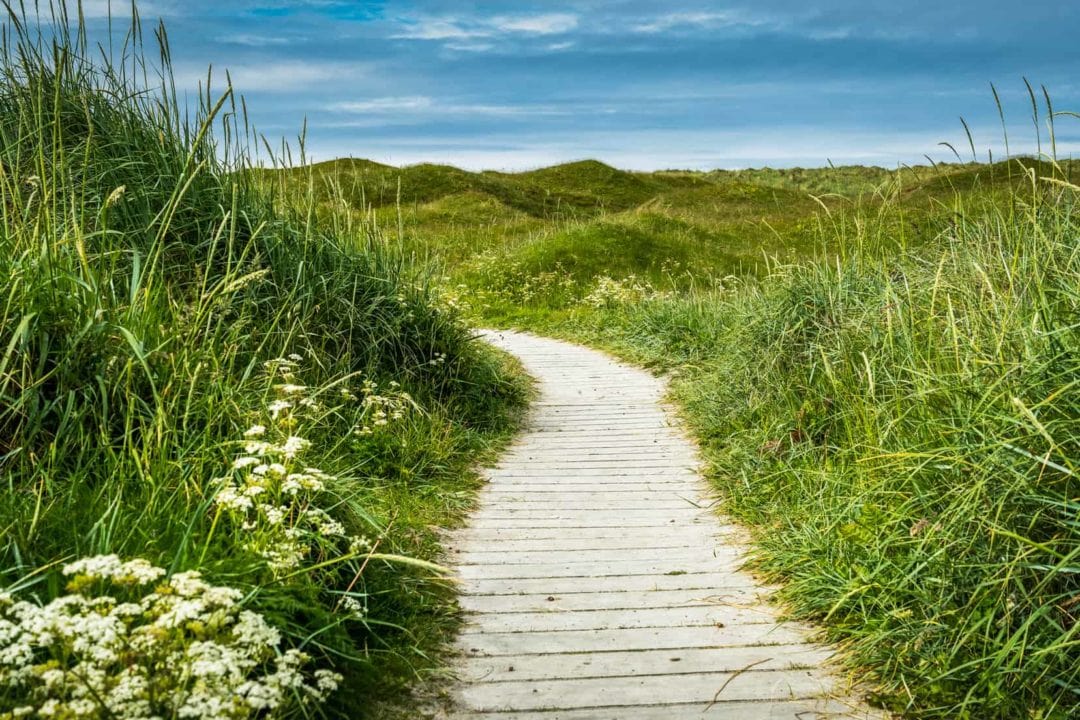 Stop here in summer to wander through these protected wetland areas. A boarded path winds its way towards Norway's longest sandy beach, Orrestranda.
On the way towards the dunes, you'll pass a narrow stream festooned with river reeds. Cheerful chirps fill the air, suggesting that you may spot one of the many bird varieties that visit over summer if you are patient.
This is a place beckoning you to unwind, to sit among the wildflowers while bees and butterflies flit around you.
If you have time – take a detour to Frøylandsvatnet. The lake is excellent for bird watching and has a 230-metre uniquely designed bridge, the Midgardsormen Bridge.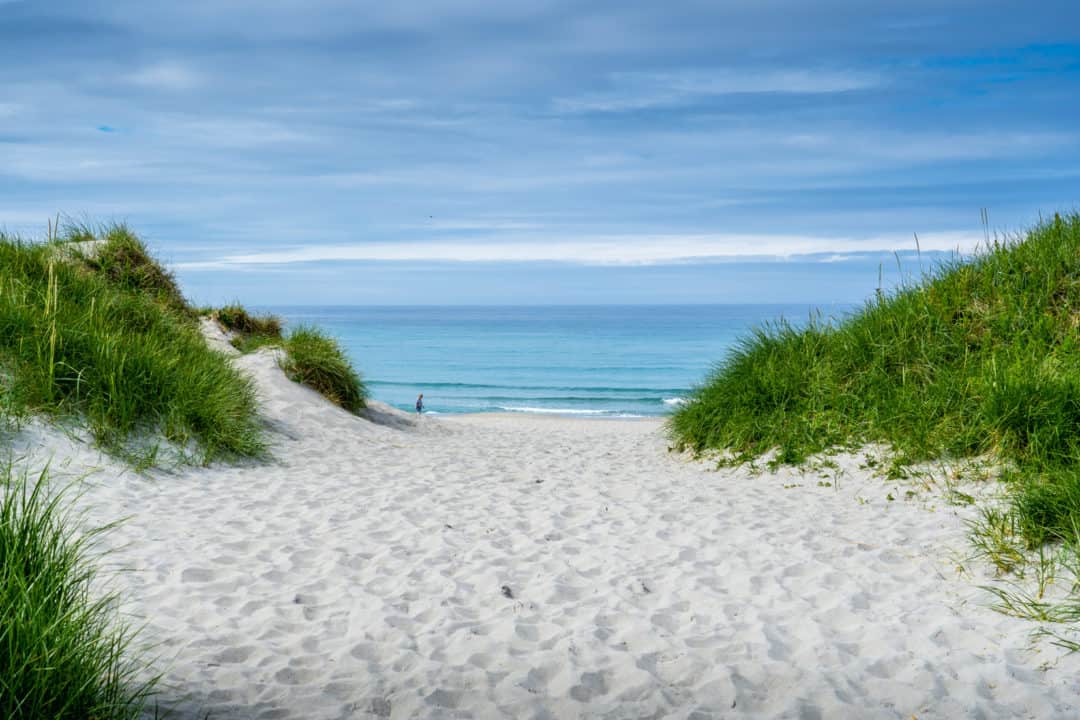 23. Enjoy Coffee and Culture at Hå Old Vicarage, Cafe and Burial Grounds
Hå old vicarage, dating from the 17th century, is now an art and culture exhibition building and also an art shop. Here you'll also find a Café serving local food with terrace seating overlooking the ocean.
The burial ground at Hå dates from about 500 AD.
24. Hike along the Kongevegen Route
Kongevegen is an easy-rated 8.4 km hike that takes you along Jaeren's coast from Hå Gamle Prestegard to Varhaug Church. It's about three hours one way, and it takes you along some of the old remains of the 'King's Road' from the 1600s.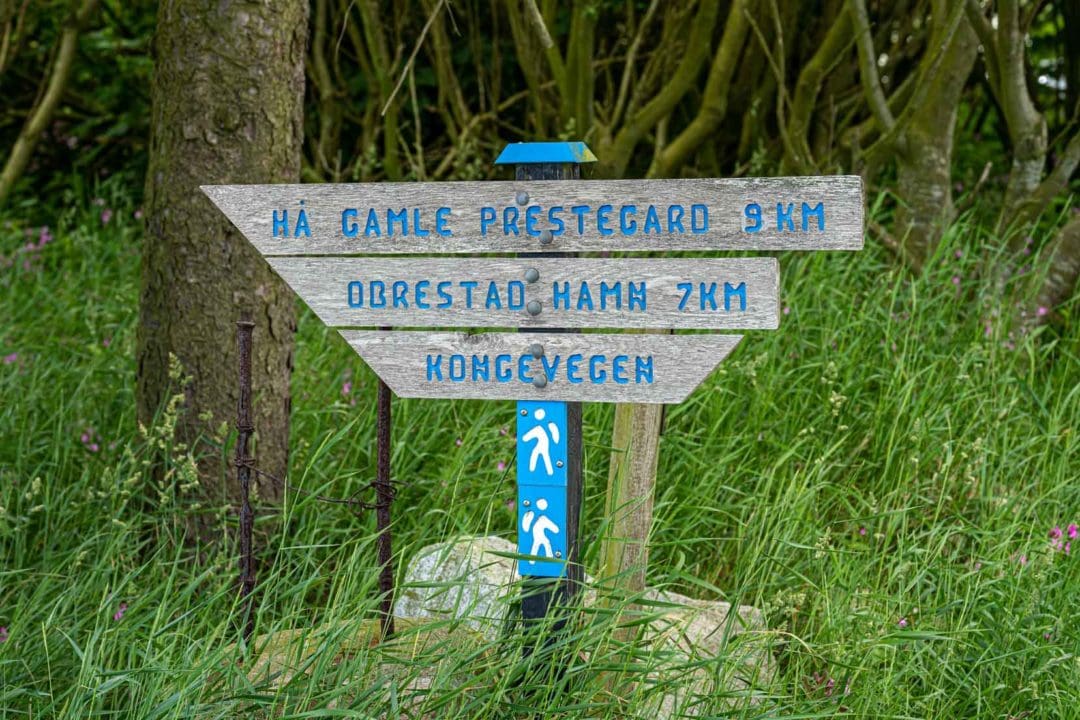 25. A Sleepover at Obrestad Lighthouse?
Just south of Hå old vicarage, you'll see Obrestad Lighthouse on the peninsula. It was built in 1873 and is now a cultural history museum. The lighthouse keeper's house is available for holiday accommodation.
26. Stop to Admire the Photogenic Old Churchyard of Varhaug
The first Varhaug church was built in the 13th century but it was demolished in 1905 and now a small chapel sits in its place.
We spoke to a local who was visiting the grave of his great-great-grandfather buried in the old churchyard in 1914. He mentioned that this chapel is a popular place for wedding ceremonies because of the picturesque setting.
The chapel has uninterrupted views of the vast ocean ahead of it. Apparently, we were lucky to see it on a warm summer's day, because most of the time the North Sea winds buffet this tiny chapel.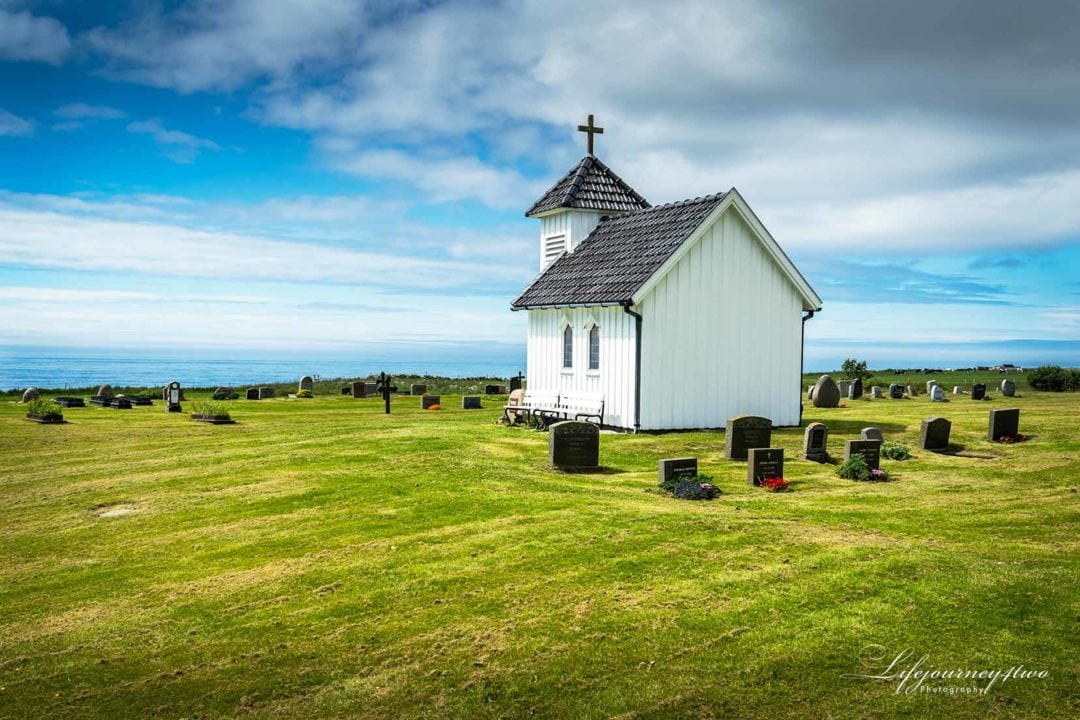 27. Admire the Coastline at Kvassheim lighthouse
The Kvassheim lighthouse was one of the last lighthouses to be built along this stretch of coast in 1912, guiding ships safely past the dangerous stretch of Jaeren coast until 1990.
Restored and reconstructed, this red and white wooden building contains exhibitions about marine rescue missions and local nature.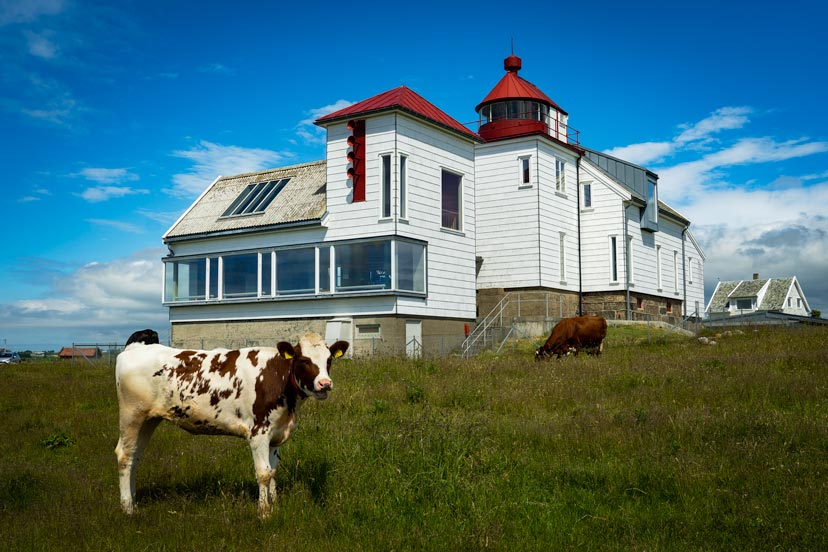 28. Hang out with the Sheep Around Hitler's Teeth
During WWII the Germans used prisoners of war to build a concrete blockade on Norway's shore to prevent Allied troops from landing with tanks.
The Germans believed that due to the topography of the land in this area, then an attack was likely. Apparently, Norwegians mixing the concrete, altered the sand content to reduce the strength of the blocks.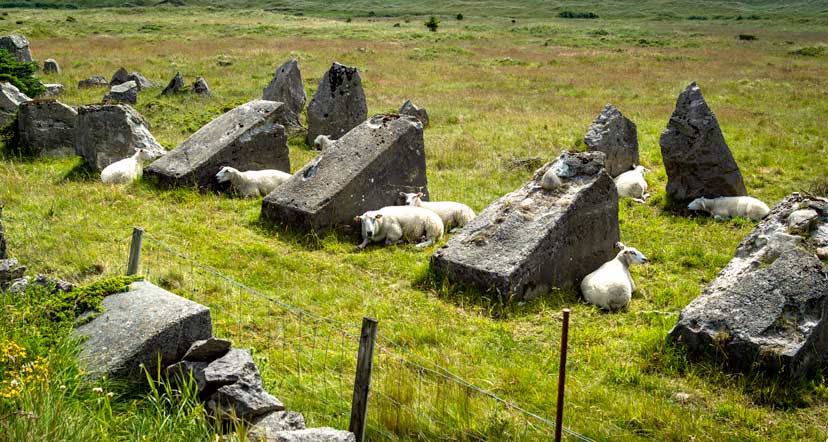 29. Stavanger Christmas Market
If you are visiting Stavanger in winter, and are around there from the end of November to mid-December, then you'll want to check out the festivities at Stavanger Christmas Market (Julemarked in Byparken)
Stavanger's city park becomes alive with Christmas magic, full of Christmas gifts, food and festive activities in Byparken. Kjeringholmen has an ice rink and check out the Gingerbread City at the Oil Museum.
---
How to Get to Stavanger
✈️ By Air
Stavanger's Sola Airport is the second largest international airport in Norway, after Oslo. There are direct flights to Stavanger from 20 international airports and locally from Bergen, Sandefjord, Trondheim and Oslo.
WEIRD FACT: Sola Airport produces its own honey from beehives along the runways.
To get to Stavanger from Sola Airport you can catch a bus with Flybussen. The journey takes between 20 and 30 minutes and buses leave approximately every twenty minutes. You can buy your bus ticket on the bus or online — note that it is cheaper to do it online.
Check the timetable and Flybussen ticket prices here.
🚗 By Car
If you will be arriving in Stavanger by car and are coming from mainland Europe, the easiest option is by ferry from Hirtshals in Denmark.
You can either book a ferry direct to Stavanger, or to Kristiansand and then drive from there.
🛳 Check out the Hirtshall ferry prices and times here.
🚌 By Bus
Buses depart from Oslo, Bergen, and Kristiansand to Stavanger.
🚊 By Train
The Norwegian Railway Network NSB runs trains to Stavanger from Oslo with the journey taking about eight hours.
🛳 By Ferry
Kolumbus operates a number of passenger ferries to hard-to-reach places, including Lysebotn, Ryfylke, Tau, Kvitsøyruten, Hjelmeland, Haugesund and the Stavanger islands.
Where to eat in Stavanger
There are plenty of cafes and restaurants to choose from in Stavanger. Popular places include the cafes and restaurants around the harbour and at Ovre Holmegate, (the colourful street).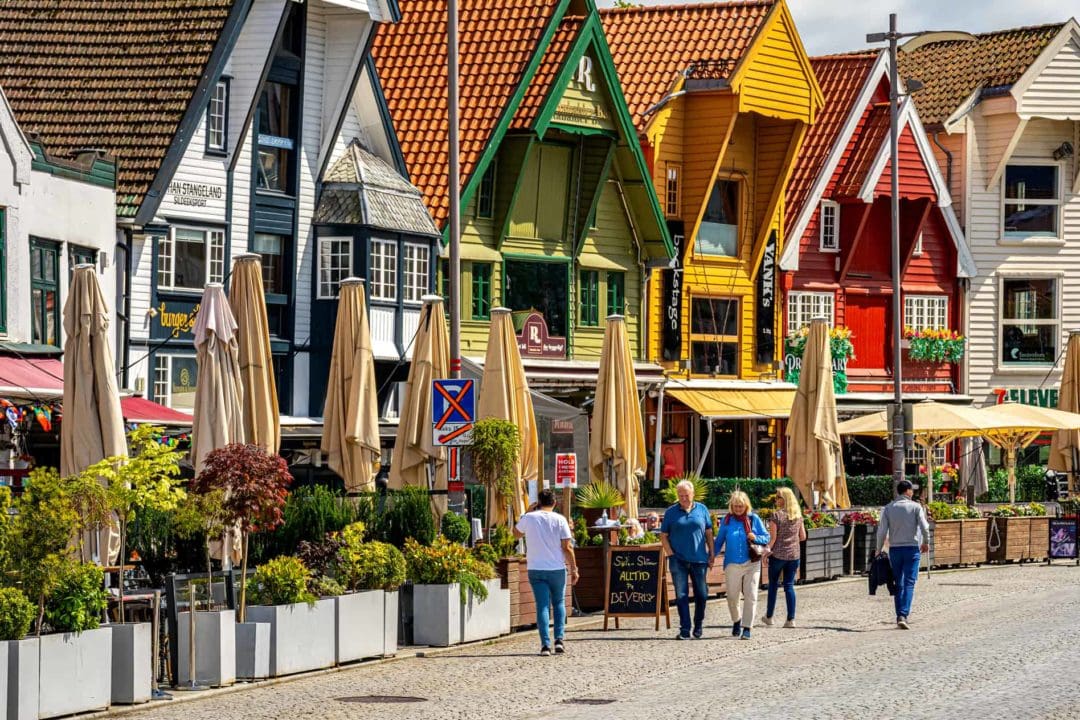 Stavanger Harbourside
Where to stay in Stavanger
First-time visitors will find staying near Stavanger Old Town the most convenient as it is easy to walk between all of the main city attractions.
We stayed in the Scandic Stavanger City hotel with central Stavanger being within easy walking distance. It had a fabulous buffet breakfast included and was reasonably priced.
But don't take our word for it, this is a review from another traveller:
"Modern, clean and spacious rooms. The staff were super friendly and went above and beyond. Incredible breakfast"

Nafeesa, UK , Read More Reviews here
🏨 BOOK or Check Prices for the Scandic Stavanger Hotel Here (700m from the centre)
Hotel Victoria is located on the waterfront and this Victorian-style building dates from 1900. The hotel has a cocktail bar, where clinch and light meals are also served.
The Norway Petroleum Museum and Stavanger's quaint wooden houses are only a short walk away.
"Fabulous central location on the edge of the harbour and within an easy walk of the shops, cafes and tourism. Very helpful staff. Reception went the extra mile to assist with information and food recommendations. Lovely room and breakfast."

— 10/10 Rating , John UK , Read More Reviews here
🏨 BOOK or check prices for the Scandic Stavanger Hotel Here (400m from the centre)
Radisson Blu Atlantic Hotel
The Radisson Blu Atlantic Hotel is rated fabulous by travellers. The hotel has great views of the fjord and the mountains, complimentary Wi-Fi, and free access to the fitness centre and sauna.
The Firelake Grill restaurant, within the hotel, is known for its North American roots cuisine with a Nordic influence.
I had a great stay here – Sauna was a great facility in the cold rainy weather! Room was a great size with lake views and exceptionally clean too. The bathroom was great, loved the shower. I had the breakfast and it's generous and good quality – really good way to start the day! Lots of cooked food and also fruits, deli stuff etc. Had a fab stay, will use this hotel again next time I come to Stavanger.

Sophi, UK 10/10 Rating — Read More Reviews here
🏨 BOOK or check prices for the Radisson Blu Atlantic Hotel, here (200m from the centre)
MORE STAVANGER ACCOMMODATION OPTIONS
For more options in Stavanger and for current offers check Booking.com here.
Why do we use and recommend Booking.com?
Most Booking.com accommodation options have free cancellation if our plans change so that is really handy. We can also use the currency we choose, it's easy to make side-by-side comparisons to nearby accommodations and it has a Genius loyalty program that earns you discounts and rewards.
Things to do in Stavanger … That's a Wrap
Stavanger has a fantastic fusion of diverse experiences and makes for an excellent base to explore this part of Western Norway.
Please let us know if you have any questions and let us know if you visit and what your favourite thing to do in Stavanger was.
Are you following us on Social Media?
Join us on Facebook or Instagram for more updates and photos. We love to hear from you so say hello and tell us about your travels.
Pin and Save for Later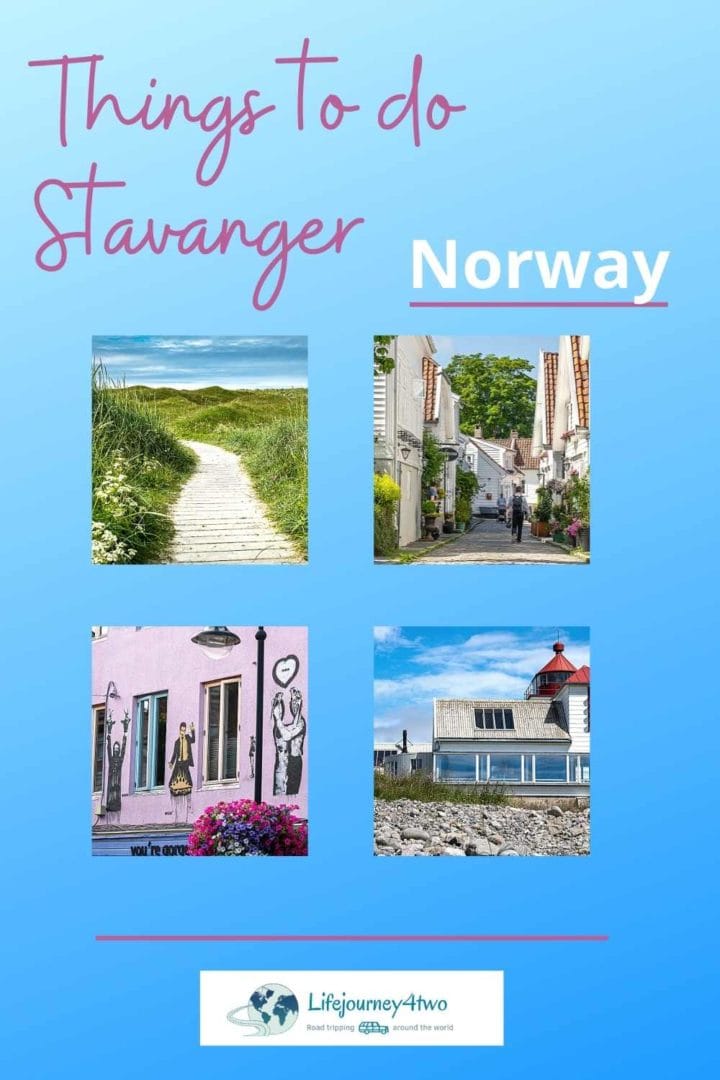 Read More:
---
If you enjoyed this article, you may like these FREE resources:
FREE 23-page Travel Planner, including menu planner, journal pages and budgeting)
FREE Travel Guides (many countries)
FREE Phone Wallpapers
FREE Photo Ebooks
Monthly Travel News
---
PLANNING YOUR TRAVELS?
These are some of the travel resources we use when planning our trips.
For a more thorough list visit our Travel Resources page here.