Moremi Game Reserve Camping
We road-tripped through Botswana, in Southern Africa, for two months, and our Moremi Game Reserve camping, in the heart of Botswana's Okavango Delta, was an adventure and a half.
The reserve is a highly popular Botswana camping destination, and our personal experiences confirm the reasons behind its popularity.
A hippo charged at us, a leopard stalked us and monkeys stole our food. We saw our first-ever sightings of cheetahs and black-maned lions, and we watched on, astounded, as a reckless tourist walked 50 metres in the dark to the showers, while a leopard roared (about 20 or so metres away), and hippos were close by.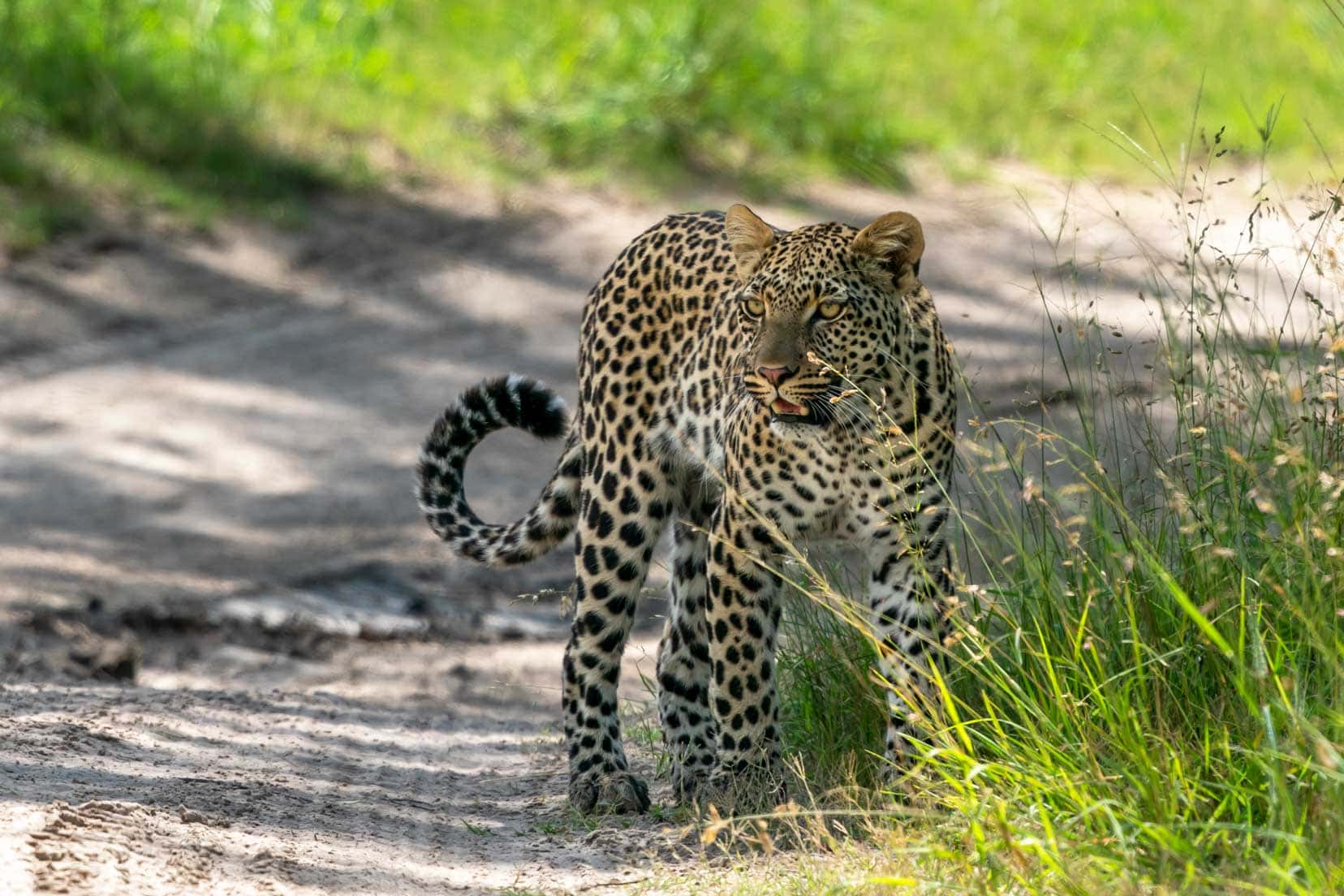 Planning a Trip to Botswana?
The nights were full of lions roaring, jackals howling and hyenas 'whoop whooping' around us.
Our camping and self-driving safaris in Moremi were full of fantastic game viewing, challenging driving conditions (we were there in the wet season), and memories that will last a lifetime.
With the different Moremi campsites, came different landscapes and wildlife viewing within the reserve. But the change of seasons also brings a different safari experience.
Our visit to Moremi Game Reserve was in February, (the summer, rainy season) but we are already planning a return trip to experience this incredible place in the dry season.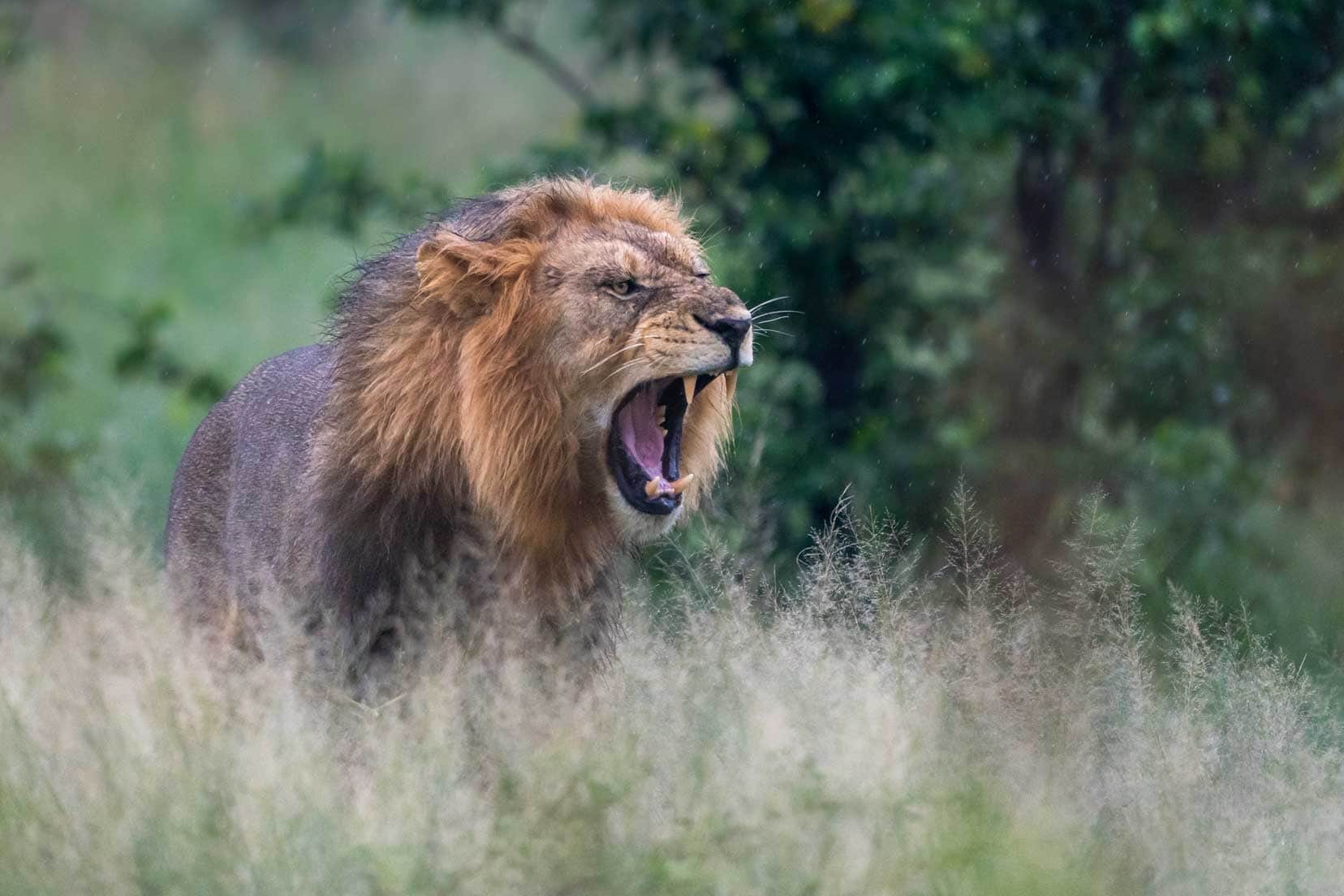 What's included in this Article about Camping in Moremi Game Reserve?
Here you'll find everything you need to know to visit Moremi Game Reserve on a self-drive camping trip.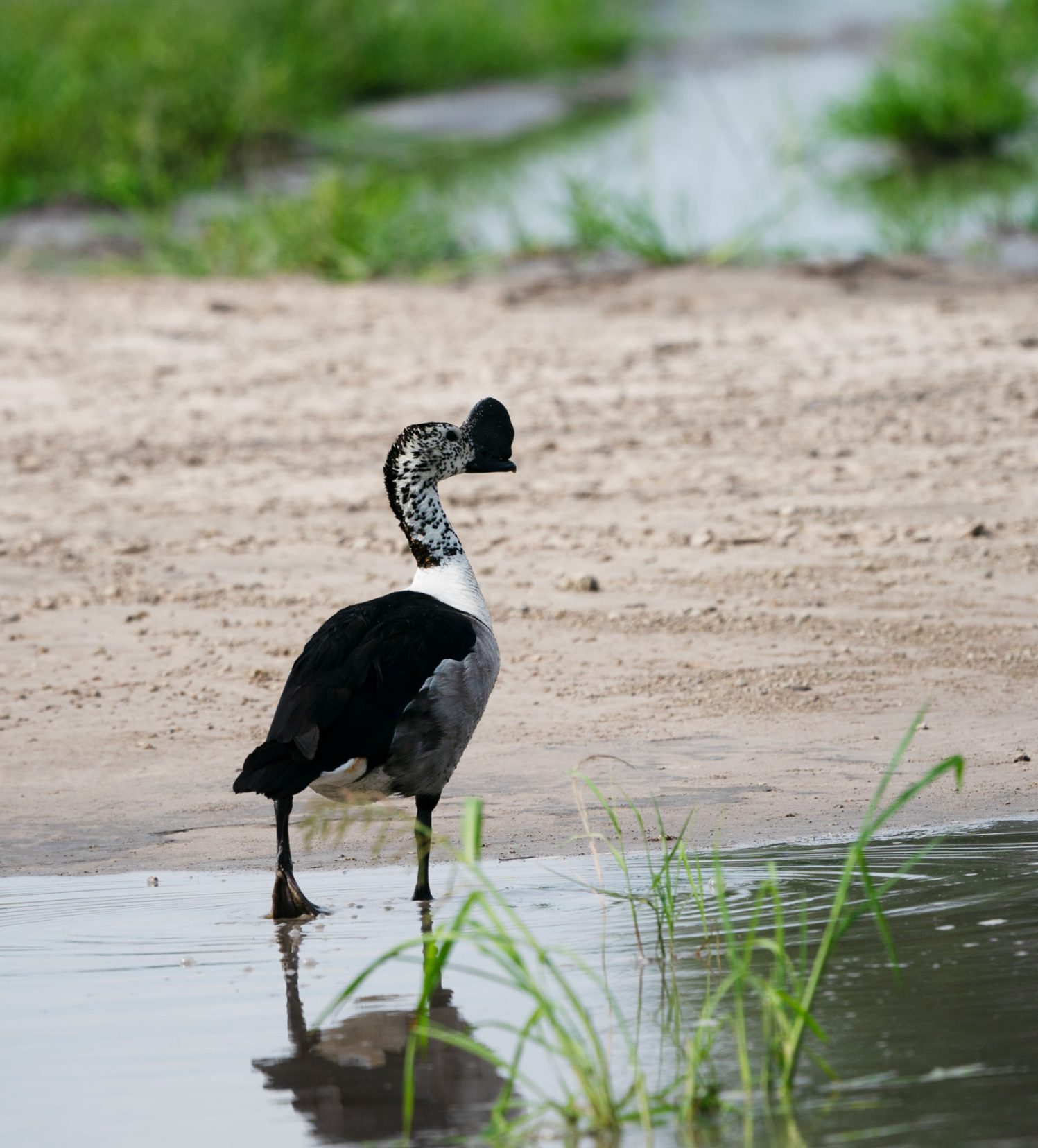 Taster Video: Camping and Self-drive in Moremi Game Reserve
A little Bit About Moremi Game Reserve and The Okavango Delta
Moremi Game Reserve is in the heart of the Okavango Delta, the world-famous, UNESCO World Heritage site, in Botswana.
The part of the reserve accessible to visitors wanting to self-drive in Moremi Game Reserve includes the Mopane Peninsula (or Mopane Tongue) – where the higher land reaches the main channels of the Okavango.
The landscape consists of Mopani and Acacia forests, savanna grasslands, floodplains and waterways.
The reserve is run by the Department of Wildlife and National Parks (DWNP). As well as the public rest camps, there are a number of private reserve campsites and safari lodges in Moremi.
The Moremi Game Reserve landscape and its wildlife are all affected by the dynamic ecosystem of the Okavango Delta. The delta is subject to yearly and seasonal flooding and this constant change produces the incredible wildlife diversity found there.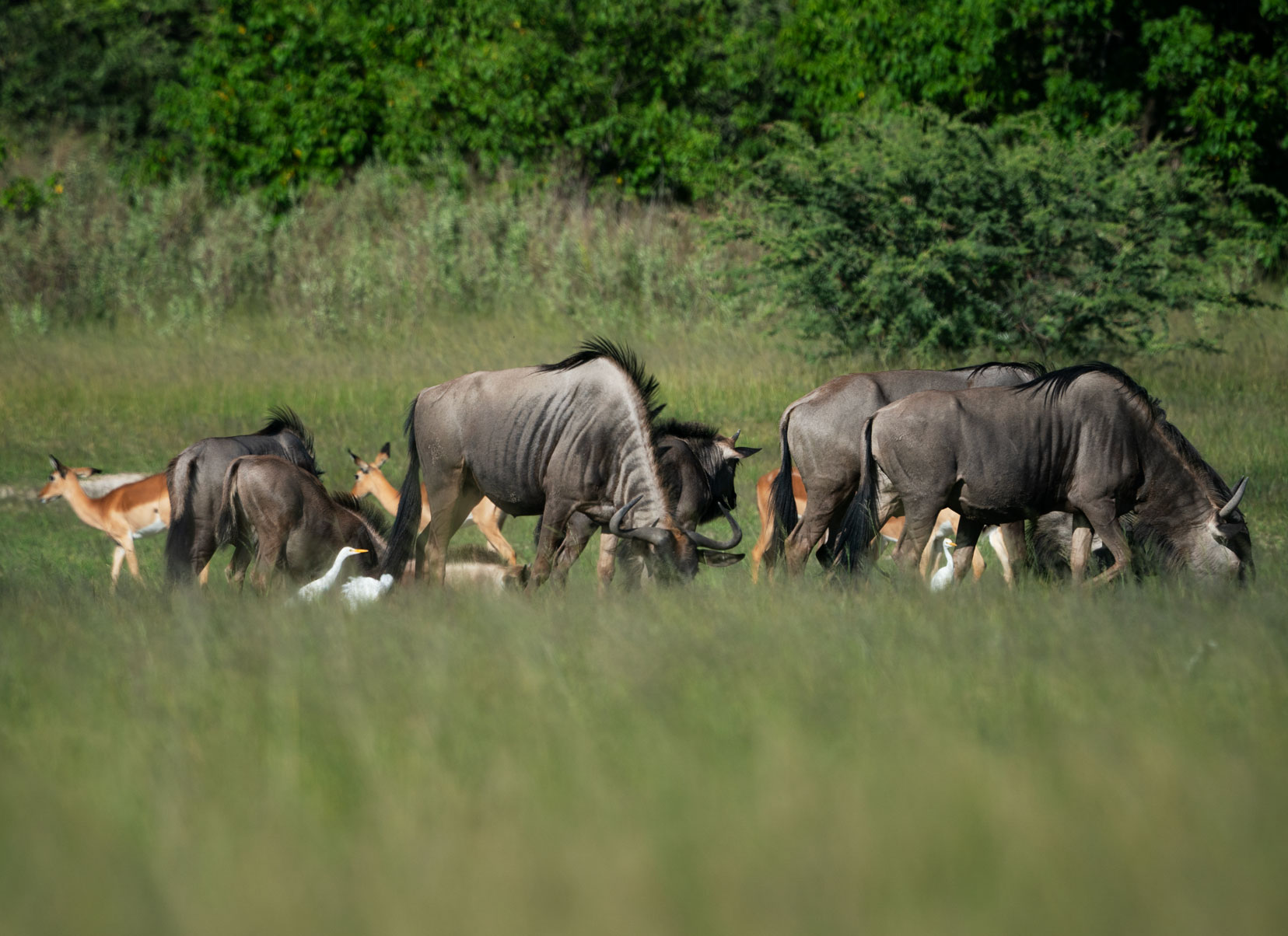 As a visitor, you need to know that the conditions are not always going to match your idea of the Okavango.
Some years bring droughts and the Okavango barely floods. And the photos or videos of the 'Ideal' Okavango, in flood and teeming with wildlife, may not match up with the reality at the time of your visit.
What you can be assured of though, is that you are witnessing a unique moment in time, of this ever-changing environment, at whatever period you visit.
When you visit the Moremi Game Reserve, within the Okavango, and as part of the eco-tourism industry, you are helping to reinforce the importance of the protection of the Okavango Delta.
History of the Moremi Game Reserve
Moremi became a reserve in 1963, when the widow of Chief Moremi III, became concerned about the dwindling wildlife population that was happening due to hunting. She was ruling the local Batawana tribe at the time. Later, the Chief's Royal Hunting Grounds were added to the reserve.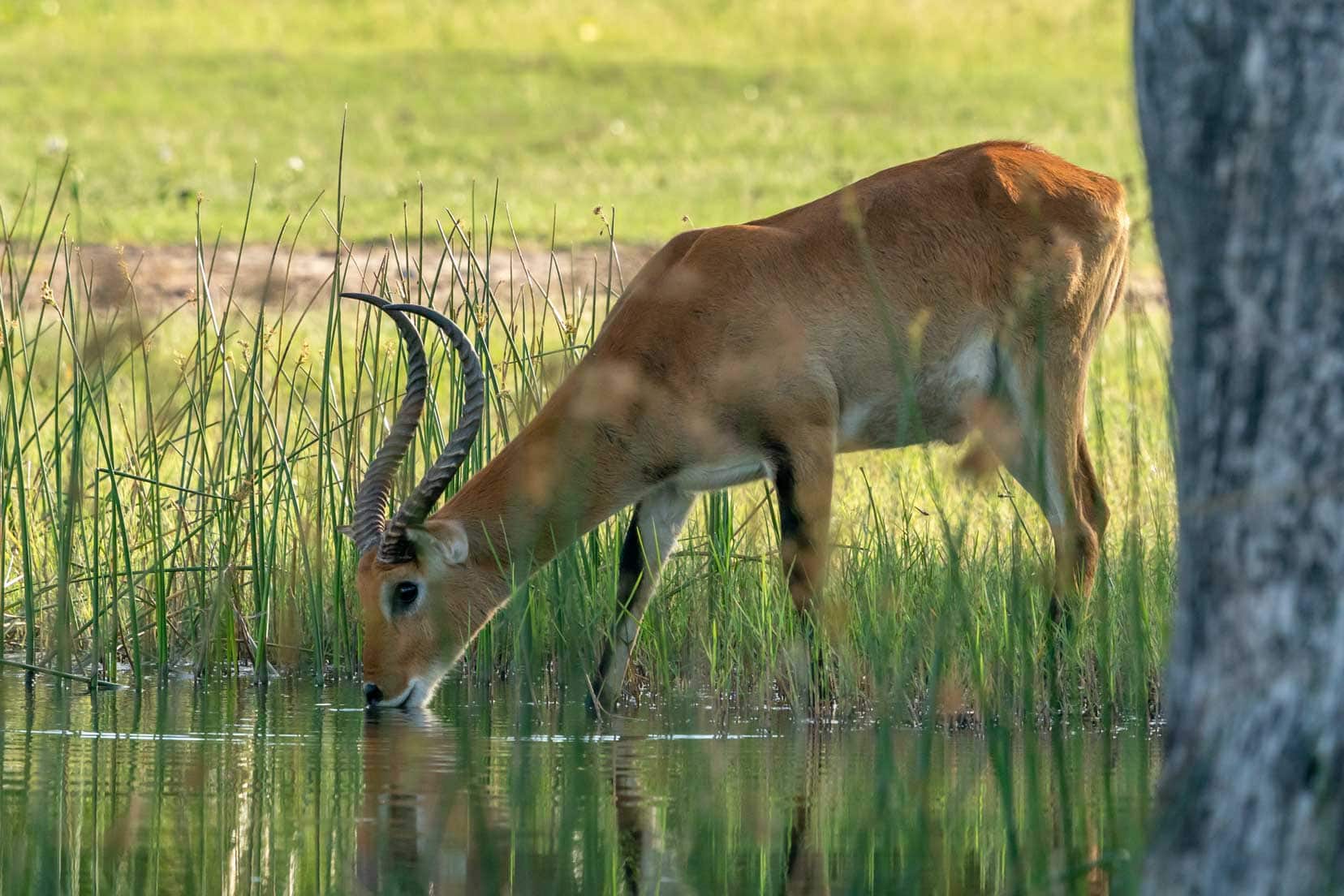 Campsites in Moremi Game Reserve
There are four public Moremi campsites bookable through private operators: Xomae Sites, Kwalate Safaris and SKL camps. Pre-booking is essential.
Alternatively, you can use a booking agency. We used Ultimate Routes, to book all of our Botswana campsite bookings. This took an awful lot of hassle out of our road trip planning because it can be tricky getting hold of campsites and coordinating the whole thing from overseas.
Our self-drive Botswana itinerary will give you ideas of where you might like to visit in addition to Moremi.
💡 TIP: Book well ahead to ensure you can get the campsite you want – especially if you will be travelling in the peak season and then try to book at least a year ahead.
Of all the overlanding Botswana travel tips we could give you, planning to camp in Moremi Game Reserve, is one of our top suggestions.
Staying at the campsites in Moremi is a great way to experience the wilderness of the incredible Okavango Delta. And, it puts you at the centre of one of Africa's finest game-viewing regions.
If you don't want to camp, there are several day tours from Maun, that visit the reserve.
Camping in Moremi Game Reserve Map
⛺️ The four rest camps in Moremi Game Reserve are:
All of the campsites have basic facilities such as a water supply, campfire pits, and basic shared ablution blocks with showers and flushable toilets. The water is heated by solar – but even though we were there in summer, most of the time the showers were cold.
There isn't any electricity or lighting at any of the rest camps. There also isn't any wifi signal or phone reception. However, the gates have a landline and their own internet. It is normally possible to ask for access to their internet for 5 minutes if you need it.
They will also allow you to use their telephone if you need to call out mechanics, (as we did while camping at South Gate).
All the rest camps are UNFENCED, so be aware that wild animals can wander through the camp.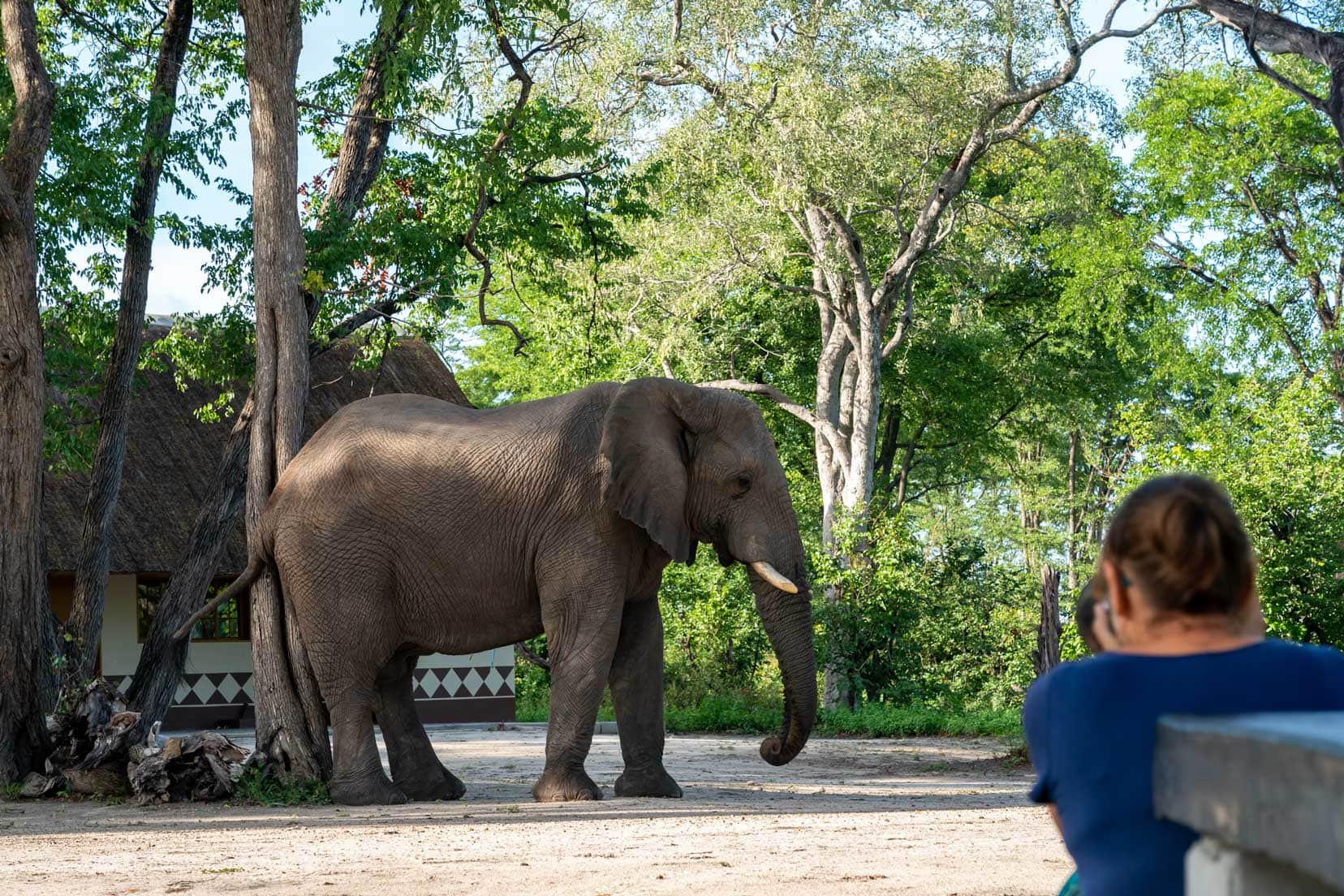 South Gate Campsite
South Gate Campsite, as its name suggests, is in the southern part of Moremi Game Reserve, surrounded by Mopane woodland.
This camp is an ideal base for exploring the southern region of Moremi Game Reserve, such as Black Pools and Xini Lagoon. It's also an ideal first stop if you are arriving from Maun.
There are 10 camping spots at South Gate, with some being more private than others.
Campsites are assigned before you arrive, but if the camp isn't too busy, have a look around to see which one suits you best before asking to change it.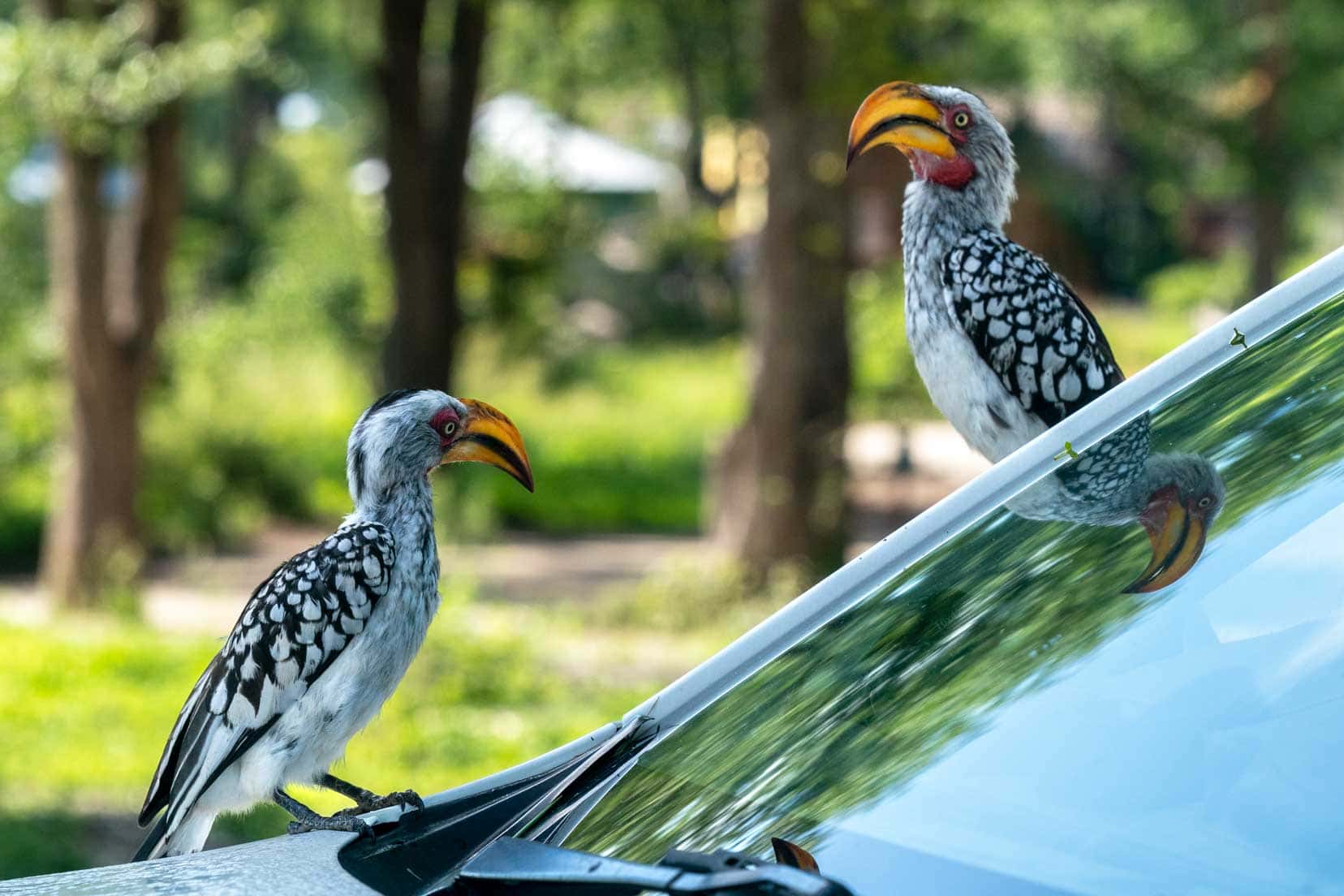 At the reception, you can also buy Tinker's Map and Guide to Moremi. The back section includes a great checklist of the animals and birds found in Botswana. Check the price though – we paid 350 Pula for it but later found that most of the DWNP gates sold these guides for 200 Pula.
Watch out for baboons and vervet monkeys. A very cheeky vervet monkey stole a bag of lettuce and sat on the tree nearby happily munching his way through the pack.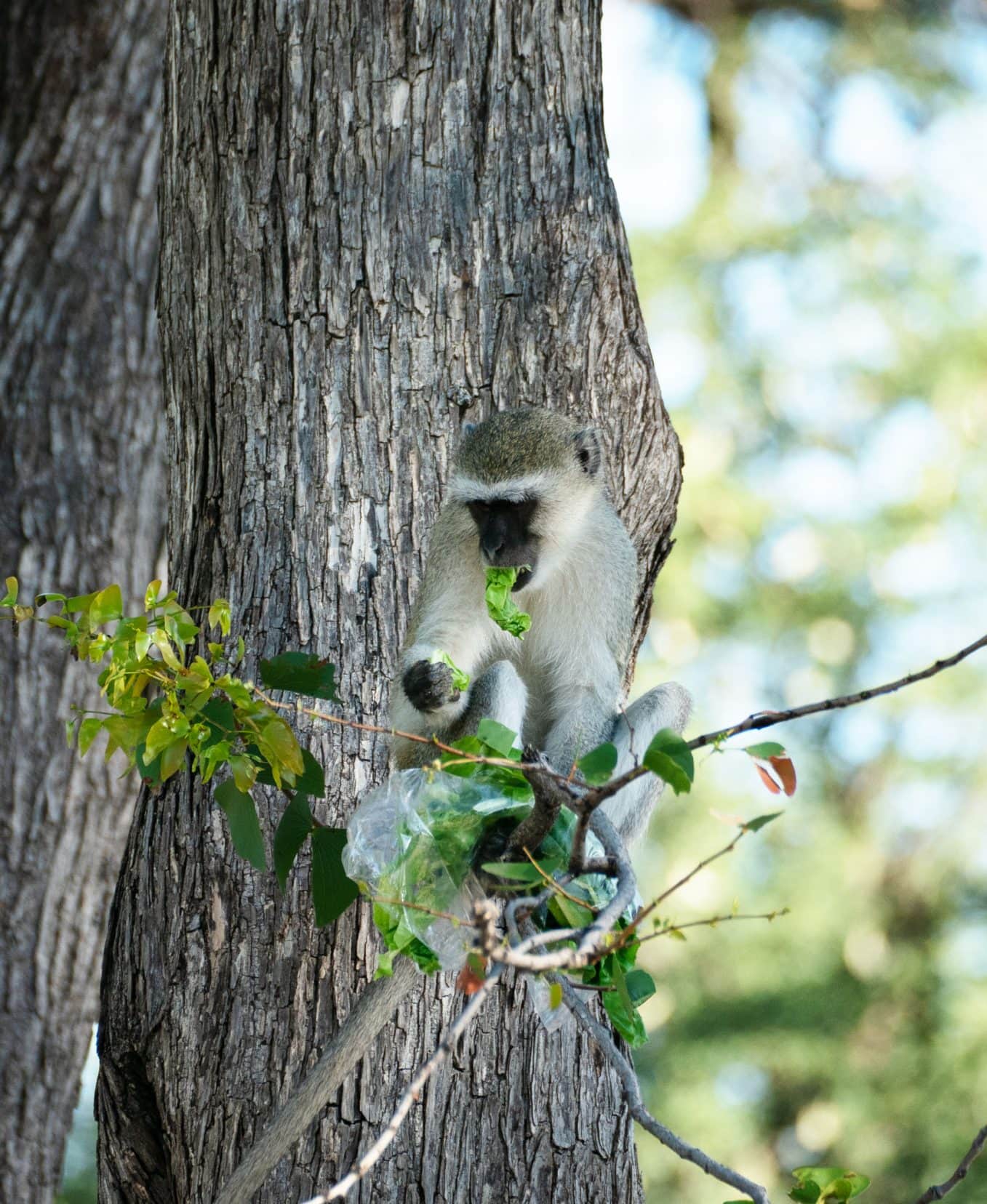 Third Bridge Campsite
It will take you about three hours (+/-) to get to Third Bridge from either of the Moremi gate entrances. So do make sure you leave enough time on your itinerary to arrive before dark.
Third Bridge Rest Camp in Moremi is one of the most popular, with several game drive routes in the area. The camp also has a few permanent tents with ensuite toilets and showers, which have good reviews on TripAdvisor.
There is a tuck shop with minimal supplies on-site and there are activities, such as mokoro rides and boat hire opportunities. Availability will depend on the season.
We drove around Mboma island as there had been plenty of lion sightings, but as with any self-drive safari, luck on the day plays a big part, and we didn't see any predators on that peninsula.
We did see our first-ever cheetah sightings in Southern Africa though, on the road between Third Bridge and Xanakaxa.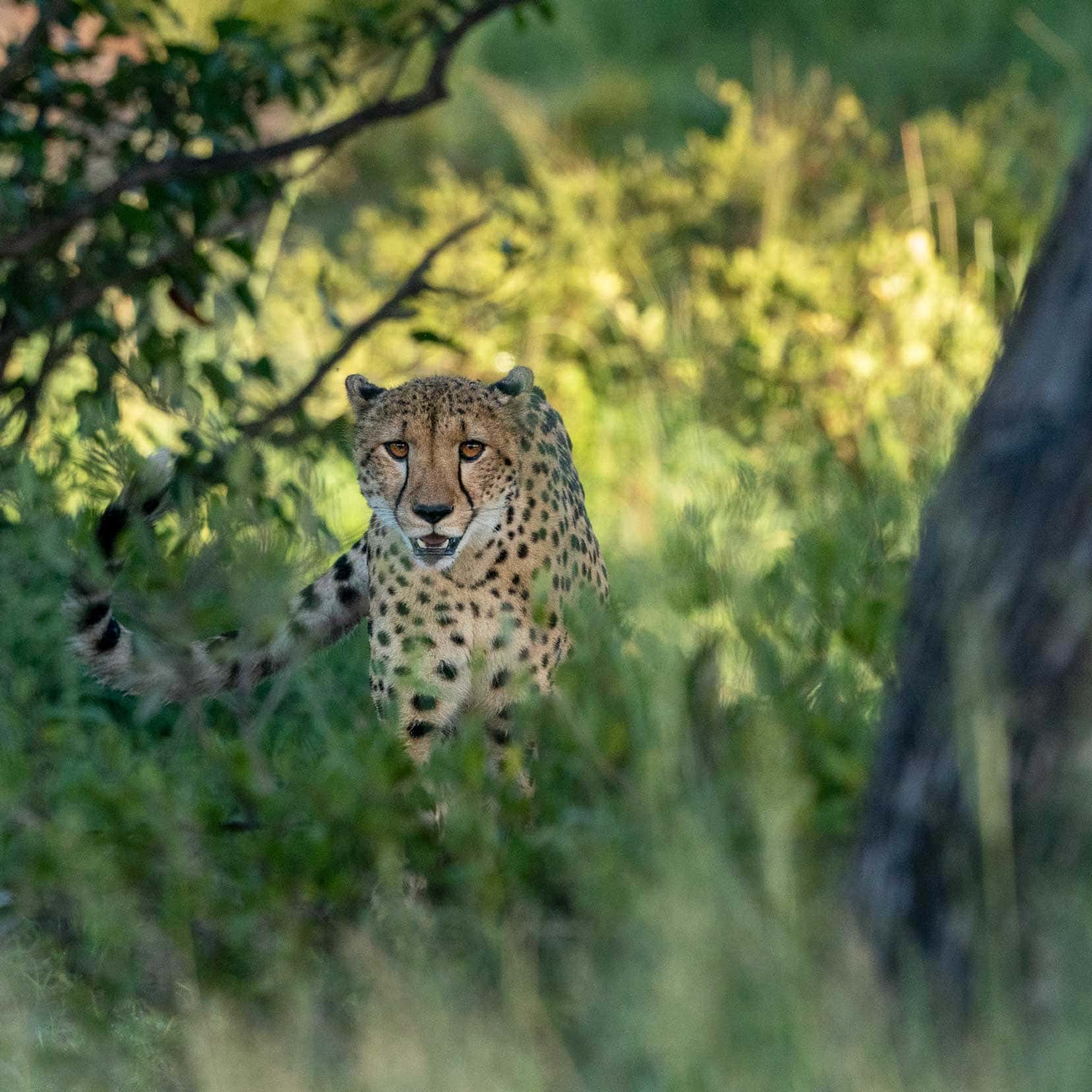 Xakanaxa Campsite
Not five minutes into our drive from the entrance gate at Xakanaxa to our campsite, a female leopard strode onto the sandy track ahead of us.
She sat down as soon as she saw us — right in the middle of the road.
Having assessed the situation, she then ambled through the bushes alongside us, before re-joining the sandy track to our rear. She sauntered on for a while, and with a brief glance back in our direction, disappeared into the long grass.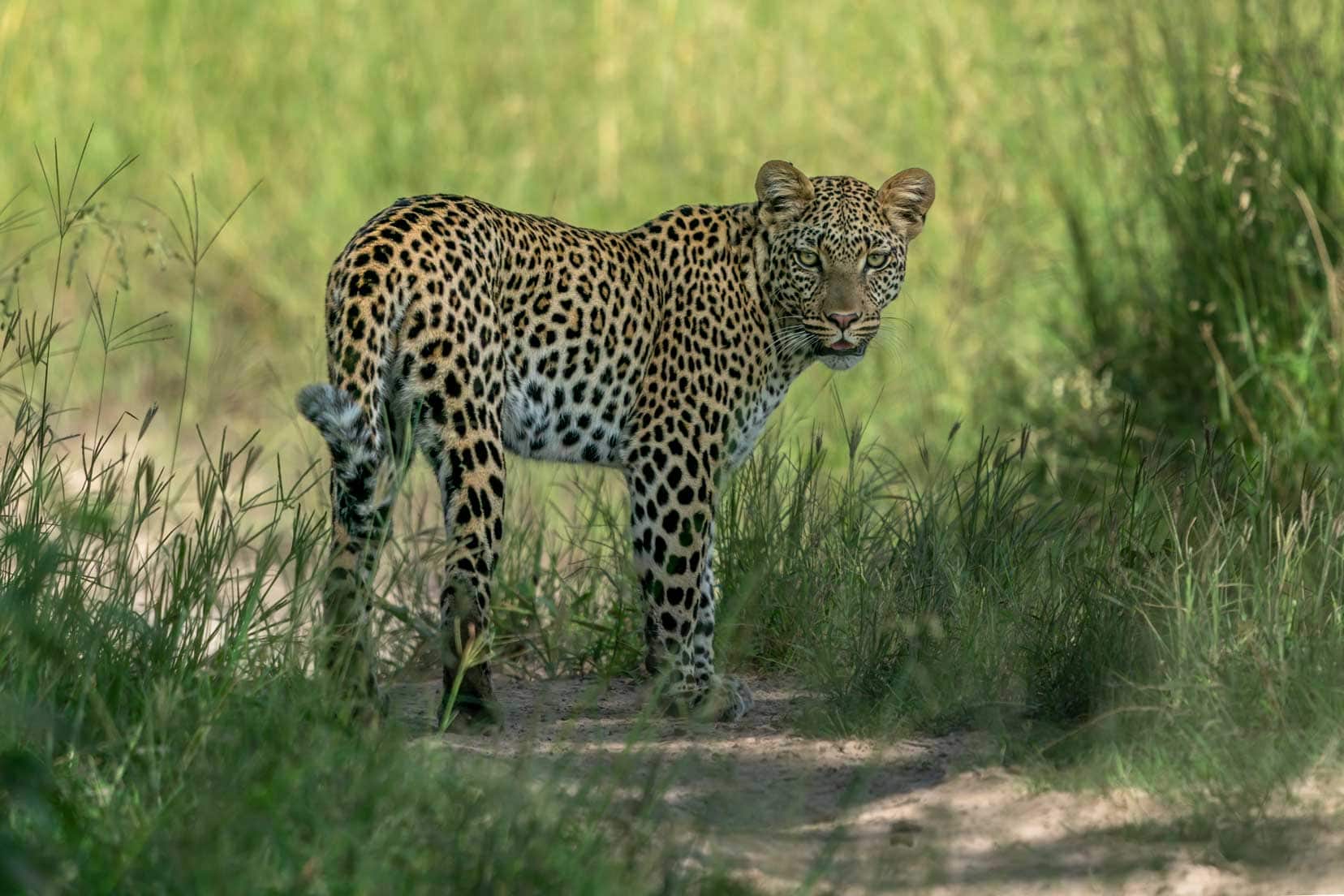 We had a feeling we were going to like Xakanaxa Camp.
Xakanaxa Campsite is in the northeast of Moremi Game Reserve, with ten camping sites spread out along the river. Most have shade and are quite private.
There are two shared ablution blocks – with flush toilets and showers.
A lovely drive from Xakanaxa is to Paradise Pools to the east. Here, you can see lots of waterbirds and red lechwe. We saw a fish eagle, an African darter and lots of African jacanas.
There is also luxury tented accommodation run by Camp Xakanaxa, (this is separate from the rest camp at Xakanaxa. Accommodation consists of twelve tastefully furnished tents with twin or double beds and en-suite bathroom facilities.
The tents are located on the edge of the lagoon with private viewing decks.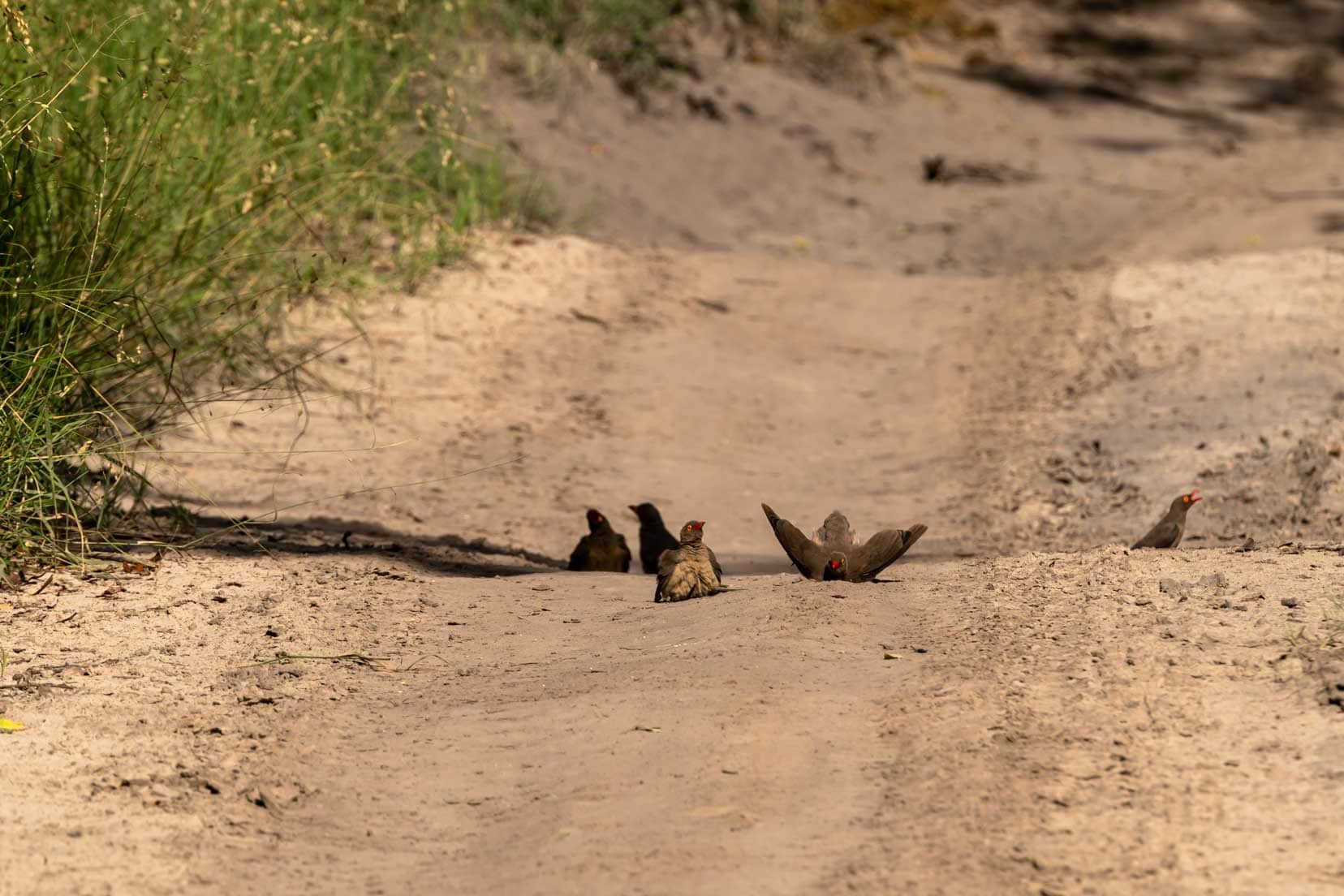 North Gate or Kwai Campsite
The Kwai Campsite is in the northeast of the park, with shady camping spots and beside the river.
We didn't stay here as we chose to stay at the community-run camp in the Khwai Concession, instead.
There are ten spots at North Gate and it has mixed reviews on Tripadvisor. The main problem seems to be the amount of baboon activity there, with some campers reporting that the baboons have learnt to open tents and ammo boxes (sturdy camping boxes).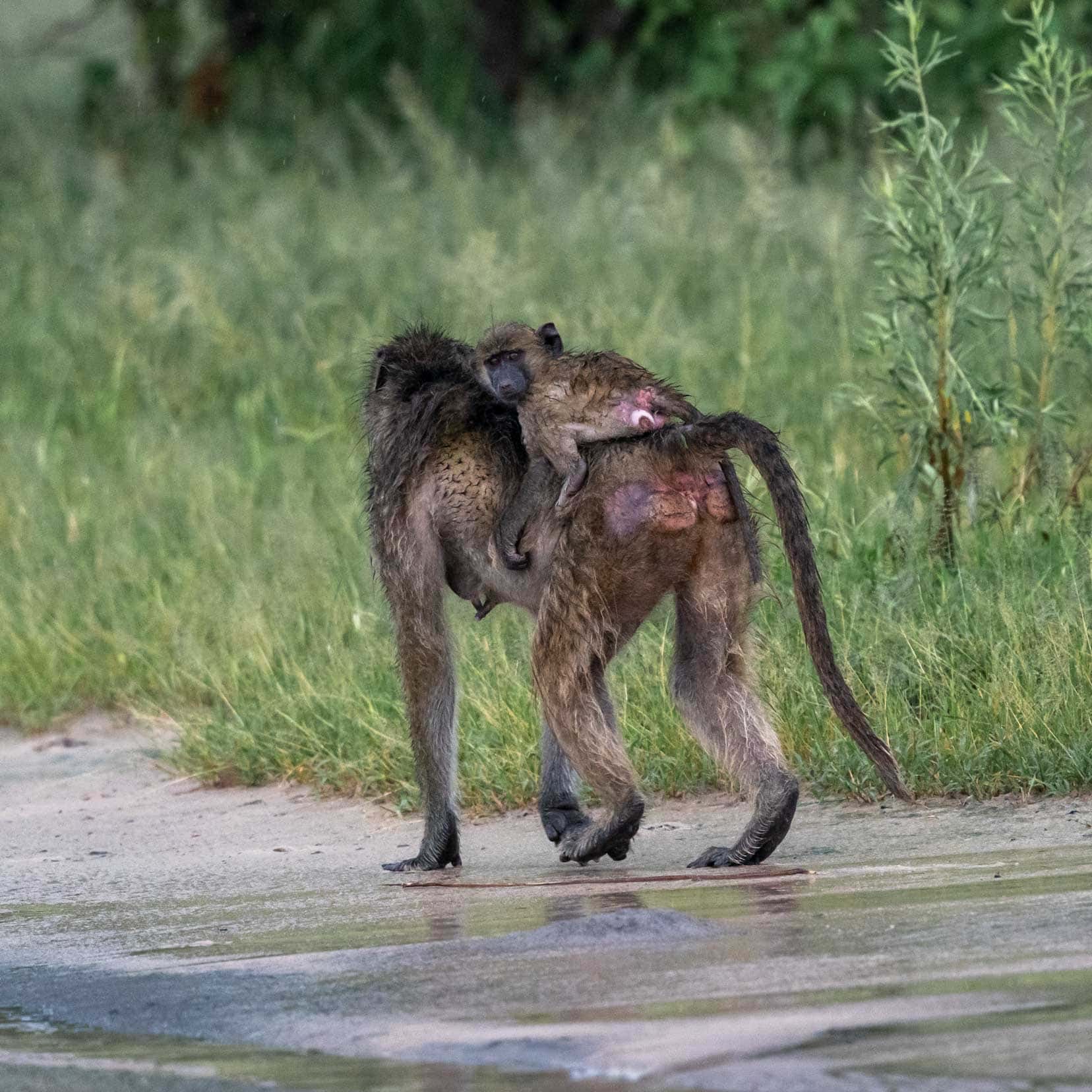 Camping in Moremi Game Reserve with a Mobile Safari
If you don't want to organise your camping trip and self-drive in Moremi, then you might like to consider a mobile safari to Moremi.
A mobile safari takes you on a camping trip, in this case, it would be into the Moremi Game Reserve. They take care of setting up camp, cooking all your meals and taking you on game drives.
The mobile safari operators generally have access to private campsites with Moremi Game Reserve, offering a more private affair. While driving around, you may see signs for HATAB or BOGA sites — these are private and for mobile safari operators only.
Mobile Safari Tours in Moremi Reserve
You might like to check out this 3-day or this 8-day mobile safari – both with ⭐️ 5/5 star reviews:
🐘 3- Day Moremi Game Reserve Safari Tour – Find out more here
🐘 8 Day Okavango Safari – Wilderness Trail (Inner Delta & Moremi) – Find out more here
Moremi Game Reserve Self-Drive Safaris
Self-drive safaris in Moremi Game Reserve offer you the opportunity to explore the reserve at your own pace. You will need to be self-sufficient though as there aren't any fuel stations or shops within the reserve.
A 4×4 with good ground clearance is necessary as the driving conditions can be challenging. This is so particularly if you travel in the wet, summer season. Stick to the 40km/hr speed limit, (we'd advise going much slower though, so you can spot wildlife) and keep on the designated roads and tracks.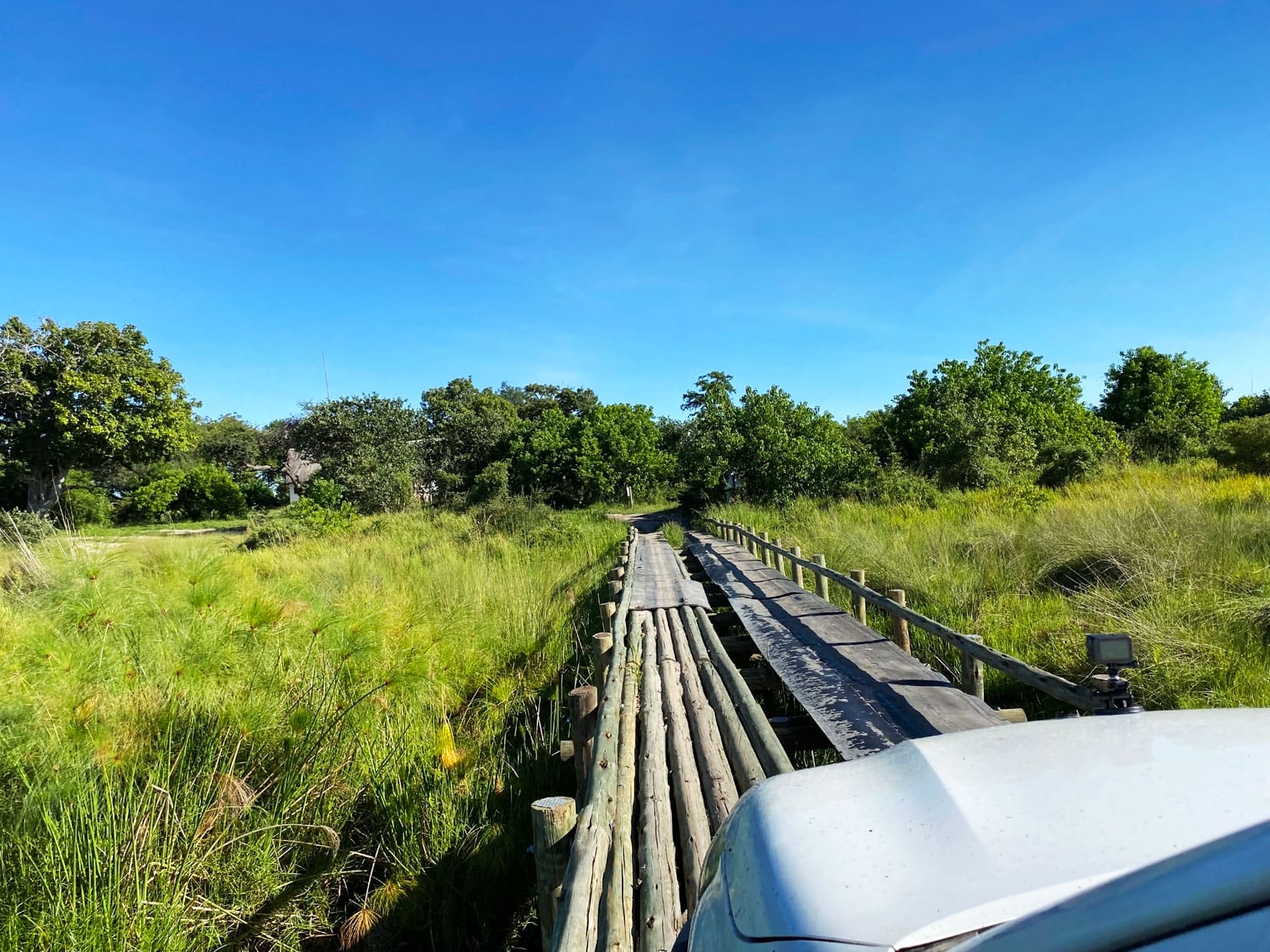 Renting a 4×4 for Camping in Moremi
Most people who are camping in Moremi have 4x4s with tents on top. We have a pop-up tent on our 4×4 Hilux which is fantastic. It takes about 20 seconds, if that, to pop up the tent, so is really time efficient.
There are so many different configurations of camping 4x4s available to hire and the majority have rooftop tents. There are also some mini 4×4 motorhome-type vehicles that we've seen some people overlanding in.
The type you decide to hire will depend on your preferences and budget. If you will be travelling for any length of time, then we'd advise you to get one that is specifically set up for ease of travel, with good storage options.
We'd recommend getting a quote from Motorhome Republic as they use some of the most popular safari rental companies in Botswana.
Thinking of Hiring a Camper in Botswana?
We recommend using Motorhome Republic to find you the best deal – they search all the local reputable African rental companies, for example, Avis Safari, Britz and Caprivi Car Hire.
They do all the hard work for you and are available 24/7 to help you.
We used them when renting for 12 months in Europe and not only was the customer service excellent but they were able to find us better offers than when we approached the individual hire companies ourselves.
NOTE: Since Covid, there has been a worldwide shortage of campers and limited availability, so do book early to make sure you can rent the vehicle that suits you best.
Self-Drive Routes in Moremi
All of the public campsites in Moremi Reserve have several tracks around them that are fruitful game drives. It's always worth asking at reception about any recent sightings and also asking others on self-drive safaris what they've seen.
Also, if you pass an organised safari tour, ask the driver for any tips or where they've had any recent wildlife sightings.
In the south of the park, around South Gate Camp, you can drive southwest and explore the Black Pools or head northwest towards Third Bridge, where you will cross First and Second Bridge.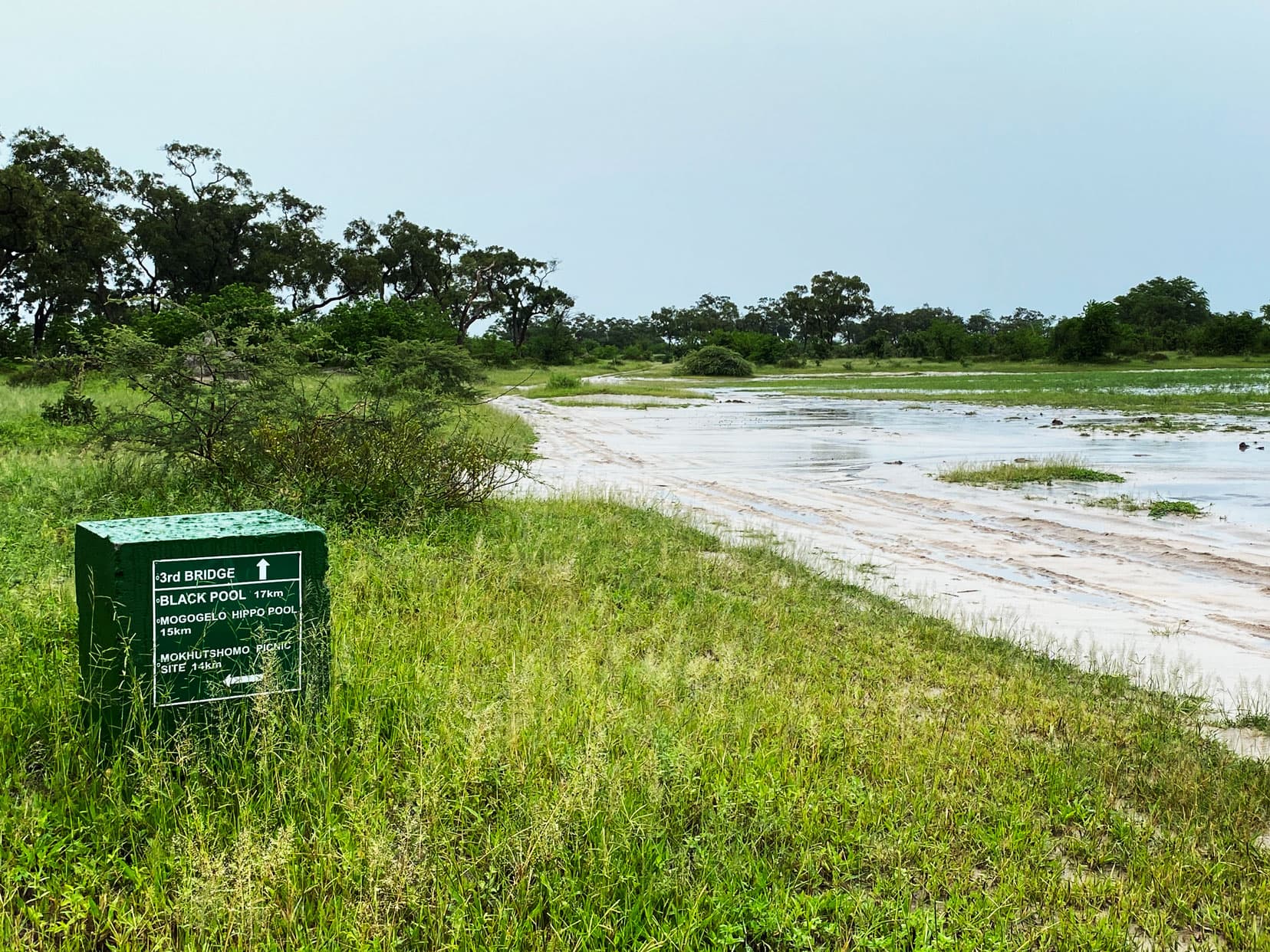 From there, you can explore Mboma Island Loop and cross to Xanakaxa, where a drive to Paradise Pools is well worth it. From there head to Northgate (or Khwai Gate).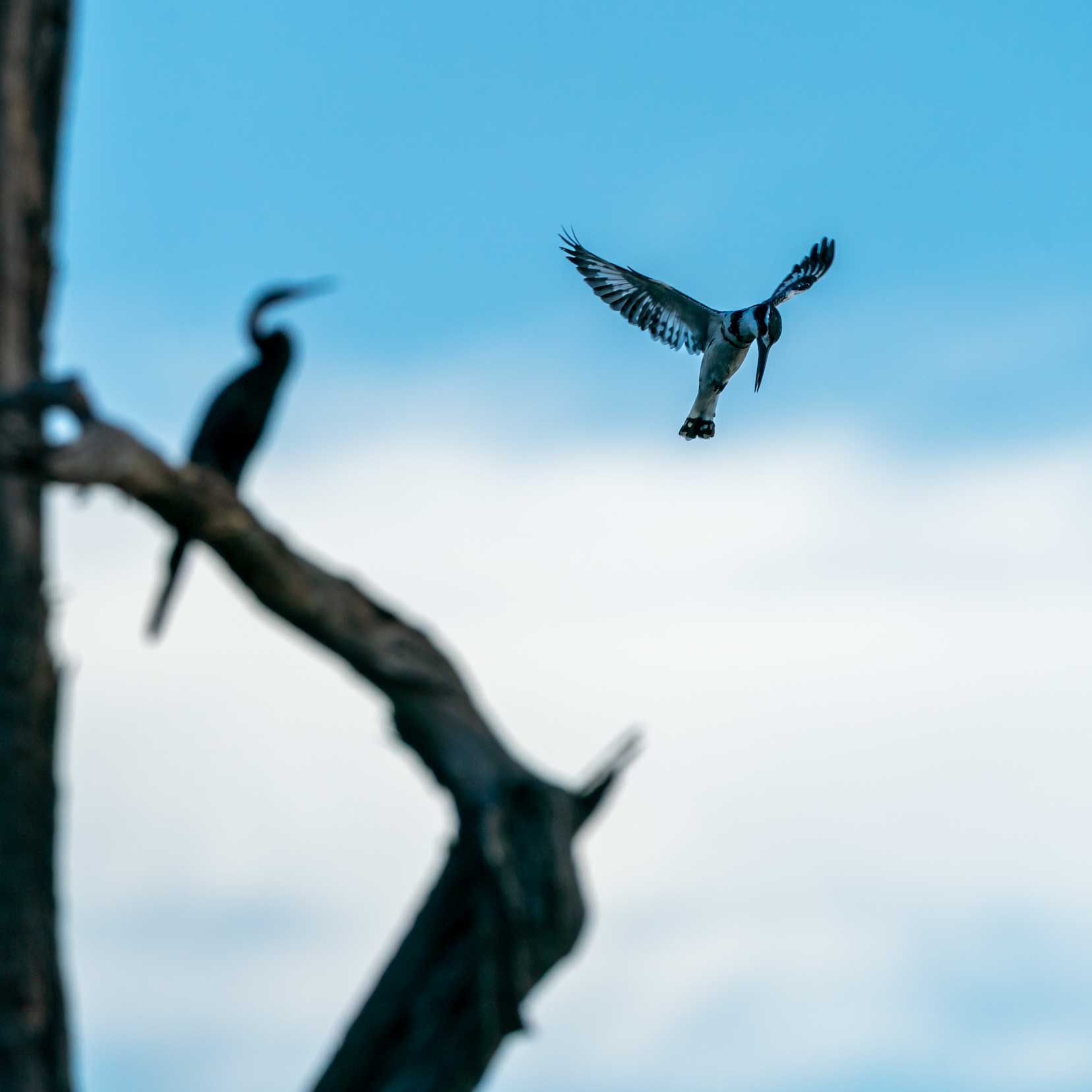 Tracks4Africa Maps
We used Tracks4africa Maps and their gps app, to navigate our way around Moremi Reserve. They include all the off-road tracks and we have found them to be the most reliable and easy to use.
They also give the average drive times between locations which are really useful. Because sometimes, what may be a short distance can take a long time due to the driving conditions.
We use paper maps for planning our route and then the Tracks4Africa app en route. The GPS marker indicates our current position, so as chief navigator, this makes my job much easier.
👉 Take a look at the range of maps and GPS apps they offer here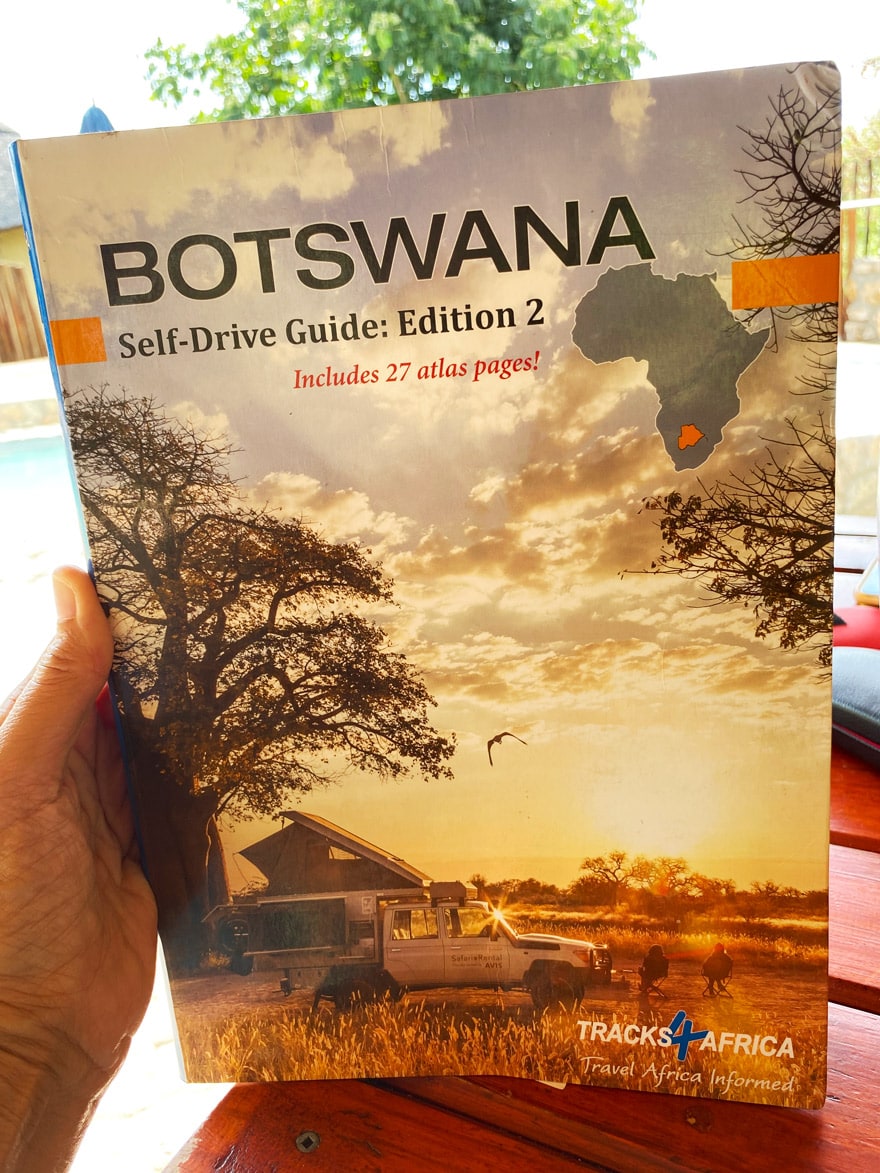 Road Conditions in Moremi Game Reserve
You will need a 4-wheel drive to navigate many of the tracks in Moremi, which are mainly sand.
There are also a few bridge crossings throughout the reserve: First, Second, Third and Fourth Bridges, which are basic wooden bridges that aren't always in good repair.
The first and Second Bridges can become flooded, so always check the tracks conditions before travelling in that direction (Southgate Campsite to Third Bridge Campsite).
While we were there in the summer, heavy rain meant that campers couldn't drive from South Gate to Third Bridge via the First and Second Bridges. They, therefore, had to take the longer route from South Gate to Xanakaxa and then on to Third Bridge.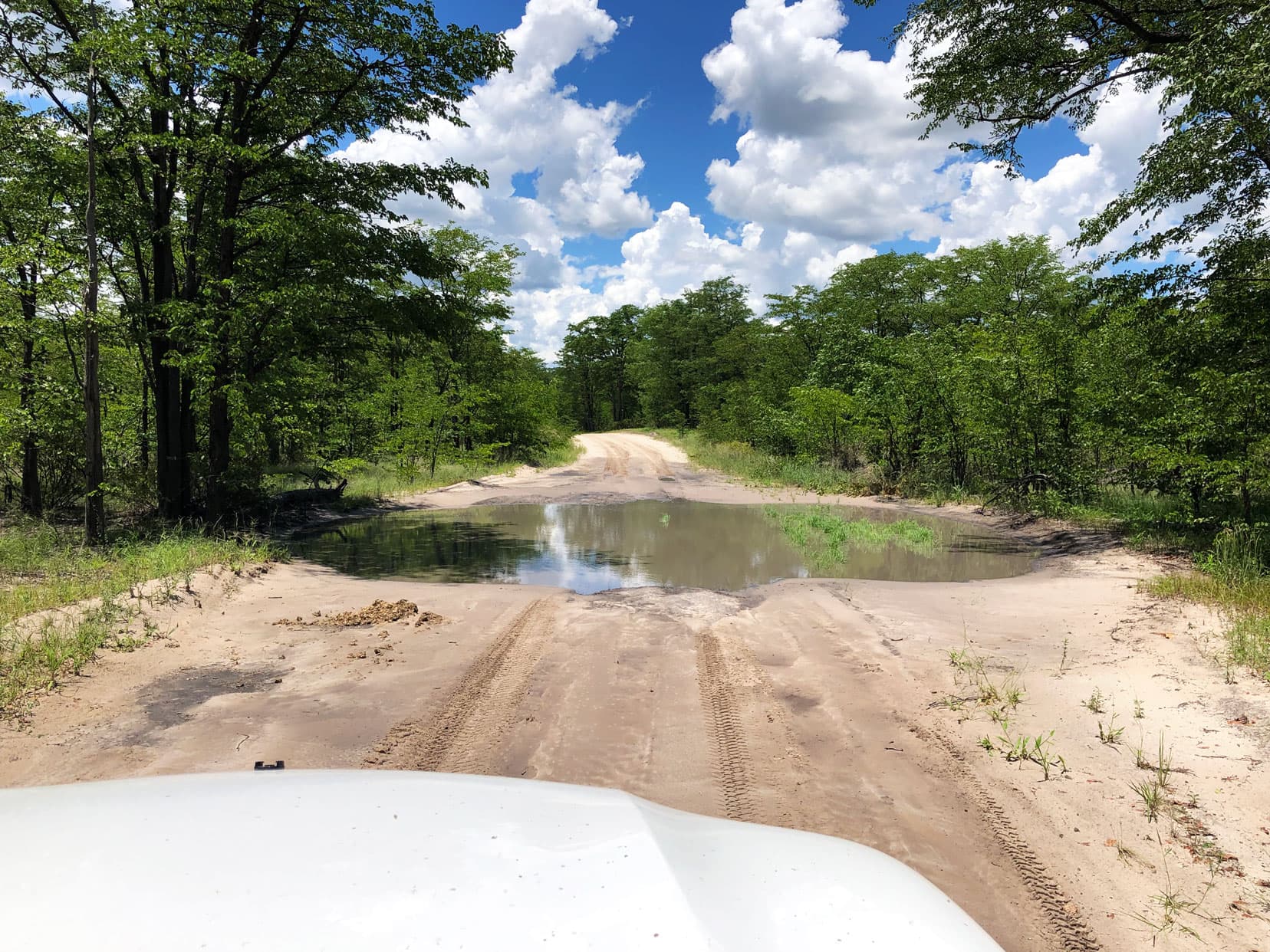 Our Moremi Game Drive Experience – South Gate in the Rainy Season
Our first Moremi Game Reserve self-drive, while camping at South Gate, was eventful, to say the least.
Two kilometres into our game drive we spotted a black-maned lion, lying out in the open in the pouring rain. We stopped and watched him as thunder boomed and lightning forks filled the sky.
Not a bad start to our game drive. We've found that the wildlife mainly stays hidden when it's bucketing down — And who can blame them? —so we were lucky to spot this fellow.
After watching him for a while, we continued south towards Black Pools with several game drive loops to explore. Sodden baboons crossed our path foraging in the grasses, and impala sheltered under trees.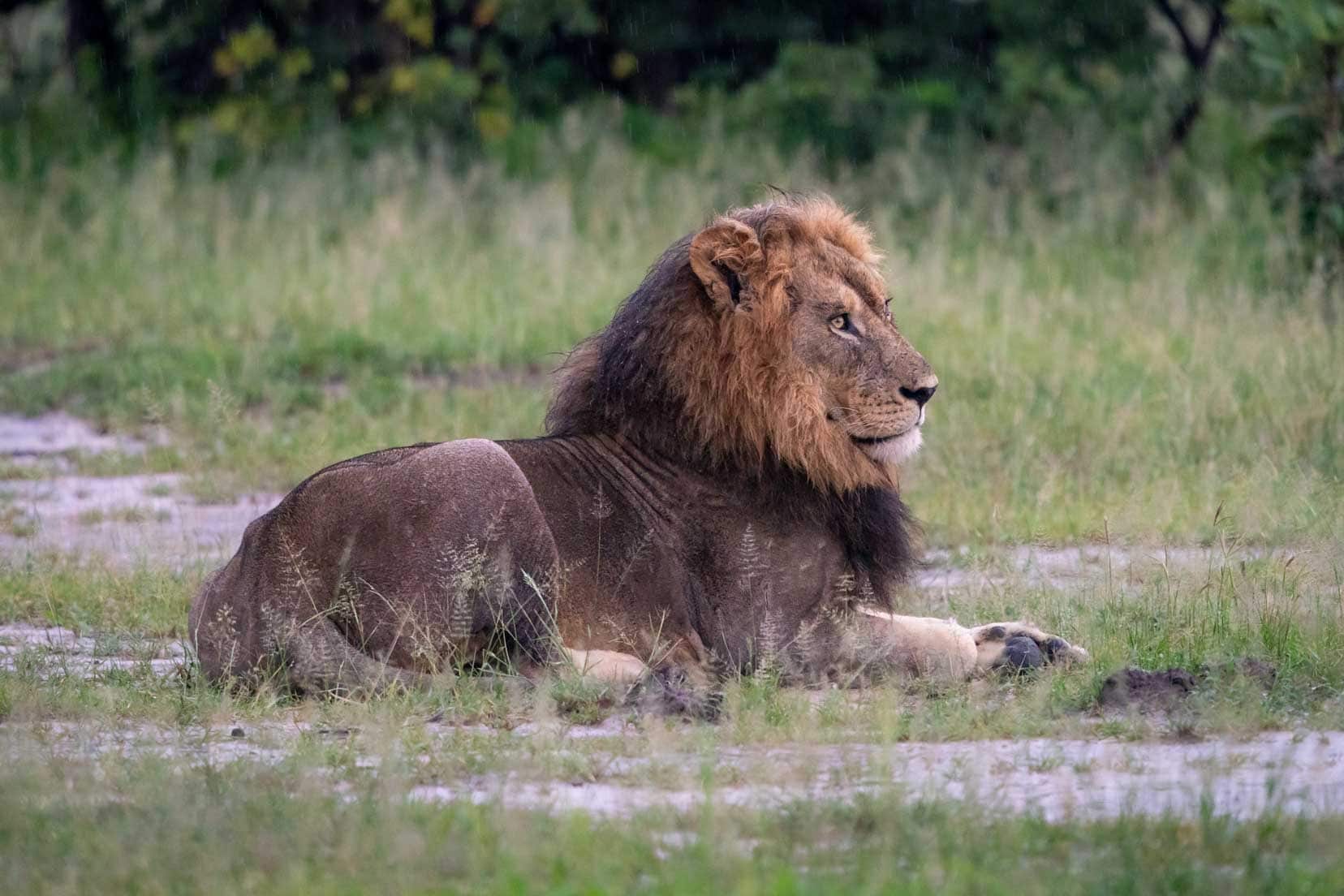 Being the rainy season, some of the track was underwater, and although we tried to follow the tyre tracks of previous cars, some were uncomfortably deep.
Each time we've had rain, on our Botswana trip so far, the storm clouds had passed relatively quickly. On this day, however, the rain persisted.
In hindsight, and with our newfound knowledge, we should have headed back to camp.
Wet and Muddy Tracks
The muddy, waterlogged tracks were already dodgy, but we had been told by the gate, the day before, that all roads were drivable. We weren't aware of how quickly these conditions could change and then worsen.
In Nxai Pan further south, we'd seen sandy tracks change into muddy skating rinks after a heavy night of rain, but we hadn't reckoned on already muddy conditions flooding so quickly after a couple of hours of rain.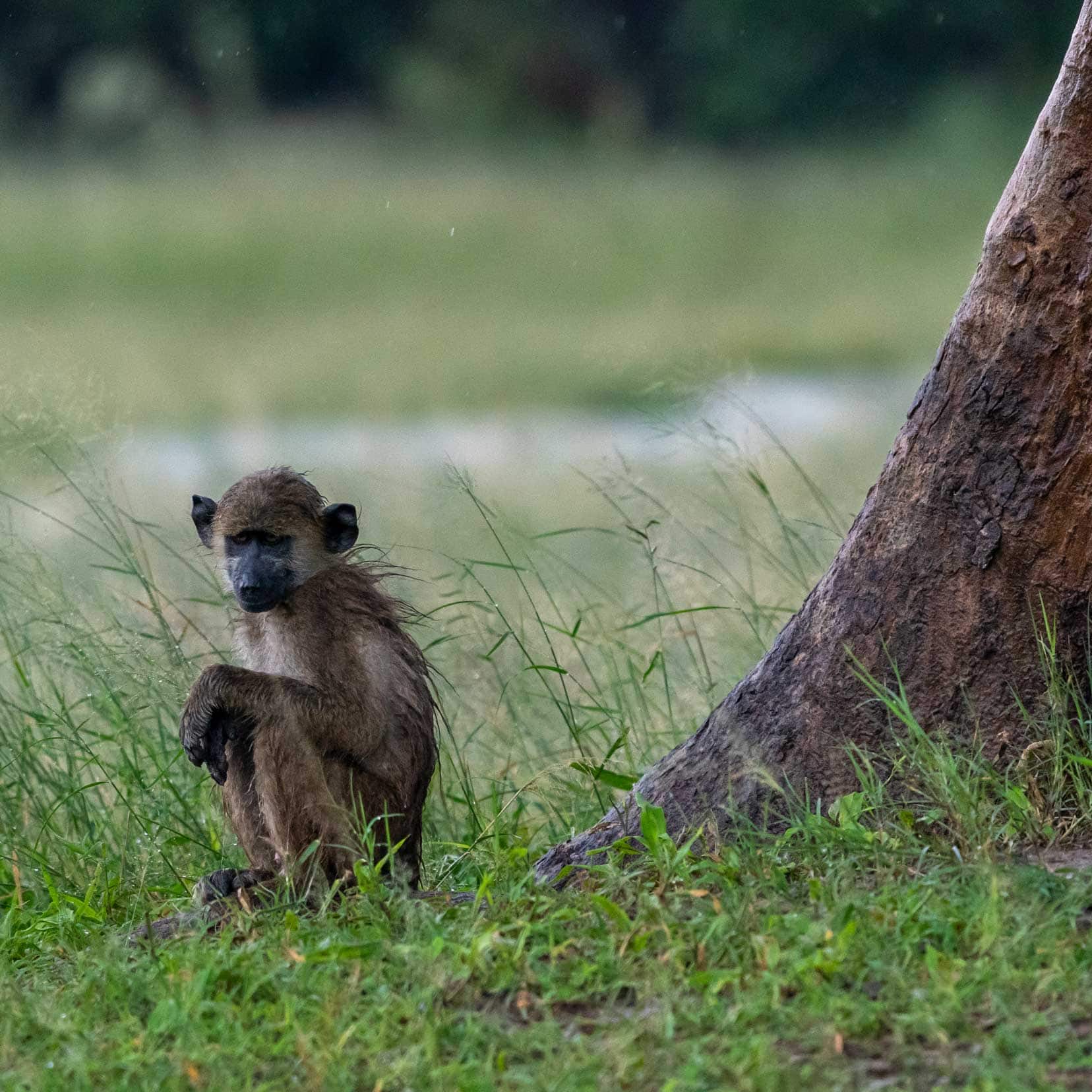 After completing Black Pools Loop and seeing relatively little except for our lion, we backtracked to camp.
On the way, we passed two other self-drive campers heading into the Black Pools area. After swapping our sightings of the day, we all merrily went on our way. All hopeful that the rain would stop.
In the few hours we'd been on our game drive, the already marginal deep water and mud puddles were more akin to lakes.
One such muddy part of the track, which had been fine when we crossed it earlier, looked particularly menacing.
And it was.
Still unfamiliar with how quickly these puddles could fill, we drove through.
Are we Sinking?
This time though, we were being swallowed by the sludgy mud. As Lars worked to get us out, we could hear a disturbing gurgling. That noise you get when you plunge an empty bottle into a tub of water.
My face was ashen. I had visions of us sinking into oblivion. Lars somehow managed to get us out with some slick forward and backward movements of the car.
My heart stopped beating for the full five minutes it took for us to emerge back on terra firma.
With colour returning to my cheeks, relieved to escape the murky orifice, we drove on. But all was not well.
The car started making a horrendous scraping metal noise, like scraping metal. We edged forward hoping the racket would abate.
No such luck.
The noise was so dreadful, we felt driving any further might do even more damage. It seemed the noise was coming from the front tyre.
There were no two ways about it. Lars had to take the wheel off in the bush.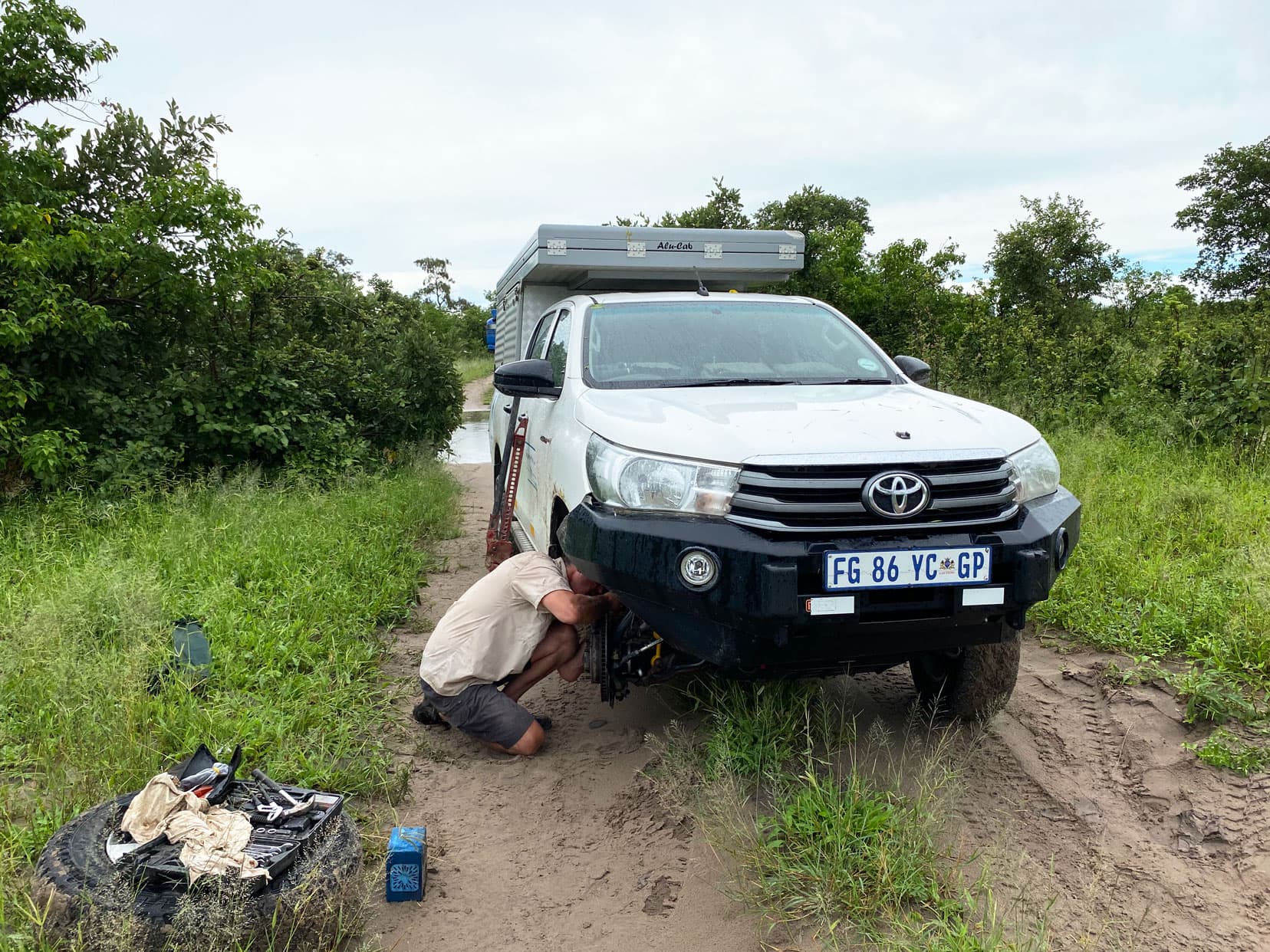 I kept watch while he set to it.
Something in the Bushes
After finding a bent, loose bolt that he thought might have been the problem, he was just screwing on the last wheel bolt, when an almighty growl came from behind the bushes
Thinking it might be an elephant (they often make growl-like noises) we both stood still waiting for it to appear.
But then another came closer still, but from behind a different bush.
Elephants don't move that quickly and we then knew we had a leopard who wasn't happy with all the commotion going on in his patch – we both jumped in the car.
Tools splayed over the grass, Lars had to tentatively grab everything as quick as he could, with another growl coming from yet another direction
The leopard obviously pacing with annoyance.
Unfortunately, the car problem wasn't fixed, and we drove the 2km back to camp sounding like we were dragging hundreds of chains underneath us.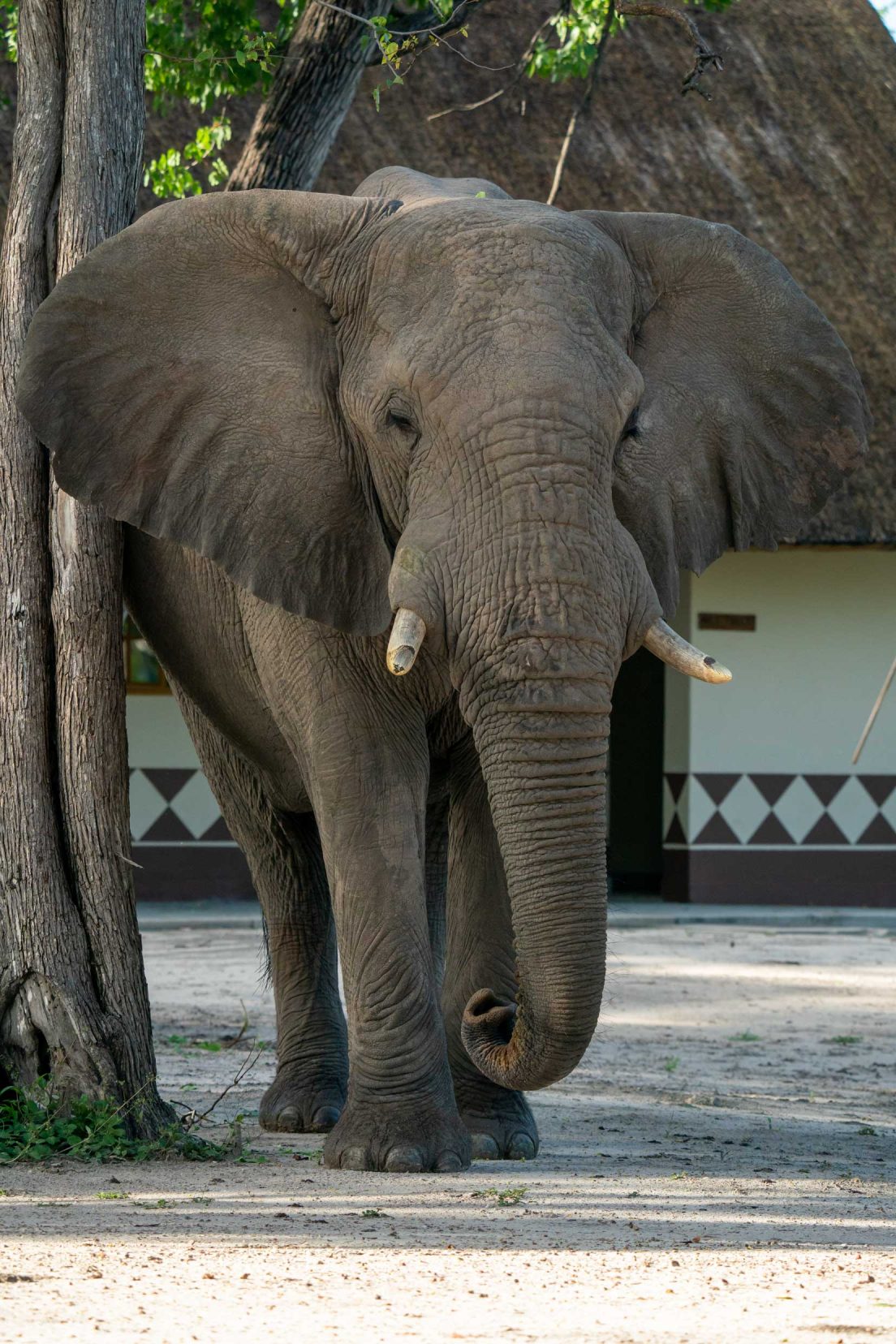 The next day, thinking we would have to be towed out of the National Park, we were lucky to get hold of a couple of mechanics, Patrick and Mike, who drove down from Khwai.
Our front brake discs (that had only recently been "fixed" at a garage in Maun), needed replacing. Luckily the lads were able to repair the front brake discs enough for us to continue our travels until we reached the next main town, Kasane.
That same day, a young couple got bogged in those tracks — we met them four days later.
They'd been bogged for THREE days! Eventually, they walked 2km in the bush to get help
So, we were the lucky ones.
Moremi Game Reserve Wildlife
Moremi Game Reserve is known for its abundant wildlife, including elephants, lions, leopards, hyenas, and many species of antelopes. It is also said to have one of the largest concentrations of African wild dogs in Botswana.
The Xakanaxa area is known for its big cat sightings including leopard and cheetah and we were lucky to see both there.
Near South Gate the mopane woodlands, attract herds of elephants and impala, and we saw lots of elephants in and around South Gate Rest Camp.
The Khwai area is famous for its wild dog population, and although we weren't lucky enough to see any while we were in Moremi, we did see wild dogs (or painted wolves as they are also called), several times while camping in the community-run Magotho Campsite, in the Khwai Concession, adjacent to Moremi.
White and black rhino were re-introduced in early 2000 but we didn't spot any of those either. We weren't too disappointed as we'd seen plenty when we camped at the Khama Rhino Sanctuary earlier on our Botswana itinerary.
The area isn't just known for its diverse population of game, it is also a birding paradise. In the spring and summer months, thousands of migratory birds arrive. With over 500 species recorded in the reserve, it's a great destination for bird watchers.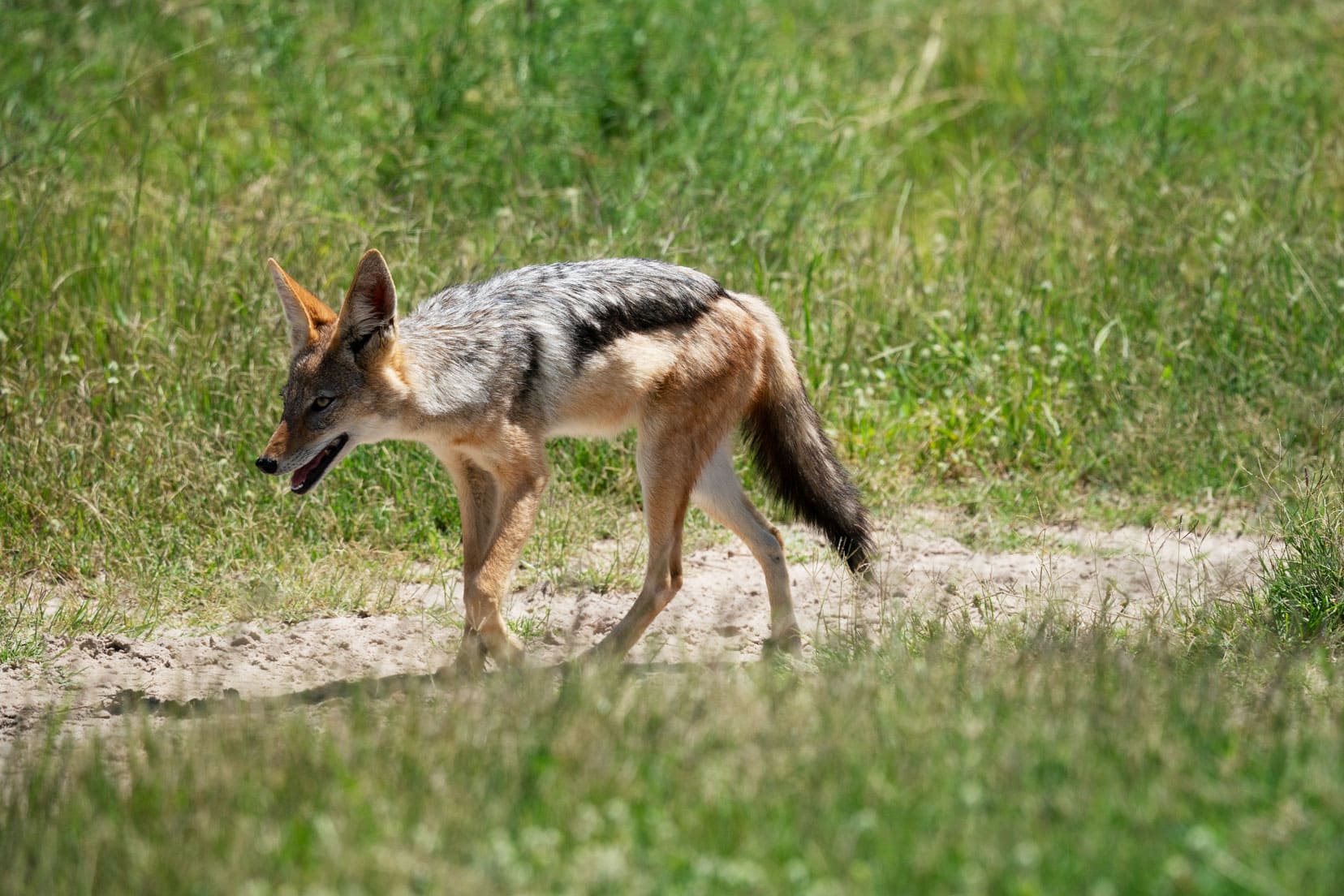 What Wildlife Will You Likely See in Moremi Game Reserve?
This list is based on our own experience in the reserve and reading about the area. We've separated them into Likely, and If you're lucky, to give you a realistic perspective of what you might encounter on your Moremi self-drives.
As with all wildlife sightings, there is never a guarantee, but the more you drive around, the more chances you'll have.
We've marked the wildlife that we saw with a tick.
Likely to see
Red Lechwe ✅
Impala ✅
Baboon ✅
Vervet Monkey ✅
Steenbok ✅
Kudu ✅
Waterbuck ✅
Giraffe ✅
Zebra ✅
Elephant ✅
Hippos ✅
Black-backed jackal ✅
Buffalo ✅
Blue wildebeest ✅
Warthog ✅
Red hartebeest ✅
Mongoose ✅
If You're Lucky
Cheetah ✅
Leopard ✅
Lion ✅
African Wild dogs
Black rhino
White Rhino
Honey Badger
Spotted hyena
Side striped jackal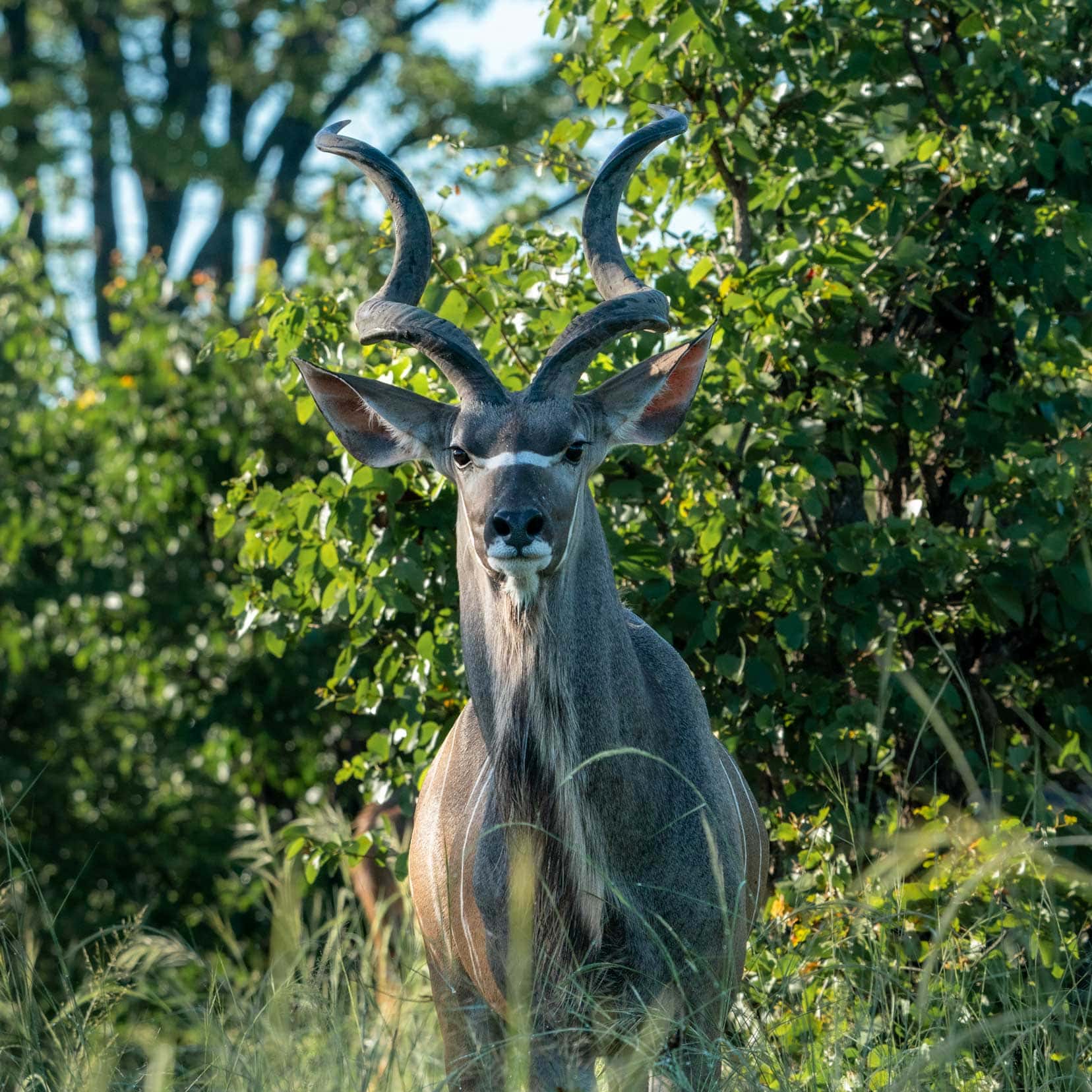 Tips for Camping in Moremi Game Reserve
Book early – especially if you want to camp in the winter months, the most popular season.


If you visit in summer, during the rainy season, make sure you have good vehicle recovery equipment.


Take precautions against mosquito bites because Moremi is a malaria area. Wear long sleeves and pants at dusk and dawn and wear insect repellent at all times.


There is no petrol or diesel available in the reserve. The nearest petrol station is in Maun, 90km from South Gate, or in Kasane, 260 km from North Gate, via Savute.


The campsites in Moremi aren't fenced, so always keep an eye out for predators and elephants. We had elephants come through South Gate camp and hippos by our camper at Xakanaxa. Hyenas and monkeys might steal anything you leave out so always store things away.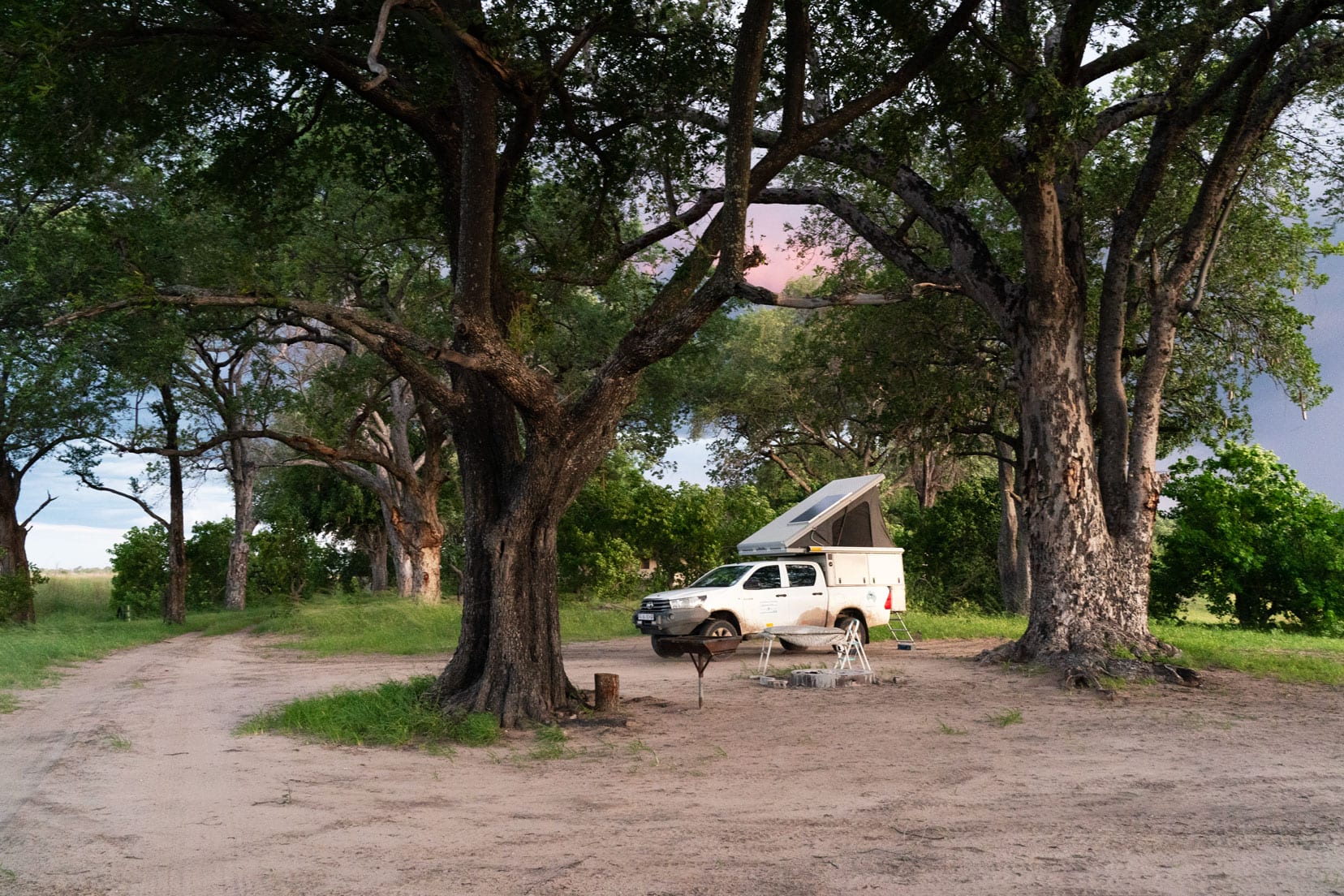 Best time to Visit Moremi Wildlife Reserve
Overall, the best time to visit the reserve largely depends on your individual preferences and interests.
Moremi Game Reserve is great for year-round game viewing, but summer can include treacherous driving conditions and winter can see an influx of tourists making it difficult to book camping spaces.
Whenever you choose to visit, Moremi is, in our opinion, one of the best places to visit in Botswana.
We were there in summer, which is not the easiest season to spot wildlife, because of the lush vegetation, but we still had great sightings.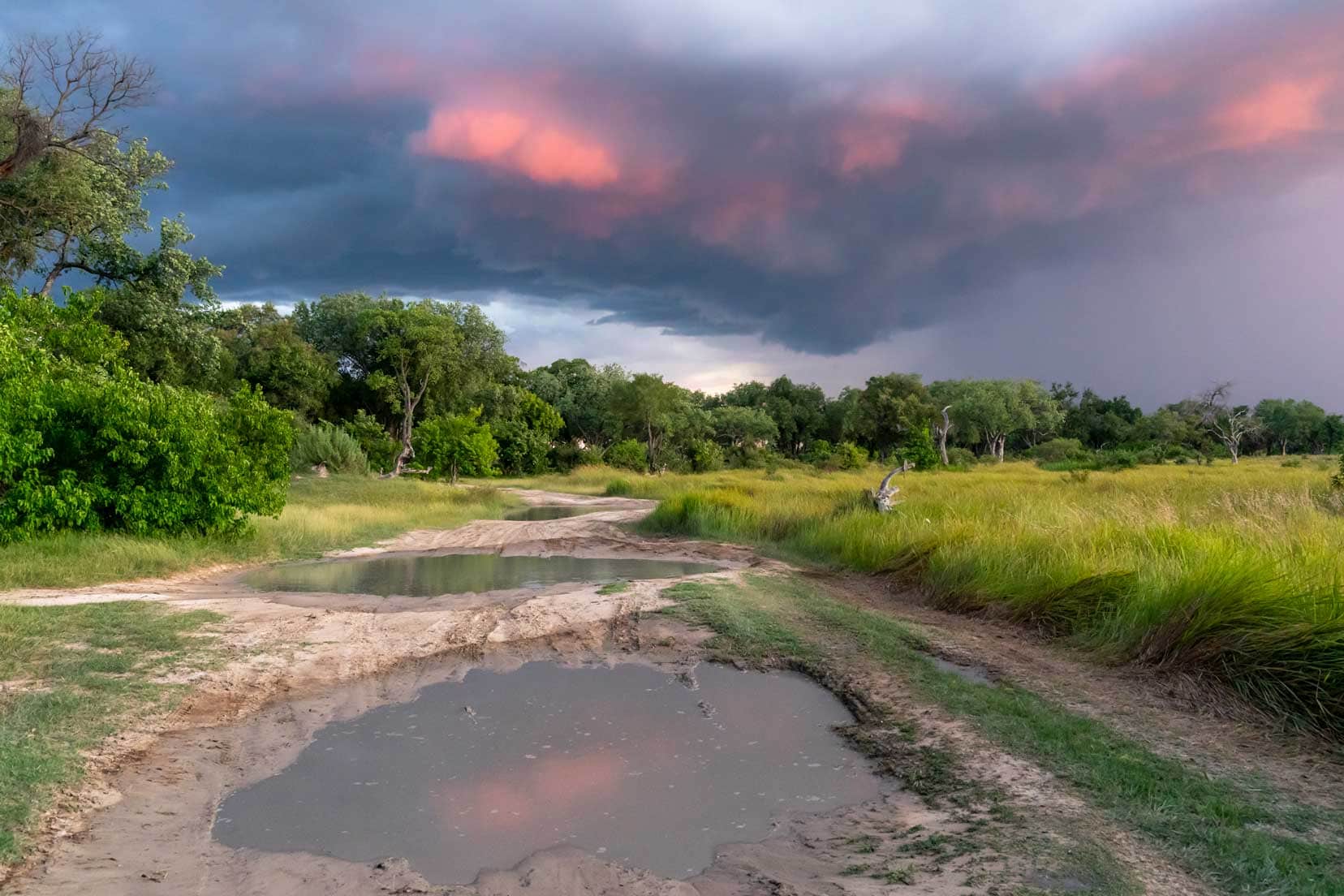 The Wet Season in Moremi
The summer's wet season, from November to April, brings lush greenery and dramatic thunderstorms, making for an equally exciting experience.
This is also the best time for bird watching as migratory birds flock to the reserve. We had lots of fun spotting the huge variety of birdlife on our self-drive safaris in Moremi.
The summer is also a wonderful time to witness the arrival of newborn wildlife — we saw heaps of tiny impalas throughout the reserve.
The drawback to travelling through Moremi in the wet season is that the rains can make driving challenging. Some of the tracks can become waterlogged and flooded. This means that if you are camping in the summer you need to make sure you have good vehicle recovery equipment.
You also need to check regularly with the gates as to which roads are closed or difficult to traverse. The chance of becoming bogged isn't going to be the nicest addition to your Botswana safari adventures.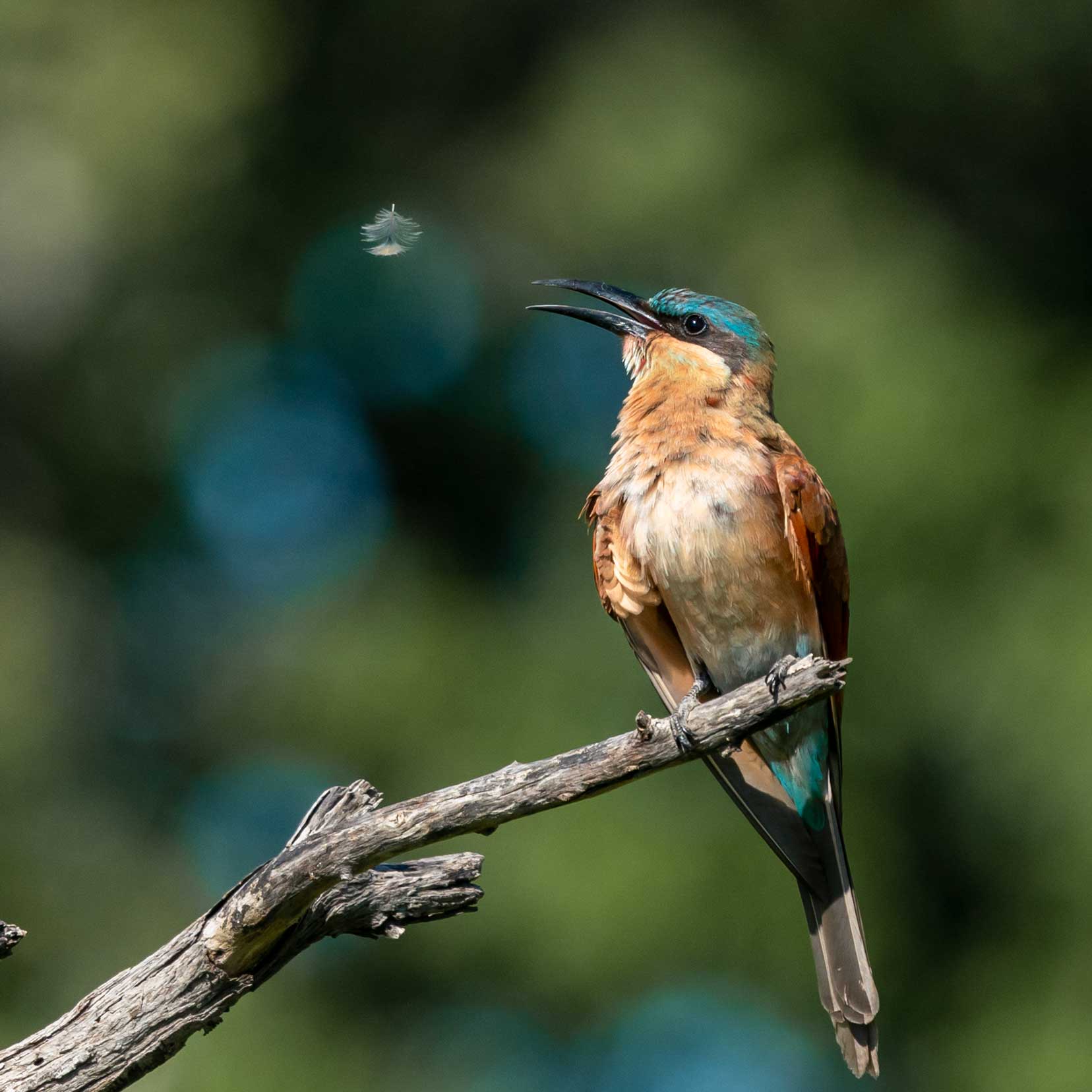 The Dry Season in Moremi
Winter is the dry season, running from May to September, and is the peak season for camping and safaris. This is because, the vegetation is less dense, and the tracks are less likely to be waterlogged or flooded. It's also much cooler in the winter.
Because it's peak season, this also means that it's going to be difficult to book campsites. They can be booked out up to a year in advance. Campsite prices are also higher and the tracks are going to be busier with traffic.
Exploring the delta's waterways is best between June and August when the Okavango's water levels are at their highest. Though, in some years droughts may limit this activity. Many companies offer mokoro trips and boat cruises.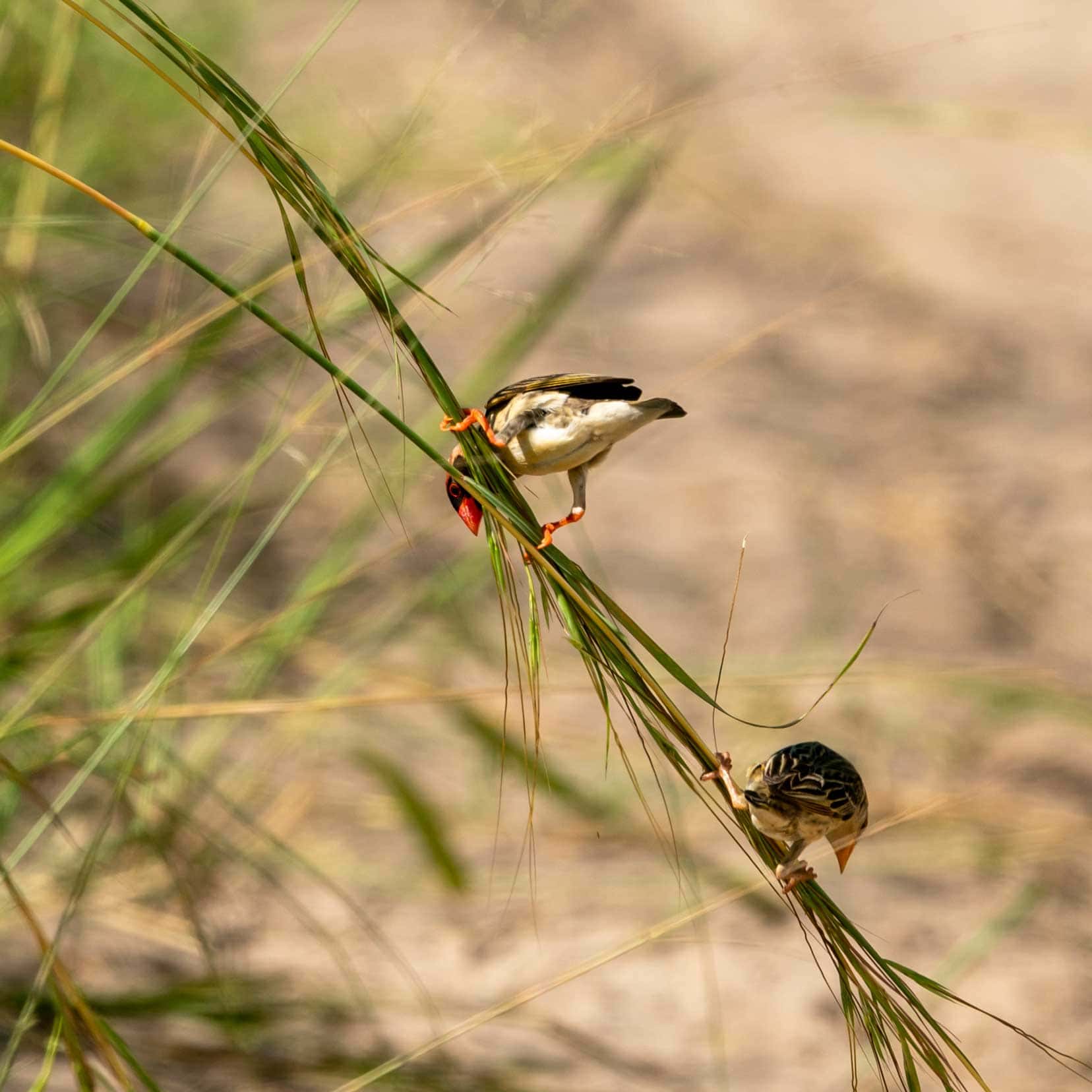 How to Get to Moremi Game Reserve
The two main routes that you might be driving to Moremi are included below and can also be seen on the Moremi Map above.
To Moremi From Maun
If you are travelling to Moremi Game Reserve from Maun, you take the tarred B334, which then turns into a gravel road just past Shorobe.
This road then changes into a main off-road track just past Shukumukwa.
You will see a sign to Moremi and here, you will take the off-road track to the left which will bring you to the South Gate entrance.
The distance from Maun to Moremi Game Reserve is about 92 kilometres (to South Gate).
Accommodation in Maun
Before heading into Moremi, we stayed in our favourite accommodation in Maun, Maun Studios, but there are several good options depending on the type of accommodation you're looking for.
While travelling in Botswana we stayed in a few different places in Maun.
Here are our top picks:
Quick Overview of Best Accommodation in Maun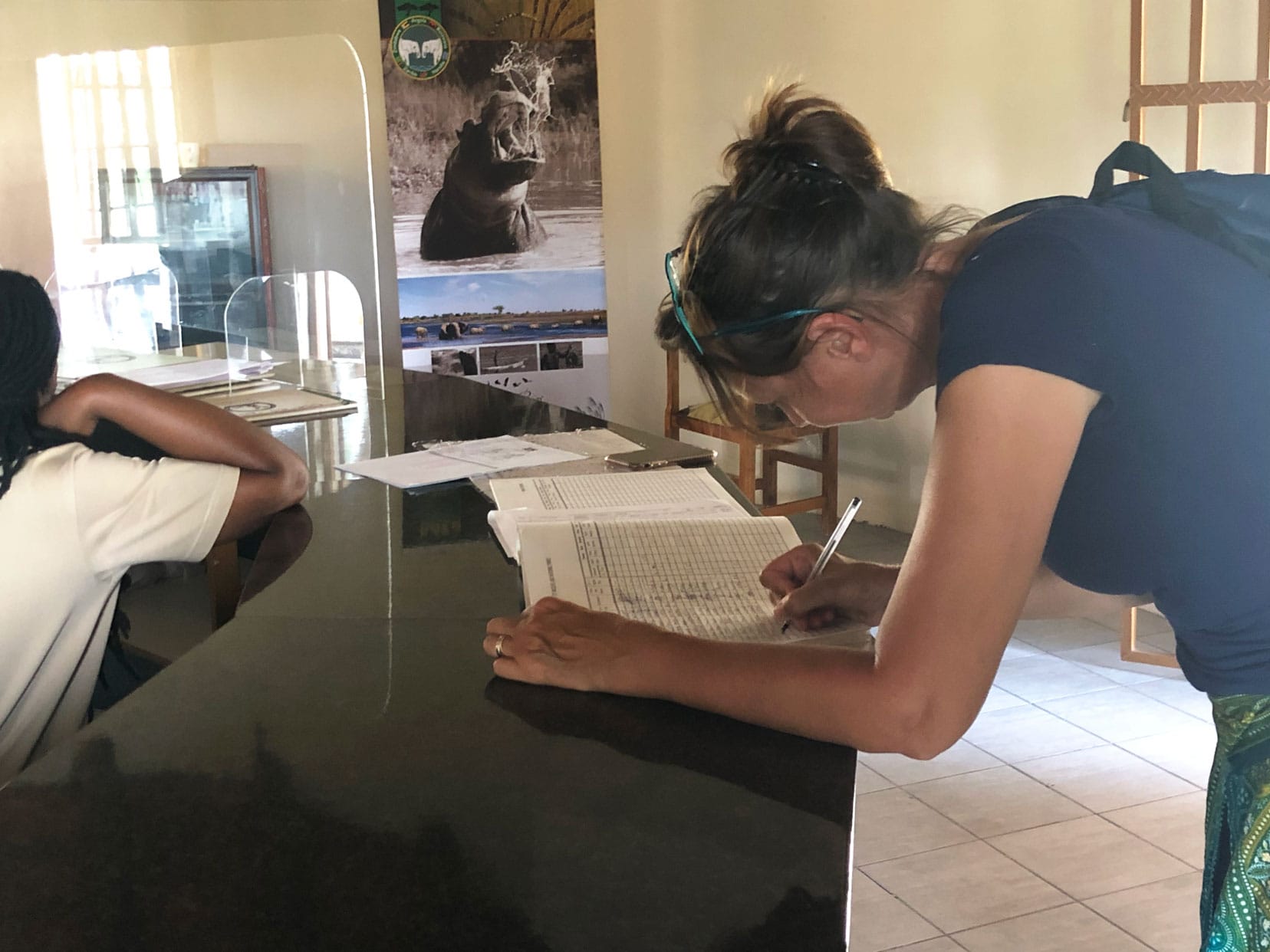 To Moremi From Kasane or Chobe
If you are travelling to Moremi from the north, from Kasane then you'll go through Chobe National Park and head south. You will enter North Gate (Khwai Gate) just after the village of Khwai.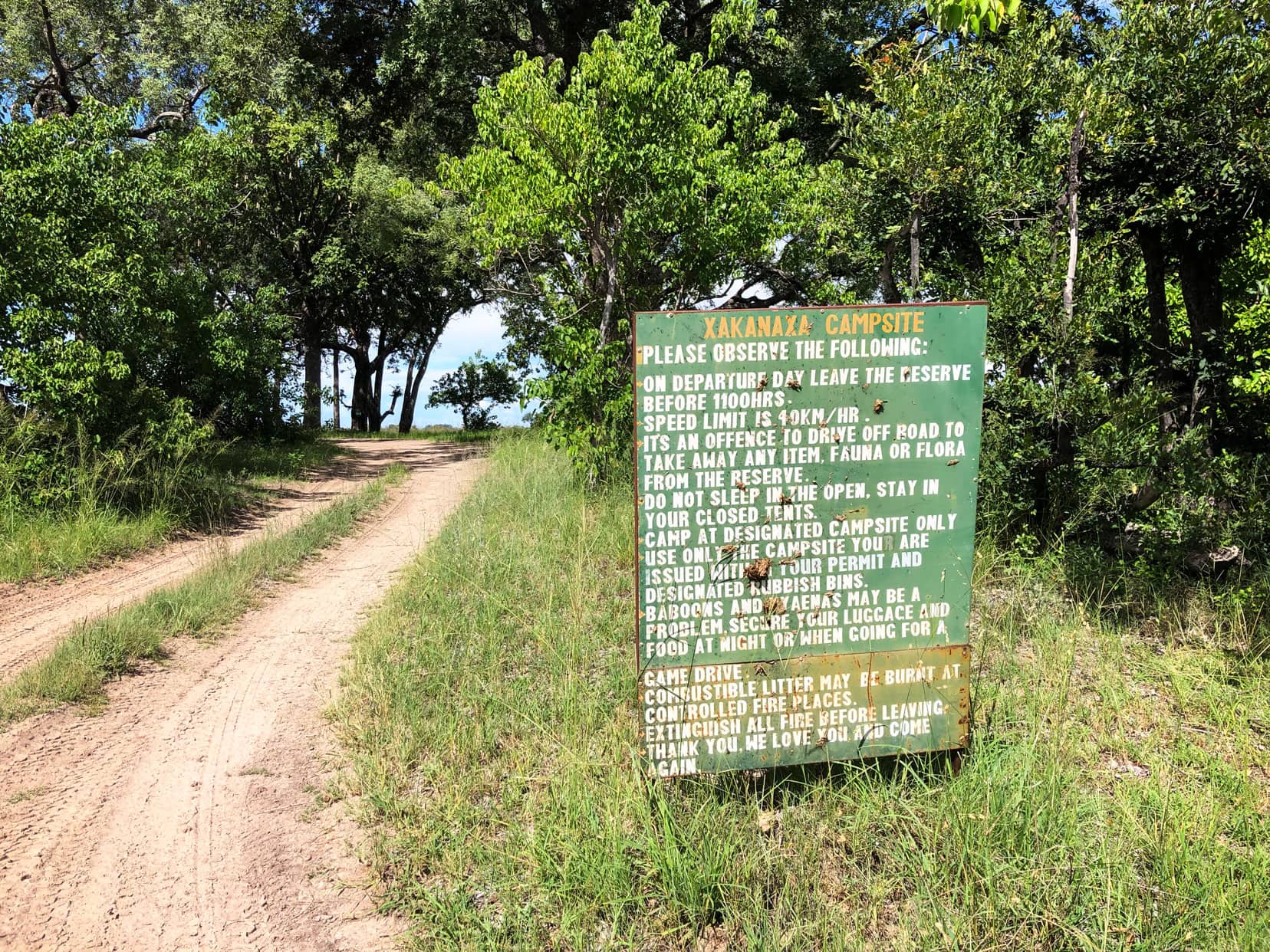 Camping in Moremi: Good to Know
These are a few of the things that are good to know if you are planning on camping in Moremi Game Reserve.
Moremi Gate Opening Times
The Moremi Park gate opening times are as follows:
6.00 am–6.30 pm from April to September
5.30 am–7.00 pm from October to March.
Moremi Game Reserve Contact Details
Moremi Game Reserve has two entrance gates, South Gate (near Maun) and North Gate (near Khwai).
Moremi Park Camp Gate Contact numbers:
South Gate: +267 683 0085/86
Third Bridge: +267 683 0089/90
Xakanaxa: +267 683 0087/88
Khwai/North Gate: +267 683 00821/84
How much is Camping in Moremi?
Once at the gate, you must stop and show your campsite booking voucher and pay your Game Reserve entrance fee charges, (if you haven't already paid them in advance at the DWNP offices in Maun or Kasane).
Note that the game reserve permit fees are payable per person per day (not per night). So you also have to pay park fees for the day you leave.
Also, if you are paying the reserve fees at the gate you need to pay in the local currency, Pula (BWP). Alternatively, you can pay the fees ahead of time through the Botswana Parks and Wildlife (DWNP) in Maun, Gaborone or Kasane with a credit card.
Fees for entering the Moremi Game Reserve differ depending on whether you are a citizen, resident, or non-resident.
The following Moremi Park fees were correct as of January 2023:
| | |
| --- | --- |
| Citizen | BWP 30 per person per day |
| Resident/SADC National | 205 BWP per person per day |
| Non-resident | 270 BWP per person per day |
| Vehicle | 75 BWP per day |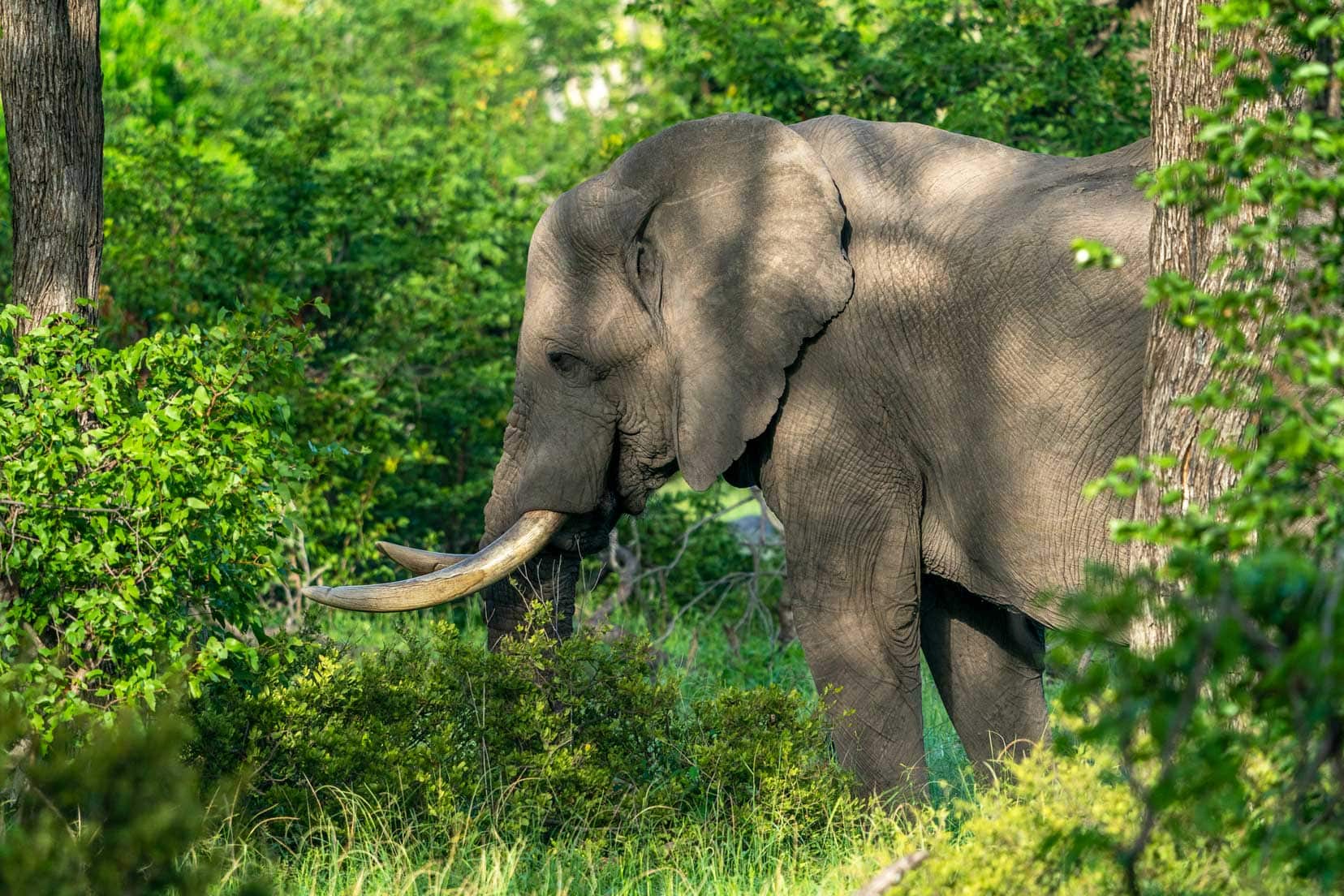 Camping in Moremi Game Reserve FAQs
How far from Maun to Moremi?
The distance from Maun to Moremi is about 93 km.
Are road conditions bad in Moremi?
The road conditions in Moremi Game Reserve are constantly changing and can be particularly challenging in the rainy season. Always check with reception at Moremi Gates to find the latest updates on road conditions.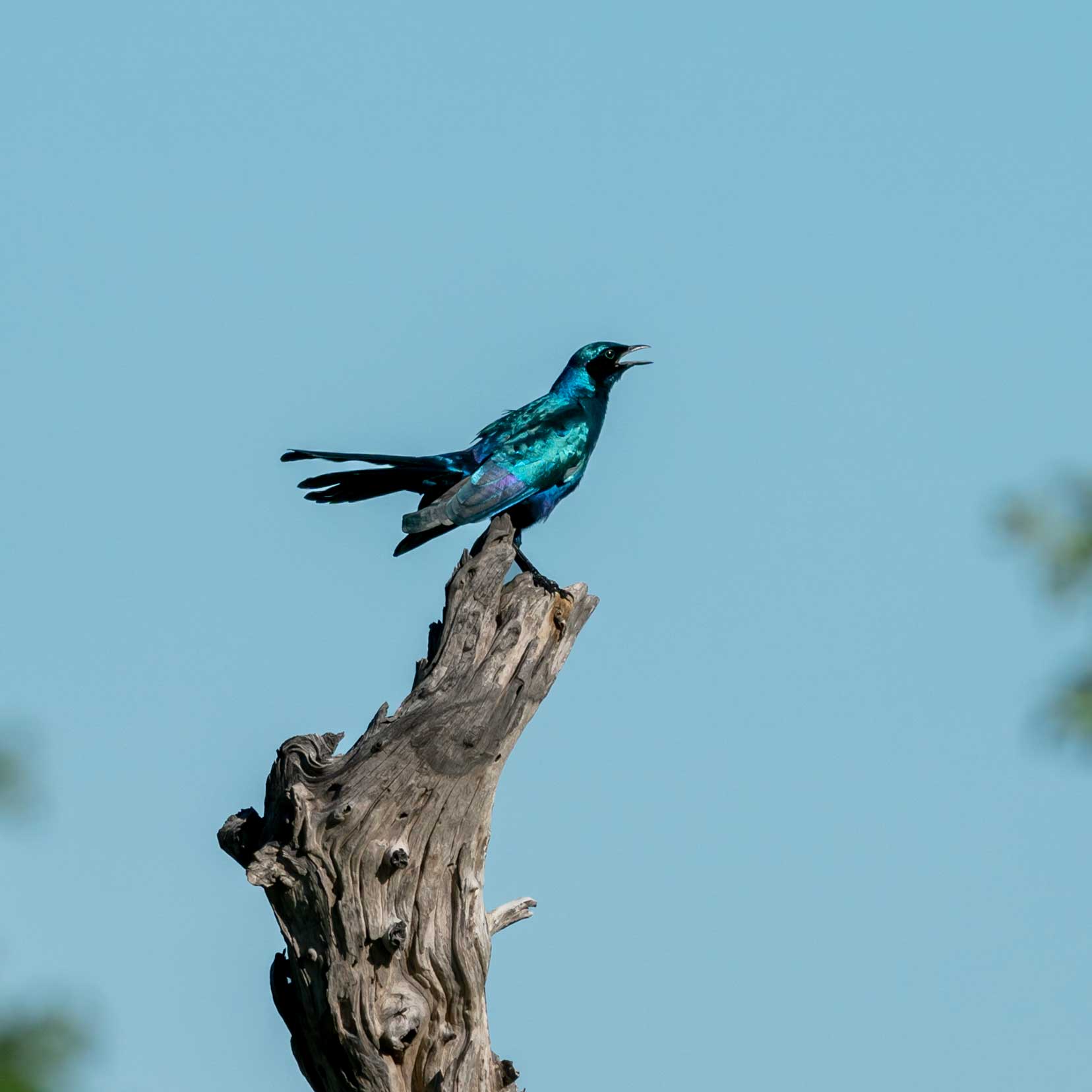 Pin and Save for later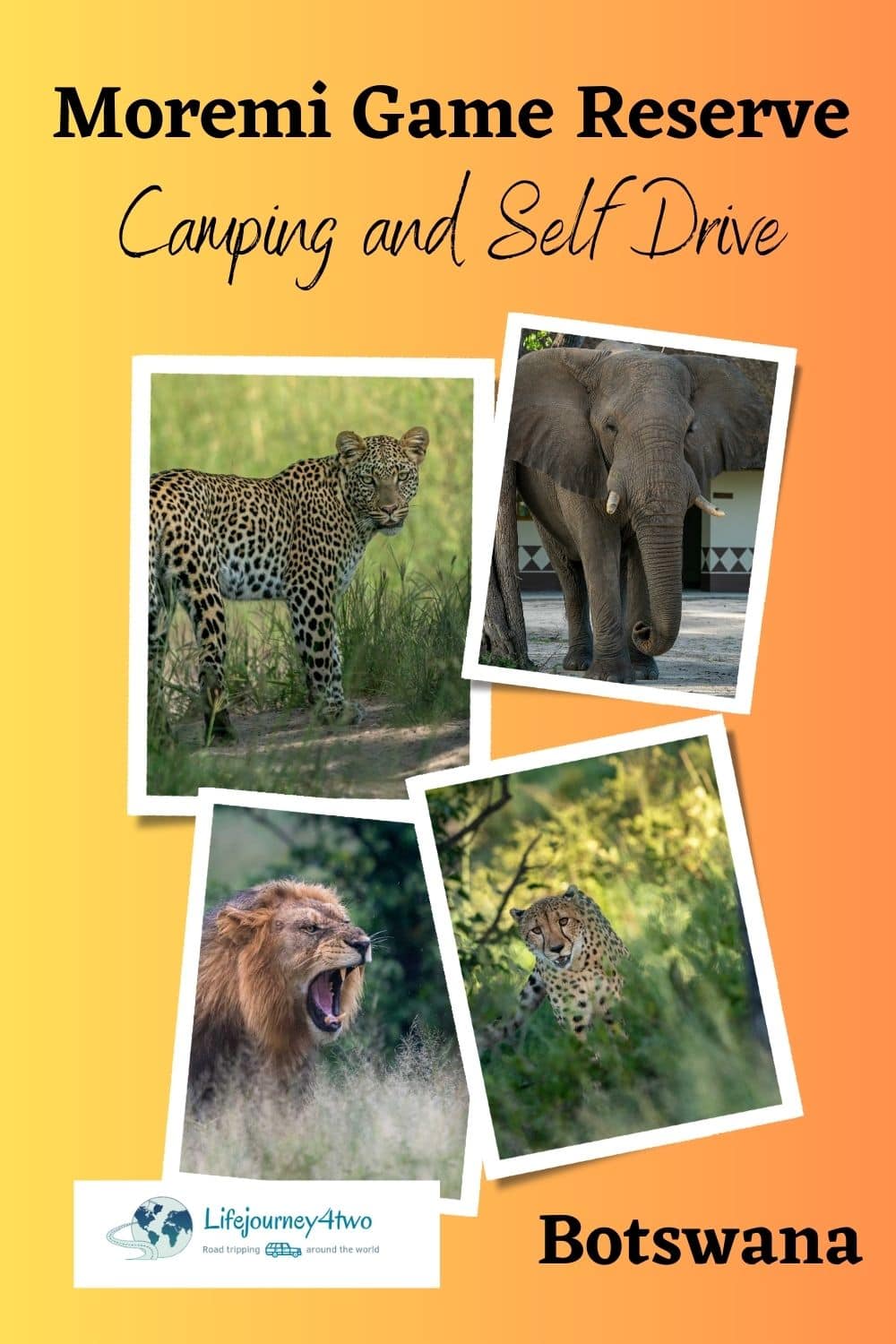 Moremi Game Reserve Camping and Self-Drive … That's a Wrap
Moremi Game Reserve is a fantastic place to visit within the Okavango Delta in Botswana. With its incredible diversity of wildlife and excellent year-round game viewing, this is one of Botswana's best safari destinations.
We created this guide to help you plan your own camping trip to Moremi and if you have any questions please don't hesitate to reach out with any questions you think we might be able to help you with.
Read more on travelling to Botswana here.
Are you a Travel Lover?
Are you interested in travel, road trips, camper life and hitting the road for adventures? Then join us on this journey, for inspiration, detailed trip info and beautiful photography from around the world.
As a subscriber, you will also have access to our free resources, such as a travel planner, discount codes and more.
Why wait for our one day? Let's explore this incredible world together today.
You May Also Like to Read:
PLANNING YOUR TRAVELS?
These are some of the travel resources we use when planning our trips.
For a more thorough list visit our Travel Resources page here.