Some posts on this site contain affiliate links, meaning if you book or buy something through one of these links then we may earn a small commission. Read our Disclosure Policy here.
LIFE IN THE AFRICAN BUSH
Can an Australian country boy cope with life in the South African bush?
We Australians generally like to think that we aren't too delicate and can handle a challenge or two. Surely there must be similarities of sorts between living in the Australian bush and here in the African bush?
Well, if you haven't been to Africa before, then you can throw those preconceptions out the window. It doesn't matter what you think it might be like or what you've read about it in some article. The real rubber on the road stuff is living it and learning quickly along the way.
Here's my Aussie take on life in the African bush.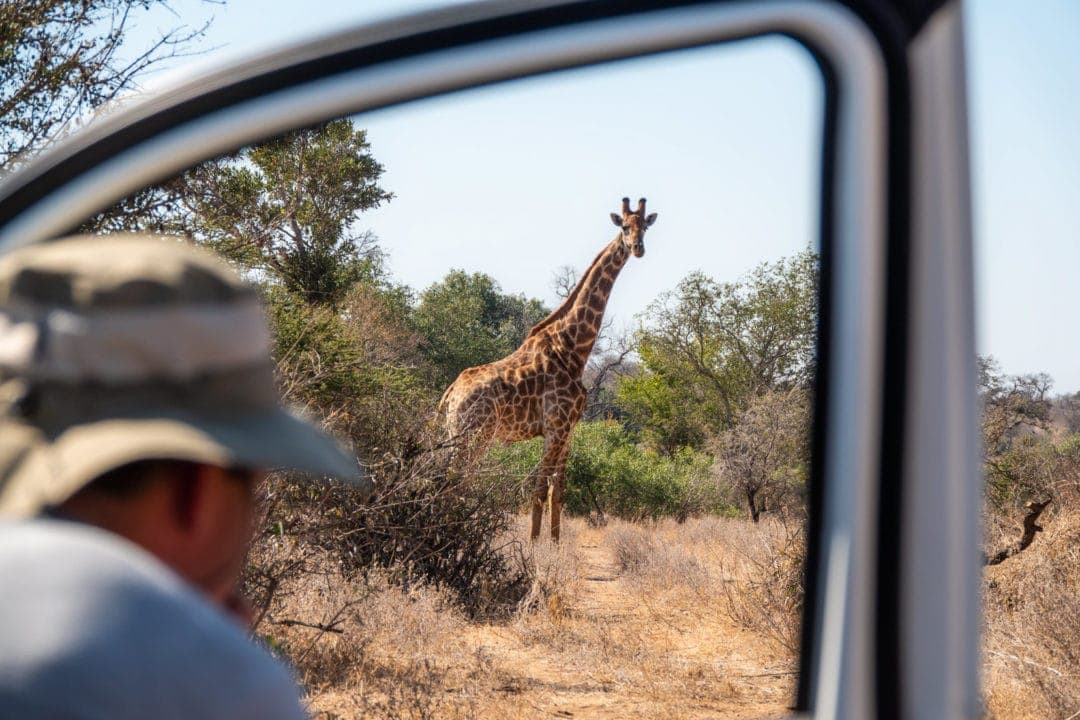 KLASERIE RESERVE, MPUMALANGA
We arrived in Mpumalanga, a province of South Africa, with the promise of great things to come. South Africa was still in lockdown, but we were able to apply for special dispensation to travel between provinces.
We were changing residence, having been invited to stay in a rustic bush camp on 3000 hectares within the Klaserie Private Nature Reserve, forming a part of the larger Greater Kruger area.
Klaserie Private Nature Reserve has an open border with Kruger National Park game reserve and if you were to draw a line from the Klaserie Reserve all the way east to the Mozambique coast, then you wouldn't cross a single fence.
Yep, it's all open country for animals to pass through freely, meaning we can have 4-footed visitors of all shapes and forms.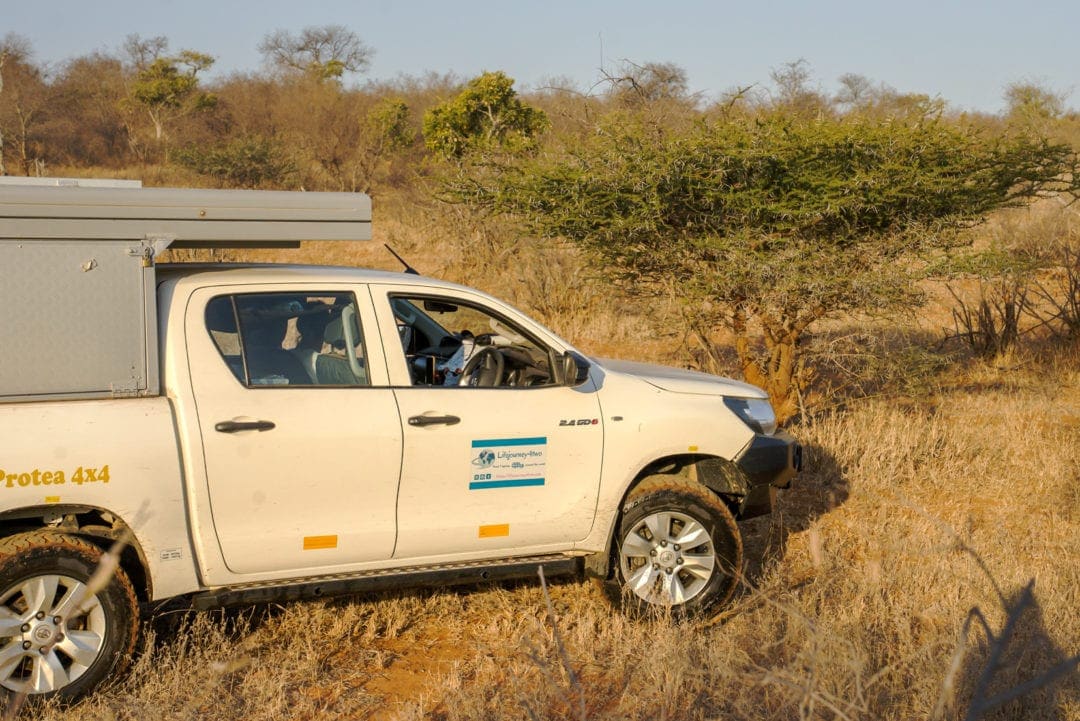 Here on the property, there are no restrictions in regard to staying in your vehicle during a game drive, unlike say the public, Kruger National Park. We get to do our own exploring on our very own African safari as we bought our 4×4 car here in South Africa.
There are none of the South African road rules here. You can get out of the vehicle, walk around, have a picnic and take some photos.
But you must remain vigilant and respect the distance between you and these unhabituated animals at all times.
We are, after all, on their turf.
VIDEO – LIFE IN THE SOUTH AFRICAN BUSH – KLASERIE NATURE RESERVE, GREATER KRUGER
This video shows you why we fell in love with Africa.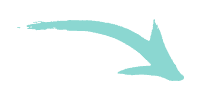 The owners of the property spent a week with us explaining the operation of the bush camp, taking us on day and night game drives and basically downloading tonnes of useful information to get us 'up to speed'.
We would have the bush camp just to ourselves for the next month or so. This was the real Africa that we had been yearning for.
Ok, two weeks have now passed since we arrived and we've fallen well and truly into African bush life. It's a good time to pause and write a few notes of our take on life in the South African bush before we normalise too much to our surroundings.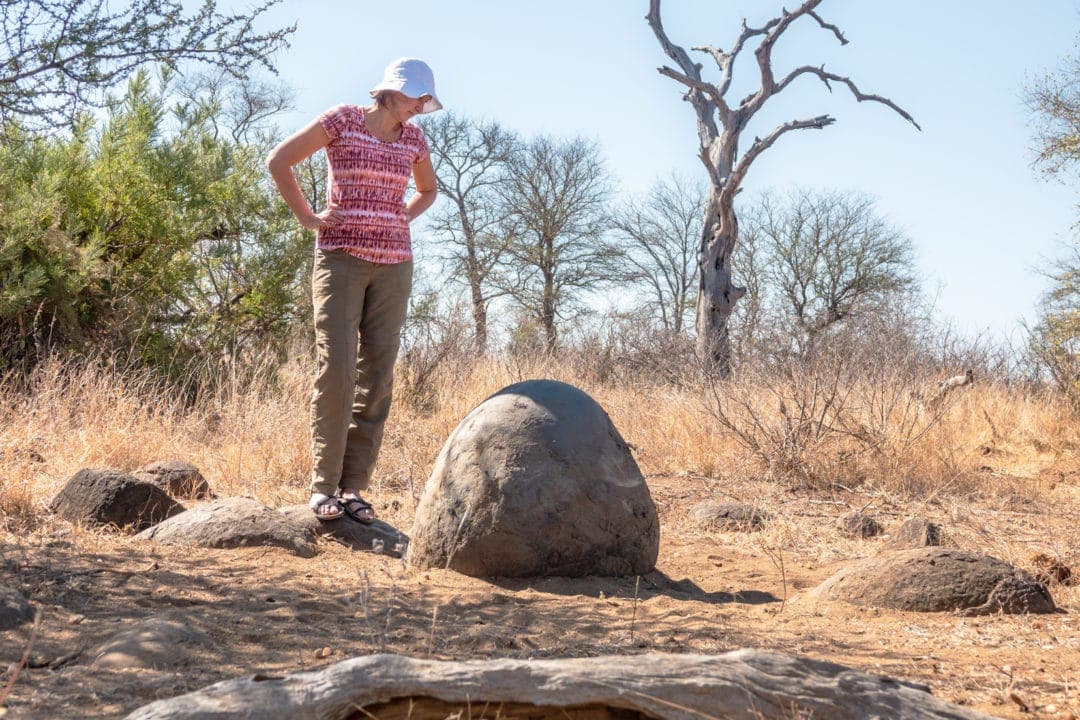 TIME STANDS STILL IN THE SOUTH AFRICAN BUSH
Our daily routine is not governed by the time on a watch but by sunrise and sunset. The days of the week and the hour of the day are of little importance. There are no sounds except that of the South African bush and anything living within.
It took us a few days to normalise to this new setting and another few to feel like a part of the bush itself.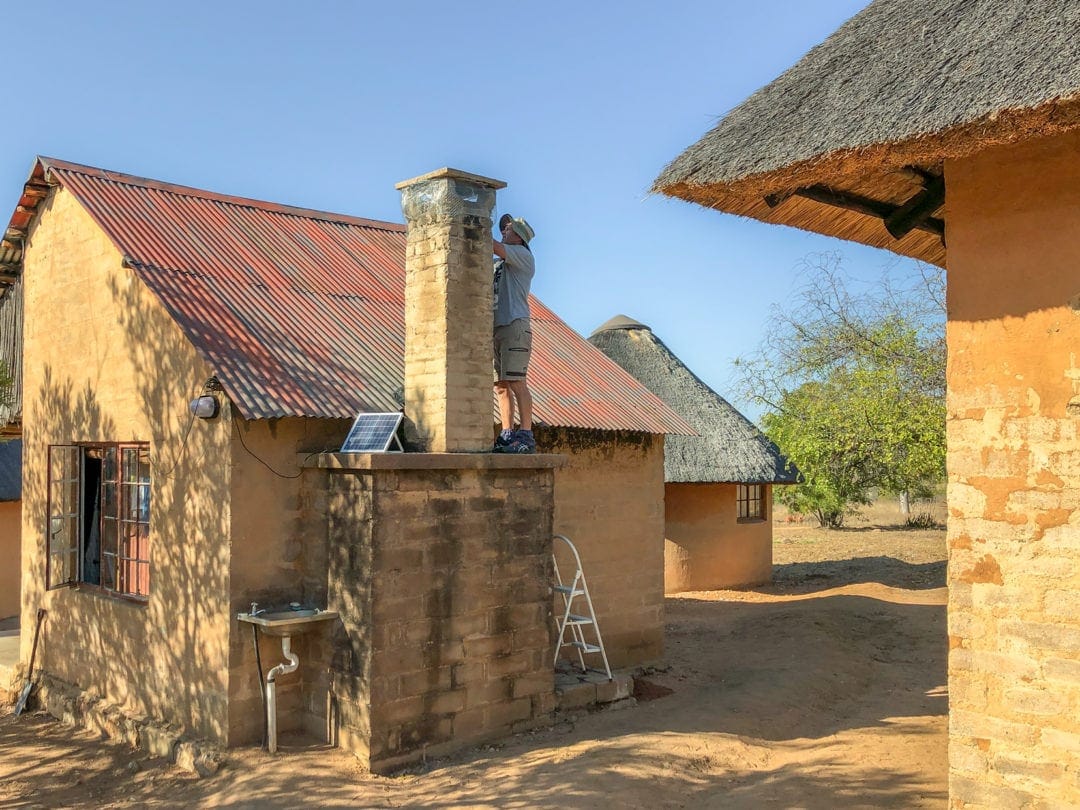 Let me explain. Australia holds up as a reasonable reference point when maintaining an awareness of the dangers of the bush. I mean, we have our poisonous snakes, spiders, crocodiles and plenty of marine creatures that we have a healthy respect for. However, this is Africa and it's not 'same same'.
You can't learn all this in just a couple of weeks and must proceed cautiously. The danger radar is in full swing. You need to respect the animals and give them room to feel comfortable with you there. Some good examples of elephants and buffalo spring to mind.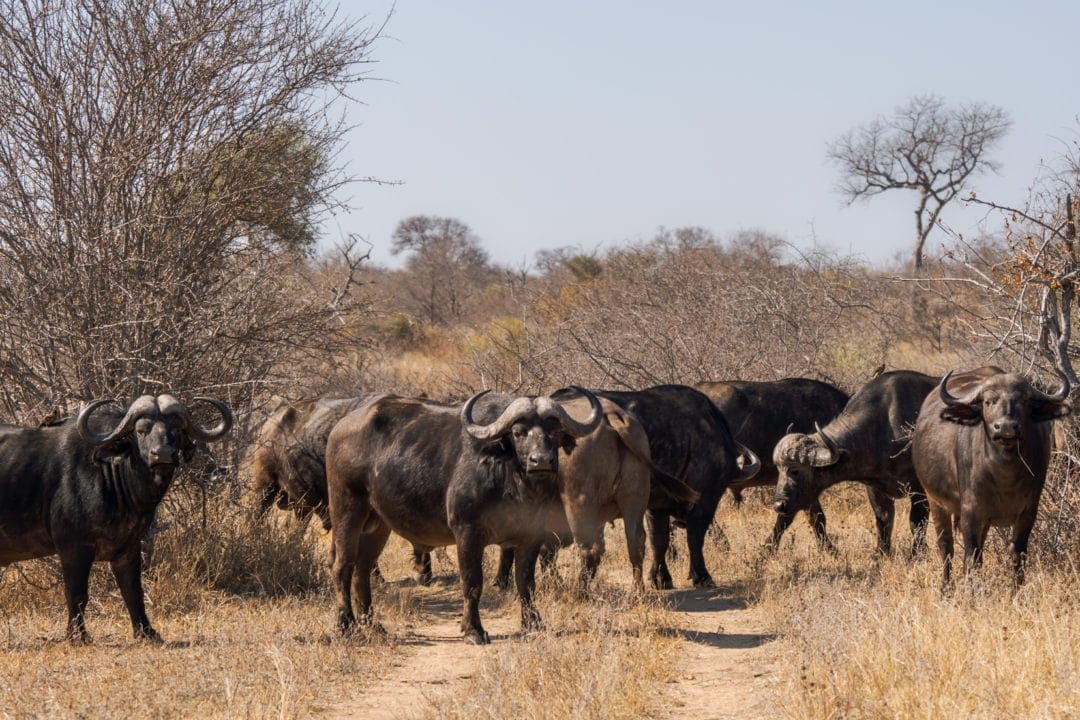 In the first few days on our own during a game drive, we spied a herd of elephants and stopped a safe distance away. Waiting 30 seconds to listen to the sounds of the bush gave us their position in the river reeds. However, on two occasions, a lone 'sentry' that was initially both unseen and unheard appeared close by, eyeballing us hard. That was like, 'Whoa'!
We weren't between them and their herd so we weren't considered a threat. However, if we had parked closer then all hell could have broken loose.
The takeaway lesson was to err on the side of caution at all times and give these creatures of the African bush plenty of breathing space.
We cringe when we see those people under the shadow of these big beasts chasing that hero photo. It often unnecessarily riles the animal and it's just not worth the personal risk.
BUSH CAMP
Our bush camp is constructed of many rondavels which form the living quarters, kitchen, dining room and workshops. The round rendered brick walls with an overhanging latched roof typify the traditional African-styled bush hut.
Not only does the thatched roof act as a good insulator, but it also provides an inviting home to lizards and other interesting creatures.
Needless to say, Shelley's interest was initially piqued as she tried to differentiate friend or foe on the inner thatch but the ceiling dwellers were too busy going about their nighttime routines to even bat an eyelid our way.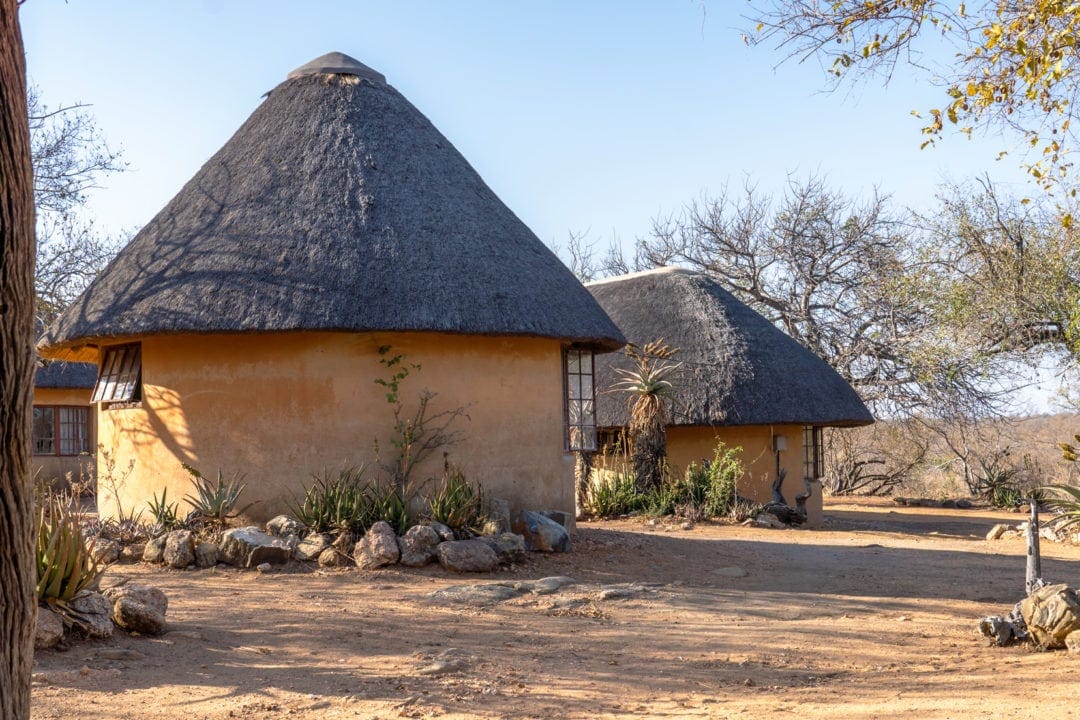 Surrounding the perimeter of the camp is an electric 3-wired fence at about head height. Its purpose is to keep elephants out of the camp. Letting those behemoths into the camp would spell disaster, as they have been known to have a strong affinity for the thatched roofs.
We set ourselves up on the open verandah with our binoculars and various bits of camera equipment. Ready for action.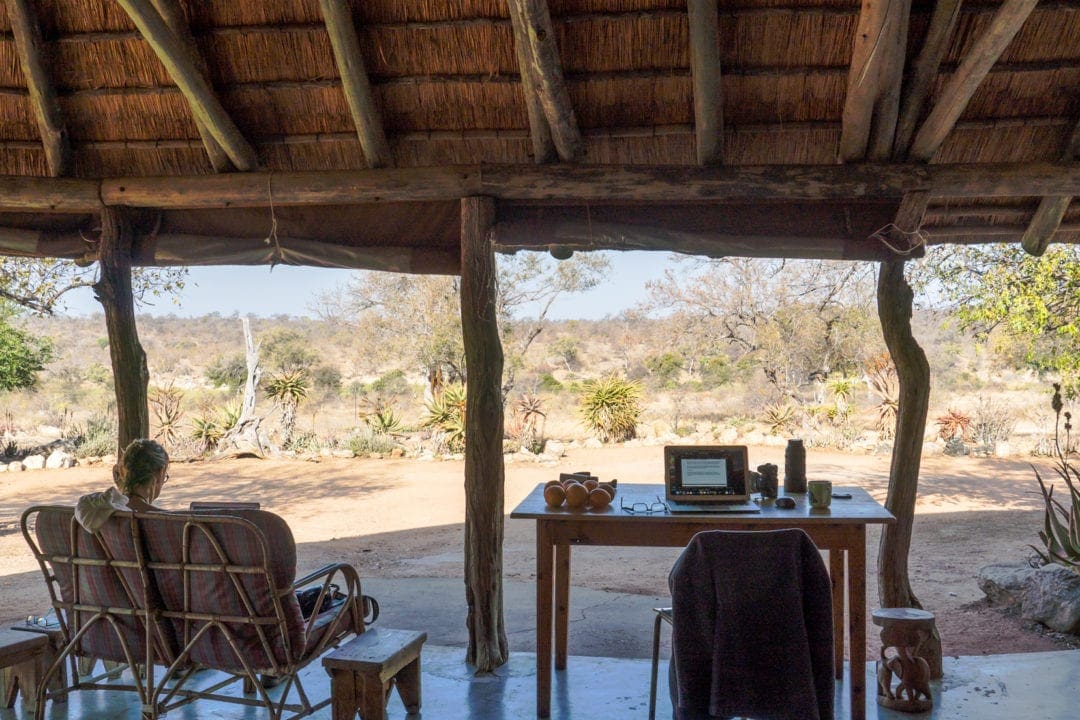 The bush camp is 200m from and overlooks the Klaserie River. As you can imagine, its waters provide the lifeblood for all creatures great and small in these dry winter months.
Most days you can see, if not hear, some sort of animal commotion down near the water.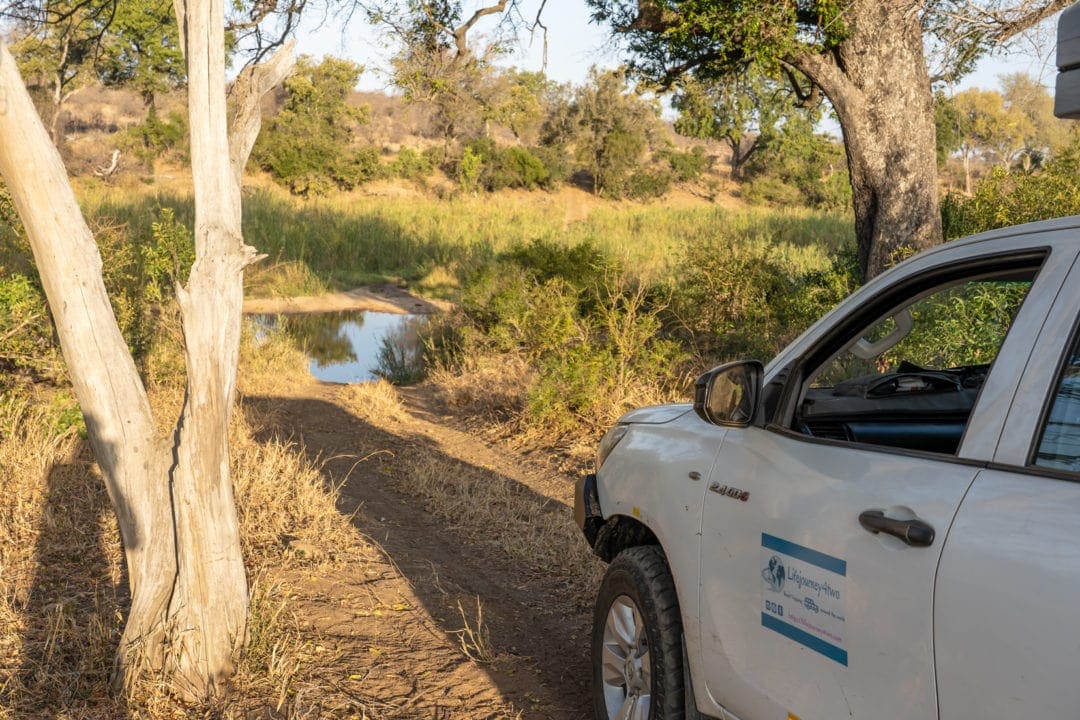 OUR AFRICAN BUSH CAMP 'VISITORS'
The electric fence certainly does its job as we've awoken a few times in the night to the crashing and splintering of trees close by. Our open rondavel windows are but a few metres from the fence allowing us to quickly zero in with the spotlight on the goings-on in the scrub.
Often it's an elephant or buffalo doing the rounds but we pause to listen to the 'different sounds' and just wonder.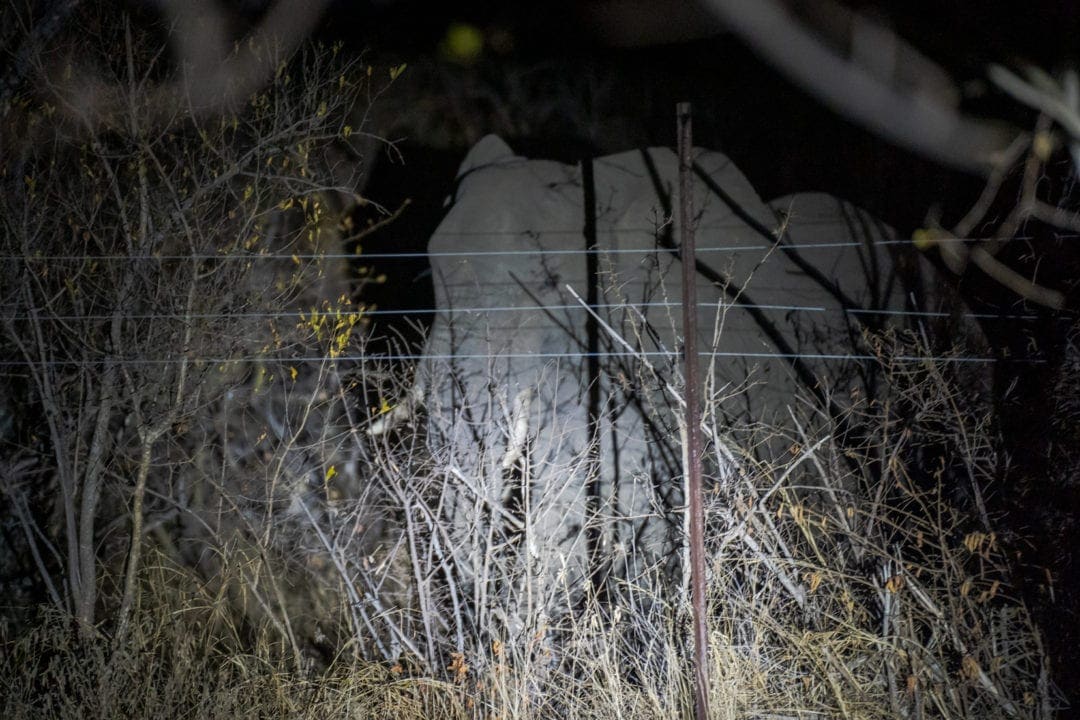 Giraffes are also kept away from camp by the fence but not by choice – we'd have them in for dinner if we could. These gentle giants of the bush lop along and never fail to bring a smile to our faces reminding us that yes, we are in Africa.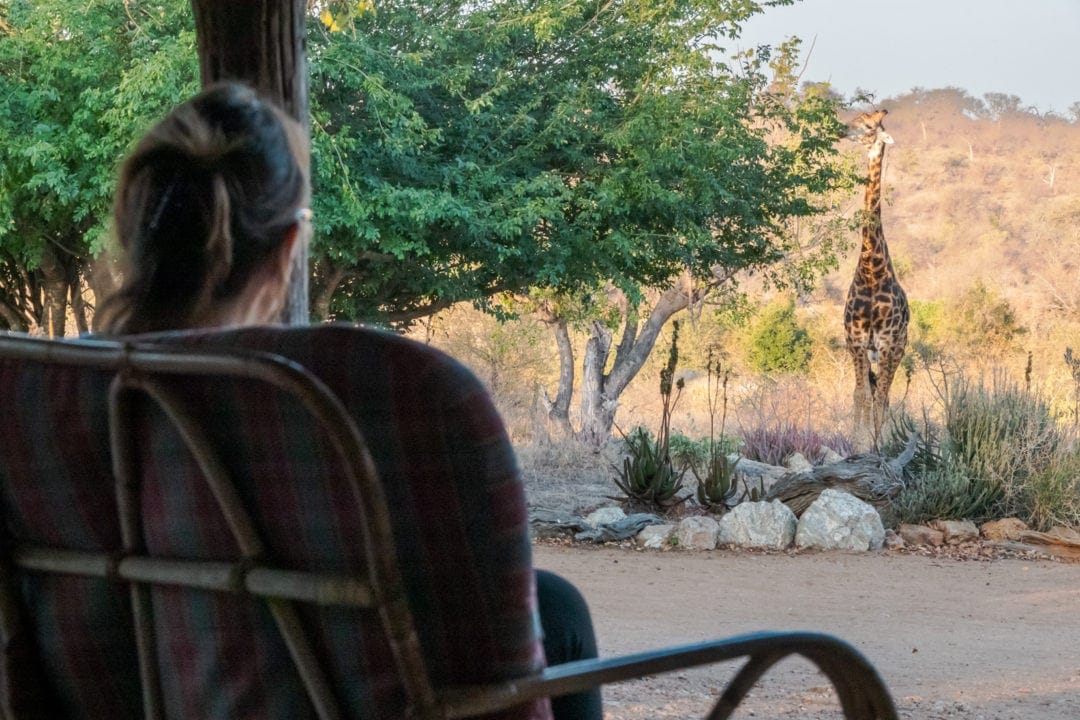 Really though, you can expect any of the other bush creatures to wander either through, or by the camp. We've taken to brushing the dirt clear of animal tracks at sunset to then scrutinise them the next morning determining who our night visitors may have been.
One morning, we saw two white rhinos grazing just outside the fence line through one window and a giraffe through the other.
What are the chances?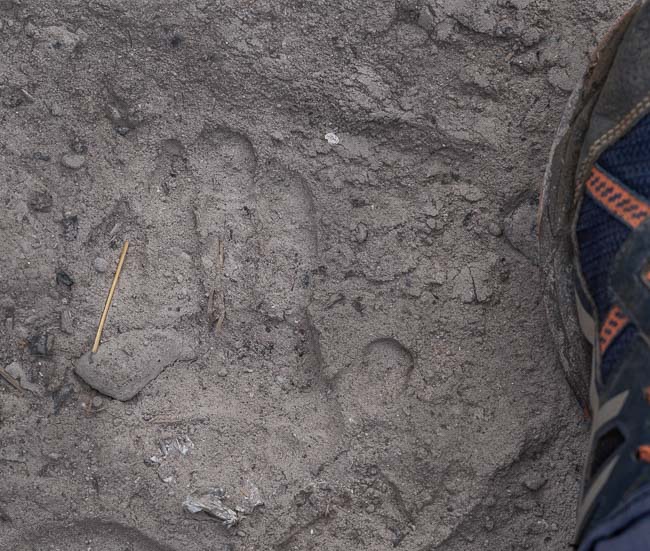 A few old buffalo or 'Dagga Boys' (dagga means mud in Zulu) regularly make their night-time haven inside the wire fence about 30m from our hut. Buffalo are the notoriously bad-tempered boys of the bush and given that these old-timers have also been run off by their own herd, you'd think they wouldn't tolerate any sort of company.
However, here they nestle down for the night in our front yard. It's possible the solace provided by the camp sets their mind somewhat at ease when the lions declare the beginning of the night's hunt with territorial roars. I know I'd be doing the same!
Hyenas are shy by nature but every so often one will poke his nose into camp at night but quickly retreat when they spot us and linger around the perimeter for a while. You can often hear their soulful calls in the nighttime air. The pack separates in search of food and they use this as a way to keep in touch.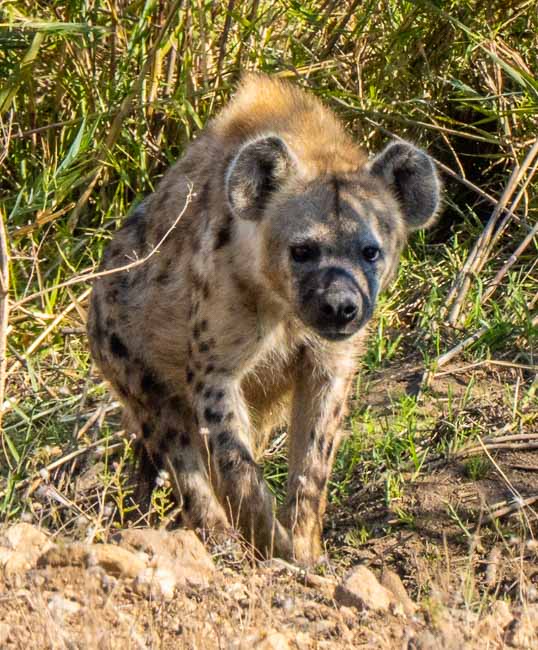 They do return, as daylight often reveals their dog-like footprints in the sand telling us that they prefer to check out the camp once there's no one to spy on them. Forgetting to put away torches and tools before nightfall is a lesson we were quick to learn.
A walk of the grassy camp perimeter can sometimes turn up the gnawed and discarded remains if they haven't already been swallowed. They've shown a dislike for the sofa cushions on the verandah by stealing and then tearing them to pieces. Their assaults seem to coincide with windy nights when they can operate in stealth.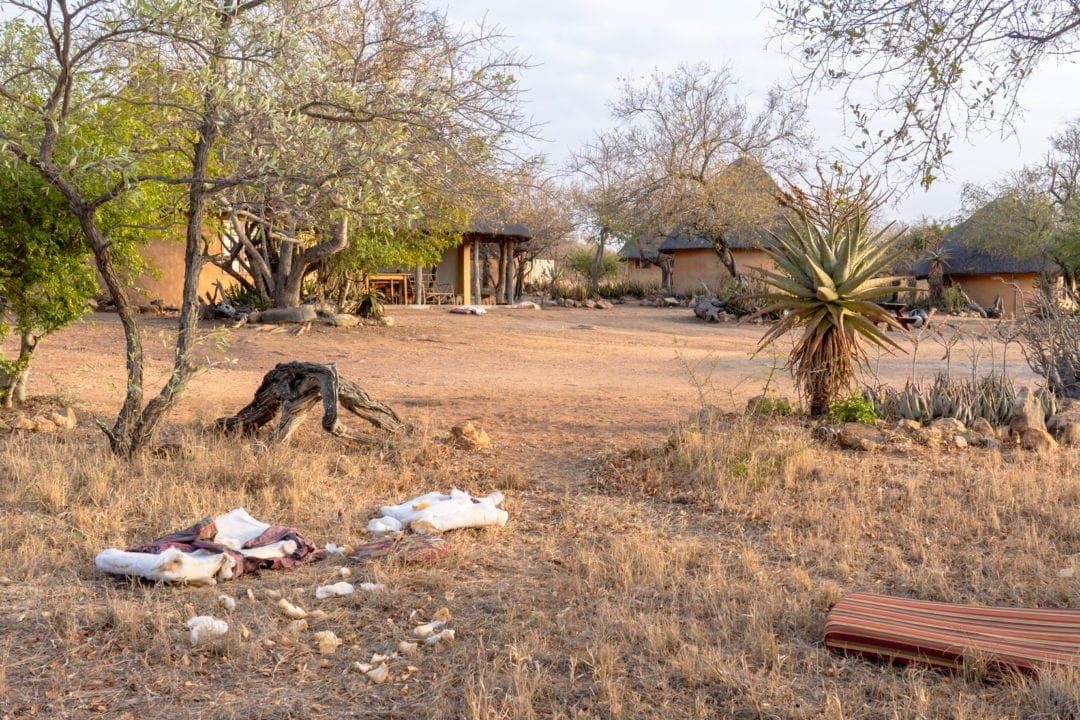 We've taken to 'hyena-proofing' the tyres of our Hilux by placing branches at ground level around them. We were shown the work of hyenas on the vehicle tyres in the next bush camp, and they weren't just nibbles; chunks were torn off.
Either the branches are doing their job or our Cooper tyres aren't packed full of flavour.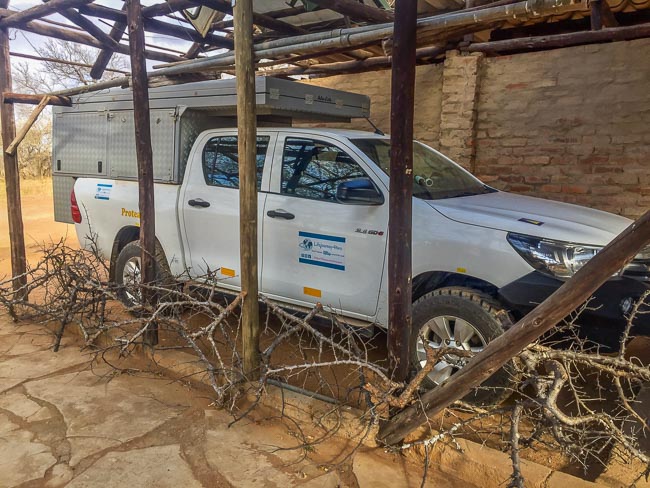 A local Baboon family wanders by the outskirts of the camp and sometimes musters up enough courage to come within the outer gardens. Young ones cling to their mother's backs watching the big wide world from their sanctuary above.
Footprints can often be found around the fire pit behind the camp in their search for unburnt scraps of food.
A few days ago, Shelley walked near the fence line and heard a close guttural warning from a leopard hidden in a thicket. She swung the binoculars onto him and they eye-balled each other which is a perfect example of what not to do. The leopard takes it as a challenge, so no eyeballing for future reference.
Shelley retreated in semi-shock whilst I was hunting for my camera. The leopard retreated growling all the way back to the river perhaps disgruntled at the interruption of its afternoon sojourn.
Read about Shelley's leopard experience and life in Klaserie here.
We've since had some great leopard sightings – from the safety of the car.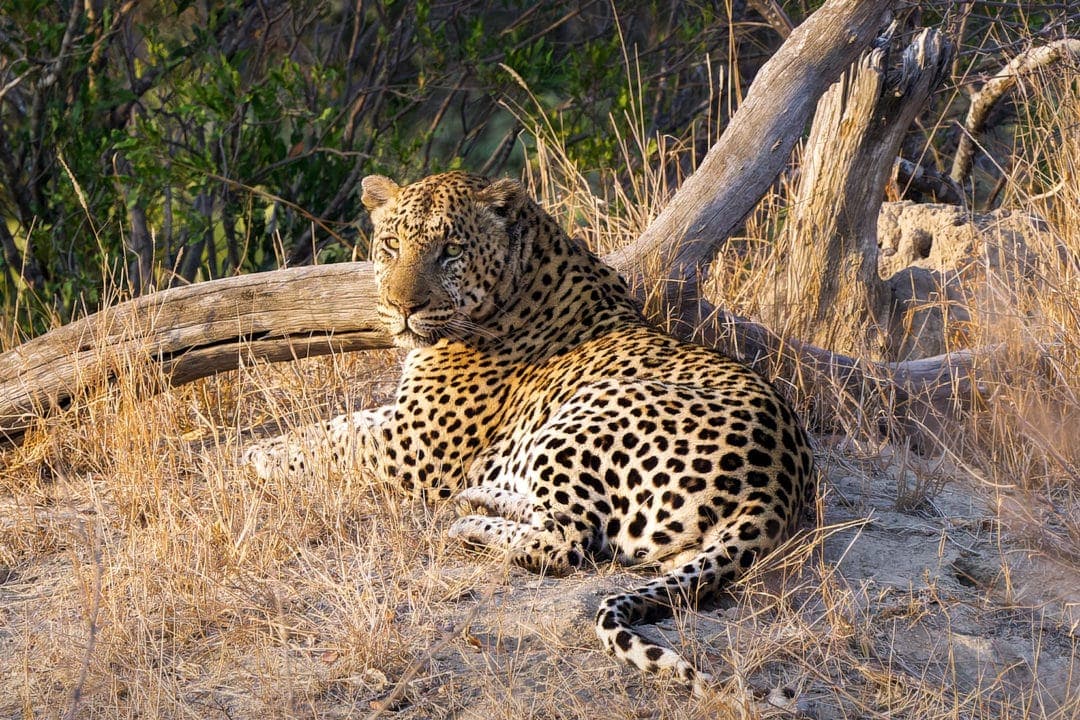 So far, only one human visitor has dropped by. He was the head game ranger from Klaserie HQ and our closest neighbour from 3km down the road. He was dropping by to say hi to the new resident Aussies in the reserve and to warn us of helicopter activity for the pending rhino de-horning ( a conservation effort to prevent poaching) and elephant collaring operations.
Yep, we are right in the middle of the action here.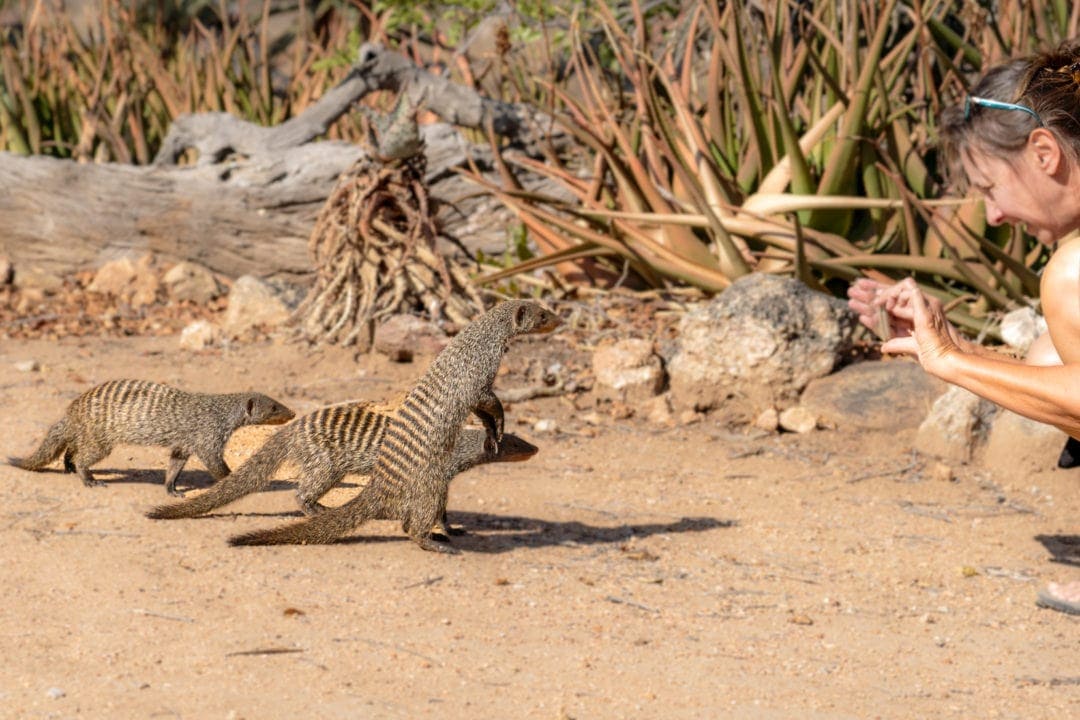 BIRDLIFE IN THE SOUTH AFRICAN BUSH
So far, I have failed to mention the many, many beautiful birds that are found here. I'll not go into each of their particular nuances and habits as that deserves a story all on its own.
However, I will share some of the images – I've included more on the photography side of things in my article on safari photography and in my Birds of Kruger post.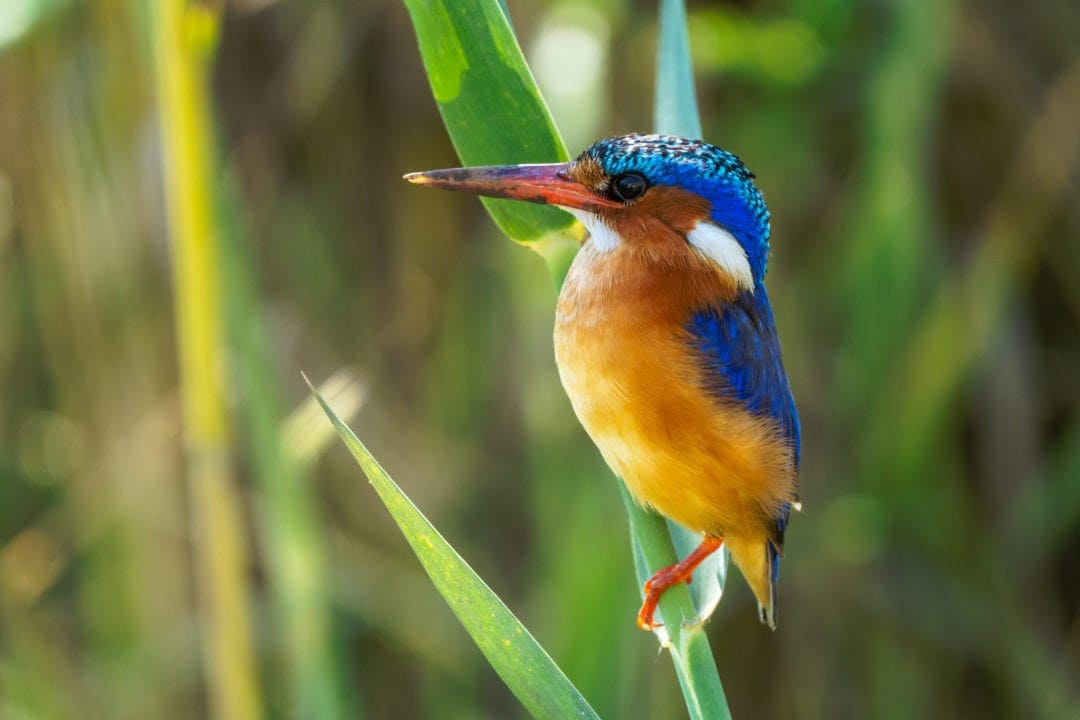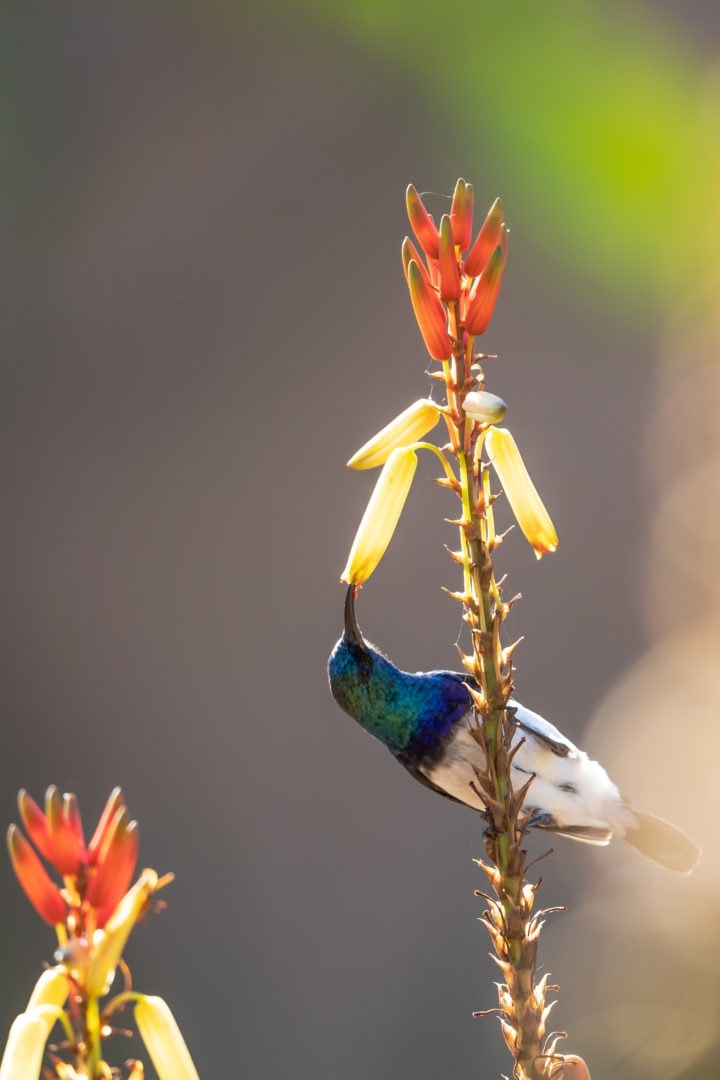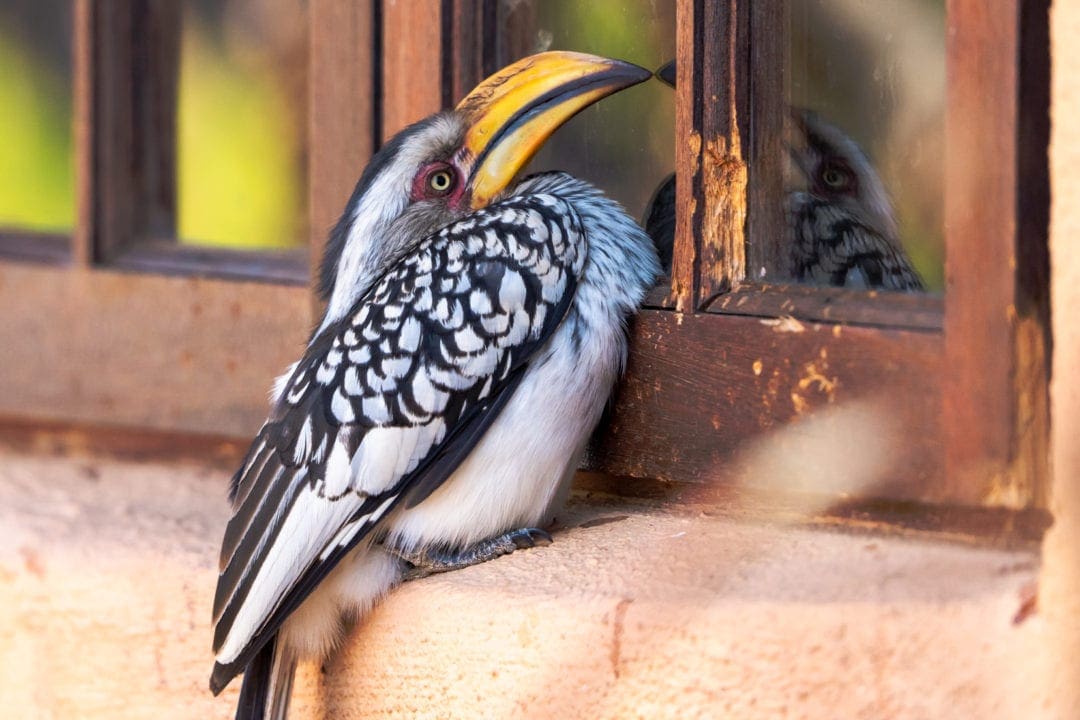 SOUTH AFRICAN BUSH GAME DRIVES
We venture out for both day and night game drives. The anticipation of what you might see is exciting. You just never know.
By day: You might see a solitary leopard warming himself in the early morning sun's rays, lions lying on the sandy riverbed with full stomachs from the night's kill or herds of elephants striping trees for the succulent inner core. There is so much to enthral you here.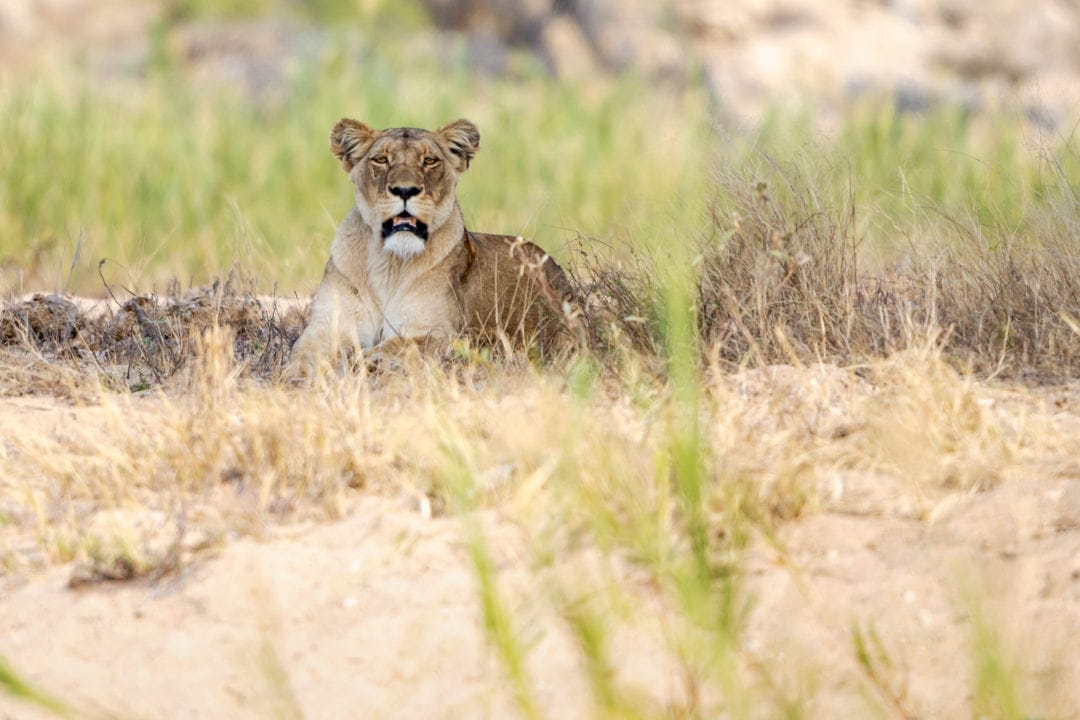 By night: You might see, the regal Kudu males (antelope with spiral horns) which spook easily; the cute Steenbok or the herds of Impala with eyes that twinkle brightly under the spotlight. Dark shapes of buffalo and elephants are commonplace and sometimes we even catch a glimpse of the silhouetted shape of a rhino vanishing into the scrub.
Driving off a mud map at night sure tunes up your sense of direction. After two weeks of driving around the 3000 hectares, you might think that the bush tracks about the hills should start to look familiar – well, let me tell you, not at night.
It's pretty easy to miss a turn when there are bushes fringing the tracks and you find yourself at a water crossing where there shouldn't be one. Well, it's all part of the fun. So far, we haven't gotten ourselves lost yet … really, we haven't!
Oh, and one small but important point worth a mention is to always carry spare camera batteries in the vehicle. We've been caught out; just once though.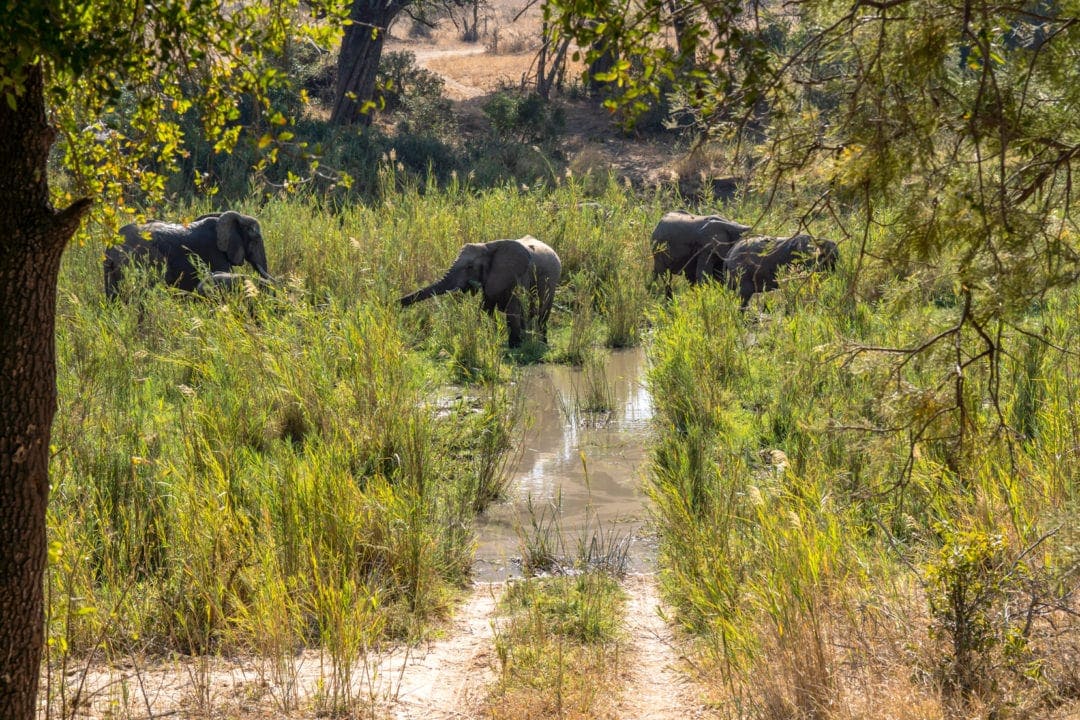 THINGS THAT MAKE YOU GO 'WHOA' IN THE SOUTH AFRICAN BUSH
We're naturally pretty cautious people by nature but walking around at night-time, even though it's within the camp perimeter, sure elevates your level of awareness.
Within the camp, going between rondavels, we shine the torches in an arc into the scrub looking for the tell-tale animal eye reflections. Wait a minute, what was that … oh, it's just Impala! Whew.
A couple of times I've forgotten to close the electric fence gate meaning elephants could have a field day if they walked into the camp. I then have to walk 50 metres in the dark from the last rondavel to shut that gate. I tell you, it feels three times as far at night.
The scanning speed of my torch is something like the revolving lights at a disco. I want to make sure I see what's coming from all directions! Not that I could do anything anyway, as running would just trigger the predator to pursue and polish me off.
Needless to say, my senses are supercharged on that walk.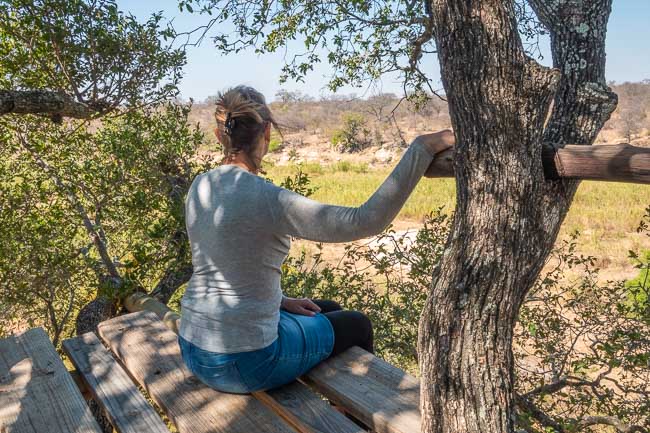 AN AUSTRALIAN TAKE ON LIFE IN THE SOUTH AFRICA BUSH … That's a Wrap
Our stay in this South African bush camp has been nothing short of fantastic. It's just us two and the South African bush, literally, at our doorstep.
It's going to take some time to get to know these creatures and their particular ways but we're loving every step of this amazing adventure. We have time, after all, we're here in Africa for the long game.
What unbelievable memories and experiences we're already making and we Aussies are beginning to hold our own in the South African Bush.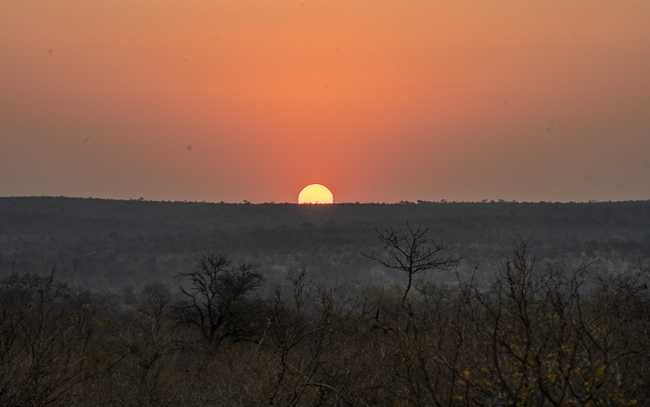 Pin and Save for Later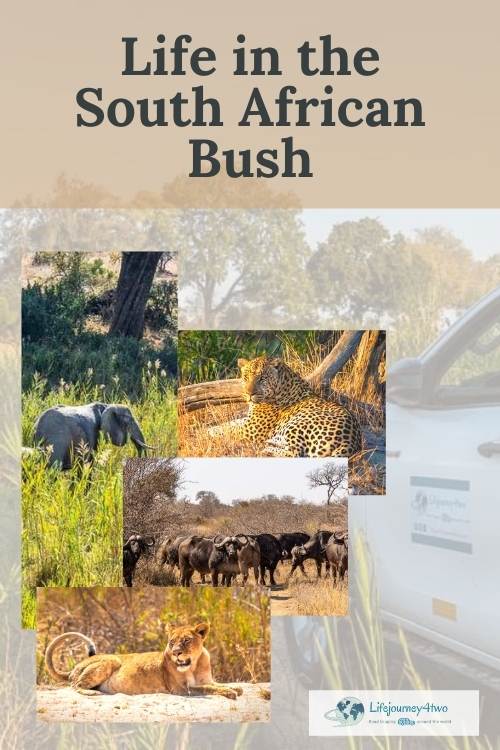 YOU MAY ALSO BE INTERESTED IN READING …
PLANNING YOUR TRAVELS?
These are some of the travel resources we use when planning our trips.
For a more thorough list visit our Travel Resources page here.