Some posts on this site contain affiliate links meaning if you book or buy something through one of these links, we may earn a small commission. Read our Disclosure Policy here.
ABOUT THE RHINO AND LION PARK
On the road ahead, within only a couple of metres, 'Old Stompy' ambled towards our car. There's something quite invigorating about an enormous buffalo, with its ridiculously thick horns sitting on its forehead like an elaborately styled fringe, sauntering towards you.
"That's Stompy", said Mike, who was showing us around the Bothongo Rhino and Lion Reserve.
Realising, from his relaxed tone, that said buffalo wasn't about to charge the car, I resumed breathing.
RHINO AND LION NATURE RESERVE VIDEO FOOTAGE
We shot this video on our visit to the Rhino and Lion Park and it includes:
A mother warthog playing with her baby … watch out for the little yellow mongoose running around in the background.
The crash of rhinos around the waterhole
The family of hippos bobbing up and down in the river
And more…
VISITING THE BOTHONGO RHINO AND LION NATURE RESERVE
This was our second visit to the Rhino and Lion Nature Reserve near Johannesburg.
Our first had been a few days prior when we had our 4×4 course (which takes place on the 4×4 tracks within the Park), with Jannie Rykaart of Protea Training.
We had been blown away that such a fantastic nature reserve existed within easy reach of Johannesburg. We were keen to come back to find out more about the Rhino and Lion Park that had impressed us so much.
We met up with the Chief Operating Officer, Mike Fynn, who explained the philosophy, and the conservation and environmental efforts happening at the Reserve.
So what makes this Rhino and Lion Park so special, and what awaits you on a visit to this 'Nearest Faraway Place'?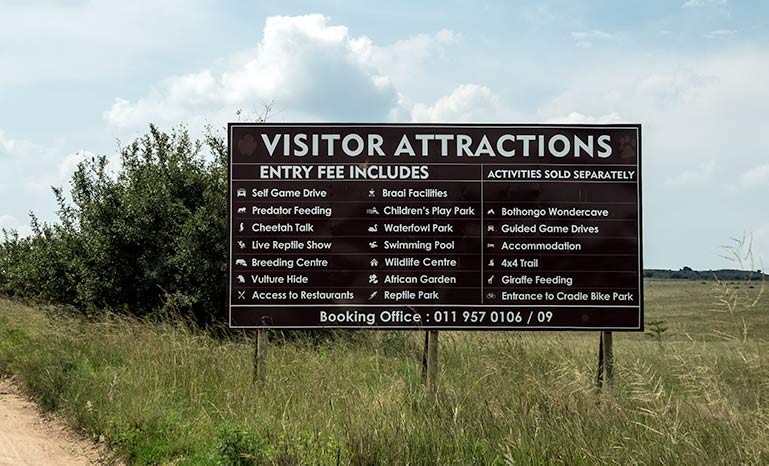 THE BEST KEPT SECRET IN GAUTENG
The Bothongo Rhino and Lion Nature Park is only a 45-minute drive from Johannesburg, the capital of the province of Gauteng.
This incredible wildlife park is also set within the Cradle of Humankind, a World Heritage site renowned for its many human ancestor fossils. In the surrounding landscape, you'll see the Magaliesberg Mountains formed over 2 billion years ago. The Rhino and Lion Park is in the heart of this rich environment.
The nature reserve is under new management and has many enhancements planned to ensure optimum conditions for both the animals and visitors to the Rhino and Lion Reserve.
Not only do you get the real safari feel, but there are also so many other facilities to make use of:
A Wildlife Centre for Education and Conservation
Hippo River with a Viewing Walkway
Bothongo Wonder Cave
Numerous restaurants to choose from
Accommodation chalets and huts
Shuu-lo Curio shop
A world-class Bike Park
Reptile House and Show
Cheetah Talk
Braai and children's play area
Swimming pool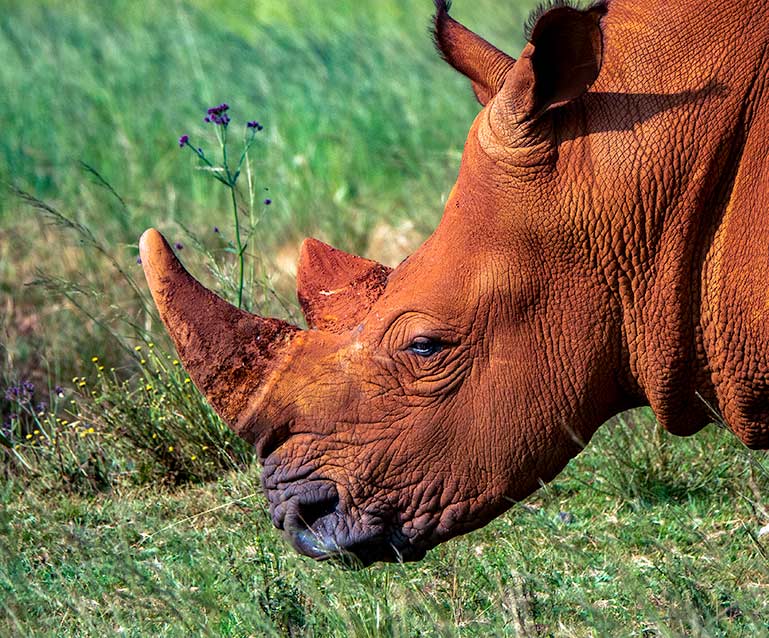 So, for the next best thing, other than travelling 500 kilometres east to the world-famous Kruger National Park, take a visit to the Rhino and Lion Nature Reserve in Krugersdorp, Gauteng.
With over 1600 hectares to explore and more than 650 animals, you'll feel miles away from anywhere and have a sensational safari experience just a stone's throw from Johannesburg.
Whether you have just landed in South Africa and are looking for your first animal encounters nearby, or you live locally and want a super fun day out, this has to be one of the best places to go.
As Mike Fynn, the COO says,
"It's the best-kept secret of Gauteng."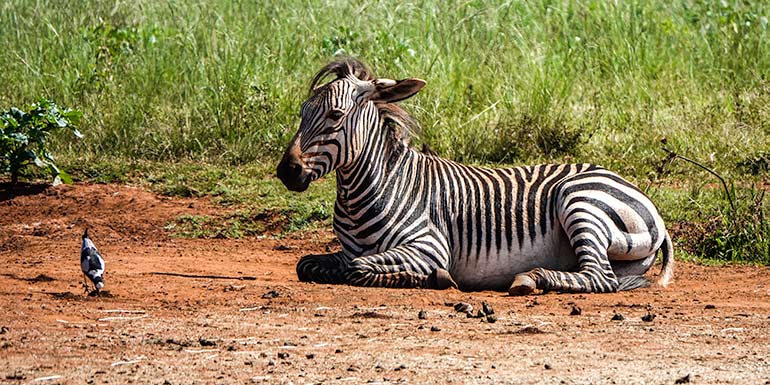 RHINO AND LION PARK SELF-DRIVE
It's easy to self-drive around the Rhino and Lion Park, and a two-wheel drive is fine. If you have a four-wheel-drive vehicle there are clearly marked extra tracks that you can take.
As you enter the park and pay your entrance fee you receive a free Field Guide with a map, so you can plan your route and use the guide to identify the animals.

RHINO AND LION PARK SELF-DRIVE RULES
Stay in your car at all times unless in a safe visitor zone
When driving through the 'Predator Camp' keep windows closed.
Respect the park and its wildlife by not disturbing, teasing or feeding the animals.
Stick to the 35km/hr speed limit.
Be aware that the animals are wild, can act unpredictably and can be dangerous.
If you don't have your own car, there are plenty of tour options to choose from:
Check out the Rhino and Lion Nature Reserve Tours here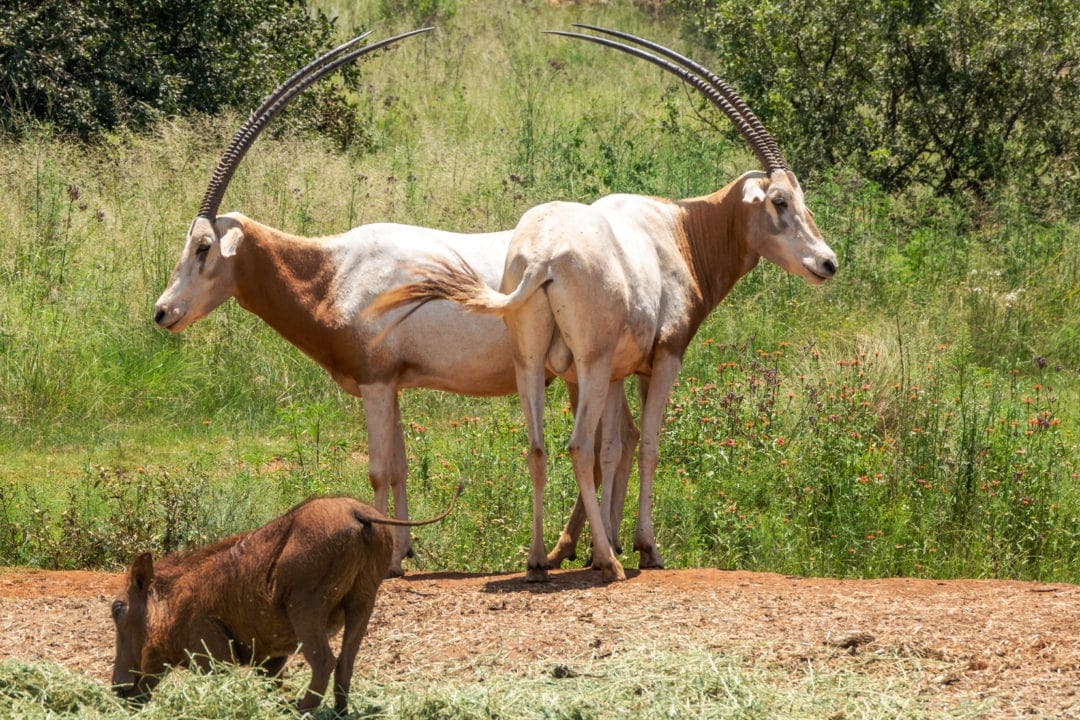 RHINOS AND LIONS AT THE NATURE RESERVE
With a name like the Rhino and Lion Park, you would expect to find lions and rhinos, and although they are there, as with many Nature Reserves, the animals are free to roam the vast area and therefore a sighting isn't necessarily guaranteed.
That only adds to the thrill of being on the lookout for these incredible wild animals.
That said, the lions are situated in the 'Predator Camp' so your chances of seeing them increase.
The lions are fed midweek and at weekends, (as they are in their own part of the reserve, they don't hunt). The feeding times are a drawcard because then, you are almost guaranteed to see the pride tearing apart their home-delivered dinners and you might just notice the telltale signs of an enjoyable meal smeared across their chins.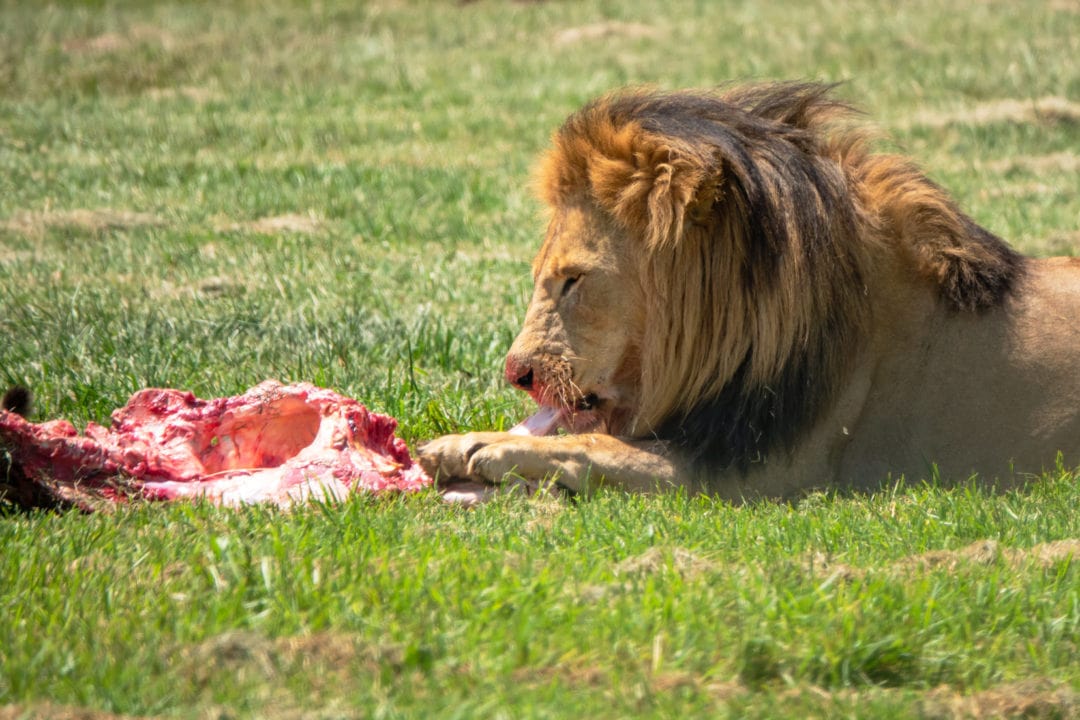 As for the rhinos, you won't be able to find out exactly how many rhinos are at the Rhino and Lion Park, as sadly rhino poaching is a very real threat here. The park has to have 24/7 on the ground anti-poaching security.
At the end of our tour with Mike, and our own self-drive through the park, we hadn't spotted one rhino. We were reluctantly heading towards the exit, as it was near gate closing time when we saw a crash of rhinos, ('Crash' is the collective term for a group of rhinos).
There were about seven playing around the waterhole on the left of the park as we headed out.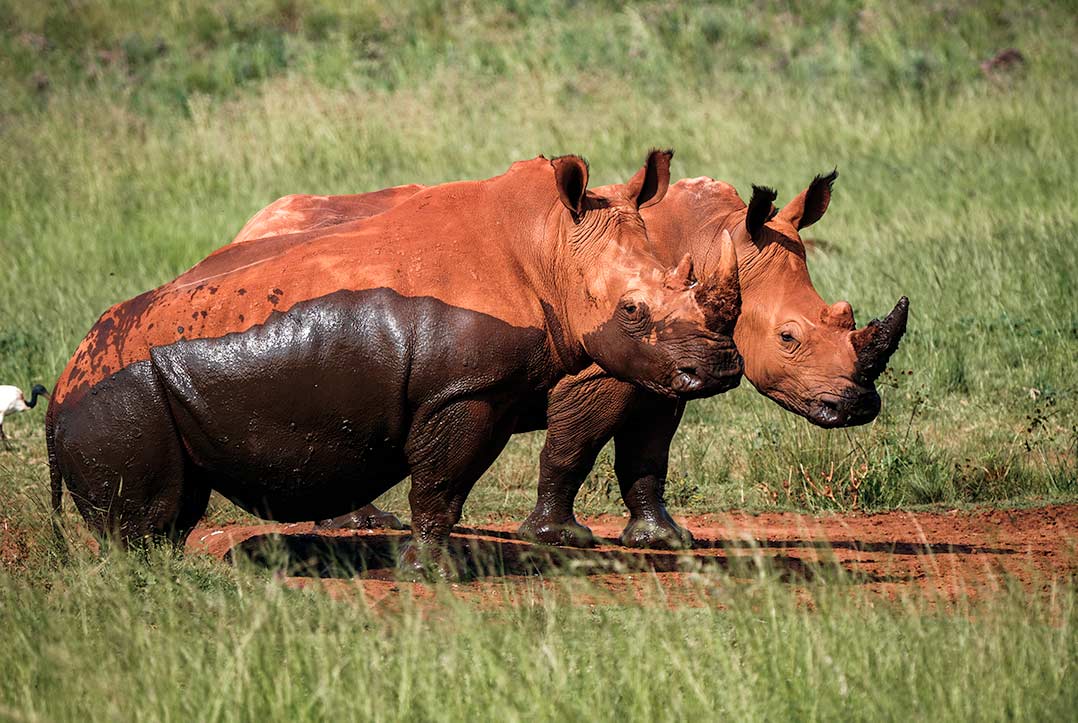 RHINO AND LION RESERVE'S PREDATOR CAMP
As mentioned, you'll find the lions in the Park's Predator Camp— a separate area in the park of a hundred hectares. Here, you'll find a pride of tawny lions, white lions, wild dogs and cheetahs.
The feeding times are around 1 pm on Wednesday and at weekends and public holidays.
On our visit, we saw the tawny lions feeding, but we didn't see the cheetahs or white lions. We ran out of time as there is just so much to see.
We'd recommend getting to the nature reserve early so you can make the most of your day's entrance ticket.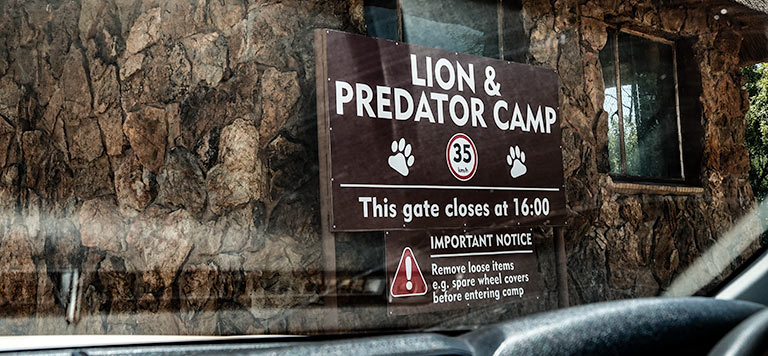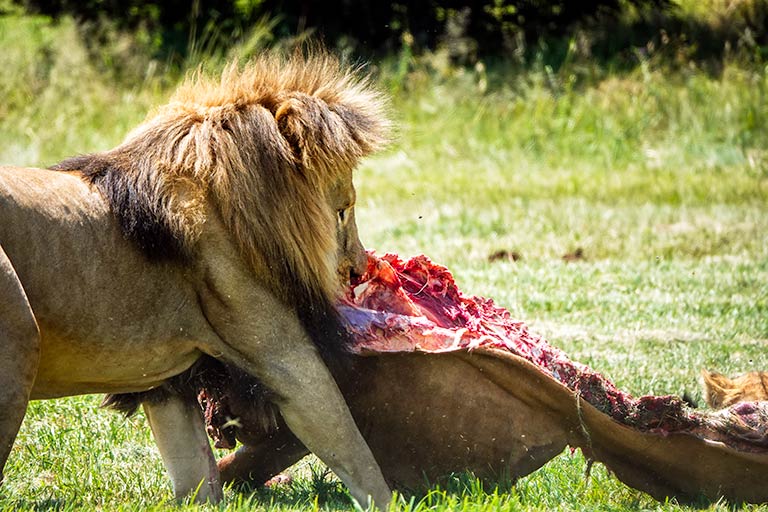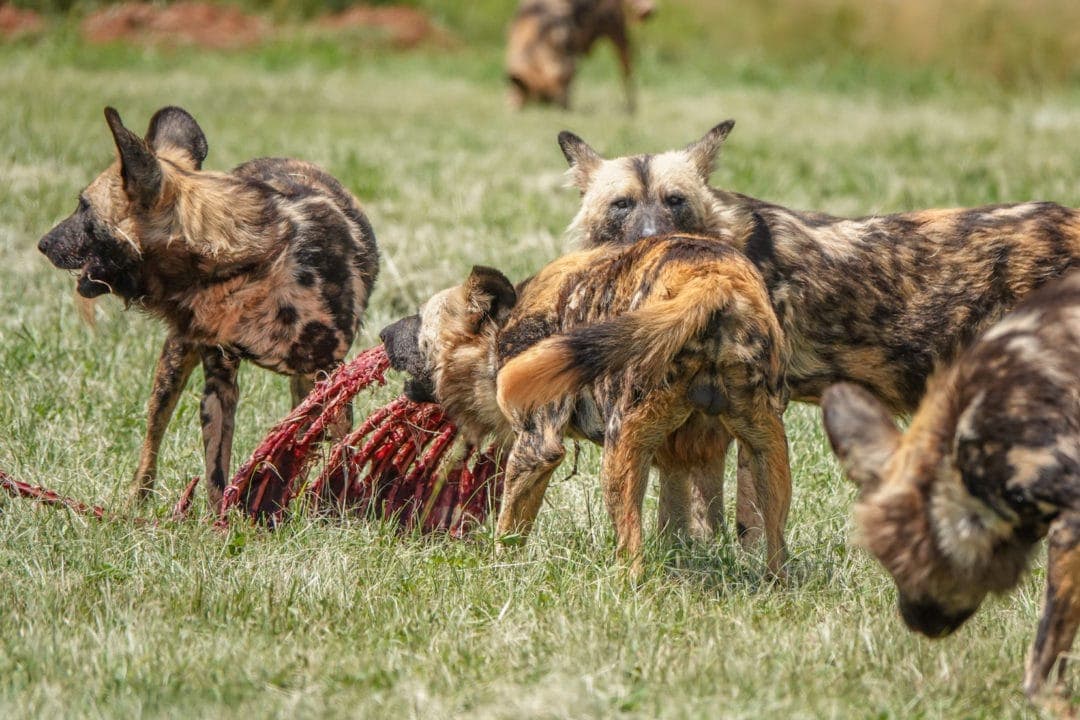 RHINO AND LION PARK ANIMALS
You won't only find rhinos and lions at this Krugersdorp Nature Reserve. You'll find an array of Hartman's zebra, antelope, eland, oryx, wildebeest, impala, warthogs, ostrich, vultures, black-backed jackals and so much more wandering freely across the nature reserve.
The Rhino and Lion Nature Reserve management team are dedicated to creating a place where the public can learn about the animals, the environmental issues and the concepts facing our wildlife today.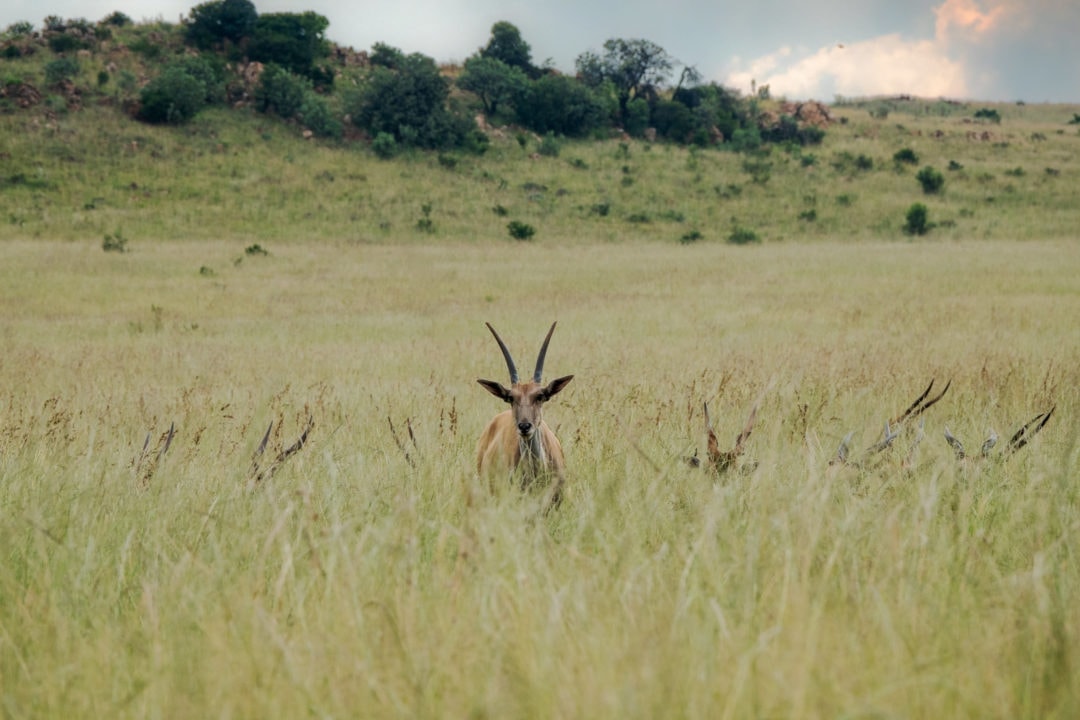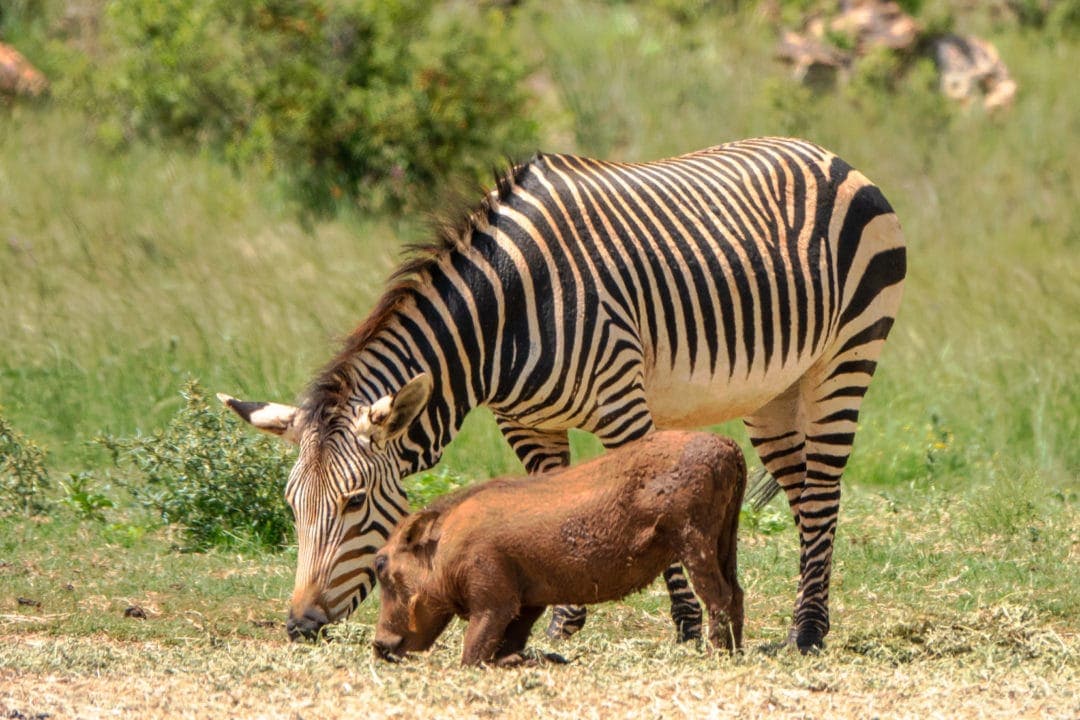 The Hartmann's Mountain Zebras are a vulnerable species. The difference between these and the more common Plains Zebra is that the Hartmanns don't have stripes on their underbelly and their stripes are narrower.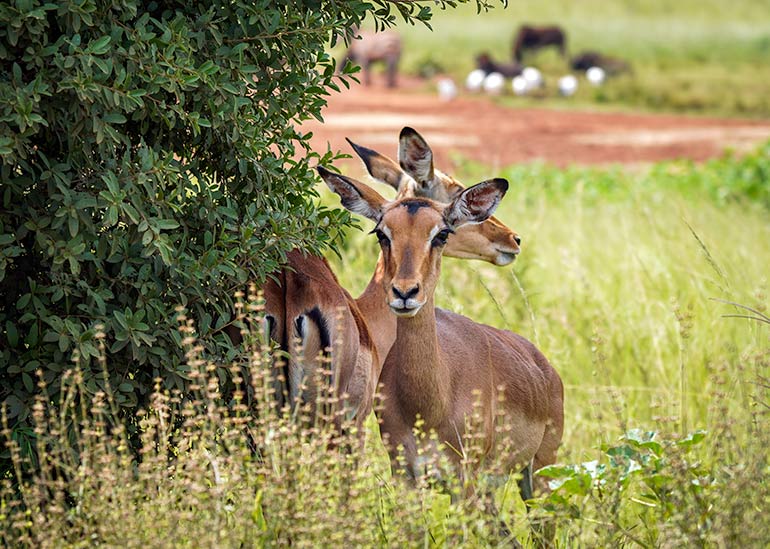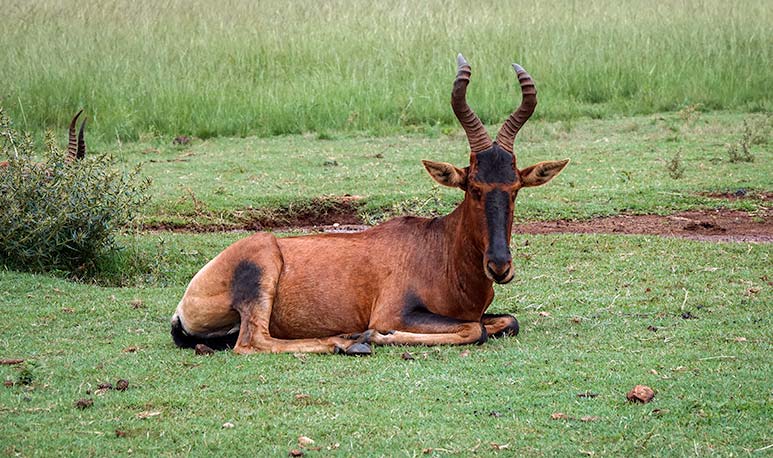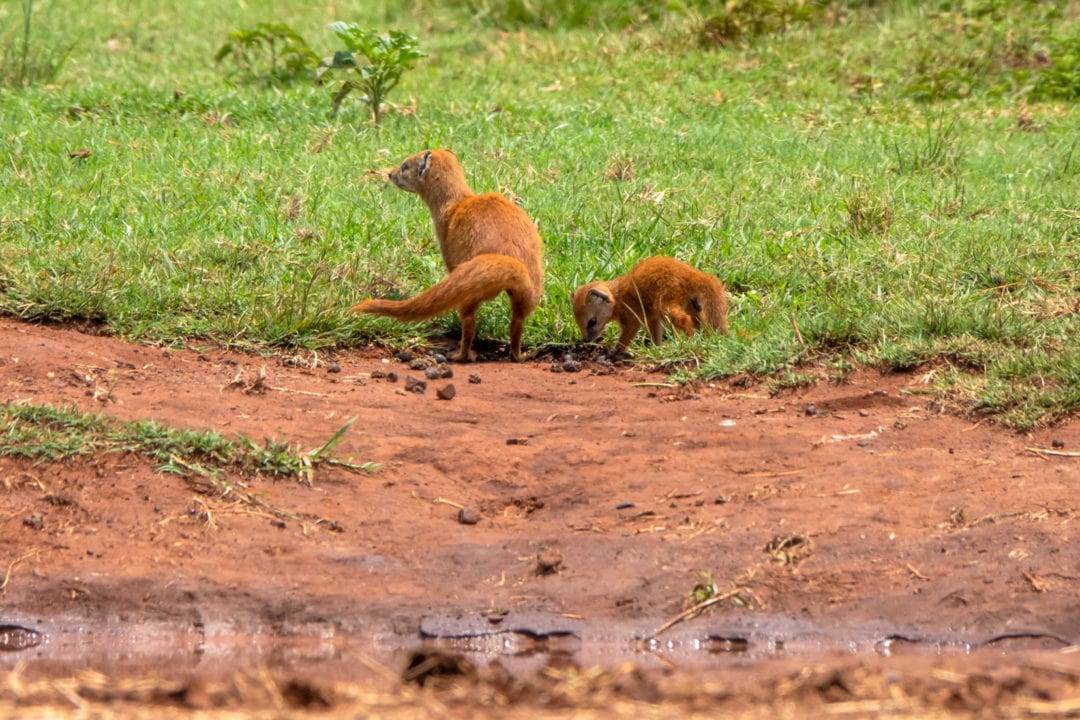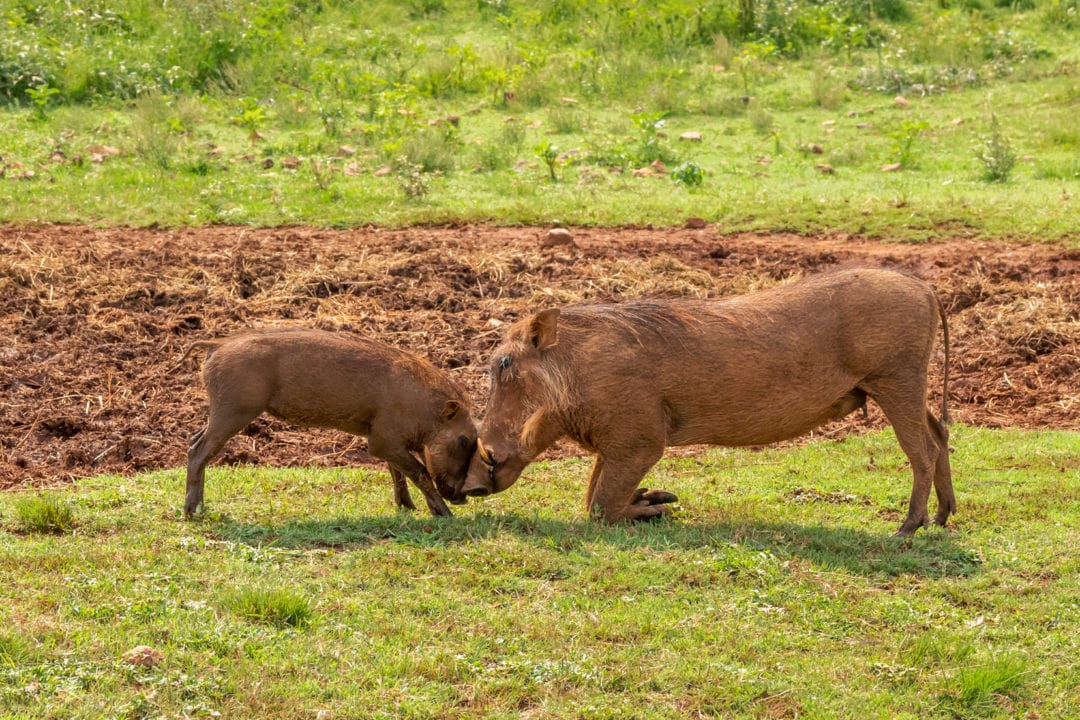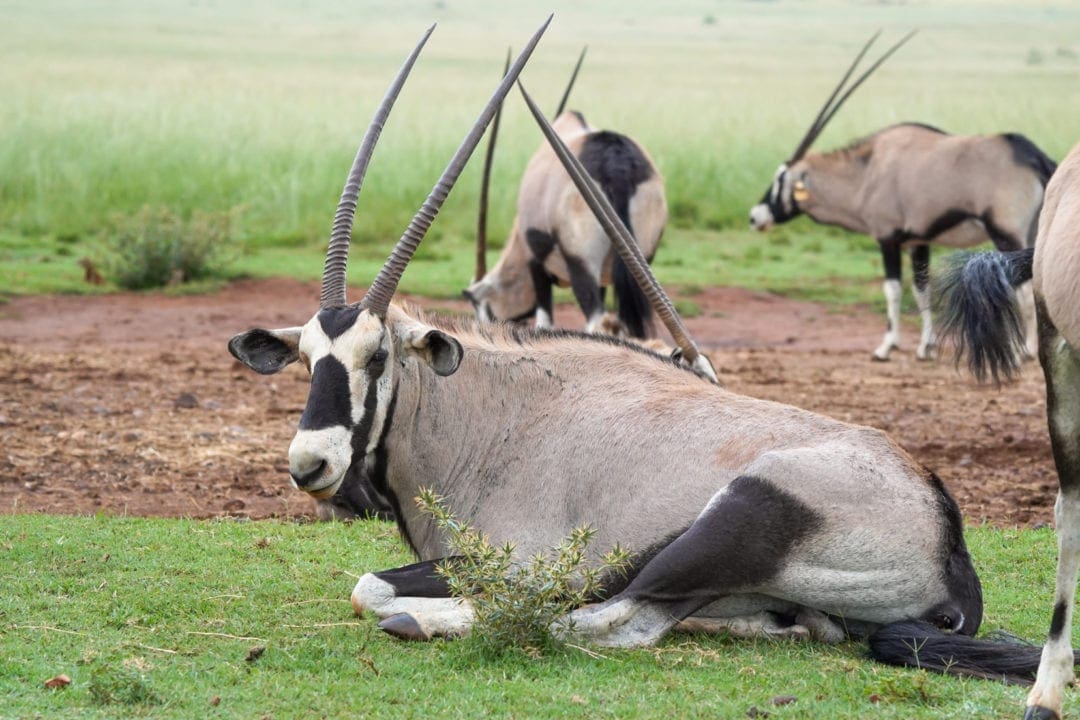 RHINO AND LION NATURE RESERVE WILDLIFE CENTRE
As well as the vast acres of the Nature Reserve to drive in, there is an educational Wildlife Centre at the Rhino and Lion Reserve.
When we visited, some of the wildlife enclosures were undergoing renovation and extensions. The idea is that all of the individual enclosures that mimic the animal's natural environment are being built to world-class standards.
All of the animals at the wildlife centre have been born in captivity as part of conservation efforts to ensure their sustainability. The primary function of the wildlife Centre is to increase the awareness of our threatened species and to educate about how we can conserve and sustain our precious wildlife.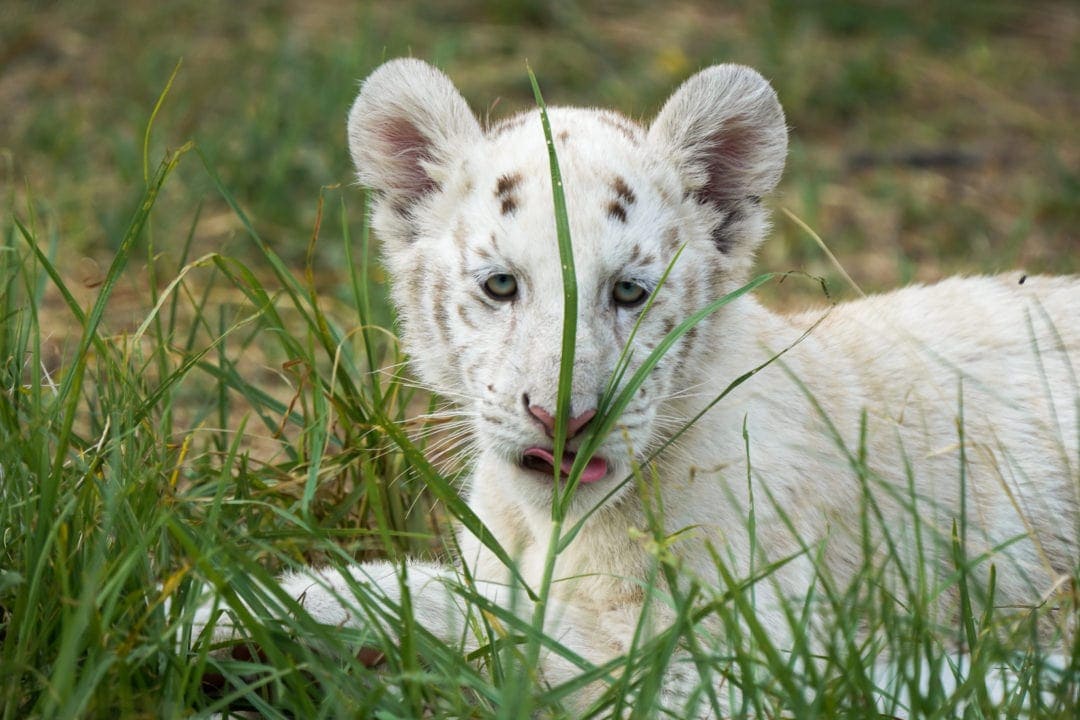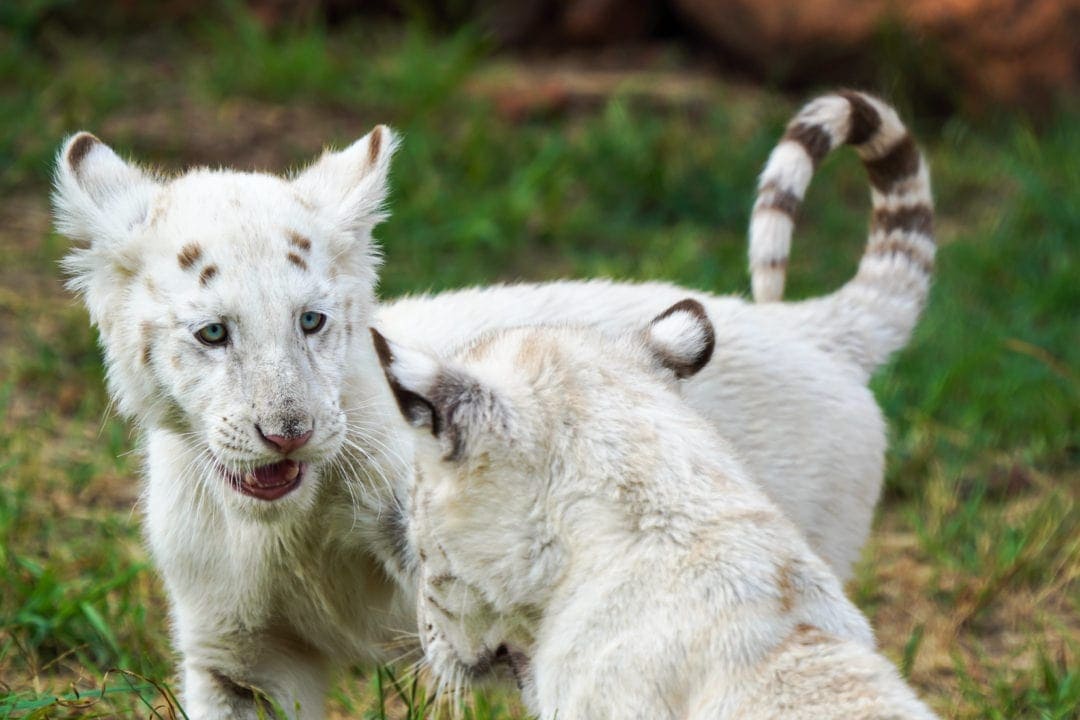 These white tiger cubs were bouncing around having a whole heap of fun before collapsing in a heap for a much-needed rest. Unfortunately, they had to be hand-reared as their mum rejected them at birth.
What is really important though, is that the public is not allowed to pet them. Until recently many facilities, and some still do, allowed the petting of baby wild cats.
The Rhino and Lion Nature Reserve Johannesburg made the decision, in line with their new values and ethos, that this practice had to cease. They made the decision even though they have lost visitors and some members of the public become irate when told they are not able to touch the baby cubs.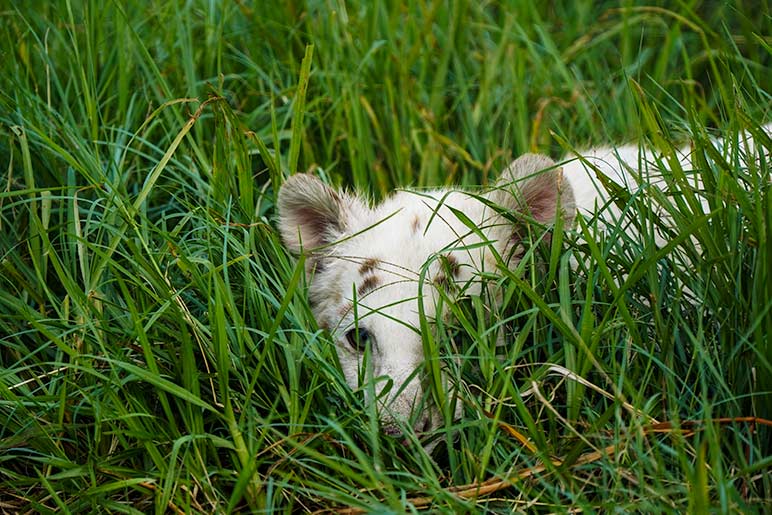 WHY YOU SHOULDN'T PET/TOUCH BABY WILD ANIMALS
Now, let's face it, who wouldn't like to snuggle up with a tiger cub?
However, many of us are now environmentally savvy enough to know that no matter what we would like to do, we would prefer the interest of the animals to be put first.
This becomes especially poignant when you learn:
These little cuties need to sleep about 80% of the day. Having people petting them all day would seriously affect their health and development
Wild animals used for petting are taken away from their mothers and bottle-fed, meaning that they are not getting the correct nutrients or bonding.
When the cubs are older and no longer cute they are often disregarded.
The animals become used to humans and that can work to the advantage of poachers.
Personally, we prefer to visit the Rhino and Lion Nature Reserve because they DON'T ALLOW petting.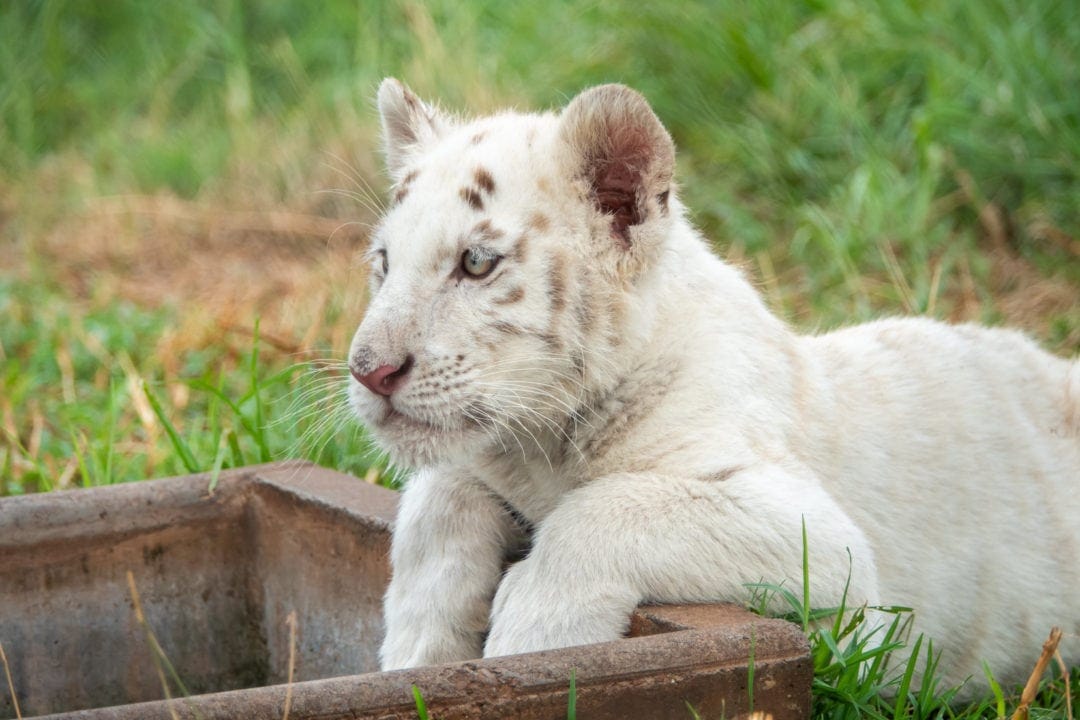 In the Wildlife Centre, there are leopards, a black panther, a black leopard, a clouded leopard, white tigers, a pygmy hippo and many more animals to learn about.
Close by is also the Reptile House.
Unfortunately, we missed visiting it while we were there but it has various snakes and other reptiles.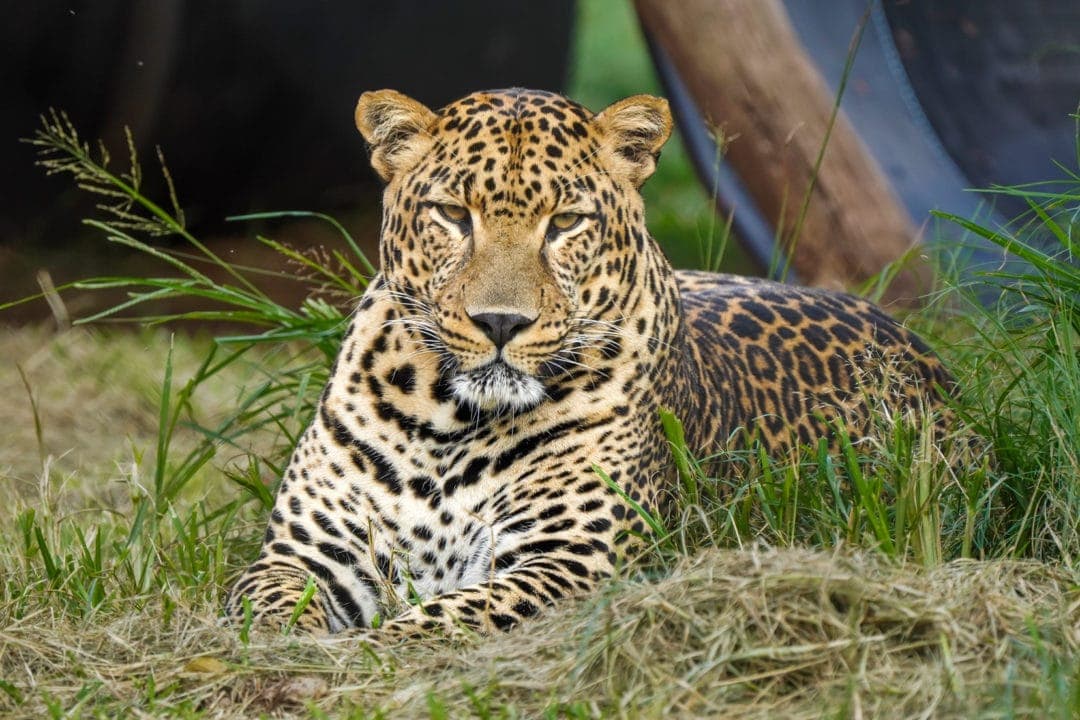 … and from the cute, to not quite so cute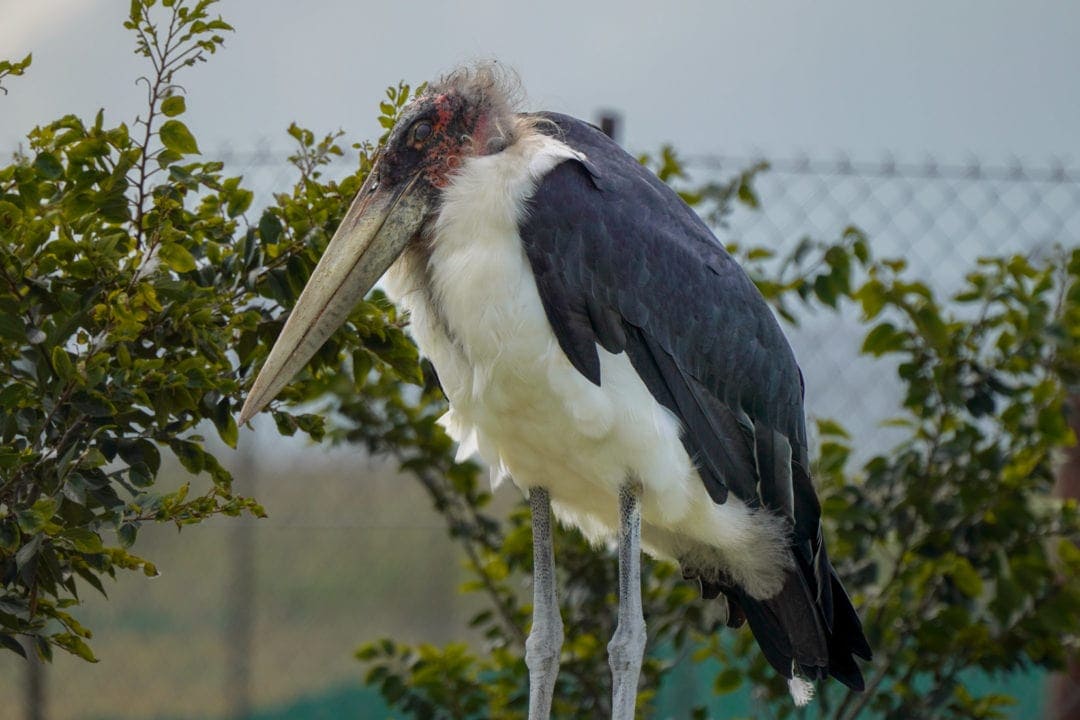 THE HIPPO WALKWAY
When you arrive at the Rhino and Lion Park, you'll first arrive at the free car park beside the Neck and Deck Restaurant.
Across the road is the Hippo Walkway.
We were lucky enough to see a family of hippos frolicking in the river. It was amazing to watch these huge hippos bobbing their heads up and down and managed to capture some great shots.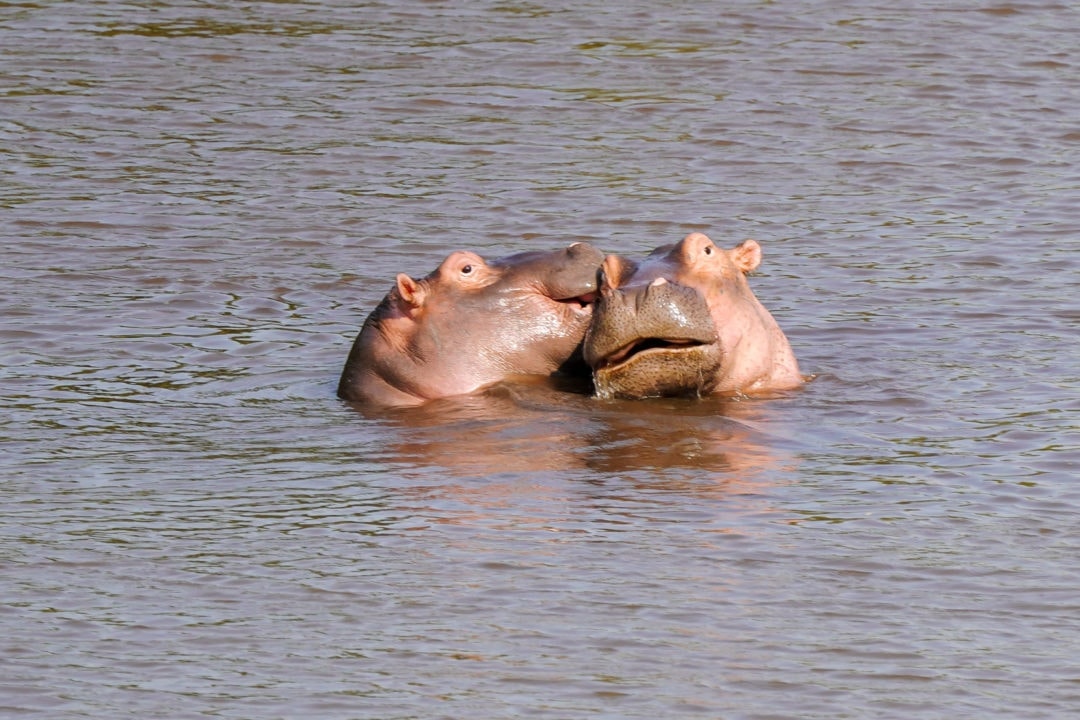 In amongst the reeds, by the Hippo Walkway, we saw our first Red Bishops. This bird, common in South Africa, was an interesting sighting for us with its characteristic red helmet.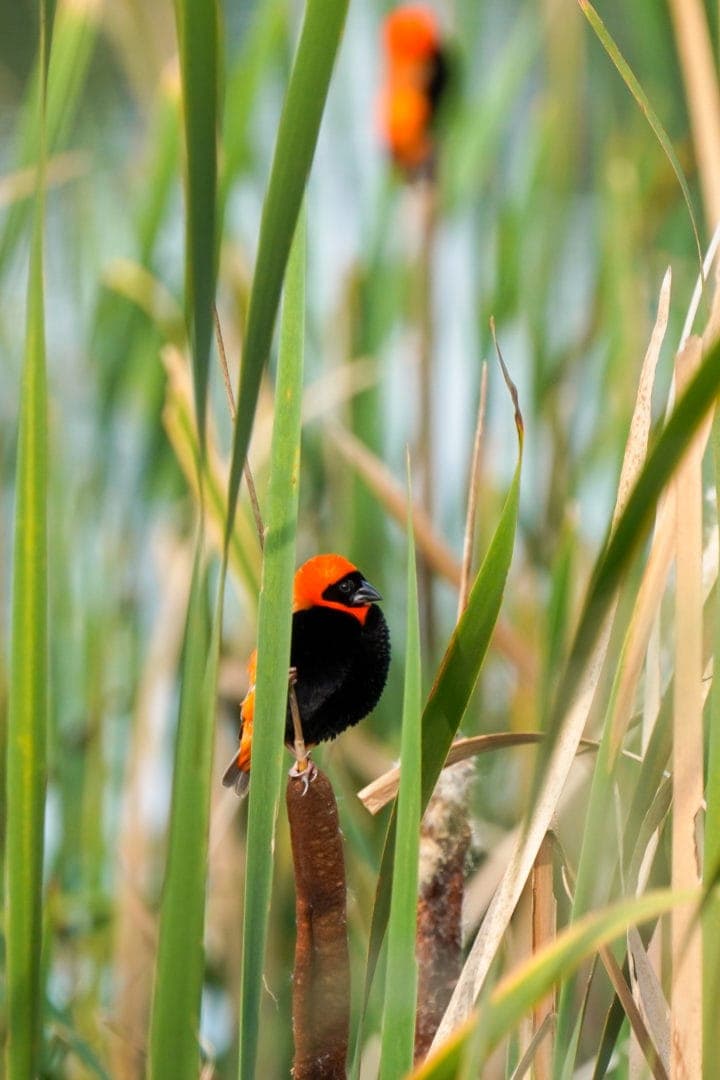 THE BOTHONGO WONDER CAVE
Within the grounds of the Botohongo Rhino and Lion Nature Reserve, is another popular attraction — the Bothongo Wonder Cave.
It was discovered in 1898 when miners came across it while mining for limestone. It is a huge cavern, with stalagmites and stalactites creating all sorts of shapes.
Entrance to the caves costs an additional amount and you pay as you enter the Reserve.
We drove all the way to the caves but realised that the tours were every hour and we hadn't yet visited everything else. Again, running out of time, we skipped the tour, but we did stop and listen to the guide tell us a bit about the caves and took a photo of the first 87 steps you climb down, before taking a lift that takes you down to the cave 60 metres below ground.
NOTE: Find out the time of the Wondercave tours while you are at the Rhino and Lion Nature Reserve entrance so you can plan your day accordingly without wasting any time.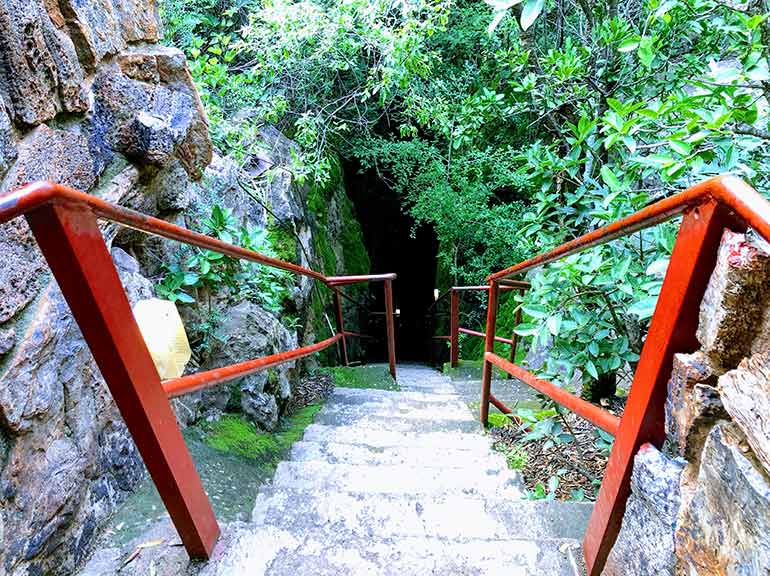 4×4 TRAINING AT THE RHINO AND LION PARK
We booked our 4-wheel driving course with Jannie from Protea 4×4.
The amazing bonus of the Protea 4×4 course was that it was inside the Rhino and Lion Nature Reserve. Therefore, not only did we get to practice our 4×4 bush driving, but we did it amongst some of the amazing wildlife at the Reserve.
Jannie can also give you lots of useful advice as to the specific areas that you will be driving to in South Africa as well as advice on routes and places to avoid.
If you are lucky, while at Jannie's place in the Park, you may catch a glimpse of 'Bullet', the rhino rescued as a baby.
She came really close to us while we were chatting about all things 4×4 and I must admit I left Lars to listen to Jannie while I went on a little 'safari walk' to take some photos.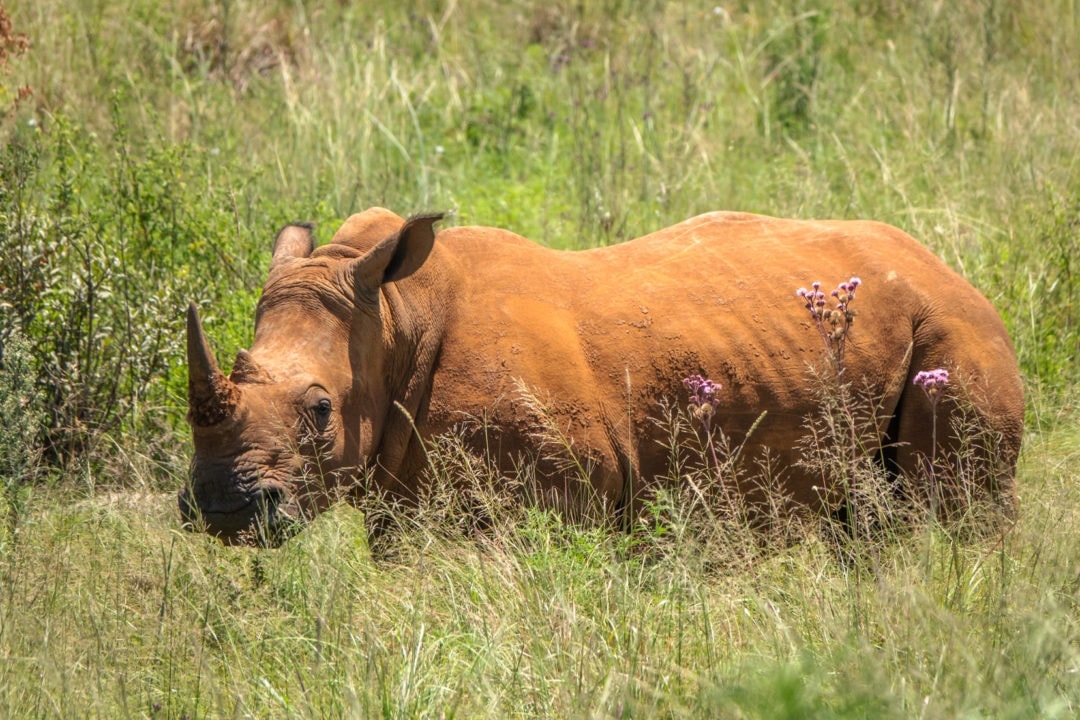 'Bullet' was found with a bullet lodged in her shoulder. Poachers had already killed her mother and it was touch and go as to whether she would survive.
Miraculously the vets were able to save her.
She is now 4 years old and happily roams around in the Reserve. She isn't with the other rhino though as they have rejected her as part of their group.
Luckily the Reserve has a 24/7 anti-poaching team, so she is in the best place.
It is incredibly sad that these animals are killed simply for their horns. Fortunately, rhino poaching numbers, are on the decline.
The Save the Rhino organisation reported that in February 2020, South Africa's Department of Environment, Forestry and Fisheries reported that a total of 594 rhinos were poached in the country during 2019, 175 less than the previous year.
However, with the price of rhino horn sometimes reaching $65,000 per kg it is a constant threat to the rhino population.
RHINO AND LION NATURE RESERVE INFORMATION
RHINO AND LION PARK ADDRESS:
520 Kromdraai Road, Kromdraai,
Krugersdorp, 1739
RHINO AND LION PARK CONTACT DETAILS:
Tel.No. (011) 957 0106
(011) 957 0109
RHINO AND LION PARK OPENING HOURS:
Closed Mondays.
Tuesday – Friday, 8 am – 5 pm
Weekends and Public Holidays 8 am- 6 pm
RHINO AND LION NATURE PARK OPENING TIMES AND PRICES
FEEDING TIMES:
13h00 Weds, Weekends and Public Holidays
RHINO AND LION PARK PRICES:
Entrance fees are R220 online (about AUD20) – check out the current prices here.
NECK AND DECK RESTAURANT
We ate at the newly refurbished Neck and Deck Restaurant which is right beside the free parking area before the main gate to the Rhino and Lion Nature Reserve.
We don't normally post about what we have eaten but the Neck and Deck burger we ate has to be one of the best we've ever tasted — we highly recommend it. It set us back about R95 (AUD 9.50) and was epic!
You can also feed the resident giraffe here.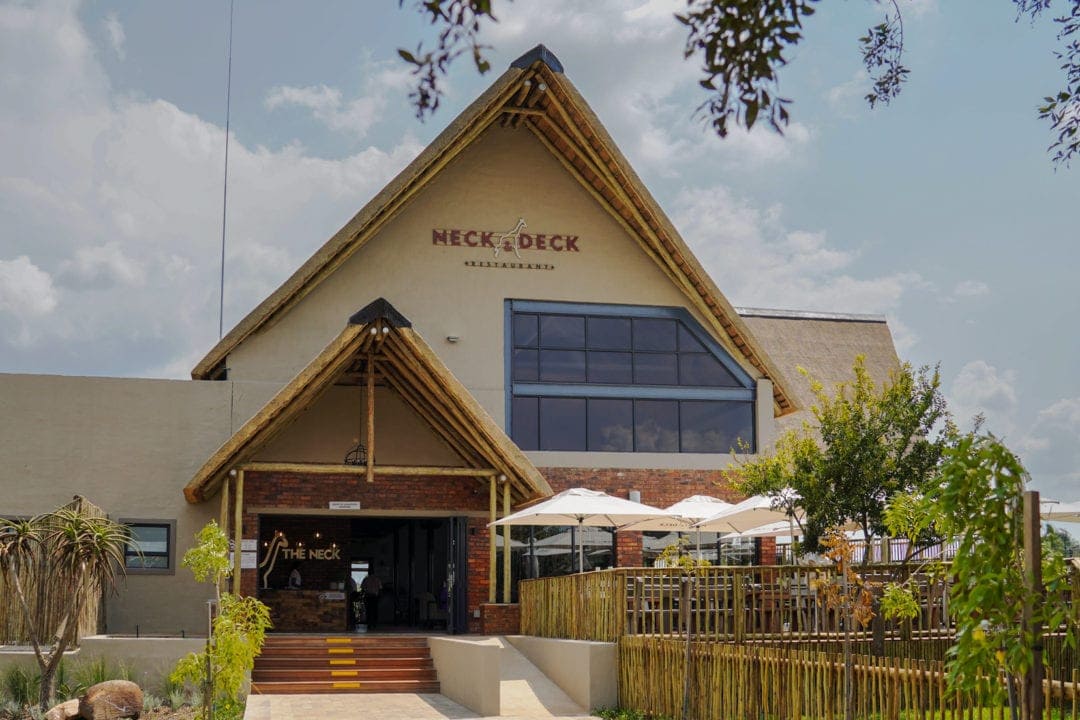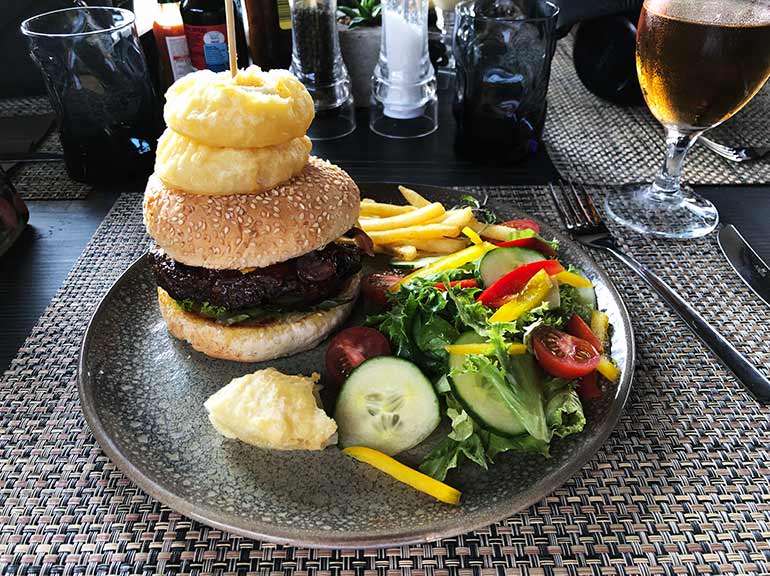 Rhino and Lion Reserve … That's a Wrap
We thoroughly enjoyed our two visits to the Bothongo Rhino and Lion Park near Johannesburg and are happy to answer any questions you may have.
Any feedback on the post will be appreciated in the comments section below or email suggestions and questions to us at [email protected]
If you enjoyed this post Pin and Save it for later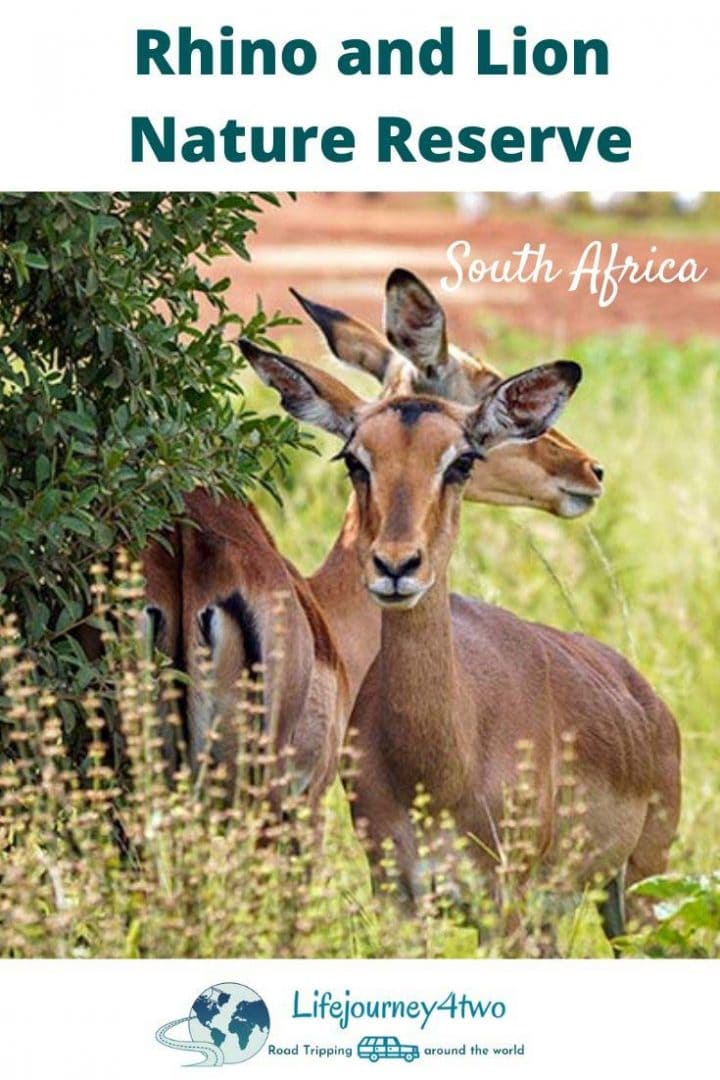 YOU MAY ALSO BE INTERESTED IN READING:
PLANNING YOUR TRAVELS?
These are some of the travel resources we use when planning our trips.
For a more thorough list visit our Travel Resources page here.