LESOTHO ROAD TRIP – CROSSING THE MOUNTAIN KINGDOM
Lesotho is a mountainous playground where you get to stretch the legs of your 4×4 on a fantastic Lesotho road trip.
This trip takes you along part of the Roof of Africa Scenic Route and through the Maluti and Lesotho Drakensberg mountain ranges.
Our two-day road trip is one-way, but if you have more time you could do a loop, incorporating more of Lesotho and exploring more 4×4 trails.
You won't encounter much traffic as you road trip Lesotho, locals tend to either walk or travel by horseback. But you may come across the odd yellow taxi.
This autonomous country lies bounded on all sides by South Africa. Not only does Lesotho offer 30,355 square kilometres of wild countryside to explore, but it also has relatively easy access from South Africa.
Lesotho definitely qualifies as one of those off-the-beaten-path places and is perfect for a 4×4 road trip.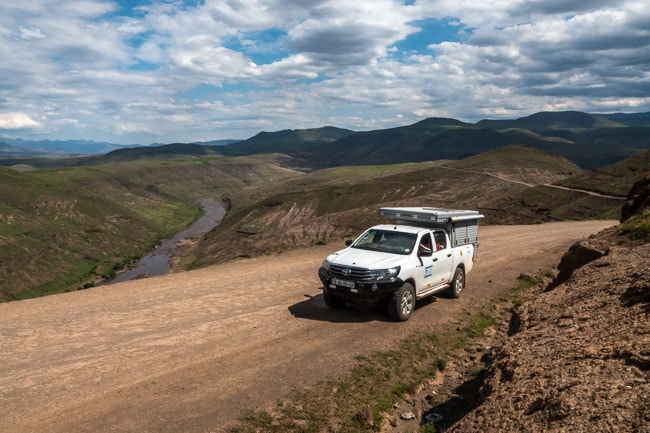 We spent two days during February traversing the country on our Lesotho road trip; entering from the north, passing Katse Dam and exiting via South Africa's iconic Sani Pass.
The best months to visit are between September and April when it's possible to avoid any snow on the roads.
Our route took us over tarred, gravel and 4×4 roads (nothing too extreme), giving us the opportunity to get a good feel for this less-frequented destination.
We found the Basotho people here were quick to smile and return our waves, whilst the children were very friendly and especially excited with the chalk, stickers and 'bonbons' that we shared out amongst them.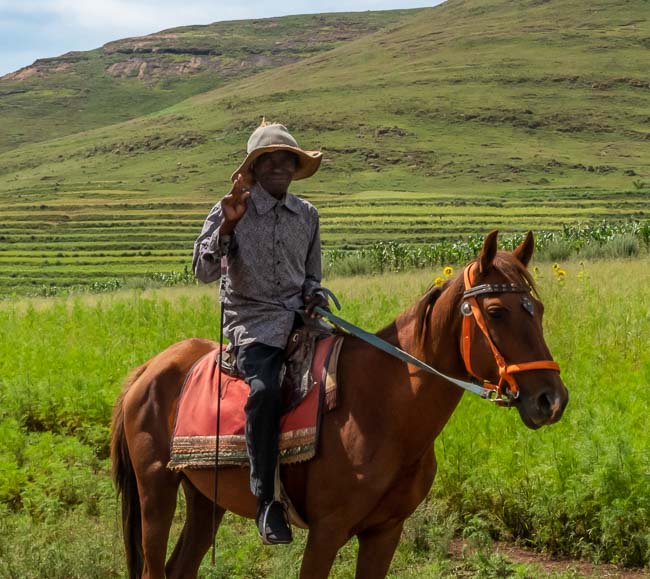 Planning a Trip to Lesotho?
As mentioned, some of the routes we took on day two are definitely 4×4 access only, so plan accordingly for the right vehicle.
Luckily, having bought our own 4wd bush camper in South Africa and having completed an off-road course with Protea 4×4, we ensured that we were well-equipped to handle whatever conditions Lesotho chose to throw at us.
LESOTHO ROAD TRIP MAP
HOW TO GET TO LESOTHO: BORDER GATES AND OPENING TIMES
Here are the border gate listings starting at Caledenspoort (north of Lesotho) and progressing clockwise. The names with * italics are 4×4 access only.
Caledenspoort Gate: Open 06h00 to 22h00
*Sani Pass Gate: Open 08h00 to 16h00
*Ramatselisos Nek: Open 08h00 to 18h00
*Qacha's Nek: Open 07h00 to 20h00
Telle Bridge: Open 06h00 to 22h00
*Makhaleng Bridge: Open 08h00 to 16h00
*Sepapus: Open 08h00 to 16h00
Van Rooyen: Open 06h00 to 20h00
Maseru Bridge: Open 24 hours
Peka Bridge: Open 08h00 to 16h00
Ficksburg Bridge: Open 24 hours
In case of border gate closure, eg, Sani Pass border gates close during bad weather periods, it's best to phone the gate ahead of arrival.
Lesotho Road Trip Options
You may wish to follow our route one way through Lesotho, or you can travel the whole Roof of Africa Scenic Route by looping back to your starting point.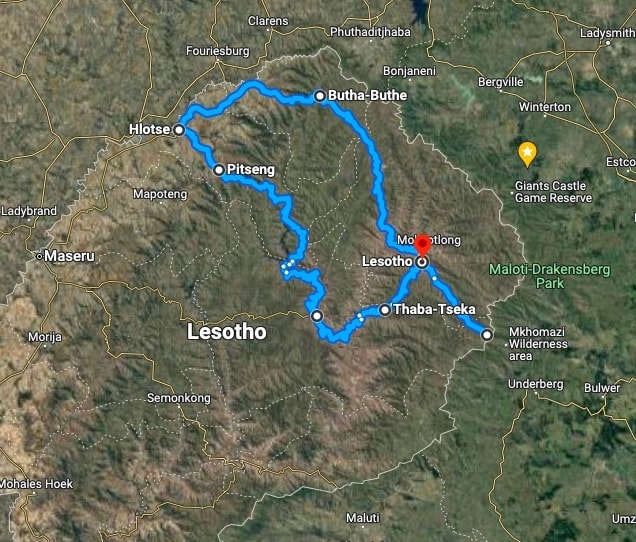 TRAVEL ADVICE FOR YOUR LESOTHO ROAD TRIP
You will need a valid passport and sufficient funds to enter Lesotho
Most countries are issued a Visa on arrival for a maximum period of 14 days however you can check eligibility here
Vodacom Lesotho is the preferred mobile network, however, it does not support the Vodacom South Africa network so you will need to buy a SIM card
Stock up on food, fuel and cooking gas before beginning your Lesotho trip
There is a high rate of poverty in Lesotho, so taking something small for the children would be a great gesture. We took some chalk, stickers and 'bonbons' (sweets)
Read More: Road Trip Tips and Travel Planning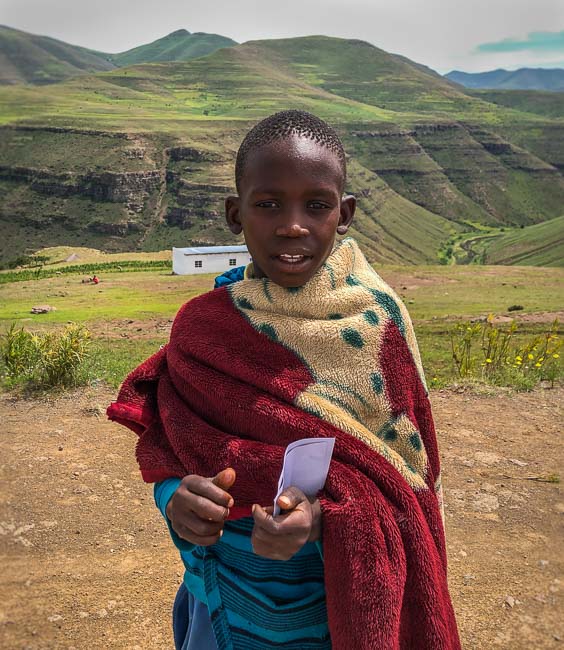 Driving in Lesotho
Lesotho's road conditions: Generally the main tar roads are in pretty good condition but you still need to be wary of potholes and rocks on the road


We travel with both our online and hard copy Tracks4Africa maps which include the type of road surface and expected travel time between locations so we have a better idea of what to expect


If you know South Africa's road rules then the same rules pretty much apply here
DAY 1 LESOTHO ROAD TRIP ITINERARY
FOURIESBURG TO KATSE DAM CAMPING AREA (8 HOURS)
ENTRY INTO LESOTHO
Caledonspoort Border Control, roughly 10km from the town of Fouriesburg in South Africa, is one of the main entry points into and out of Lesotho.
The first gate is where you stamp out of South Africa and you then move forward a few hundred metres to be stamped into Lesotho.
Entering Lesotho was fuss-free. Just a show of the passport, some entry stamps were added with our estimated exit date and a small toll fee amounting to 40 Lesotho Loti (LSL), which was equivalent to Rand 40 or USD $2.40. This fee was paid in person at a small kiosk by the checkpoint.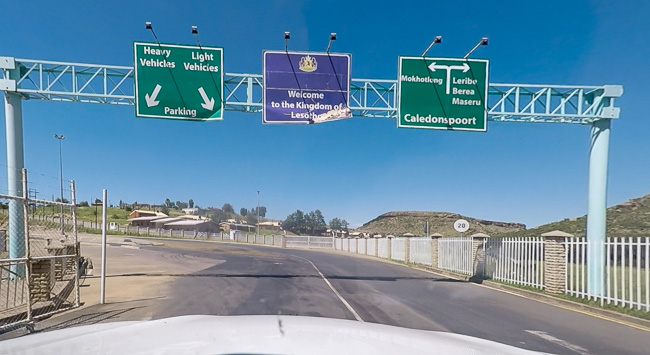 ONWARDS TO KATSE DAM
About 7km later, sticking to the tarred road, we drove through our first township of Butha-Buthe where we joined the A1 going south-west towards Maseru.
Not intending to venture anywhere near the capital city, after 40km and reaching the township of Hlotse, we swung onto the tarred A25 going east.
Up to this point, we were passing plenty of signs of habitation. Small villages with locals going about their daily business, the usual township hustle and bustle, along with the yellow-signed mini-van taxis weaving in and out of the road — seemingly a law unto themselves.
It wasn't until the township of Hlotse was disappearing into the distance behind us that we began to feel what the true essence of Lesotho might be like. Green rolling fields separated by hills soon gave way to mountains and steep, near-treeless slopes.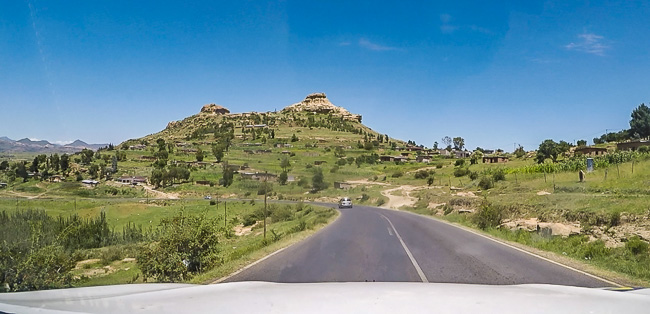 Although the road was tarred, by far the most common mode of transport we saw was horseback. Seeing villages clinging to the steep slopes, far from the road, you can understand the reasoning for using horses. And if not getting about horseback, then it's by foot — a common mode of transport here in Lesotho.
The road is also shared by shepherds moving their cattle and sheep between fields. A popular dress code of shepherds is a thick grey woollen blanket covering, along with a pair of white gumboots.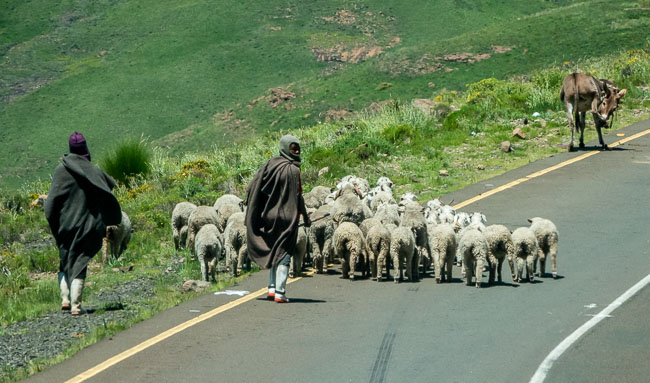 We stopped to have a look around and realised that we were actually the only vehicle in sight for as far as the eye could see. No wonder we were drawing plenty of interest from the locals.
MAFIKA LISIU PASS
Sticking to the A25, the flat fields soon yielded to overlapping mountain slopes as the road began to ascend. Ahead, the Mafika Lisiu Pass rose above us from an altitude of 3090m, sending out an unspoken challenge to chance the climb.
Just a word of warning, good-sized rocks can fall from the slopes above and scatter on the road. There are lots of winding sections and it takes a while, but upon reaching the summit, and parking at the viewpoint the reward is the view of the Mafika Lisiu Pass itself.
However, we weren't alone at that viewpoint. Baboon troops also seem to enjoy the lofty heights. Their threatening screeches at each other had Shelley bolting for the car as fights broke out with baboons running everywhere.
As it turned out, this was the only ground-dwelling wildlife we were to see over the next two days.
KATSE DAM
A steep descent from Mafika Pass soon brings Katse Dam into sight with the A25 veering south following the contours of Katse Dam and crossing it roughly 12km later.
Now on the eastern side of the dam, the decision point arrives 2 km later where you could continue to follow the A25 away from the dam or do as we did, and veer onto the unnamed gravel road pointing to Matsoku Tunnel Outlet 5. This road parallels the eastern side of Katse Dam giving water views all the way.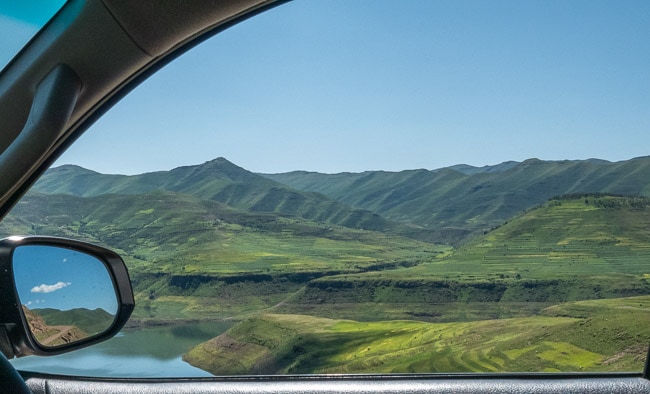 Katse Dam was constructed in the early 1990s and collects the runoff water from the surrounding mountains, causing it to flow into the Malibamat'so River backing it up more than 30 kilometres.
When full, the dam's total surface area is 38.5 square kilometres. The water is initially piped and then free flows into the Vaal Dam for use in Gauteng Province, South Africa.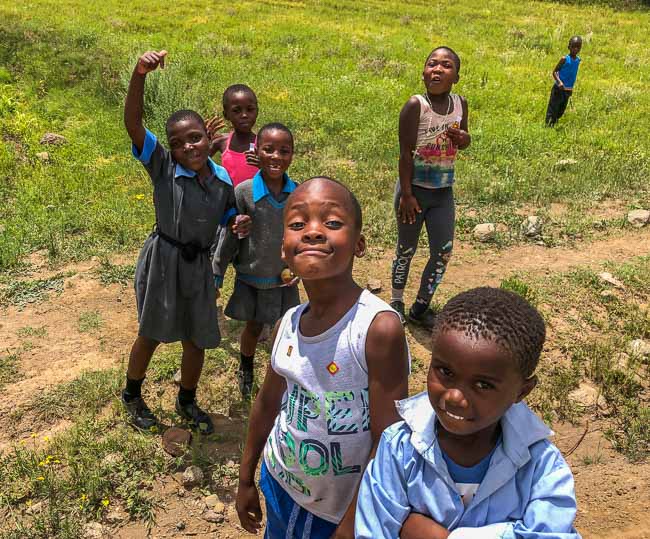 This gravel road was in reasonable condition although it does cross many small river crossings which would make for a wet crossing in the rainy season.
Beside each river is a village and because this particular day fell on a Sunday, kids were home from school. Our Hilux diesel engine must have sounded like the school bell as it drew kids from everywhere. We smiled, waved, said hello then stopped. Out came the chalk, stickers and the all-time favourites … 'bonbons'.
The kids were all smiles but didn't seem to get the idea of the chalk, requiring Shelley to draw on some roadside stones and then you could see from their big smiles that they understood. There was no hesitation then, with little hands shooting out for a piece of that coloured chalk.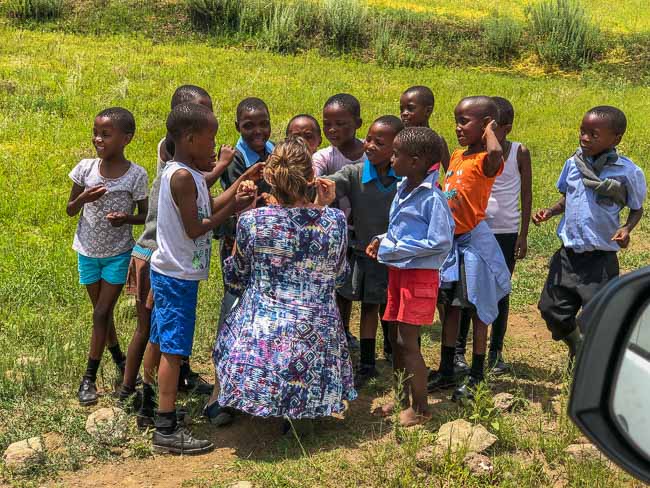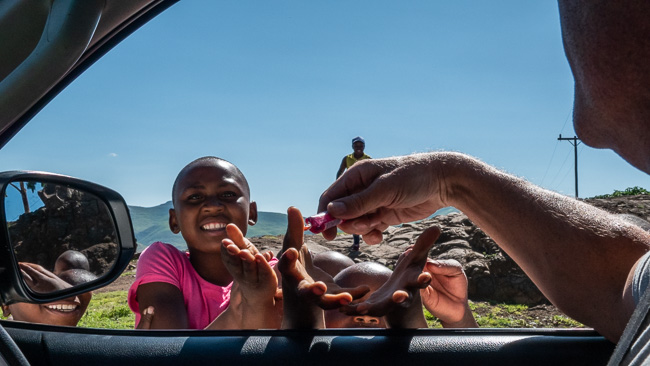 The adults were never far away, every now and again casting a casual glance over at us, smiling and giving us big waves. We have to say though, it was just the best to see the joy on those young faces. It wasn't just the one time though.
Over each hill, another village came into view, and along with it yet another group of kids waiting beside the road. Luckily we had plenty of stock to go around.
KATSE LODGE CAMPING AREA AT KATSE DAM
This stop/start routine with the kids continued until we re-joined the tarred A25, now just a handful of kilometres from the Katse Lodge Camping Area. To gain access to the campsite, you need to drive into a fenced compound past security and present yourself at Katse Lodge reception.
You'll receive directions to an empty house on a nearby street where you can park in the backyard. There are hot water showers and an electricity point in the backyard which is just fine but the best part is the magnificent view over Katse Dam itself.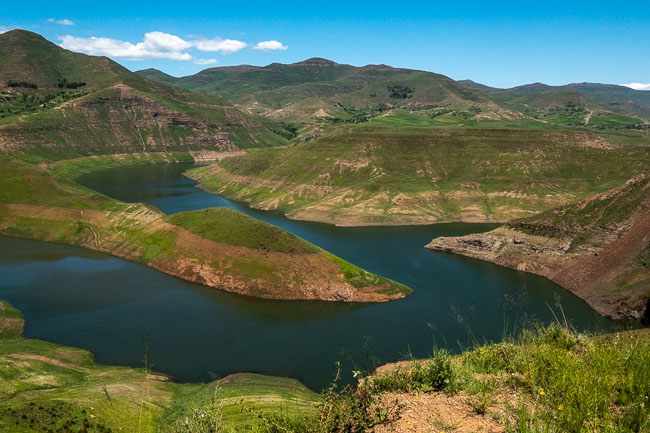 DAY 2 LESOTHO ROAD TRIP ITINERARY
KATSE DAM VIA THABA TSEKA TO SANI PASS BORDER CONTROL (8 HOURS)
LEAVING KATSE DAM
We had a leisurely start to the day, departing the campsite around mid-morning. However, if I knew what lay ahead, I would have set off way earlier.
The first 33km of the A3 gravel road to Thaba Tseka starts in reasonable condition, but the final 24 km of road condition deteriorates with low-range first gear for a good part of the way.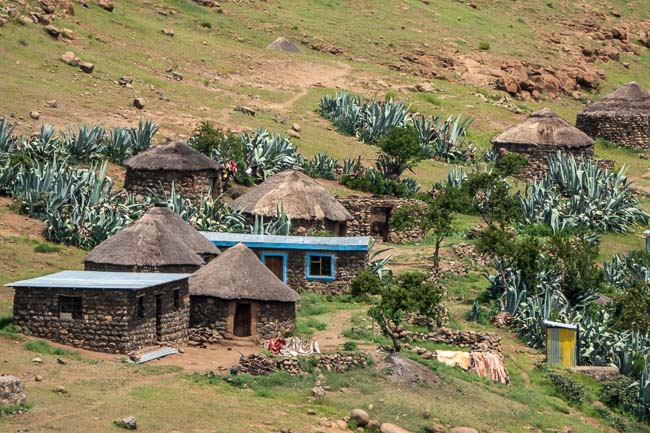 Rocky conditions up mountain passes place a real restriction on speed, making you pick your driving lines carefully. This must be an isolated stretch of ground because we didn't see any other vehicles or people and being a Monday, even the kids were back at school.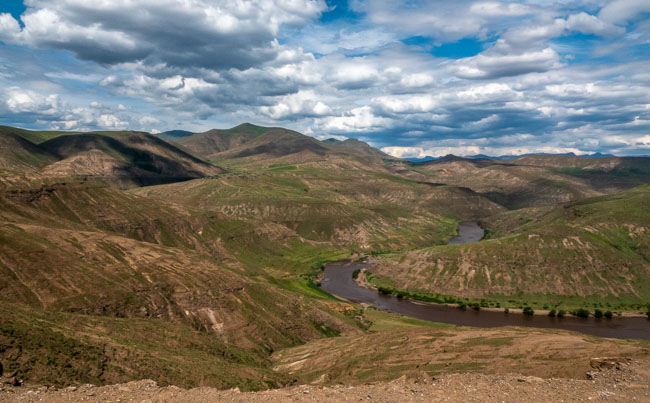 Passing the village of Thaba-Tseka, the road conditions definitely improve. The road follows the mountain ridges across wider expanses allowing for spectacular views over the land with Mejonang Pass sure worth an excuse to get out and stretch the legs (S29.432150, E28.958309).
There were now increasing signs of humanity with pockets of villages close to the road.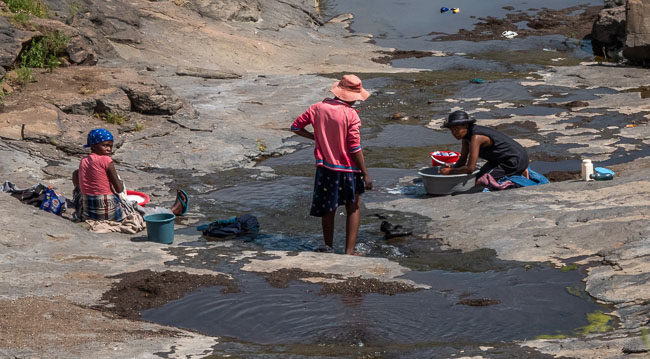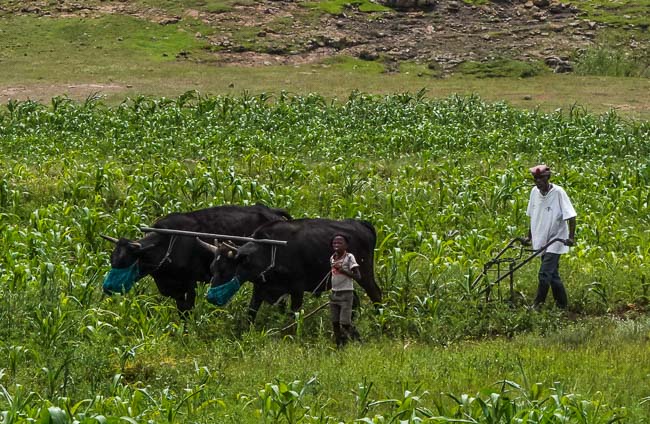 HOME STRAIGHT TO SANI PASS
Turning right at the junction of the A1 and A31 will place you on a direct route and a superb tarred road all the way to Sani Pass. This is another chance to soak up some great views as the road winds between mountains.
As fate would have it, our adventures had not yet ended for the day.
Unbeknownst to us, but apparently common at this time of year, thick clouds and fog were rolling up and over the Sani Pass making our passage of the few kilometres to the Sani Pass campsite very, very slow.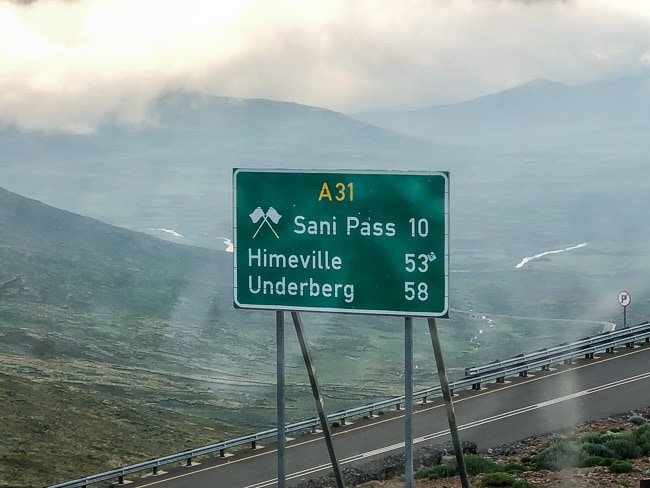 We passed the 'Highest Point' sign of Lesotho's highest nearby mountain, Thabana Ntlenyana, which stands at an altitude of 3482m and claims the title of the highest peak in Africa south of Mt Kilimanjaro. But we didn't stop because the light was fading and we had to continue on.
Visibility was now down to a few metres.
However, even though it was near dark, we did find the carpark of the Sani Mountain Lodge where we were determined to enjoy a drink at the Highest Pub in Africa, at Sani Mountain Lodge.
Not long after, we crawled into the Hilux and precariously drove a short distance in now ridiculously thick fog to the nearby campsite where we retired for the night.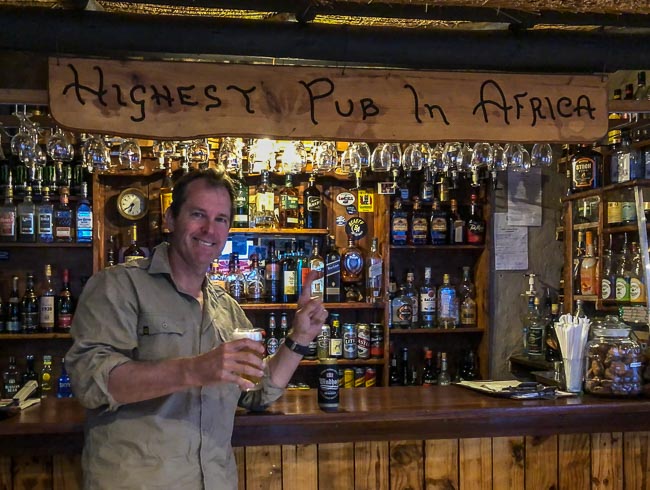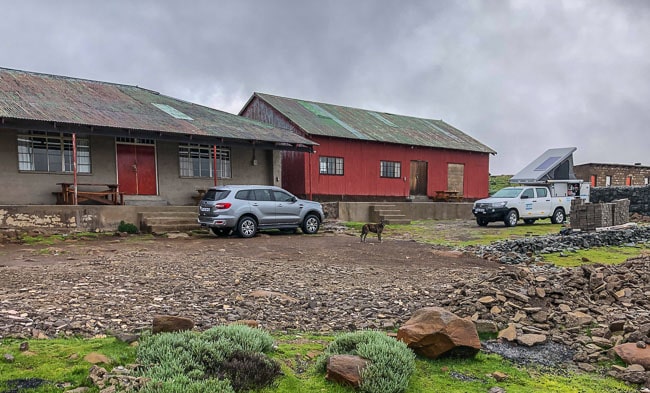 The next day we walked to the back of the Sani Mountain Lodge to a perfect lookout above the winding Sani Pass road, gauging the drive that lay ahead of us.
Little did we know that this fog, which would hang around until midday the following day, would hamper but not thwart our descent of the iconic Sani Pass back into South Africa.
But that's another story…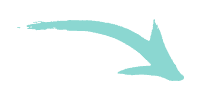 READ MORE: Driving the Iconic Sani Pass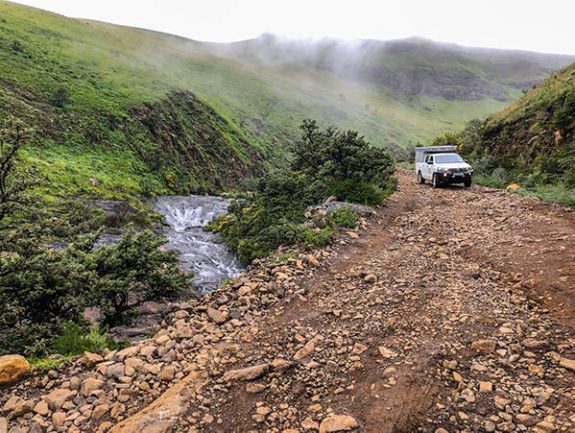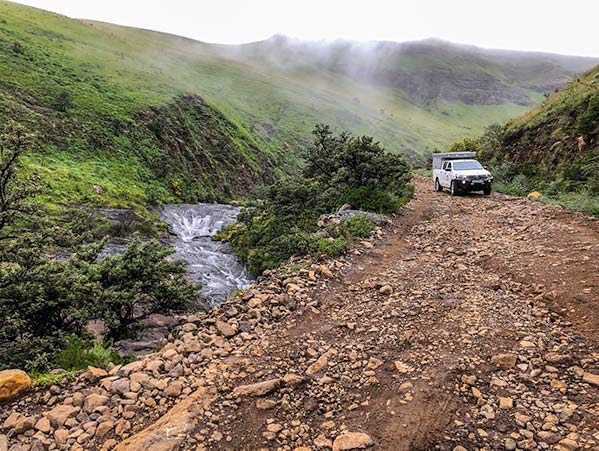 Trip to Lesotho with Organised Tours
If you haven't got your own 4×4 vehicle, or a hired camper for a Lesotho road trip you may wish to book an organised tour, like the one below:
LESOTHO ROAD TRIP … That's a Wrap
Your Lesotho road trip can be as short or long as you want it to be. It makes for a great alternative to driving the circuitous roads within South Africa that bypass Lesotho altogether.
And if you follow our route, the drive will culminate in the descent of the Sani Pass, another of South Africa's iconic mountain pass drives.
If you're travelling in South Africa, it's likely that Lesotho will be close enough to warrant at least a couple of days to experience this remote mountain landscape.
I'm pretty sure you won't be disappointed, and at a minimum, will leave you with a story or two and some fabulous memories.
Pin and Save for Later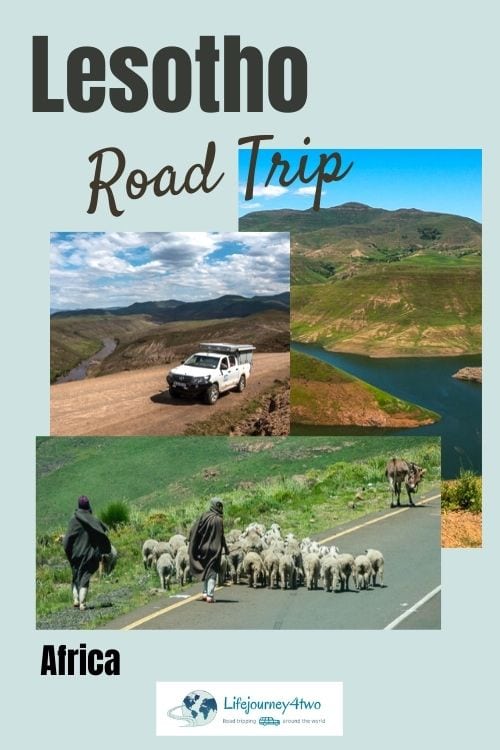 READ MORE HERE …
---
PLANNING YOUR TRAVELS?
These are some of the travel resources we use when planning our trips.
For a more thorough list visit our Travel Resources page here.