Ready to Book the Best Banff Winter Tours?
You're in the right spot.
While in Banff, in Alberta, Canada, the frozen landscape transformed our trip into something magical. Nestled in a classic wooden cabin surrounded by a blanket of snow, we found ourselves knee-deep in adventure — and sometimes snow!
If you are looking for Banff tours online, many options you stumble upon pause operations during the colder months, leaving you navigating through a maze of information. That's where we come in.
To save you the hassle, we've sifted through and hand-picked the top-rated winter tours in Banff.
Drawing from our own experiences and trusted reviews, we've curated a list that offers more than just tours – they truly capture the essence of Banff's winter magic.
And don't miss out on the local delights! Our evening at the Grizzly House was a gastronomic delight, with Lars sampling exotic meats while I indulged in a heavenly cheese fondue (I graciously passed on the rattlesnake and crocodile offerings!).
So grab a cup of hot cocoa, settle in, and let's embark on a virtual journey to discover the best winter tours in Banff.
Best Banff Winter Tours: Our Top Picks
If you are short on time — which, to be honest, seems to be a trending theme nowadays (Has someone messed with the time continuum? ), then take a look at our top pick and quick list of recommendations for a winter tour in and around Banff.
🟨 #1 Our Favourite Banff Winter Tour
Summary of Best Winter Tours in Banff, Canada
1. Best Full-Day Tour Banff, Canmore and Lake Louise
▶︎Full-Day Rocky Mountain Tour in Canmore, Banff, and Lake Louise 🏔 | ⏳9 hours | $$
2. Best Private Full-Day Extensive Tour of Banff and Lake Louise
▶︎ Private Tour of Lake Louise and the Icefield Parkway 🏔 | ⏳8/9 hours | $$$$
3. Best Private tour for History Lovers
▶︎ On Old Native Trail from Bow Lake to Abraham Lake ❅ | ⏳6/8 hours | $$$
4. Best Half-Day Banff Winter Tour for Wildlife Lovers
▶︎ Winter Tour: Banff and Its Wildlife 🦌 | ⏳3 hours | $
5. Best Banff Half-Day Private Tour
▶︎Half-Day Private Tour Banff 🦌 | ⏳5 hours | $$
6. Best Icewalk Experience at Johnston Canyon
▶︎ Johnston Canyon Icewalk ❄️ | ⏳ 4 hours | $
7. Best Grotto Canyon Icewalk Adventure
▶︎ Grotto Canyon Icewalk ❄️ | ⏳ 4 hours | $
8. Best Snowshoeing Experience
▶︎ Discover Lake Louise & Snowshoeing 🏔 | ⏳ 4 hours | $
9. Best Aerial View with Helicopter Tour over the Canadian Rockies
▶︎ Helicopter Tour over the Canadian Rockies 🚁 | ⏳ 20,30 or 55 mins | $$
10. Best For Animals Lovers
▶︎ Yamanuska Wolfdog Sanctuary Intro Tour 🐺 | ⏳ 30 mins | $
11. Best For Night -time Adventurers
▶︎ Johnston Canyon Evening Icewalk 🌙 | ⏳ 2.5 hours | $
12. Best Dog Sledding Adventure in Banff
▶︎ Dog Sledding Adventure 🐕 | ⏳ Duration Varies | $$$
13. Best Family-Friendly tour
▶︎ Banff Family-Friendly Horse-Drawn Sleigh Ride 🐴 | ⏳ Duration Varies | $
14. Best Aerial View with Banff Gondola Ride
▶︎ Banff Gondola Ride Admission 🚠 | ⏳ 2hours | $
15. Best Walking and Star Gazing Tour
▶︎ Banff Sunset & Stars – 2hr Walking Tour 🌟 | ⏳ 2 hours | $
Banff Tours in Winter
Nestled within the heart of the Canadian Rockies, Banff National Park is a haven of natural splendour, covering over 6,000 square kilometres. This sanctuary, a UNESCO World Heritage Site, is a gateway to thrilling winter sightseeing tours that promise adventure and discovery at every turn.
There are many things to do in and around Banff at Christmas, but visiting Banff at any time in the winter season, especially for nature lovers, is going to be rewarding.
As the season changes, the park transforms into a winter wonderland, offering plenty of winter activities, including magical sleigh rides amidst snowy landscapes and exhilarating ascents aboard the Banff Gondola.
Whether you're looking to discover Lake Louise with a guided tour or embark on the famed Johnston Canyon Icewalk, there's something here for every kind of explorer.
Discover Banff and book your next adventure as we unveil the best Banff winter experiences, promising unforgettable moments and breathtaking views that resonate with the spirit of the mountains.
💡Winter is peak ski season in Banff in winter, so book ahead to ensure you don't miss out on any of these winter adventures.
Jump ahead or continue to browse:
Full-Day Banff Nature & Wildlife Tours
⭐️ Rating: 5/5 Stars | ⏳ Tour Length: 9 hours | 🏔️ Check Rates and Availability
Your local guide will share insights about the plants, wildlife, and hidden gems.
Not only will you be treated to breathtaking mountain views, but you'll also learn about the rich history of the towns, Canmore, Banff and Lake Louise and the culture of First Nations people.
It includes taking in the viewpoints at Tunnel Mountain, one of Banff's most popular mountains.
We hiked the mountain ourselves, starting in downtown Banff. The hike is an easy 4.3-kilometre round trip, with the trail taking you through pine and fir trees, and we can confirm that there are stunning views across Mount Rundle.
Off to Lovely Lake Louise
Lake Louise normally freezes over in November or December, depending on local weather conditions. So expect to see ice skaters and quintessential snowy scenes around the famous Lake Louise Fairmont Chateau.
We even saw someone getting married in front of the lake; the temperature was -15 degrees Celcius!
This full-day tour offers a unique blend of adventure and cultural immersion. Visitors have praised the flexibility of the tour and described it as both "wonderful" and "amazing."
Wonderful experience! Would highly recommend taking this tour. Sue is knowledgeable and fun. She will adapt the tour so your interests. You can just sit back and enjoy the beautiful sights.

-Mary A August 2023 (read more reviews here)
Don't forget your camera to capture the abundant photo opportunities! And who knows, you might just capture a cheeky moose striking a pose!
Tour Details Summary
⭐️ Rating: 5/5 Stars | ⏳ Tour Length: 8-9 hours | 🚌 Check Rates and Availability
A private tour gives you the convenience of having the guide and vehicle all to yourself and avoiding the hassle of a crowded bus tour.
Take in the sights, including Lake Louise, Two Jack Lake, Bow Falls, Lake Minnewanka and Mount Norquay Lookout.
The tour is flexible. So you can decide on the places you'd like to visit and how long you stay there. This allows you to enjoy the most picturesque spots, with ample opportunities for photography.
Included is a visit to Lake Minnewanka, underneath which lay the remains of an ancient village. When we visited in winter, the frozen lake seemed so peaceful, with the snow deadening the sounds of the surrounding world.
The stillness was a gentle reminder of the deep-rooted harmony between man and the natural world. In fact, Lake Minnewanka is a place deeply revered as the "Lake of the Spirits" by the indigenous people.
"Not to be missed! A truly incredible experience! We saw some of the most beautiful places on earth. Rob was an excellent tour guide and provided valuable insight about each stop. Travelling in a small, private group was truly the best way to see Banff National Park!."

Denise_S, (read more reviews here)
Tour Details Summary
⭐ Rating: 5/5 Stars | ⏳ Tour Length: 6-8 hours | 🏔️ Check Rates and Availability
On this Old Native Trail Tour, you'll hear about the lives of Rocky Mountain trailblazers and the First Nations people.
You'll step into vintage snowshoes made with wooden frames and dried caribou hide webbing and explore the sacred grounds of the Kootenay Plains.
To top off the day, you'll see the Abraham Lake Bubbles. This natural spectacle at Abraham Lake is as educational as it is visually stunning.
The reviews for this tour are a testament to its excellence. Travellers have praised the tour guide, Jerzey, for his knowledge and friendliness.
"Perfect private tour of a winter wonderland. Came with my wife to Banff as we were searching for that true winter wonderland experience. The tour with Jerzey did not disappoint. He took us to all the beautiful parts of the area, and showed us certain parts off the beaten path as well. Jerzey was knowledgeable and friendly. Much preferred this to a larger outing with a group. We got exactly what we were looking for and couldn't be happier. Thank you Jerzey."


– RaminBen_K, Feb 2023 (Read more reviews here)
Tour Details Summary
Half-Day Banff Tours in Winter
⭐️ Rating: (4.5/5) | ⏳ Tour Length: 3 hours | 🦌 Check Rates and Availability
On our trip to Banff, we embarked on this wildlife winter sightseeing tour, which was a delightful way to explore its picturesque winter landscape.
The tour whisked us away to several renowned spots, including Lake Minnewanka and the Hoodoos Trail, where we absorbed fascinating insights about the region's geology and the survival strategies of Banff's wildlife during the frosty months.
We were lucky to spot white-tailed deer, moose, and elk, which added extra excitement to the trip.
However, capturing these moments on camera was challenging, as the bus was crowded with other enthusiasts vying for the perfect shot.
Despite this, the tour offered a great blend of sightseeing and learning, with opportunities to photograph the snow-draped Mount Rundle and the swirling Bow River.
We appreciated the hot chocolate and cookies provided and the hands-on experience with some of the wildlife's antlers.
If you're visiting the area, we'd recommend this tour, but if you are a wildlife photography enthusiast, you may want to book a private tour instead to avoid the scramble for shots in the bus.
Tour Details Summary
⭐️ Rating: (4.5/5) | ⏳ Tour Length: 5 hours | 🏔 Check Rates and Availability
Discover the hidden gem of Emerald Lake, indulge in the finest hot chocolate at a historic lodge, and witness nature's artistry at the Natural Bridge, all just a 30-minute drive from Lake Louise.
Explore Canada's winter haven, Lake Louise, at your leisure, learn about Banff's history and keep a keen eye out for its wildlife.
Capture breathtaking photos at Castle Junction and enjoy a scenic drive through the Icefields Parkway, renowned for its stunning glaciers and mountains.
Despite the high demand for this tour, requiring bookings to be made weeks in advance, the tour comes highly recommended for anyone visiting Banff, promising both informative and picturesque experiences.
"Best private tour in Banff Storm's an awesome tour guide. We learned so much about the animals, park and Banff history. Only downside is his tours are always full so you'd have to book weeks in advance. Would recommend his tour to anyone visiting Banff."

LyraMae_L, May 2023 (read more reviews)
Tour Details Summary
⭐️ Rating: (5/5) | ⏳ Tour Length: 4 hours | 🏔 Check Rates and Availability
Embark on this breathtaking ice walk through Banff's renowned Johnston Canyon with this 4-hour guided tour.
Traverse the canyon's steel walkways to witness the stunning frozen upper and lower waterfalls, all while absorbing information on the area's history and geology from your expert guide.
The tour includes necessary equipment like ice cleats, a hiking pole, and a comforting hot chocolate with a maple cookie snack to warm you up.
The beautiful views of the canyon and the frozen upper falls were a highlight for many of those who took this tour.
Tour Details Summary
⭐️ Rating: 4.5/5 | ⏳ Tour Length: 4 hours | 🧊❄️ Check Rates and Availability
Prepare yourself for a walk like no other as you step onto the frozen creek of Grotto Canyon. This Grotto Canyon Icewalk offers a unique canyon perspective, offering awesome views.
The guided tour includes the use of ice cleats and a hiking pole. You may even spot ice climbers – or if you are adventurous, you might like to try ice climbing in Banff yourself!
Not only do you get to see gorgeous ice formations, but you'll also be treated to maple cookies and hot chocolate at the end of the tour.
Guests have found the experience to be nothing short of amazing. Highlights of this tour have been the thousand-year-old petroglyphs and the beauty of the canyon covered in ice.
"We recommend this outing. Pleasant scenic hike with fantastic guides — frozen waterfalls and pictographs in a picturesque canyon."

Sara_F, Mar 2023 (read more reviews)
Tour Details Summary
⭐️ Rating: 5/5 | ⏳ Tour Length: 4 hours | Check price and availability
This tour sweeps you off to the heart of Banff National Park, where the snowy landscapes of Lake Louise come alive during the winter season.
Once there, strap on your complimentary snowshoes and learn the ropes of snowshoeing amidst the picturesque settings of Lake Louise.
On the way, you'll detour to Castle Lookout. A stop at the lookout is an opportunity for wildlife spotting and capturing some breathtaking photographs.
Get ready to immerse yourself in a winter wonderland that promises both adventure and tranquillity.
"Absolutely GREAT. Our guide was informative and really a great resource. Beautiful area …bus ride was scenic with added information and stops along the way for picture taking …once at Lake Louise we were able to snowshoe across the lake to watch ice skating …back on the bus our guide met us with hot chocolate …I can't say enough how wonderful this experience was …this is one you don't want to miss…"

Dorothy_R, Jan 2023 (read more reviews)
Tour Details Summary
Unique Winter Experiences
⭐️ Rating: 4.5/5 | ⏳ 20,30 or 55 mins | 🚁 Check Rates and Availability
Embark on a breathtaking helicopter sightseeing tour over the Canadian Rockies, a must-do winter adventure for those looking to explore Banff at its finest.
Soar over iconic landmarks like Bow Valley, Lake Louise, and the snow-capped peaks of Mount Lougheed, offering a unique perspective of Banff National Park.
Your expert guide, the pilot, will share insights about the region's history and the First Nations people.
Guests have consistently highlighted this as a top Banff sightseeing tour, praising it for the remarkable and breathtaking experiences it offers.
Some also suggested opting for a longer flight to fully appreciate the experience.
Overall, this Banff tour, by Discover Banff Tours, has received high ratings, with guests appreciating the opportunity to sightsee the majestic Rockies from the air, making it a highlight of their winter adventures in Banff.
"A remarkable experience. My husband and I had never flown in a helicopter before and as scared as I was, we did it! The flight was amazing. The scenery shown was breathtaking and unbelievable. The pilot certainly knew what he was doing…… And so knowledgeable about the Rockies we learned so much. I am a convert and would highly recommend this tour."

Doneta_B, Sept 2023 (read more reviews)
Tour Details Summary
⭐️ Rating: 4.8/5 | ⏳ Tour Length: Varies | 🏔 Check Rates and Availability
Discover the mystical world of wolfdogs at the Yamanuska Wolfdog Sanctuary.
And the good news? Winter is the ideal time to visit because the wolves are more active in the cold, snowy conditions.
Three types of tours are available, but we opted for the interactive tour. We didn't regret this decision, even with the higher price tag and the necessity of booking.
The experience justified every penny, granting us the rare opportunity to engage closely with the wolfdogs, extending to hand-feeding them.
This close encounter with such magnificent creatures was a privilege and an awe-inspiring experience.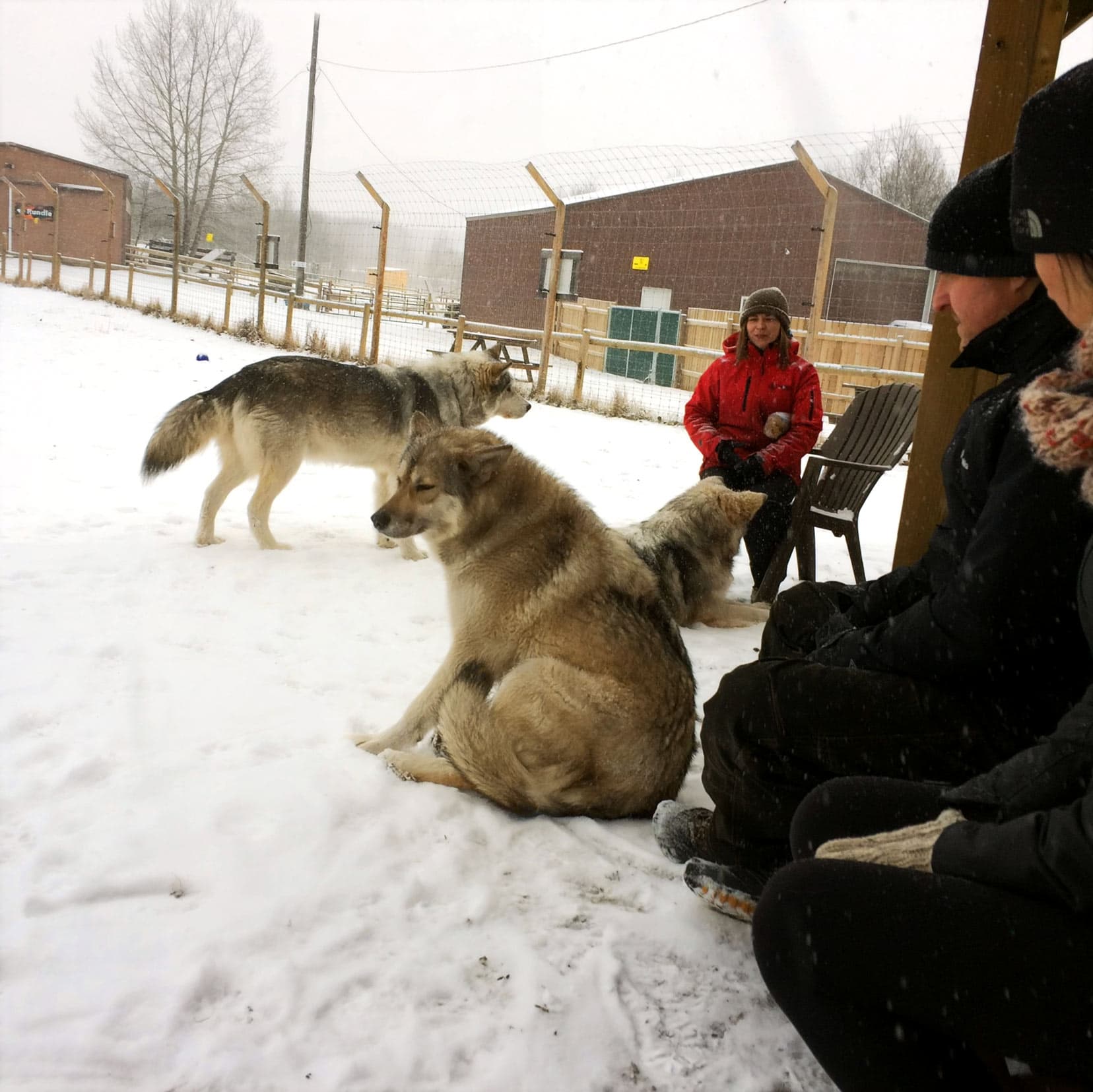 Tours to Choose From
Self-Guided Sanctuary Walk: Wander through the sanctuary's pathways at your own pace. There are also daily Wolfdog Wisdom Sessions throughout the day at 11:30 am, 1 pm, 2 pm, and 3 pm

Intro Tour: Step inside the Engadine enclosure and enjoy a front-row viewing experience of the wolfdogs from a large platform.

Interactive Tour: Dive deep into the world of wolfdogs with this immersive experience.
"The intro tour was fantastic! The viewing platform allowed for great photo opportunities and the guide was incredibly knowledgeable."

– Get Your Guide Visitor, 2023
Tour Details Summary
⭐️ Rating: 5/5 | ⏳ Tour Length: 2.5 hours | 🧊🌛 Check Rates and Availability
On this Johnston Canyon Evening Icewalk, you'll be equipped with ice cleats, a hiking pole, and a headlamp that you'll get to keep as a souvenir.
As you navigate through the narrow, water-formed canyon, you'll be captivated by the shimmering frozen waterfalls and the suspended catwalk that offers a unique perspective of the canyon.
Remember to dress warmly in ski wear, including hats, mittens, and warm boots for this trip; a detailed list of recommended attire and items to bring along is provided on your voucher.
Recent guests have praised the tour, highlighting the knowledgeable guides and the mesmerising night views as the highlights of their experience.
Many particularly enjoyed the moonlit ice sparkling like diamonds and mentioned that the evening walk was a truly unforgettable experience.
"Beautiful evening under the stars. It was such a beautiful evening, great tour guide. Very informative. Highly recommend booking the Evening sidewalk. Thank you."

Ashley_G, Jan 2023
Tour Details Summary
12. Dog Sledding Tour
⭐️ Rating: 5/5 | ⏳ Tour Length: | Check Rates and Availability
Kingmik Dogsled Tours has two dogsledding options to choose from. Here's a snapshot of each:
Great Divide Tour: A 1.5-hour journey to the Continental Divide, with a chance to steer the sled, guided by a team of enthusiastic dogs and a knowledgeable guide.
Narnia Tour: A 30-minute escapade through a picturesque woodland trail offering stunning views of Mt. Temple massif, ideal for those looking to add a quick yet magical adventure to their day.
Dress warmly, and don't forget your camera to capture the scenic beauty and your new furry friends!
"A unique amazing exhilarating experience. We loved the whole experience, the opportunity to drive the sled was very special and we felt honoured to be able to join Jared and his team of wonderful friendly dogs. The location of this tour at the Great divide was absolutely breathtaking, travelling down the Aberdeen pass with wind and snow whipping past the sled was awesome, as were every one of the dogs..."

Fiona and Mary Mar. 2023 (read more reviews on Tripadvisor here)
Tour Details Summary
Family-Friendly and Shorter Banff Tours
Embark on a picturesque adventure with the Banff Family-Friendly Horse-Drawn Sleigh Ride.
This 40-minute journey offers a serene escape into the heart of Banff National Park, a haven for nature enthusiasts and those seeking a slice of a winter wonderland.
Glide through snow-kissed meadows with views of iconic mountains such as Rundle Mountain and Cascade Mountain.
💞 🐴If you are looking for a romantic private sleigh ride, click here for details.
During your ride, keep an eye out for the local wildlife, including elk and deer, and your guide will share captivating stories and facts about the area.
At the end of your ride, you'll be welcomed with a comforting campfire session, where you can warm up with hot drinks and even roast marshmallows. A cosy end to your picturesque adventure.
Visitors praise the beautiful scenery and the friendly and accommodating staff, making it a must-visit for anyone looking to experience the winter magic of Banff.
Remember, dressing warmly is advised, including wearing a hat and gloves.
"This is our second visit to Warner Stables, but our first sleigh ride. It was fantastic again! Staff was so friendly and accommodating. The horses were beautiful as was the scenery! Our guide Emily was fantastic and super knowledgeable! Nice touch with the hot chocolate or apple cider that you could bring on the ride, as well as with the fire pits and marshmallows to roast at the end! We will definitely be back again!"

Get Your Guide Visitor (read more reviews here)
Tour Details Summary
⭐️ Rating: 5/5 | ⏳ Tour Length: 2 hours | Check price and availability
Ascend to the peak of Sulphur Mountain on the Banff Gondola, where you're greeted with a remarkable view of the town nestled amidst the sprawling mountain ranges.
We chose to go later in the day to avoid the crowds, but it was still pretty busy at the top, where you have panoramic views of six mountain ranges. Here, you'll also find interactive exhibits, a selection of restaurants, and a 360-degree observation deck.
The indoor areas provide a respite from the cold, but be prepared for a chilly experience if you choose to walk the Ridge Line boardwalks to various viewpoints.
It's one of those things you should do while in Banff, and it's well worth seeing the town from a birdseye perspective. But don't just take our word for it ▶︎ Read more reviews here.
💡Tip: Don't forget to bundle up before you venture along the ridge-top boardwalk to soak in the awe-inspiring scenery; the temperatures can plummet, reaching as low as minus 25 degrees C. The cold was so intense during our visit that both our iPhones stopped working shortly after snapping a few photos.
Tour Details Summary
⭐️ Rating: 5/5 | ⏳ Tour Length: 2 hours | Check Price and Availability
Join a guided tour to explore Banff National Park at night.
With the aid of headlamps and lanterns and equipped with ice cleats when necessary, you'll safely navigate the park's trails. Remember to wear appropriate footwear for this outdoor hiking experience.
As you venture through the park, keep an eye out for nocturnal wildlife, adding an element of excitement to your night walk.
The clear, light-pollution-free sky offers a prime view of the Milky Way and occasional shooting stars, making for a memorable night out.
"Wow! Beautiful nature with a touch of exciting adventure! AMAZING!!! The perfect blend of adventure and just absolute beauty! The walk is not difficult, the views are amazing, and it's an incredible 2 hours spent in nature at a time you've never been able to see it at before safely! Jacob was an amazing guide, made us feel very safe, and his passion really added to the experience! 10/10 would recommend!"

Taylor_E, Feb 2023 (Read more reviews)
Tour Details Summary
Self-Guided Sightseeing Tour
As you can see, you can enjoy so many varied winter activities. There are, however, plenty of things to do in Banff without a tour guide.
Here's a list of activities you can indulge in, peppered with personal anecdotes from our very own adventures.
We hired a car (from Calgary Airport) to get around. But if you haven't got your own transport, the tours are the easiest way to see Banff and Lake Louise.
Lake Louise: A visit to Banff isn't complete without a stop at the picturesque Lake Louise. Don't miss the chance to experience high tea here; it's absolutely delicious.
Banff National Park: Wander through the snow-covered landscapes and discover the beauty of Banff in winter. The park offers a range of hiking paths. We took a memorable hike up Tunnel Mountain.
Canadian Rockies: Drive the famous Icefields Parkway on your way to Lake Louise – the scenery really is stunning, and it's a great way to see the Canadian winter in all its glory.
Town of Banff: Take a leisurely stroll through the town, sipping hot chocolate and savouring local Canadian delicacies in the cosy cafes. Maple syrup is a staple ingredient and a flavour I'm particularly fond of. Both my grandmother and mother were Canadian, so growing up in the UK, we always had maple syrup in the cupboard.
What's the Banff Weather Like in Winter?
The coldest months in Banff are generally in December and January, with an average maximum temperature of -5°C (22°F) and a minimum of -16°C. Therefore, make sure you are kitted out with warm layers.
You can expect 7-10 days of snow with limited sunshine. With December and January only having about 45 hours in the whole month.
Saying that, when we were in Banff, Christmas day had clear blue skies and beautiful sunshine.
What to Pack for Your Banff Winter Tours
Packing the right items is essential to ensure a comfortable and enjoyable experience on any of these tours. Here's a quick guide to help you pack wisely:
Warm Clothing: Layer up with thermal wear, fleece jackets, and waterproof outer layers to stay warm and dry in the snowy conditions.
Footwear: Opt for insulated, waterproof boots that grip icy surfaces well. We bought our winter boots from REI while in Canada, so we had the best for below freezing temperatures.
Accessories: Don't forget a warm hat, gloves, and a scarf to protect yourself from the chilly winds.
Eyewear: Sunglasses to shield your eyes from the snow and sun glare.
Photography Gear: Pack a good-quality camera to capture breathtaking views and memorable moments.
Healthcare Essentials: Include a basic first-aid kit and any personal medications you may need.
Sustainability Items: Bring a reusable water bottle (use code: LJFT15 for a 15% discount) and snacks packed in reusable containers to reduce waste.
Emergency: Equip yourself with a small flashlight and a whistle for safety.
🚑 Before you head off, buying reliable travel insurance is crucial. Consider getting a quote from World Nomads or SafetyWing to ensure you're covered during your adventure.
Best Banff Winter Tours… That's a Wrap
As we wrap up our journey through the winter wonderland of Banff, we hope you've found inspiration for your next adventure.
Whether you choose to sightsee around the picturesque Lake Louise, embark on a tranquil sleigh ride or explore the icy wonders of the Johnston Canyon ice walk, Banff has something for everyone.
Don't miss the chance to explore the natural formations and unusual rock formations that adorn the Banff National Park, such as Lake Abraham's ice bubbles or the Hoodoos.
Whether you opt for a guided tour with expert guides or decide to venture out on your own, remember to soak in the sights and sounds that make Banff a unique destination.
You May Also Like to Read
Pin and Save for Later