Some posts on this site contain affiliate links meaning if you book or buy something through one of these links, we may earn a small commission. Read our Disclosure Policy here.
[Updated 2023]
CHRISTMAS IN BANFF
Christmas in Banff, in the Canadian Rocky Mountains, was a childhood dream come true — a magical wilderness of mountain peaks and frozen lakes, wildlife encounters and fairytale forests.
Banff National Park, covered in a blanket of snow and twinkling lights, captured our hearts and gave us memories that will stay with us forever.
A magical white Christmas in the heart of Banff National Park would have to be one of the best ways to spend Christmas. I say one of the best because Christmas in the Swiss Alps is definitely up there on par.
To be surrounded by majestic mountains, and snow-crusted pine trees while snuggled in a cosy log cabin, has to make for a very special white Christmas.
WHAT TO DO IN BANFF AT CHRISTMAS: OVERVIEW
EXPLORE BANFF TOWN
SIP YOUR WAY THROUGH THE HOT CHOCOLATE TRAIL
TAKE A SNOWY SLEIGH RIDE THROUGH BANFF
INDULGE IN A FABULOUS FONDUE AT THE GRIZZLY HOUSE
VISIT THE FAIRMONT BANFF SPRINGS
BE ENTHRALLED BY THE 'SEARCH OF CHRISTMAS SPIRIT
VISIT THE BANFF CHRISTMAS MARKETS
SOOTHE YOURSELF IN THE BANFF HOT SPRINGS
VISIT THE LAKE OF THE SPIRITS, BANFF'S LAKE MINNEWANKA
TAKE A BANFF WILDLIFE TOUR
ESCAPE TO THE HOODOOS
VISIT YAMNUSKA WOLFDOG SANCTUARY
EXPLORE LAKE LOUISE BY HORSE AND SLEIGH
HAVE HIGH TEA AT THE FAIRMONT CHATEAU
HIKE TUNNEL MOUNTAIN
SOAR THE HEIGHTS ON A BANFF GONDOLA RIDE
HAVE FUN ICE SKATING
SPEND CHRISTMAS IN A LOG CABIN IN BANFF NATIONAL PARK
SNOW-SHOE THROUGH THE FOREST
MAP – CHRISTMAS IN BANFF
THINGS TO DO AT CHRISTMAS IN BANFF NATIONAL PARK
Beautiful in all seasons, but in winter, and especially at Christmas, Banff National Park transforms into a pristine magical winter wonderland.
In this post, I highlight the best places, experiences and sights to see both in the town of Banff and the beautiful Banff National Park at Christmas time.
Banff National Park is part of the Canadian Rocky Mountain Parks UNESCO World Heritage Site. It covers over 6000 square kilometres and is home to glaciers, mountain peaks and valleys, stunning glacial-fed lakes and abundant wildlife such as wolves, buffalo, elk, moose, deer and bears.
A wonderful natural wilderness to wander and explore.
Banff National Park took second place in the ranking of the most peaceful National Parks in the world that were considered to have a positive impact on well-being and mental health.
1. EXPLORE BANFF TOWN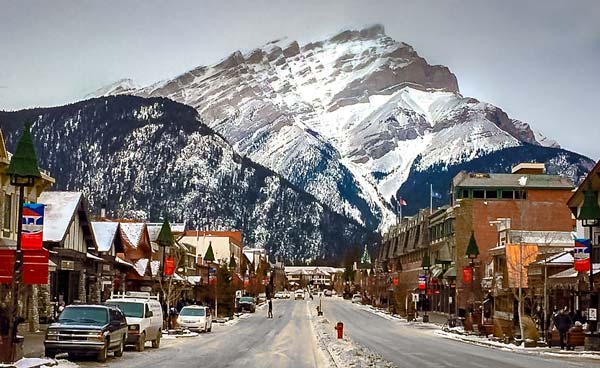 Banff, within Banff National Park, is a popular resort town in winter where you'll find many ski and winter sports enthusiasts indulging in the infectious Banff Christmas spirit.
The streets are lined with tempting boutiques and the tantalising smells drifting from the restaurants compete to draw you inside. Come evening, the street snow glistens reflecting the Christmas fairy lights sparkling with festive spirit and the bars come alive with the aprés-ski crowd.
We began our stay at the Fox Hotel and Suites, as it was right in town, had underground parking and a great buffet breakfast.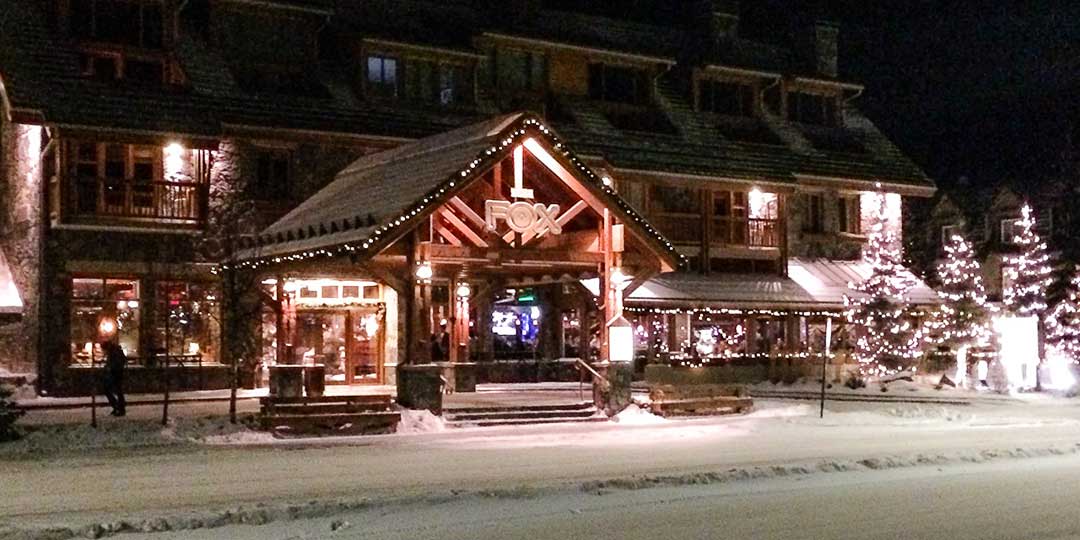 Wandering around the twinkling streets of this winter wonderland, you can spot deer foraging for food, which adds just that extra special little Christmassy touch.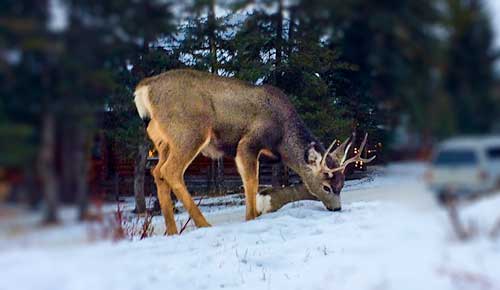 2. SIP YOUR WAY THROUGH A FESTIVE HOT CHOCOLATE TRAIL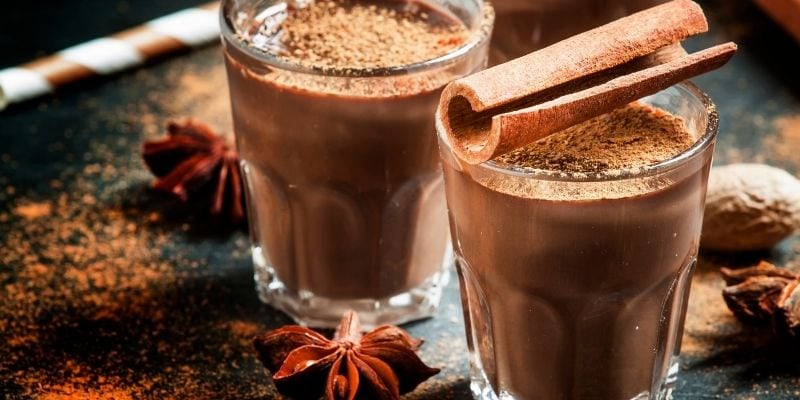 What better way to warm up and start your Christmas in Banff than on a Hot Chocolate Trail?
Twenty-four of the cafes and restaurants in Banff and Lake Louise offer festive-themed hot chocolate.
Why not try a Chocolate Caramel Avalanche, a Black Forest, a S'mores Explosion, or a Snow Flake? The tantalising flavours, toppings and 'cocktailish' names are all enough to entice you out for a comforting Christmas tipple — with many having warming ingredients that come with the 'Adults Only' label too.
2023/24 DATES: This year's Hot Chocolate Trail runs from November 18, 2023, to January 1, 2024
3. EXPERIENCE A QUINTESSENTIAL COSY SNOWY SLEIGH RIDE THROUGH THE BANFF NATIONAL PARK
This tour leaves Banff and takes you on a winter wonderland wander through the Banff National Park. You can cosy up under winter blankets and enjoy toasting marshmallows as the finale.
❄️ Book for a family of four or choose a romantic horse-drawn sleigh ride for two
4. ENJOY A FONDUE AT THE FAMOUS GRIZZLY HOUSE FONDUE RESTAURANT

Our visit wouldn't have been complete without a visit to the famous fondue restaurant, Grizzly House in the centre of Banff. Operating since 1967, this eclectic and rustic restaurant is renowned for its fondue and sizzling hot plates.
The menu includes meats that aren't your everyday fares, such as caribou, elk, buffalo, alligator and rattlesnake. Enjoy a cheese fondue to start, a selection of exotic meats on a hot plate and finish off with a fruit dipped in chocolate fondue.
An indulgent meal — but that's just what cozy winter food is all about.
5. VISIT FAIRMONT BANFF SPRINGS
Nestled in the mountains overlooking the town sits the Fairmont Banff Springs luxury hotel. The original hotel was built in 1888 as part of the Canadian Pacific Railway hotel network.
The hotel gets its name due to it being near the famous Cave and Basin Hot Springs, which were discovered back in 1883 by three Canadian Pacific Railway workers, at the foot of Sulphur Mountain. The discovery captured the attention of the nation and thus led to the creation of Banff National Park.
The Fairmont Springs has special Christmas at the Castle activities planned over the season, with events such as a magical Winter Wonderland area with fire pits, an ice rink, s'mores and outside dining.
6. BE ENTHRALLED BY THE 'SEARCH OF CHRISTMAS SPIRIT'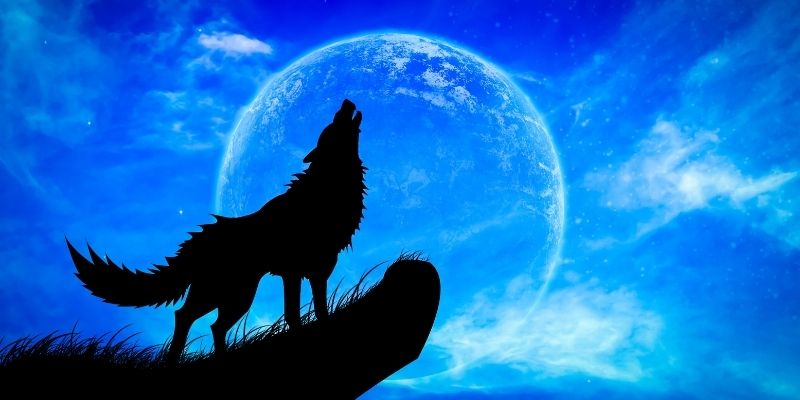 Banff & Lake Louise Tourism presents, 'Search of Christmas Spirit', a FREE sensory extravaganza of light and sound.
The experience celebrates the incredible animals who live in Banff National Park, reflecting the cherished healing and restorative powers of this land, and tells an inspiring story of hope and unity.
DATES: The trail runs from November 24 to December 31, 2023

7. MAKE MERRY AT THE BANFF CHRISTMAS MARKETS
The Banff Christmas Market and the Santa Claus Parade in Banff are sure to be a winner. The Christmas Market at Warner Stables is packed with about 80 artisanal stalls selling jewellery, art, clothing, decor, food and drinks. You'll also find Santa's house and reindeer stables here, with live music and an outdoor fire pit.
Remember to pre-buy your tickets, which are about $10 with children under 12 free.
The Banff Christmas Markets 2023 opening times are TBC:
Last year's times were:
18 Nov to 20 Nov 2022
19th November 2022 Santa's Parade starts at 6 pm.
25 Nov to 27 Nov 2022
2 Dec to 4 Dec 2022
For more details check out their Facebook page
8. REJUVENATE IN BANFF HOT SPRINGS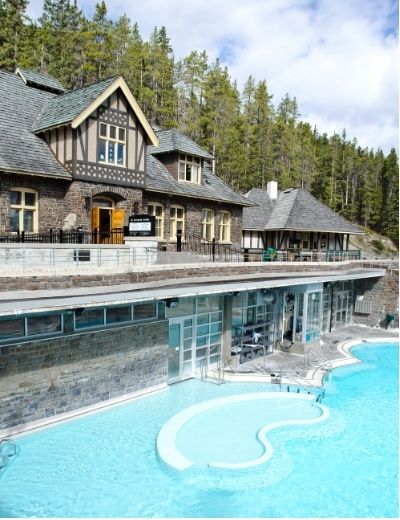 You can also take a trip to the rejuvenating, Banff Hot Springs, Upper Hot Springs, especially if you have been skiing on the many slopes in the area — something to soothe the aching muscles.
The spring is operated on a first come first served policy and you can make a reservation.
Banff Springs is open from Friday to Tuesday, (Closed Wed/Thursday).
Check the Banff Hot Springs website for opening times.
9. VISIT LAKE MINNEWANKA, BANFF NATIONAL PARK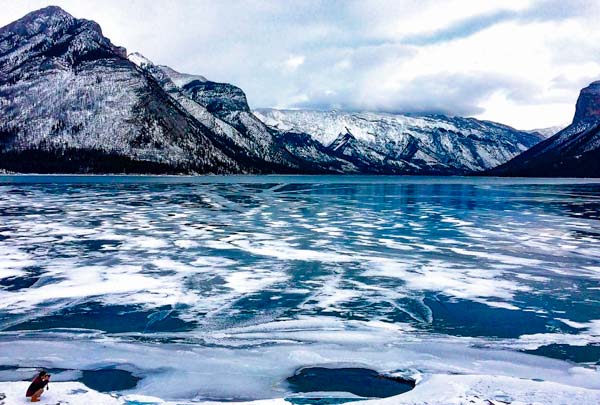 Five kilometres from Banff is Lake Minnewanka, a large, glacial lake, where the stark mountains stand like sentinels guarding this precious resource. The indigenous people called it Minn-waki (Lake of the Spirits) and early European settlers later named it Devil's Lake.
It now conceals a ghost town, deep in its depths – a hidden, buried village, that only scuba divers get to visit. In winter, with the lake frozen, an eerie stillness wraps around you.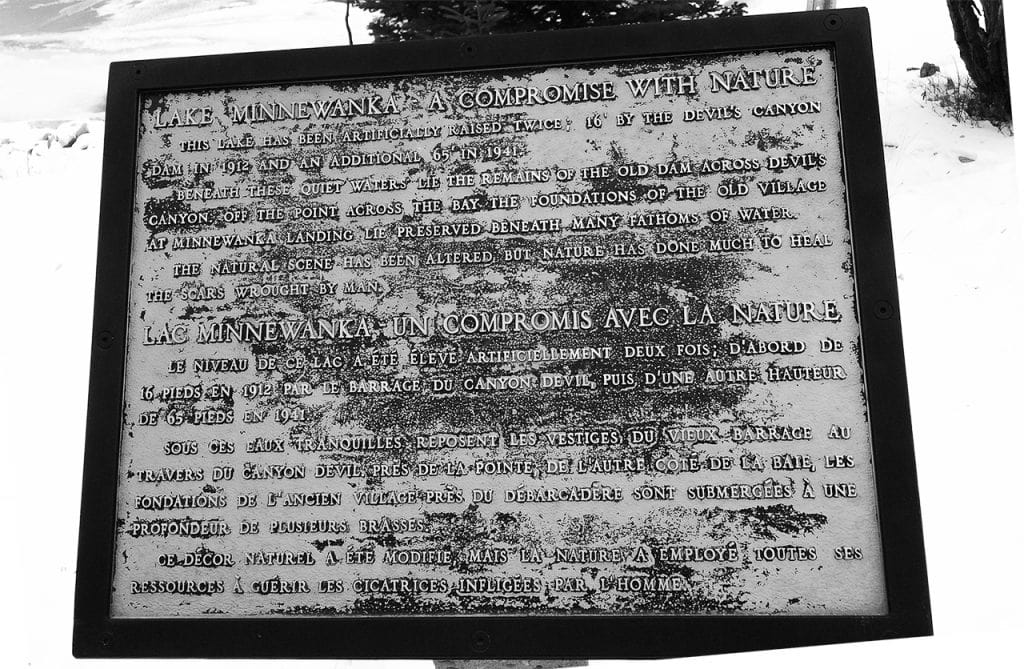 We crunched our way over ice and snow to the very edge of the frozen lake.
With the cold nipping fiercely at our exposed skin, we looked out across the vast expanse of mystical Lake Minnewanke. The immense beauty of this austere Banff winter landscape will take your breath away.
Standing on its shores, knowing that for hundreds of centuries people have stood here before you, is very humbling.
10. TAKE A BANFF WILDLIFE TOUR
Banff has an abundance of wildlife, including mule deer, elk, moose, white-tailed deer, coyotes, wolves, big-horn sheep and bears. You will see some of the deer in the streets of Banff, but to search for more of its wildlife, we'd recommend taking a tour around the area.
🦌 We thoroughly enjoyed Banff Wildlife Tour we took, which included the main landmarks around Banff and an interesting commentary about the wildlife and their habits | ⭐️ 4.6/5 star reviews| ⏰ 3 hours | Book tour here
If you are interested in wildlife then we'd also recommend a visit to the Banff Park Museum in the town. It is a National Historic site and is the oldest natural history museum in Western Canada.
11. VISIT BANFF HOODOOS – CHIMINÉES DE FÉES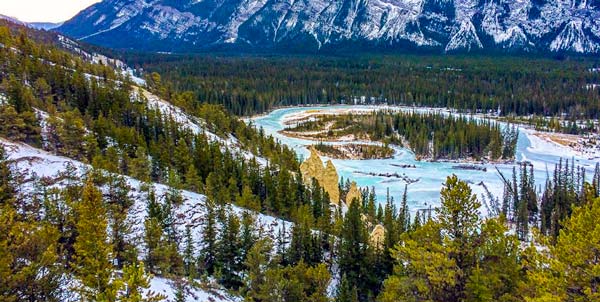 Christmas in Banff can be a little hectic, but an escape awaits you close by. The Hoodoos. A fascinating name for these pillars of rock formed from years of erosion. What really sets them apart is the spectacular scenery around them.
With the snow-covered Mount Rundle as the backdrop and the swirly Bow River below, this winter scene is pretty much picture-perfect.
12. VISIT YAMNUSKA WOLFDOG SANCTUARY
About an hour's drive east of Banff you'll find the Yamnuska Wolfdog Sanctuary. Winter is one of the best times to visit as this is when the wolves are at their most active, enjoying the cold snowy conditions.
We decided to do the interactive tour which cost about $54 each and required prior booking. It was well worth it though, as you are able to get up close and personal with the wolfdogs and can even hand-feed them. Being so close to these amazing animals was a privilege and an absolute wonder
13. EXPLORE LAKE LOUISE IN BANFF NATIONAL PARK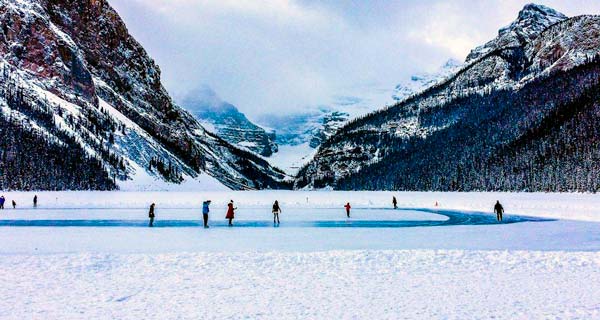 Within Banff National Park, about a 40-minute drive from the town of Banff, you arrive at the fairytale village of Lake Louise. Here you'll find the luxury mountain resort, Fairmont Chateau Lake Louise.
The main attraction, however, has to be Lake Louise itself, a bewilderingly beautiful glacial Lake.
Its summer splendour is often seen adorning magazines and Instagram, but its winter wonder is just as captivating.
It's free to ice skate on the lake, and what better way to remember your Christmas in Banff than by grabbing a ride with a horse and sleigh?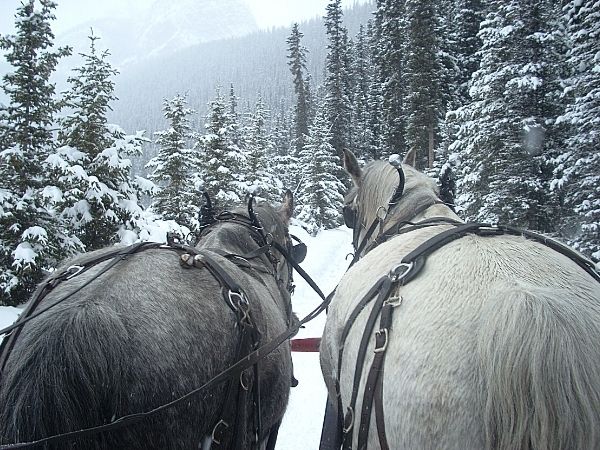 ⭐️ Book your Sleigh Ride Here ⭐️
14. INDULGE IN A CHRISTMAS HIGH TEA AT FAIRMONT CHATEAU – LAKE LOUISE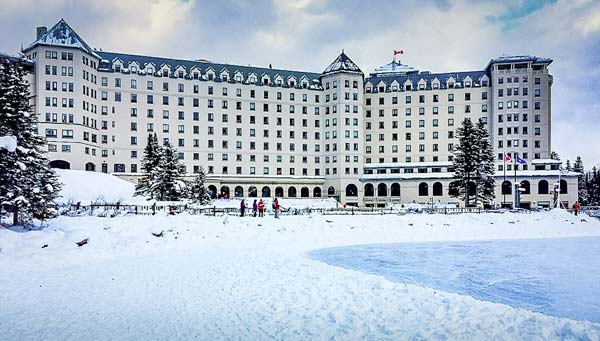 If a winter stay at the luxurious Fairmont Chateau Hotel doesn't fit into your budget, why not treat yourself to a decadent high tea? We did and it was truly scrumptious, a perfect afternoon Christmas treat. Make sure to pre-book. Lake Louise tourism, in general, is busy, but around Christmas time it is a super popular spot.
Reserve an afternoon high tea here.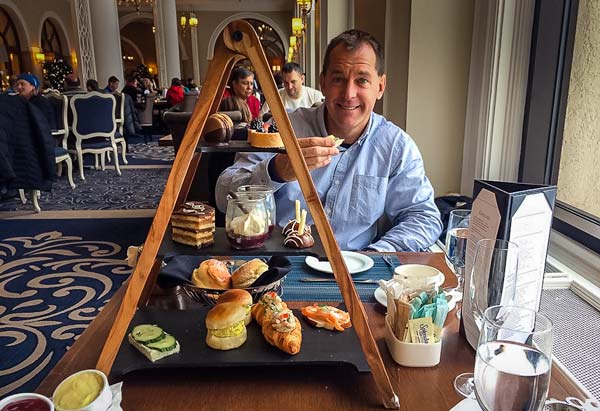 We could see Lake Louise through the window and, as we devoured these delicacies, we watched a winter wedding down by the lake.
The bride must have been freezing as she had a short sleeve wedding dress. Guests were sat with blankets in this unforgettable setting, but I imagine they were pretty chilly — I think it was about minus 15 degrees C at that time.
15. HIKE TUNNEL MOUNTAIN, BANFF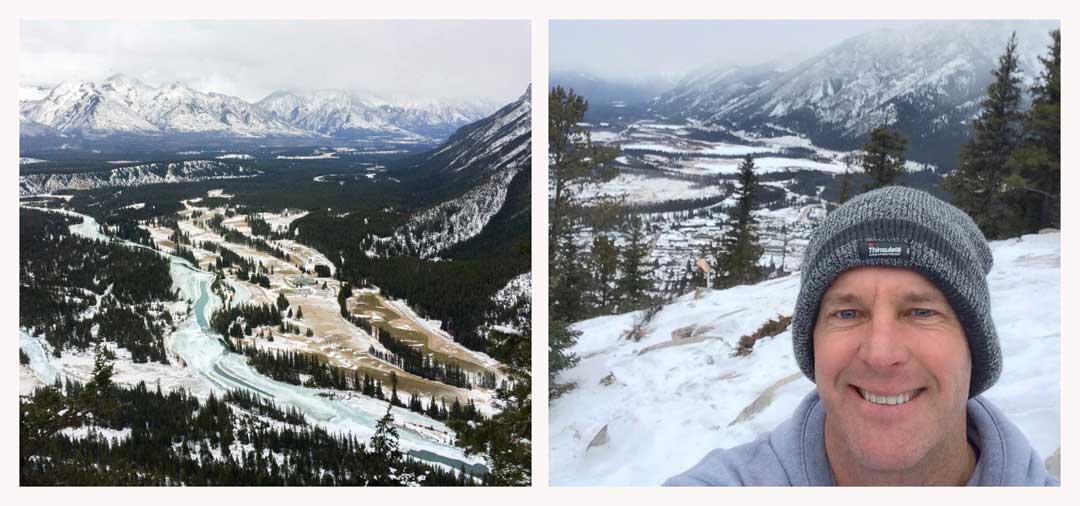 View from Tunnel Mountain, Banff
Set amidst the majestic Canadian Rockies, in Banff National Park, is Tunnel Mountain, one of Banff's most popular mountains.
The hike up the mountain is an easy 4.3-kilometre round trip, starting from downtown Banff. The trail takes you through pine and fir trees and rewards you with amazing views across to Mount Rundle.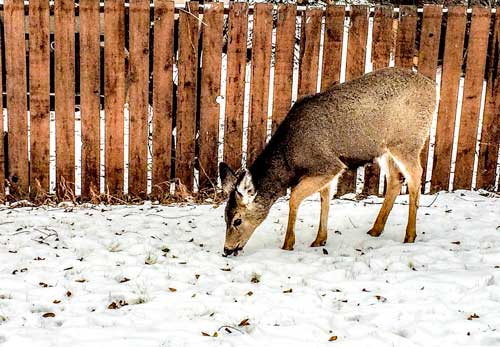 Keep your eyes out for wildlife. We were lucky to spot several deer on our hike. You can get more information about this hike and other popular Banff hikes at this website here.
16. TAKE A BANFF GONDOLA TRIP
Banff has its own gondola that takes you to the top of Sulphur Mountain. From here, you have an incredible view back down to the town and across the mountain ranges.
Stroll along the ridge-top boardwalk and take in the spectacular breathtaking vista. It can get pretty cold up there though – so make sure to wrap up warm. Both our iPhones shut down just after this photo. You can understand why — it was minus 25 degrees C.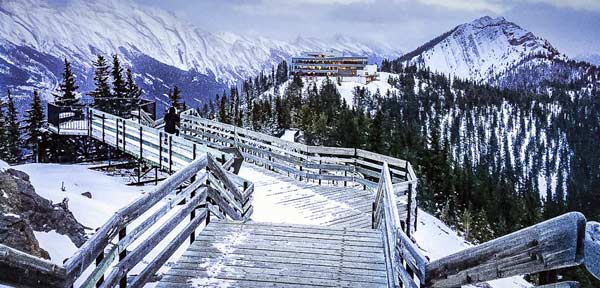 ⭐️ Book Your incredible view on a Gondola Ride here ⭐️
17. HAVE FUN ICE SKATING
There are several options for ice skating and most are free. The great thing is that you don't have to go all the way to Lake Louise to experience the slip-sliding fun.
There are a few options in Banff:
Bear Street Ice rink
Banff High School Rink
Fenlands Recreational centre (inside)
You can easily hire skates in the town.
18. SPEND CHRISTMAS IN A BANFF NATIONAL PARK LOG CABIN
We planned the perfect romantic retreat for Christmas Eve. A snow-covered log cabin in the middle of the forest. You can't get much more enchanting than that.
We chose Storm Mountain Lodge, halfway between Banff and Lake Louise, and it was delightful. We snuggled down in our cozy log cabin with a crackling fire and hot mulled wine.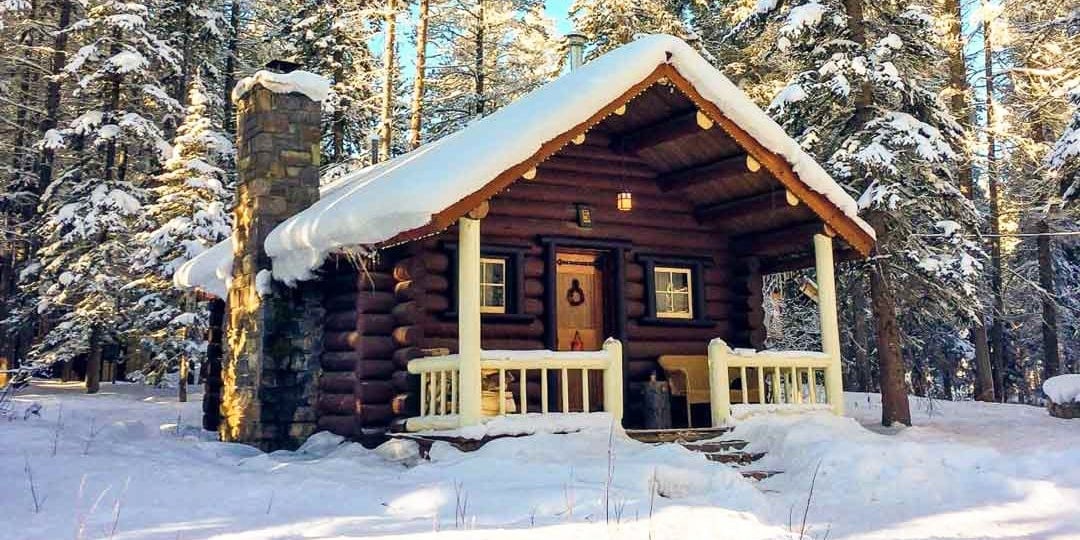 Below the snow-capped peaks of the Canadian Rockies, in the pristine wilderness of Banff National Park, surrounded by glistening snow and hundreds of white-tipped pine trees — We were in paradise.
19. SNOWSHOE IN BANFF NATIONAL PARK
We woke on Christmas morning to find that Santa had brought clear blue skies and sunshine to Banff National Park. The perfect day to have a snowshoe trip through the forest.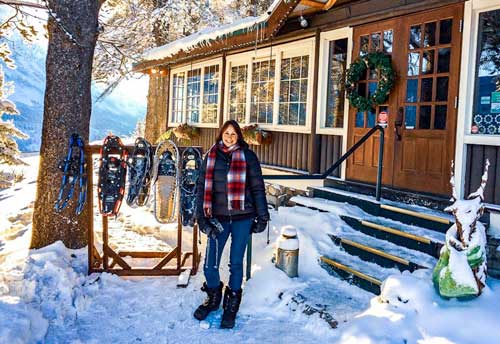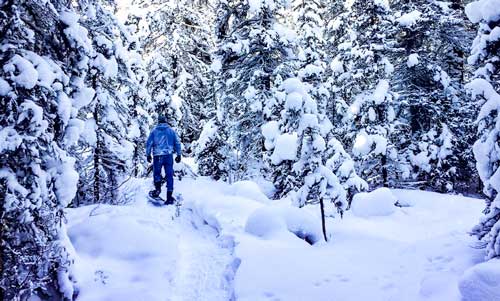 The lodge provides snowshoes for free and there is a return trail that takes you through the forest.
Afterwards, we settled ourselves in front of the roaring fire in the restaurant lobby to warm up, followed by a sumptuous Christmas dinner. We might have had a couple of hot toddies too… it was Christmas after all.
The perfect end to a wondrous winter trip in Banff National Park. Our Christmas in Banff National Park, with its incredible nature and wildlife, had us thinking about a return to explore the area in the summer sometime in the future.
OTHER BANFF WINTER ACTIVITIES
Other activities, including day trips and tours that you might like to include on your visit to Banff National Park, are:
Banff For Photographers
A National Geographic award-winning photographer takes this winter photography tour to capture Abraham Lake's phenomenal ice bubbles and other iconic landmarks.| ⭐️ 5/5 star reviews| ⏰ 12 hours | Find Price here
Banff For Hikers
Enjoy the Johnstone Canyon Ice walk with a professional guide, visit the beautiful lower and upper waterfalls, and learn how the canyon was formed. The excursion includes round-trip transport, ice cleats, and a hiking pole, plus a light snack and hot chocolate. There is also a nighttime ice walk available | ⭐️ 5/5 star reviews| ⏰ 4 hours | Find Price
Banff For Stargazers
Try this Banff Sunsets and Stars Evening Walking Tour — watch a stunning mountain sunset and then the stars appear while experiencing nature at remote trail locations. | ⭐️ 5/5 star reviews| ⏰ 2 hours | Find Price
More Banff Winter Tours
⭐️ Search for more activities available in and around Banff here ⭐️
GOOD TO KNOW FOR CHRISTMAS IN BANFF
---
WHERE TO STAY IN BANFF
Banff is a small town with many of its hotels on the main road leading into town. We stayed at the Fox Hotel which was only about a 5-minute walk to the centre of town.
Looking for hotels in Banff? Check out these options in the town below:
Fox Hotel and Suites: The hotel had free underground parking, and the rooms have a flat-screen TV, free wifi and coffee-making facilities. It also has a restaurant on-site and a cave-inspired hot pool | Breakfast included| ⭐️ Guest reviews 8/10 | Book here or check out reviews on Tripadvisor
High Country Inn: Has an indoor pool, a dry cedar sauna and a hot tub, Rooms have free WI-Fi and mountain views. . A fridge and tea and coffee-making facilities are included in each room. | ⭐️ Guest reviews 8.6/10 | Find Deal Here or check out reviews on Tripadvisor
Or, if you are looking for Cabins in the National Park:
Castle Mountain Chalets: 20 miles from Banff centre| Each chalet wooden chalet comes with a sofa, a flat-screen TV, cable channels, a well-fitted kitchen with a dining area, and a private bathroom with free toiletries. | ⭐️ Guest reviews 8.6/10 | Find Deal Here or check out reviews on Tripadvisor
For many more options, check out more accommodation options in Banff here.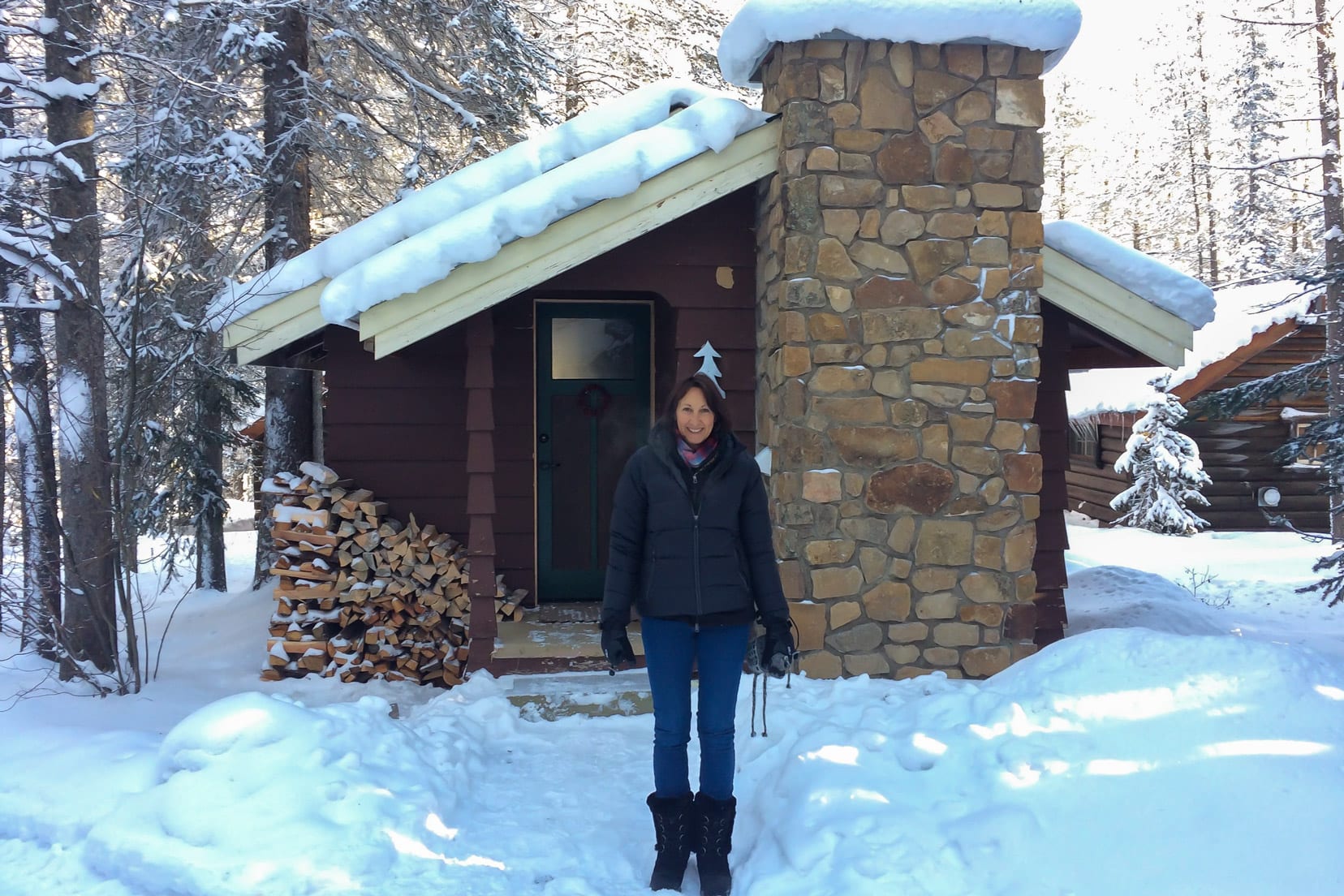 Christmas in Banff … That's a Wrap
As you can see there are plenty of things to do during Christmas in Banff, hot chocolate trails, magical light trails, romantic snowy lodges, wildlife viewing and snowshoeing through sensational scenery, to name but a few.
If you have any other good suggestions to do in Banff over the Christmas period, let us know.
Have a magical white Banff Christmas.
Pin and Save for Later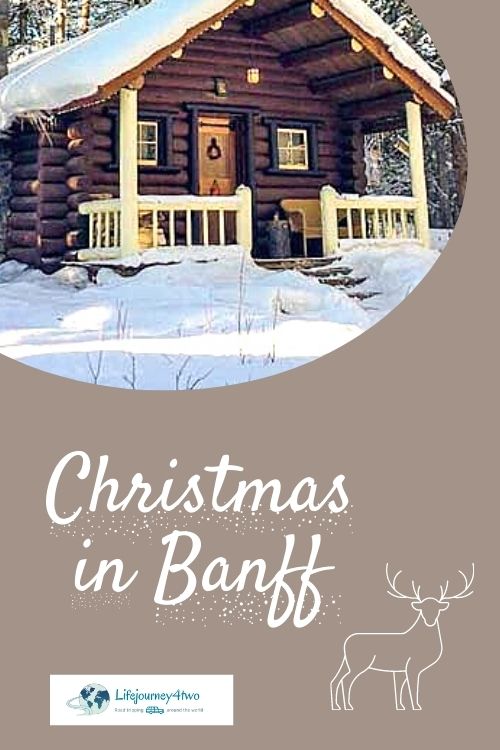 YOU MAY ALSO ENJOY READING
PLANNING YOUR TRAVELS?
These are some of the travel resources we use when planning our trips.
For a more thorough list visit our Travel Resources page here.