Christmas in Banff, in the Canadian Rocky Mountains, was a childhood dream come true – a magical wilderness of mountain peaks and frozen lakes, of special wildlife encounters and fairytale forests. Banff National Park, covered in a blanket of snow and twinkling lights, captured our hearts and gave us memories that will stay with us forever.
Christmas in Banff
A magical white Christmas in the heart of Banff National Park would have to be one of the best ways to spend Christmas. I say one of the best because Christmas in the Swiss Alps is definitely up there on par. To be surrounded by majestic mountains, snow-crusted pine trees and snuggled in a cosy log cabin, has to make for a very special white Christmas.
Christmas Day in Banff National Park
Our trip began in Vancouver, where we had spent about four days getting into the Christmas spirit, visiting the sights and Christmas Markets. We then flew to Calgary, hired a car and drove 130 kilometres for our Christmas in Banff. My mum and grandmother were both Canadian, so for me, having never visited Canada before, this was a wish I'd held close to my heart for a long time.
Summary: What to do in Banff at Christmas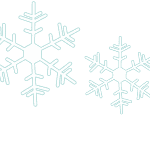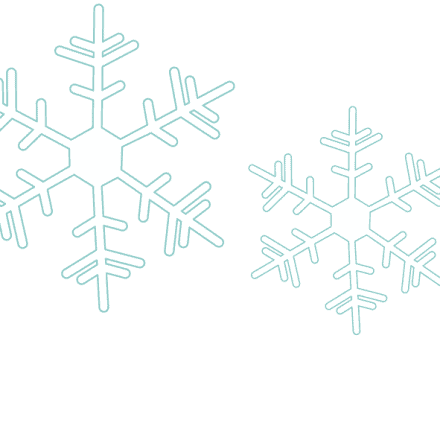 Explore Banff Town

Sip your way through Hot Chocolate Trail

Take a snowy sleigh ride through Banff

Indulge in a fabulous fondue at the Grizzly House

Visit the Fairmont Banff Springs

Be enthralled by the 'Search of Christmas Spirit'

Visit the Banff Christmas Markets

Soothe yourself in the Banff Hot Springs

Visit the Lake of the Spirits, Banff's Lake Minnewanka
Take a Banff Wildlife Tour

Escape to the Hoodoos

Visit Yamnuska Wolfdog Sanctuary

Explore Lake Louise by horse and sleigh

Have High Tea at the Fairmont Chateau

Hike Tunnel Mountain

Soar the heights on a Banff Gondola ride

Spend Christmas in a log cabin in Banff National Park

Snow-shoe through the forest
Banff National Park
Banff National Park is part of the Canadian Rocky Mountain Parks UNESCO World Heritage Site. It covers over 6000 square kilometres and is home to glaciers, mountain peaks and valleys, stunning glacial-fed lakes and abundant wildlife such as wolves, buffalo, elk, moose, deer and bears. A wonderful natural wilderness to wander and explore.
Banff National Park took second place in the ranking of the most peaceful National Parks in the world that were considered to have a positive impact on wellbeing and mental health. 
Things to do at Christmas in Banff
Beautiful in all seasons, but in winter, and especially at Christmas, Banff National Park transforms into a pristine magical winter wonderland.
In this post, I  highlight the best places, experiences and sights to see both in the town of Banff and the beautiful Banff National Park at Christmas time.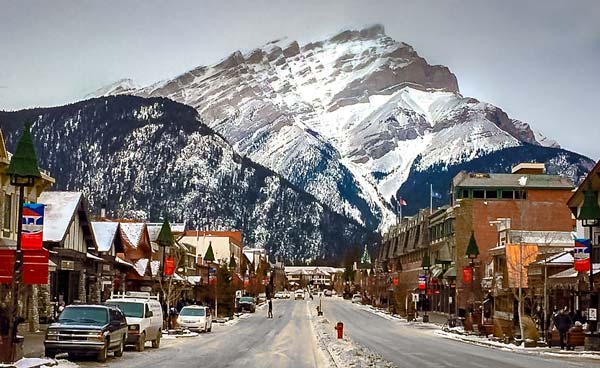 Banff, within Banff National Park, is a popular resort town in winter where you'll find many ski and winter sports enthusiasts indulging in the infectious Christmas in Banff spirit.
The streets are lined with tempting boutiques and the tantalising smells from the restaurants compete to draw you inside. Come evening, the street snow glistens reflecting the Christmas fairy lights sparkling with festive spirit and the bars come alive with the aprés-ski crowd.
We began our stay at the Fox Hotel and Suites, as it was right in town, had underground parking and a great buffet breakfast.
Wandering around the twinkling streets of this winter wonderland, you can spot deer foraging for food, which adds just that extra special little Christmassy touch.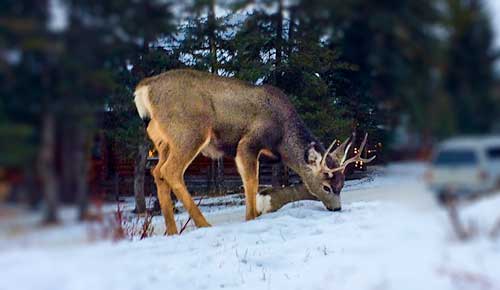 2. Sip Your Way Through a Festive Hot Chocolate Trail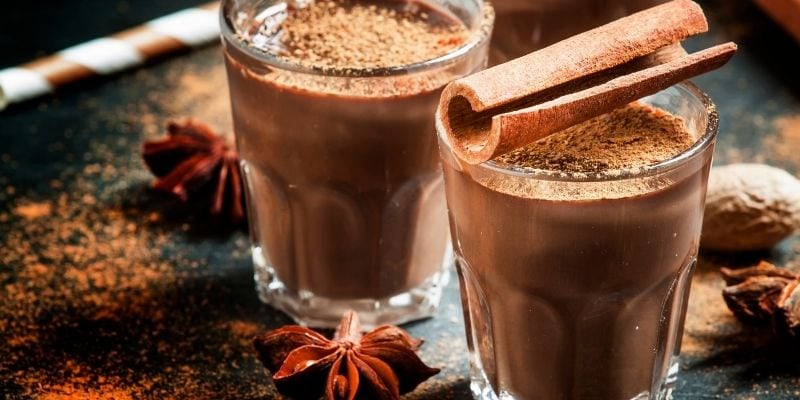 What better way to warm up and start your Christmas in Banff than on a Hot Chocolate Trail.
Twenty-four of the cafes and restaurants in Banff and Lake Louise offer a festive-themed hot chocolate. Why not try 'Santa's Hot Chocolate',  a 'Black Forest' or a 'Snow Angel'. The tantalising flavours, toppings and 'cocktailish' names are all enough to entice you out for a comforting Christmas tipple – with many having warming ingredients that come with the 'Adults Only' label too.
DATES: This year's Hot Chocolate Trail runs from November 20, 2021 – January 2, 2022
3. Experience a quintessential cosy Snowy Sleigh Ride through the Banff National Park
This tour leaves from Banff and takes you on a winter wonderland wander through the Banff National Park. You can cosy up under winter blankets and enjoy toasting marshmallows as the finale.
You can also book for just a family of four and as a romantic horse-drawn sleigh ride for two.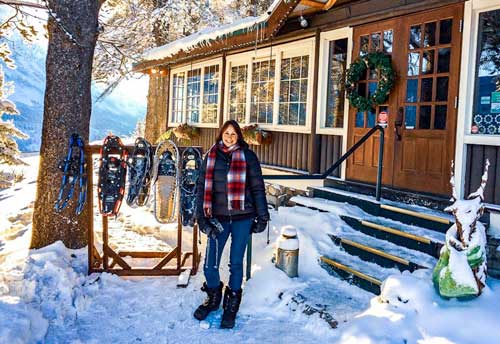 The restaurant and reception area of the Snow Mountain Lodge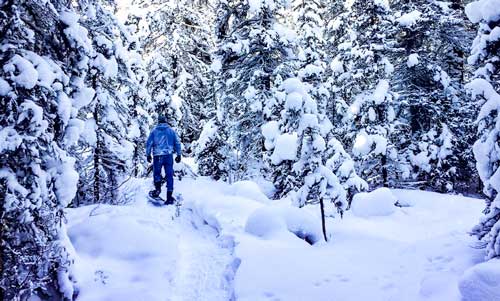 Snow-shoeing through Banff National Park
The lodge provides snowshoes for free and there is a return trail that takes you through the forest. Afterwards, we settled ourselves in front of the roaring fire in the restaurant lobby to warm up, followed by a sumptuous Christmas dinner. We might have had a couple of hot toddies too… just a couple;)
The perfect end to a wondrous winter trip in Banff National Park. Our Christmas in Banff National Park, with its incredible nature and wildlife, had us thinking about a return to explore the area in the summer sometime in the future.
Good to Know for Christmas in Banff
As you can see there are plenty of things to do during Christmas in Banff. If you have any other good suggestions let us know and enjoy your white magical Banff Christmas.
Leave us a message in the comments.
This post may contain affiliate links. This means that we may earn a small commission from purchases you make through our links, at no extra cost to you. Thank you for supporting us. For more info, read our Disclosure Policy.
Arrange Your Travel Insurance
Get a quote from World Nomads – one of the best options for travellers. Find out why here.
Book Your Accommodation
We use Booking.com as we can find a variety of cheap and budget accommodation such as local guesthouses and cheap hotels.
Travel Gear and Accessories
We've been on the road since 2017 and have added items we've found useful to our Lifejourney4two page on Amazon  
Car Hire
We use  Rentalcars.com to find the best car rental deals.
Motorhome/Van Rentals
If you are looking for a motorhome or van rental – we highly recommend the Motorhome Republic who can find the best deals worldwide.
Finding Activities to do
We use Get Your Guide and Viator to get ideas of what to do in a place – sometimes it's best to get tickets online and jump the queues.
Flexible Accommodation Options/ Or Finding someone to look after your pets
We often use house/petsitting as it really makes our travels much more affordable – as accommodation is FREE
Get 25% off  Trusted House Sitters by using our link here: Join Trusted House Sitters either as a house sitter or if you want to find a house sitter.
Photography Prints and Products
Shop our ETSY store for digital downloads of our best photos and our unique photographic designs.