Travel Photography Gear
This article highlights all the travel photography equipment that makes it into our camera bags.
We've been on the road since 2017, and everything we own, we carry with us around the globe. So, as you can guess, we have a meticulous screening process when it comes to the selection of our travel photography gear.
Being budget, long-term travellers and travel photographers our decisions are carefully weighed. Key considerations for whether certain travel photography gear gets the nod or not, are:
Cost
Item travels easily
Usefulness
Quality
I'll be honest, there's a heck of a lot of deliberation that happens behind the scenes. Travel photography gear isn't cheap, so it pays to do the homework.
Read on for advice on what is vital, important and good to have photography gear on your trip.
Our Top 25 Travel Photography Gear Items for 2023
What camera/lens combinations you decide to go with will depend on what you like to shoot. We predominantly focus on both wildlife and landscape photography and have kitted ourselves out with the necessary equipment.
Most cameras and lenses can be used interchangeably for multi-purposes. I'd say one of the overriding considerations when choosing the right amount of travel photography gear is to remember that you have to carry the stuff from point A to B.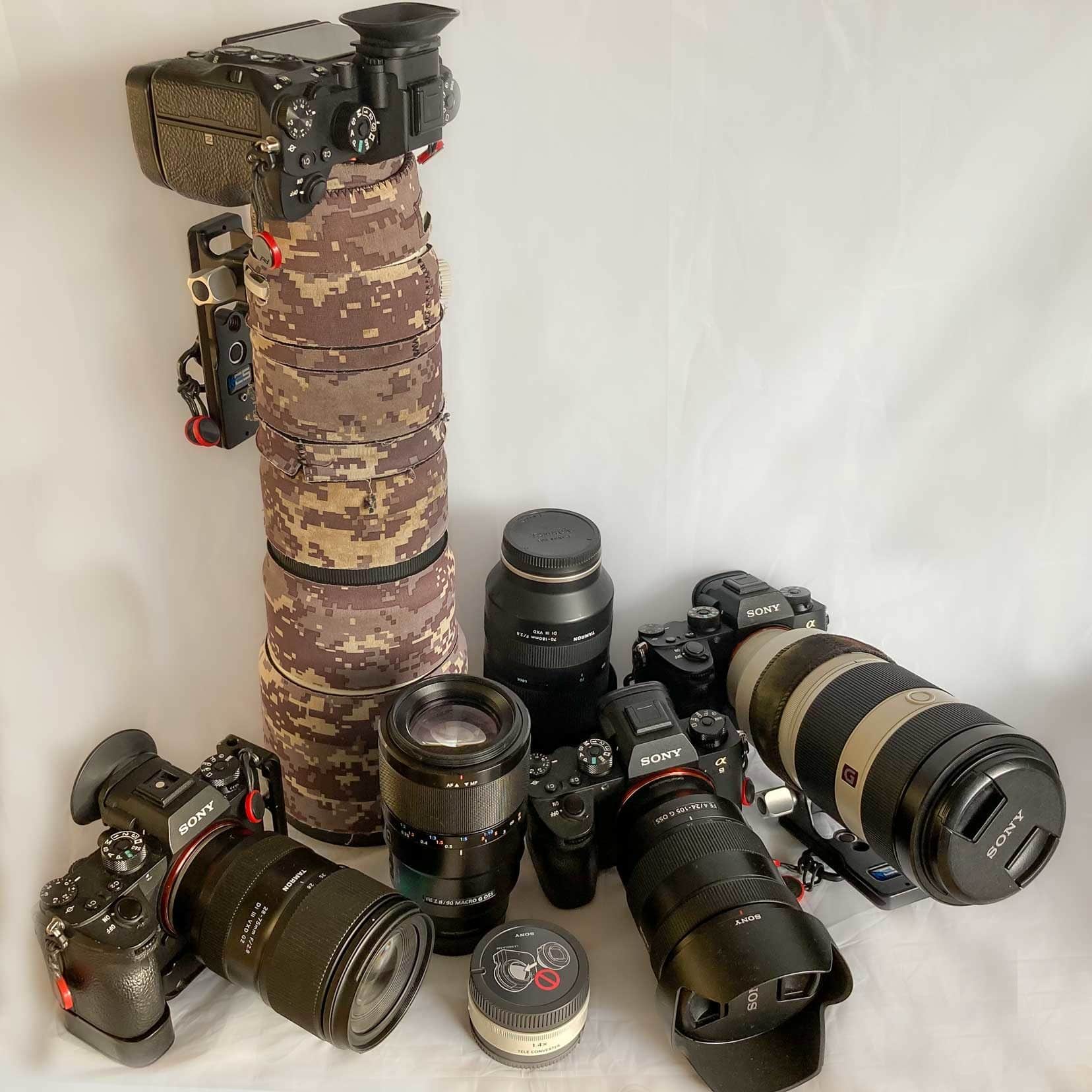 It will be a compromise between picking the photography equipment you need, versus what you can comfortably carry.
In the next sections, I include our:
Must-have photography equipment, that we just couldn't do without.
Nice-to-have photography equipment, super handy stuff but isn't a showstopper if we don't have it.
Special-purpose photography equipment
You will also find interesting travel photography tips plus products to add to your own packing list.
Must-Have Photography Gear
I've included items here based on if I was given 30 seconds to grab essentials for a photography shoot.
So what would I grab?
Below are my photography gear must-haves and used constantly during our road trip photography.
1. Sony A9 Camera
As Sony shooters, there are plenty of options to choose from within Sony's wide range of mirrorless cameras. Both full-frame and APS-C models. Mirrorless cameras are super travel cameras.
You can understand why they superseded DSLRs with their significant reductions in both weight and size. All the big names like Nikon, Canon, Panasonic, Olympus, Pentax, and Fuji, offer mirrorless cameras.
We use Sony's full-frame mirrorless a9 camera.
Actually, we have 4 x a9s. Two each. This wasn't a random decision by any means.
It minimizes swapping out lenses in the field which reduced the chances of dust falling on the sensor. This also means we can share 'like for like' accessories between cameras.
⭐️ As you can see we really rate these Sony a9 cameras. See all the great 📸 specs of the a9 cameras and check prices here ⭐️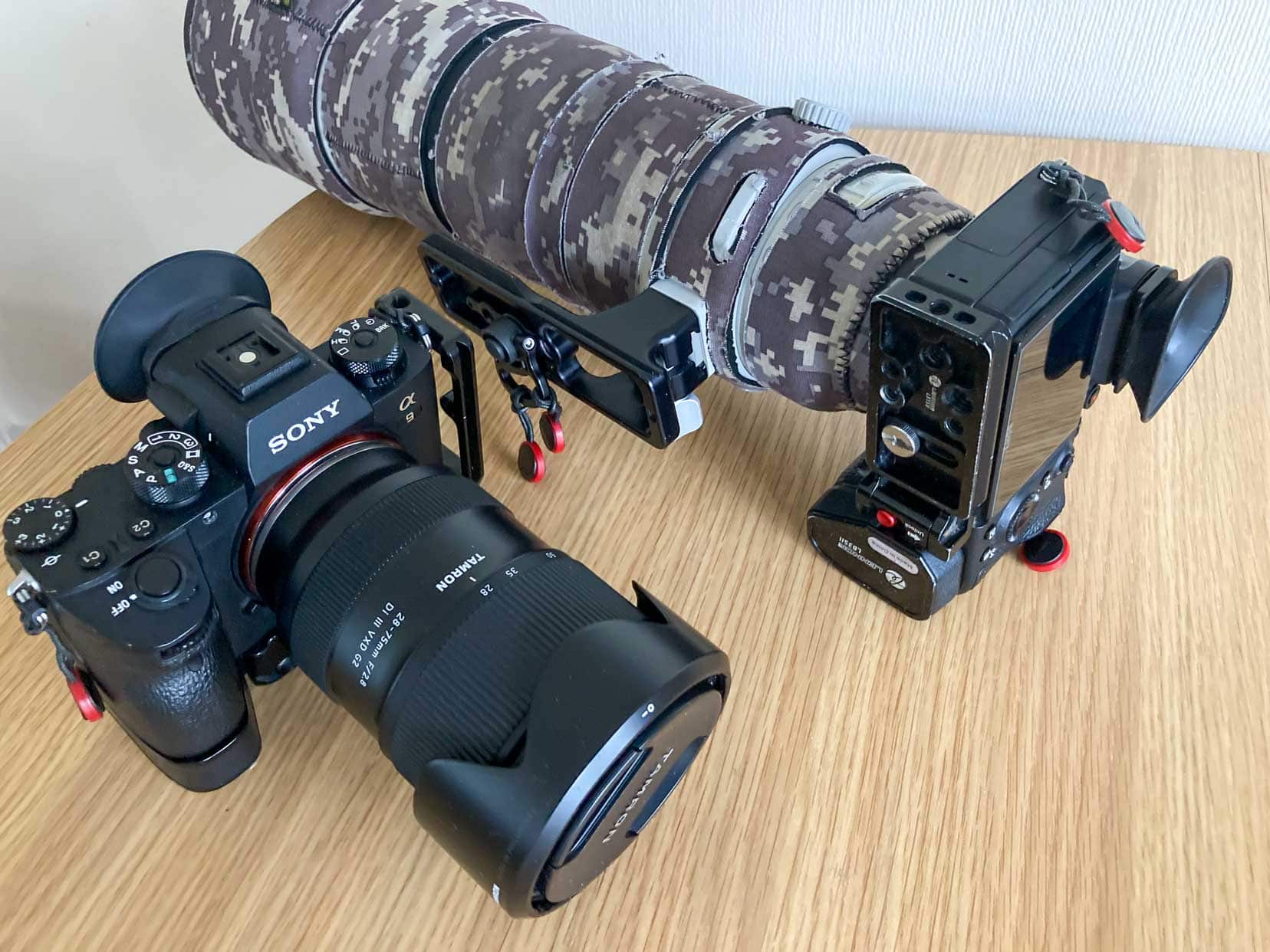 Why the Sony a9 mirrorless camera?
A combination of 20 frames per second continuous shooting,
693 auto-focus sensor points, and
CMOS stacked sensor gives black-out free shooting.

This means the Sony a9 is perfect for our wildlife photography. And really, this camera is superb for any genre of photography, just a great all-rounder as travel photography gear goes.
⭐️ Check out more of our Photography in our ETSY Store here ⭐️
This same blackout-free shooting is only offered in Sony's A9II, A9III, and the flagship Sony A1 models.
The Sony A9 has now been superseded by the Sony A9II.
2. Camera Lens
For a good sharp and pleasing image, you'll not only need a decent camera but also a good quality lens. Lens choice is wide-ranging and depends on what you want to photograph. The general rule is a wide-angle lens for landscapes, a zoom/telephoto lens for wildlife and a macro lens for closeups.
Travel photography by its nature can include many different genres so you might be packing a few different lenses with you. It's perfectly ok to mix and match lenses.
Half of our lenses are Sony and the rest Tamron.
Why?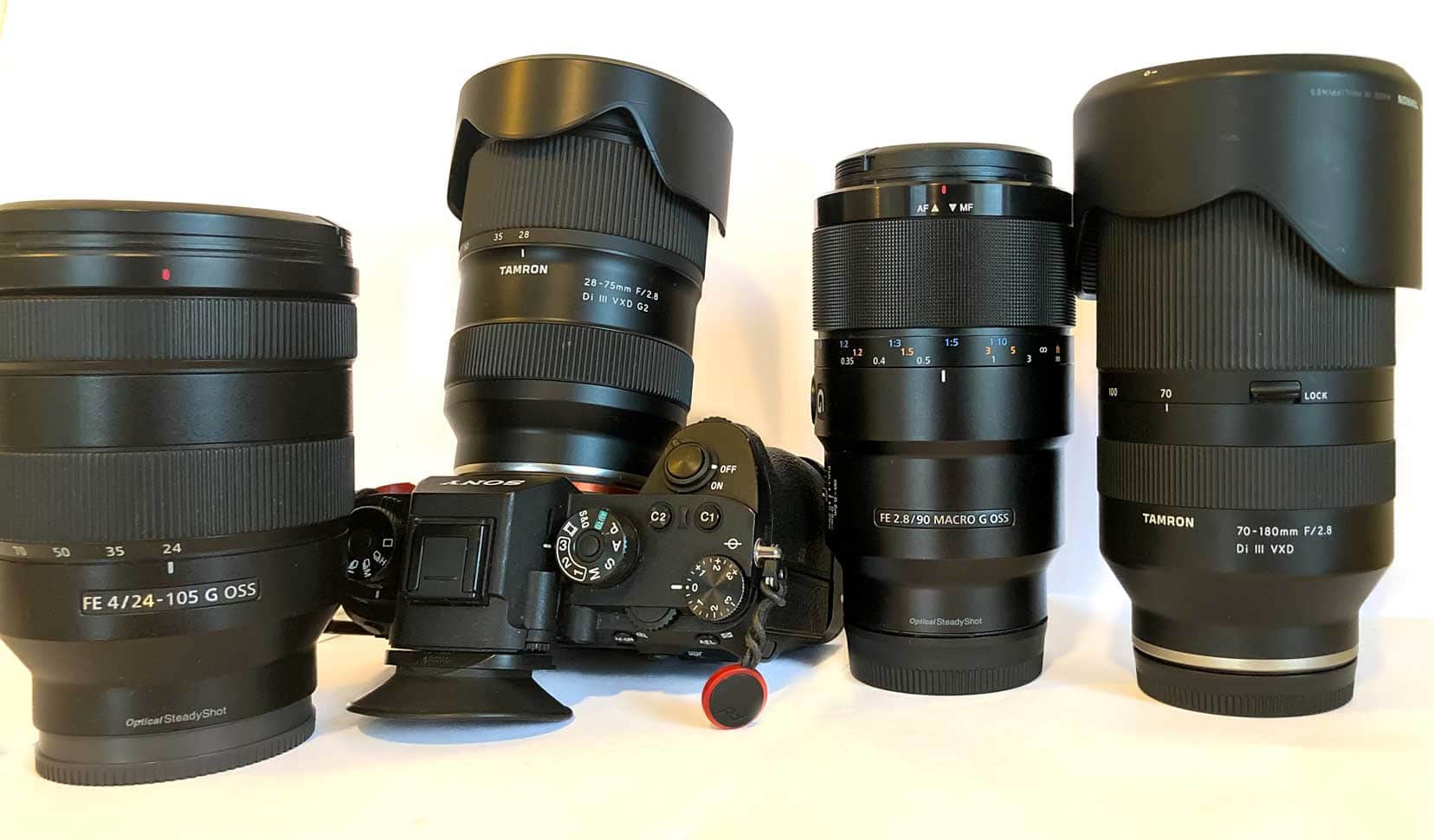 The main reason is the price.
A comparable Tamron lens is a lot cheaper than the Sony option and yet offers many of the same features with near-same performance. The Tamron lenses, made of polycarbonate material, are a lightweight durable plastic that helps to minimize the weight.
However, there are trade-offs.
Tamron lenses do not have image stabilization, the same level of weather sealing as Sony lenses, and shoot at a reduced maximum of 15 frames per second when coupled with the Sony a9.
Native Sony lenses coupled with Sony cameras shoot at the maximum possible 20 frames per second. Have a look at Sony lenses from the Sony lens site.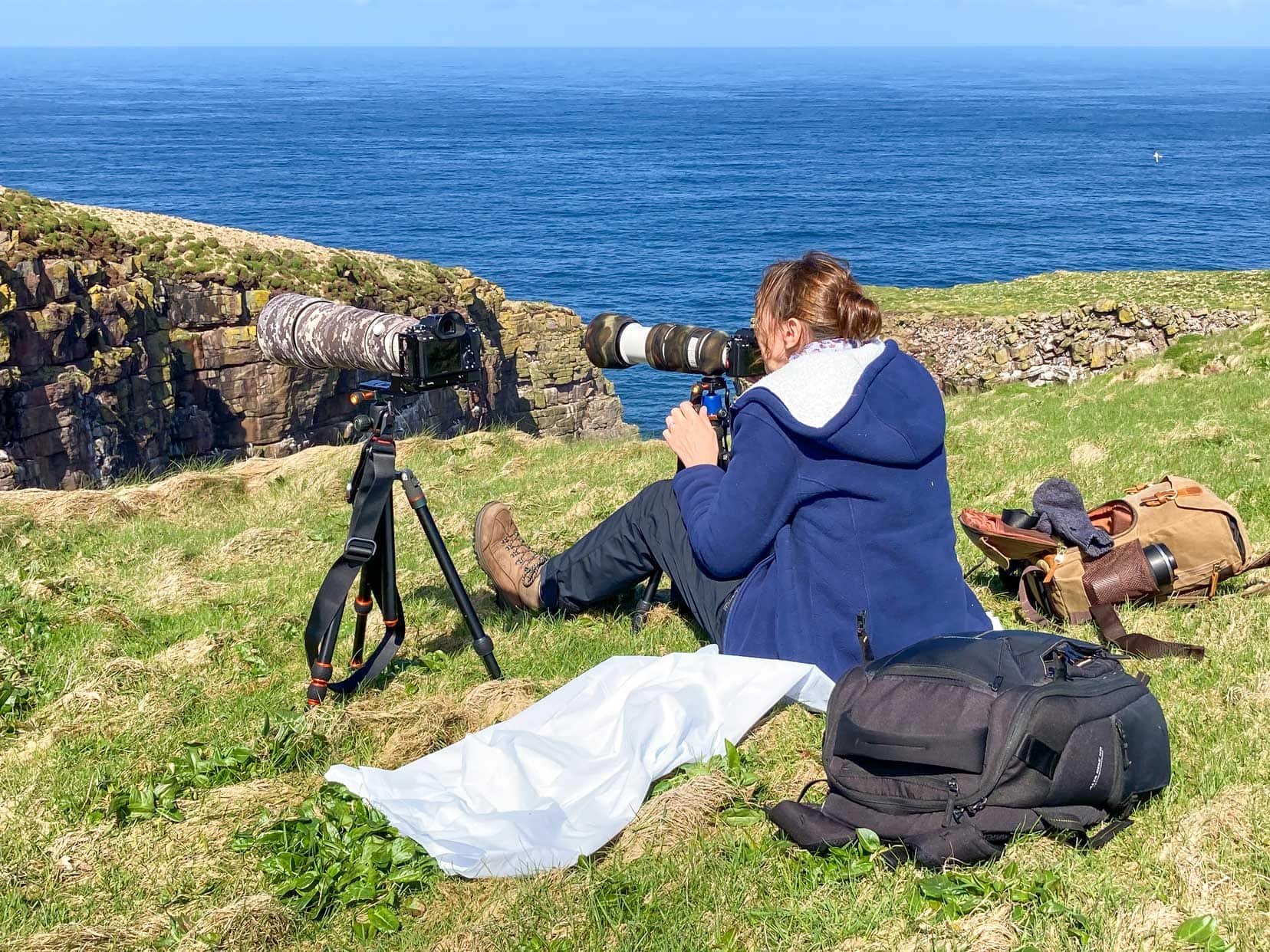 Here is our lens line up including the most common type of shooting we use them for: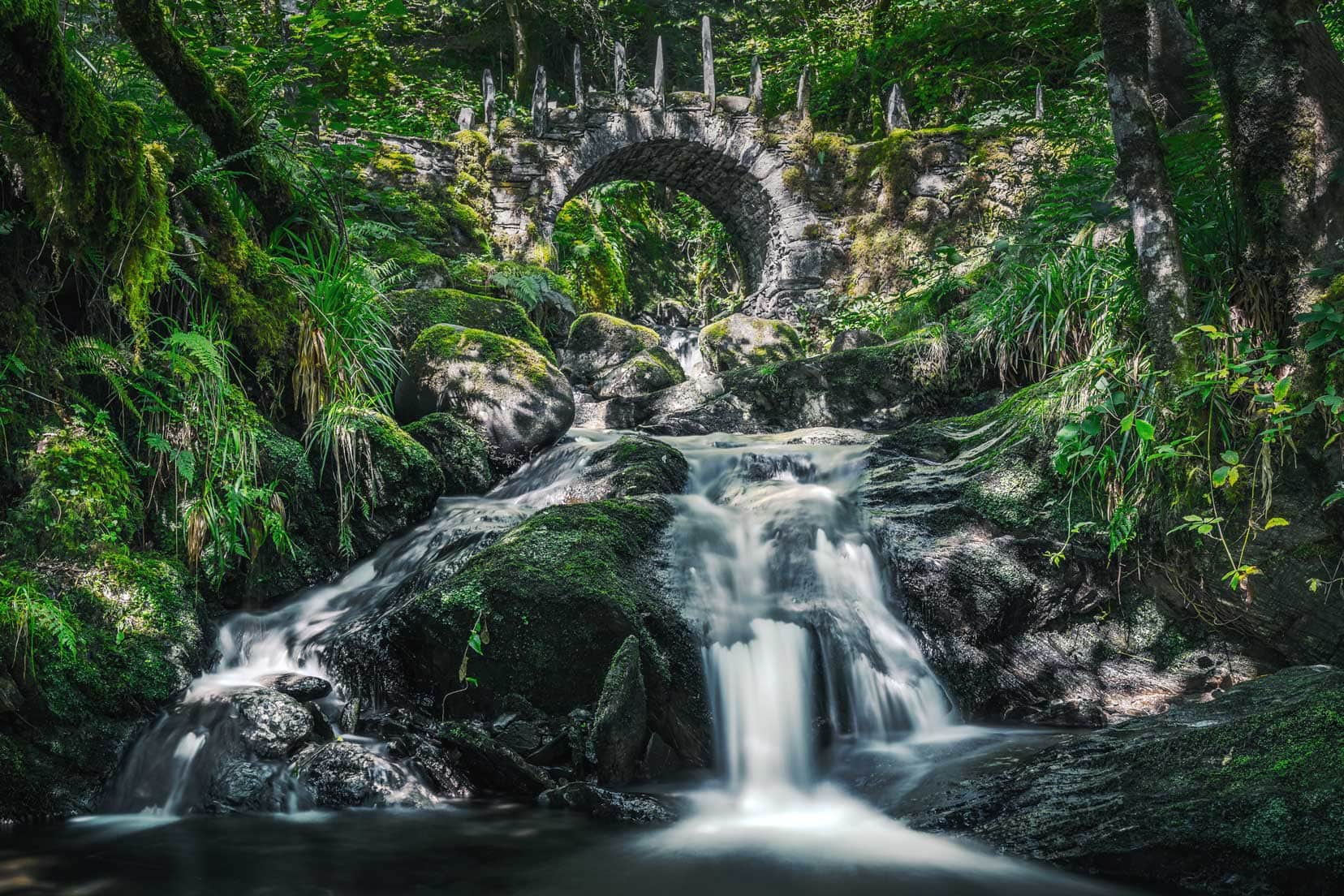 3. Camera Batteries
You aren't going to get far without an engine to power the camera and you'll need at least two.
Now, will you choose the manufacturer's battery (Sony OEM) or be enticed by the cheaper non-OEM option?
I've been down this road before.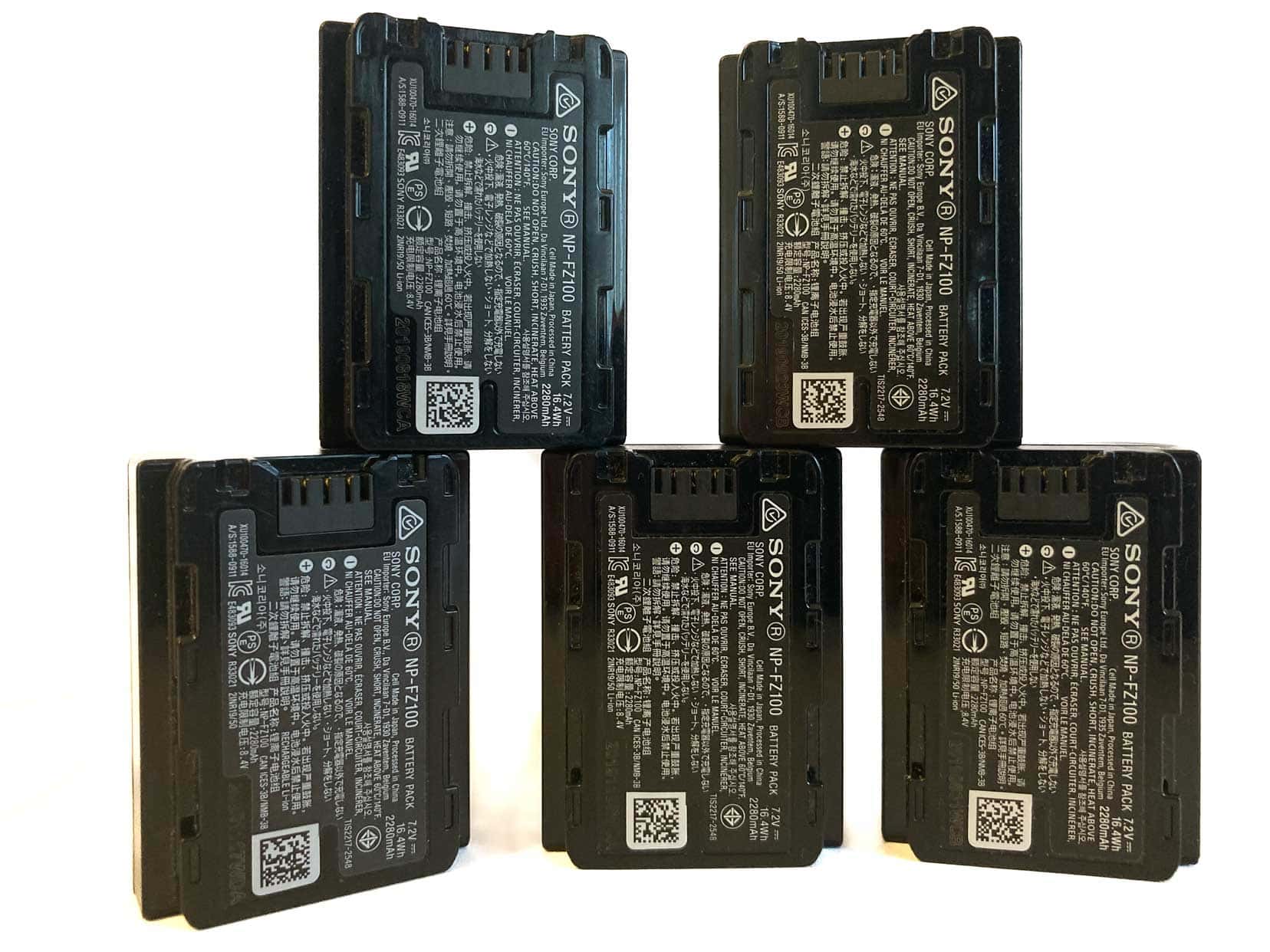 The 'knock-off non-OEM' batteries just don't perform as well nor have longevity. My advice, spend the extra upfront and go for OEM every time.
Having at least two batteries would be the minimum requirement. This is because you may not have the opportunity to charge a battery in the field. Also, if shooting in cold weather, the battery will discharge faster.
4. Camera Memory Card
Generally, if the memory card fits the card slot in your camera, then you are ready to start shooting.
However, not all memory cards are made equal.
Key memory card features to be aware of for your type of shooting are:
The read/write speed of the card,
The storage capacity of the memory card especially if shooting in continuous or grabbing video
Weatherproof capabilities of the card and
Card's overall reliability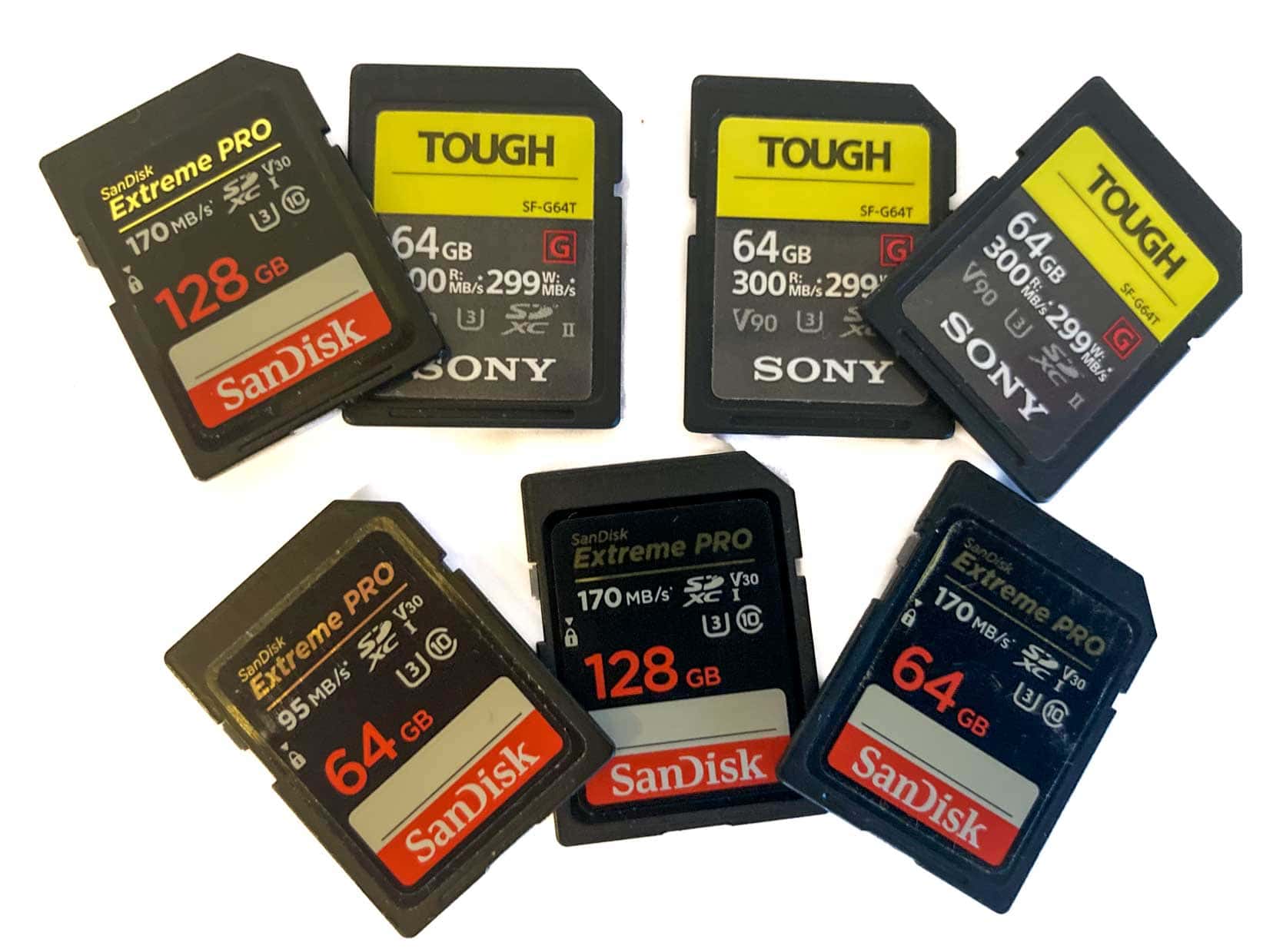 Our Sony a9s have dual SD card slots in each camera so there is always a spare should a card max out on memory.
We've chosen the Sony Tough SD cards and SanDisk SD cards which are both highly respected brands.
5. Camera Bag
Now that you have your camera, lenses and extras like batteries, lens filters and cleaning products, you have to work out how to carry it all. That's not an issue if you have a camera bag.
This may take the form of a camera backpack or/and a messenger bag depending on the size of your lenses.
I have both.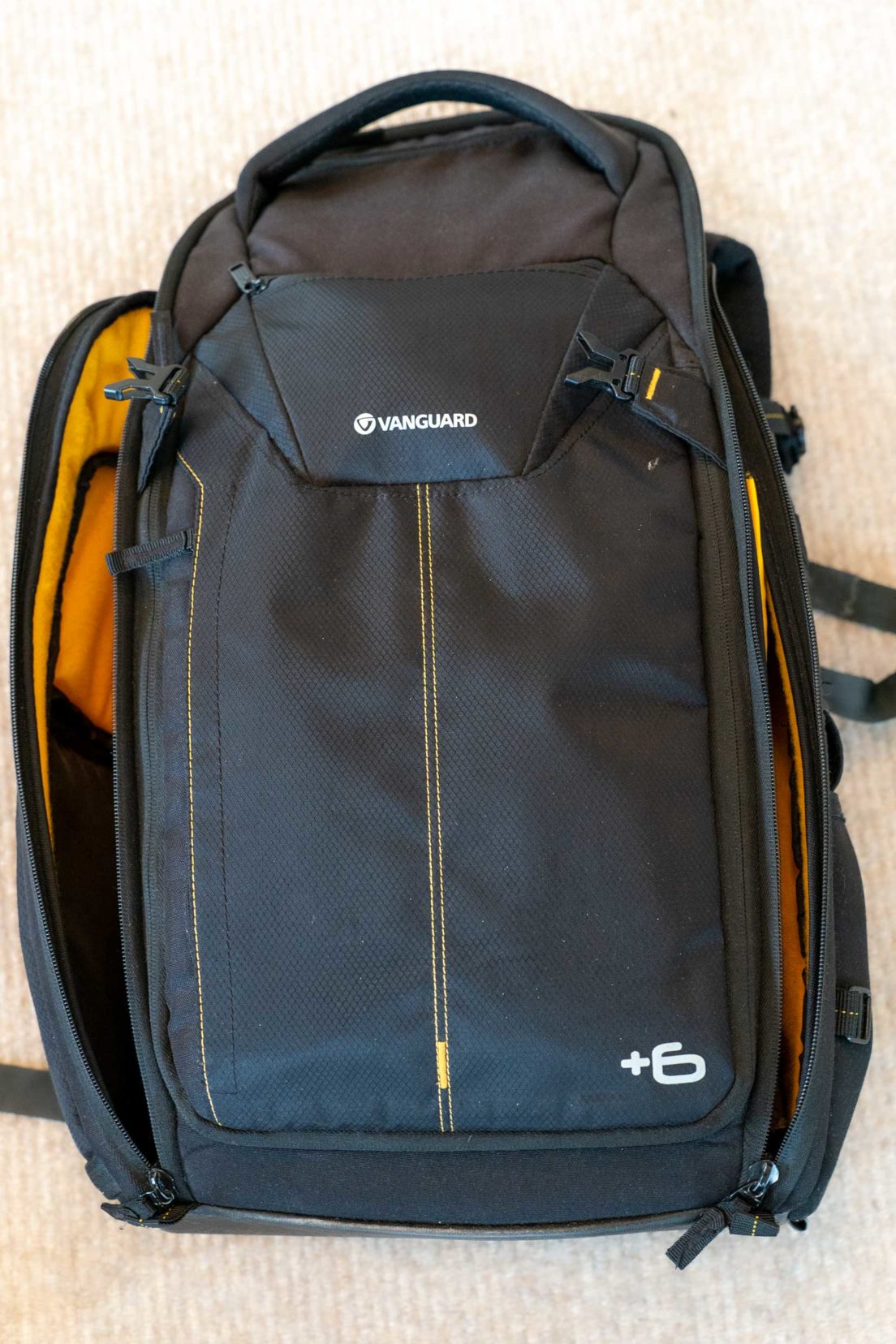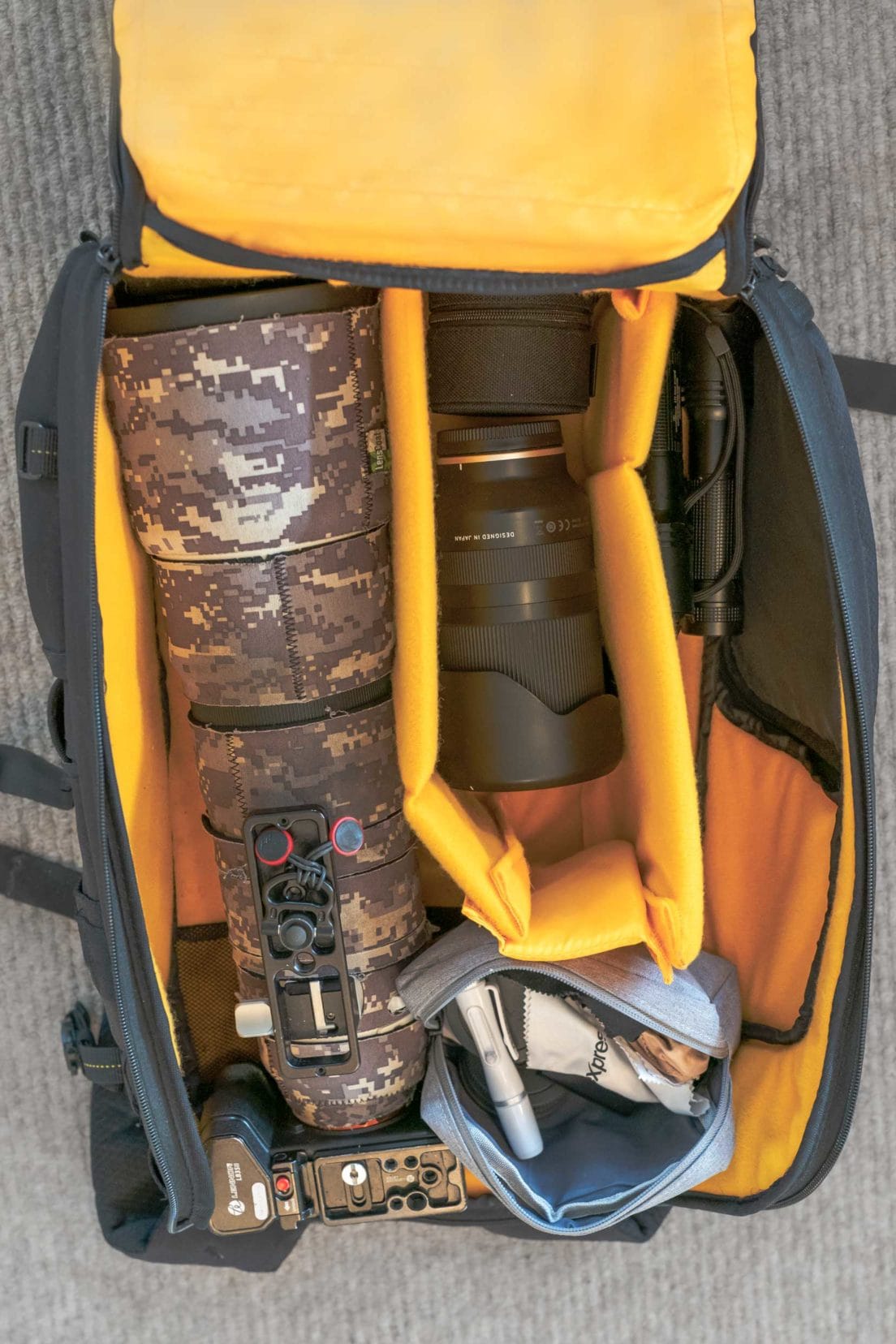 As I mentioned earlier, I always hand-carry all my camera/lenses onto the plane.
So, my trick is to pack my cameras with the big lenses in the Vanguard Alta Rise 48 backpack and keep the Caden messenger bag for my smaller lenses.
Above, you can see my Sony a9 with the Sony 200-600 lens plus lens hood — fitting nicely into the Vanguard camera bag.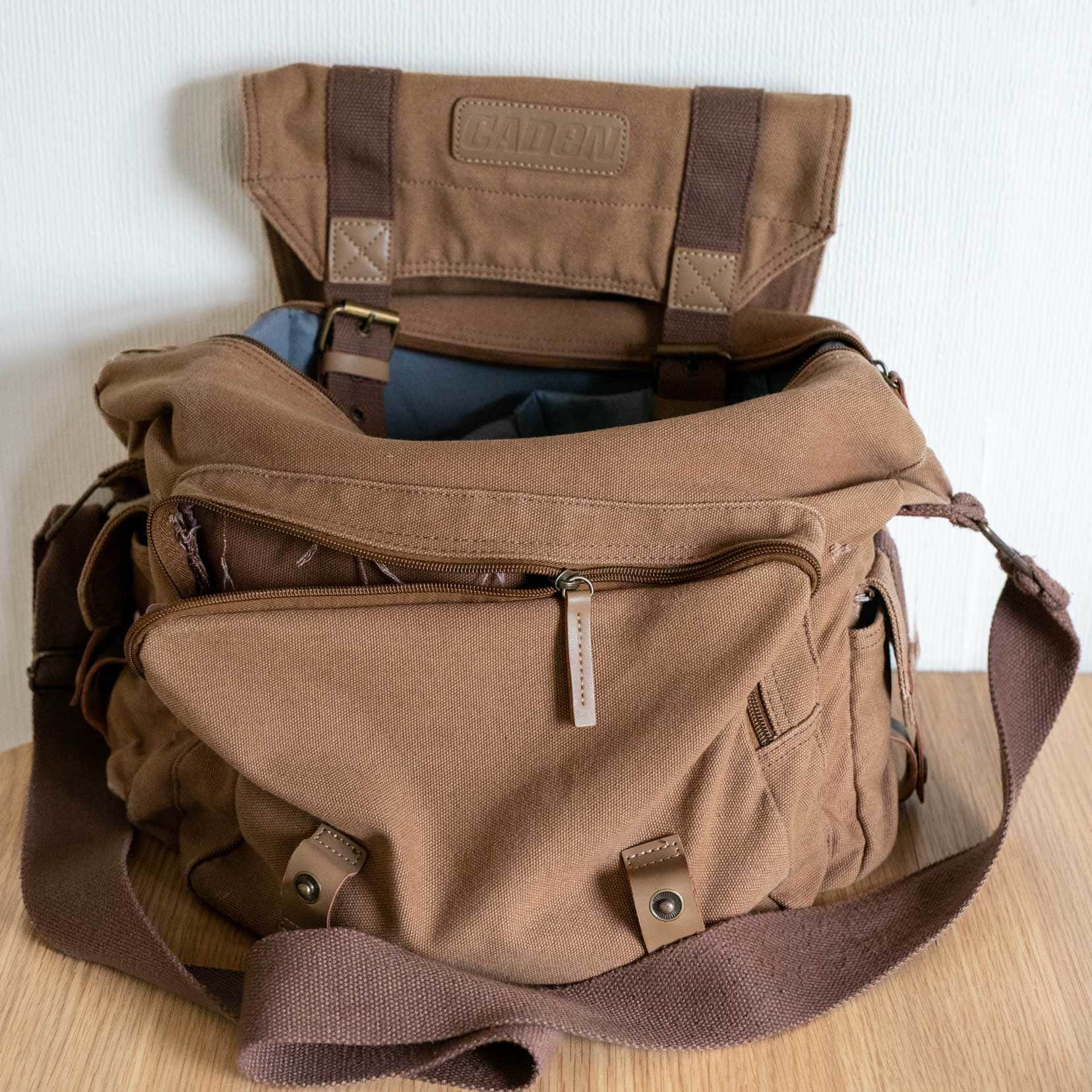 If the Vanguard products aren't for you then you might want to consider the Peak Design travel backpacks which are quite popular.
6. GPS Device
Knowing your position and where you need to be is all important. Using the GPS positioning on your mobile phone will, in most circumstances, do the job just fine.
If you're relying on a mobile network signal, and are in an area with poor or no signal then download a free app like Maps.Me. This app works perfectly offline after you've downloaded the area you need. Maps.Me is free and works a treat for us.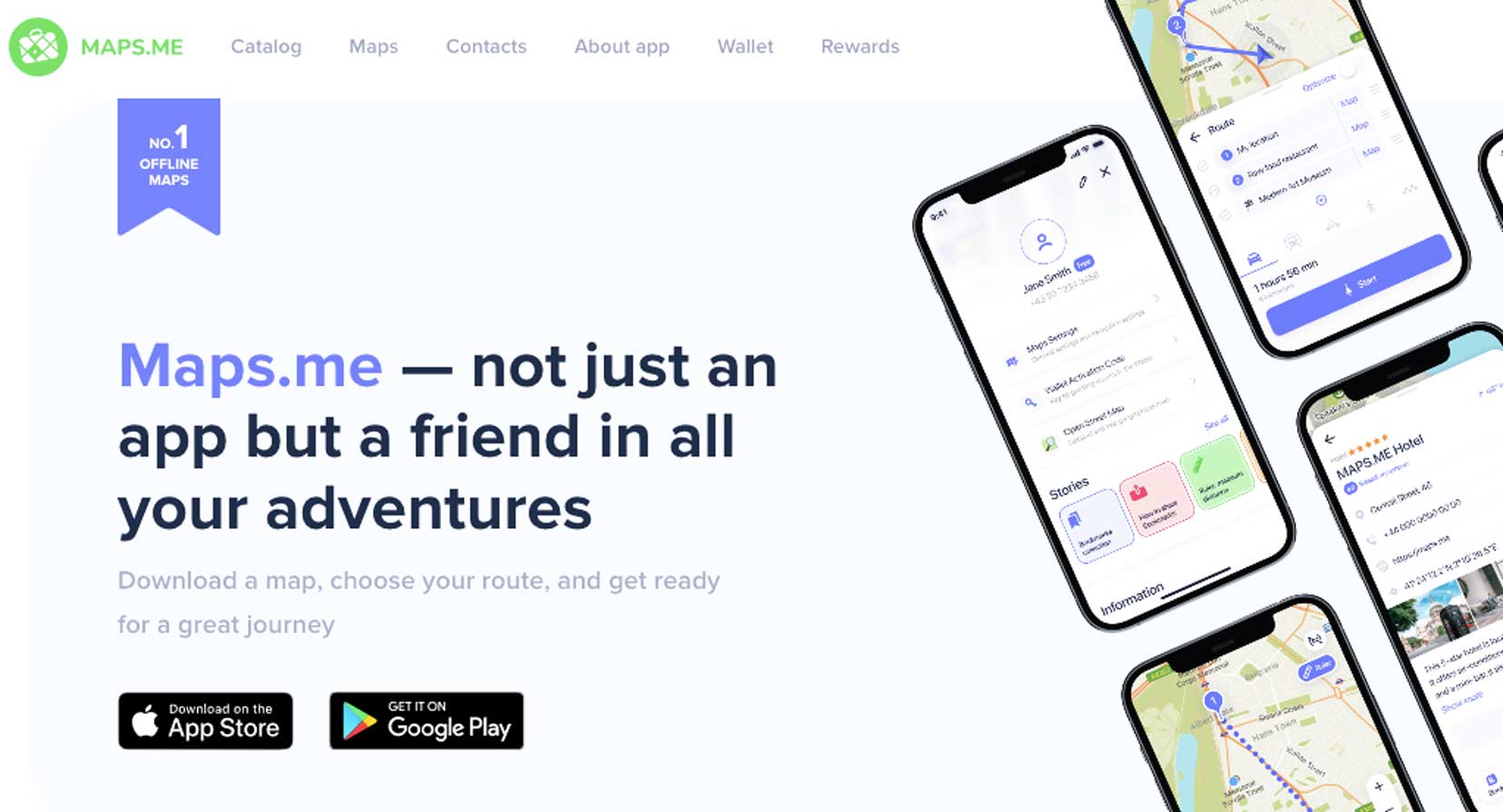 In Africa, we use our Tracks4Africa paper maps in conjunction with our Garmin GPS.
Both do a fantastic job of keeping on track for off-road driving.
7. Cleaning Cloth
Tuck away a microfibre cloth into your pants pocket or backpack. It takes up no space at all and certainly beats trying to use your dirty shirt sleeve to wipe a smear off the lens.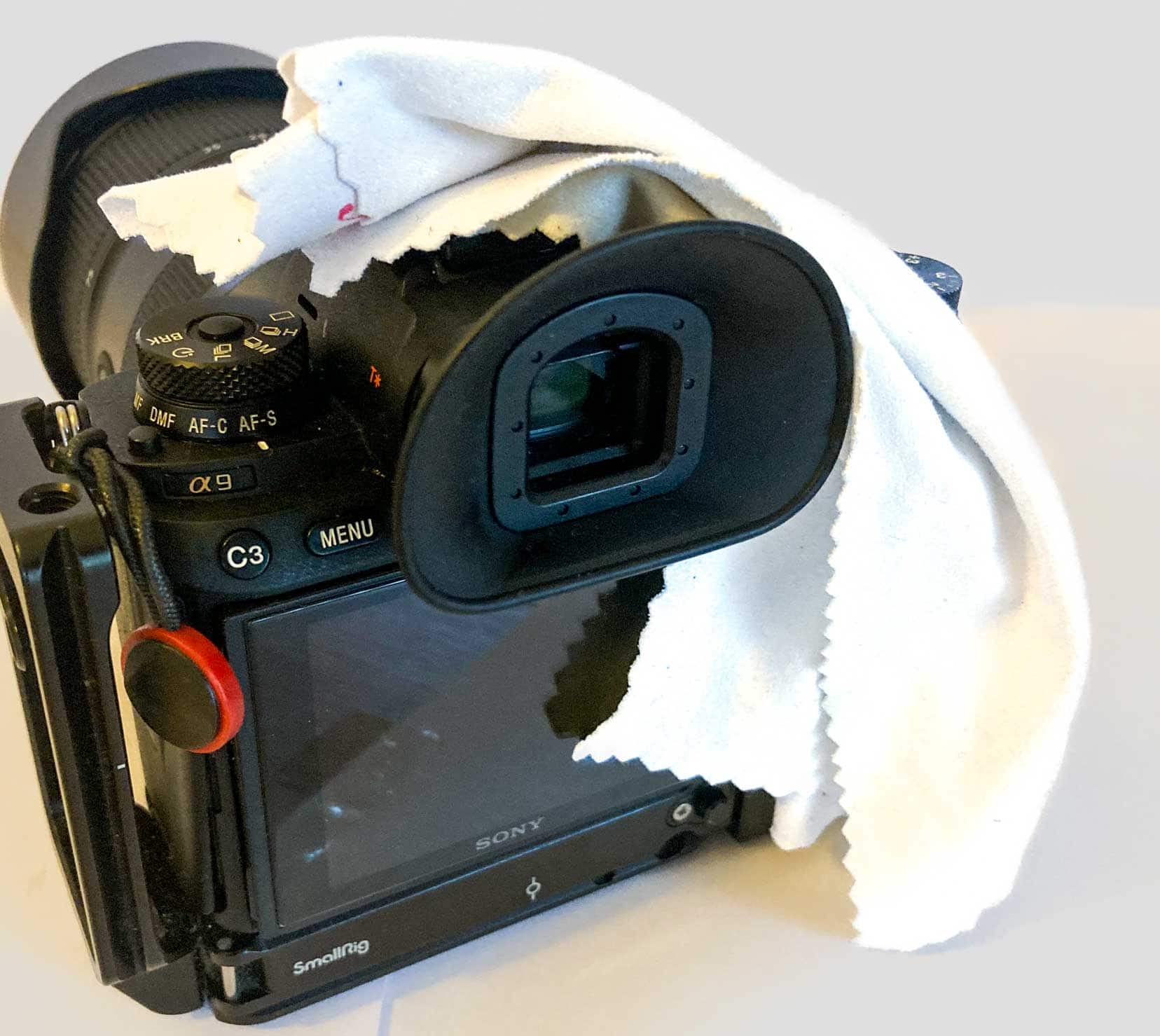 If you wear glasses, then you will likely have a microfibre cloth included in your glasses case.
8. Action Camera
I'm talking about the palm-sized portable action cameras – I use the Gopro Hero11 Black. It's weatherproof and purpose-built designed to tackle any environment.
With different kinds of mounts, you can secure it to a vehicle or equipment or just carry it. It can also be voice-activated for remote control of the camera.
I've just upgraded from a GoPro Hero5 Black to GoPro Hero11 Black as part of a bundle buy.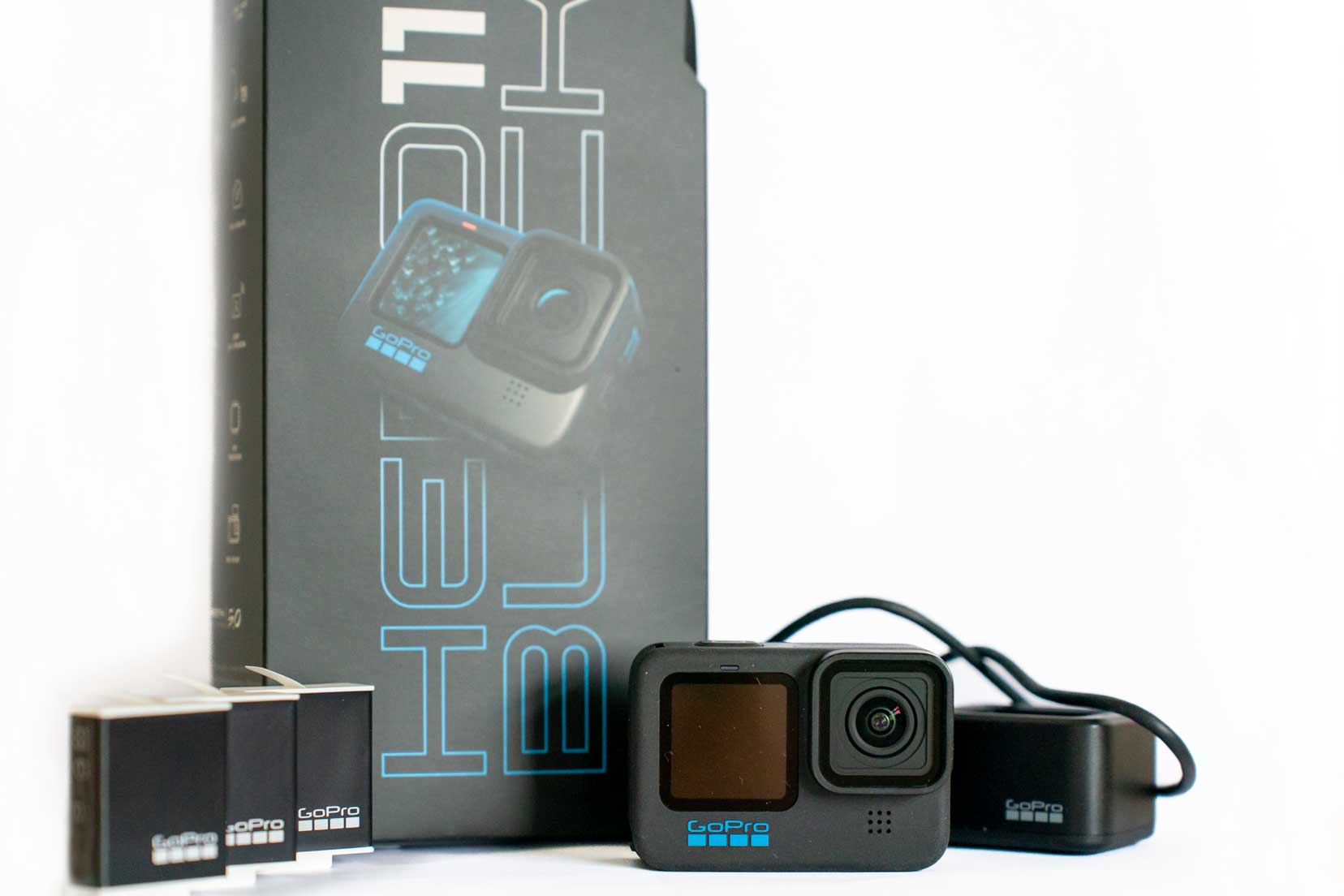 With phenomenal stabilization and plenty of in-built footage options, the Hero 11 promises to bring video footage to new highs.
To keep me recording most of the day, I splashed out for a whopping 256GB Sandisk micro SD memory card.
Nice-to-Have Travel Photography Gear
Below are items that I need but wouldn't necessarily take with me into the field.
9. Camera Battery Charger
Our Neewer dual battery chargers operate off 12V which means you can charge off either the car 12V port or from a portable power bank. They are very travel-friendly.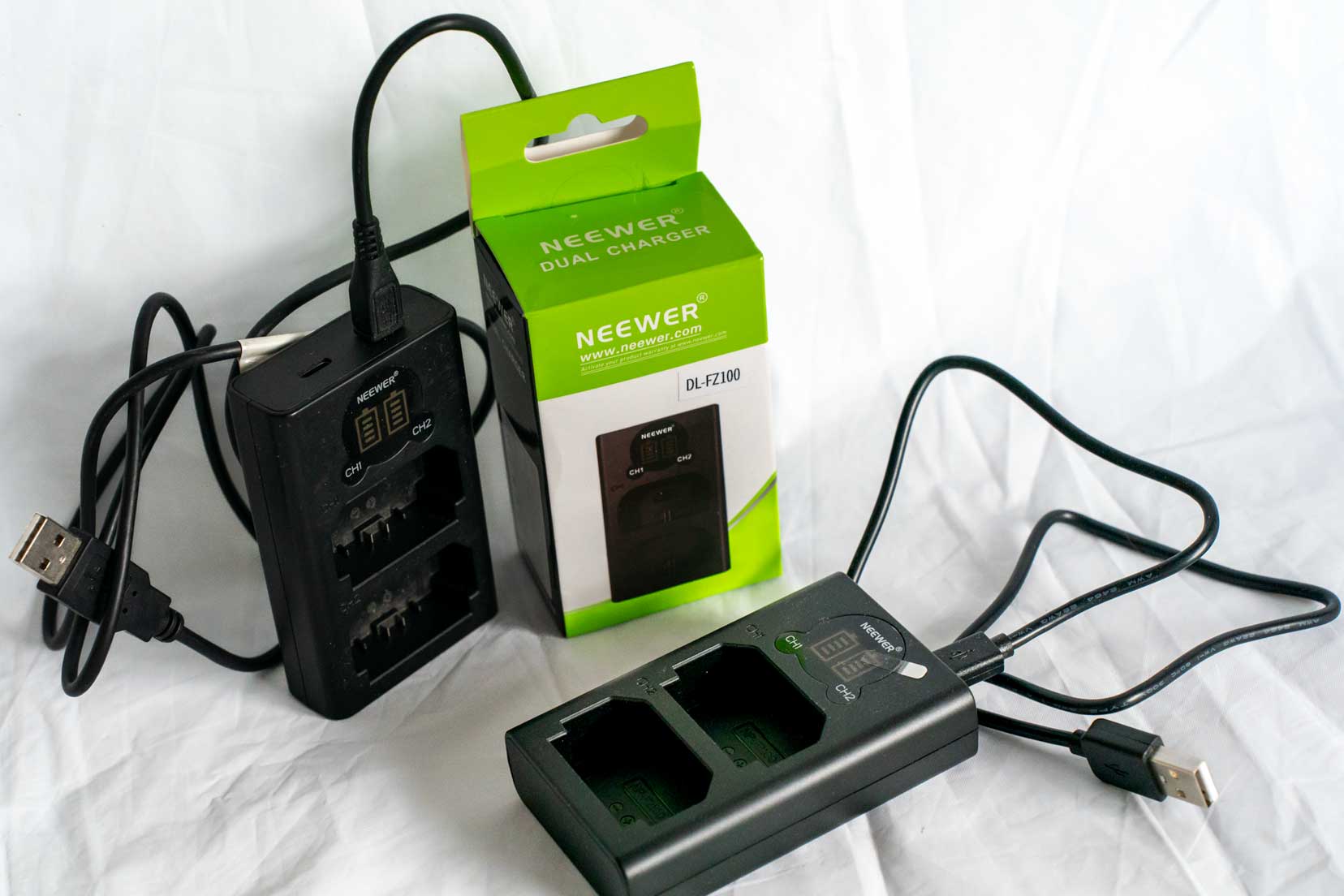 We have two of these dual battery chargers in our overlanding 4×4 Hilux to charge the many batteries we use for our four cameras.
10. Memory Card Holder
There's no 100% guarantee of a card not failing.
Therefore, keeping your spares safe and secure is where the cardholder is valuable. Our card holder provides 4 SD card slots + 4 Micro SD slots, but you can also find double this capacity.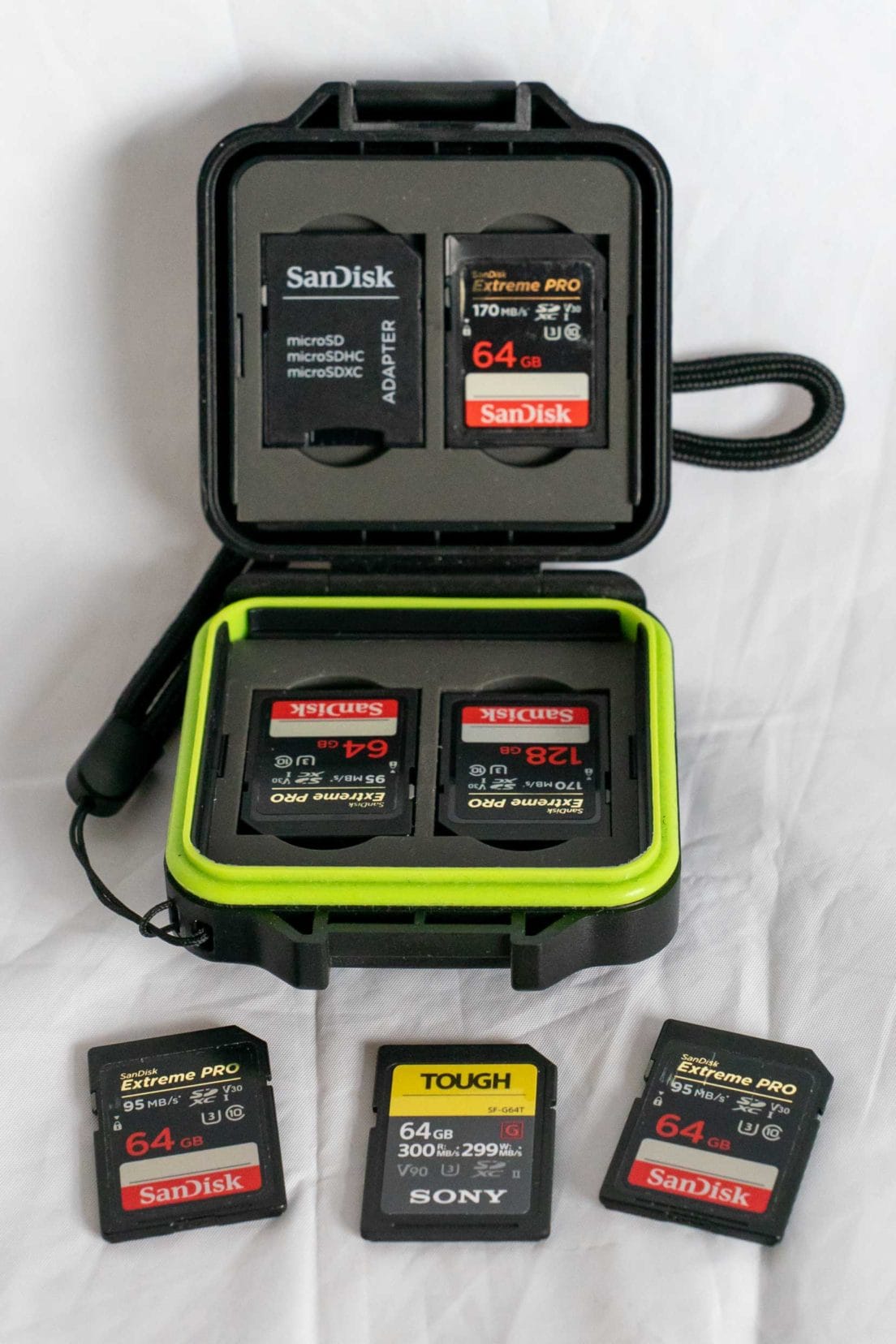 Our system is to face the empty cards face up and cards at full capacity placed face down.
Ideally, look for a memory card holder with a rubber gasket as this adds improved water and dust proofing.
11. After Market Carrying Strap and Quick Release Gear
We parted ways with the narrow Sony carrying straps because these need to be permanently attached.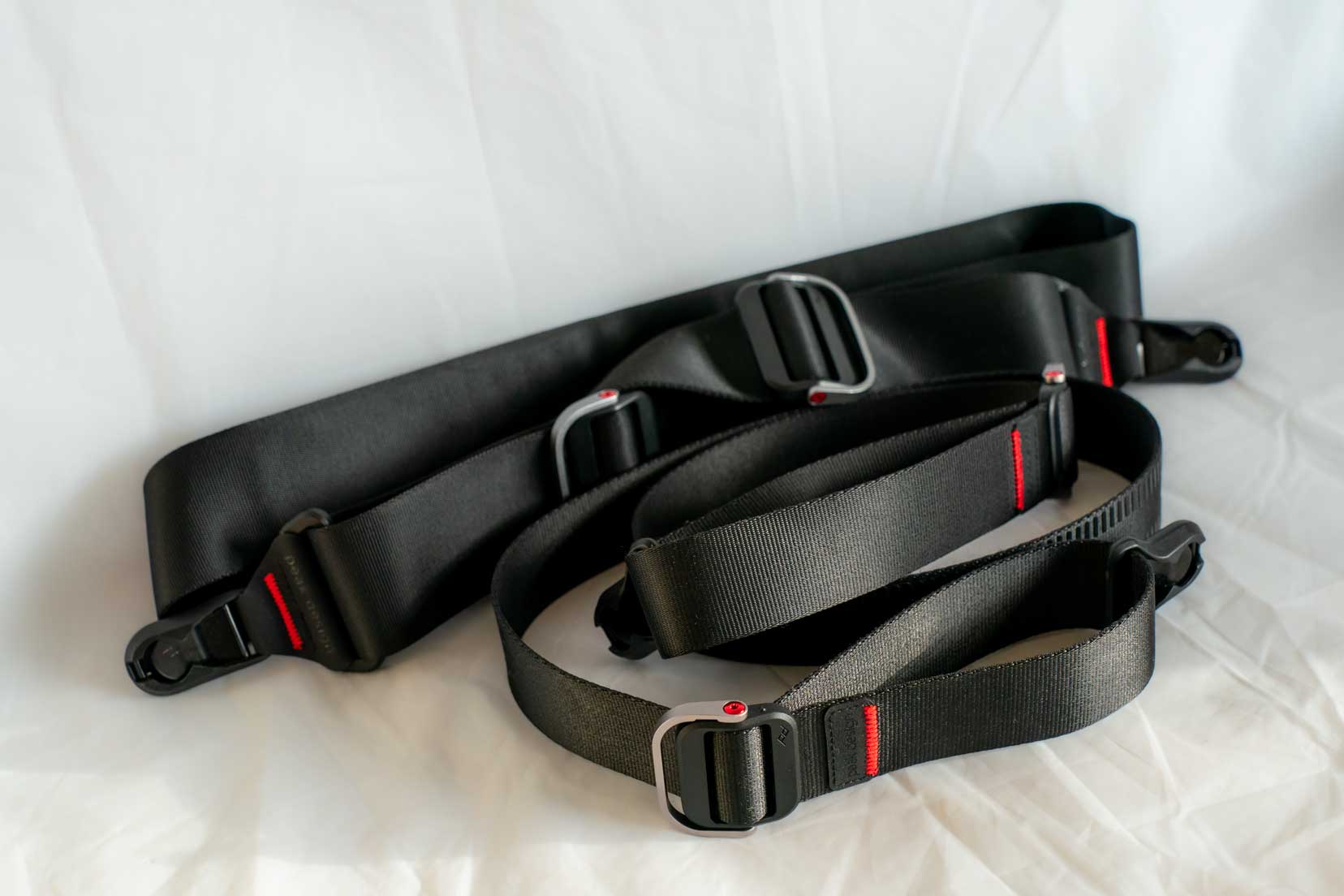 The Peak Design carrying straps fit our needs perfectly. These straps come in different widths reflecting the load capacity (Peak Design Slide, Peak Design Slide Lite and Peak Design Leash).
Depending on the size and weight of the lens, I either attach it to the lens or to the camera to avoid stressing the camera mounting plate.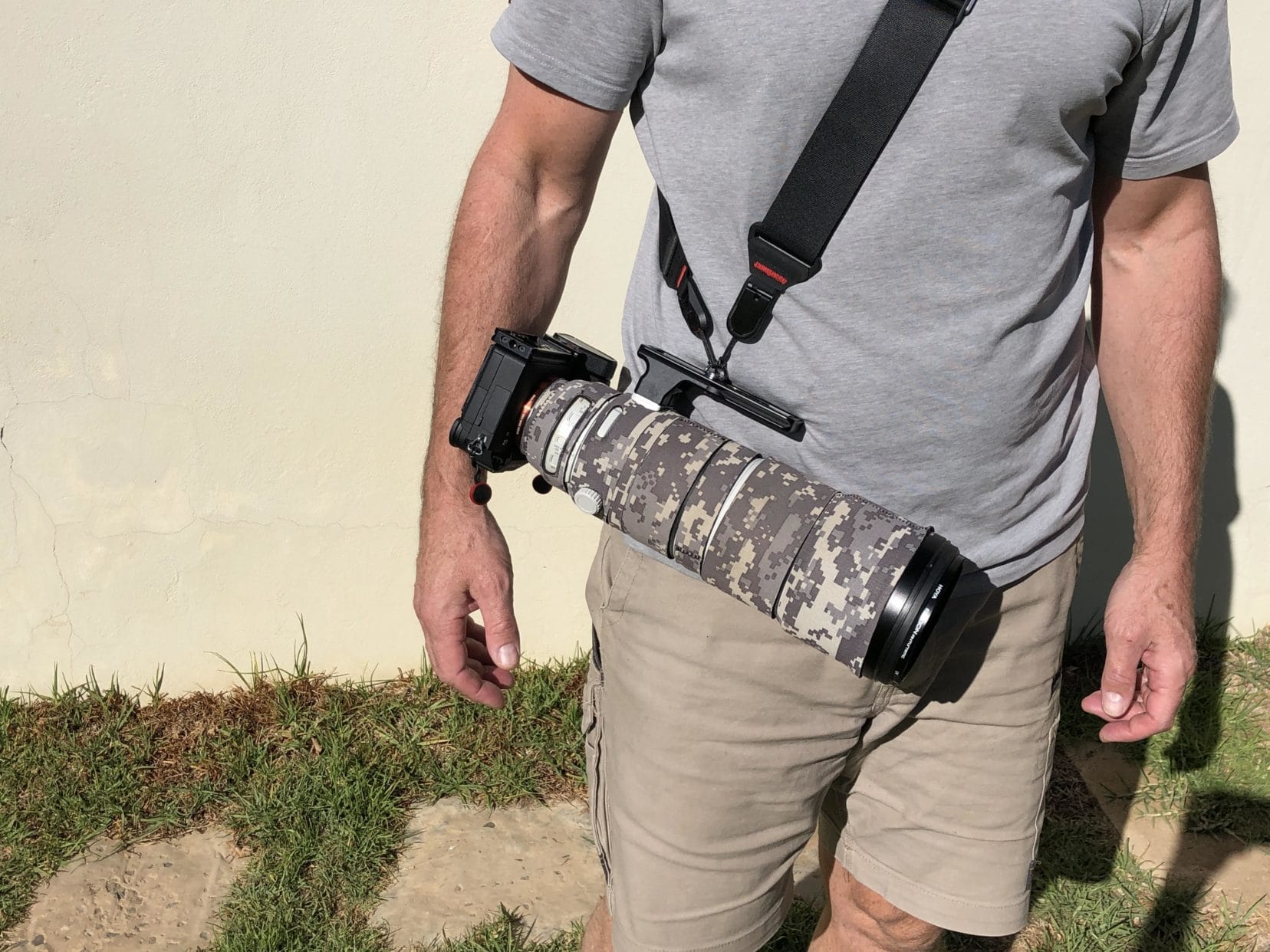 Included with the strap are quick-release anchor link connectors (the red small round anchors) which attach to both the camera and lens.
12. Lens Filters
Creating a certain visual look in your images may involve using a screw-on camera lens filter.
There are filters that use additional holders (eg. Nisi) but the travel-friendly version is definitely the screw-in type, that doesn't rely on extra filter retainers.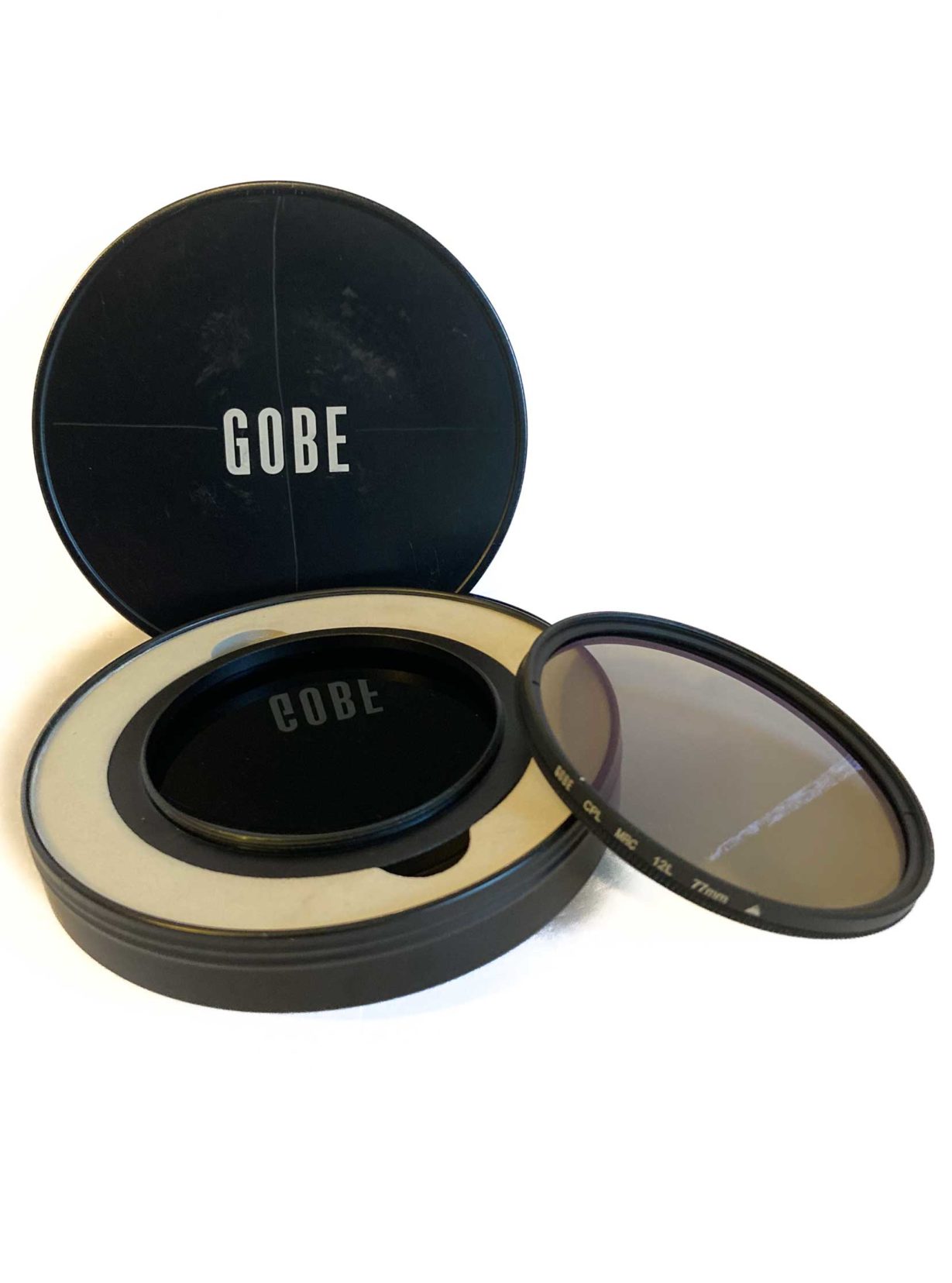 I carry both the ND (neutral density filter) and CPL (circular polarizing filter) and always make a point of sticking with reputable brands, such as Hoya, Haida and Gobe, that offer very attractive specs yet remain affordable.
ND (neutral density) – when using the ND, think of placing sunglasses in front of the lens. The two strength ND filters I use day to day are the ND 8 (3 stop) and ND 200 (7 2/3 stop) filters.
CPL (circular polariser/linear) – I use this filter to reduce glare and reflections which in turn enhances the richness of the colours. I tend to use it sparingly but that's a personal choice.
The largest of our lenses has a 77mm diameter, so to use the same filter on a smaller lens I purchased a cheap step-down filter adaptor. In this case, a 77mm to 67mm adaptor.
13. Weather Protection for Camera/Lens
An effective and cheap option for camera and lens protection is the rain sleeve offered by Optech. It is offered in different sizes and even one specific model to account for a camera flash.
This plastic hood is open at both ends with one end using a drawcord to tighten the opening against the lens hood.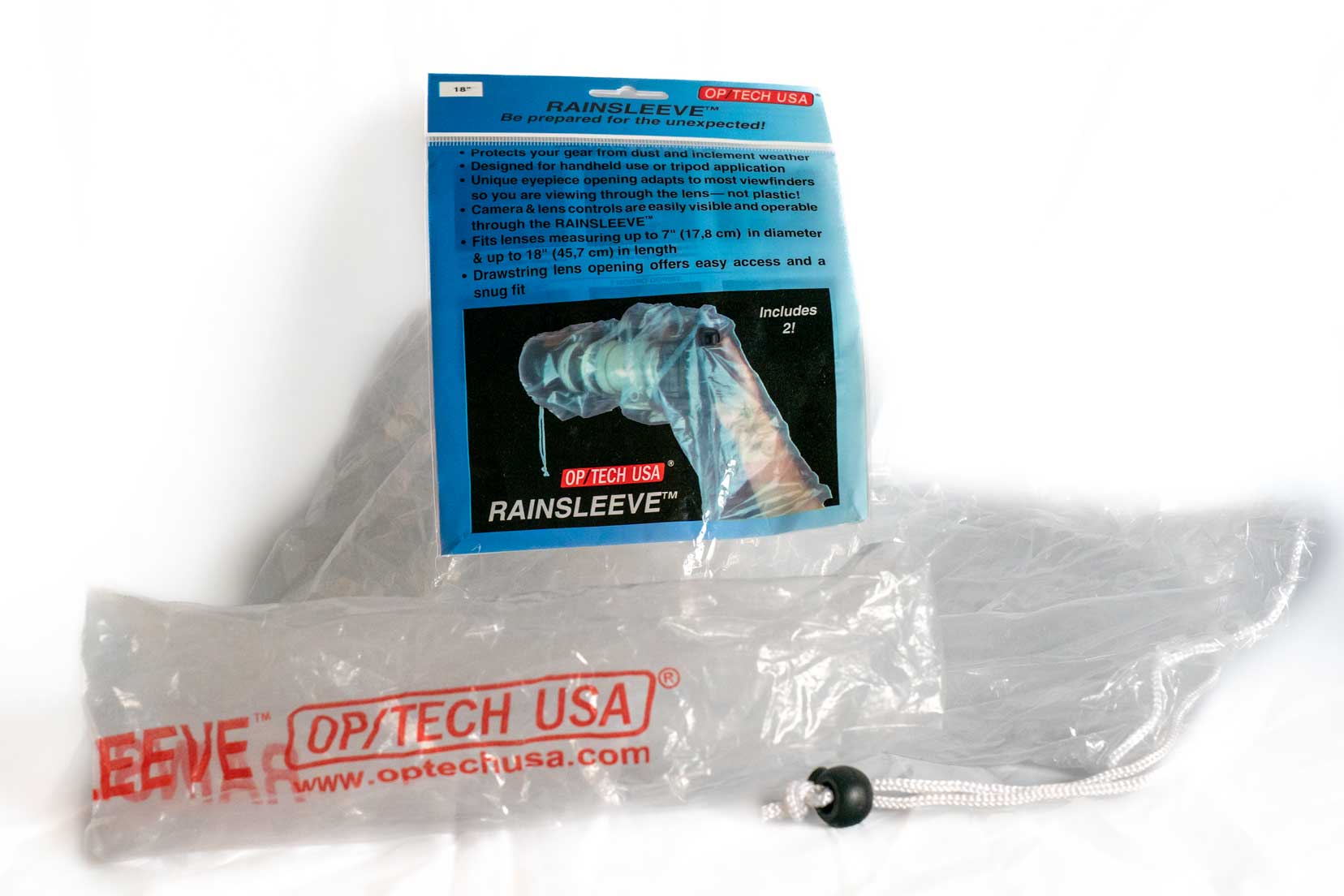 A small hole is provided in the plastic. Its purpose is to be placed over the viewfinder after the viewfinder cup is removed. The viewfinder cup is then simply re-attached to the camera which allows shooting to continue whilst the hood is in place.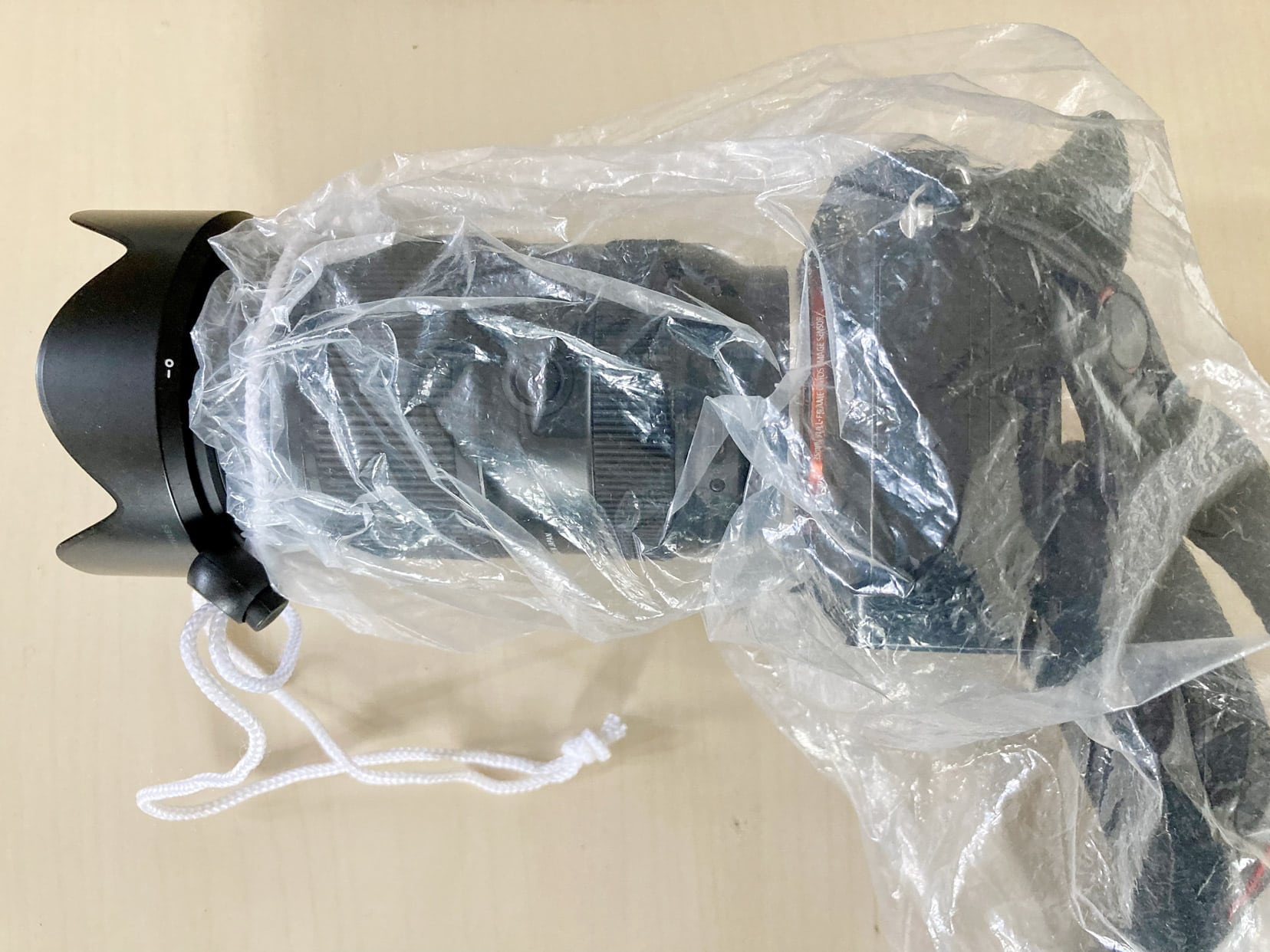 This camera rain cover is a cheap yet really practical item.
14. Camera/Lens Cleaning Products
A microfibre cleaning cloth is just one of the cleaning products I use. Handy items are the Giottos Rocket Air blower, lens cleaning solution, a soft brush and microfibre cloth.
I don't just grab any old lens cleaning solution; I trust the likes of Zeiss or recommendations found on trusted photography websites.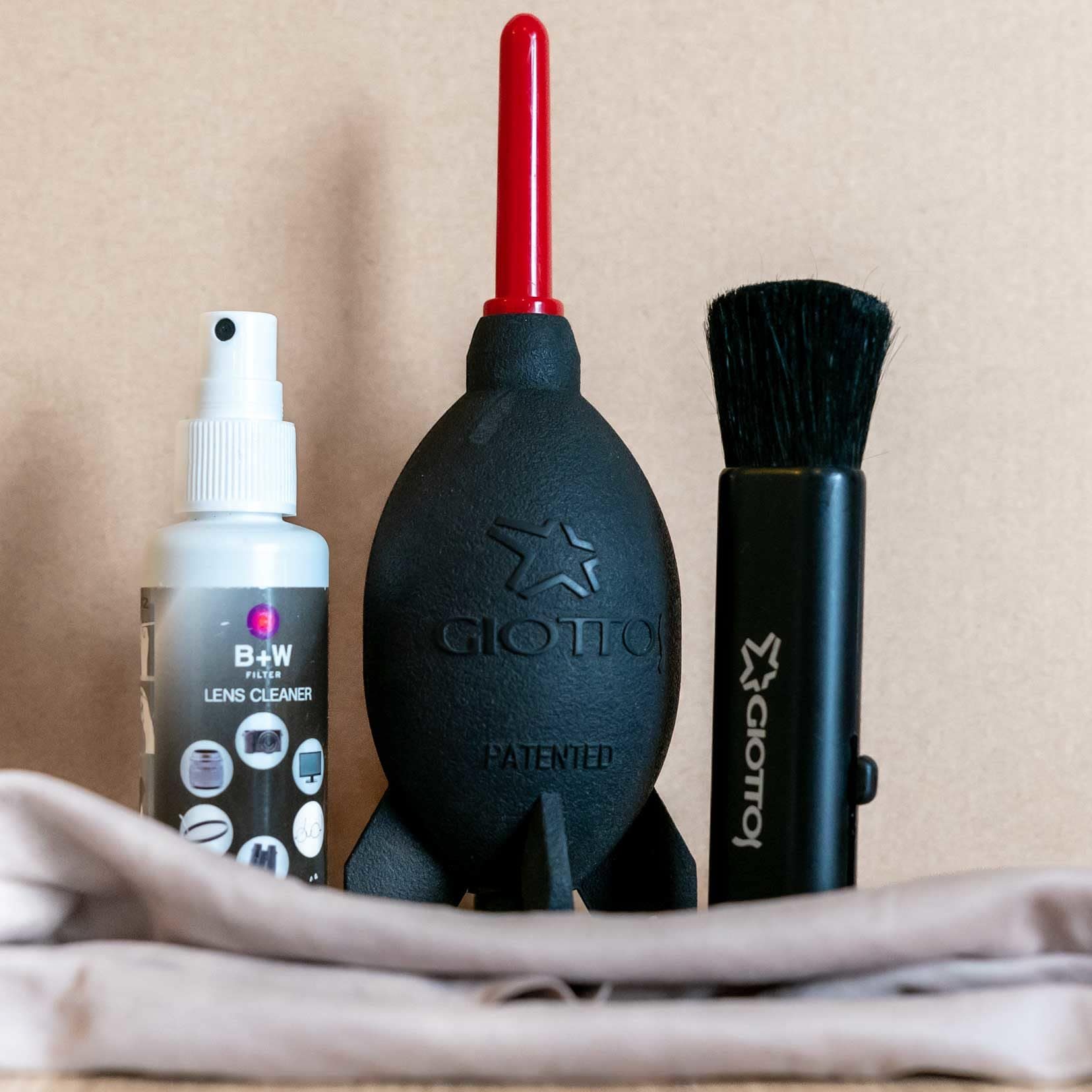 Important here is that the solution does not have destructive properties and dries without smearing.
The sequence I follow to clean my lenses is:
Remove the lens cap, lens hood, and filter
Face the front glass down toward the ground
Use the blower to blow air over the whole lens, and front glass.
Then do the same for the lens cap, lens hood, and filter
Finally, spray the lens cleaning solution onto the microfibre cloth and first clean the lens glass, followed by the filter then continue with the lens body and hood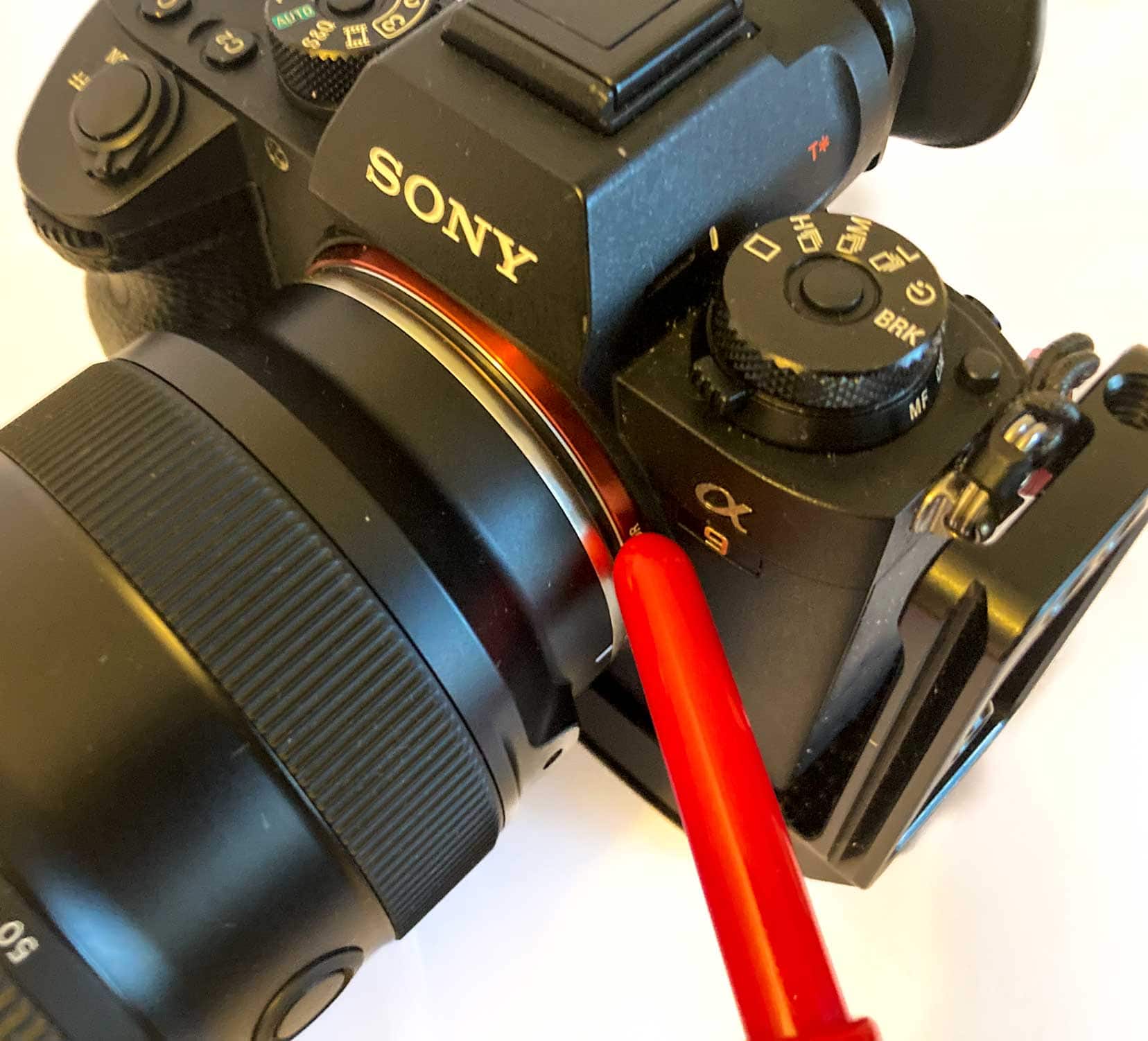 If removing a lens from the camera for cleaning, then before parting the two, I first use the blower and/or brush at the mount between the two where dust can collect. I face the lens down and then screw off the lens.
This will minimize the chance of dust that has collected at the mount, falling onto the exposed camera sensor.
15. File Storage – External hard drive and Cloud
You'll want to save your precious images.
Short Term option: Using a laptop with an external portable hard drive will do the job. We have Apple Macs and trustworthy 5GB Seagate hard drives (actually, a few to be honest).
We are firm believers in back-ups of the back-up.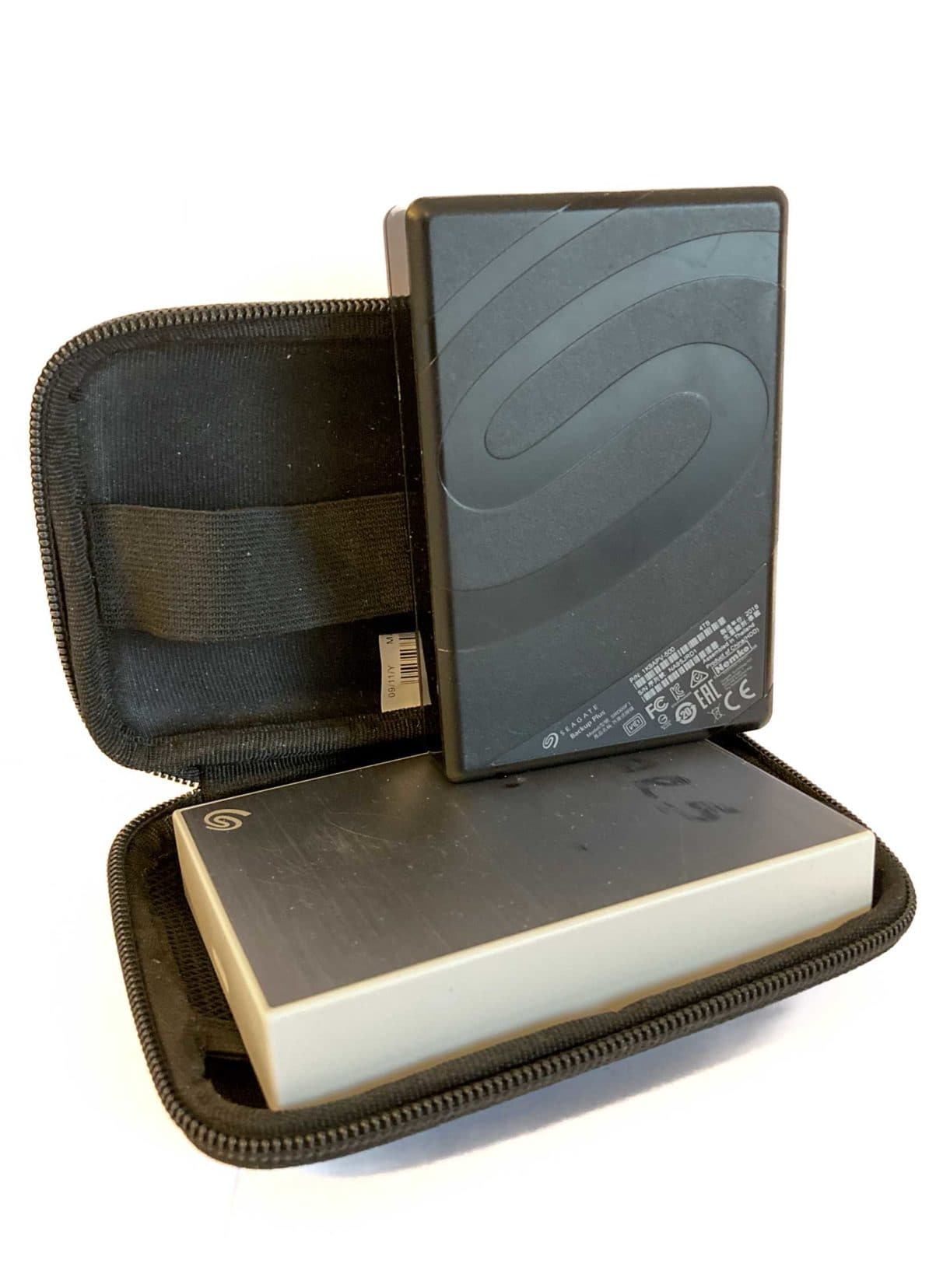 Longer Term option: Having looked at many cloud backup options, we settled on Google photos. Why? It has a fantastic search engine which saves a lot of time when trying to trawl through thousands of images for a particular one.
Special Purpose Travel Photography Gear
This list covers the photography gadgets that make day-to-day photography just so much easier.
Read on to find out why I'm a fan of these particular travel photography kits.
16. Replacement Lens Footings and Quick Disconnect Attachment
The Sony lens footing, (both the 200-600mm and 100-400mm), by design, does not allow it to attach directly to an Arca-swiss-styled tripod mount.
Options to solve this problem include adding an extra Arca-swiss plate by screwing it into the existing Sony footing or replacing the Sony footing.
I did try the small Peak Design screw-in Arca-swiss standard plate but I found this tended to loosen over time. Instead, I replaced both Sony footings with Kirk replacement footings which are also a bit longer.
For my Sony 200-600 this was the Kirk LP-68 and for the Sony 100-400, the Kirk LP-65 both from Wex Photo Video.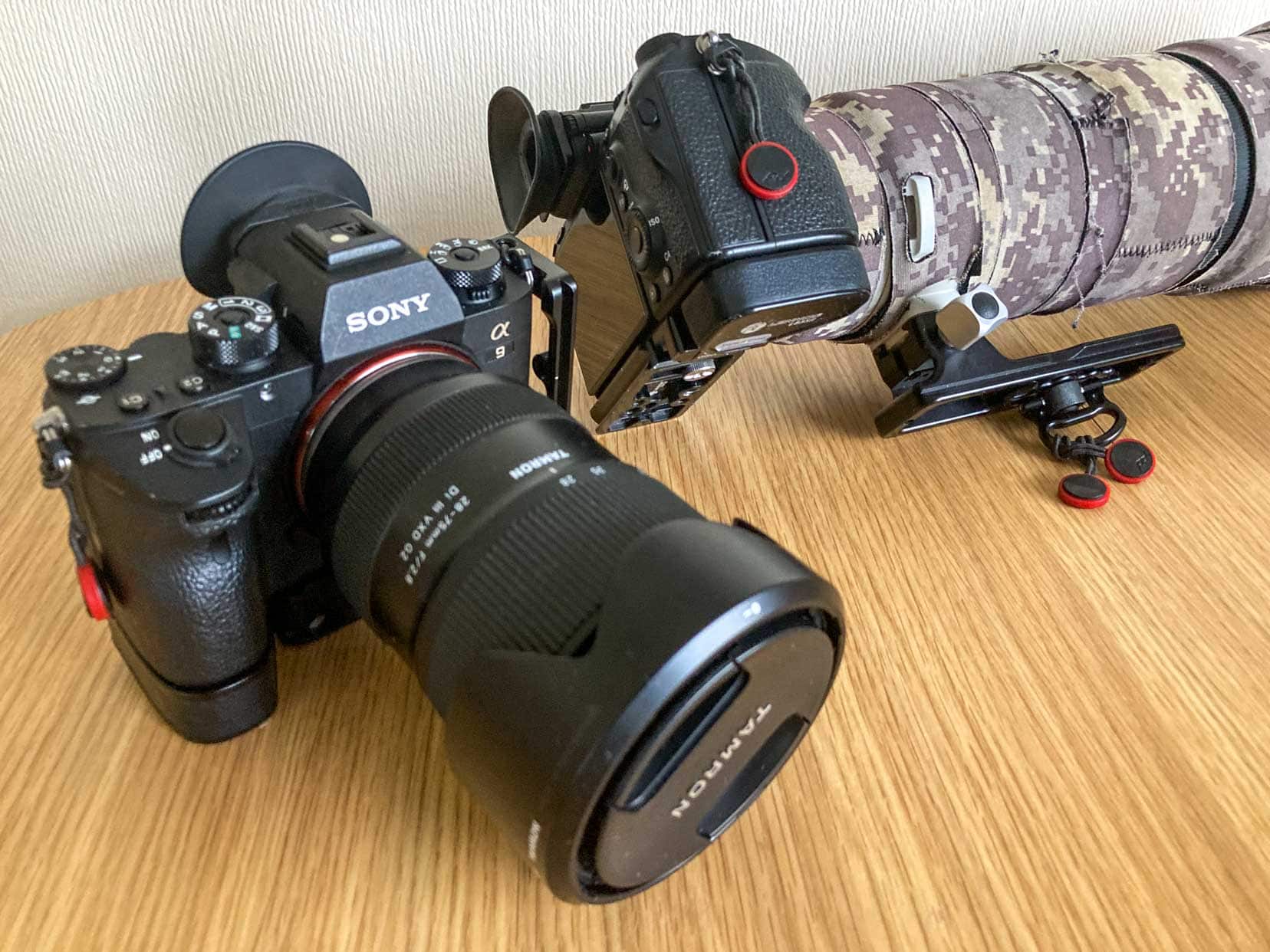 I use the Kirk Quick Disconnect Push (QD) Button Swivels on both lenses. Attached to the swivels are two Peak Design anchor links to which I finally connect the Peak Design strap.
Ok, it does sound a bit like Lego construction but it just works!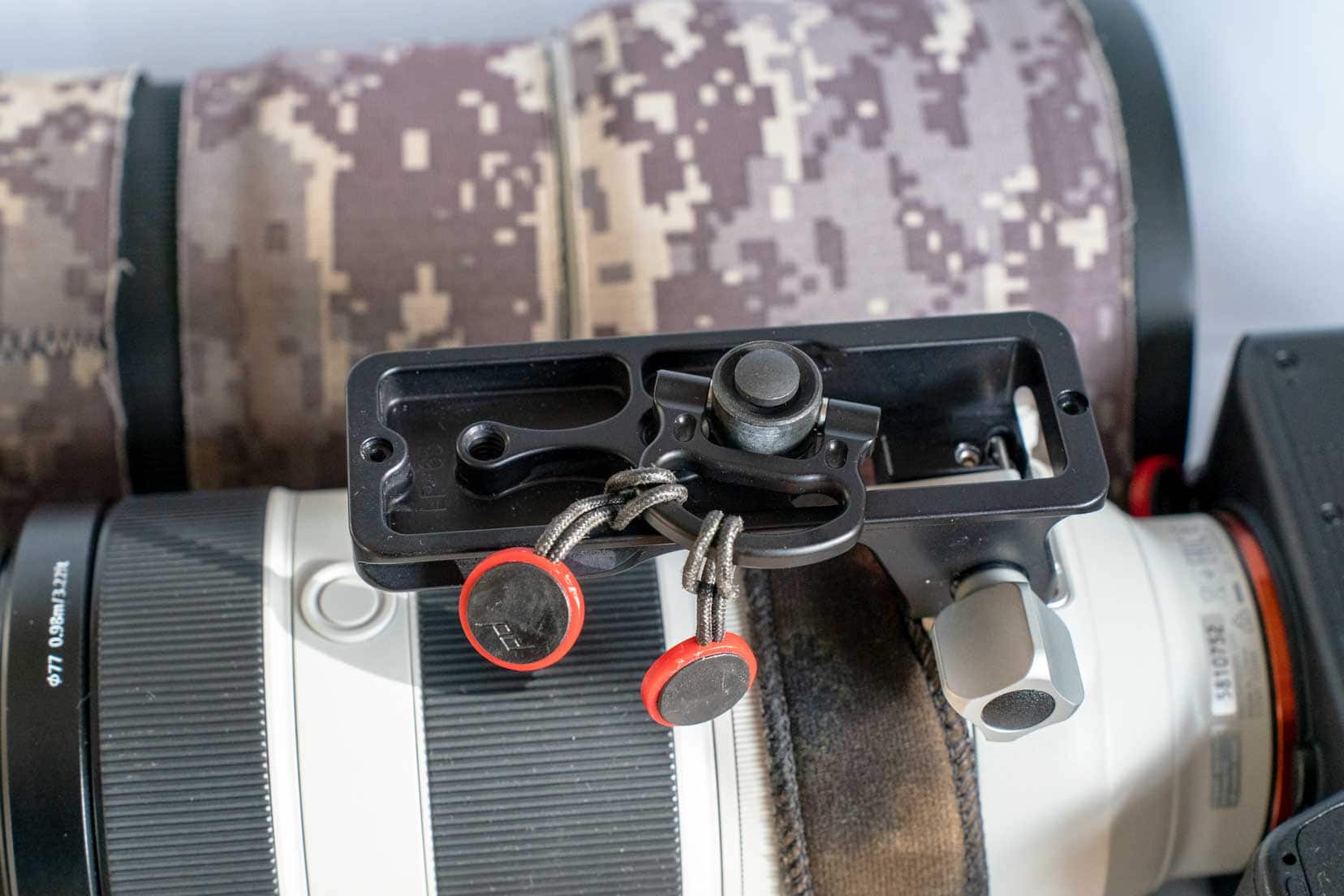 17. Tripod – Full Size (3-Legged-Thing)
Tripods offer a lot of different options. I chose the 3-Legged-Thing 'Travis' tripod, based on price, versatility and weight.
The 'Travis' travel tripod is a magnesium alloy construction so not as lightweight as a carbon fibre tripod but gets all the ticks at a cheaper price.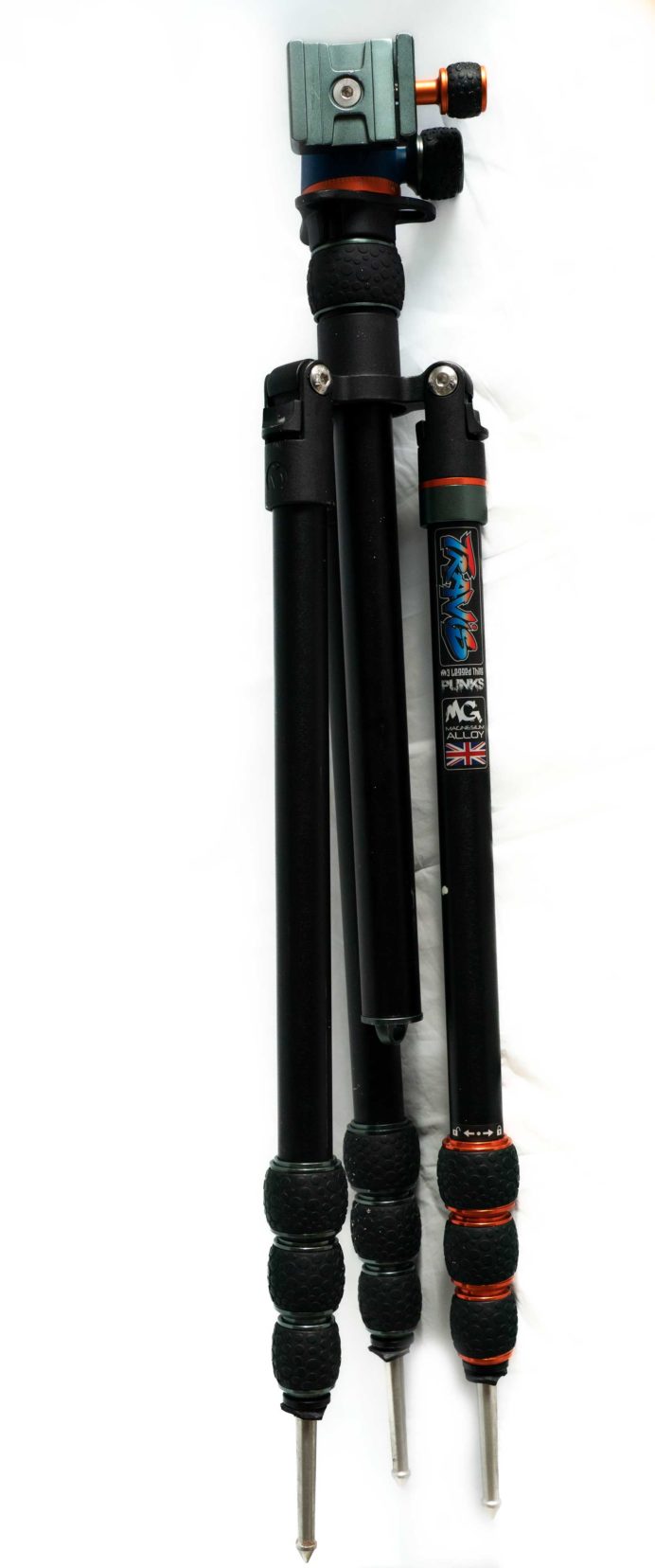 With the tripod comes an Arca-swiss compatible ball head, monopod conversion, 18kg capacity, and carry bag. With the 4-section screw-tightened legs fully extended, a maximum height of 1.65m or 5.4 feet is possible.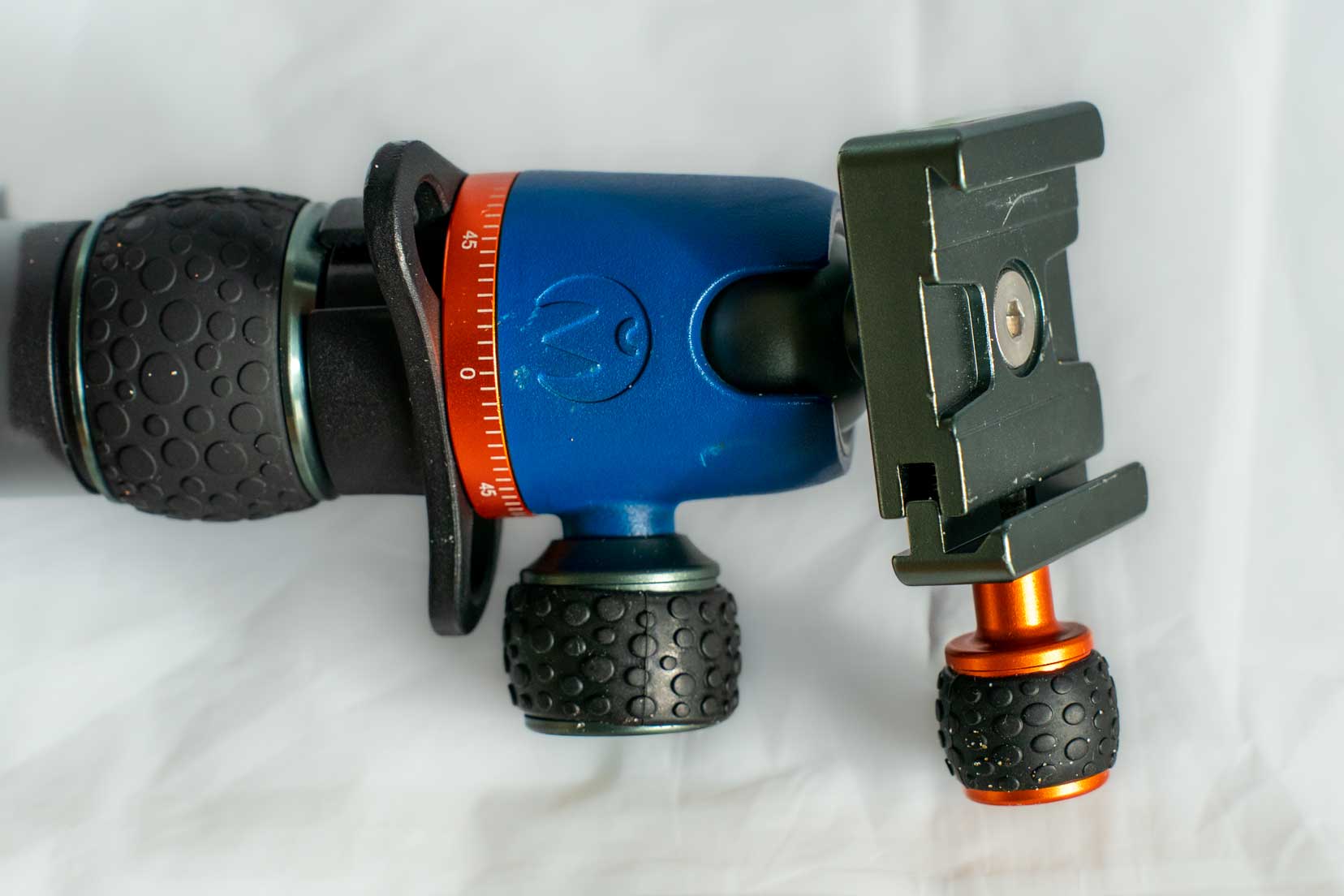 This ball head accepts the Kirk Arca-swiss lens footings. Although the tripod legs included some round rubber footings, I replaced these with 3" long steel screw-in footings and fitted a rubber gasket to keep them secured.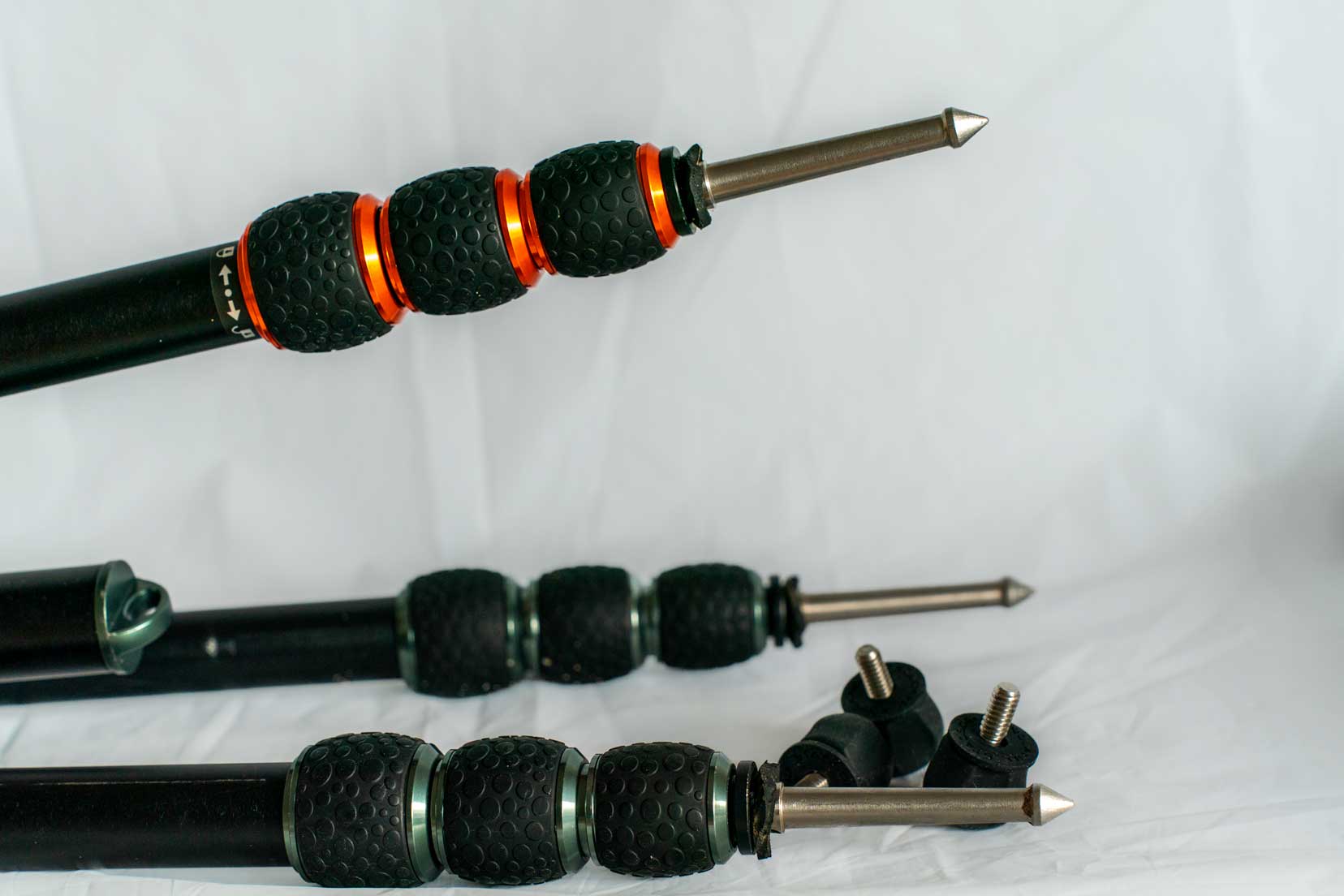 I wanted to be sure that in windy conditions, with all my gear mounted on the tripod, it was going to be secure.
18. Tripod – Mini (Manfrotto Pixie-Mini Tripod)
Sometimes you won't want to lug a full-size tripod around. Macro shots require getting the camera/lens super close so portability is key.
Here is where the Manfrotto Pixi-mini tripod comes into its own.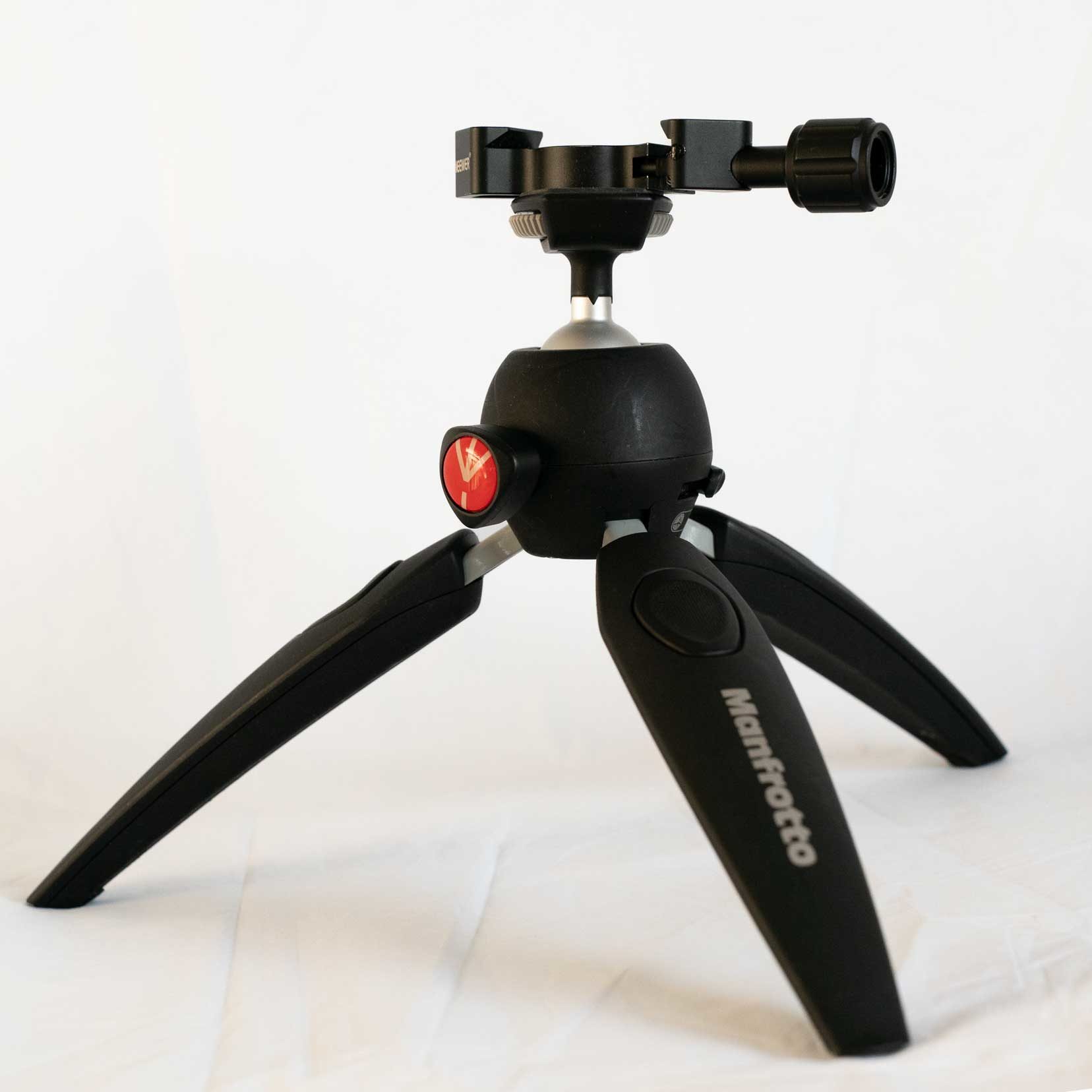 This little guy is rated to a 1kg load meaning it can hold my Sony a9 with Sony 90mm with its grippy ball head.
Because the Manfrotto Pixie Mini-tripod is not bought with an Arca-swiss compatible mount, I bought the screw-in Neewer quick-release mini fishbone style clamp. The tripod and clamp are really secure with the camera and lens mounted.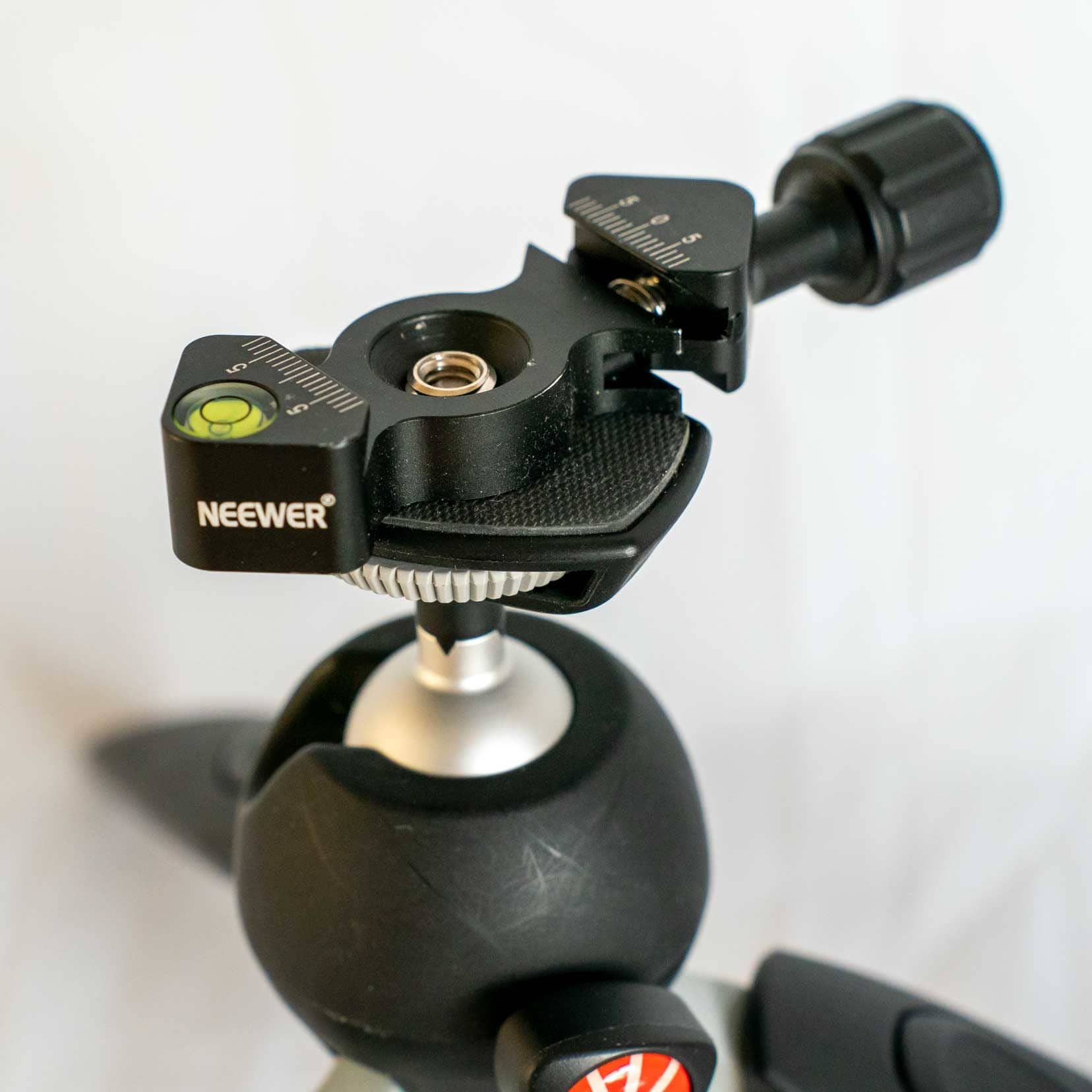 19. 12V Power Adaptor
Some cars come with a USB charging point but when you need to run multiple 12V devices then alternative solutions are required.
I needed a combo USB/12V socket power adapter and settled on a 2-way 12V cigarette lighter socket with dual 5.4A USB quick charge ports. These QC ports will certainly help battery charging times.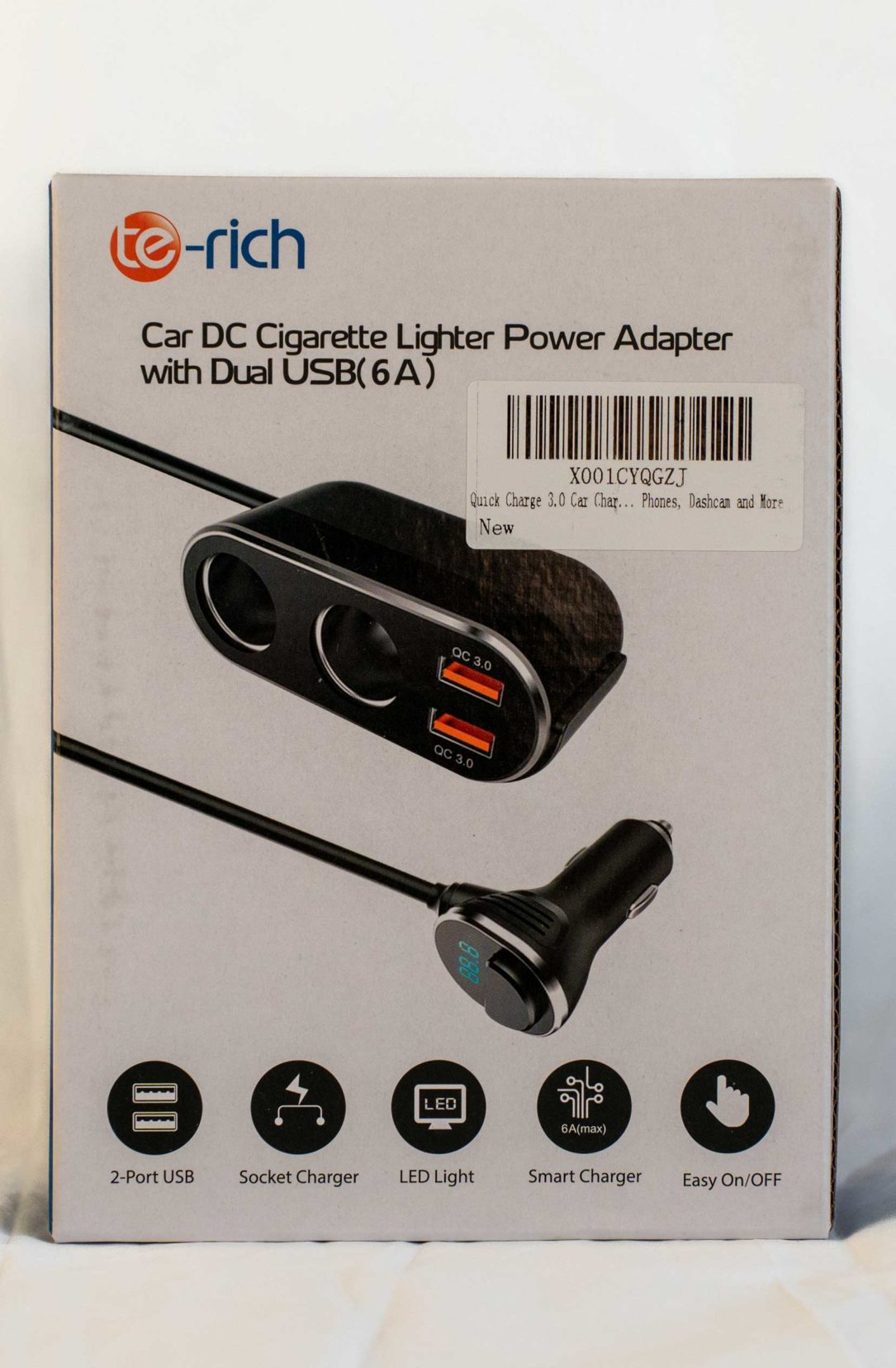 20. Binoculars
As wildlife and landscape travel photography gear go, a good quality pair of binoculars should never be underrated.
I've chosen the inexpensive yet highly rated 10×42 Opticron Adventurer II WP.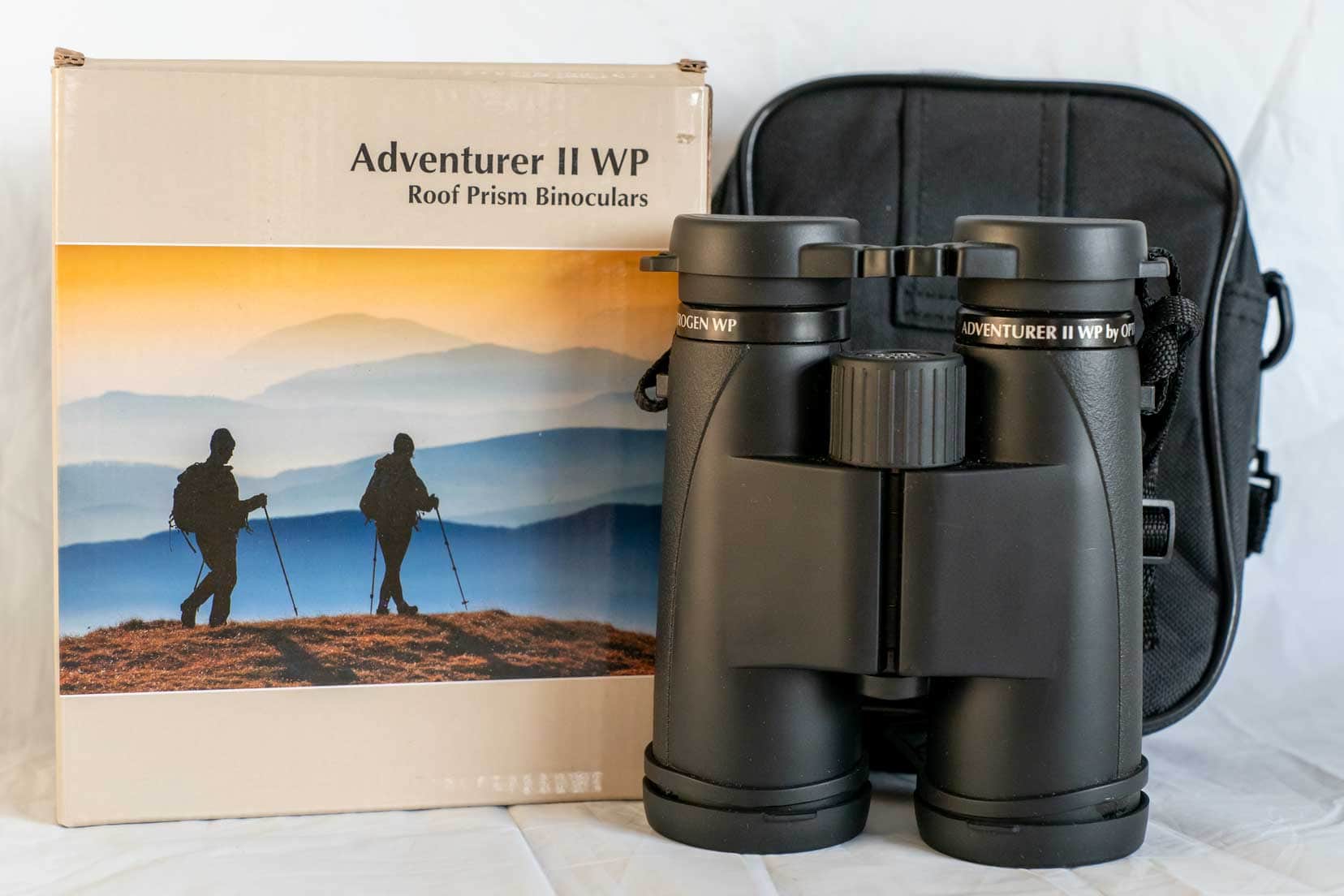 What drew me to this binocular were these important properties:
Waterproof, fully coated lenses,
Good adjustment tolerance for the eye cups,
They can be mounted to a tripod,
Has lens caps front and back plus
Includes a carry case
21. Camera Bracket
The Sony a9 cannot attach directly to the Arca-swiss compatible mount on a tripod without some form of camera Arca-swiss-styled bracket. Mounting the bracket onto a tripod wasn't the only benefit.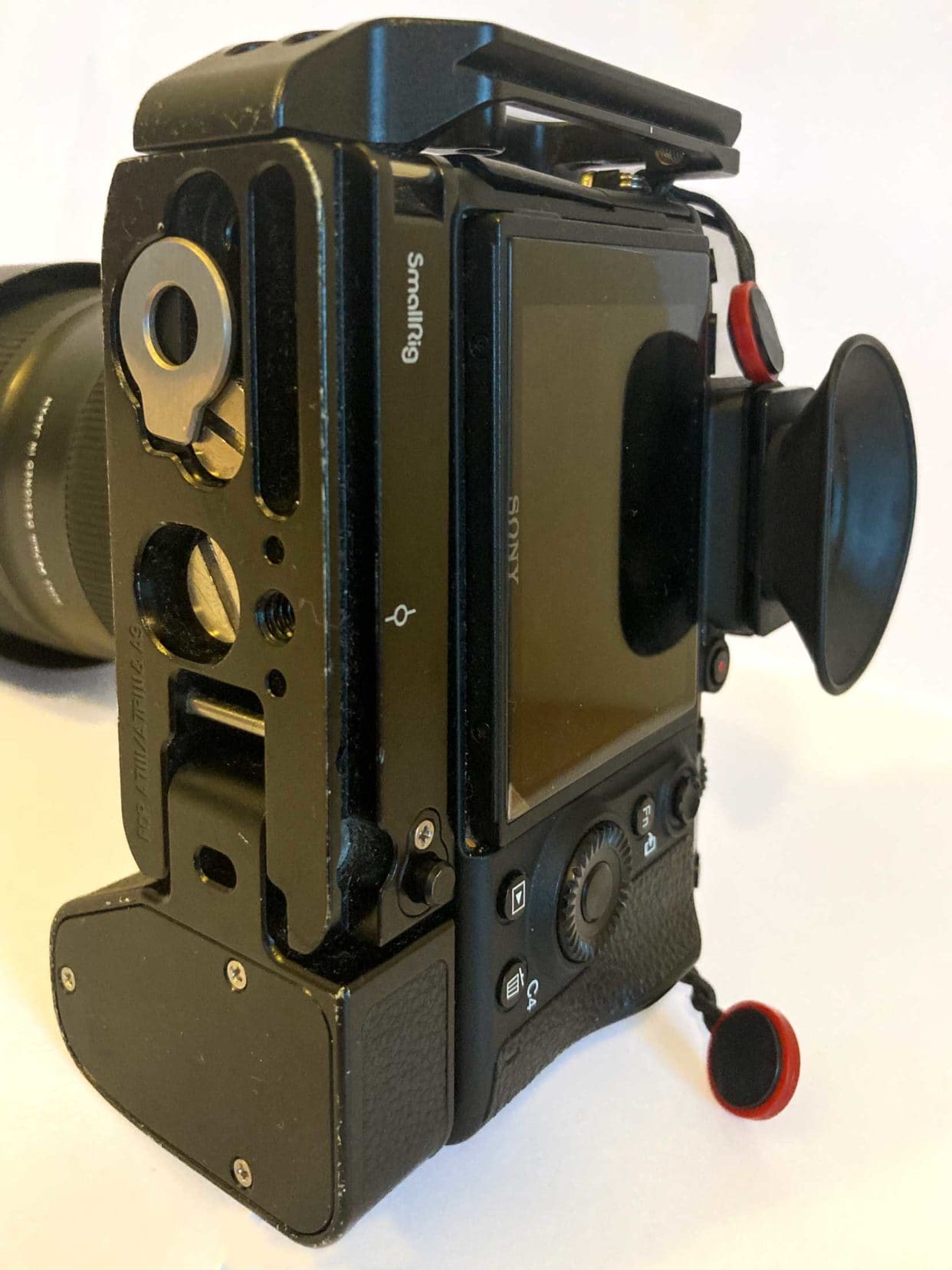 It increased the hand-holding area of the camera. Without it, my little pinkie was freewheeling under the camera's body.
I have two different styled brackets.
Smallrig L-bracket – has both Arca-swiss compatible base and side plates and a cool little magnetic tightening tool that is recessed into the base plate. This is to tighten the securing screw.
Lennon LB3SII bracket – this bracket consists of only the base plate and is Arca-swiss compatible.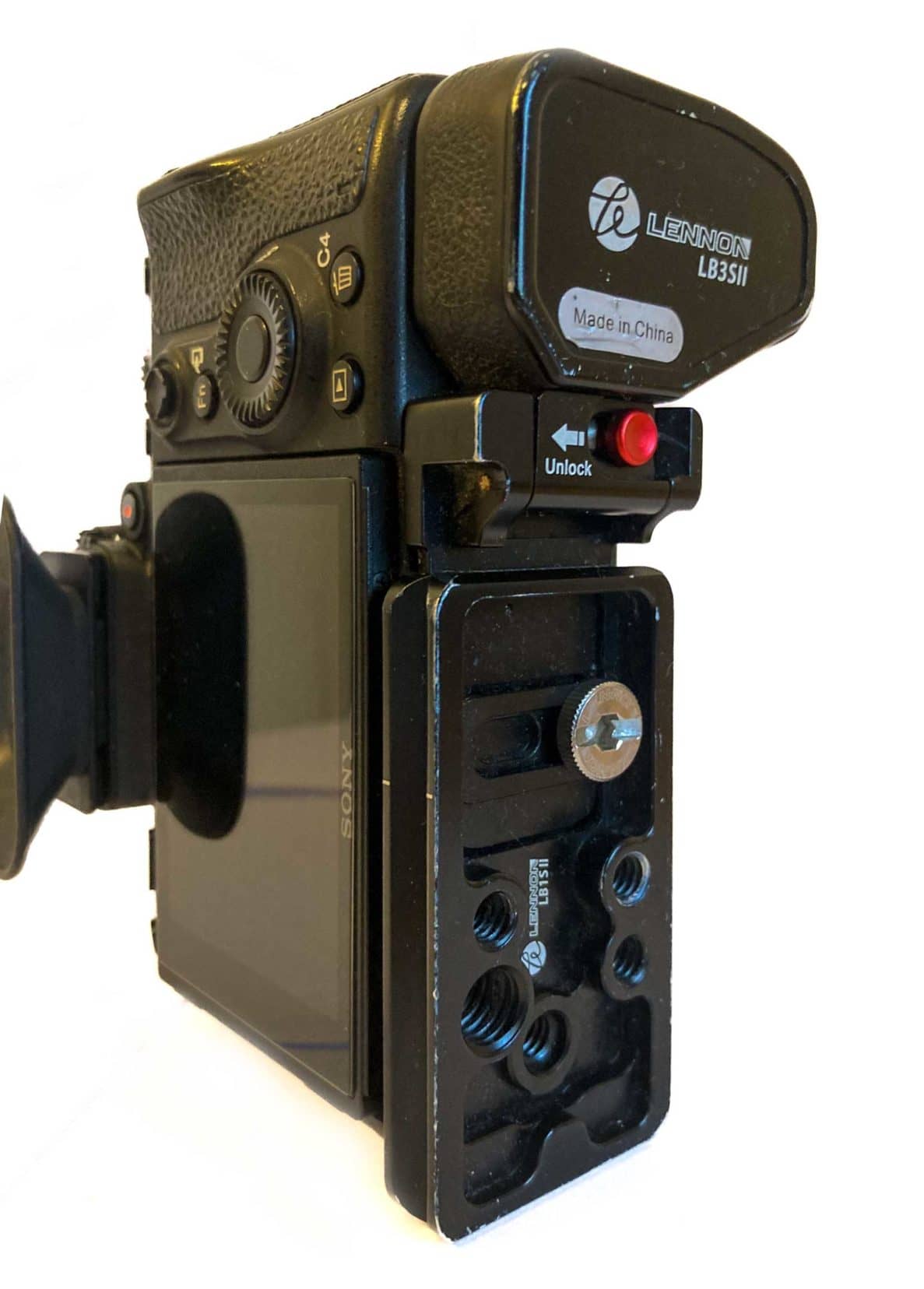 22. Peak Design Capture Clip
The purpose of the Peak Design Capture Clip is that it attaches via screws to the straps of a backpack or a belt. Using the clip to carry your camera/lens allows your hands to be free especially important if transiting rough terrain or through undergrowth.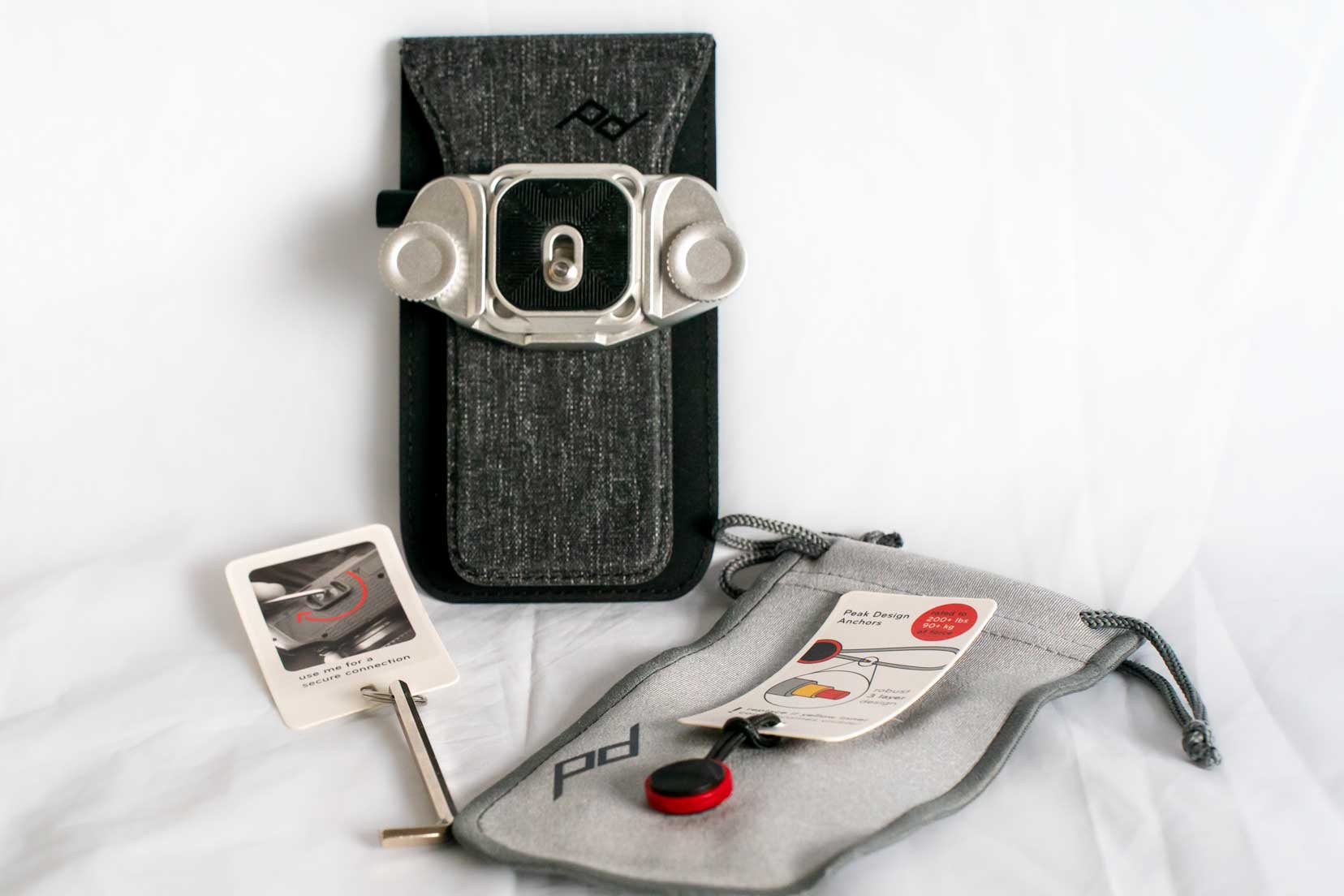 It includes an Arca-swiss quick-release plate and a stiffener that provides support to the base of the camera when fitted to the plate.
The clip can be attached to items with a maximum width of 2.5".
23. Camera Carrying Harness
A hands-free and really useful item is the Nicama camera-carrying harness. It's very popular with my wife, Shelley. The harness allows even distribution of the weight on the shoulders instead of having a camera strap pull load one shoulder.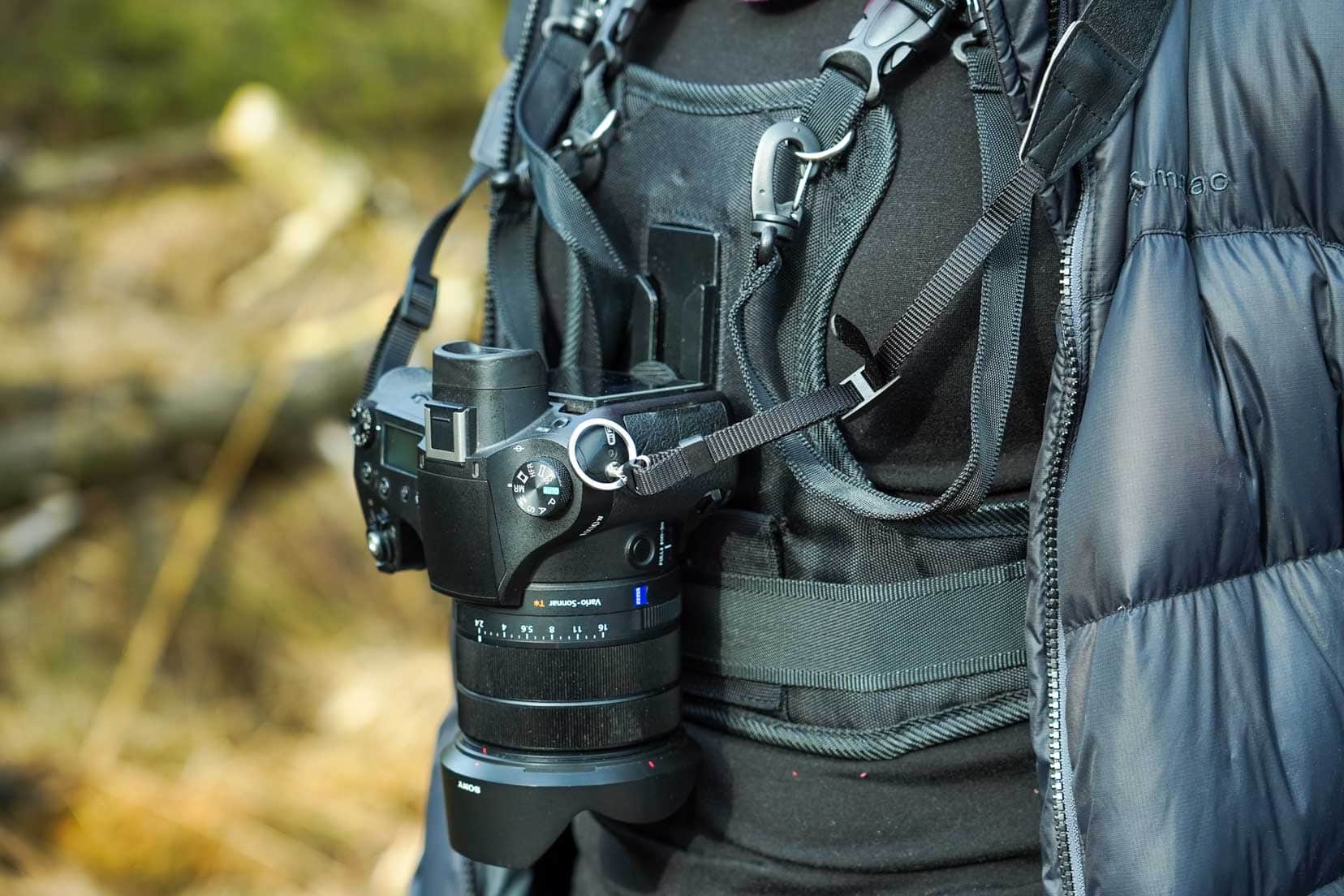 Included with the Nicama harness is a screw adaptor (with key) that is fitted to the base of the camera. The adaptor can then be slid into the plastic housing on the front of the harness.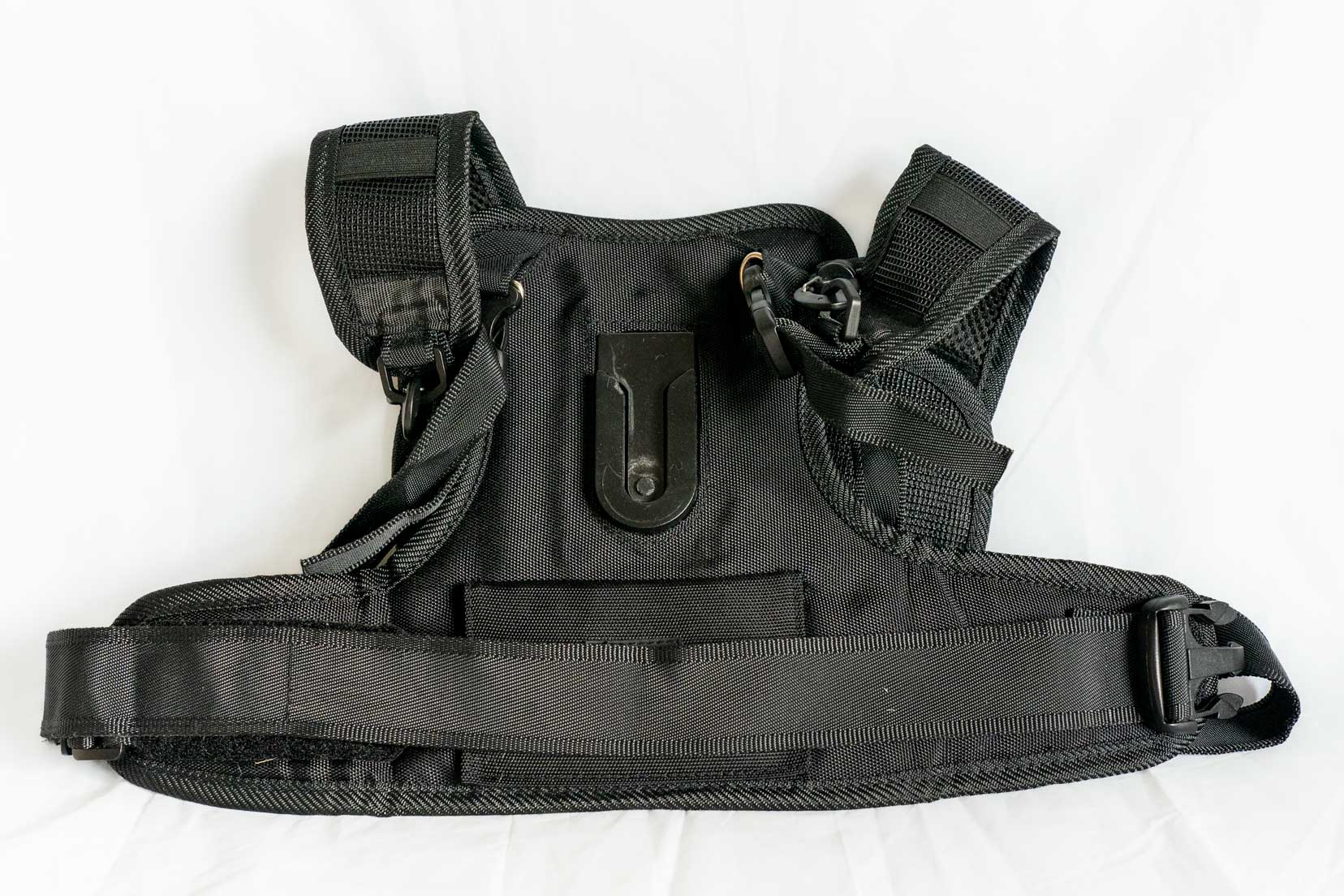 The harness has been used with Shelley's Sony a9 and attached Sony 100-400mm lens.
A bonus feature is that it has two securing straps on each side of the housing that can be attached to the camera so it can't be accidentally dropped.
This counts as really practical travel photography gear that could be seriously considered for long hikes.
24. Beanie and Gloves
Trust me, being cold is not fun. It's a recipe for calling the show quits. Over time, we've tried quite a few different types of beanies and gloves.
Our winners: a multi-layered waterproof beanie and woollen fingerless gloves in the cold. They've saved the day many a time and are portable enough to pack down into your jacket pocket or camera bag.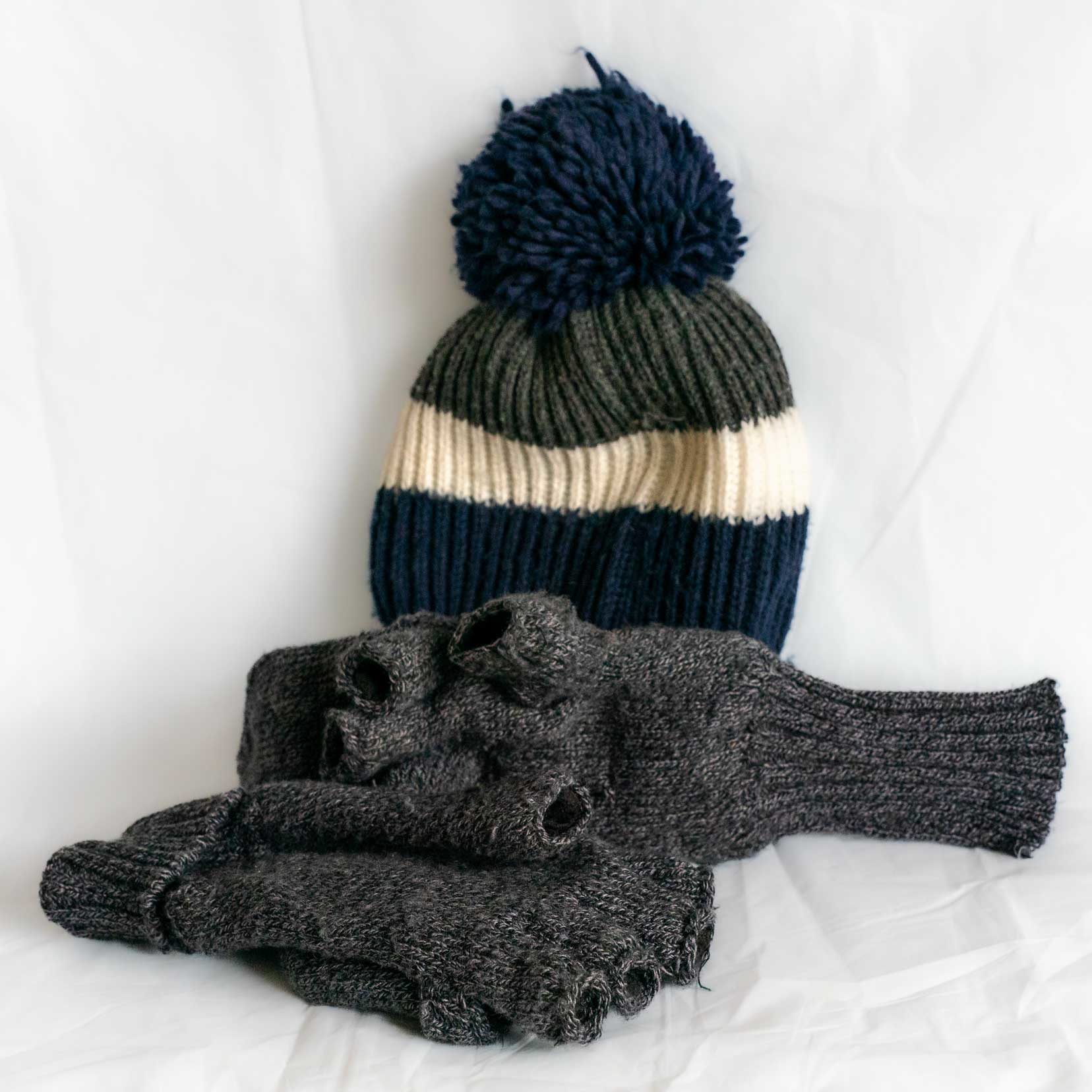 We purchased and still have, the highly rated and expensive triple-layered SealSkinz gloves but my hands just wouldn't keep warm when worn. I wish it were otherwise.
25. Wireless Router
Wherever we travel, the TP-Link M7350 4G LTE wireless router fits our local SIM card. This way we can share the network signal on any number of devices.
You can see how travel-friendly the router is when compared in size to an iPhone 6.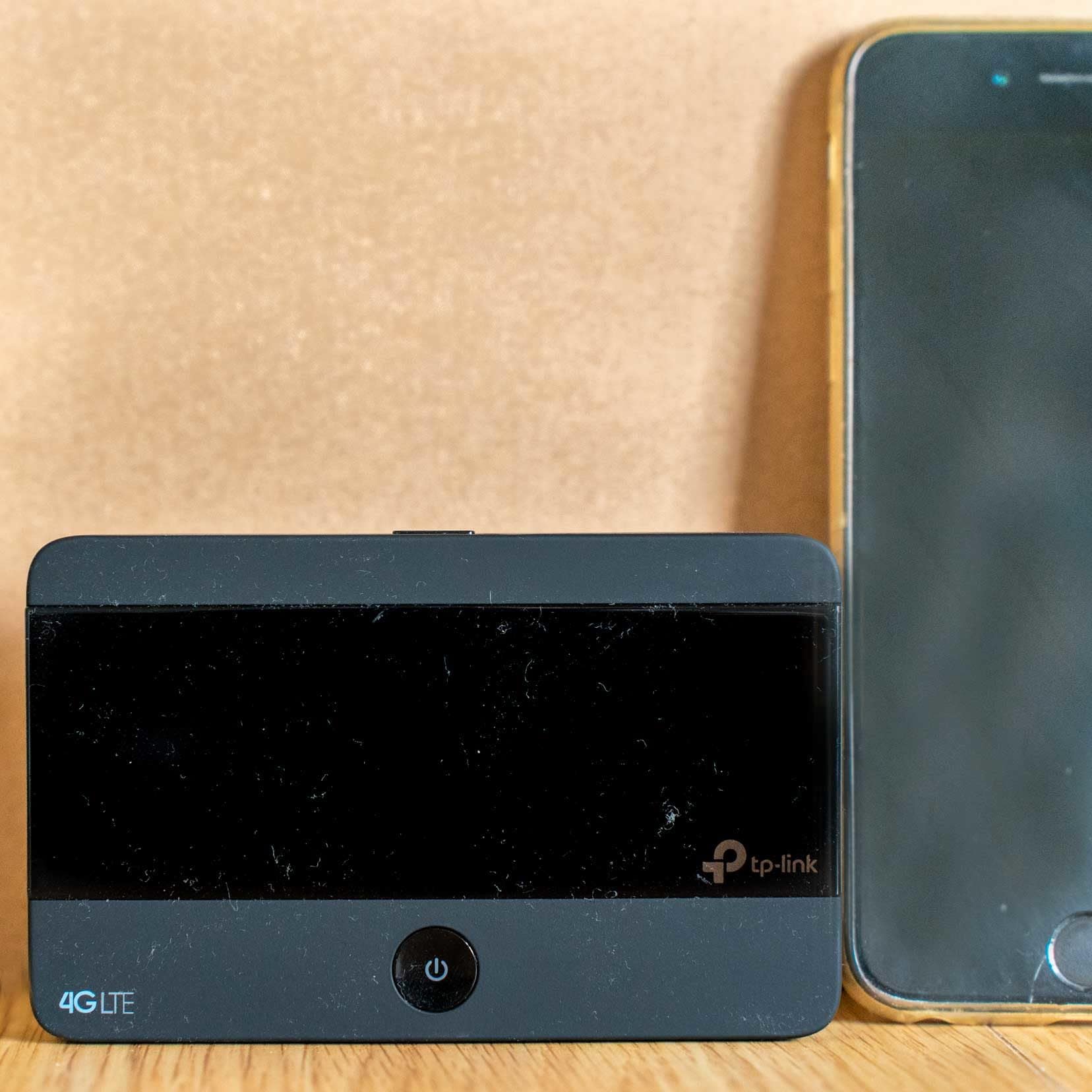 Ok, you could choose to hotspot off your phone, but it doesn't have the range of the router. Plus, the unit charges off 12V and has an 8-hour battery life, and is both smaller and lighter than a mobile phone. Why wouldn't you travel with one?
Our Travel Photography Gear – That's a Wrap
I hope I've provided you with some insight into the choices and decisions for travel photography gear.
Remember, you don't need the best or latest equipment to have enjoyable photography experiences.
Happy clicking!
Pin and save for Later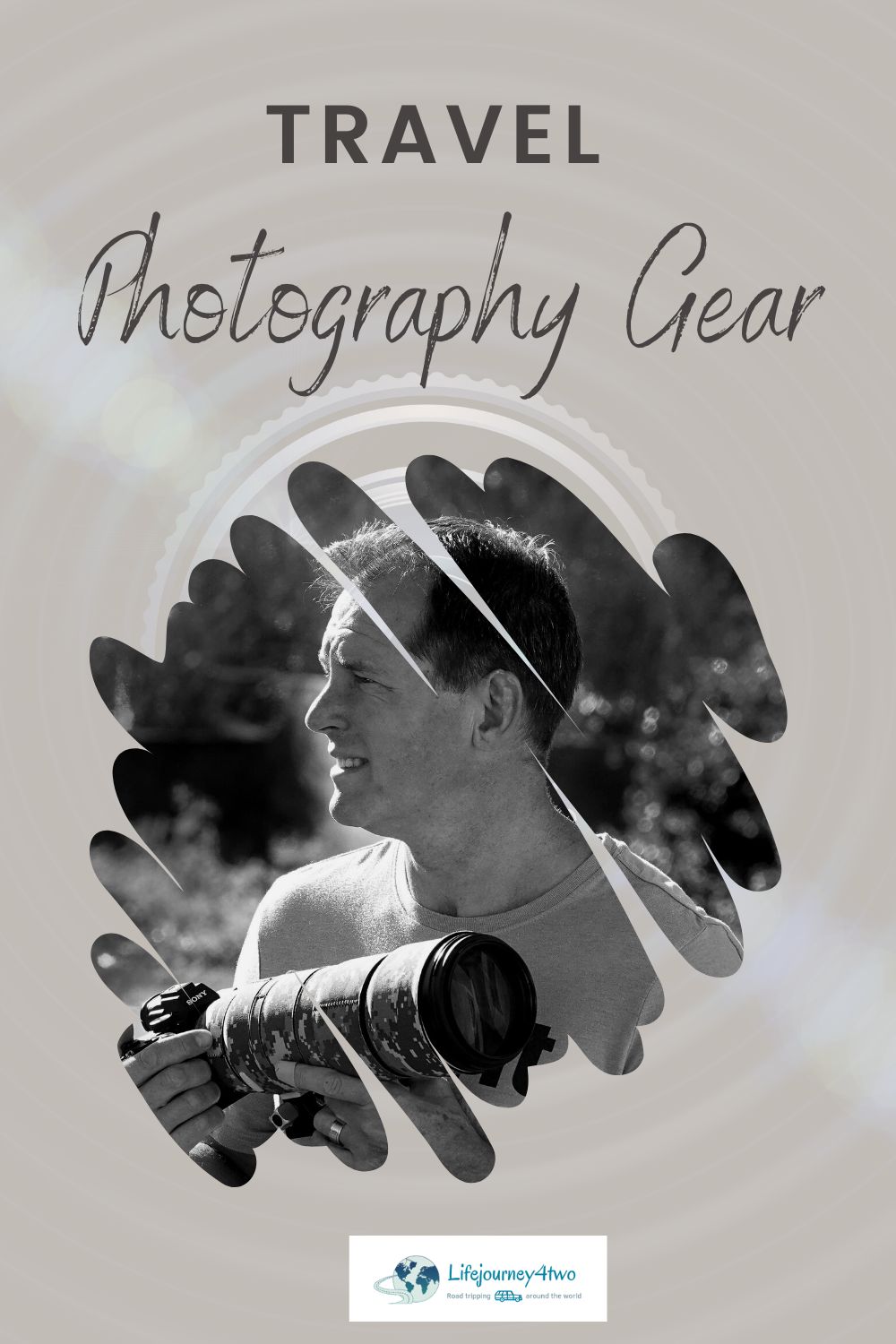 Read More
PLANNING YOUR TRAVELS?
These are some of the travel resources we use when planning our trips.
For a more thorough list visit our Travel Resources page here.