The Magic of Binscarth Woods, Orkney
Whether it was magic at work, fate or just pure coincidence, Binscarth Woods pulled me in almost as soon as we arrived in Orkney.
The sun sparkled this way and that. The breeze shifted the dappled shade of the trees above, so it seemed sunbeams danced amongst the vibrant violet-blue bluebells.
It was at once clear why these treasured woodland flowers are often called fairy flowers. When the wind dropped for a moment, you could almost hear the tiny tinkle of bells. And who's to say the flickers of light weren't the fairy folk flitting from bell to bell.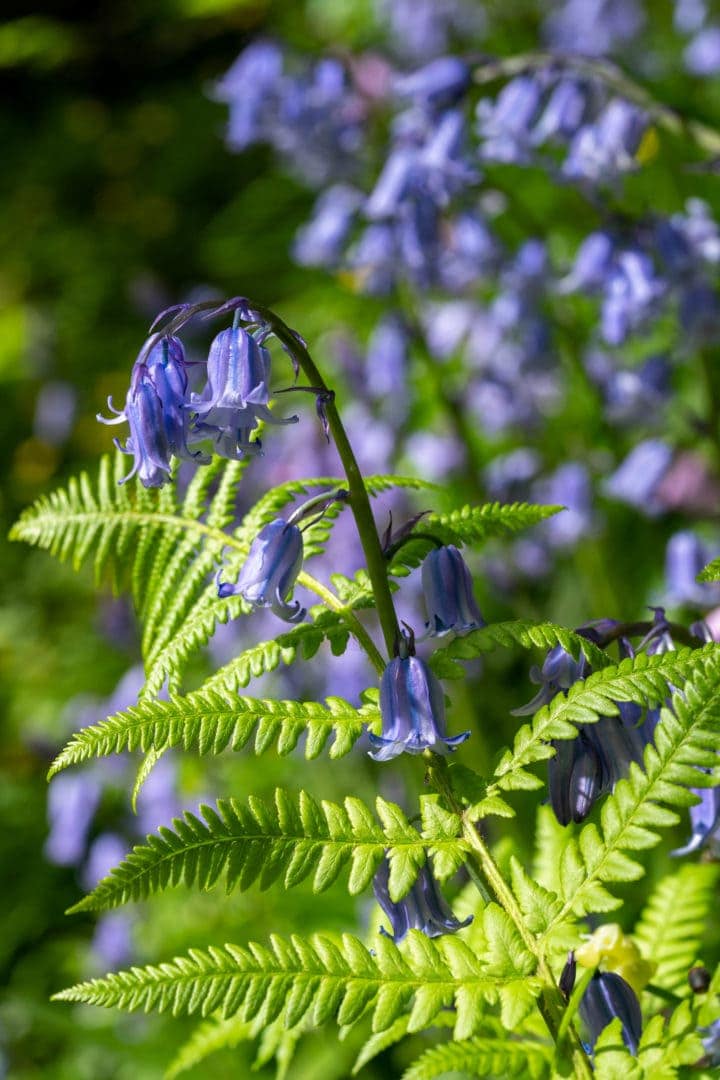 Binscarth Wood Video
Enjoy this one minute clip of Binscarth Woods.
Finding Binscarth Woods
Our first stop after landing at Stromness by ferry was to unload our bags at our accommodation in Kirkwall. We then planned to hop straight back into the car to begin our Orkney sightseeing.
We already had numerous points marked up to see and a nagging doubt that we'd be able to fit everything in over the next three days.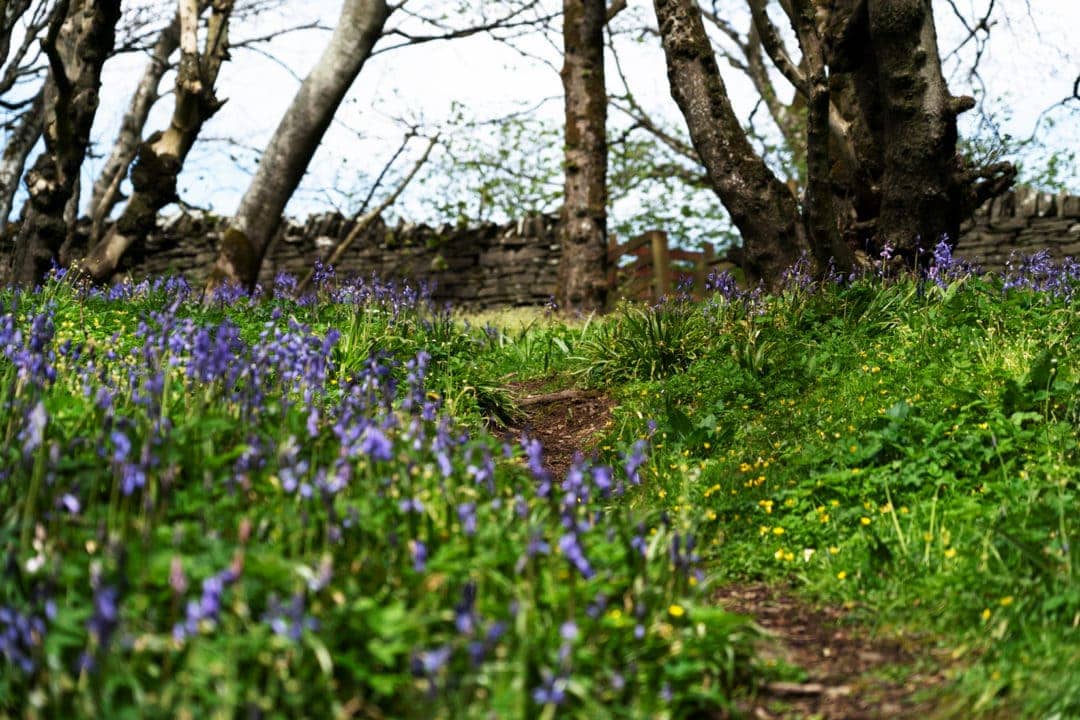 Nevertheless, I still leafed through the Orkney brochures left by our hosts, as I sat on the end of the bed having a quick, pick me up cuppa. Only one caught my eye. A cover page filled with bluebells.
What?
Wasn't Orkney a treeless island?
A bluebell wood had definitely not come up on my Things to do in Orkney research.
Bemused, I found a small paragraph inside, with a map as to where I could find such a place in Orkney. It seemed Orkney was not treeless after all.
I had never seen a bluebell wood, and it still sat patiently on my bucket list. It had not crossed my mind for one second that I might find one on a remote island in the far north of Scotland.
But find one I did.
Binscarth Woods, an enchanting carpet of blue to delight any flower lover.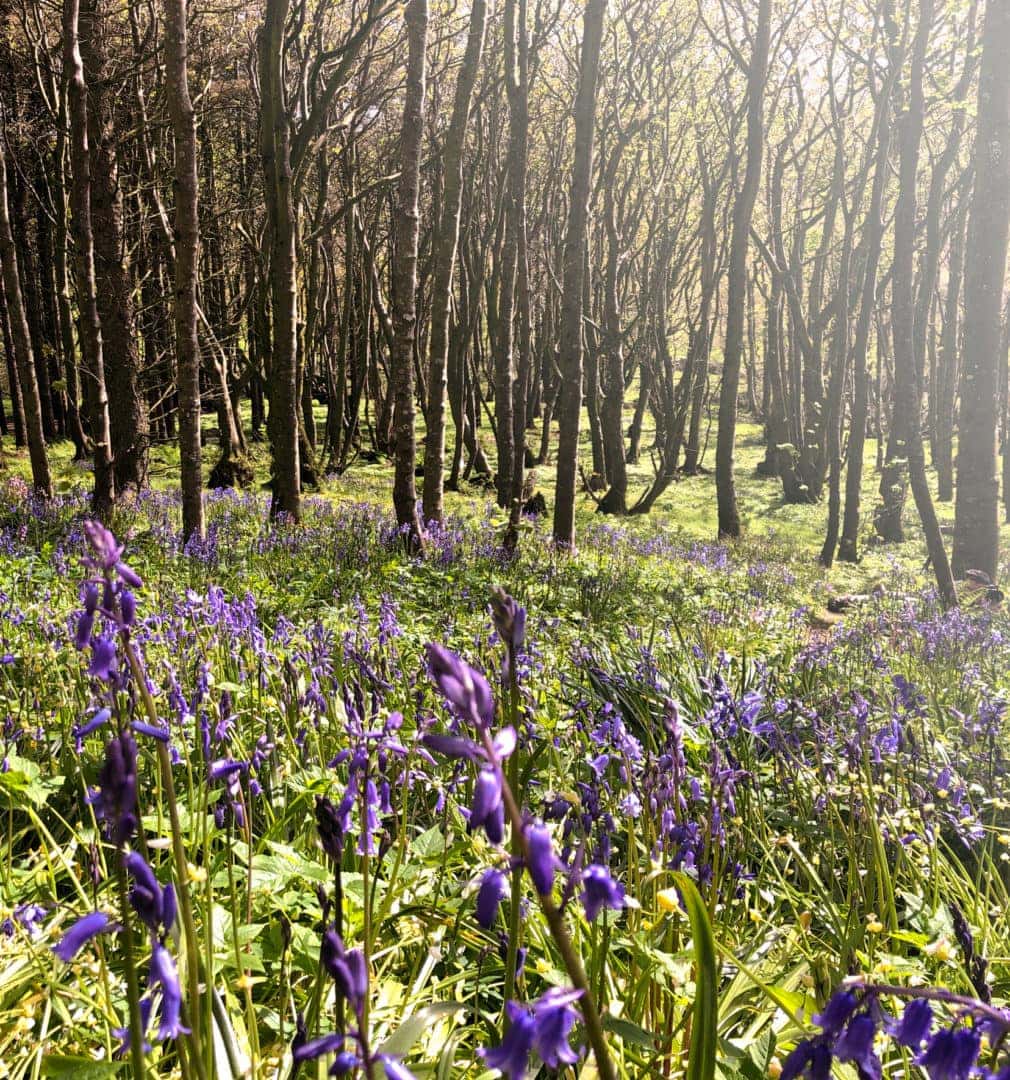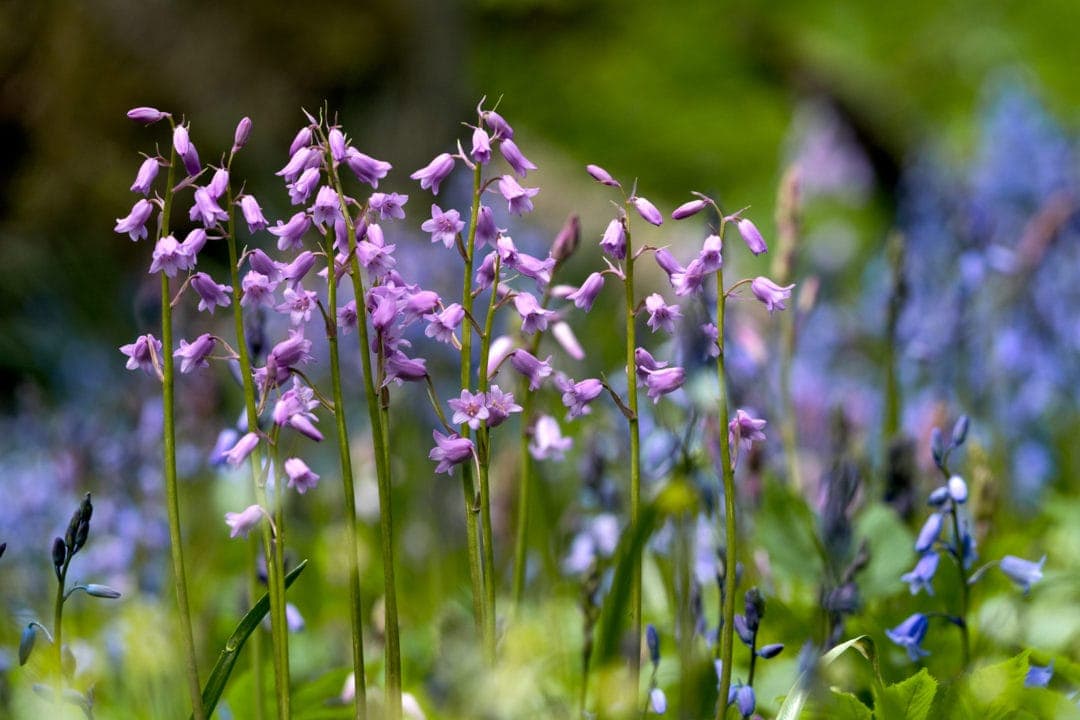 Getting to Binscarth Woods
Binscarth Woods is about a 10-minute drive from Orkney's capital of Kirkwall. Free parking is at Finstown, on the road just past the entrance gate that crosses a field.
Once you walk through the first gate, just off the A965, walk across a field where Binscarth House can be seen on the hill.
A short distance into the wood, there is another gate to your left, which leads to a narrow path that follows the river (or burn as they call it in Scotland.) We came back along that path (that forms a circular route) once we reached the end of the woods.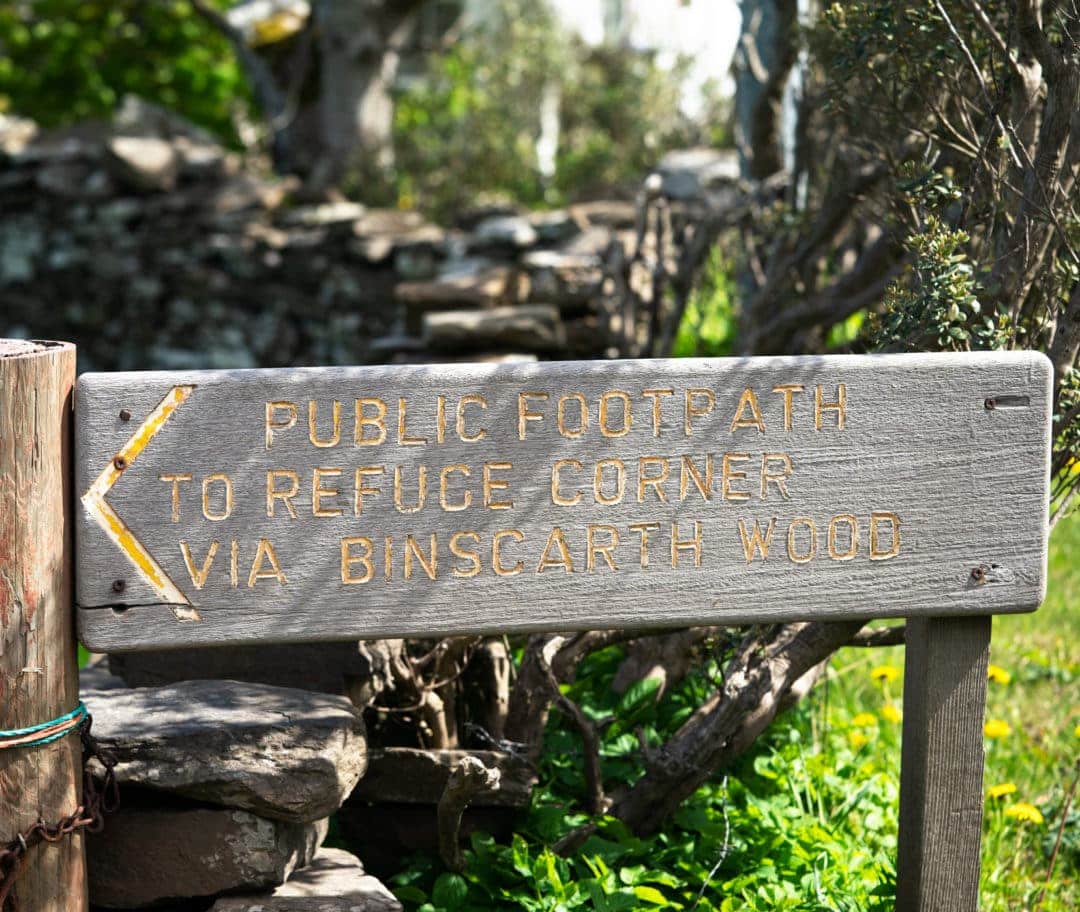 If you would like a longer walk, the pathway leads out of the woods, further on to a point called Refuge Corner. The trail leads you past a burial mound on your left, called Howe Harper, believed to be a Norse grave.
You then reach Loch of Wasdale, known to attract waders and other waterbirds. Near the shore of the lake, you'll find a small crannog, an artificial island that is thought to date back to the bronze age. Once at the Loch, retrace your steps back to the carpark at Finstown.
In fact, this trail is part of a larger, 58-mile pilgrimage route through Mainland Orkney, the St. Magnus Way, which was inspired by the life and death of Magnus, Orkney's patron saint.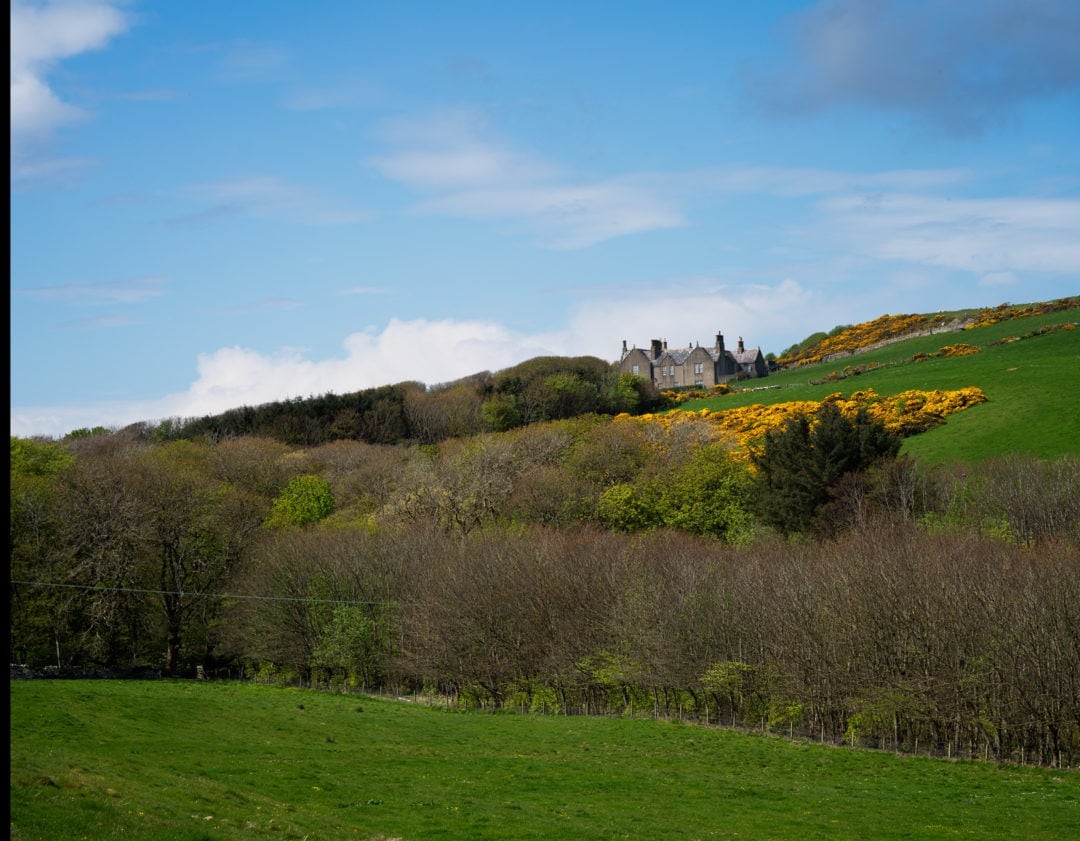 About Binscarth Woods
Binscarth Wood was originally planted in around 1860, shortly after Binscarth House was built. However, in 1952 gale-force winds brought down many of the original trees. These were replanted and today the wood includes broad-leaved trees such as ash, beech, hawthorn and sycamore.
In fact, these trees at Binscarth, are home to 15% of Orkney's birds and you may spot blackbirds, robins, wren, dunnock, goldcrest, chaffinch and rooks here.
When Binscarth House was built, 'tatter flags' were used to find the most sheltered spot, and are still used by the Forestry Commission today to measure wind exposure and to find the best location for plantings. The flags are then left in place for a certain period and the least' tattered and torn' show the most protected locations.
Although Orkney is indeed almost treeless nowadays, there is recent evidence that pre-historic Orkney did indeed have woodlands. … around 3500 BC.
But today, we can be thankful for the few woodlands that have thrived on Orkney, and Binscarth Woods is a welcome woodland charm. Nestled in the valley, it is somewhat protected from the winds and the springtime bluebells make it an extra special place to visit in Orkney.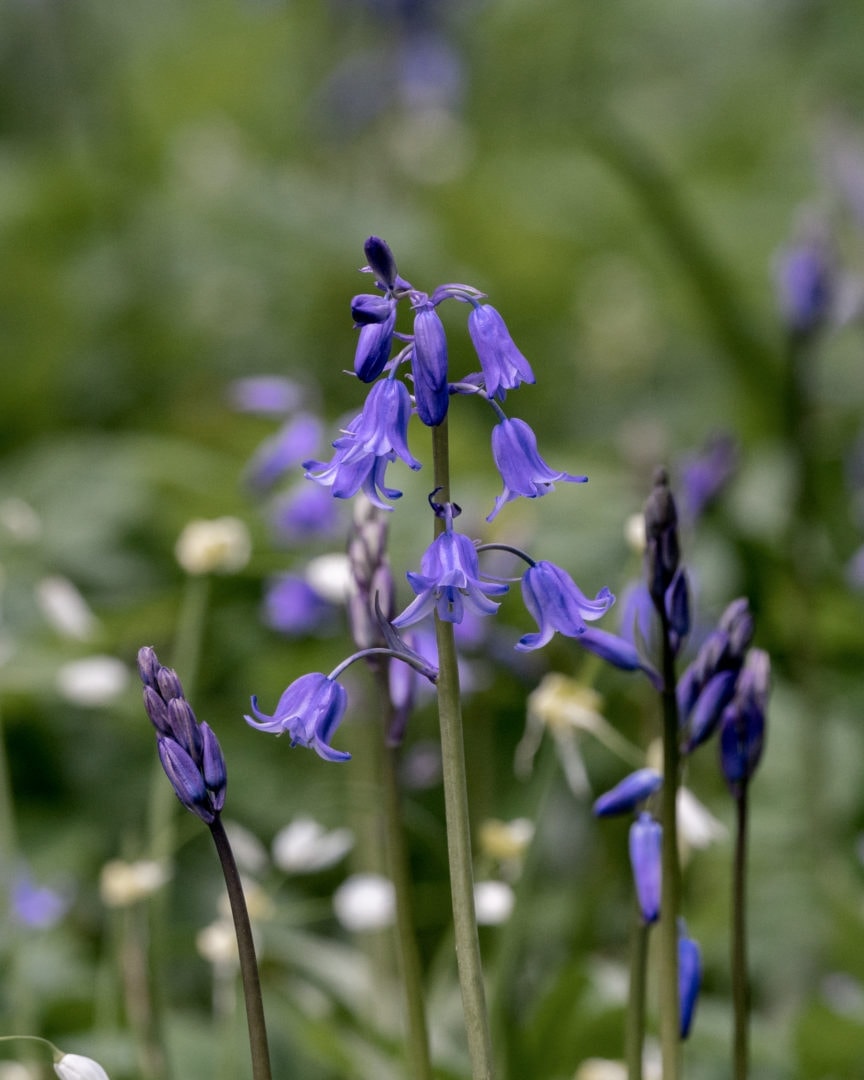 The bluebells found in Binscarth Wood seem to be mainly of the non-native Spanish variety, but I'm not sure if I some were hybrids perhaps, because some were drooping more like the native bluebell.
The native bluebell (or common bluebell) only has flowers that grow on one side, which causes their drooping pose. They are also scented and have narrow leaves. In comparison, the non-native, Spanish variety has a more upright stance with flowers all around the stem, and no scent.
The Spanish bluebell is hardier than the common bluebell and is, therefore, unfortunately, a threat. In fact, studies show that 1 in 6 woodlands contain the Spanish bluebell or hybrids.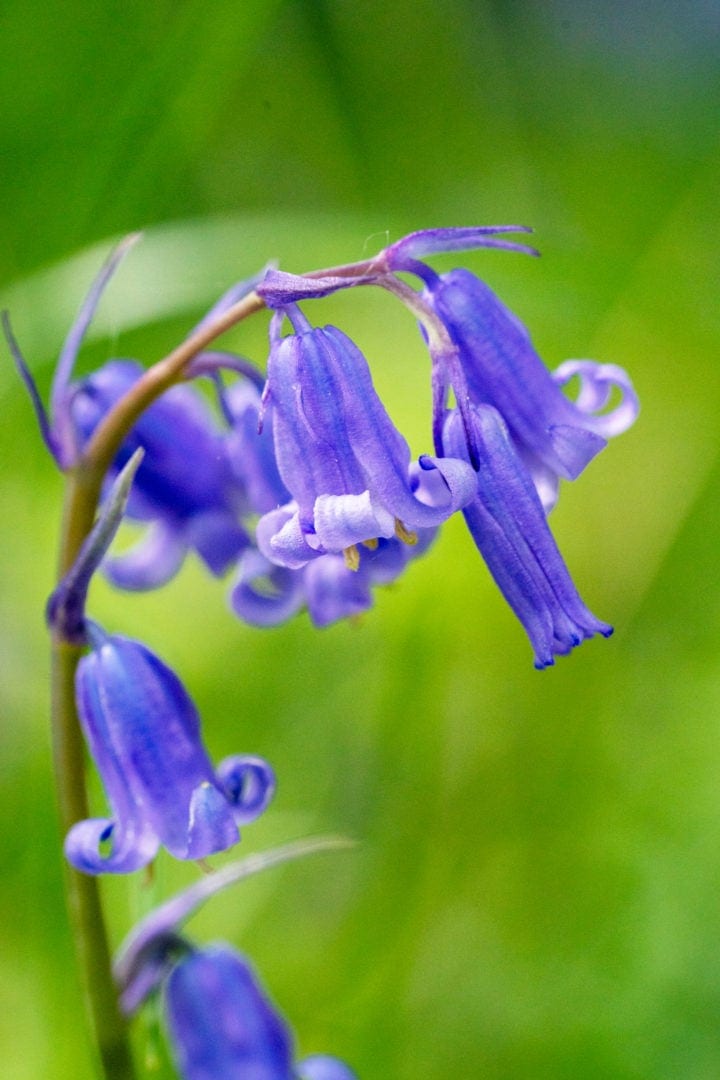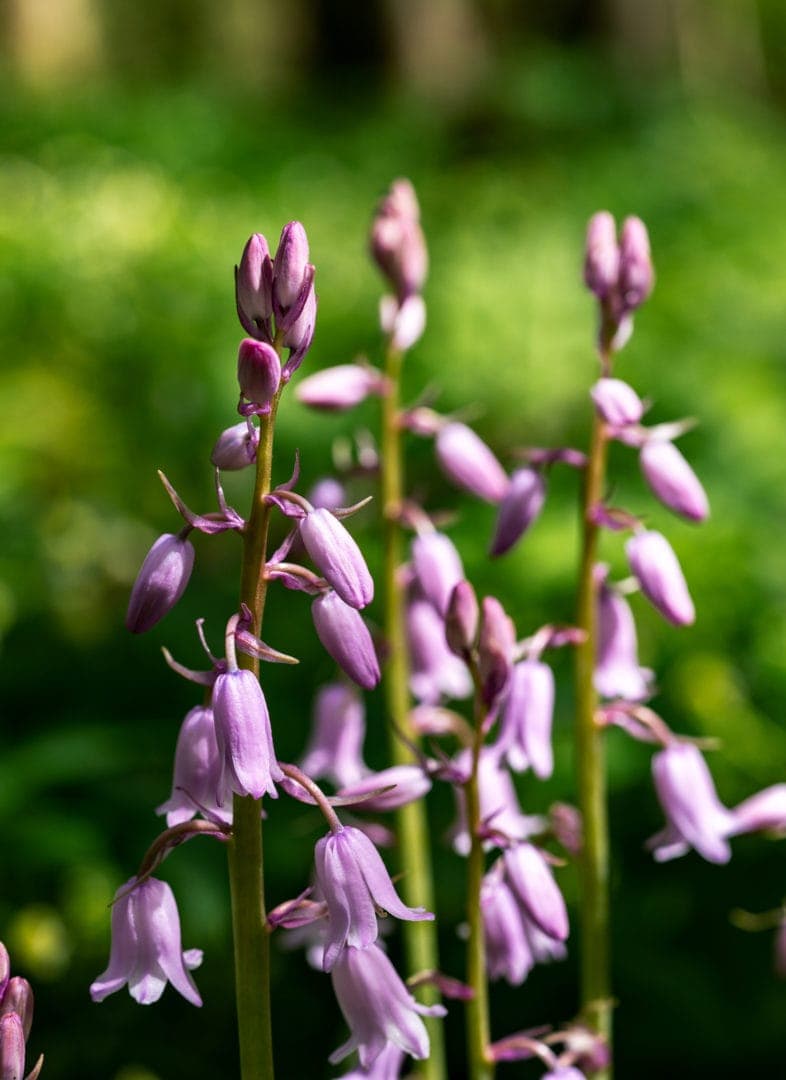 Along with bluebells, pink purslane, celandine and few-flowered garlic were blooming. The garlic smell was quite pungent but the visual display of the bluebells detracted my mind from the smell … most of the time.
Even though their scent is questionable, the white translucent petals of the garlic weed are attractive and delicate … and perfect to practise my macro photography.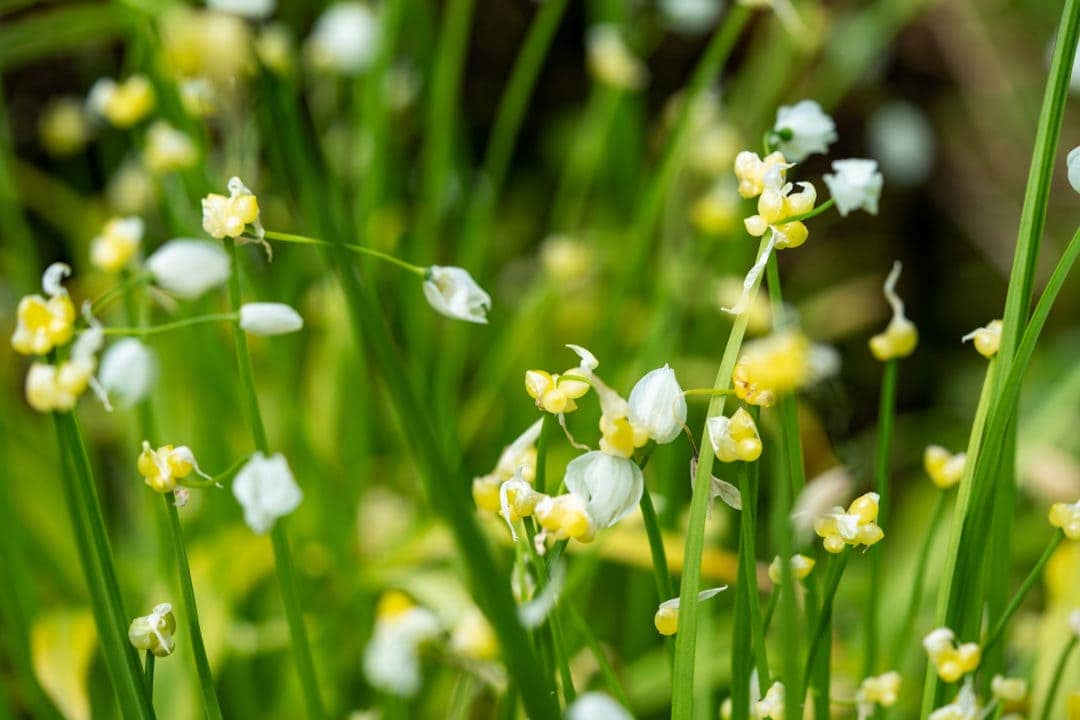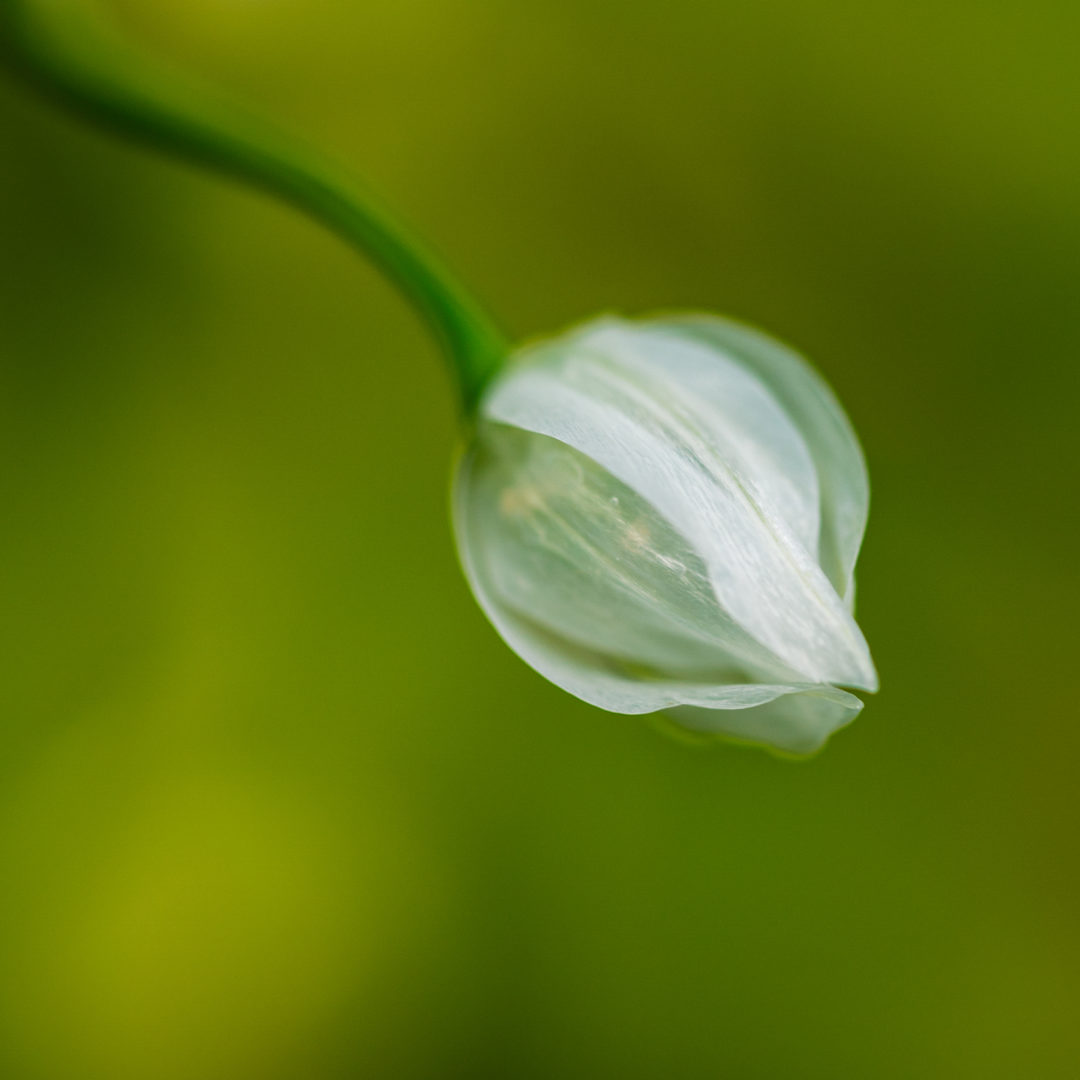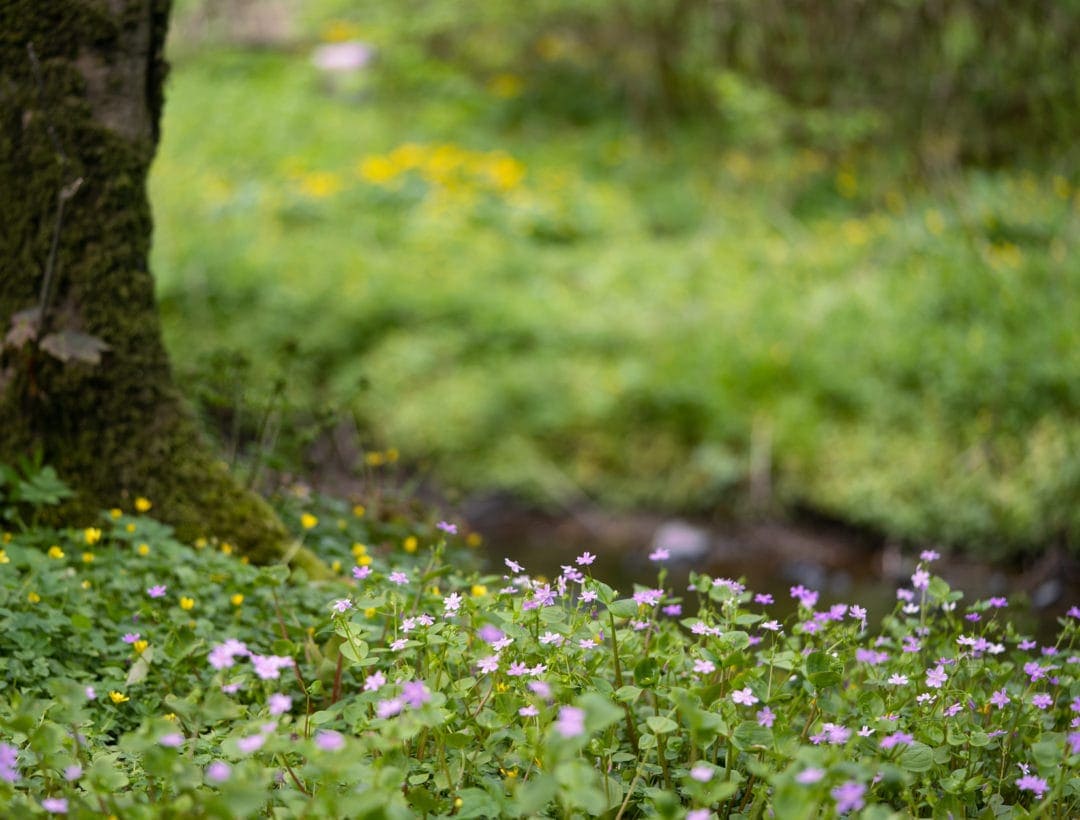 Mindfulness at Binscarth Woods
According to National Geographic, the secret to mindful travel is a walk in the woods. Connecting to your environment and nature is good for your soul, and Binscarth Woods, with its carpet of beautiful bluebells, is the perfect place to kick back and focus on the nature around you.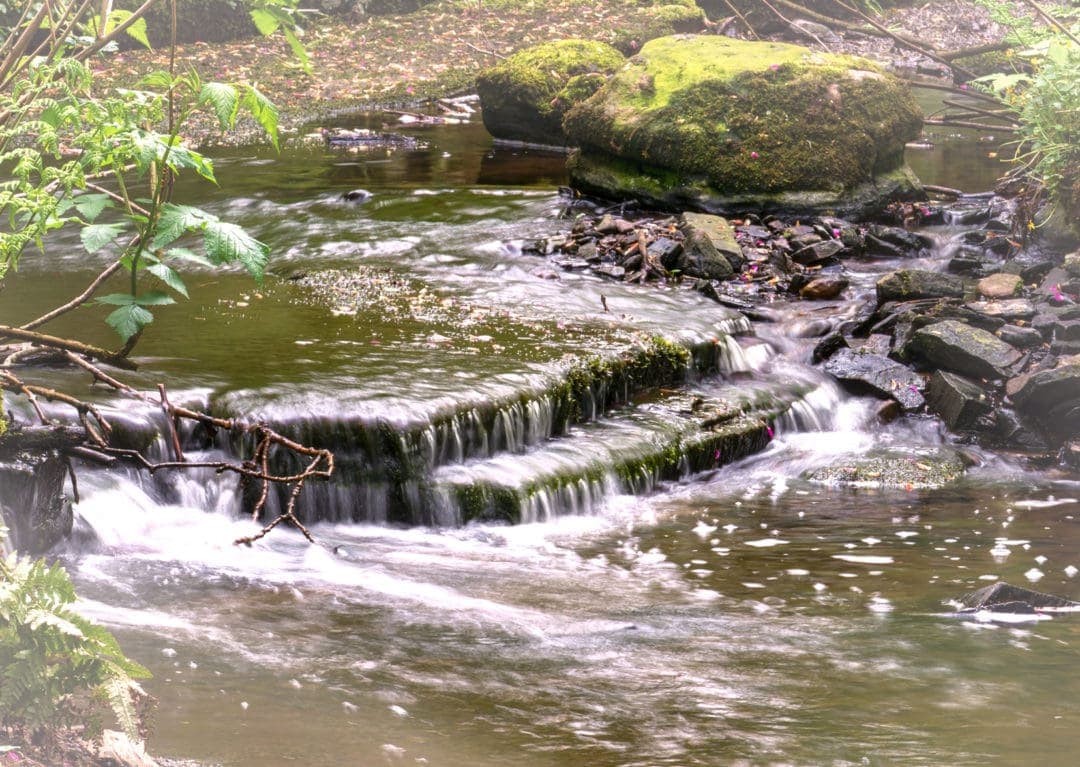 While you wander through the woods, take your time. Pay attention to your surroundings, and be in the moment. I love macro photography because it really focuses my attention and relaxes me — bringing me into the present within nature.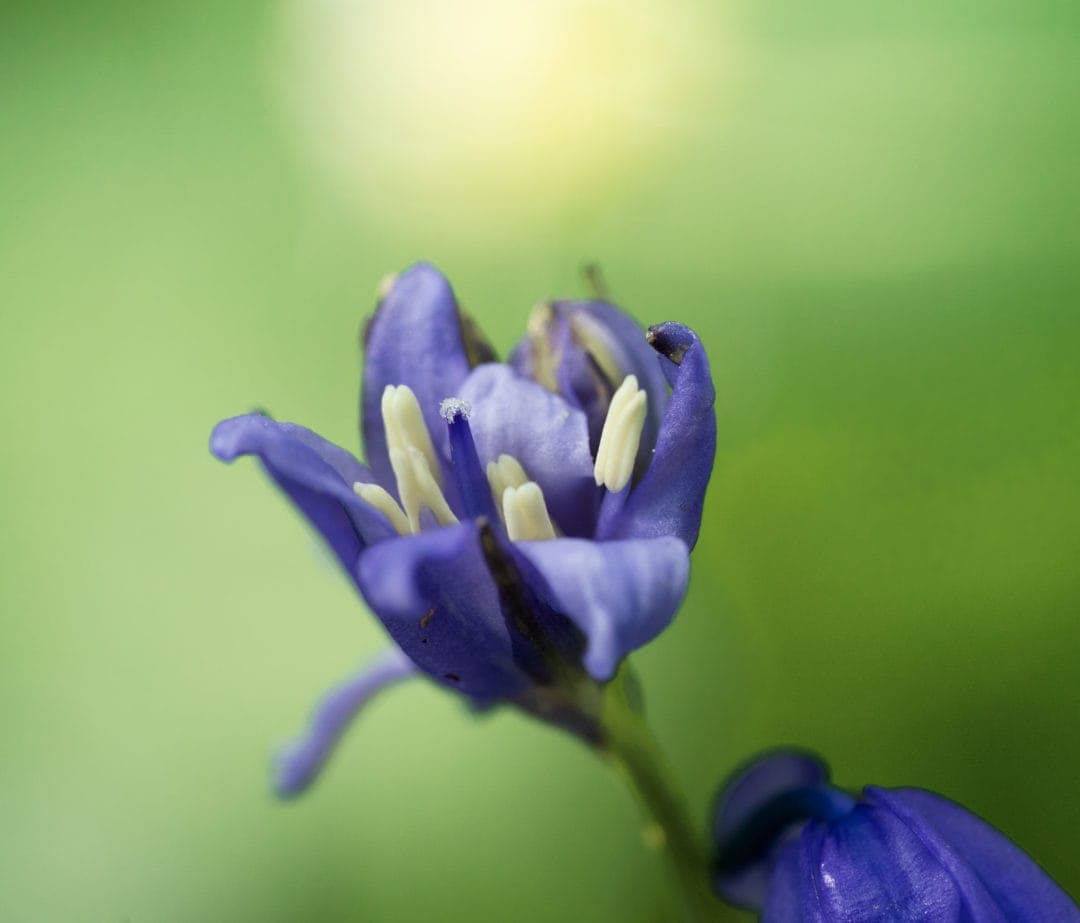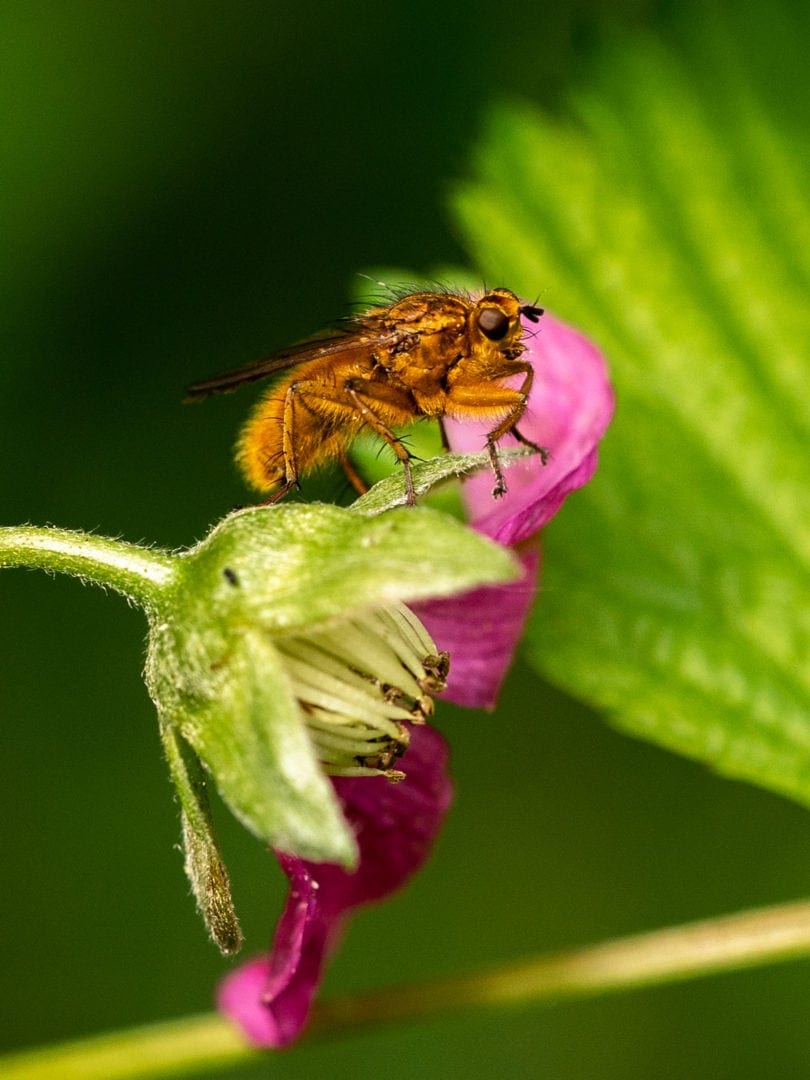 Other Orkney Woodlands
Unfortunately, we ran out of time to visit Happy Valley (and on our last day it bucketed down with rain) but this sounds like another gorgeous woodland to visit.
Happy Valley, in Stenness, Orkney was created by Edwin Harrold who lived there from 1948. During his lifetime, he planted this small woodland and welcomed visitors to his garden. After he died, the Friends of Happy Valley charity was established to maintain the wood for the enjoyment of future visitors.
You will find beautiful bluebells here too.
For more information on other small woodland walks in Orkney, download the Orkney Woodland Projects leaflet here. This is the leaflet that caught my attention and lead me to find Binscarth Wood.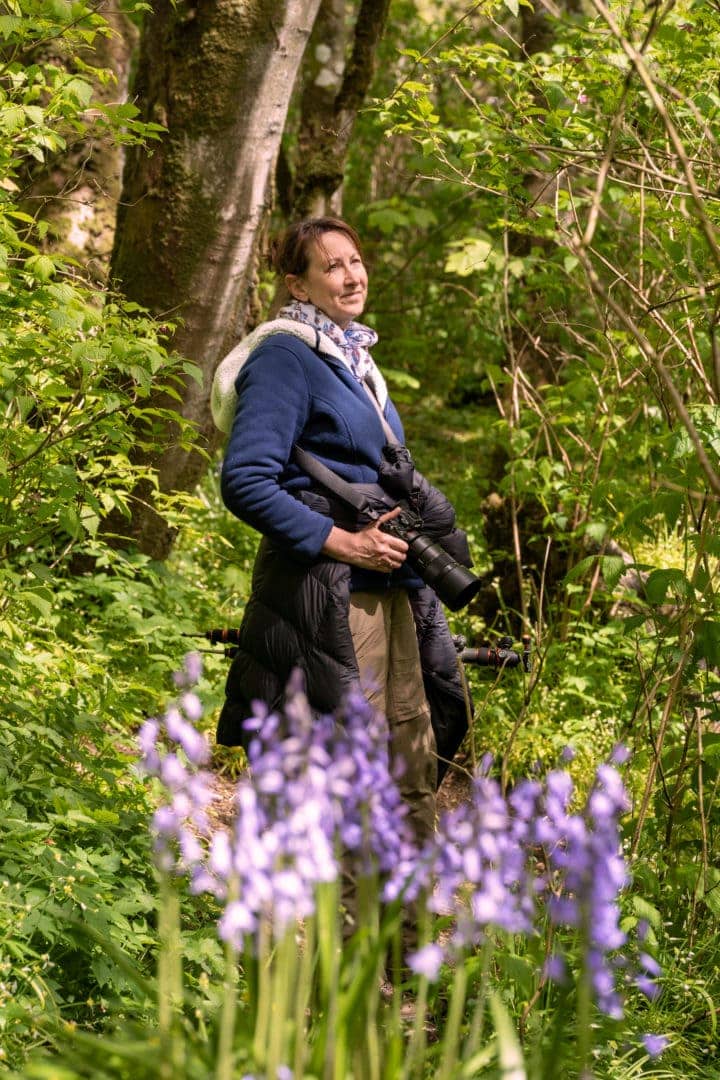 Binscarth Woods… That's a Wrap
We love finding places that aren't on the main tourist lists and Binscarth Woods is one of those in Orkney. The fact that we visited in May and could experience the masses of magical bluebells was an added bonus.
If you enjoyed this article, you may like these FREE RESOURCES:
FREE Travel Guides (many countries)
23-page Travel Planner, including menu planner, journal pages and budgeting)
Phone Wallpapers
Photo Ebooks
Monthly Travel News 
Pin and Save for later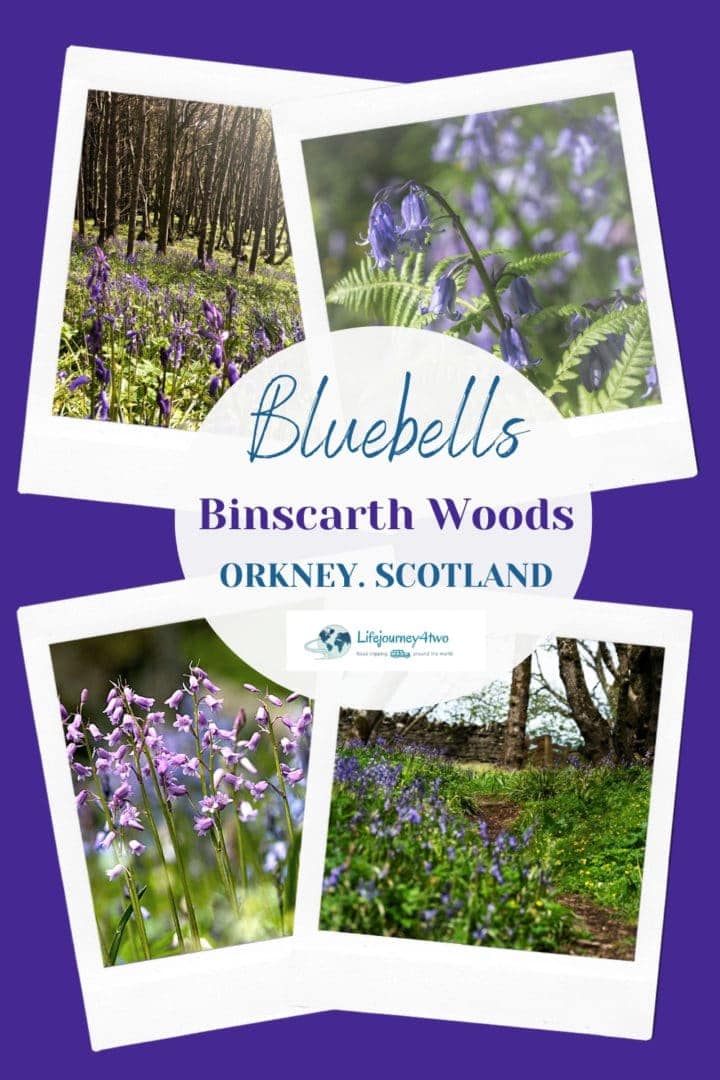 Read More on Scotland
PLANNING YOUR TRAVELS?
These are some of the travel resources we use when planning our trip and can recommend:
For a more thorough list visit our Travel Resources page here.