FREE PRINTABLE ROAD TRIP PLANNER
This FREE 23-page Printable Travel Planner Kit comes in 3 sizes, A4, A5 and US Letter.
It is perfect for your road trip planning, travel planning, your daily, weekly and monthly itineraries, travel journaling and tracking expenses.
An attractive all-in-one travel organiser.
As full-time road trippers, we've planned plenty of road trips. So, we've designed this printable road trip planner to include all the necessary pages for your motorhome trips, RV planning and campervan road trips.
It can also be used as a general travel planner too.
This FREE Road Trip Planner includes lists and organisers to keep you super organised in both the pre-planning of your travels and also while travelling.
These pages can be printed as many times as you like, so you will never run out of road trip planner refills. All of the pages have extra space in the margins so you can have the option for hole punching, putting into a binder, stapling pages or adding to a planner etc.
READ MORE: If you are travelling as a couple check out this post for 15 Fantastic Road Trip Tips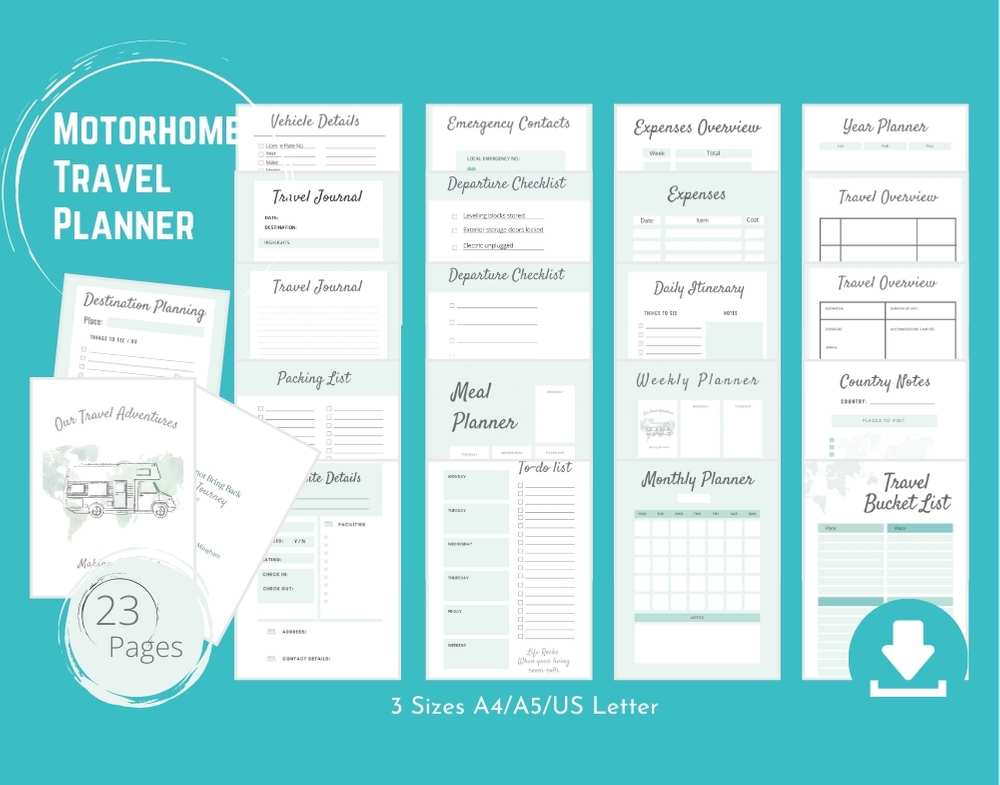 INCLUDED IN THIS 23-PAGE ROAD TRIP PLANNER:
Cover
Back page with a travel quote
Travel journal page with prompts
Travel journal page with lines
Destination Planning page
Packing List page
Vehicle Details page
Campsite Details recording page
Emergency Contacts page
Departure Checklist for
RV/Motorhome- with suggested items
Departure Checklist – for your own notes
To-Do List page
Meal Planner
Expenses – Daily
Expenses – Overview
Daily Itinerary Planner
Weekly Itinerary Planner
Monthly Planner
Yearly Planner
Travel Overview – details
Travel Overview – add your own notes
Travel Bucket list page
Country Notes page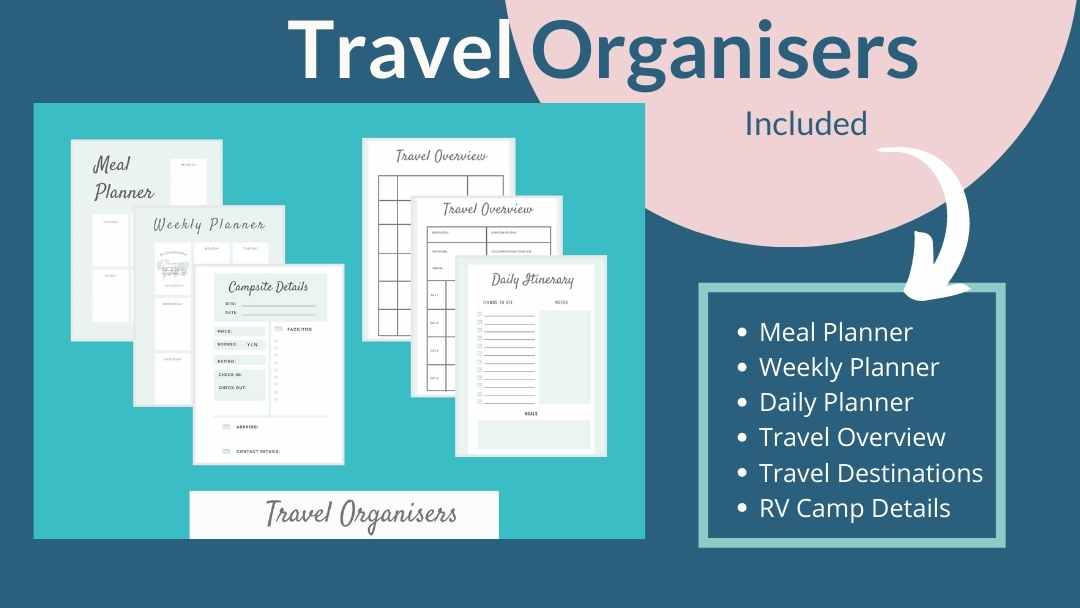 Details of the Pages in This Road Trip Travel Planner
TRAVEL PLANNER OVERVIEW PAGE
The Travel Overview page allows you to break down your road trip or holiday into different destinations with arrival and departure dates, accommodation details and daily activities. It also comes with a continuation sheet.
DAILY, WEEKLY, MONTHLY AND YEARLY PLANNER PAGES
We've accounted for all lengths of trips with a daily, weekly, monthly and even yearly planner page. Whether you're going on a road trip, planning a week's holiday or setting off on a year-long adventure, this printable travel planner will help keep all those useful bits of information in one place.
You can use the planner pages to keep track of what you need to do while planning your trip and also as an itinerary when on your trip.
Depending on the season and destination, you may need to book accommodation up to a year in advance. When we spent Christmas skiing in Bettmeralp, in Switzerland, it was so popular that families booked accommodation up to 18 months in advance!
The Daily Itinerary page includes space for things to see, notes and meals.
The meal section can be used for planned meals, restaurants to try or types of foods to sample.
If you are on a road trip in Brittany, make sure you try Breton Cake – a buttery, melt-in-your-mouth cake come shortbread not to be missed:)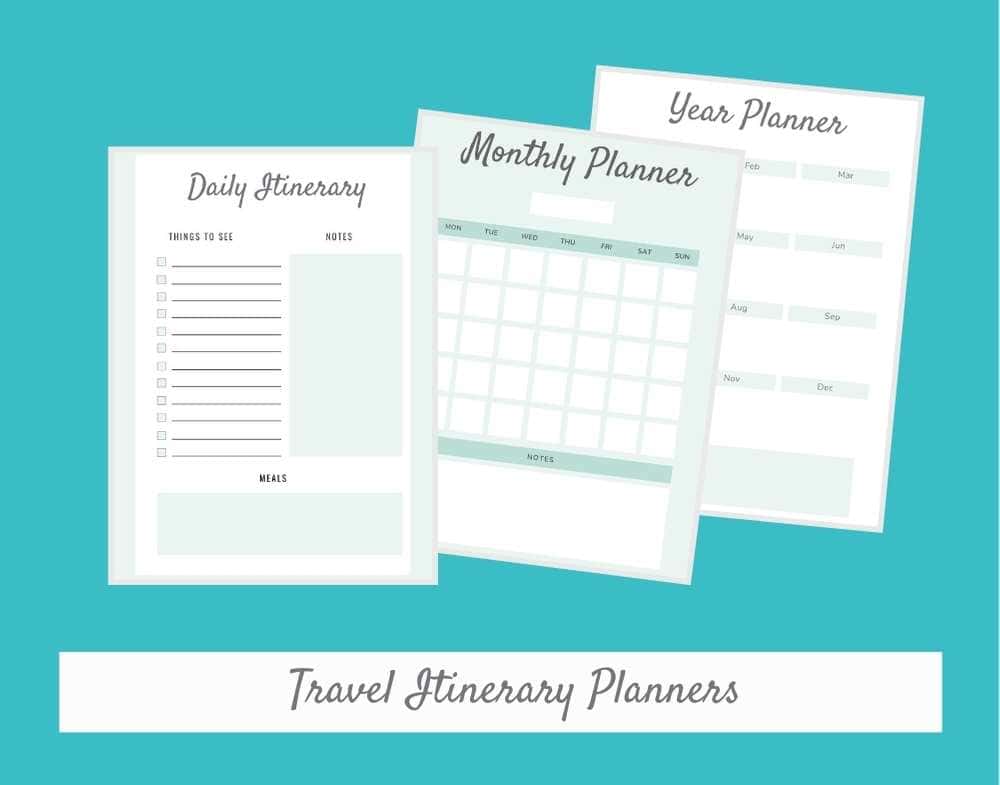 MEAL PLANNER PAGE
Travelling on a budget? Then this meal planner is handy — especially if you are on a motorhome, RV or campervan road trip. Planning your meals means you can organise your shopping list which equals less waste and more money saved.
CAMPSITE DETAILS PAGE
Having travelled Europe for a year in a motorhome, and buying a 4 x4 with a tent on top to overland Africa, we know a thing or two about the details that are handy to know for campsites on a road trip.
The Campsite Details page includes spaces for campsite information such as price, whether you've booked it, check-in and out times, facilities, address and contact details.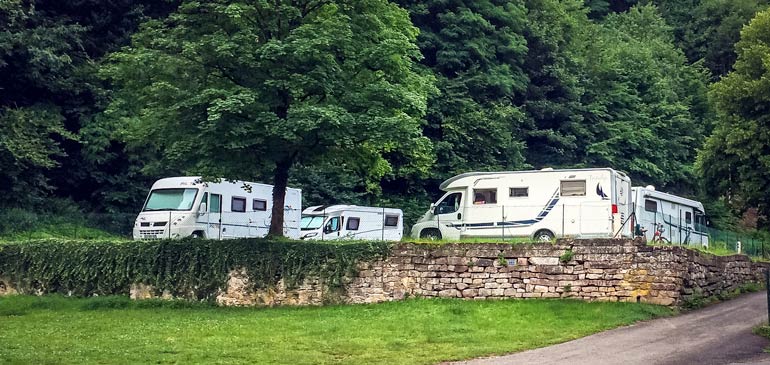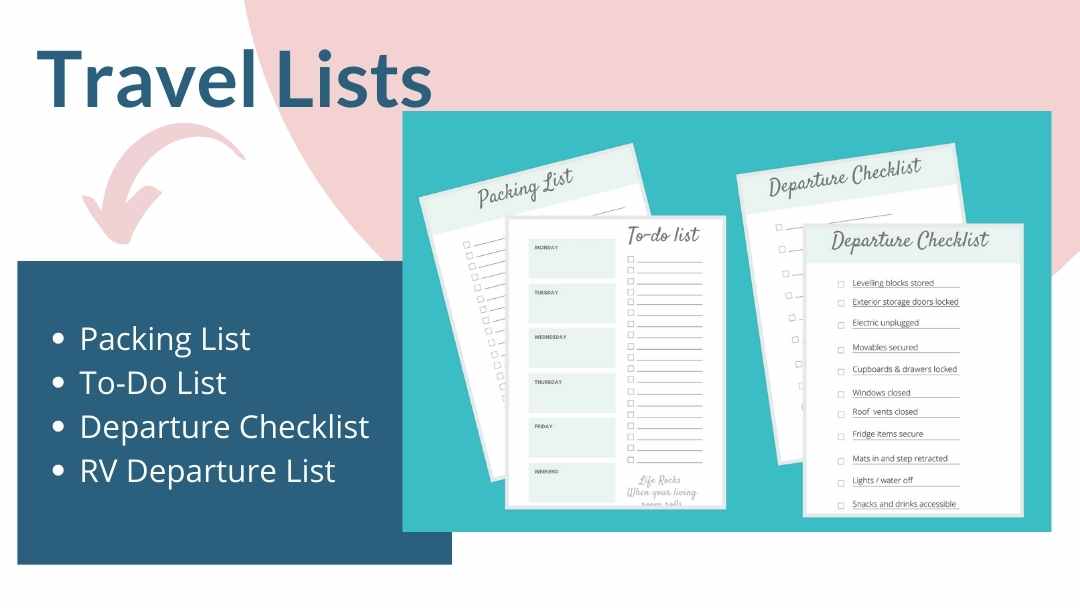 PACKING LIST, TO-DO LIST, DEPARTURE CHECKLIST
If you are anything like me, then lists play an important part in your travel planning.
This printable travel pack includes a packing list, to-do list and two types of departure checklists.
One is prefilled with RV and motorhome checks to be made before departure, and another is blank so you can make your own.
We had our checklist on the fridge in the motorhome so I could do a quick check just before moving off. We still managed to drive off having forgotten something. Like when I forgot to turn the water pump off — a falling towel in the shower knocked the tap on and water sprayed everywhere!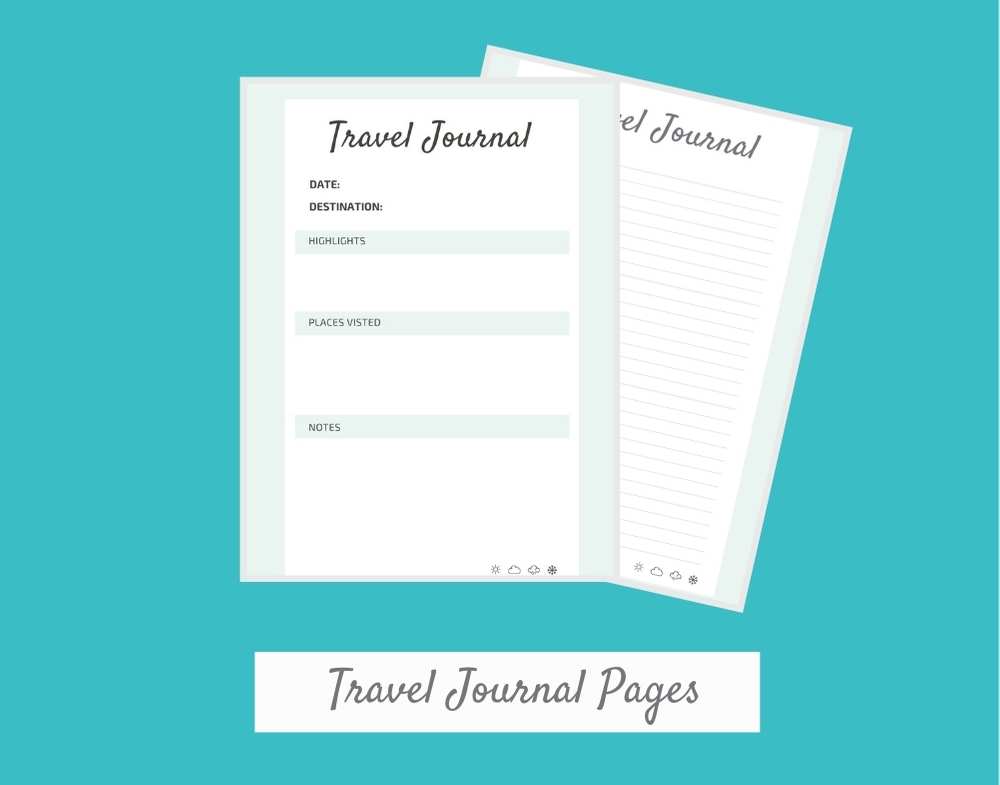 TRAVEL JOURNAL PAGES
I love to keep a journal on our travels and I paste entrance tickets and pictures from leaflets into my journal as we travel.
I always think I'll remember places and what we did there, but it's surprising how quickly the memory gets jumbled up with all the other places we visit. So it's nice to have a record of what we got up to.
There are two types of journal pages in the printable travel planner – one to note specifics and the other to let your thoughts flow.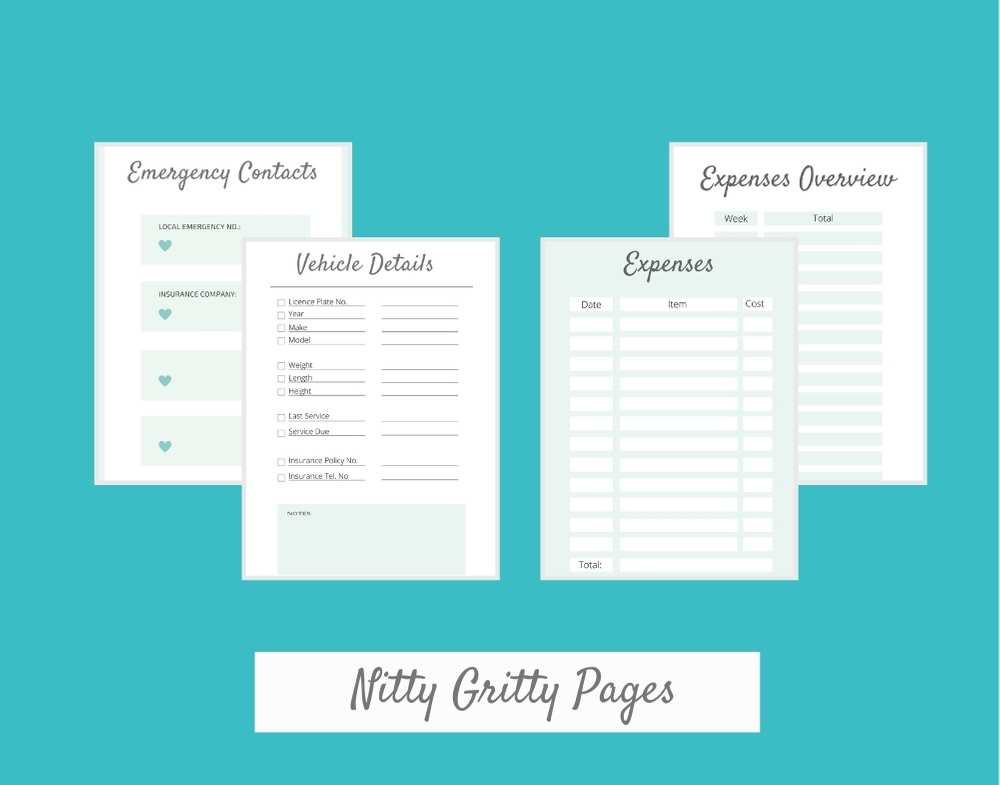 VEHICLE DETAILS AND EMERGENCY CONTACTS
These are pages to keep track of your road trip vehicle details (always handy in an accident or emergency), as well as emergency contact details.
All of these are useful to have in one place.
Hopefully, you won't be needing them, but the last thing you want to be doing in this situation is searching around for car details and contact numbers for insurance etc.
I always have this information on hand after learning the hard way during our road trip in Italy, when we hit wing mirrors with a local van coming in the opposite direction.
The leather-clad young driver jumped out of his van shouting in Italian and jumping up and down. His wing mirror was broken and after throwing it across the road, he continued to gesticulate and throw a hissy fit in the middle of the road.
He spoke enough English to tell us we should communicate with him in Italian and how ignorant we were to come to his country and not speak the language.
Anyway, the point of the story is, that while he was outside arguing with Lars, in what was very clearly Italian expletives, I was inside the motorhome frantically trying to find insurance details, phone numbers etc.
Nowadays I always have what I might need right at my fingertips. And you might like to know … our wing mirror was fine.
I think it's called karma 🙂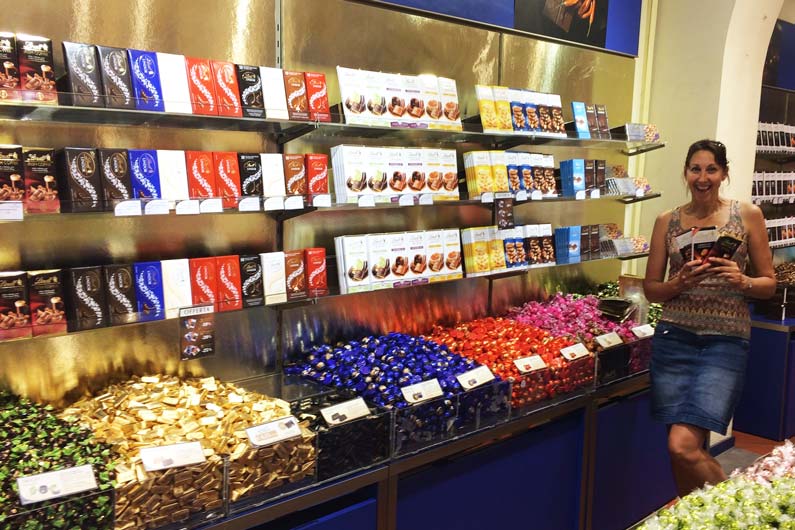 My way of handling stress — the perfect next stop was Florence, where we happened upon this Lindt shop.
Sometimes a girl just has to splurge.
EXPENSES PAGE
It's always handy to keep track of your budget. You might like to use these pages if you prefer to keep a paper record.
Because we are on the road most of the time, we use an app on our phones to track our expenses.
However, I do use a paper budget record when planning a trip to keep track of how much it will cost us.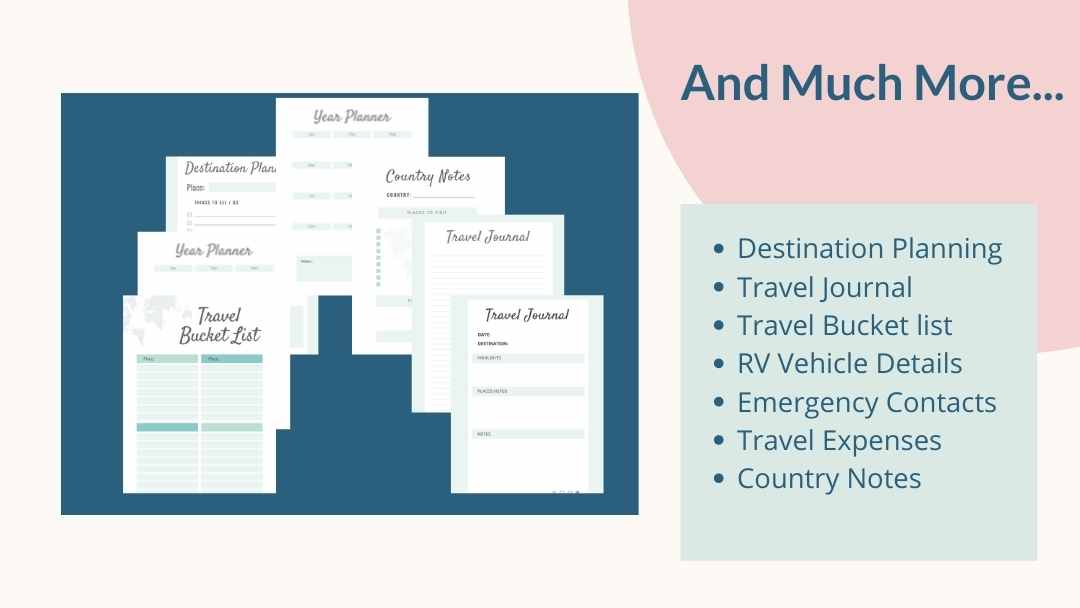 DESTINATION PLANNING, COUNTRY NOTES AND TRAVEL BUCKET LIST
This is for the dreaming, research and pre-planning stages of your travels. Thorough travel pre-planning usually makes for a more stress-free road trip or holiday.
Finding out about the places you'd like to see on your trip, the best routes, and what foods you may like to try are all part of that process. There's lots of information on the internet to help you plan your trips …
So what are you waiting for?
Download this FREE printable road trip planner today and start planning your next trip.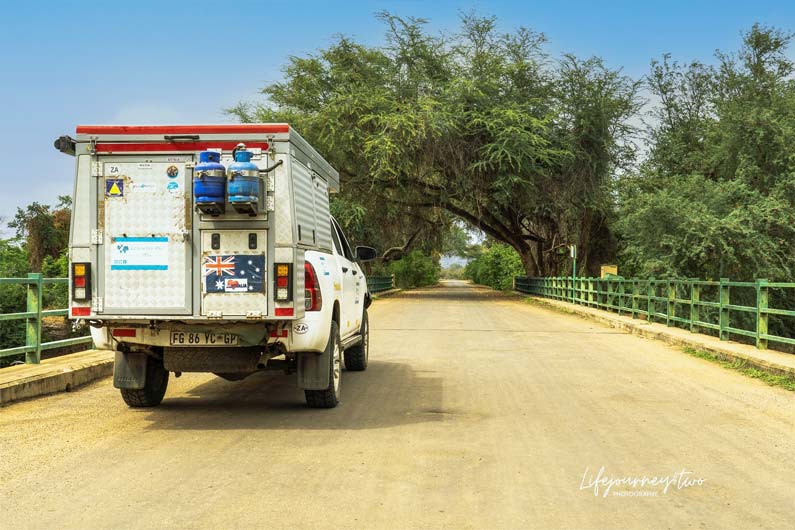 DOWNLOADING AND PRINTING THE ROAD TRIP PLANNER
Once you have access to the download, by signing up below, follow this procedure:
Download the PDFs and save them to your computer.
The PDF can be printed either single or double-sided – you can change the order of the pages before you print double-sided to suit your preference.
Files can be printed from the comfort of your home or taken to a local print shop.
The quality of your planner will depend on the paper that you use. We recommend using Premium Presentation paper of 28 – 32Ib (Standard Letter paper is 20Ib). If you want a professional finish then use 60lb to 80lb for thicker, even higher-quality planner pages.
DOWNLOAD HERE

FREE PRINTABLE PRINTABLE TRAVEL PLANNER
Get access to all of our free travel resources including this 23-page Printable Road Trip Planner
Save and Pin For Later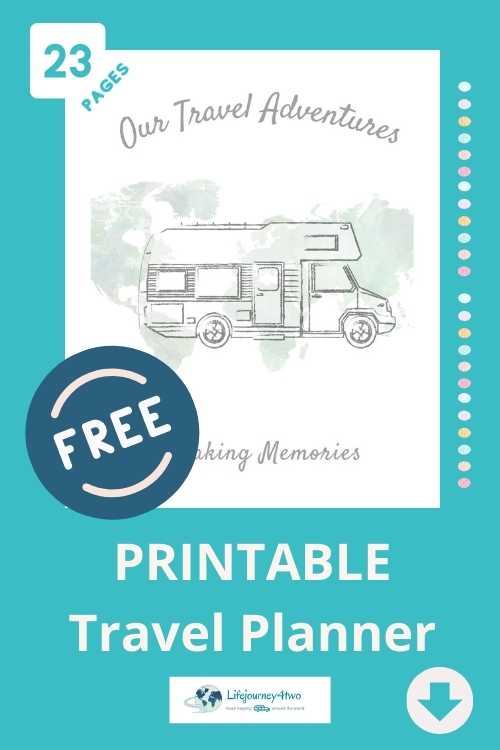 YOU MAY ALSO BE INTERESTED IN READING:
PLANNING YOUR TRAVELS?
These are some of the travel resources we use when planning our trips.
For a more thorough list visit our Travel Resources page here.