"Sipping a sundowner, listening to the grunts of hippos and watching the crocodile skulking in the dam as the sun dipped down behind the Klaserie bushland was the perfect end to our Misava  Safari experience."
Connecting to Nature in Klaserie Nature Reserve
We have been fortunate to have experienced life in the South African bush due to the generous offer of the family we had been house-sitting for in Prince Albert when Covid-19 struck. Life in Klaserie Nature Reserve was absolutely mind-blowing in so many good ways.
If you were following our travels on Instagram and Facebook, you will already know that we fell madly in love with Klaserie Nature Reserve and everything that it stands for.
A Klaserie Experience Option
While we were staying there, many of you asked how you could have a similar experience and asked about accommodation and safari options in Klaserie.
As we were staying in a family's privately-owned bush camp, rental accommodation was not an option in that camp. However, as luck would have it, Emily, a local field guide and fellow photographer working within the Klaserie Private Nature Reserve, saw our wildlife photos of Klaserie and got in touch.
Emily is a field ranger at the Misava Safari Camp, sited just a little further along the Klaserie River from our bush camp. We were invited along to Misava to have a look at the camp and to experience one of their game drives.
Misava Safari Camp is perched on an escarpment that overlooks the Klaserie River and offers stunning panoramic views over the Klaserie bushveld. Here was the perfect opportunity for us to check out a nearby camp that could offer the 'Klaserie experience'. And what an experience it was!

Panoramic view from Misava Safari Camp
Not on Our Budget, but if you want a Little Luxury …
We travel on a budget, and the majority of the time we travel and sleep in our 4×4 bush camper as we overland South Africa and we do our own self-drive wildlife safaris.  Misava Safari Camp is a luxury safari lodge and would not be on our agenda because, as with all luxury safari lodges, it would be above what our budget allows for.
However, this may be just the thing that some of you may be looking for. We appreciate that not everyone will be in South Africa for months on end like us, and not everyone enjoys camping, shared ablutions and missing out on the creature comforts.
So, you might indeed be looking to go a bit more upmarket than us or even have a special occasion such as an anniversary or birthday coming up.  If so and you are looking for a special safari experience, even for a night or two, then Misava Safari Camp is an absolutely fabulous option.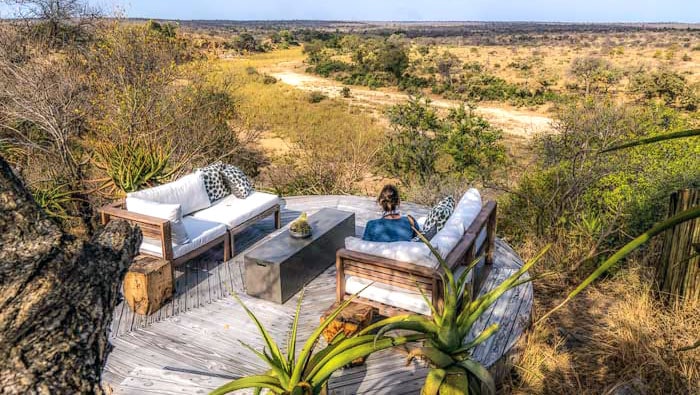 Beautiful setting to watch wildlife wandering by
Misava Safari Camp
Before visiting, we checked out Misava Safari Camp online. We were immediately impressed by the 5-star ratings and rave reviews given by previous guests on TripAdvisor. In addition, the camp has also been awarded the Travellers Choice TripAdvisor Award for 2020.
Misava Safari Camp
is a five-star lodge, that offers its guests, 'Casual luxury'. A place where the fusion of the five-star facilities is tastefully balanced within a homely, relaxed atmosphere. There isn't any pomp and ceremony here, just an ambience of relaxation with an emphasis on a return to nature. The tasteful décor reflects Africa, with a warm and cosy feel that wraps you in a blanket of Bushveld ambience.
However, it is not the décor or the beautifully presented rooms that will take your breath away, but the view across the river and bushveld. Misava's elevated position offers you a stupendous view of the surrounding bush and the perfect vantage point to spot wild animals wandering by Klaserie River.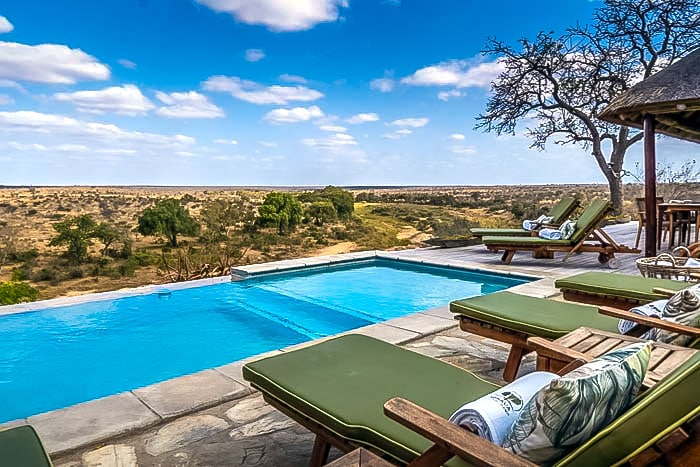 Infinity pool overlooking the Klaserie River 
Fancy a view with a difference? Slip into the sparkling infinity pool that overlooks the river. Just the place to cool off and watch the wilderness unfold in front of you.
When it's mealtime,  you can rest assured knowing that Misava's resident chefs will prepare something special. African style cuisine features both their own homegrown and locally sourced produce. Any special food requirements are of course catered for.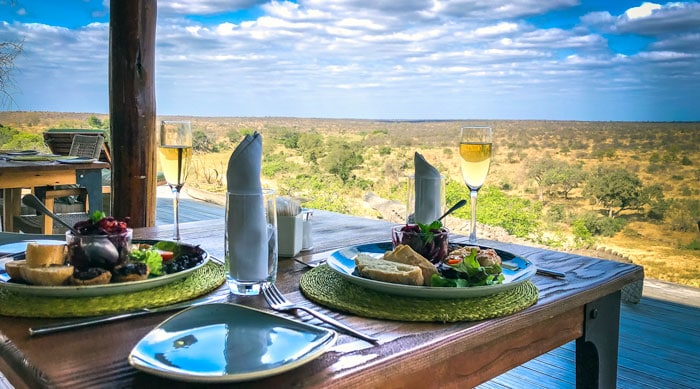 The Misava Safari Camp is run by its managers Talitha and Dawie, who also promote the Klaserie Eco Children program. All camps in Klaserie Nature Reserve contribute towards Klaserie's animal conservation programs for the Ground Hornbill, the Elephant and the Wild dog projects.
Accommodation at Misava Safari Camp
At Misava Camp you have the option to choose between four garden view rooms and two luxuriously appointed villas. The fact that there are only a few rooms means that your experience at Misava will be intimate, personalised and private.
 At the time of writing a sixth room was being added as an adjoining room to one of the garden rooms as a family option.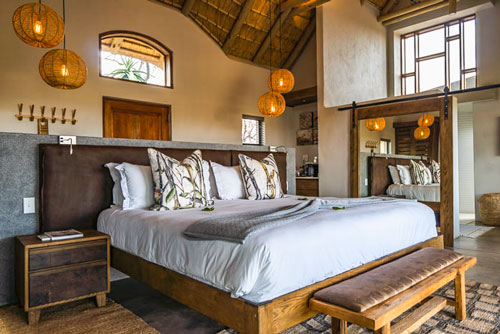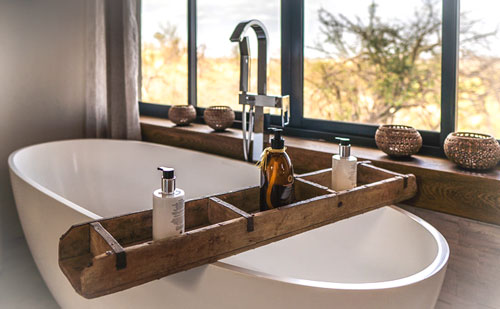 Misava and the Safari Experience
The camp has access to 11,000 hectares throughout Klaserie Nature Reserve. Therefore, you will never be in competition with lots of other tour groups all trying to spot the same safari animals and vie for the best viewing spot. Again, this reflects the feeling of being with one with nature that is often lost in the more commercialised game drive settings.
Misava Safari Camp's drawcard is its position above the river bend allowing for fabulous views in many directions when spotting wild animals. The local area around Misava Camp is also home to the River Pride of lions. A pride that has gradually increased in number and currently sits at around 20, five of whom are cubs born recently.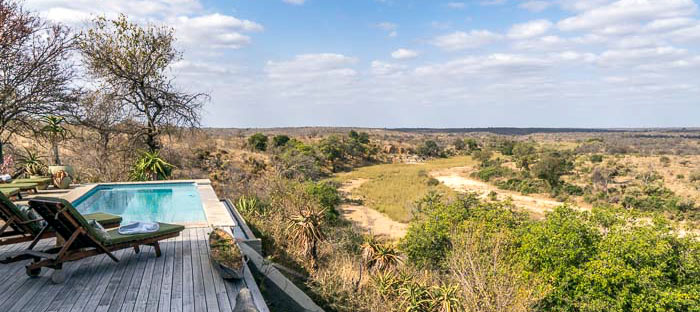 Misava's field guides are extremely knowledgeable and on each game drive, you will learn interesting facts about the animals, their spore (footprints), droppings and behaviours. Whether you are a photographer or one who prefers to just watch, the game drives are tailored to suit ensuring the experience is the best it can be.
Each game drive lasts around three hours and at Misava, your two game drives a day are included within the price.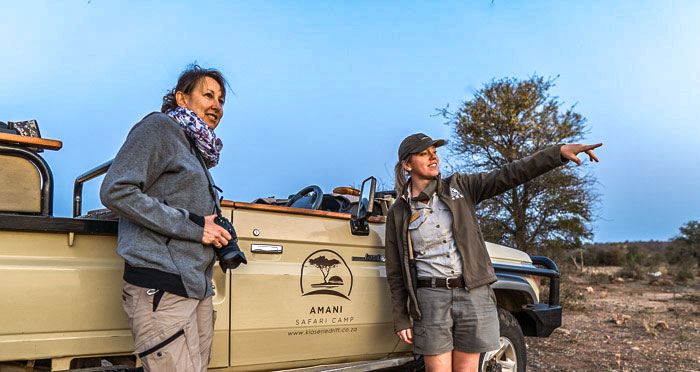 Emily showing me the sights on our Misava Game Drive
A Misava Safari Game Drive
To give you an idea our afternoon game drive with Emily started at about 3.45 pm and finished around 7.00 pm which is typical but if the sightings are great, then you can expect to be out longer.
In a reserve where the animals roam free, there are never any guaranteed sightings. This is where the local knowledge and tracking experience of the field guides comes to the fore, with their ability to read the signs of the bush and its animals.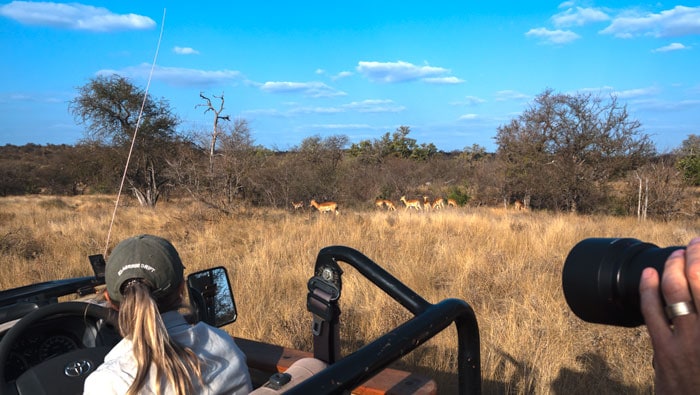 In our three-hour game drive, we spotted elephants, leopard, impala, bushbuck, kudu, hyena, warthogs, hippos, crocodile, giraffe, helmeted guineafowl, pearl-spotted owlet, pied and malachite kingfishers, steenbok, grysbok and scrub hare. Now that's a lot of great sightings.
We had several elephant encounters and at one point, had to deal with 'Africa traffic' – an elephant toing and froing for quite a while on the bridge we needed to cross.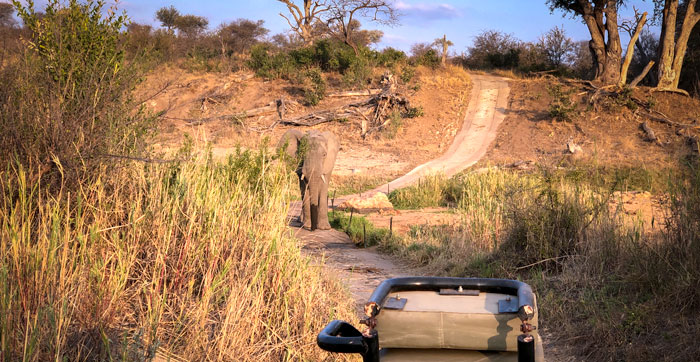 Sometimes you need to patiently wait for the traffic to move!
It must be said though that our highlight was spotting this beautiful female leopard. She seemed unperturbed by our presence and continued grooming herself. We then followed her for a little while, watching as she was harassed by some impala barking their warning cries for her to stay away. This was a true bushveld experience.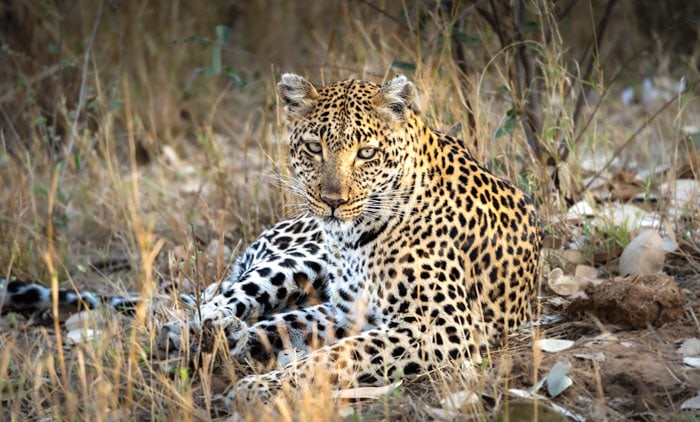 Gorgeous female leopard seen on our game drive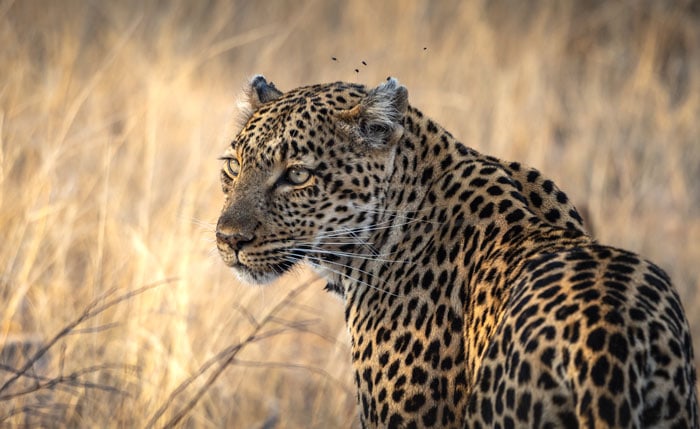 As the golden sunset hour came upon us, we passed a tower of giraffes – which made for beautiful images and it was made even more special by spotting this little one amongst the group.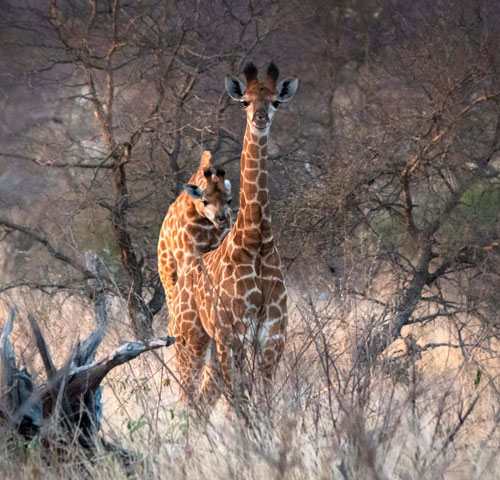 You never know what poses you'll get when photographing safari animals 
Just as the sun was setting, we arrived at a dam and saw our first hippos in Klaserie Nature Reserve accompanied by an enormous crocodile which quickly escaped to the murky confines of the water. We sipped sundowners, nibbled on biltong and listened to the sounds of hippos grunting  as helmeted guinea fowl took flight to roost in the trees.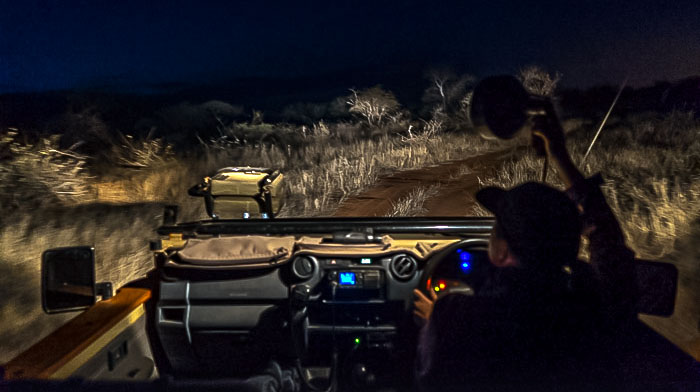 If you'd like to get more inspiration as to what you may encounter and learn on a game drive at Misava, Klaserie Drift, Emily and Nick have created some fantastic Safari Snippets.
Misava Bush Camp Prices
The all-inclusive price to stay at Misava Safari Camp starts at about R6950 per night per person (approx. AUD $695) and includes a morning and afternoon game drive, walking safaris, food and drinks, use of the spectacular infinity pool overlooking the African bush and the open-air bar. However, special rates are offered from time to time so it is always worth checking the current deals. 
For full inclusions, current rates and for any specials, check their website here or have a look at guest reviews here.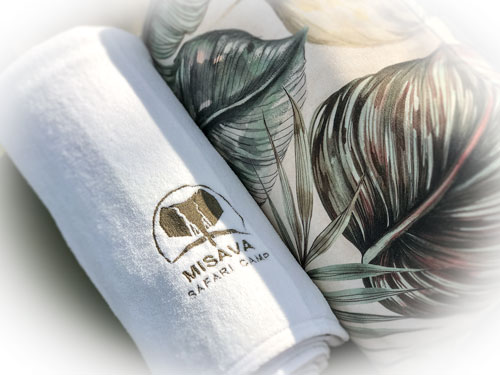 Where is Misava Safari Camp? 
Misava Bush Camp – That's a Wrap
If you are looking for somewhere to stay that offers casual luxury with an exclusive safari experience, then we can highly recommend Misava Safari Camp. Klaserie Nature Reserve is one of the few reserves that is limited in its commercialism and so can offer safari experiences that are more authentic and personal with a focus on back to nature.
Experiencing Misava Bush Camp would most closely align with our stay at the Klaserie Reserve's private bush camp but with a touch more luxury and access to your own field guides.
As always, please don't hesitate to ask us any questions you may have.
Happy Travels x
This post may contain affiliate links. This means that we may earn a small commission from purchases you make through our links, at no extra cost to you. Thank you for supporting us. For more info, read our Disclosure Policy.
Arrange Your Travel Insurance
Get a quote from World Nomads – one of the best options for travellers. Find out why here.
Book Your Accommodation
We use Booking.com as we can find a variety of cheap and budget accommodation such as local guesthouses and cheap hotels.
We also use Airbnb – Get up to $90 credit for your first Airbnb stay when you use our Airbnb link 
Travel Gear and Accessories
We've been on the road for almost three years now and have added useful items to  our Lifejourney4two page on Amazon  
Car Hire
We use  Rentalcars.com to find the best car rental deals.
Motorhome/Van Rentals
if you are looking for a motorhome or van rental – we highly recommend the Motorhome Republic who can find the best deals worldwide.
Finding Activities to do
We use Get Your Guide and Viator to get ideas of what to do in a place – sometimes it's best to get tickets online and jump the queues.
Flexible Accommodation Options/ Or Finding someone to look after your pets
We often use house/petsitting as it really makes our travels much more affordable – as accommodation is FREE
Get 25% off  Trusted House Sitters by using our link here: Join Trusted House Sitters either as a house sitter or if you want to find a house sitter.
Photography Prints and Products
Shop our ETSY store for digital downloads of our best photos and our unique travel designed products.