If you are looking for an authentic African safari experience without the crowds, Klaserie Private Nature Reserve is the ideal destination.
Having travelled extensively through much of Southern Africa, we know a thing or two about safaris. And we love this private game reserve. We've spent over four months there, and it's one of the most pristine nature reserves in South Africa.
This post will cover all the essentials you need to know—conservation fees, top lodges, the reserve's history, and health precautions.
But that's not all.
We'll also share some of our real-life, jaw-dropping experiences that bring Klaserie game reserve to life—such as a heart-pounding encounter with a leopard and one of our best wildlife sightings yet, witnessing the Super Pride of about 15 lions feeding on a buffalo.
It's Klaserie through our eyes, and we can't wait to share it with you.
So, let's dive into the untamed beauty of Klaserie, Kruger Park's quieter but equally captivating neighbour.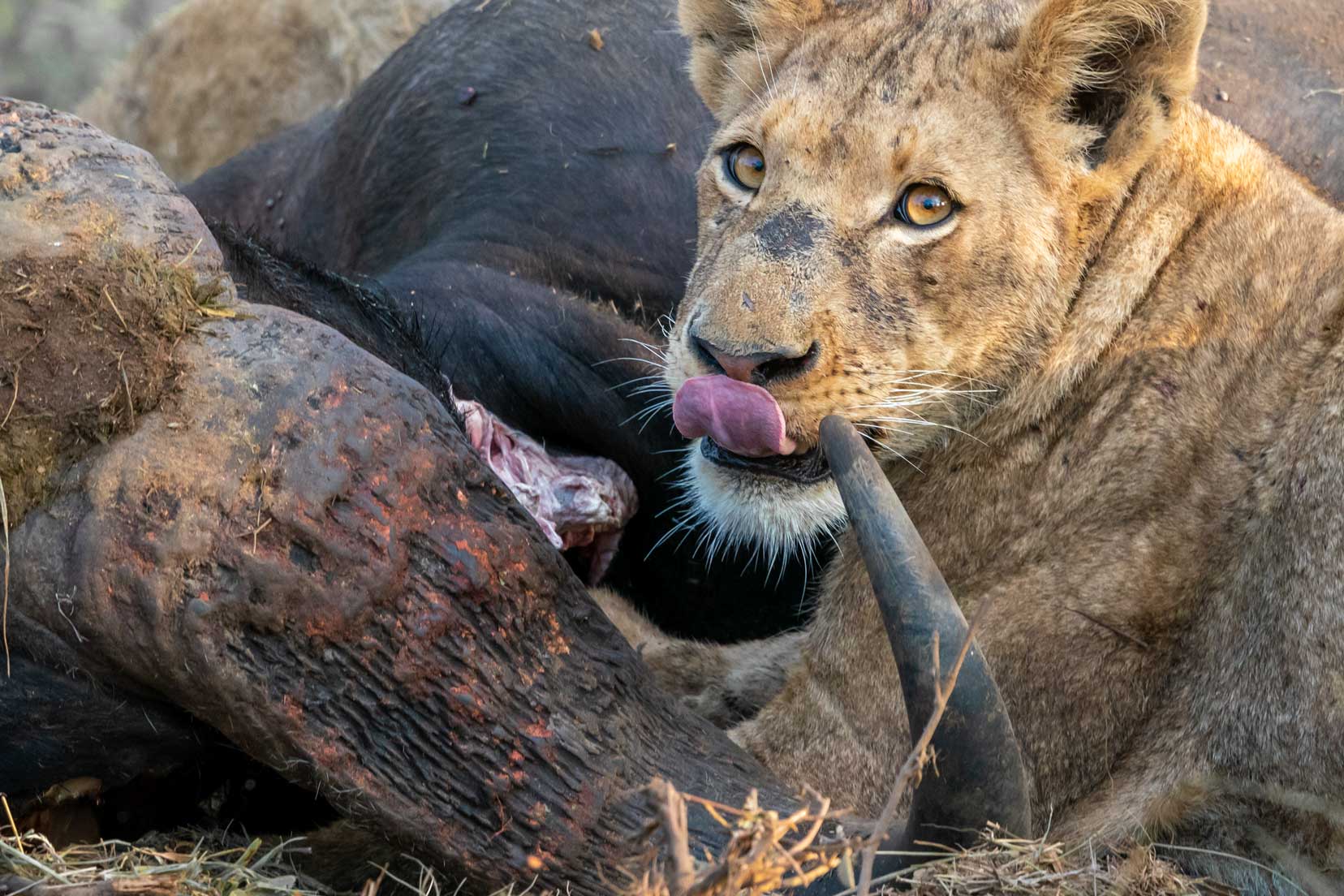 Why Visit Klaserie Private Nature Reserve, South Africa?
So, why do we think Klaserie could be your perfect next safari spot? From its close ties with Kruger Park to helping local kids, here's what makes it special.
Unfenced Borders with Greater Kruger National Park
Unique Wildlife Encounters
Anti-Poaching Initiatives
Less Crowded
Community Involvement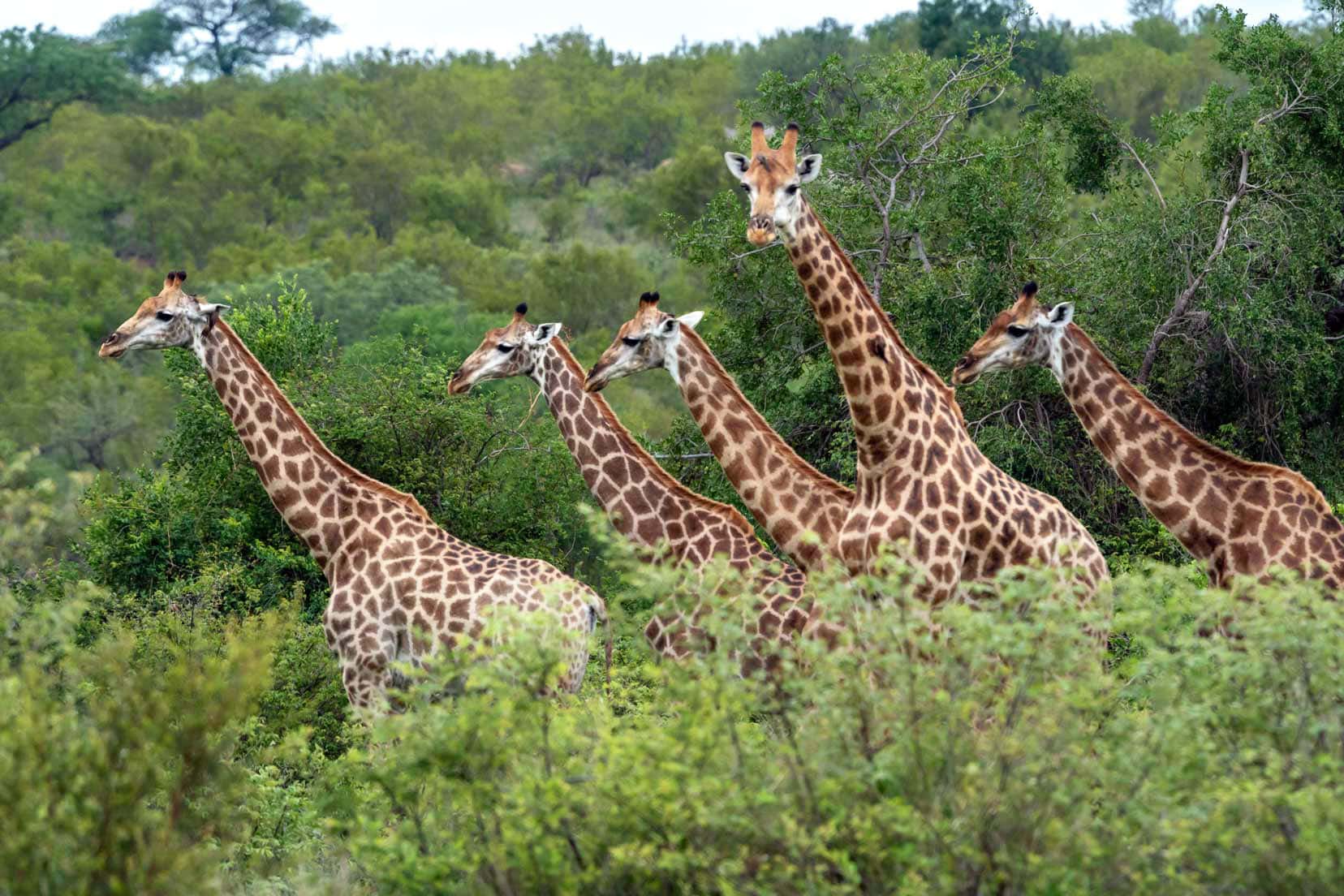 Unfenced Borders within Greater Kruger Park
Klaserie shares an open border with the famous Kruger National Park. This means the wildlife roams freely between the two, offering you a more natural and authentic safari experience.
Unique Wildlife Encounters
We've had some unforgettable wildlife encounters in Klaserie. You'll find the Big 5 here. You might even spot African wild dogs, cheetahs, and various antelope species, including kudu, impala, waterbuck, and nyala.
I had a too-close-for-comfort encounter with a leopard in our camp and even had a rare sighting of the elusive pangolin. Oh, and let's not forget the cheeky baboon that decided one of my lemons would make a great snack!
💡Tip: If you're keen on safari photography, the golden hour just after dawn is perfect for capturing the Big 5.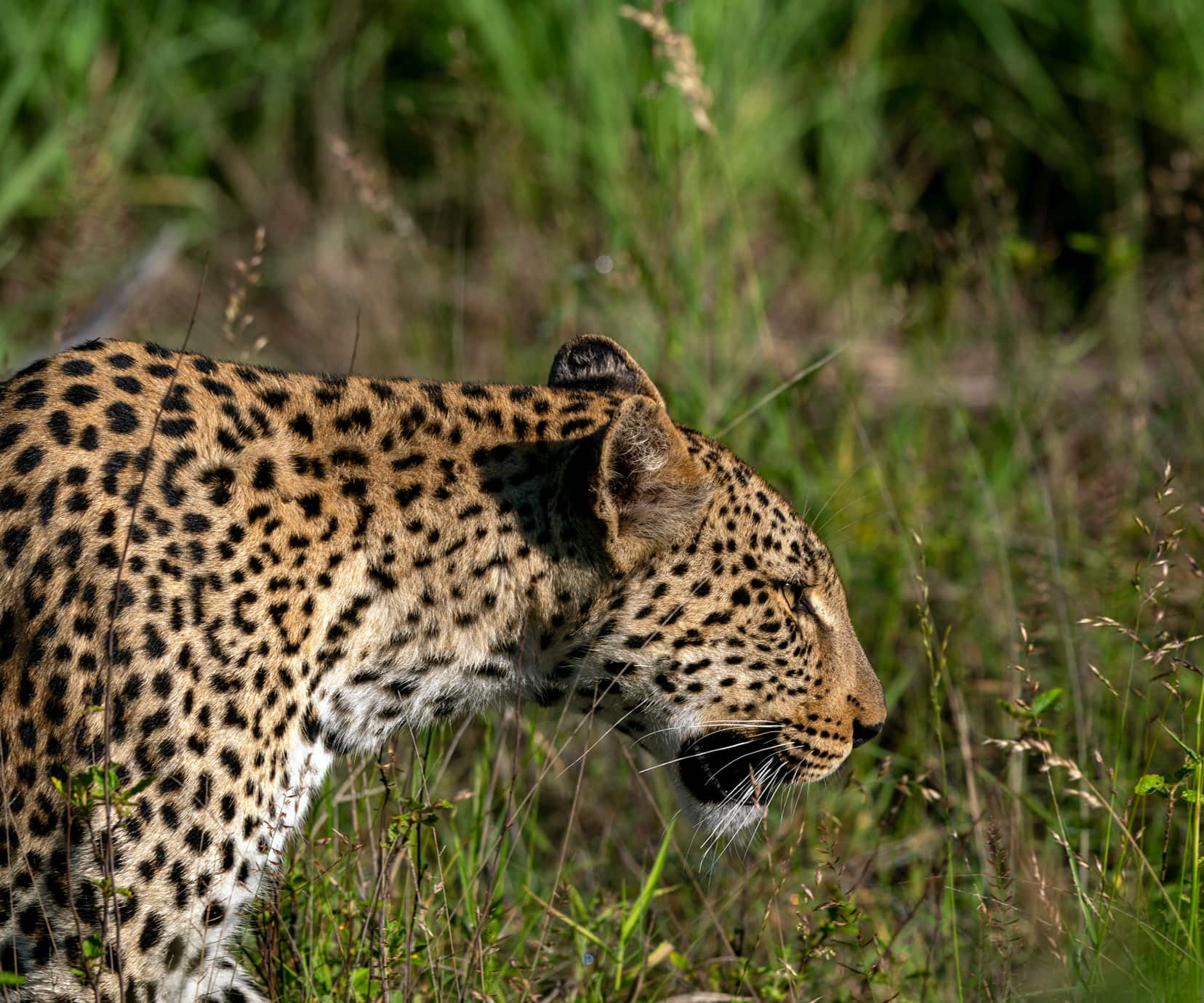 Klaserie Anti-Poaching Initiatives
Klaserie Private Game Reserve pioneered proactive measures to deter poachers, like a rhino dehorning project. The reserve employs field rangers and even has a dedicated K9 unit.
One standout story involves the head ranger who risked his life to save a baby rhino. During a dehorning operation, the young rhino became separated from its mother and was at risk of drowning. The ranger dived into the river, putting himself in danger to save the animal.
Your visit to Klaserie contributes to these crucial conservation efforts.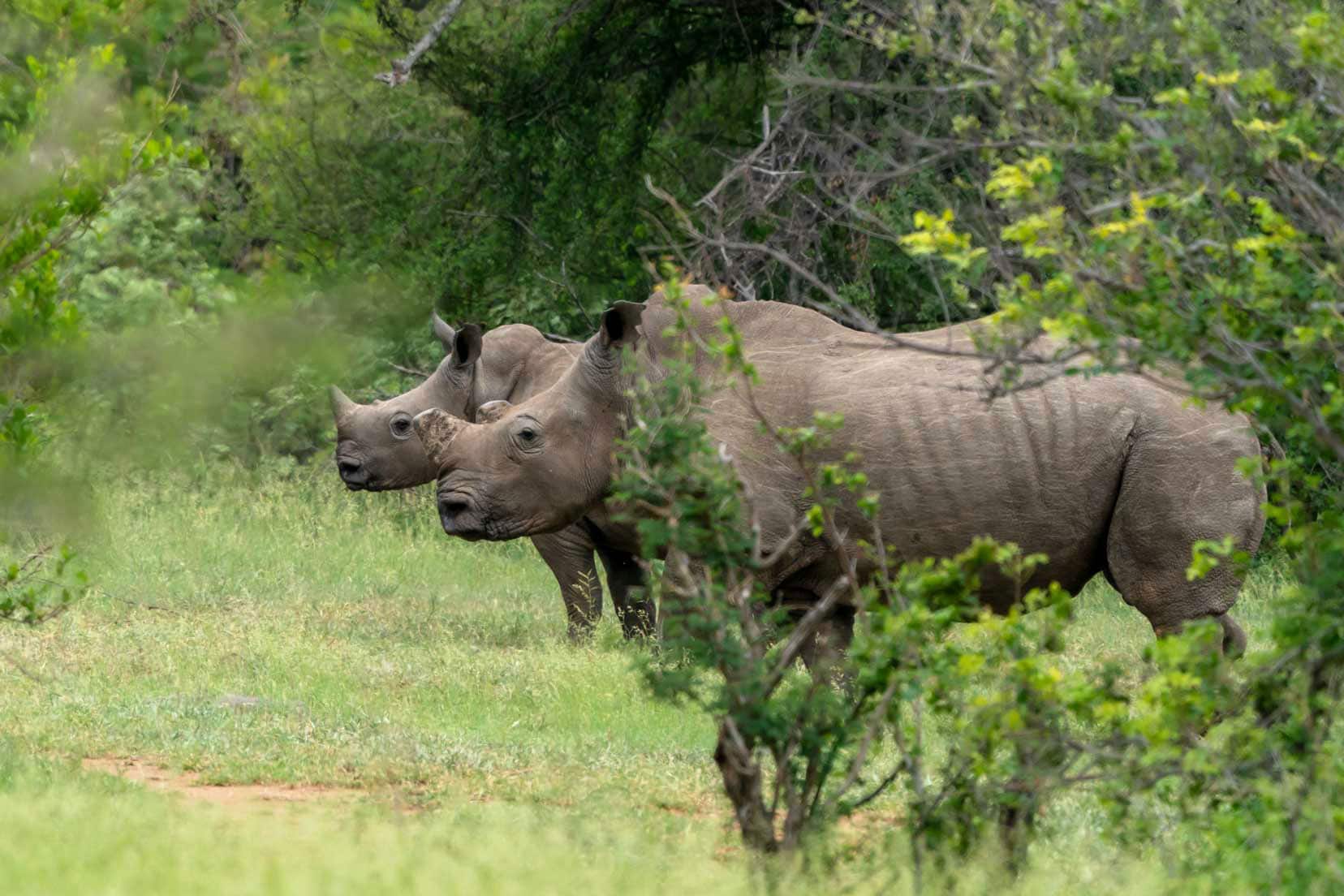 Less Crowded
The lack of crowds in Klaserie means you get a more intimate wildlife experience. It's a quieter alternative to more touristy spots like Kruger, making your safari memorable.
Community Involvement
Klaserie is home to the Eco Children project, an initiative educating local children about their natural heritage. It's a heartwarming endeavour benefiting over 5,000 children in some of South Africa's poorest areas.
So, why choose Klaserie? Because it offers an authentic, impactful, and unforgettable safari experience.
Ready to dive deeper into Klaserie's wonders? Read on …
Planning a Trip to South Africa?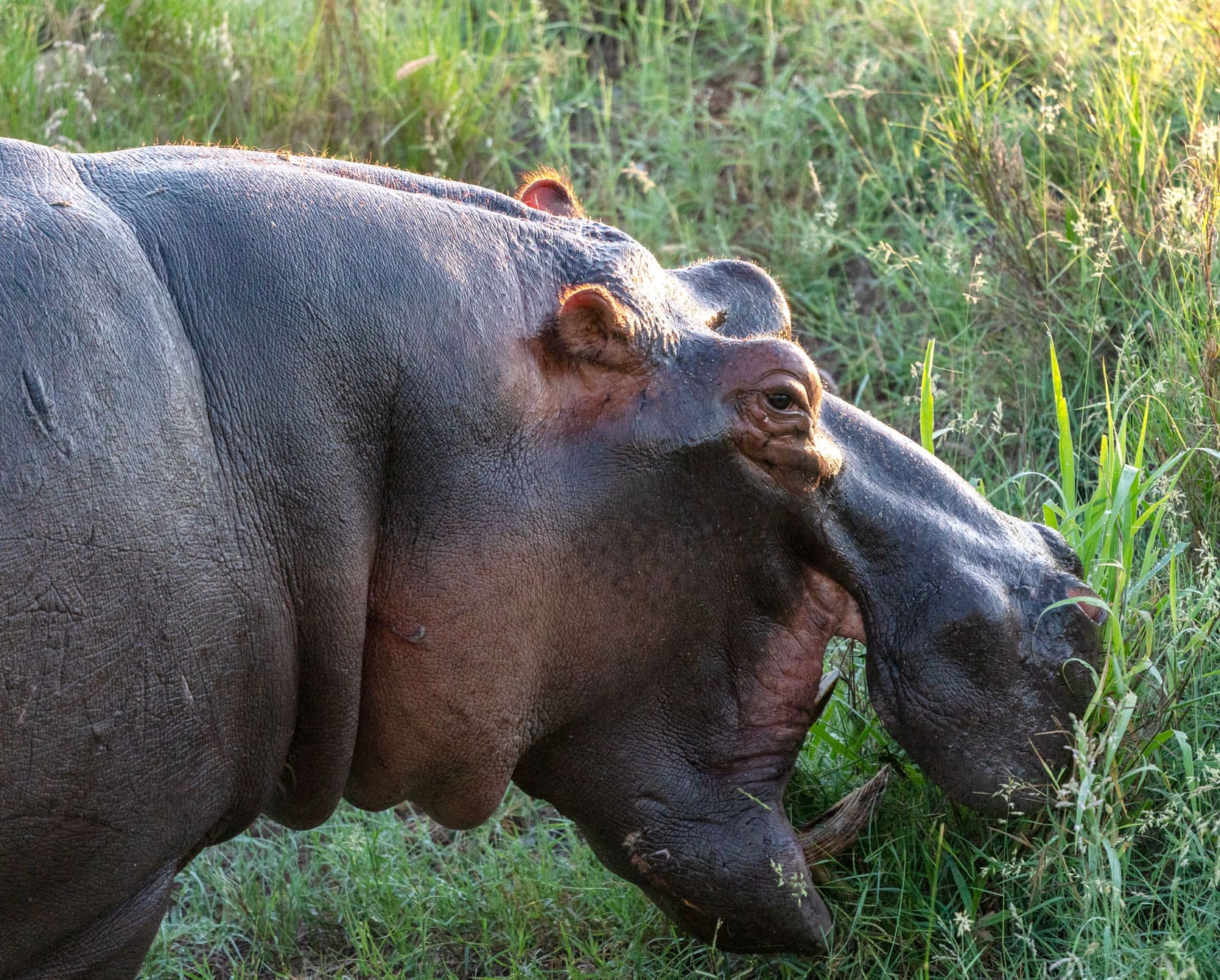 Klaserie Private Nature Reserve Map
So, where is Klaserie?
Klaserie is nestled in the northeastern corner of South Africa, specifically on the western side of the iconic Kruger National Park in the Limpopo Province.
Whether you're coming from Hoedspruit or further afield, Klaserie is easily accessible by both road and air.
One Minute Video of Klaserie Wildlife
Klaserie Nature Reserve Accommodation Options
For the four months we've stayed in Klaserie Reserve, we were mostly in a privately owned camp.
However, we also spent an unforgettable two days at Ivory Wilderness River Rock Lodge. This family-owned gem honours the legacy of the Klaserie Pioneers, and we can't recommend it highly enough.
We also enjoyed lunch and a game drive at Klaserie Drift Safari Camp—another spot we happily recommend.
And for those of you looking for something much more budget-friendly and happy to rough it a little more than staying in a luxury lodge, Trailers Camp, run by Gary Freeman Safaris, might be more the ticket.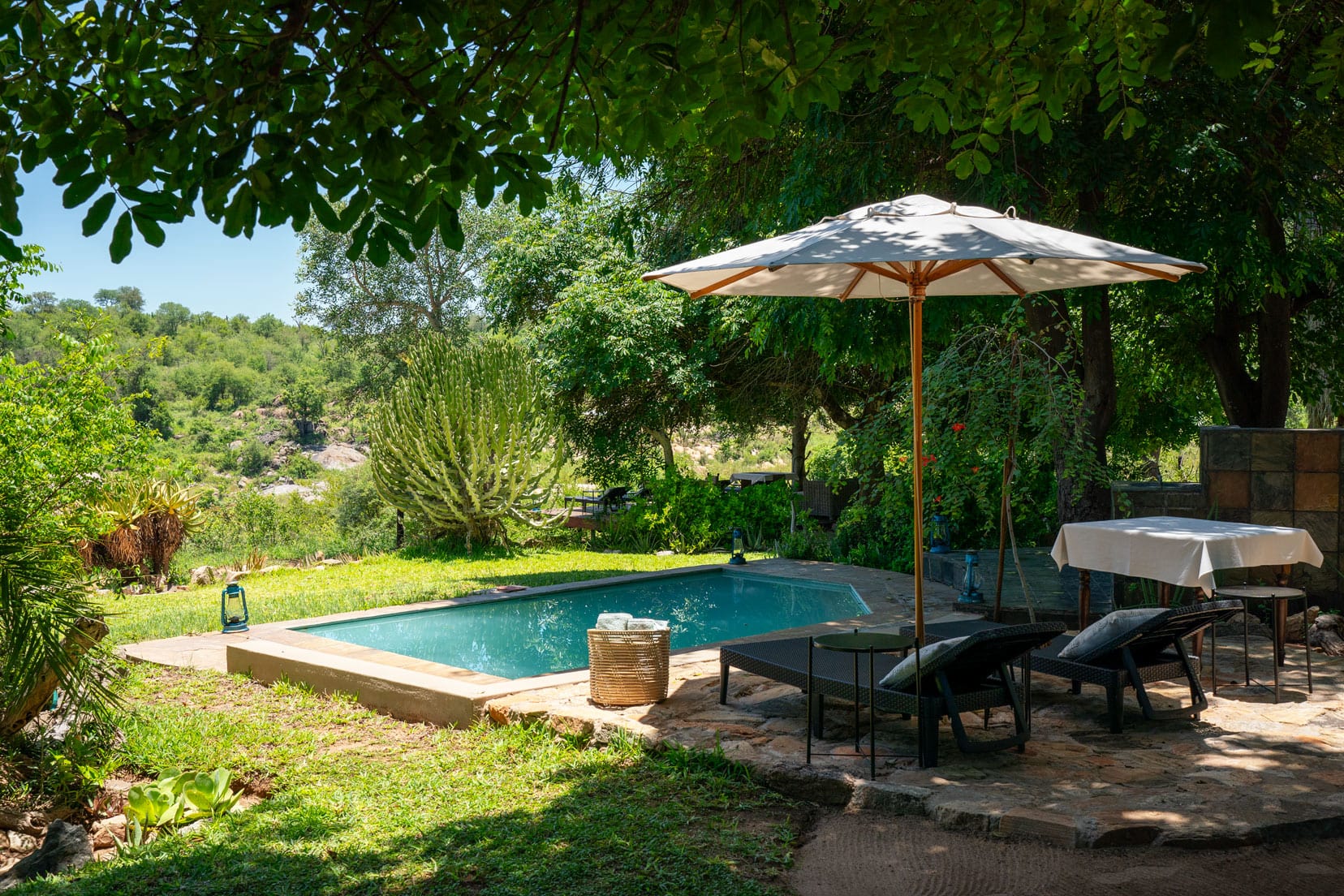 Guide to Klaserie Private Nature Reserve Lodges
There are about 20 commercial safari camps and lodges in Klaserie Private Nature Reserve, and most of their packages include all meals and two game drives a day.
We have personal experience with our top three picks and have broken each down into an easy-to-read table after collecting even more opinions from other guests' reviews on Booking.com and Tripadvisor.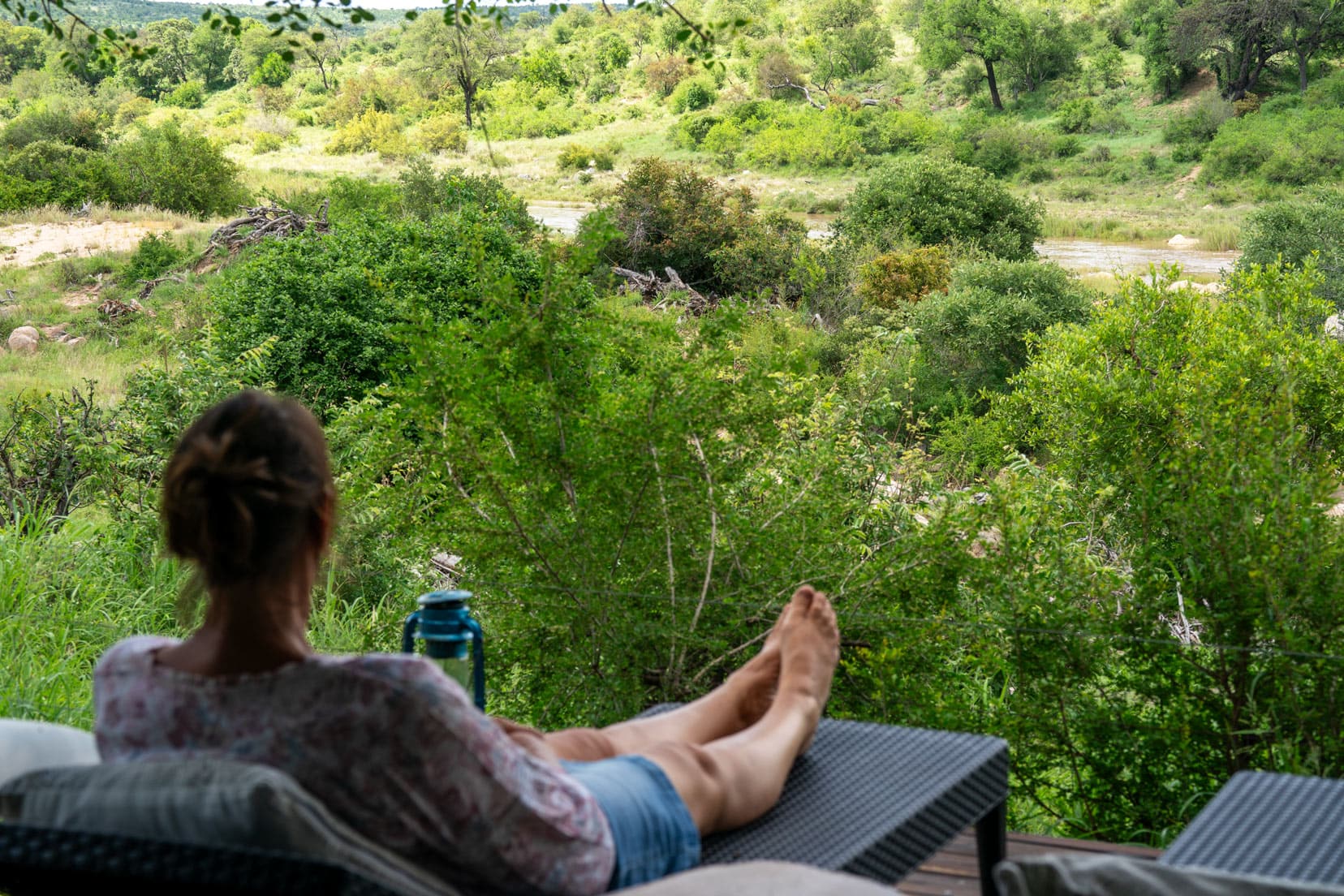 Visitor Review Insights for Our Top Three Recommended Klaserie Camps
We have personal experience with our top three picks and have broken each down into an easy-to-read table after collecting even more opinions from other guests' reviews on Booking.com and Tripadvisor.
🏆 No.1 Pick
Ivory Wilderness River Rock Lodge | ⭐️ 9.6
✅ Pros
– Great value for money
– Knowledgeable Guides: Guides offer deep insights into the animals and land.
– Peaceful Location: The lodge offers a tranquil setting surrounded by nature.
– Look forward to varied and delicious meals.
– Attentive and caring Staff
❌ Cons
– Open game drive vehicles – limited shade
💡 Tips
– Discuss Dietary Needs: If you have specific food requirements, communicate in advance.
– Consider staying for at least three nights for a full experience.
🗣️ Visitor Quote
"An absolute dream."
"Highly recommend and would love to go back."
Booking
Check Price and Availability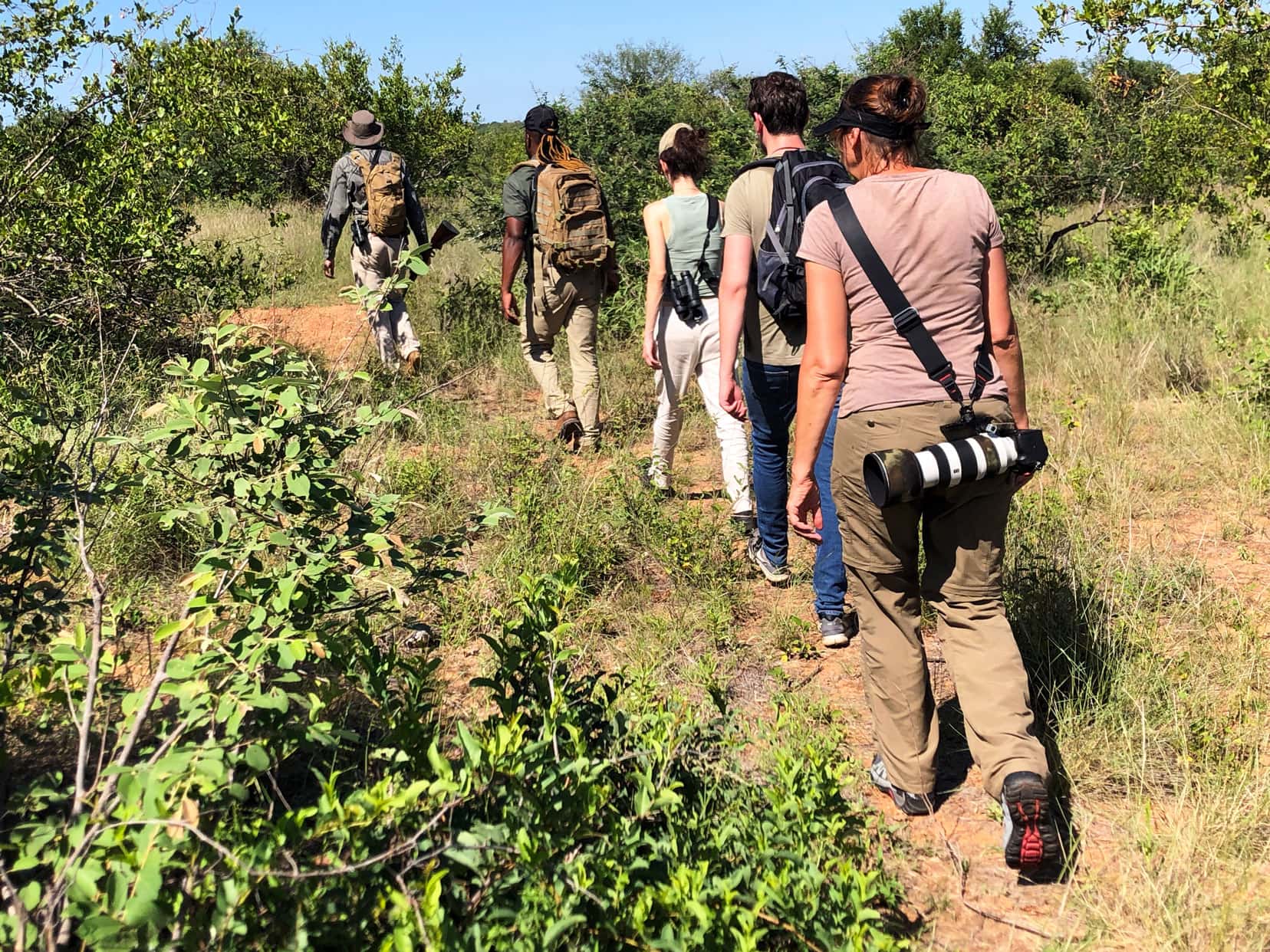 No. 2 Pick
Klaserie Drift | ⭐️ 9.7
✅ Pros
– Personalised Safari: Tailored experiences with passionate guides.
– Luxury Rooms: Spacious and overlook the river bed.
– Staff: Warm and attentive, go the extra mile.
❌ Cons
– Dietary Needs: Limited options for food allergies or restrictions.
– Vehicle Comfort: Safari vehicles lack sunroofs.
💡 Tips
– Discuss Dietary Needs: If you have specific food requirements, communicate in advance.
🗣️ Visitor Quote
"Fantastic, luxurious, personalised experience. Highly recommend."
Booking
Check Price and Availability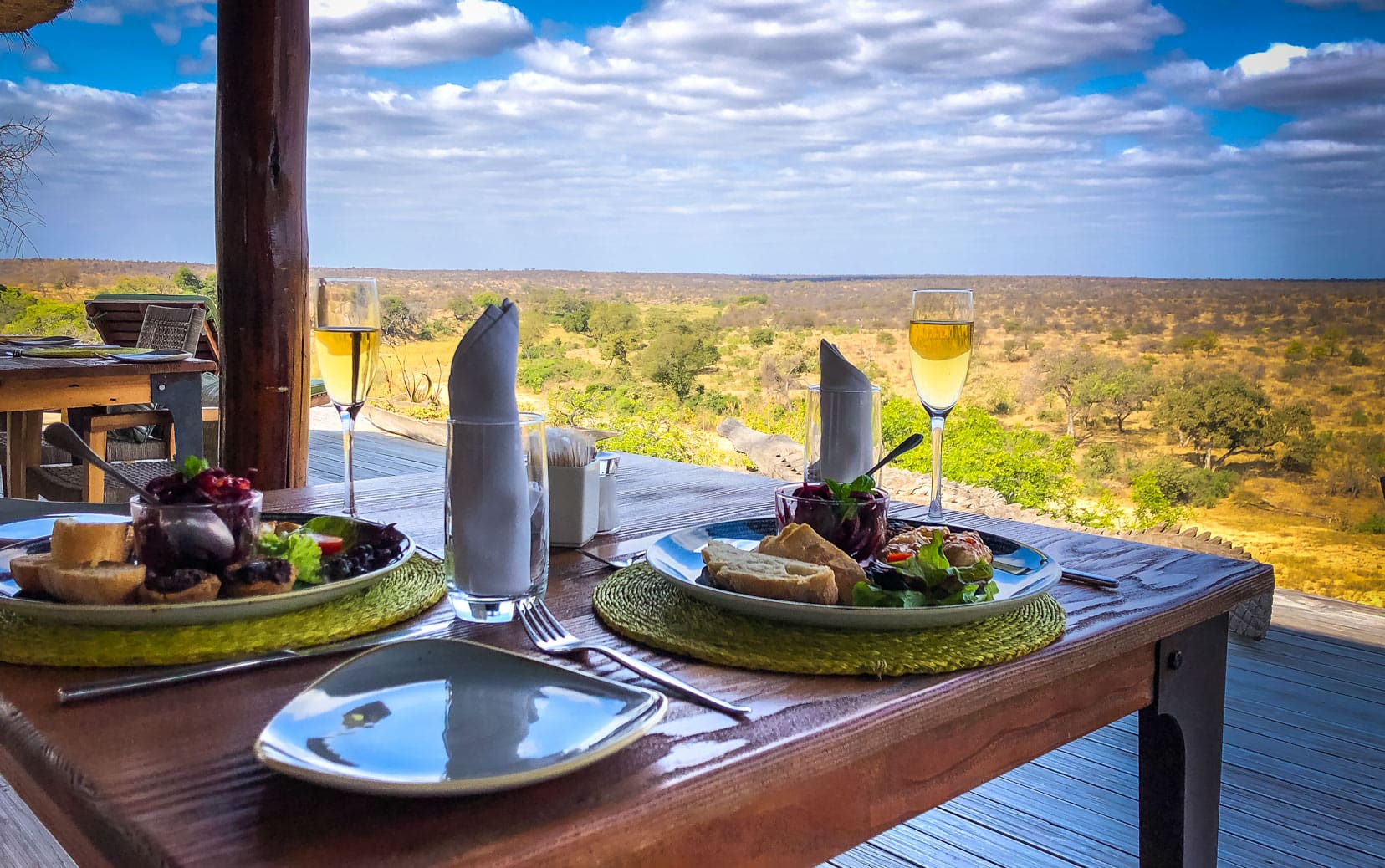 No. 3 Pick
Trails Camp Klaserie: Gary Freeman Safaris | ⭐️
✅ Pros
– Knowledgeable Guide: Guides offer deep insights into the animals and land.
– Peaceful Location: The camp is situated on the banks of the Klaserie River
– Enjoy homestyle meals prepared over an open fire.
– Experience warm and welcoming service.
– Repeat Customer Magnet: Draws many returning clients seeking the unique excitement of the African bushveld.
❌ Cons
– Only 5 or 6-day trails (cannot book less)
– Basic camping facilities
– Visitors must supply their own drinks
💡 Tips
– Ideal for wilderness enthusiasts: Perfect for those who love basic camping facilities and close-to-nature experiences.
🗣️ Visitors
Repeat Customer Magnet: Draws many returning clients seeking the unique excitement of the African bushveld.
Booking
Check Price and Availability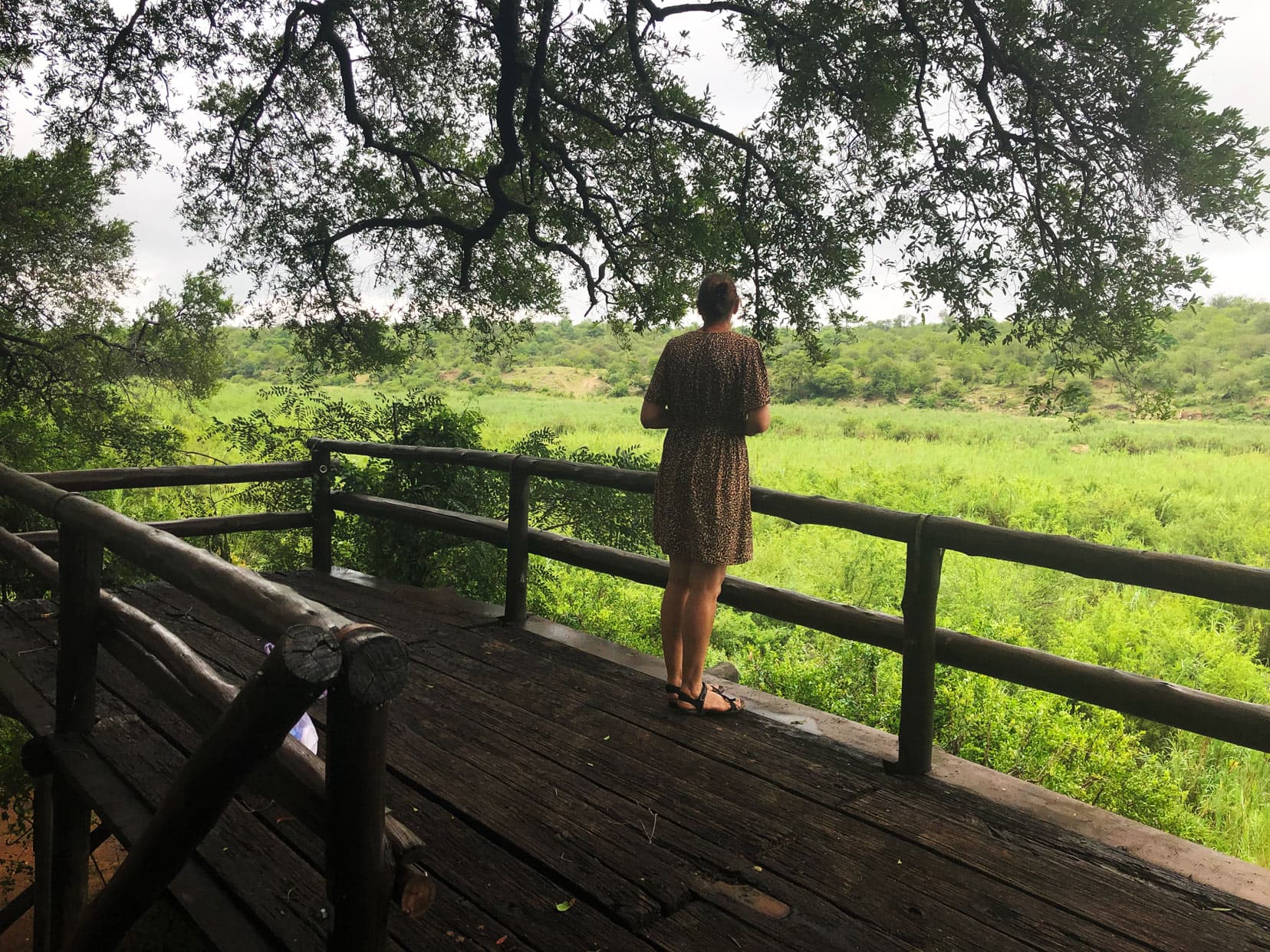 Comparing Top-Rated Lodges in Klaserie Private Nature Reserve
For more Klaserie accommodation options, here's a comparison of prices and review ratings for all of the top-rated lodges in Klaserie Private Nature Reserve.

NOTE: Based on 3 nights | 1-4 th April 2024 | Price for two people | USD | Taxes included
*Also, be aware that a Klaserie Conservation levy is payable per day per person when you stay in one of the lodges. This fee goes directly towards the support of the reserve and the wildlife. The fee in 2023 is 450 ZAR pp.
Our Personal Klaserie Adventure
The Leopard Encounter: A Lesson in Humility
She was obviously unimpressed with me.
Which was a shame because I adored even the slightest glimpse of her.
But there is a time in life when the collision of two worlds would prove disastrous.
Now was that time.
You never really prepare for a face-to-face with a snarling leopard. But when it happens, every instinct screams conflicting advice.
My heart raced, but I knew running was not an option. Slowly, I backed away, each step an eternity, until I reached the safety of our rondavel.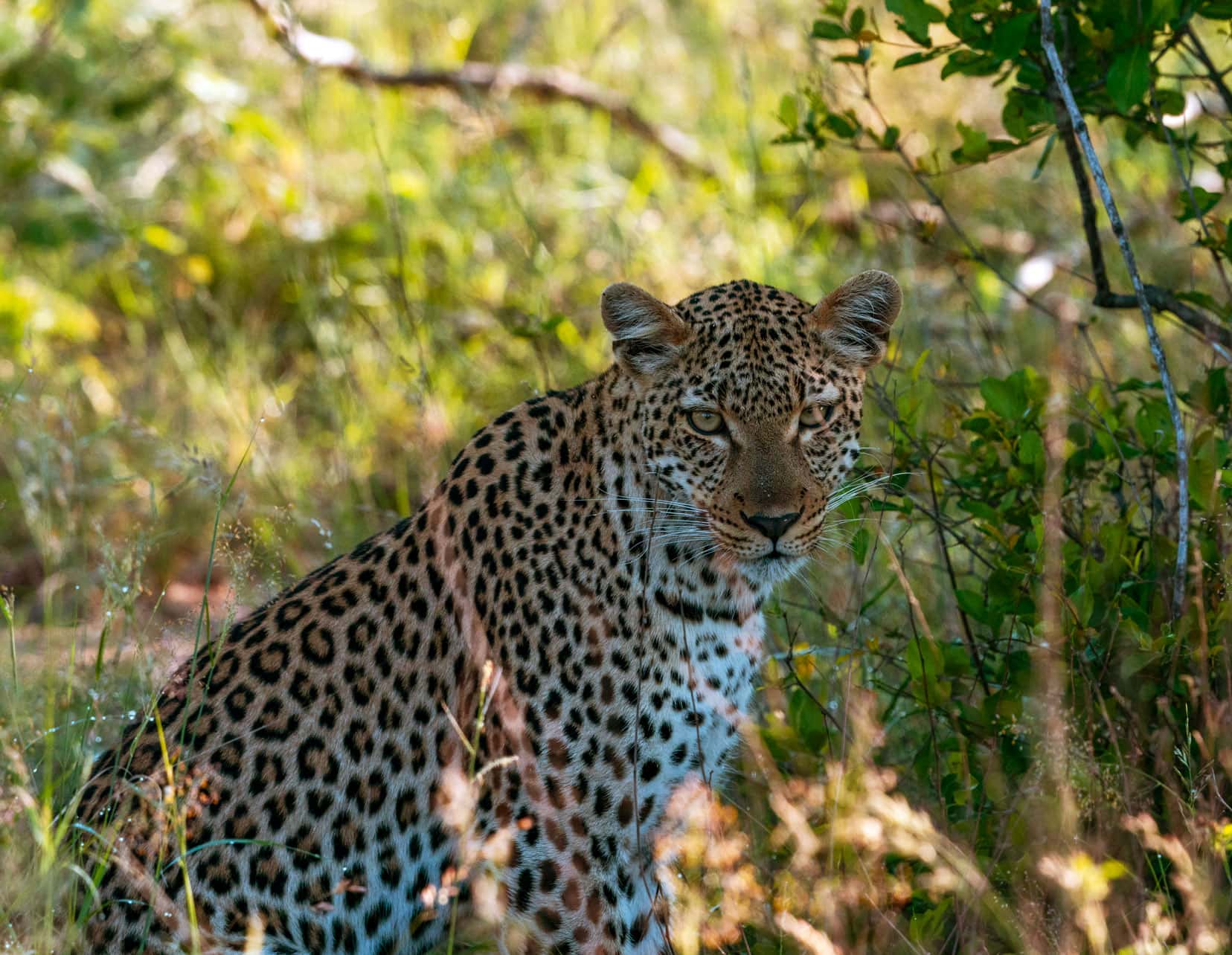 The Lockdown Twist: When Life Gives You Klaserie
COVID-19 threw a wrench in our two-year African road trip. But as they say, when one door closes, another opens.
We'd arrived in Johannesburg, bought our 4×4 Hilux bush camper and set off with the plan of road-tripping through South Africa and then heading north into Botswana, Namibia and onwards, traversing the east coast of Africa.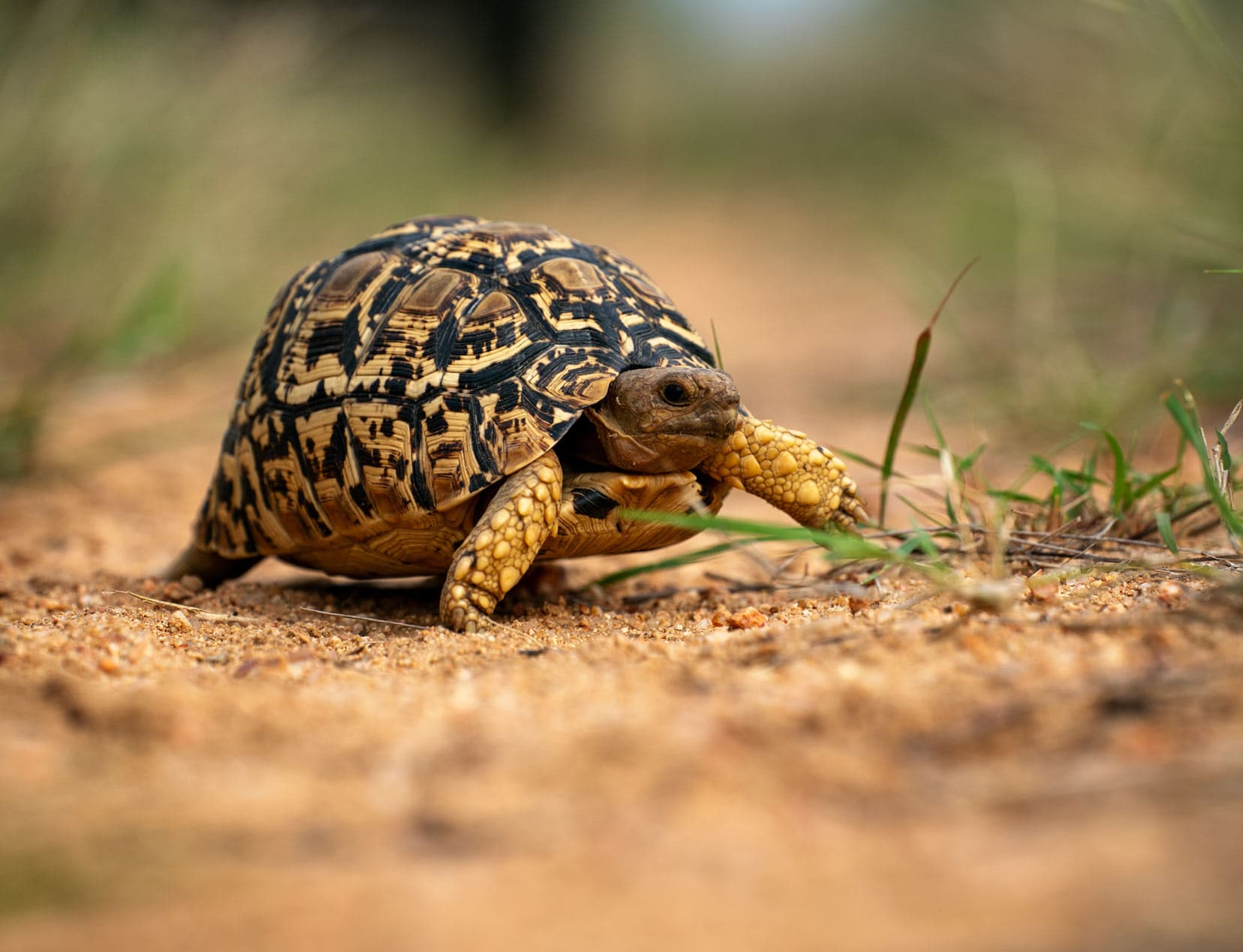 Taking a break from camping, we'd organised a five-week house sit in Prince Albert, in the Western Cape — then South Africa went into lockdown. The family we were pet-sitting for stayed at their bush camp in Klaserie Nature Reserve during this time.
So, they were stuck there, and we were in their home on the other side of South Africa, amongst the Swartberg Mountains, for five months.
After five months, with leisure travel still forbidden, they knew we couldn't continue with our plans to overland Africa. So, they very generously suggested we swap with them.
They would return home, and we would travel to Klaserie and experience life in the African bush.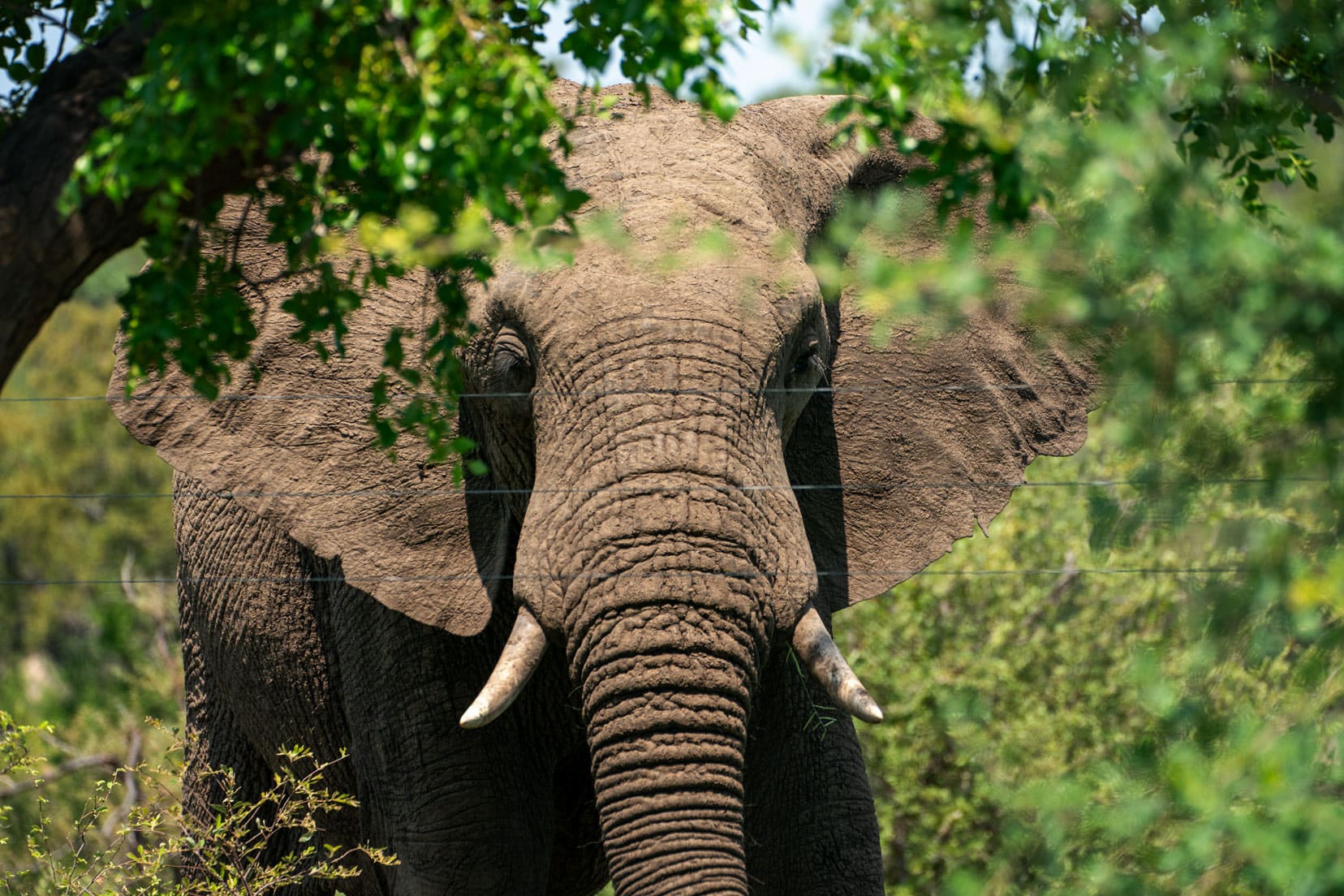 And that is how we found ourselves deep in the midst of the African bush.
Enraptured and spellbound at every turn.
Arriving at Klaserie: A Symphony of Wildlife
We rolled into Klaserie just as the sun dipped below the horizon. The bush was alive with activity—impalas darting, mongooses scurrying, and giraffes blending into the scenery like nature's own optical illusion.
Within days, the Klaserie bush took hold of our hearts.
You cannot help but be changed by the African bush.
Nature compels you to be present, and the African Bush whispers to you.
And, if you listen carefully, it will tell you its secrets.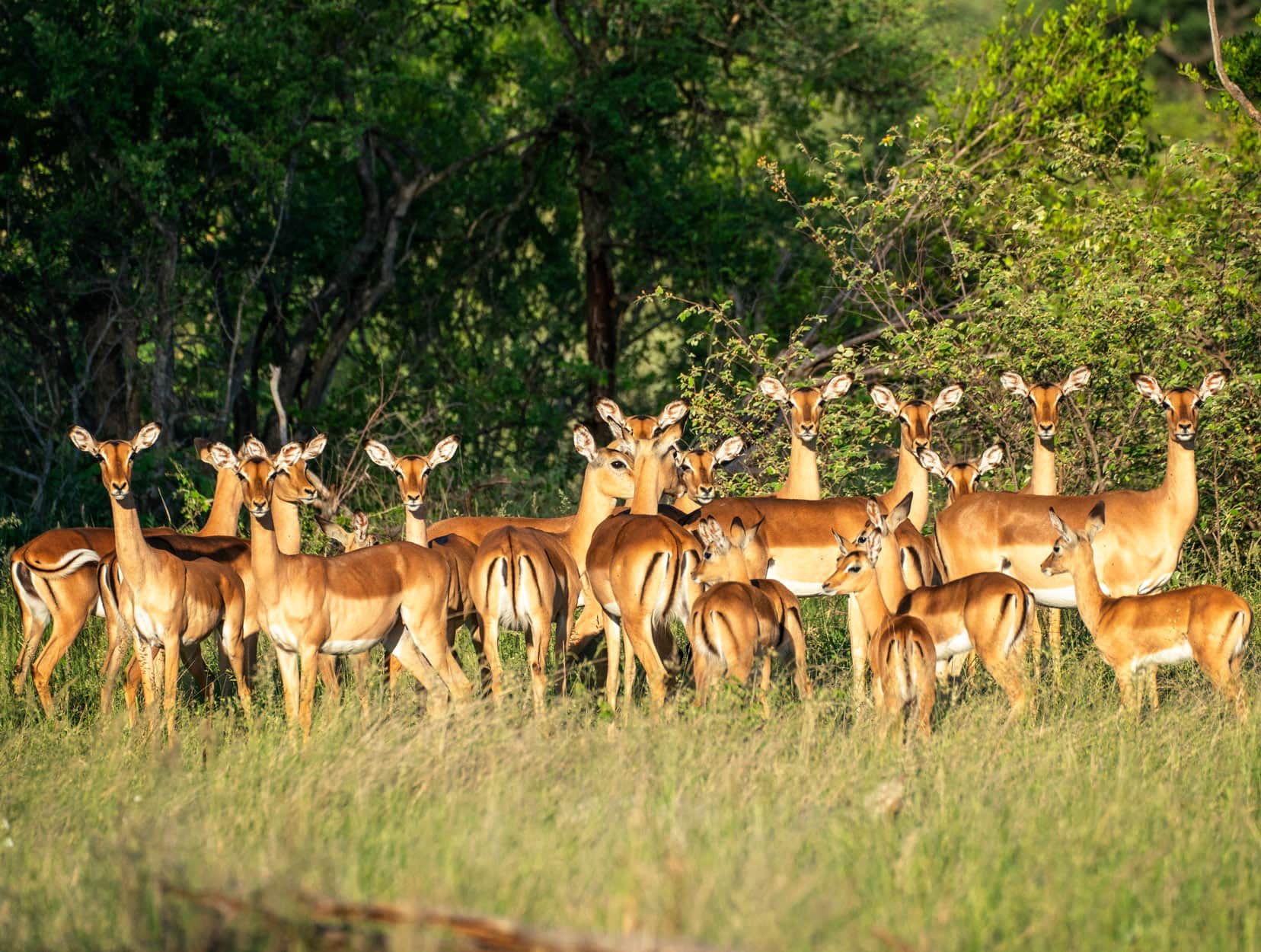 The Sounds of Klaserie
You soon learn to recognise various grunts, growls, raucous chatter, and roars.
A distant snap of a branch carried on the breeze tells you elephants are likely nearby.
A muffled snort means watch out for the grumpy 'Dagga Boys', the old male buffalos, who'll charge you without reason.
You will hear the fish Eagle's seagull-like screech, the Go-Away Bird's incessant demands, and the Pearl-Spotted Owl's unmissable whistle increasing in pitch as if practising its chords.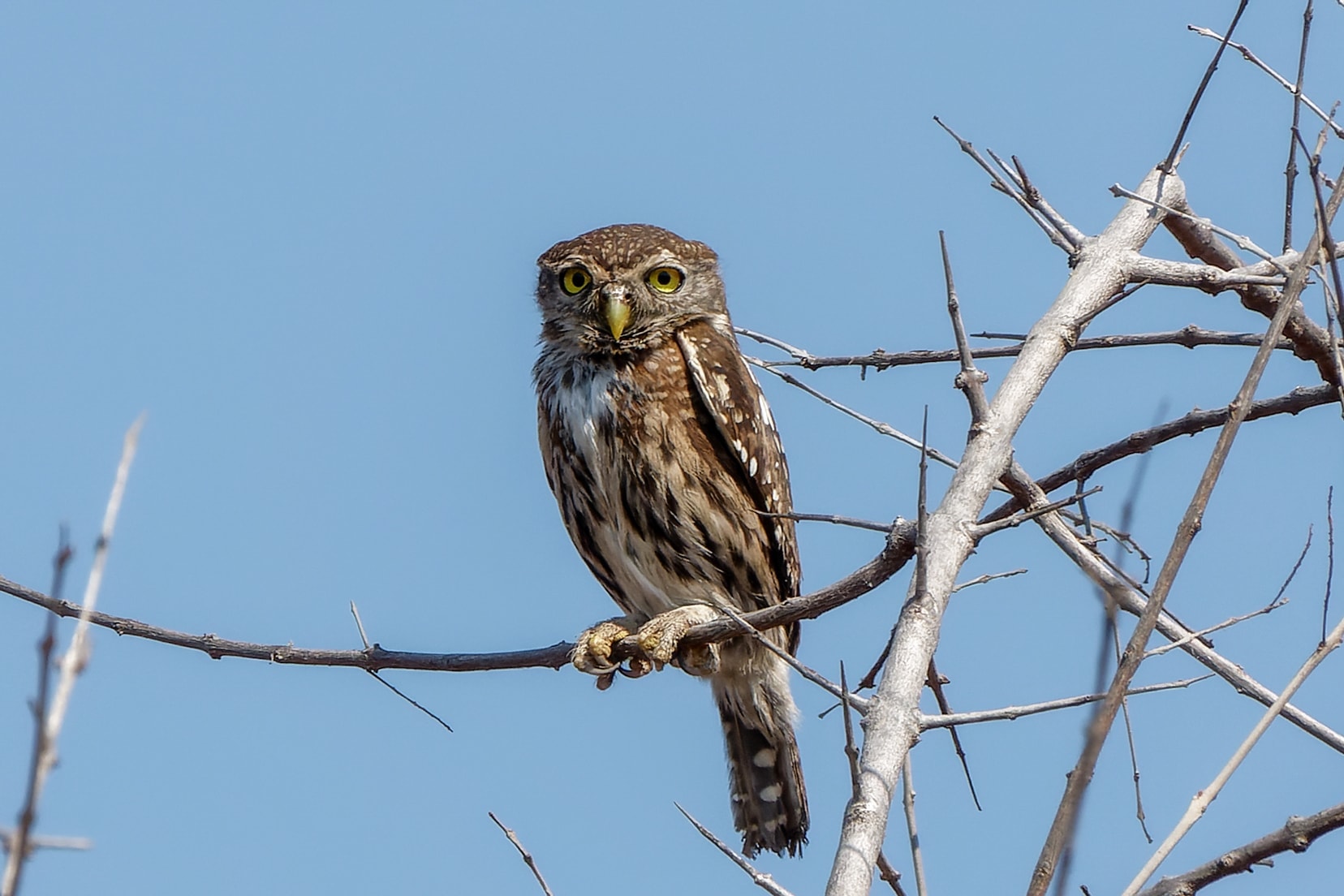 Living in the Bush
Lars and I slowly became comfortable with the idea of being amongst these wild animals. We even got used to the old Dagga Boys slumping beside our rondavel some evenings.
Buffalos, especially the older males known as 'Dagga Boys', are not to be trifled with. They're grumpy, unpredictable, and can charge at you without warning.
🐃 Tip: If you encounter a buffalo, your best bet is to climb a tree. Seriously.
All sorts of animals ventured either through camp or wandered by. Elephants, rhinos, lions, hyenas, zebra, giraffes, kudu, impalas and more all became our neighbours.
And let's not forget the plethora of birds, both those commonly found in South Africa and birds that frequent Greater Kruger.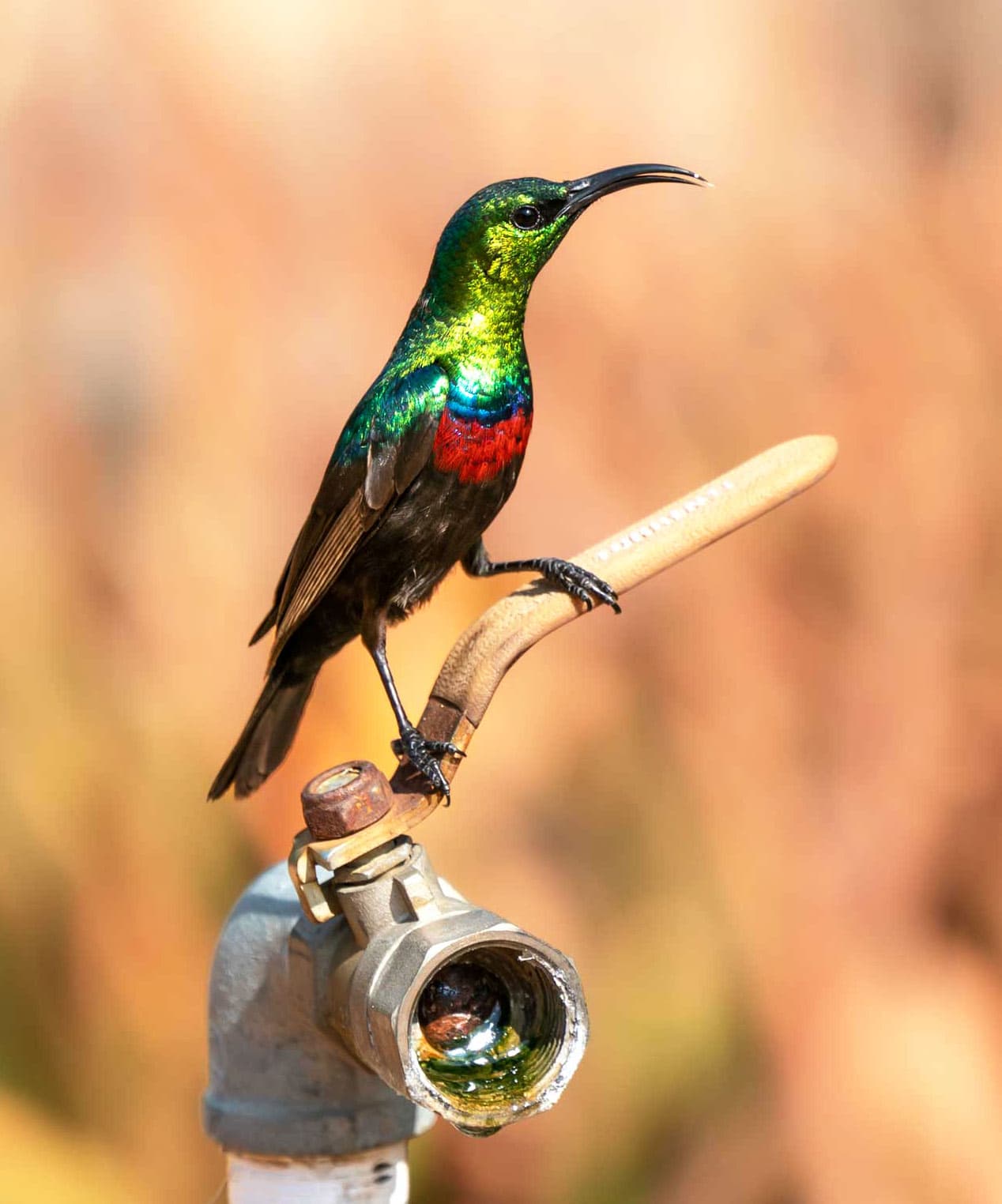 Most afternoons, the local troop of baboons sauntered by, watching us watching them. A few often came into the camp; one even jumped in the kitchen window and stole one of my lemons.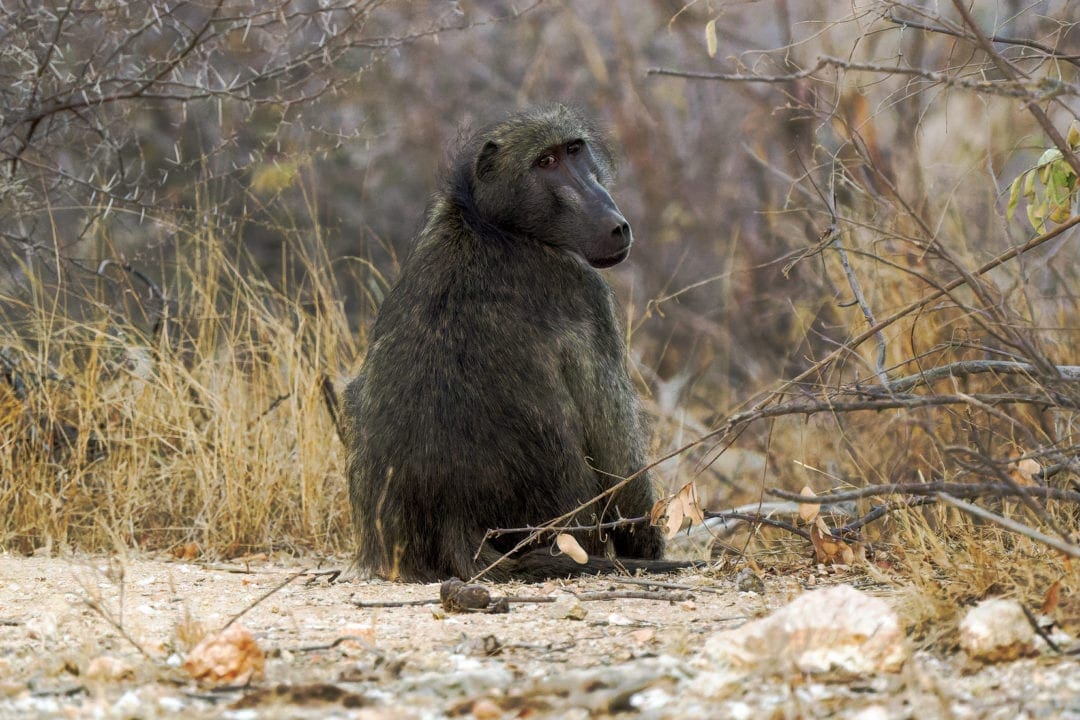 Baboons, along with elephants, are one of my favourite animals to watch. In fact, I love watching any type of monkey, to be honest. I was in my element when we volunteered with vervet monkeys while in South Africa.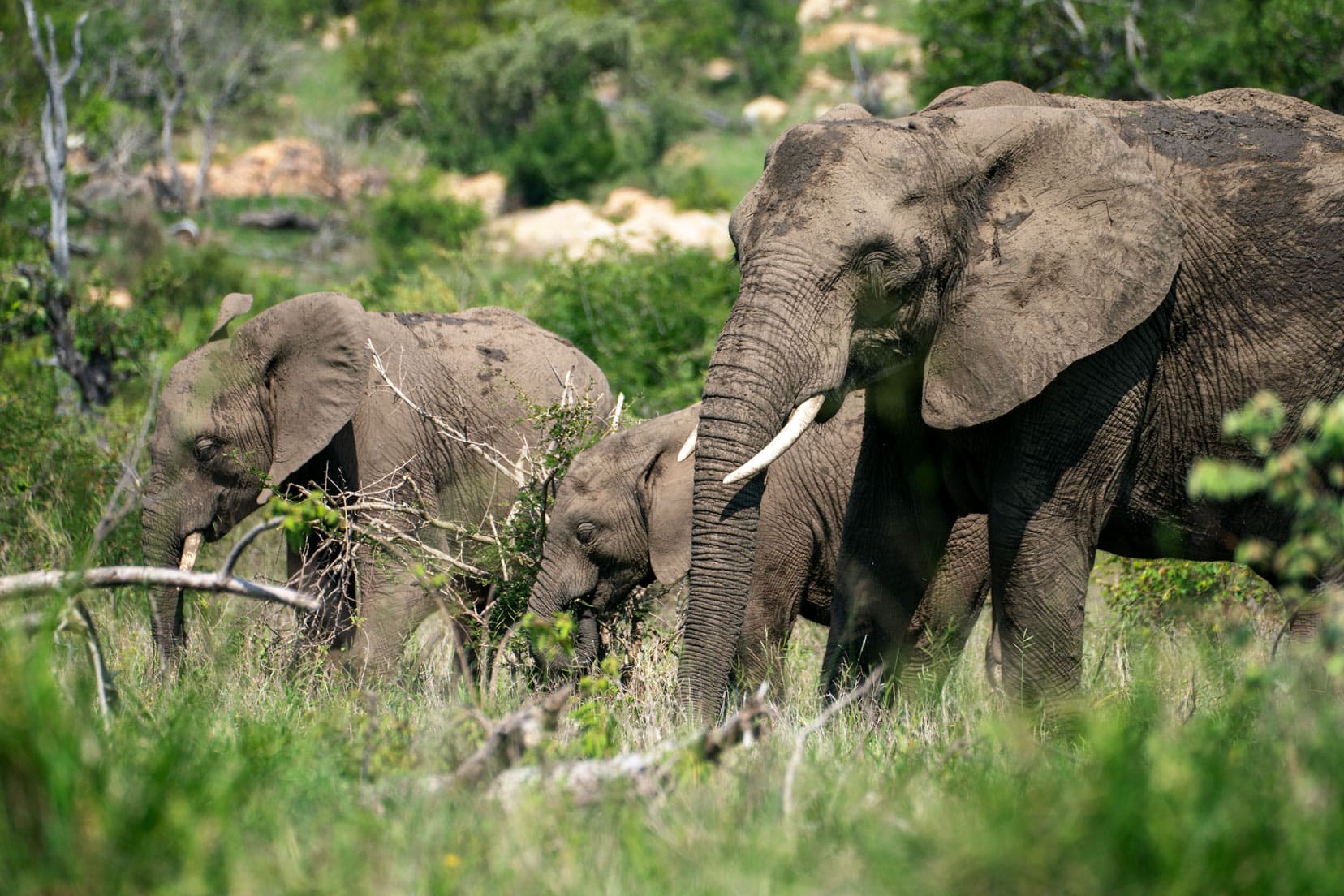 The Super Pride
One afternoon, we were finishing up a rather uneventful self-drive safari — nature can be fickle that way— when we came across about 15 lions all feasting on a huge buffalo.
It was one of Klaserie's two super prides, and we were treated to a first-row seat to one of nature's gruesome but necessary spectacles.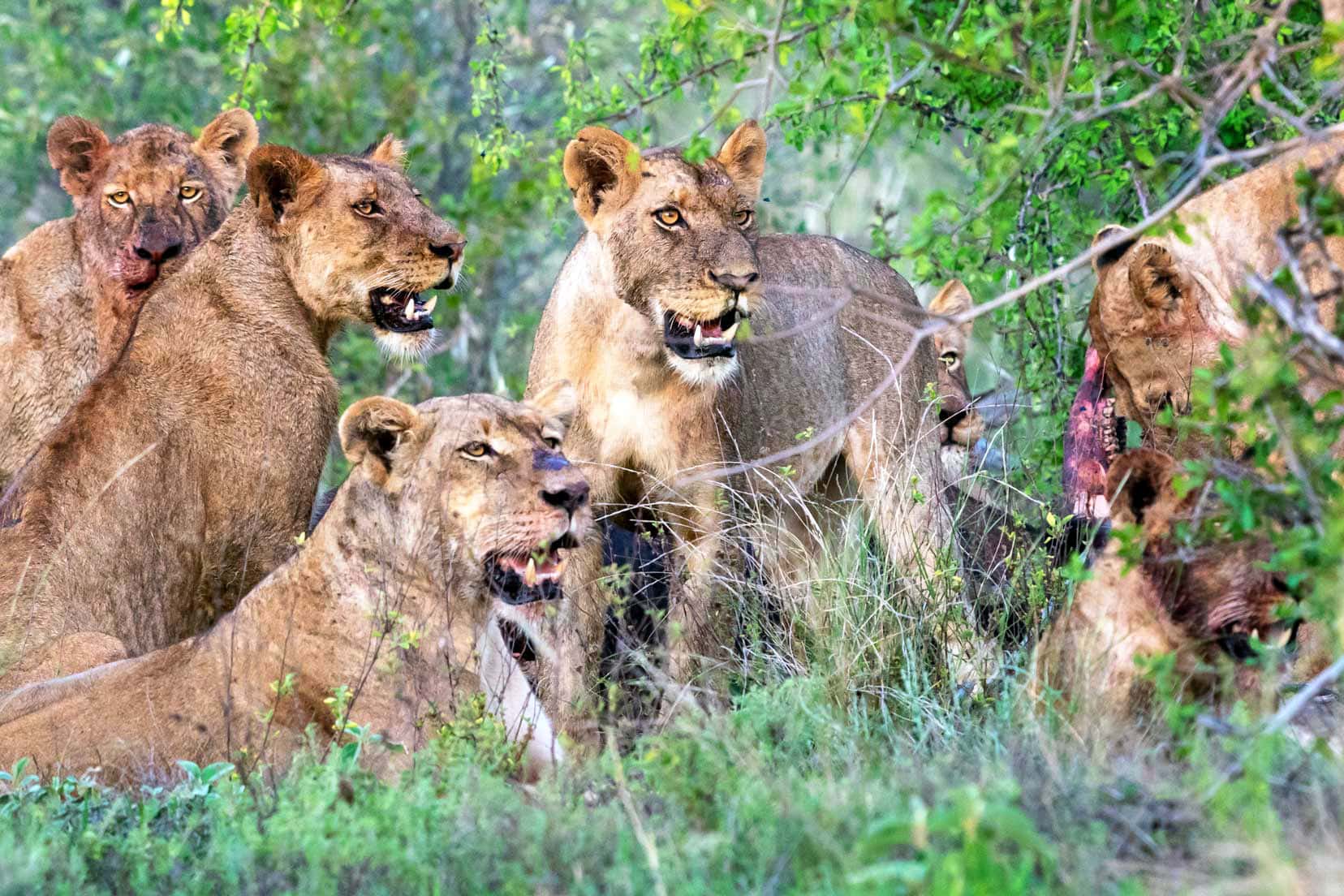 VIDEO: Super-Pride in Action
Here's a snapshot of a few moments of the lions feeding and then the next day when the hyenas start trying to muscle in on the action.
▶︎ 0- 25 secs: Lions on kill the afternoon we found them
▶︎ 25- 35 secs: Early the next morning, the hyenas are circling, and lions keep chasing them off (Listen to the cackling sounds)
▶︎ 35 secs – 39 secs: a few lions keeping guard
▶︎ 39 secs: hyenas take over for a while
Final Words: The Beauty of Adaptation
Life in Klaserie was a lesson in adaptation. Whether it was learning to live amongst wild animals or adjusting our travel plans on the fly, we embraced the unpredictability of it all.
And that's the beauty of the African bush—it challenges you, changes you, and leaves you wanting more.
Days after my leopard encounter, I found myself more in tune with the bush. It's funny how a brush with danger can sharpen your senses and deepen your connection with your surroundings.
Don't let fear hold you back. Sometimes, the most unforgettable experiences come when you step out of your comfort zone.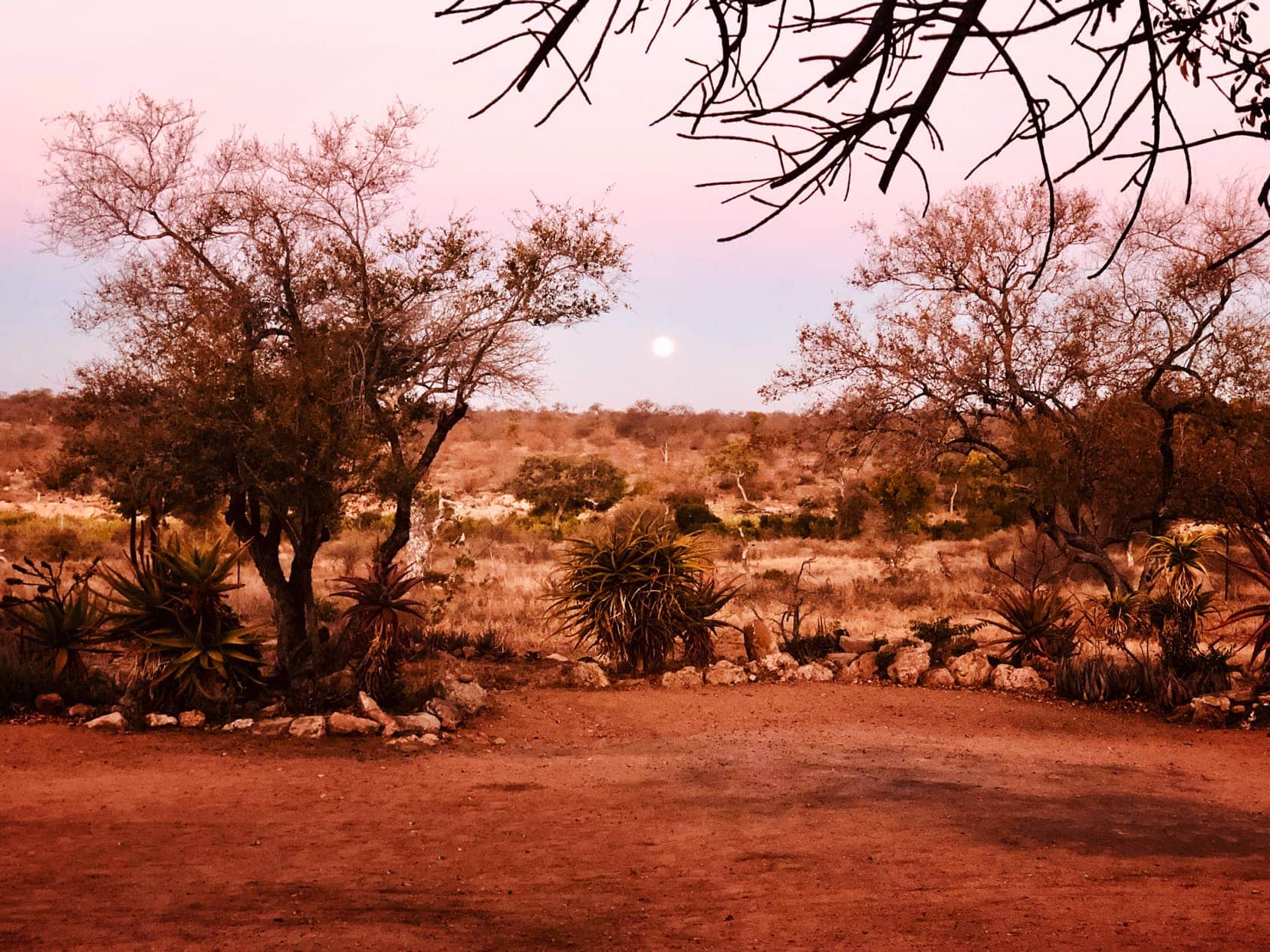 How Big is Klaserie?
Klaserie Private Nature Reserve spans an impressive 60,000 hectares. To give you some perspective, that's roughly the size of Singapore!
But the reserve is part of a much larger protected area that exceeds 2 million hectares. Imagine an area larger than the entire country of Slovenia.
These unfenced borders with neighbouring reserves and the Kruger National Park allow wildlife to roam freely, offering you a diverse and frequent animal sighting experience.
💡A Tip for Choosing a Lodge
When you're picking a lodge, it's a good idea to find out how many kilometres the lodge has rights to for game drives. Klaserie is divided into separate sections owned by different people.
There are no fences between these sections, but the game drive experience can vary depending on the area your lodge has access to.
That's one of the many reasons that Ivory Wilderness Lodge is our top pick; it has access to a vast area in Klaserie.
The History of Klaserie Private Nature Reserve
Deep Roots and Family Ties
Klaserie isn't just a reserve; it's a family legacy. Over 50 years ago, 36 original farm owners united their lands to form Klaserie Private Nature Reserve.
This was more than a business venture; it was a pledge to protect a slice of Southern Africa's pristine wilderness for generations to come.
We've been lucky enough to befriend some of these families, and their love for the land is palpable.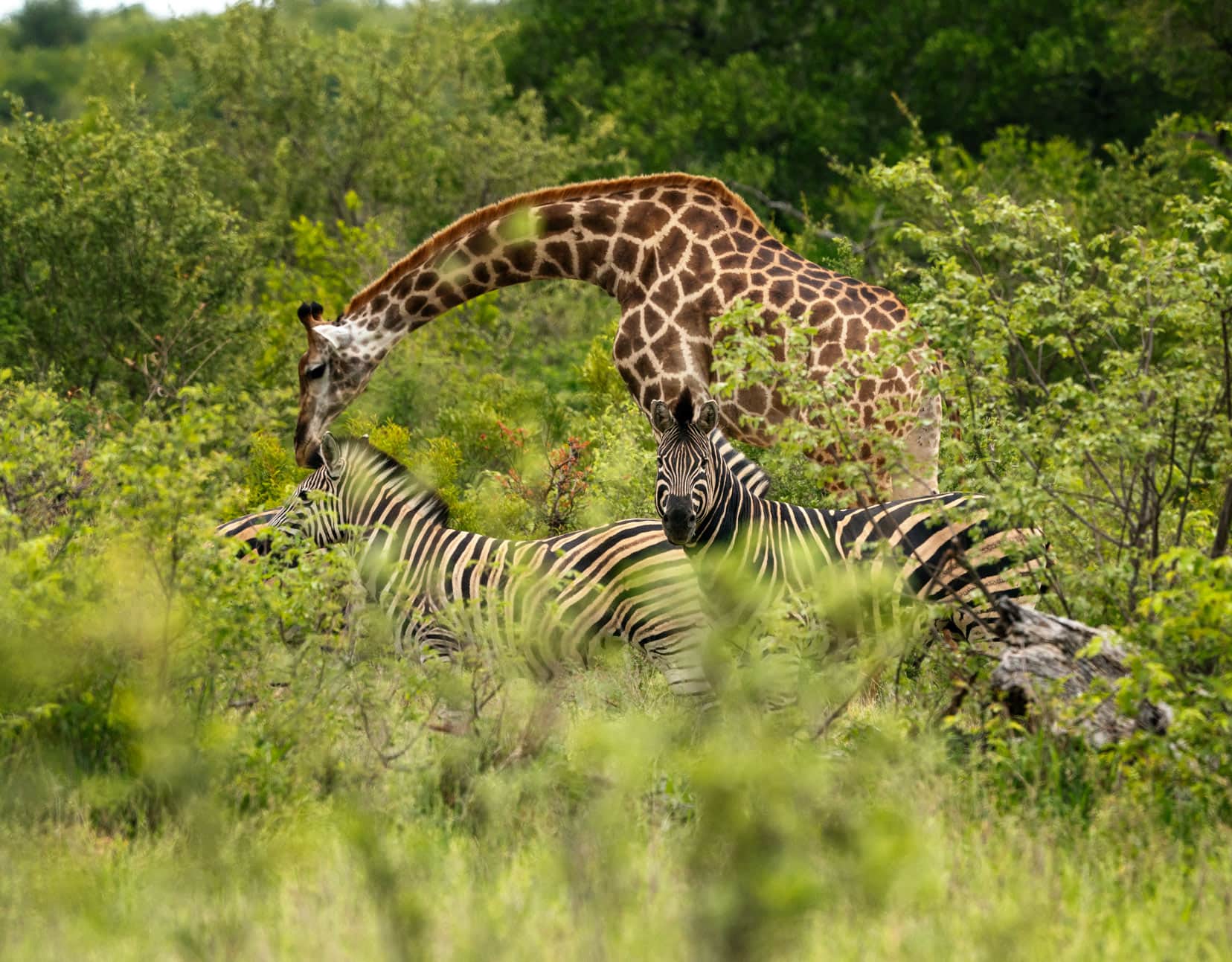 A Commitment to Conservation
The reserve was officially proclaimed a nature reserve in 1972. But its mission was clear long before that: to protect biodiversity and inspire a sense of stewardship over this unique land.
It's a mission that continues to this day, and your visit contributes to these vital conservation efforts.
A Living History
The Klaserie you see today is the result of decades of dedication and a deep-rooted connection between the people and the land. It's a history worth celebrating. And when you visit, you become a part of that living history.
So, when you set foot in Klaserie, you're not just a visitor but a contributor to a legacy that spans generations.
Ready to be a part of something bigger?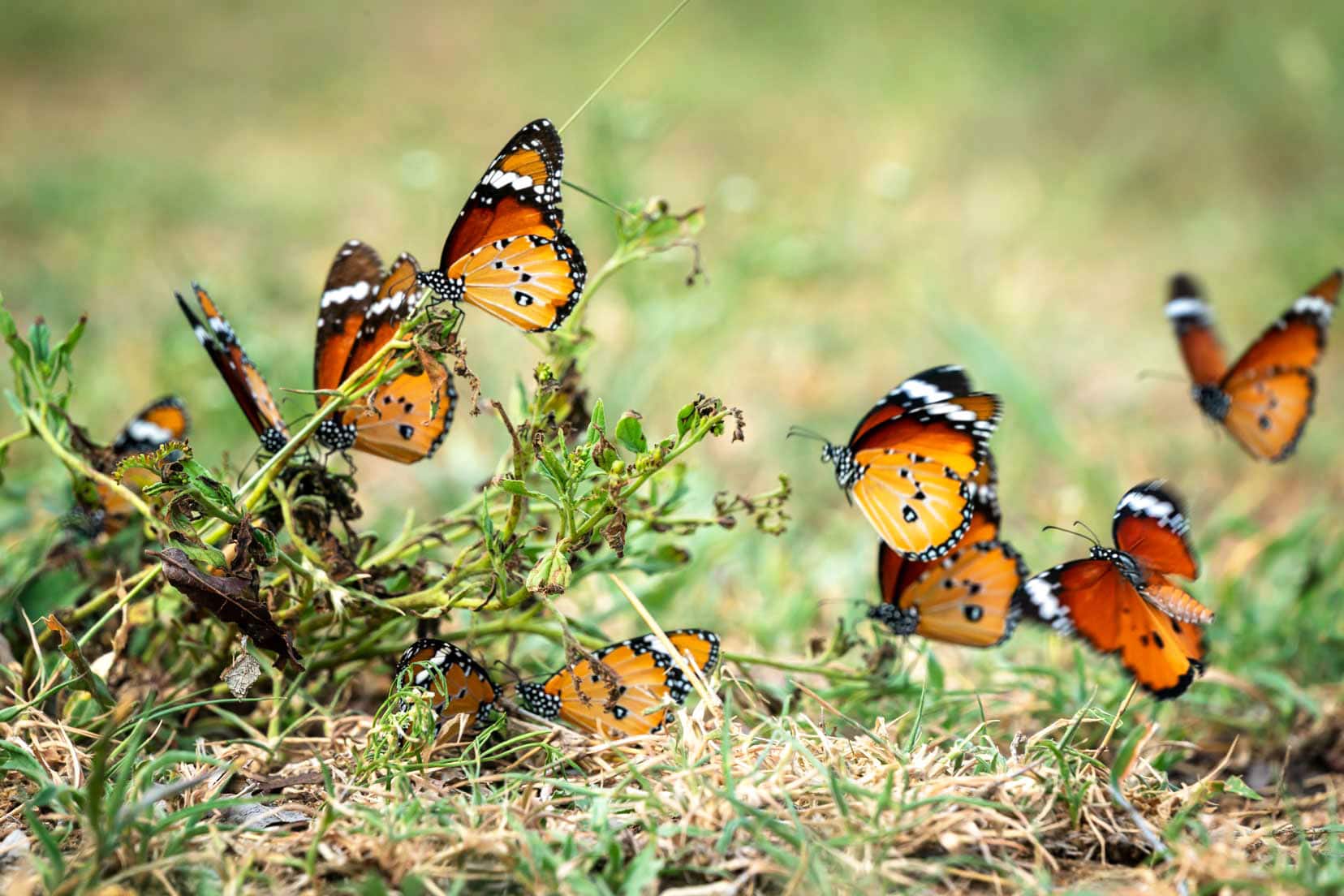 How to Get To Klaserie
Getting to Klaserie Private Nature Reserve is part of the adventure, whether you choose to fly or drive. Each option has its own set of perks and considerations, so let's dive into the details.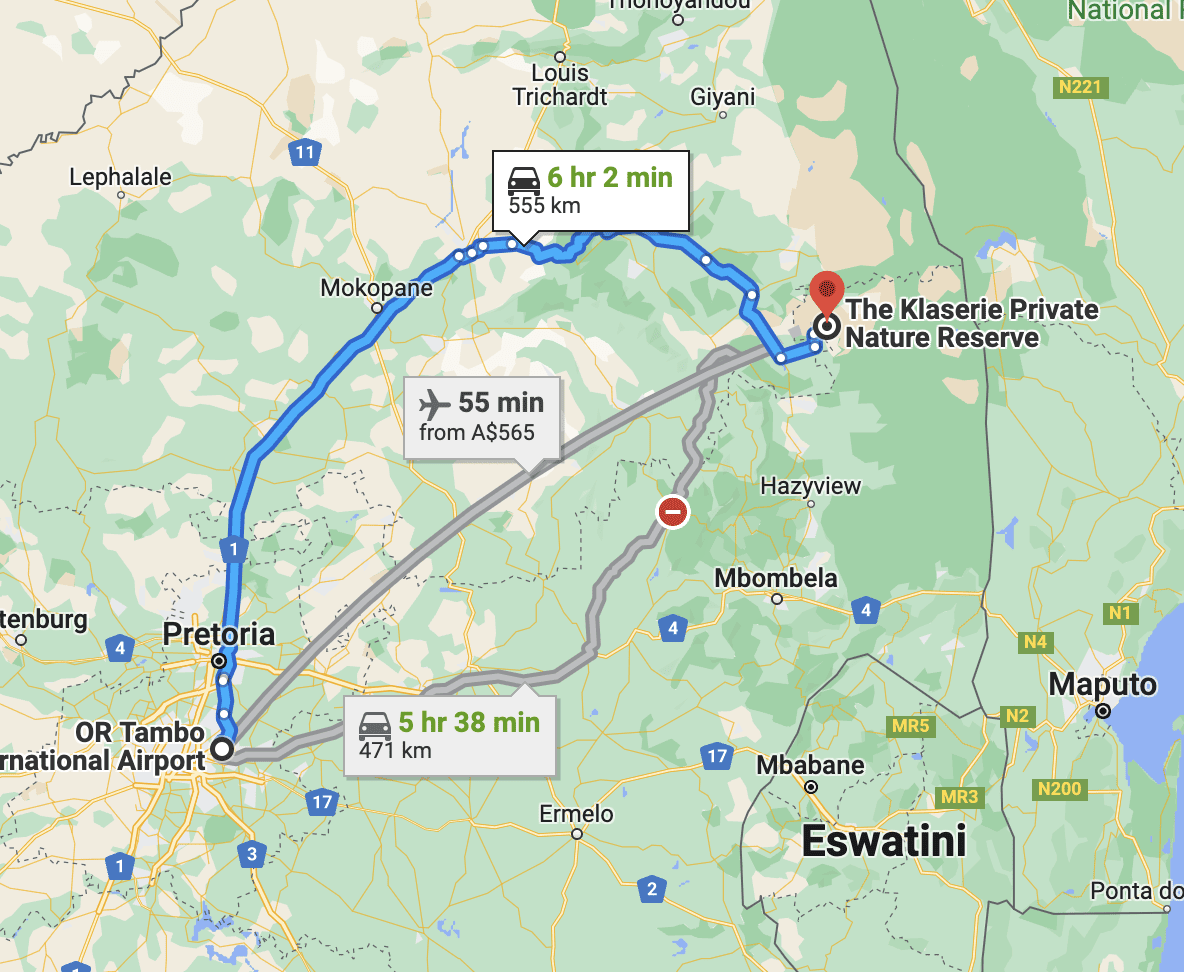 To Klaserie By Air
If you're flying in, your first stop will likely be O.R. Tambo Airport in Johannesburg. From there, you can catch a connecting flight to Hoedspruit Airport, which is about 45 minutes away from Klaserie by car.
Many lodges offer pick-up services, making this a convenient option.
Avis also offers a car rental service from the airport.
Once you arrive in Klaserie, keep in mind that camps can be another 1-2 hour drive within the reserve. But hey, consider that an extra game drive!
💡 Tip: Opt for a lodge pick-up from Hoedspruit Airport if available. It's the easiest way to kick off your safari adventure.
What is the Closest Airport to Klaserie?
East Gate Airport at Hoedspruit Airport is your closest gateway. It's well-connected to Johannesburg and Cape Town, making it a convenient option for most travellers.
To Klaserie By Road
If you're driving from Johannesburg, expect a 6-7 hour journey. Though longer, the route shown on the map above from Johannesburg to Klaserie via Mokopane was considered the safest and easiest route.
Once you arrive in Klaserie, keep in mind that camps can be a 1-2 hour drive within the reserve. But hey, consider that an extra game drive!
💡 Tip: For the Klaserie Reserve part of the journey, a 4×4 is highly recommended. It'll handle varying road conditions and make those deep sand patches and corrugations a breeze. For more tips on driving in South Africa, check out our comprehensive guide.
💡 Local Insight: Always check with locals about current road conditions and any suspicious activity on the route out of Johannesburg. Safety first!
Driving Directions To Klaserie Reserve from Hoedspruit
Head towards Eastgate Airport
About 7-8 km after leaving Hoedspruit, turn left towards Eastgate Airport.
Pass through the Guernsey control gate and continue for about 19 km, crossing the Klaserie River Bridge.
Complete the register at the next Control Gate and pay the conservation entrance fee.
Turn left onto the gravel road and travel 3.8 km to 'Incheni', the entrance gate of Klaserie Private Nature Reserve.
Fill in the register and continue on to find your accommodation.
💡Tip: Make sure you have an offline map because phone signals can be very sketchy in the reserve, and many sandy tracks can confuse your navigation skills. Note that MTN seems to offer the best coverage in this area.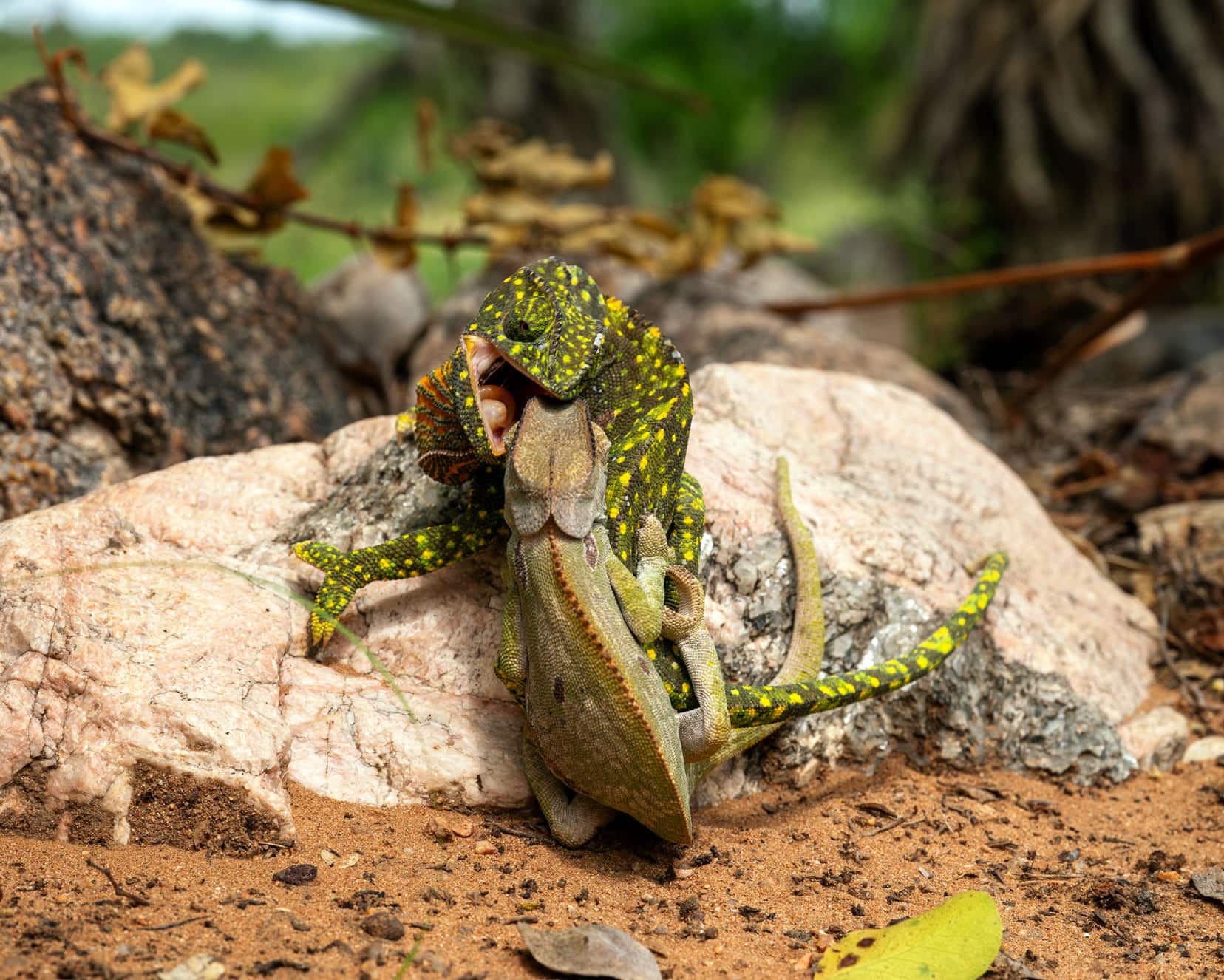 Practical Tips for Klaserie Nature Reserve
Before you embark on your adventure to Klaserie, being well-prepared is crucial. Here are some tips, from packing the right gear to knowing the health and safety protocols.
What to Pack: Essentials for a Klaserie Trip
Clothing: Lightweight, breathable clothing in neutral colours (beige, grey, green, etc. but not white). Don't forget a hat and sunglasses.
Footwear: Sturdy hiking boots for those bush walks.
Gear: Binoculars for game viewing and a camera for those Instagram-worthy shots.
Personal Items: Sunscreen, insect repellent, and a reusable filtered water bottle. [use our discount code to get 15% off all Water-to-go Products: LJFT15]
🦁 For a more thorough look at what you'll need on safari, head over to our detailed guide on essential safari accessories.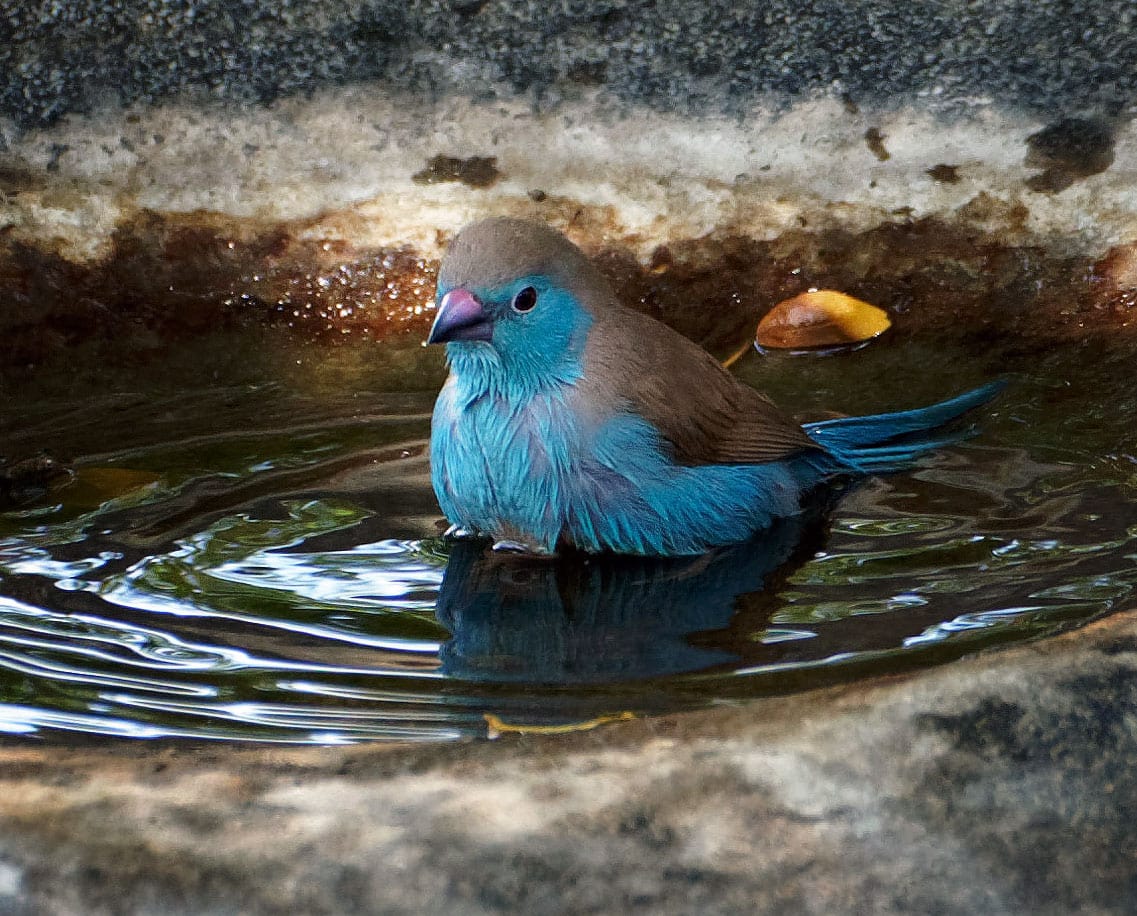 Health and Safety: Necessary Vaccinations and Safety Tips
Vaccinations: Make sure you're up-to-date on routine vaccines. Hepatitis A and Typhoid vaccines are also recommended.
Bilhazia: The water in Klaserie has the parasitic worm that causes bilhazia, a chronic disease causing ill health, so avoid skin contact with any still river water.
First Aid Kit: Pack a basic first aid kit with essentials like band-aids, antiseptics, and pain relievers.
Local Emergency Numbers: Keep a list of local emergency contacts.
Is Klaserie a Malaria Area?
Malaria Risk: Yes, Klaserie is in a malaria zone.
Precautions: Consult your healthcare provider for the best anti-malarial medication for you.
Symptoms: Be aware of malaria symptoms like fever, chills, and nausea.
Sustainability: How to be a Responsible Visitor
Waste Management: Take all your waste with you.
Water Conservation: Use water sparingly. Opt for a quick shower over a bath.
Wildlife: Keep a respectful distance from animals. Don't feed them.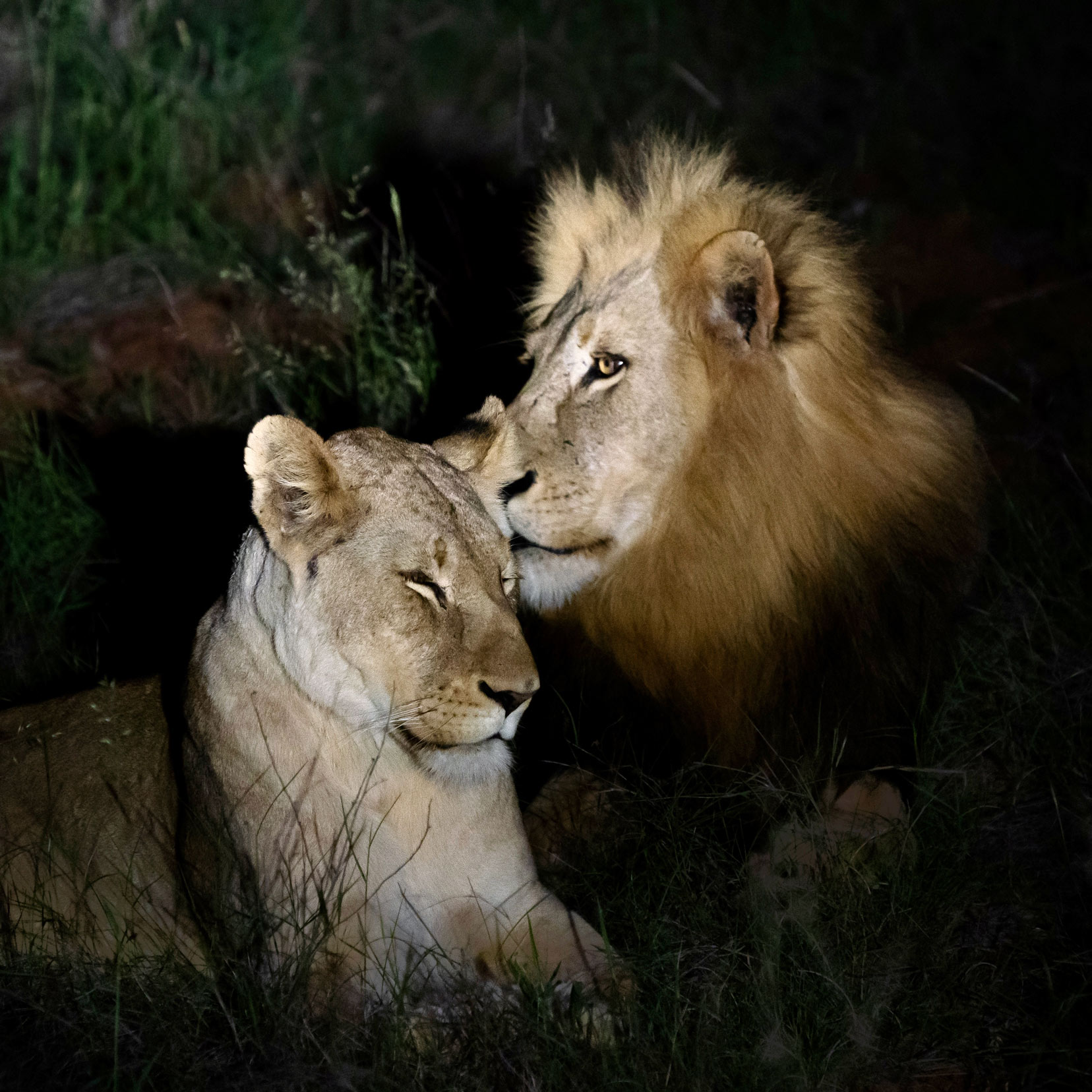 Klaserie Private Nature Reserve … That's a Wrap
So, there you have it. Klaserie Private Nature Reserve is more than just a safari destination—it's a transformative experience. It's a place where you can escape the crowds, connect with nature, and contribute to meaningful conservation efforts.
A Few Final Tips
Plan Ahead: Make sure to book your lodges and car hires well in advance.
Health Precautions: Don't forget to consult your healthcare provider about necessary vaccinations and medications.
Pack Smart: Bring along a good camera, binoculars, and perhaps a wildlife guidebook to enhance your safari experience.
We've spent four incredible months in Klaserie, and it's a place that's etched itself into our hearts. It's not just about the animals; it's about the atmosphere, the ethos, and the sheer beauty of the African bush. If you're looking for an intimate, impactful, and utterly unforgettable safari experience, Klaserie is the place to be.
Your next adventure is just a click away.
And remember to listen to the whispers of the African bush.
Safe travels, and may your journey through Klaserie be as enriching as ours has been.
Looking for more travel inspiration and tips? Don't forget to sign up for our newsletter and get your free road trip planner.
Cheers, Shelley & Lars
This post is based on our personal experiences and verified information. We aim to provide you with the most accurate and up-to-date details to help you plan your trip.
Pin and Share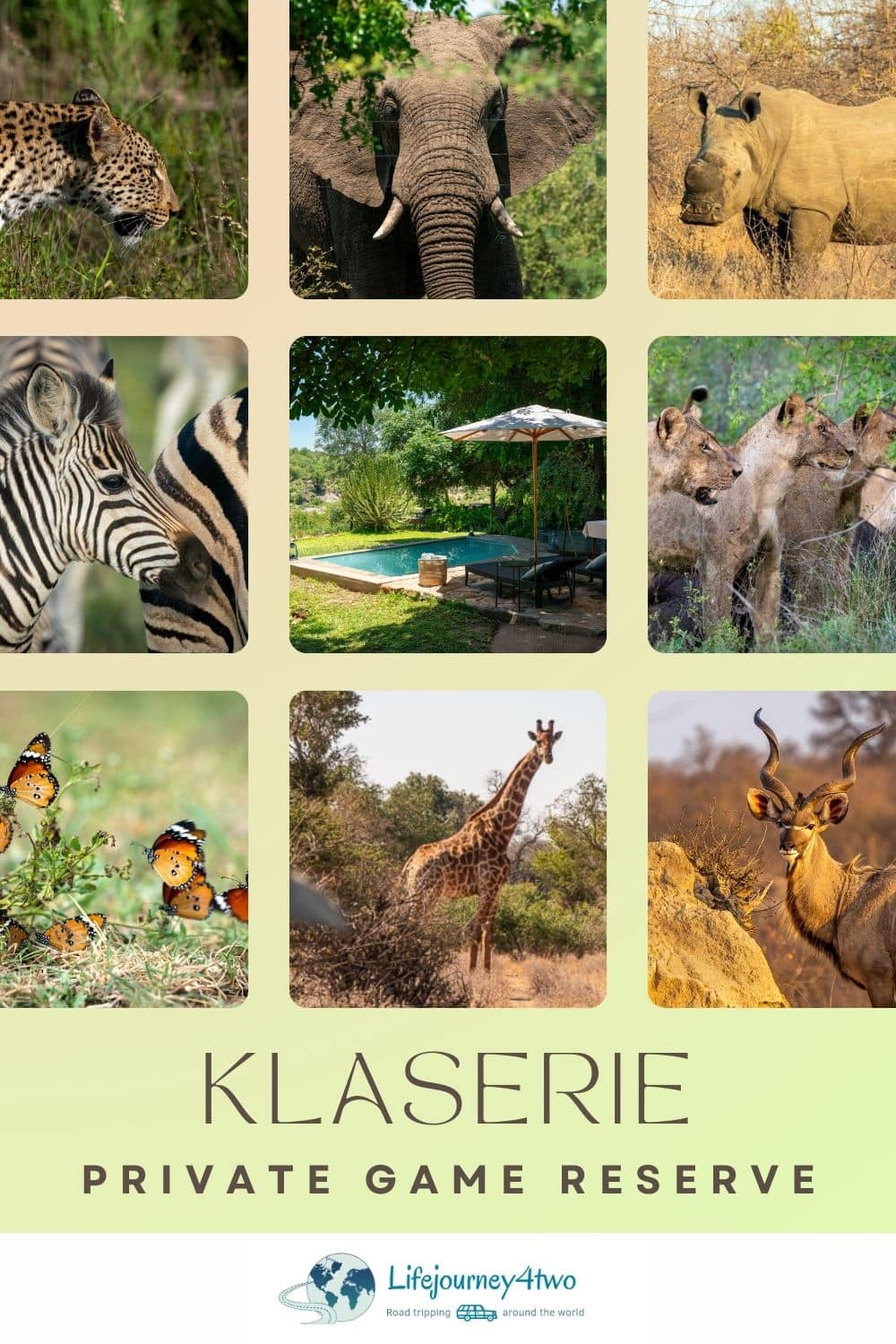 PLANNING YOUR TRAVELS?
These are some of the travel resources we use when planning our trips.
For a more thorough list visit our Travel Resources page here.