Leopard Encounter and life in Klaserie Nature Reserve, South Africa
What do you do when you find yourself eye to eye with a growling leopard?
Not something one normally contemplates, but luckily, I have an inquisitive nature and it just so happened that I had this one covered … or so I thought.
We'd arrived at Klaserie Private Nature Reserve just before dusk. The grey African bush scrub, waiting patiently for the summer rains, stood guard over its precious wildlife. A camouflaged smokescreen masking the clandestine activities beyond.
We caught glimpses of impala springing away disturbed by the mechanical hum of our bush camper, mongoose darting into their burrows and the occasional giraffe, who in spite of their loftiness, blended seamlessly into the environment. So much so, that we were left wondering whether we had really seen one at all.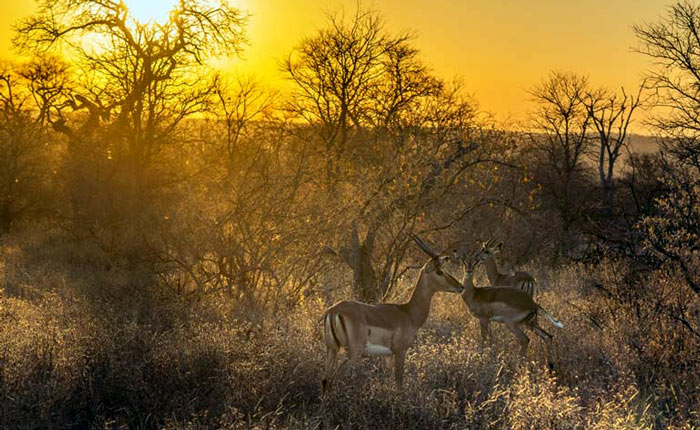 Impala in Klaserie at sunset
Klaserie Private Nature Reserve, comprising 60,000 hectares, is part of the Greater Kruger National Park area and one of the largest privately-owned reserves in South Africa. There are no fences separating Kruger National Park and Klaserie Reserve, so the wildlife is completely free to roam and their natural migration routes are preserved.
Call it serendipity, luck or just pure chance that we found ourselves in this piece of wilderness heaven in times of the Covid-19 lockdown. Arriving in South Africa at the end of January, we were set to embark on a two-year African adventure. We had recently married in Perth, Australia, and this was a combination of a honeymoon and our ongoing quest to fulfil our travel dreams.
On arrival, we bought our 4×4 Hilux bush camper and set off with the plan of road tripping through South Africa and then heading north into Botswana, Namibia and onwards, traversing the east coast of Africa.
As luck would have it, we had arranged a six week house-sit in Prince Albert, in the Western Cape, to break up our road trip. Just after the pet sit began, South Africa went into strict Lockdown. Those intended six weeks turned into five months.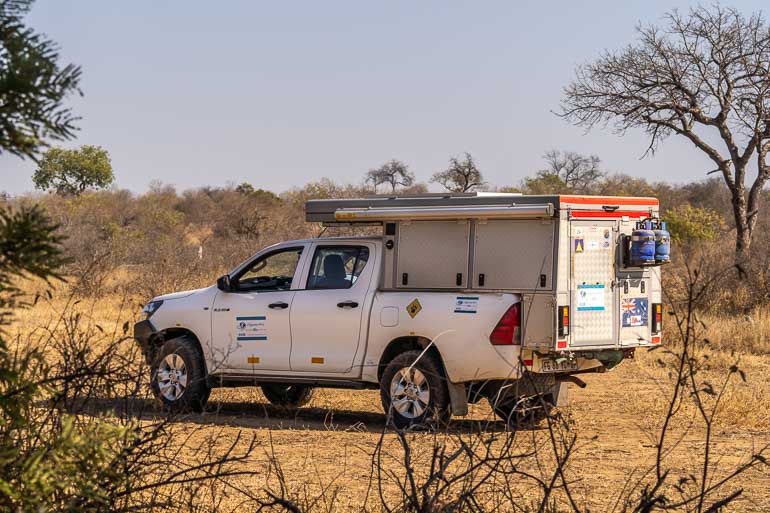 The family we were pet-sitting for were staying at their bush camp in Klaserie Nature Reserve. So, they were stuck there, and we were in their home on the other side of South Africa amongst the Swartberg Mountains.
After five months, with leisure travel still forbidden, they knew we weren't yet able to continue with our plans to overland Africa.
As a consequence, they very generously suggested we swap with them. They would return home and we would get to experience life in the African bush in Klaserie. We overcame the complications of the Covid-19 regulations of no inter-provincial travel by obtaining permits for change of residence.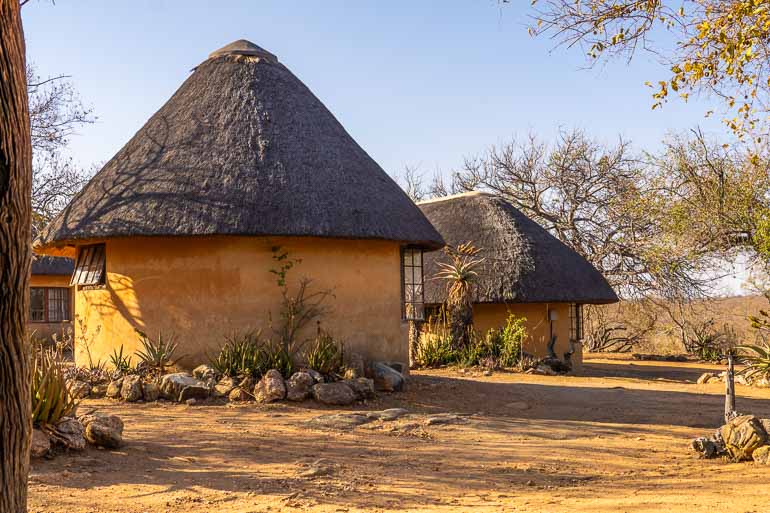 The Private Bush Camp in Klaserie Nature Reserve
And that is how we find ourselves deep in the midst of the African bush, enraptured and spellbound at every turn. Here, even the sunset seems more majestic and the moon's lustre more striking.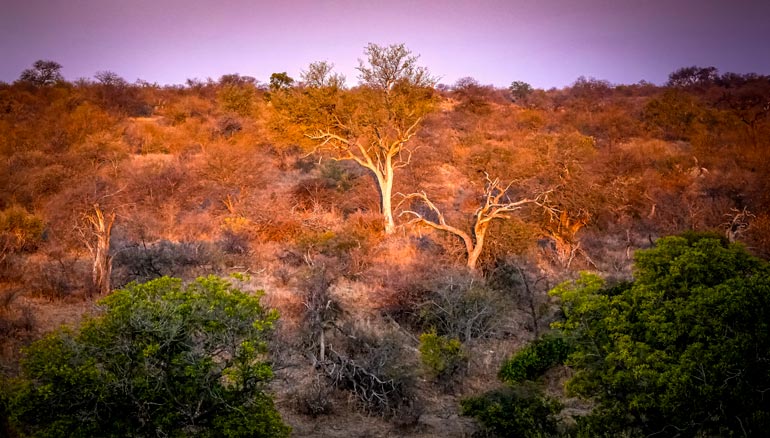 The beautiful hues of dusk over Klaserie
Within days, the bush took hold of our hearts. Beating softly in tune with the pulse of the land. You cannot help but be changed by the African bush. It is not just a matter of survival – though that is indeed an important point to bear in mind – but here nature compels you to be present, to be mindful and to be still.
You must listen to the whispers of the African bush. And, if you listen carefully, it will tell you its secrets.
You learn to recognise the grunts and growls, the raucous chatter and the roars of the African bush. A distant snap of a branch carried on the breeze tells you elephants are likely around. A muffled snort of the buffalo means watch out for the grumpy 'Dagga Boys', the lone buffalos. You will learn the seagull-like screech of the fish eagle, the incessant demands of the go-away bird and the unmissable whistle of the pearl-spotted owl which increases in pitch as if practising its chords.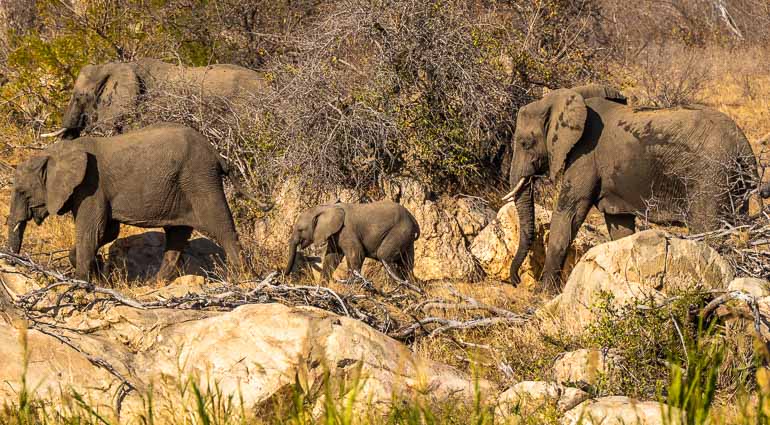 I don't think you could ever tire of watching these incredible beasts passing by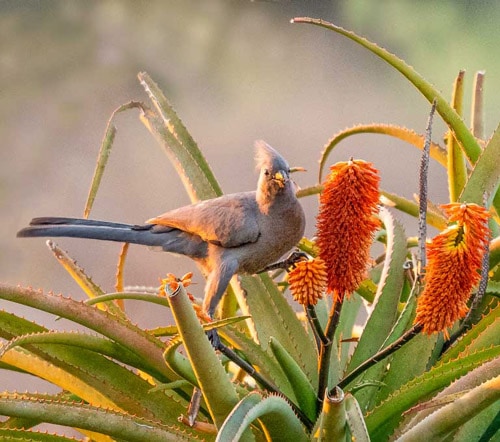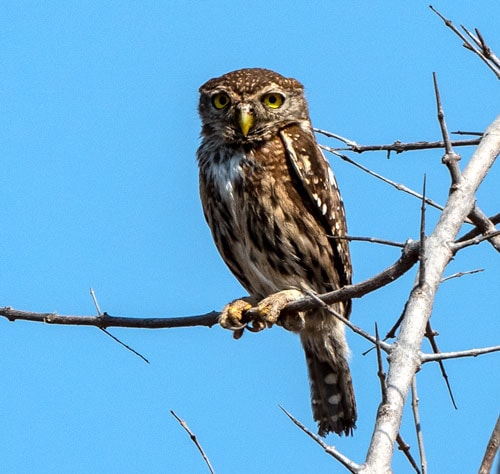 We were lucky to have a week handover with the owners. Over fireside dinners and exciting bush drives around Klaserie, they imparted their valuable knowledge of this wonderfully wild environment. 
We now know that the hyenas will run off with anything you leave out at night – even a torch stashed behind magazines … the pieces of which were found scattered around camp the next day. Shut all doors – they'll chew through a freezer if given the chance.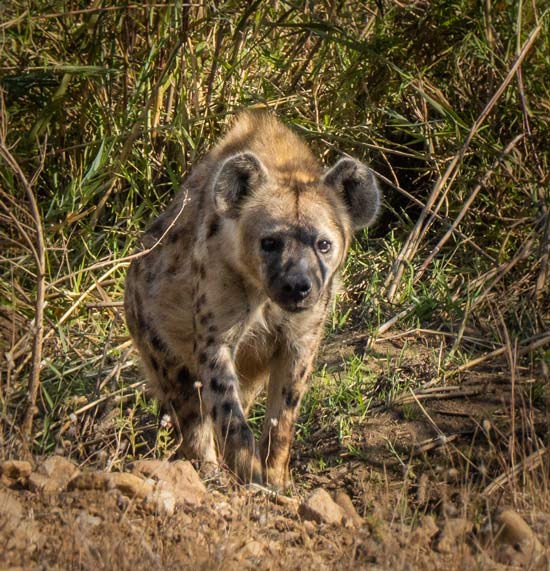 Hyena prowling in the South African Bush
Every night we make sure the cut thorn bush branches are placed around our camper's tyres – because hyenas are also partial to a tasty tyre morsel. You'd think they'd have a much tastier lunch waiting in the undergrowth, but they seem hooked on this 'fast food' – much less time to prepare I presume. As someone who doesn't particularly like cooking, I can sort of understand their thinking.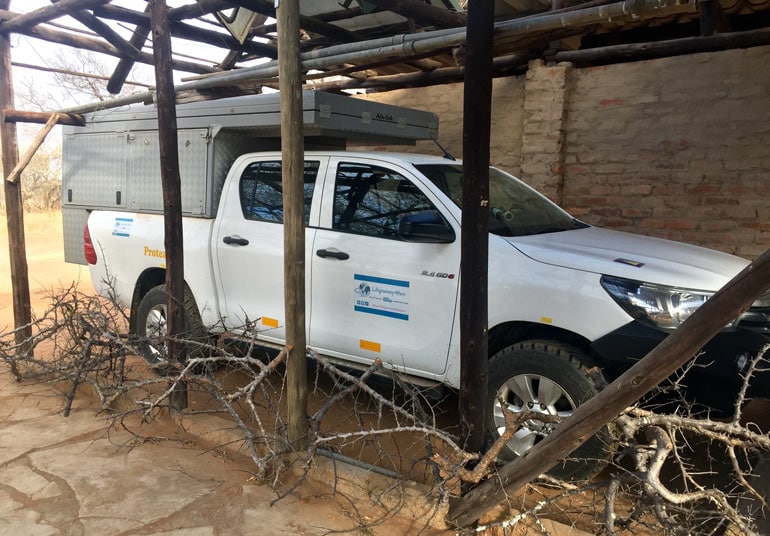 Our Bush Camper surrounded by thorn bush branches to deter the hyenas
It is highly unlikely that the hyenas will attack you though. If they spot us, they quickly dart for the shadows. The buffalo however … now they are not to be trifled with. You really don't want to get to close to one of those – especially the loners or those in a small group – otherwise known as the 'Dagga Boys'. They are notorious for being cranky old men and don't need an excuse to be provoked. Best course of action if attacked?  Head up the nearest tree!
Despite being surrounded by the 'anything-goes' wild bush, Lars and I slowly became comfortable with the idea of being amongst all these wild animals. In fact, we began to relish in it all.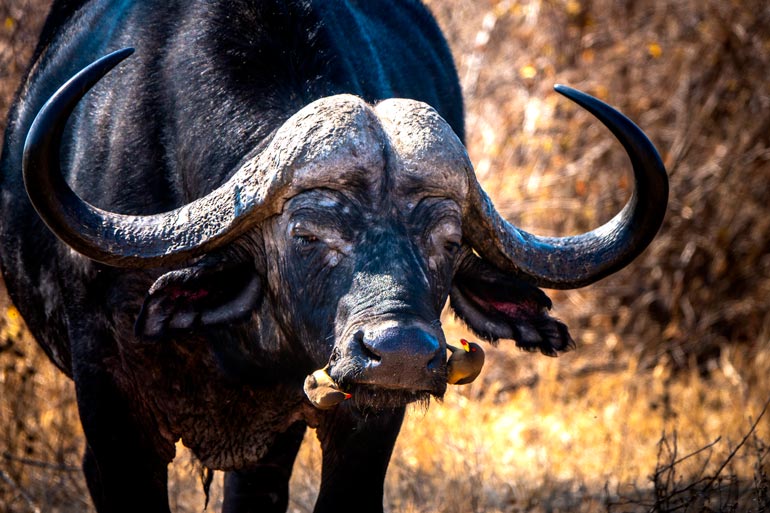 Buffalo with Oxpeckers keeping it groomed
As I write this article, planted on the camp veranda, I can spy a fish eagle hovering over the nearby river and there are about eight red hornbills scratching around in the dirt right in front of me.
If you were here for dinner yesterday, you'd have seen a giraffe nonchalantly munching the trees about 20 metres away. Big and small – the animals and birds of the South African bush are an absolute delight to behold.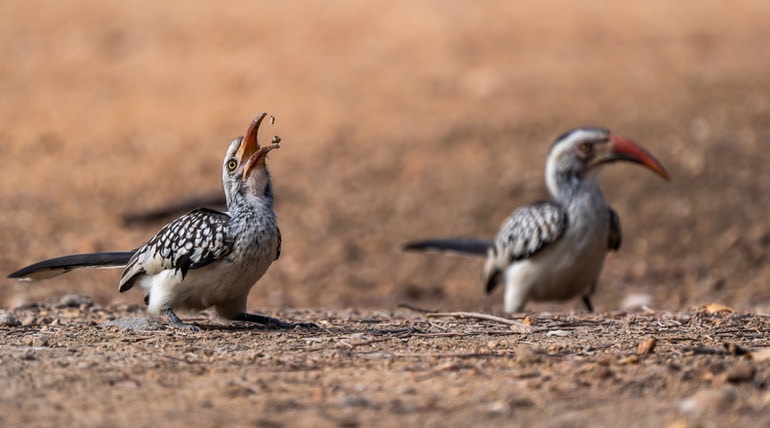 Red Hornbills feeding just beside us in Klaserie
Like clockwork, every afternoon around 4pm, the Francolin family arrive. Mum, dad and two chicks. I say chicks, but they are growing up very fast and already looking more like teenagers.
They strut in amongst the Hornbills scratching around looking for seeds and insects. Though I'm sure they are getting thin pickings as the Hornbills have been busy on the same piece of ground all day. The Francolins soon make their way to the stone water basin – take a few sips and mum and her brood head off, leaving dad to hunt for scraps.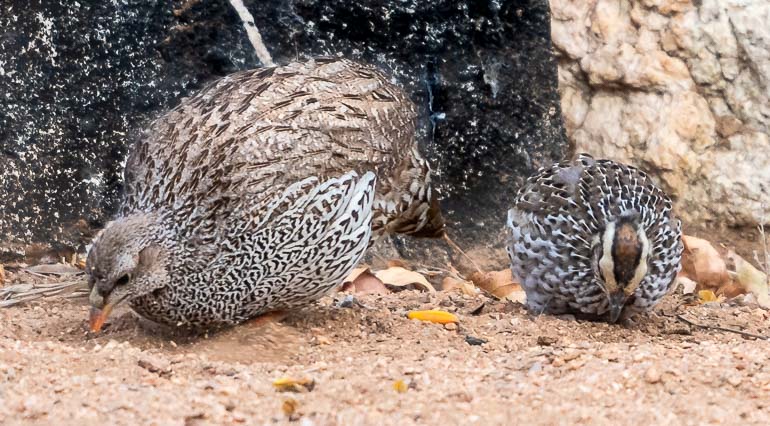 Mumma Francolin and one of her brood
Most afternoons, the local troop of baboons also saunter by, watching us watching them. A few often come into camp but again, they make for a speedy retreat if encountered. When you're out for a drive, if they hear you coming – they'll exit en masse from the trees.
It constantly astounds me how many baboons can fit in a tree. It reminds me of the children's story of the 'Never-ending Porridge Pot' – the baboons just keep spilling out from the tree, seemingly hundreds keep coming and coming …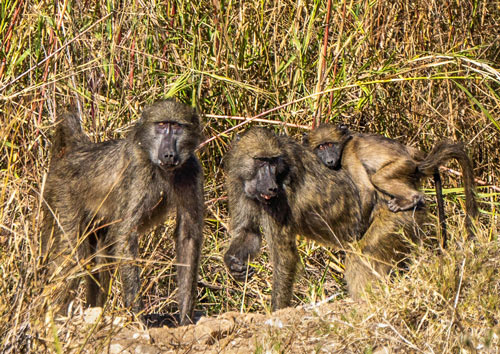 Some of the local troop of Baboons
The other afternoon, just a few metres from our hut (or rondavel), I was watching a herd of buffalo on the opposite side of the river through the binoculars, when I heard a low growl.  Sound seems to travel easily here – the landscape funnels sound up from the river and what may seem like a twig snapping just five metres away, is actually about 300 metres further at the river.
So I wasn't immediately concerned about the growl, more intrigued as to what was making the sound and where it might be on the other side of the river. Keen to catch a glimpse, I moved the binoculars in the direction of the sound, which was persisting, and as I refocused, there, way too large for comfort in the viewfinder was a leopard snarling right at me, looking far from pleased.
You can perhaps imagine, I wasn't too ecstatic about this scenario either.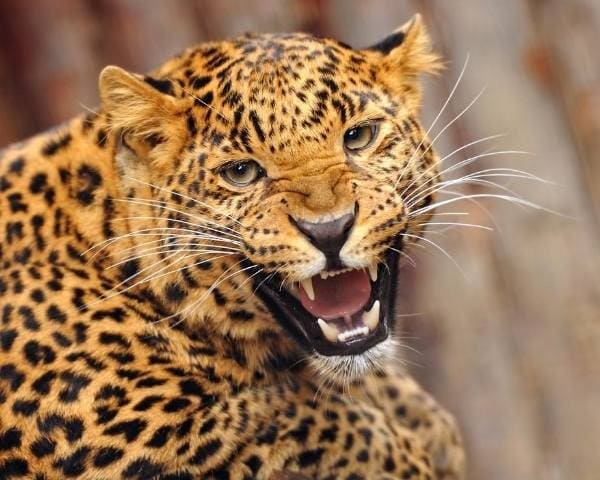 (Canva Photo) This is pretty much what I saw through the binoculars… Obviously not my photo but this image is imprinted on my memory!
Every single muscle in my body screamed flee – and flee fast. Thankfully though, every functioning brain cell not frozen to the spot screamed louder. On each painfully slow retreating step my heart pounded harder, while the leopard, just 30 metres away, continued to complain of my presence.
Safely inside the hut, I remembered to breathe.
Apprehension had once again become synonymous with the wild. Uncertainties that had been calmed by knowledge, were now not as certain as I had imagined. My fear was re-awakened and my legs shook from the shock.
I've since learnt that the leopard clearly had no dinner plans for me.
If it had, I doubt very much that I would be here telling this tale. You see, they are animals of silent stealth. In fact, even their roar is more like a grunt-like cough. No, this leopard was simply politely telling me to back the hell off …or else. Luckily, (…and I always suspected I was a little like Elisa Doolittle), I got the message. I can now appreciate that it was just a casual conversation between me and the leopard. No big deal.
That first sighting of a wild leopard, although up rather too close and personal for my liking, will stay with me forever. That beautifully patterned face and the piercing yellow eyes fixated solely on me. What a privilege. It's not every day that one gets the undivided attention of such a magnificent creature.
As the days go by and we continue to explore Klaserie, the fear subsides again. I find myself falling back into the beat of the bush, savouring each and every moment. Relishing once more in the privilege of being here, amongst the wild beauties of nature. This South African Eden will linger in my memories for many moons to come. 
As the night cloaks its darkness around us and we primates go to roost, the predators prowl. Our slumber occasionally interrupted by the rumbles of lions, the grunts of leopards and the eerie, ghost-like whoops of the hyenas as they all stake proud ownership over this, their African land.
You May Also Enjoy Reading Our Other Animal Related Posts:
And check out our other South Africa Posts below:
South Africa Related Posts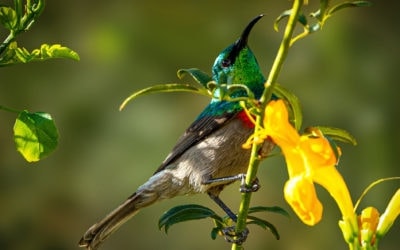 Beautiful backyard bird photos from Prince Albert, South Africa. Sunbirds, White-eyes and many more flocked to the Cape Honeysuckle flowers.
Arrange Your Travel Insurance
Get a quote from World Nomads – one of the best options for travellers. Find out why here.
Book Your Accommodation
We use Booking.com as we can find a variety of cheap and budget accommodation such as local guesthouses and cheap hotels.
We also use Airbnb – Get up to $90 credit for your first Airbnb stay when you use our Airbnb link 
Travel Gear and Accessories
We've been on the road for almost three years now and have added useful items to  our Lifejourney4two page on Amazon  
Car Hire
We use  Rentalcars.com to find the best car rental deals.
Motorhome/Van Rentals
if you are looking for a motorhome or van rental – we highly recommend the Motorhome Republic who can find the best deals worldwide.
Finding Activities to do
We use Get Your Guide and Viator to get ideas of what to do in a place – sometimes it's best to get tickets online and jump the queues.
Flexible Accommodation Options/ Or Finding someone to look after your pets
We often use house/petsitting as it really makes our travels much more affordable – as accommodation is FREE
Get 25% off  Trusted House Sitters by using our link here: Join Trusted House Sitters either as a house sitter or if you want to find a house sitter.
Photography Prints and Products
Shop our ETSY store for digital downloads of our best photos and our unique travel designed products.