Winter in Santorini
Santorini in Winter was all we expected and more … We'd heard that Santorini was something not to be missed; that it was breathtaking and a bucket list destination. It not only lived up to our expectations but because it was winter, we had this beautiful island almost to ourselves. 
It was December and our campervan Europe trip had taken us to Greece. As we were so close to the many Greek Islands, we decided to take a trip to the one we had heard so much about, Santorini.
We researched the suitability of the island for large campervans and it didn't look particularly suitable for motorhomes. Also, it was cheaper for us to fly and leave the campervan in Athens with Megaparking. 
The Benefits of Santorini in Winter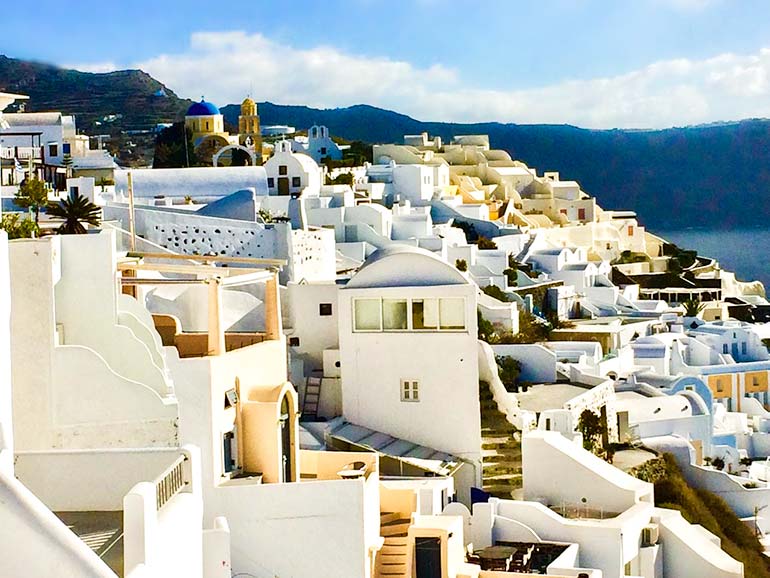 Oia, Santorini, in winter
If you want to visit Santorini to swim and sunbathe at its beautiful beaches and enjoy the nightlife, then a winter visit isn't for you. The weather is not guaranteed to be warm in winter and the nightclubs are closed.
However, if you are not concerned about those things then Santorini in winter is perfect because:
The cost of accommodation is far less in the winter months
The hordes of tourists that fill the island to the brim in Summer are relatively few
Exploring and hiking the landscape of Santorini is much more comfortable with the cooler weather.
The weather is relatively warmer than most of Europe
You can photograph Santorini's sights without hundreds of tourists in your shot
Car rental in Santorini is cheaper in the off-peak season.
Winter weather in Santorini
The average temperature in the winter months in Santorini ranges from a low of 10 to a high of 15 degrees C and the highest rainfall is in December. We were there for five days at the beginning of December and were lucky to have only one day of rain. The temperature also reached 18 degrees on two of our five days. Go here for more information on
Santorini weather.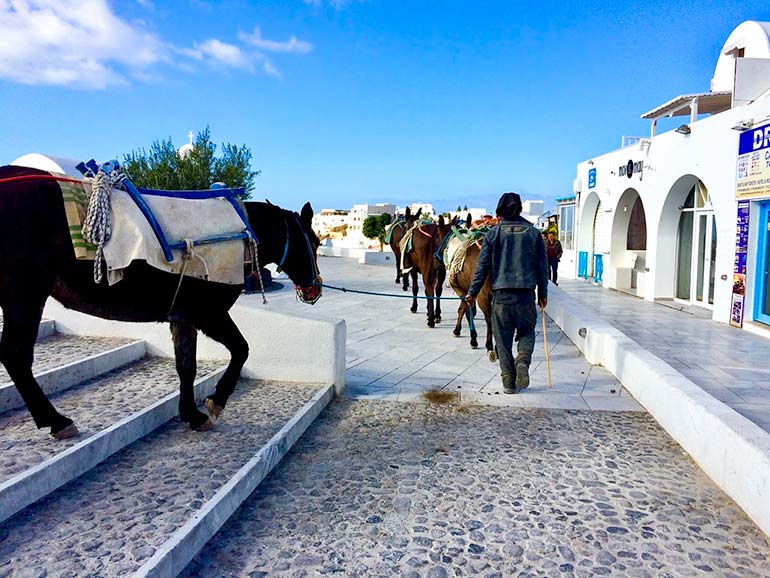 Beautiful sunny day in Oia, Santorini in December – work as usual for the construction worker donkeys
Does Santorini Shut Down in Winter?
The nightclubs are closed and some restaurants and hotels. However, due to the overcrowding of the island in Summer, more tourists are choosing to visit Santorini in Winter. As a result, more restaurants and hotels are remaining open to cater for the change.
Winter Transport in Santorini
The main bus system is run by KTel and each route runs directly from Fira, the capital of Santorini. To get to each town on the island you need to depart from Fira each time.
We wanted the flexibility to explore the Island in our own time and were able to hire a rental car for 25 Euro/day. Hiring a small car, gave us the opportunity to see the furthest parts of the island.
A three-day hire was the perfect amount of time for our five-day trip. It was a wise decision leaving the campervan behind, as our plan to tackle the little out-of-the-way places with their tight access ways, definitely required a small vehicle.
Things to do in Santorini in Winter
Map of Santorini and the places to visit.
1. Explore Imerovigli
The beautiful hotel 'Heliotopos', that we stayed in, was situated on the cliffs in the town of Imerovigli. It had superb panoramic coastal views both to the north and south.
The hospitality and the quality of home-made food were second to none, which certainly set the mood for our December visit to Santorini.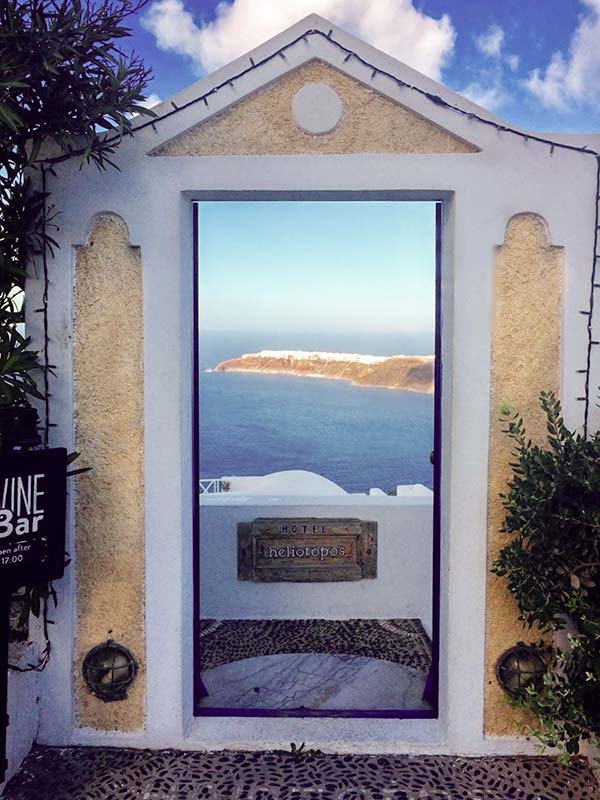 Entrance to Heliotopis Hotel in Imerovogli, Santorini
If you do not have a hire car, it would probably be more convenient for you to stay at a hotel located in Fira so that you have easy access to the local buses. Imerovigli is about half an hour walk from Fira.
Imerovigli is the most elevated town on the western side of the island, along the Caldera, (Caldera means crater). There are plenty of paths, alleys and stairwells to explore in this area with beautiful views along the coast.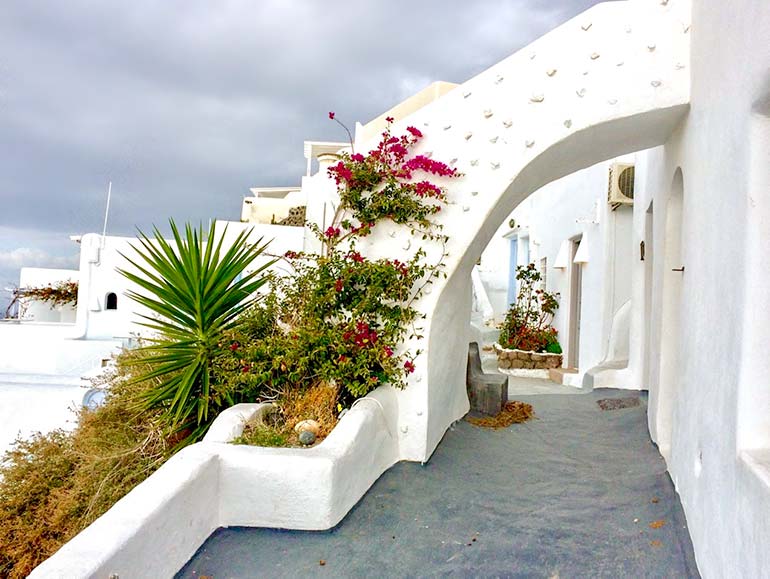 The pretty laneways of Imerovigli, Santorini
2. Explore Skaros Rock
Skaros Rock, a rocky protruding headland that used to be the medieval capital of Santorini, was walking distance from our hotel at Imerovigli.
It was an easy downhill descent to 'the Rock'. However, remember to keep enough fuel in the tank for the steep ascent on the way back.
The medieval town of Skaros was built around Skaros Rock and it used to be densely populated. However, due to earthquakes the people gradually drifted away to take up residence in Fira, the current capital of Santorini.
We walked to the far side of the rock and we were pleasantly surprised to find a remote chapel. The Chapel of Panagia Theoskepasti faces the horizon and is tucked completely out of sight from the mainland.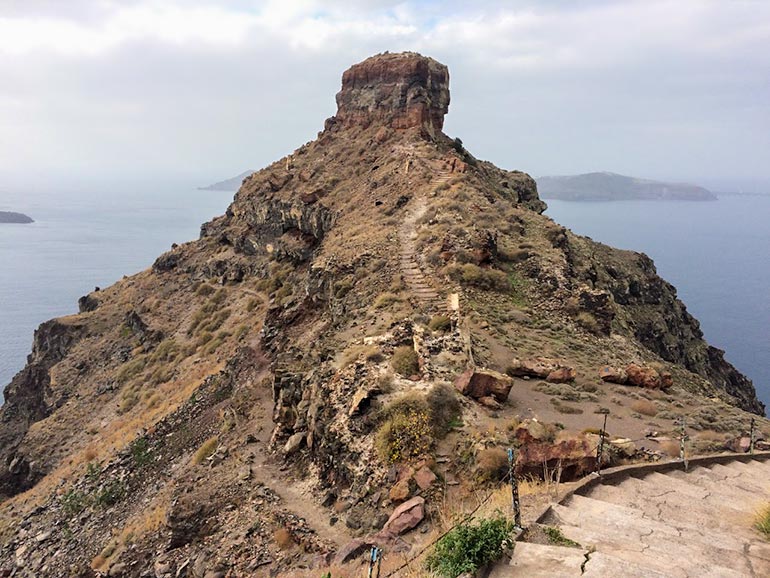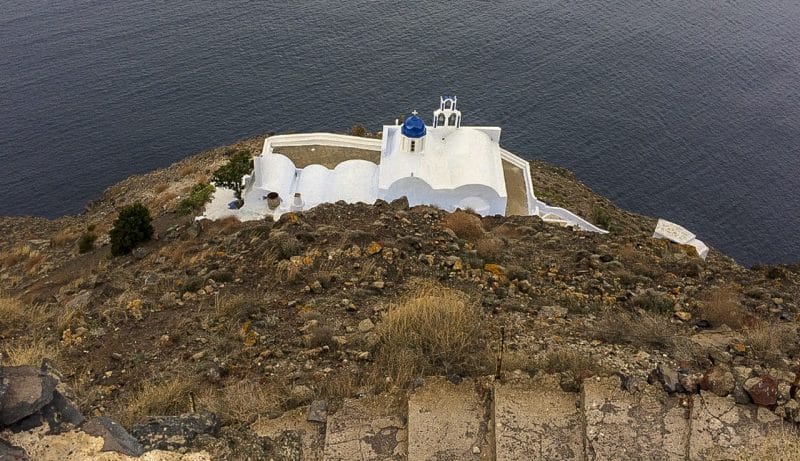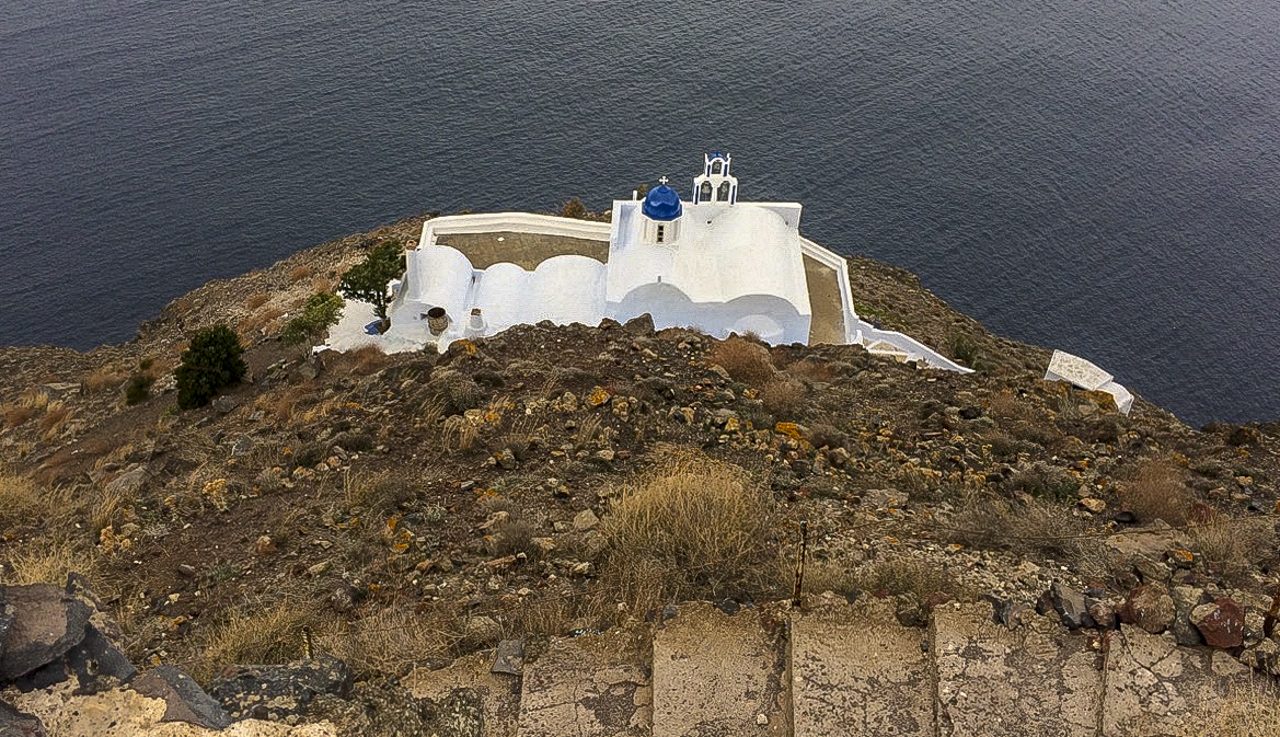 The Chapel of Panagia Theoskepastion Skaros Rock, Santorini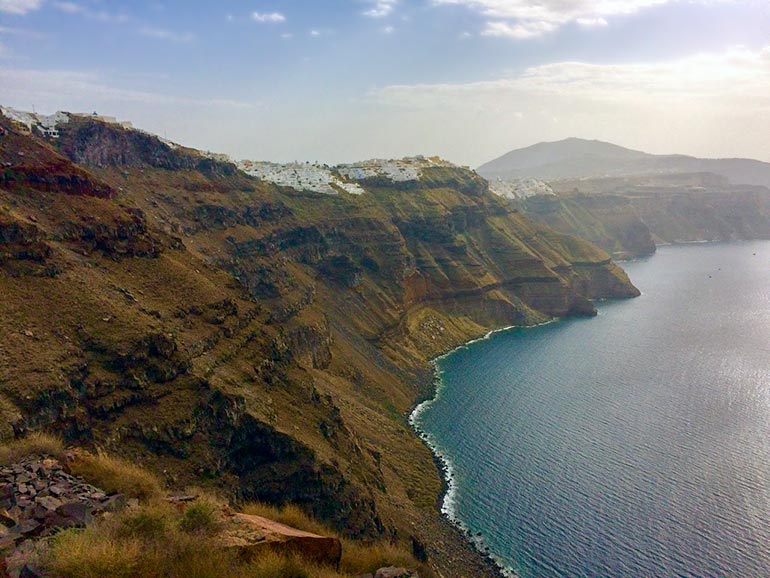 View of  white cliff top villages of Santorini as seen from Skaros Rock
3. Visit Oia
On the day we drove to the renowned town of Oia, the sun shone and it was a perfect 18 degrees C. To walk among the picture-postcard iconic blue and white buildings of Oia that we had seen in so many magazines and online was surreal, especially given that they were missing the crowds.
It was captivating wandering through the winding walkways, all the time surrounded by vivid whitewashed limestone buildings with their bright blue trappings. This was something special. No doubt about it – it was hard not to nail a half decent shot!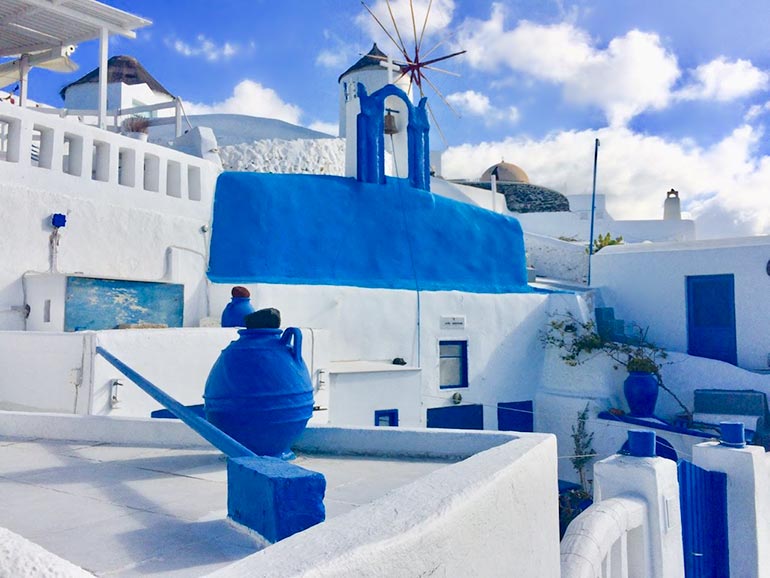 Oia with its iconic blue and white buildings of Santorini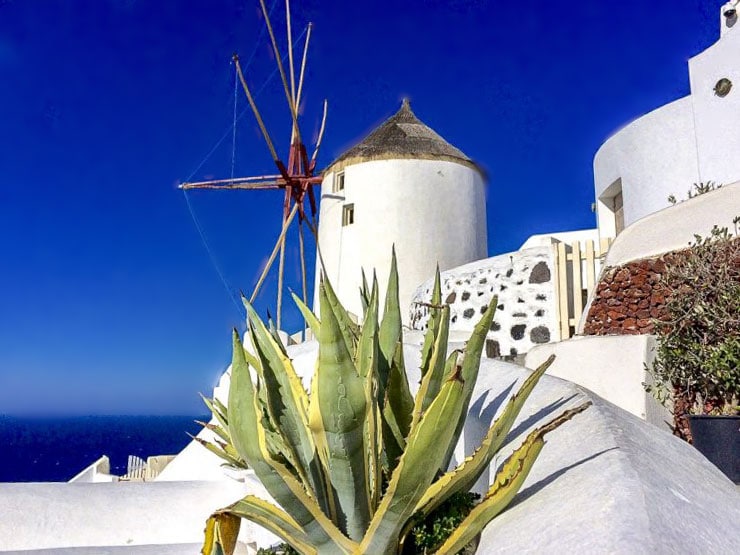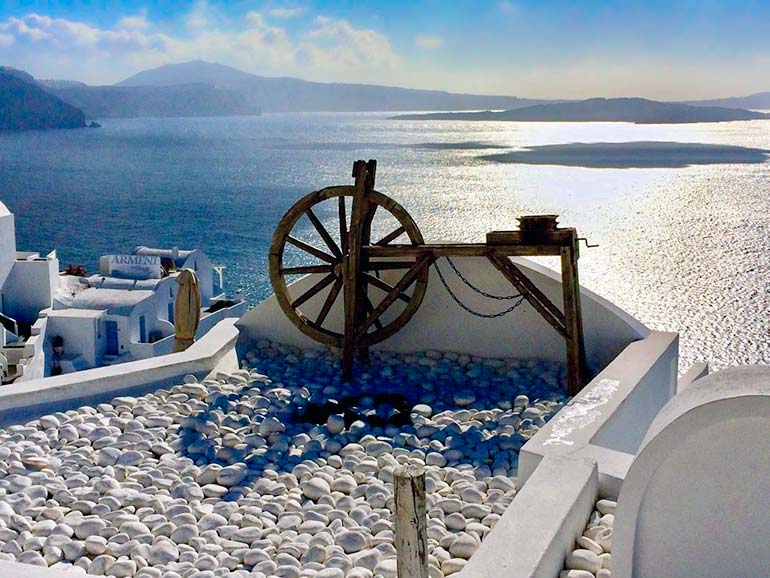 View out to sea at Oia, Santorini 
During our walk around the many winding pathways of Oia, we heard a raised voice and clacking of hooves.
Eager to investigate, we rounded the next bend and saw about ten donkeys ascending the paved steps. They were loaded heavily with stones for the nearby building works.
Donkeys were definitely the preferred mode of transport for these steep cliff pathways as there was no way a motor vehicle could fit. Over the next few days, we realised that it was common to see a procession of these untethered loaded donkeys, each following the next in single file, on their way to a job site.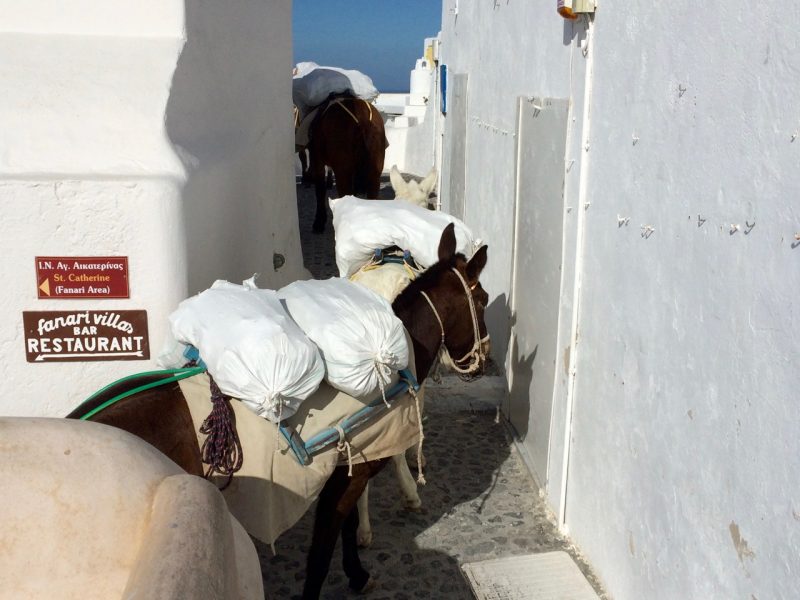 Donkeys laden with stones for building construction in Santorini in winter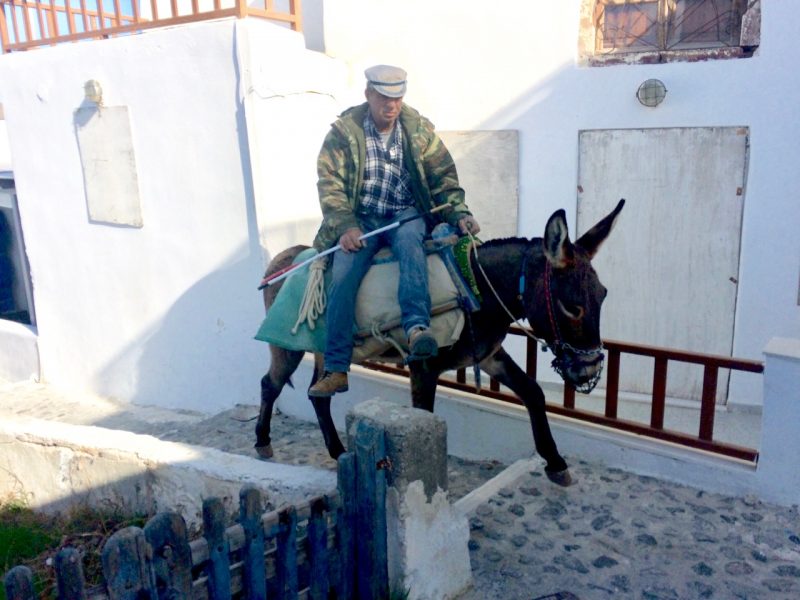 4. Visit Atlantis Bookstore in Oia
Atlantis Books was listed on the number one spot of the National Geographic top bookstores in its book Destinations of a Lifetime.
Entering this cave-like store, you can smell the musty history of the precious treasures within. If you love reading and getting lost in the shelves of quirky bookstores this is the place for you.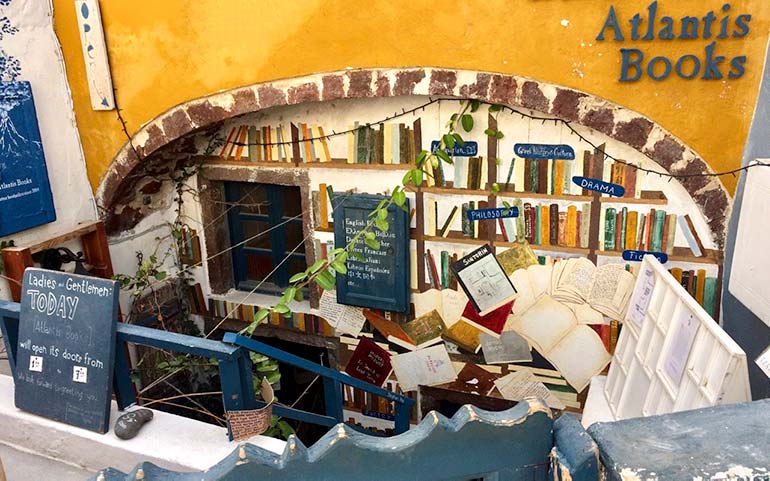 Atlantis Bookstore in Oia Santorini
5.  Search for Santorini's Hidden Geocaches
Geocaching is great to do while travelling, as the hidden spots are often in places that the locals know about but aren't advertised as tourist spots.
One of our geocache locations took us to an old abandoned school built into a hill at Vothonos. Surprisingly there were still the old school tables and chairs in place.
Vothonos old school built into a hill in Santorini
One of the many beautifully kept Greek Orthodox churches in Vothonos, Santorini
6. Pyrgos
Pyrgos is about 7km from the capital Fira and has the meandering cobbled laneways and steep steps that are so representative of Santorini.  At the highest point on Pyrgos, you'll find the ruins of the castle, destroyed by an earthquake in 1956. From here you can enjoy uninterrupted views across to Fira and Oia.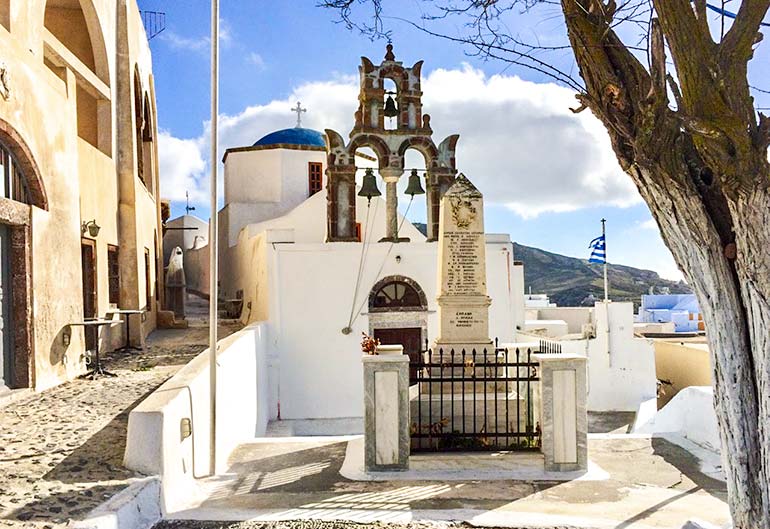 Church of Aghios Nikolaos, Pyrgos, Santorini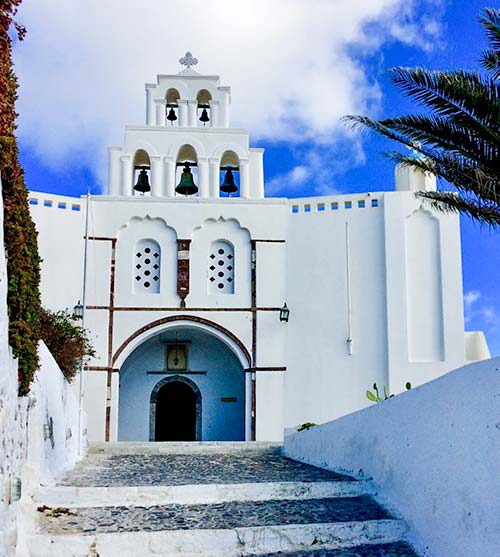 St George Church, Pyrgos Santorini
7. Perissa Beach
Take a walk along the dark volcanic sands of Perissa Beach and watch the sunset turn the rocks to gold.
Perissa Beach Santorini – winter views without the crowds
8. Meso Vouno Mountain
Head up the winding drive to stop near the top of Mesa Vouno Mountain. This is where the Ancient Thera ruins are found. From here, you have fantastic views of Kamari Beach.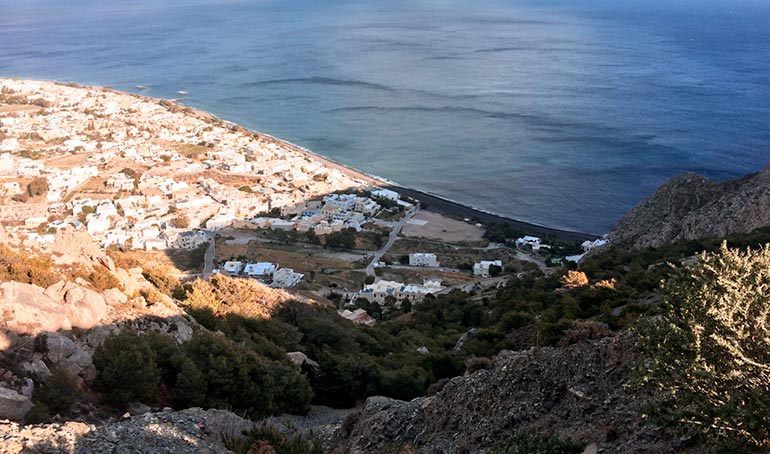 View of Kamari Beach, Santorini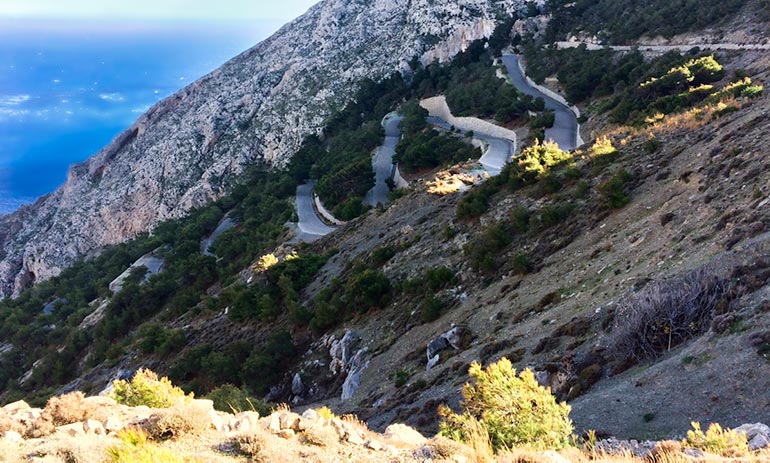 Windy road up the Meso Vouno Mountain
9. Visit Akrotiri Lighthouse
You'll find the pretty Akrotiri Lighthouse at the southernmost tip of Santorini. It was a picturesque scene. The land fronting the lighthouse gently falls away into the sea and the nearby hills stand watch from above.
Here great views of the island's western coastline and headlands could be seen, accentuated by the townships of whitewashed buildings along the cliffs.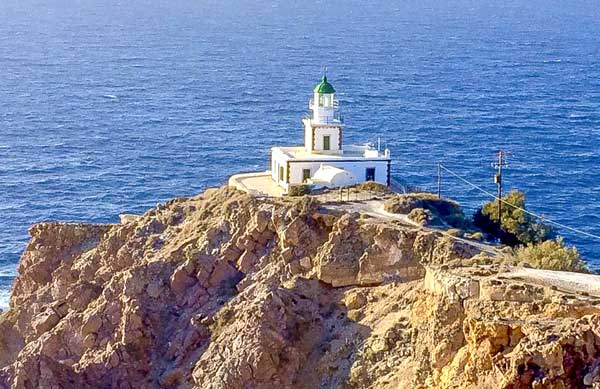 Akrotiri Lighthouse in Santorini
Back to Campervan Life
All too soon, our five-day, wonderful winter visit to Santorini drew to a close. It was nice to have a small hiatus from the van but to be honest, we were quite looking forward to getting back to our home on wheels. It certainly feels like 'home' even though it is rarely in the same place for more than a few days on our year-long Europe Campervan Trip.
Campervan Parking
We left the van near Athens airport in Megaparking and booked
online via Parkcloud.
Santorini Car Hire
Car Rental
: We managed to get a small runaround for €25/day.
Santorini Accommodation
We found a fantastic winter deal at the 
Heliotopos Hotel
, Imerovigli, – a fantastic boutique hotel that we found absolutely wonderful. The staff could not do enough for us and were extremely helpful.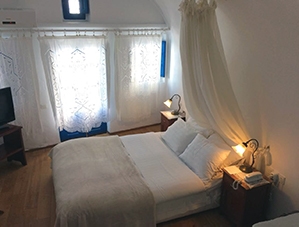 Located at the highest point of the caldera, Heliotopos is a boutique hotel built in the traditional dome style. It offers uniquely decorated rooms with private balconies overlooking the volcano. Rated 9.2
Would love to hear your thoughts on Santorini or any tips you may have when visiting. Leave a comment below 🙂
If you enjoyed this post why not Pin and Save for later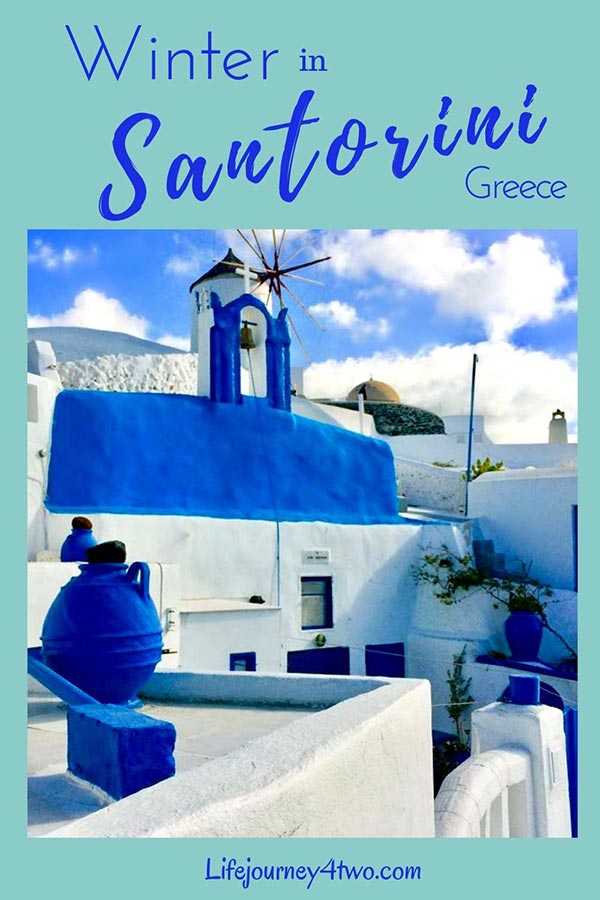 This post may contain affiliate links. This means that we may earn a small commission from purchases you make through our links, at no extra cost to you. Thank you for supporting us. For more info, read our Disclosure Policy.
You may also be interested in reading:
Arrange Your Travel Insurance
Get a quote from World Nomads – one of the best options for travellers. Find out why here.
Book Your Accommodation
We use Booking.com as we can find a variety of cheap and budget accommodation such as local guesthouses and cheap hotels.
Travel Gear and Accessories
We've been on the road since 2017 and have added items we've found useful to our Lifejourney4two page on Amazon  
Car Hire
We use  Rentalcars.com to find the best car rental deals.
Motorhome/Van Rentals
If you are looking for a motorhome or van rental – we highly recommend the Motorhome Republic who can find the best deals worldwide.
Finding Activities to do
We use Get Your Guide and Viator to get ideas of what to do in a place – sometimes it's best to get tickets online and jump the queues.
Flexible Accommodation Options/ Or Finding someone to look after your pets
We often use house/petsitting as it really makes our travels much more affordable – as accommodation is FREE
Get 25% off  Trusted House Sitters by using our link here: Join Trusted House Sitters either as a house sitter or if you want to find a house sitter.
Photography Prints and Products
Shop our ETSY store for digital downloads of our best photos and our unique photographic designs.