Campervanning in Italy: Everything you need to know
Lured to Italy by the romantic visions of Tuscany, ancient Roman ruins, renaissance architecture and its famous fine arts, as well as the promise of a slice, (or ten) of authentic pizza, lashings of pasta carbonara and several scoops of gelato –  we set off on our campervanning in Italy trip.
This article covers pretty much everything you will need to know travelling Italy by campervan.
It includes:
 An interactive Italy by Campervan map,
Suggested itineraries including both the North and South of Italy (inc. Sicily),
Campervan and motorhome campsites,
Ideas for places to visit as you travel Italy by campervan
Campervan driving tips in Italy and
Plenty more to help you plan your own Italy campervanning trip.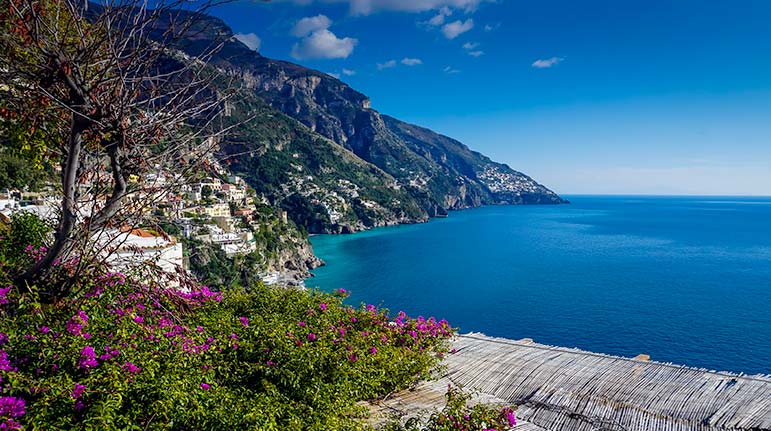 Planning your Italy Campervan Road Trip Route
There are so many places that you could visit in Italy but unless you plan on campervanning for years in Italy then you won't get to see them all.
We've included our itinerary as a guide to what you can see as you embark on your Italian campervan trip. This can be used to help you plan your own route. You may like to skip some sights, deviate to other towns and change the visiting order when planning your own Italy by campervan trip.
You might also find that you change your mind en route – that is half the fun sometimes – making it all up as you go along. We had a route planned for our Italy campervanning trip but took a detour to Croatia in the middle of it all!
Therefore you may like to note that after Rome we headed to Ancona and caught a ferry to Croatia,  did a detour back to Venice from Slovenia a few months later, and then a few months on again we arrived back at the ferry port of Bari, Italy (arriving from Greece), to complete our south Italy road trip in the campervan.   
That is one of the many joys of having your home with you – you have much more freedom to change your travel plans.
Things to also consider when planning your campervanning trip in Italy:
The high season in Italy sees mass tourism, so expect the major towns and cities to be packed. We were in Northern Italy mid to late May and the crowds were already building.
If you are hiring your motorhome – where is the best place for you to collect your campervan? It might be worth hiring from a different country and driving to Italy.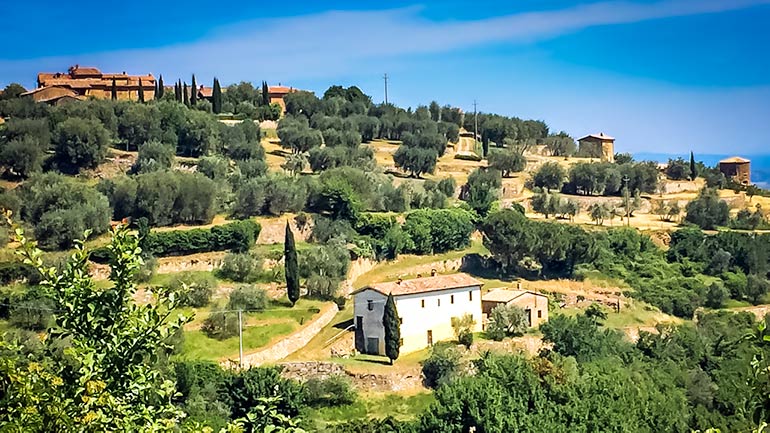 Where Can You Camp When Campervanning in Italy?
We used the
Camper Contact app
 (about 6 euros/year) when travelling through Italy to find our campervan overnight spots. They have over 4700 campervan parking and motorhome service areas listed. Italy has lots of 'Area di Sosta', which are dedicated motorhome parking areas. Some are free, while others charge a fee for a 24 hour stay. Most of them have facilities for emptying waste-water and the toilet cassettes, and freshwater and rubbish facilities. To help with your planning – we've included all of our campervanning overnight stops for our Italy Motorhome trip.
Can I wild camp In Italy?
Each area in Italy has their own regulations, but in general, it is illegal to wild camp in Italy. However, in rural areas, it may be worth asking the municipality or locals as to whether you can park for the night.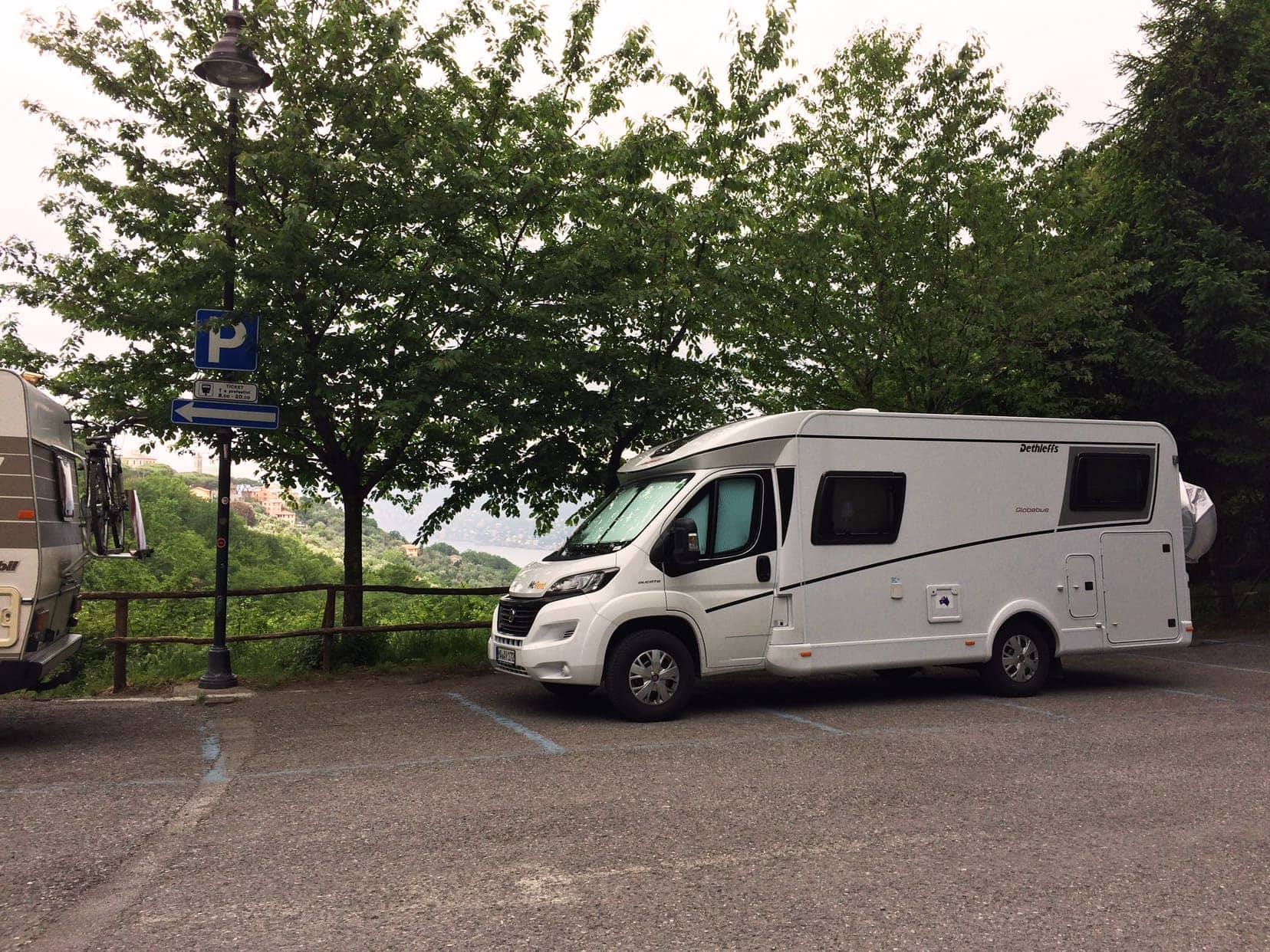 Our campervan parked in San Rocco near Portofino, Italy
Motorhome Rental in Italy
We recommend Motorhome Republic – they can search for the best deals for you with various pick-up points and countries. When we used them they were incredibly helpful and we saved more money going directly to them rather than to individual rental companies. Also, remember to check as to what campervan accessories come with the motorhome and whether they are included in the price.
For more information on and details of how and why we hired a Campervan for our Travels in Europe  – check out our CAMPERVANNING IN EUROPE article.
Italy by Campervan : Overview
Summary of places to visit on your campervan trip through Italy, (all are covered in more detail in the post – click on a place to find it in the post):
How to Use This Campervanning in Italy Map
To use this map, expand it using the square symbol on the top right-hand side and you will find the key on the left-hand side. By clicking each location you will find extra information. For example, each Campervan overnight stops on the map has the web link to Camper Contact where you can see the facilities available, price, opening times, and useful user reviews on each campsite.
The campervan/motorhome overnight stops are marked with an orange circle with a motorhome icon and the places we visited are marked with purple icons.
Stops You May Like to Include on Your Italy Campervan Road Trip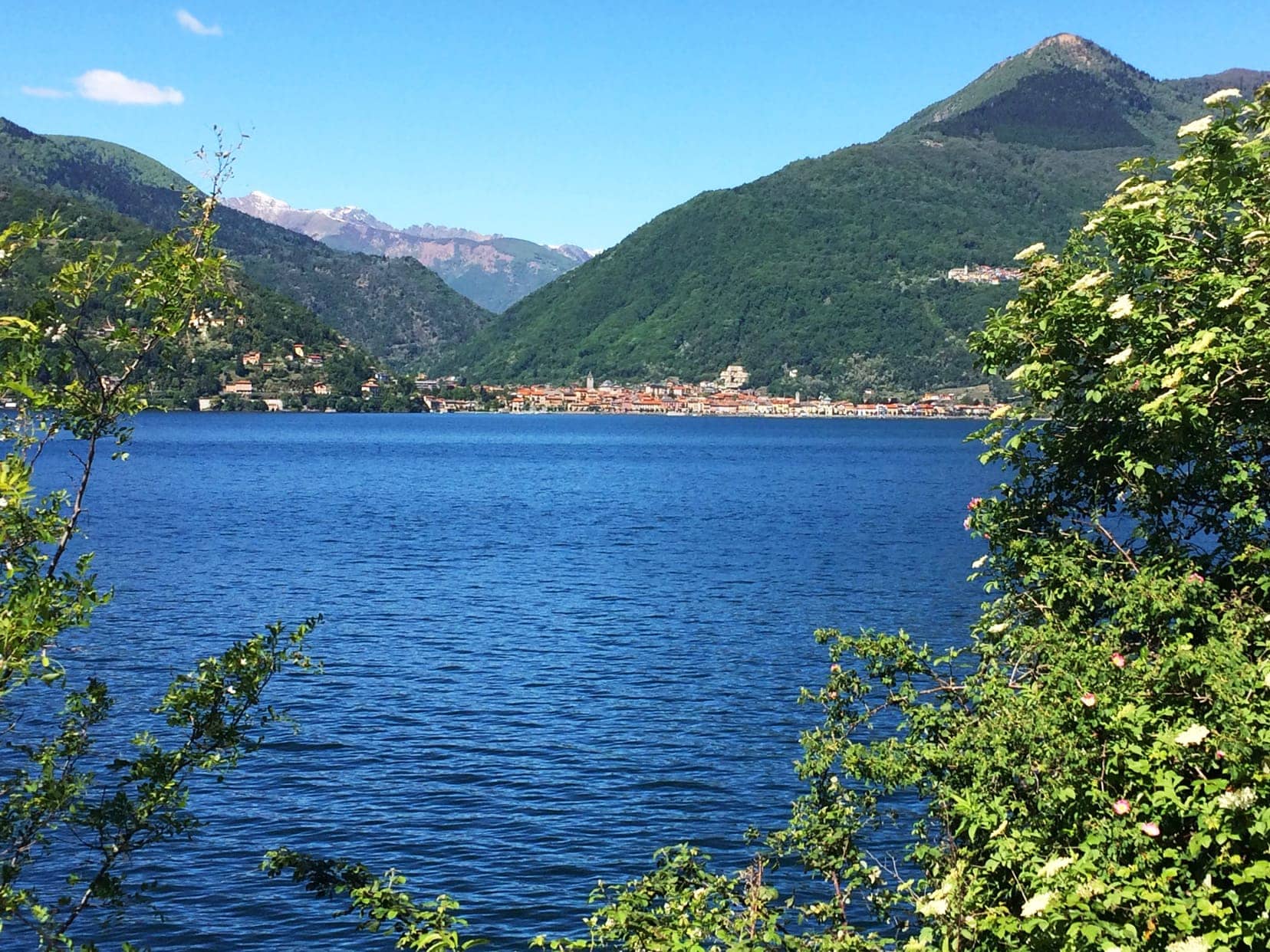 The first stop on our campervanning trip in Italy was Lake Maggiore in Lombardy, one of the three main Lakes in the Italian Lake District and the second largest after Lake Garda. Lake Como is the third main lake in the area.
I  visited Lake Como and Garda many years ago, and would definitely recommend a visit there if you have time on your motorhome trip in Italy. You can see on the Map that they fit nicely into an itinerary if you decide to go east towards Venice.
All of the lakes are beautiful and have many pretty towns along with stunning mountain scenery.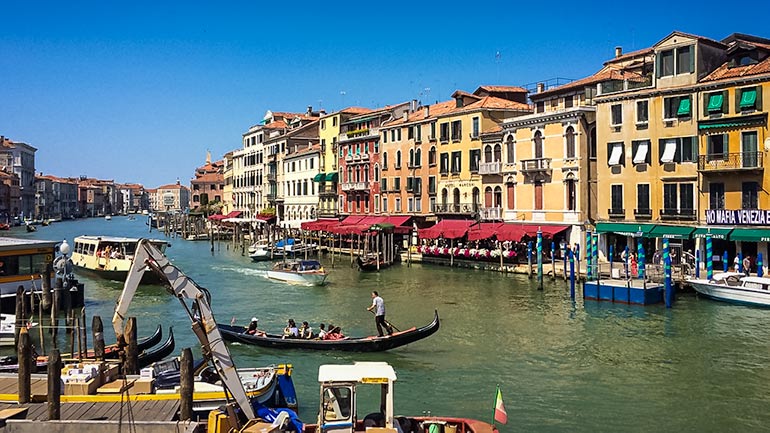 I doubt whether Venice needs much of an introduction – but be mindful that it can be extremely busy in summer. Our campsite was in the perfect location, quiet and away from the hustle and bustle on the opposite shoreline, but was within easy access of a passenger ferry across to Venice.
We took a ride on a gondola in Venice – I'd visited over ten years ago, and decided it was too expensive but had regretted that decision. This time I made sure it happened. We budget carefully on our travels but we have also learnt that if it is something we have always wanted to see or experience – then it is often worth paying, to avoid later regrets. 
The gondolier was a little grumpy and it wasn't quite as romantic as I had envisioned – maybe it was the lack of romantic background music and many motorboats chugging by that put a slight crack in the ambience;)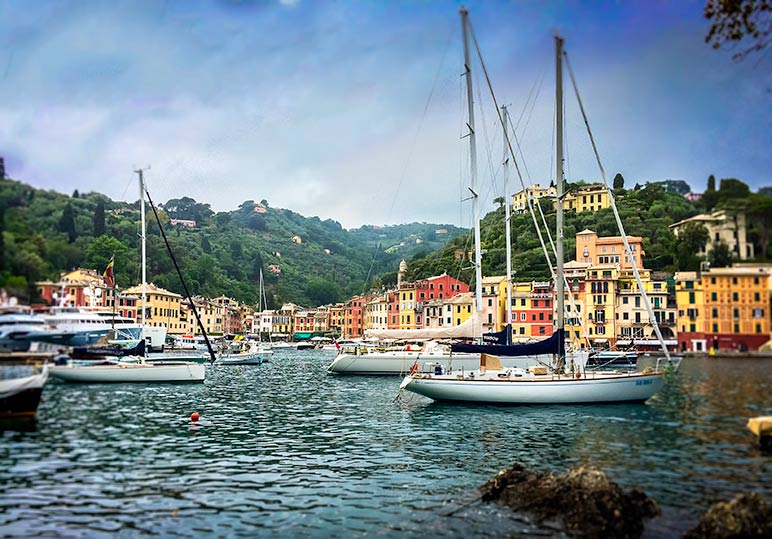 The San Rocco Parking overlooks the beautiful Liguria Coastline and the pretty port of Portofino is just around the corner. You can walk there along cobbled lanes and woodland — it takes about 2 hours and just near the end you get a breathtaking view of Portofino Harbour.

View of Portofino from above 
We had our first sampling of Spaghetti Carbonara in Portofino (a treat as we normally buy and cook in the motorhome) and also learnt that the restaurant's charge a 'pane e coperto'  and a 'Servizio' on top of your food bill.
The coperto is basically a cover charge per person for sitting at the restaurant and using the cutlery and for the bread the waiter brings ( Still payable even if you don't want bread). The service charge is also added on top.  For an interesting read on more dos and don't when eating in Italy check out this post.

Vernazza, Cinque Terre, Italy
Getting to Cinque Terre from this campsite was easy. Catch the "S" bus to Stazione Centrale ( Central Train station) and there you can buy your 'Cinque Terre' card which gives you multi trips on the La Specia to Levanto train line. This means that you can get the train to each of the 5 Cinque Terre centuries-old towns. There is also a coastal path between them and depending on weather conditions and renovations at the time, you can walk between the towns. The five towns of Cinque Terre are; Monterossa al Mare, Vernazza, Corniglia, Manarola and Riomaggiore.
Although some of the towns were beautiful and the walks between them gave great views overhead, the towns were very commercialised which tends to detract from their beauty. Locals advised us to avoid Cinque Terre on the weekend, which is a good tip for your Italy road trip. 
Lucca
Lucca is a beautiful walled city in Tuscany. In fact, you can cycle along the 4km perimeter of these 16th and 17th-century ramparts, which we did. There are bikes for hire if you don't have your own.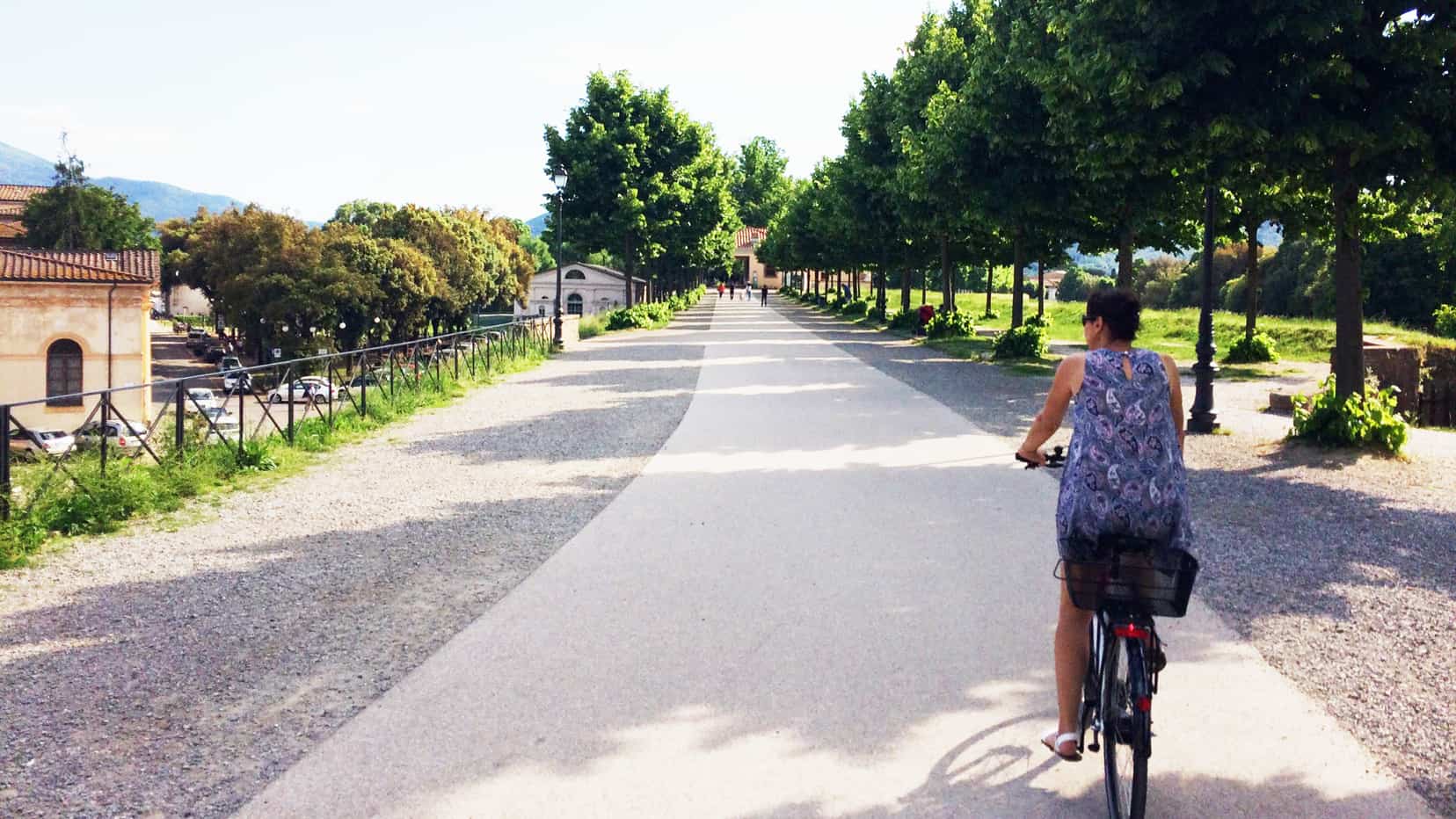 Florence
Florence was our favourite large city that we visited while campervanning in Italy. The ambience was upbeat and the setting and beauty matched everything we had heard and seen of this renowned city.
Our first stop was the Duomo Santa Maria del Fiore – a huge cathedral that dominates Florence with its enormous iconic red dome. Beside it is the Campanile Bell Tower, with a 444 step climb to the top. Although you're likely to be a little breathless, the view from the top is stunning.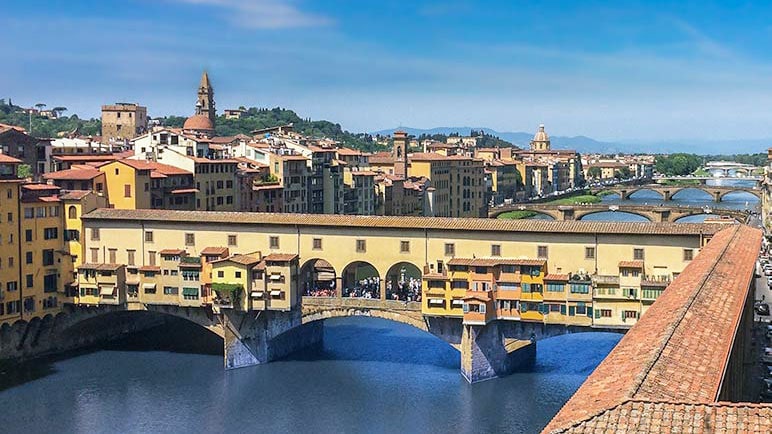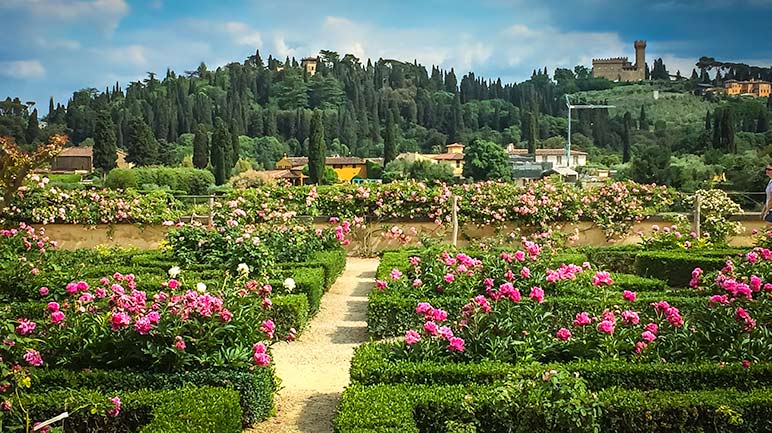 We spent two days exploring Florence but could have easily spent more time there. These are a few of the attractions we'd recommend:
Visit the famous Ponte Vecchio and its jewellery shops – the bridge makes for a great photo opportunity.
Uffizi Gallery – houses some of the greatest Renaissance art
Museo Galileo to get your fix of clocks, microscopes telescopes, thermometers and terrestrial and celestial globes galore.
And my favourite – Boboli Gardens. Full of statues, sculptures, fountains, several rose gardens and a terrace with spectacular views across the surrounding Tuscan landscape.
The Florence (Firenze) Campervan parking is only about 1km from the centre of Florence, but is not within the ZTL Driving Zone. It's, therefore, the perfect place to park and walk into Florence.
Certaldo
About 35km from Florence, you'll find this small, photogenic traditional hilltop Tuscan town. It has gothic 14th-century arches marking the entrance and at the end of the main street is an impressive Palazzo del Pretorio decorated with many coats of arms created by the master craftsmen of Florence.  We sat at the top with local pastries taking in this view.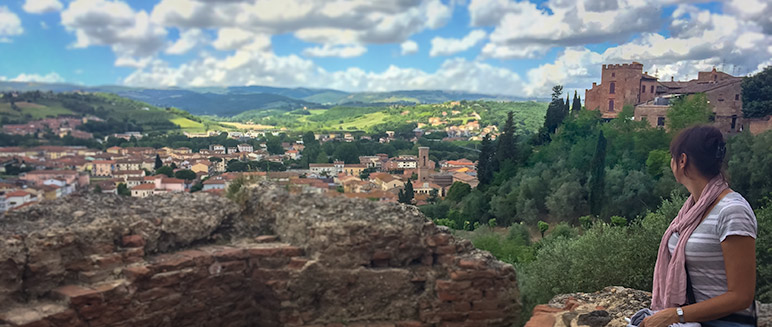 View of the surrounding countryside and Certaldo Castello 
Siena
We'd heard that Siena was a spectacular medieval town and our expectations were high. However, even though it is a UNESCO World Heritage town, Siena and its main square, Piazza del Campo, failed to impress. Perhaps we didn't see it in its best light, but it was full of tourists and we found it drab and uninteresting. In our opinion, there are plenty of other far nicer hilltop Tuscan towns to visit. You may feel differently though, as many tourists travel here and sing Siena's praises.
The one thing that did impress was Siena's Cathedral and its façade, completed in 1380.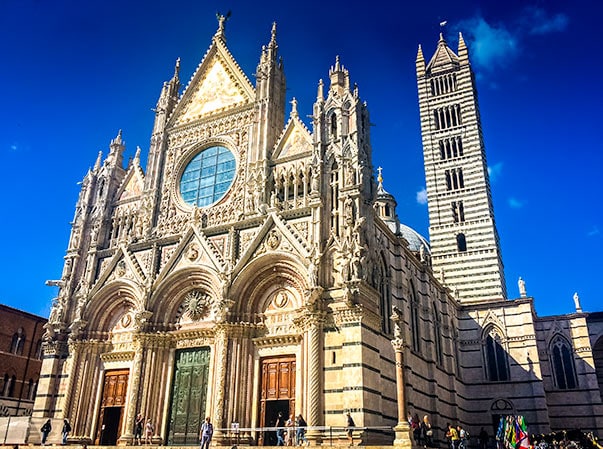 Montalcino
The drive to Montalcino takes you through gorgeous Tuscan scenery. This picturesque town is known for its Brunello di Montalcino wine. Unfortunately, as with so many of Italy's pretty, well-known towns – it is quite touristic. There are plenty of wine cellars to sample the local wines and a wander around the medieval, cobbled streets takes you back in time. 
The views across the Val d'Orcia are magnificent and you can see why Montalcino and the surrounding area is listed as a UNESCO World Heritage site.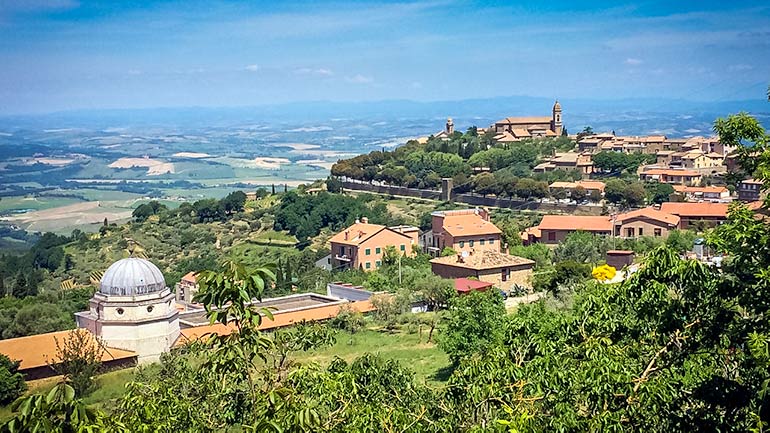 Orvieto
Another hilltop town, this time in Umbria, with the iconic Cyprus trees dotted around in the landscape.
There is a large car park at the foot of the hill and you can then use an elevator to the old town on the hilltop. The Orvieto Cathedral is the centrepiece of this majestic town and is certainly an impressive sight.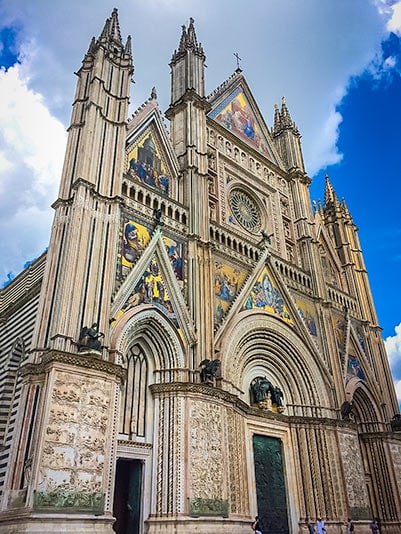 Rome
Rome is one of the cities that is often on the itinerary of anyone motohoming in Italy. We would recommend that you avoid driving into the city and find a campsite on the outskirts.  
Arriving at the campsite, only 5km from the centre of Rome, we rested up ready to hit Rome the next morning. The campsite was quiet and grassed. 
We booked our entrance ticket to the Vatican online to save time queueing. Being near the end of May the tourist season was well underway.
Getting into Rome was easy from this campsite. You take a tram to the train station and then take the metro to the Vatican or whichever stop you want to explore first. Once near the Vatican, we were stopped by several very persistent hawkers trying to get us to upgrade our tickets to a guided tour, which we didn't want.
The experience of walking shoulder to shoulder through the museum with groups of guided tours wasn't exactly pleasurable. The experience, especially in the Sistine Chapel wasn't at all how we had envisaged our visit – hundreds of visitors packed into the room with loudspeakers forbidding the taking of photos.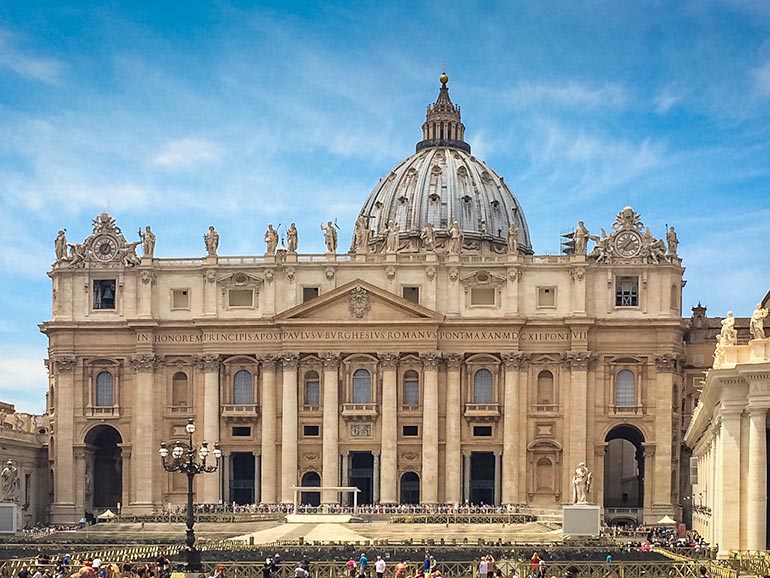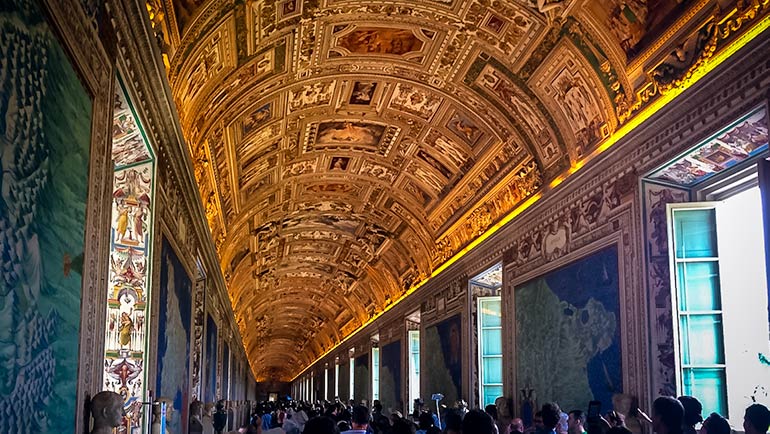 To be honest, it was a relief to leave and to get out into the fresh air as we headed to St. Peter's Square. All the while hawkers pestered us and our romanticised image of Rome was diminishing quickly. The Spanish Steps did little to save the day, but the Trevi Fountain wowed and amazed, allowing Rome to recoup some of its lost charms.
We suggest visiting this renowned city out of peak tourist season, because there are many  beautiful reasons to visit Rome.
[It was at this point we left Italy and headed to Croatia and Eastern Europe – coming back to Italy to continue our Campervanning Italy trip in the winter in early January.] 
Another place often high on an itinerary wish list while on an Italy campervan road trip is Naples.  
We arrived in the city, full of excitement, with planned stops at Mt Vesuvius and Pompeii. Fire and brimstone lay ahead. Visiting the top of Mt Vesuvius at 1280m above the Bay of Naples had been on our bucket list for some time.
Even though the volcano last erupted in 1944, it is still considered an active volcano. If you visit in winter, factor in that it is likely to be very cold at that altitude – even if it is warm in the bay below. We hadn't considered that and we were freezing up there.
We had envisaged lava spurts, bubbling mud and drifts of sulphurous fumes. However, we soon saw that we had none of that. It was a dry, inactive crater and the closest thing to sulphurous fumes were the low clouds hovering in and out of the crater. Nevertheless, it was still impressive, with a diameter of 700m and a depth of 200m.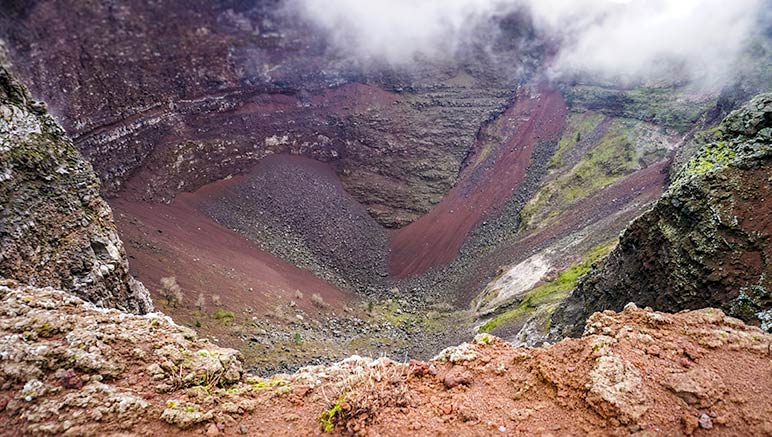 A dry Mt Vesuvius crater but is still considered an active volcano
Getting to Mount Vesuvius
We decided to take public transport to Mount Vesuvius as it isn't too easy navigating the narrow windy roads. We left the camper at  Estatico Campsite and walked 15 minutes to the Portici Bellavista train stop. There, we caught the Circumvesuviana train to Ercolano Scavi at a cost of €1.30 per person, one-way. On arrival at Ercolano Scavi, look for the Travel kiosk to buy tickets for the bus and volcano entrance. The bus trip from here took about 45 mins to arrive at Mount Vesuvius.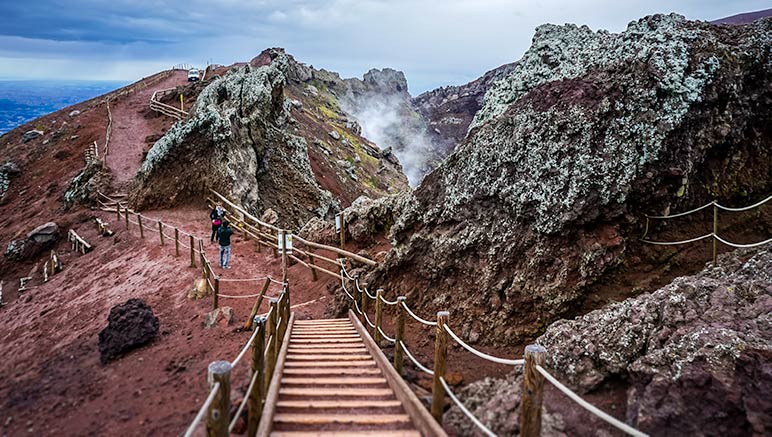 The pathway around the crater edge. The landscape looked a little like Mars.
Driving south from Naples towards ancient Pompeii, we found a camper stop,
Camping Spartacus
. It was perfectly situated right opposite the ruins. Locking up the campervan, within a few minutes we were at the ruins entrance parting with €13 each. Luckily, with it being January we walked the Pompeii streets with only a few other tourists.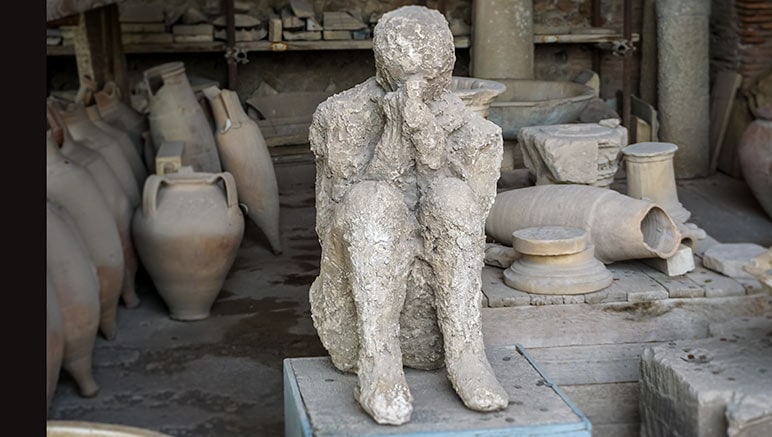 Cast of a body found in the Pompeii ruins
In AD79, after the eruption of Mt Vesuvius, the town was buried and the remaining inhabitants of Pompeii perished under tonnes of ash and mud (4 to 6 metres deep). Most of the town's inhabitants (estimated at 18,000 people), had already fled at the first sign of eruption, leaving about 2000 people still in Pompeii when Mount Vesuvius blanketed it with ash.
 After walking around this ruined city you are left with a real sense of what life must have been like in early Roman times. Ancient Pompeii ranks as one of the must-see places in Italy. Definitely a remarkable and memorable experience.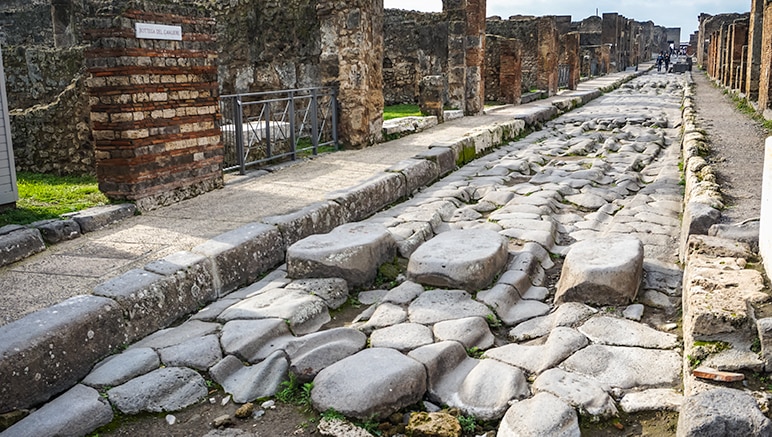 Typical stone road in Pompeii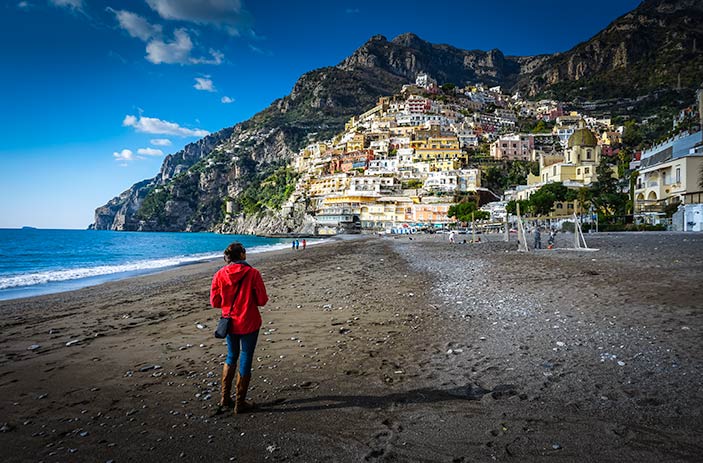 Walking down Positano's Marina Grande Beach looking back to Positano
When we were there, it was illegal to drive motorhomes on the Amalfi Coast until after 10 pm at night. The roads are just too narrow and winding – only experienced licensed bus drivers can take this route.
We left the campervan at Spartacus Camping in Pompei and took a train from Pompeii's Savi-Villa dei Misteri station south to Sorrento's Stazione Ferroviaria di Sorrento station (on the Circumvesuviana route) at a one-way cost per person of €2.40. Once at Sorrento, at a kiosk outside the train station, we bought two all-day return Sorrento-Positano-Amalfi bus tickets at €8 per person.
The bus ride to Positano was nothing short of spectacular. Make sure you get the window seats closest to the coastline. The winding roads offered magnificent views of the coast. These bus drivers are professionals – shaving the stone walls in the turns with just centimetres to spare was no mean feat.
Although we could have bussed all the way to the town of Amalfi, we decided to break the journey at Positano and enjoy the town whilst the sun was out. The bus dropped us at a stop on the main road above the town which was also the return pick-up point.
Sorrento
From Positano, you can continue to Amalfi, however we returned to Sorrento  and the return bus trip provided breath-taking views of the coastline from a different perspective. And again, just amazing.
Disembarking at Sorrento, we walked through to the 'old town' along the pedestrian-only access walkways. Just be aware that you do get to share these with the odd motorbike. It really did have that 'old town' vibe to it, plus that expected touch of Sorrento chic. 
Our wanderings took us past the 'Queens Chips  – Amsterdam' and with mouths watering, we parted with a handful of euros and walked away with chips and curry sauce – perfect sustenance for a cold afternoon. We sampled some free Limoncello and Meloncello both of which were tasty and packed a pretty punch.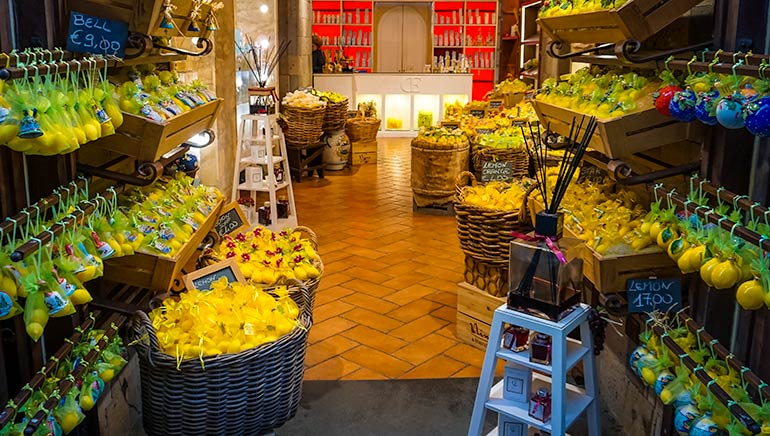 Lemon products are everywhere in Sorrento
It was fast approaching 5 pm so we headed back to the Stazione Ferroviaria di Sorrento train station, heading towards Pompeii. Within the hour we were back in the campervan reliving the fantastic day spent along the picturesque Amalfi coast. 
It was also good not to have driven it in our campervan and to leave navigating the narrow winding streets to the experts. We would highly recommend not driving a motorhome on this part of your Italy campervan road trip. It's much more relaxing appreciating the views when you aren't worried about heading off the side of a cliff. 
Matera and Alberobello were two of our favourite Italian towns that we visited while motorhoming in Italy.
Matera is a UNESCO World Heritage site and is built on the side of the vast Matera Gravine. The old town is full of the ancient Sassi (caves) built into the side of the vast Matera Gravine. It is an incredibly interesting city and one that is sure to leave a lasting impression.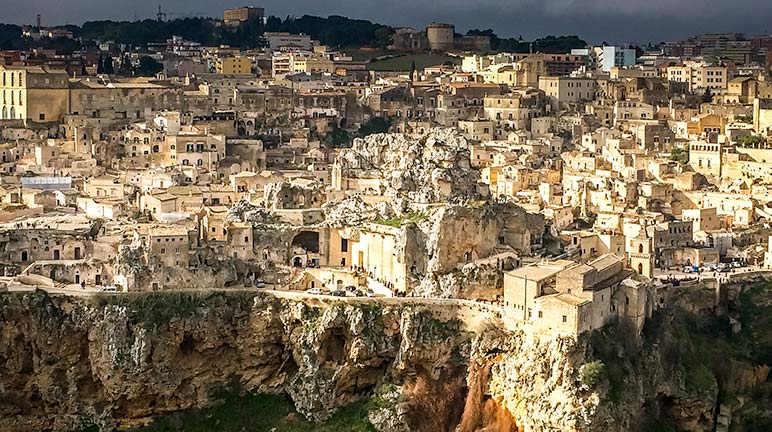 Alberobello
Alberobello, just an hour or so drive from Matera, is another town not to be missed on your Italy trip. If Matera leaves a sombre feel then Alberobello will lift you with its enchanting Alberobello Trulli. These tiny dwellings with their cone-shaped roofs look like something straight out of a fairytale.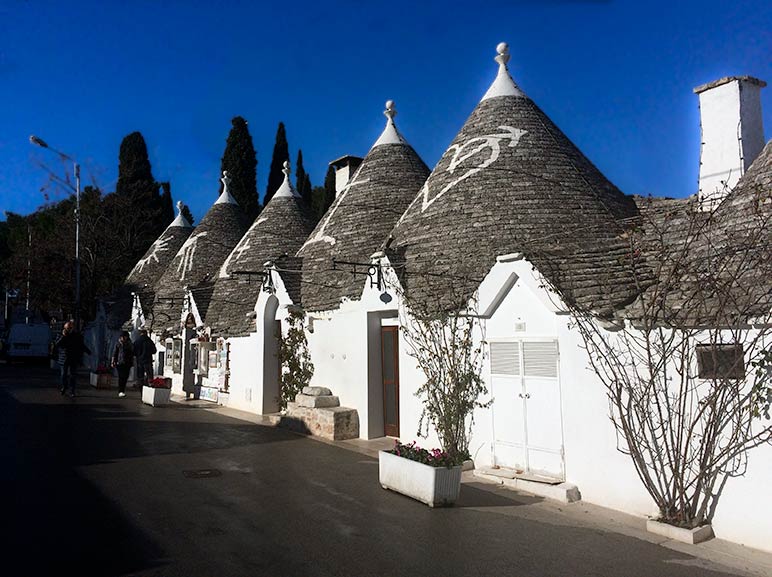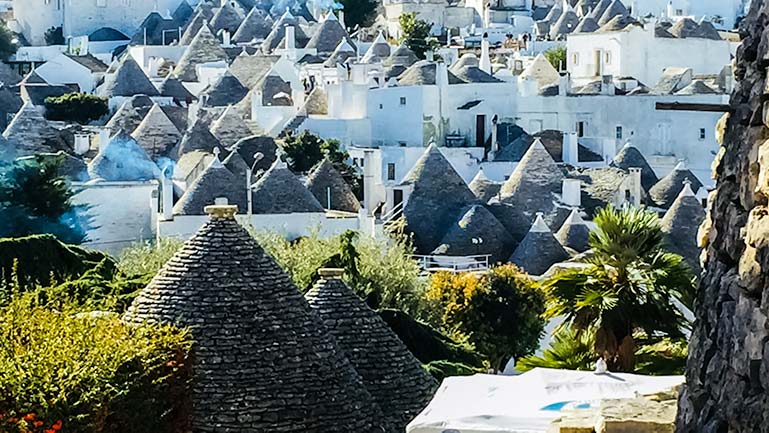 Sicily
Our final stop on our campervanning in Italy trip was the island of Sicily, just off the 'toe' of Southern Italy. We were there for a week and visited a wide variety of places, some perfect for hiking and others for soaking up the Sicilian atmosphere.
These are the Sicily campervan stops and places to visit – for the full details of each stop go to our Sicily Campervan Road Trip Post here.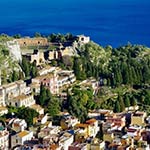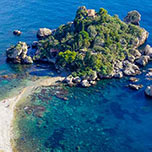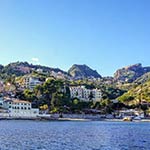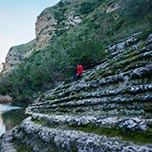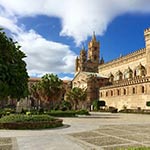 Driving to Italy in a Motorhome
If you are driving to Italy in a motorhome/campervan and arriving by road, then the main routes into Italy are:
From France:

E80 along the Gulf of Genoa,

Fréjus Tunnel (the E70) towards Turin, 

Mont-Blanc Tunnel between Chamonix and Courmayeur/Aosta Valley

From Switzerland:

E27 via the Great St Bernard Tunnel 

E62 (Brin to Lake Maggiore), 

E35, via the San Gottardo Pass 

E43 towards Lugano

From Austria:

E45 via the Brenner Pass 

E55 from Villach to Venice

From Slovenia
If you are arriving by car ferry, you may arrive at Ancona, Bari, Brindisi or Venice on the east coast of Italy or Genoa, Savona, Civitavecchia (Rome), Napoli, Salerno on the North and Western coasts.
We had begun our campervanning in Germany – as that was the cheapest place for us to hire the campervan from – and drove into Italy from Switzerland via the E43 towards Lugano.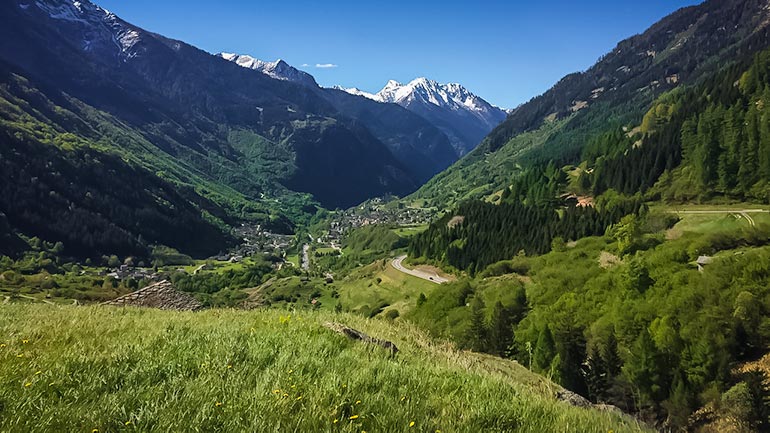 The views on the driving route from Switzerland to Italy
Driving Tips for Your Italy Campervan Road trip
In Italy you drive on the right.
Seatbelts are compulsory
Have the following documents to hand:

Drivers licence (An international driver's licence isn't required if you hold a driver's licence issued by an EU Member State )
Vehicle insurance
Vehicle registration document
Passport

You are also required to have the following in your vehicle:

Reflective Vest – to be used when getting out of the car at an event of an accident or breakdown on any road.
Warning triangle – to be used at the event of an accident or breakdown to warn following traffic.

Speed Limits

 

are as follows unless otherwise signposted

130 km/h (80 mph) on motorways
90 km/h (50 mph) on minor out of town roads
110km/hr (30mph) on major out of town roads
50 km/h (31 mph) in urban areas.

In the event of rain on snow, the limit is lowered to 110 k/h on motorways and 90 k/h on trunk roads.

Cars with trailers or caravans: in urban areas, the speed limit is 50 km/h (31 mph); on minor out-of-town roads 70 km/h (44 mph); on major out-of-town roads 70 km/h (44 mph); on motorways 80 km/h (50 mph). 
Camper vans weighing over 3.5 tonnes and under 12 tonnes: in urban areas, the speed limit is 50 km/h (31 mph); on minor out-of-town roads 80 km/h (50 mph); on major out-of-town roads 80 km/h (50 mph); on motorways 100 km/h (62 mph). 

Tolls: Most

 autostrada/motorways

 require

 a toll. Toll prices are determined on the distance you travel,  so on entering a motorway will need to collect a ticket from an automated machine, and the ticket must then be presented at the toll gate upon exit. where a toll can be calculated. Tolls can be paid by cash, credit card, prepaid card or by electronic tags.
Be aware of the Limited Traffic Zones (Zona Traffico Limitato/ ZTL) that are in many major cities, eg. Rome and Florence. These zones are in place to reduce traffic congestion and to slow the decay of the historic centres. All RENTED VEHICLES cannot enter these zones regardless of timings shown on the signs.  Cameras at the ZTL boundary automatically record the violation and issue a fine to the registered vehicle. See Below ZTL for Rome and Florence. 
Dipped headlights must be used on two-lane motorways.

When driving through towns and villages, the horn may be sounded only in the event of an emergency.

Buses, trams and trains have right of way. 

The main

 

motorways have tolls. To avoid them you can program your navigator to avoid tolls.

Emergency Numbers:

Police 113

Fire Brigade 115

Ambulance 118. 

For more detailed information check out Italy's Highway code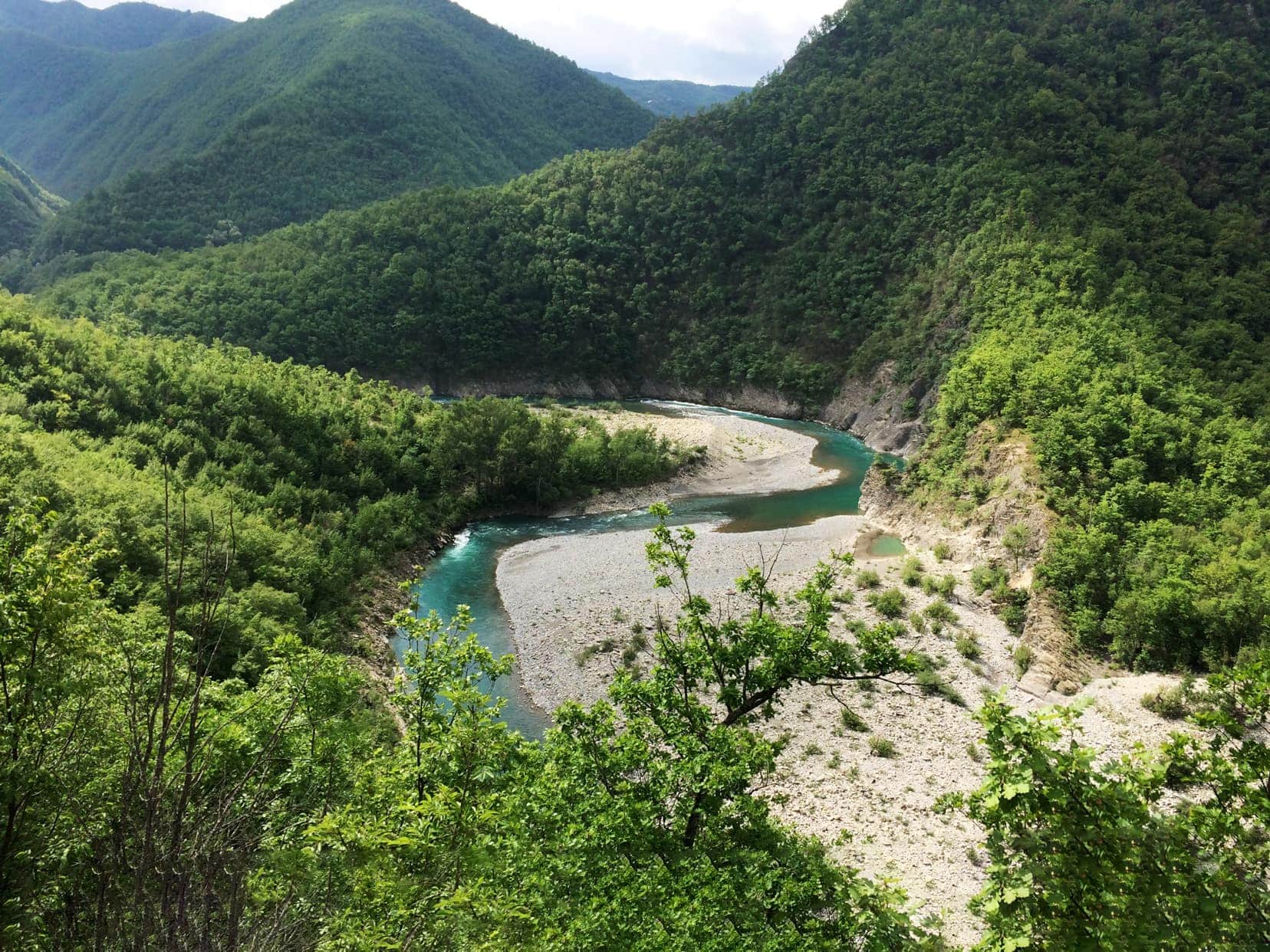 Views  near the town of Marsaglia, Province of Piacenza on our way to La Spezia Campsite near Cinque Terre
And … That's a Wrap for Campervanning in Italy
Your campervanning in Italy trip will take you through stunning scenery and tantalising hilltop towns.  It will offer plenty of opportunities for delving deep into Italy's historical past and to admire the famed artistic work of its artisans.
This article will be a useful guide to help you plan your motorhome trip in Italy. Please reach out to us if you have any questions or any further suggestions on taking a campervan trip in this diverse and beautiful country.
Did you have a  favourite destination in Italy?  We'd love to hear your thoughts and experiences in the comments below or drop us an email.
For inspiration for your travels ahead, and a fun read have a look at our 130 Road Trip Quotes.
This post may contain affiliate links. This means that we may earn a small commission from purchases you make through our links, at no extra cost to you. Thank you for supporting us. For more info, read our Disclosure Policy.
You May Also be Interested in Reading
Articles on Italy
Selection of Other Campervan Road Trips
If you enjoyed this article, you may like these FREE RESOURCES:
FREE Travel Guides (many countries)
FREE 23-page Travel Planner, including menu planner, journal pages and budgeting)
FREE Phone Wallpapers
FREE Photo Ebooks
Monthly Travel News 
Planning Your Travels?
These are travel resources we use when planning our trip and can recommend: