MOTORHOME & CAMPERVAN GREECE ROAD TRIP
We road-tripped Greece by camper, an 8-metre motorhome, but this post is just as suitable for those wishing to road trip Greece by car.
Our campervan Greece road trip elicited feelings, emotions and sights that left a lasting imprint on our memories. Now, a certain image from Greece, or a faint scent, can, for a brief moment, transport us back to that wonderful time and place.
A Greece road trip offers up ancient monuments, miles of stunning coastline, beautiful beaches, intriguing mountain-top monasteries, tiny churches, canine shepherds and the Greek iconic blue and white buildings that pervade the landscape.
What's in This Greece Road Trip Post?
This Greece Road Trip post will give you information about:
The best places to visit in Greece
Suggested Greece road trip itineraries and options
Campervan /Motorhome/car driving information specific to travelling in Greece
Suggestions for additional activities in many of the areas we road tripped through
Campervan and motorhome campsite suggestions through Greece
Photos and a video to give you a feel for the places you may like to visit
Planning a Trip to Greece?
There are plenty of reasons to visit Greece, and it's not just the sights that you will fall in love with. You will also remember the smell of oranges picked fresh from the tree, the taste of homegrown olives and most of all, feel the warmth of the people who'll offer you their Greek moonshine, either Raki or Tsipouro, and toast to your health at every opportunity.
Enjoy your Greece road trip, and we hope it will give you as many beautiful memories as it did us. In our opinion, road-tripping is by far the best way, and affordable way to travel Greece.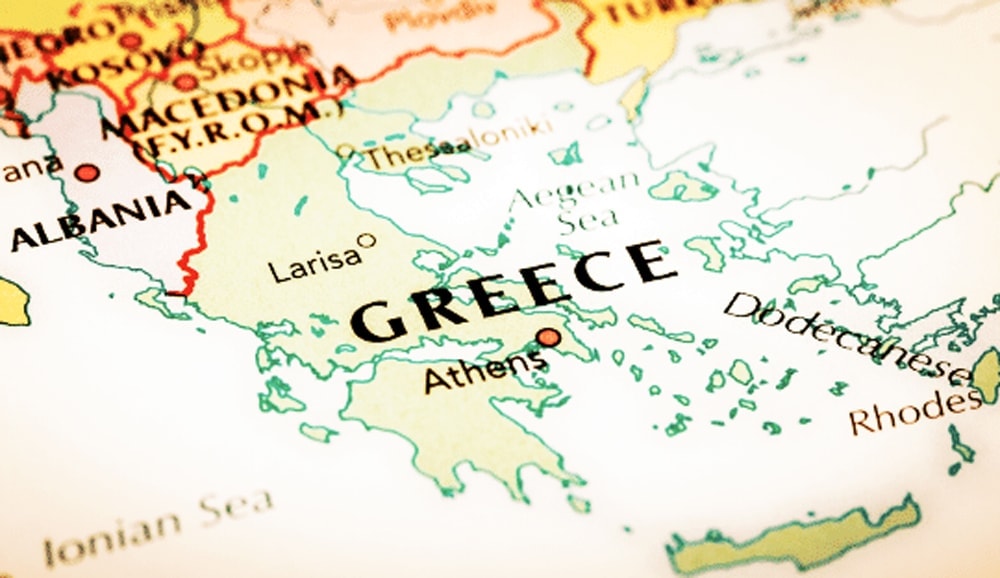 CAMPERVAN GREECE ROAD TRIP ITINERARY
This Campervan trip through Greece is jam-packed full of things to see and do: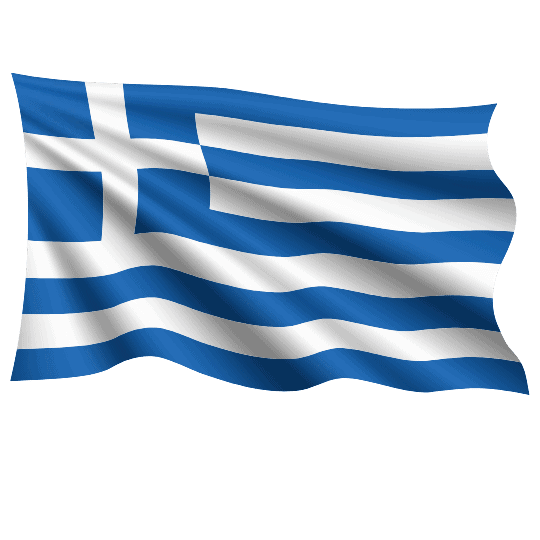 This Greece Campervan Itinerary Includes:
Unique Greek landscapes
Archaeological sites
World heritage sites
Many off-the-beaten path lesser-known places
Turquoise bays and beautiful beaches
Beach camping
Spectacular hikes
And much much more…
CAMPERVAN GREECE ROAD TRIP: QUICK VISUAL OVERVIEW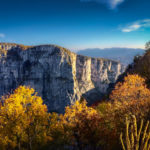 1. Vikos Gorge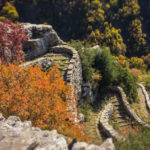 2. Vradeto Steps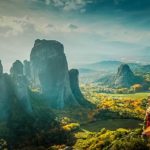 3. Meteora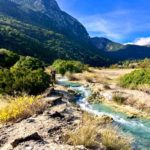 4. Thermopylae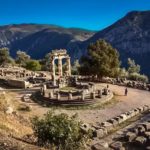 5. Delphi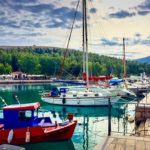 6. Galaxidi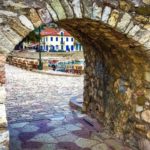 7. Nafpaktos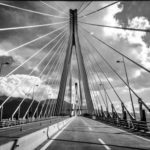 8. Patras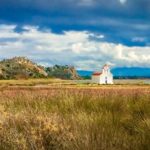 9. Peloponnese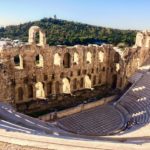 10. Athens
ARRIVING IN GREECE
Our late autumn arrival in Greece welcomed us with its brilliant burnt orange hues and cheery yellow tones. Travelling through Greece in autumn meant we avoided the summer crowds and the colours of nature shimmered.
We arrived in northern Greece, having crossed the border from Albania, where we had just completed our Albanian road trip, part of our year-long Europe in a campervan trip.
Although pretty nippy in the mountains, further south and especially in the Peloponnese, the weather was beautiful – even allowing us to swim on occasion.
PLANNING YOUR GREECE CAMPERVAN TRIP
Use the below information to help plan your Greece road trip and you will also find it helpful to:
GREECE ROAD TRIP MAP
This Greece Road Trip map is interactive and highlights all the locations detailed in this post, including details of motorhome stops for each night of this campervan Greece road trip.
The maps below this one, detail the kilometres and travel times for various options for your campervan trip through Greece.
To use this map, expand it using the square symbol on the top right-hand side and then look to the key on the left-hand side. By clicking each location you will find the corresponding position on the map and the relevant coordinates.
Orange Circles = campsites or wild camping spots
Purple = locations to visit in Greece
GREECE ROAD TRIP OPTIONS
We entered Greece from the north, crossing the border from Albania, so Vikos Gorge was our obvious first destination. From there we travelled south towards the Peloponnese (the southern part of Greece that looks a little like a hand).
However, if you arrive in Athens, you can just as easily use the maps to plan your itinerary from there.
The Peloponnese part of Greece (Map C), was by far our favourite and we would recommend touring the area if your schedule allows.
Below are a few Greece road trips that may suit your itinerary.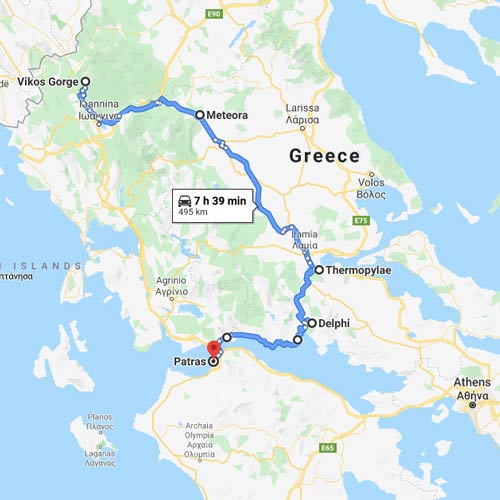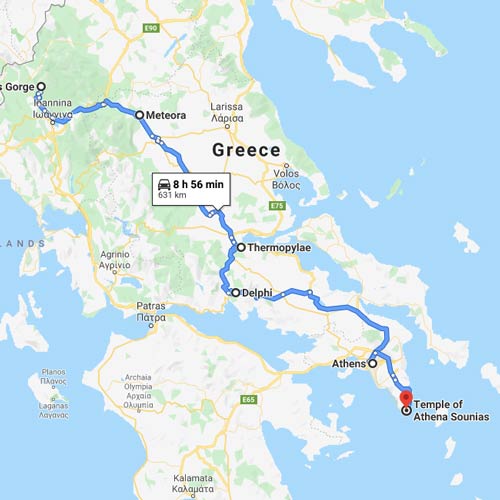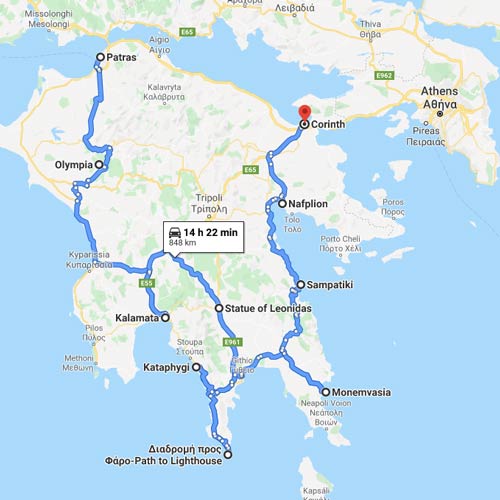 TIPS FOR MOTORHOMING & CAMPERVANNING IN GREECE
---
For general motorhome tips, you will find this post useful: Best Motorhome Tips for Beginners
Our Europe by Campervan article will also give you many helpful pointers for driving in Europe.
In regards to finding campervan overnight stops in Greece, we found PJ Greece Camper stops to be invaluable.
It was difficult to find self-serve launderettes throughout Greece. We could mainly find dry cleaners with washing services being charged by weight.
Wild camping is allowed and some places that have no camping signs are ok to use if you are out of season and keep a low profile. ie. Don't hang out the washing and set up camp with your chairs and table left out
Click here to read our post that highlights all of the best tips and essentials you need to know for road tripping together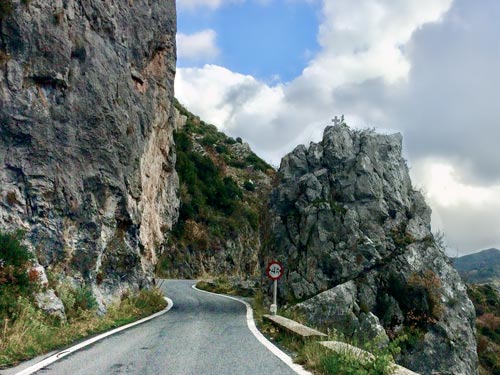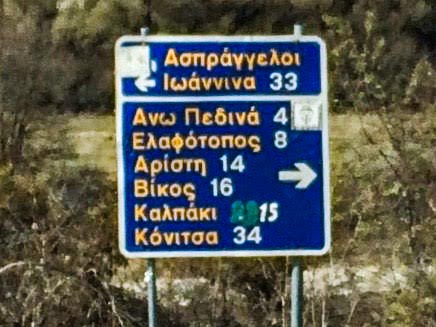 IT'S ALL GREEK TO ME
The idiom, it's all Greek to me, has never been more true than when trying to navigate and read the road signs in Greece. Names of places are often written in Greek and many of the road signs seem to lack the English alphabet version. So, unless you are up to speed with your Greek alphabet, navigating on your Greece rod trip can get a little tricky at times.
It helps to have a sense of humour when road-tripping through foreign countries. We created a tactical tension defuser early on in our road-tripping days, and when things go amiss, we often morph into our driving personas of Lady Penelope and Parker, which gives us a laugh and reminds us to go with the flow.
READ MORE: See 120+ Smiling Captions and Quotes for more joyful smiley inspiration
DRIVING TIPS FOR YOUR GREECE ROAD TRIP
In Greece, you drive on the right
Seatbelts are compulsory
Horns are not to be used in towns unless to avoid an accident
Have the following documents to hand:

Driver's licence (and an international driver's licence if necessary)
Vehicle insurance
Vehicle registration document
Passport

You are also required to have the following in your vehicle:

Headlamp beam deflectors for left-hand car vehicles (Depending on your car, you will either need deflector stickers or have to adjust the beam manually)

The main motorways have tolls. To avoid them you can program your navigator to avoid tolls.
Speed Limits are as follows unless otherwise signposted

130 km/h (80 mph) on motorways
90/110 km/h (50 mph) on National roads
50 km/h (31 mph) in urban areas.

Emergency Number: 112
GREECE ROAD TRIP ITINERARY
---
STOP #1 – VIKOS GORGE AND STONE FOREST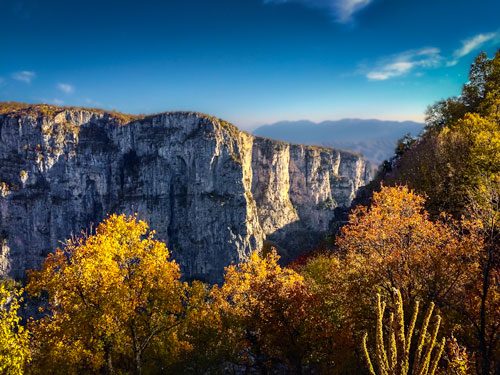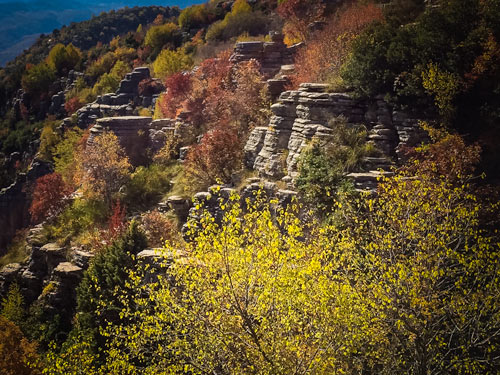 Just 38 km from the Albanian border, in the Northern Greece Pindus Mountains, you'll find Vikos Gorge.
Here, the autumn colours stood out in contrast to the many pillars of grey layered rocks we passed en route to the Vikos Gorge lookout. These naturally layered rock formations seem, at some points, to be shaped like trees, which is what gives this area its name, the 'Stone Forest'.
At the end of the Stone Forest route, you'll come to the Oxya Viewpoint, which gives you sweeping views across the Vikos Gorge.
The gorge holds the 1997 Guinness Book of records as the world's deepest canyon. It is 900m deep and only 1.1 metres wide at its narrowest point. It stretches 20 km through the Zagori region of Greece.
We camped overnight in the Stone Forest – and the spot we chose just happened to be on a cattle route, so come dusk, cowbells jingled past the campervan, with their trusted dog shepherds keeping them in check.
That morning in the Stone Forest, was the coldest temperature that we experienced for the rest of the trip. At – 5 degrees C it was pretty chilly, to say the least.
Therefore if you are travelling in late Autumn or winter take plenty of layers for your campervan trip.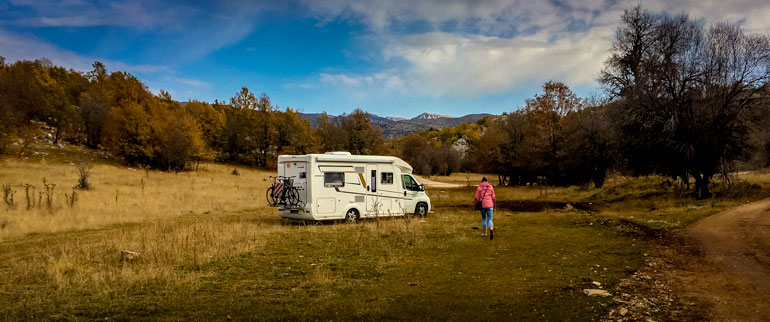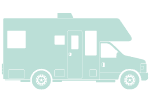 ♥ Overnight Campervan Stop: Wild Camping in Stone Forest (see Map)
STOP #2 – VRADETO STEPS HIKE
The perfect thing to do when the air is chilly is to go for a hike. Therefore, after leaving the intriguing Stone Forest we headed towards the Vradeto steps — a steep hike with many ancient steps leading up the gorge.
There is a small chapel at the top overlooking the magnificent view. This area is also known for its rich and rare flora.
For details on the Vradeto Steps hike click here.
We walked from the road (as noted on our Map above), up to the chapel which was about a 6km round trip.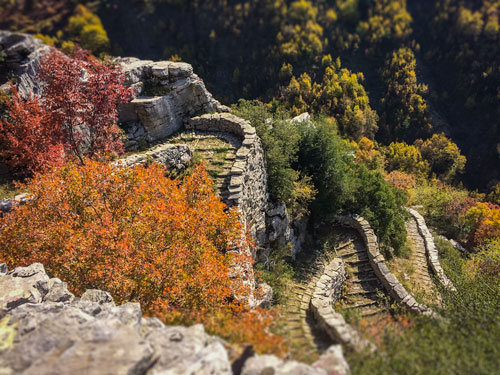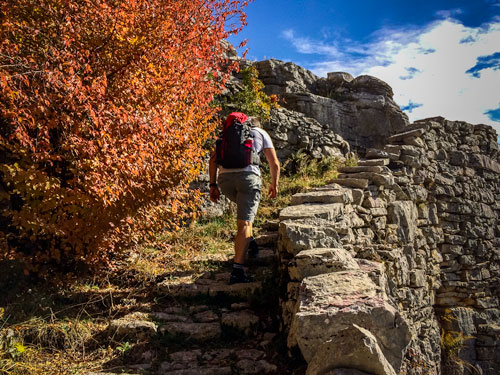 Vradeto Steps Hike above Vikos Gorge
After the hike, we drove towards Meteora and passed this picturesque old bridge – The Bridge of Kokoros.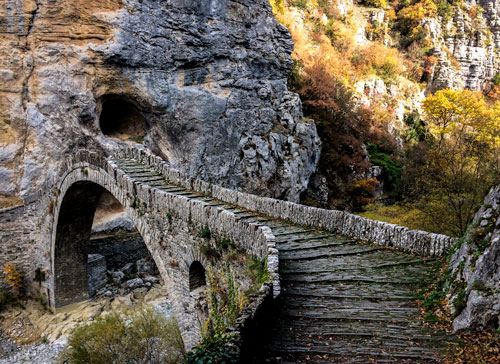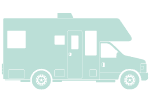 ♥ Overnight Campervan Stop: Lingiades is a fantastic free, quiet spot with an awesome view.
STOP #3 – METEORA
The landscape in the Meteora area is absolutely stunning and feels rather out of this world. The towering pillars of rock are impressive enough, but when topped off with an impossibly placed monastery at the summit of these pinnacles, it is nothing short of astonishing.
These world-famous monasteries, perched precariously on the impressive rock formations is what puts Meteora on the must-visit list of many who venture to Greece.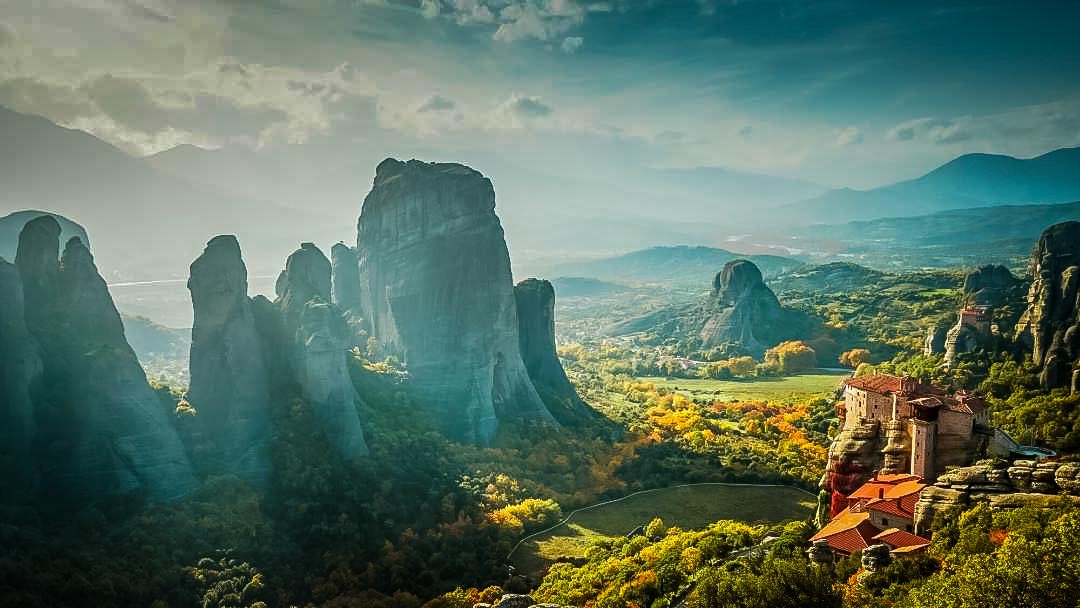 The first monastery that we visited in Meteora was the Holy Monastery of Saint Barbara-Roussanou Nunnery. It was an interesting visit, but truth be told, the highlight of my visit was watching the nuns scrolling through their mobile phones — technology in the modern age. It made me chuckle and I was expecting one of the nuns to do a selfie at any moment.
Note that to visit the monastery you need to dress modestly — I was in jeans and the nuns gave me a wraparound skirt to wear.
From the Roussanou Nunnery, you could get a great view of some of the other monasteries perched on the pinnacles.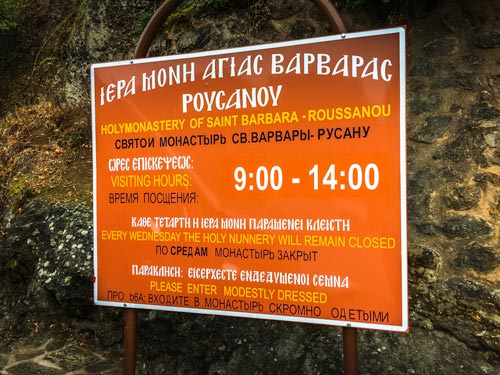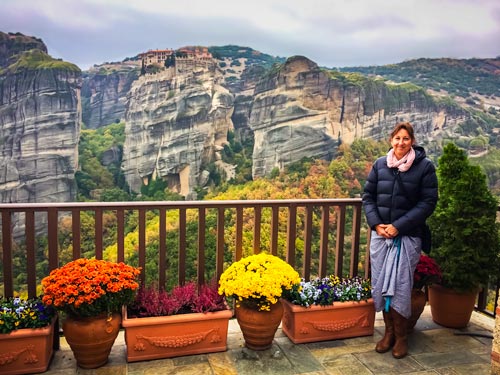 The next visit was to the Varlaam Monastery. This monastery was a little more commercialised with many artifacts and souvenirs for sale, including some raw honey which we were happy to buy.
There are six monasteries in total to visit in Meteora which became listed under the UNESCO World Heritage in 1988.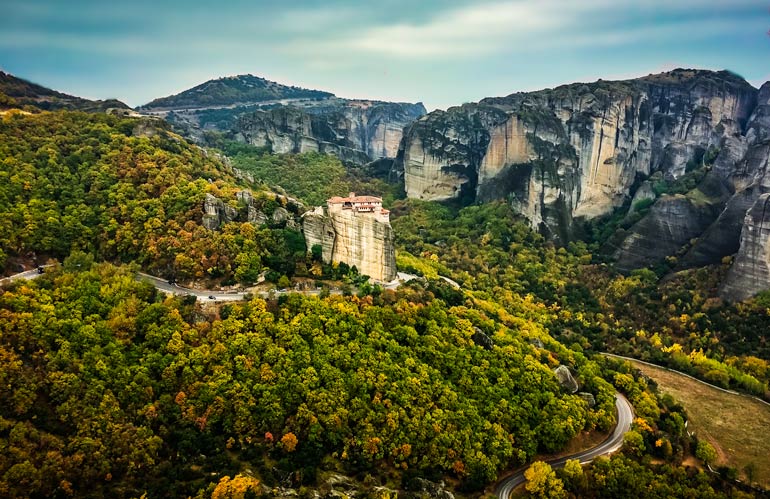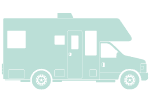 STOP #4 – METEORA: VISIT THE HOLY SPIRIT CHAPEL AND MONK PRISON
Just behind the village of Kastraki, there is a rugged trail that leads you up to the Aghio Pnevma or Holy Spirit Rock.
It is almost at the top that you will find Meteora's oldest monastery, a tiny chapel hewn into the rock which dates back to the 10th century.
Just beside it, you'll find a ladder that will take you to the rock's plateau. Here you'll find a large cross and bell keeping sentinel over the vast view of Meteora below.
It is difficult to find this trail on Google, so we have marked the beginning of the trail on the map above.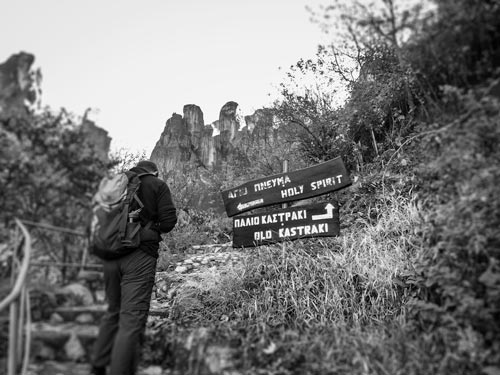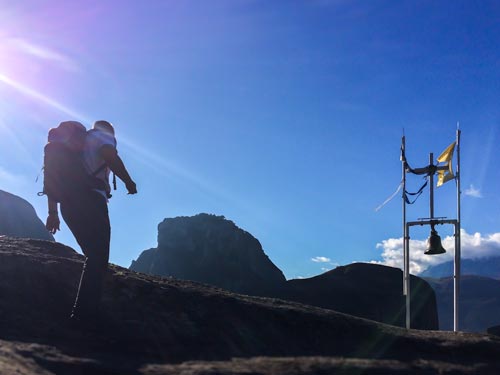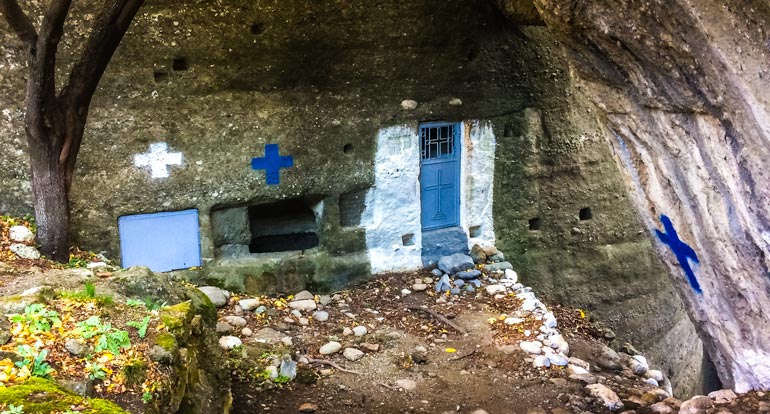 On the northern side of the rock, also seen from the main road, you can find the Monk Prison. These are long caves that once housed the expelled monks. Scaffolding can still be seen in the caves today.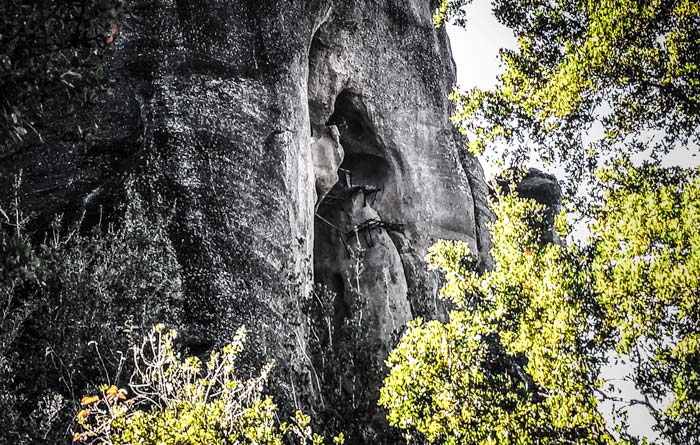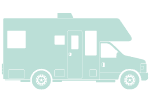 ♥ Overnight Campervan Stop: BP Petrol Station (See Map)
STOP #5 – THERMOPYLAE: SPARTANS AND HOT SPRINGS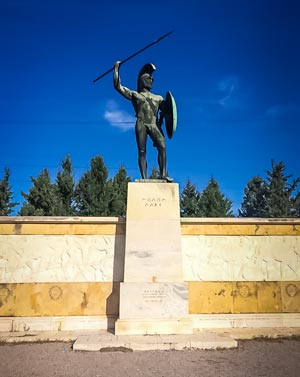 Here in Thermopylae, you'll find the Leonidas Monument, which commemorates a battle in 480 B.C. in which a small number of Spartan soldiers held off a huge Persian army for three days. That delay allowed the successful defence of Athens against the Persians.
On the opposite side of the road to the monument, you can also take a dip in the hot springs. The temperature of the water was about 40 degrees celsius and was great fun hopping in for a sulphur bath.
Note that there is a historic Thermopylae spring denoted on Google, but we found that area to be quite derelict with an immigrant camp on site. We would, therefore, recommend finding a stream further down as we did.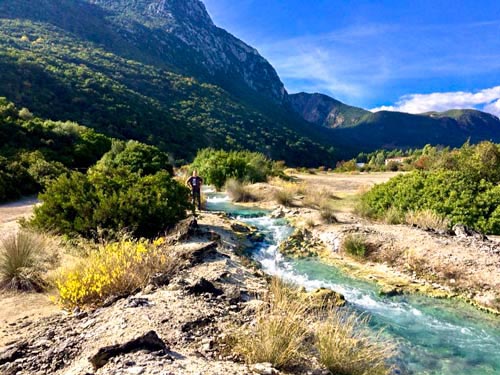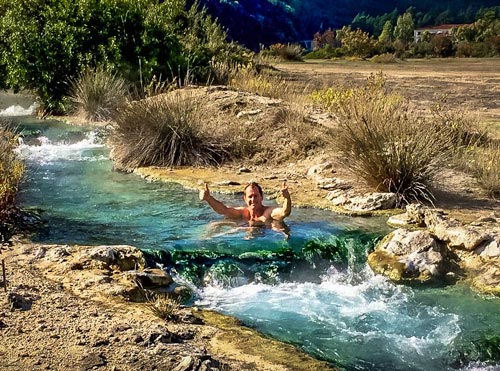 From Thermopylae, we drove on to Delphi.
However, we arrived after the last entry time of 2.30 pm (winter opening times), to visit the ruins. On the opposite side of the road, with free entry, we found the Sanctuary of Athena, so we spent some time soaking up the ancient Greek ambience and admiring the Delphi scenery.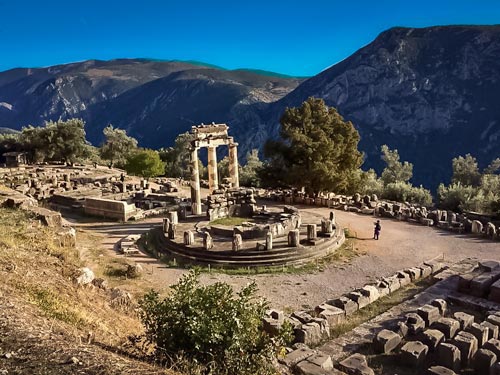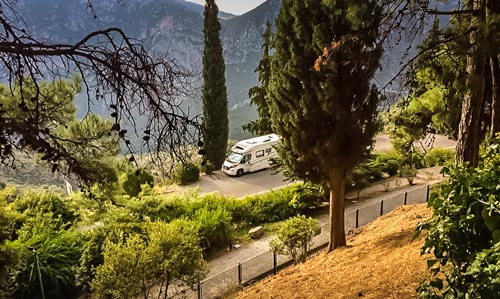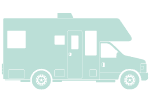 ♥ Overnight Campervan Stop: We overnighted on the side of the road, parked up beside the Delphi ruins.
STOP #6 – DELPHI RUINS AND GALAXIDI
Delphi, once considered to be the centre of the world, is home to the 4th century Temple of Apollo and many other archeological remains. In 1987, the area was listed as a UNESCO Heritage Listed site.
The Temple of Apollo was said to house the 'oracle' and for centuries, many came to Delphi to consult the Oracle and to ask for advice.
Today, you can wander the home of the Gods and indulge yourself with the depth of historical stories and mythology rooted amongst the ruins that stand as a testament to those ancient civilisations.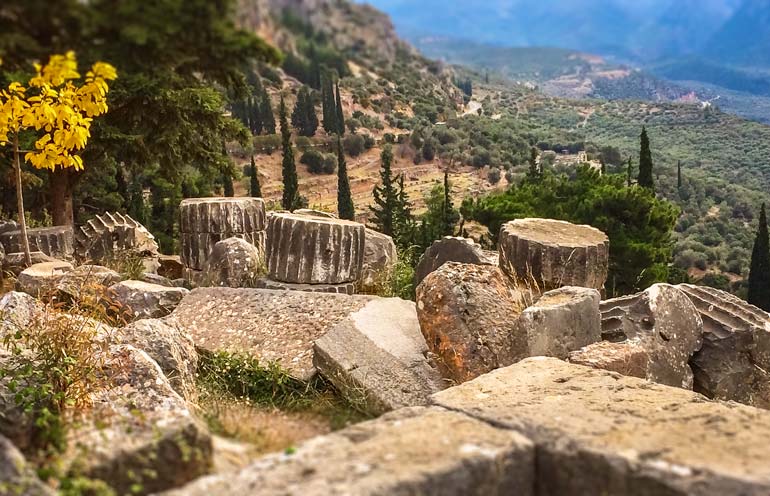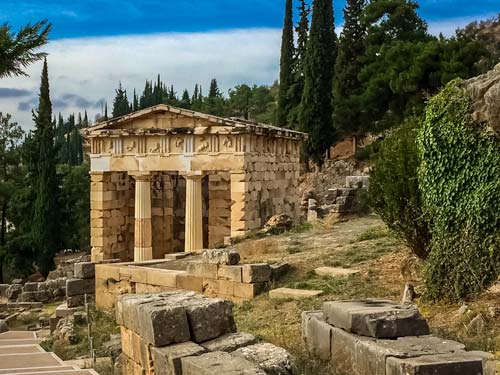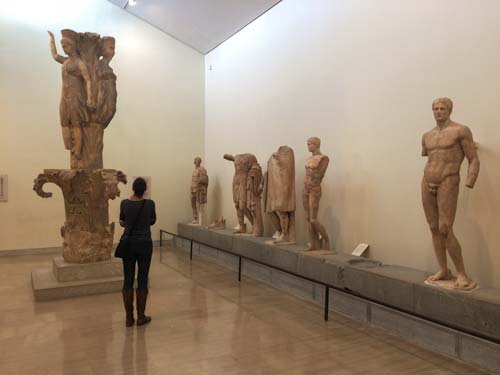 Leaving Delphi, we headed south to Galaxidi, a historic seafaring town with a picture-postcard harbour, cobbled streets and a surprisingly uncommercialised promenade. A beautiful and relaxing stop that is definitely worth adding to your campervan trip through Greece itinerary.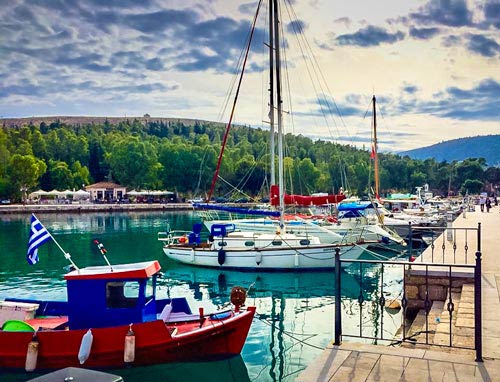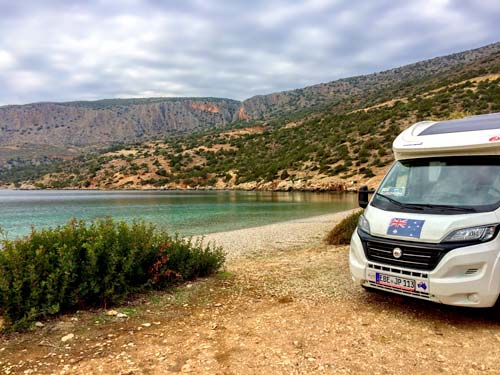 After a stroll around the waterfront and coastal walk at Galaxidi, we found a fantastic free campervan stopover at Agios Vasilieos Bay — about 17km further on around the coast.
You can park right on the beach just a few metres from the turquoise waters of the bay.
Apart from about 15 cats, oh, and the 50 goats that wandered by later, we were the only ones in this secluded bay.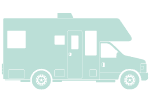 ♥ Overnight Campervan Stop: Wild camping Agios Vasilieos Bay, near Galaxidi (see map)
STOP #7 – MARATHIAS, SKALOMA AND NAFPAKTOS
This day involved visiting a couple of pretty coastal towns, Marathias and Skaloma, and walking along their bays taking in the scenery and doing a spot of geocaching. A relaxed and beautiful day admiring these coastal paradises without the crowds.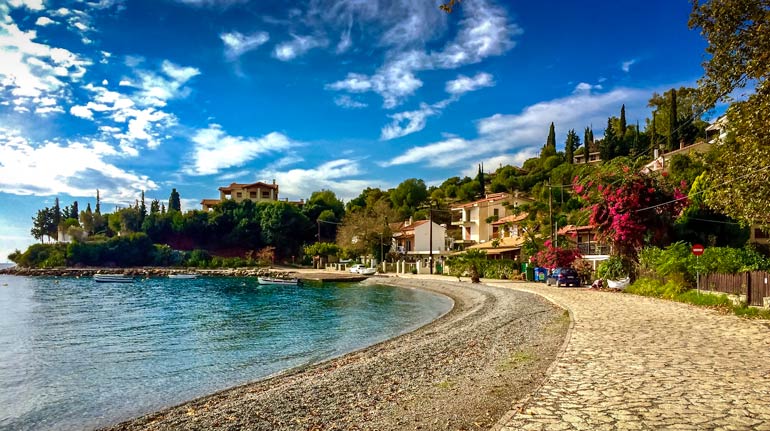 Our final stop of the day was at the larger seaside town of Nafpaktos. It is a medieval town in the south of the Greece mainland and is known for its well-preserved Venetian Castle which overlooks the town.
Nafpaktos' horseshoe-shaped, fortified harbour is full of colourful boats and many of the old cobbled stone streets that guide you up into the surrounding hills overflow with bougainvillea – so even in winter, the town exudes beauty.
The coastal promenade is lined with restaurants and cafes and Nafpaktos is apparently a popular place for Greeks to spend their summer holidays.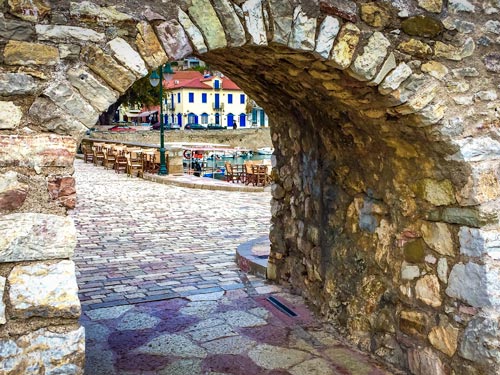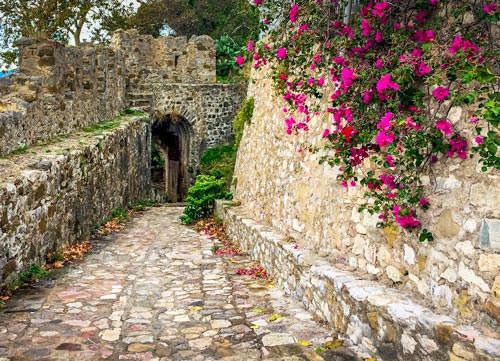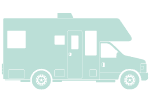 ♥ Overnight Campervan Stop: Nafpaktos Beach, just on the road beside a pebbly beach (Free)
STOP #8 – NAFPAKTOS TO PATRAS
The next part of this campervan road trip through Greece takes you across the Rio-Antirrio bridge to the Peloponnese — a peninsula, which is shaped like a bony hand, in the southern part of Greece.
Late afternoon we made our way to Patras and a free campervan spot on the shoreline. From here you get a spectacular view of the Rio-Antirrio bridge.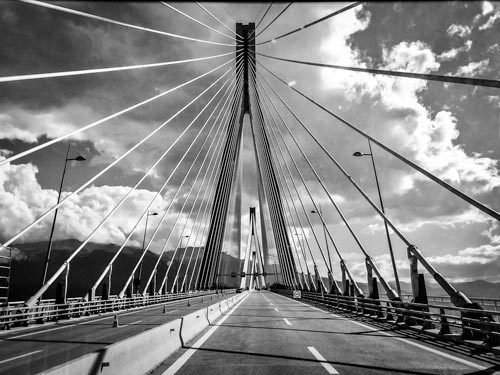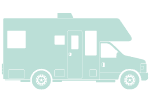 ♥ Overnight Campervan Stop: Patras Shoreline (free)
STOP #9 – THE PELOPONNESE
The Peloponnese part of our Greece road trip was our favourite. Camping on secluded beaches and exploring this region was just an incredible experience and would thoroughly recommend that you make time to road trip the Peloponnese.
However, we do list the main places that you should visit on the Peloponnese part of your campervan Greece road trip below which gives you a quick overview
SUMMARY OF THE PELOPONNESE PART OF THIS CAMPERVAN GREECE ROAD TRIP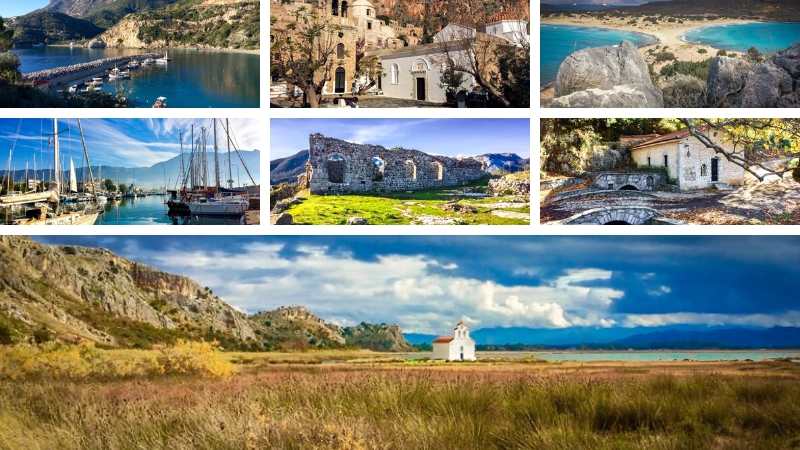 Kalogria
Olympia
Dimitsana
Lousios Gorge
Karytaina Castle
Megalopoli
Sparta
Kalamata
Ag Nikolaus
Kataphygi Cave
Dirios Caves
Tigani Castle
Odigitria Church
Taenarus Lighthouse
Kamares Beach
Kokkinea
Elafonisas Island
Monemvasia
Sambatiki
Nafplio
Corinth
STOP #10 – ATHENS
Leaving Corinth, the final part of the Peloponnese road trip, we began the hour drive towards Athens. Our destination was Piraeus, a suburb within Athens with a reasonably priced campervan stop.
Negotiating the traffic on a weekend in Athens wasn't a problem (not sure what it would be like on weekdays), and we found our stopover in Piraeus at a car park that is also designated for campervans. At a cost of 13 Euros per 24 hours stay, it was definitely a bargain, and although the outlook wasn't one of our prettiest, there was absolutely no issue with security or safety.
From the car park to the closest subway was a 5-minute walk and from there a 30-minute subway ride (with a change in between) to the Acropolis.
The subway cost per person, one way was just a few euros.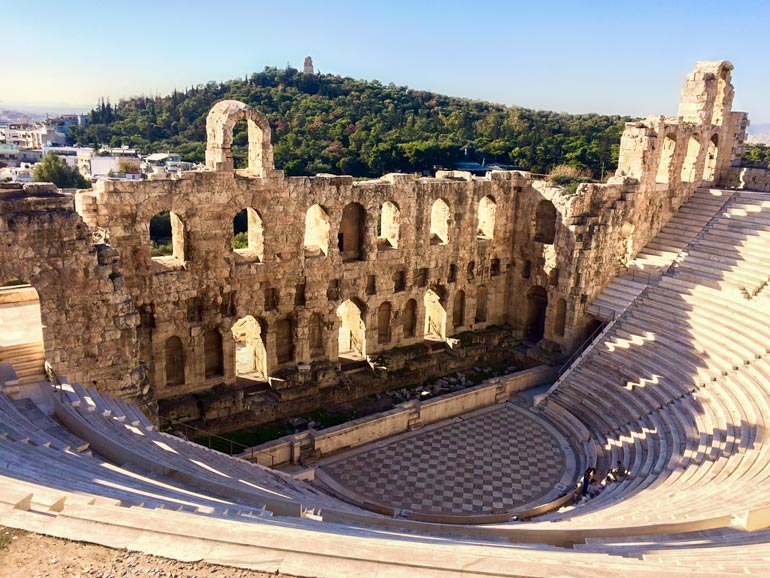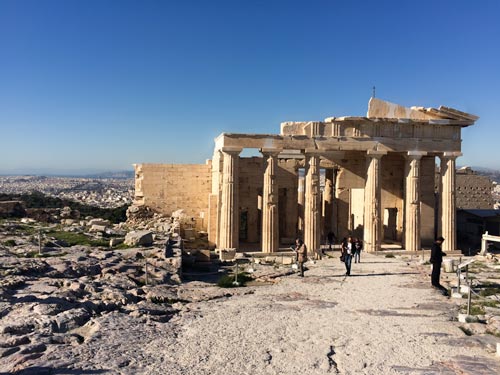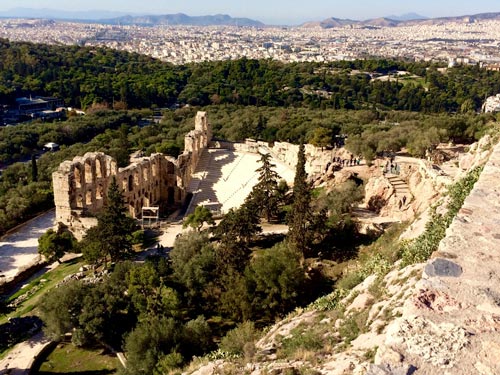 After paying our entrance fee to access the Acropolis, we passed under some majestic white marble ruins which opened out to a plateau to find the Parthenon dead ahead.
The neighbourhood next to the Acropolis is Plaka, the oldest area of Athens filled with cafes and tourist shops. Walking through here will lead you to Syntagma Square and the Tomb of the Unknown Soldier.
The Tomb of the Unknown Soldier is sited below the Greek Parliament and is a cenotaph in honour of the soldiers who gave their lives to defend the nation and her freedoms. We arrived at just the right time for the changing of the Evzone guards.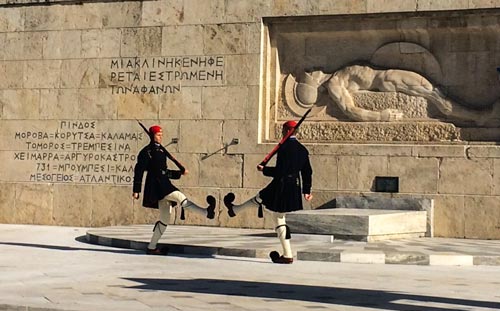 The Evzones are the Presidential Guards and are famed for their ability to stand motionless. At the changing of the guards, they work in pairs to perfect the coordination of their movements, which is done at a slow speed to protect their blood circulation after standing motionless for 60 minutes.
Actually, these pairs team up for the life of their military career.
Their uniform is a traditional representation of the mountain guerrillas who resisted the 400-year Turkish occupation.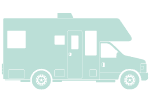 STOP #11 – SANTORINI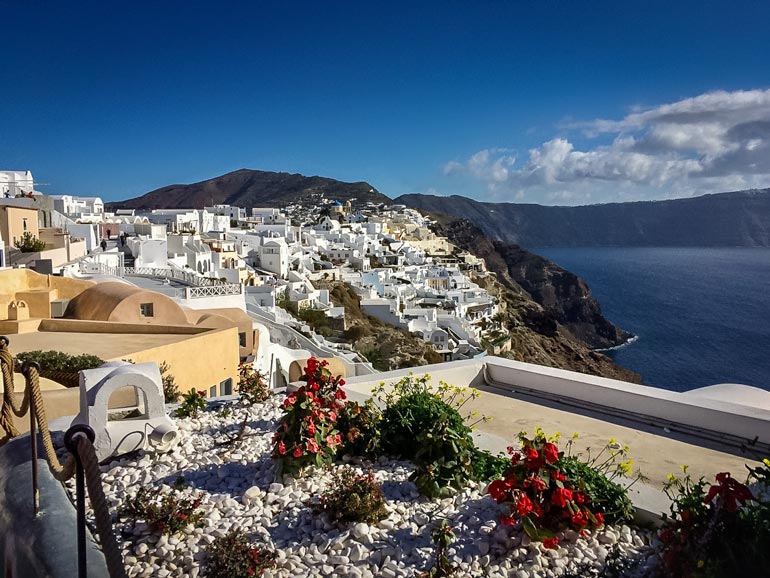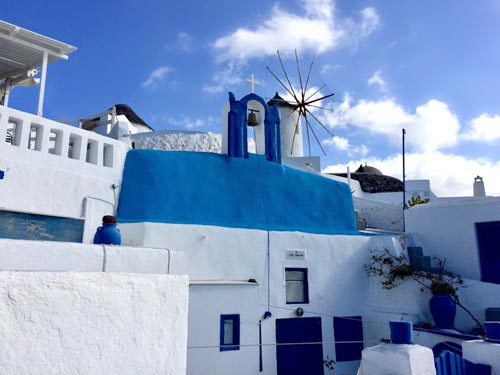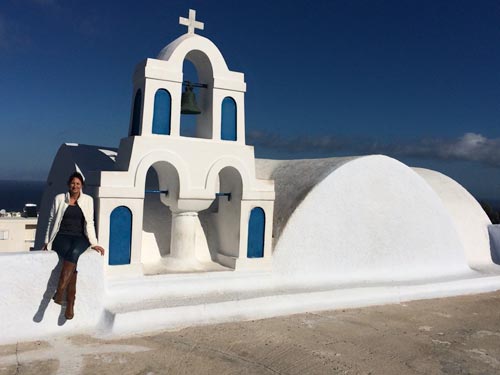 Santorini is one of the most well-known Greek Islands for a reason. And winter is one of the best times to visit to avoid the crowds and cruise ships that descend upon this island gem each summer.
READ MORE: Read all about Santorini in Winter here
We highly recommend leaving your campervan in Athens (we left ours at Megaparking Airport facility), and flying into Santorini and hiring a car.
Santorini is not really geared up for motorhomes and many of the streets are narrow. Additionally, the cost of the ferry to Santorini was more expensive than us flying and paying to leave the campervan in Athens.
Also in winter, there are many opportunities to get a great deal at the hotels. We would highly recommend the boutique hotel we stayed in. The owner was lovely, gave us plenty of help in deciding what to visit on the island and the breakfasts were delicious.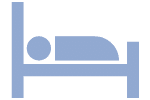 CAMPERVAN GREECE ROAD TRIP …That's a Wrap
Greece gave us so many marvellous experiences over the winter, but it was time to move on.
We had hiked her incredible Lousios Gorge, been mesmerised by the magical town of Monemvasia, visited her ancient ruins, and cruised her Arkadian Coast. And who could help but fall in love with one of her most visited islands, Santorini?
We could have just kept ambling along Greece's captivating coastline for eternity, but there were other road trips to be had and other sights to see.
Campervanning in Italy was next on the agenda.
READ MORE: All things Road Tripping and Heaps of Road Trip Guides All Around the World
Pin and Save for Later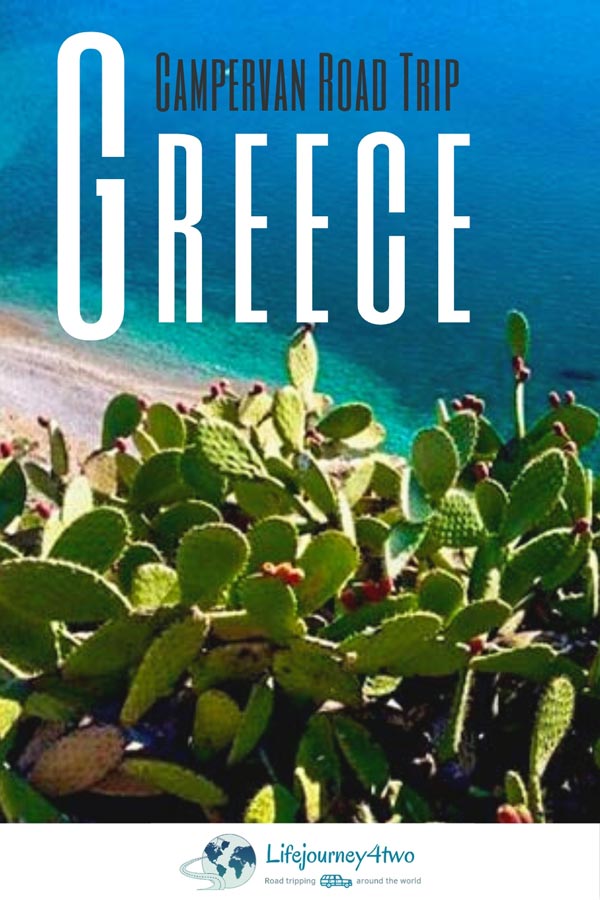 READ MORE:
---
PLANNING YOUR TRAVELS?
These are some of the travel resources we use when planning our trips.
For a more thorough list visit our Travel Resources page here.