EXPLORING SASBACHWALDEN, GERMANY
If you find yourself in the Black Forest region of Germany, then I would highly recommend taking the time to stop and explore the stunning village of Sasbachwalden.
Sasbachwalden is a small village, on the western edge of the Black Forest, boasting bountiful blooms with colour cascading from every window box, park and green space.
Indeed, Sasbachwalden has won several awards for its flower displays and has been voted one of Germany's prettiest villages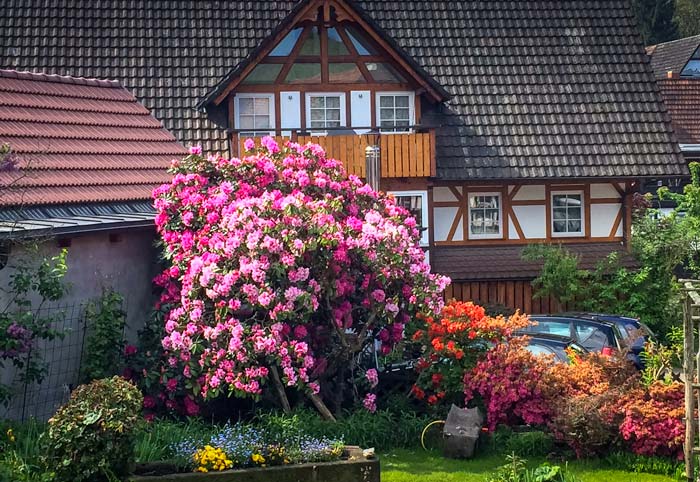 But Sasbachwalden is not just known for its floral displays.
It is home to one of the most beautiful hikes in Germany, the Alde Gott Panoramic Hiking Trail.
The trail is the perfect showcase for all that Sasbachwalden has to offer: vineyards, pine and chestnut forests, waterfalls, meadows, orchards, its iconic German half-timbered houses and, most interestingly, its schnapps fountains.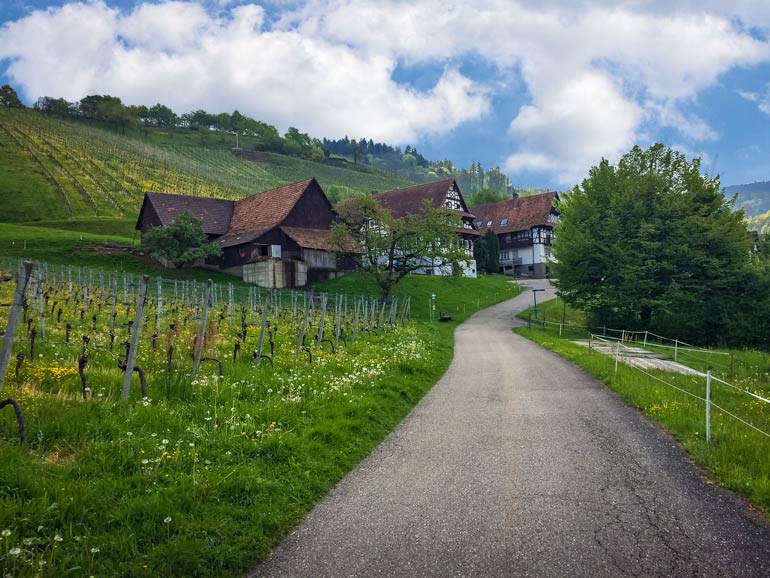 SASBACHWALDEN MAP
HOW TO USE THIS SASBACHWALDEN MAP
To use this map, expand it using the square symbol on the top right-hand side and you will find the key on the left-hand side.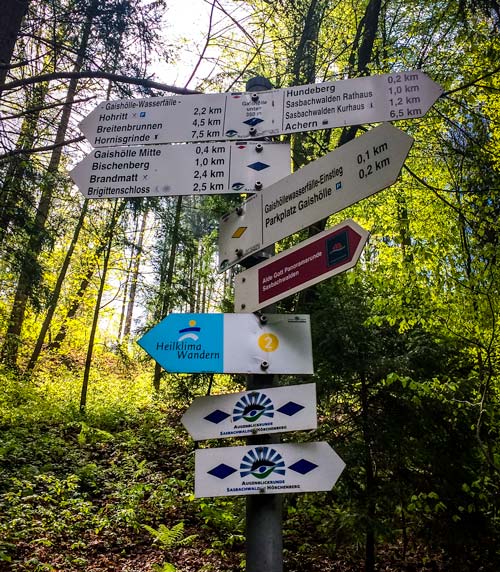 SASBACHWALDEN VILLAGE
Sasbachwalden is a picturesque village full of half-timbered houses, surrounded by vineyards, verdant meadows and forests, all set against the backdrop of the Black Forest Mountains.
Memories of childhood fairytales whimsically join me as I walk along the main street.
Sasbachwalden was one of our favourite stops on our Germany road trip, part of our larger Europe by motorhome trip.
We parked our motorhome in the Sasbachwalden Wohnmobil Stellplatz, beside a bubbling stream with views across the village and the mountains beyond.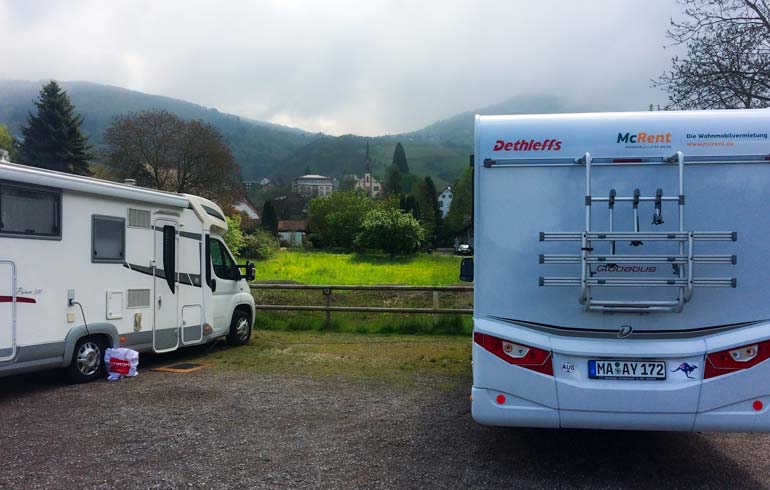 Our first stop was at the Tourist Information Office, where a young woman, who spoke several languages, greeted us with a huge smile and enthusiastically told us all about what to explore in Sasbachwalden and the surrounding area.
It was here that we first learnt about the unique schnapps trail — refreshment for the hikers.
I knew Germany was famous for its Oktober Fest and beer drinking, but schnapps as refreshment on a hike?
Whatever happened to the health benefit of keeping hydrated while hiking?
This was a concept we were keen to learn more about. 
If you are staying in Sasbachwalden, either at a hotel or the motorhome parking, you are able to claim the KONUS Card (from the Tourist office or Hotel Engel) which entitles you to free bus and train rides within the Black Forest and free entry to the village's outdoor pool.
→  Click here to find accommodation options in Sasbachwalden  ←
SASBACHWALDEN'S SCHNAPPS FOUNTAINS

There are over ten schnapps fountains around Sasbachwalden.
At each 'station', you'll find a small tray of clean glasses and resting in a crate partly submerged in the fountain water, you'll find a selection of schnapps, liqueurs, cider, or if you need to stay hydrated, some non-alcoholic options such as juice.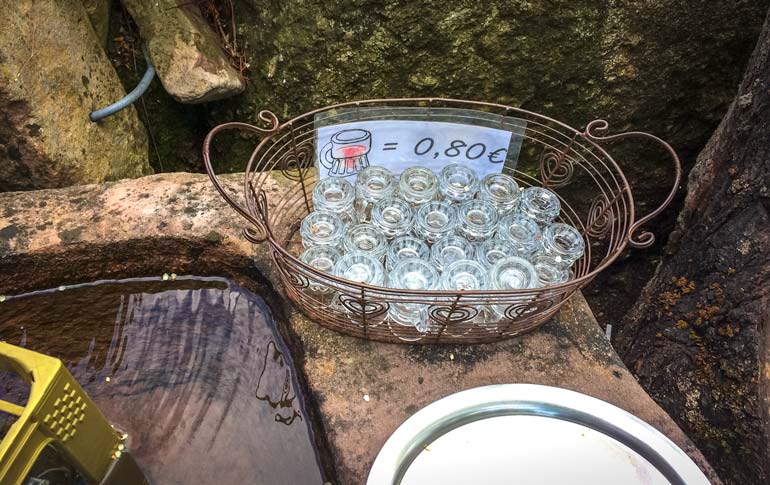 The cold mountain spring waters supplying the fountains in Sasbachwalden keep the schnapps cool and for a small fee, you can choose from the variety of flavours on offer.
Of course, being in the Black Forest it would be remiss not to try its famed cherry brandy. Be warned though, schnapps in Germany is not sweetened and can therefore pack a burning punch on the way down.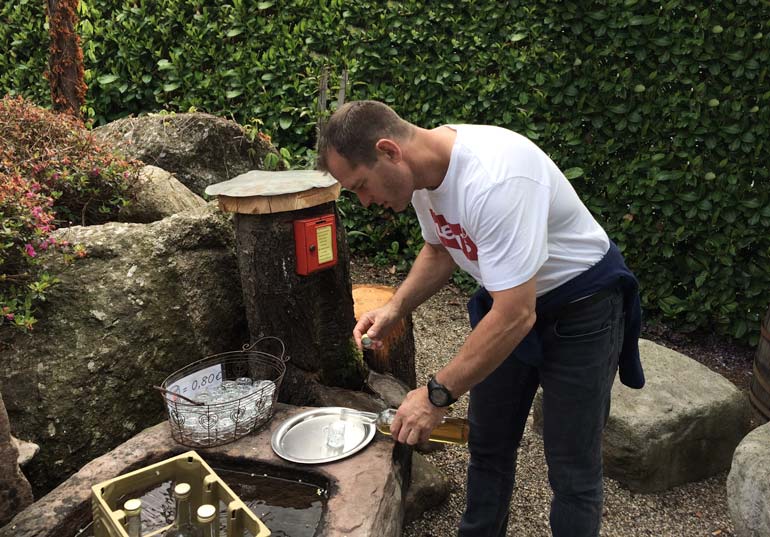 Schnapps is a clear brandy distilled from fermented fruits such as cherries, plums, apples and apricots.
The Black Forest climate provides excellent growing conditions for stone fruit and you'll see plenty of orchards in Sasbachwalden. Any property that grows fruit is able to apply for a licence to produce schnapps so many varieties are homegrown versions. 
In Sasbachwalden the large cooperative, Alde Gott, produces wine and brandies (schnapps) with the local fruit of cherry, plum and pear being distilled in locals homes.
The Alde Gott premises, you may be happy to hear, are located right beside the motorhome parking.
ALDE GOTT PANORAMIC HIKING TRAIL
The Alde Gott Trail is a stunning hike, of about 10km, which takes you on a circular route around Sasbachwalden.
The route begins and ends at the entry to the Gaisholl Waterfalls trail and you can pick up a map of the route at the Tourist Information Office.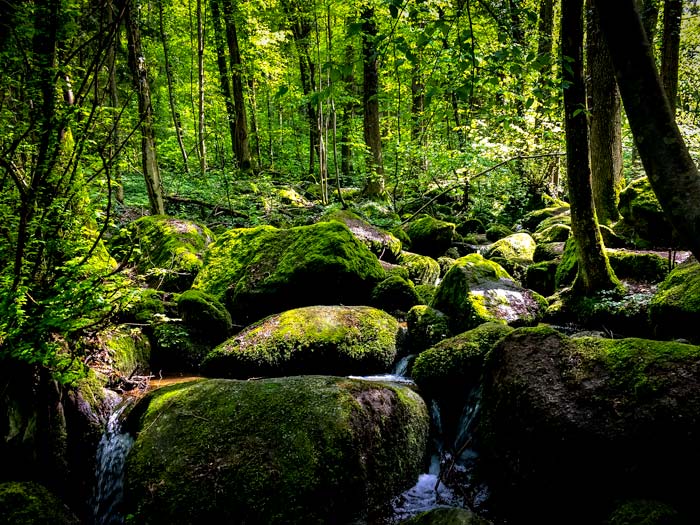 GAISHOLL WATERFALLS
The first part of the Alde Gott Hiking Route includes a one-kilometre hike up the Gaisholl waterfalls.
Several small waterfalls flow down through the gorge as you hike upwards, crisscrossing quaint wooden bridges and inhaling the pine freshness of the forest. This is the steepest part of the hike, which is ranked as 'medium' difficulty, and should take about an hour.
Along the way, you will stumble upon either a schnapps fountain or a 'birdbox' where you will find a choice of schnapps or wine to ' refresh' you on your climb.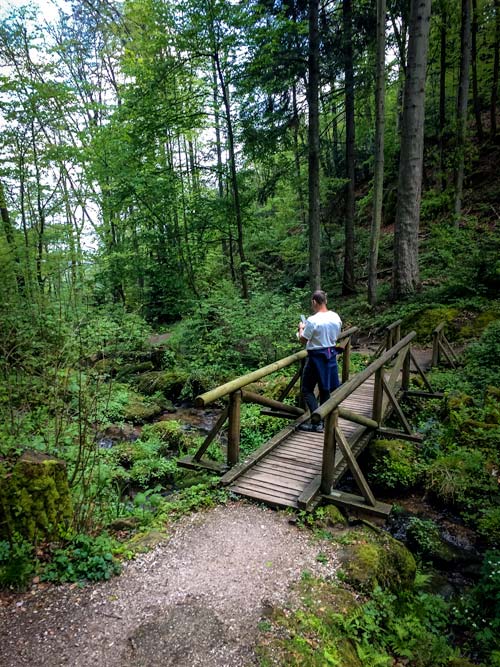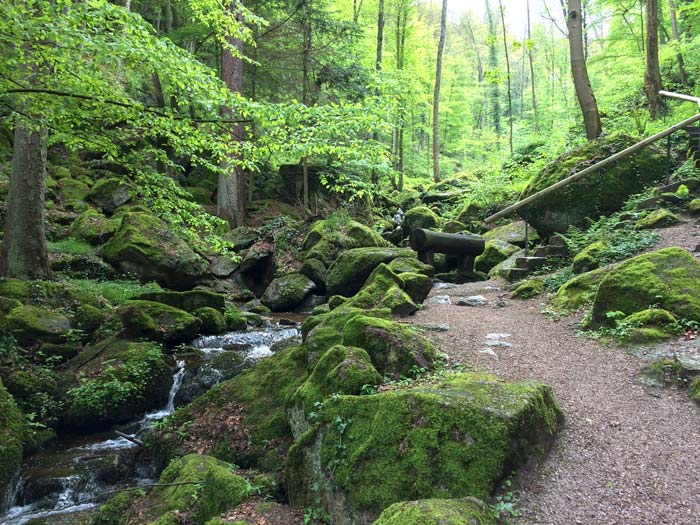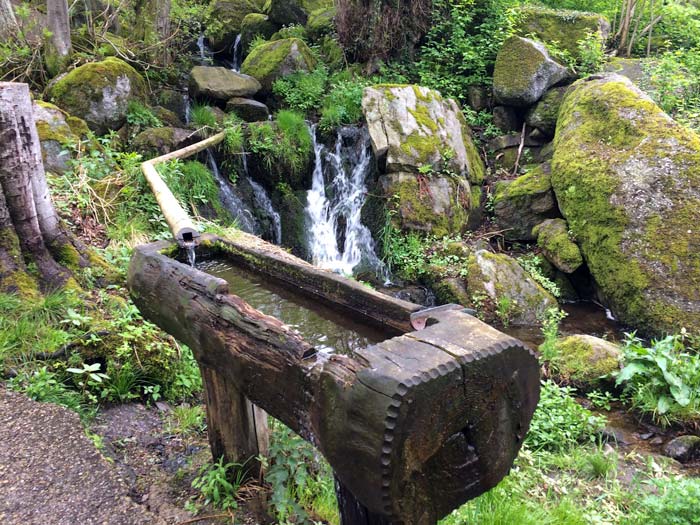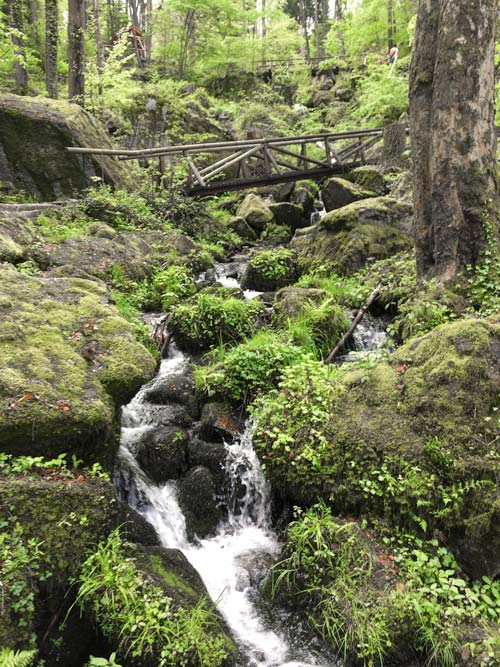 At the top of the Gorge, you will see a couple of restaurants and it is here that we felt compelled to rejuvenate ourselves by sampling the regional speciality, Black Forest Gateau (Schwarzwälder Kirschtorte ).
This sumptuous gateau consists of layers of chocolate sponge, whipped cream and cherries. The cake is also infused with kirsch, a morello cherry brandy.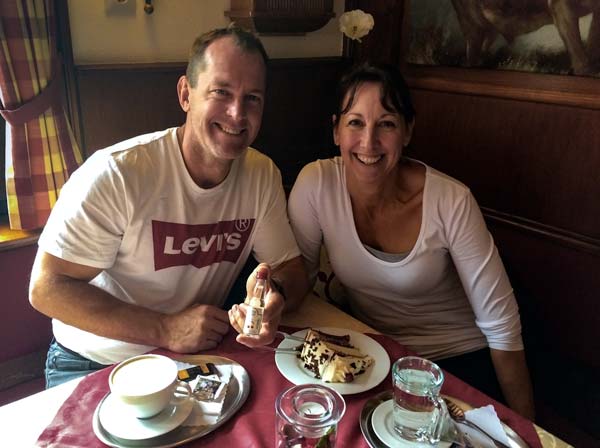 The rest of the Alde Gott Trail takes you past vineyards, meadows and forests.
You'll pass by the Königsrain winery and the Schelzberg monastery winery and distillery where you might want to sample their local products. 
The scenery on route is spectacular and after about 4.5 hours, you'll circle back to the start of the trail. 
WHEN IS THE BEST TIME TO VISIT SASBACHWALDEN?
We were in Sasbachwalden in mid-May. Spring was in full force, butterflies flitted around the hedgerows and bees buzzed amongst the wildflowers.
The village was devoid of tourists, leaving us alone to enjoy the serenity of Sasbachwalden.
The Adventure Pool in Sasbachwalden is open from mid-May to the end of September, so if you are a family this might be a better time to visit.
At the end of July, Sasbachwalden usually hosts a music festival and in early October it holds its annual Thanksgiving and wine festival.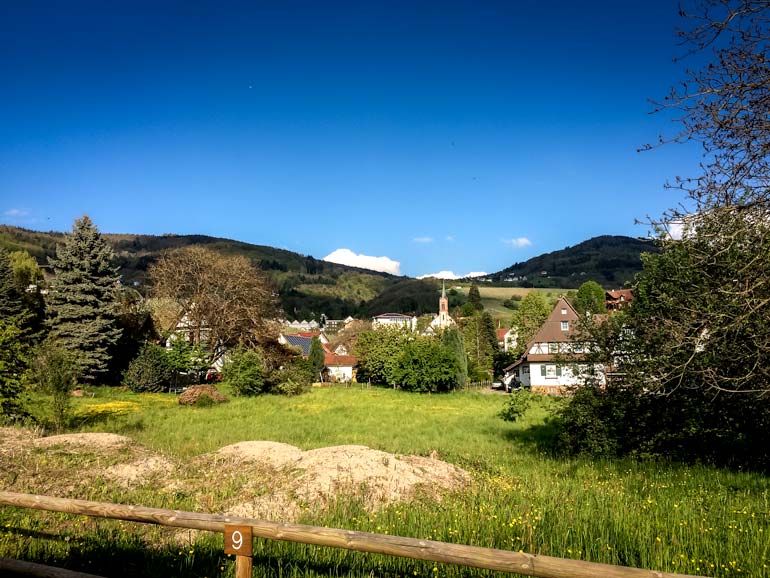 DAY TRIPS FROM SASBACHWALDEN
Baden Baden
Baden Baden is a spa town (with traditional Roman baths)  is a 35-minute drive away. Take a trip here to enjoy museums, and gardens and explore this upmarket town. It also has plenty of hiking routes.
Gengenbach
Its medieval old town centre is full of half-timbered houses and its town hall becomes the world's largest Advent Calendar at Christmas time. Gengenbach is about a 30-minute drive from Sasbachwalden.
Europa Park
Germany's largest theme park for adventure lovers is a 45 drive from Sasbachwalden.
Triberg
One and a half hours south is the town of Triberg, famous for its amazing cuckoo clocks.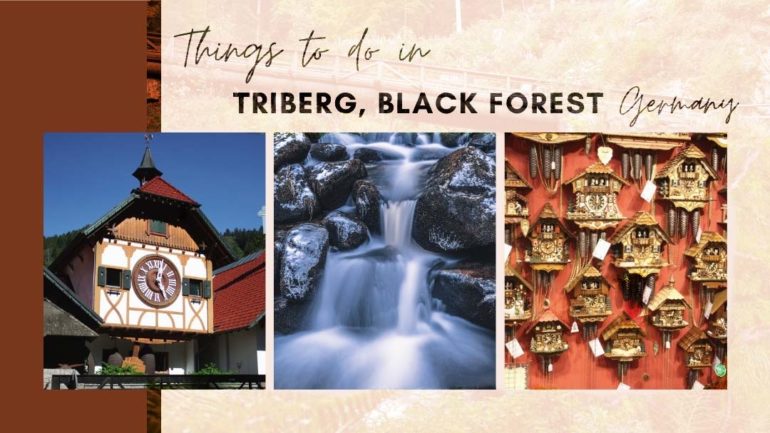 READ MORE: TOP THINGS TO DO IN TRIBERG, GERMANY
The Alsace Region
If you enjoy visiting Sasbachwalden, then I'm sure you would love an Alsace Road Trip.
You can reach the beautiful towns of Colmar, Ribeauville, Eguisheim and Riquewihr in about an hour and a half drive from Sabachwalden.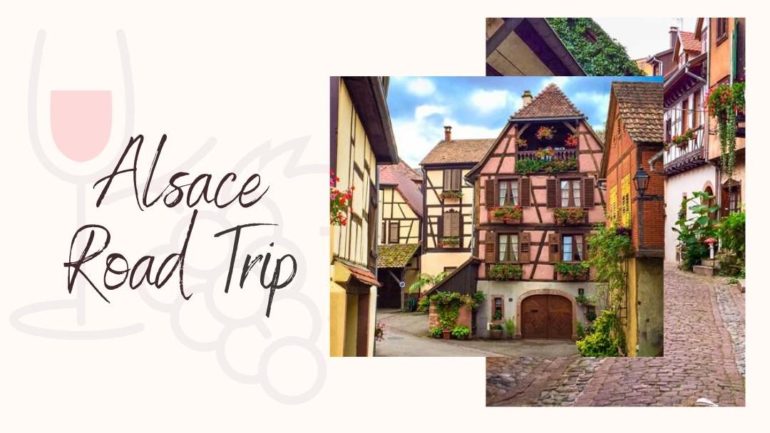 READ MORE: ROAD TRIP ALSACE
EXPLORING SASBACHWALDEN GERMANY … THAT'S A WRAP
Sasbachwalden was one of our favourite towns and is well worth adding to any German road trip itinerary.
Do you have a favourite town or village that you have visited in the Black Forest region of Germany?
Also, let us know if you have a good recipe for a Black Forest Gateau;) Drop us a line or leave a comment below.
This post may contain affiliate links. This means that we may earn a small commission from purchases you make through our links, at no extra cost to you. Thank you for supporting us. For more info, read our Disclosure Policy.
Pin and Save for Later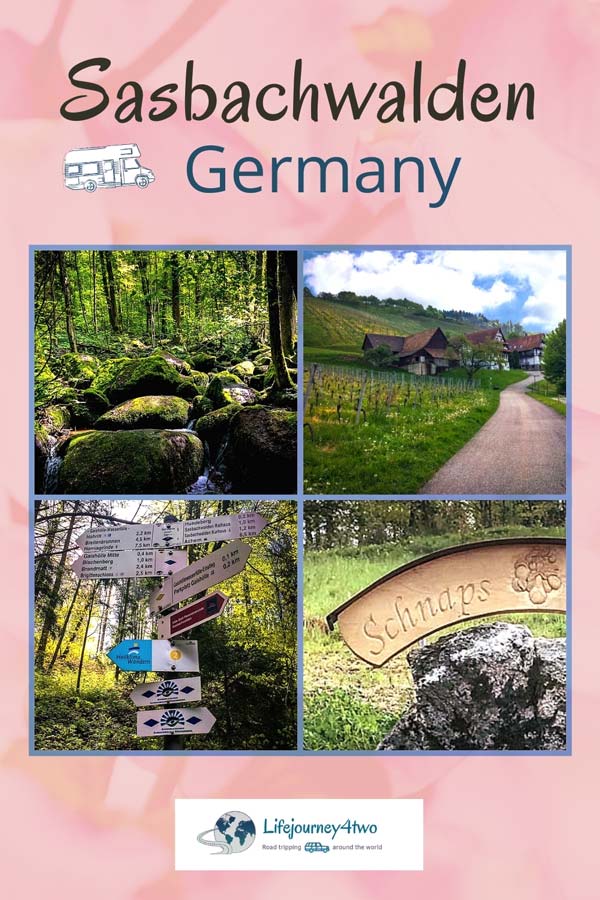 YOU MAY ALSO LIKE TO READ:
PLANNING YOUR TRAVELS?
These are travel resources we use when planning our trip and can recommend: